Iranian papers today widely covered the remarks made by Iranian President Hassan Rouhani before departing Tehran for New York to attend the UN General Assembly.
Also a top story was the latest meeting of the Organization of Petroleum Exporting Countries (OPEC) held in Algiers, and the results of the meeting chaired by Saudi Arabia.
Several papers also continued to cover reactions to the Ahvaz terrorist attack, and Iran's vow to take revenge from the perpetrators.
The above issues, as well as many more, are highlighted in the following headlines and top stories:
Abrar:
1- China Suspends Military Talks with US
2- South Korean Ambassador to Tehran: Terrorism Must Be Condemned in Any Form
---
Aftab-e Yazd:
1- US Makes New Offer to Negotiate with Iran as Rouhani Arrives in New York
2- Why Trump Is Willing to Negotiate? [Editorial]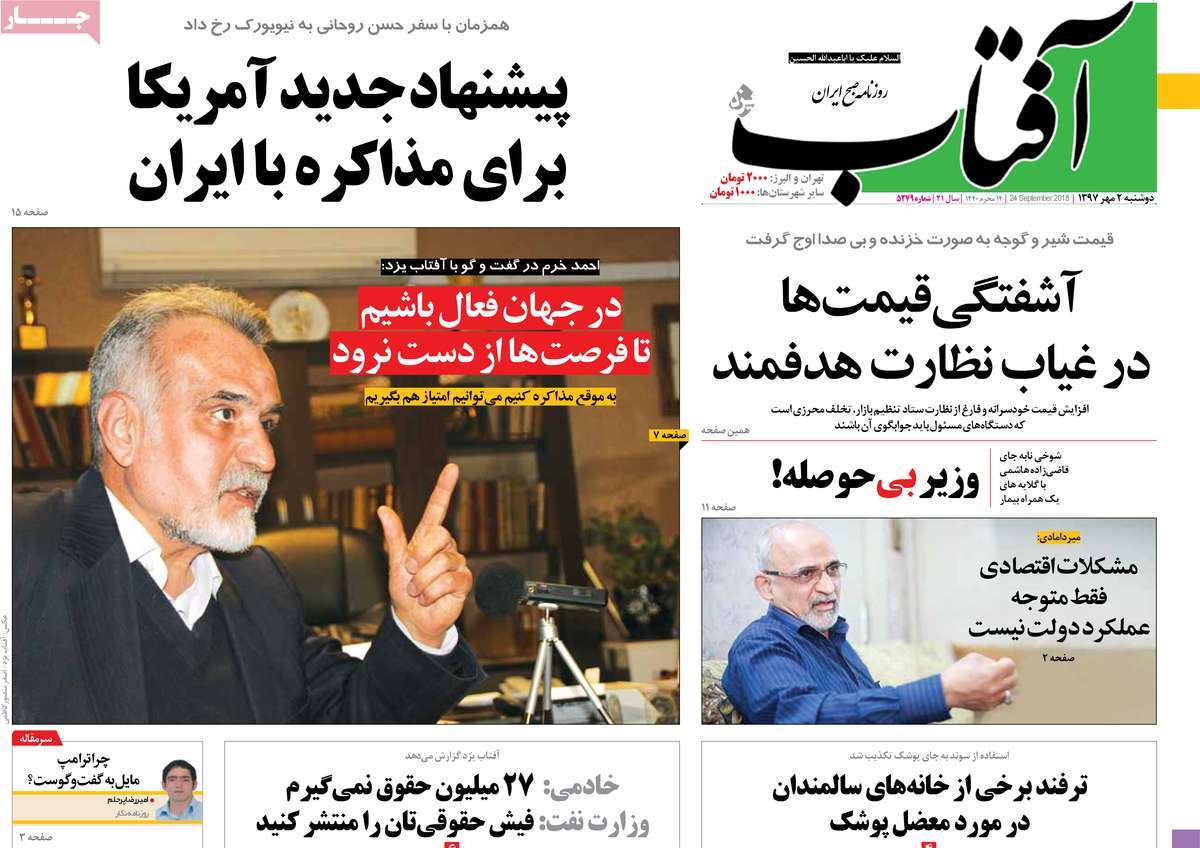 ---
Arman-e Emrooz:
1- US Ready to Give Concession to Iran
A Report on Washington Officials' Withdrawal from Its Stances on Iran
US State Department: Iran Not to Be Focus of UN Security Council Meeting
2- Continued Reactions to Ahvaz Terrorist Attack
Ambassadors of Three Countries Summoned
Criminals Identified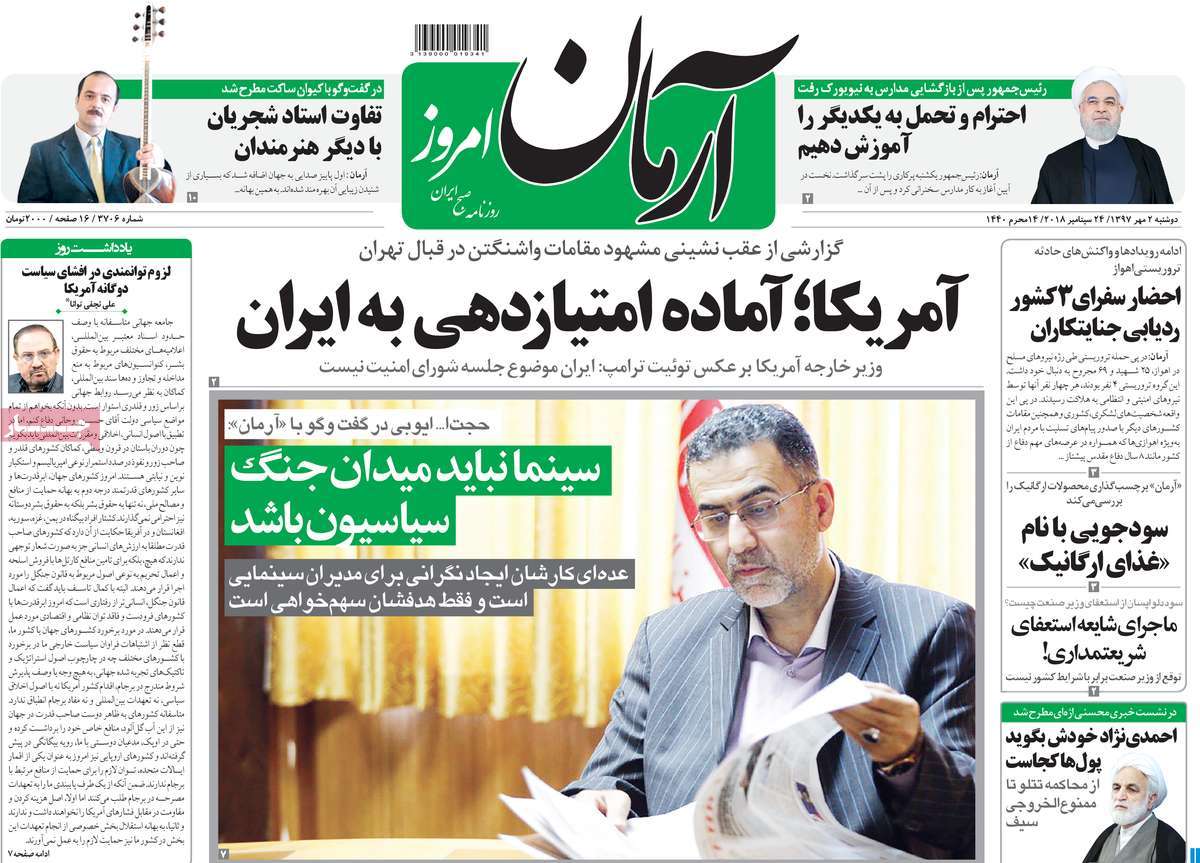 ---
Ebtekar:
1- Ministries without Ministers
Rumours on Trade Minister's Resignation Denied
2- Iran to Take Revenge from Terrorists
Wounded Soldiers Talk of Ahvaz Terrorist Attack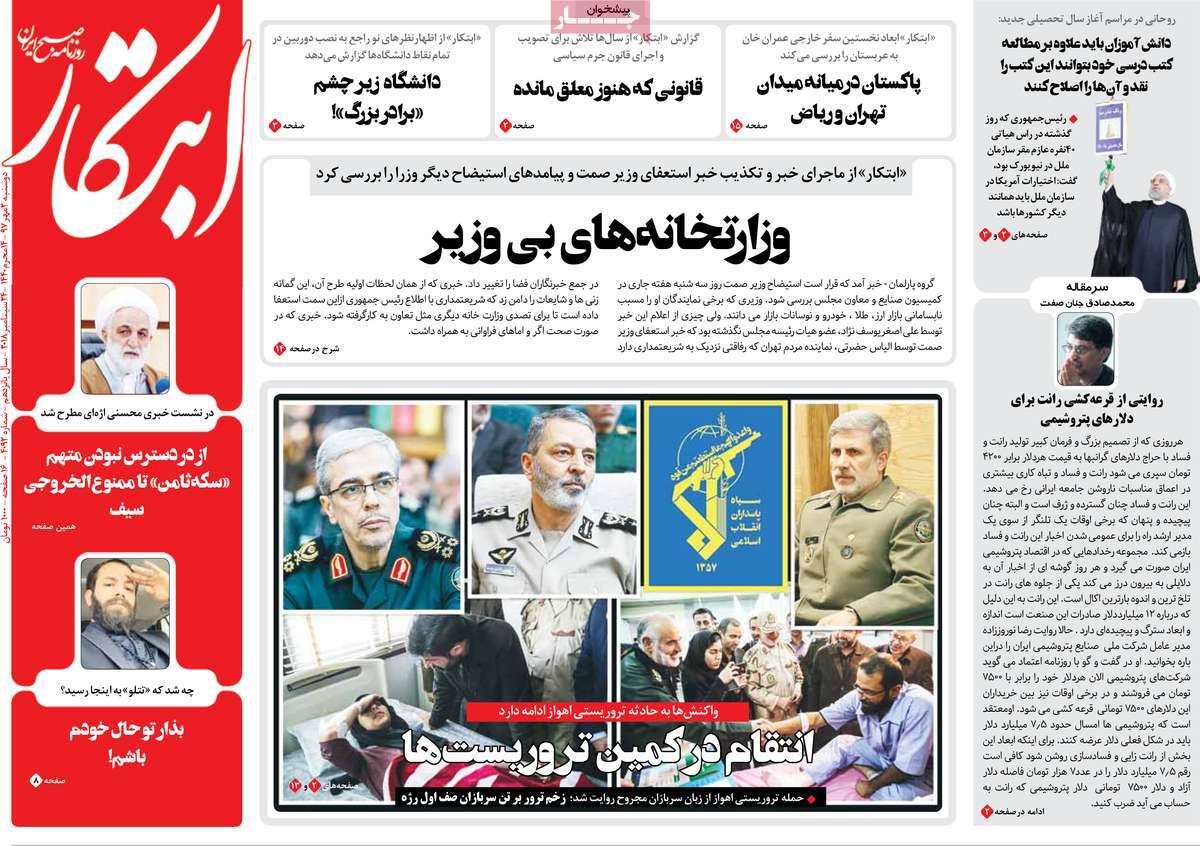 ---
Etemad:
1- Rouhani: Americans Will Regret
2- Slow Steps to End Brexit
Labour Leader Calls for Holding Another Referendum
3- Resistance to US: What Iran Wanted Happened in OPEC
---
Ettela'at:
1- Rouhani: We Won't Condone Ahvaz Crime; We Know Perpetrators
2- Russia: We'll Shoot Down Any Israeli Warplane in Syria Sky
3- Last Year Was Driest Year in Past 50 Years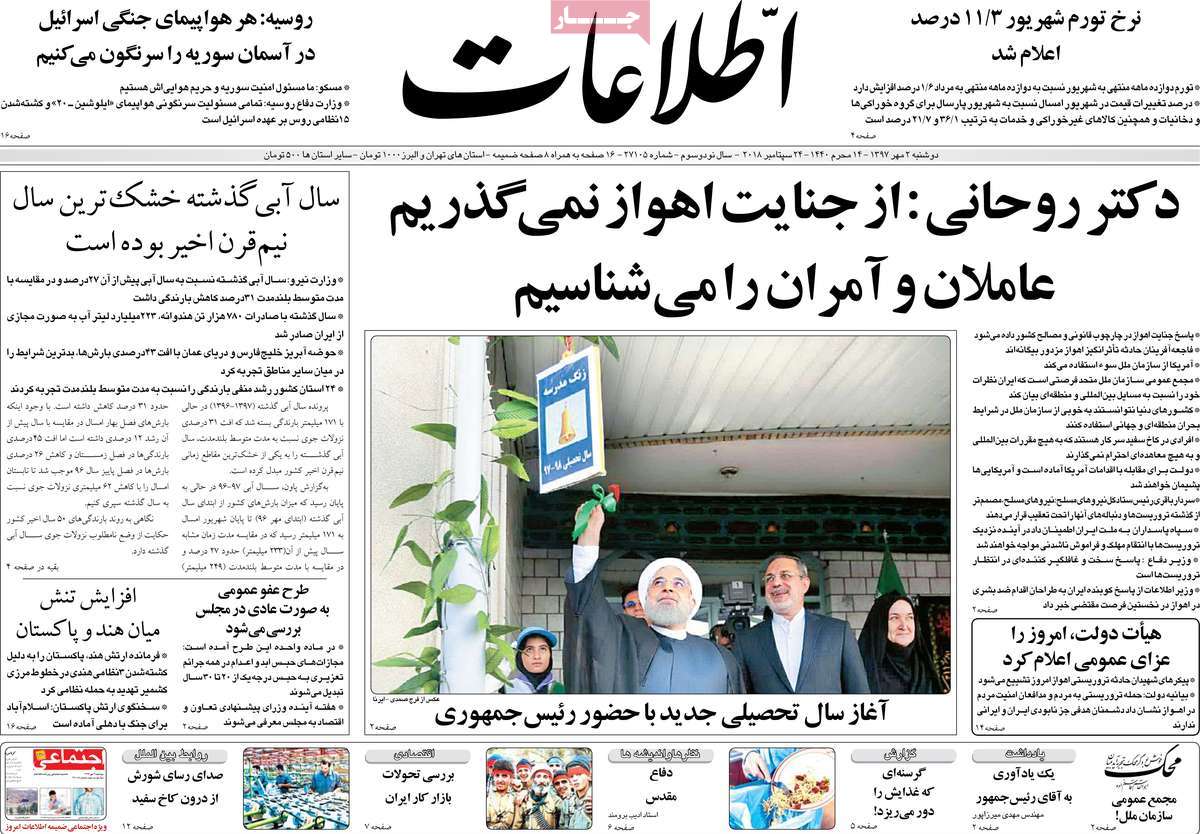 ---
Haft-e Sobh:
1- Bon Voyage Mr President!
Rouhani's Most Sensitive Trip to New York May Be Full of Strange Events
---
Iran:
1- 59 Schools Reconstructed in Earthquake-Hit Areas of Iran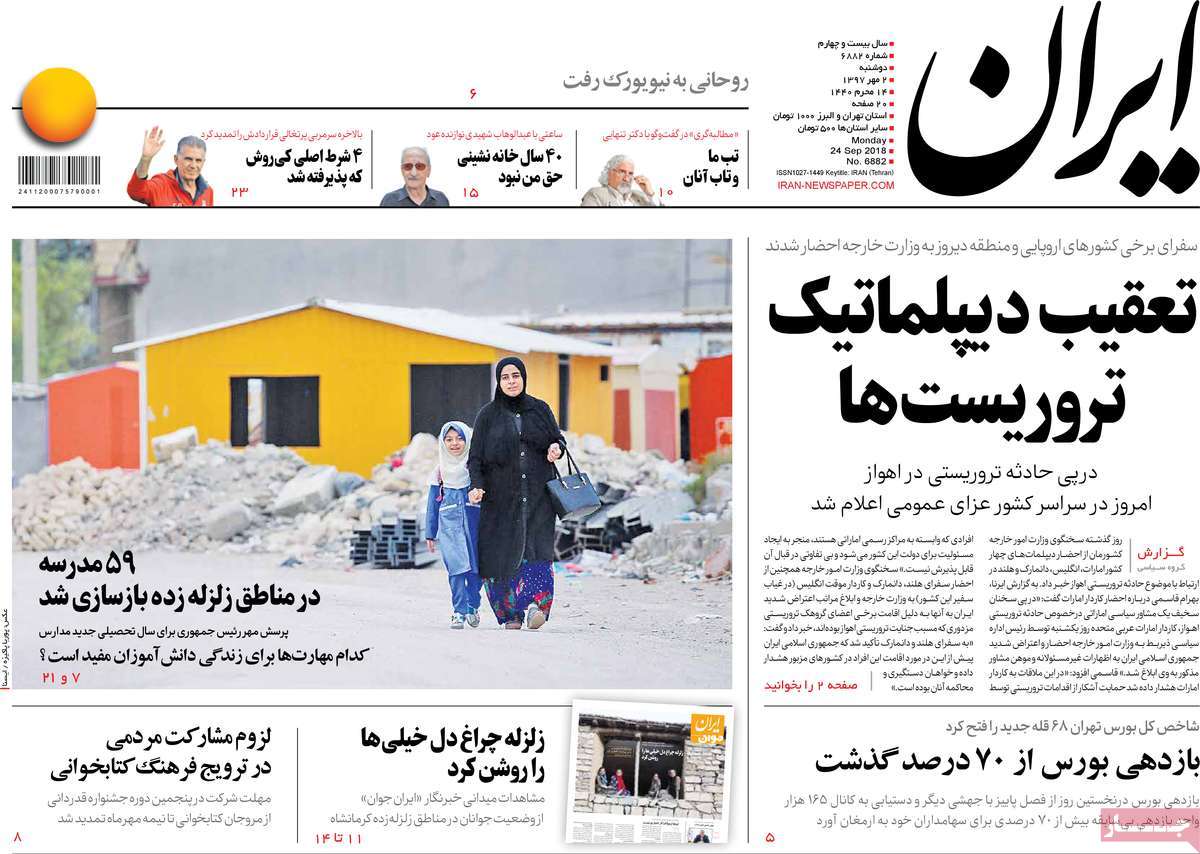 ---
Jame Jam:
1- Ayatollah Heidari: Terrorists Have No Social Base
2- Korea Boycotted Iran's Oil; What Would We Do?
Iran Must Stop $3.7 Billion worth of Imports from Korea as Crushing Response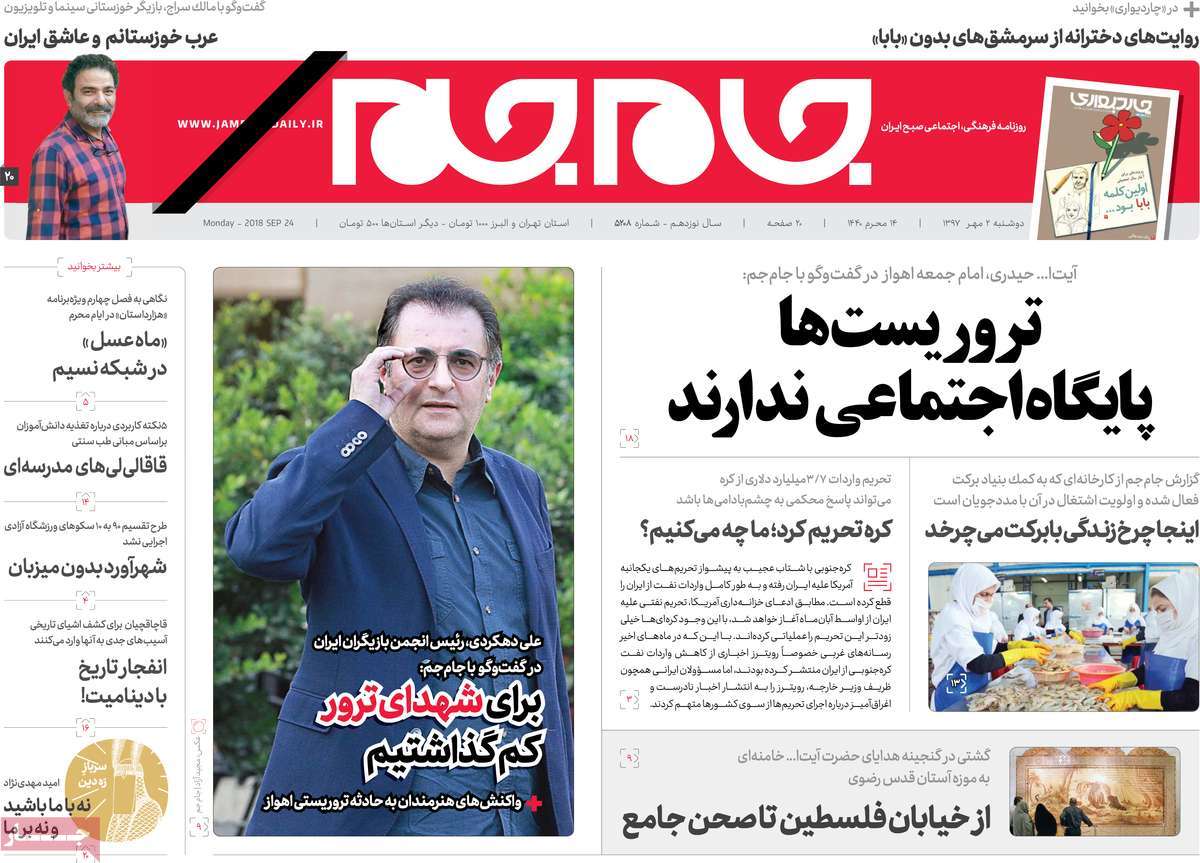 ---
Javan:
1- Washington: From Dancing with MKO to Condemning Al-Ahwazi Group!
2- All Hirelings of Terrorism
Why BBC Didn't Let Ahvaz Attack Be Called a Terrorist One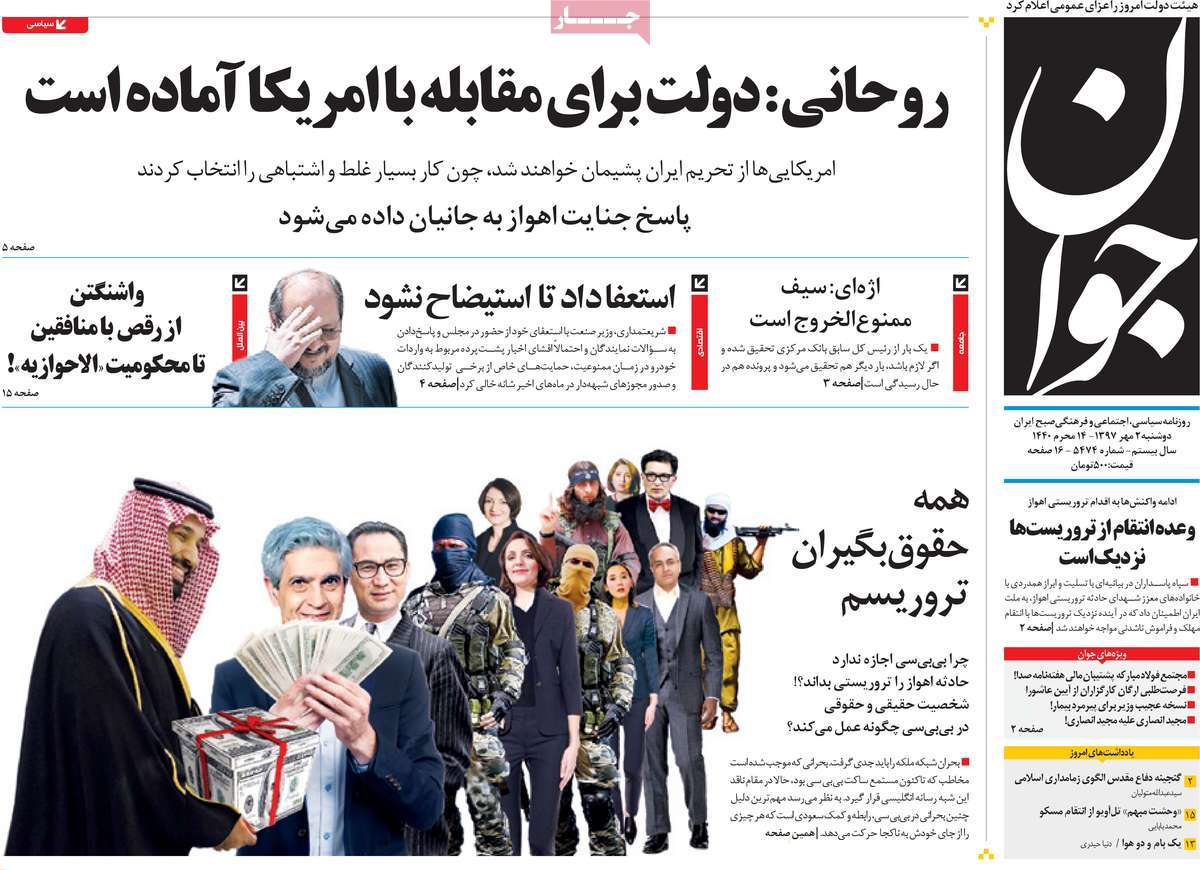 ---
Jomhouri Eslami:
1- Rouhani: US Abusing UN
2- Iran's Top General: We'll Eradicate Terrorists
3- Iran President Rings in New School Year
---
Kayhan:
1- Adopting FATF Standards Betrayal of Lives Claimed in Ahvaz
2- US Helps another Group of ISIS Leaders Escape Deir ez-Zor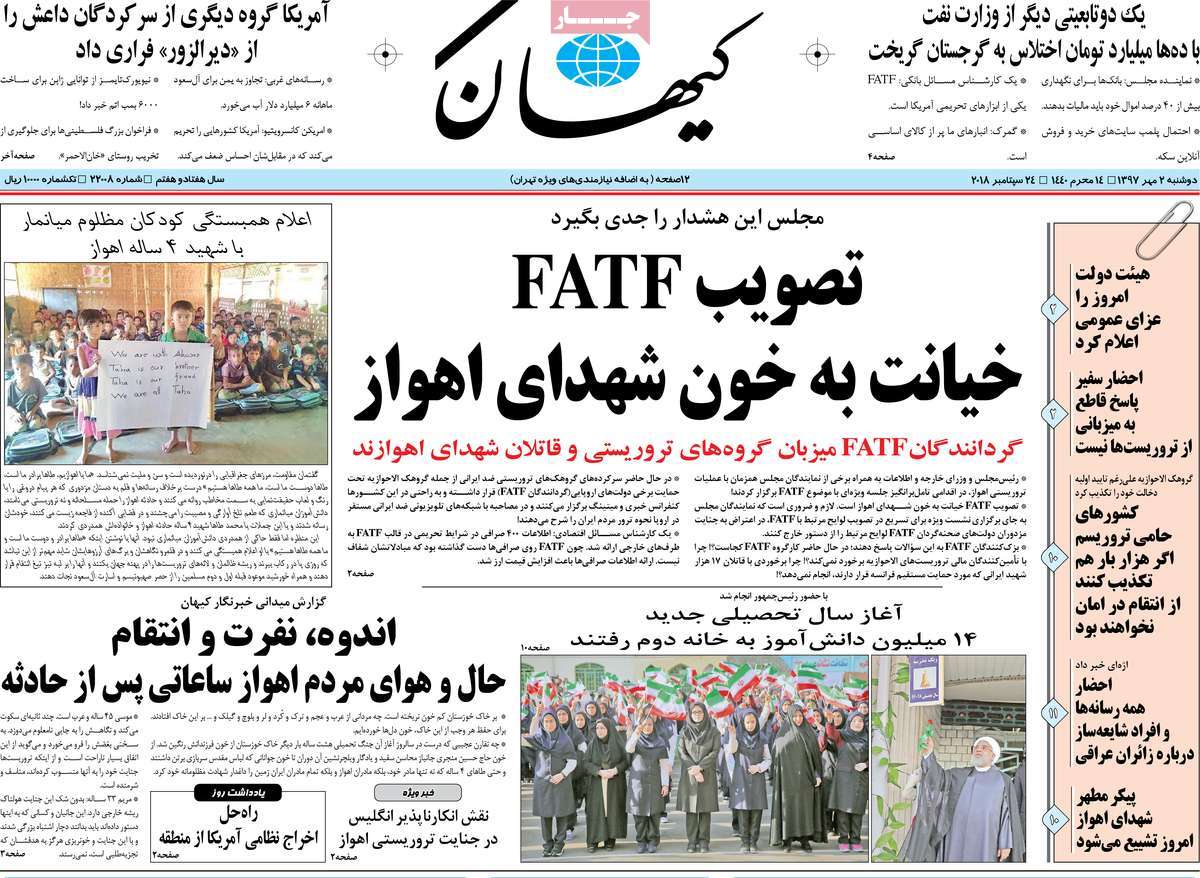 ---
Resalat:
1- Judiciary Chief: Leaders of Those Involved in Ahvaz Attack Must Be Immediately Identified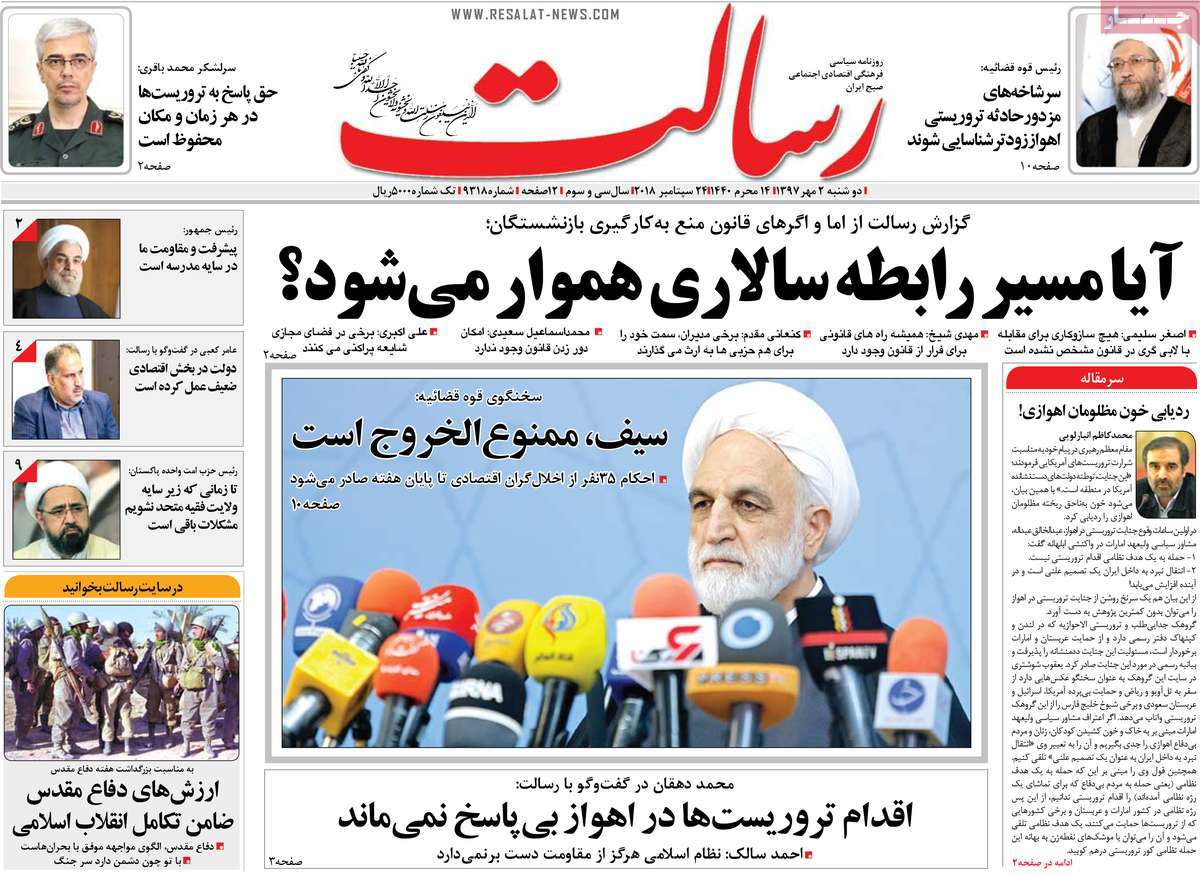 ---
Sazandegi:
1- Fingerprints of Foreign Elements Seen in Ahvaz
Who Does Support Al-Ahwazi Terrorist Group?
2- Foreign Satellite TV Channels Close Their Eyes to "Terror Attack" in Ahvaz
---
Shahrvand:
1- Operation to Save Lake Urmia from Dust Particles
A Report on Almost Successful Project to Control Dust Pollution in Urmia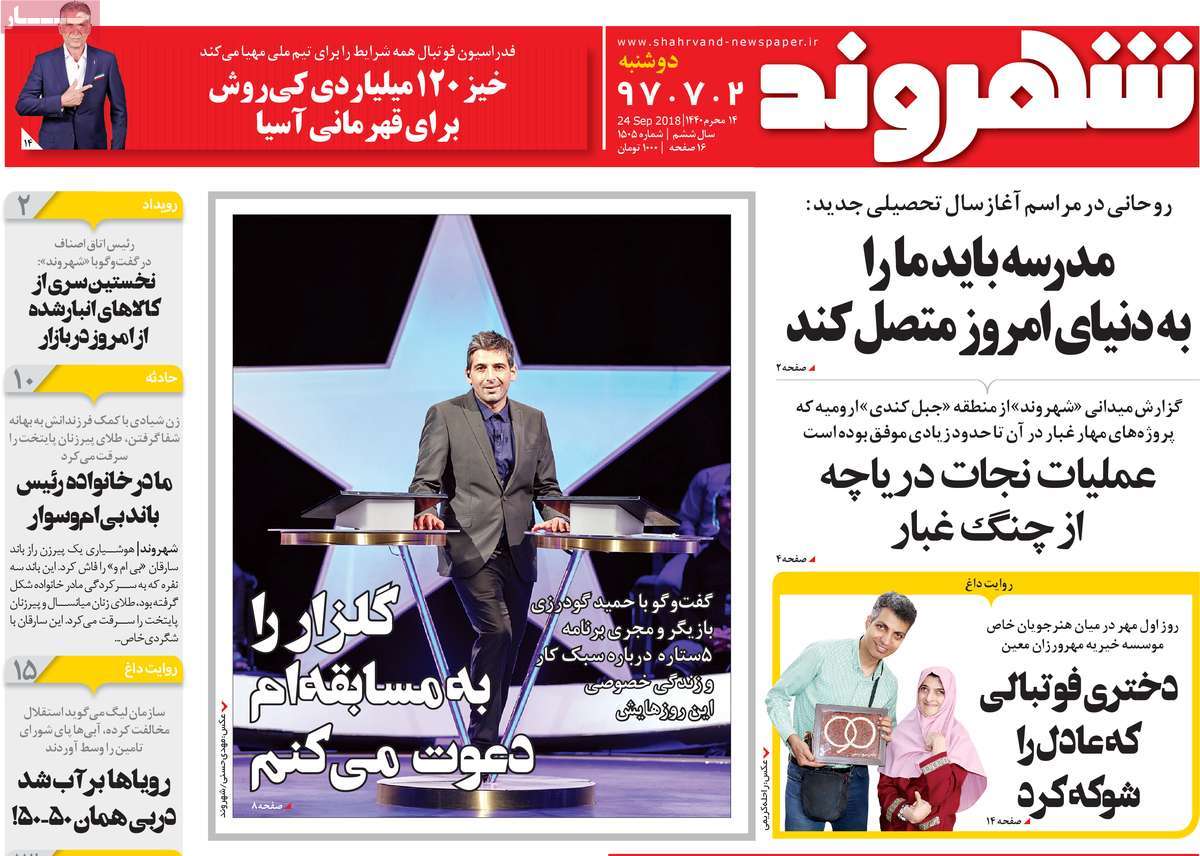 ---
Shargh:
1- Rouhani: Government Ready for Countering US
2- Ahvaz Terrorist Attack Not of Ethnic Type [Editorial]
3- Government Declares National Day of Mourning after Ahvaz Terror Attack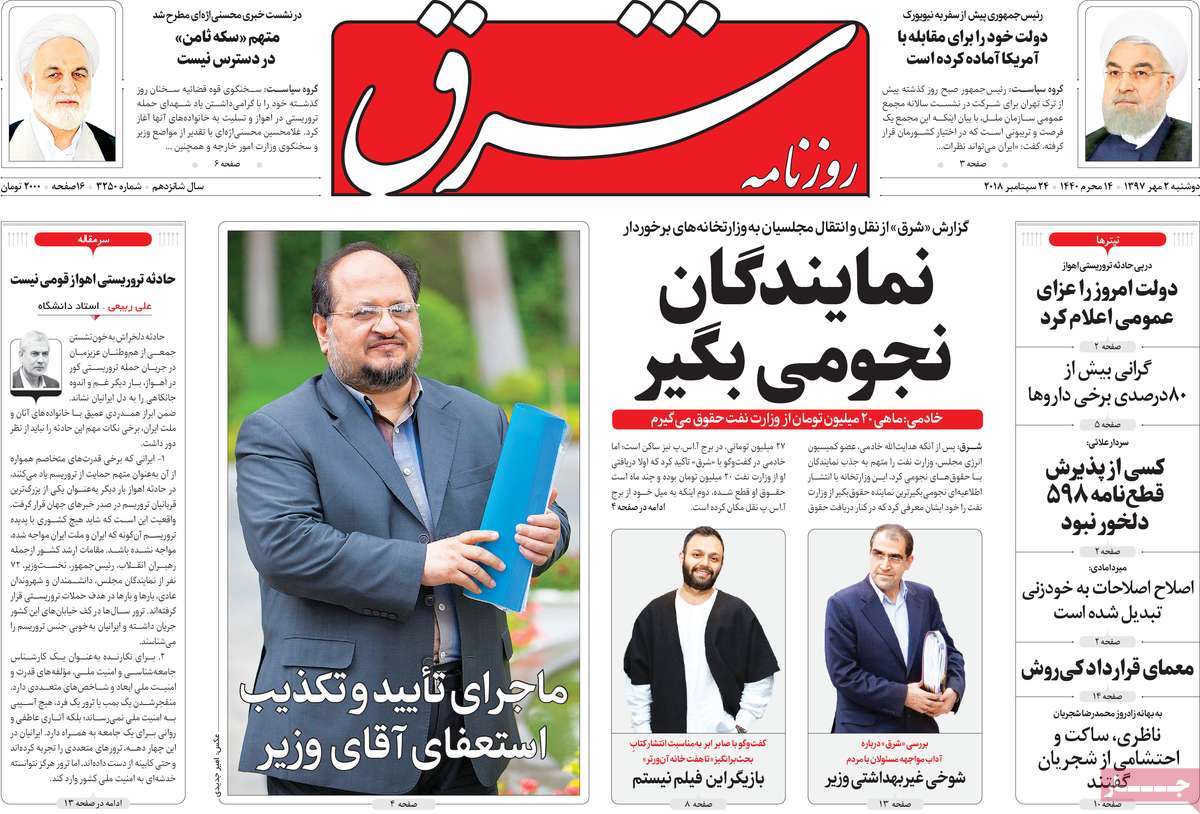 ---
Sobh-e Now:
1- Pompeo Once Again Changes Agenda of UN Security Council Meeting
Trump's Tweet Once Again Contradicted
2- OPEC Opposed to Increase in Oil Output