Almost all newspapers today covered the upcoming trip of Iranian President Hassan Rouhani to New York to attend the UN General Assembly.
Speculations regarding Rouhani's meeting with Donald Trump, and the US president's comments on a UN Security Council he is going to chair also received great coverage.
Also a top story today was the protest raised by anti-war CODEPINK activist Medea Benjamin during a meeting at Hudson Institute, where Brian Hook, the head of the US State Department's Iran Action Group, was making anti-Iran comments.
The above issues, as well as many more, are highlighted in the following headlines and top stories:
19 Dey:
1- Trump Admits US Presence in Middle East Biggest Mistake in History
Trump: We Spent $7 Trillion in Middle East without Gaining Anything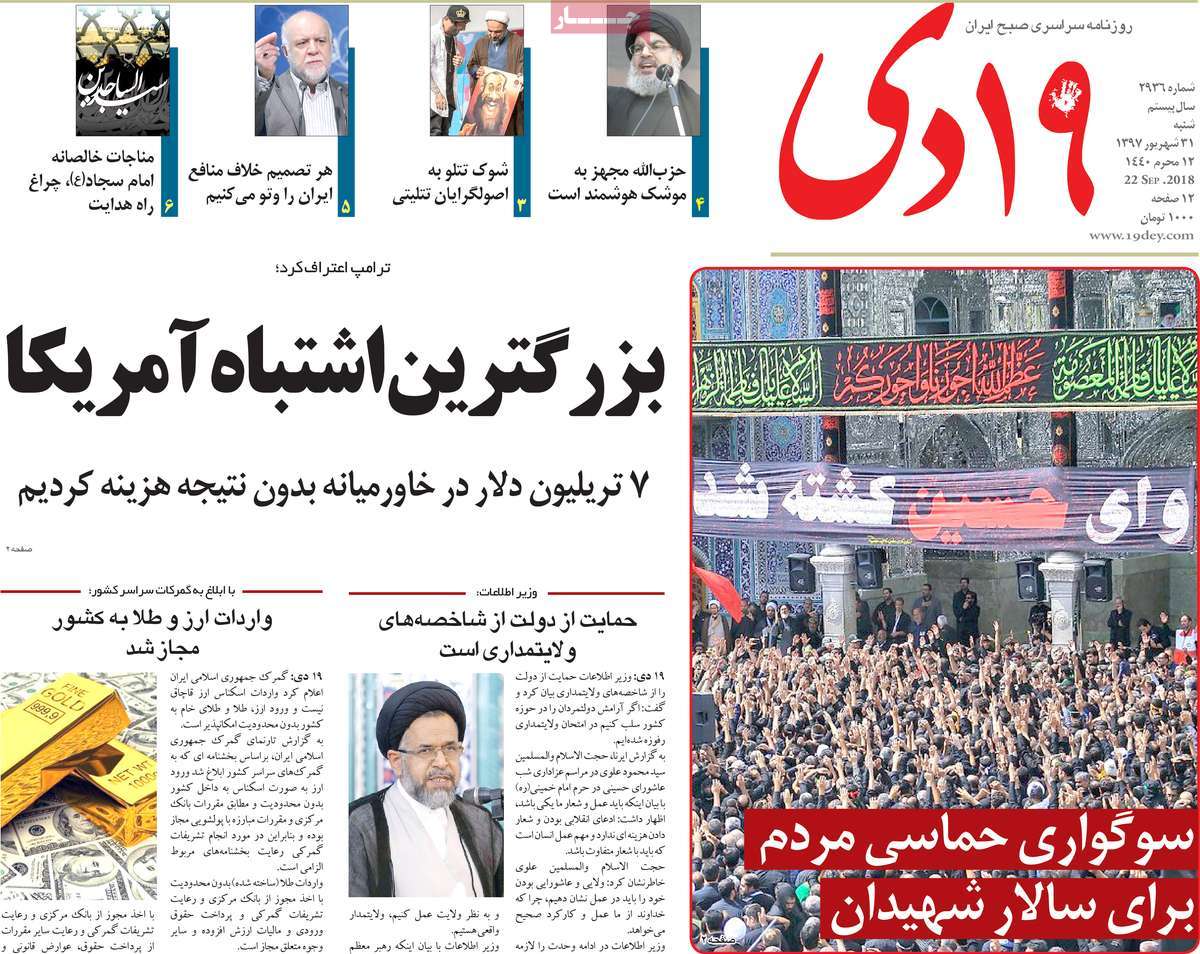 ---
Abrar:
1- We Have Never Asked for Meeting with Trump: Iran
2- Turkey Accused of Violating Rules of War in Attack on Northern Iraq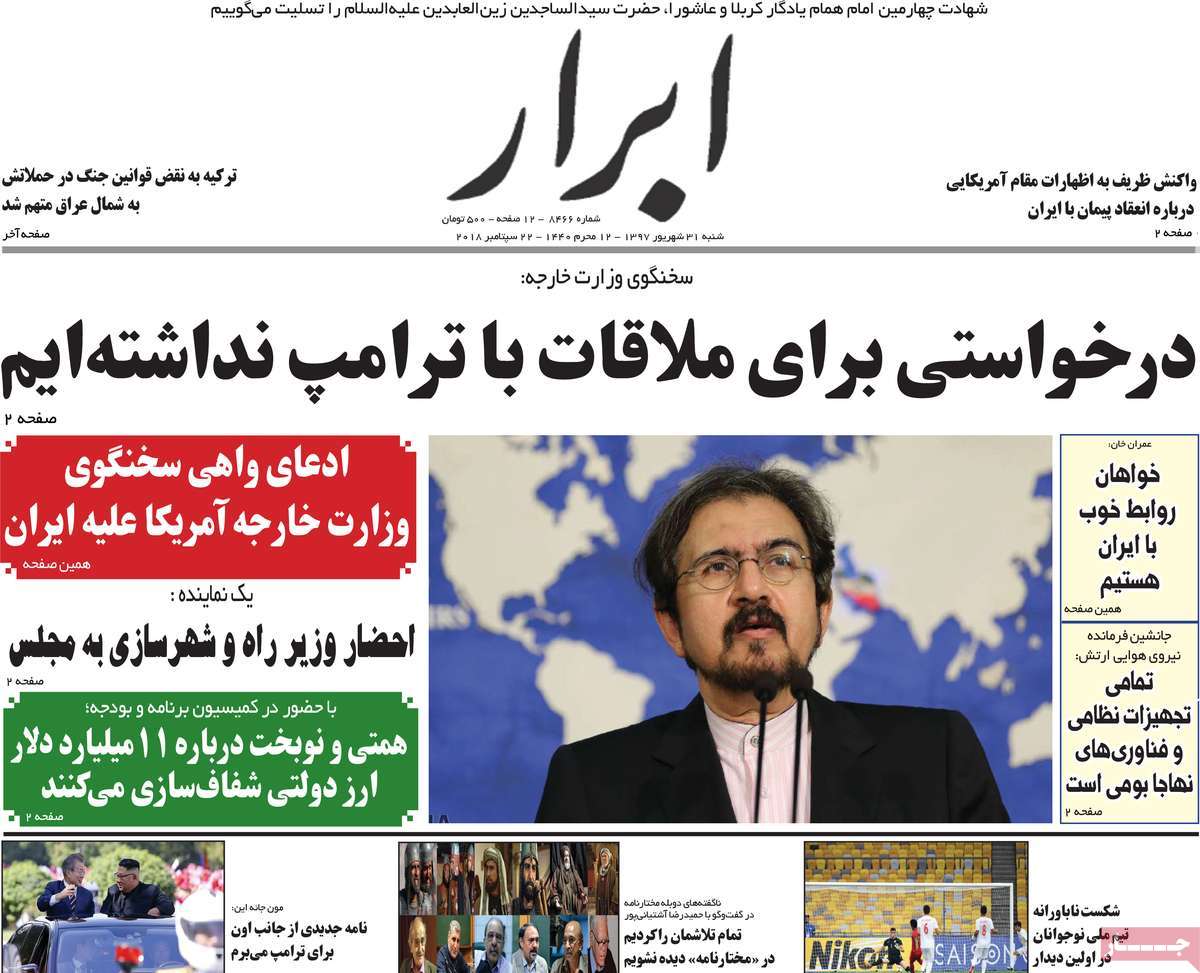 ---
Afkar:
1- US Isolated in UN Security Council Meeting on Palestine
Even Europeans Condemn Israel's Measures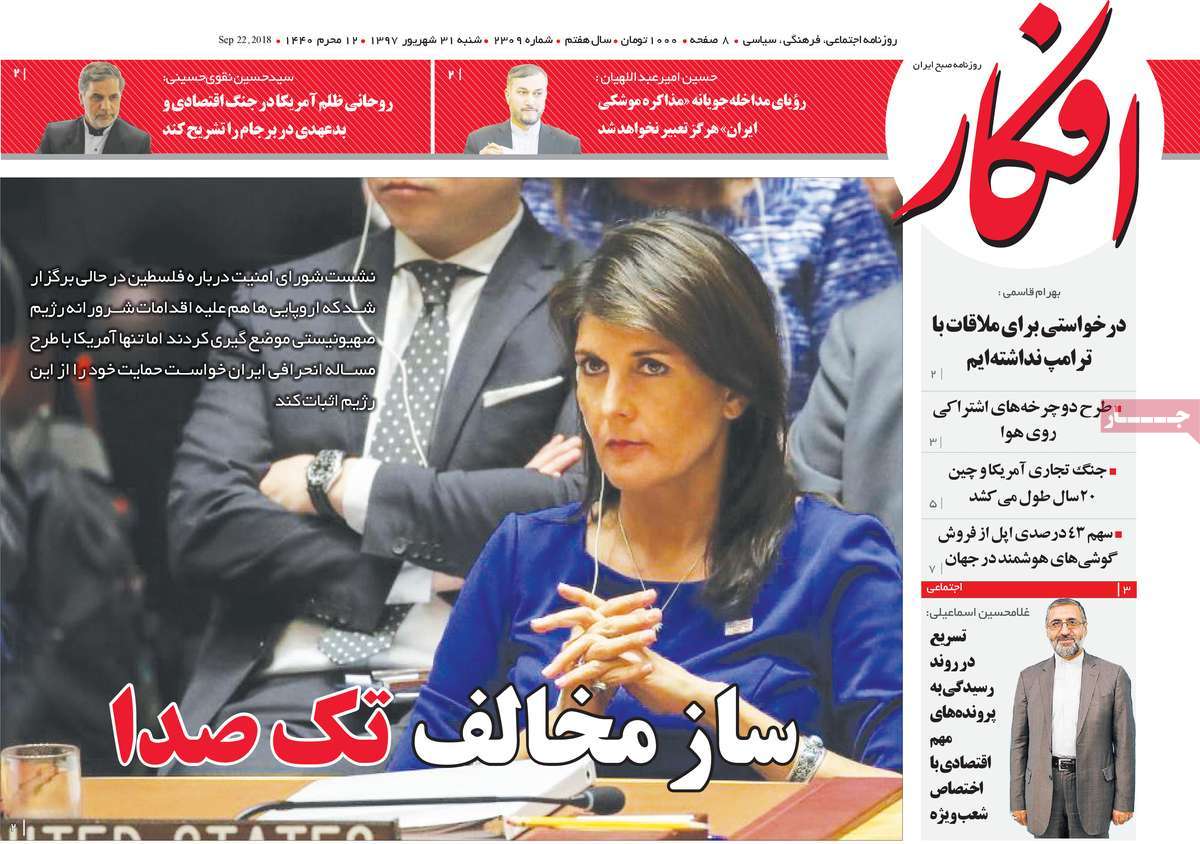 ---
Aftab-e Yazd:
1- Medea Benjamin's Protest: New Motivation for Talks between Iran, US Elites
2- Zarif Explains about His Meetings with Kerry
Whenever I Go to US, Lowest to Highest-Ranking Officials Come to Meet Me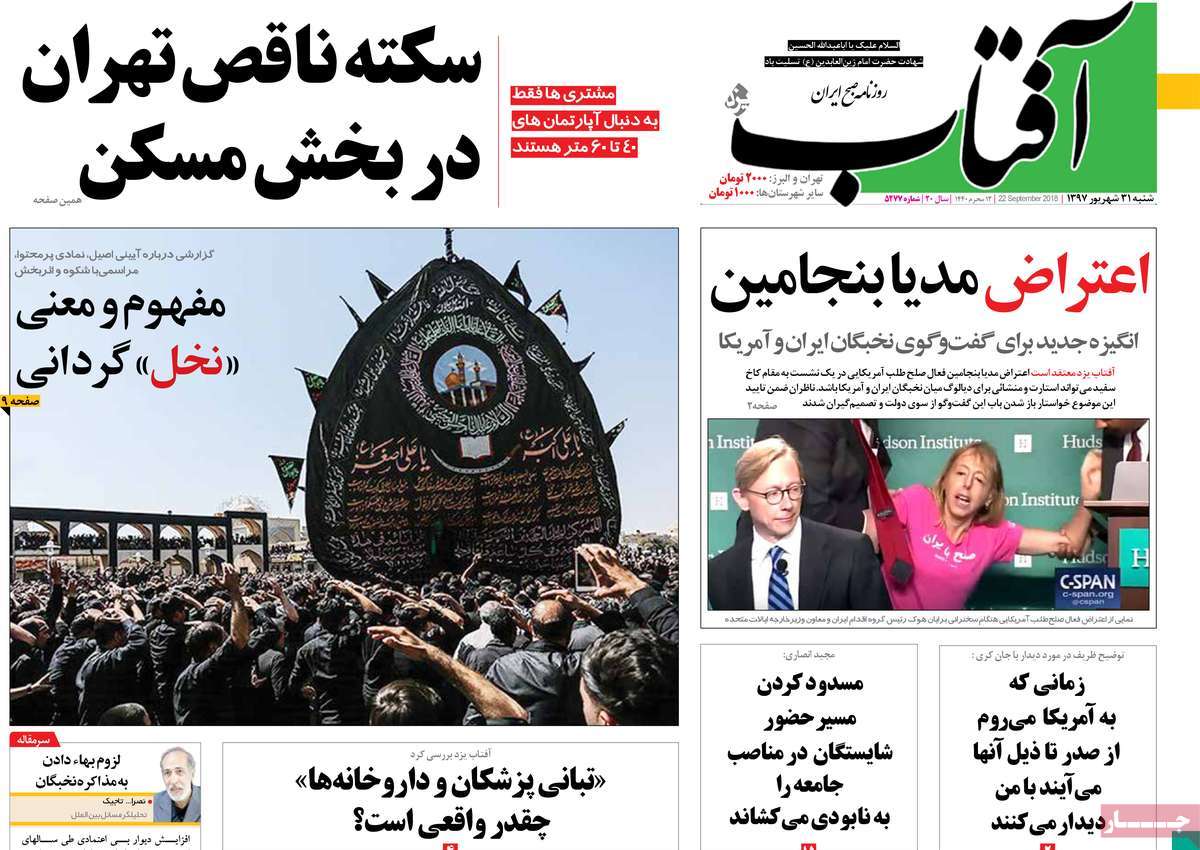 ---
Ebtekar:
1- Iranian-American Confrontation in New York
2- Oil Minister: Any Country Vowing to Make Up for Oil Market Deficit Acting against Iran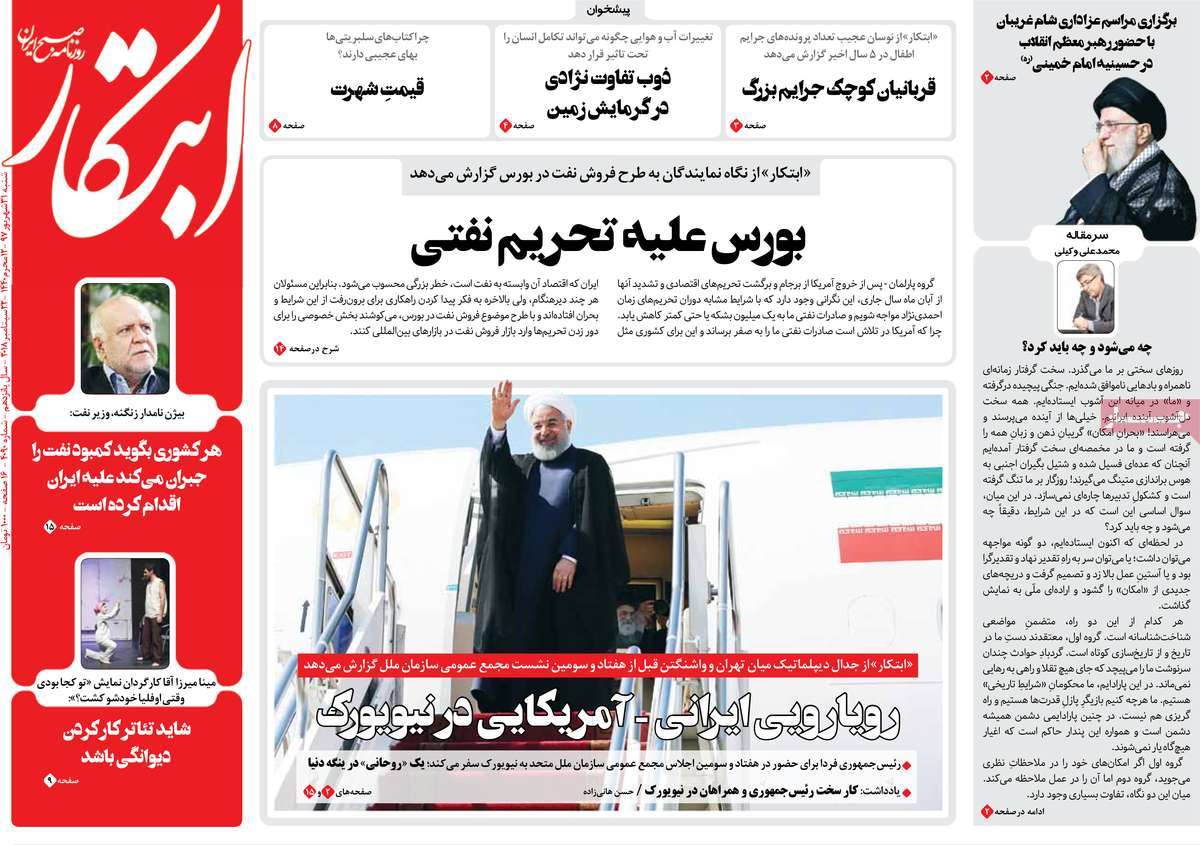 ---
Etemad:
1- Amir-Abdollahian's Account of Role Played by Foreign Agents in Attack on Saudi Embassy
Saudi Arabia Knew about Attack on Its Embassy One Week Earlier
2- Trump's Failure Totally Expected: US President to Deliver Anti-Iran Speech at UNGA, UNSC
3- Pakistan Returns to Saudi Arabia: Imran Khan in First Foreign Trip Visits Riyadh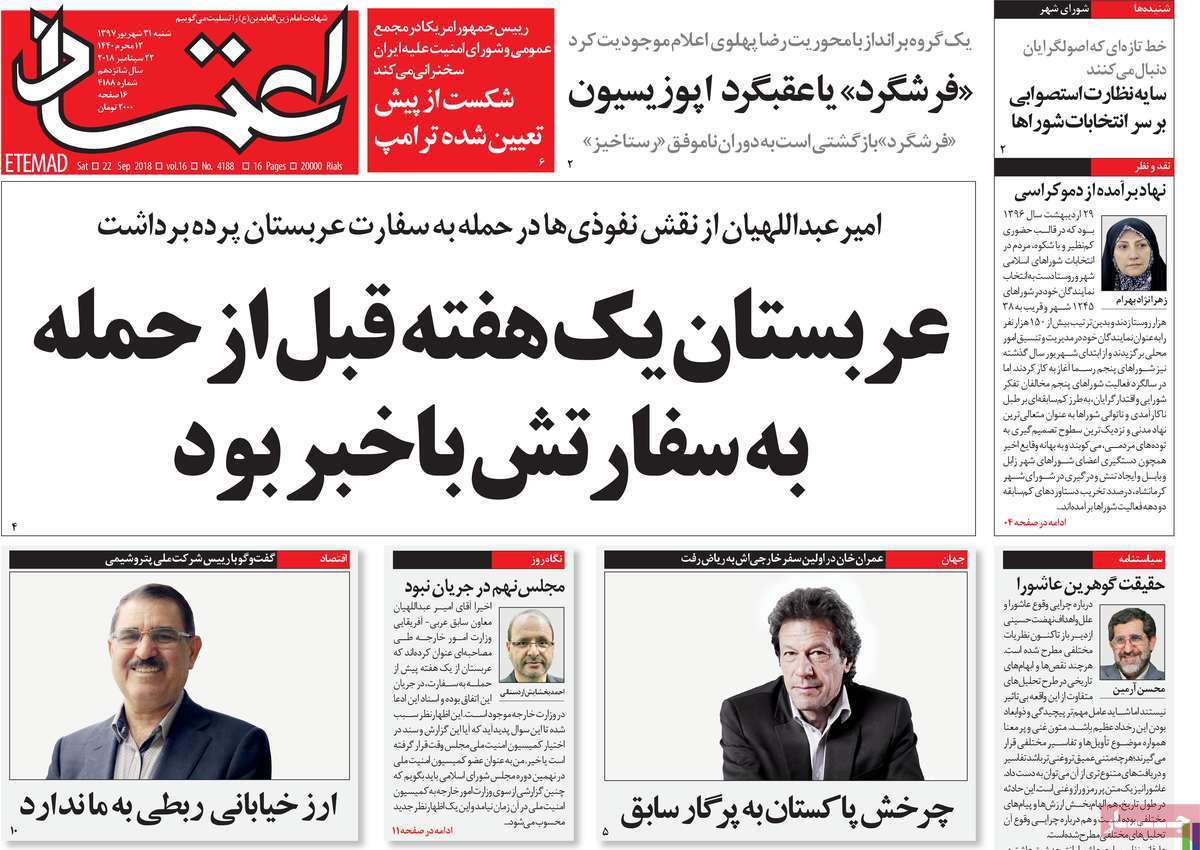 ---
Ettela'at:
1- Moscow: Israel Is to Blame for Downing of Russian Plane; We'll Retaliate
2- Sanctions Aimed at Harming Iranian People: US Anti-War Activist
---
Hamshahri:
1- OPEC in Dilemma: Iran's Warning, US' Pressure
2- Trump: We Protect Middle East Countries, They Must Lower Oil Prices!
---
Iran:
1- Trump's Confusion
While White House Declared UNSC won't be focused only on Iran, Trump once again changed scenario
2- American Anti-War Activist Challenges Hook's Claims at US Chamber of War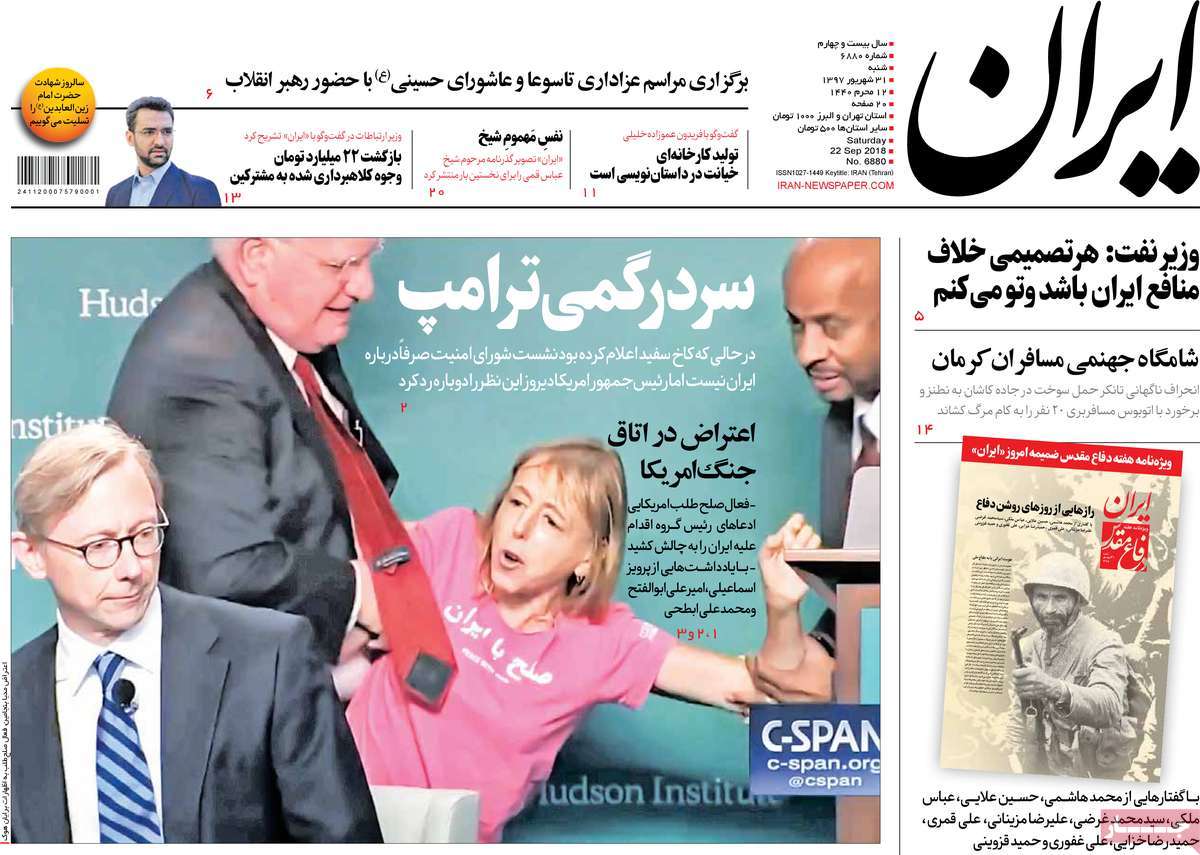 ---
Jame Jam:
1- Shout of Peace to Masters of War: Who Did Disrupt Hook's Anti-Iran Session?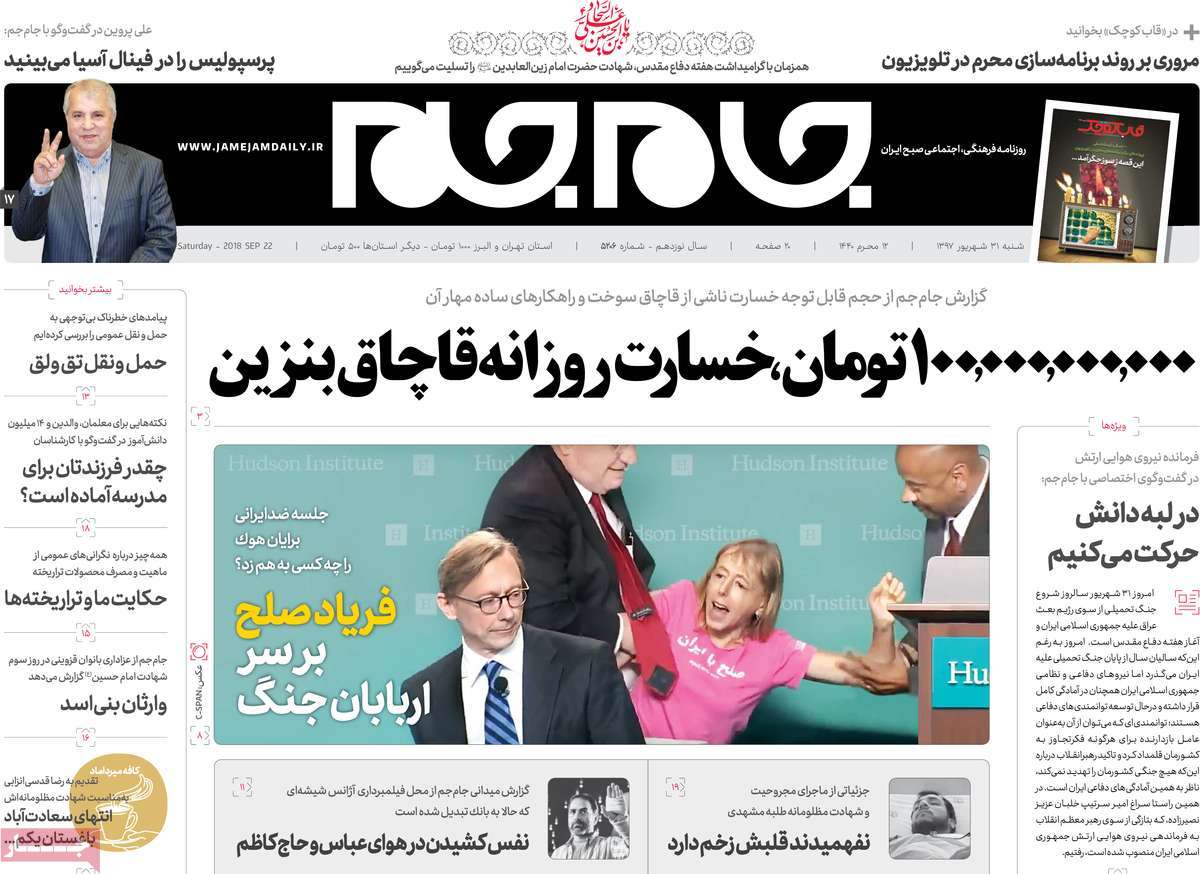 ---
Javan:
1- Rouhani Not Fit for Trump's Photo Diplomacy
2- Mr Rouhani! Let the World Know US' Violations of Its Commitments at UNGA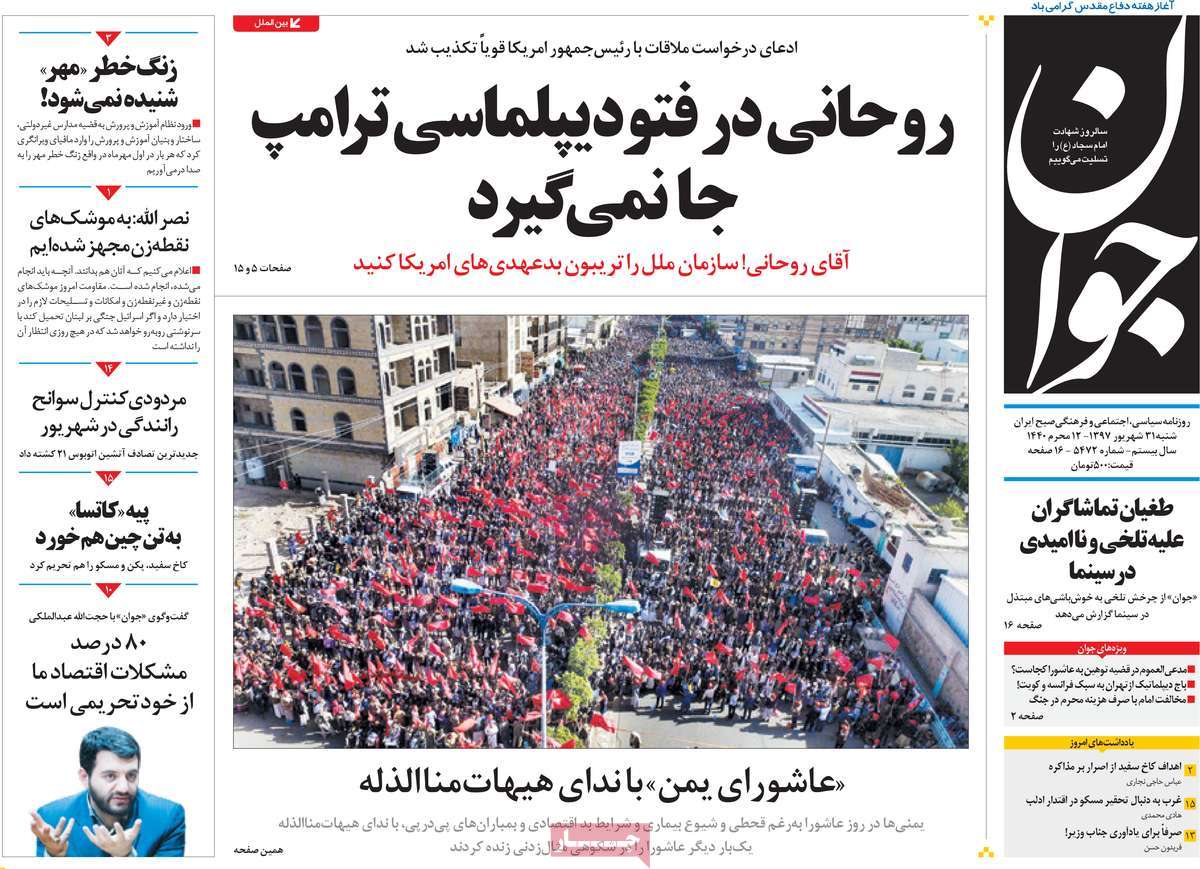 ---
Kayhan:
1- This Year's Ashura More Zealous than Ever
2- Economic Analyst: Iran Won't Be Whitelisted Even If It Adopts FATF Standards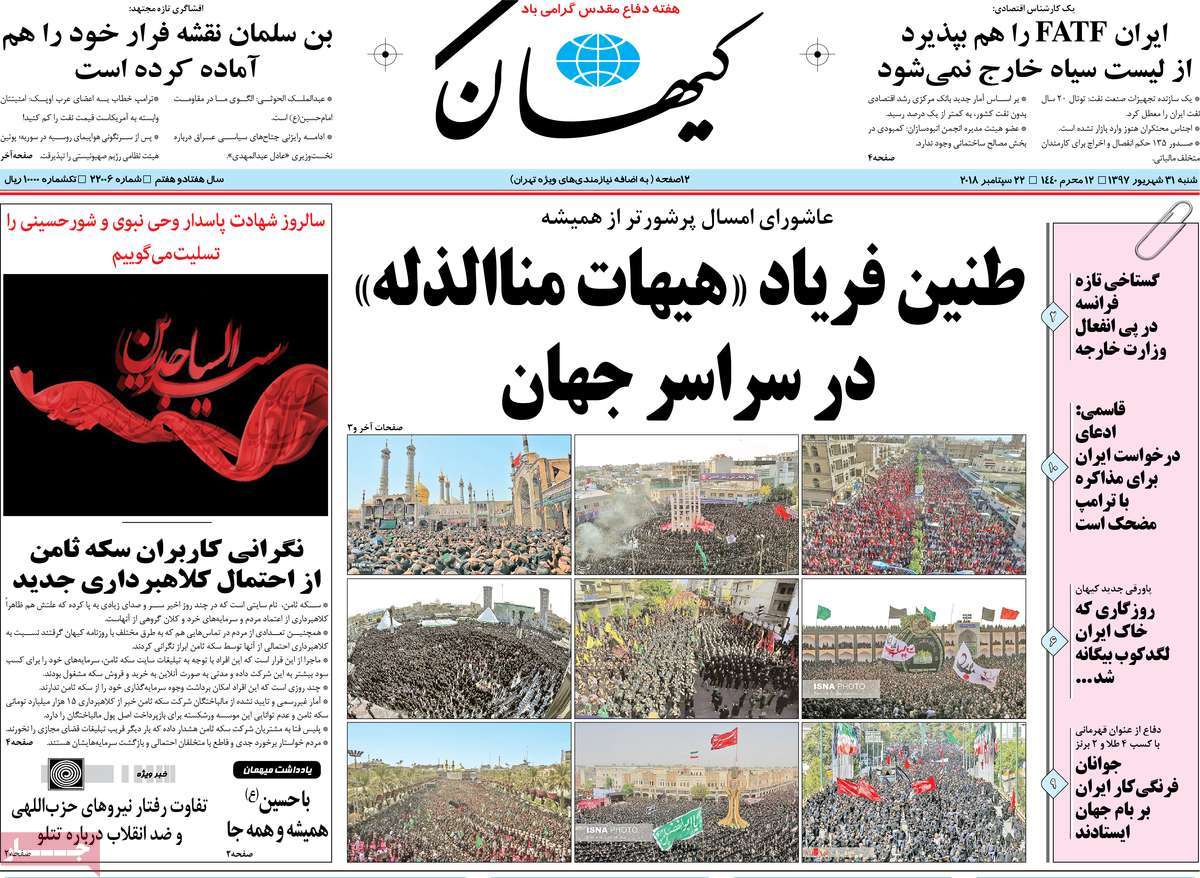 ---
Khorasan:
1- 1.296 Million Students Start Their First Day at School as of Today
---
Sazandegi:
1- A Tribune for Iran: A Review of Rouhani's Upcoming Trip to New York to Attend UNGA Session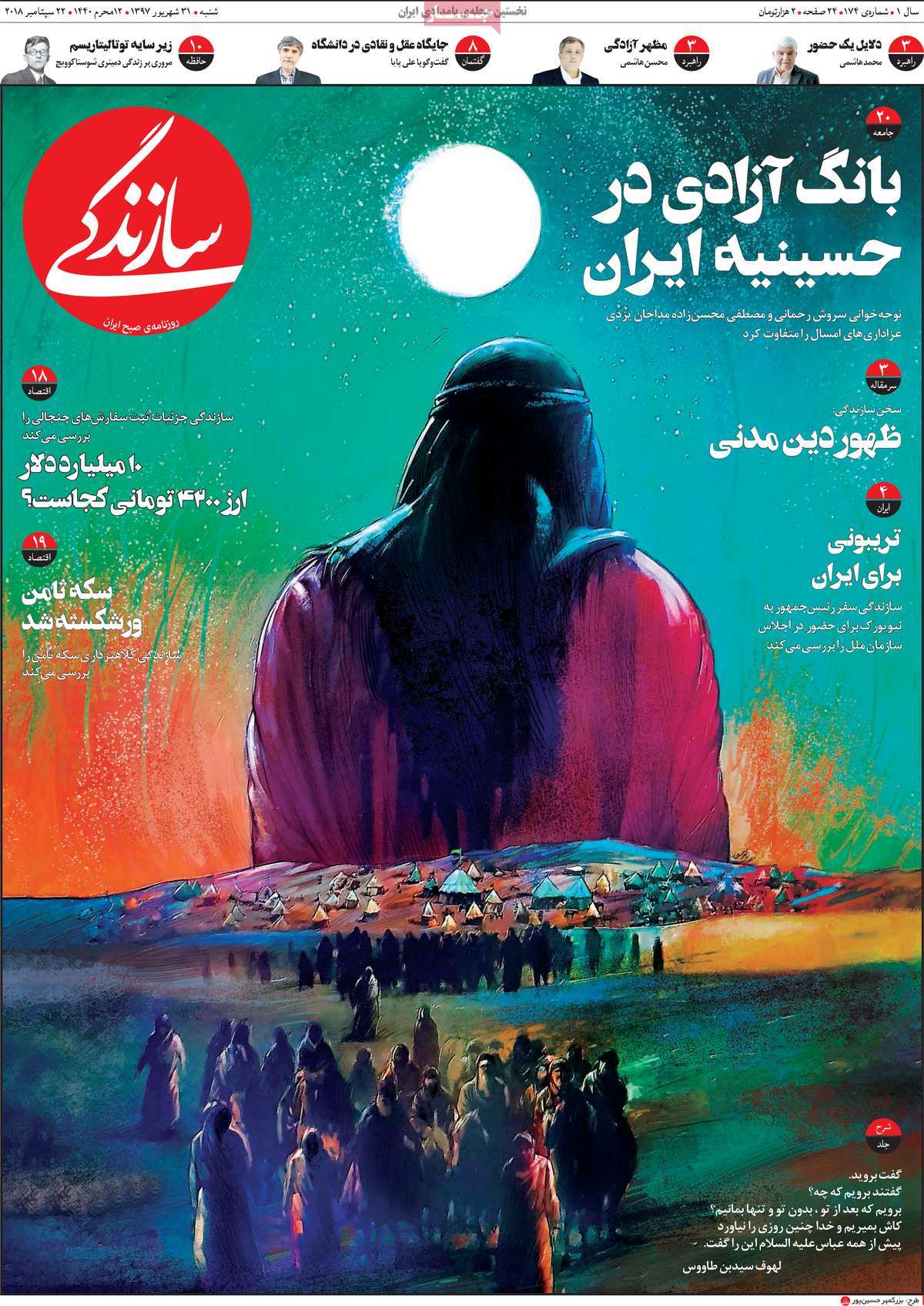 ---
Setareh Sobh:
1- Russia Defence Ministry: Russian Plane Downed by Russian Missile!
2- Iranian Market to Embrace Digital Currencies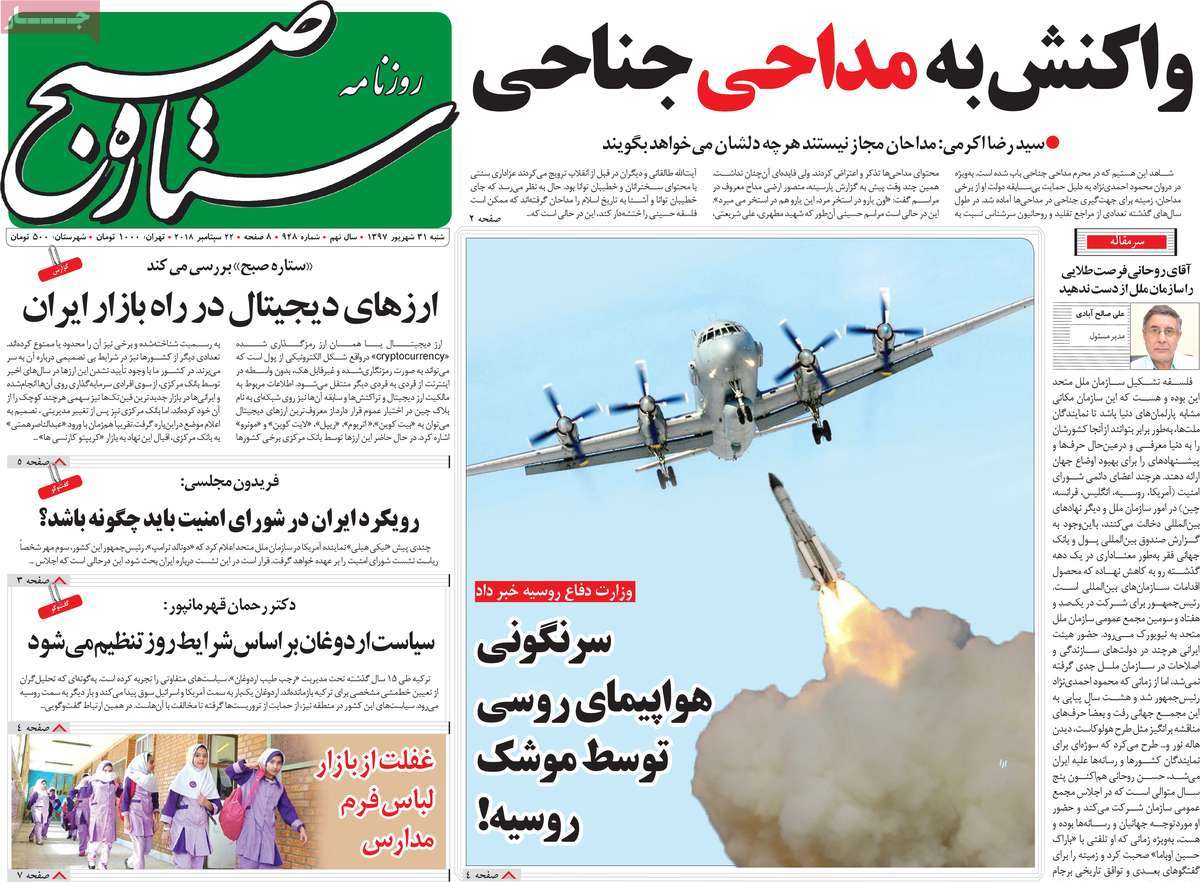 ---
Shargh:
1- Oil Minister: I'll Definitely Veto Any Anti-Iran OPEC Decision
2- Rouhani to Be Accompanied by 6 People, Not 100, in New York Trip
3- Iran Denies It Has Asked for Rouhani-Trump Meeting in New York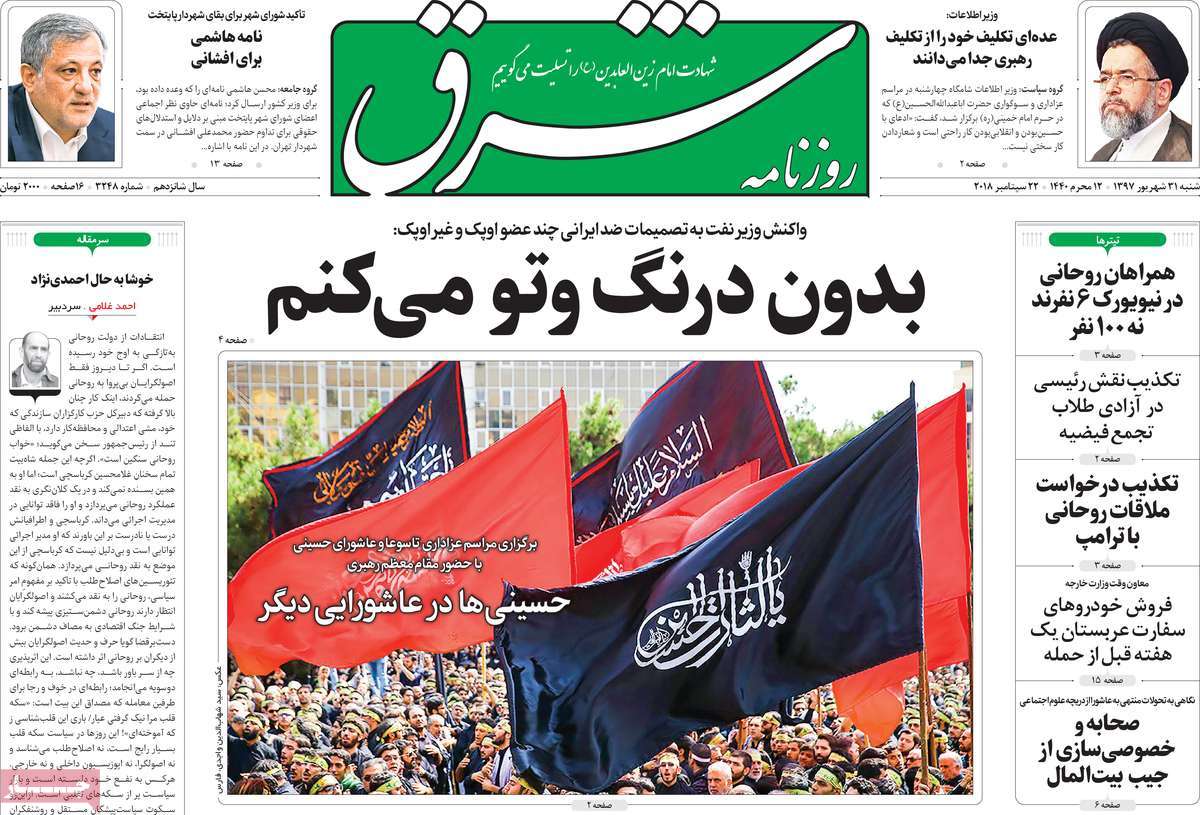 ---
Vatan-e Emrooz:
1- Divide and Rule: A Report on Trump Admin's Plot to Disrupt Iran-Iraq Ties
The Washington Institute for Near East Policy Plays the Key Role