Iranian papers today widely covered Foreign Minister Mohammad Javad Zarif's comments about the need for Europe to speed up its efforts to save the Iran nuclear deal.
Also a top story was the upcoming impeachment of Economy Minister Masoud Karbasian, which was approved by the Iranian Parliament.
The brilliant performance of Iranian athletes at the Jakarta Asian Games, particularly the two gold medals won by Iranian wrestlers, also received great coverage.
The above issues, as well as many more, are highlighted in the following headlines and top stories:
Abrar:
1- Zarif: Europe Knows What We Want from Them
2- Larijani: Intelligence Ministry Gave Us List of Those with Dual Nationality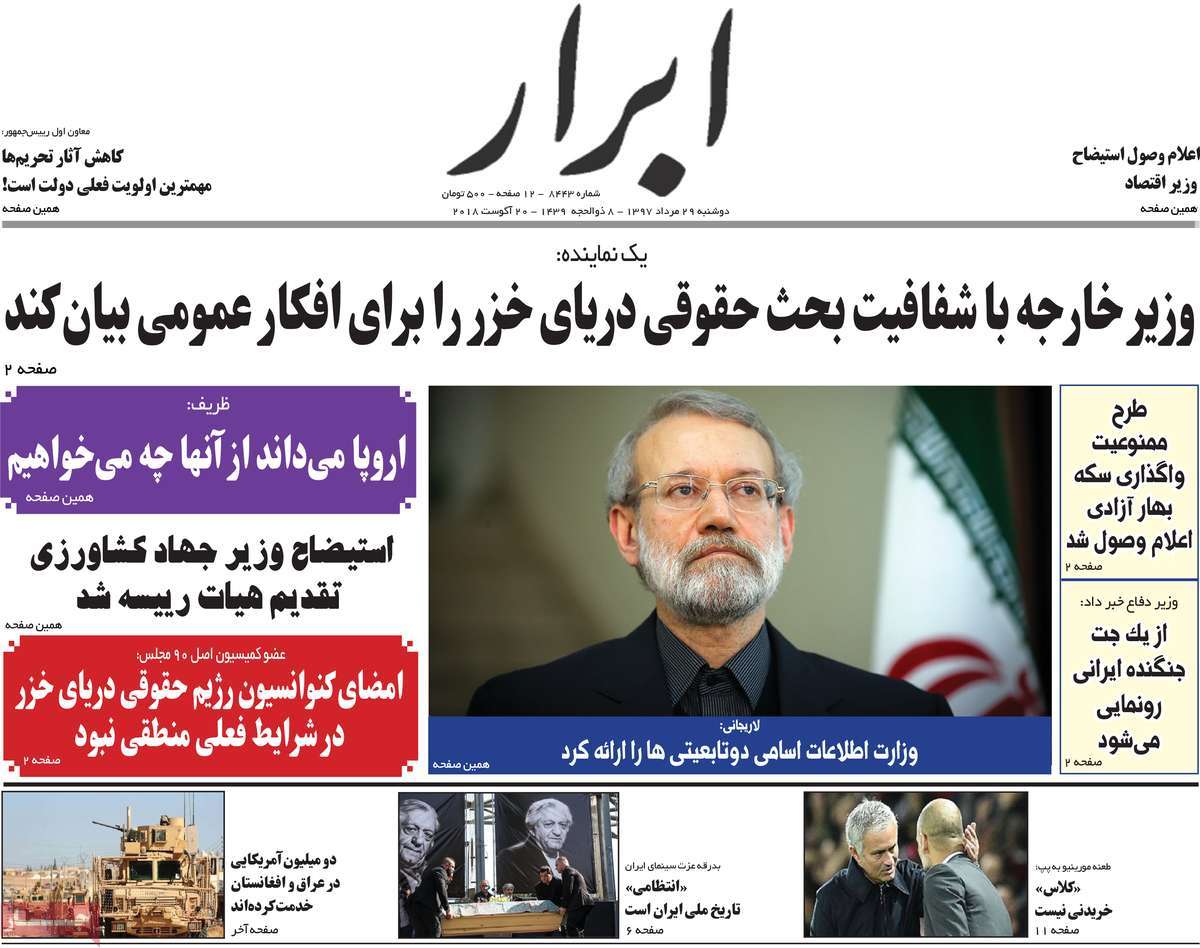 ---
Aftab-e Yazd:
1- New Wave of Attacks against Iran Nuclear Deal
Conservative Cleric Mesbah Yazdi: You Must Admit You Make Terrible Mistake
2- Economic Analyst: A Certain Party Main Winner of Economy in Past Three Decades
---
Arman-e Emrooz:
1- Gold Coin, Forex Rates Decline
2- Economic Analyst Raghfar Discloses Secrets behind 'Forex Coup'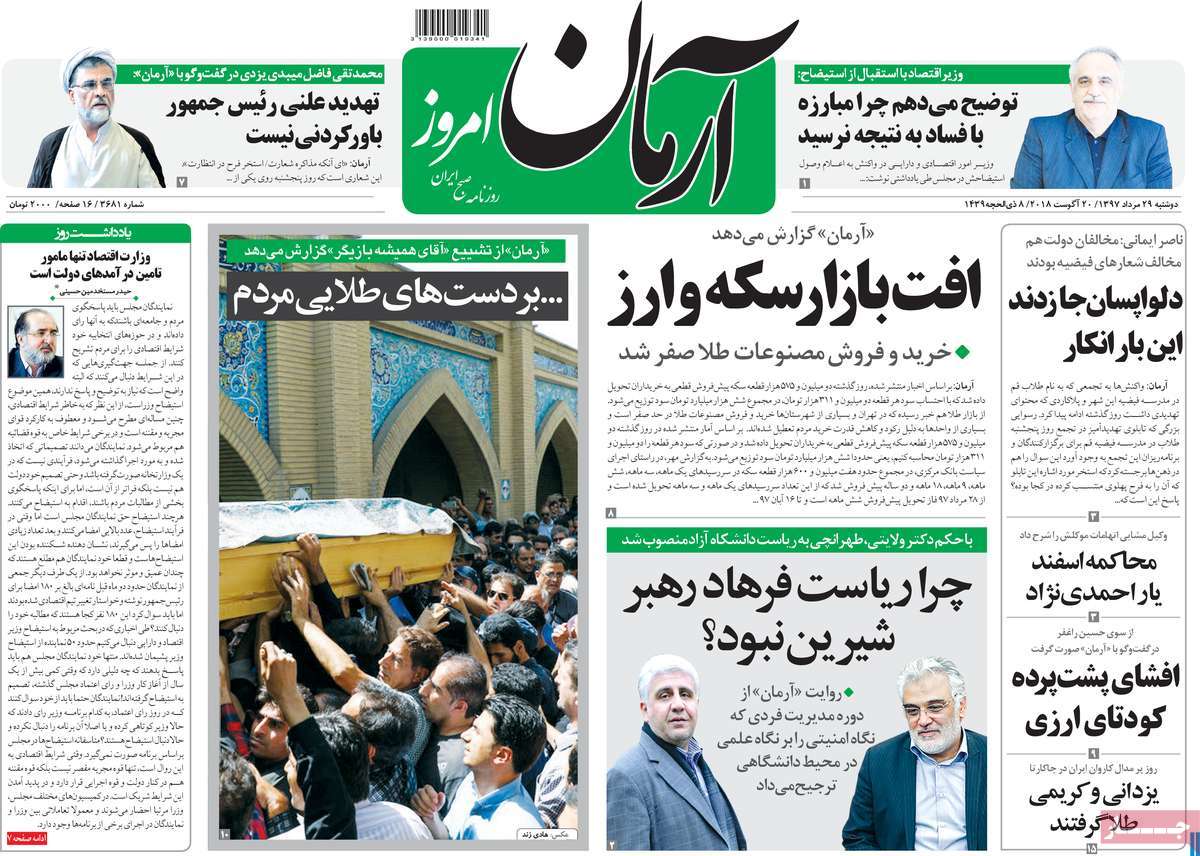 ---
Donya-ye Eqtesad:
1- Iran Chamber of Commerce Worried about Financial Isolation
Parliament of Private Firms Call for Adoption of FATF Standards
Chamber of Commerce: Gov't Helping Sanctions Work by Making Hasty Decisions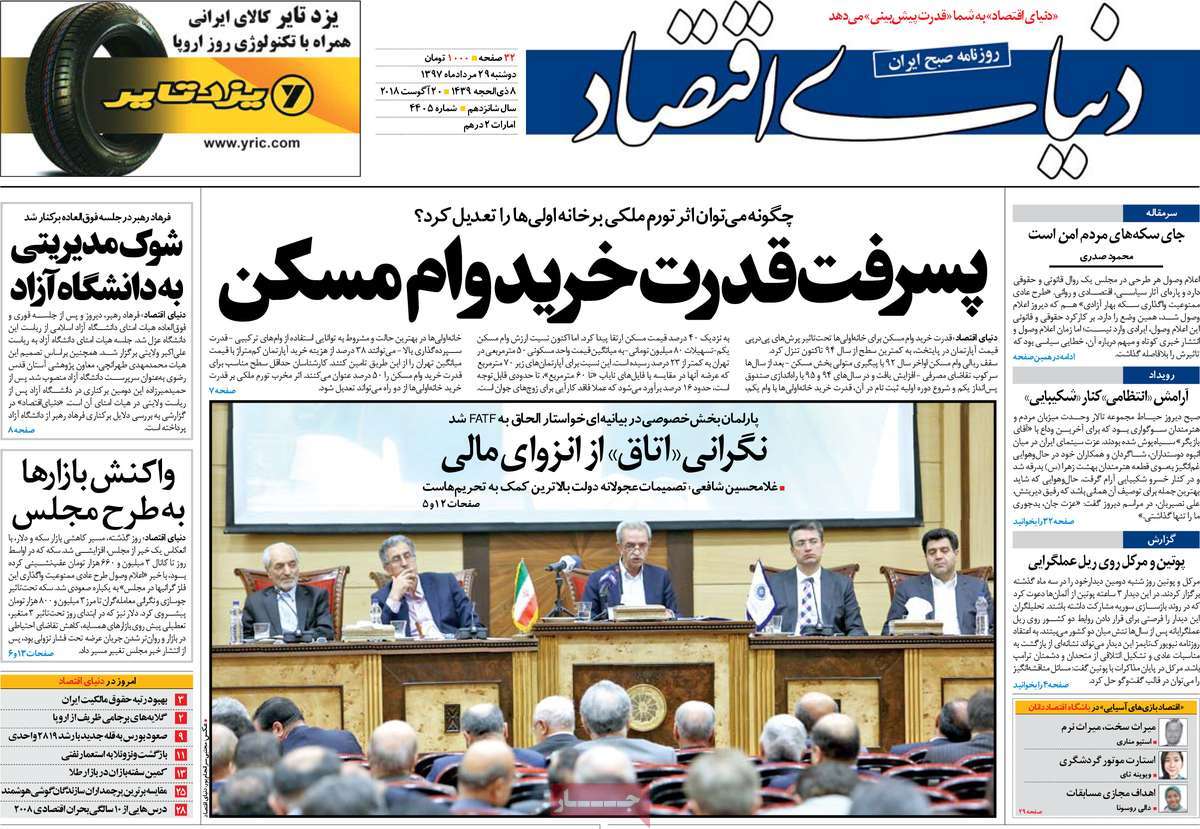 ---
Ebtekar:
1- Iran First VP: Government's Priority Is to Decrease Impact of Sanctions
2- Top US General: We'll Remain in Iraq for Now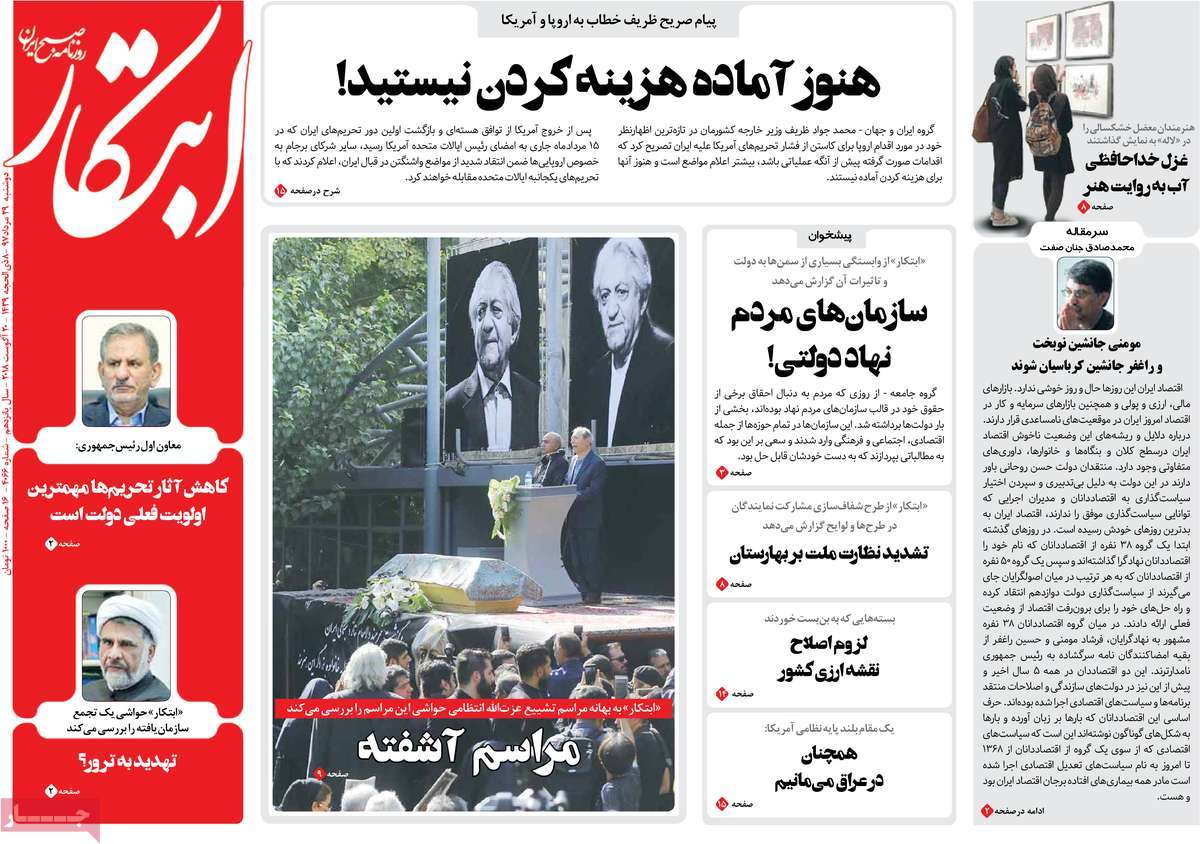 ---
Etemad:
1- Parliament to Impeach Economy Minister Karbasian despite Oppositions
2- Economy Ministry without Any Planning [Editorial]
---
Ettela'at:
1- Zarif: US Longing to Repeat Scenario of 1953 Coup
2- Top Delegation of Yemen's Ansarullah Meets with Hezbollah Chief Nasrallah
---
Hemayat:
1- Chomsky: Iran Endangers US' Hegemony in Region
---
Iran:
1- Another Minister to Be Impeached
2- Iranian Athletes' Brilliant Start in Asian Games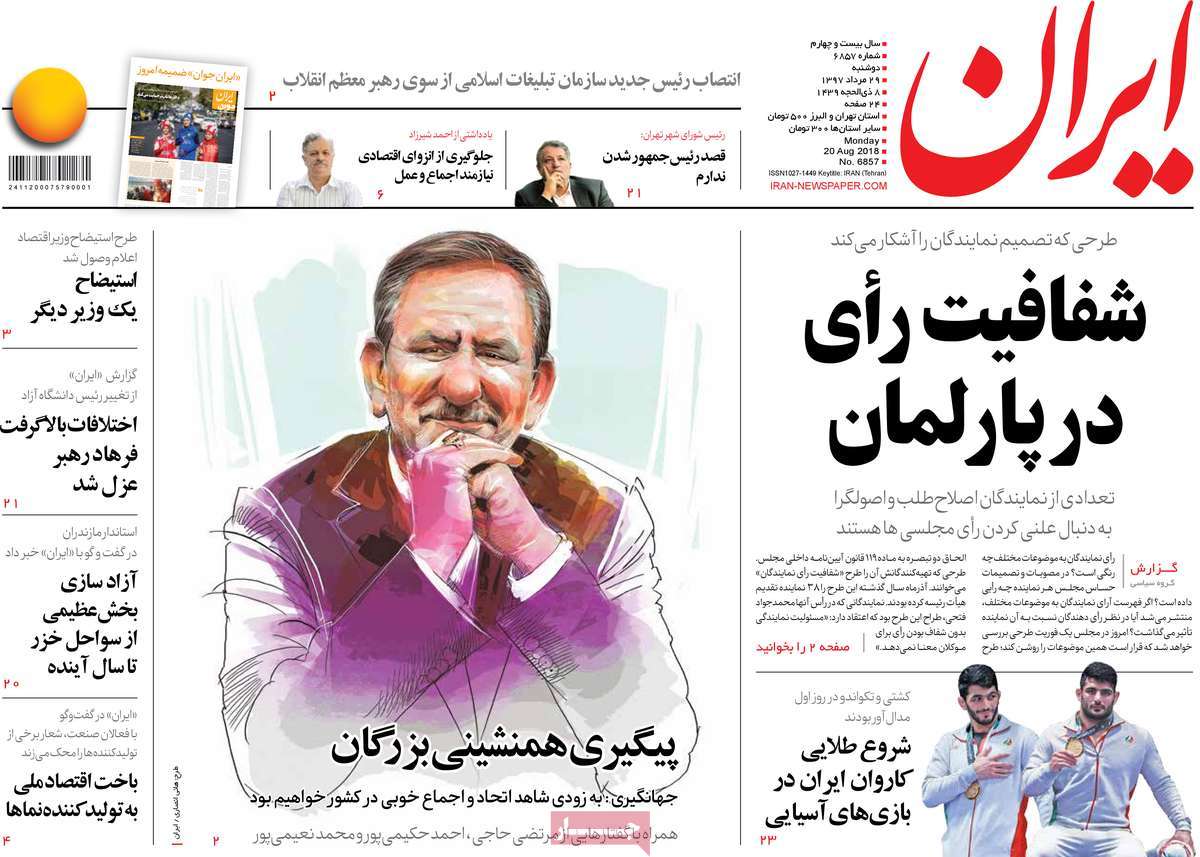 ---
Jame Jam:
1- Former Iranian Diplomat: Consequences of Negotiation with US Worse than War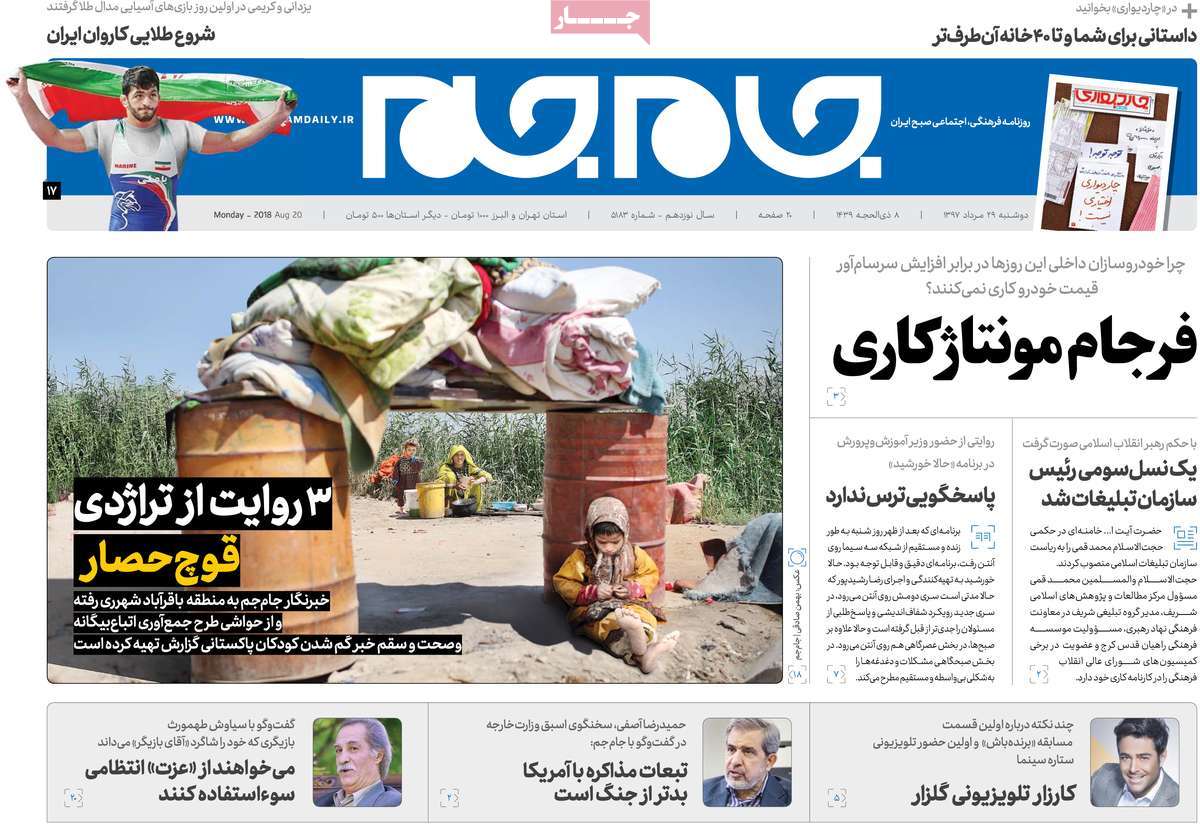 ---
Javan:
1- Zarif, Too, Disappointed with Europe
Iran FM: Europeans Not Ready Yet to Pay the Price
2- Golden Day of Iran's Wrestling in Jakarta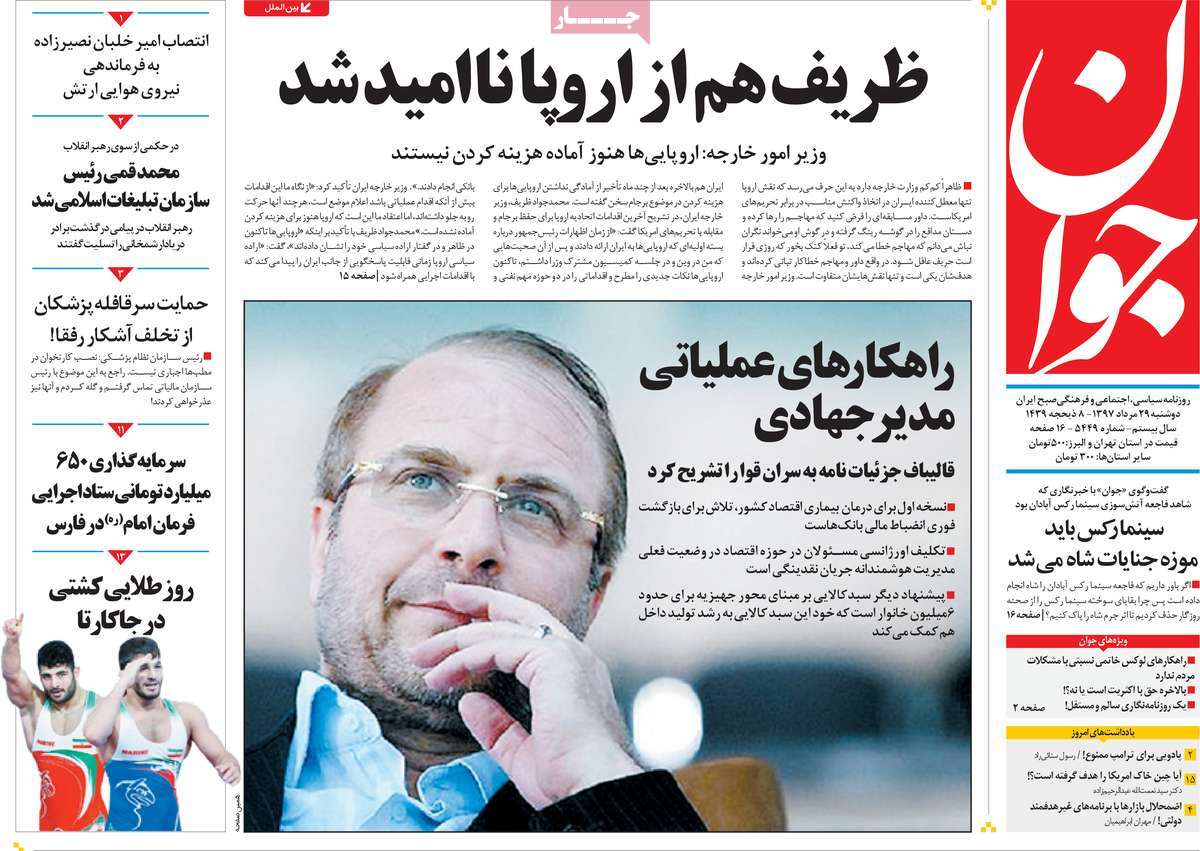 ---
Kayhan:
1- People Waiting for Government's Measures, Gov't Full of Contradictions
2- 140 Saudi Mercenaries Killed in Yemeni Forces' Joint Operation in Hudaydah
3- Daily Star's Report on Suicide Crisis in British Barracks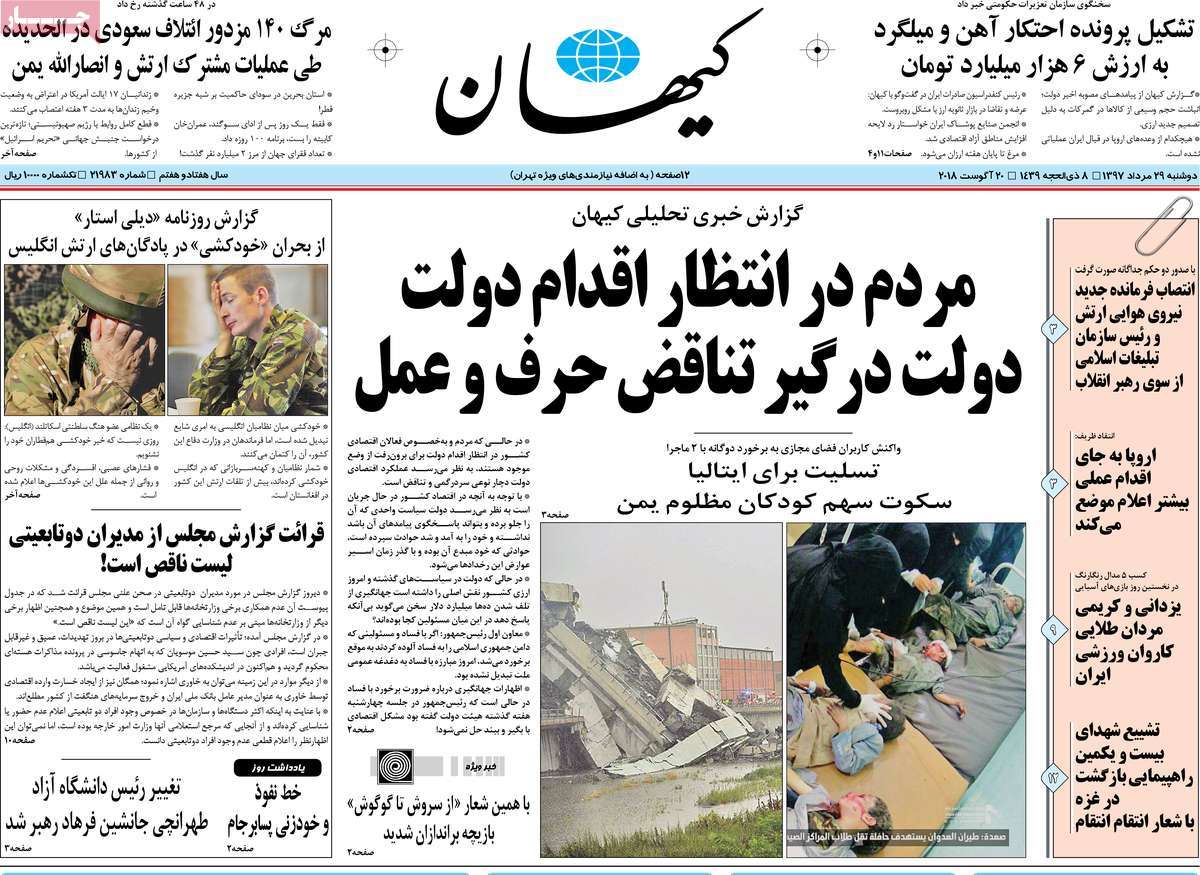 ---
Khorasan:
1- Iran to Unveil New Strategic Fighter Jet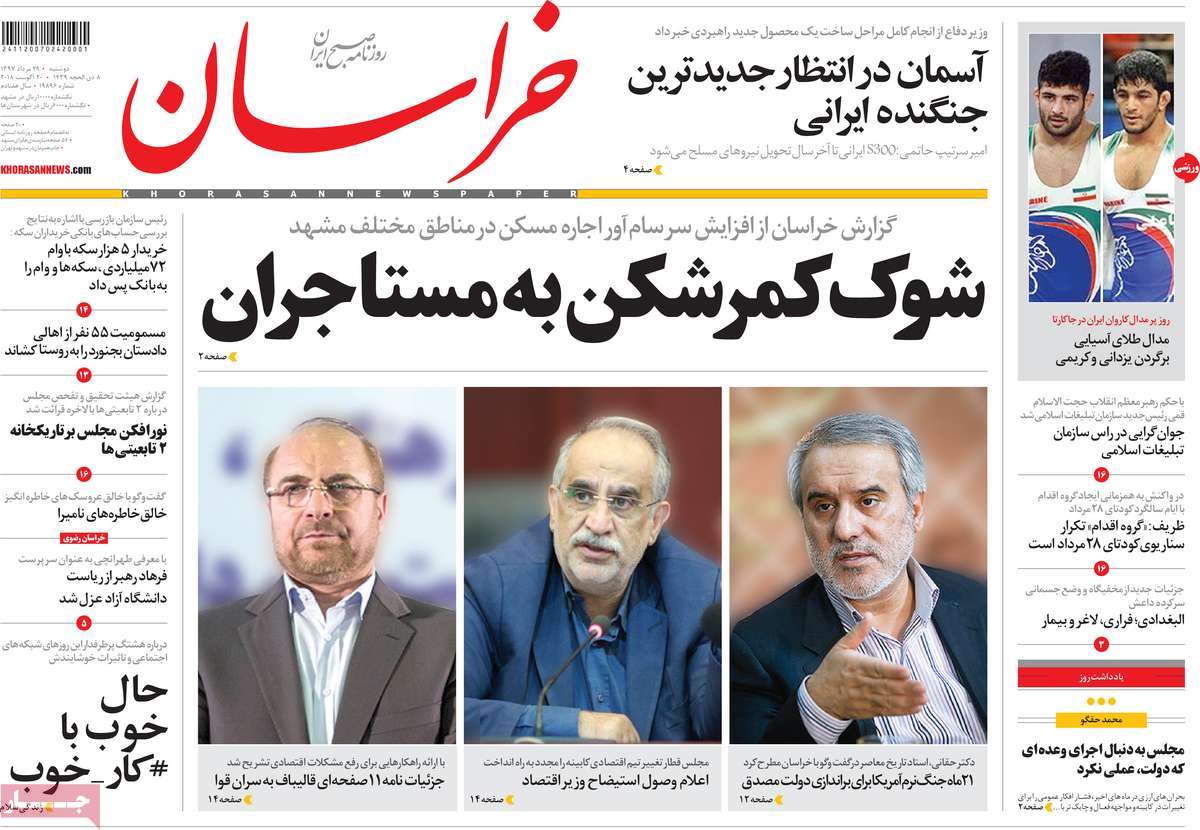 ---
Sazandegi:
1- China Benefiting from Iran Sanctions
2- Unity of Arch-Enemies: Russia, German Leaders Meet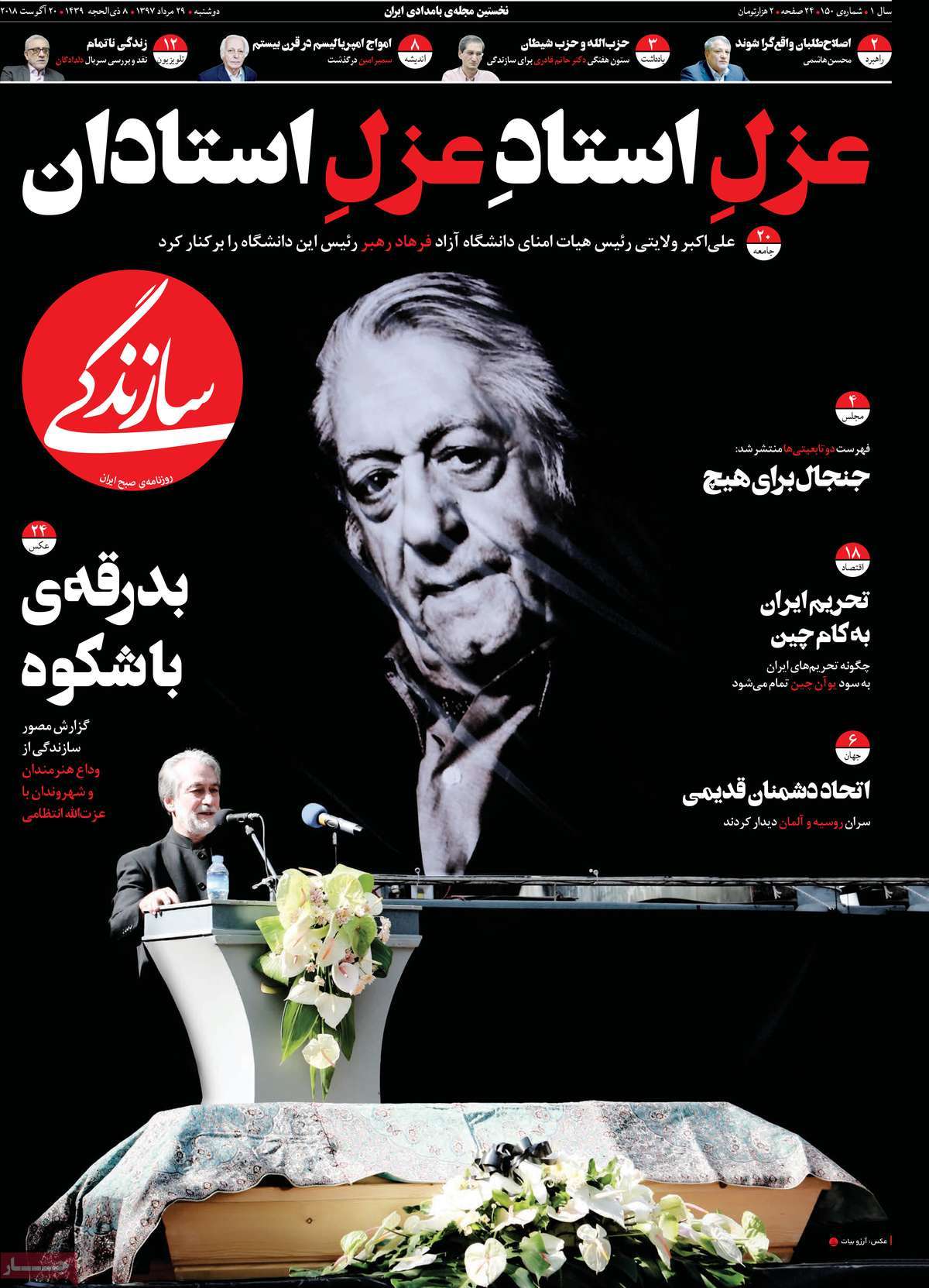 ---
Shargh:
1- Zarif on Anniversary of US-Backed 1953 Coup: Never Again
2- People Disappointed with Politicians: Analyst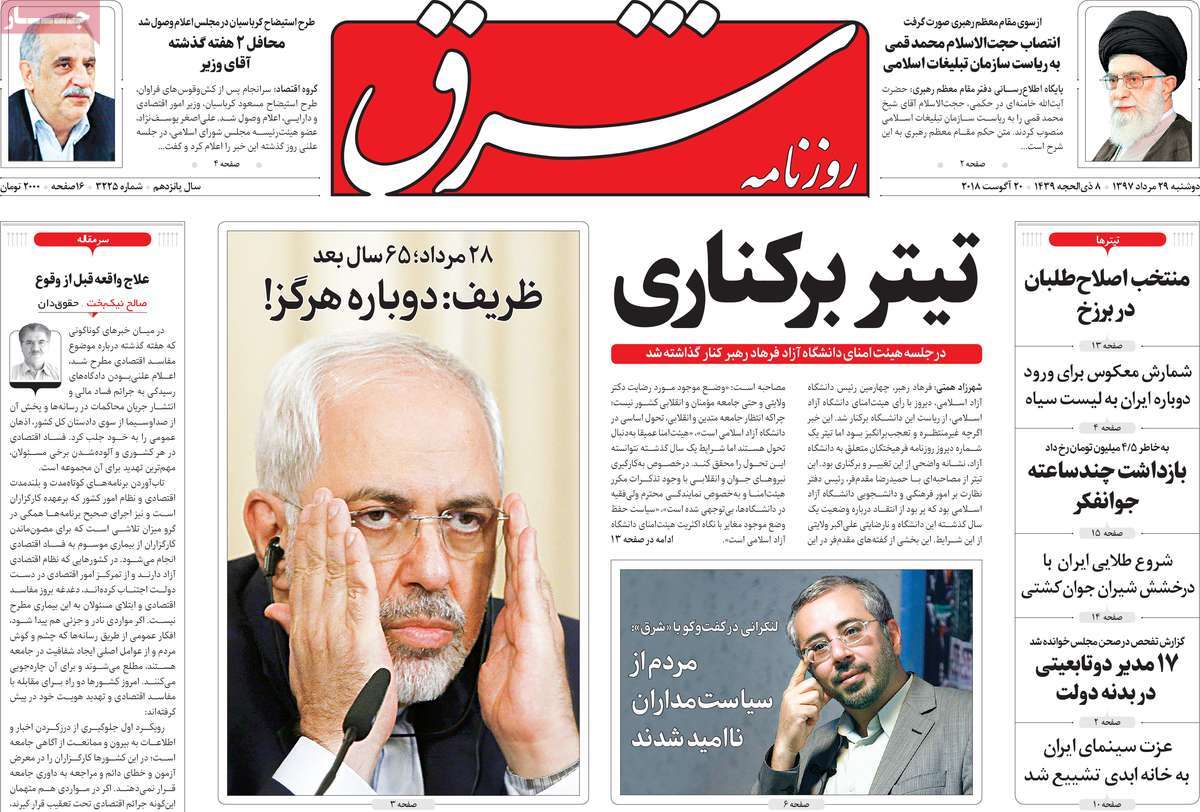 ---
Sobh-e Now:
1- Tehran, Fourth City in the World Suitable for Living
The Economist's Different Look at World's Best Cities for Living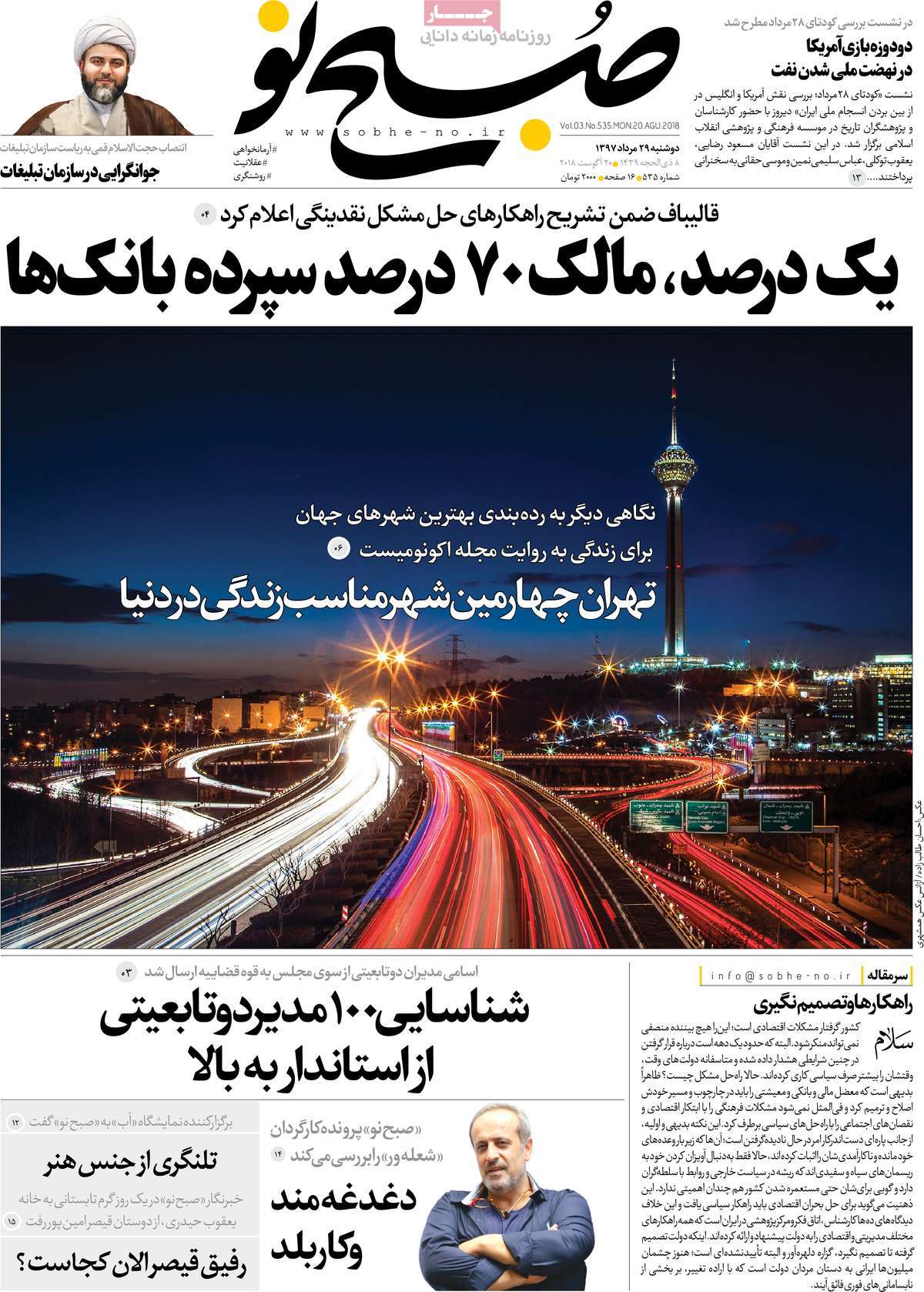 ---
Vatan-e Emrooz:
1- Larijani: US' Deceit in 1953 Coup Still Seen in Nuclear Deal's Case
2- Trump and Triangle of Threat, Tariff, Sanction!