Newspapers on Wednesday highlighted the remarks made by the Leader of the Islamic Revolution Ayatollah Seyyed Ali Khamenei in a meeting with Chairman of the Presidency of Bosnia and Herzegovina Bakir Izetbegovic.
They also covered the remarks made by President Hassan Rouhani in his meeting with his Bosnian counterpart.
The European Union's decision to normalize its ties with Iran and Intelligence Minister Seyyed Mahmoud Alavi's address to the Parliament also received great attention in today's newspapers.
The above issues, as well as many more, are highlighted in the following headlines:
Abrar:
1- Senior Cleric: Rouhani Doesn't Have Good Chance for Presidency in Polls
2- Ar-Rutbah Town under Control of Iraqi Forces: ISIS Positions Attacked inside Mosul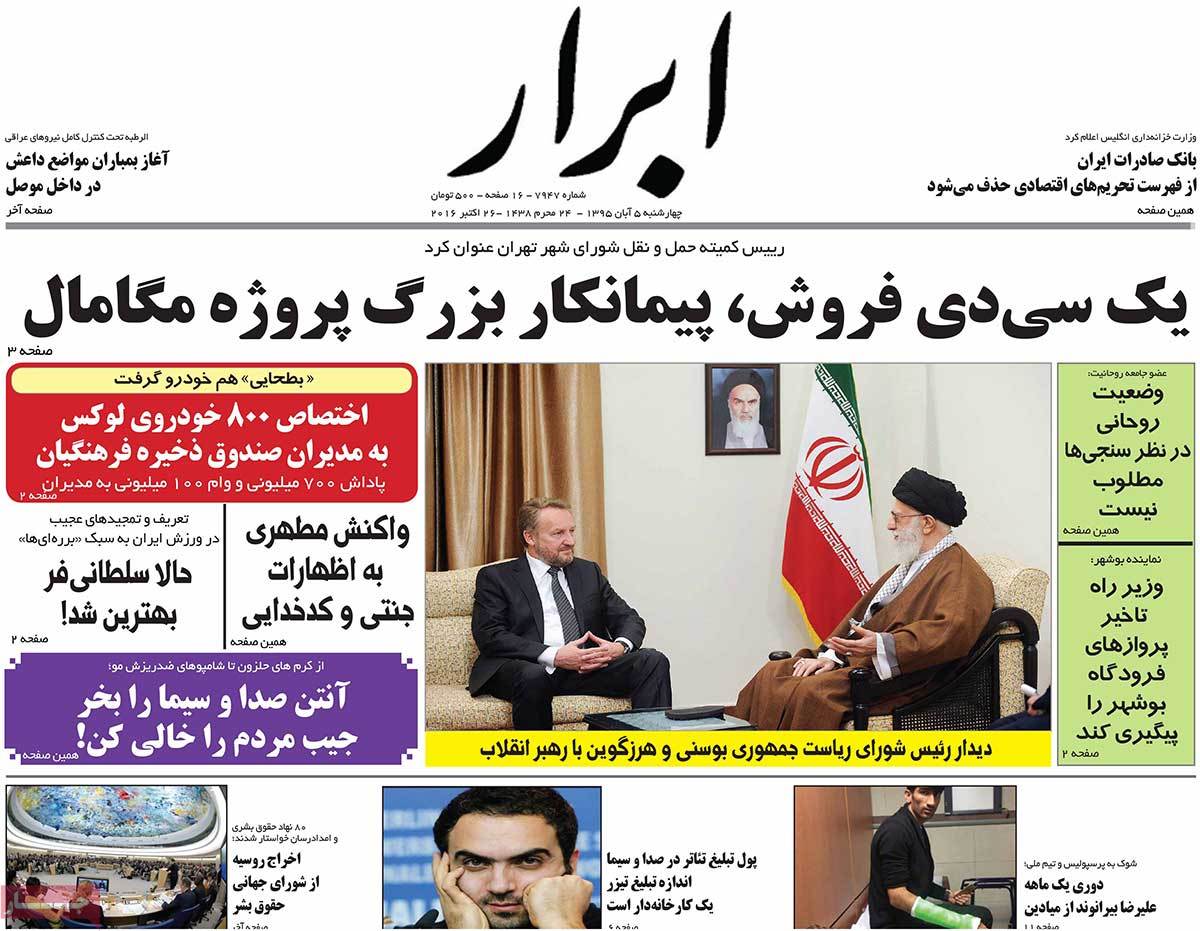 ---
Abrar-e Eqtesadi:
1- 17% Decrease in Iran's Imports from China
2- 35 Countries Making Investment to Compete with Iran's Caviar
3- Expansion of Iran-Singapore Banking Ties
4- Britain Releases Bank Saderat's Frozen Assets
---
Afarinesh:
1- Iran's Reaction to Chatham House Prize: Zarif Says the Prize Belongs to Iranian Nation
2- Import of Petrol Omitted from Next Year's Budget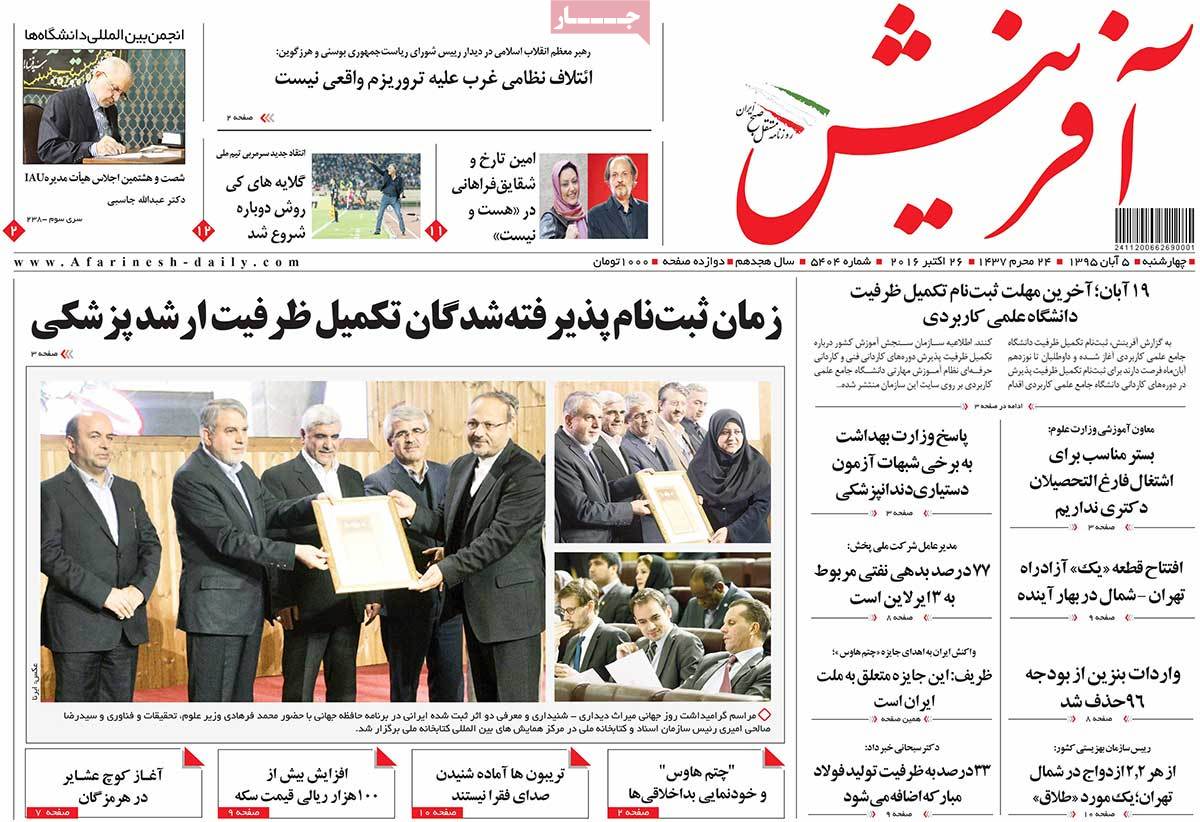 ---
Afkar:
1- Edible Nano Packaging Produced in Iran
2- First VP: Iran's Missile Power, a Major Component in Deterrence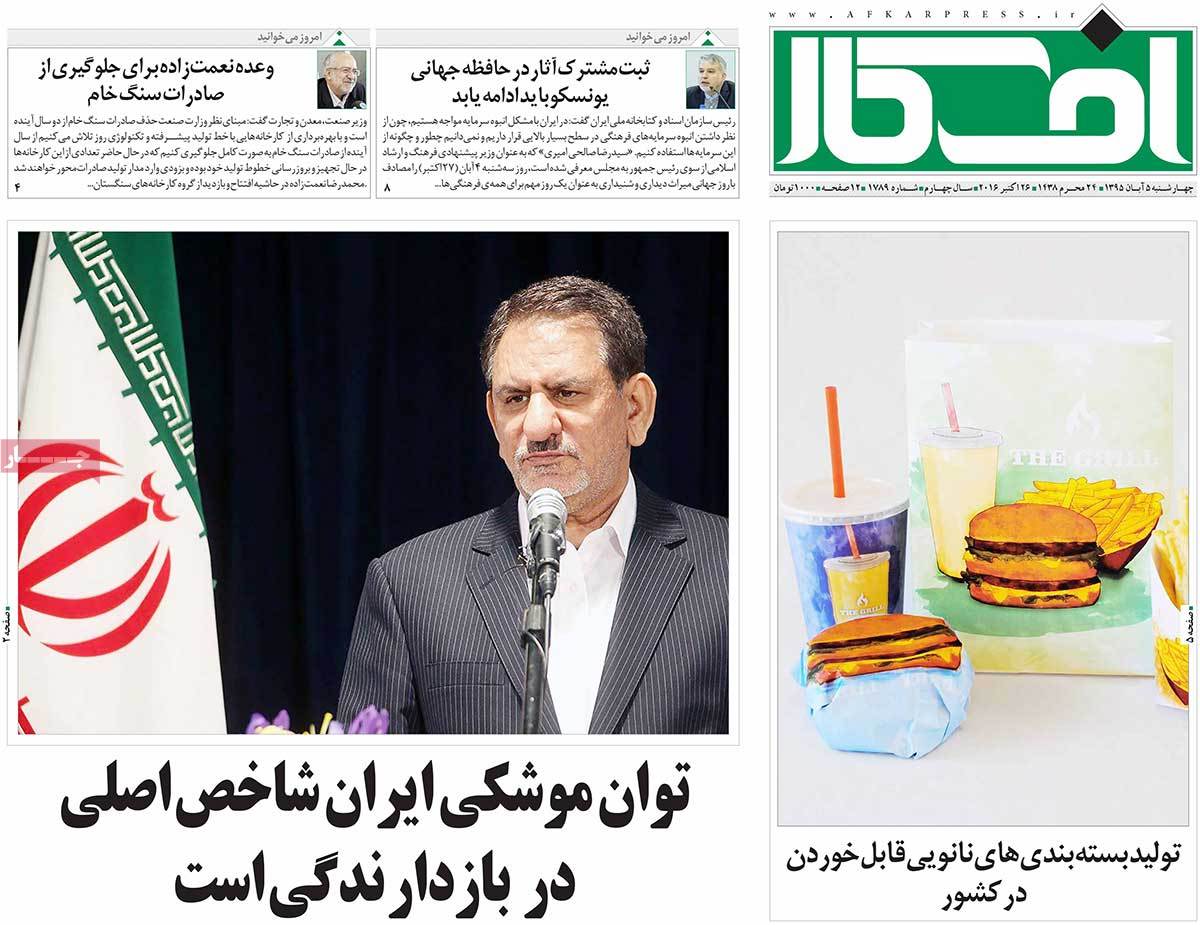 ---
Aftab-e Yazd:
1- Ties between Iran and Europe Normalized: Positive Outcomes of JCPOA Emerging amid Opponents' Harsh Criticism
2- Intelligence Minister's Sarcastic Remarks against Hard-Liners: US Senator Also Made a 15-Day Trip to Iran in 2010, Why the MPs Didn't Show Sensitivity at That Time?
---
Amin:
1- Iran's Relentless Fight against ISIS: Intelligence Ministry Has Repeatedly Foiled ISIS Plots in Iran This Year
---
Arman-e Emrooz:
1- Leader in Meeting with Bosnian President: Western Governments' Military Coalition against Terrorism Is Not Real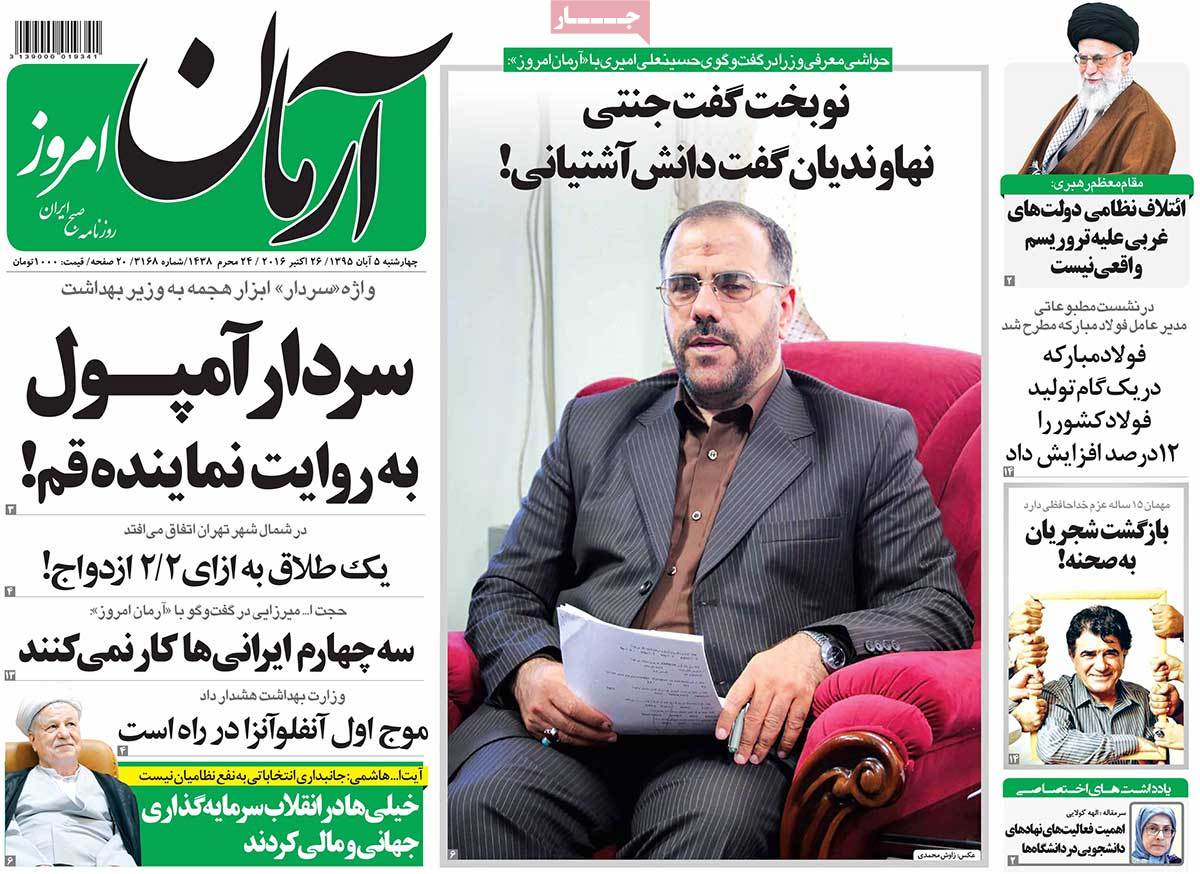 ---
Asrar:
1- Foreign Policy: US Congress Mulling a Plan to Assassinate Bashar Assad
2- $1,000bn, the Price of Lake Urmia's Shrinkage
3- EU Looking for Expansion of Ties with Iran
---
Besharat-e Now:
1- Intelligence Minister: Countering the Foreigners' Infiltration Doesn't Need Closure of Iran's Doors to Outside World
2- Reformist Figure: Rouhani Has Done Well beyond Expectations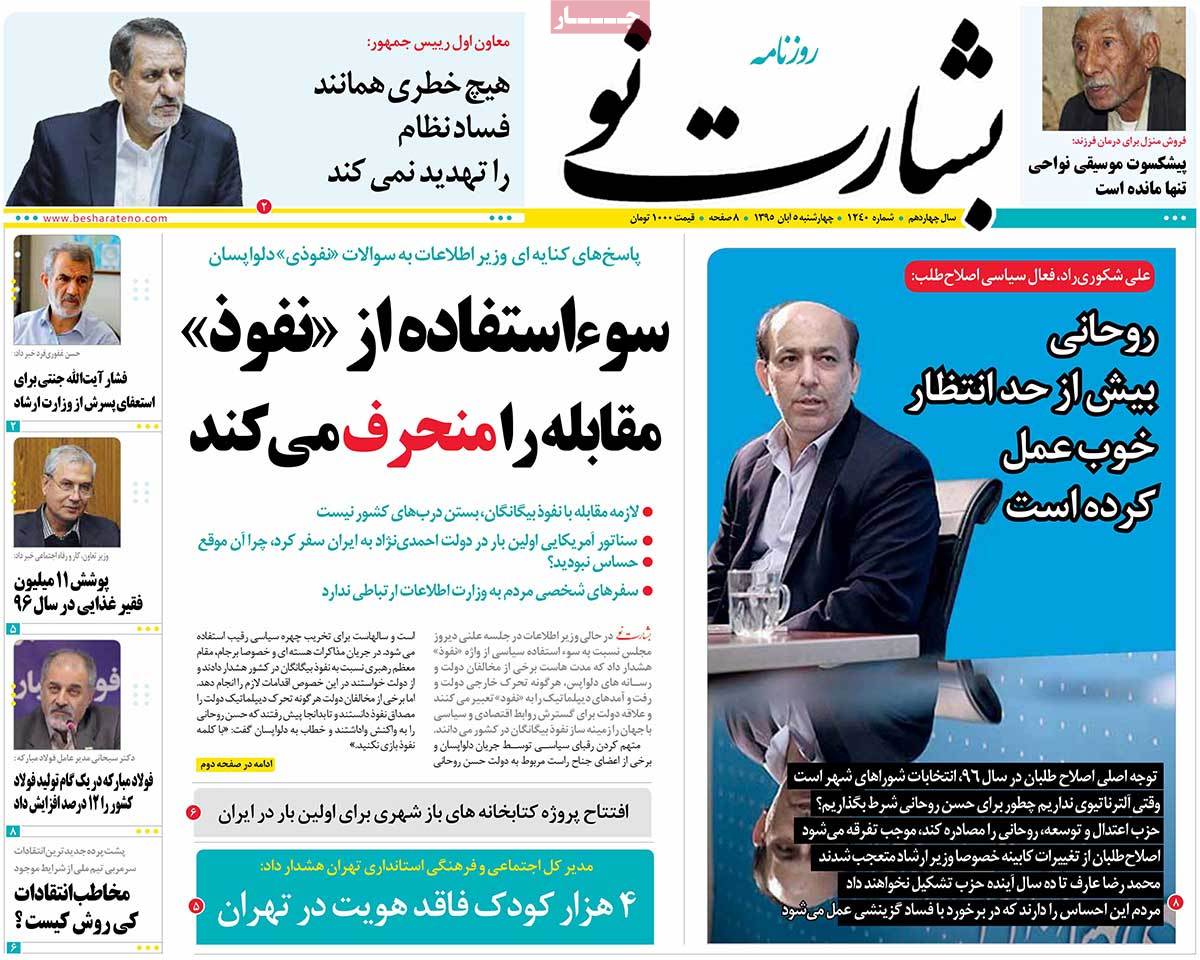 ---
Etemad:
1- Intelligence Minister's Intelligent Responses: Alavi Explains about US Senator's Visit to Iran
2- Pakistan Gripped by Nightmare of ISIS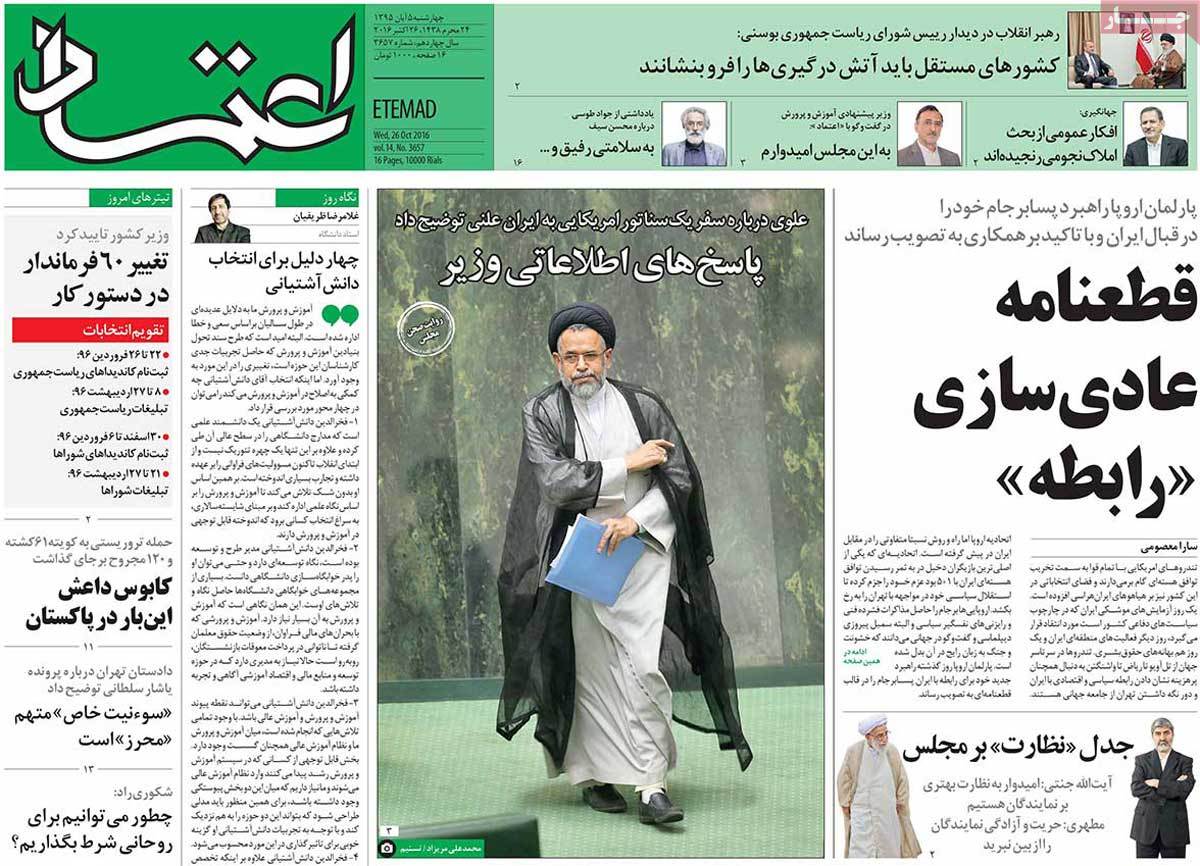 ---
Ettela'at:
1- Leader: Independent Countries Should Extinguish Fire of Conflicts by Strengthening Ties and Refusing to Be Influenced by Arrogant States
2- Iran and Bosnia Presidents Underline the Expansion of Mutual Cooperation
3- Suicide Attack on Quetta Police Academy Leaves 60 Dead and 125 Wounded
---
Hamshahri:
1- Finland's President: Interaction with Iran in Win-Win Situation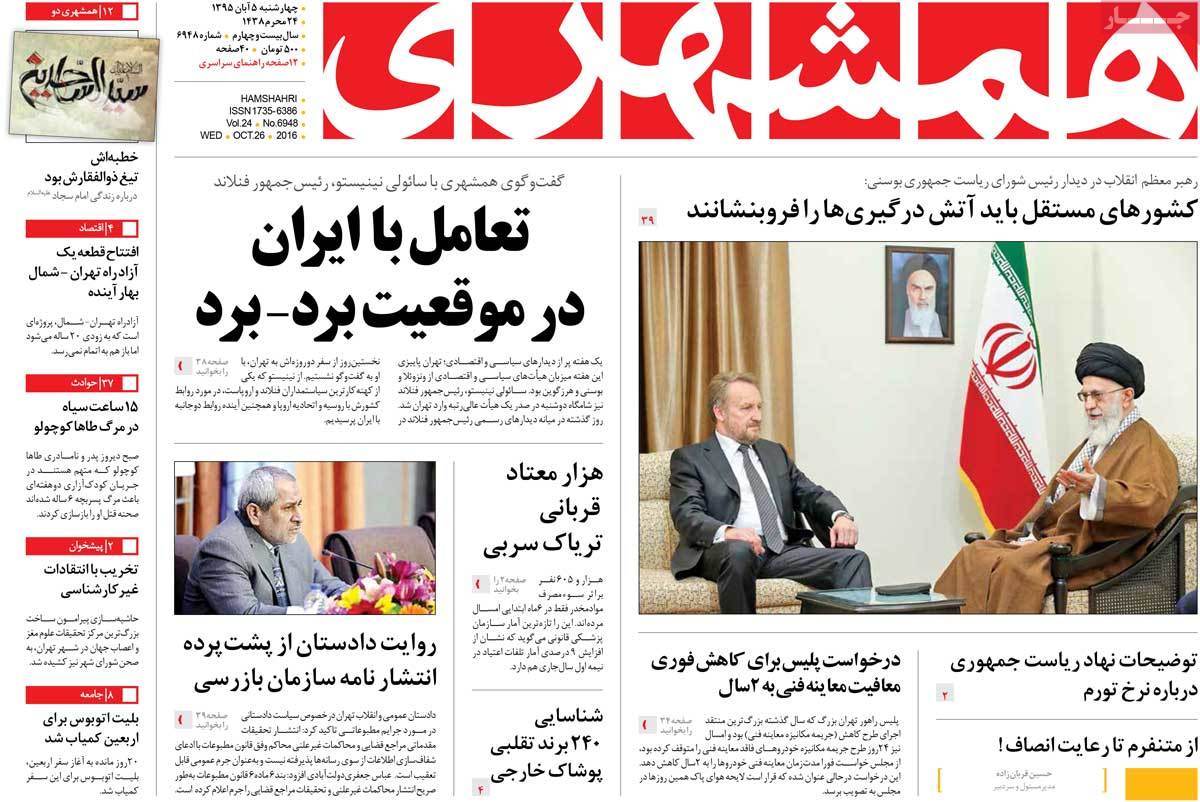 ---
Iran:
1- Petrol Self-Sufficiency after 36 Years
2- European Parliament Gives 456 Yes Votes: EU Passes Resolution to Normalize and Expand Ties with Iran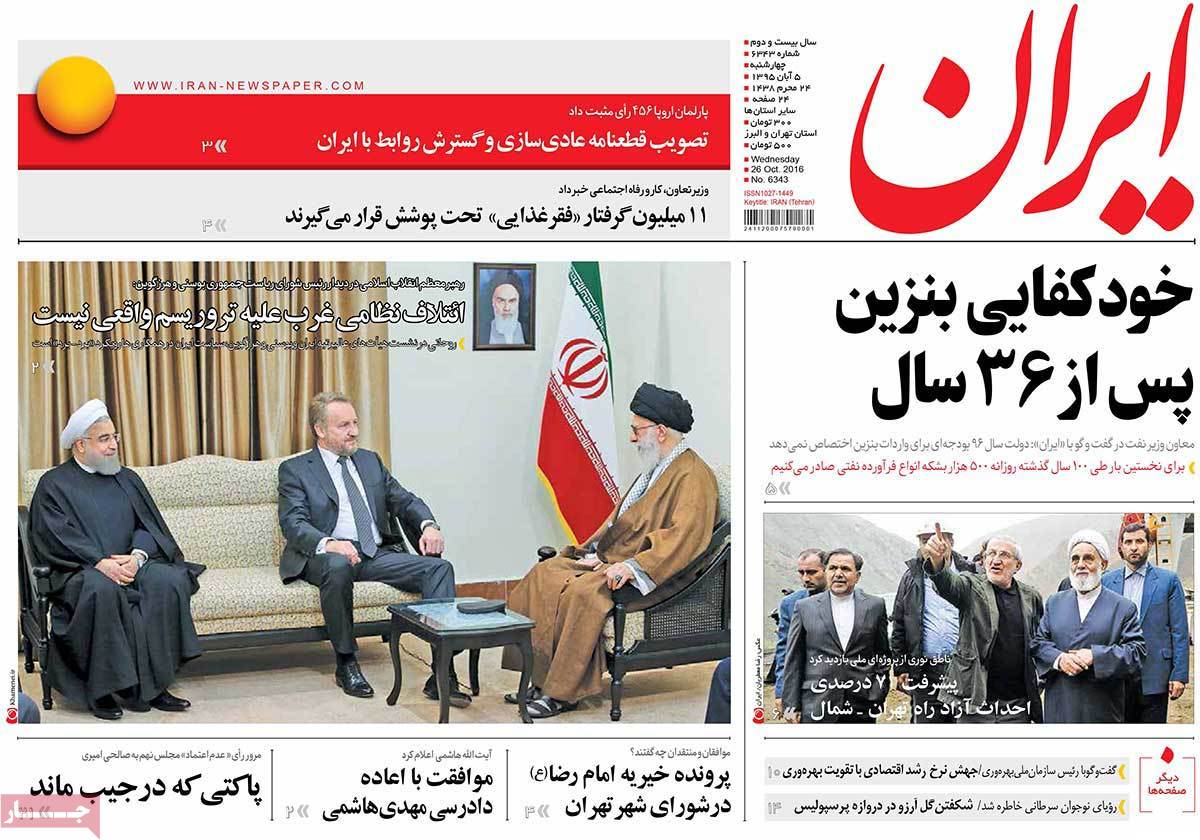 ---
Javan:
1- Leader: Europe Has Created Terrorism and ISIS by Humiliating Muslim Youths
2- ISIS Unveiled in Pakistan
---
Jomhouri Eslami:
1- Rouhani: Promotion of Tehran-Sarajevo Cooperation Is a Must
2- Syria's Request for Receiving War Reparation from US Coalition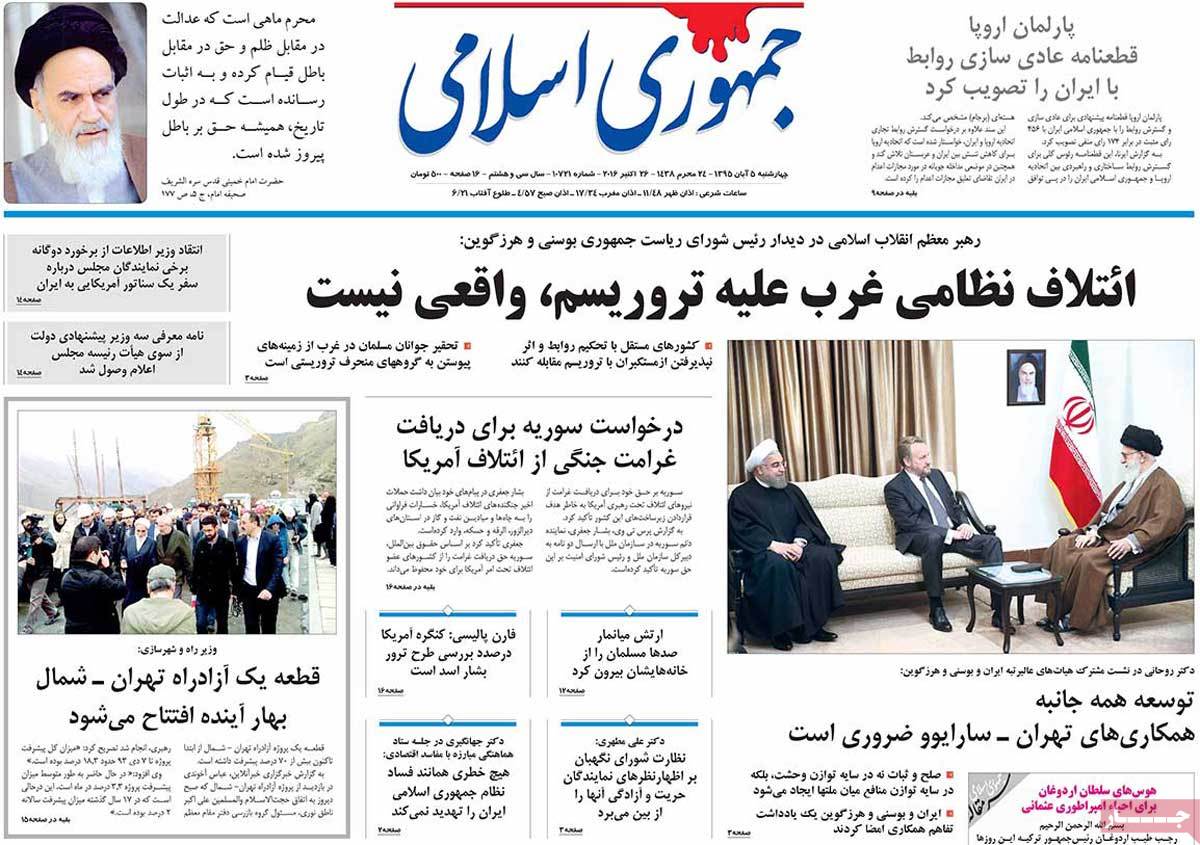 ---
Kayhan:
1- Leader: US and Europe Are Birthplace of Terrorism and Takfiri [Extremist] Ideology
2- Israeli Commander: In Next War, Hezbollah Will Not Show Any Mercy to Us
3- Cross Installed on Iraqi Church: Iraqi Popular Forces Heal Wounds of Nineveh's Christians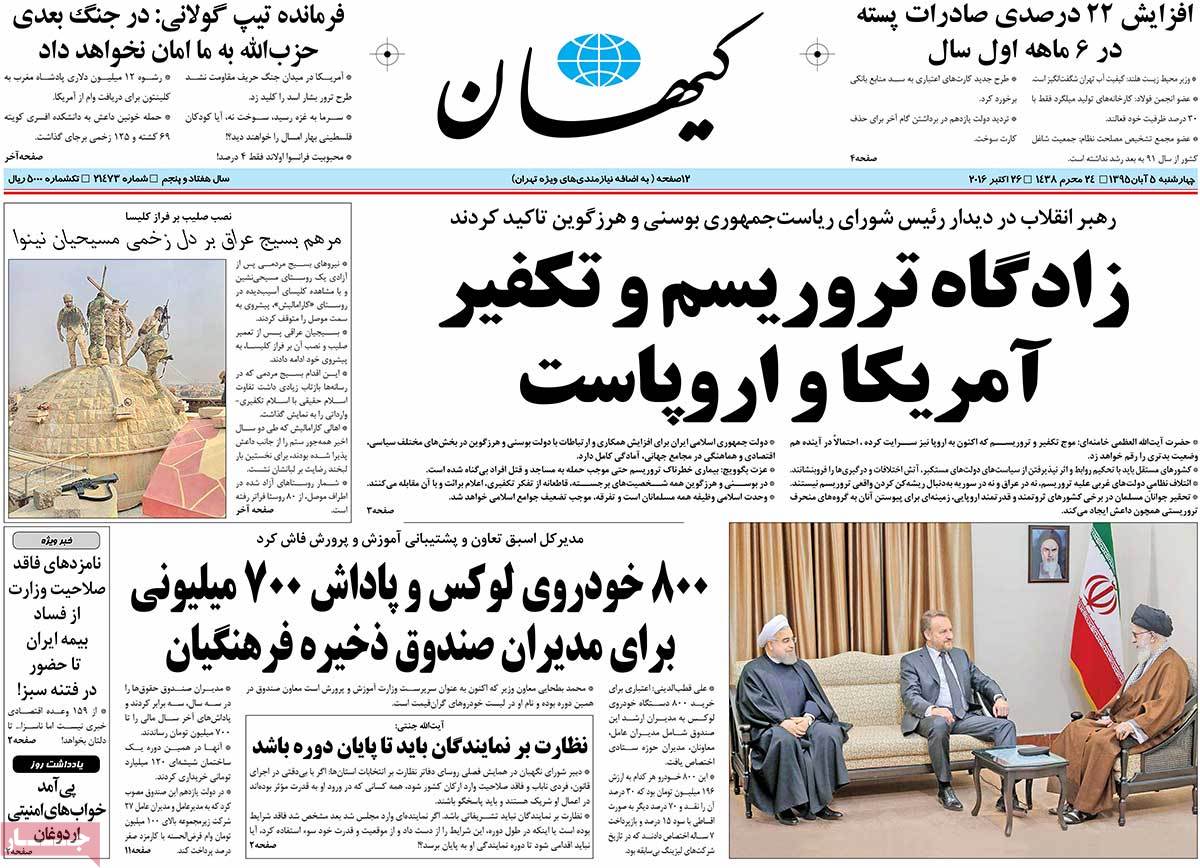 ---
Khorasan:
1- Explosion in Antalya: Attack on Heart of Turkey's Tourism
---
Payam-e Zaman:
1- SNSC Secretary: Iranians Won't Leave Their Stances against Zionism and US
2- President: Radical Islam Has Nothing to Do with True Islam
---
Rah-e Mardom:
1- Rouhani: Iran and Bosnia Trying to Portray True Image of Islam
---
Resalat:
1- Leader: West's Evil Policies Increasing Humanity's Problems on Daily Basis
2- Ayatollah Jannati: In the Name of Interaction, Some Are Calling for Submission to Enemies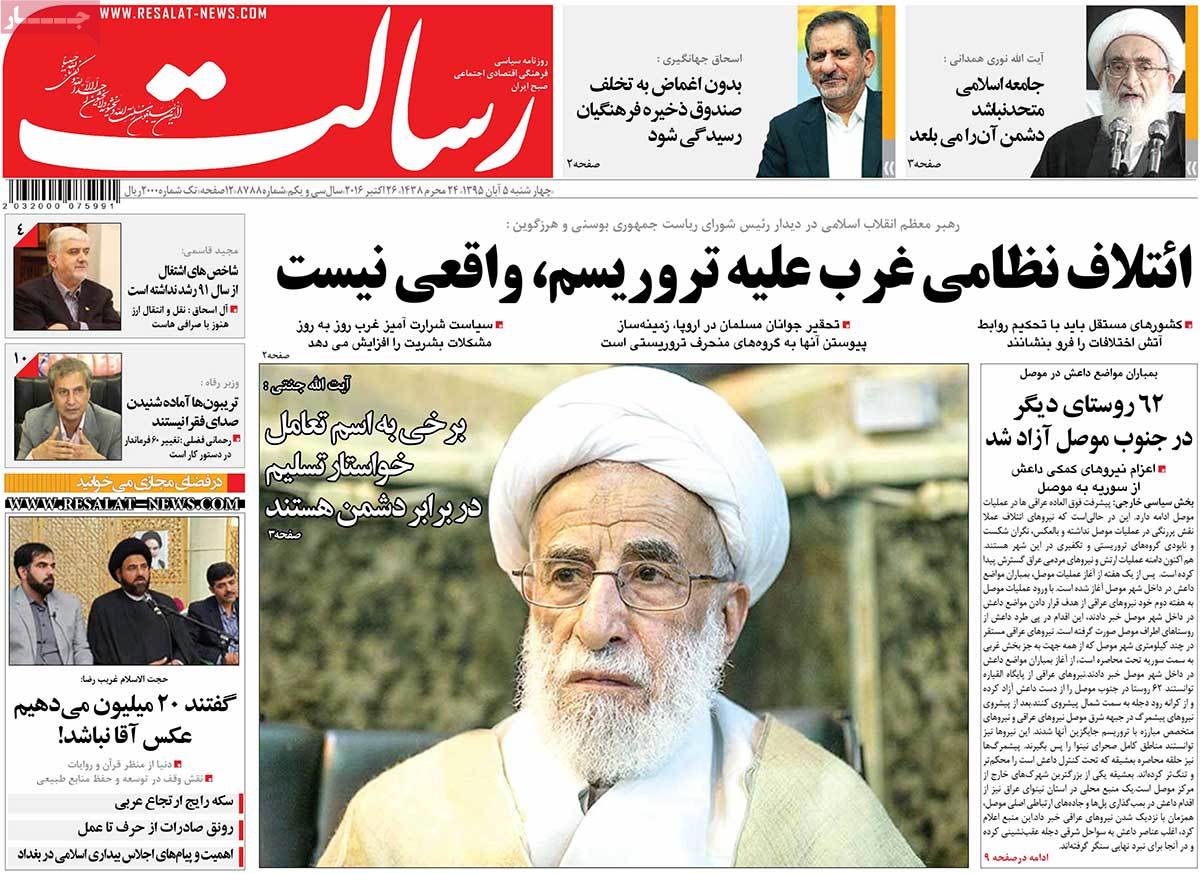 ---
Sayeh:
1- Iran's 0.25% Share of Halal Food Market: Muslims Importing Halal Foods
2- Dutch Environment Minister: Quality of Iran's Water Is Amazing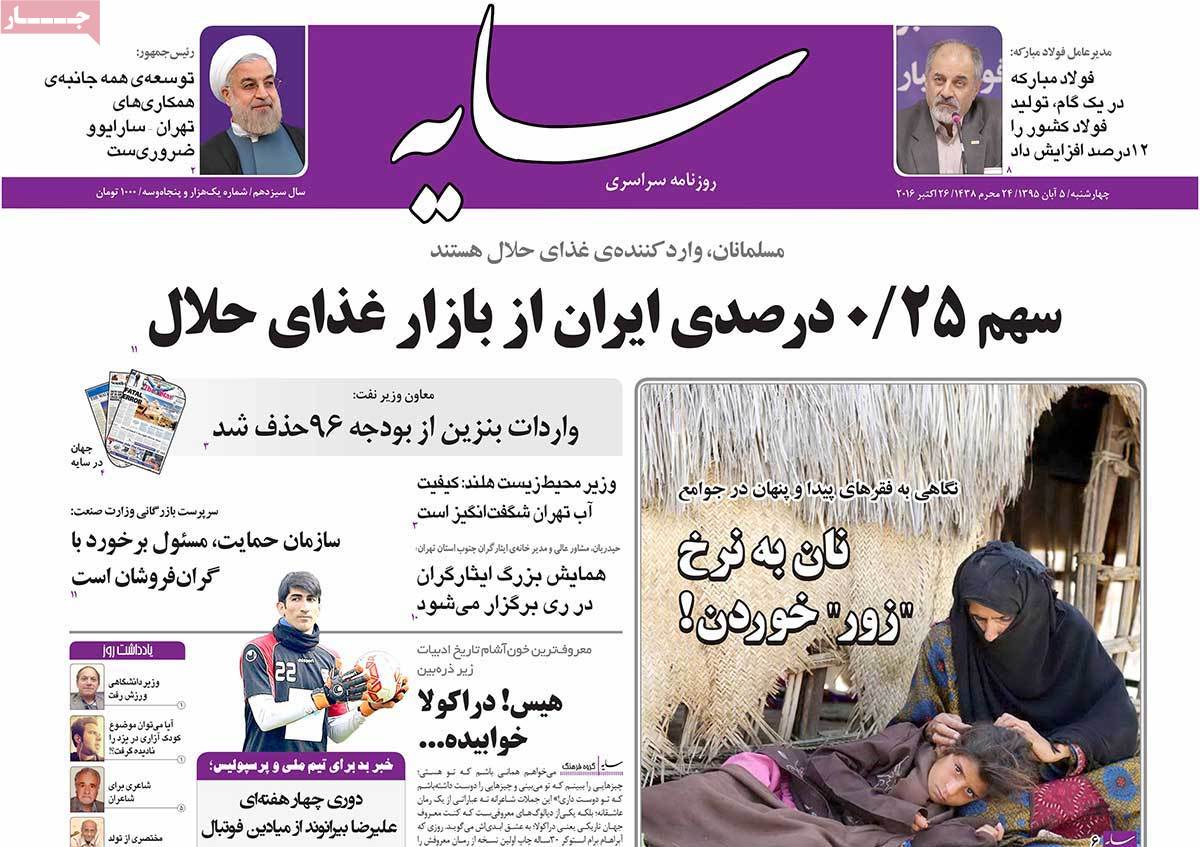 ---
Sepid:
1- Trump's Fear: Psychiatrists and Psychologists Say People Are Suffering from Insomnia and Stress Because of the Fear Caused by Trump
2- Air Pollution Is as Dangerous as Obesity, Research Shows
---
Setareh Sobh:
1- Leader: Security and Peace Are Prerequisites of Growth and Prosperity of a Nation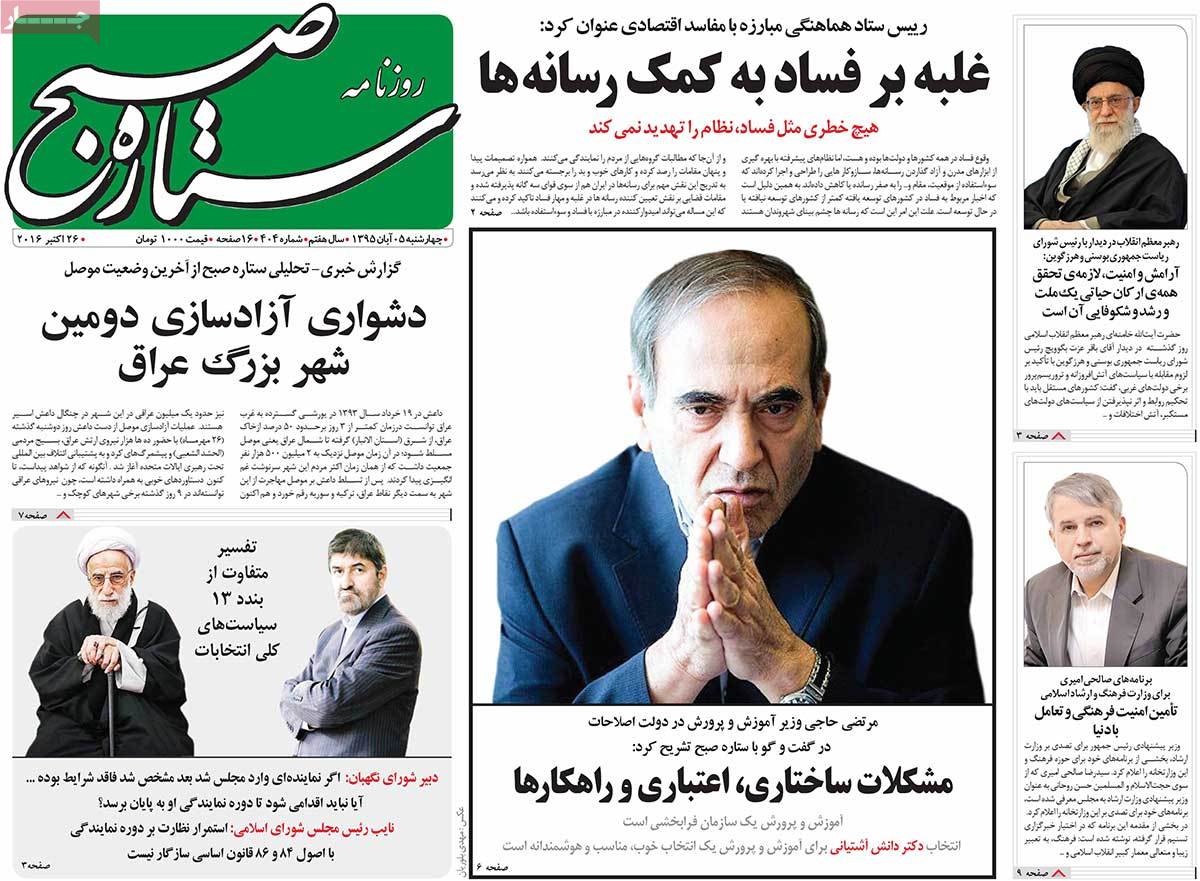 ---
Shahrvand:
1- From Fear of Iran to Love of Iran! Major World Media Introduce Iran as One of the World's 10 Wonderful Countries
2- Share of Tourism Industry in Iran's GDP Increased to 7.6%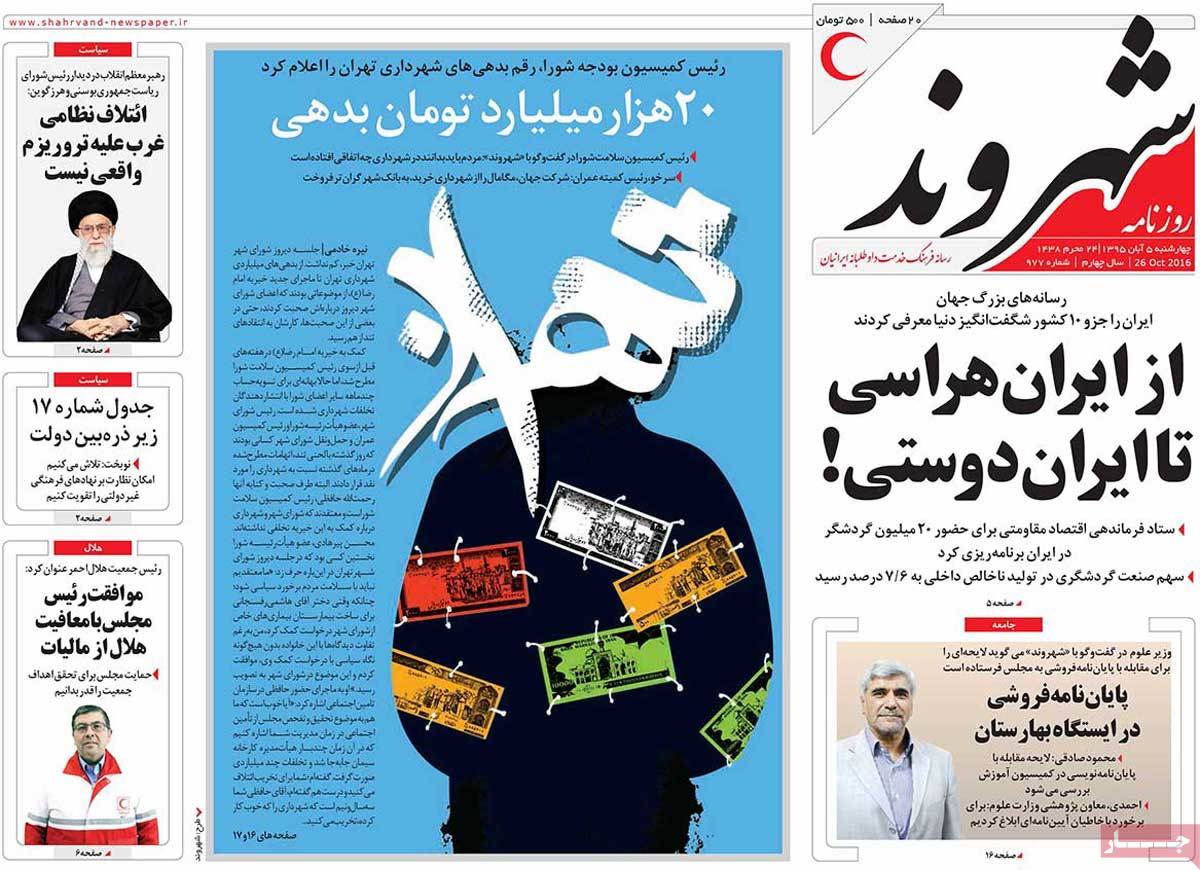 ---
Vaghaye Ettefaghieh:
1- EU's Resolution, a Green Light for Iran [Editorial]
2- People Vote in Popular Sports Show: Let Women Go to Stadiums
3- Sexual Abuse of Children, a Crisis That Is Screaming: Serious Concerns Raised in Child Rights Group Meeting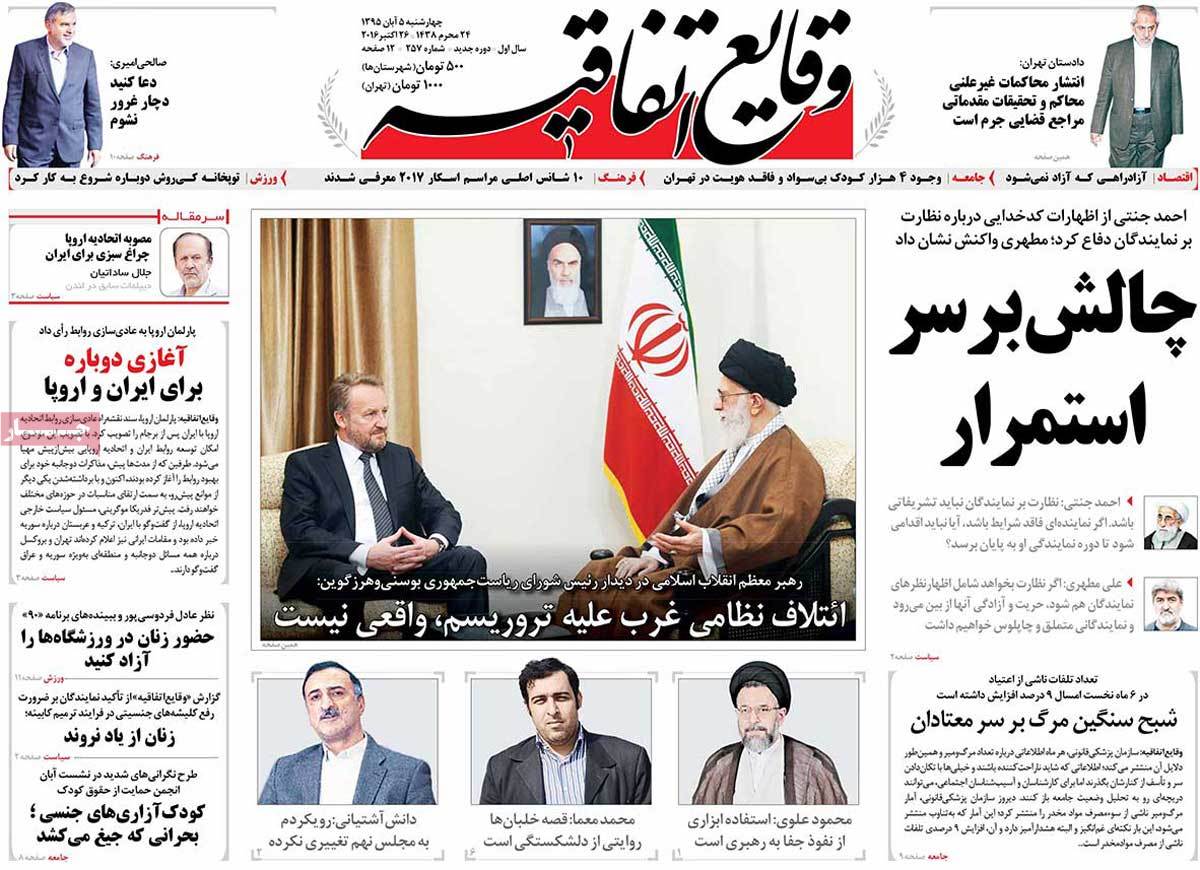 ---
Vatan-e Emrooz:
1- Queen's Prize: A Report on the Prize Given by Royal Institute of Chatham House to Zarif and Kerry for JCPOA!