The top story in all newspapers today was the unannounced and friendly visit of Ayatollah Seyyed Ali Khamenei, the Leader of Iran's Islamic Revolution, to the quake-hit areas in Western Iran.
The Leader personally listened to the difficulties people are suffering from, and urged officials to speed up their efforts to help the residents of cities and villages in Kermanshah province.
The liberation of Syria's Bukamal town, the last ISIS stronghold in the country, also received great coverage. Media reports say Iranian General Qassem Soleimani was personally involved in the operation, which is said to have fully eradicated the ISIS terrorist group from Iraq and Syria.
The above issues, as well as many more, are highlighted in the following headlines and top stories:
19 Dey:
1- Iran Leader Visits Quake-Hit People, Calls on Officials to Help Them More
2- Rouhani's Chief of Staff: We'll Satisfy Quake-Hit People, Leader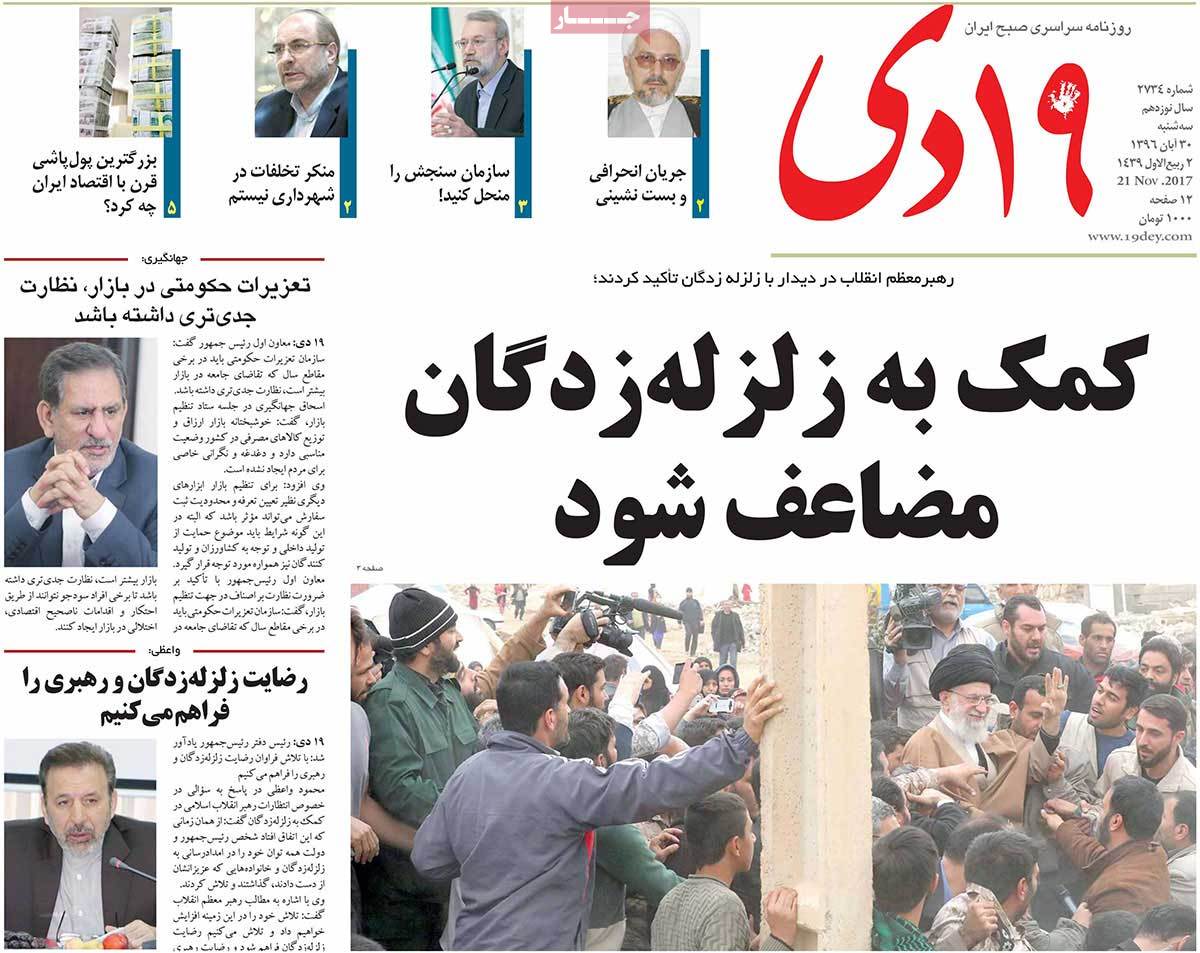 ---
Abrar:
1- Bahrain FM: Arab Countries Should Unite against Iran
2- American Paper: US Justice Ministry Trying to Raise Allegations against Iran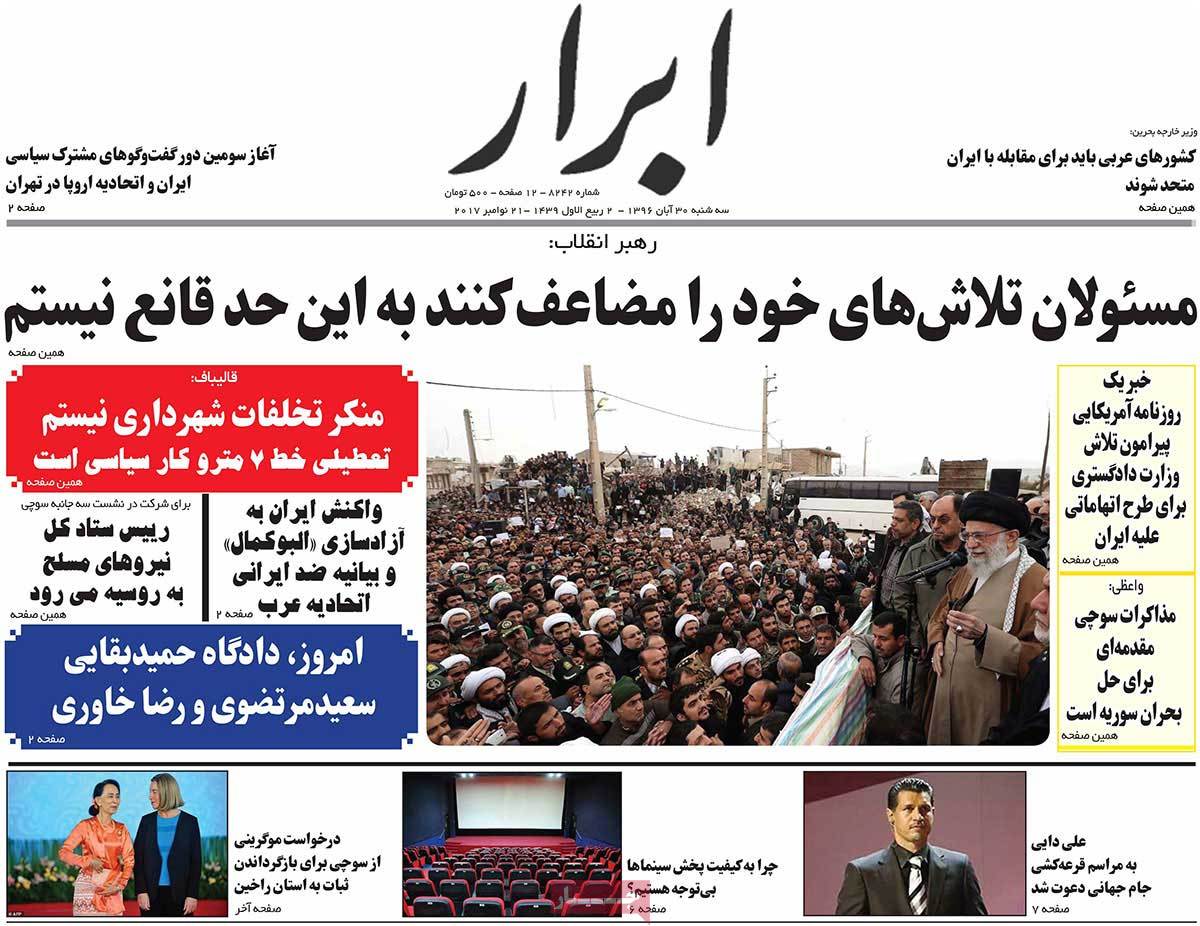 ---
Aftab-e Yazd:
1- Iran Leader in Visit to Quake-Hit Areas: We Share Your Pain
2- US Worried about Russia, China
---
Arman-e Emrooz:
1- Iran Leader's Unannounced, Friendly Visit to Quake-Hit People
I'm Bereaved as Much as You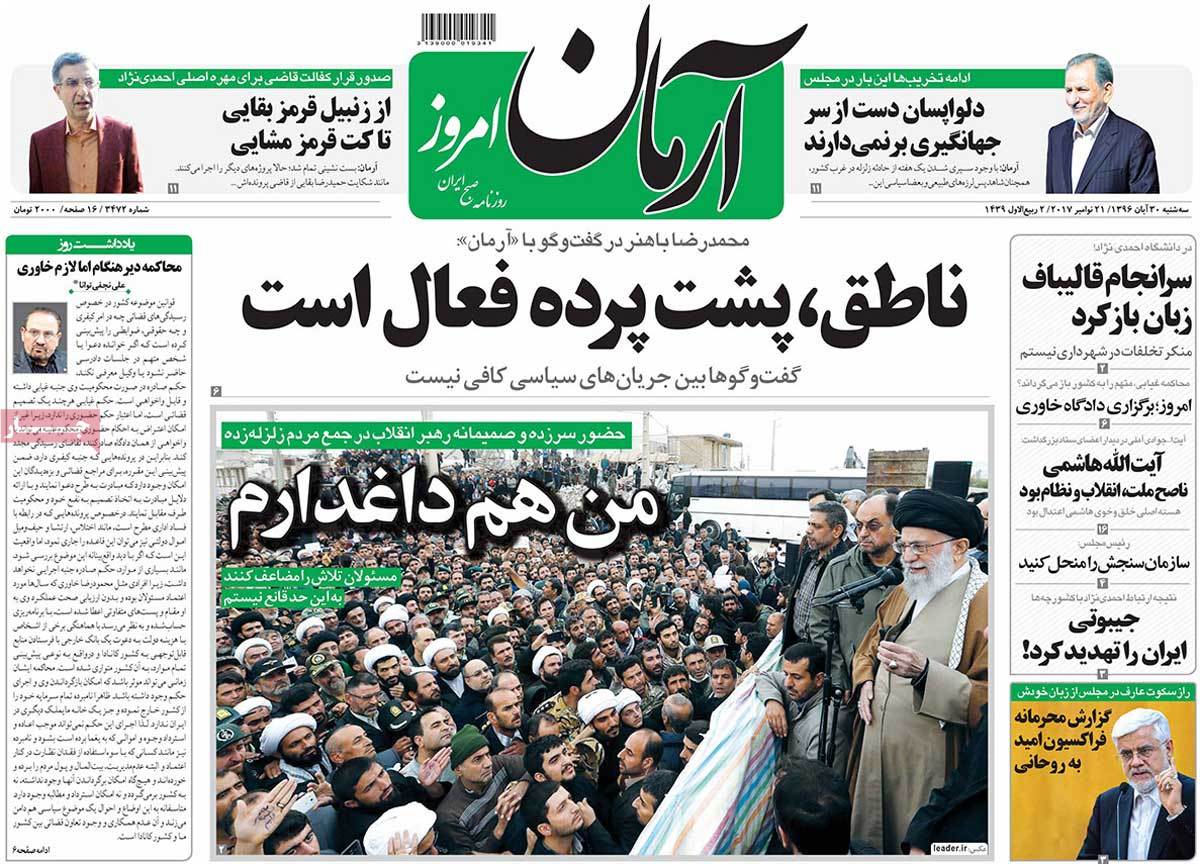 ---
Ebtekar:
1- Tour of Earthquake-Hit Areas!
Travel Agencies Organizing Tours for Helping Quake-Hit People
2- An Open Ending for Ahmadinejad
3- Artists' Cry for Violence against Children
405 Cultural Figures Join Campaign to Support Children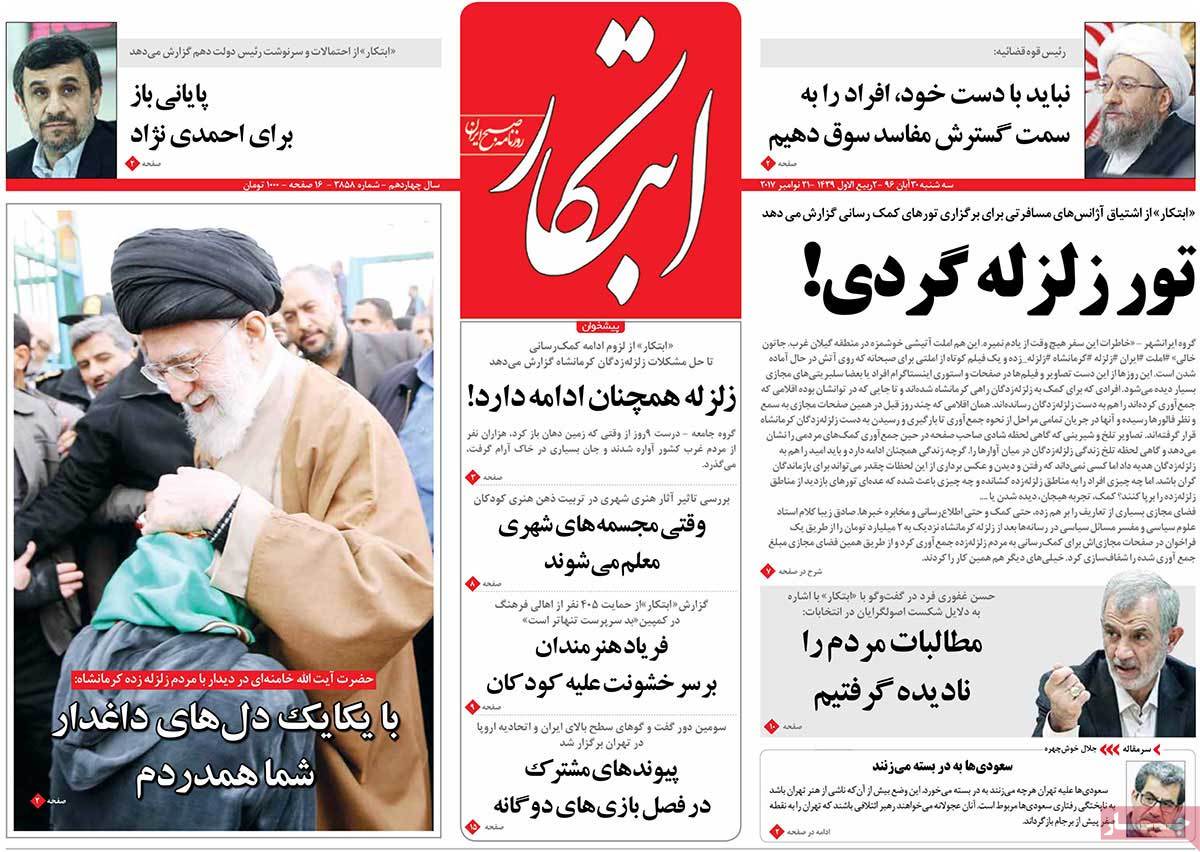 ---
Etemad:
1- Problems of Zanganeh
A Review of Criticisms against Oil Minister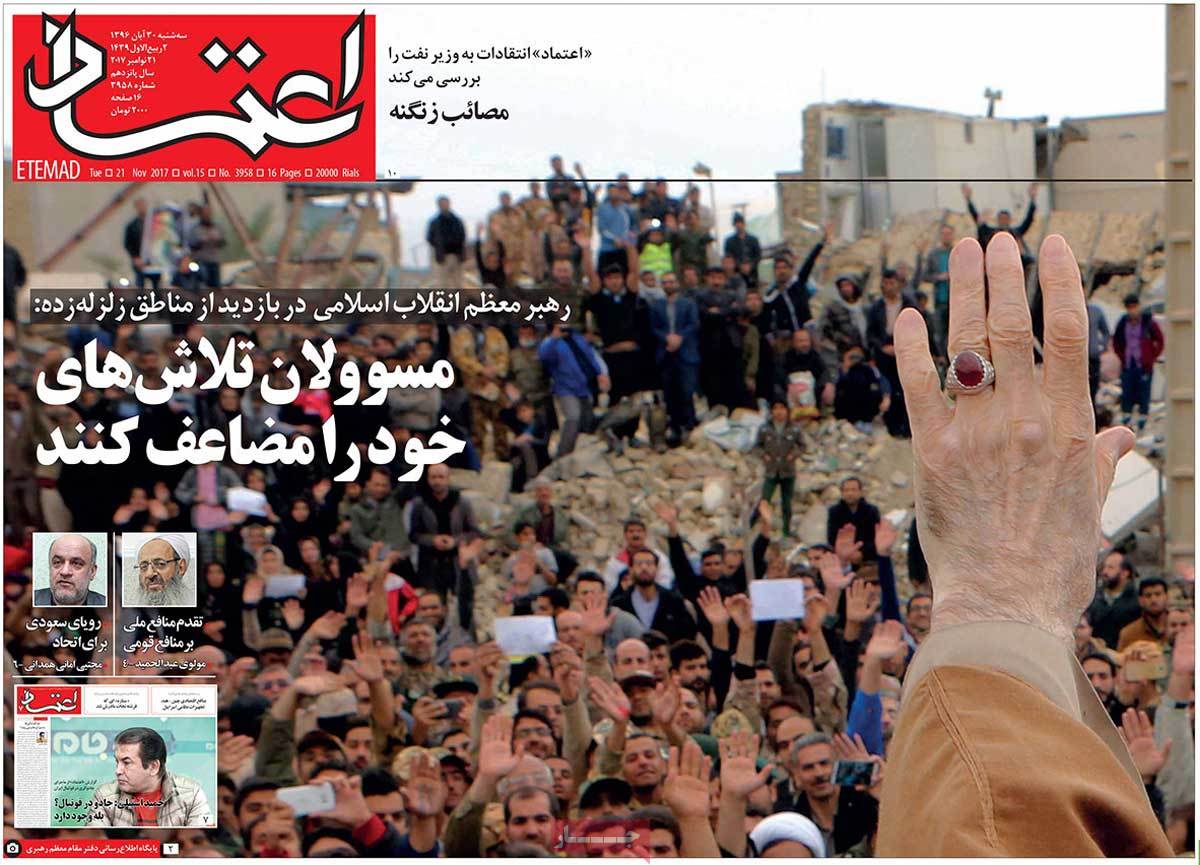 ---
Ettela'at:
1- Iran Leader Underlines Necessity of Speedy Reconstruction of People's Houses
2- Lebanon, Iraq, Yemen Strongly Opposed to Arab League's Anti-Iran Statement
3- Hezbollah Chief: We're Indebted to Iran Leader, People, General Soleimani for ISIS Eradication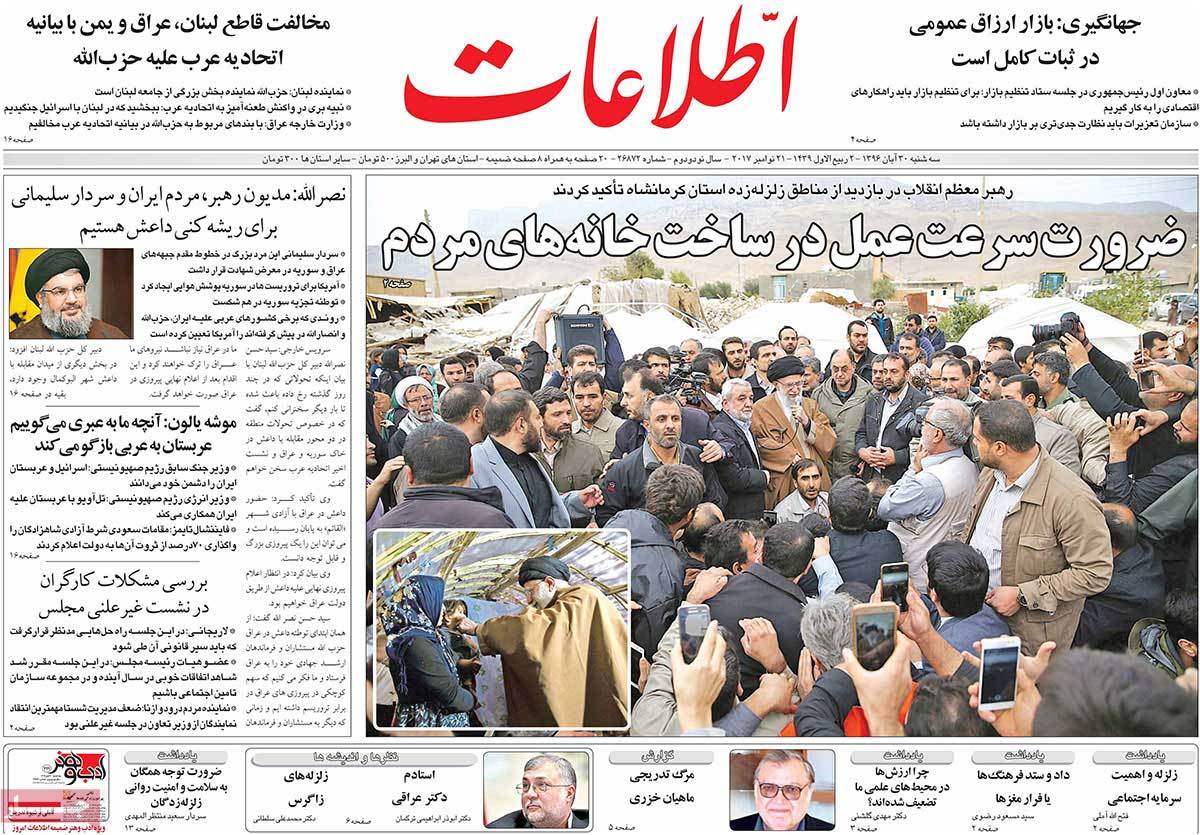 ---
Farhikhtegan:
1- Iran Leader's Aide: Hariri's Children Taken Hostage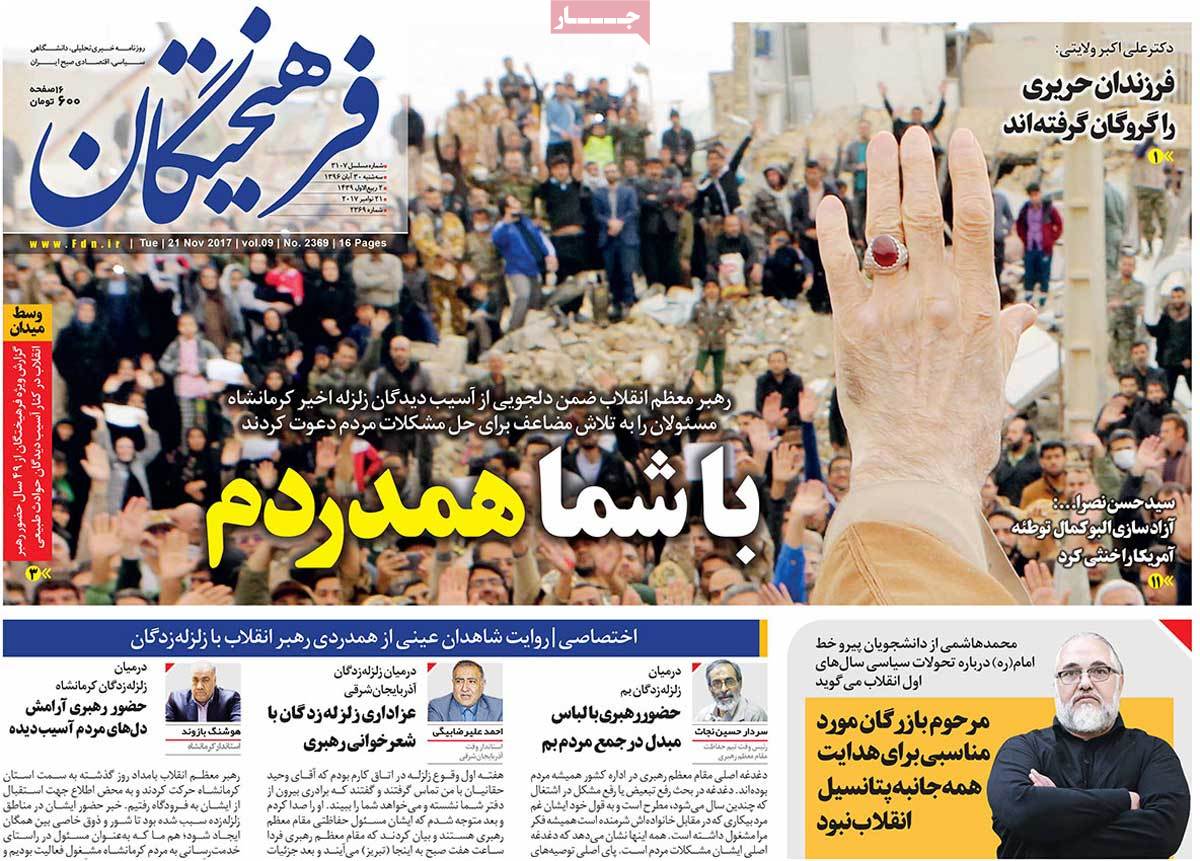 ---
Iran:
1- Iraqi Court Ruling Ends Kurdistan Region's Independence Dream
2- Iran Hosts Third Political Meeting of High-Ranking Iranian, European Officials
3- Swiss Couple Help Quake-Hit People in Iran
We Hadn't Seen Such Cooperation in Any Other Country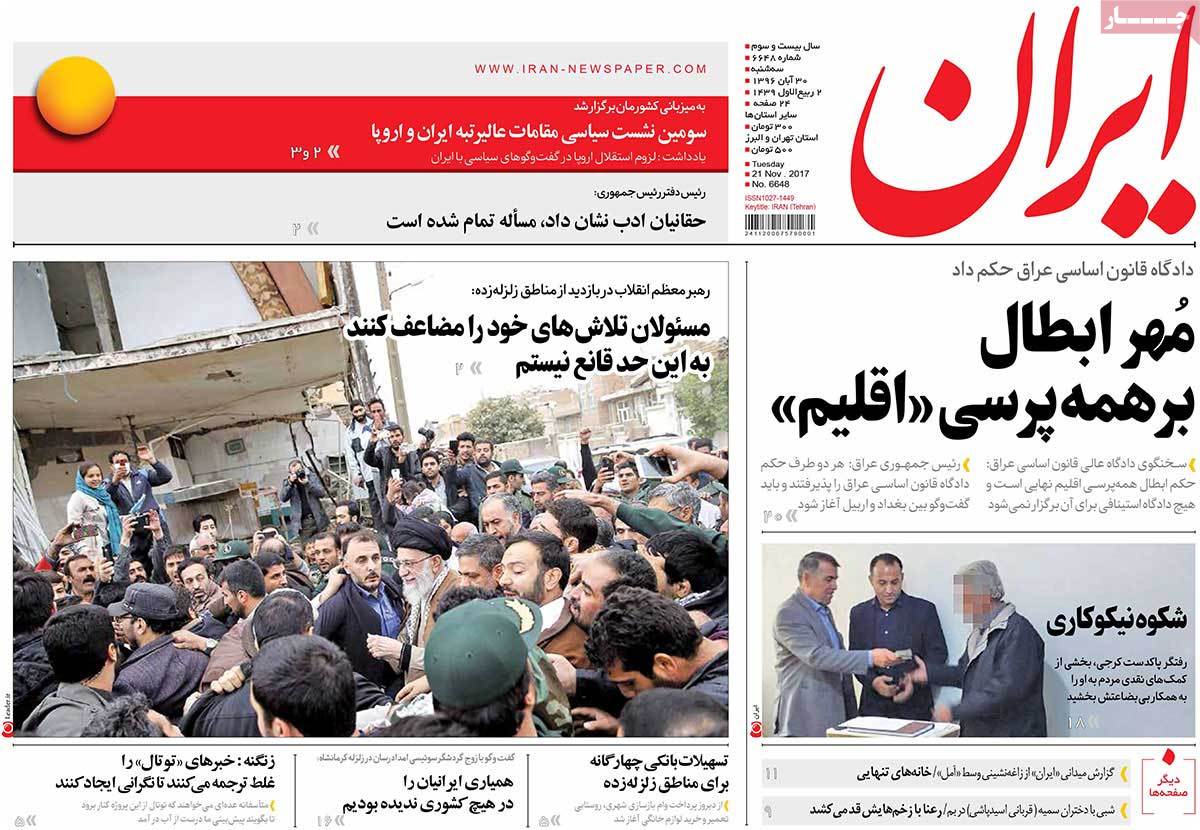 ---
Jame'e Farda:
1- Third Round of Talks with Europe: Is JCPOA Only Topic of Discussion?
2- South Pars Gas Field, Scene of Iran-Qatar Rivalry
Iran Still 70 Million Cubic Metres behind Qatar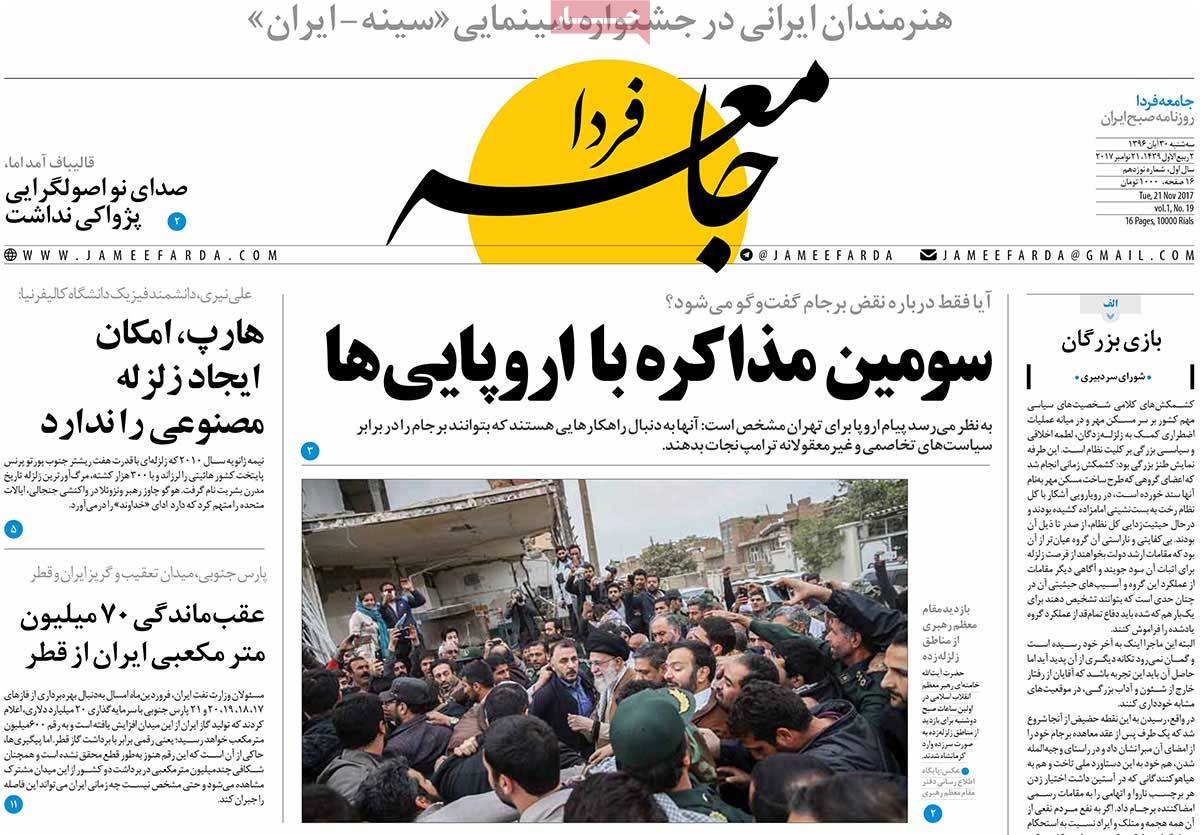 ---
Javan:
1- Iran Leader to His Companions: Move Aside, I Want to See People
2- Hezbollah Chief: History to Remember Name of General Soleimani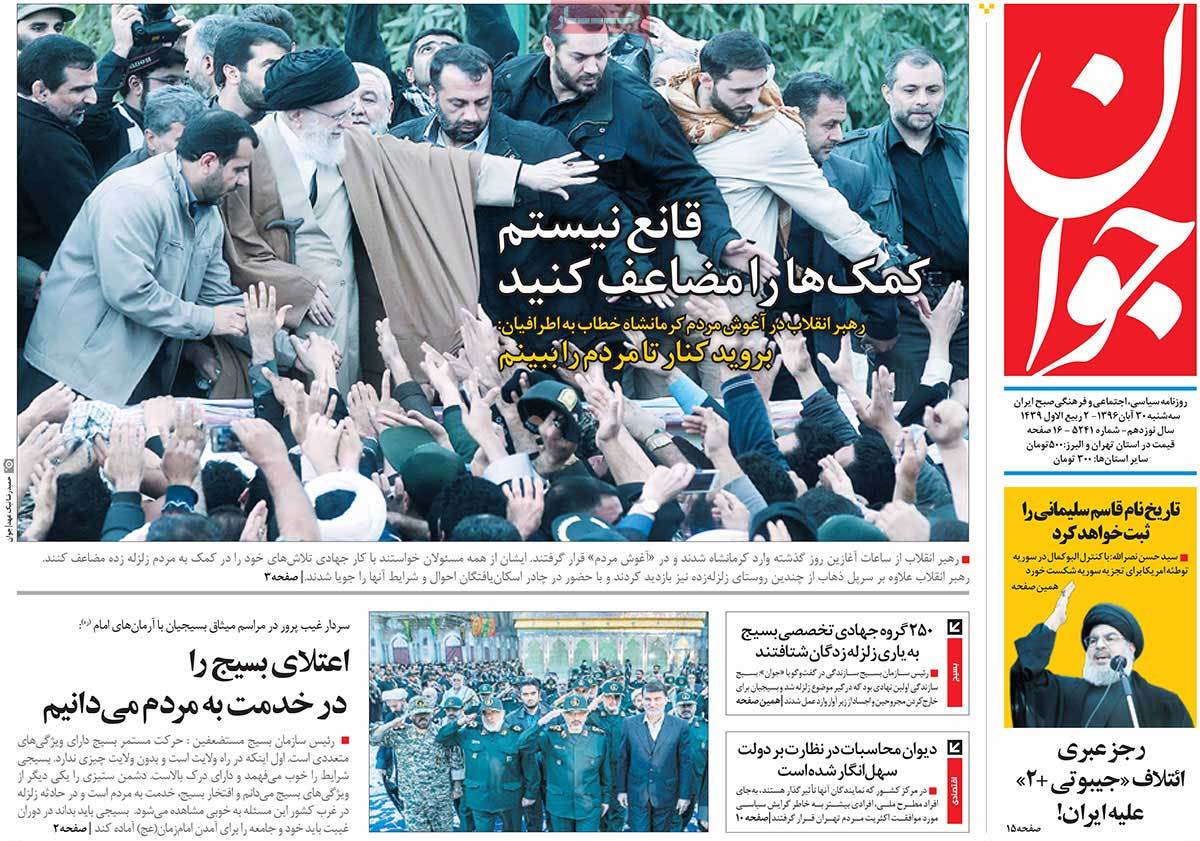 ---
Jomhouri Eslami:
1- Moshe Yaalon: What We Say in Hebrew, Saudi Arabia Says in Arabic
2- Zanganeh: Opposition to Total Deal Is Sickness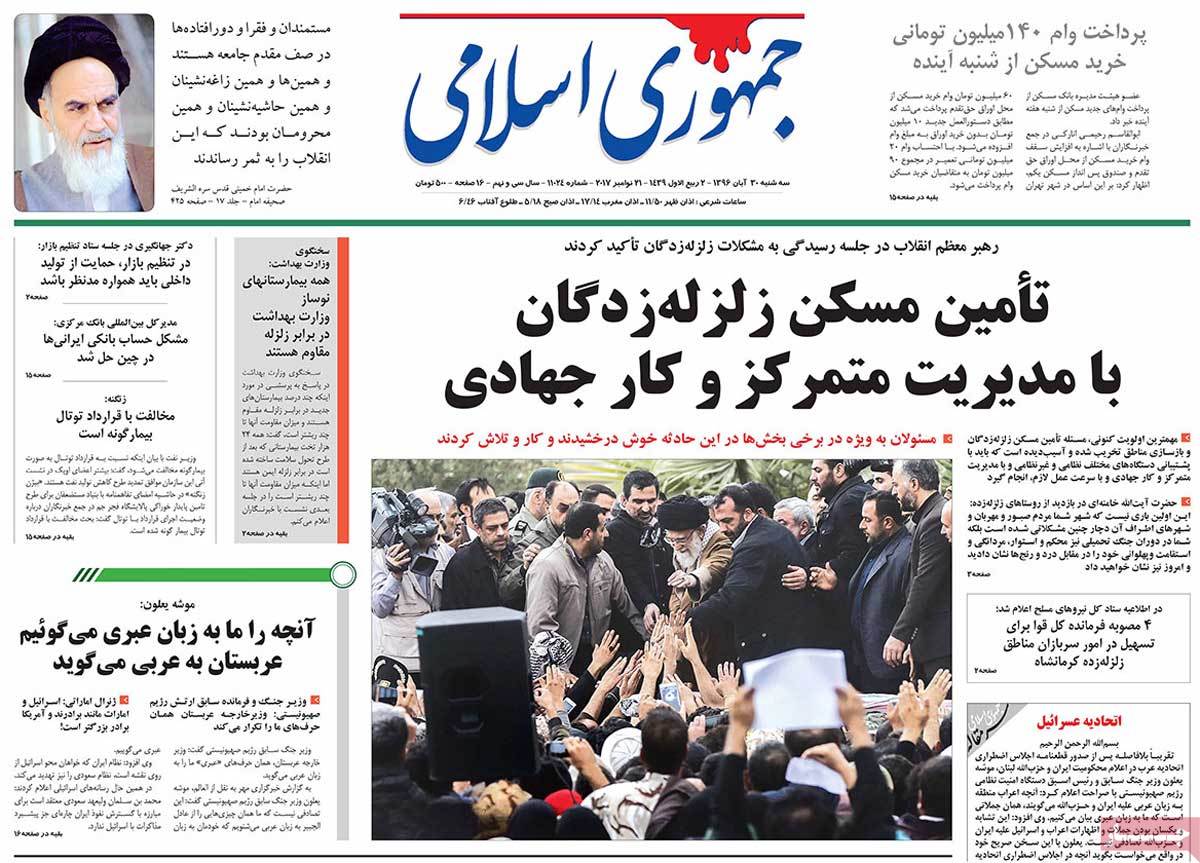 ---
Kayhan:
1- Iran Leader: I Share Pains of Every One of You
2- Hezbollah Chief: Bukamal Liberation Foiled US Plot to Disintegrate Syria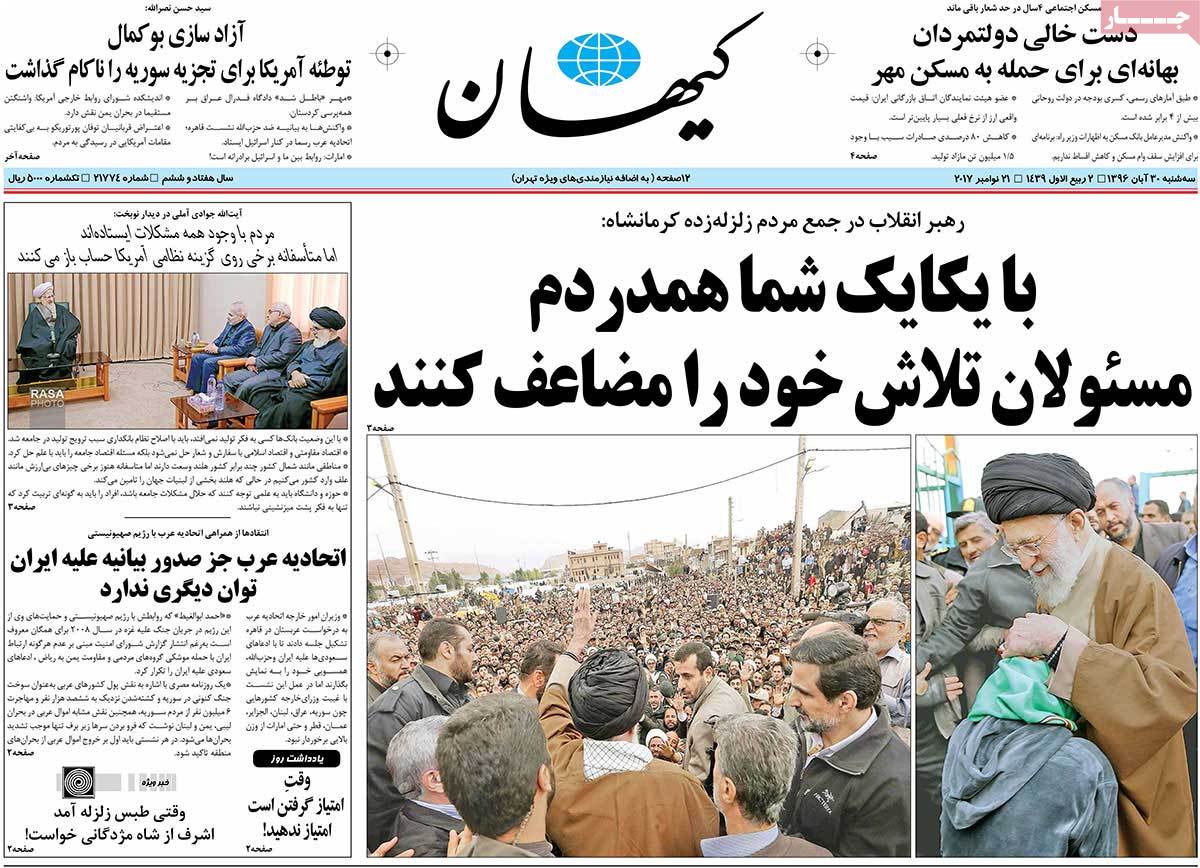 ---
Resalat:
1- Arab League Serving Zionists
2- Zarif: Saudi Arabia Sowing Seeds of Division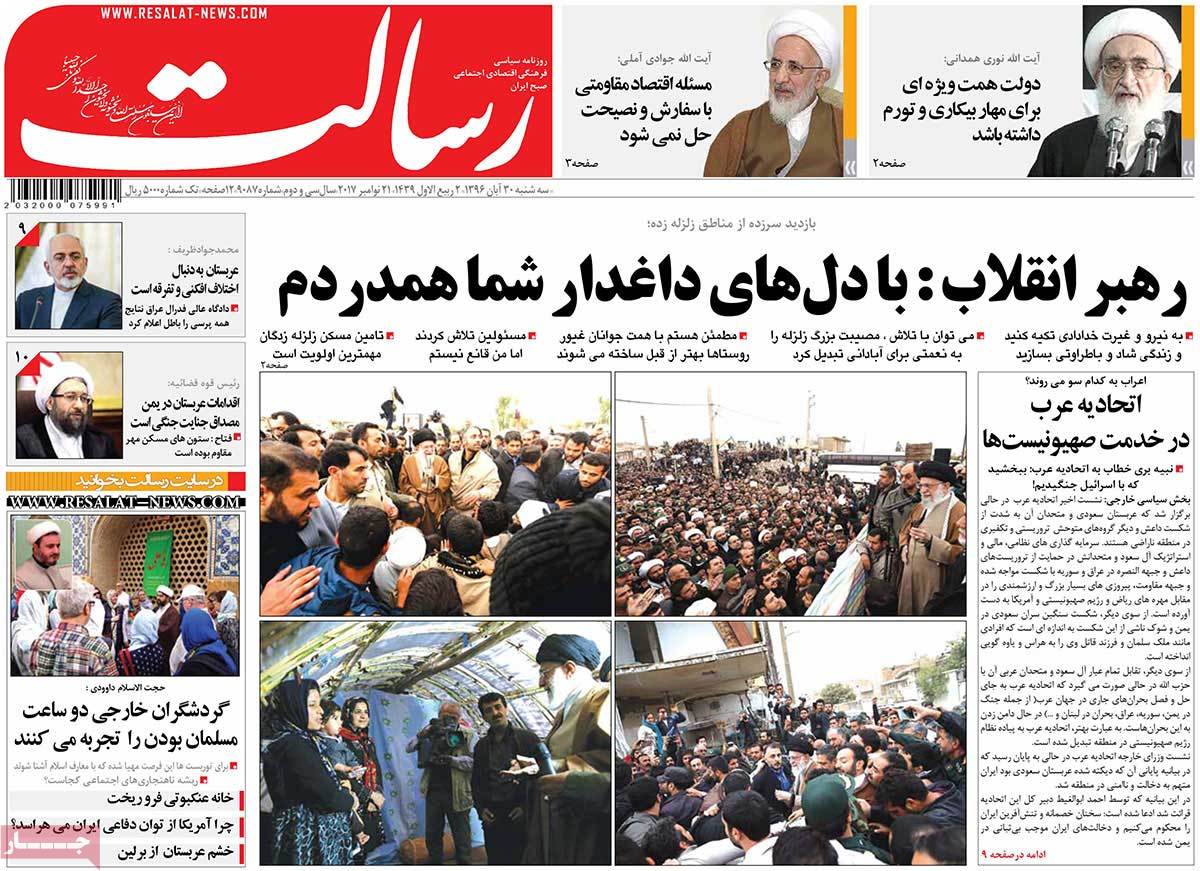 ---
Shargh:
1- Only 13 Top Companies in Iran Are Private
2- Prosecution of Three Allies of Ahmadinejad
3- Parliament Mulling Over Interior Minister's Impeachment
4- Qalibaf: Conservatives Don't Have Deep Belief in People