The majority of newspapers on Wednesday highlighted the Tuesday parliamentary session where three ministers nominated by President Hassan Rouhani for the ministries of Sports and Youth, Culture and Islamic Guidance, and Education managed to receive the lawmakers' vote of confidence.
Another top story was the remarks made by US Secretary of State John Kerry about the US elections, which, according to him, have disgraced the US.
The ongoing battle to retake the ISIS-held city of Mosul also remained a top story today.
The above issues, as well as many more, are highlighted in the following headlines:
Abrar:
1- Kerry: Clinton and Trump Have Disgraced the US
2- UN: Yemen Is on Verge of Collapse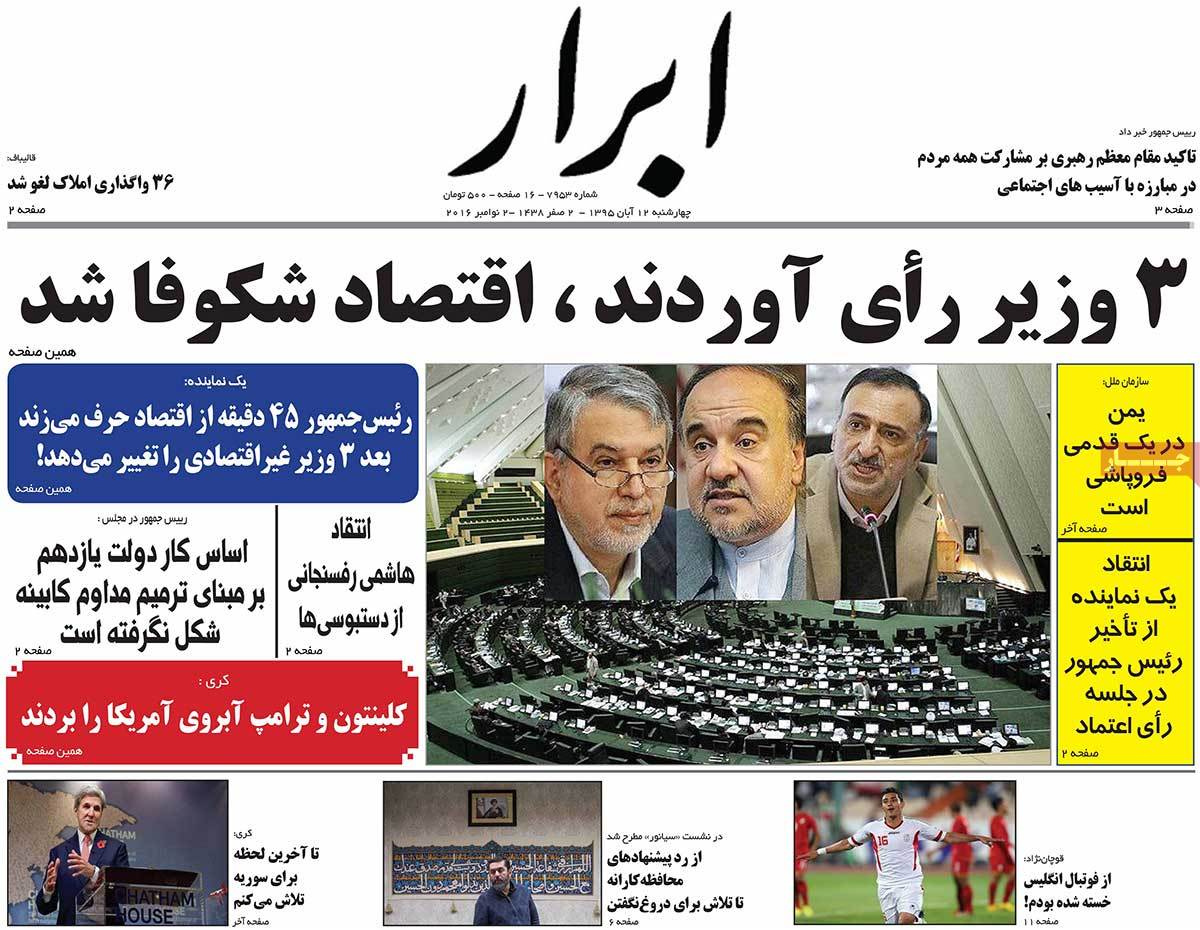 ---
Abrar-e Eqtesadi:
1- Deputy Power Minister: We Sell Electricity to Iranian People in Extremely Cheap Prices
2- Opening of Russian Railway's Representative Office in Iran
3- Three Foreign Banks Opening Offices in Iran
---
Afkar:
1- Interior Minister: Iran-Iraq Ties Growing in All Aspects
2- Resumption of Syria Peace Talks Postponed to Future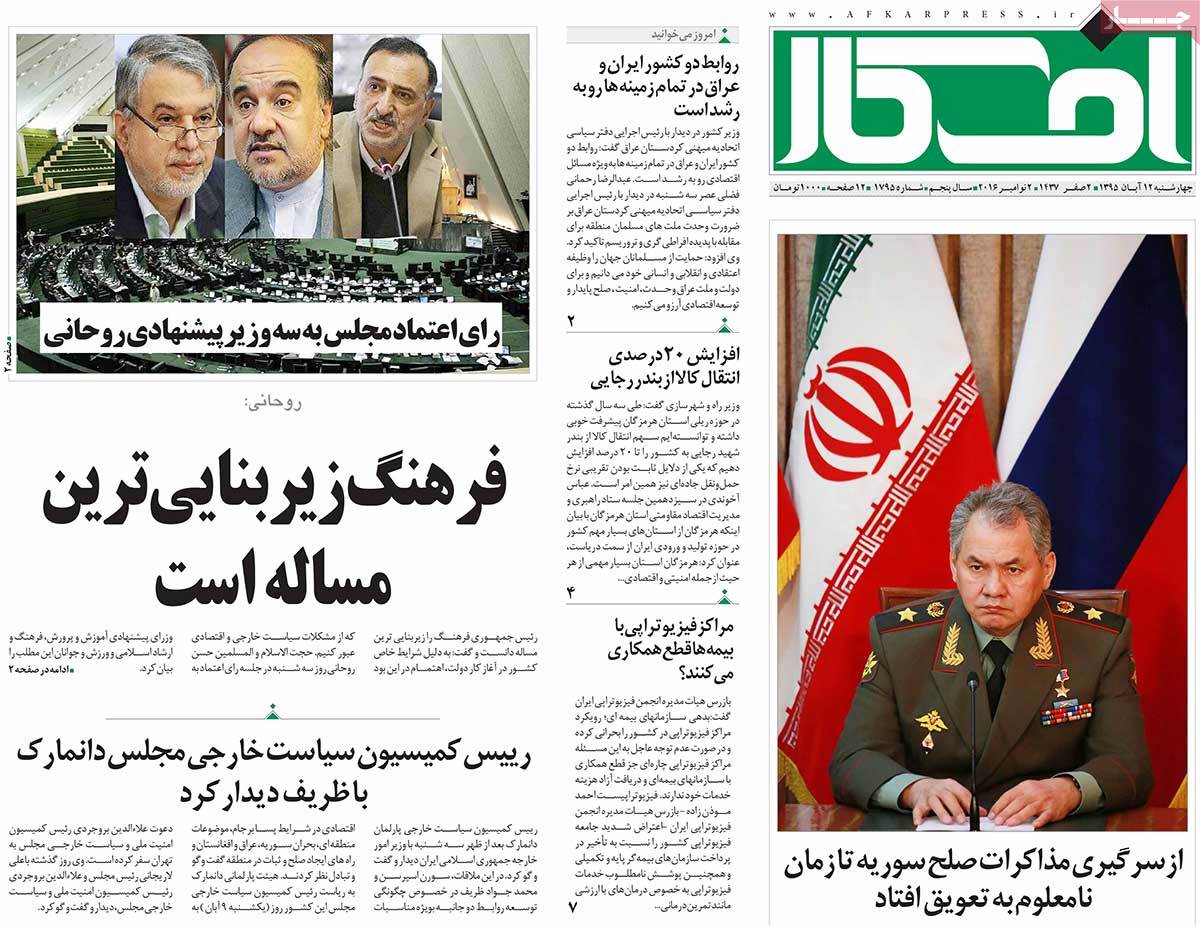 ---
Aftab-e Yazd:
1- Fruit of February Parliamentary Elections: In Spite of the Fuss Made by Hardliners, All Three Ministers Nominated by Rouhani Receive Vote of Confidence from Lawmakers
2- Should Zarif Go to Britain? Iranian FM Undecided about Receiving Chatham House Prize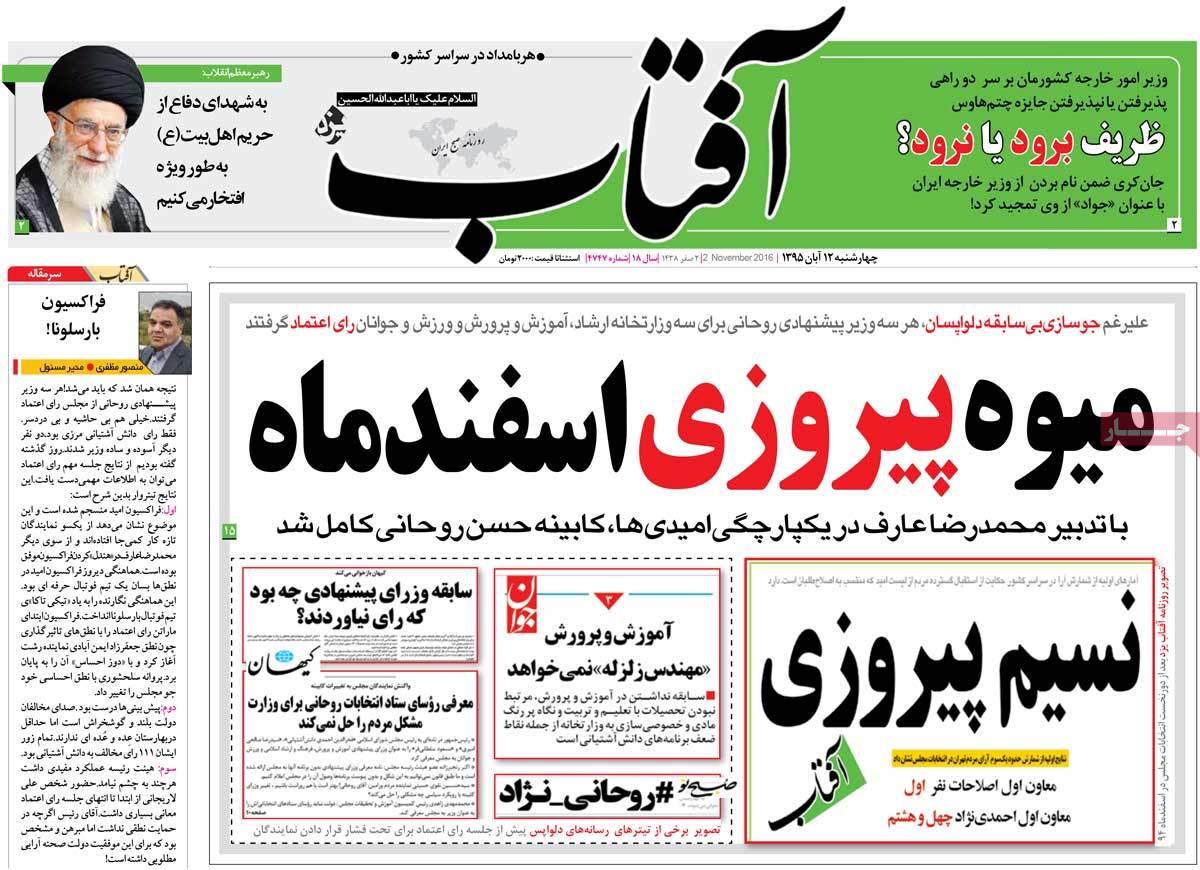 ---
Amin:
1- Obama Stops Upgrading US Nuclear Bombers
http://www.jaaar.com/assets/images/pishkhan/1395/8/12/65658fde.jpg
Arman-e Emrooz:
1- Zarif Didn't Go to London, Kerry Received the Gift! US Secretary of State Clearly Said Zarif Is a Patriot Man
2- Expert: Trump's Policies Enhance Iran's Security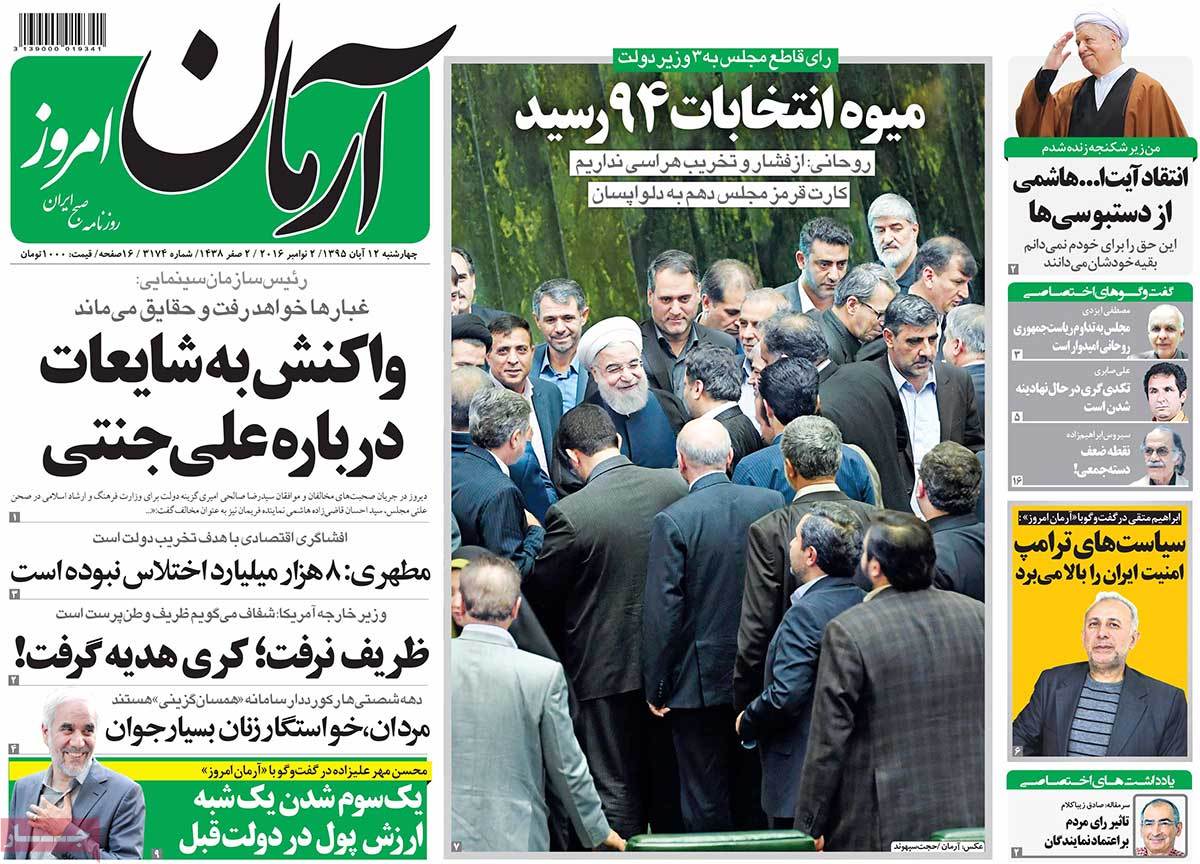 ---
Besharat-e Now:
1- UNESCO: 827 Journalists Killed in Past 9 Years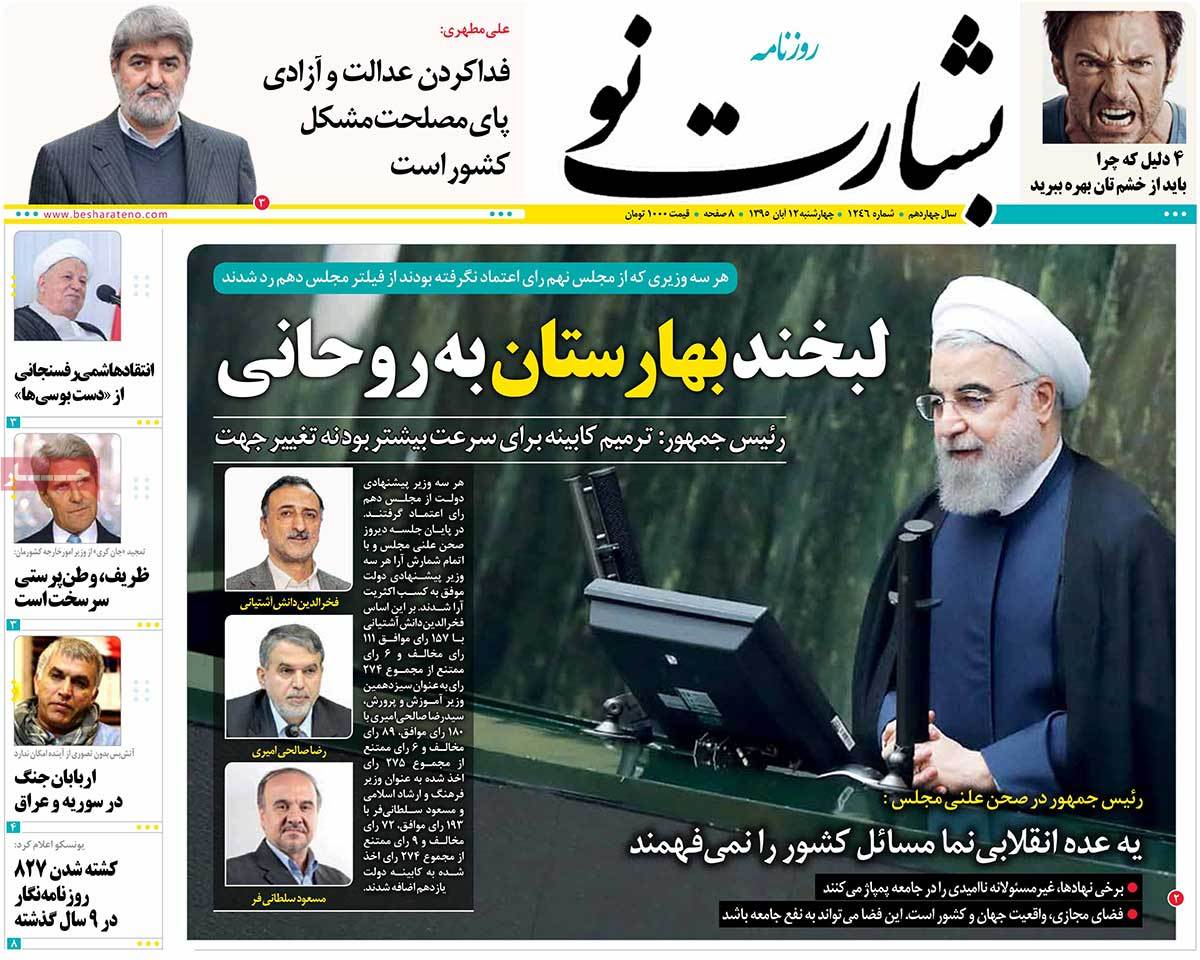 ---
Ebtekar:
1- Trust in Change: All Three Candidates Become Rouhani's Ministers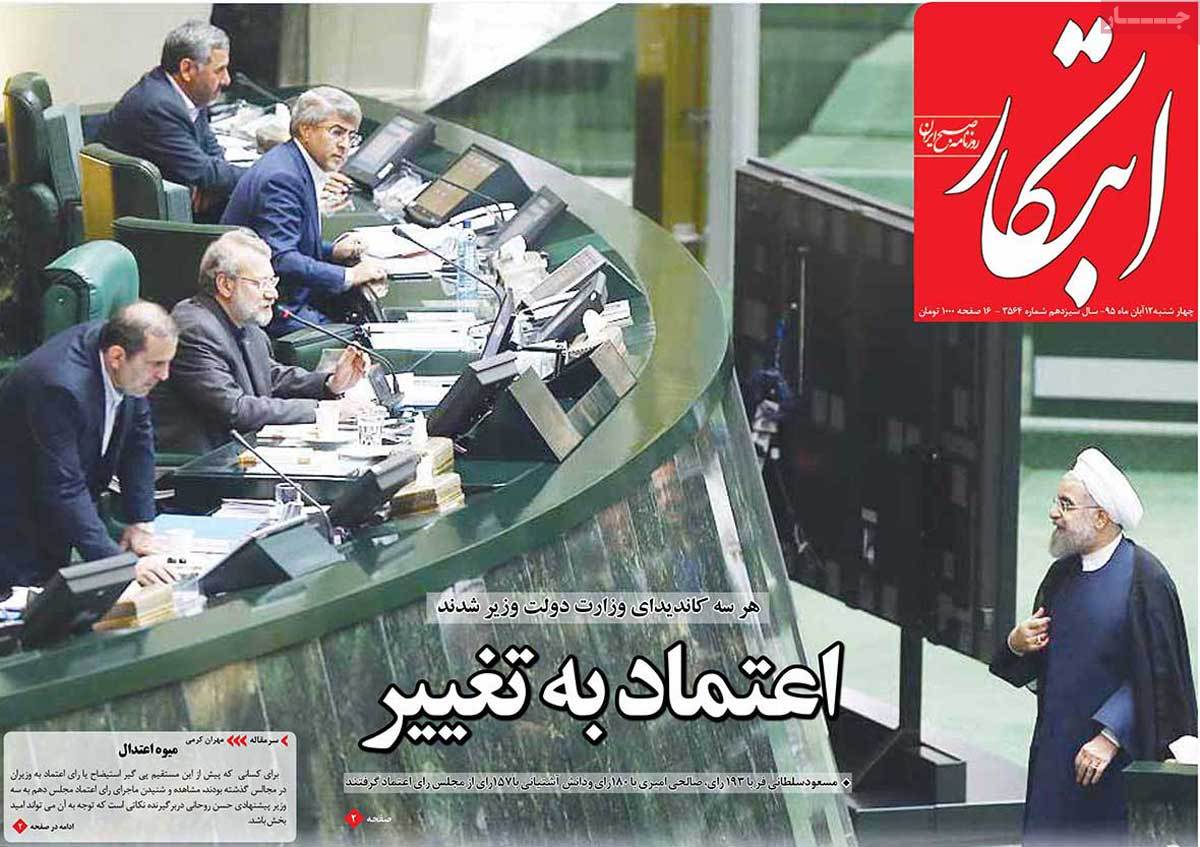 ---
Etemad:
1- This Was the Meaning of People's Vote: Tenth Parliament Gives Vote of Confidence to the Three Candidates Who Had Been Refused Such a Vote in Previous Parliament
2- Storm, Dust Pollution, and Earthquake Shut Down Iranian Schools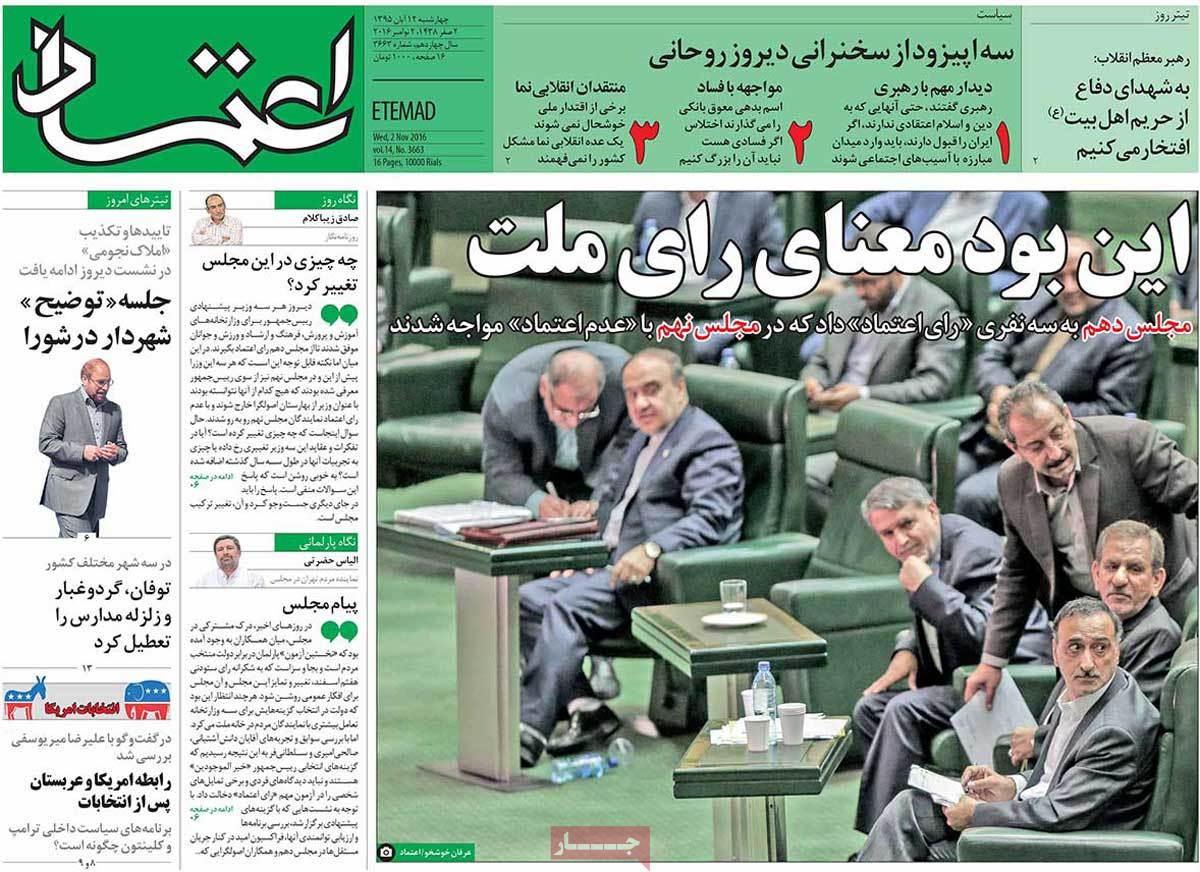 ---
Ettela'at:
1- President: We Should Fight Corruption Using Culture
2- Election of Hezbollah's Choice as President of Lebanon Warmly Received by the World
3- Russia Hands Over to UNSC the Documents of US Crimes in Syria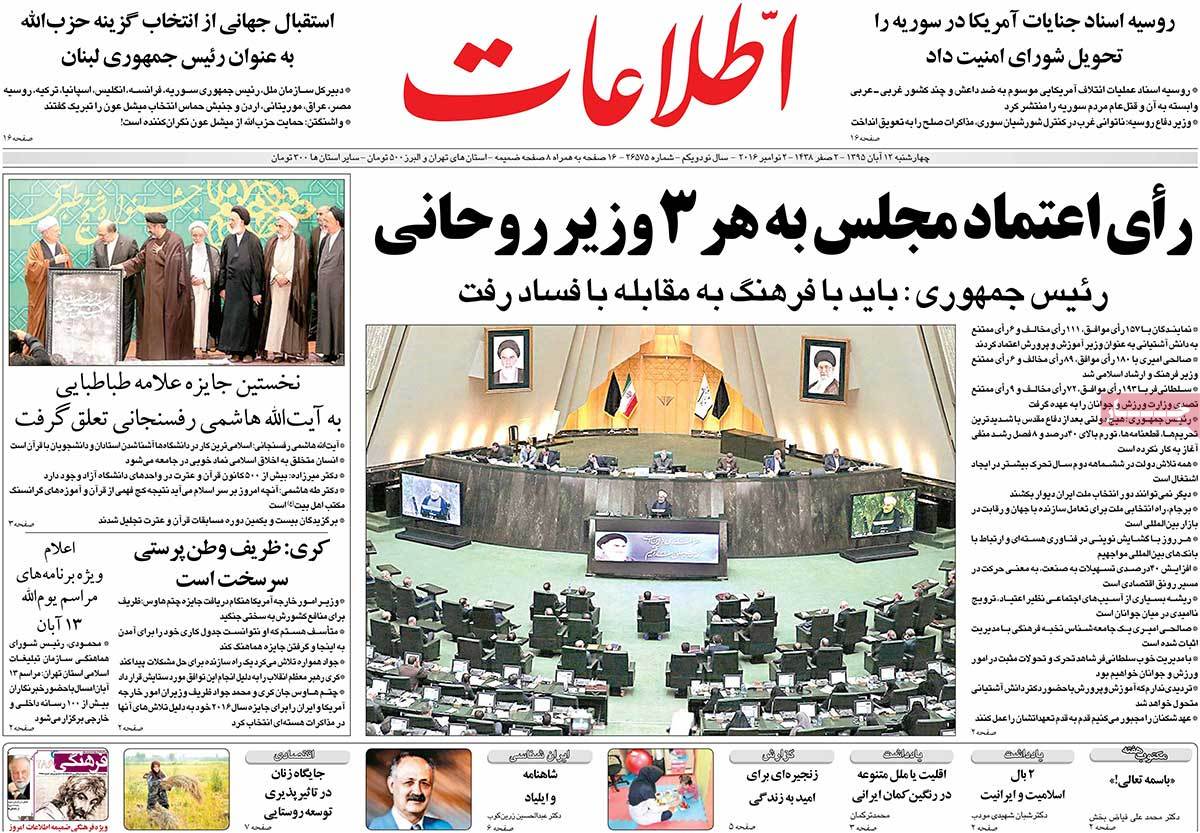 ---
Haft-e Sobh:
1- Will James Comey Knock Out Hillary Clinton Six Days ahead of US Elections?
---
Iran:
1- Rouhani: Government Will Remain Committed to Its Promises until Its Final Day and Is Not Afraid of Acts of Sabotage
2- Different Report by Human Rights Watch: Empire of Oppression in Persian Gulf Cooperation Council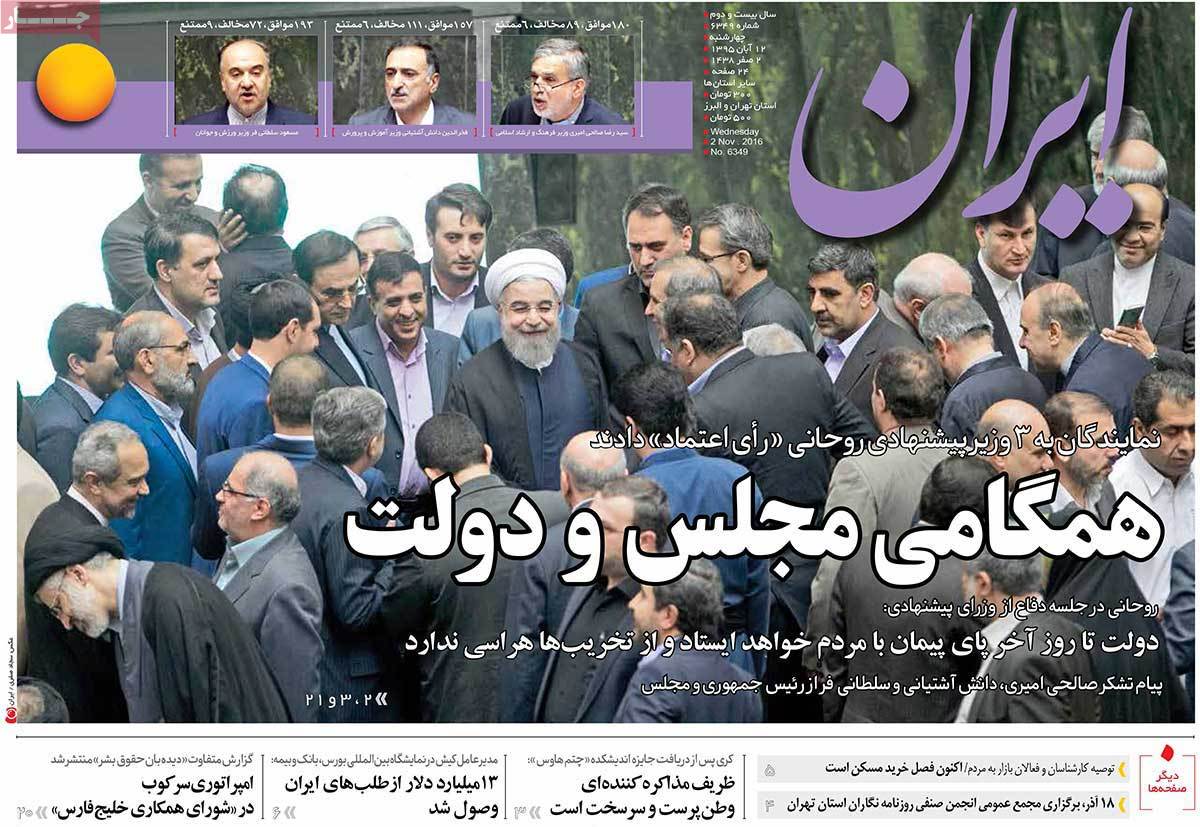 ---
Javan:
1- ISIS' Defensive Belt Broken in Mosul: State TV Building Retaken by Liberation Forces
2- Rouhani Came to Parliament, Called His Critics Stupid, Then Left / Three Ministers Rejected by Previous Parliament Receive Vote of Confidence from 10th Parliament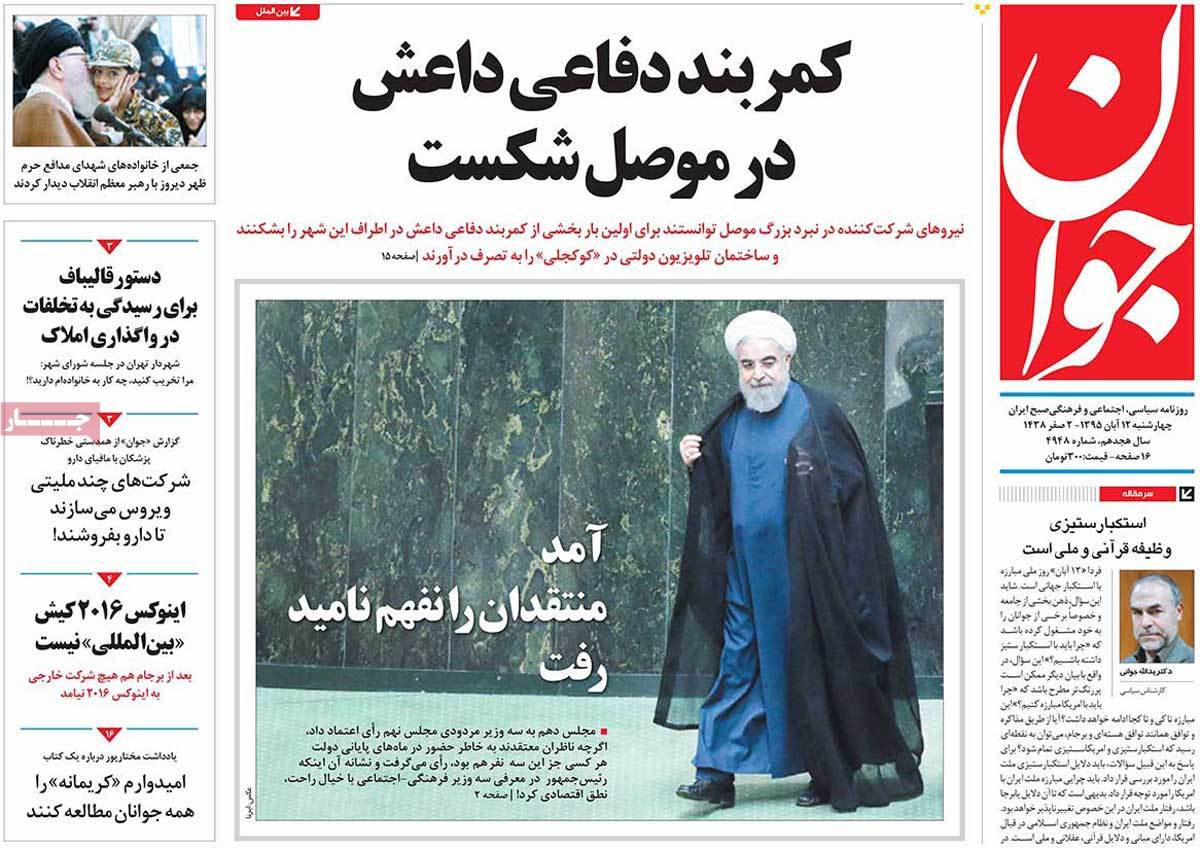 ---
Jomhouri Eslami:
1- Kerry: US Presidential Elections Are Embarrassing
2- Germany Makes €104m Investment in Development of Iran's Shahid Rajaei Port
3- President in Meeting with Cypriot Parliament Speaker: Root Cause of Regional Problems Is Foreign Meddling Aimed at Creating Regional Rifts
---
Kayhan:
1- Yemen's Ansarullah: Next Missile Ready to Be Fired at Riyadh
2- Iraqi PM after Arrival in Nineveh: We'll Behead ISIS in Mosul
---
Khorasan:
1- Leader: We Are Specially Proud of Martyrs of Ahl-ul-Bayt
2- Man to Man Fight in Mosul
3- ABC News: Donald Trump Leads Hillary Clinton by One Percent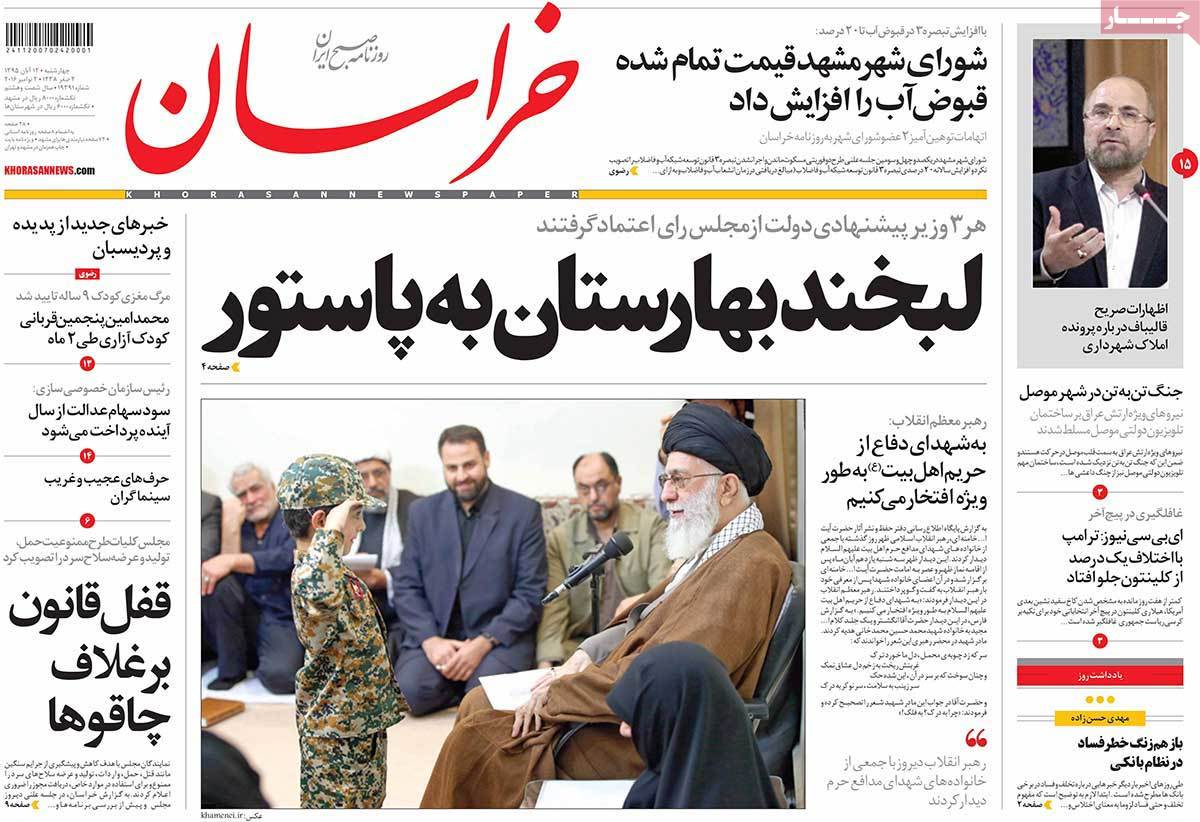 ---
Rah-e Mardom:
1- Rouhani: Global Competition for Imposing Further Sanctions on Iran Is Over
2- Amnesty Int'l Warns against Use of White Phosphorus in Mosul
---
Resalat:
1- Saudi Arabia's Condition in Region: Expelled from Lebanon, Frustrated in Yemen!
2- IRGC Lieutenant Commander: US Failed to Change Iran's Destiny
---
Vaghaye Ettefaghieh:
1- Those Who Moved against Iran's National Interests by Attacking Saudi Embassy Receive Their Sentences from Judiciary
2- Experience of Being Left Alone and Abandoned among MS Patients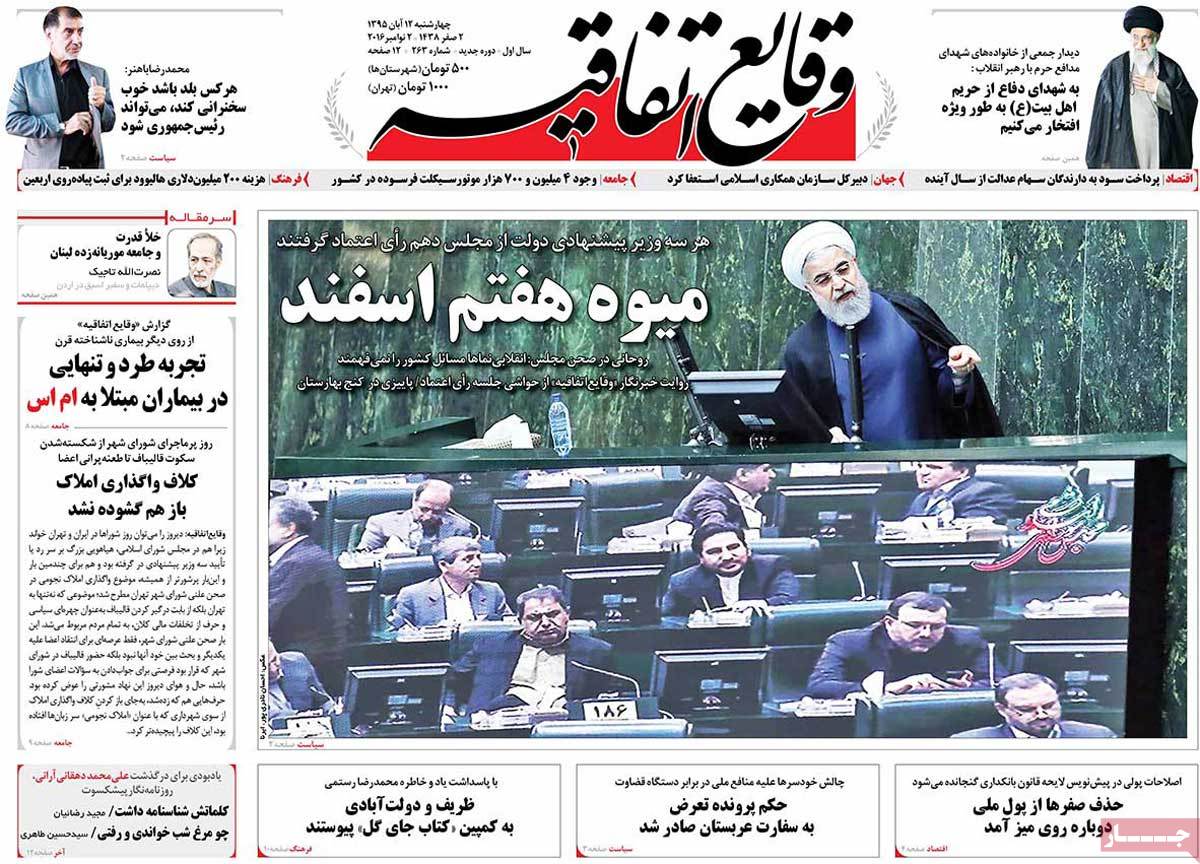 ---
Vatan-e Emrooz:
1- Hillary More Hated than Trump: Latest Nationwide Polls Indicate
2- CBI Governor: US Behaviour in JCPOA Implementation Is Not Transparent