An order by President Hassan Rouhani to have the Management and Planning Organization revived appeared on the front pages of many Iranian newspapers on Tuesday. Supreme Leader's meeting with Iraq's Nouri al-Maliki and his praise for the former Iraqi prime minister's decision to quit in order to prevent his country from plunging into chaos also grabbed headlines. Finally, the comments of the judiciary spokesman that recent acid attacks in Isfahan have had neither political nor religious motivation drew a lot of front-page attention too.
---
Abrar: "Time is gone when governments followed a security approach to dealing with non-governmental organizations," said Masoumeh Ebtekar, the director of the Environment Protection Organization.
Abrar: Iraqi officials have confirmed that Abu Bakr al-Baghdadi, the leader of the IS terrorist group, has been wounded.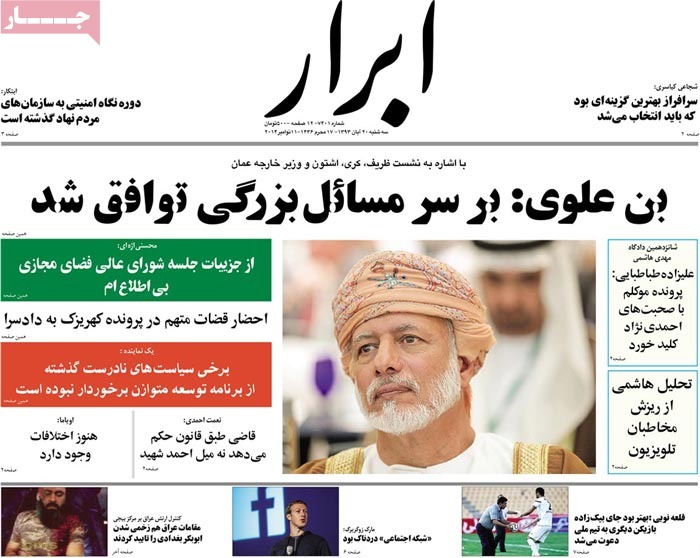 ---
Abrar-e Eghtesadi: Iran's oil revenues are projected to drop by as much as $1.6 billion in the last quarter [ending on March 21, 2015].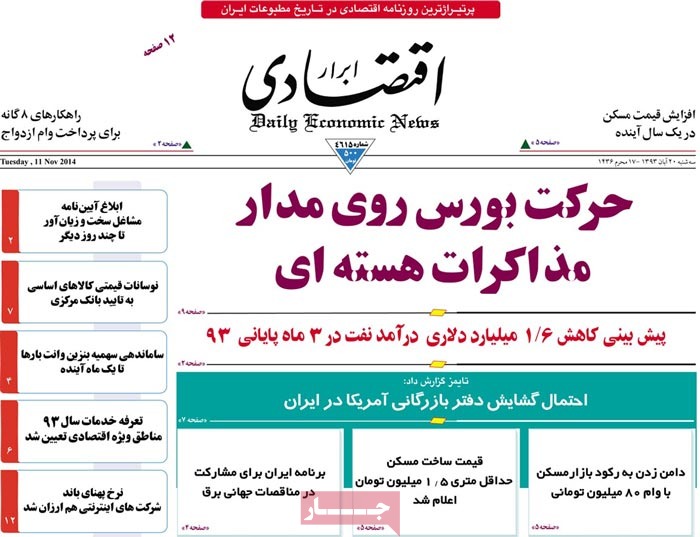 ---
Afarinesh: Iranian Parliament Speaker Ali Larijani has said, "Iran's missile capability is a deterrent and a source of stability in the region."
Afarinesh: The health minister has inaugurated the most advanced public ophthalmology clinic in Iran. In a symbolic move, Seyyed Hassan Hashemi, an ophthalmologist himself, has operated on a patient there.
Afarinesh: Chairman of the Expediency Council Akbar Hashemi Rafsanjani has blamed the Islamic countries' lack of development on religious divisions.
---
Afkar: Iranian First Vice-President Eshagh Jahangiri and his Iraqi counterpart Nouri al-Maliki have stressed cross-border cooperation to counter common enemies.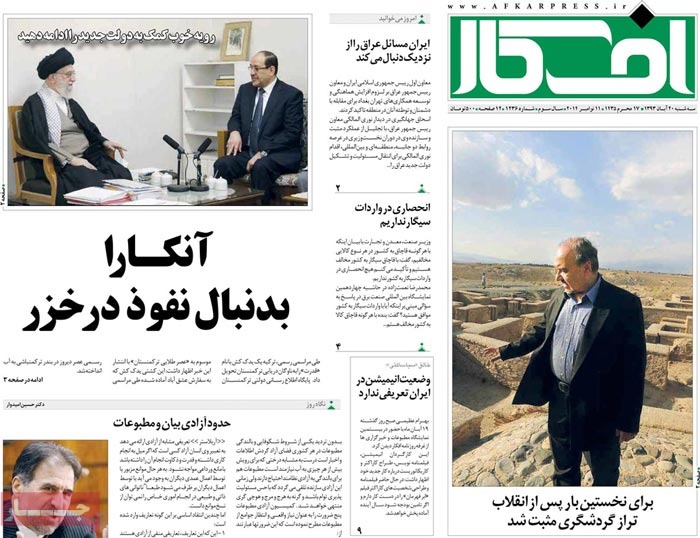 ---
Aftab-e Yazd: President Rouhani has ordered the Management and Planning Organization to be reinstated.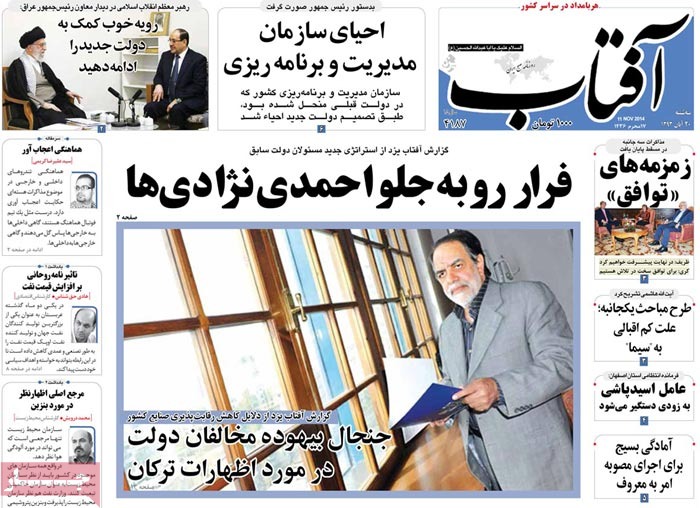 ---
Arman-e Emrooz: "[Former President Mahmoud] Ahmadinejad dragged Iran's economy into a dangerous game," said Dr. Mohammad Khoshchehreh, an economist and politician who previously served as an advisor to Ahmadinejad.
Arman-e Emrooz: If a bill proposed by a host of Iranian MPs clears the Islamic Consultative Assembly, dog walking would be punishable by 74 lashes.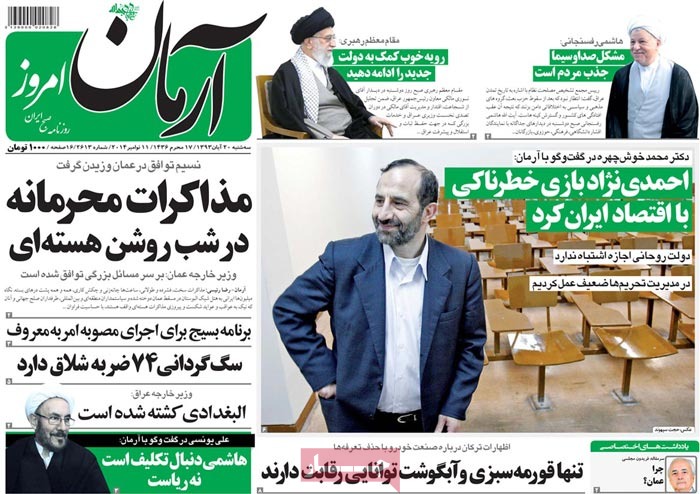 ---
Asia: Representatives of European electricity giants are in Iran; deals worth as much as $20 billion are likely to be signed.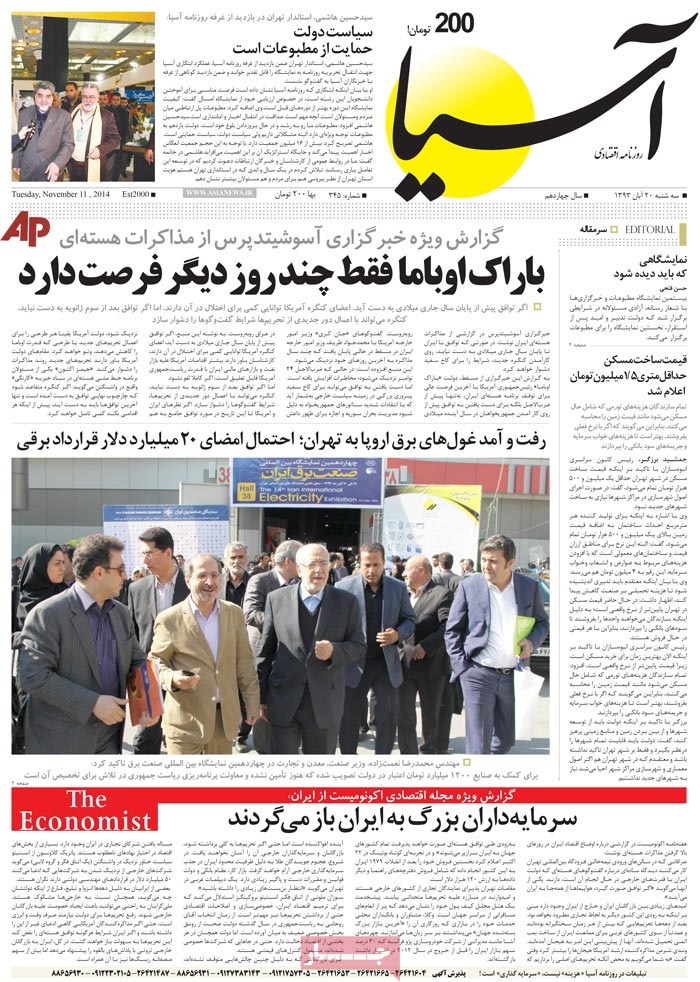 ---
Asr-e Iranian: Parliament and government see eye to eye on not allowing I am not Angry to hit the screen.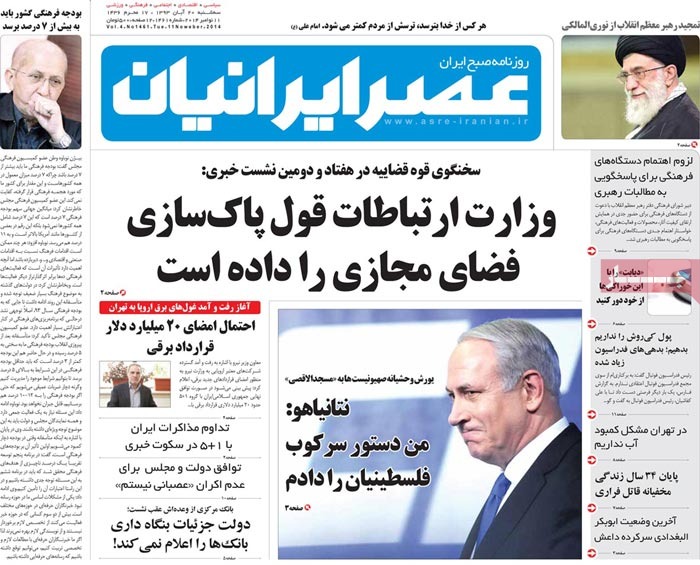 ---
Asrar: For the first time since the victory of the Islamic Revolution [in 1979], Iran's tourism balance has landed in the positive territory.
Asrar: "Iran has the most powerful missile systems in the region," said Ali Larijani, the speaker of the Islamic Consultative Assembly.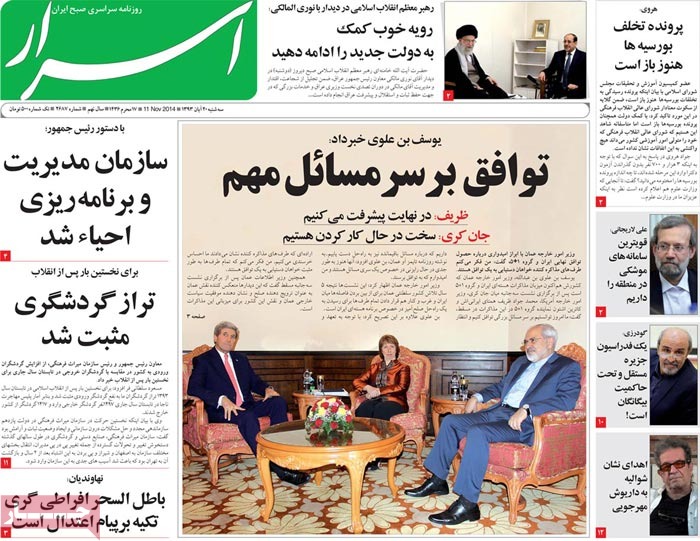 ---
Bani Film: Ordre national du Méritehas a special place in my trophy cabinet, said noted Iranian director Dariush Mehrjui.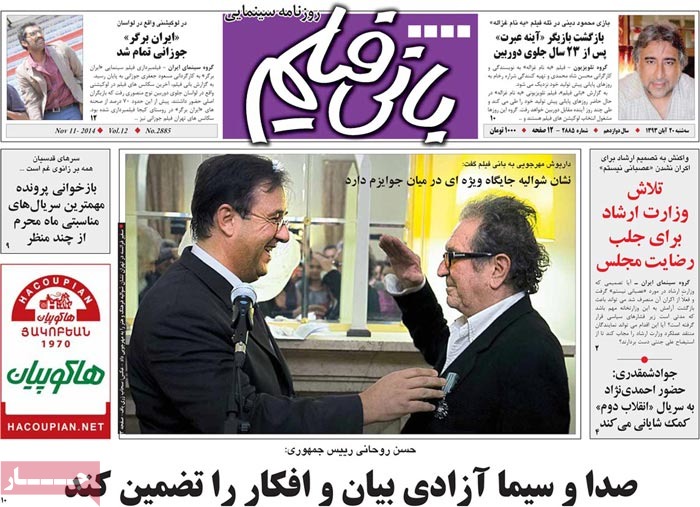 ---
Ebtekar: The number of European tourists who have arrived in Iran has registered a 200% increase over last year.
Ebtekar: After conclusion of talks between representatives of Iran, the EU and the US, the foreign minister of Oman, where the talks were held, said there has been a major step forward.
Ebtekar: With nuclear talks in high gear, opponents of [President Rouhani's] government have stepped up their attacks against the administration, with one saying, "We won't allow them to celebrate a nuclear deal."
---
Emtiaz: The number of Iranian senior citizens stands at more than 6 million. A national strategic document on the elderly will be completed shortly.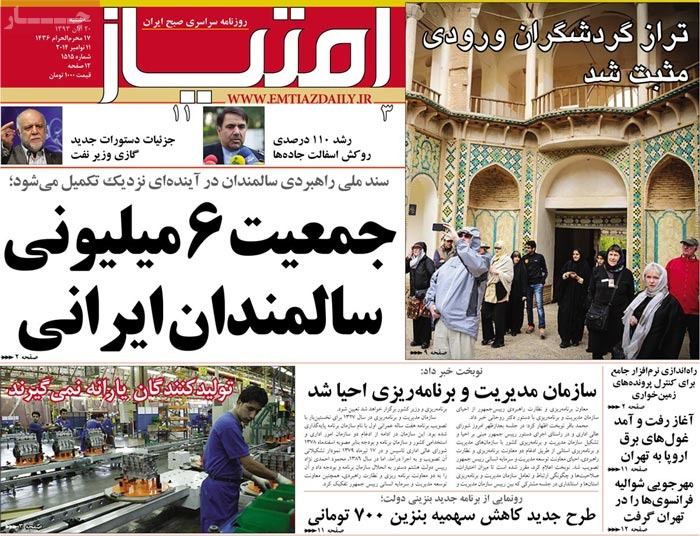 ---
Esfahan Emrooz: In the first seven months of the year there have been as many as 75 million road trips across Isfahan Province.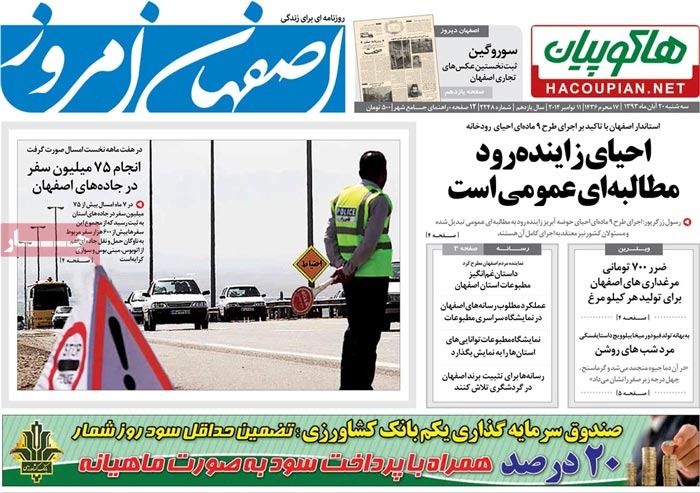 ---
Ettela'at: "Efforts to create unity in Iraq should continue," the Supreme Leader told visiting Iraqi Vice-President Nouri al-Maliki.
Ettela'at: The Ministry of Science, Research and Technology has criticized the wording of the Fifth Development Plan for its failure to allocate enough budget to research.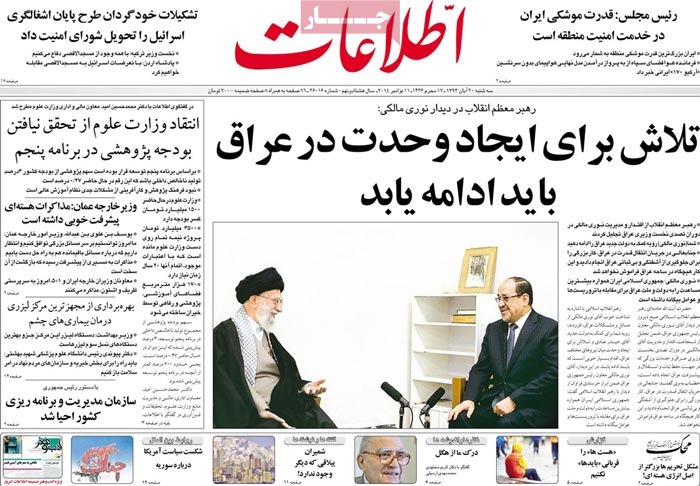 ---
Hambastegi: "As many as 5 million Iranians are suffering from diabetes," said a Health Ministry official.
---
Hamshahri: Iranians set an early record in natural gas consumption. In case consumption does not ease off, shutoff of gas supplies in the coldest days of the winter is a real possibility.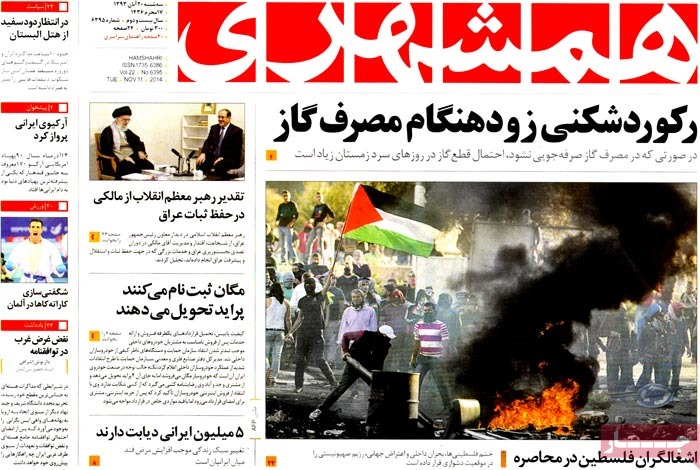 ---
Hemayat: The Judiciary will deal with acid attackers and media outlets that spread falsehood, vowed the judiciary spokesman.
Hemayat: "IS is a plot to interfere with Iraqi progress and development," said Iranian Judiciary Chief Ayatollah Sadegh Amoli Larijani at a meeting with visiting Iraqi Vice-President Nouri al-Maliki.
---
Iran: Diplomats have been upbeat about nuclear talks in Muscat, Oman.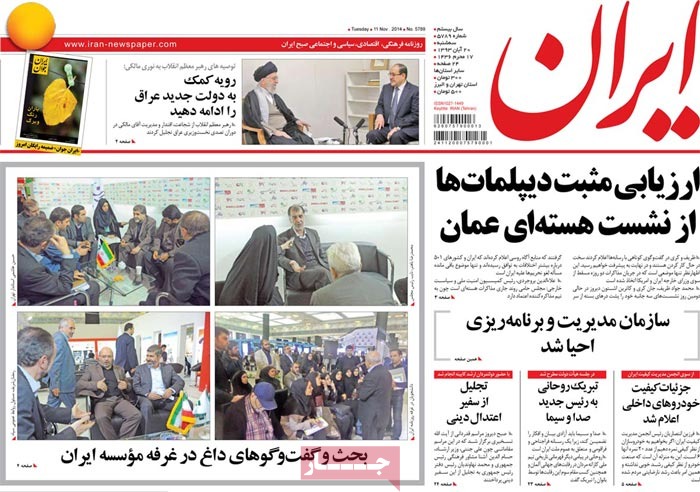 ---
Iran Daily: Iranian version of US drone enters service. [The maiden flight of the domestically modified version of RQ-170 Sentinel came after Iran brought down the American unmanned aerial vehicle in a controlled fashion in December 2011]
---
Jahan-e Sanat: Iran's welfare index puts it in 107th place on a global list of 142 countries.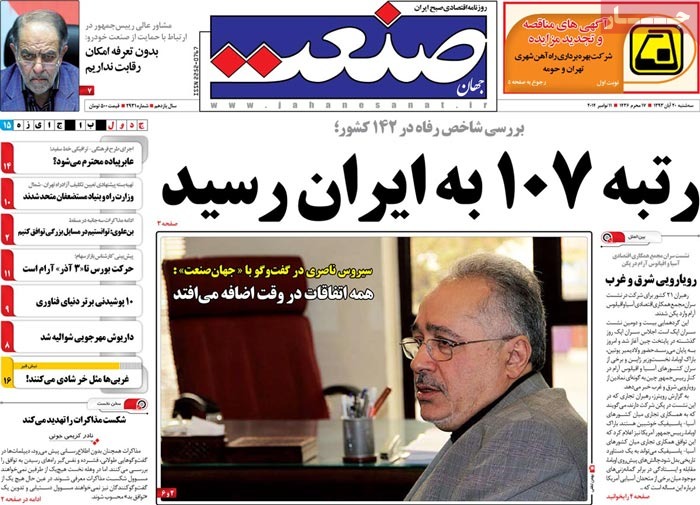 ---
Jamejam: "Punishments awaiting those found guilty of staging acid attacks are set to become more severe," said the Iranian Judiciary spokesman.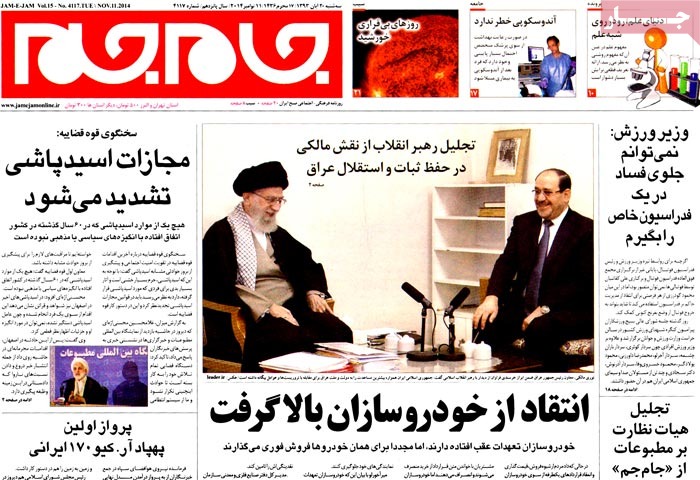 ---
Javan: Despite transparent commitments by Iran, the US stuck to the weapon of sanctions.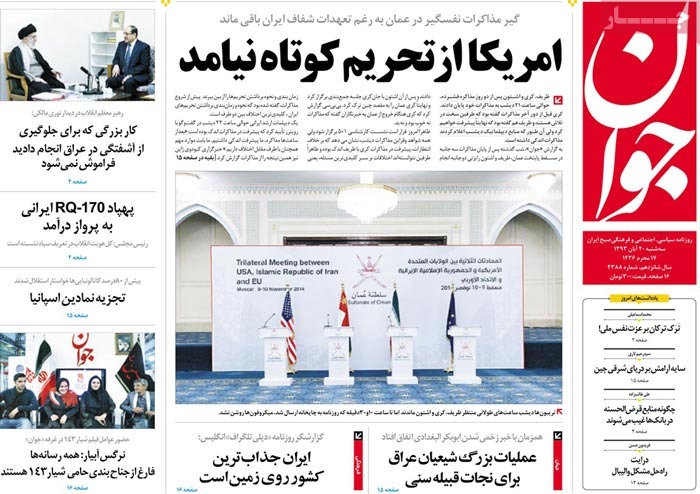 ---
Jomhouri Islami: The Iraqi foreign minister has said that Abu Bakr al-Baghdadi has been killed.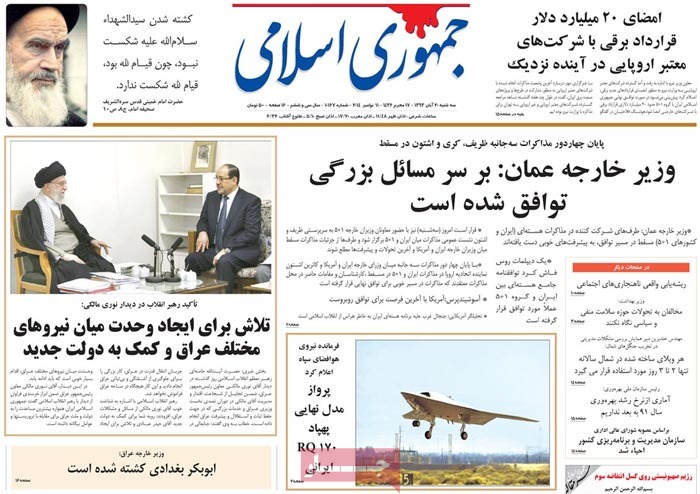 ---
Kaenat: The Iranian oil minister has handed over a message by President Rouhani on the global oil market to the Qatari Emir.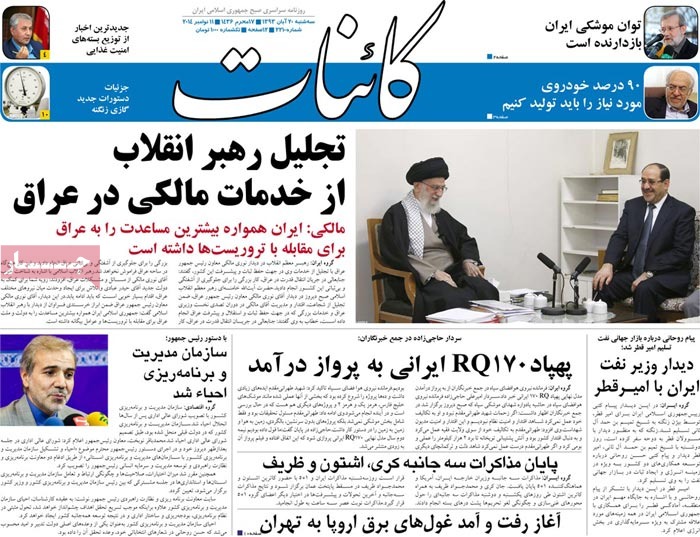 ---
Kayhan: In Spain, some 80 percent of Catalans have voted for independence in an unofficial referendum.
---
Mardomsalari: "In the end, we will make progress," said Iranian Foreign Minister Mohammad Javad Zarif of nuclear talks between Iran and P5+1.
---
Qods: Acid attacks in Isfahan have been neither politically nor religiously motivated, said the Judiciary Spokesman Gholamhossein Mohseni Ejei.
---
Resalat: Iran's men Kumite team have finished first in the 22nd World Karate Championships in Bremen, Germany.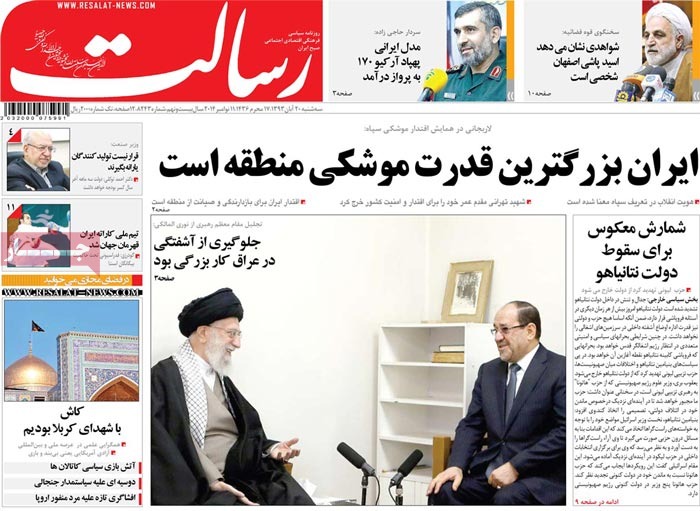 ---
Roozan: "The comments of [former President Mahmoud Ahmadinejad] set the case against my client in motion," said the attorney of Mehdi Hashemi [a son of Akbar Hashemi Rafsanjani].
---