Newspapers today continued to cover the remarks made by the Leader of Iran's Islamic Revolution Ayatollah Seyyed Ali Khamenei in a meeting with a group of teachers, particularly his call on the nation to cast their ballots in the May 19 election.
They also highlighted President Hassan Rouhani's visit to the bereaved families of the victims of a mine explosion in northeastern Iran. Rouhani was harshly criticized by a number of workers, and this was widely covered by both pro and anti-Rouhani newspapers.
The above issues, as well as many more, are highlighted in the following headlines and top stories:
19 Dey:
1- Zarif: We Have No Such Thing as Good or Bad Terrorist
2- Rouhani: Please You Don't Talk about Freedom as You Make It Embarrassed!
3- President: They Want to Take Us Back to 4 Years Ago
4- Ayatollah Makarem Shirazi: Certain Campaign Promises Are Instances of Fraud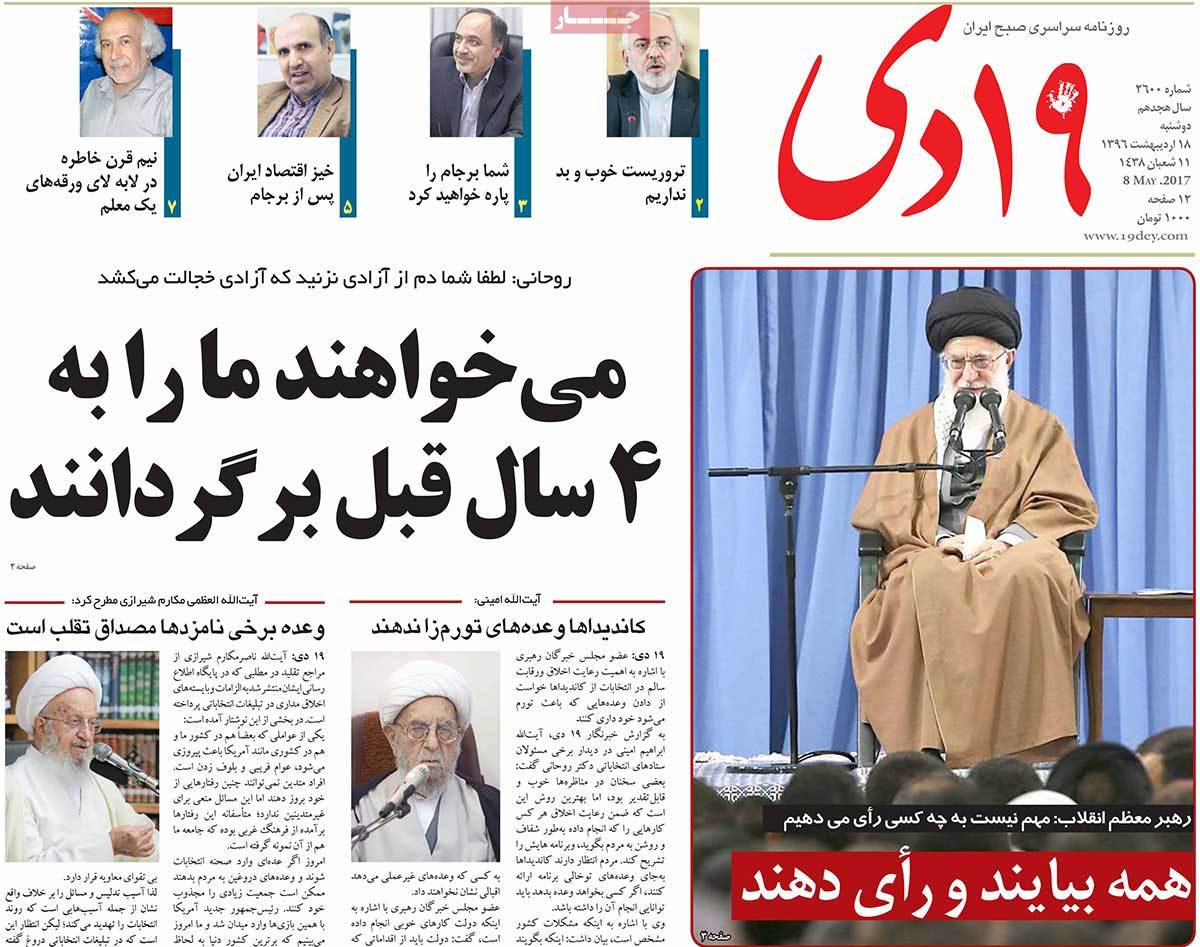 ---
Abrar:
1- Leader: Iran Won't Submit to Such Documents as UNESCO 2030
2- Kuwaiti Official: Trump to Discuss Arab Countries' Tension with Iran in Riyadh Visit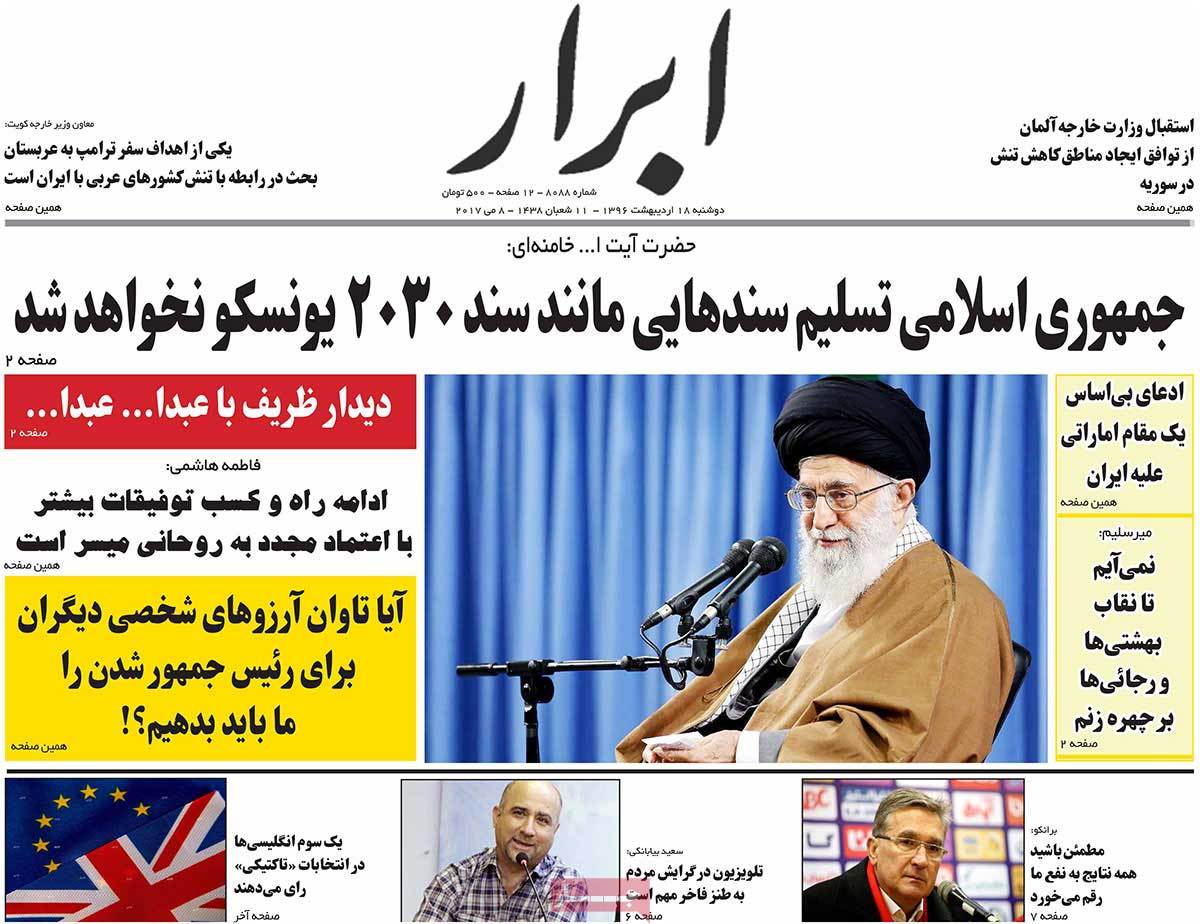 ---
Aftab-e Yazd:
1- Iran Leader Urges All People to Cast Their Ballots to Save Iran's Might
2- Safe Protest against Mr President!
Bereaved Miners Opened Their Hearts and Raised Their Protest
---
Emtiaz:
1- Ayatollah Javadi Amoli: Fighting Economic Corruption among Judiciary's Duties
2- All Government Officials Have Declared Their Assets: Judiciary Spokesman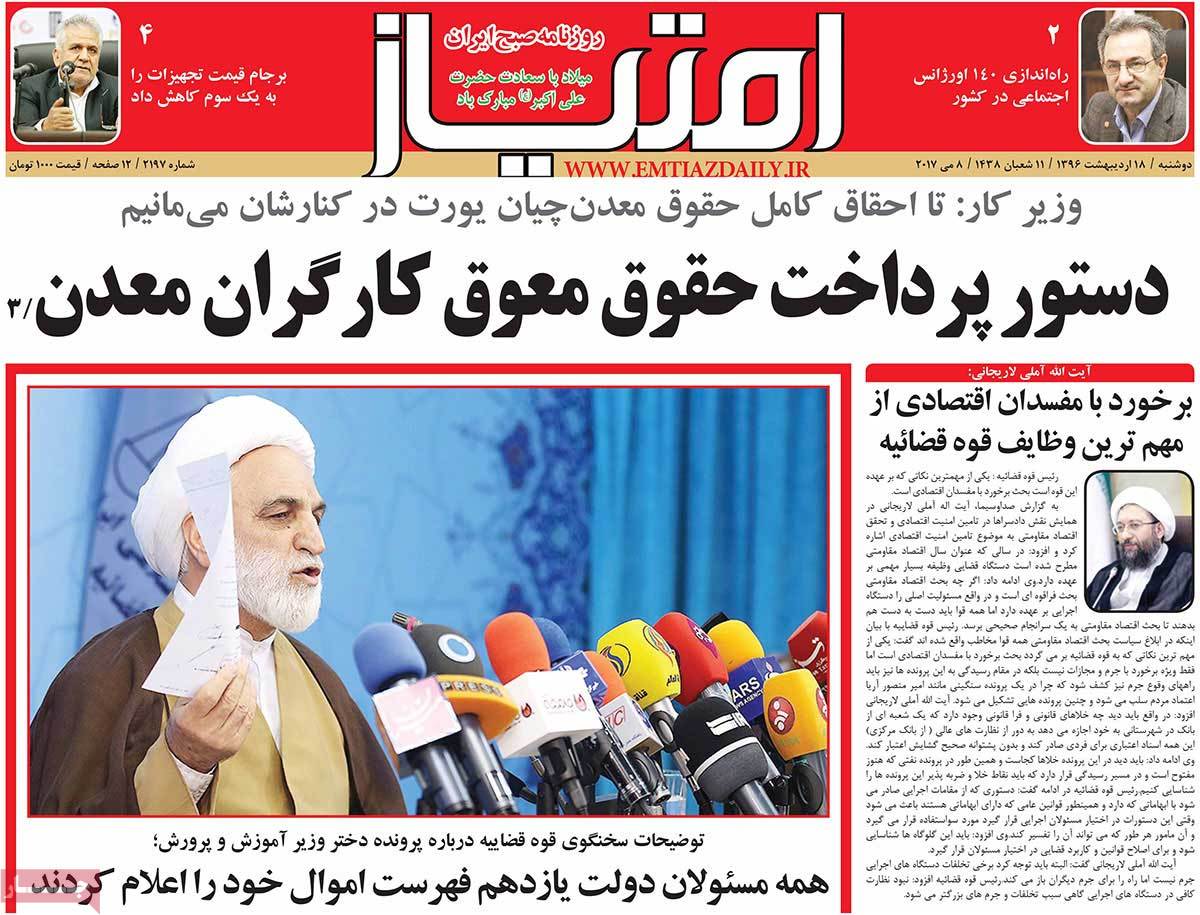 ---
Ettela'at:
1- Iran Leader: Nationwide Turnout in Election to Secure Iran's Might
2- Rouhani's Special Order to Follow up on Problems of Miners
---
Farhikhtegan:
1- Over 600 Accounts Opened in Foreign Banks after JCPOA: Official
2- Rouhani: The Entire Country Has Empathy with You [miners]
3- Iran Leader Calls for Massive Turnout in Elections
---
Iran:
1- Culture Minister: Artists Don't Need Charity
2- Int'l Bodies Underline Decreasing Trend of Economic Corruption in Iran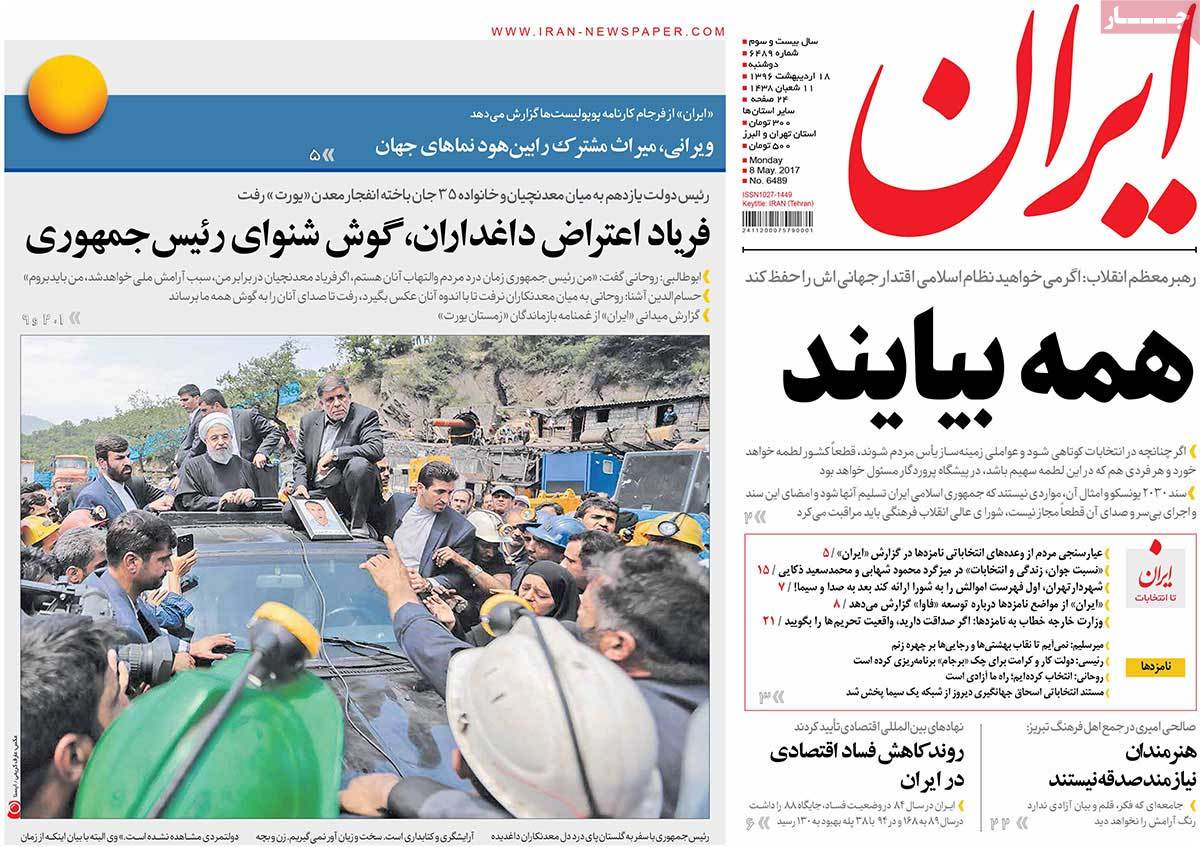 ---
Javan:
1- Iran Leader: Elections Stem from Religious Democracy
2- Judiciary: Minister's Daughter Imports Apparel through an Engineering Firm
3- Angry Miner to Rouhani: I Don't Have $3 for My Child's Illness
---
Jomhouri Eslami:
1- French Radicals Defeated, Macron Wins
2- Activists, Political Figures, MPs React to False Promises Made by Certain Candidates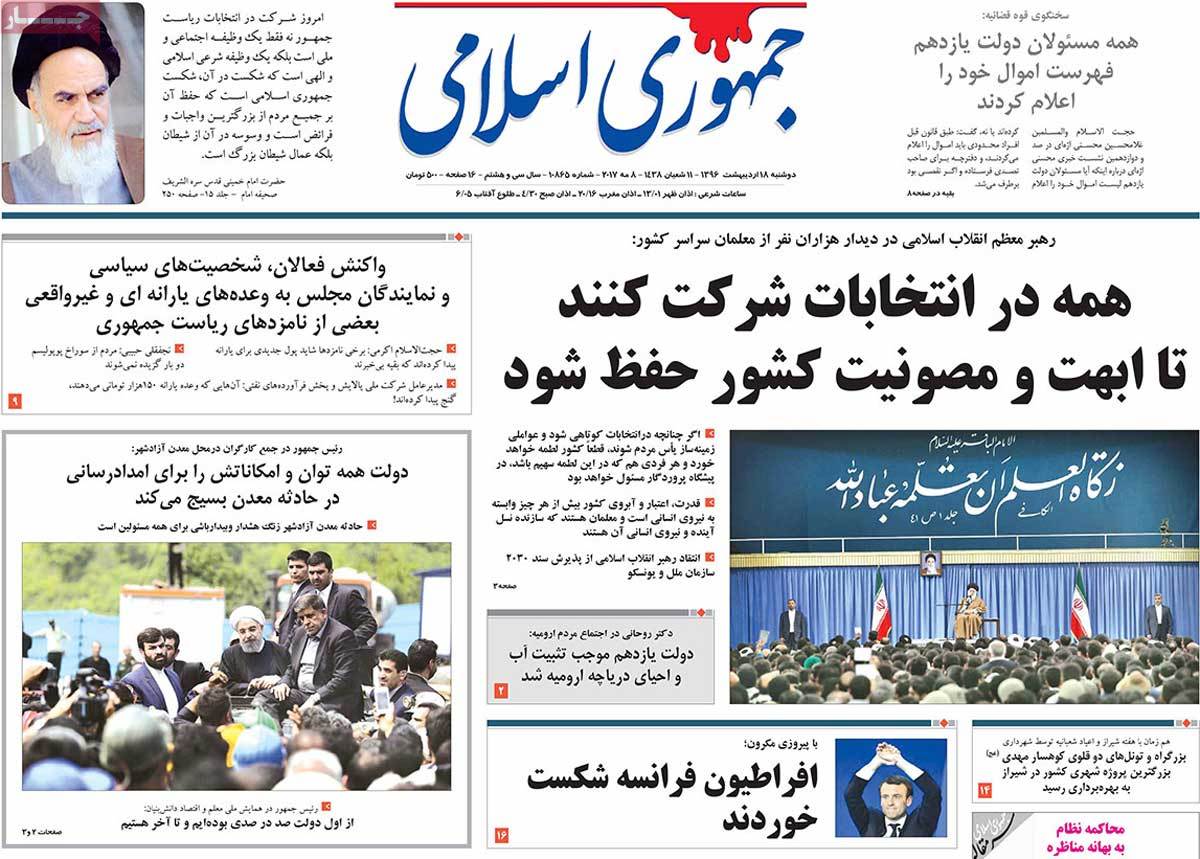 ---
Kayhan:
1- Iran Leader: Governments Have No Role in Averting War
2- Judiciary Spokesman: Education Minister is Both a Minister and Apparel Importer
3- Gov't Supporters Intimidated by Kayhan's Disclosure of JCPOA Damages
---
Resalat:
1- Raisi in Qom: No Lock Will Be Opened by without People's Presence
2- Palestinian Jihad Movement: Palestine Belongs to Our Nation from Sea to River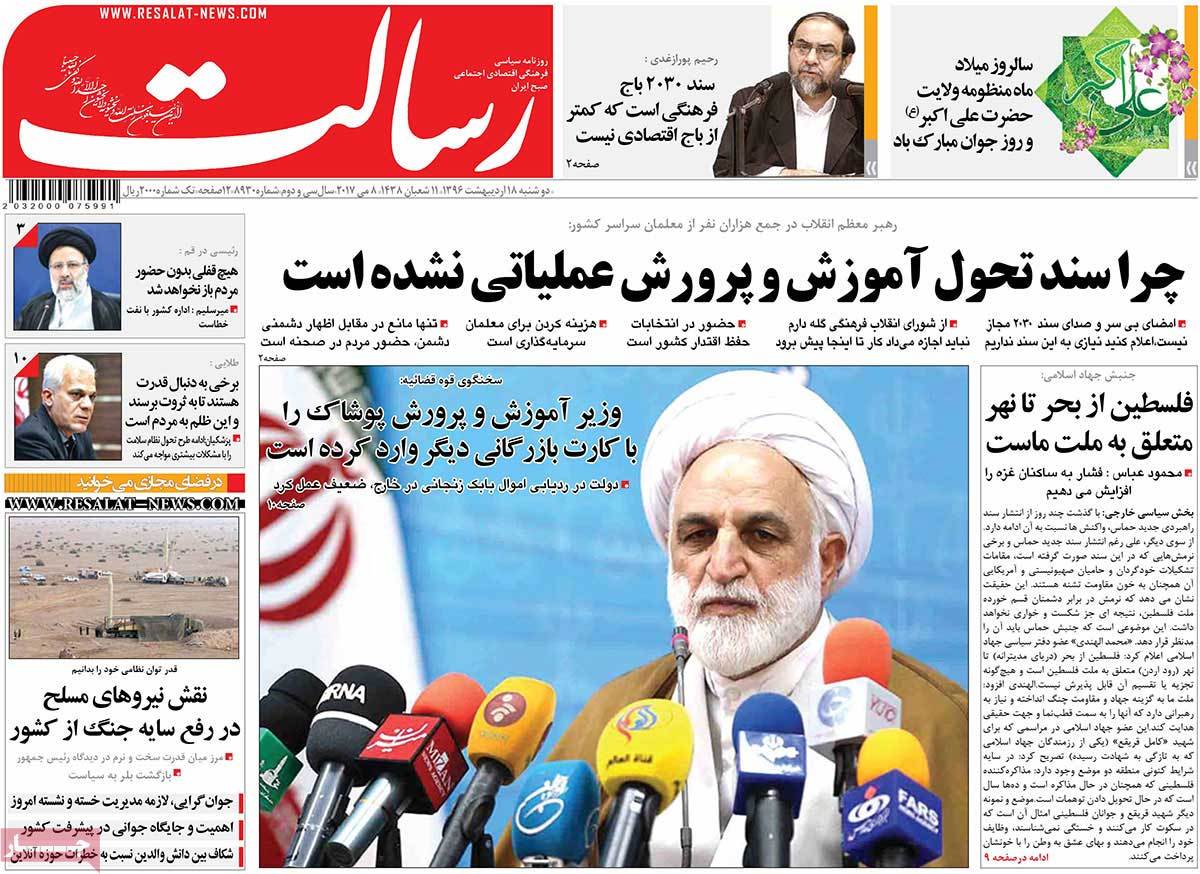 ---
Shahrvand:
1- Iran Leader: Political Use of Teachers Not in Teachers' Dignity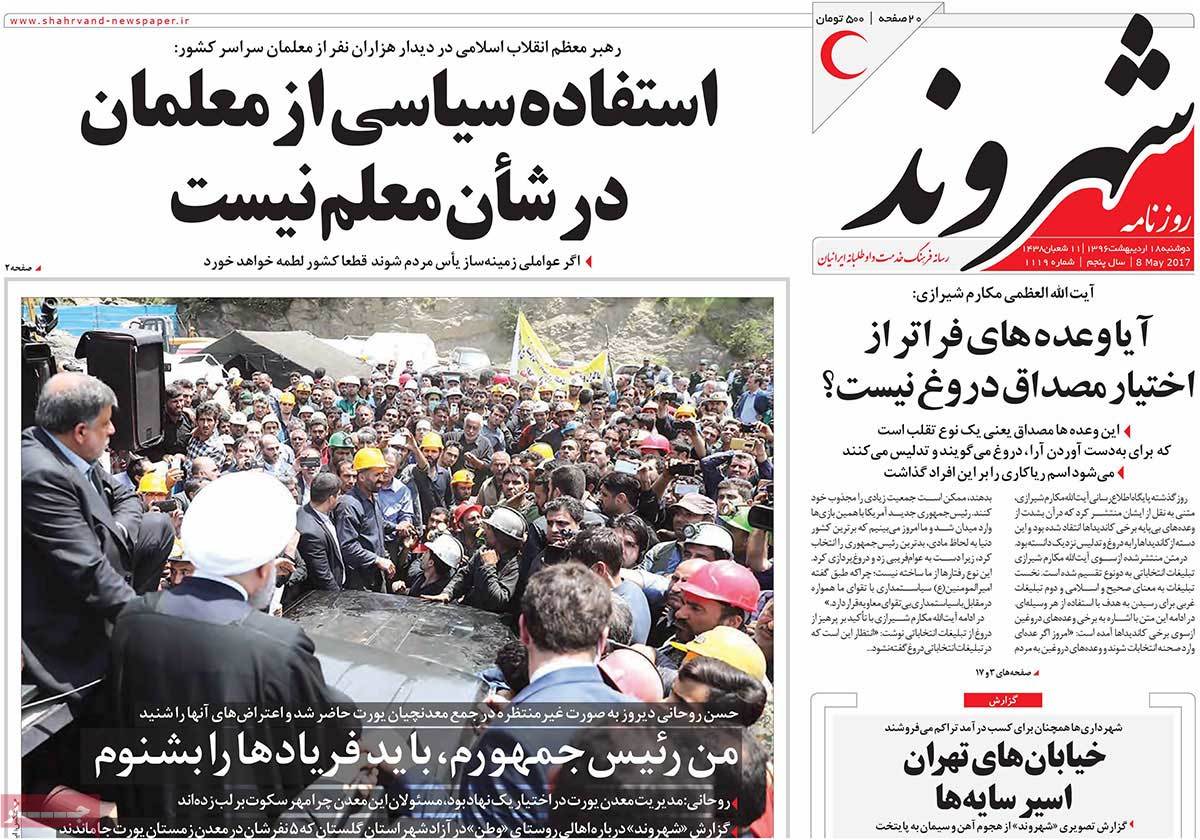 ---
Shargh:
1- Rouhani to Rivals: Have You Paid Your Taxes?
2- Rouhani's Visit to Mine Alleviated Our Pains: Survivor of Mine Explosion
3- Transport Minister: Qalibaf's Classification of Society is a Joke