The top story today was the victory of Iranian reformist and moderate candidates in local elections across the country, particularly Tehran. Reformists have taken all the 21 seats of Tehran City Council, ending an almost 15-year dominance of conservatives.
US President Donald Trump's visit to Saudi Arabia, his anti-Iran remarks, the huge deals he made with Arabs, and the reactions by Iranian officials also received great coverage.
The court ruling against top Bahraini Shiite cleric Sheikh Issa Qassim was also a top story in a number of newspapers today.
The above issues, as well as many more, are highlighted in the following headlines and top stories:
19 Dey:
1- MP: Conservatives' Unfair Attacks Led to Their Defeat
2- Conservative MPs Promise Rouhani to Cooperate with Him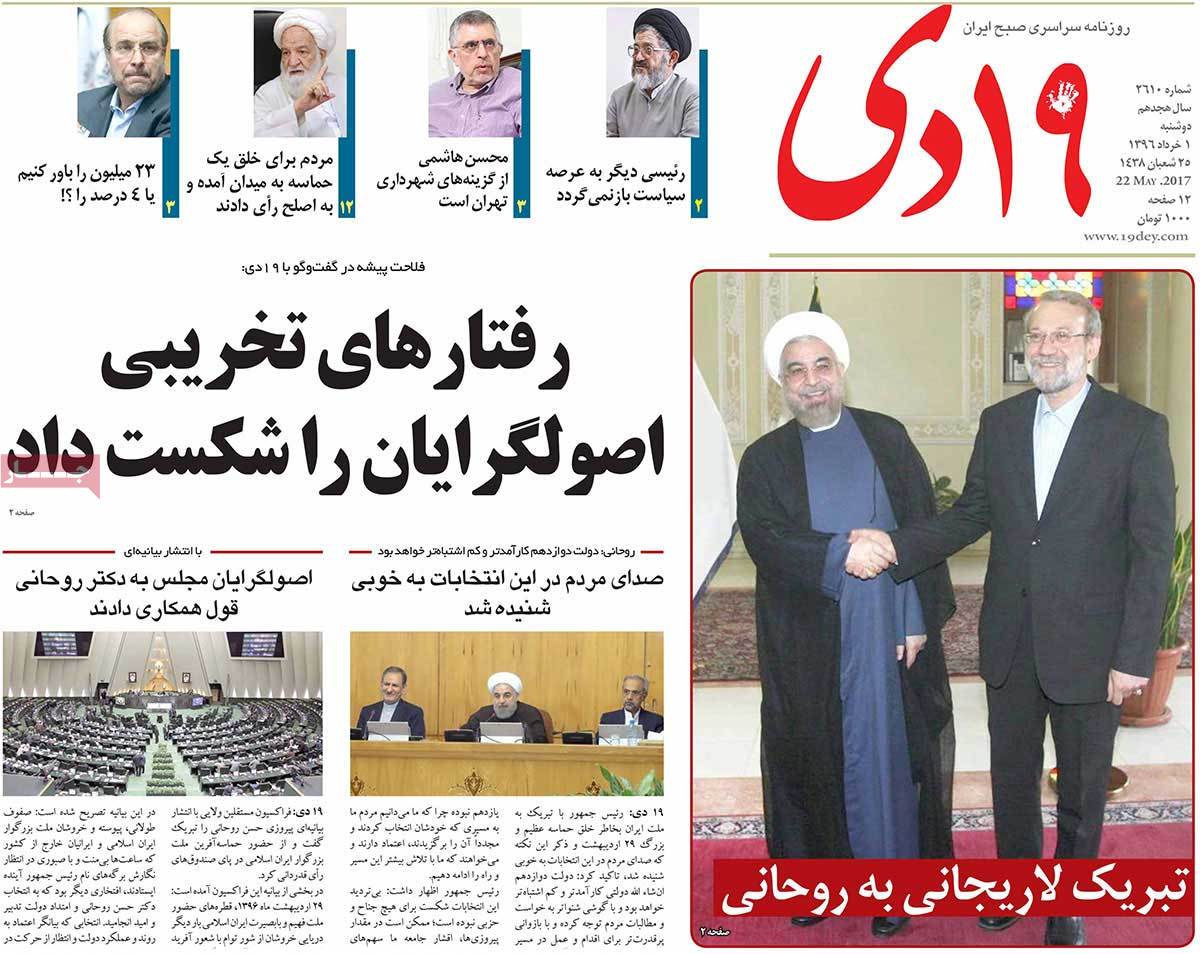 ---
Abrar:
1- French President: Hope for Continued Implementation of Nuclear Deal
2- Saudi Arabian FM: Iran's Elections an Internal Affair
3- US Secretary of State Tillerson May Hold Talks with Zarif in Right Time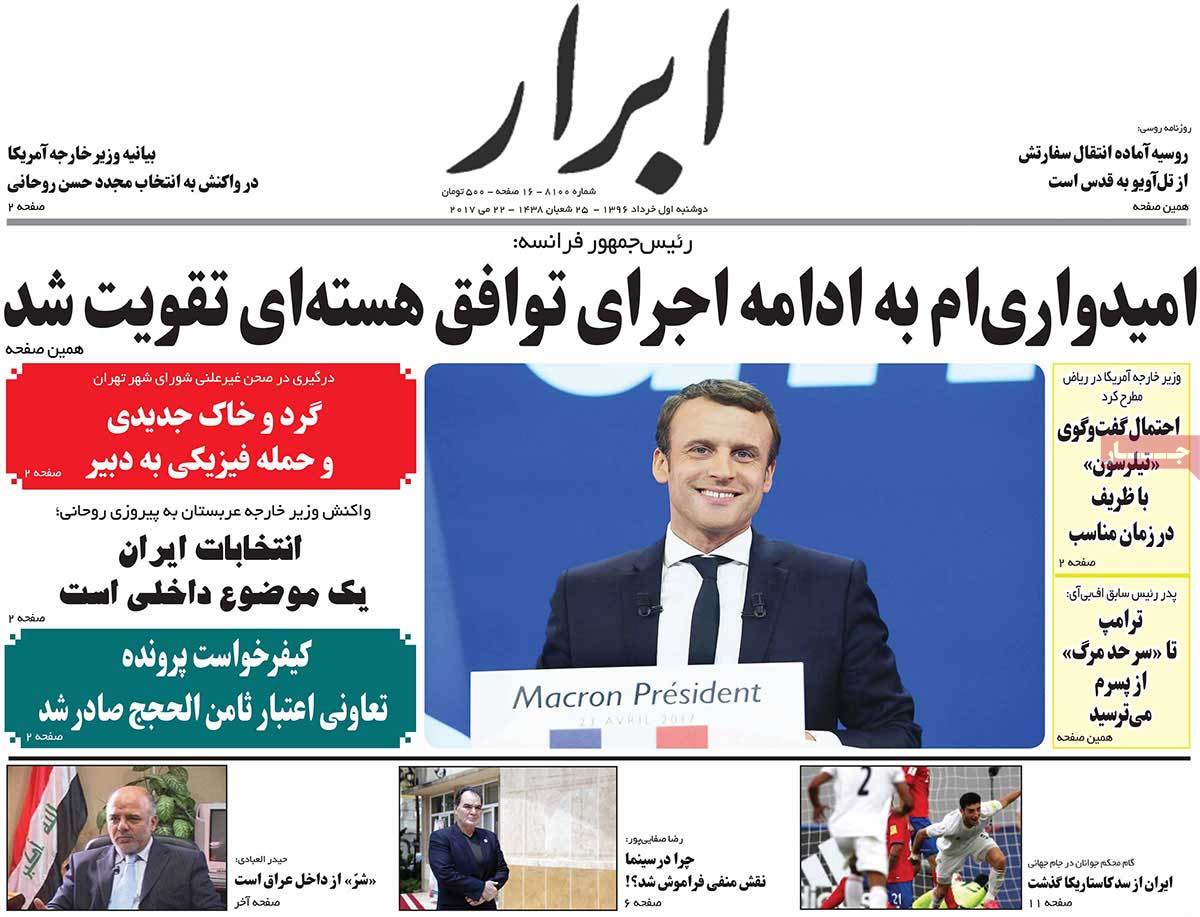 ---
Abrar-e Eqtesadi:
1- Official: Persian Gulf Littoral States Interested in Buying Iran's Gas
2- Oil Market Waiting for OPEC's Decisions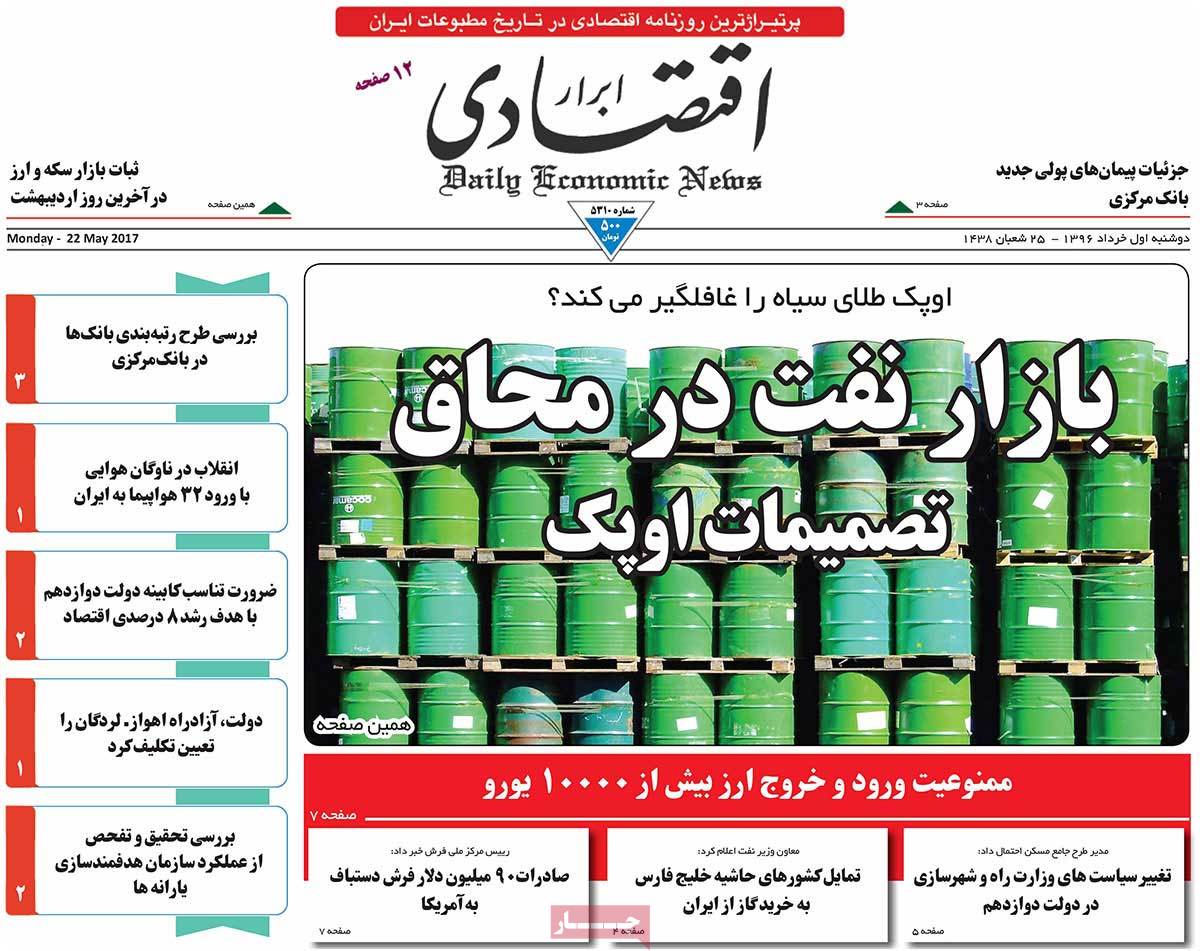 ---
Afkar:
1- Raisi in Letter to Guardian Council Objects to Electoral Offences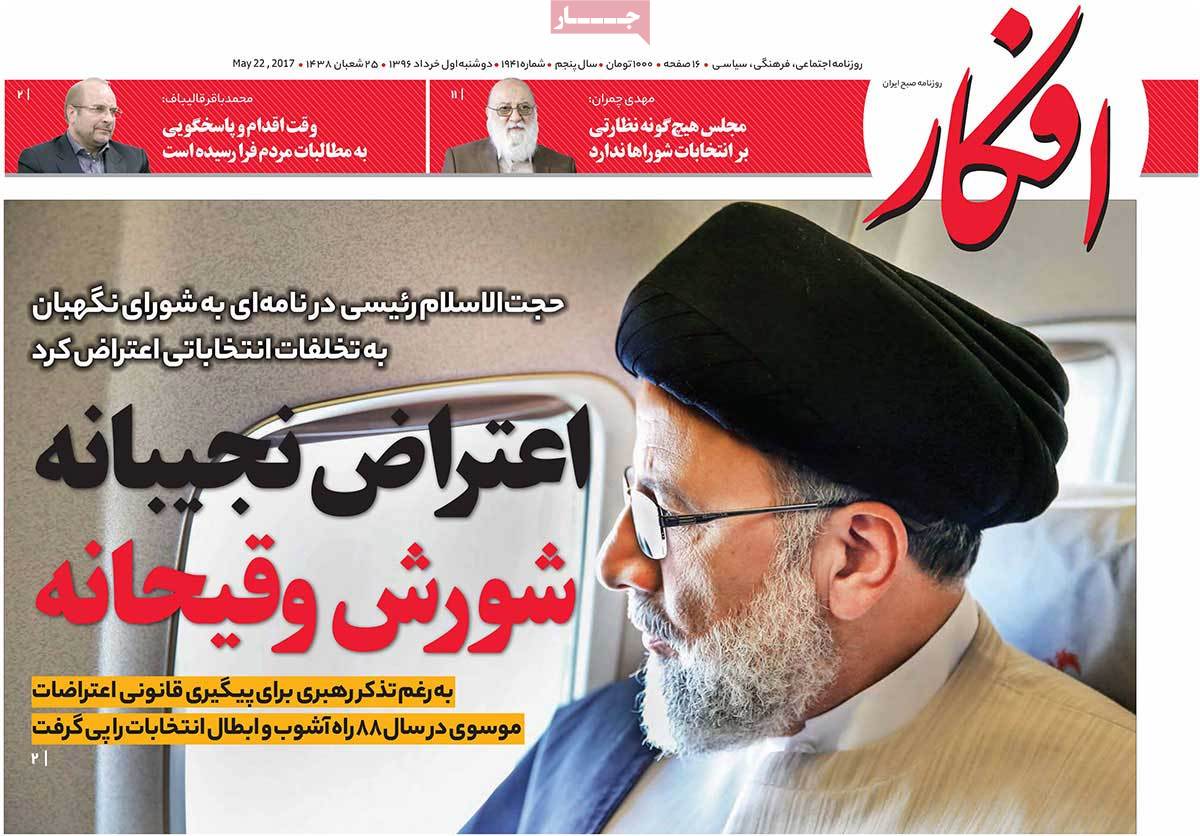 ---
Aftab-e Yazd:
1- List of Reformist Candidates Win Majority of Councils in Many Cities
2- Economist: Iranian People's No to Populist Slogans Reminiscent of Swiss Referendum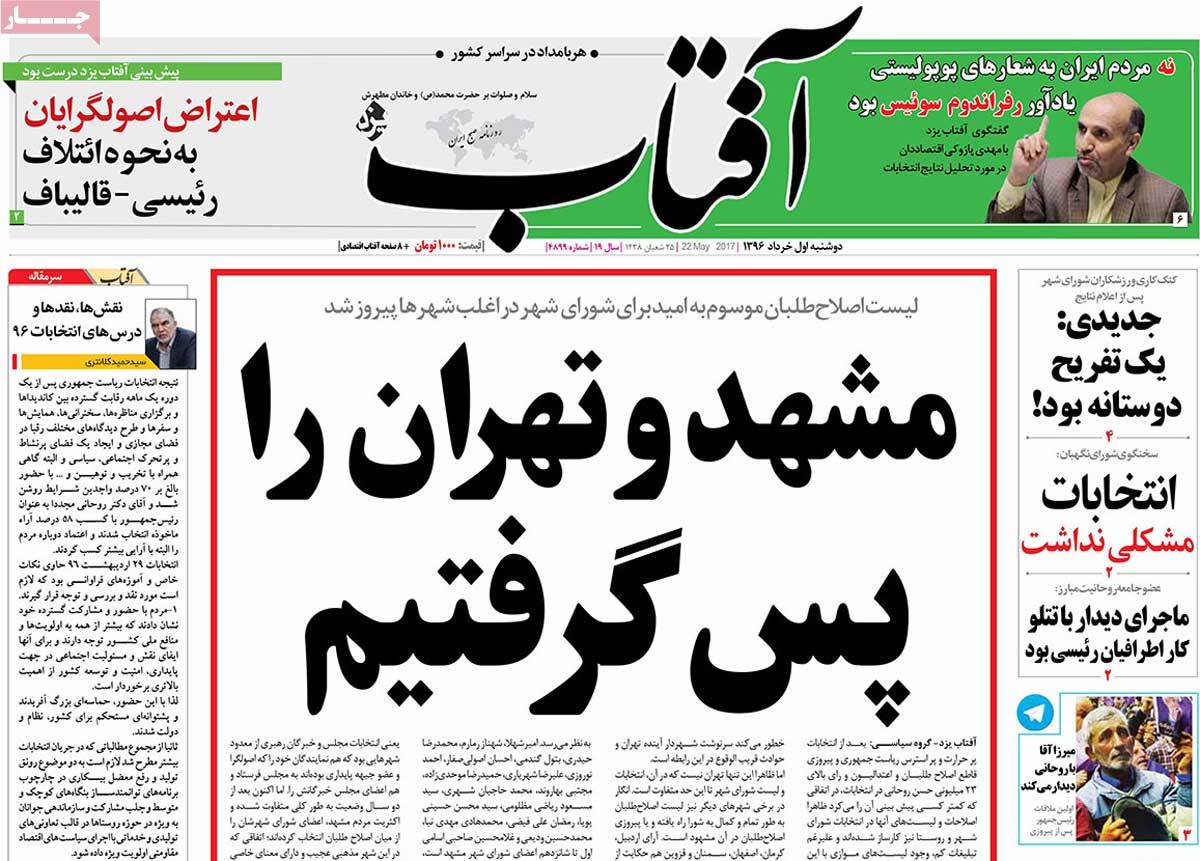 ---
Arman-e Emrooz:
1- Rouhani: People's Voices Were Well Heard
2- Zarif: We're Ready to Present Peace to Everyone as a Gift
---
Donya-ye Eqtesad:
1- Saudi-American Plan to Form Arabic NATO
---
Ebtekar:
1- 36 Million Tourists Attracted Thanks to Smile Diplomacy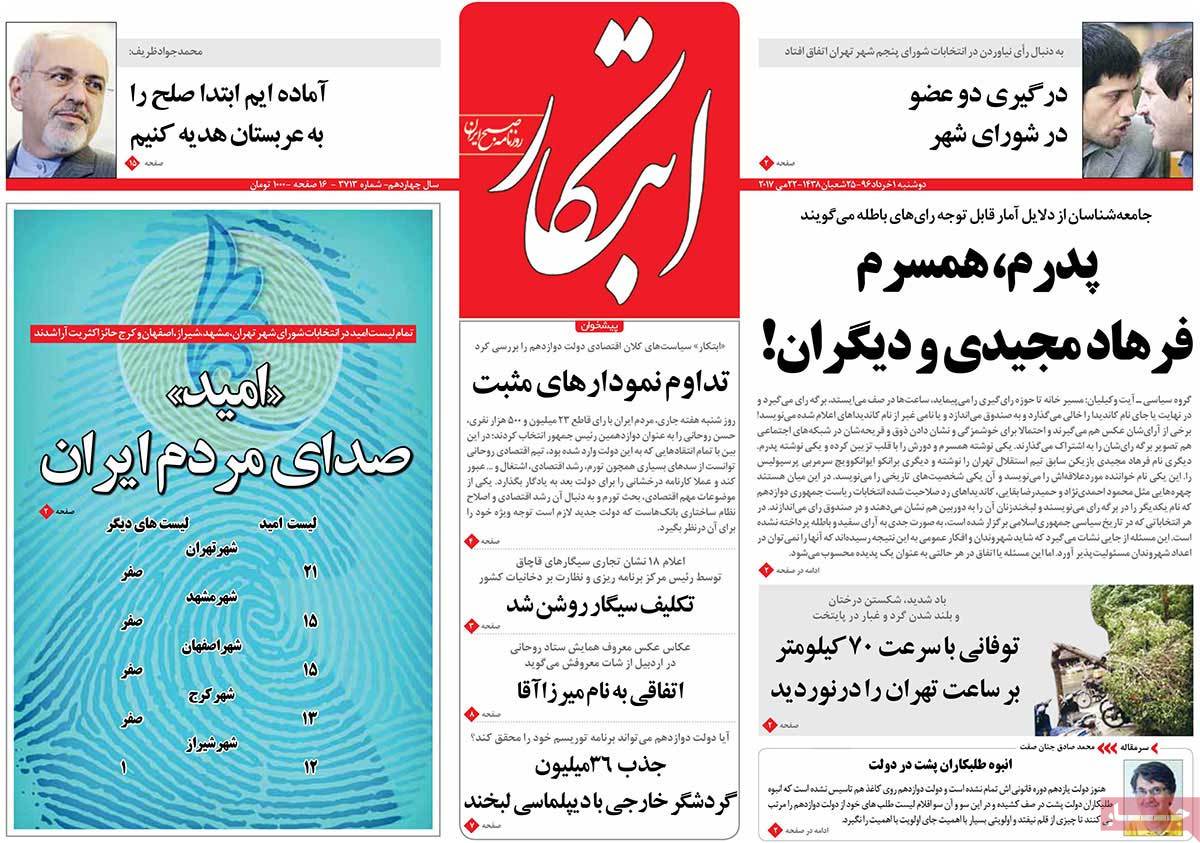 ---
Etemad:
1- Hashemi Rafsanjani's Son Receives Record-Breaking Number of Votes
2- Reformist Figure Urges Rouhani to Start JCPOA 2
---
Ettela'at:
1- Other Countries' Senior Officials Ready to Work with Rouhani's Gov't
2- Fisk: US Dictator Allies in Mideast Daren't to Hold Election like Iran
3- Rouhani: Next Gov't to Be More Efficient, Make Less Mistakes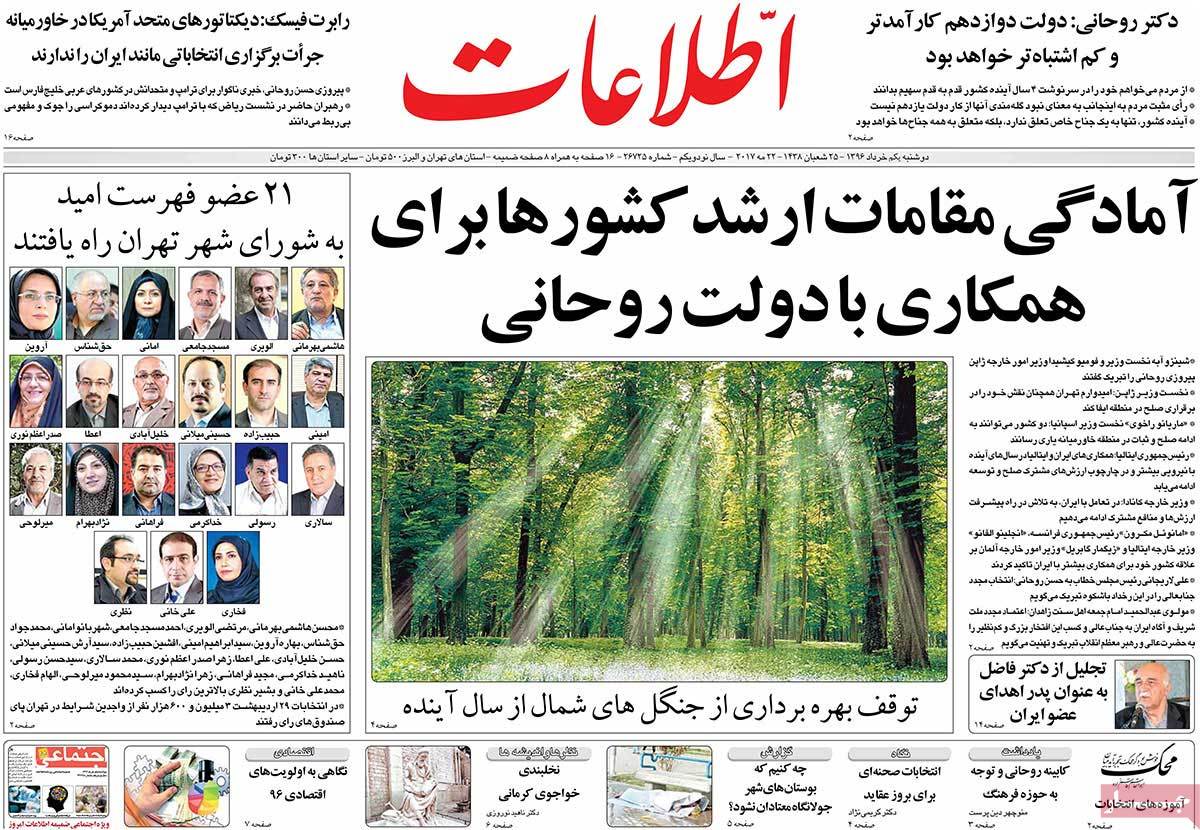 ---
Iran:
1- 'Paradise' Smiles at 'Hope'
[Paradise is translated name of the street where city council is located. Hope also refers to the List of Hope, the list of reformist candidates who won city councils election]
2- Reformists Win All 21 Seats of Tehran City Council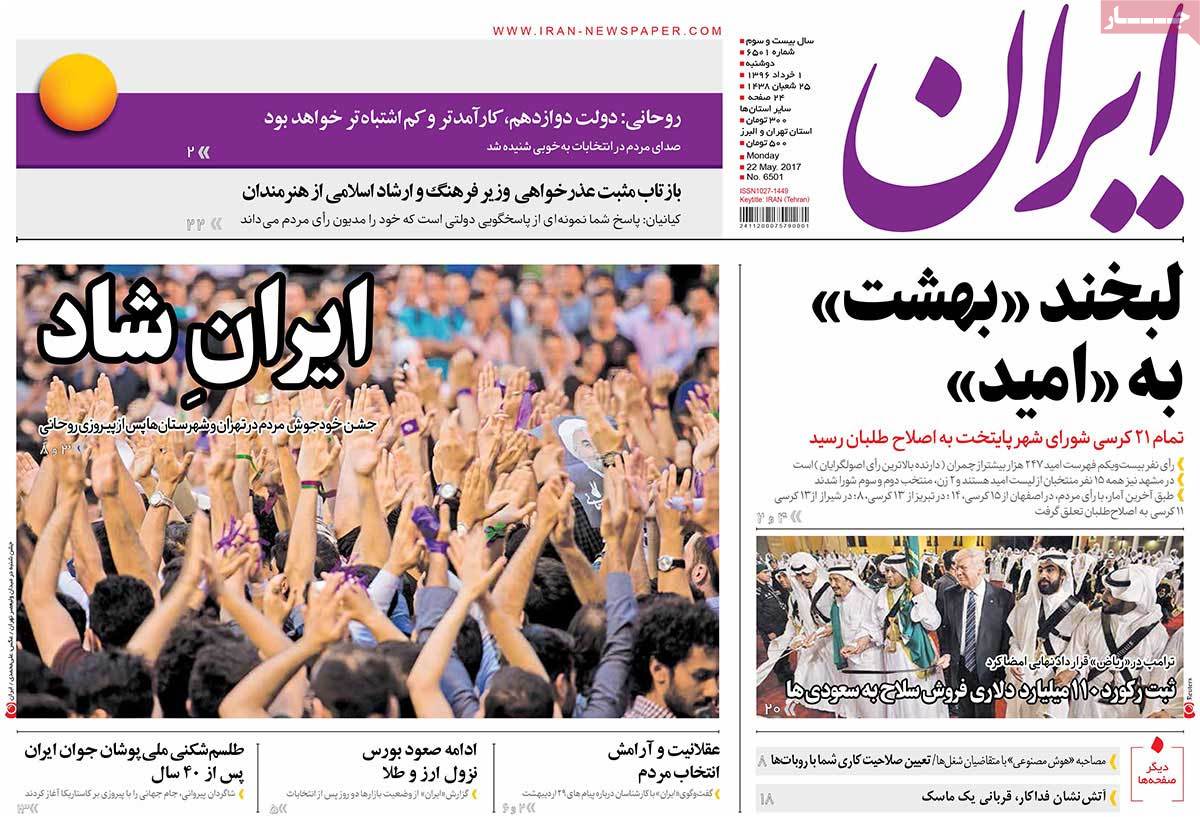 ---
Javan:
1- Trump Receives $500-Billion Gift from Saudis for His Anti-Iran Dance
2- Zarif: US Should Negotiate with Saudi Arabia to Prevent Recurrence of 9/11
3- Armed Forces Spokesman: Tillerson's Expectations from Rouhani Show Their Ignorance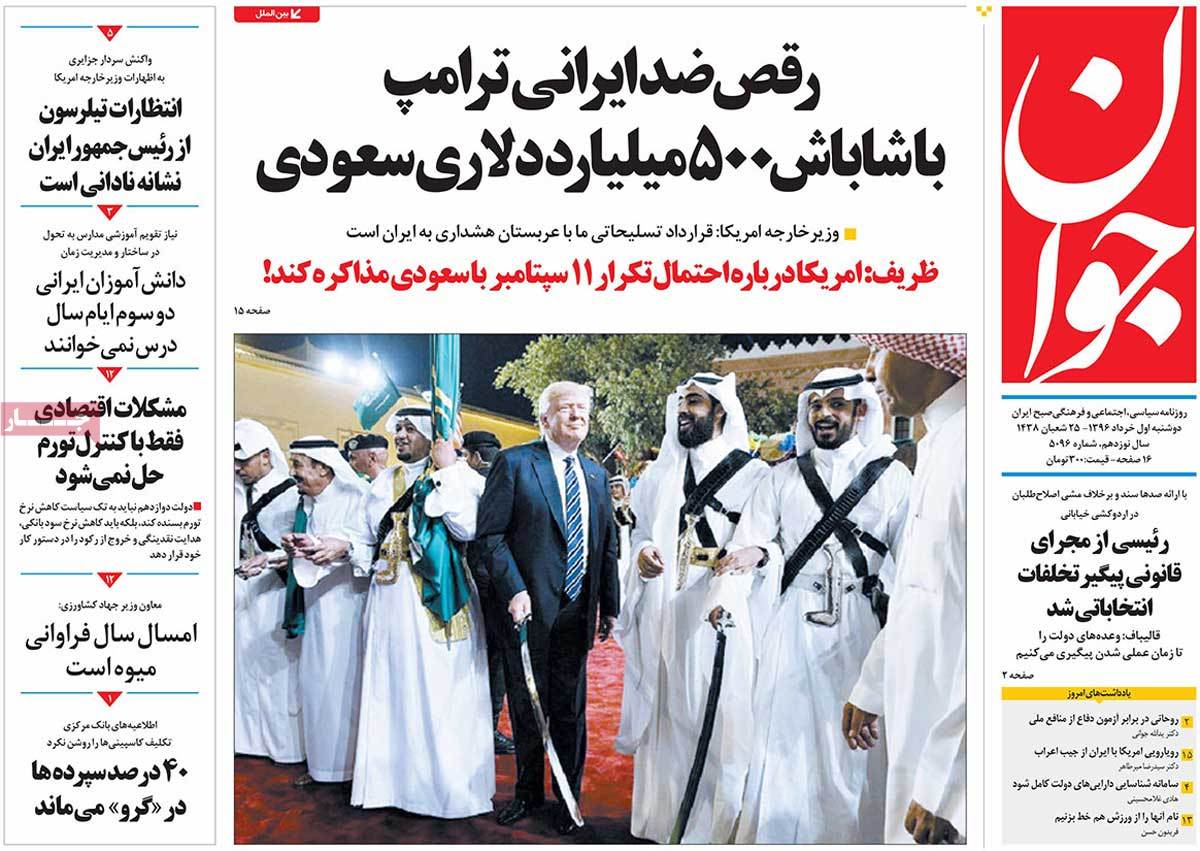 ---
Jomhouri Eslami:
1- 32 New Planes to Arrive in Iran within Next 20 Months
2- Bahrain Outraged by Court Ruling against Top Cleric
---
Kayhan:
1- Elections Are over, Now It's Time to Fulfil Promises
2- Trump Officially Starts Milking Arab Dictators: $500bn Deal Signed with Saudis!
3- Al Khalifa Sentences Sheikh Qassim to 3 Years in Prison
---
Khorasan:
1- Trump's Sword Dance on Petrodollars
---
Seda-ye Eslahat:
1- Rouhani Should Make His Cabinet Younger: Expediency Council Member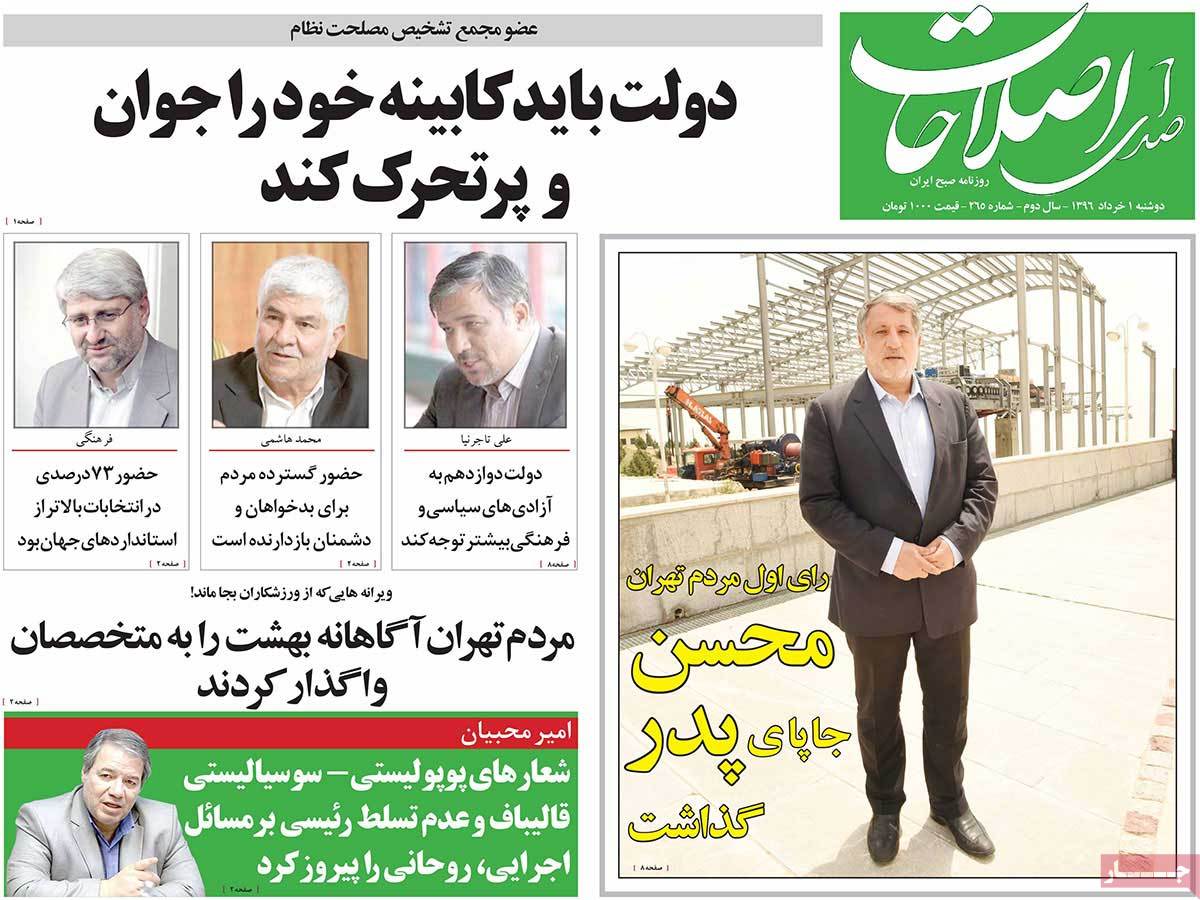 ---
Shahrvand:
1- Vote for Peace in Iran, Hands on Guns in Riyadh
---
Shargh:
1- Conservatives behind Doors of City Councils
2- Trump in Riyadh Praises Saudi Arabia, Blames Iran
3- World Welcomes Rouhani's Victory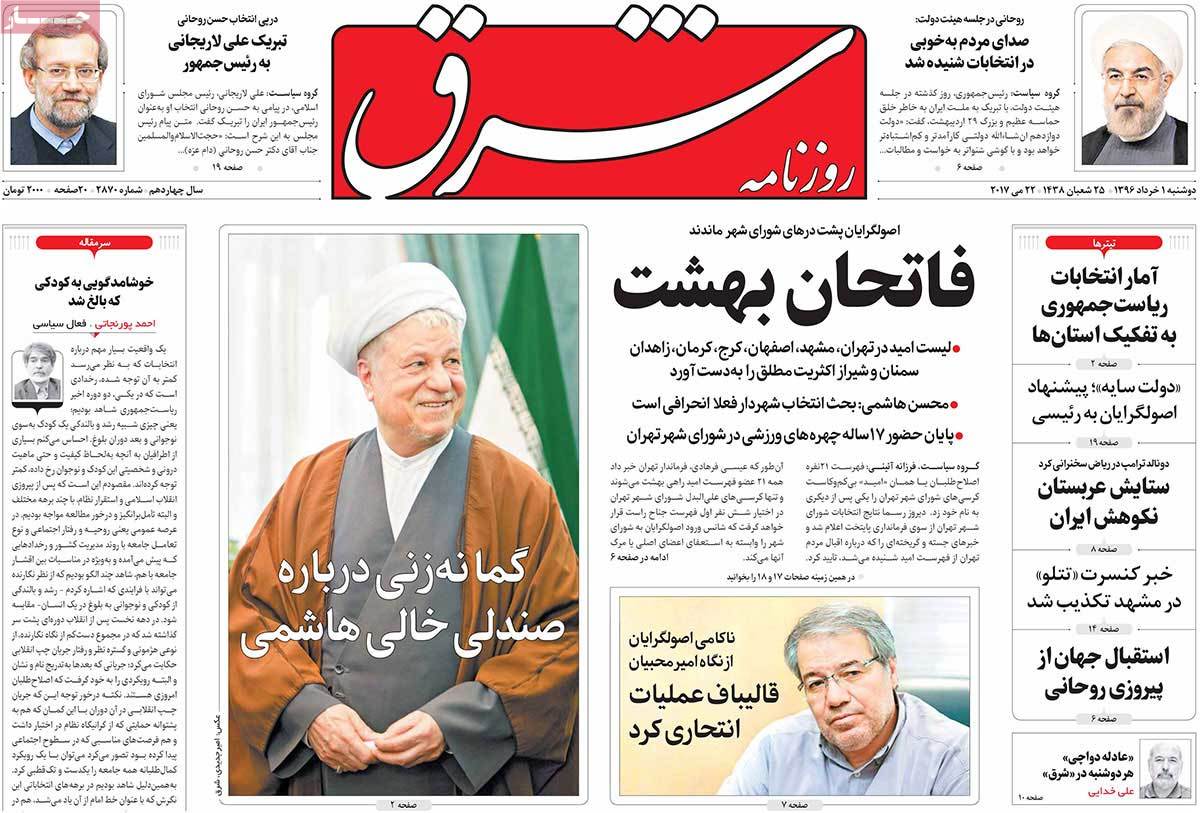 ---
Siasat-e Rooz:
1- Bahraini Nation's Scream in Reaction to Court Ruling against Top Cleric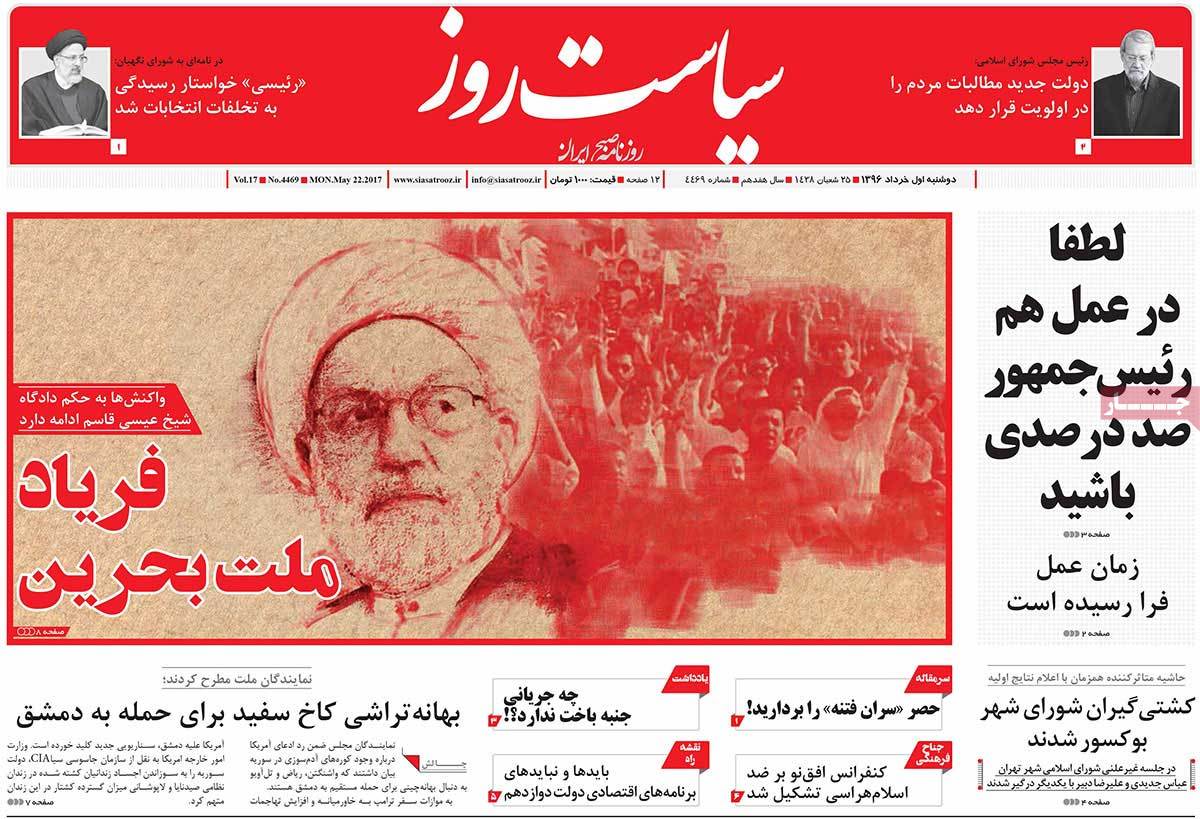 ---
Sobh-e Now:
1- $400-Billion Gift to US; Anti-Iran Summit in Riyadh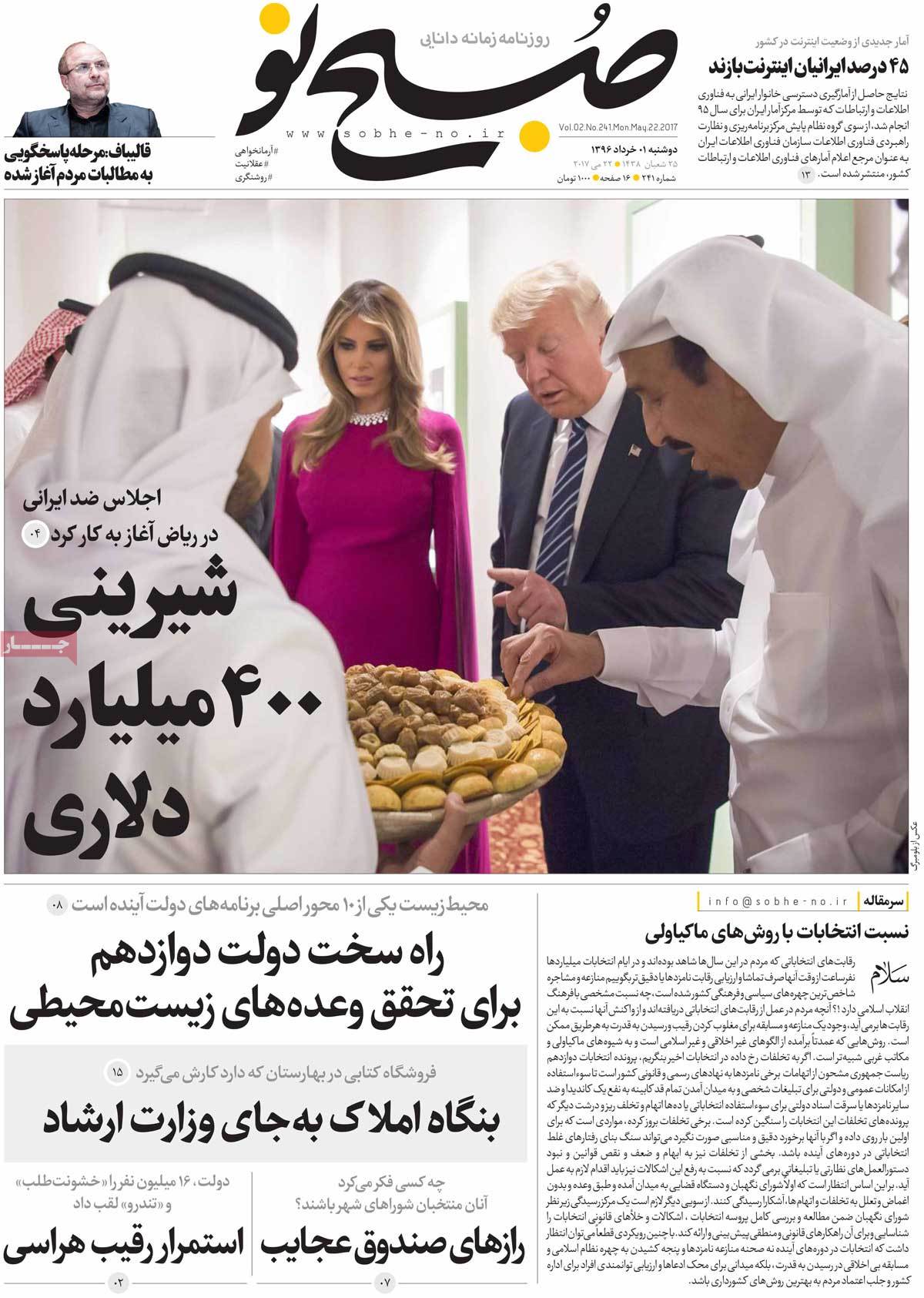 ---
Vaghaye Ettefaghieh:
1- Diplomacy, Main Reason for Rouhani's Victory in Election
2- Tehran City Council to Host Highest Number of Women