Several newspapers today covered the remarks made by the Leader of Iran's Islamic Revolution Ayatollah Seyyed Ali Khamenei in a meeting with a group of elite students of Sharif University of Technology on the country's scientific achievements and the future prospects.
The top story was the visit of French Foreign Minister Jean-Yves Le Drian to Tehran and his threatening comments about Tehran's missile program and regional role ahead of the trip.
The remarks made by Iranian President Hassan Rouhani about his opponents, particularly his use of the word "feeble-minded" to refer to those who undermine the government's achievements, also received great coverage today.
The above issues, as well as many more, are highlighted in the following headlines and top stories:
19 Dey:
Rouhani: Opponents of Gov't Targeting People's Hope
Iran Leader: Scientific Progress Meaningless without Commitment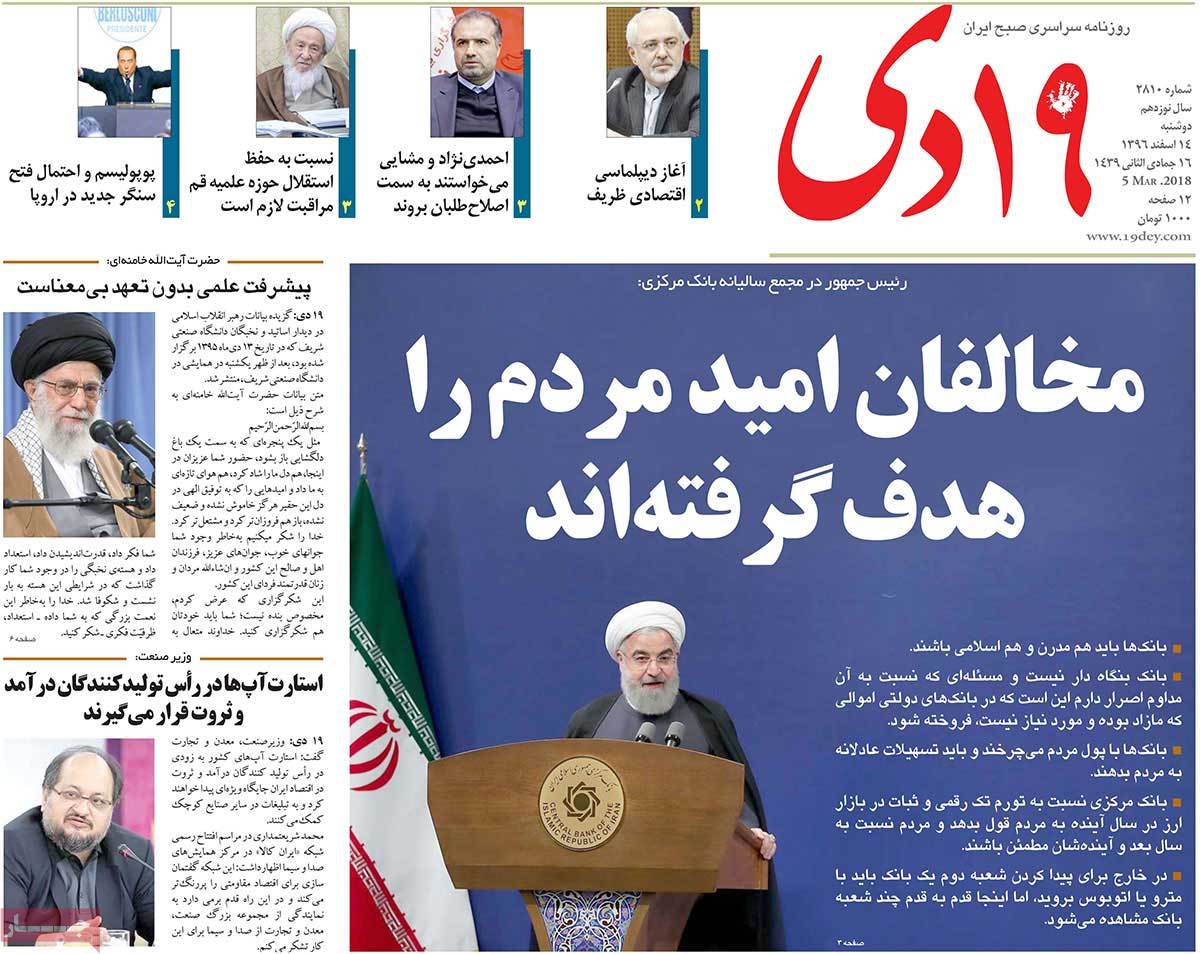 ---
Abrar:
Foreign Ministry: No Barrier to Iran-Europe Consultations
IRGC: 21 ISIS Terrorists Killed or Captured after Entering Iran
Netanyahu: Iran Most Important Issue of My Talks with Trump
---
Aftab-e Yazd:
Reformists Urge Fight against Corruption Even If It Targets Themselves
Germany Champion of World Exports
House of Polish Deputy Ambassador Robbed in Tehran
---
Arman-e Emrooz:
Le Drian to Host Zarif in Tehran in Opening Ceremony of Louvre Exhibition
---
Besharat-e Now:
MP: Arrest of Girls Who Came to Watch Tehran Derby Was Illegal
---
Ebtekar:
Major Changes in White House
37 Dismissals, Resignations, Continued Tension during Trump's One-Year Term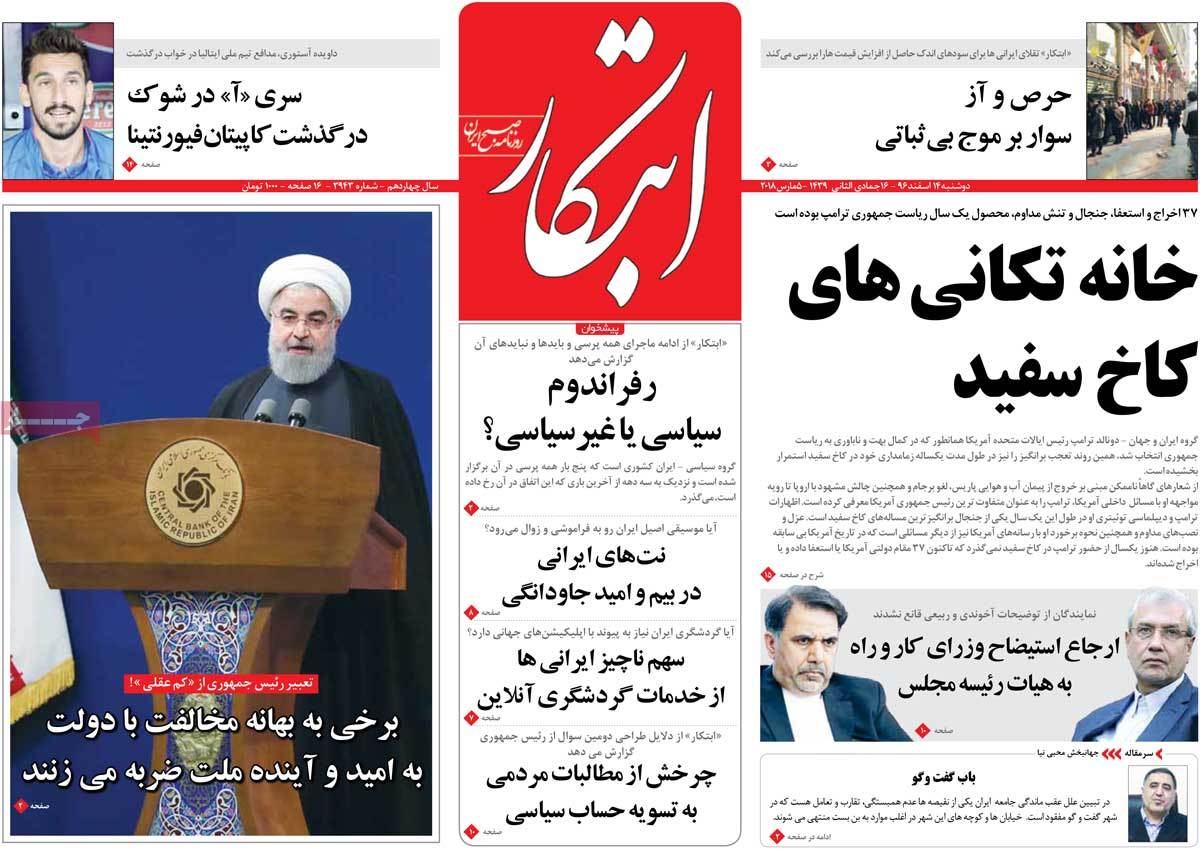 ---
Etemad:
Iran Leader: Scientific Progress per se Doesn't Make the Country Prosperous
Europe to Become Regretful: Zarif in Exclusive Interview
Parliament to Impeach Ministers of Labour, Roads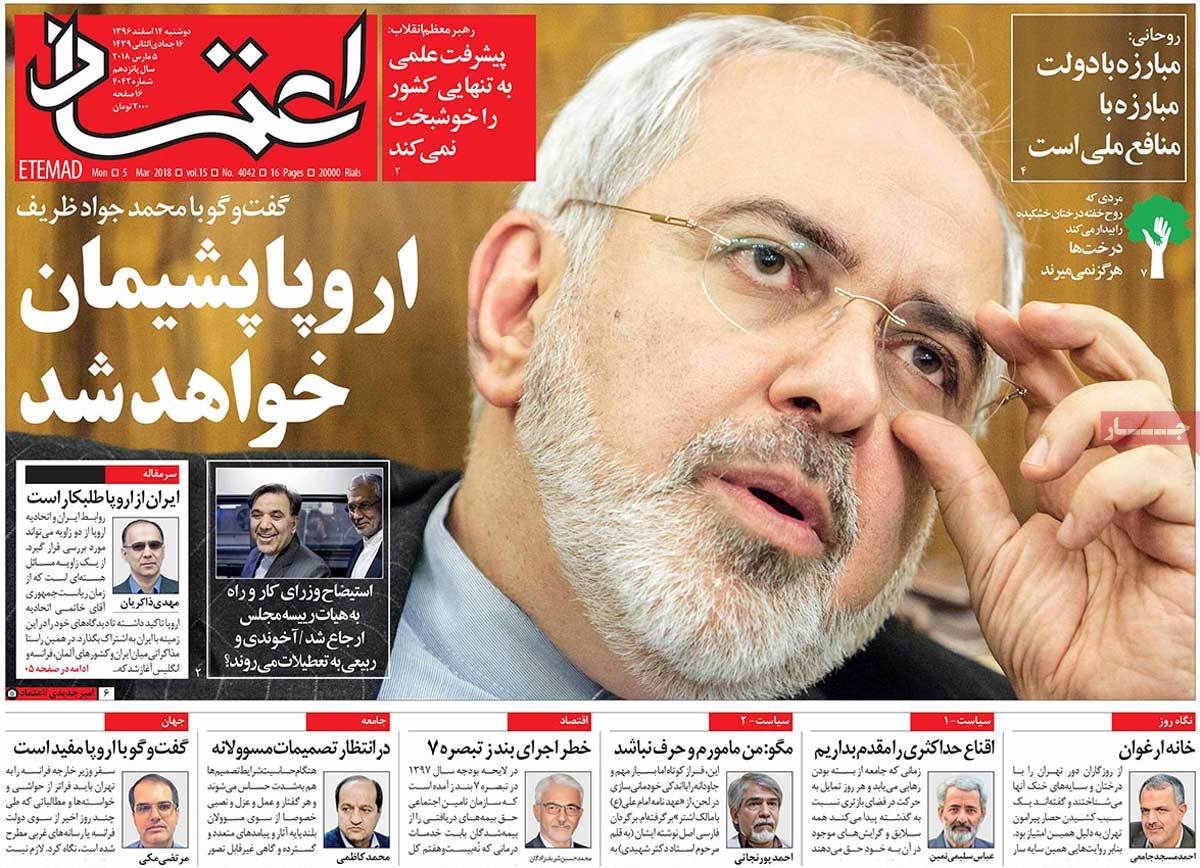 ---
Ettela'at:
Rouhani: Opposition to Gov't Fight against National Interests
Trump: US Invasion of Iraq Was Attack on Beehive
HRW: Bin Salman's So-Called Reforms Not Consistent with His Suppression
---
Hemayat:
Paris Once Again Plays Role of Bad Cop!
French FM Threatens to Impose Sanctions over Iran's Missile Program
---
Iran:
ICT Minister: We Must Revise Our Media Policies
Rouhani to Macron: We're Ready to Hold Talks on Issues of Mutual Interest
Iranian Runner Who Made History: I'll Run until Claiming World Title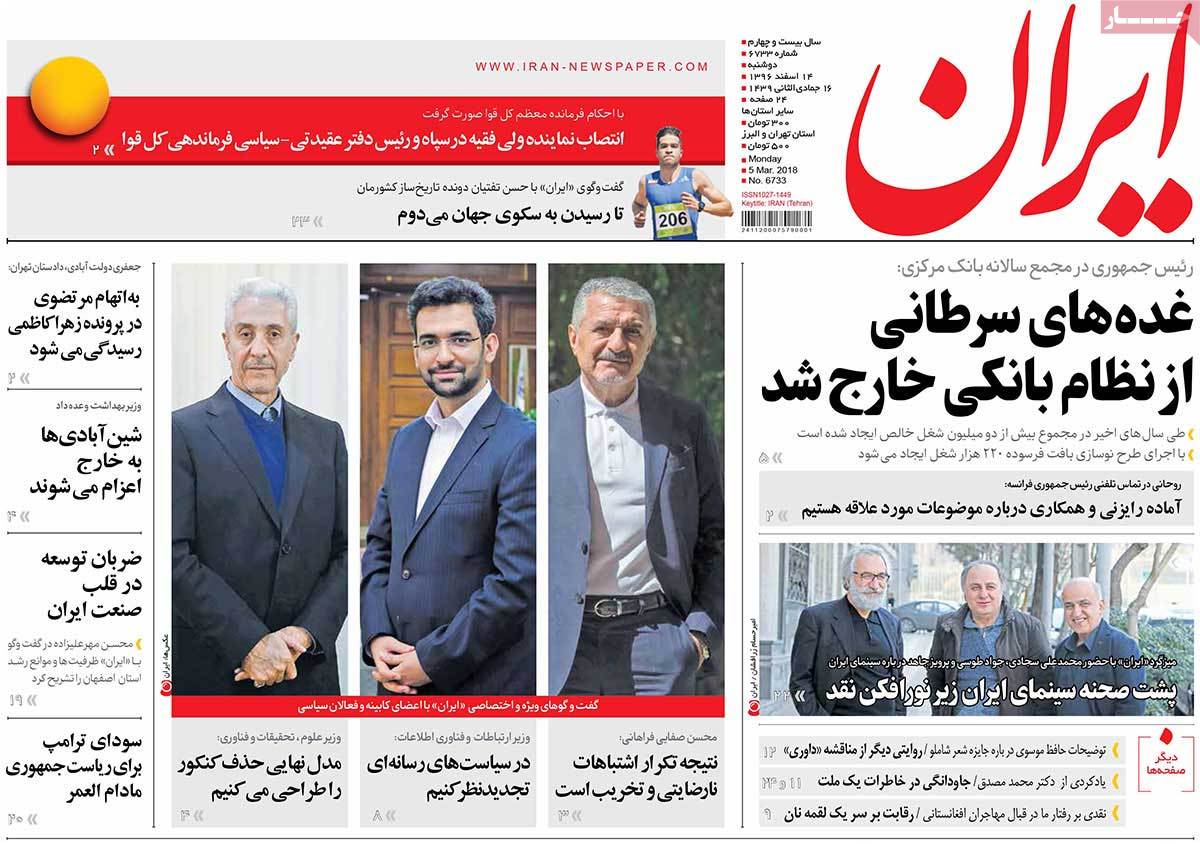 ---
Javan:
Iranian Goods Have No Role in $18-Billion Market of Nowruz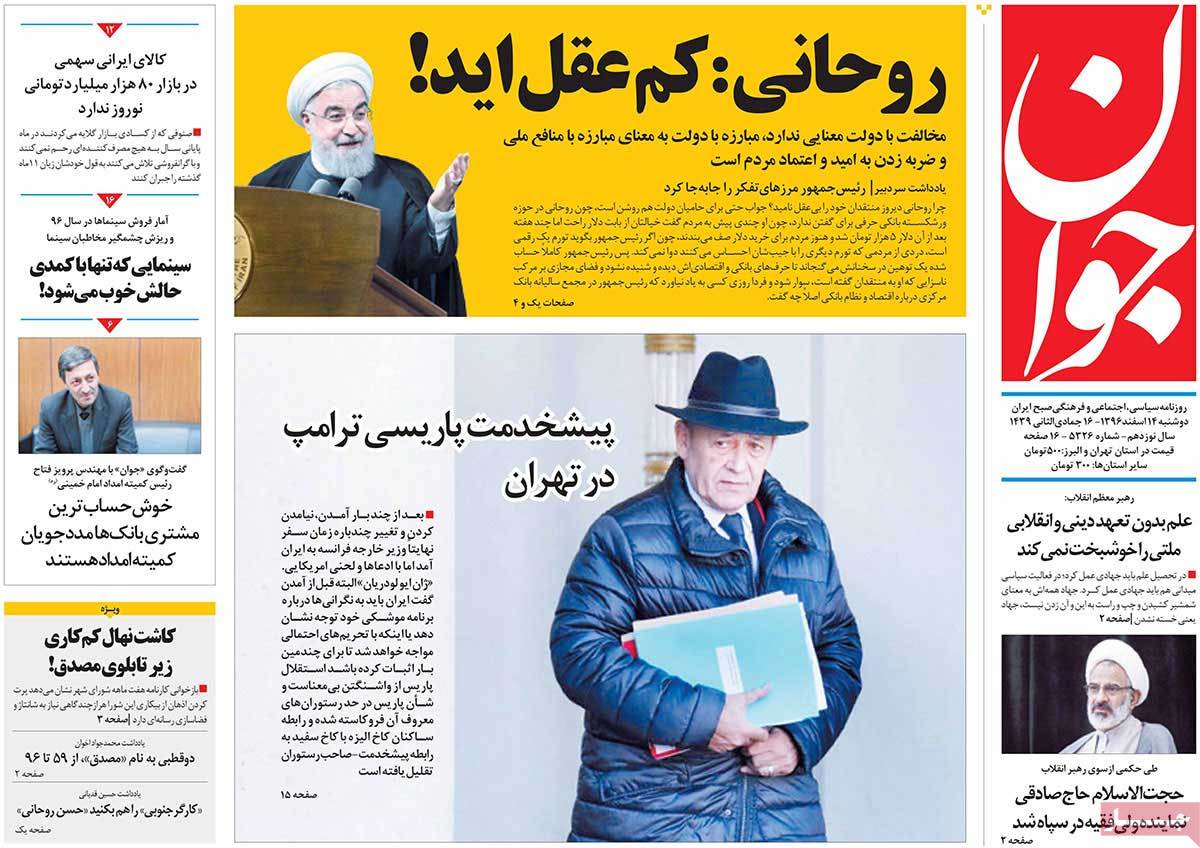 ---
Jomhouri Eslami:
French President Tells Rouhani Paris Not after Renegotiation of JCPOA
US Move to Weaken Iran Nuclear Deal Not Rational: Former UK Envoy to UN
---
Kayhan:
Trump: Term of Presidency in US Must Be Permanent
French FM Insults Iranian People before Visiting Tehran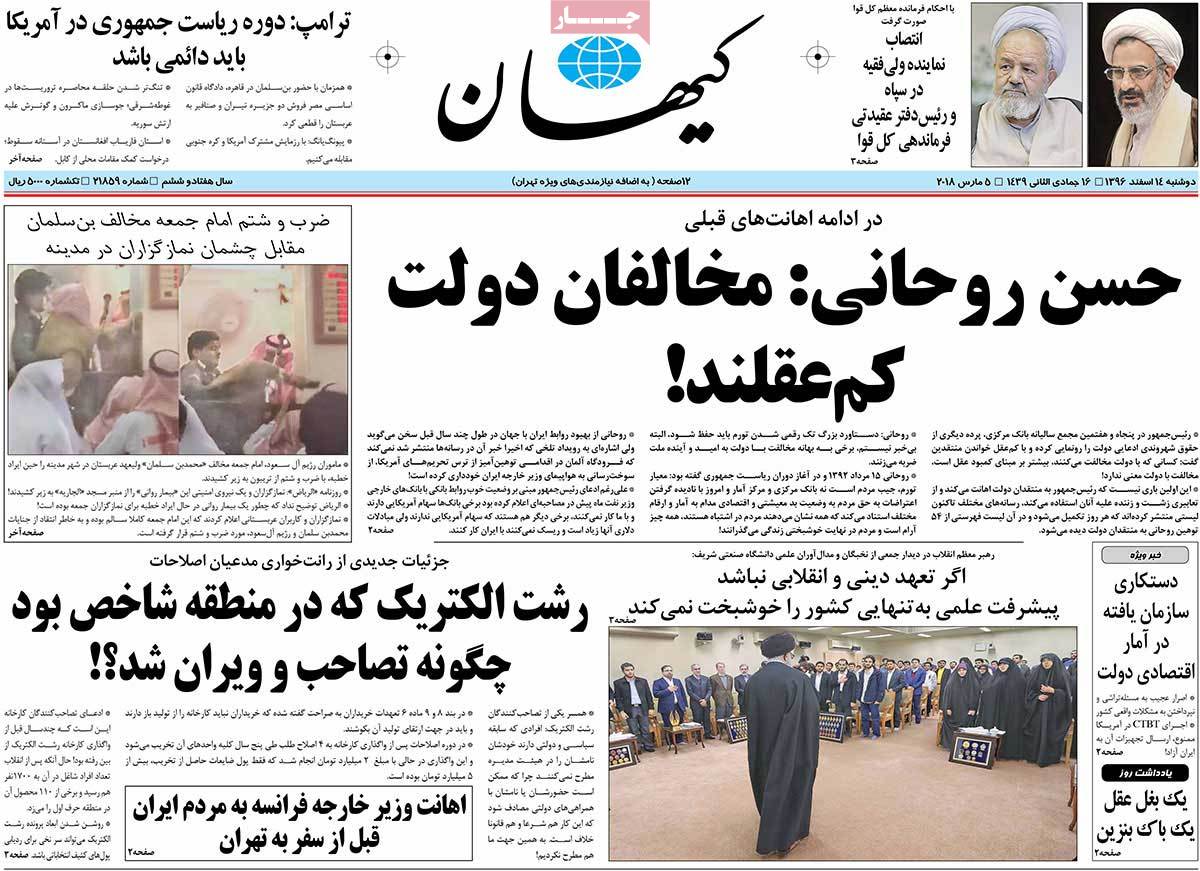 ---
Khorasan:
One-Fifth of Eastern Ghouta Cleaned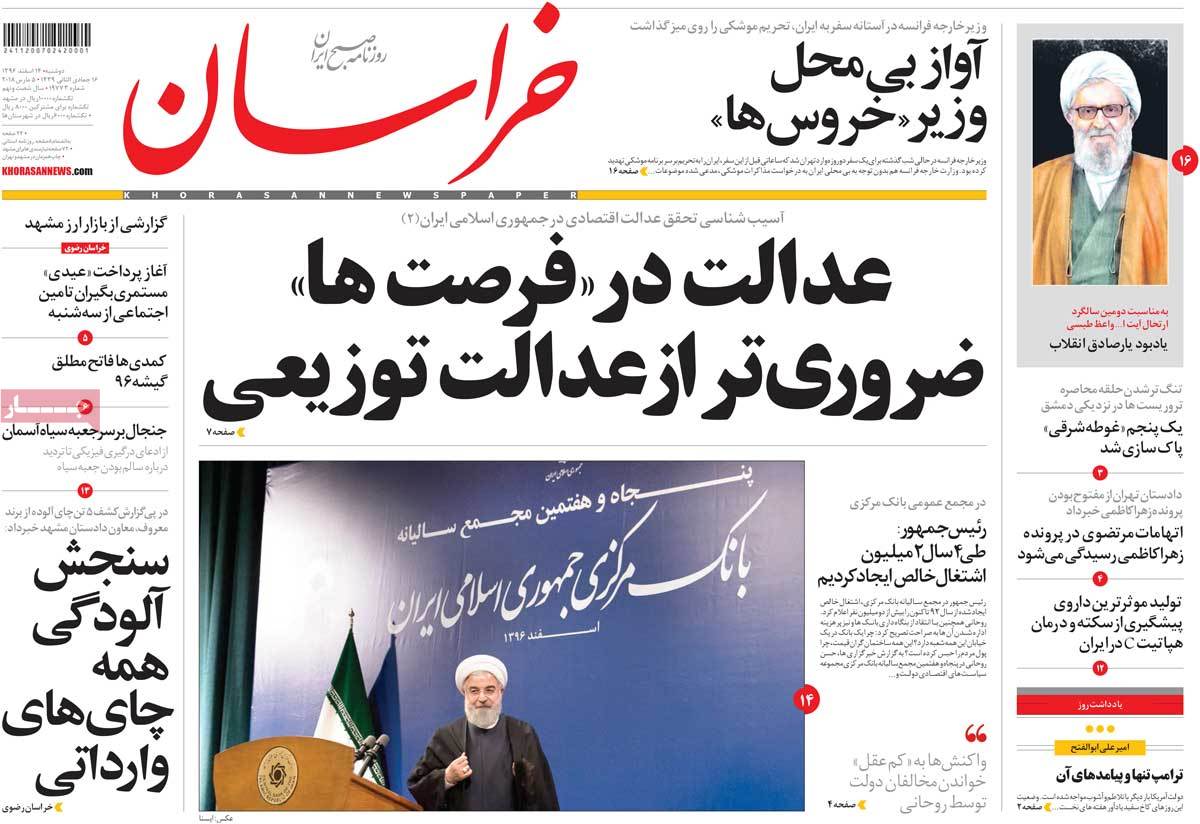 ---
Mardom Salari:
Foreign Ministry Elaborates on Iran-EU Talks over Yemen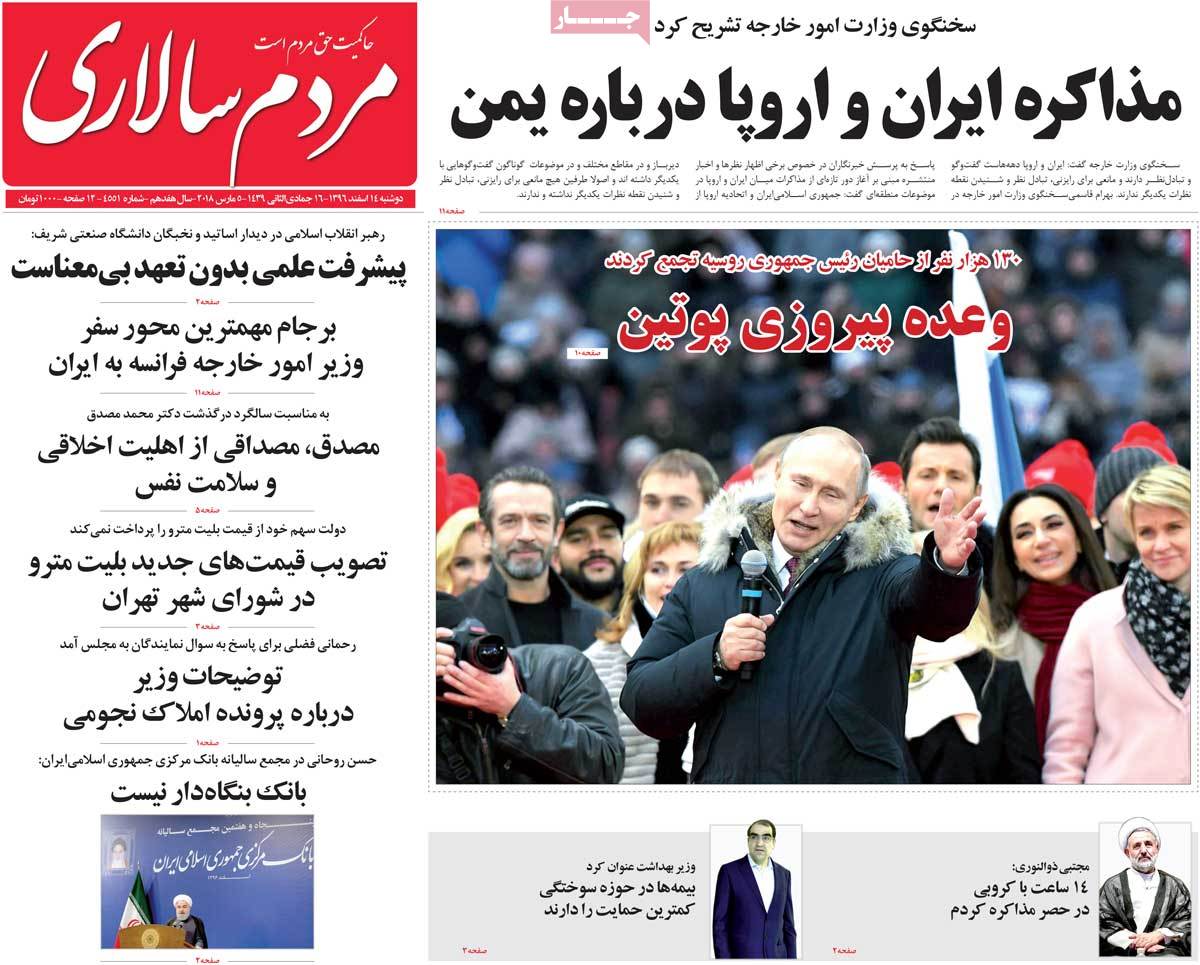 ---
Resalat:
Cleric: I'd Warned You Must Count Your Fingers after Shaking Hands with Americans!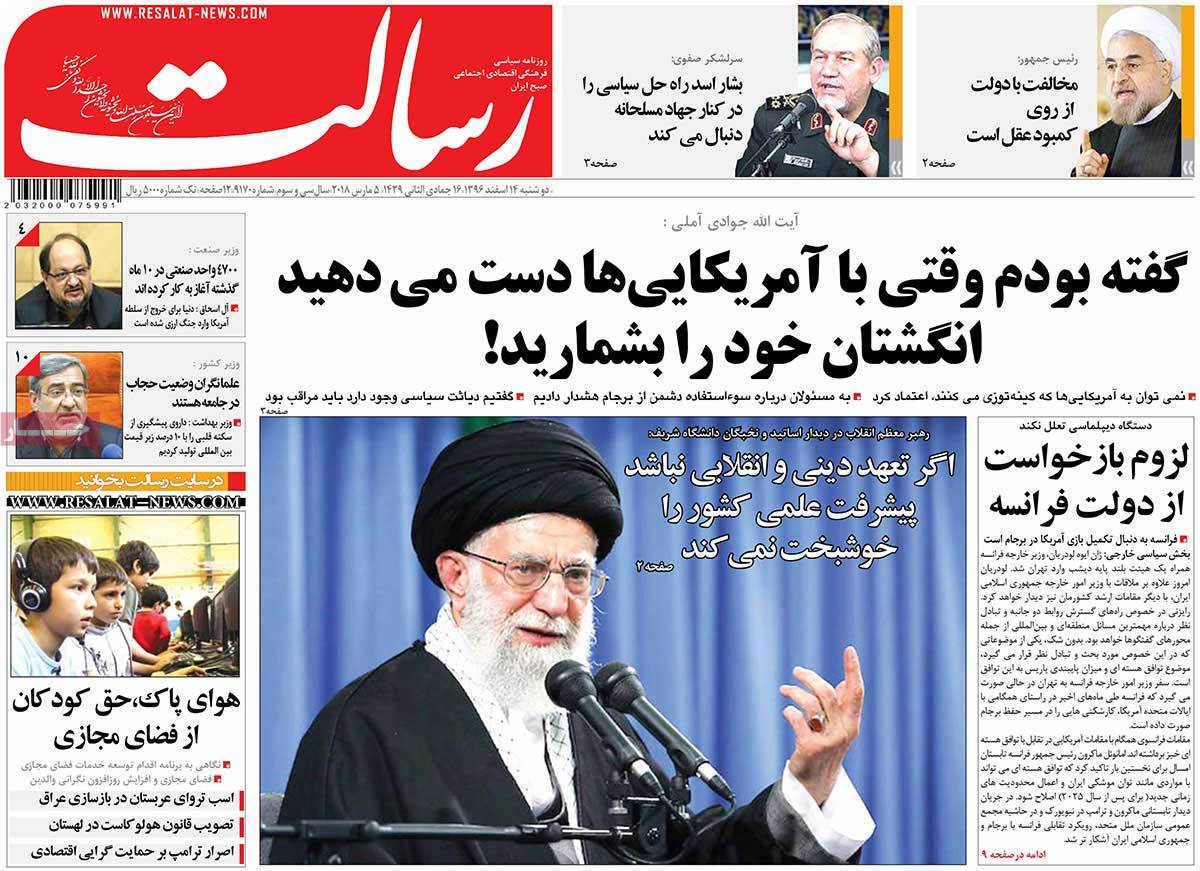 ---
Rooyesh-e Mellat:
Trump Starts EU-US Commercial War
Zarif: Americans Have Prevented Europeans from Fulfilling Their Commitments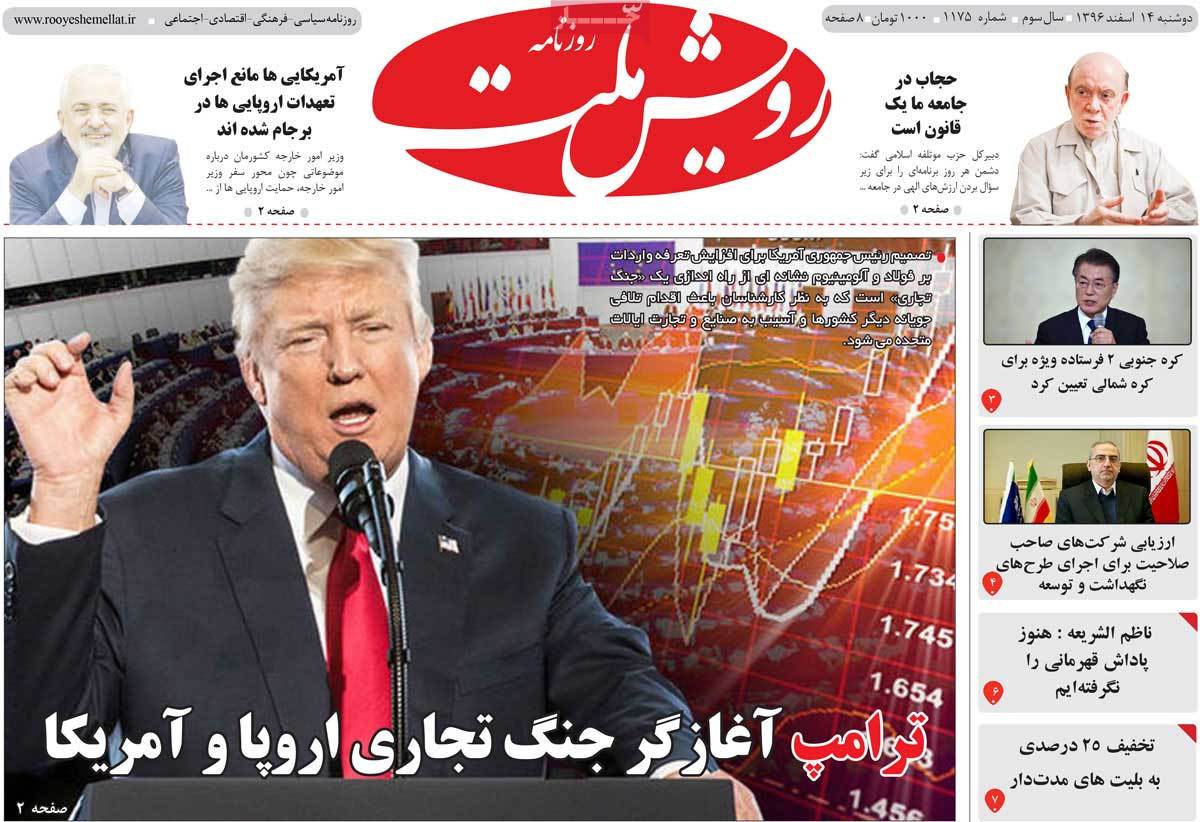 ---
Sazandegi:
Mission of France's Obama
French FM to Meet with Iran President in Tehran, Deliver Macron's Message
---
Shargh:
Rouhani Criticises Those Who Seek to Increase Inflation Rate
Feeble-Minded Opponents!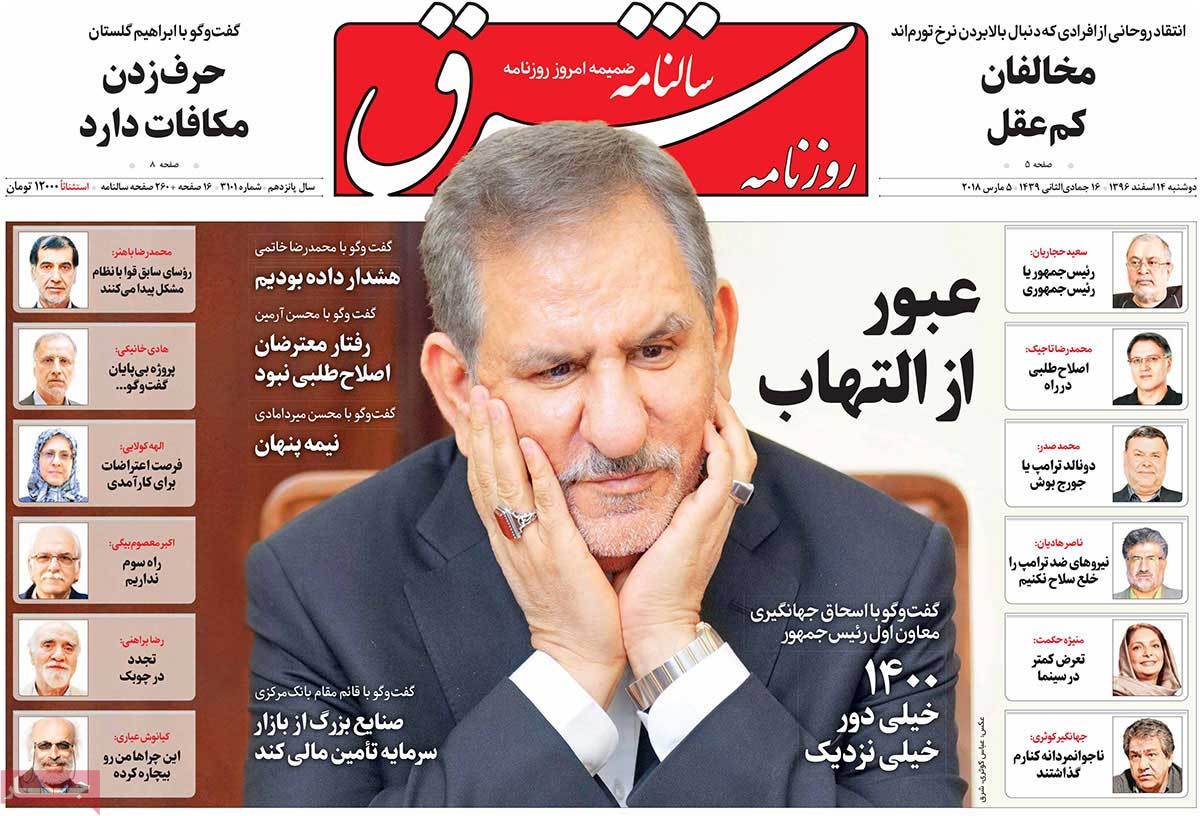 ---
Sobh-e Now:
Iran Leader Urges Elite Students of Sharif University to Work Hard in Science
France's Unachievable Dreams in Tehran: What Le Drian Thinks about