Almost all newspapers today covered the remarks made by Ayatollah Seyyed Ali Khamenei, the Leader of Iran's Islamic Revolution, about the importance of International Quds Day and the fight against Israel, arrogance, and global hegemony.
They also highlighted the calls by various Iranian clerics, officials, and bodies for people's huge turnout in the International Quds Day rallies on Friday.
The top story today, however, was the unprecedented changes in Saudi Arabia's ruling system. The move by Saudi King Salman to appoint his son as the Crown Prince was widely covered by Iranian newspapers as a soft and velvet coup.
The above issues, as well as many more, are highlighted in the following headlines and top stories:
Abrar:
1- Iran Leader to Iraqi PM: Don't Trust US
2- Rouhani: We Don't Get Permission for Our Defensive Power
3- We're Watching Iran's Missile Program: US State Dept.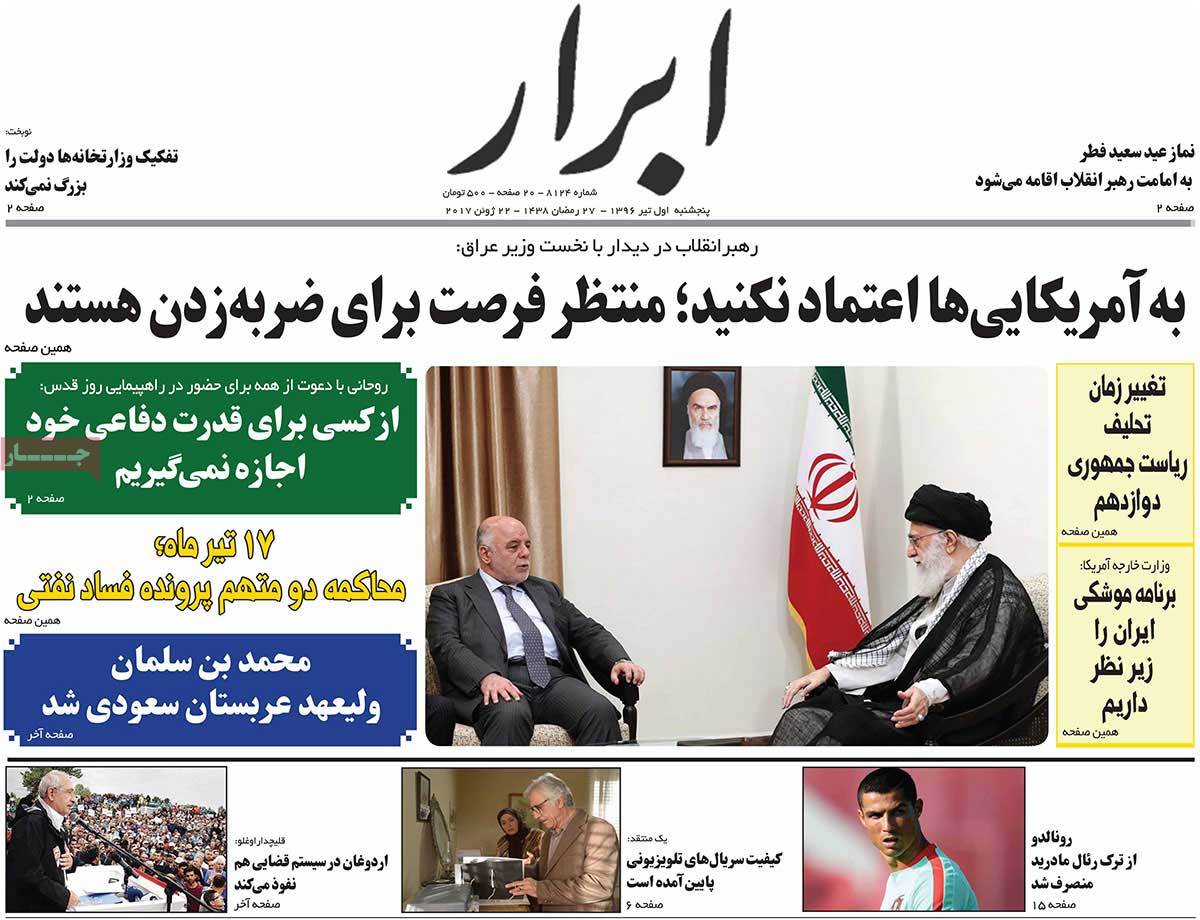 ---
Afkar:
1- King Is in Check, Crown Prince Is Mated
Speculations Say Saudi King Salman Will Step Down for His Son in Coming Days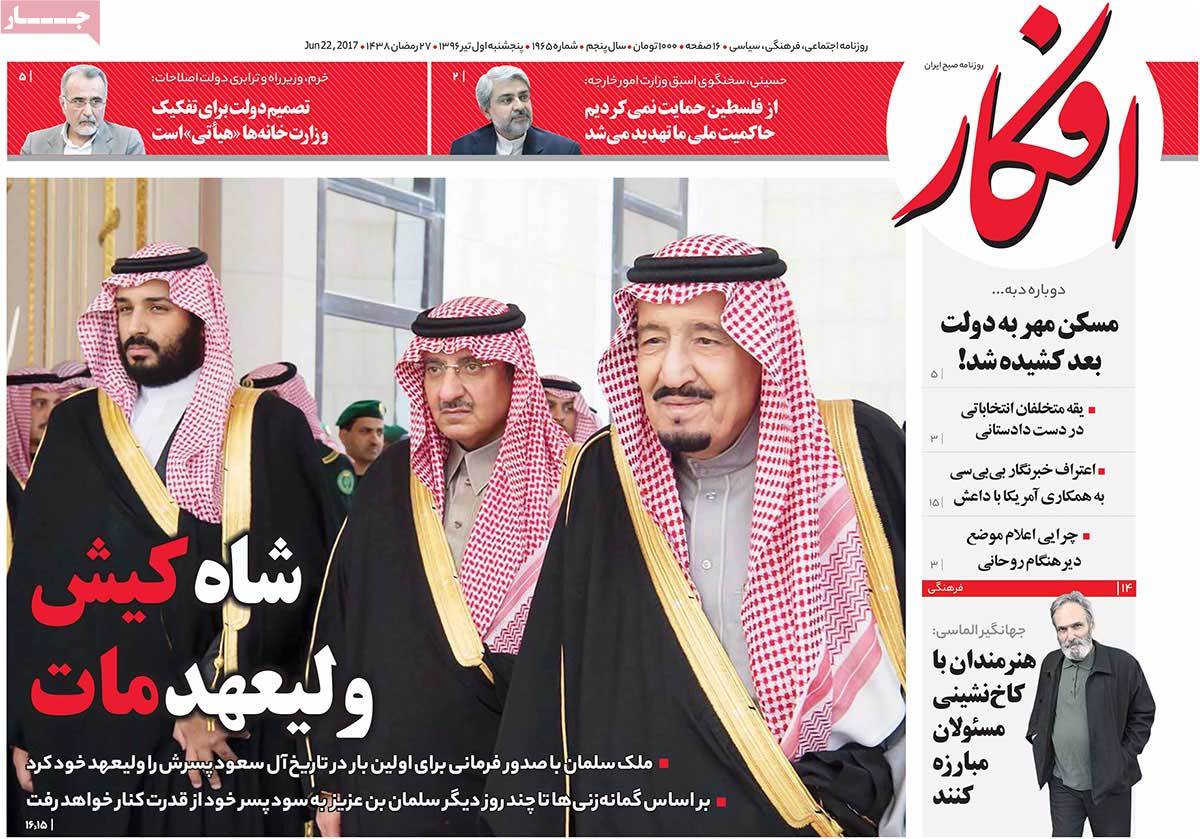 ---
Aftab-e Yazd:
1- Bin Nayef Prefers Humiliating Dismissal to Death
2- Analyst: If Bin Nayef Protests, He'll Be Attacked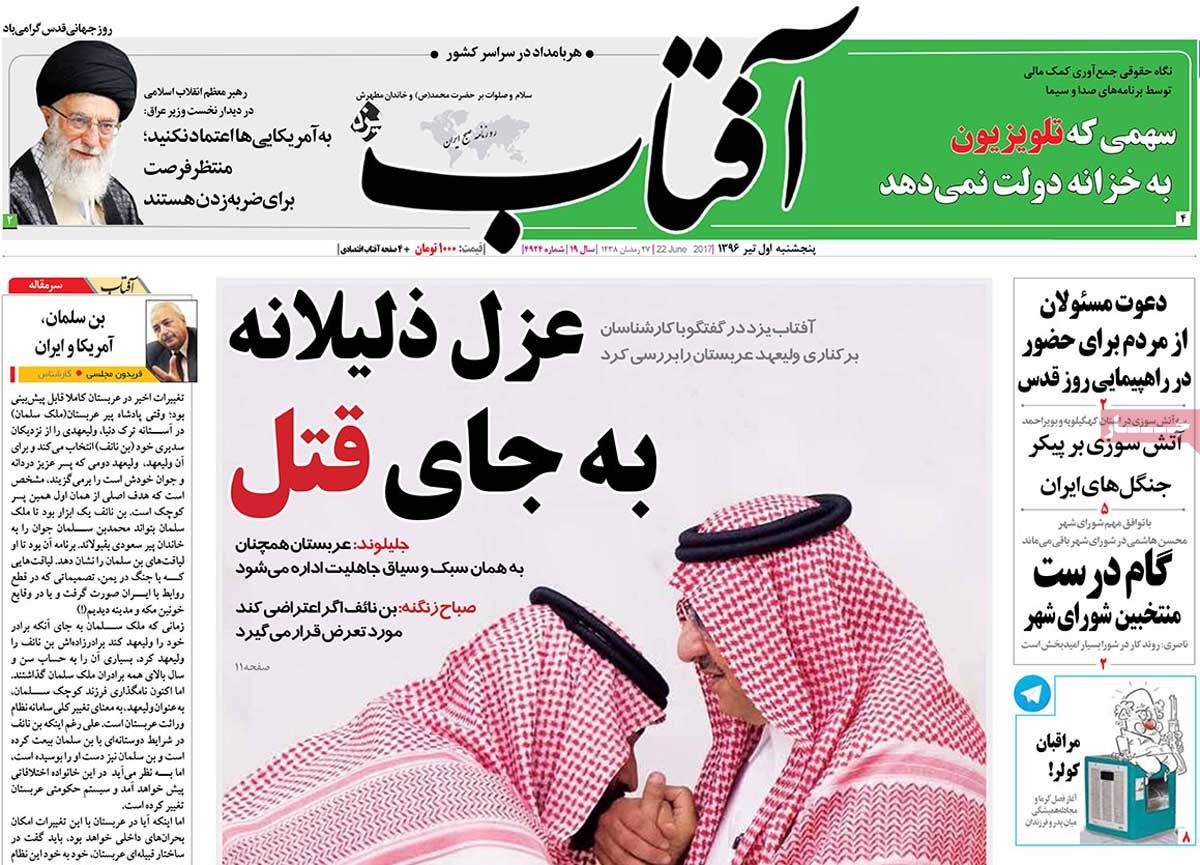 ---
Arman-e Emrooz:
1- Earthquake in Riyadh: Unprecedented Changes in Al Saud Ruling System
2- Untold Stories about IRGC's Attack on ISIS Possitions
3- Rouhani Should Choose Women for Cultural Management
4- 170 Takfiri Terrorists Killed in IRGC's Missile Attacks
---
Bahar:
1- Quasi-Coup in Saudi Arabia
Unprecedented Changes in Al Saudi Power Structure
Crown Prince Dismissed from All Posts
Mohammad bin Salman Appointed New Crown Prince
2- US House Session on Iran Sanctions Bill Postponed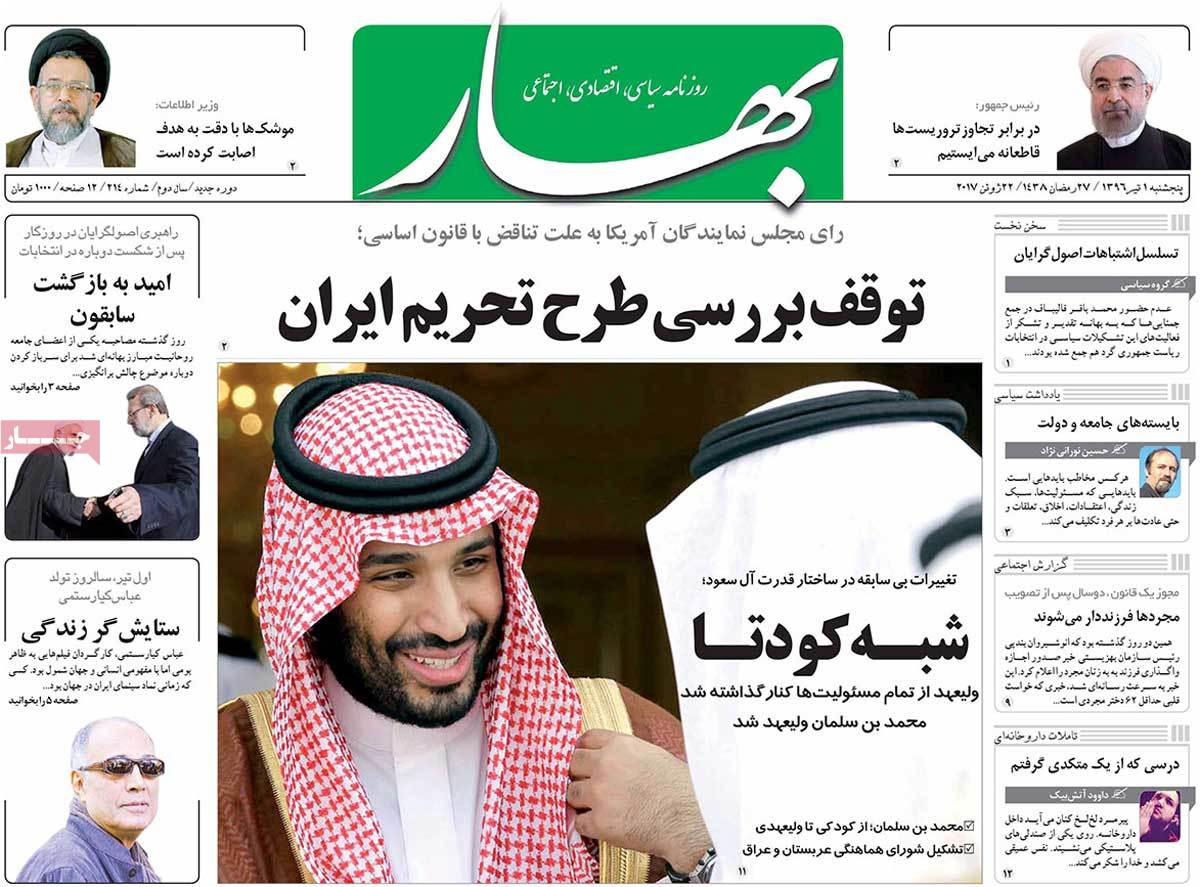 ---
Ebtekar:
1- From Al Abdulaziz to Al Salman
2- Iran's Decision to Fight against Terror Not Made by Individual Faction: Rouhani
---
Etemad:
1- Quds Day Is a Very Important Day: Iran Leader
2- Saudi Palace Seized by Young Warmonger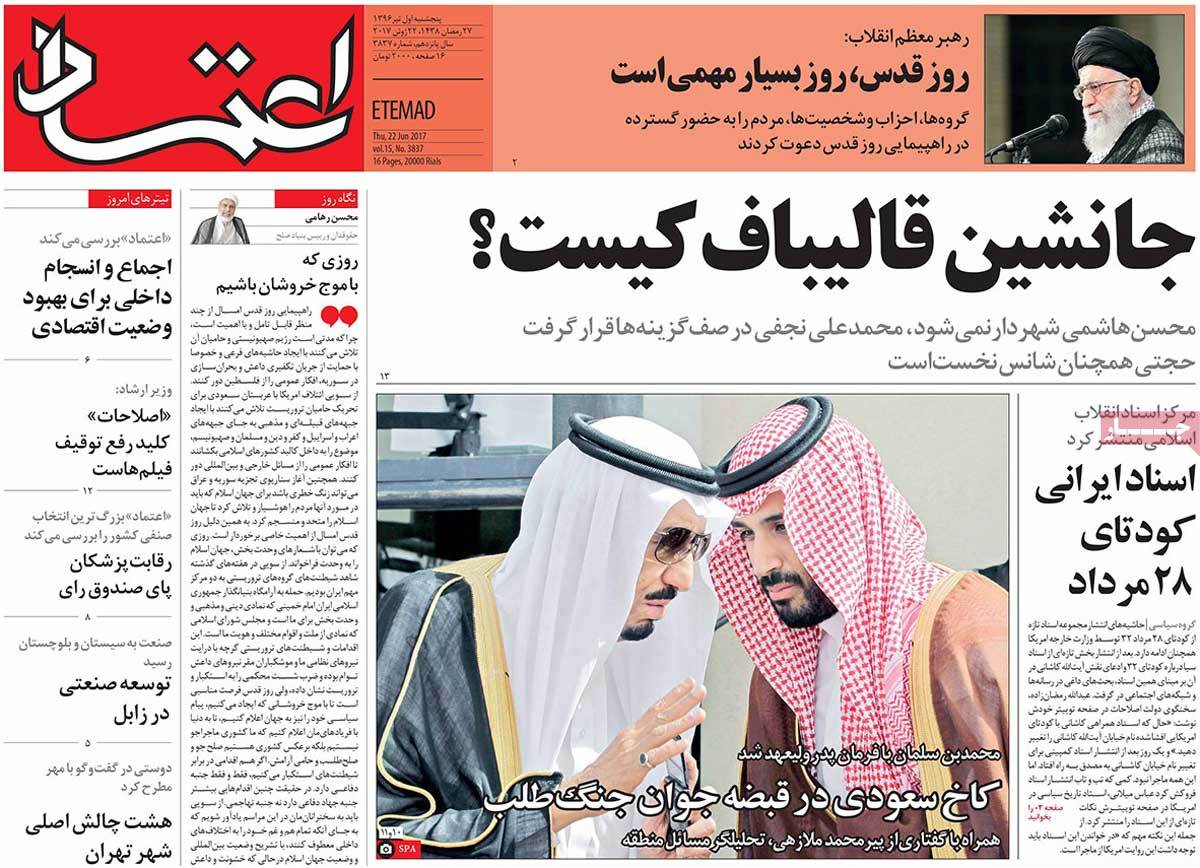 ---
Ettela'at:
1- Defending Palestine Is Defending Truth: Iran Leader
2- Ayatollah Khamenei Highlights Fight against Israel, Arrogance, Hegemony
3- Iran Urges Saudi Arabia to Immediately Release 3 Fishermen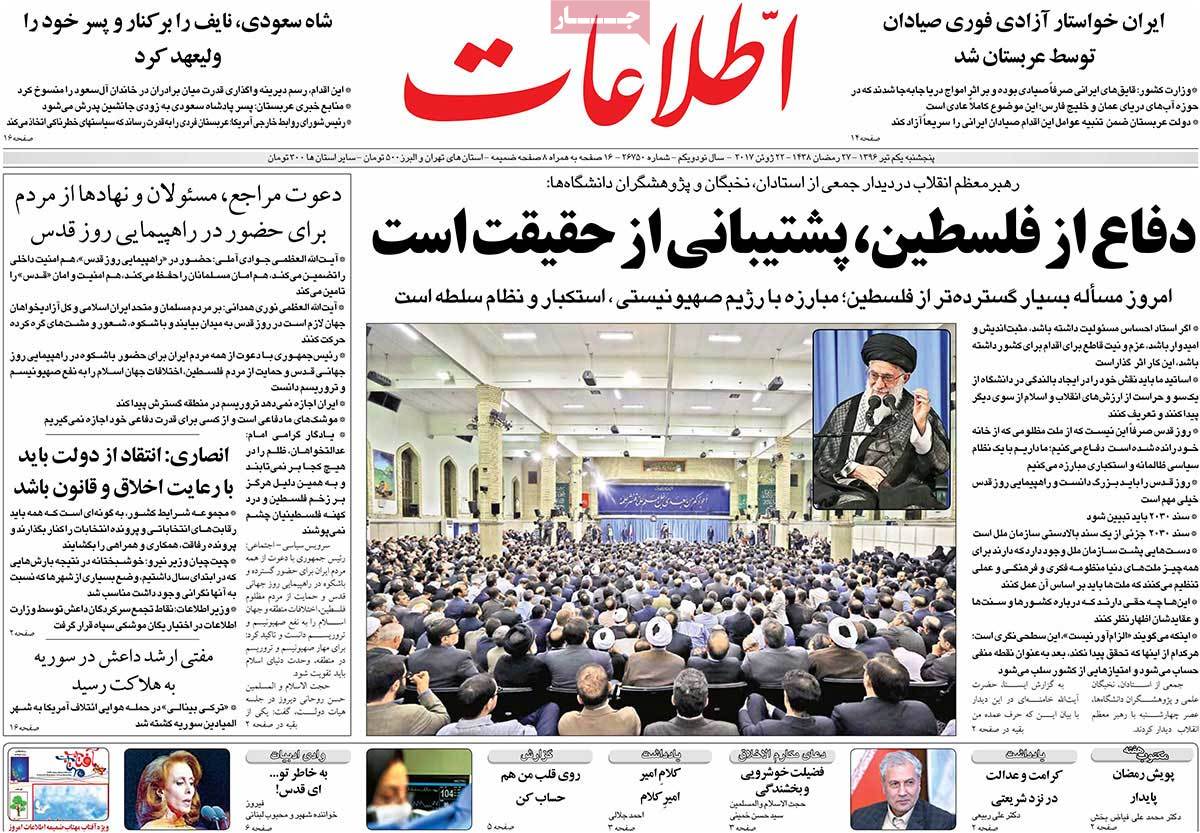 ---
Haft-e Sobh:
1- Weightlifting for Iranian Women?
Will Sports Ministry Let Women Do Weightlifting?
2- Ominous Game of Thrones: Bin Salman Appointed as Saudi Crown Prince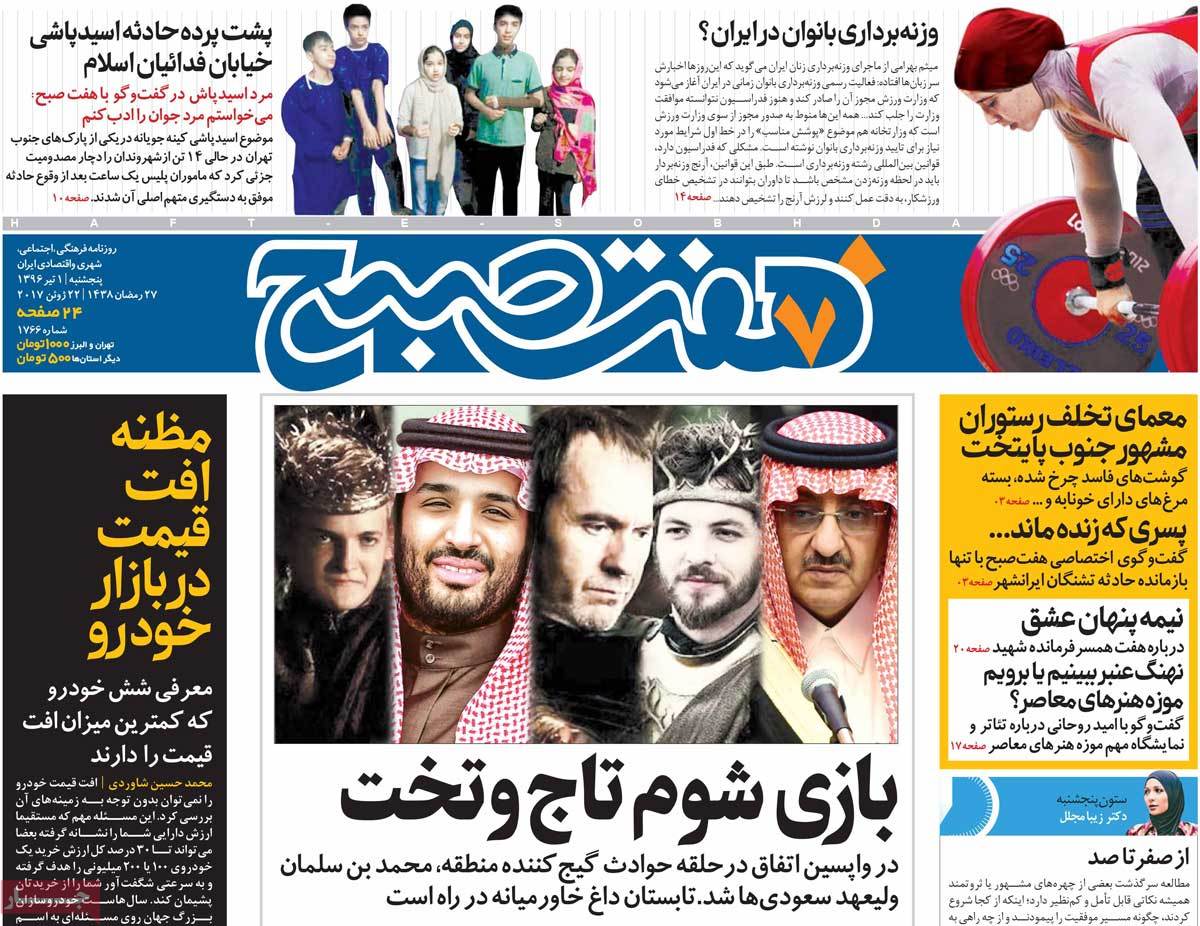 ---
Iran:
1- Fighting Israel Today Is Fight against Arrogance, Hegemonic System: Iran Leader
2- King Salman's Velvet Coup against Al Saud
---
Jame Jam:
1- Fight against Zionist Regime Is Fight against Arrogance: Iran Leader
2- Day of Screaming against Al Saudi
People Called on to Take Part in Int'l Quds Day Rallies
---
Javan:
1- Iran Leader: Educate Students for a Future Full of Problems
2- Israel One Year Closer to Annihilation
We'll Remind Israelis on Friday of Their Imminent Annihilation
3- US Soft Coup in Saudi Arabia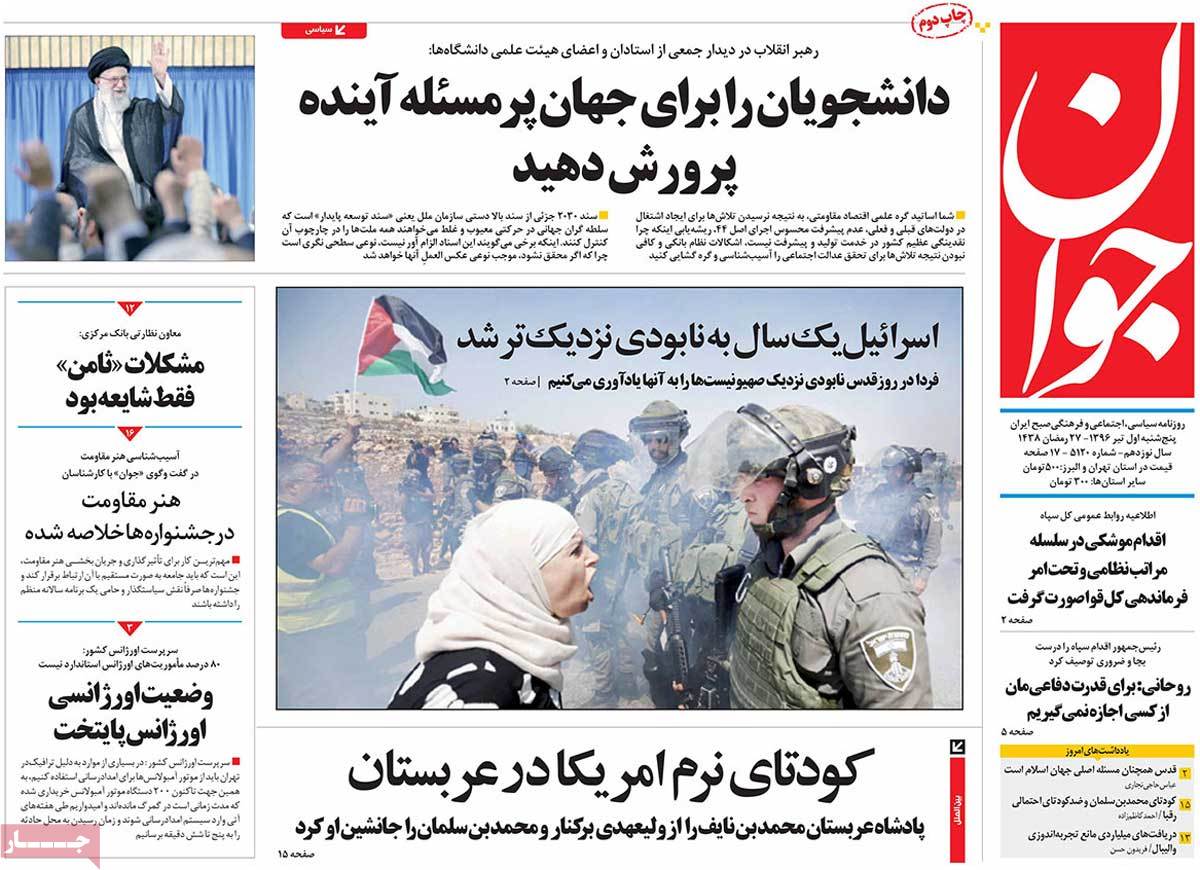 ---
Jomhouri Eslami:
1- Senior Clerics, Politicians, Bodies Call for People's Huge Turnout in Quds Rallies
2- $10bn in Foreign Investment to Be Attracted by Year-End: Official
3- Russia's Sukhoi to Open Office in Iran
---
Kayhan:
1- Leader: Students Should Be Trained in Way They Appreciate Iran's Independence
2- ISIS Back Broken: Palestine Still First Issue of Muslim World
3- Mohammad bin Salman, New US Pawn in Saudi Arabia
---
Resalat:
1- President: US Should Know Iran Wouldn't Remain Silent
2- Iran Has Already Planned another Slap on Terrorists' Faces: IRGC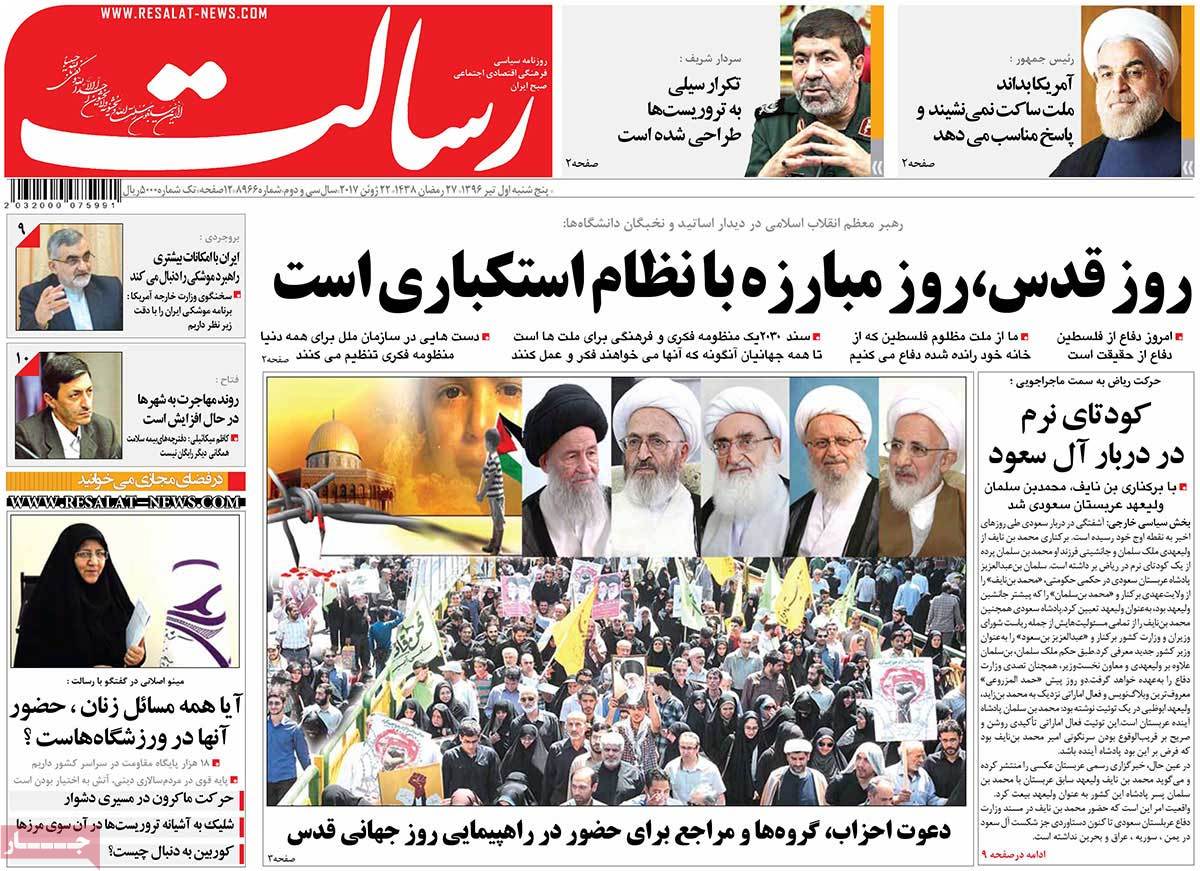 ---
Shahrvand:
1- Saudi Democracy!
2- Quds Day Opportunity for Human Conscience to Wake Up