The recent changes in Iran's Foreign Ministry were the topic of various articles in Monday's newspapers. A number of journalists speculated that Foreign Minister Mohammad Javad Zarif changed his Deputy for Arab Affairs because he is going to make some changes to the country's regional policies.
The issue of huge salaries paid to certain executives has also remained the top story in many papers. New paycheques belonging to different officials and executives are being leaked every day. This time, the managers and board members of Bank Tejarat are the ones under scrutiny.
The elections in Iran's Parliament for specialized commissions were also widely covered. Reformists were selected as the heads of only two commissions, while the rest went to the conservatives.
Abrar:
1- Taliban Using Children to Kill Afghan Police Forces
2- Ahmadinejad's Adviser Javanfekr Condemned to 91 Days in Prison
3- Zarif to Visit Paris on Tuesday
4- I Tried to Protect Defenceless People: UN's Ban on Last Days of His Term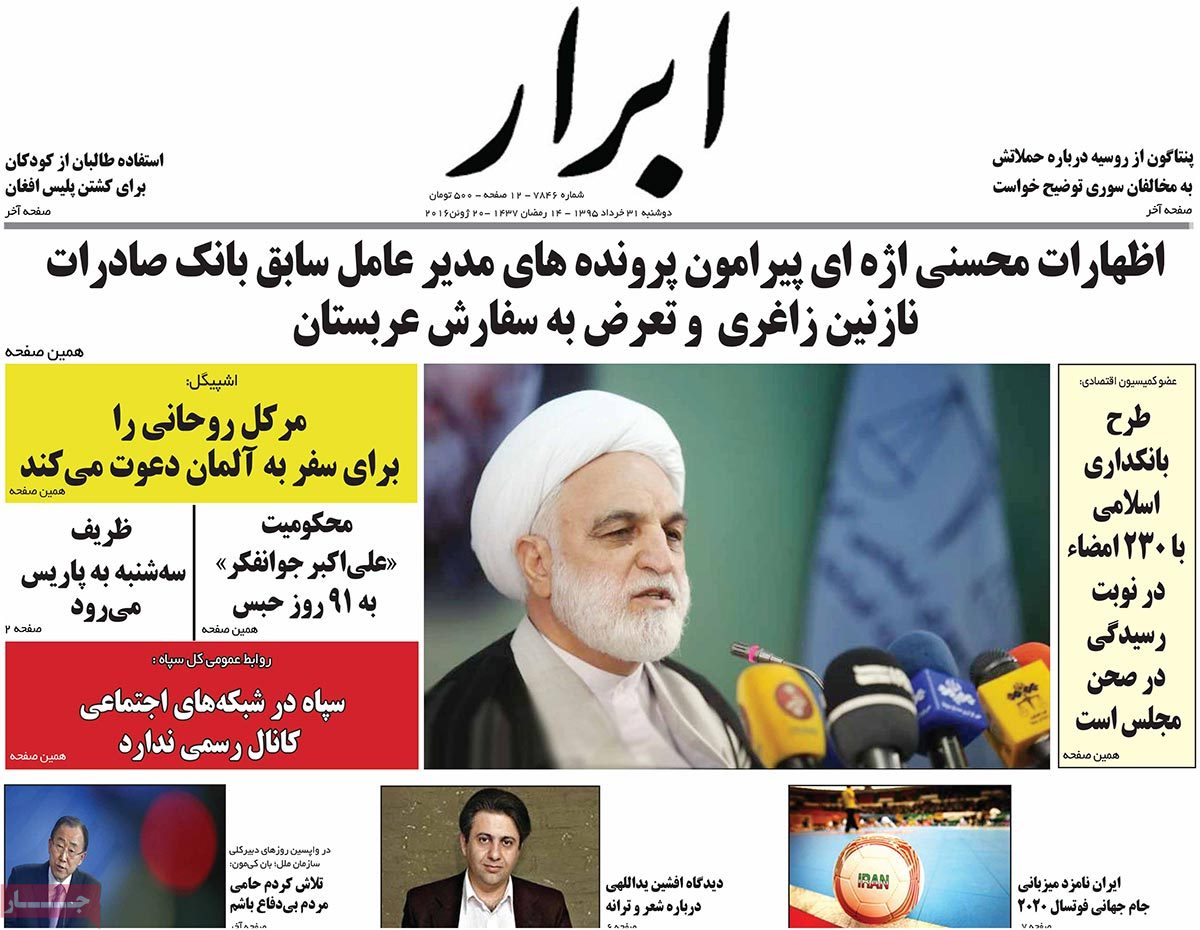 ---
Abrar-e Eqtesadi:
1- 300 Factories Shut Down during Ahmadinejad's Term
2- Iran and China in Talks for Funding Private Sector Projects
3- Change in Iran's Import Sources: US to Replace China
---
Aftab-e Yazd:
1- Aref's Strategy of Silence and Contentment: Only 2 of 12 Commission Heads Are Reformists!
2- Revival of an Old Factory during Rouhani Administration
3- Most Experienced OPEC Minister Revives Iran's Oil Industry: Record-Breaking Exports
4- Rouhani Should Settle the Issue of Astronomical Salaries Once and for All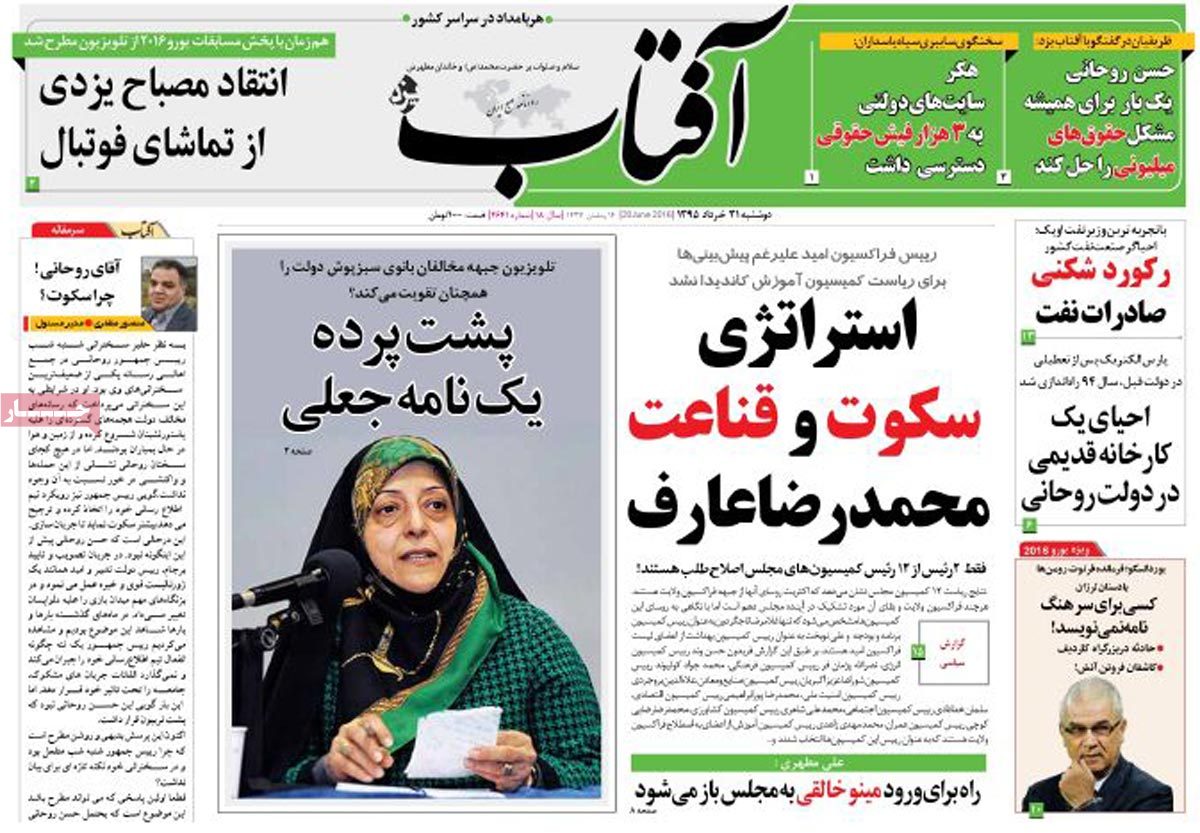 ---
Arman-e Emrooz:
1- Funeral for Habib Mohebian [famous Iranian pop singer] behind Closed Doors
2- Sudden Changes in Foreign Ministry
3- Suicide Attack Foiled in Tehran
4- Motahari's Solution for Settling Minoo Khaleghi Problem [She was the parliamentary candidate who won a seat in recent votes, but was disqualified by the Guardian Council after being elected.]
5- Astronomical Salaries, the Seed Planted by Previous Gov't
6- Countdown for Cabinet Reshuffle: 2 Ministers to Bid Farewell to Cabinet
7- Will Aref Run for Next Year's Presidential Elections?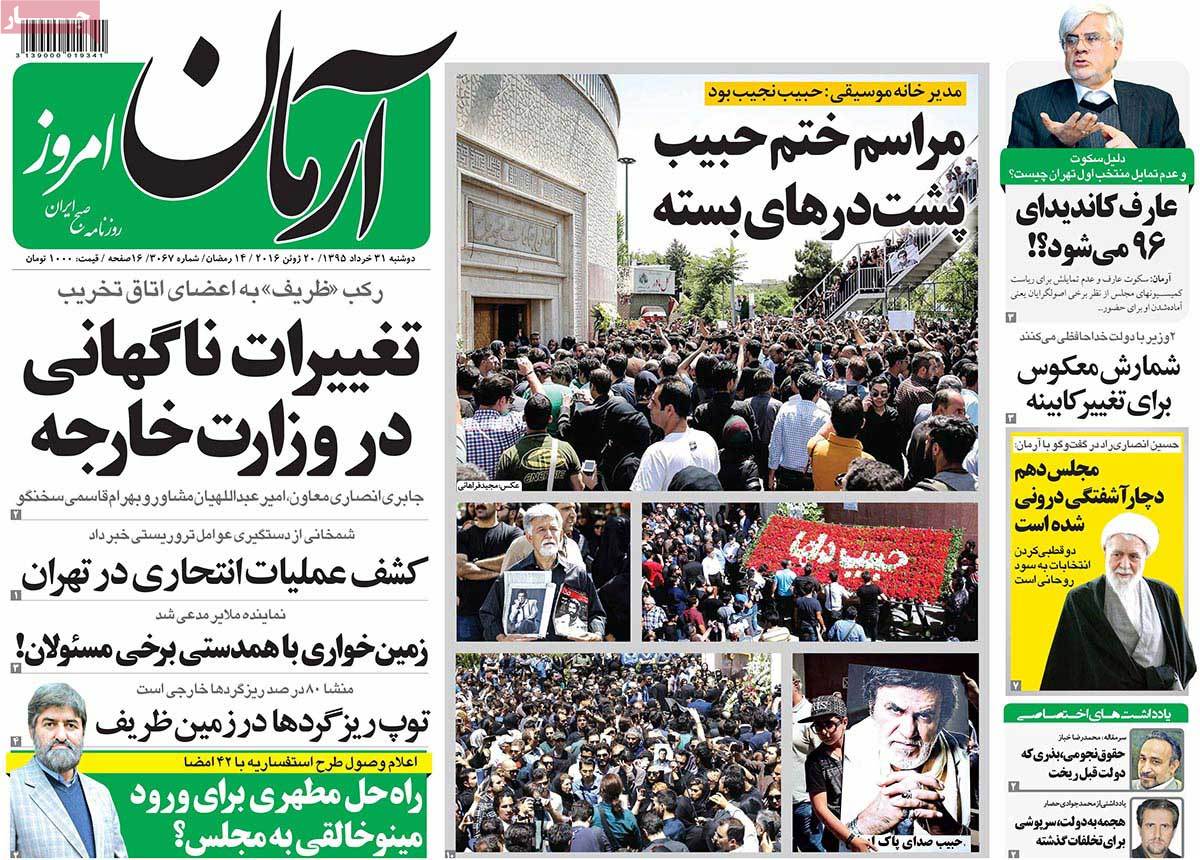 ---
Asia:
1- US to Replace China in Iran's Economy
---
Asrar:
1- Mohammed bin Salman on Verge of Becoming Saudi King
2- $200m Annually Spent on Foreign [School] Students in Iran
3- A Movement Is Trying to Paralyze Rouhani's Administration: Ex-Minister
4- Third Round of Zarif's European Tour to Begin Tomorrow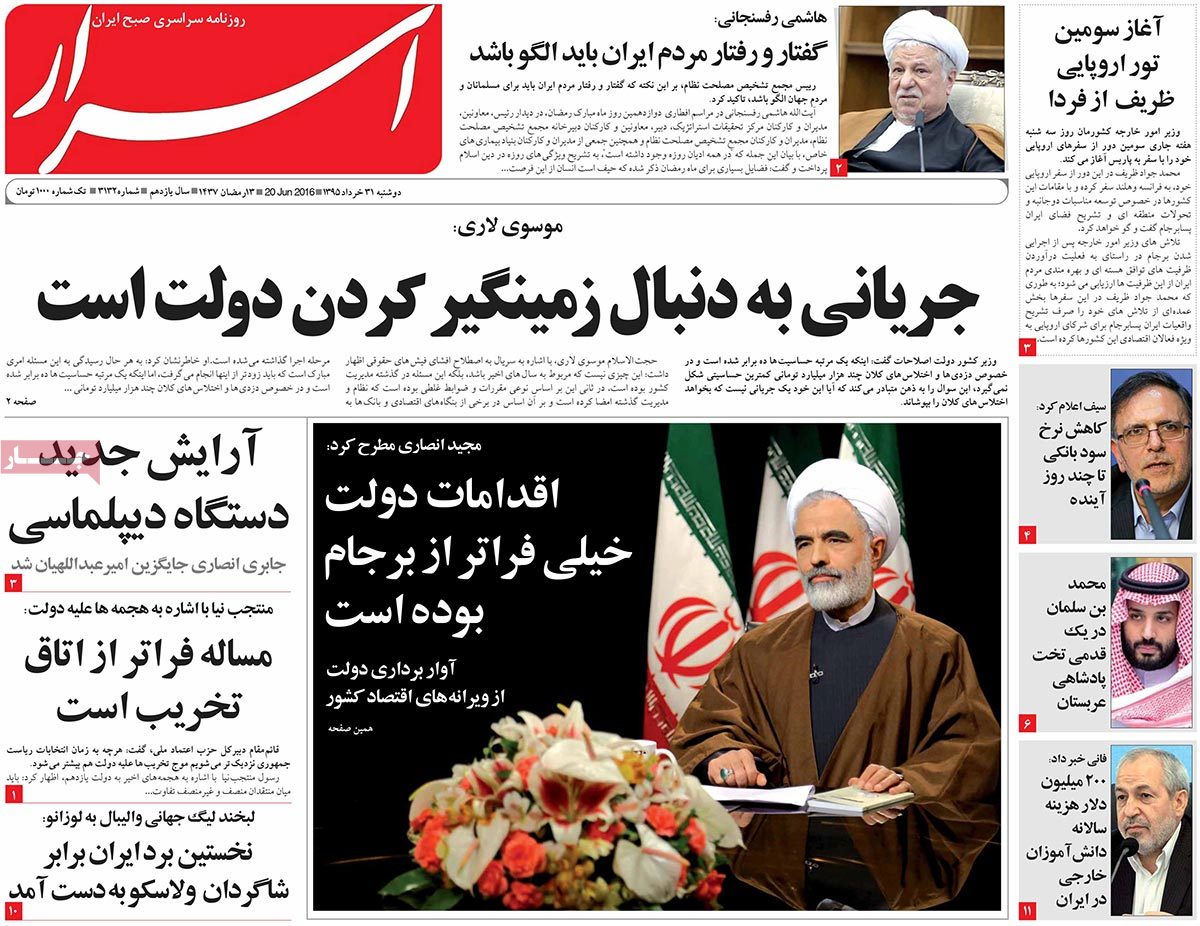 ---
Ebtekar:
1- Post-JCPOA Changes in Foreign Ministry
2- Changes Expected in Rouhani's Administration
3- No Problem with Concerts If They Observe Law and Sharia: Judiciary Spokesman
4- Speech and Behaviour of Iranians Should Be a Role Model for World Muslims: Rafsanjani
5- Pressure on Rouhani's Administration More than That on Khatami's: Ex-Minister
6- Agriculture, the Killer of Iran's Water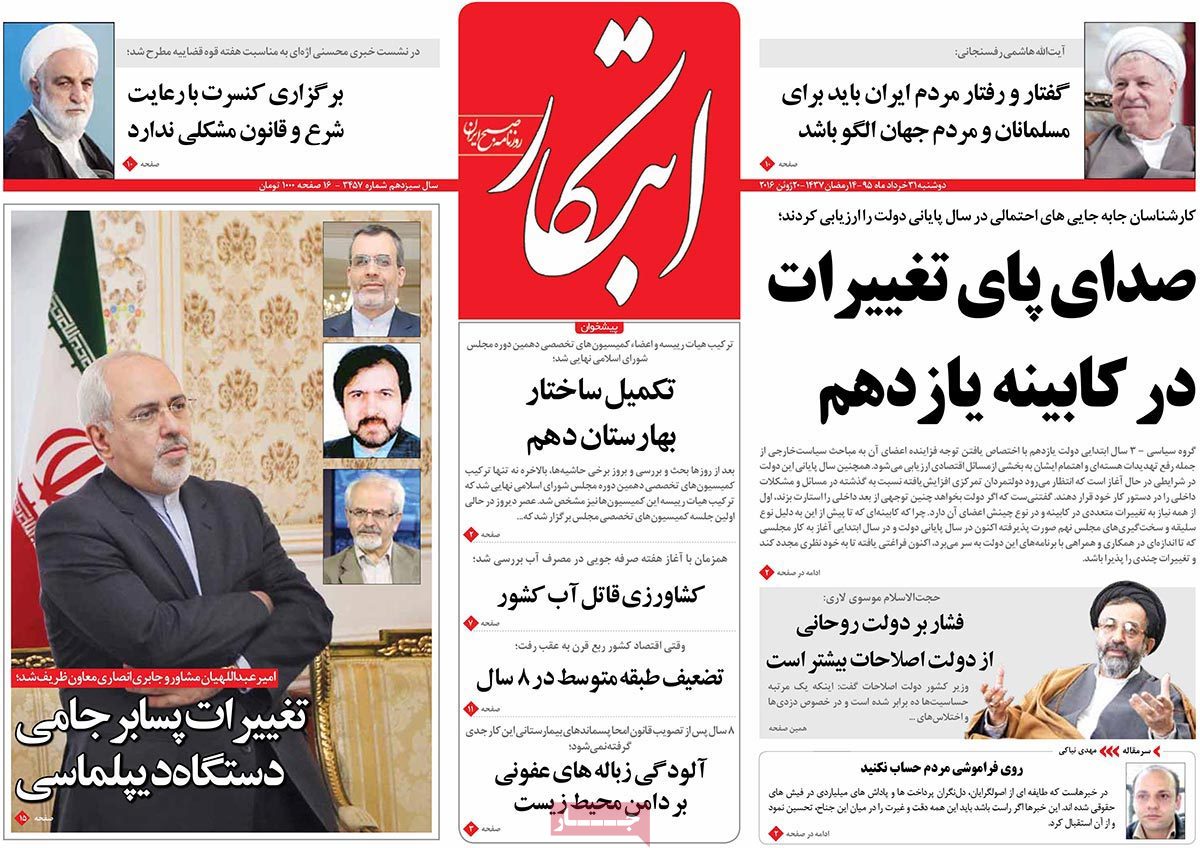 ---
Emtiaz:
1- Hacker of Government Portals Had Access to 3,000 Paycheques
2- 6,000 Hectares of Forests and Meadows Burnt by Fire Each Year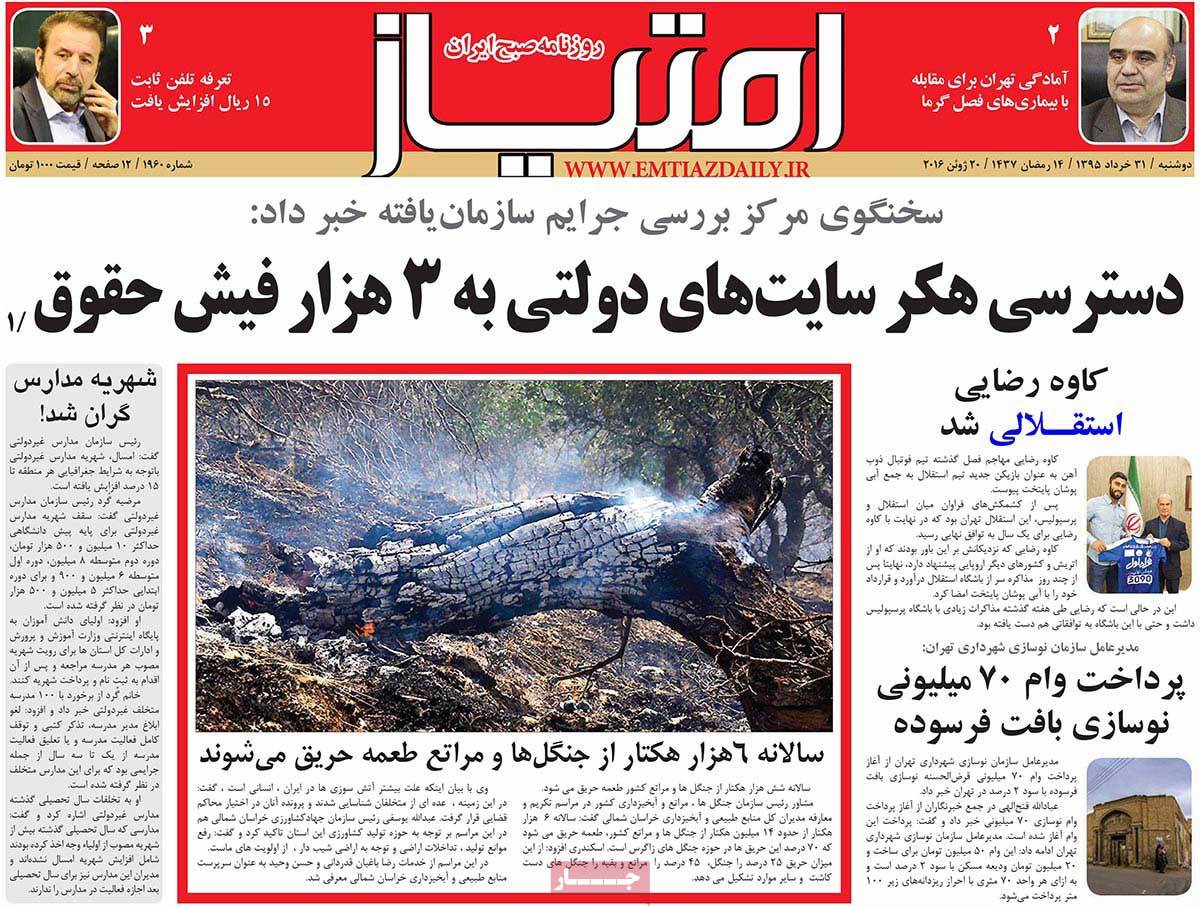 ---
Etemad:
1- Deputy Foreign Minister for Arab Affairs Changed
2- Ex-Minister Urges Rouhani to Reveal What Happens behind the Scenes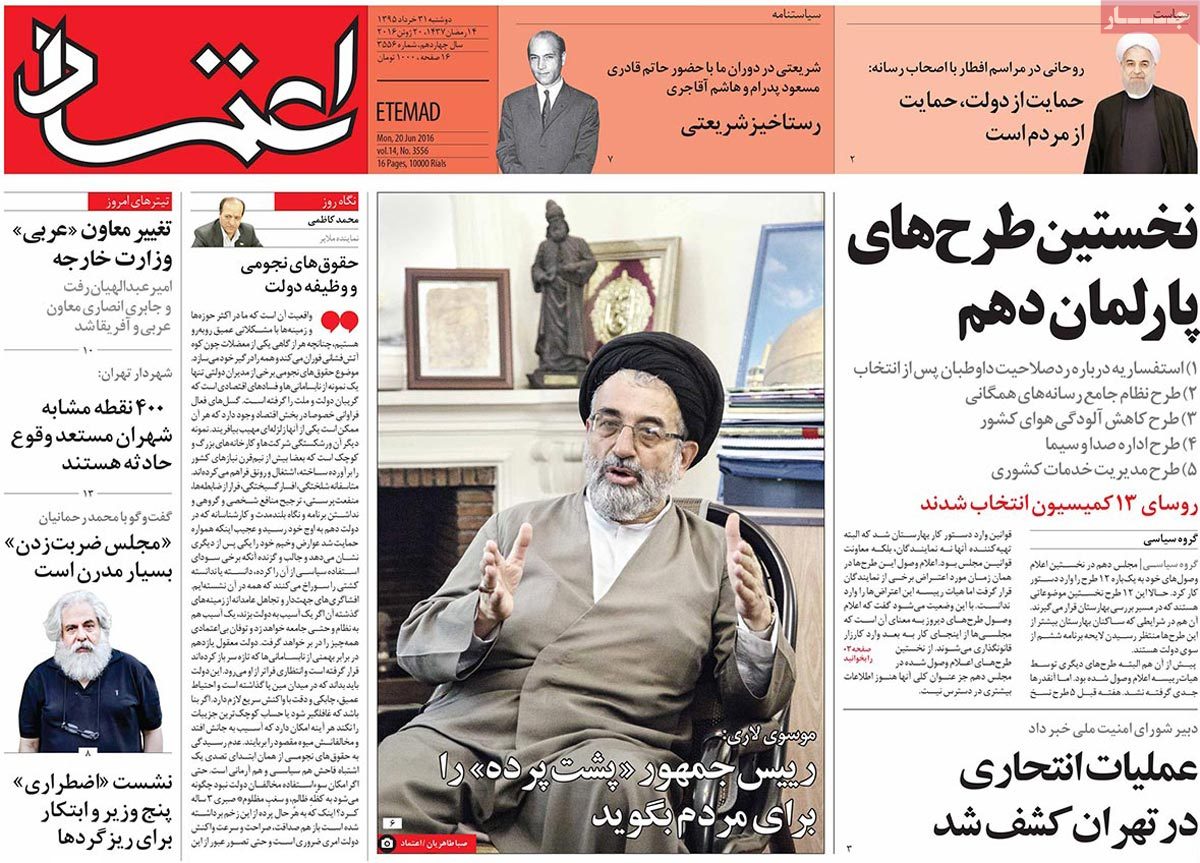 ---
Ettela'at:
1- 5 Ministers Hold Urgent Meeting to Discuss Dust Pollution
2- Each Day, 3,300 Containers Smuggled into Iran without Inspection: Official
3- People Mobilized in Libya to Fight ISIS
---
Ghanoon:
1- Oh My Dear Habib! Ghanoon's Report on Certain Media's Politicized Abuse of an Artist's Death
2- Continued Recession, Collapse of Production
3- Mohammed bin Salman Trying to Hunt bin Nayef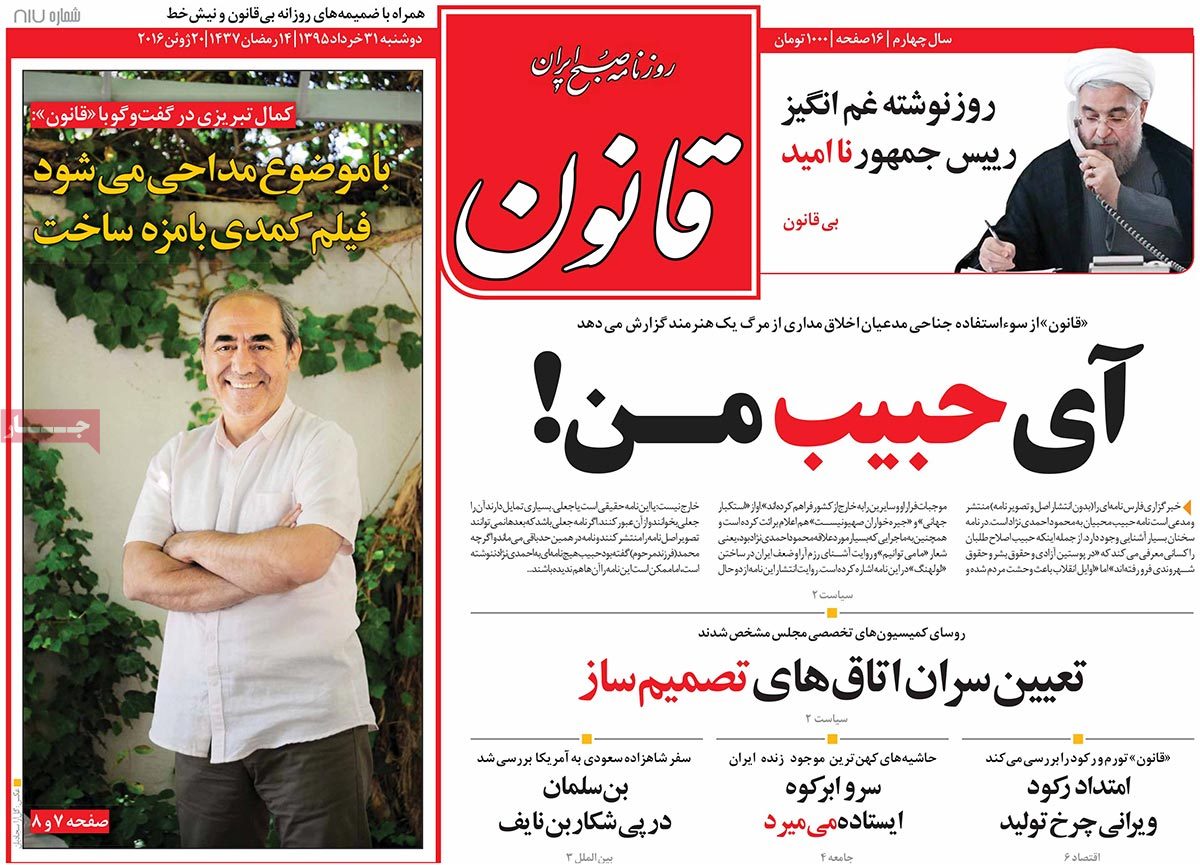 ---
Haft-e Sobh:
1- Murder in Front of the University: Father Shoots His Daughter Dead in Street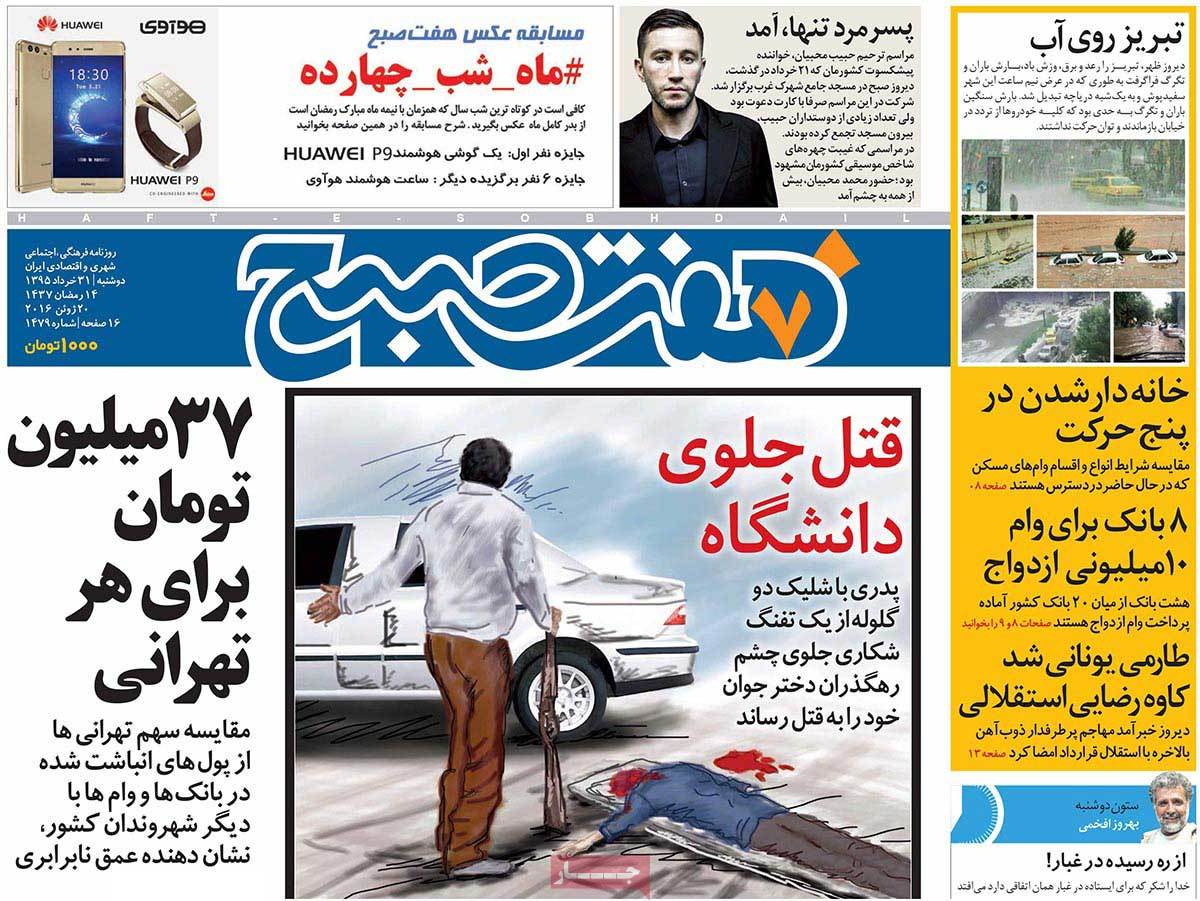 ---
Iran:
1- Changes in Ministry of Diplomats
2- Iranian Music Needs No Change
3- Extraordinary Meeting to Control Dust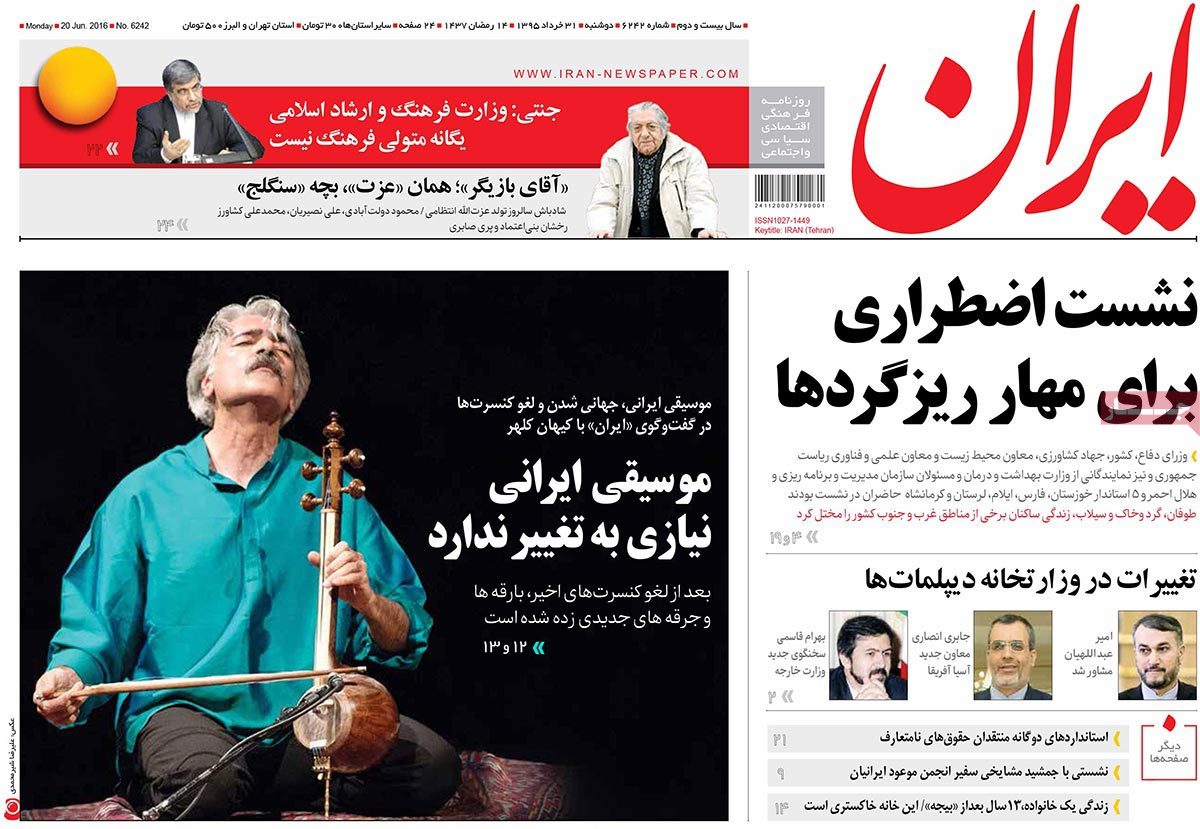 ---
Jame Jam:
1- Smuggling Restricts Resistance Economy: [Each Day] 3,300 Goods Containers Imported Uninspected
2- Criminal Records Card for Criminals [Judges can have access to an online record of convicts' previous crimes]
3- Saudi Arabia Playing with Hariri
---
 Javan:
1- Astronomical Salaries Should Be Returned to Public Funds: Judiciary Spokesman
2- Dust of Imprudence Overwhelms Half the Country
3- Change of the Number-One Man behind Iran's Regional Diplomacy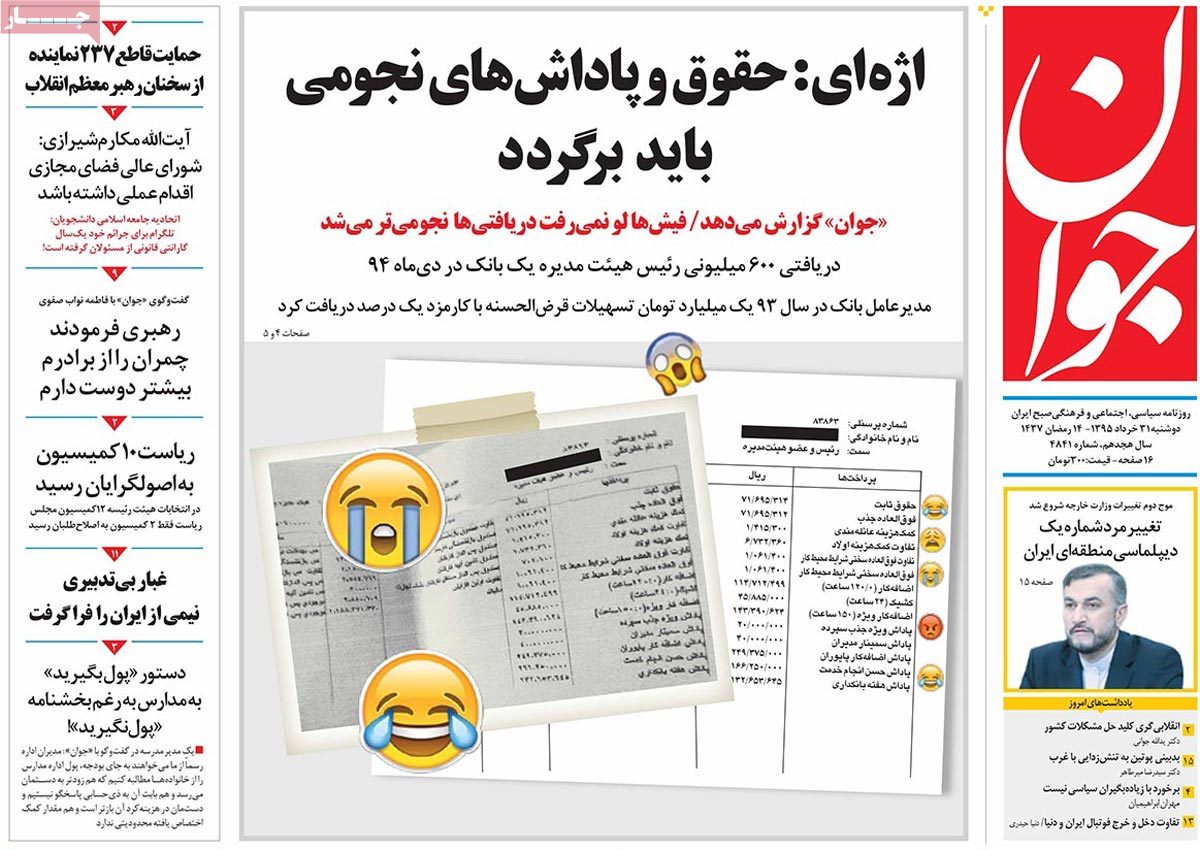 ---
 Jomhouri Eslami:
1- Zionist Rabbi Calls for Poisoning Palestinian People's Drinking Water
2- Genocide in Palestine Using Rabbis' Calls
3- Change in Shares of US and China in Trade with Iran after JCPOA
4- Spirituality of Ramadan in Daily Life: We're out Saying Our Prayers, Take Anything You Want and Leave the Money If You Want [the photo of a grocery store]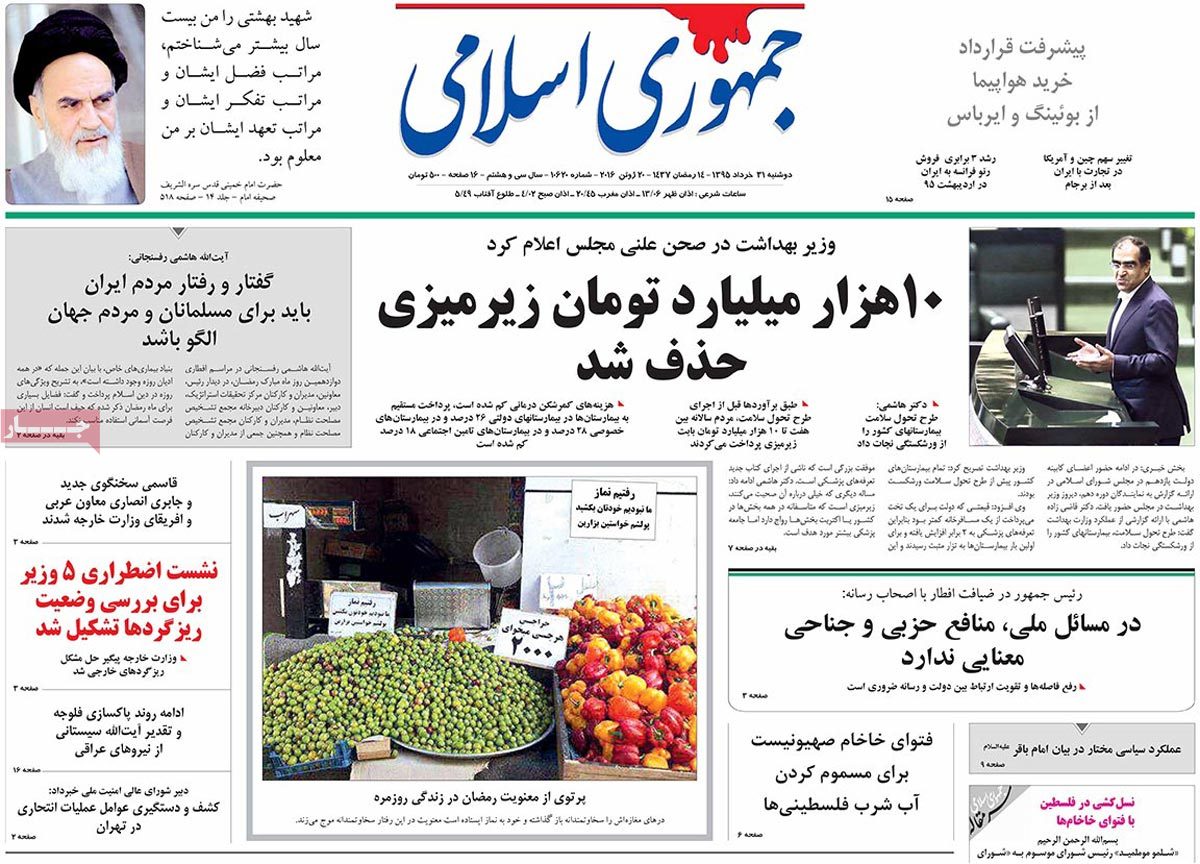 ---
 Kayhan:
1- It's People's Right to Know, but They Shouldn't Know the Amount of Astronomical Salaries! Reformist Efforts to Whitewash a Scandal
2- Largest Anti-US Protest Rally in Japan in 2 Decades
---
 Khorasan:
1- Details of Arab Reactor Reconstruction
2- 8 Provinces under Influence of Dust
3- Mostafa Chamran: From Berkeley to Beirut
4- Life in United States of Fear: Trump and Neo-McCarthyism in US
5- Largest European Insurance Company Resumes Cooperation with Iran
---
 Resalat:
1- Nuclear Industry Should Be Maintained and Developed: 237 MPs
2- Return of Nationalism to Europe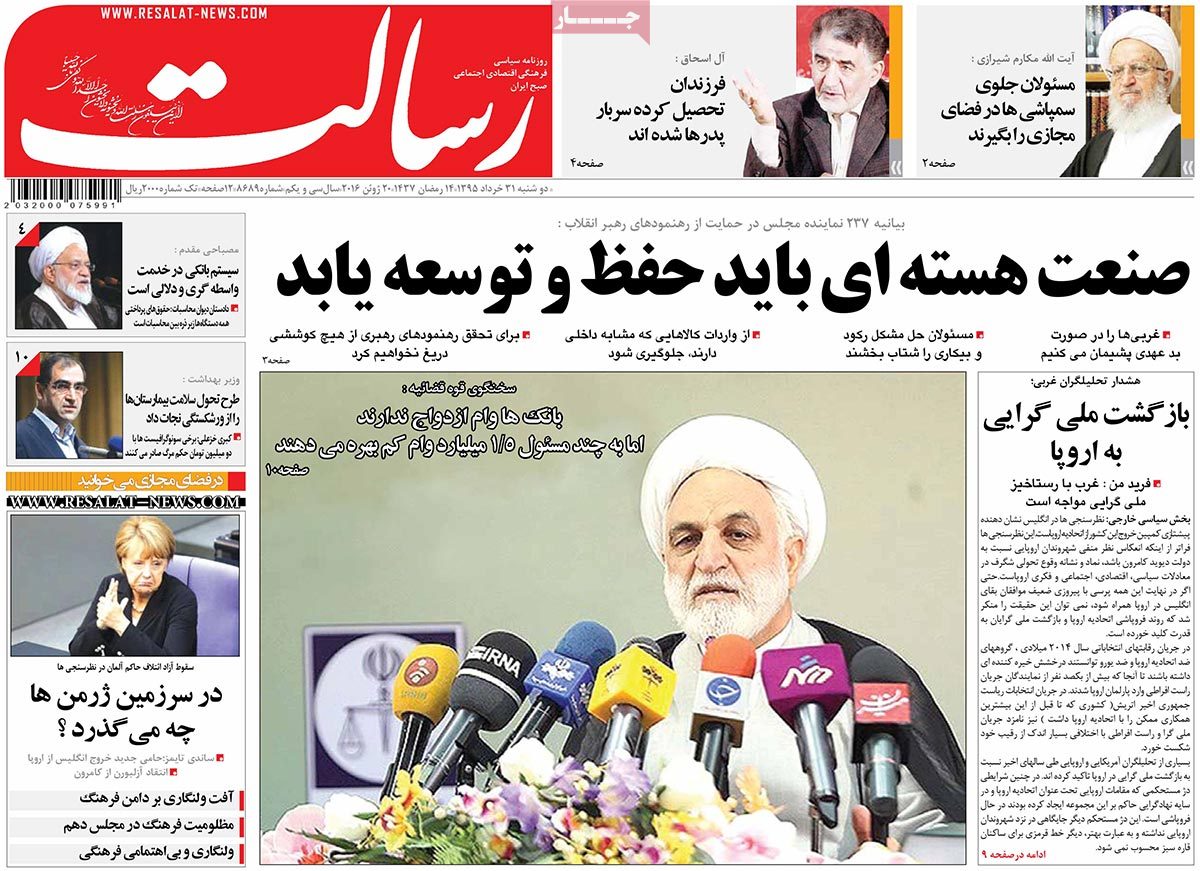 ---
Roozan:
1- Domestic Diplomacy: Delicate but Important Changes in Foreign Ministry
2- Will Changes in Foreign Ministry Influence Iran's Regional Policies?
3- Rouhani's Cabinet Not Homogenous
4- Emergence of Minority in Face of Majority: Reformists Take Leadership of Only 2 Specialized Parliamentary Commissions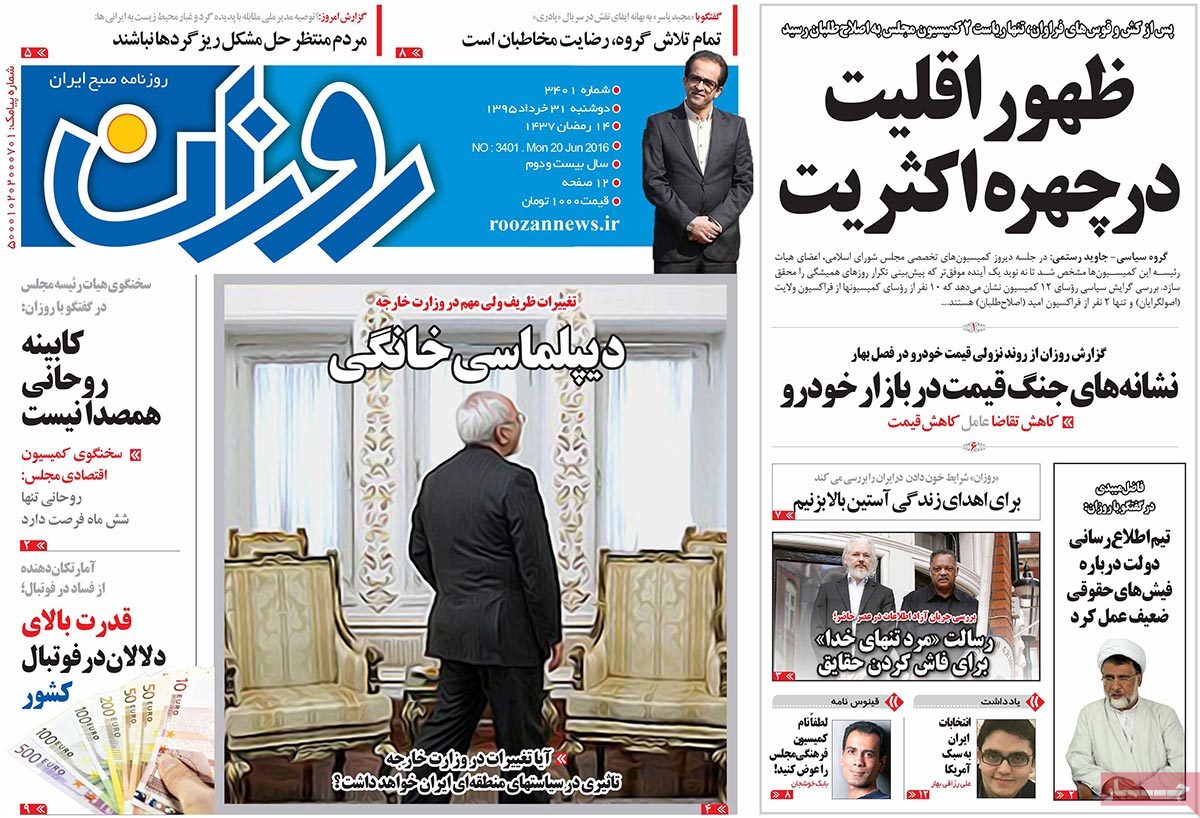 ---
Sepid:
1- 10 Patients Die in Iran Each Day Awaiting Organ Transplant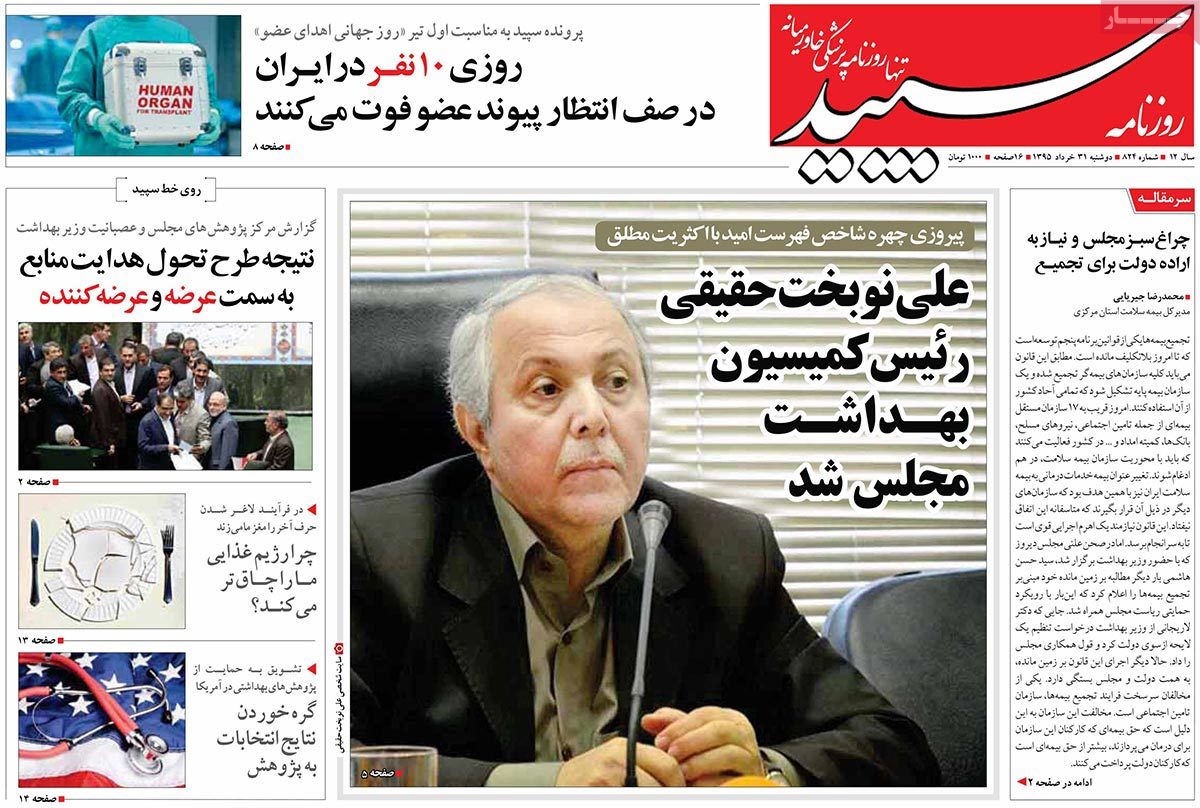 ---
Shahrvand:
1- Zarif's New Mission: The Dust Pollution
2- Shahran-Like Explosion Could Occur in 400 Other Parts of Tehran: Mayor
3- Trade in the Next Decade: Exporting Air
---
Shargh:
1- Life and Martyrdom of a Guerrilla Fighter: Which Chamran?
2- Moscow and Washington Agree on Syria: Russian DM Visits Syria in Unexpected Trip
---
Sobh-e Now:
1- What Foreign Media Say about Ayatollah Khamenei's Interest in Poetry and Literature
2- Jaberi Ansari Replaces Amir Abdollahian: Iran's New Diplomacy in West Asia?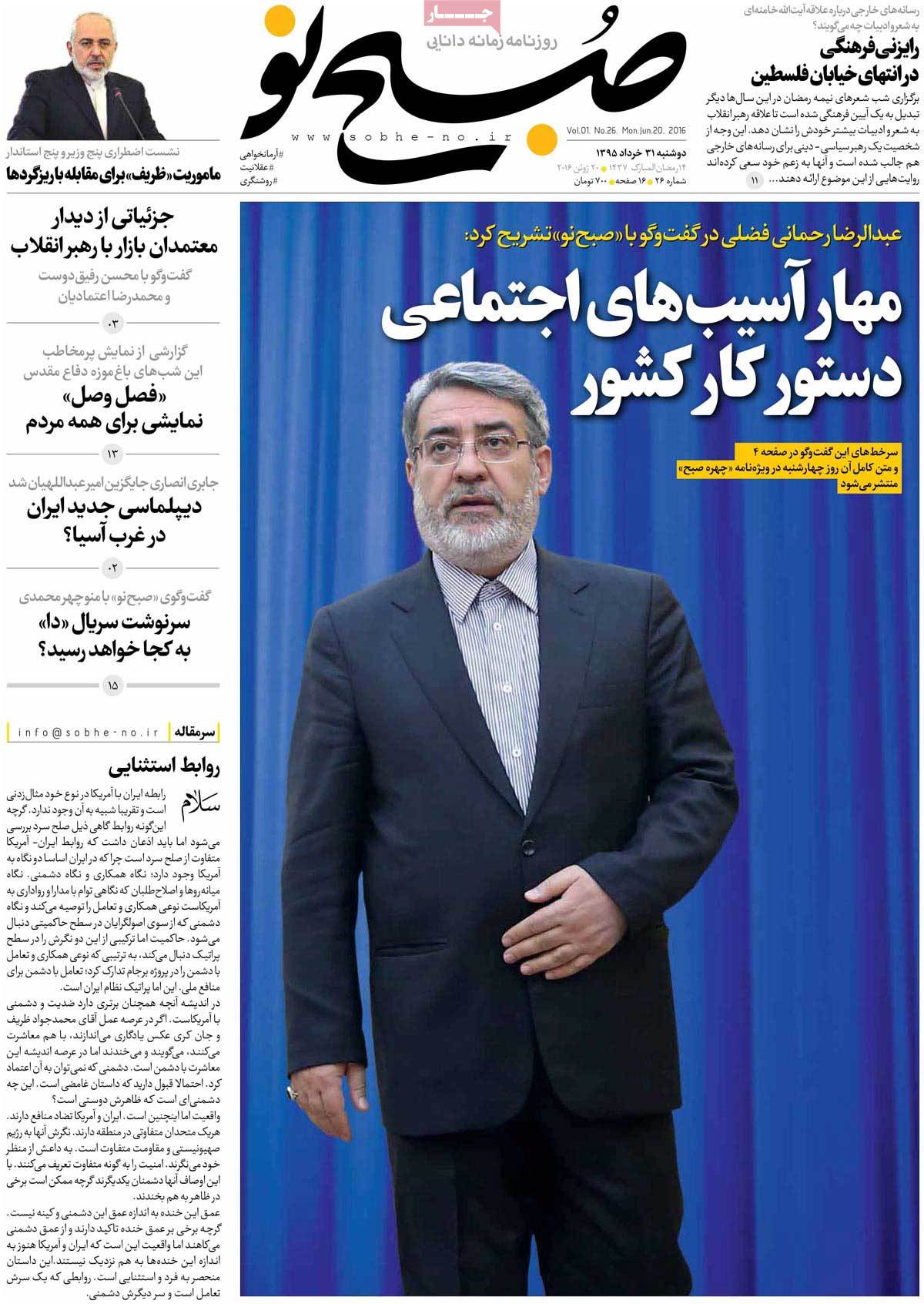 ---
Vaghaye Ettefaghieh:
1- Pause of Life under Rain of Dust
2- Fair Criticism Differs from Lying: Rouhani
3- Change in Arab Department of Foreign Ministry
4- Environmental Diplomacy is Key to Settlement of Dust Crisis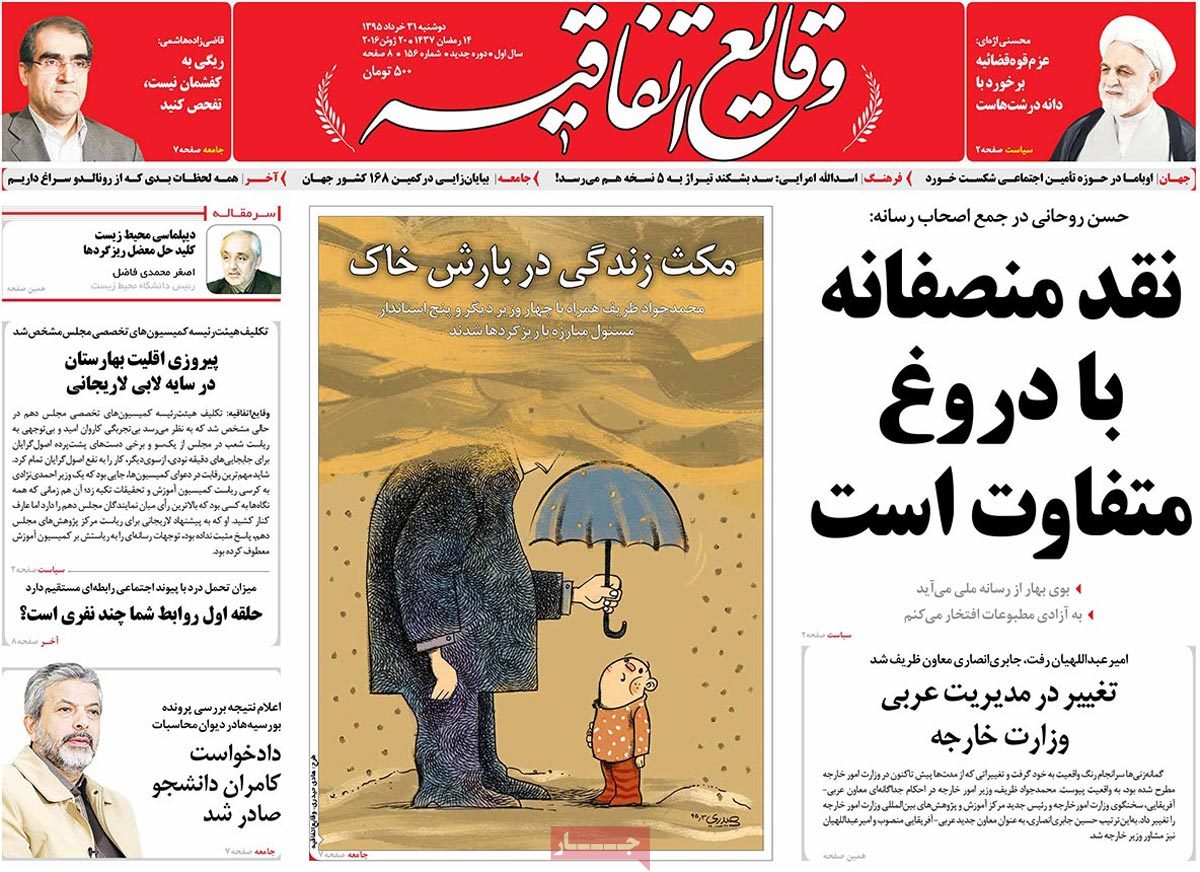 ---
Vatan-e Emrooz:
1- These Strange Figures! Paycheque Scandal Continues with Huge Salaries of Bank Tejarat Executives
2- Removal of Resistance Diplomat: Amir Abdollahian, Iran's Fluent Diplomat in Region, Dismissed by Zarif
3- Mohammed bin Salman Is White House's Option for Kingdom of Saudi Arabia?
4- Heavy Reformist Loss in Specialized Parliamentary Commissions: Aref Withdraws Once Again