The election of Iranian Parliament's presiding board was a top story in reformist and moderate newspapers. During the election, thanks to the efforts made by reformist MPs, Ali Motahari and Massoud Pezeshkian were re-elected as vice-speakers.
Conservative papers mainly focused on the controversy over the free export of Iran's natural gas to Turkey. The Oil Ministry is under fire for the export, but the Oil Minister says it is normal based on international rules.
The huge blast in Afghanistan's capital of Kabul was also a top story today. The attack, which was claimed by the ISIS terrorist group, killed at least 100 and wounded almost 500.
The above issues, as well as many more, are highlighted in the following headlines and top stories:
Abrar:
1- Ahmadinejad's Case Not in Final Stage Yet: Judiciary Spokesman
2- Assad Opponents: US Sending Heavy Weapons to Counter Iran
3- Spokesman: Judiciary Believes Everyone Should Now Help Gov't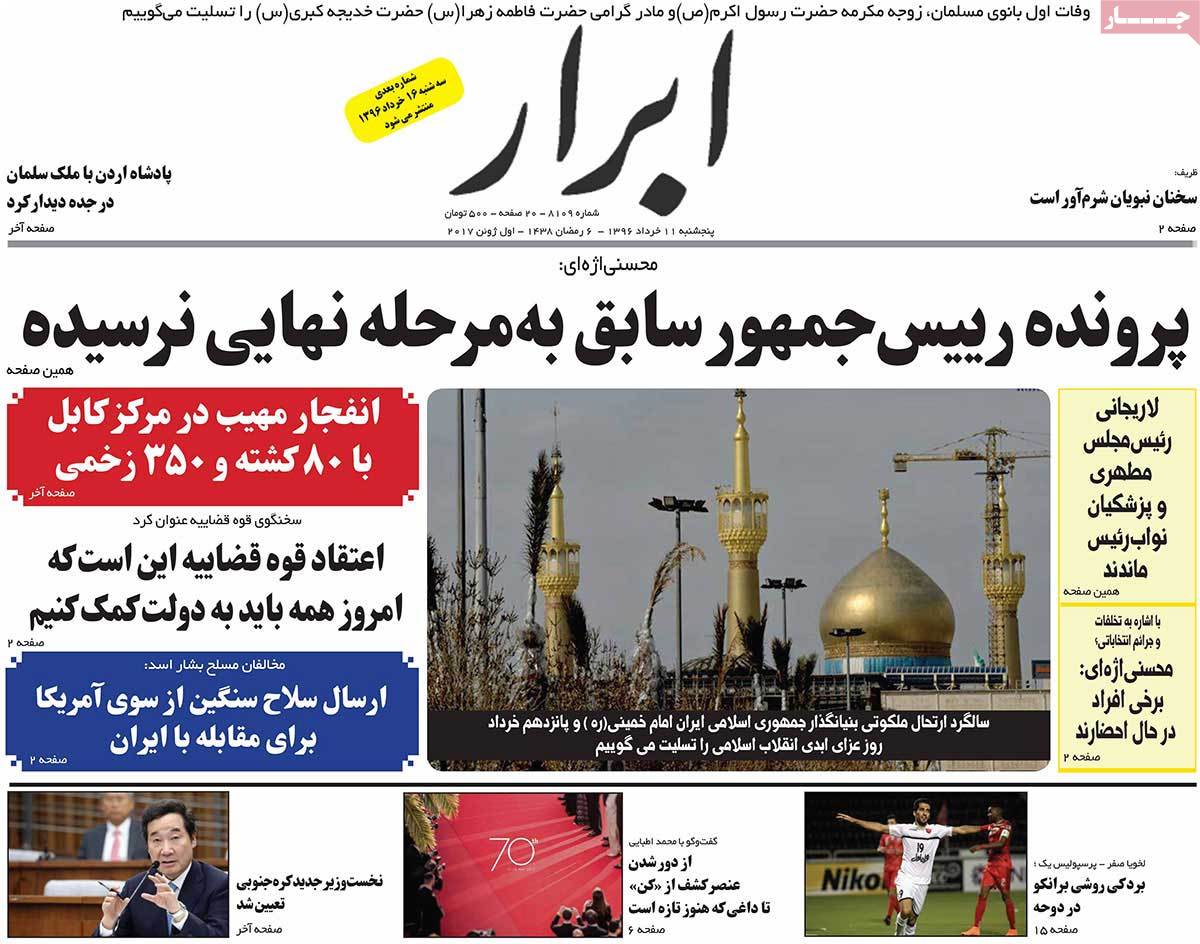 ---
Aftab-e Yazd:
1- Parliament Didn't Cross Red Line
Reformist vice-speakers Motahari, Pezeshkian were re-elected thanks to reformist MPs' efforts
---
Arman-e Emrooz:
1- How Reformist MPs Won Parliament's Presiding Board Election
2- Smoking Kills 60,000 Iranians Each Year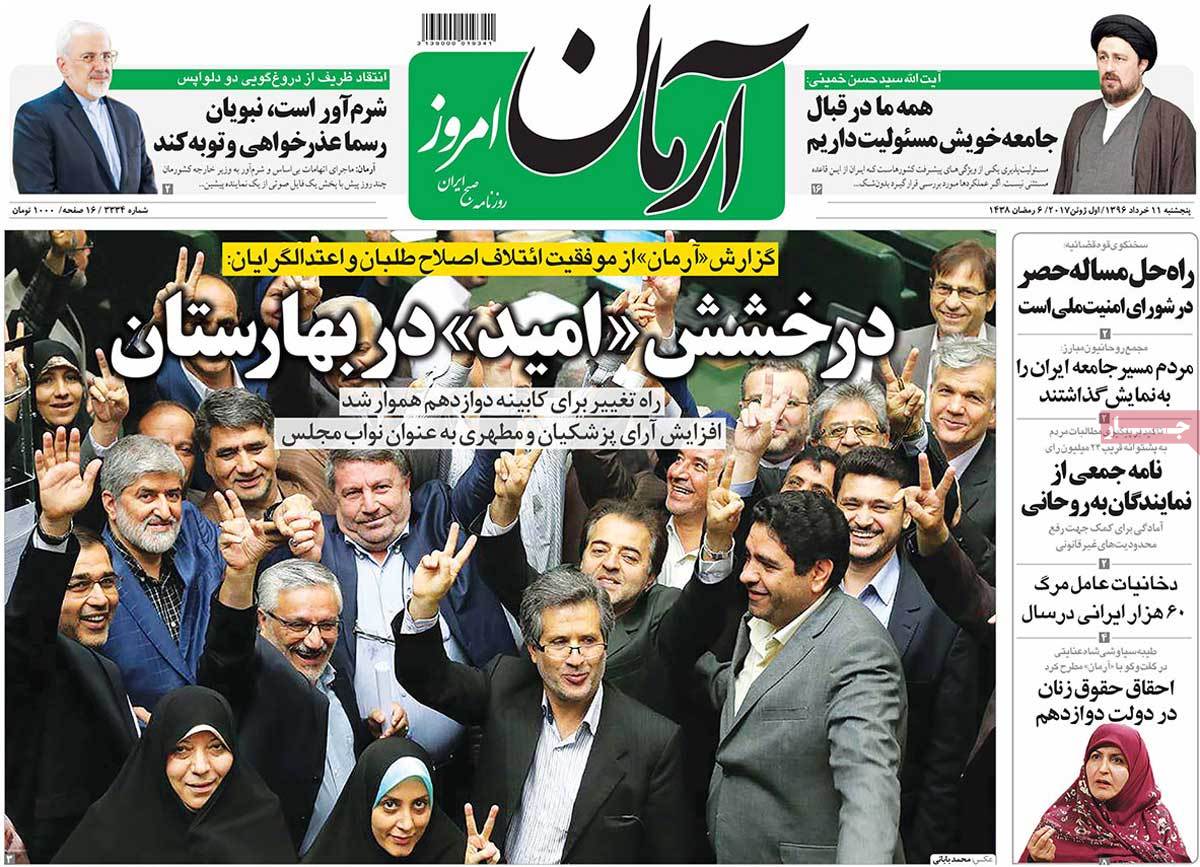 ---
Emtiaz:
1- 80 Hectares of Forest, Meadow Burn
2- Construction of Middle East's First Mobile Power Plant in Iran
3- 3,400 Projects to Be Opened in Iranian Industrial Towns This Year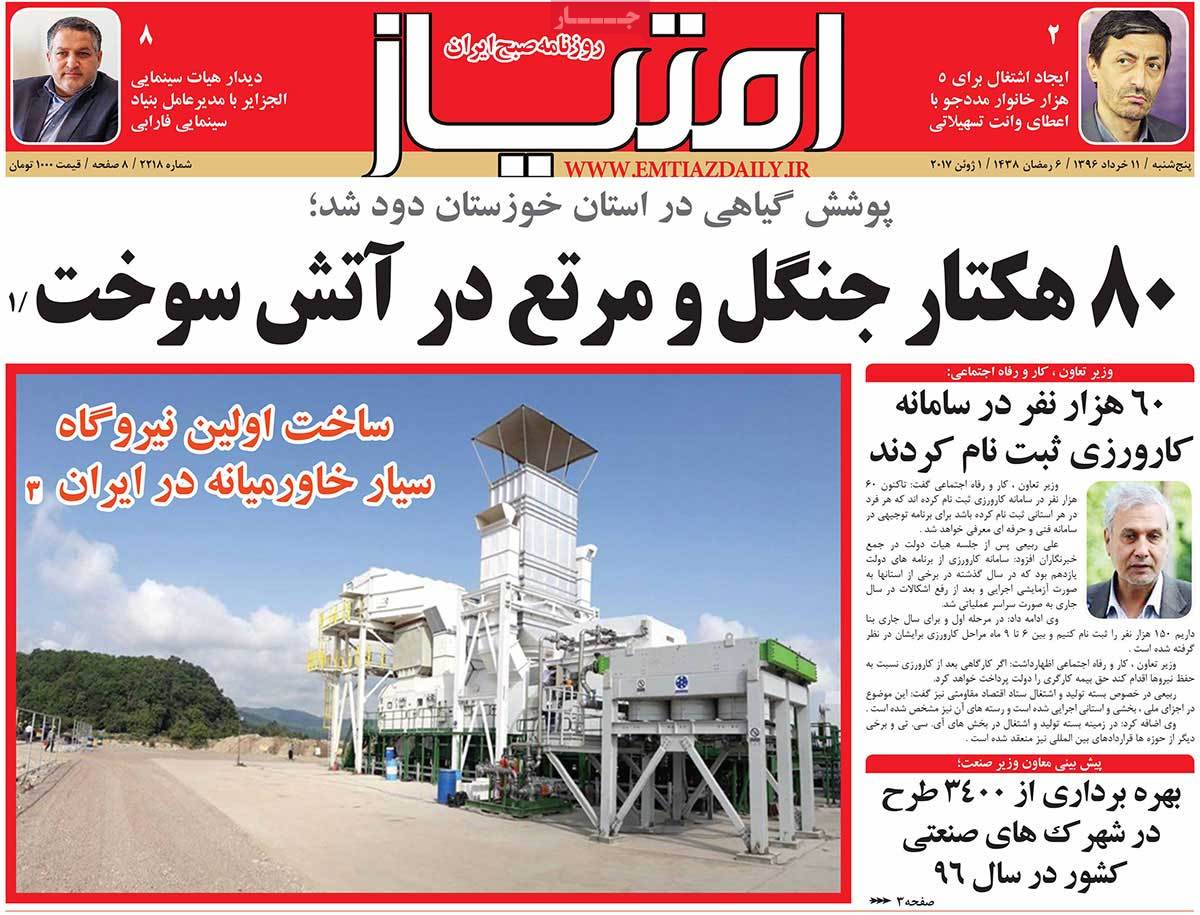 ---
Etemad:
1- An Elegy for Kabul
Afghan Capital Once Again Hit by Terrorist Attack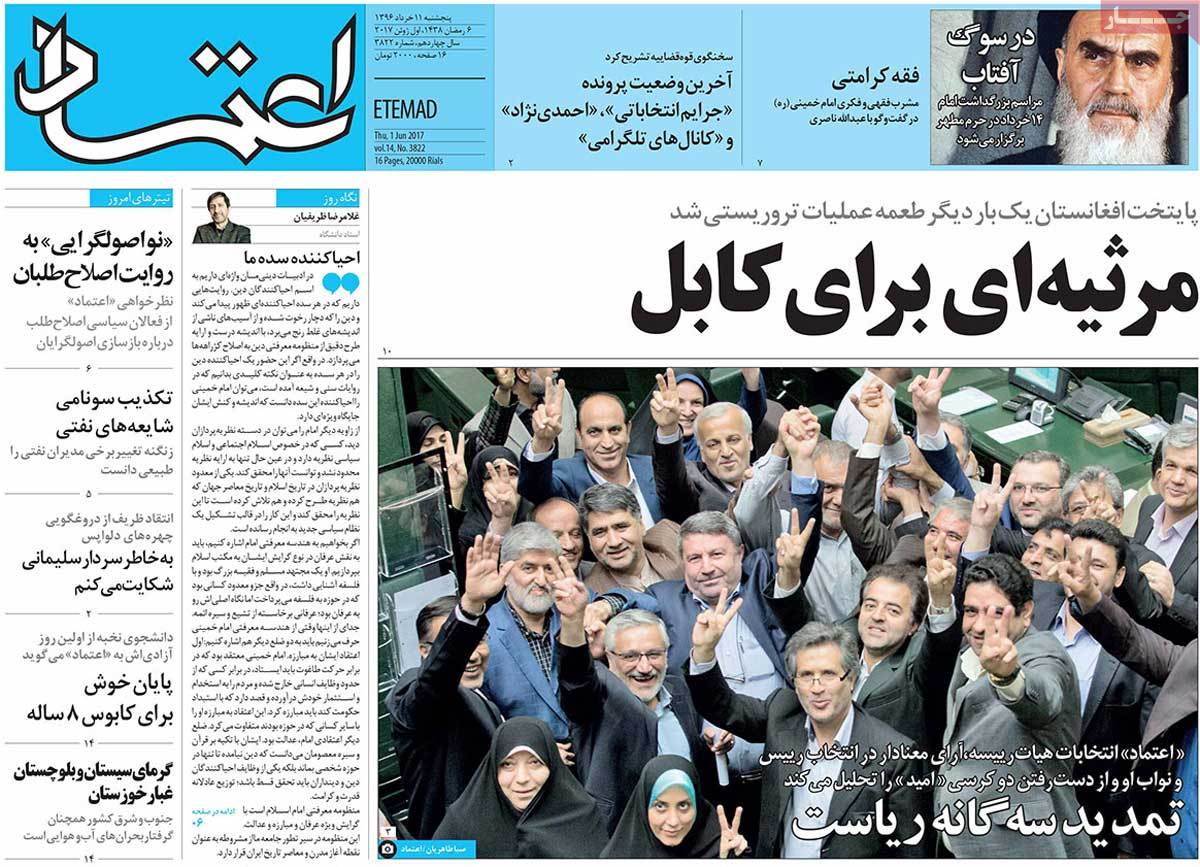 ---
Ettela'at:
1- Iran's Wheat Production to Reach 11m Tonnes This Year
2- Iran Leader to Hold Commemoration Ceremony for Imam Khomeini in Qom
3- UN: Yemen Is Collapsing, World Is Just Watching
4- 100 Killed, 400 Wounded in Huge Blast in Kabul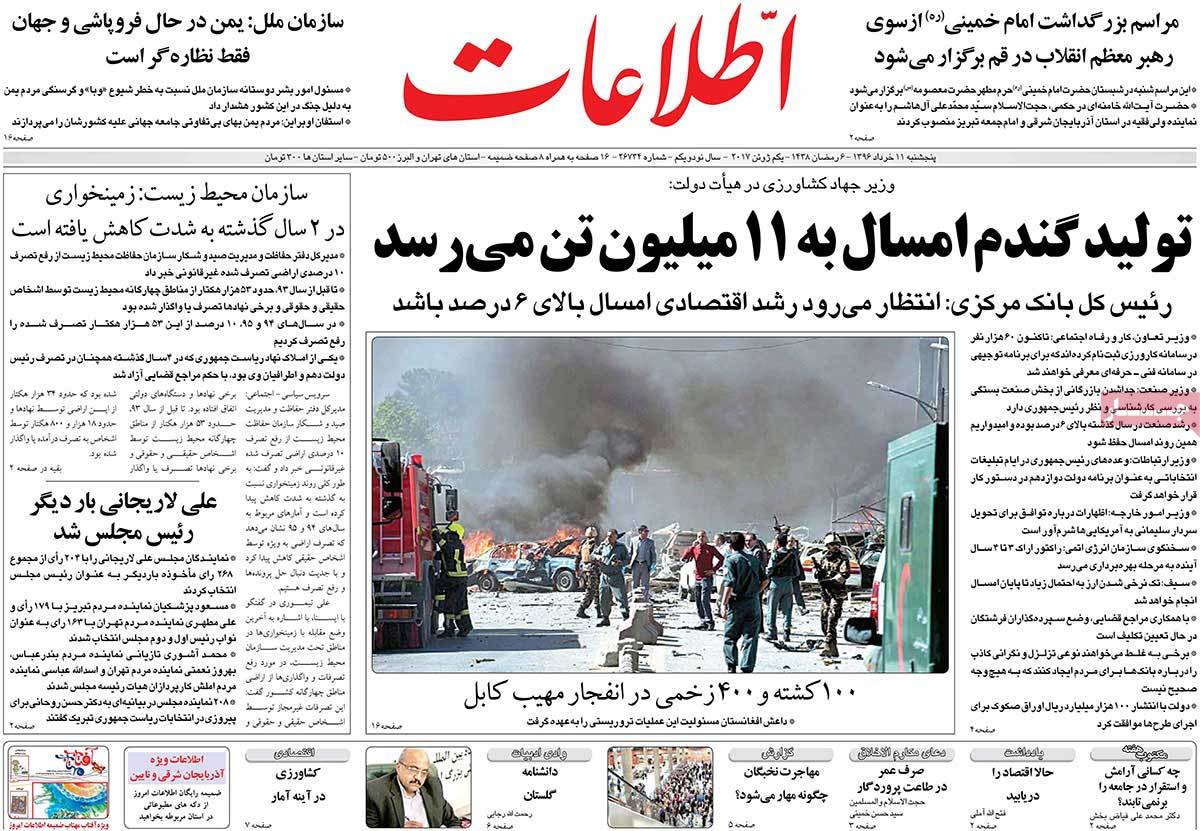 ---
Iran:
1- Cleric: No Ifs and Buts Now that Guardian Council Confirmed Iran Election Result
2- ISIS Suicide Attack on Kabul Leaves 90 Dead, 350 Wounded
3- Triangle of Parliament's Presiding Board Re-Elected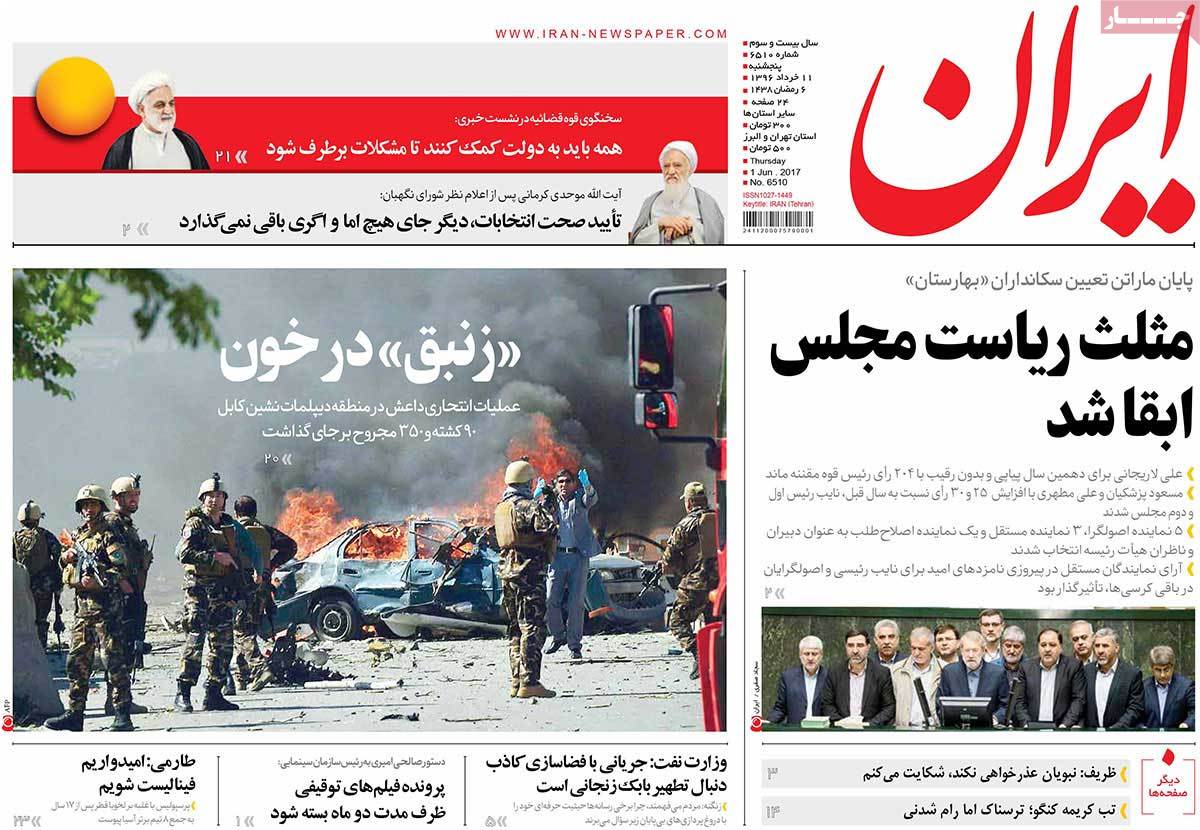 ---
Jame Jam:
1- Crimes of 'White ISIS' in Yemen
2- Madness of 'Black ISIS' in Kabul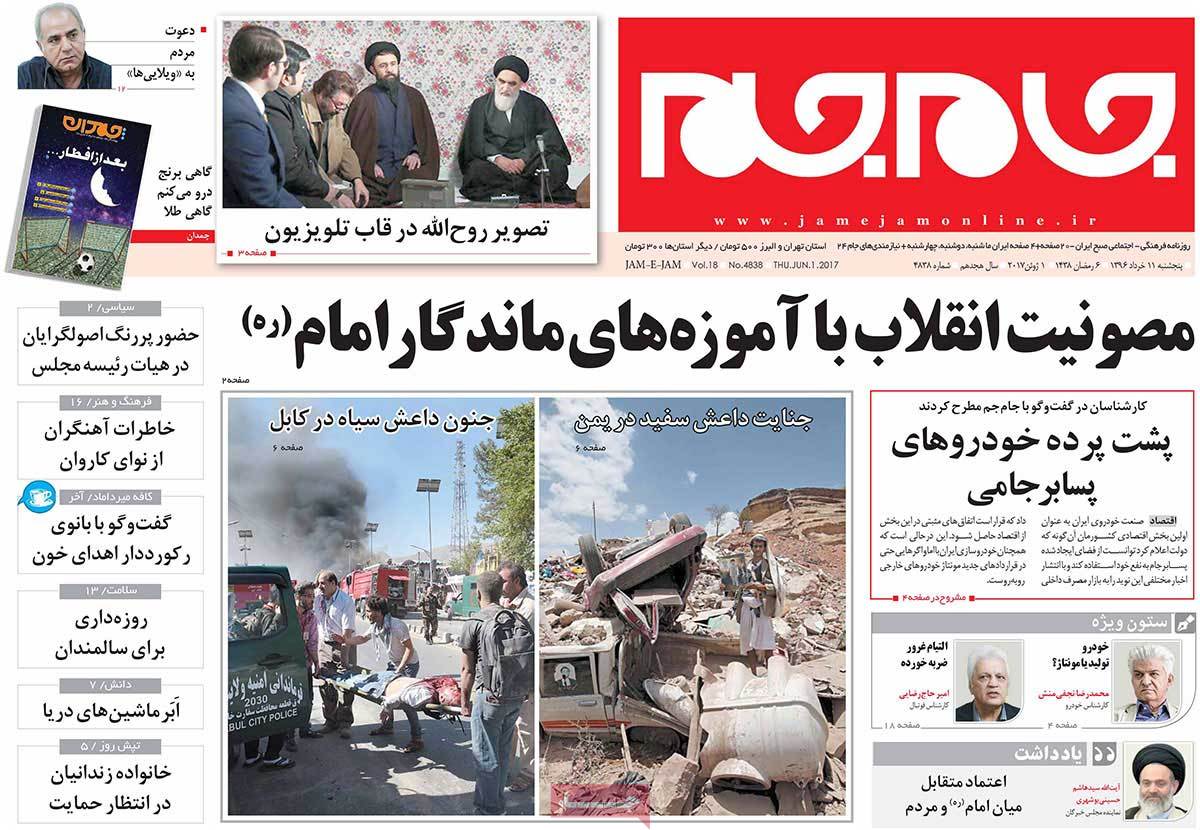 ---
Javan:
1- ISIS Takes Revenge of MOAB from Afghans
2- Turkey's Dam May Cause Environmental Crisis in Iran
3- Raisi Says He Respects Guardian Council's Approval of Iran Elections
4- IRGC Implementing 100 Construction Projects in Ardabil to End Deprivation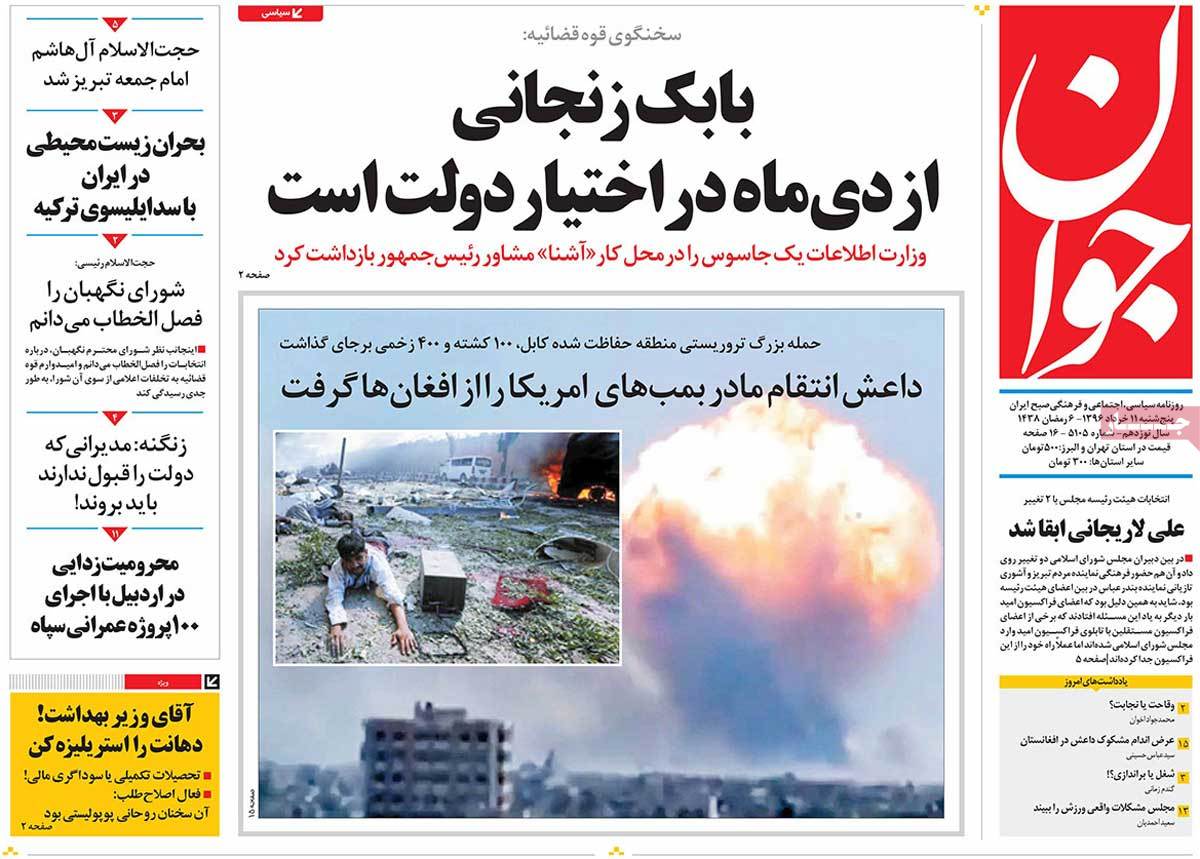 ---
Kayhan:
1- Oil Ministry Justifying Free Gas Exports to Turkey
2- UN's Shocking Report on Yemen's Disastrous Situation, World's Indifference
---
Payam-e Zaman:
1- Increase in Iran's Oil Output to 4.7m bpd: Oil Minister
2- Interior Minister: Not a Single Ballot Has Been Changed in Final Results
3- Iran's 2-Percent Share of World Car Production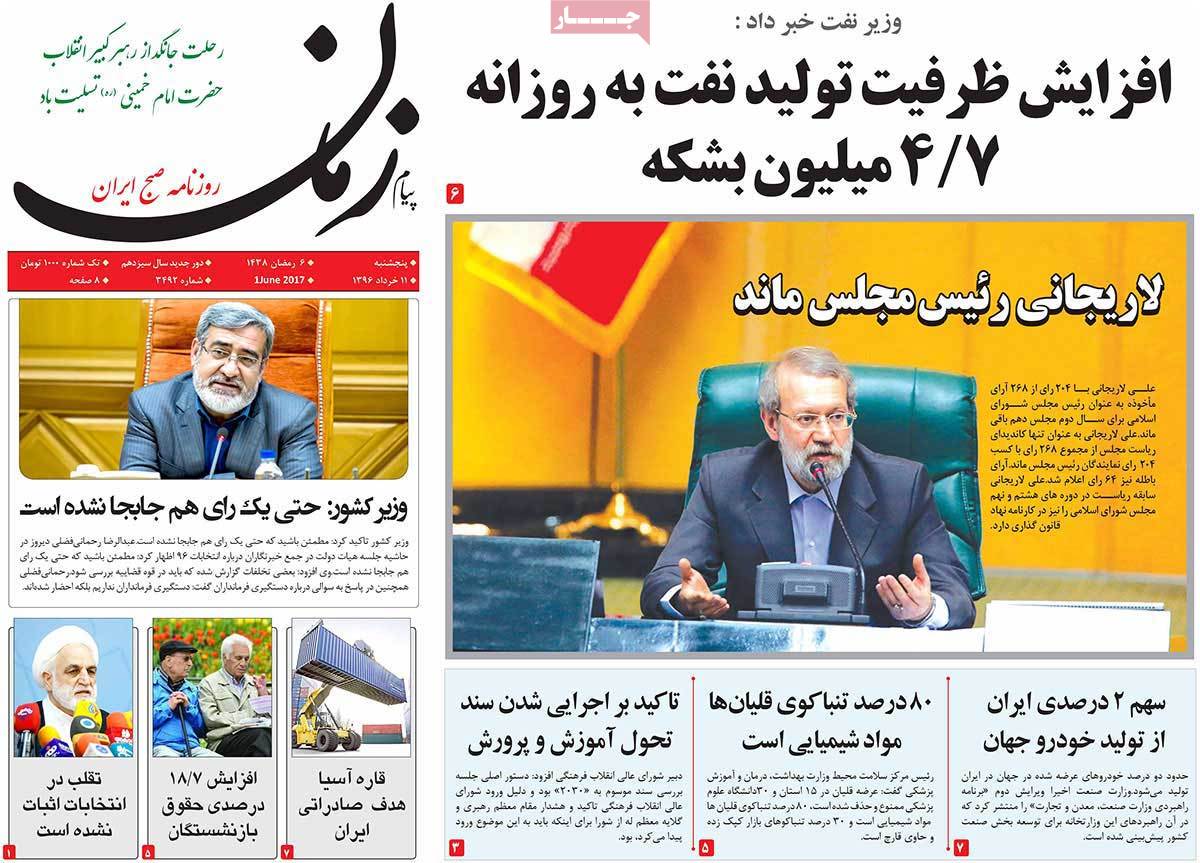 ---
Resalat:
1- Taliban: We Weren't behind Attack; ISIS: We Did It!
2- 2030 Document Part of Aliens' Puzzle of Infiltration
3- Speaker: Imam Khomeini Opened New Chapter of Politics
4- Judiciary: Official Close to Rouhani's Aide Arrested on Espionage Charge
---
Shahrvand:
1- Kabul in Fire and Blood
2- Turkey's Water Strategy against Iran
Construction of Dam on Tigris Goes on
3- If Turkey Dam Is Built, Quality of Life Will Be Minimized for Iranians, Iraqis
---
Siasat-e Rooz:
1- Kabul Muslims Victim of Coalition's Inefficiency