Almost all headlines on Wednesday were also dedicated to the most recent developments in Iran, including the protest rallies and ensuing riots across the country.
Several Iranian cities have been the scene of anti-government street protests in recent days. The early protests demanded a better economic situation and better living conditions, but sporadic violence has erupted during the protests, causing at least 21 fatalities and tens of injuries. Officials believe the riots are being fuelled by foreign countries including Saudi Arabia, the US, and Israel.
What follows are the Iranian papers' coverage of the recent unrest on Tuesday:
19 Dey:
1- Leader: Enemies Have Allied against Iran in Recent Events
2- Gov't Spokesman: Rioters Distinguished from Protesters
3- Tehran Governor: 450 Arrested in Past 3 Days
4- Shamkhani to Al Mayadeen: Recent Protests to End within Days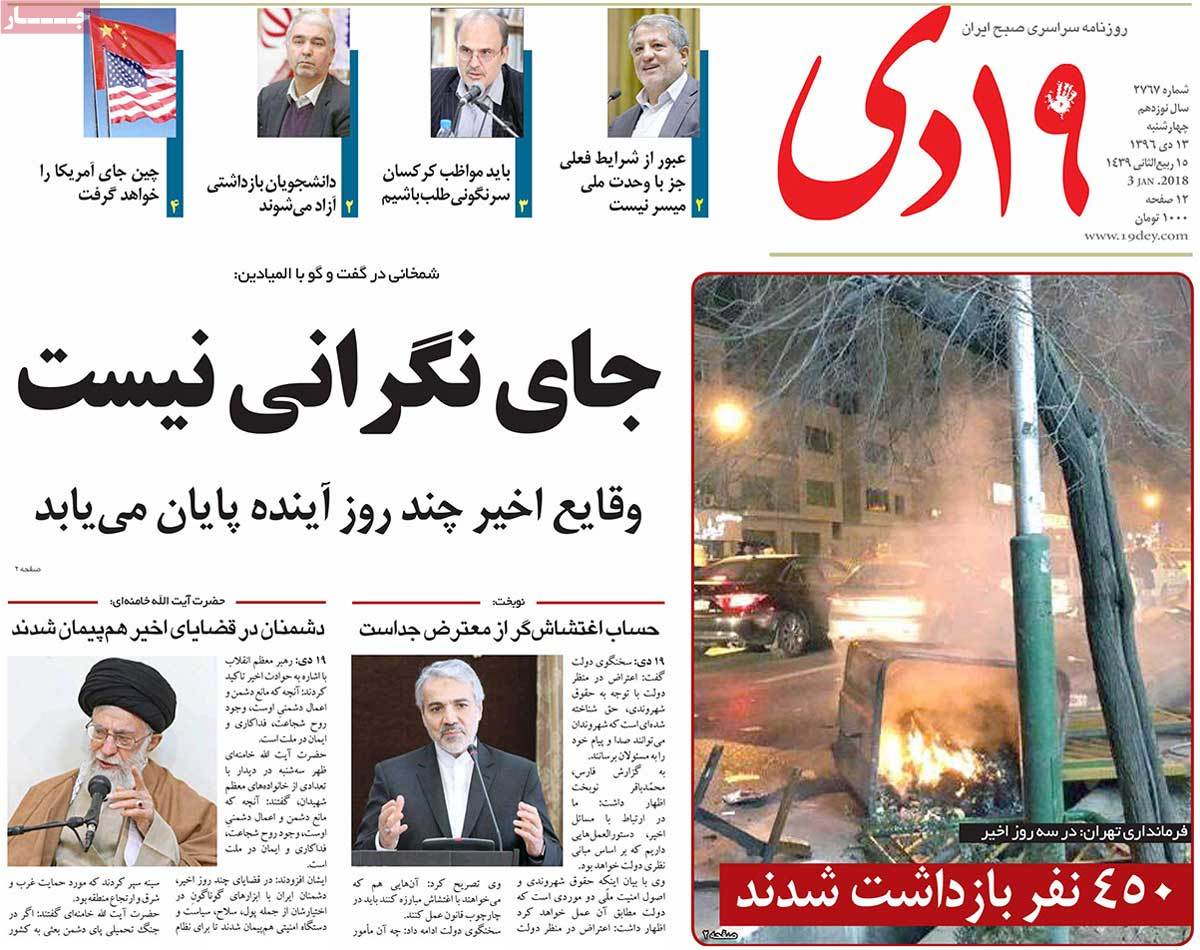 ---
Abrar:
1- Iran Leader: I Have Words to Say about Recent Developments; I'll Talk in Due Time
2- Israeli Foreign Ministry: Protests Not Threat to Iran Establishment
3- EU: We're Closely Watching Iran Protests
4- Erbil Agrees with Baghdad's Conditions for Beginning of Talks
---
Aftab-e Yazd:
1- Iran Leader: Spirit of Courage, Sacrifice, Faith Prevents Enemies from Showing Hostility
2- Shamkhani: People Dissatisfied with Domestic Media's Behaviour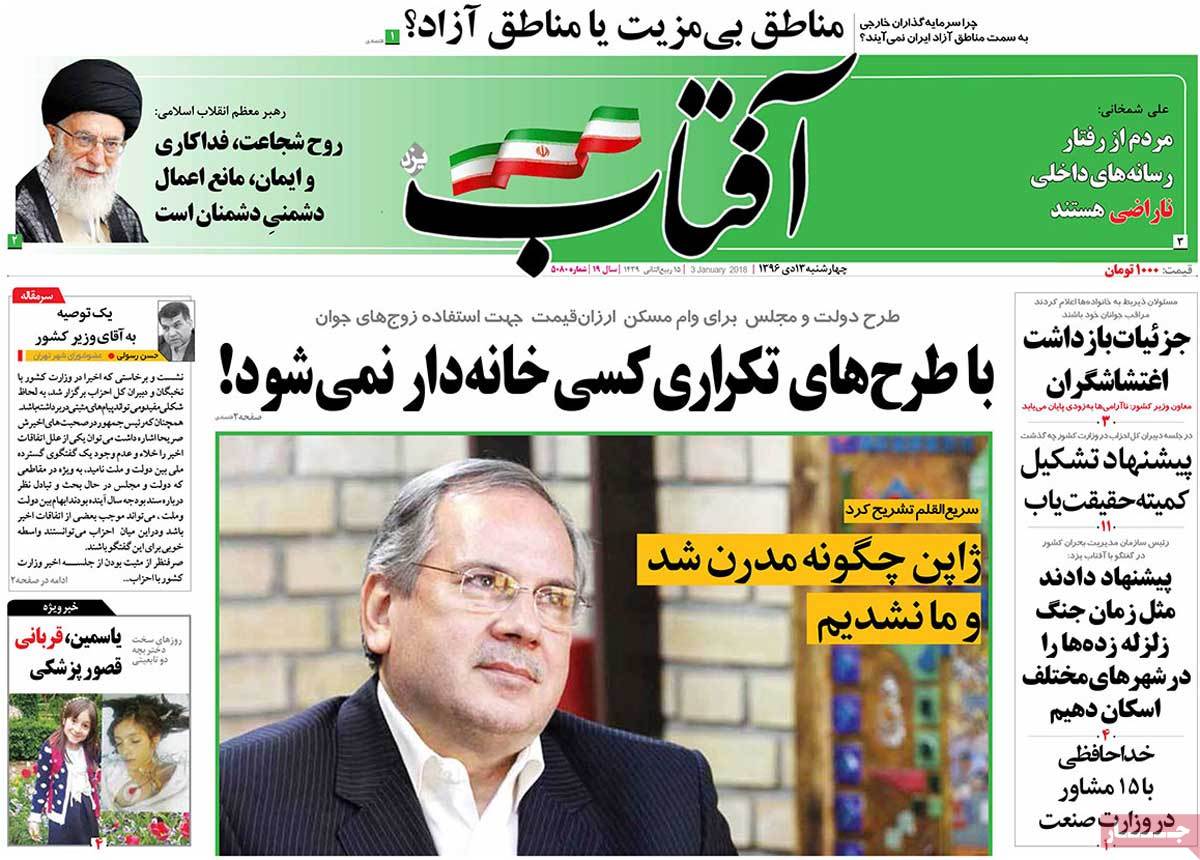 ---
Ebtekar:
1- Iran Leader: I Have Words and Will Talk to People in Appropriate Time
2- Gov't Spokesman: It's People's Right to Protest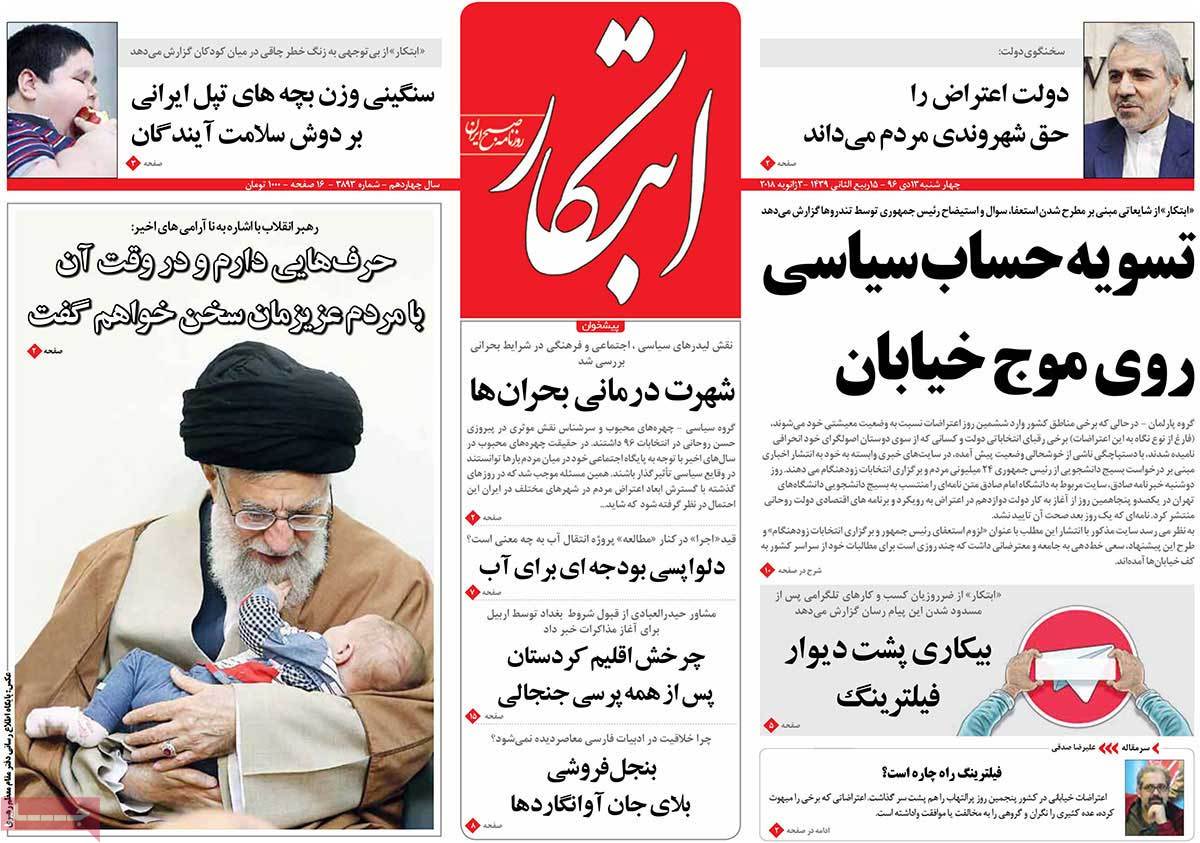 ---
Etemad:
1- Moeinfar, Islamic Republic's First Oil Minister, Dies
2- French FM's Visit to Tehran Postponed to Future: Europe Cautious in Reacting to Iran Protests
---
Ettela'at:
1- Leader: Enemies Using Money, Arms, Intelligence to Harm Islamic Establishment
2- Gov't Spokesman: We'll Reveal Secrets behind Recent Events in Due Time
3- Yemen Health Ministry: 10,000 Civilians Killed in Saudi Airstrikes
4- Macron to Rouhani: We Appreciate IRGC Quds Force's Efforts for Eradicating ISIS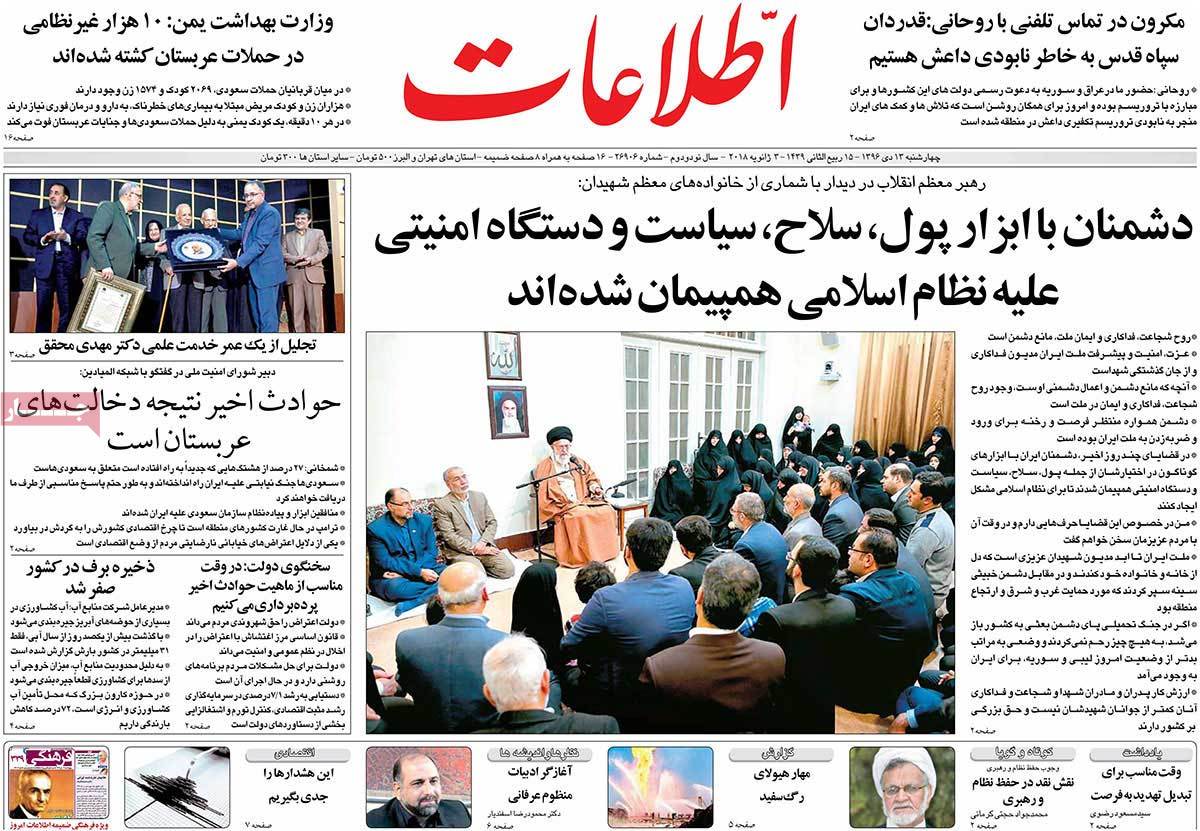 ---
Hosban:
1- Prosecutor General: Rioters Should Know Judiciary Will Seriously Counter Them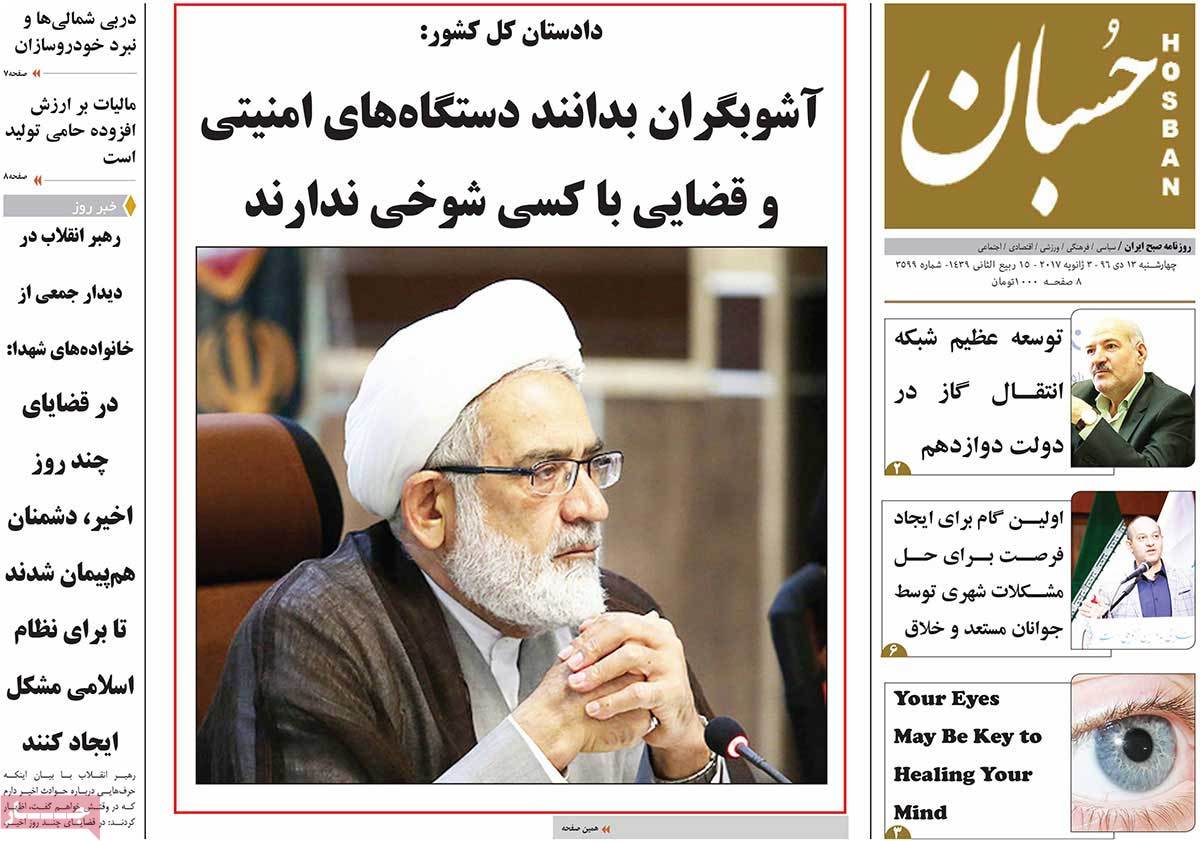 ---
Iran:
1- Gov't Spokesman: Protest Yes, Riot No
2- Rouhani to Macron: Iran to Remain Committed to JCPOA as Long as It Benefits from It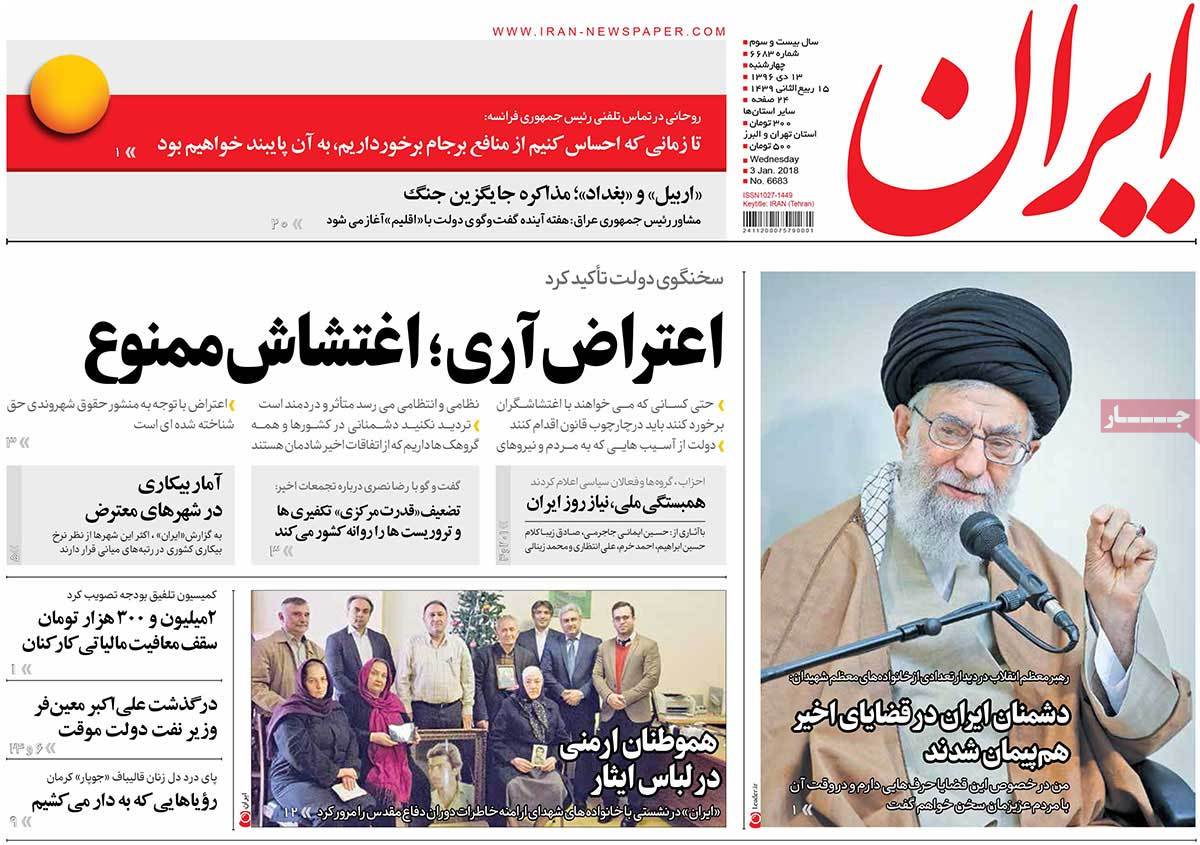 ---
Javan:
1- Iran Leader: Enemies Using All Their Money, Weapons, Politics against Iran
2- New Sanctions Codenamed "Riot"
US Official: We're Considering Range of Options Including Anti-Iran Sanctions
---
Jomhouri Eslami:
1- Mogherini: EU to Continue Urging All Parties to Implement JCPOA
2- IRGC Spokesman: People Rapidly Made Distinction between Protesters, Rioters
3- People Must Be Vigilant, Cautious as Deceitful US Supporting Rioters: Clerics
---
Kayhan:
1- Iran Leader: Iran's Enemies Joined Hands to Cause Trouble for Islamic Establishment
2- Rioters' Mission Accomplished: Washington Considering New Sanctions against Iran!
3- Based on Official Reports: Violence in US Has Claimed 90 Lives in Past Year
---
Resalat:
1- Iran Leader: Enemy Waiting for Opportunity to Harm Nation
2- Police Spokesman: Man Who Set Fire on Iranian Flag Arrested
3- Ayatollah Makarem Shirazi: Seditionists' Biggest Plot Is to Make People Skeptical of Establishment