Newspapers on Monday covered the remarks made by the Leader of the Islamic Revolution Ayatollah Seyyed Ali Khamenei in a meeting with Iranian Air Defence commanders. In this meeting, the Leader warned against any attack on the country and said the country would show crushing responses to the enemy.
The inauguration of Iran's National Information Network was also a top story in many newspapers today. The free flow of information and the safer access to data are among the advantages mentioned for the network.
Foreign Minister Mohammad Javad Zarif also wrapped up his Latin America tour and returned to Tehran. His visits were widely covered by Iranian media on Monday.
The ongoing debates about an alleged scandal in Tehran municipality are also receiving great attention in many newspapers. The case is still under investigation, and no one has confirmed anything yet.
The above issues as well as many more are highlighted in the following headlines:
Abrar:
1- IRGC Navy Commander: Does a Nation with a Population of 85m Deserve Only 3 Gold Medals in Olympic Games?
2- Washington's Unprecedented Mechanism of Settling Debts to Iran: AP
3- Zarif to Meet Afghan FM Today in Tehran
4- Qatar National Team Will Play against Iran in World Cup Qualifier Match with 16 Foreign Players!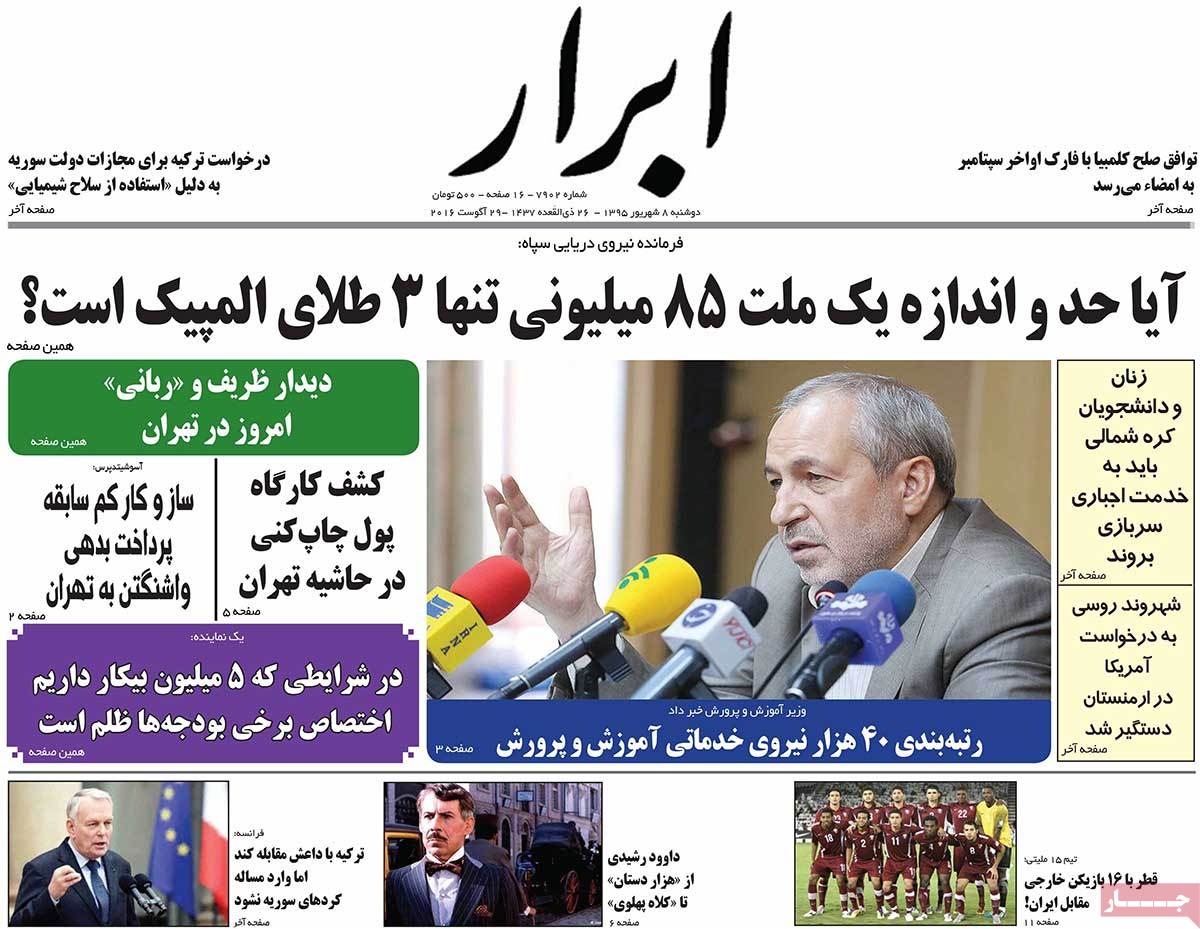 ---
Abrar-e Eqtesadi:
1- Iran and Italy in Talks for Construction of Gas Refinery
2- 70% Decrease in Smuggling of Fuel
3- Ukraine's Special Offer for Transit of Iran's Oil to Europe
4- Iran Officially Enters Petchem Market of South America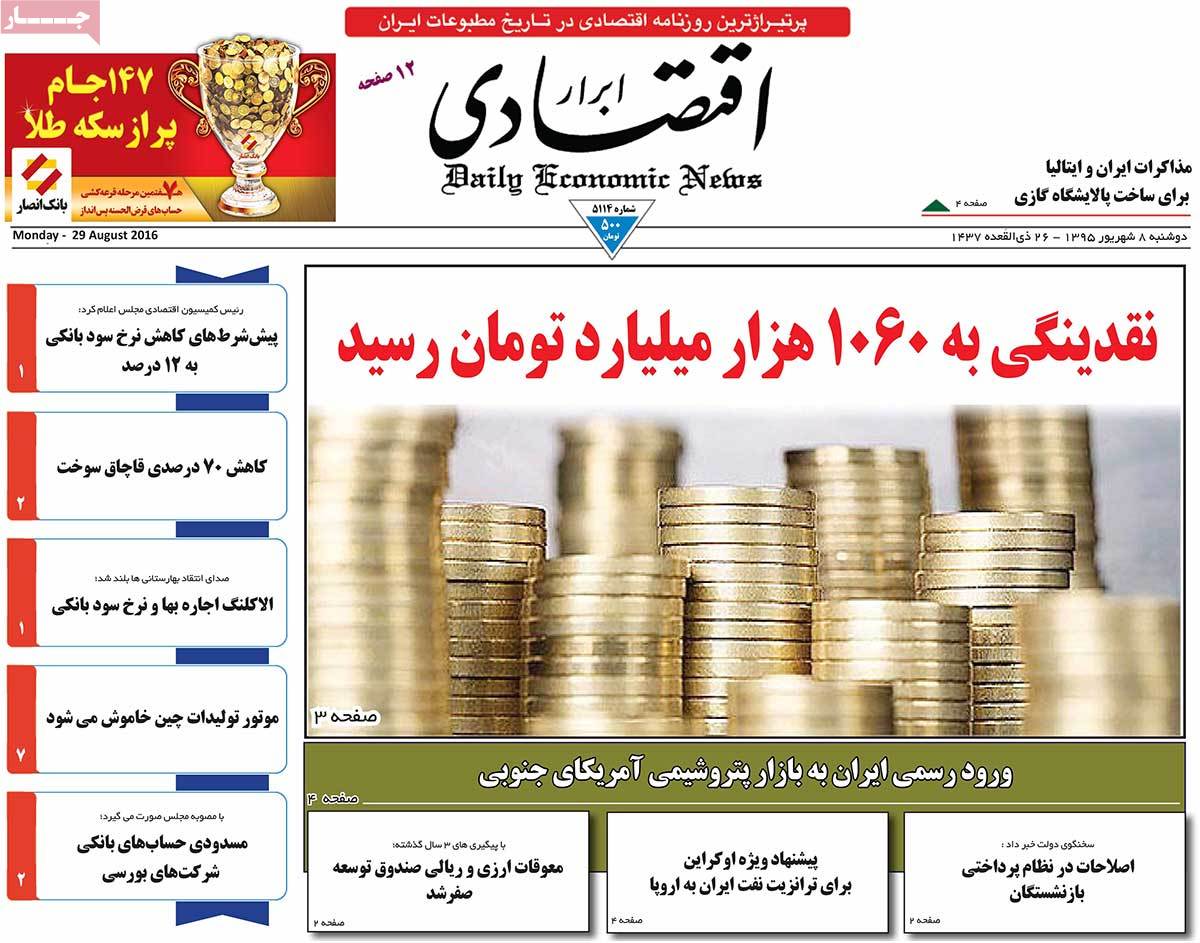 ---
Aftab-e Yazd:
1- 30 MPs Call for Disqualification of Ali Motahari from Being Parliament Vice-Speaker: Minority Group in Majlis Chant 'Death' Slogans against Motahari
2- Details of MP's Physical Clash with a Journalist: Immoral Behaviour of a Lawmaker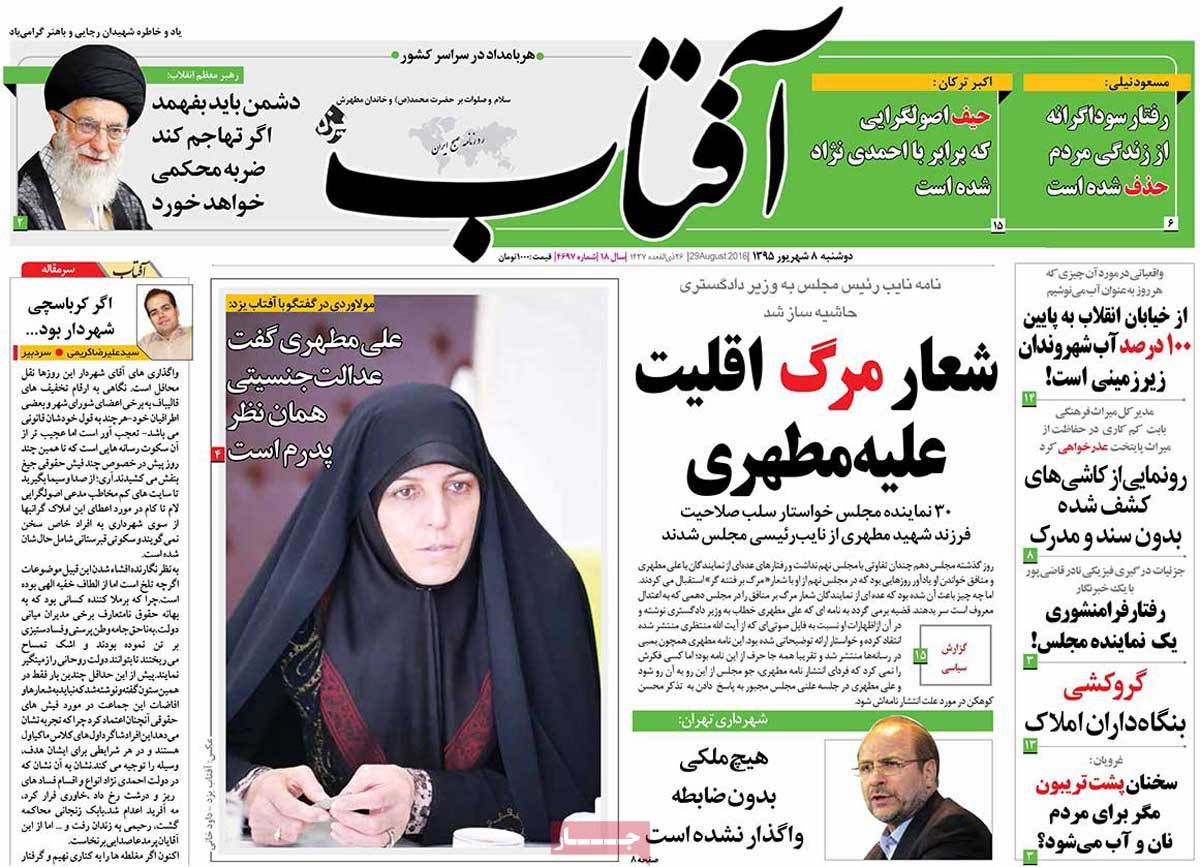 ---
Arman-e Emrooz:
1- Only 5 Single Girls Have Managed to Adopt a Child: Singles in Dream of Being a Mother
2- Iran Was Deceived in 598 Resolution Talks: Senior Conservative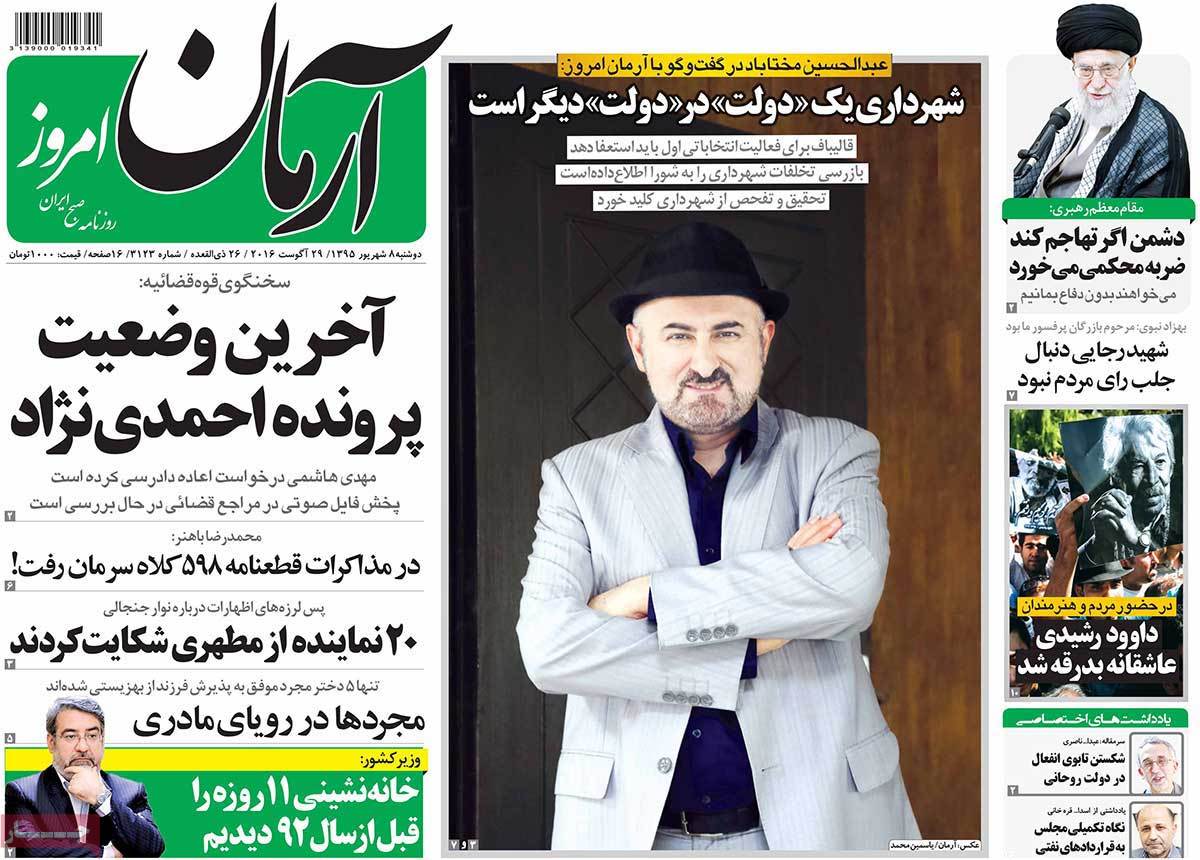 ---
Asrar:
1- Today, Unlike the Previous Term [Ahmadinejad's], Everyone Obeys Leader's Orders: Interior Minister
2- Justice Minister [on 1988 executions]: We're Proud that We Implemented God's Order on MKO Terrorists
3- Probe into Tehran Municipality Kicked Off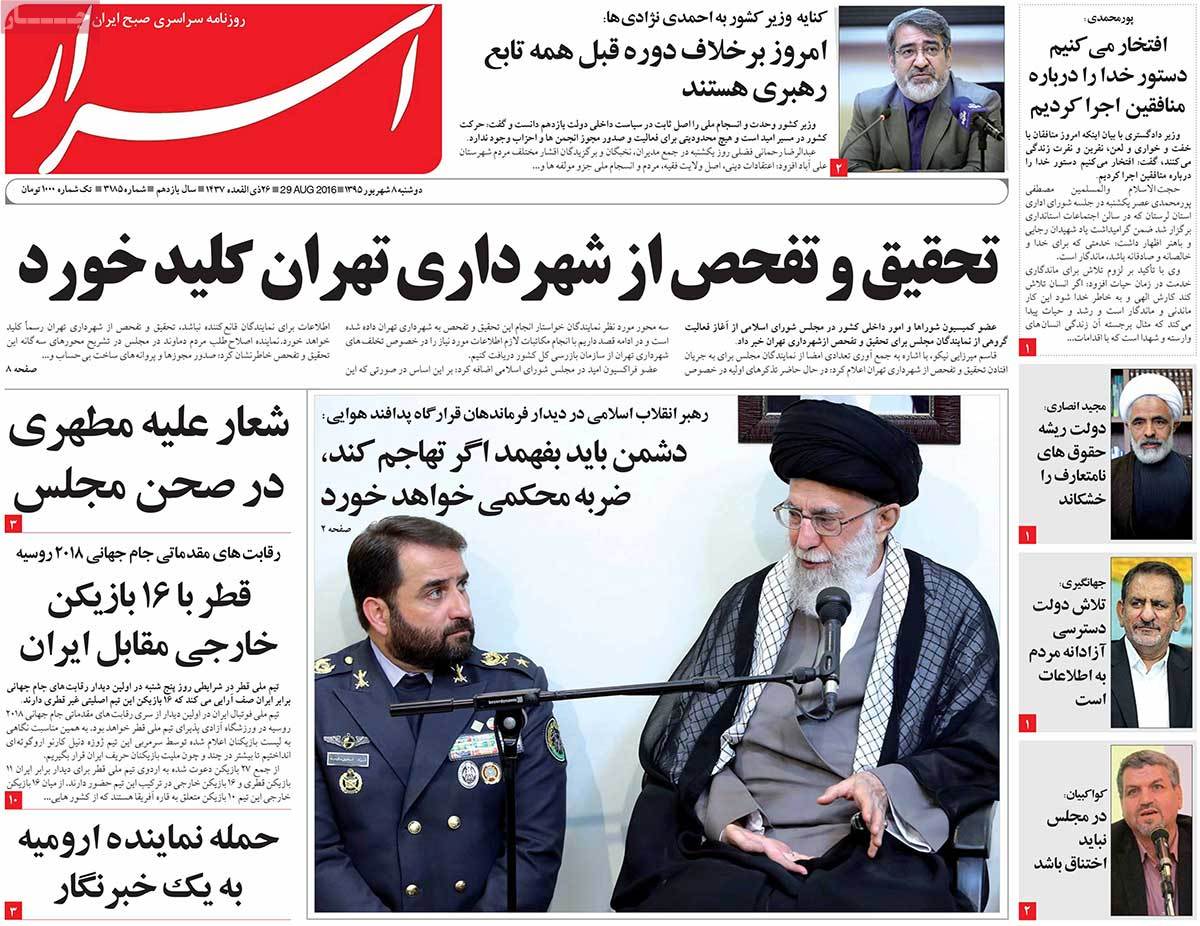 ---
Ebtekar:
1- 360 Cubic Metres of Iran's Environment Is Destroyed Every Second: Social Forestry, the Last Choice to Save Environment
2- Looking for Security of Iranians' Data in the Internet: Goals behind Unveiling National Information Network
3- Economic Indices Getting Back to the Time When Ahmadinejad's Term Was Beginning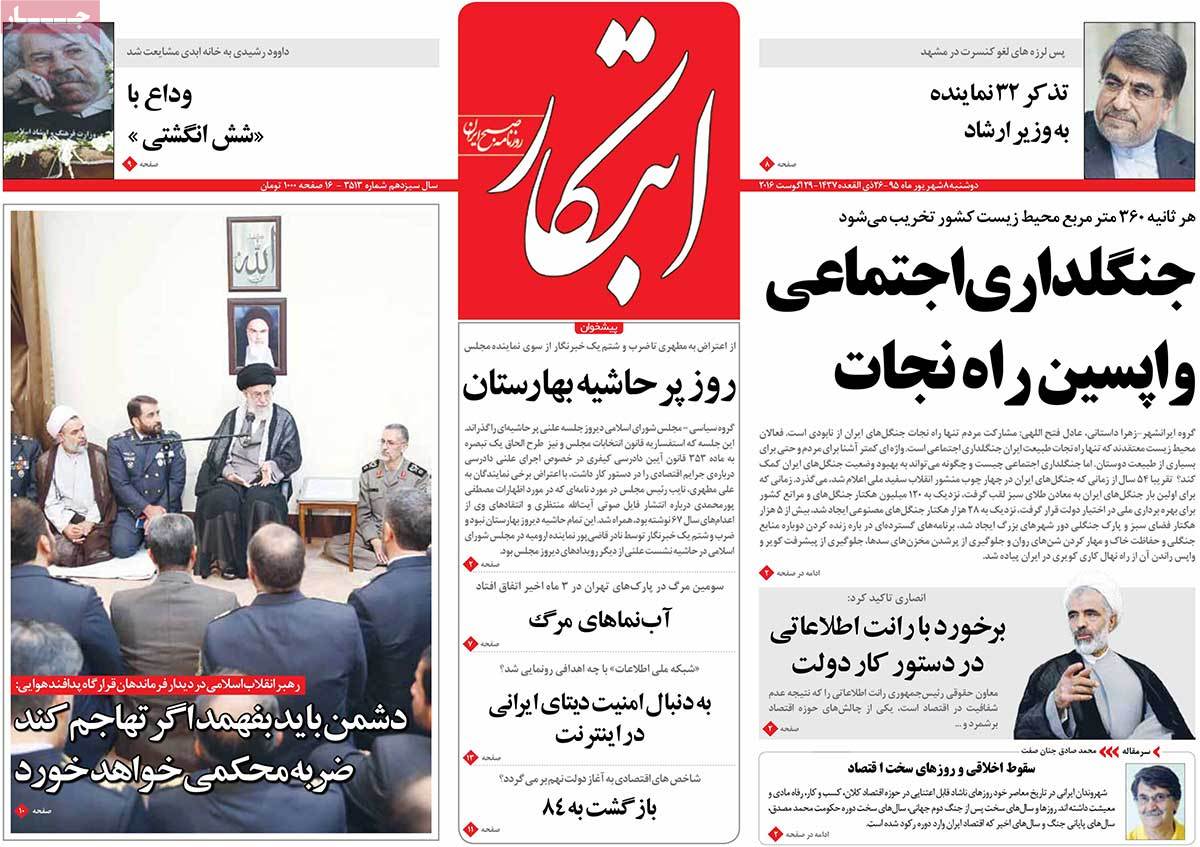 ---
Emtiaz:
1- Iranian Paralympic Athlete Banned from Exiting Iran Because of Mahr [Dower] Debt to Wife
2- 101 Historical Relics Dating Back to 3,000 Years Ago Found in Alborz Province
3- Construction of 30 Four- and Five-Star Hotels Kicked Off in Rouhani's Term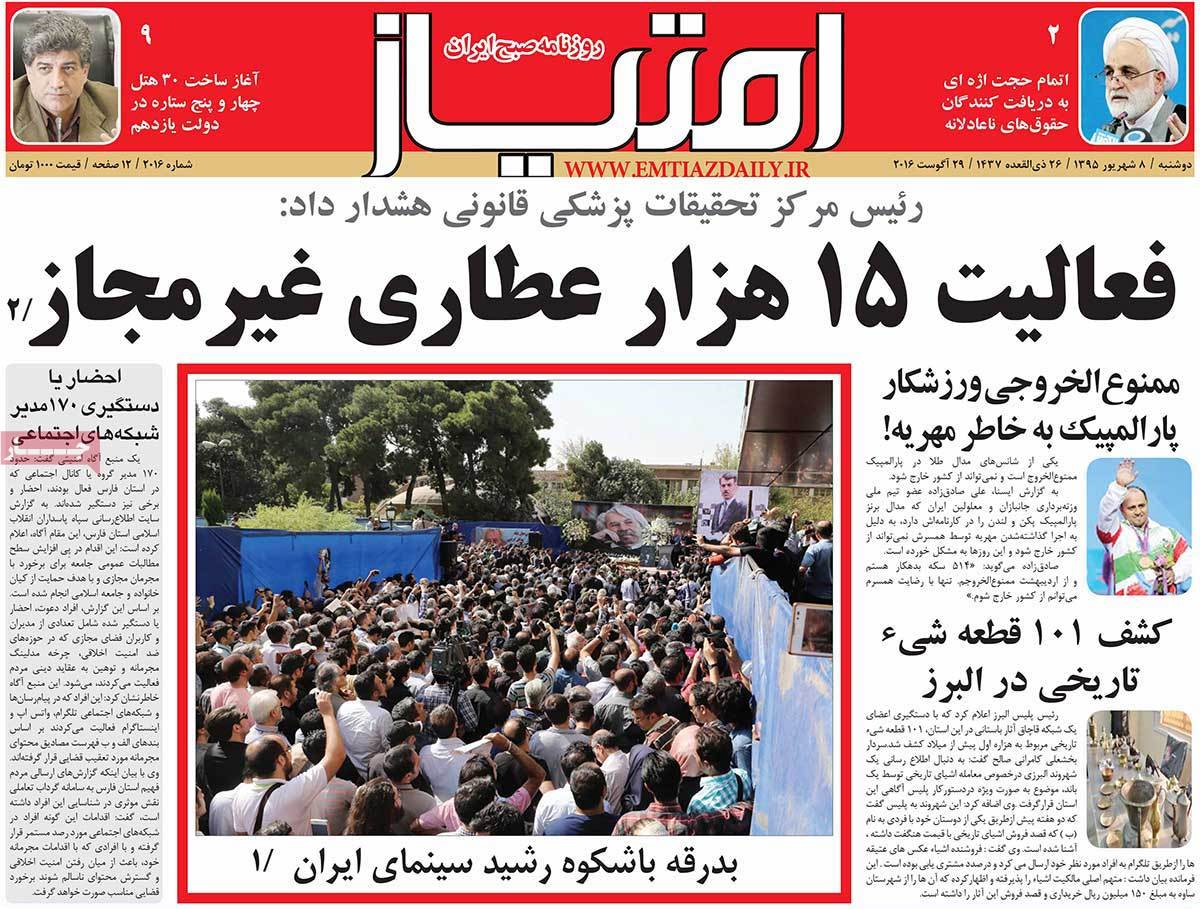 ---
Etemad:
1- Zarif Visits Venezuela and Meets President Maduro in Days of Crisis
2- Parliament and Judiciary to Probe into Case of Municipality Properties
3- 300 Job Opportunities for Women Added to Government Employment Test after President's Order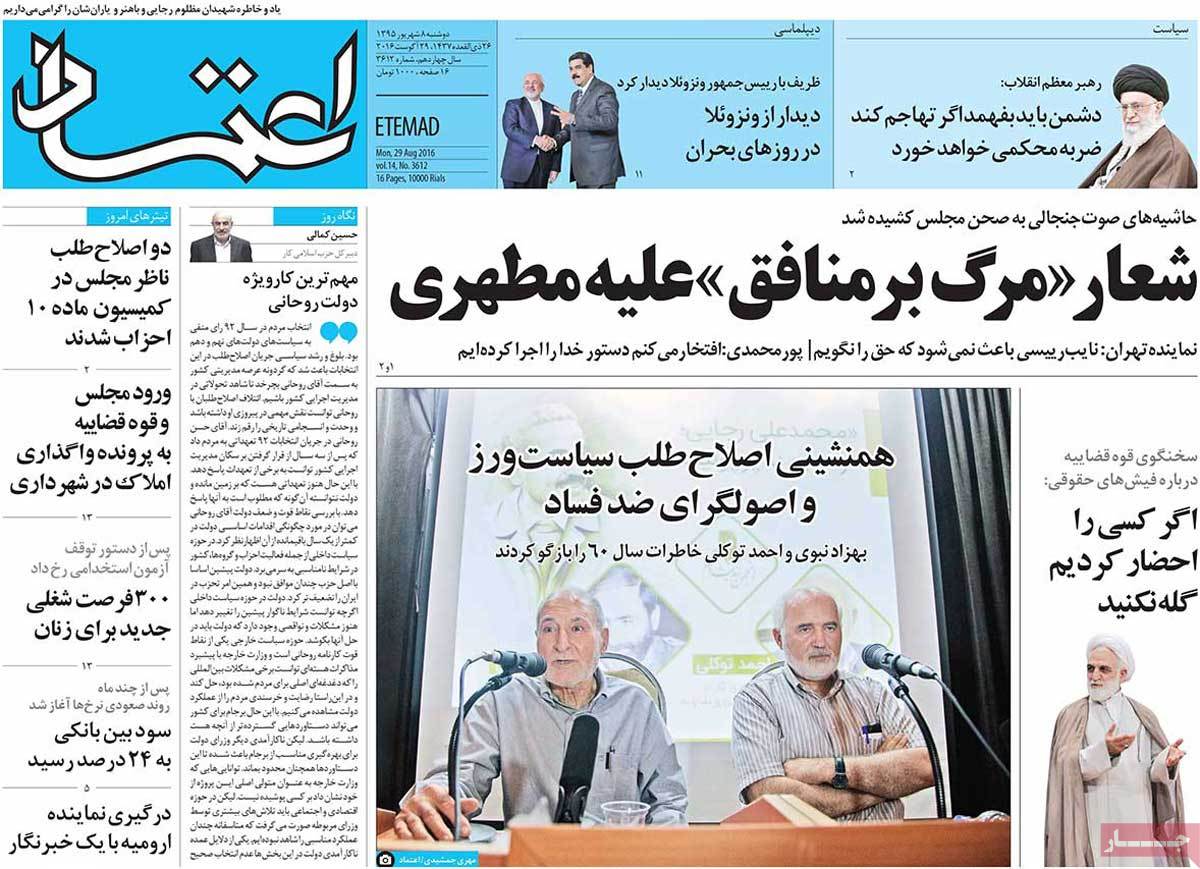 ---
Ettela'at:
1- National Information Network No Barrier to Free Access to Information: First VP
2- Turkish Army's Artillery Attack on Northern Syria Leave 40 Dead
3- Lifting of Sanctions an Opportunity for Deepening Cooperation: Rouhani
4- Judiciary Has Been Negligent on Astronomical Salaries: Spokesman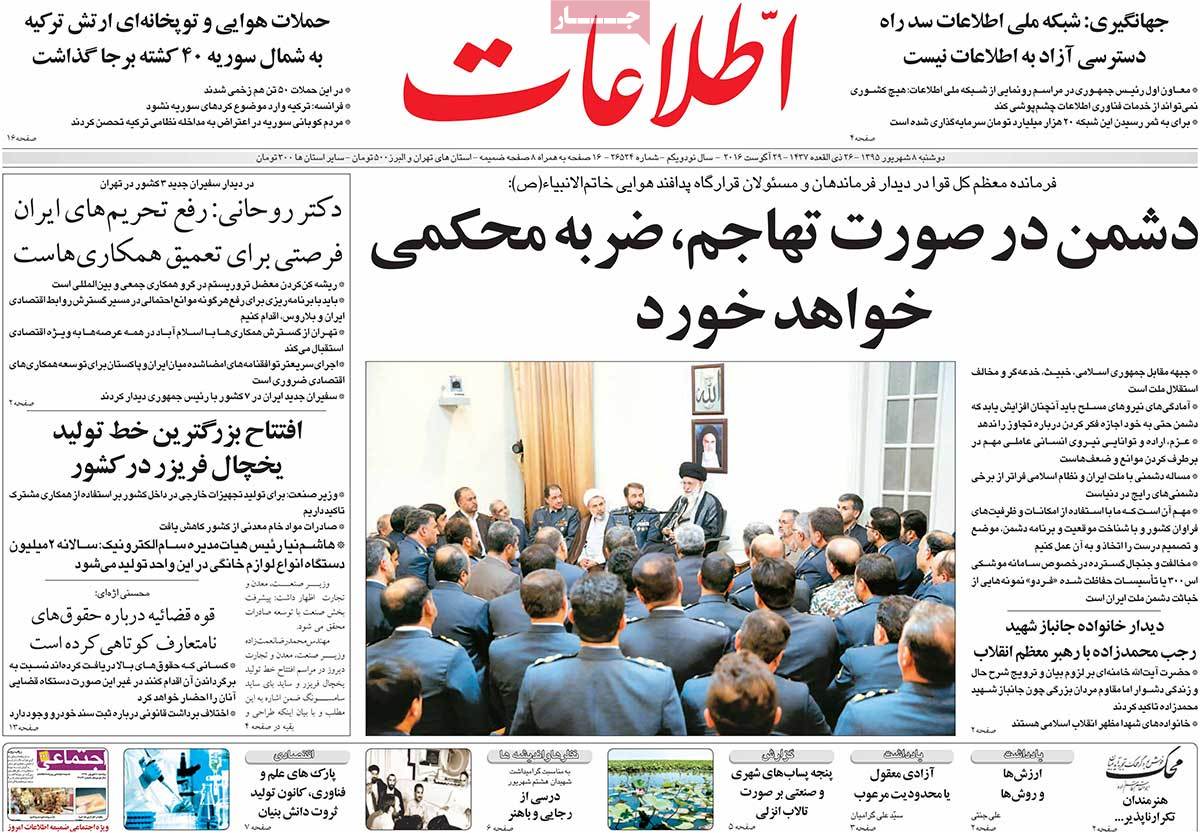 ---
Haft-e Sobh:
1- Online Duel with ICT Ministry: All the Facts about National Information Network, Which Is Not Same as "National Internet"
2- Will Qalibaf, the Mayor of Tehran, Suffer Third Defeat or Achieve a Great Victory?
---
Hamshahri:
1- Government Has Not Even Introduced a Single Receiver of Astronomical Salaries to Judiciary: Spokesman
2- Import of Transgenic Products Will Be Banned
3- Astronomical Lies for Political Interests: Judiciary and City Council Both Reacted to Recent Lies against Municipality
4- National Information Network, a Major Step for Further Transparency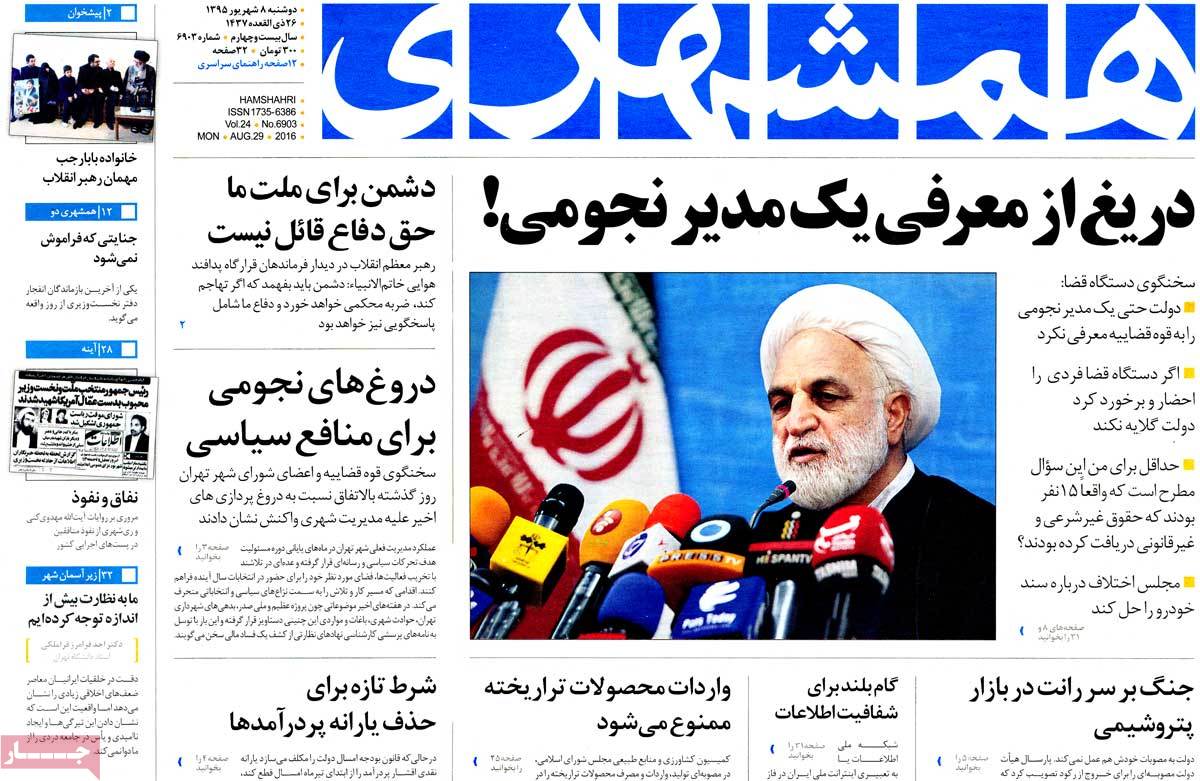 ---
Iran:
1- France Ready for Environmental Cooperation with Iran
2- Government Appreciates Leader's Support and Guidelines
3- 10 Signs that Indicate Iran's Economy Is Being Revived
4- Kurds and Turkish Army's Face-to-Face Clash in Syrian Territory
5- Iran Reporter's Question, Mr. Lawmaker's Attack! 200 Media Activists Urge Parliament Speaker to React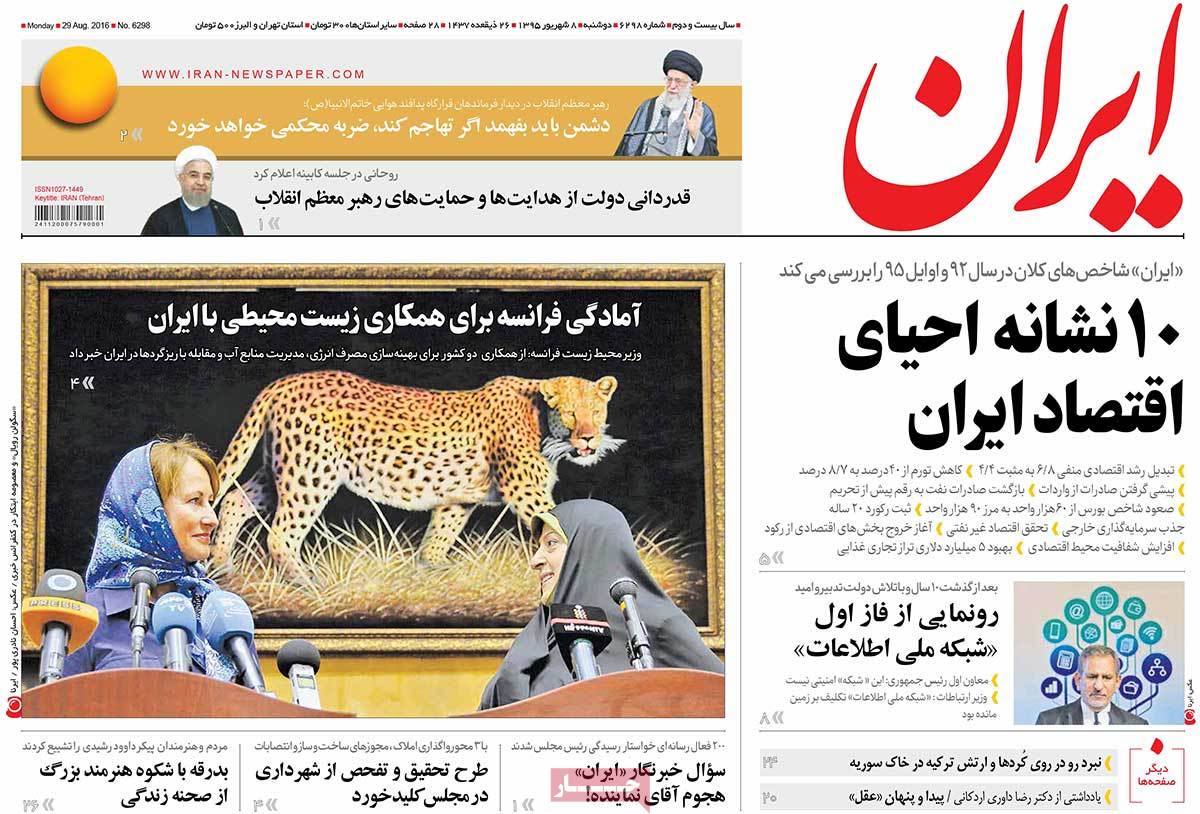 ---
Jame Jam:
1- Enemy to Receive Crushing Response If It Attacks Iran: Leader
2- Glorious Farewell to Deceased Iranian Actor Davoud Rashidi
3- Kill Me and Make Me Thin! Increase in Fever of Looking Like Models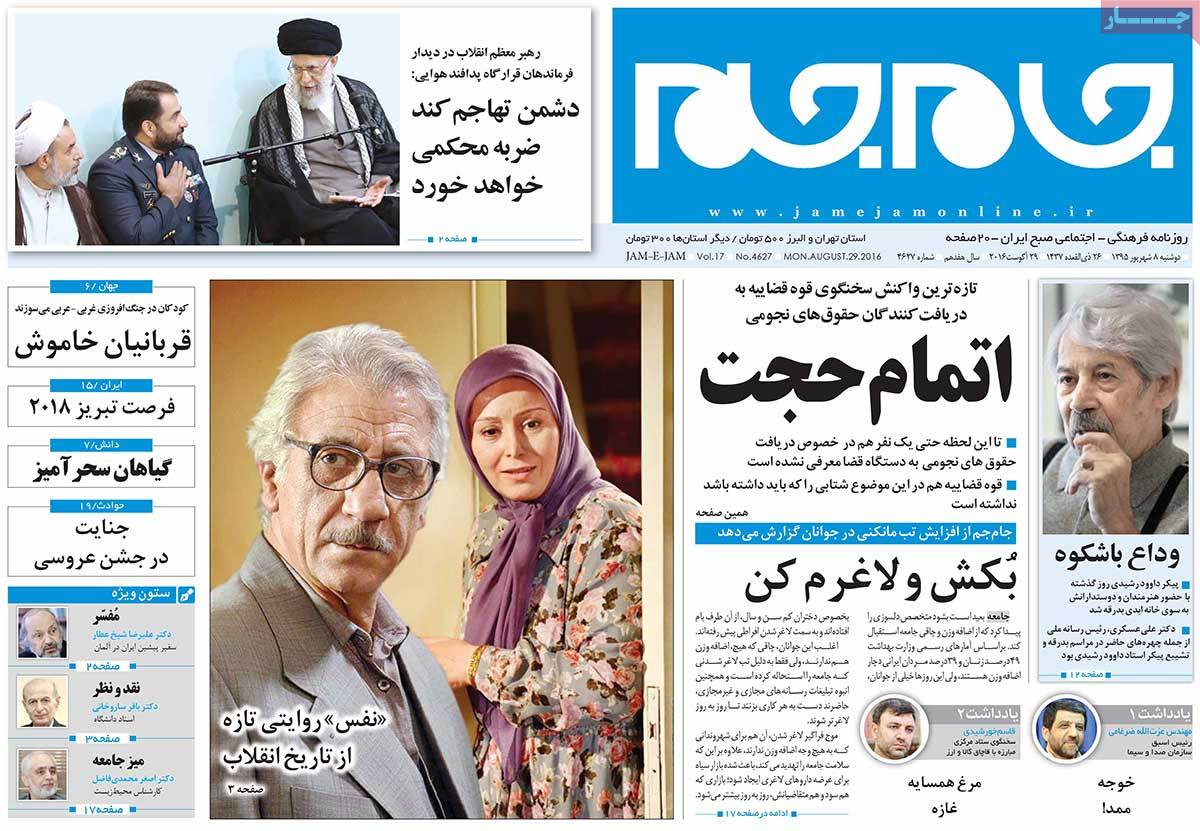 ---
Javan:
1- Why Just 15 Executives Are Dismissed? Judiciary Spokesman Says Number of Offending Government Executives Is Much More
2- Zarif Looking for Ways to Evade Sanctions: 7 Days of Diplomacy for Opening Banking Routes in Latin America
3- I May Abandon Sports, But I Would Never Stop Wearing Hijab: Alizadeh, Iran's First Female Olympic Medallist
4- Basij [Voluntary Forces] to Create 460,000 Job Opportunities by Mid-March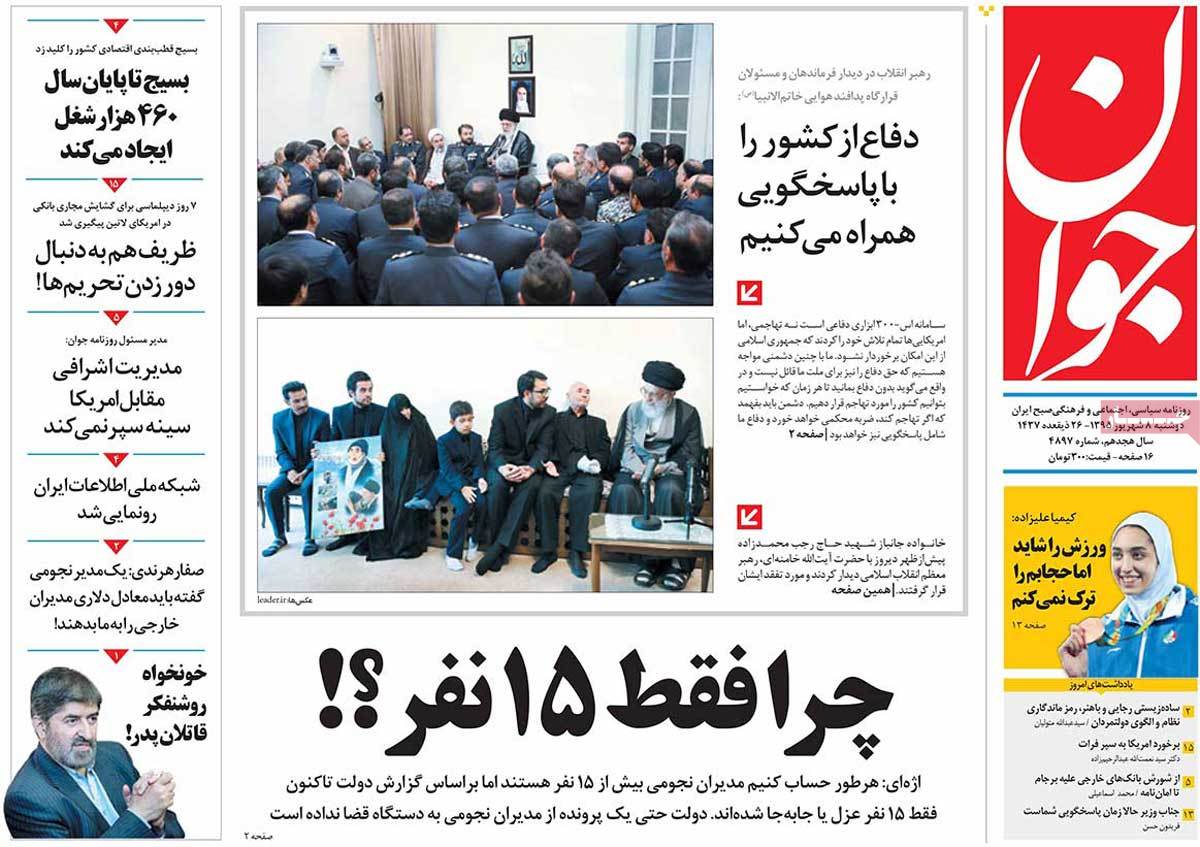 ---
Jomhouri Eslami:
1- Air Defence Is on Frontline of Countering Any Type of Attack: Leader
2- Iraq Officially Asks Saudi Arabia to Change Its Ambassador
3- Funds Provided for Building 2 New Reactors in Bushehr: Spokesman
4- ISIS Unveils White-Bearded Executioners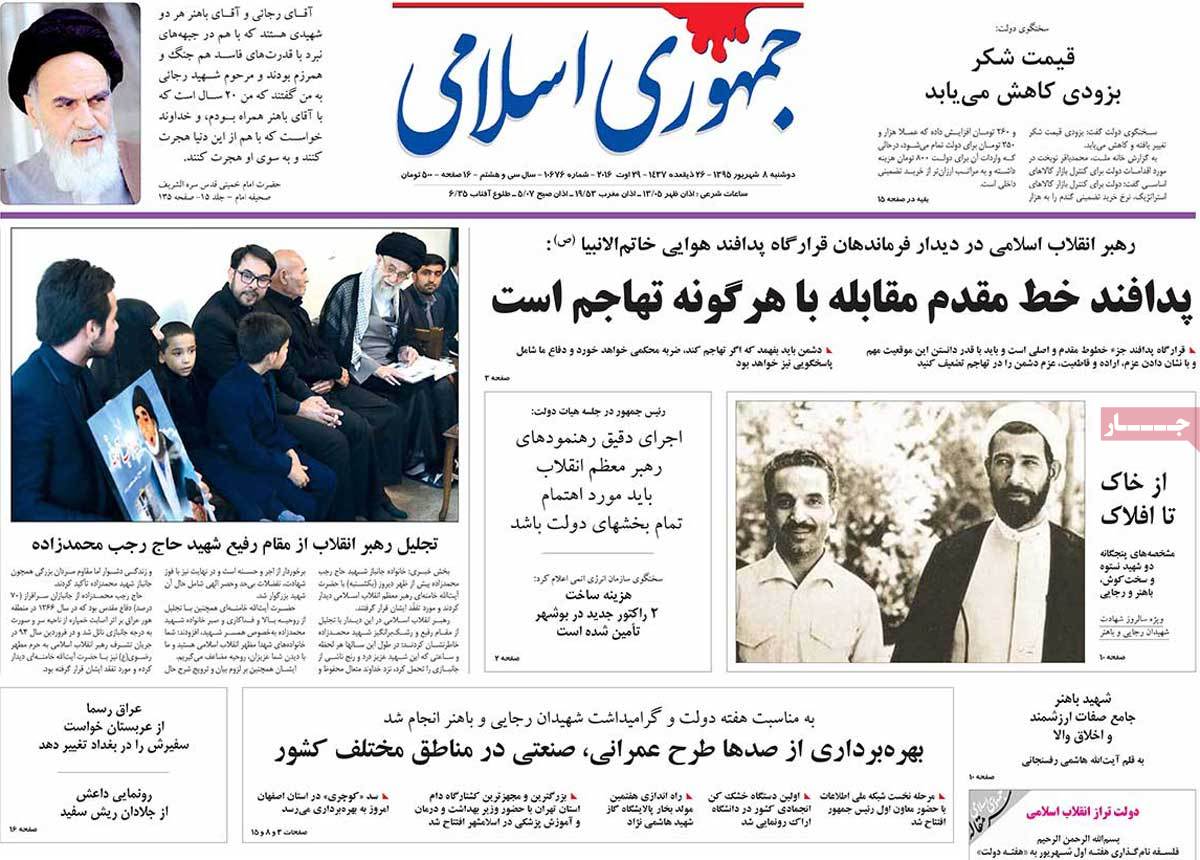 ---
Kayhan:
1- Ansarullah Gives 2-Day Ultimatum to Saudi Hirelings in Ta'iz
2- Judiciary Spokesman: Spy Who Had Infiltrated in Iran's Nuclear Negotiating Team Is Free on Bail!
3- New Coalition in Middle East: With or without Turkey
4- Pro-Government and 'Chain' [Reformist] Media Censure Clerics' Criticisms of Rouhani's Administration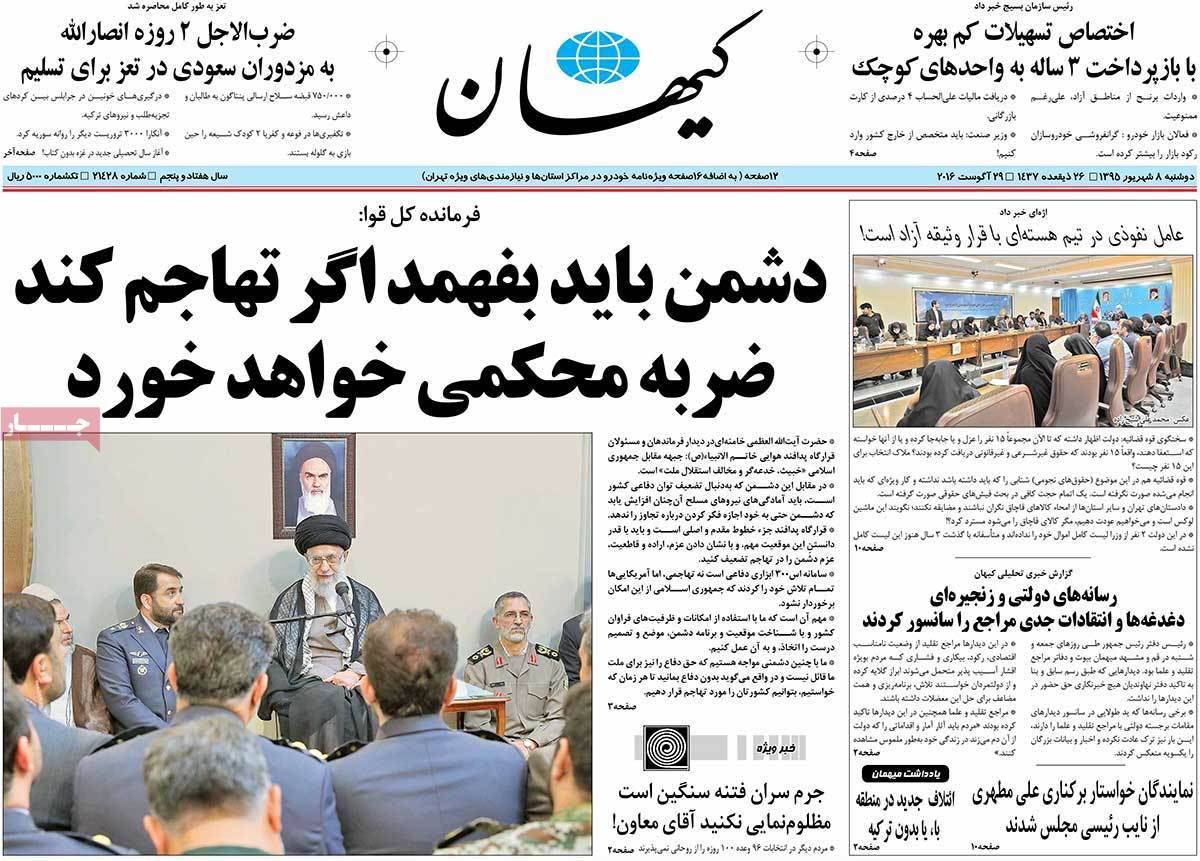 ---
Khorasan:
1- Turkmenistan's Anti-Iran Moves Continue: After Increasing Fees for Iranian Trucks, Ashgabat Now Cancels Iran's Economic Exhibition
2- Will Kerry's Peace Plan Change Yemen Equations?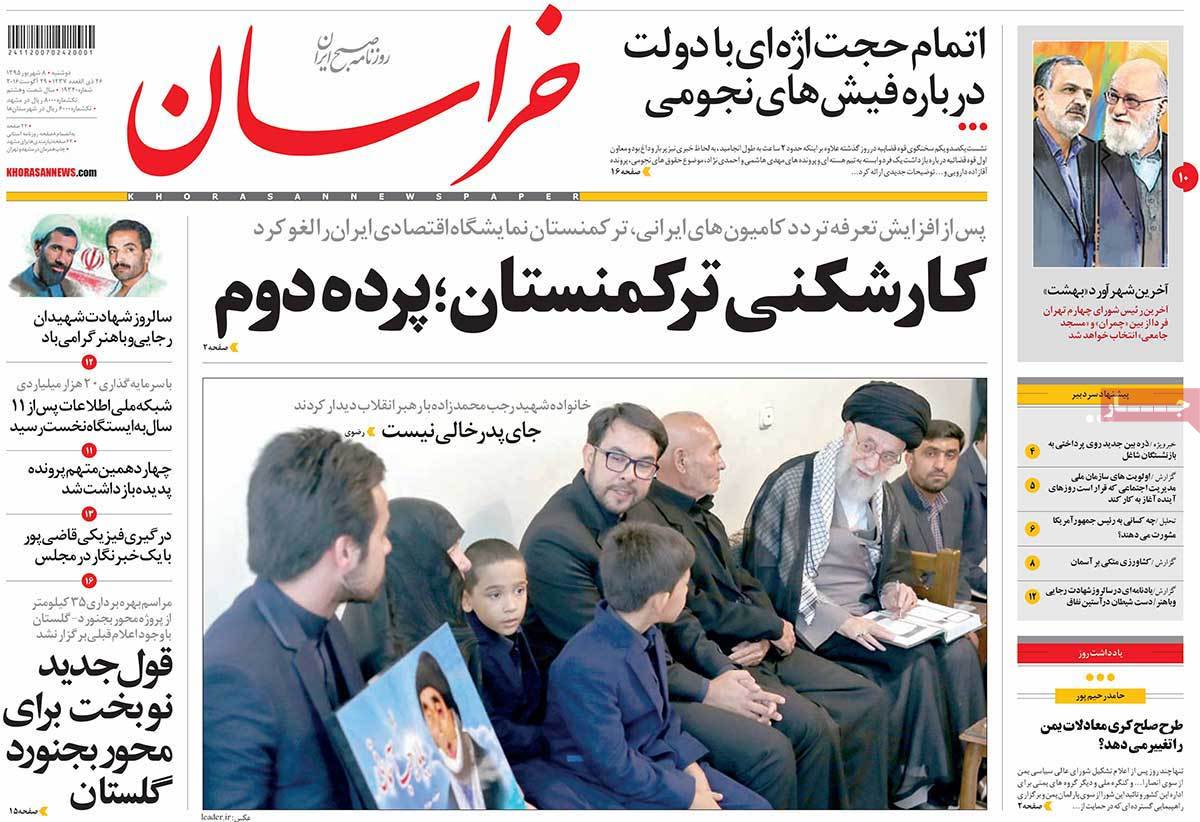 ---
Resalat:
1- Enemy Says Iran Has No Right to Defend Itself: Leader
2- Saudi Princes' Hands in Those of the Infidels: How Long the Bloodshed in Yemen Is Going to Continue?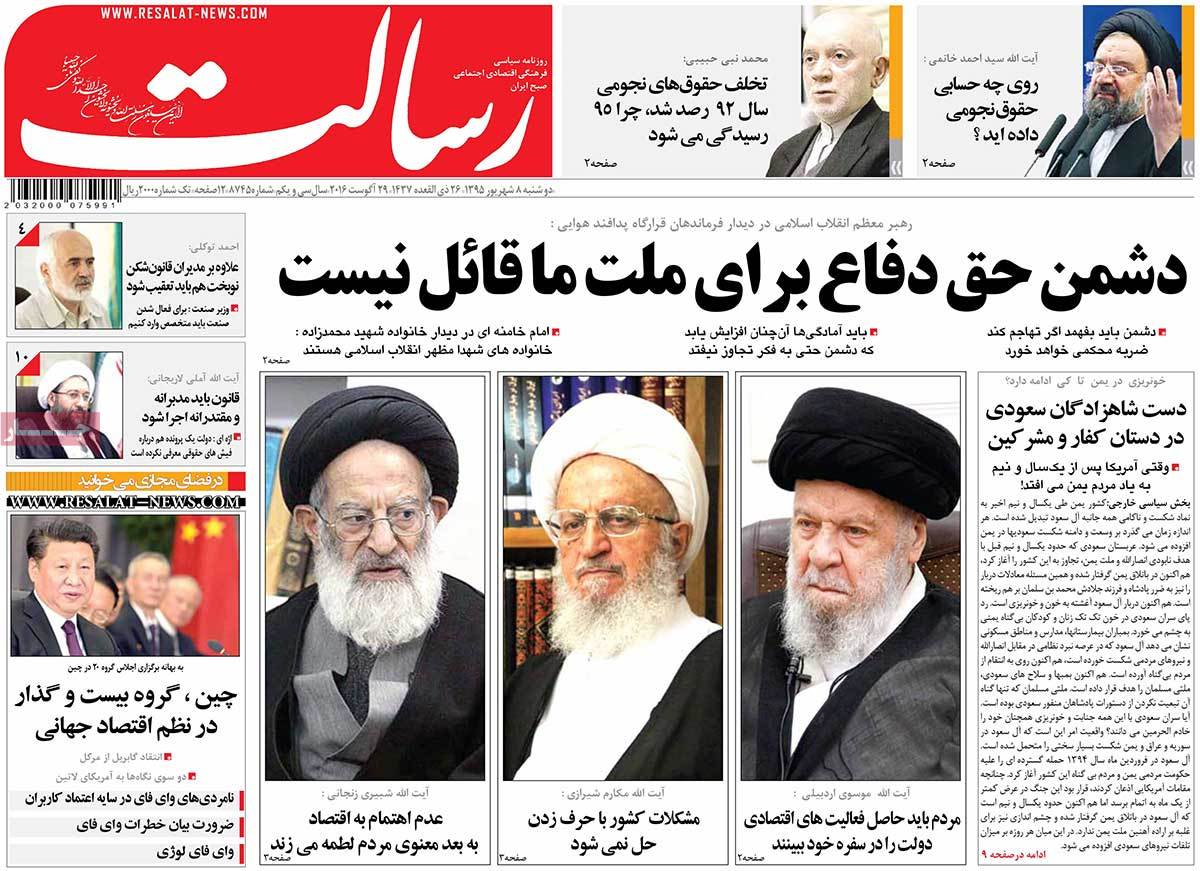 ---
Roozan:
1- US Did Whatever It Could to Prevent Iran from Receiving S-300 Missile Defence System: Leader
2- Zarif in Final Leg of His Latin America Tour
3- Government Breaks Its Silence: Rouhani's Aide Says Some Don't Want People to Hear the Truth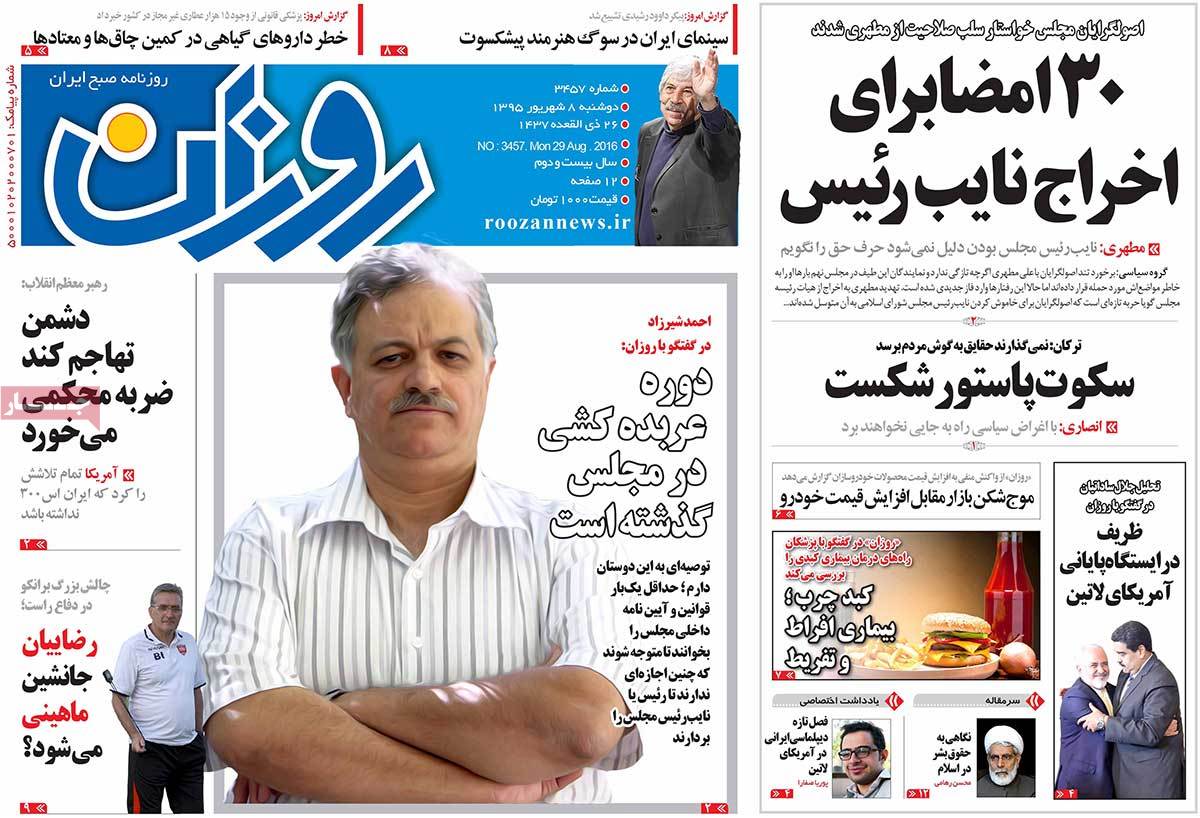 ---
Sayeh:
1- Rapid Implementation of Iran-Pakistan Deals, Rouhani Urges
2- French Ecology Minister: Cooperation with Iran for Fight against Dust Pollution
3- Healing Rhythms: What You Don't Know about Music Therapy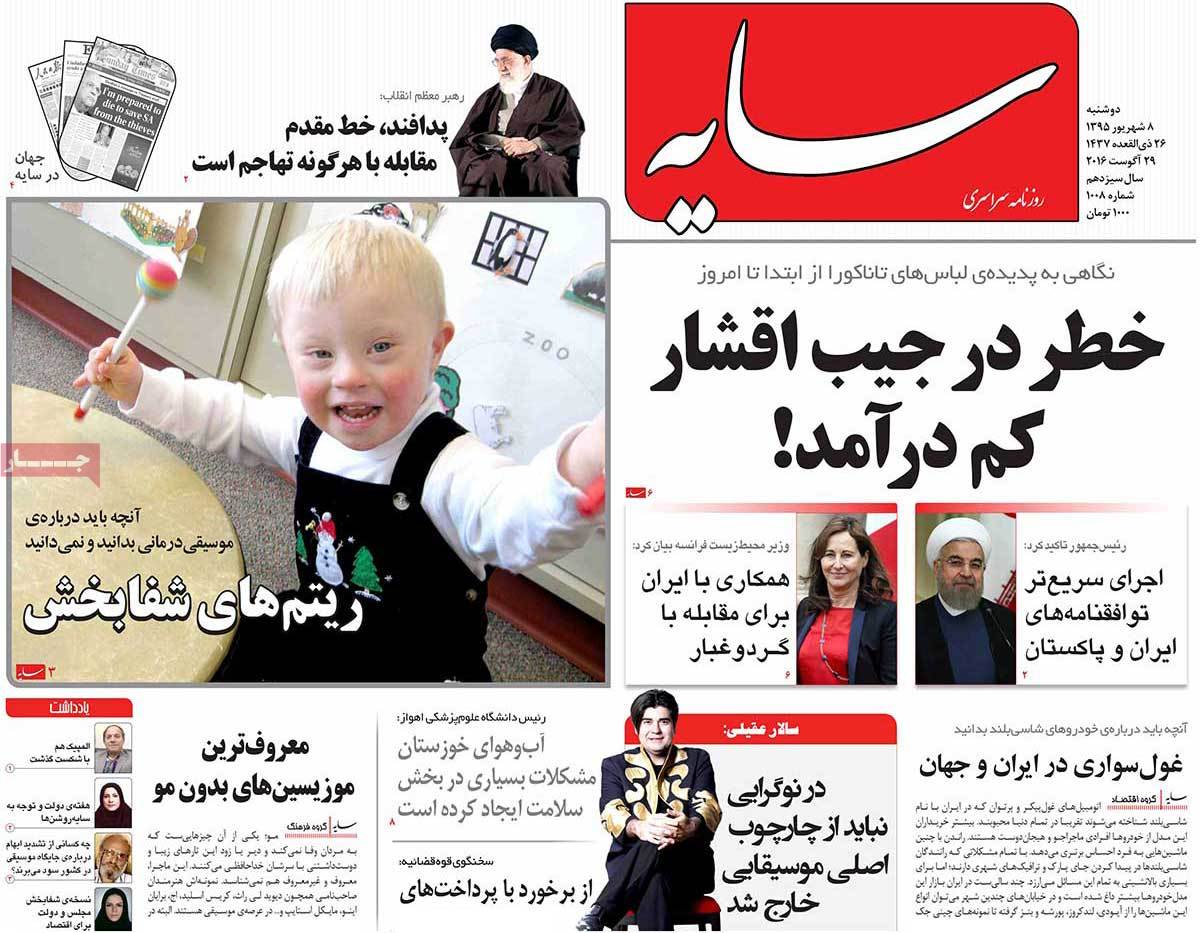 ---
Shahrvand:
1- 'Astronomical Houses': Municipality's Controversial Sale of Luxury Houses to Council Members in Low Prices
2- I'll Build Shelters for Child Labourers: Kimia Alizadeh
3- Safe and Free Access to Transparent Information: First Phase of National Information Network Inaugurated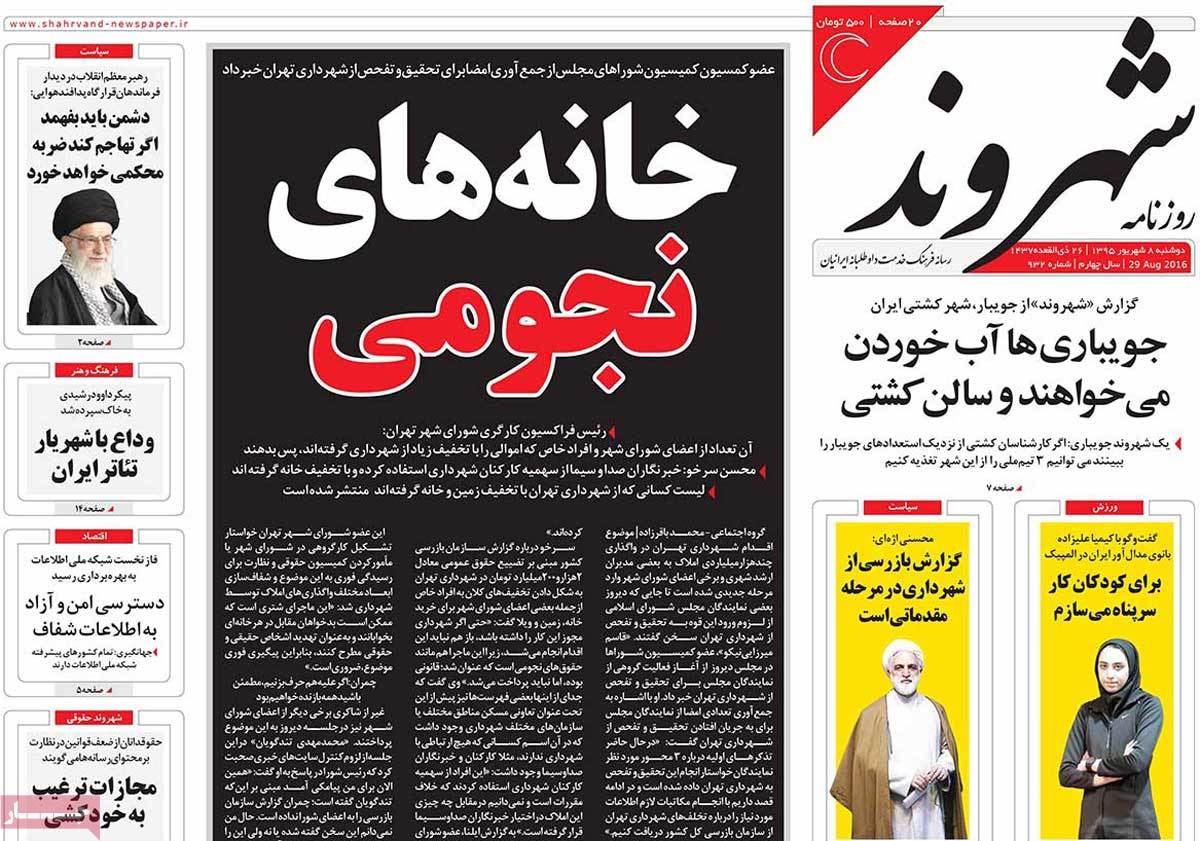 ---
Shargh:
1- Iran's Environment Chief Ebtekar Signs Deal with French Counterpart over Revival of Lake Urmia
2- Inspection Organization Waiting for Municipality's Response [over the recent scandal]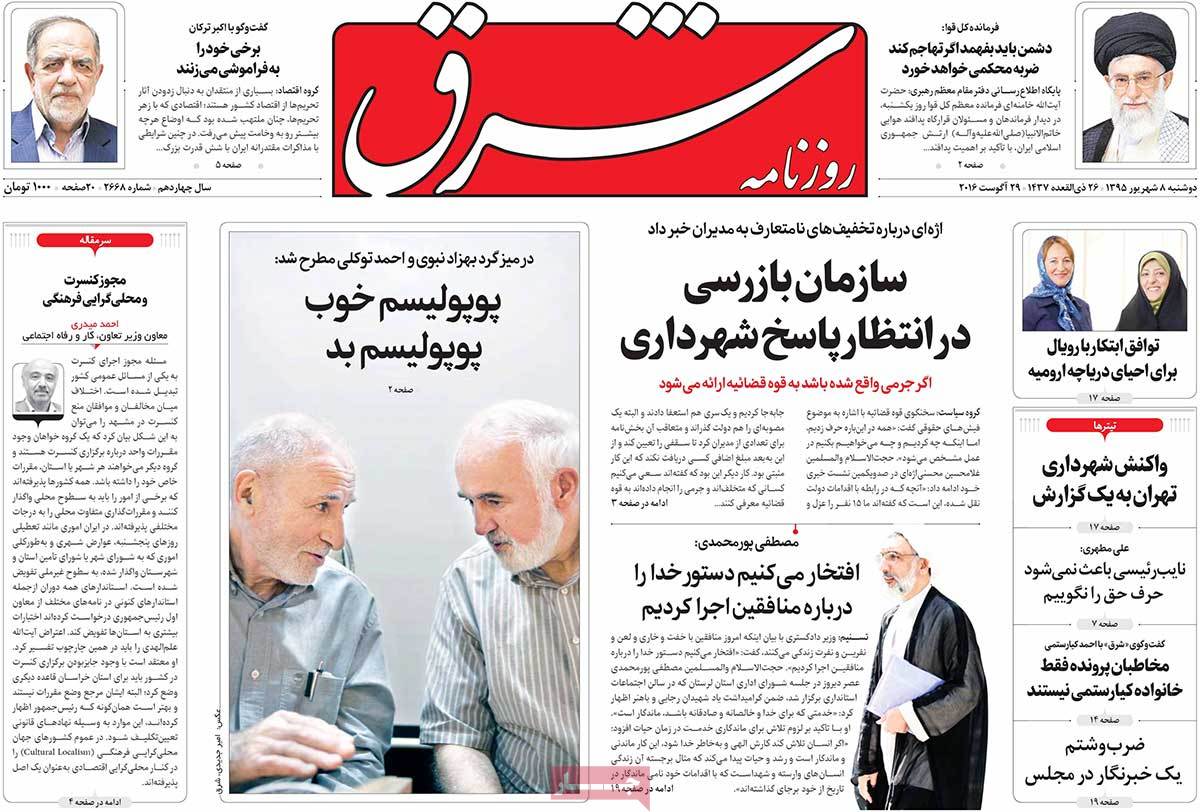 ---
Sobh-e Now:
1- Latest News: S-300 Missile Defence System Installed in Fordow Nuclear Site
2- Increase in Ticket Prices for Asghar Farhadi's "Salesman" Premiere in Iran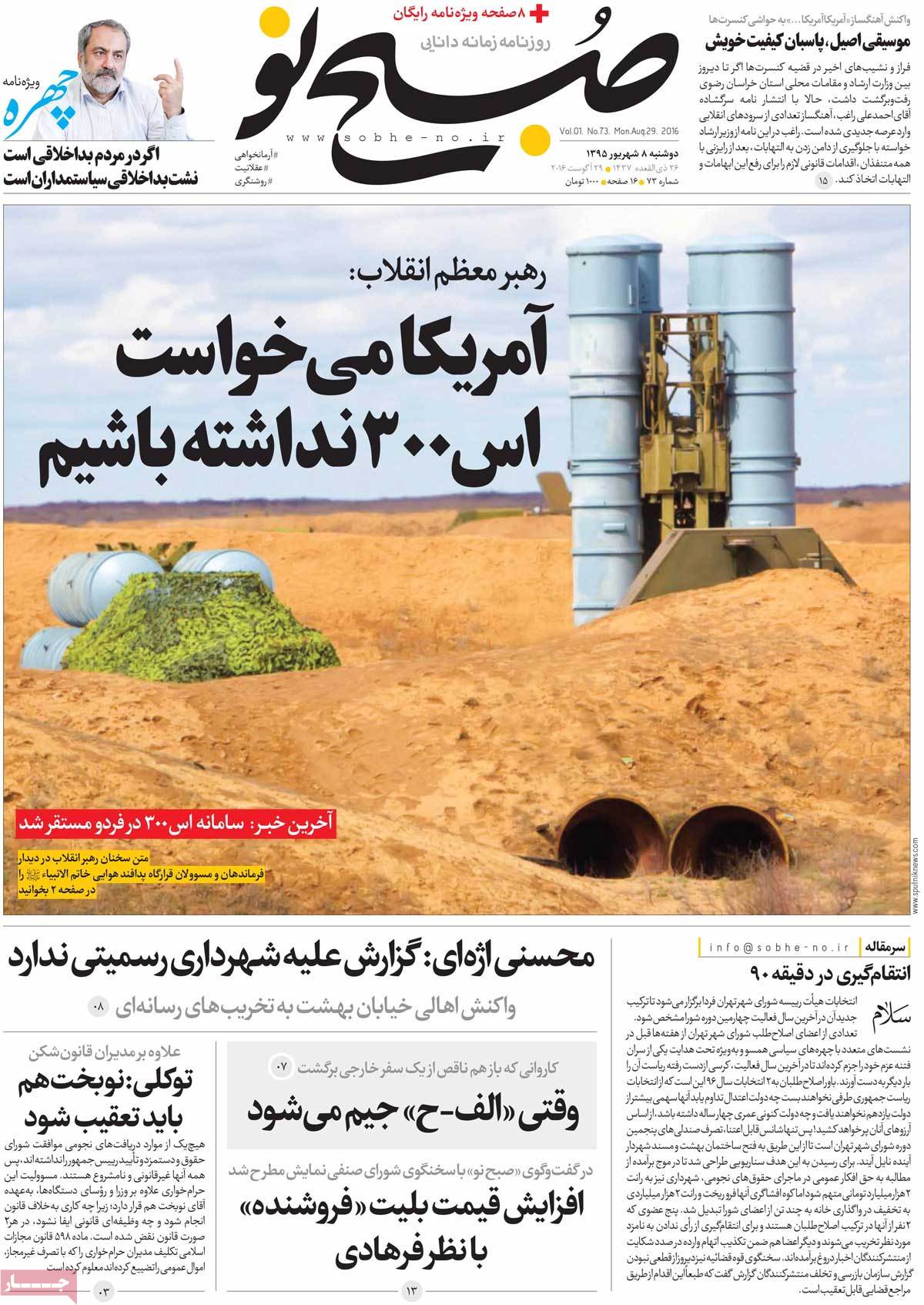 ---
Vatan-e Emrooz:
1- The Hole! Judiciary Spokesman Confirms Arrest of a Member of Iran's Nuclear Negotiating Team on Espionage
2- Wrong Foreign Policy [Editorial]
3- Slaughter of Kurdish Civilians in Turkish Attacks