The top story in today's newspapers was a bill unanimously approved by the Iranian Parliament, and also hailed by the foreign ministry, to counter the US hostile moves against Iran.
Monday's papers also covered another legislation approved by the Parliament to lift death penalty for those who carry less than 50 kilograms of traditional illicit drugs (like opium) or 2 kilograms of new industrial and chemical illicit drugs (like morphine).
The racist terrorism and crisis in the US, particularly the death and injury of several people in Charlottesville, Virginia, was also widely covered in Iranian media.
The above issues, as well as many more, are highlighted in the following headlines and top stories:
19 Dey:
1- Farewell to 11th Government
2- Larijani: Parliament's Approval of Anti-US Bill Iran's First Step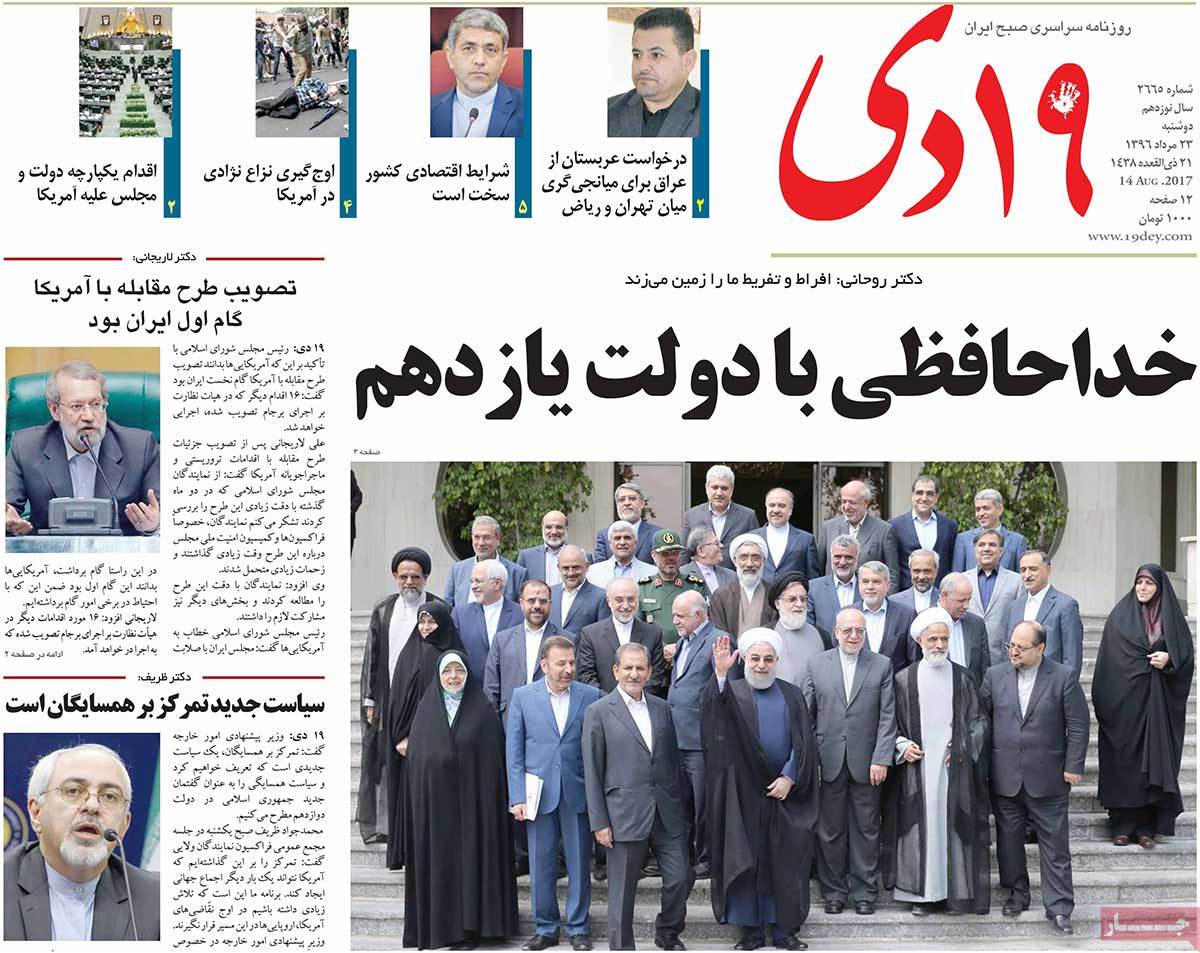 ---
Abrar:
1- Deputy FM: Parliament's Anti-US Law Part of Iran's Reaction to US Congress
2- Rouhani: JCPOA Definitely to the Benefit of Iran, Region, World
3- US Senators Meet Leader of Anti-Iran MKO Terrorists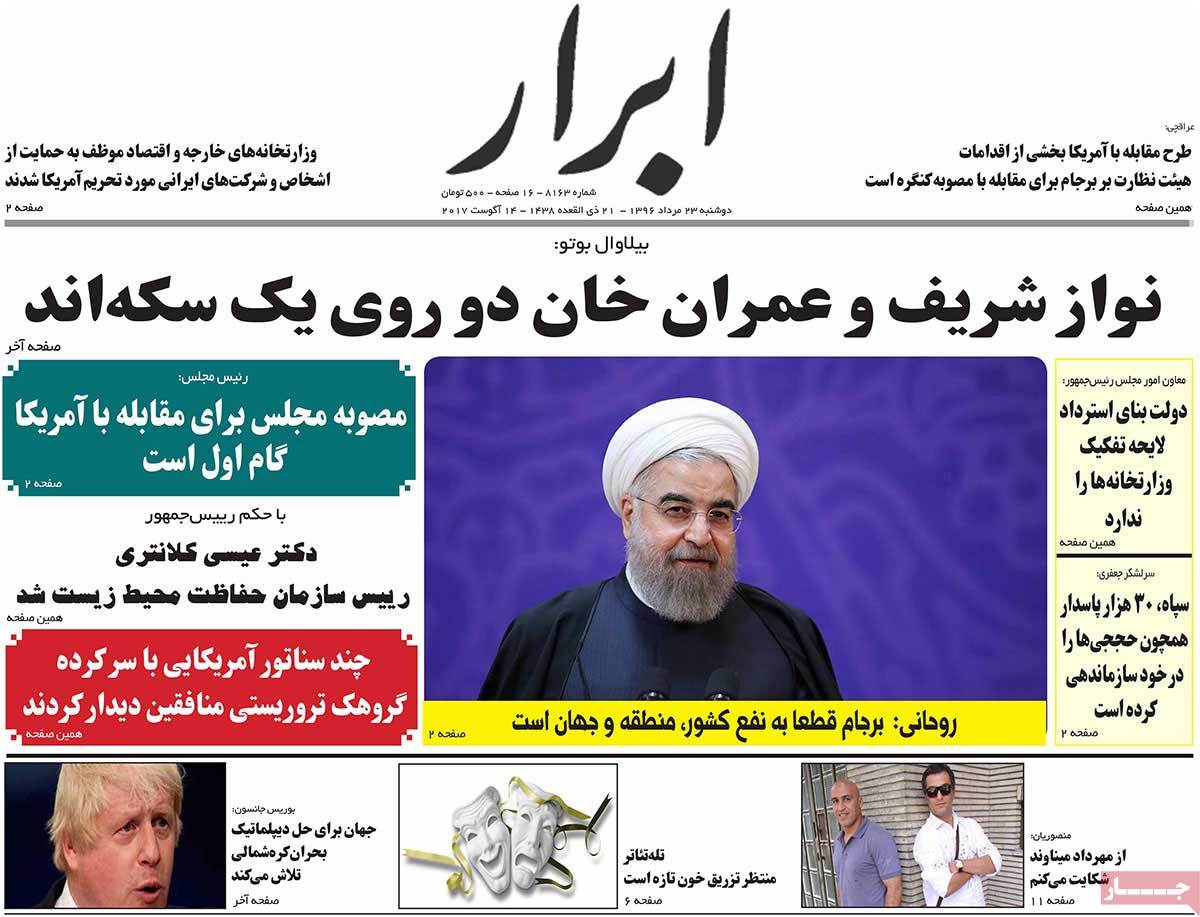 ---
Afkar:
1- Diplomatic Retaliation
Iran Parliament Unanimously Approves Motion to Counter US Terrorist Measures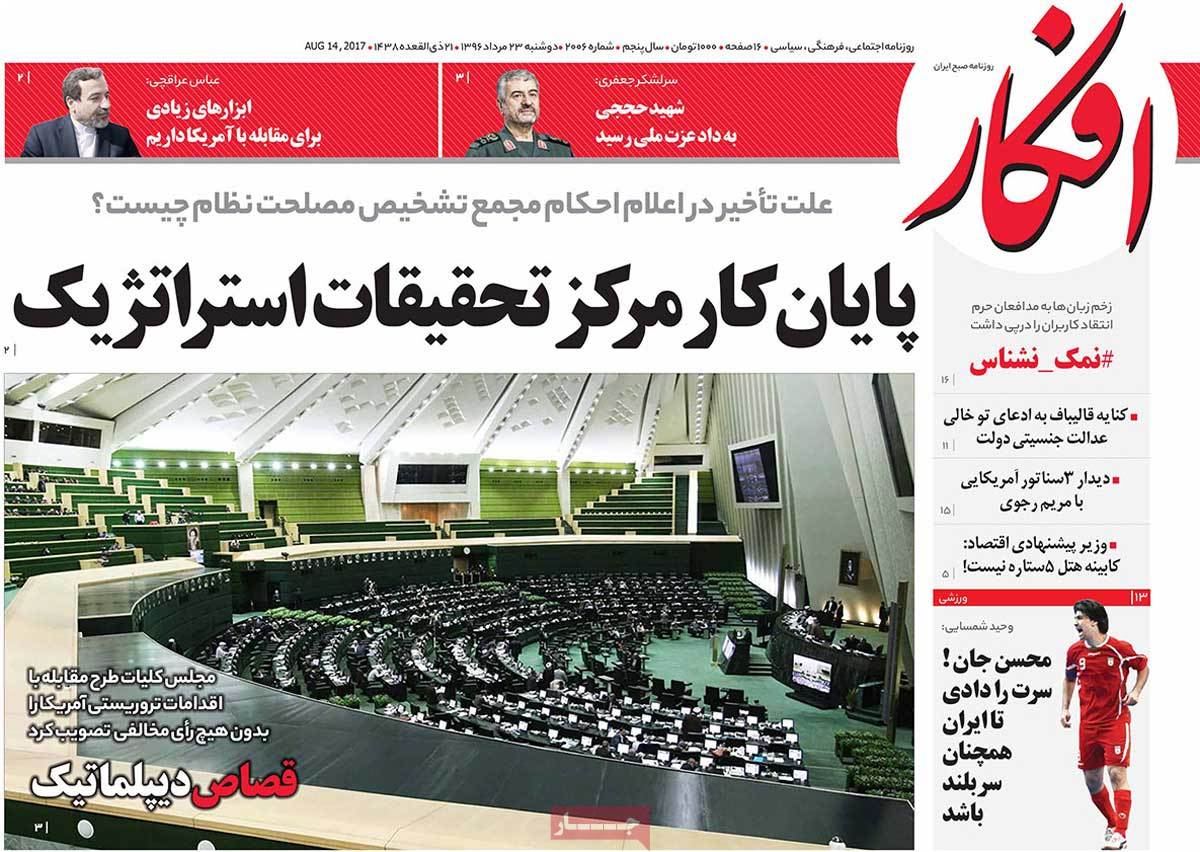 ---
Aftab-e Yazd:
1- Whistle-Blower Minister on Edge of Blade
Rumours Show Efforts Underway in Parliament against Oil Minister Zanganeh
2- Death Penalty to Be Commuted to Prison Term for Some Drug Convicts
3- Why Trump Likes Nuclear Bombs?
---
Arman-e Emrooz:
1- Generalities of Motion to Counter US Hostile Moves Approved
Over $260m Allocated to IRGC Quds Force
2- Iraq's Mediation between Tehran, Riyadh
3- Psychological Test for Issuing Driver's Licence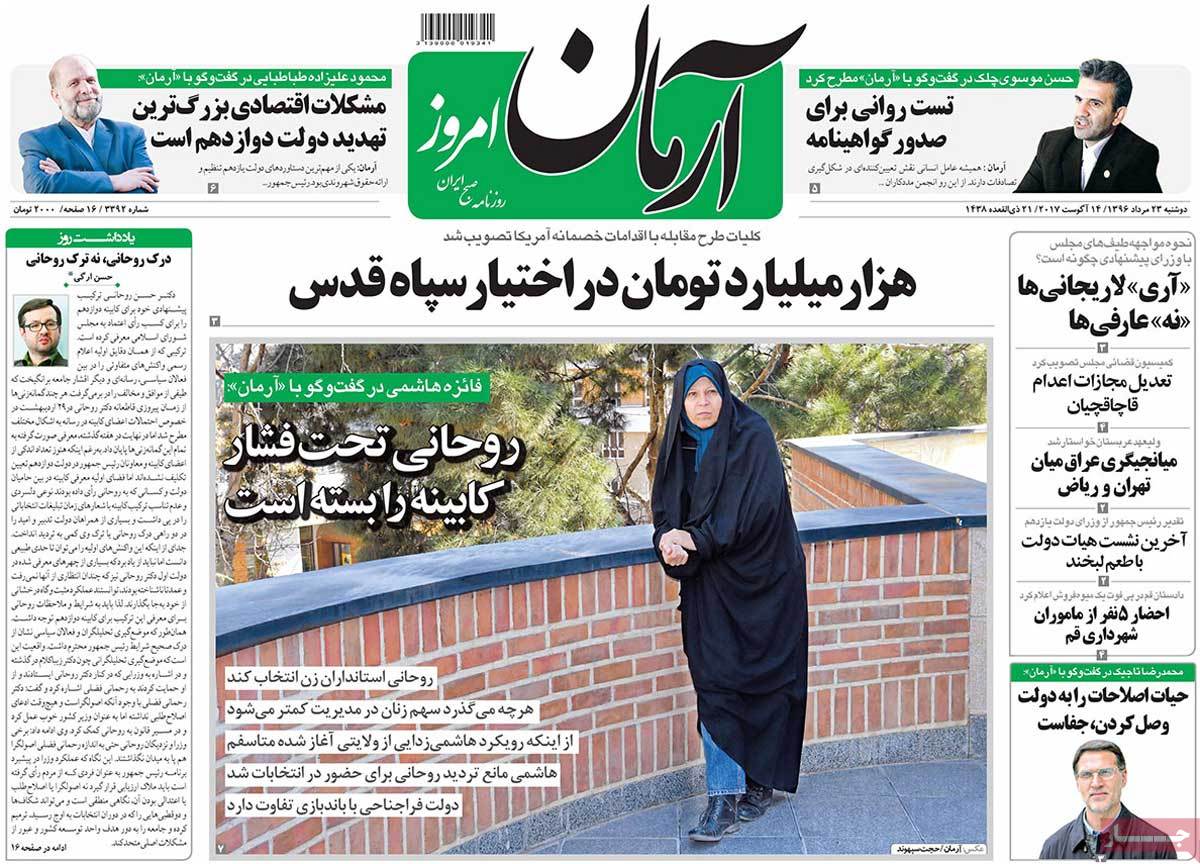 ---
Ebtekar:
1- Rouhani: Going to Extremes to Knock Us Out
2- Iran's Economy, Hostage of Cash Subsidies
Amount of Cash Subsidies in Past 7 Years Exceeds Construction Budget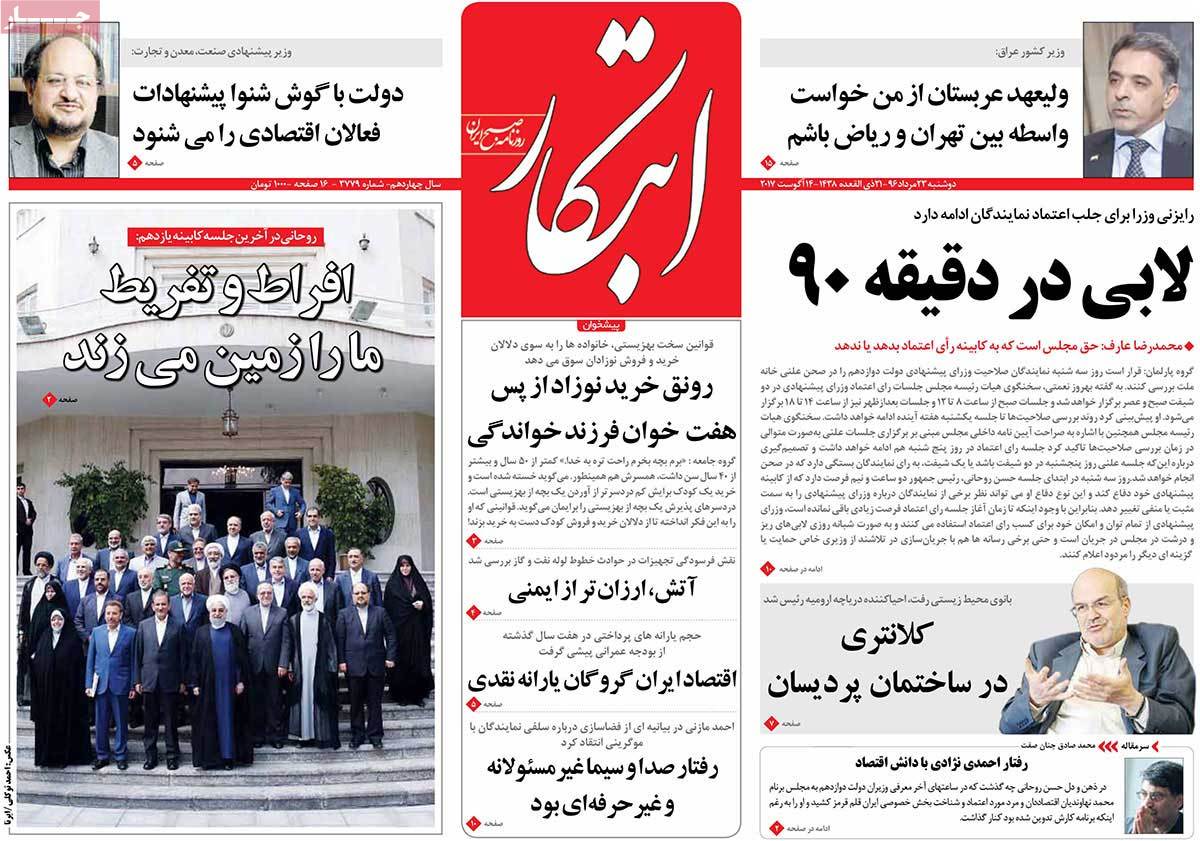 ---
Etemad:
1- Oil Minister: I Fought Mafia
2- Prince's Message for Compromise
3- Street Vendor in Iran's Qom Dies after Clash with Municipality Agents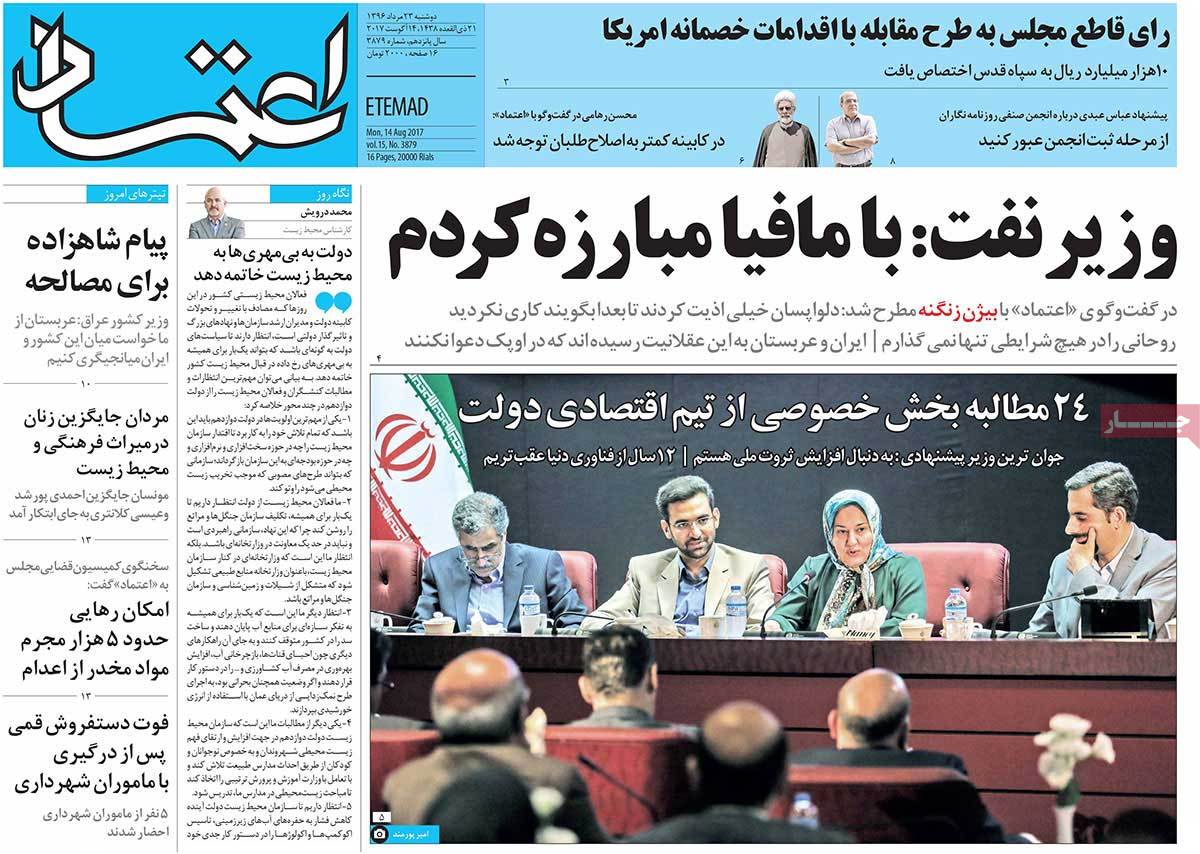 ---
Ettela'at:
1- Rouhani: Freedom, Security, Progress Basis of New Government's Movement
2- Ansarullah: We'll Launch Massive, Painful Offensive against Saudi Arabia Soon
3- Russian Airforce, Missiles on Standby after Escalation of N. Korea Crisis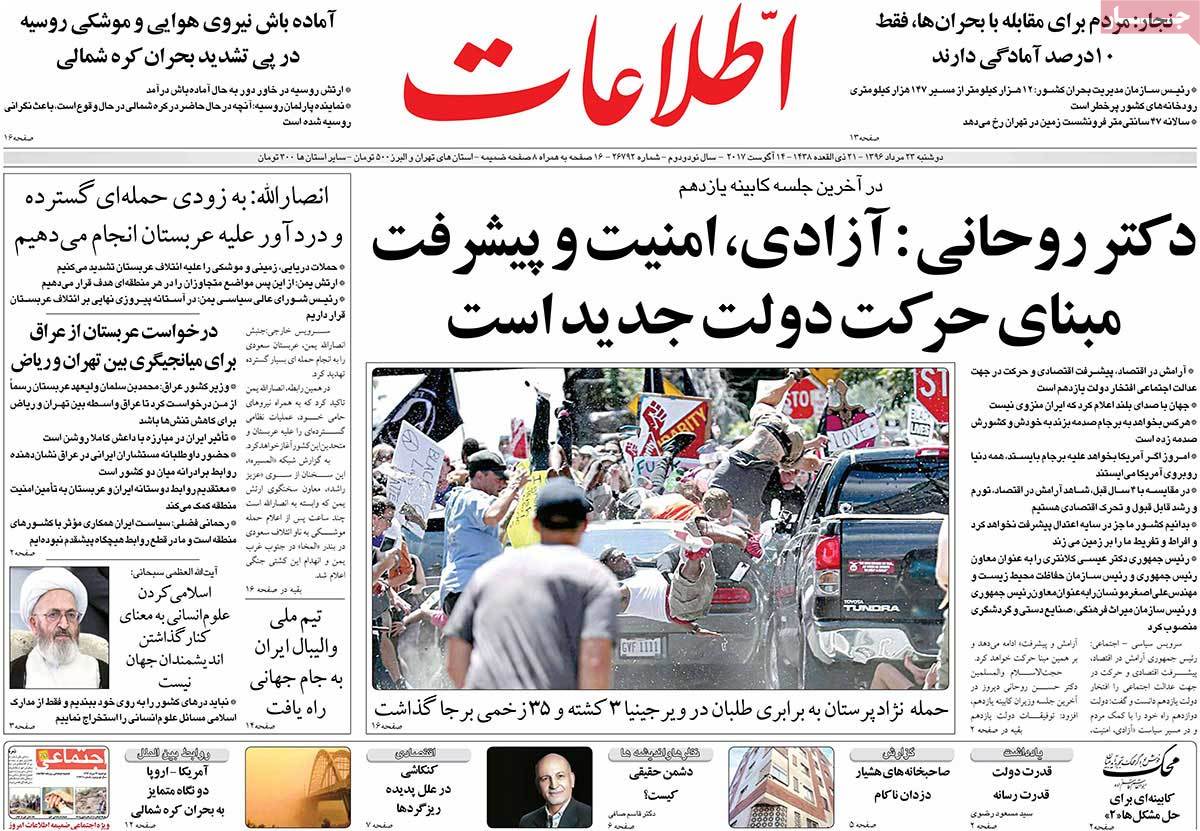 ---
Iran:
1- Scar of Racism on US Face: 3 Killed, 34 Wounded in Virginia Chaos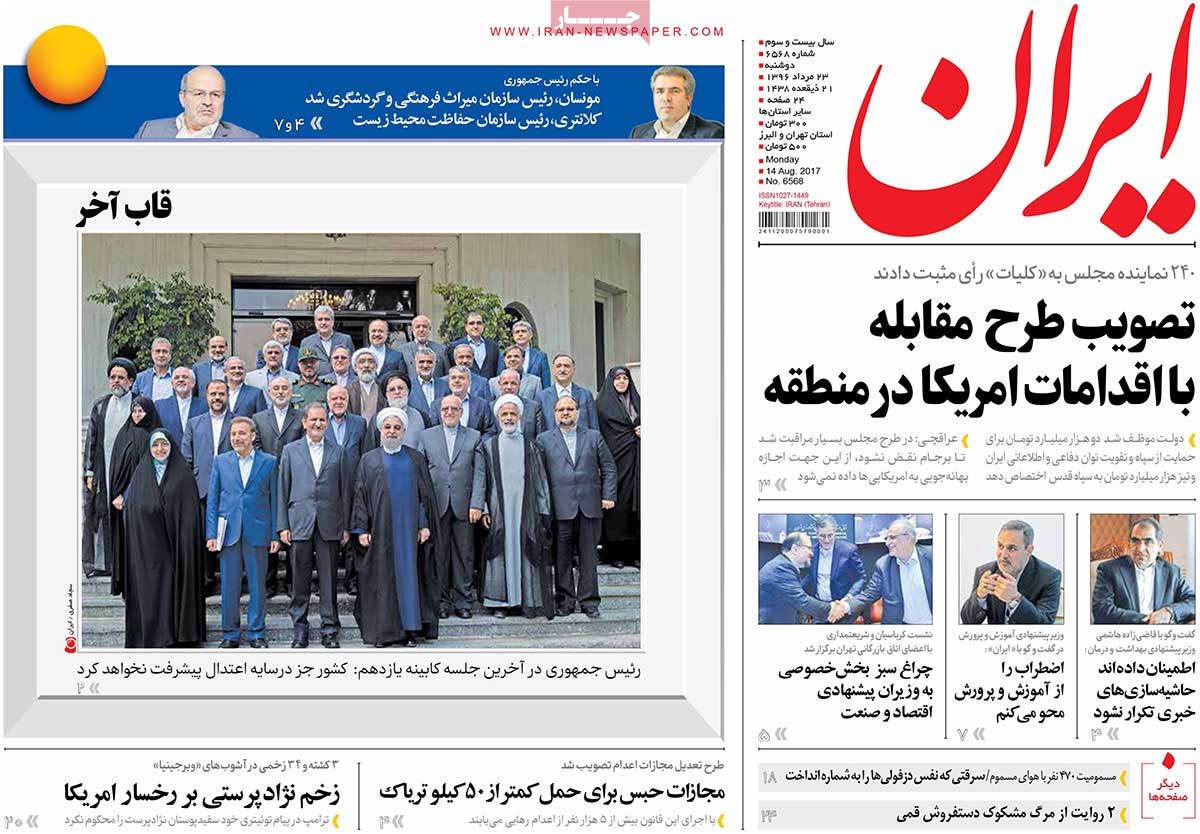 ---
Jame Jam:
1- Decisive Vote: Parliament Approves Generalities of Plan to Counter US Sanctions
2- Trump's Role in Racist Clashes
---
Javan:
1- IRGC Commander: We'll Put An End to ISIS
2- Machine of Racist Terrorism Gaining Momentum in US
---
Jomhouri Eslami:
1- Washington Post Admits: CIA Suffered Biggest Defeat in Syria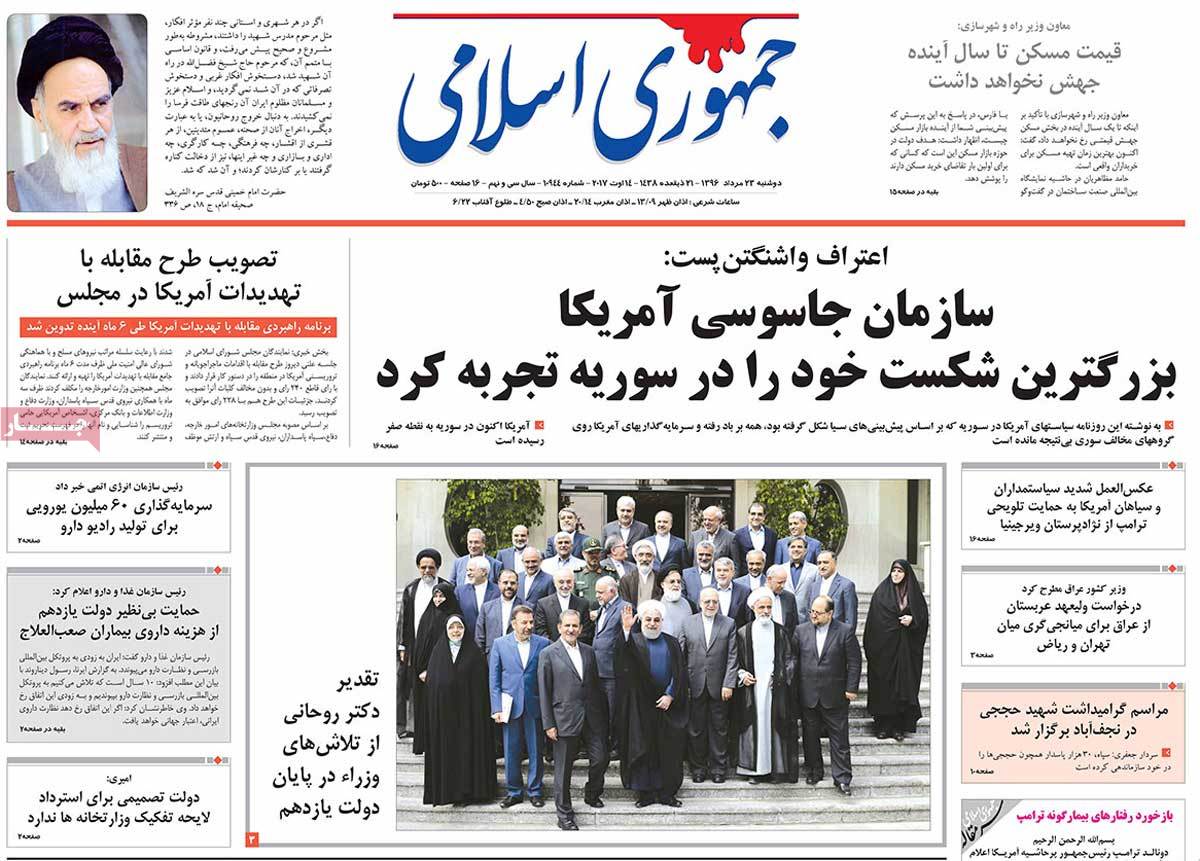 ---
Kayhan:
1- Parliament's 'Useless' Legislation against US Violation of JCPOA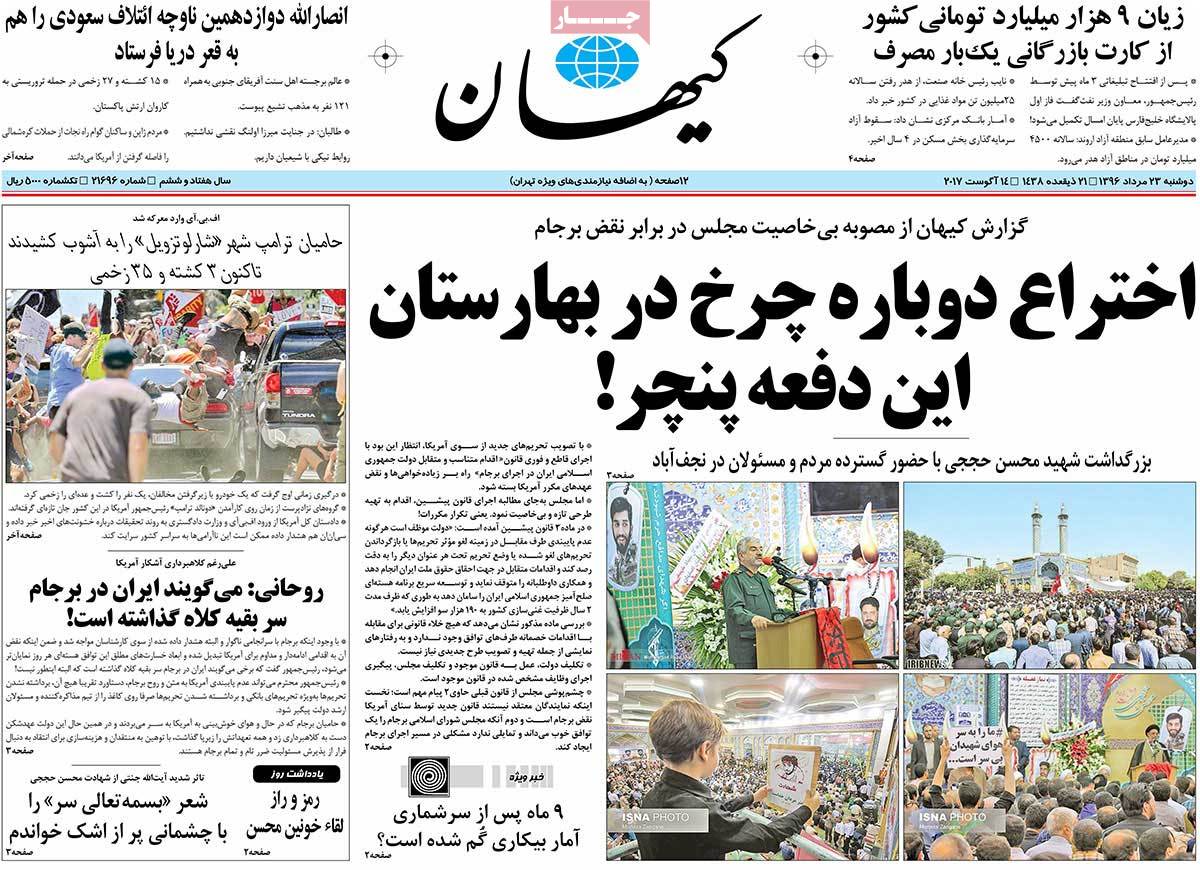 ---
Setareh Sobh:
1- Trump's Impact on Creation of Crisis in Korean Peninsula
2- Widespread American Protests: Racism Still Killing People in US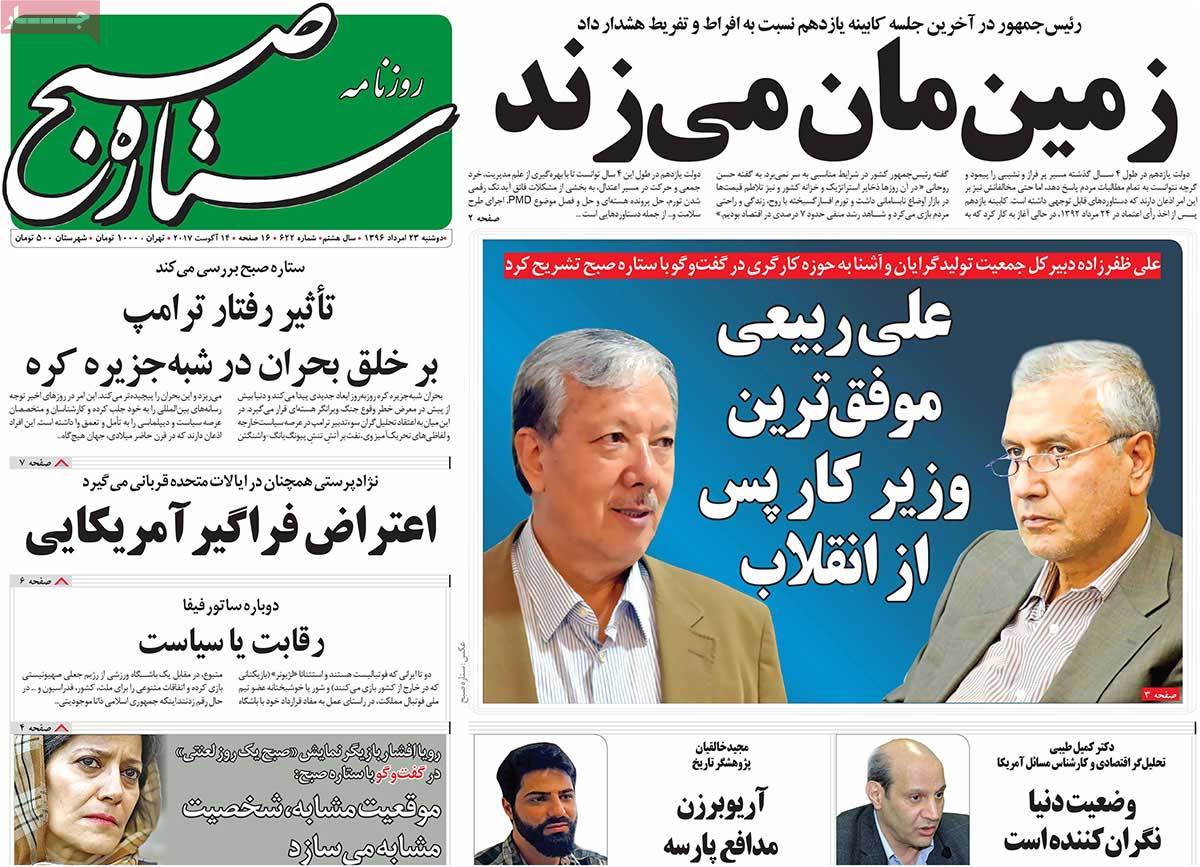 ---
Shargh:
1- Rouhani: Whoever Undermines JCPOA Will Damage Oneself
2- Survivors of Execution: Death Penalty of 5,300 People to Be Commuted
3- IRGC Commander: Mohsen Hojaji Fruit of Islamic Revolution's Big Tree
4- Motahari: Two of Rouhani's Minister May Fail to Receive Vote of Confidence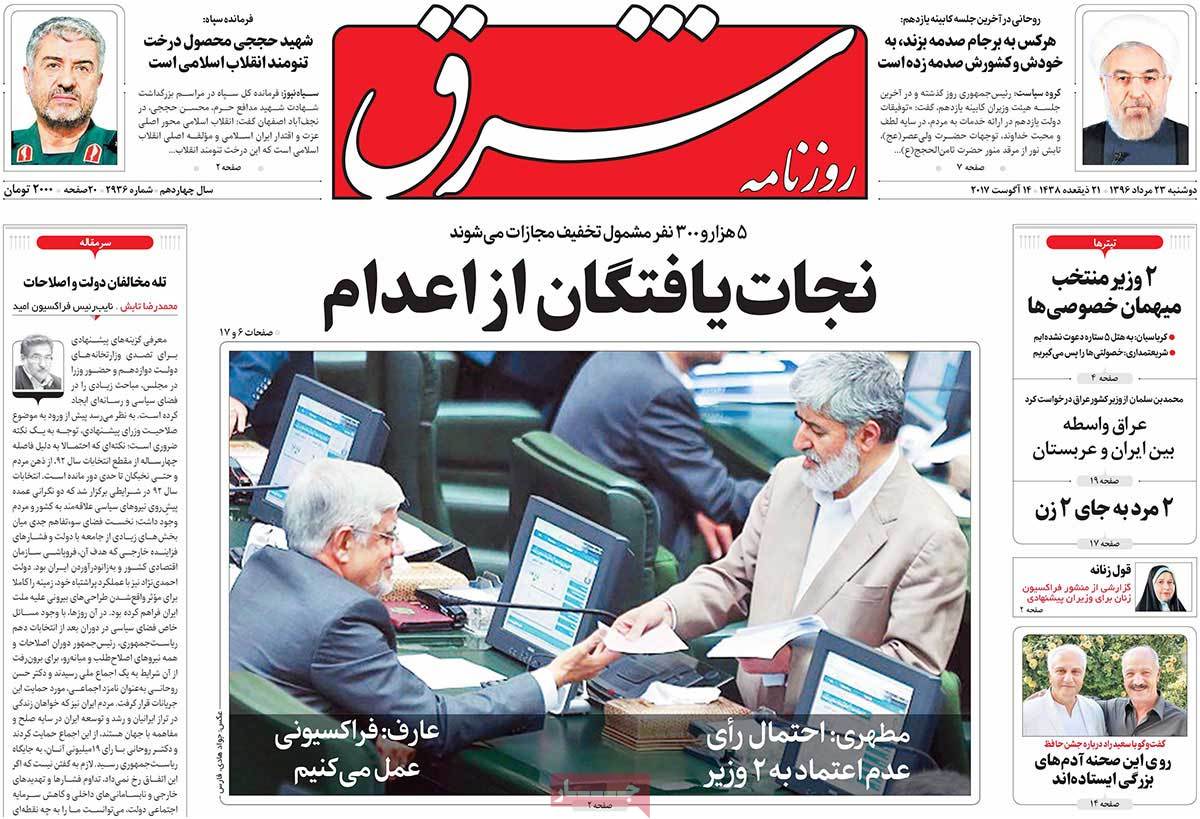 ---
Vaghaye Ettefaghieh:
1- Return to Era of 'Uncle Tom': US to Revive Racism
2- Riyadh and Efforts to Satisfy Public Opinion [Editorial]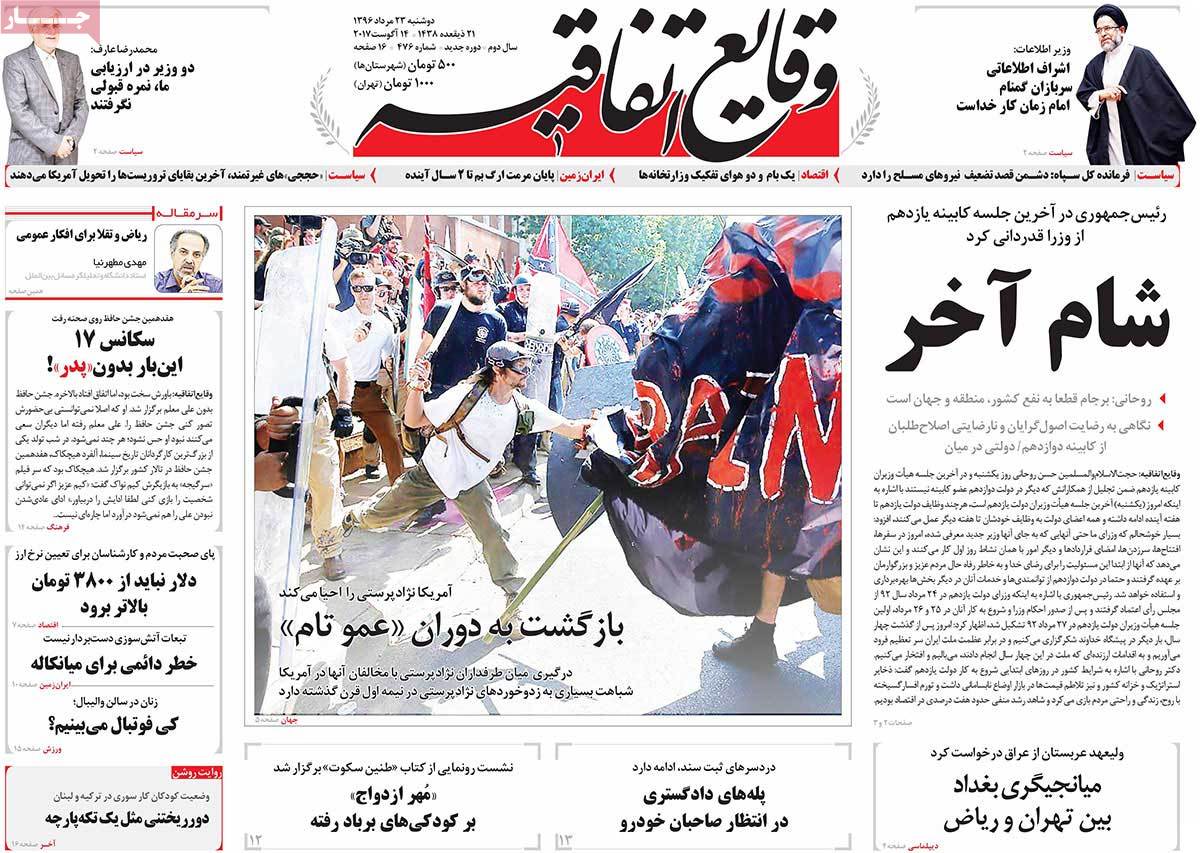 ---
Vatan-e Emrooz:
1- Gangs of the US: Racist Rebellion against Coloured People, Immigrants in Charlottesville