Iranian newspapers today covered the remarks made by Iranian Foreign Minister Mohammad Javad Zarif about the upcoming presidential votes. Zarif highlighted the significance of people's high turnout in previous elections in 2013, and called for people's presence in the May votes.
The terrorist attacks in Syria's Damascus, where dozens of Iraqi pilgrims were killed, also received great coverage.
The speculations and comments about reformist and conservative candidates in the upcoming presidential election also remained a top story.
The above issues, as well as many more, are highlighted in the following headlines and top stories:
19 Dey:
1- IMF Praises Iran's Economic Stability
2- Stamp Unveiled in Commemoration of Ayatollah Rafsanjani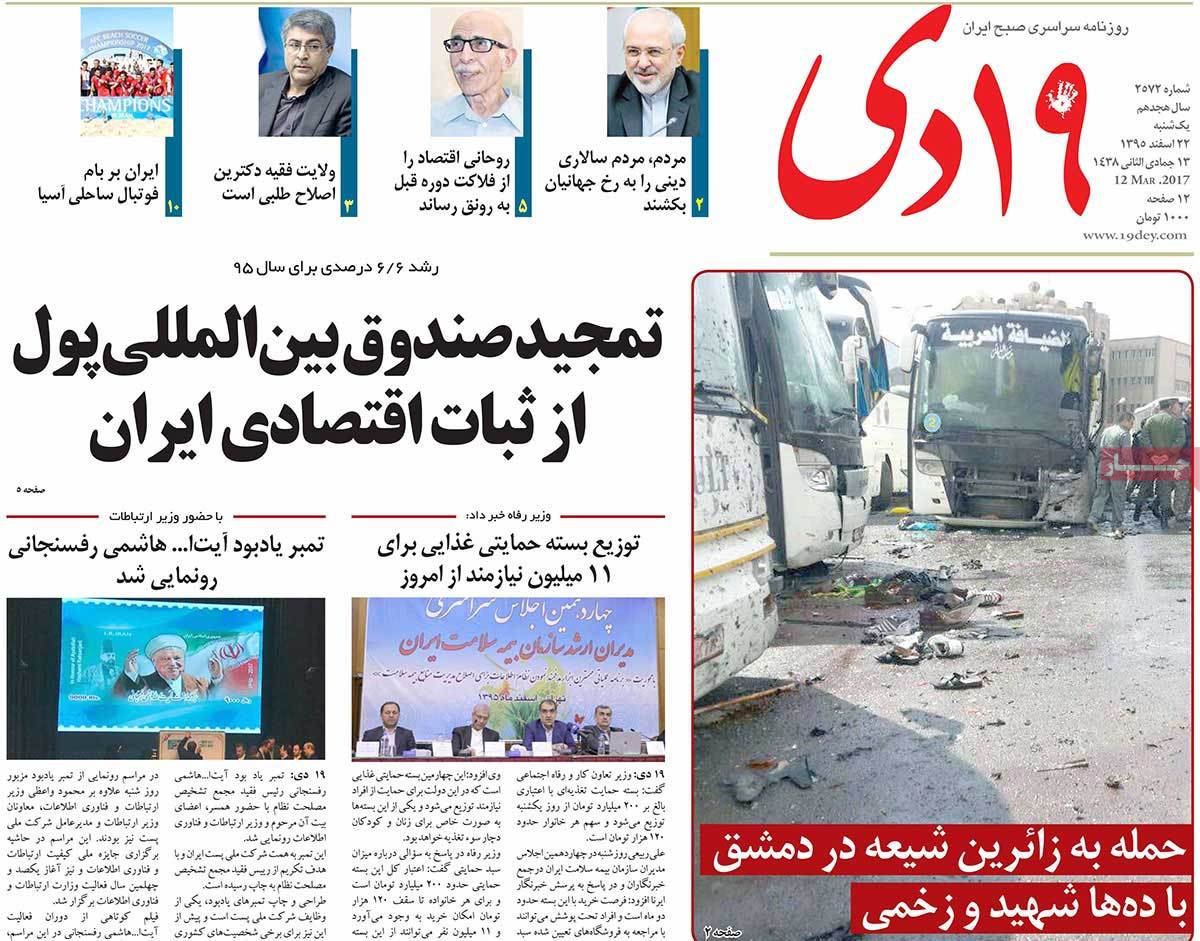 ---
 Abrar:
1- MP: Most Potential Conservative Candidates Have Failed in Previous Attempts
2- We Don't Understand Some Policies Adopted by Turkey: Deputy FM
3- Trump Underlines Extension of Iran Sanctions in 50-Day Report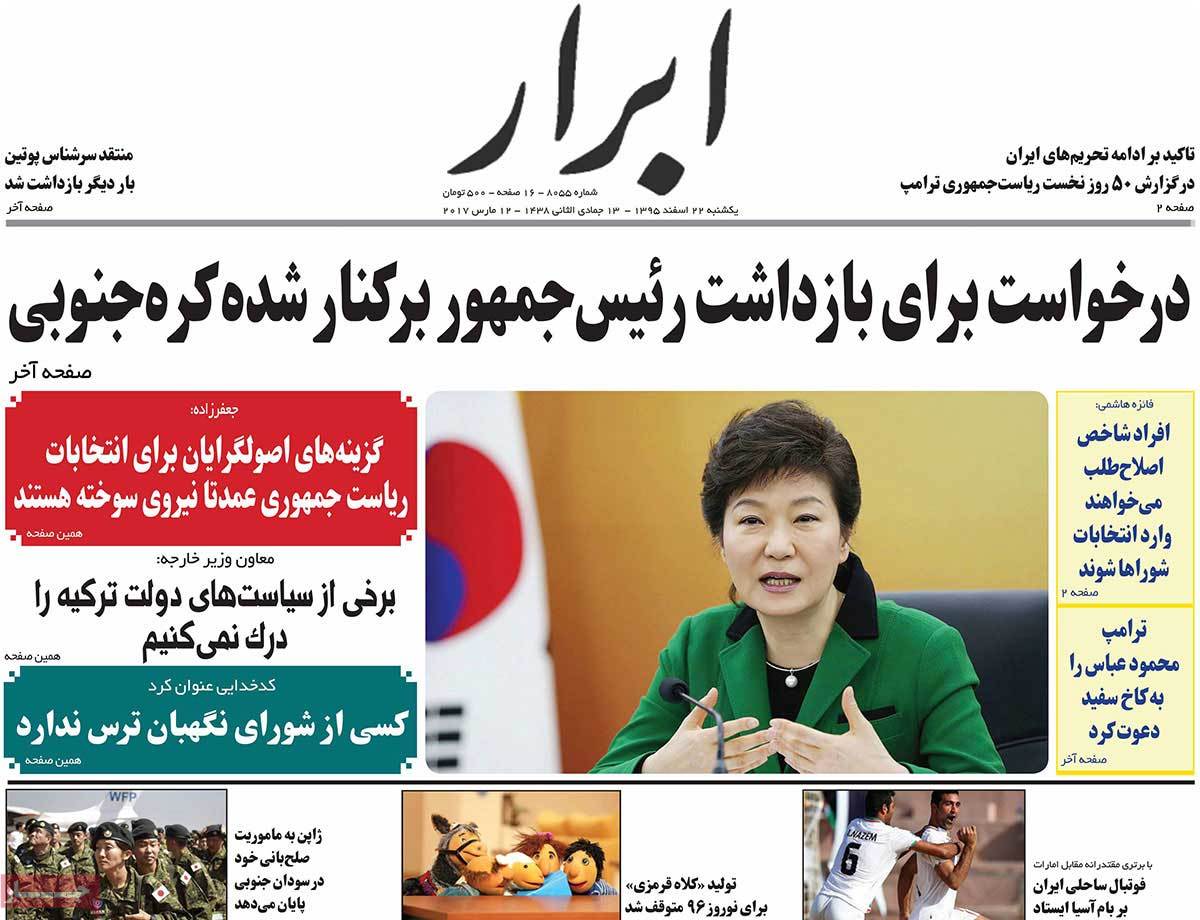 ---
 Afarinesh:
1- Larijani: Mideast Has Turned to Scene of Conflict between Resistance, Others
2- UN: World Gripped by Biggest Humanitarian Crisis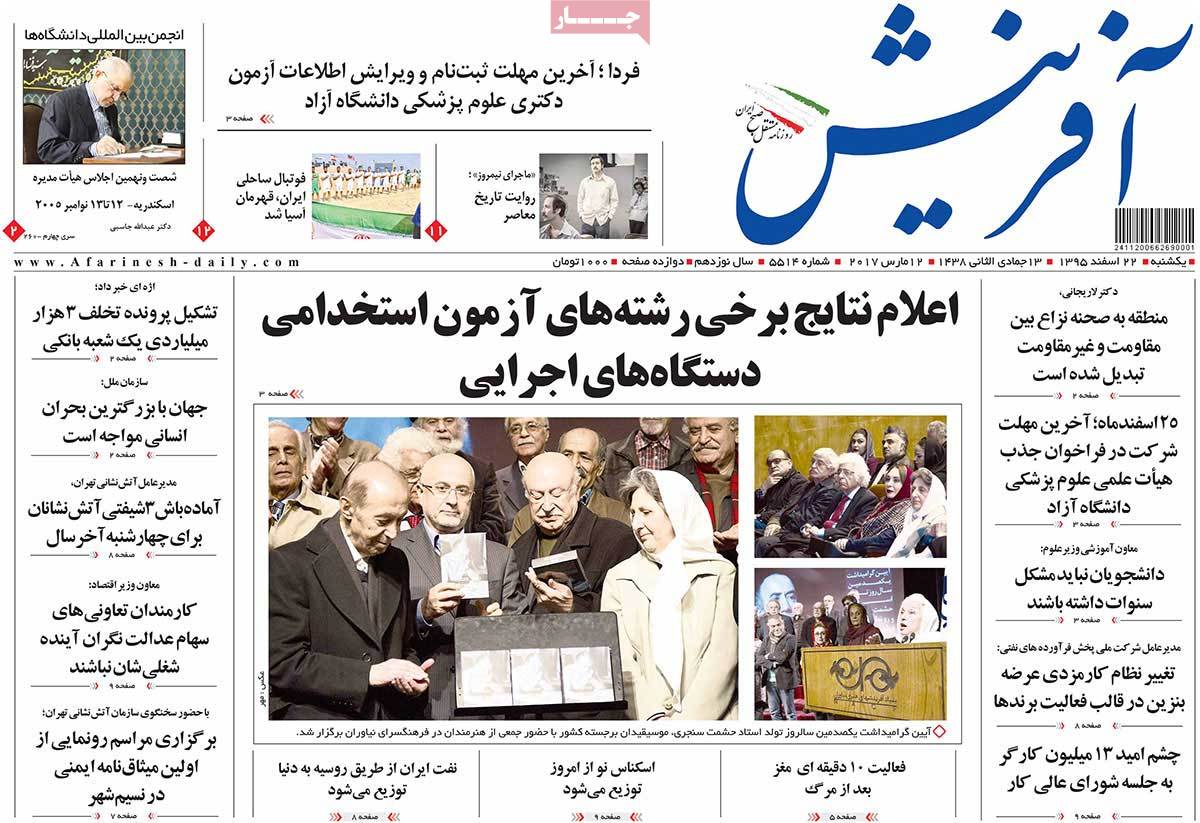 ---
 Arman-e Emrooz:
1- Details of Rouhani's Meeting with Iran's Leader [as quoted by MP Mahmoud Sadeqi]
2- Zarif Invites People to Take Part in May Election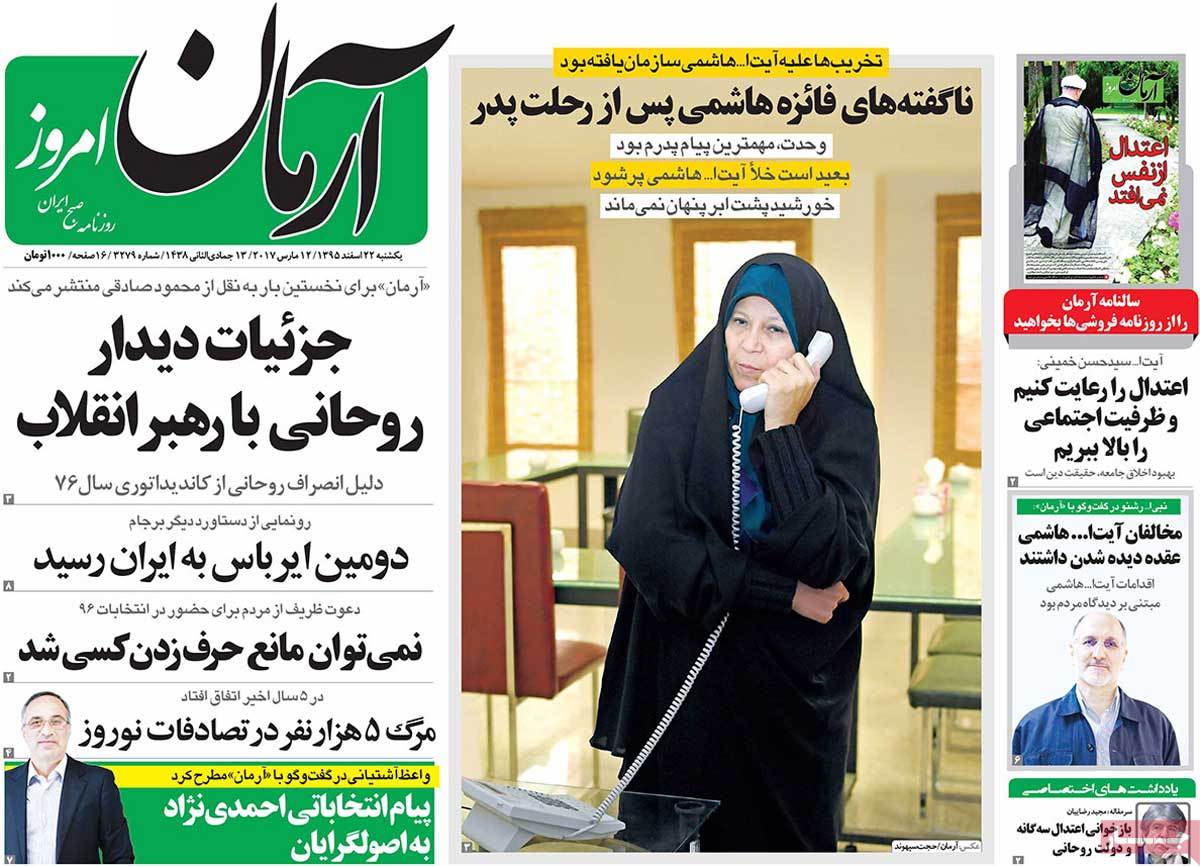 ---
Emtiaz:
1- 7,000 Tonnes of Garbage Buried in Iran's Northern Forests Every Day
2- Iran Supplies 4% of World Zinc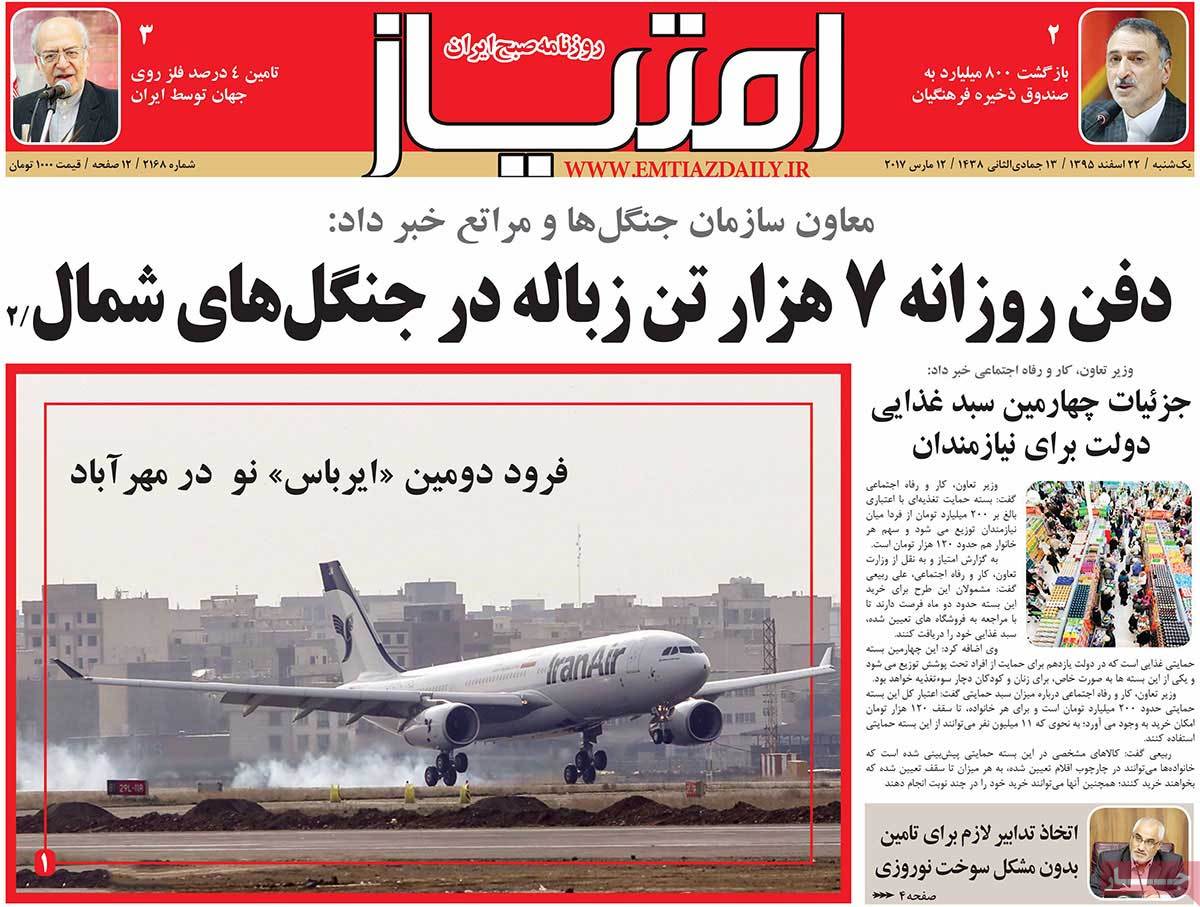 ---
 Ettela'at:
1- Zarif: We're Not Dependent on East or West in Decision-Making
2- Second Airbus Lands in Iran; Third One to Come in One Week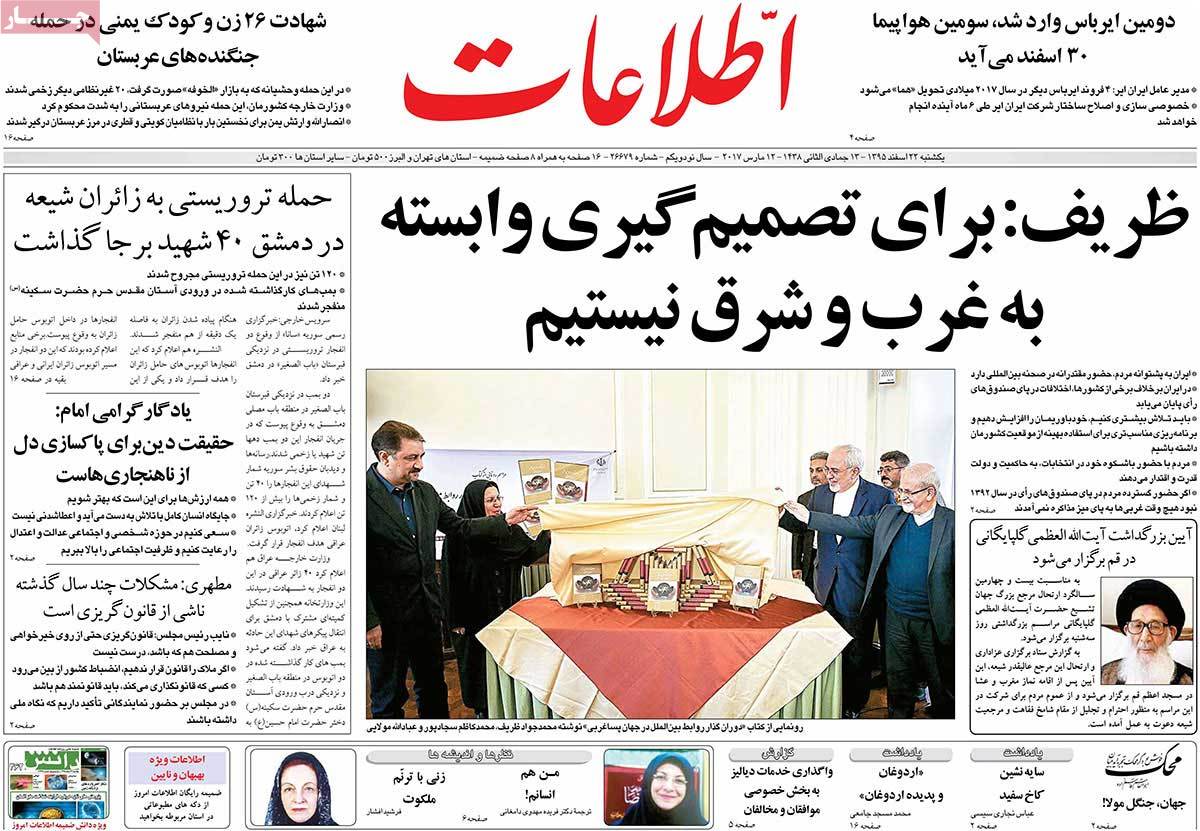 ---
 Hemayat:
1- IRGC Commander: Smiling at Enemies Leads to Defeat
2- Iranian Officials Warn against Insecurity in Turkey
---
 Iran:
1- Trump's White Coup against Prosecutors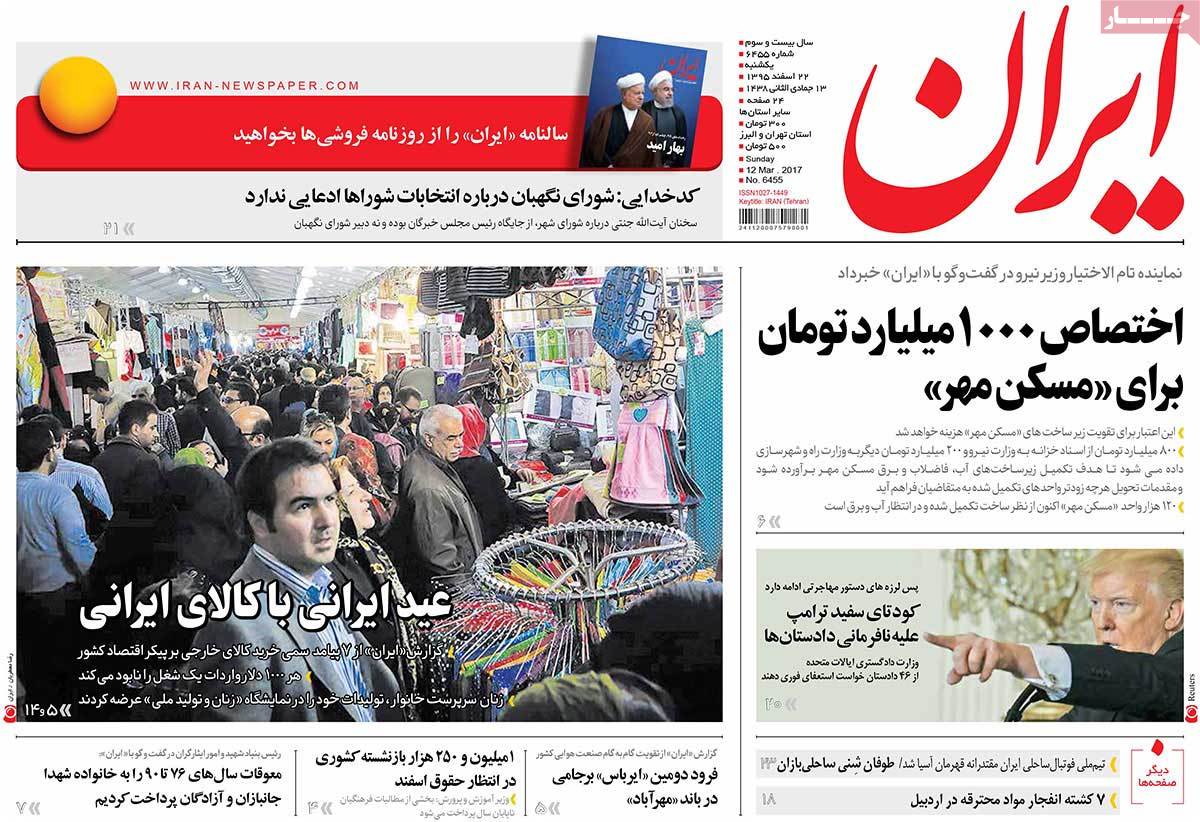 ---
Javan:
1- After Mosul Defeat, ISIS Retaliates by Killing 160 Iraqi Pilgrims in Damascus
---
 Jomhouri Eslami:
1- UN: 20 Million Africans Threatened by Most Horrible Humanitarian Crisis
2- Syrian Army Retakes Western Coasts of Euphrates after 4 Years
---
Kayhan:
1- Suspicious, Dangerous Moves by US, Turkey, UN in Syria, Iraq
2- I Hope Rouhani Takes Action instead of Just Making Verbal Vows: Politician
---
Mardom Salari:
1- Zarif: People's Turnout in 2013 Election Took Westerners to Negotiating Table
2- Russians Will Stab Us in Back Once They Don't Need Us: Politician
---
 Resalat:
1- Judiciary Spokesman: Why Do They Pin Blames on Predecessors?
2- IRGC Commander: United Islamic Society Is Being Formed
3- Assad: Americans' Presence in Syria Is Invasion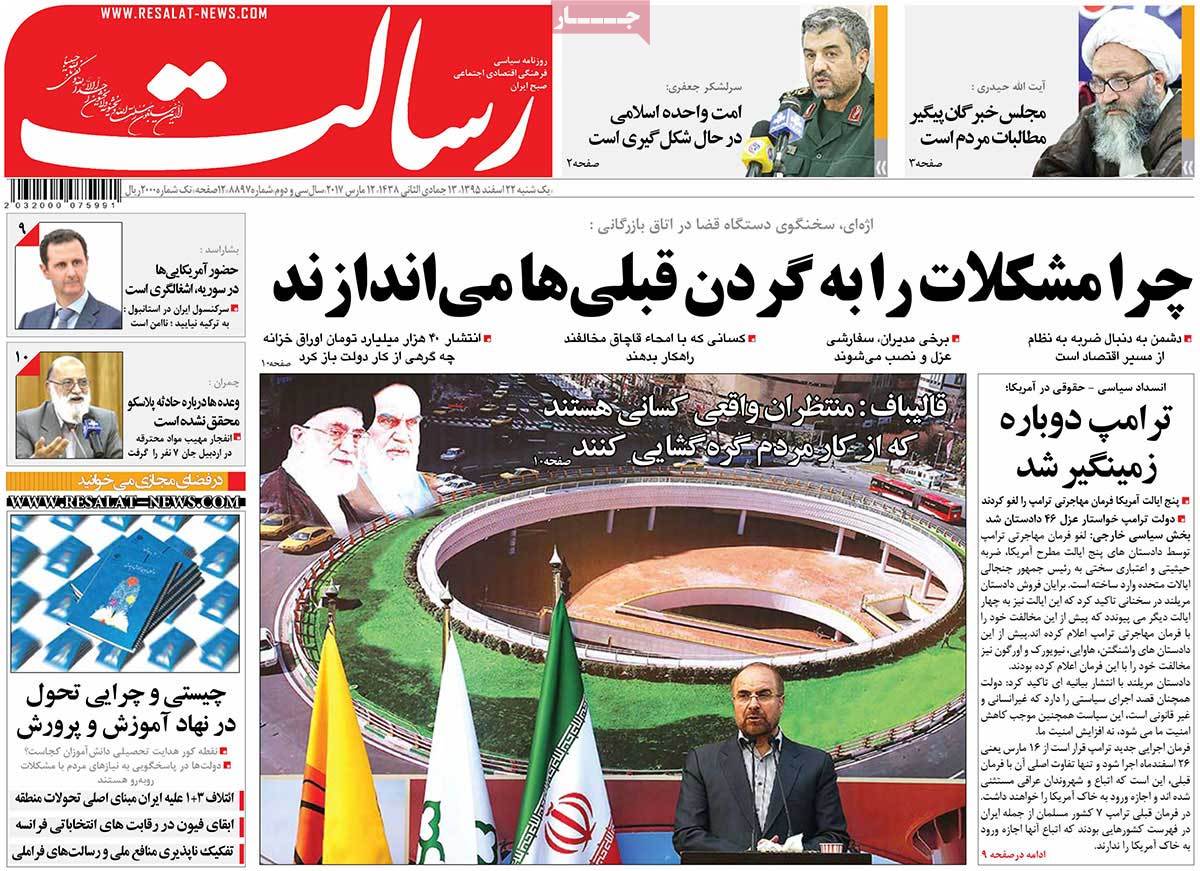 ---
Shargh:
1- We Shouldn't Be Afraid of Inspection If We're Clean: City Councillor
2- Reformist Presidential Candidate to Be Unveiled Today