Almost all newspapers today highlighted the US missile attacks on a Syrian airbase near Homs, and the reactions it sparked throughout the world.
Another top story was the first edition of Tehran International Marathon, which was held on Friday and provoked controversy mostly because of its women's section.
The candidacy of Ebrahim Raeesi in Iran's May presidential election and the conservatives' decision to support him also received great coverage.
The above issues, as well as many more, are highlighted in the following headlines and top stories:
Abrar:
1- US Fires Missiles at Syria's Shayrat Airfield after Khan Sheikhoun Chemical Attacks
2- We Don't Want Confrontation with Iran, Russia: French FM
---
Abrar-e Eqtesadi:
1- Iran's Exports to US More than Its Imports
2- US Permits Iran, BP to Work in Rhum Gas Field
3- Oil Price Up by 2% Following US Attack on Syria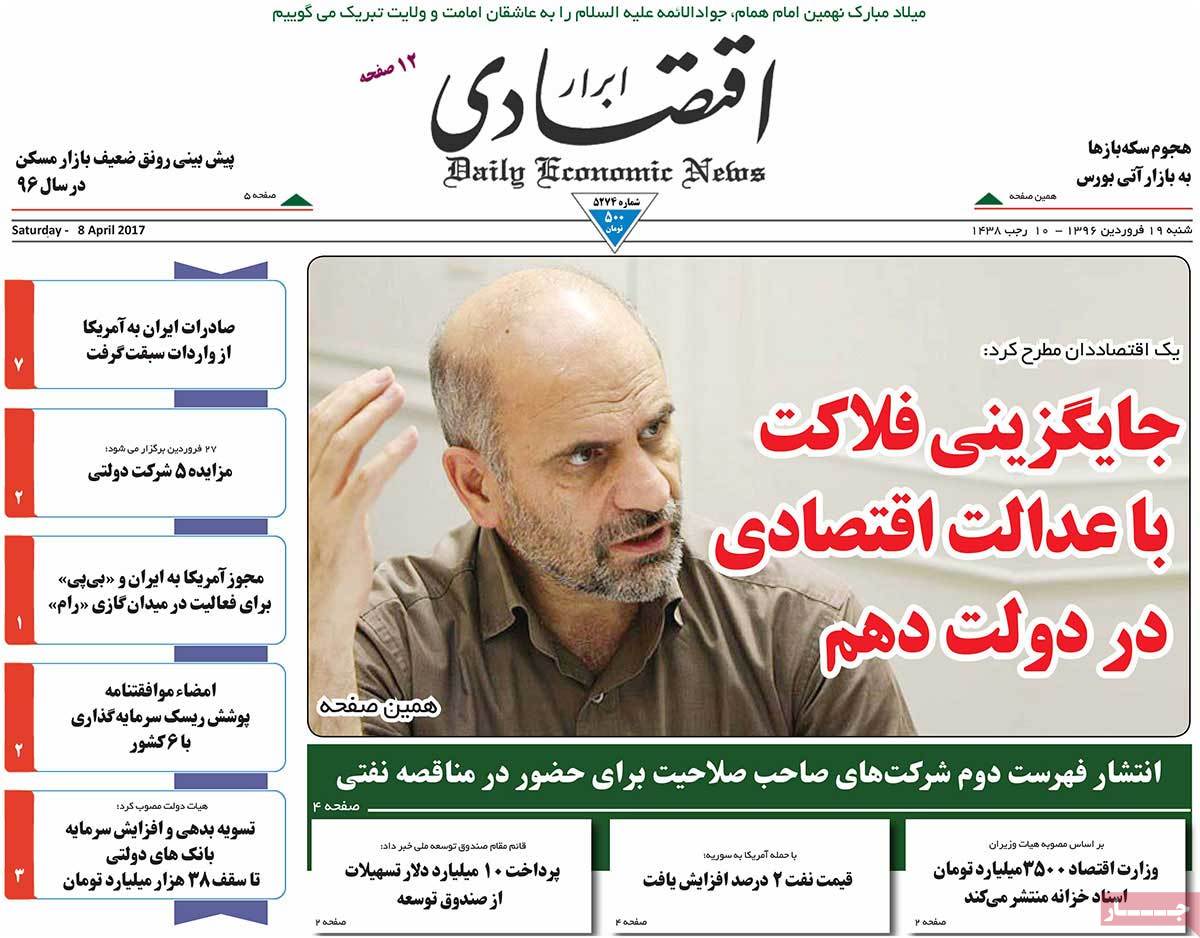 ---
Aftab-e Yazd:
1- Putin's Dangerous Move
Russia Recognises Western Jerusalem as Israeli Capital before Europe, US
2- Iran, Bolivia, Russia Condemn US Missile Attack on Syria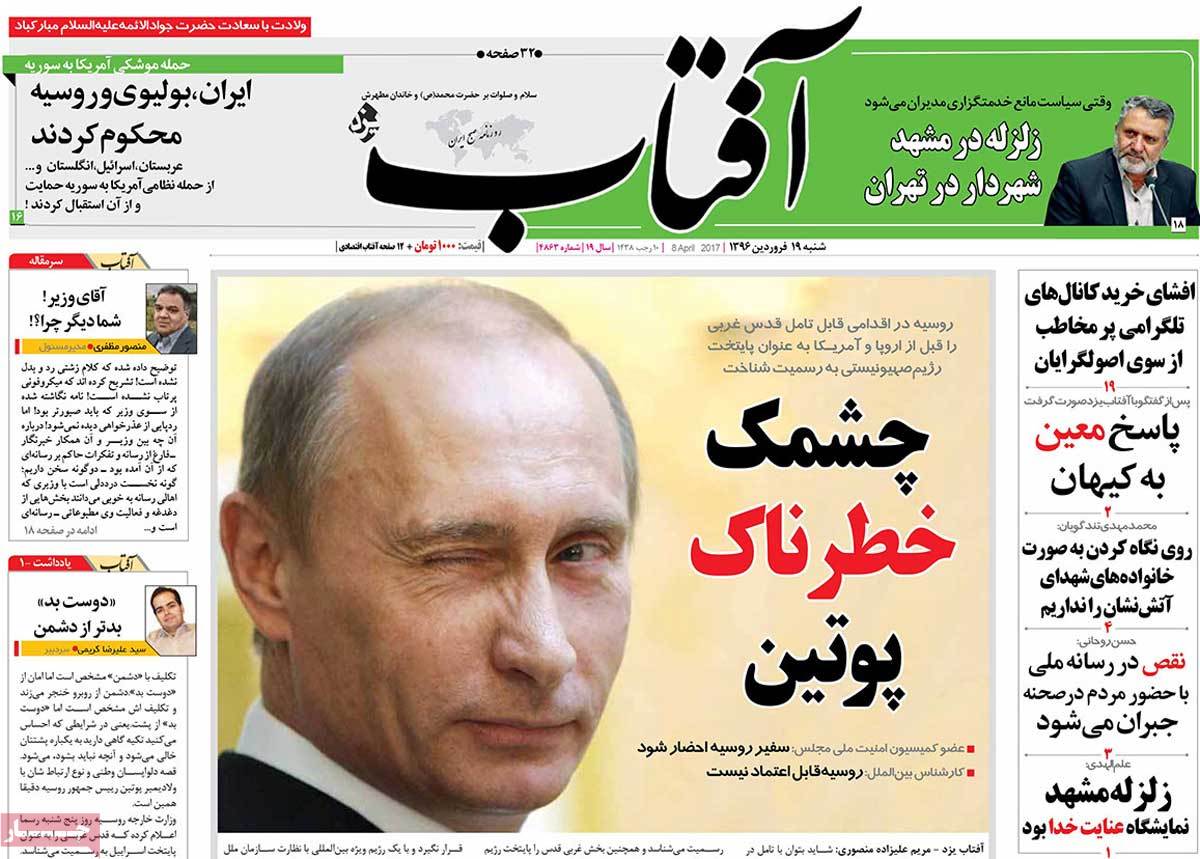 ---
Arman-e Emrooz:
1- Trump Finally Drags US Boots on Syria's Ground
---
Besharat-e Now:
1- 40 Days to Iran Election: Raeesi's Bid for Presidency, Rouhani's Silence
---
Ebtekar:
1- Rouhani: Security, Nationwide Peace, His Most Important Achievements
2- Trump's First Shot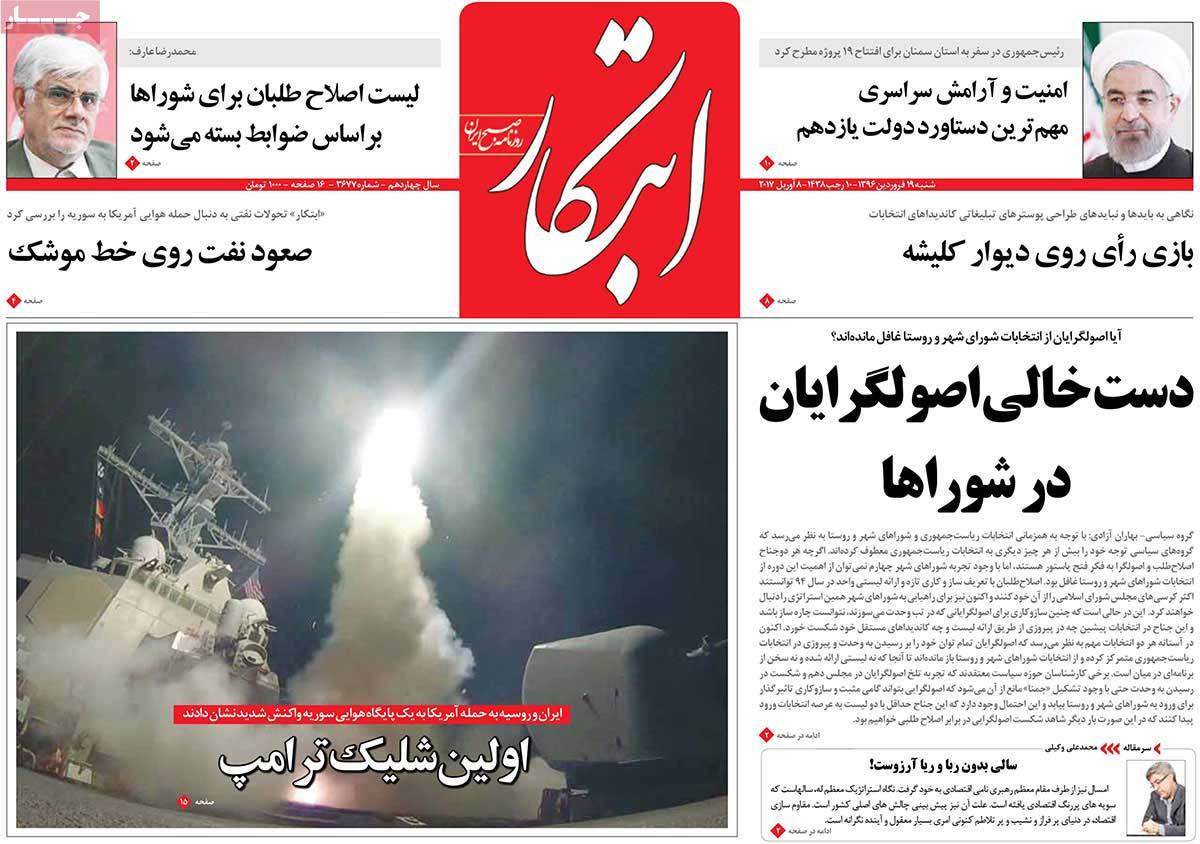 ---
Emtiaz:
1- National Report on Plasco Incident Delivered to President Rouhani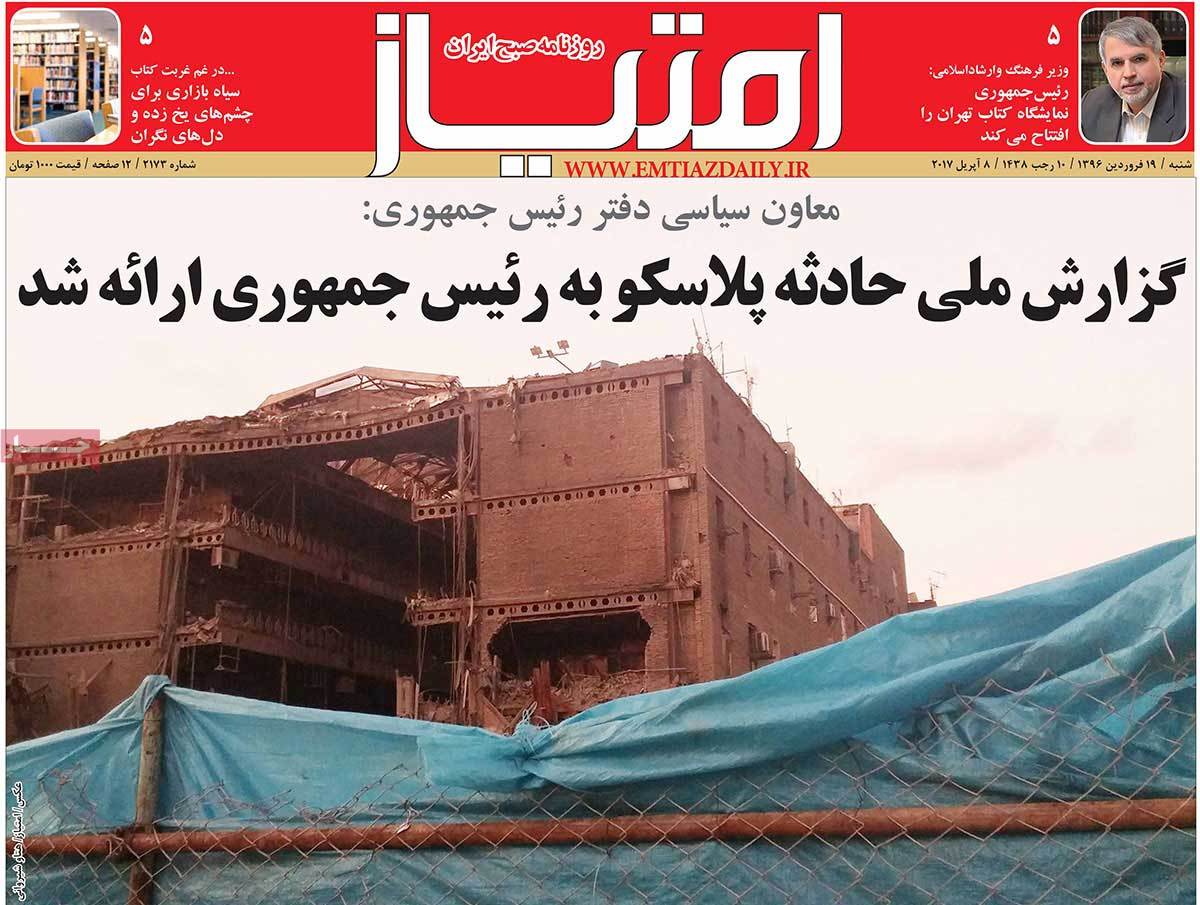 ---
Etemad:
1- Rouhani: For First Time since 1950s, Iran's Non-Oil Exports Surpass Imports
2- Rich People's Cost of Living 17 Times More than That of the Poor
3- Spread of Depression Is Worrying: Health Minister
---
Ettela'at:
1- Rouhani Opens 19 Projects in Semnan Province
2- Russia Warns US of Possibility of Aerial Confrontation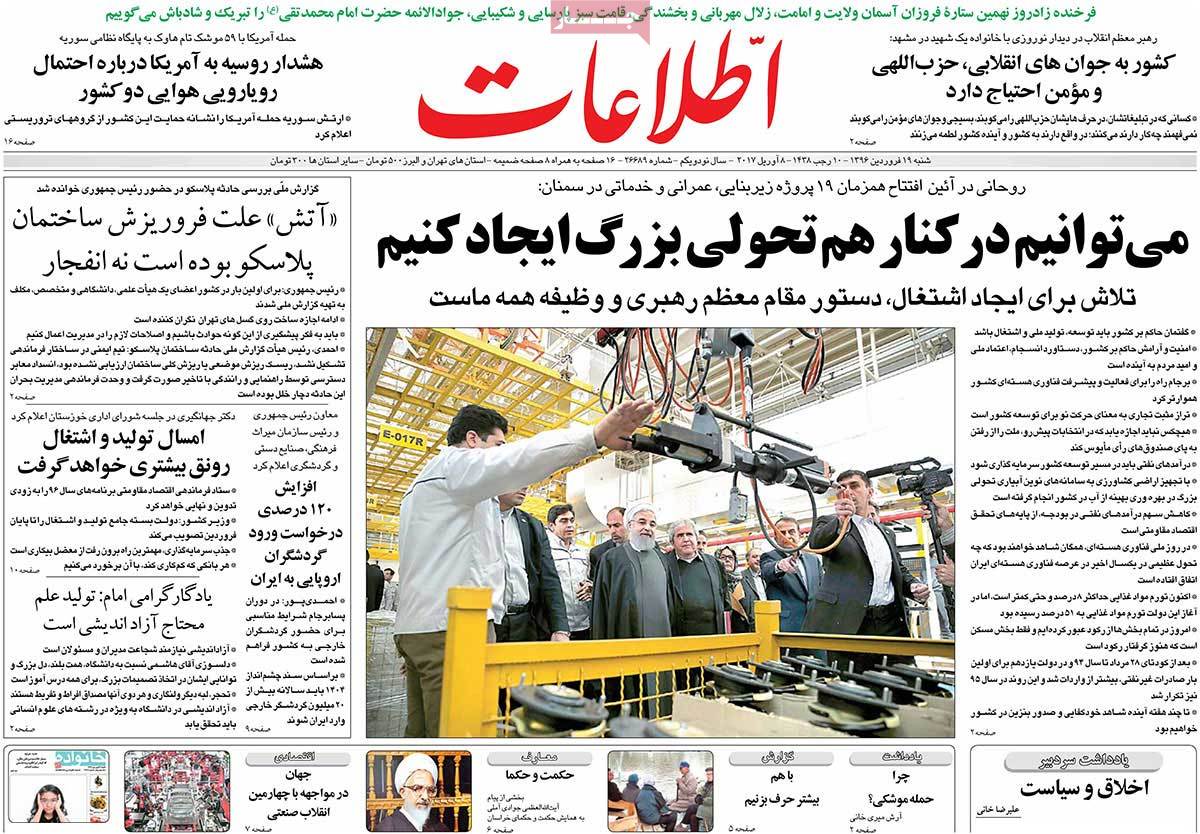 ---
Iran:
1- Trump Starts First War 82 Days after Taking Office
2- Western Allies, Saudi Arabia, Turkey Support US Aggression; Iran, Russia Condemn It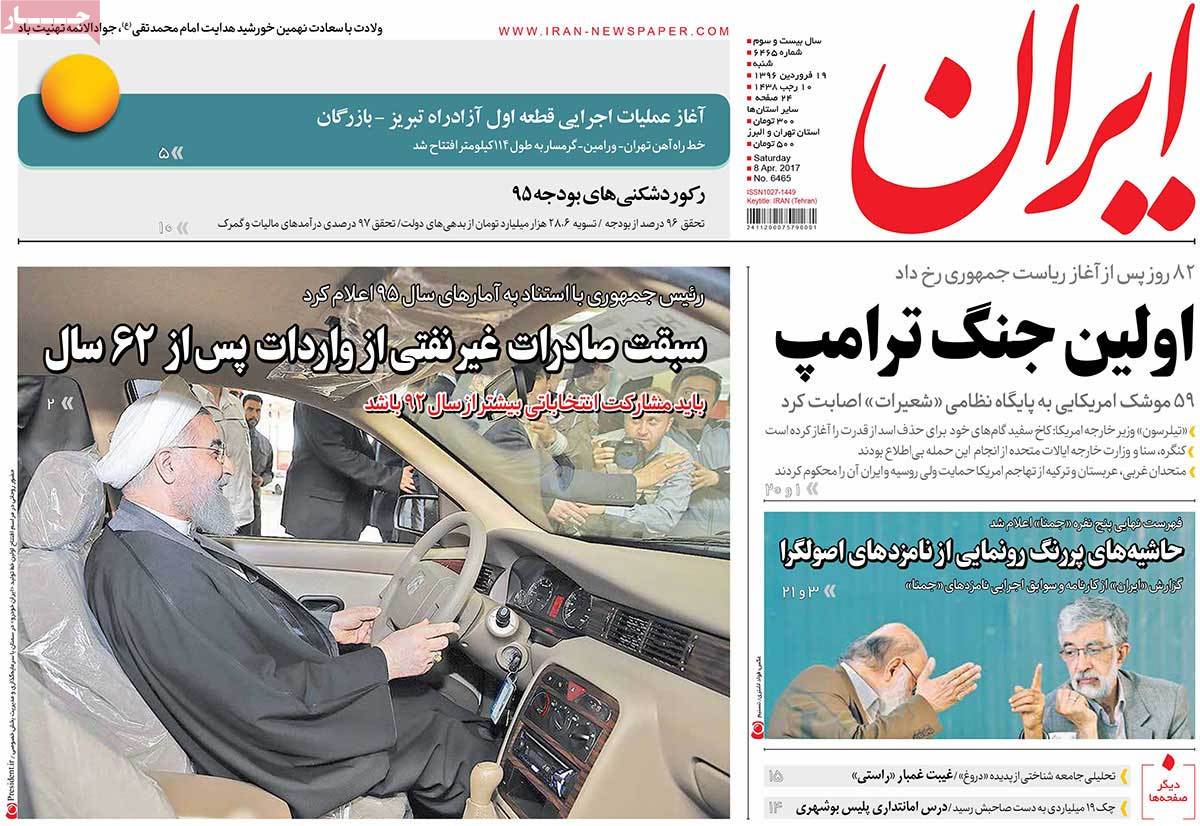 ---
Jame Jam:
1- US Trying to Give Terrorists Artificial Respiration by Invading Syria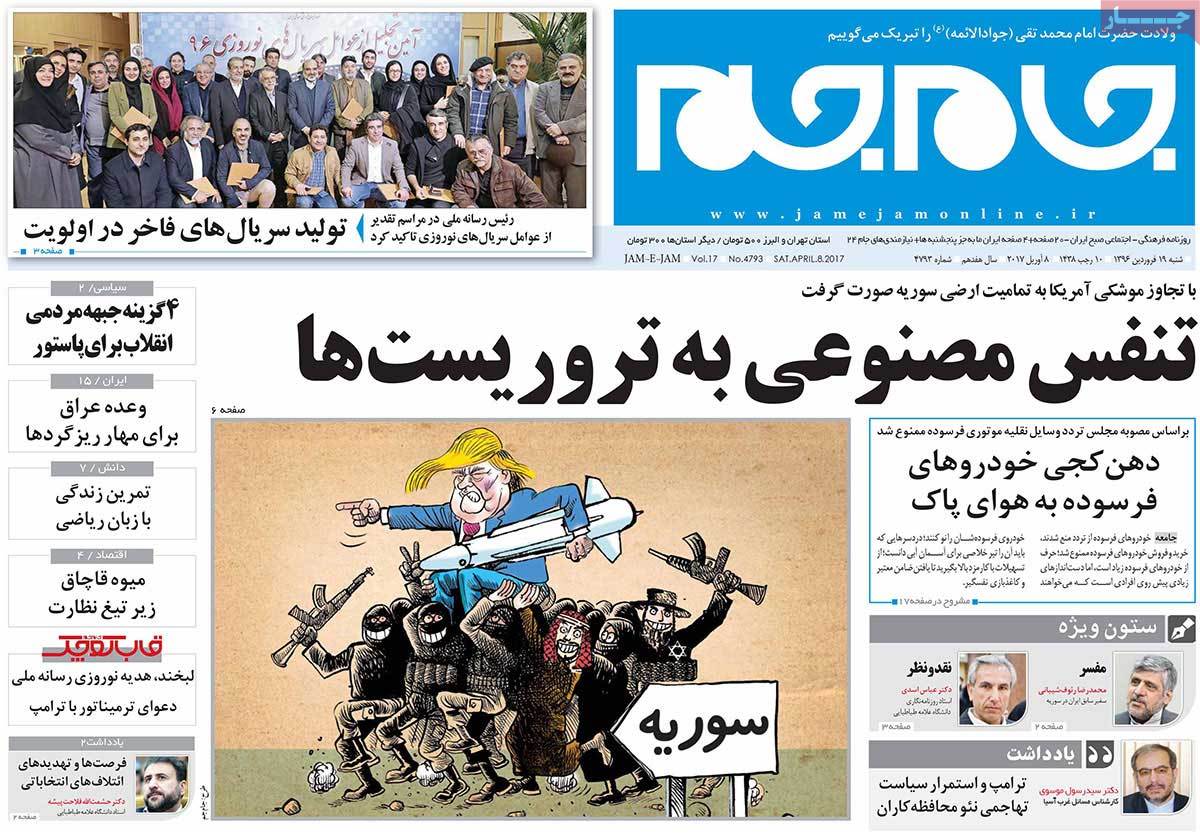 ---
Javan:
1- Europe Terrified by ISIS Communism! 5 Swedish Citizens Killed in Truck Attack
2- Iran's Soil Being Smuggled for Persian Gulf Arabs' Revelry
3- US Fighting on Same Side as Al-Qaeda, ISIS: Zarif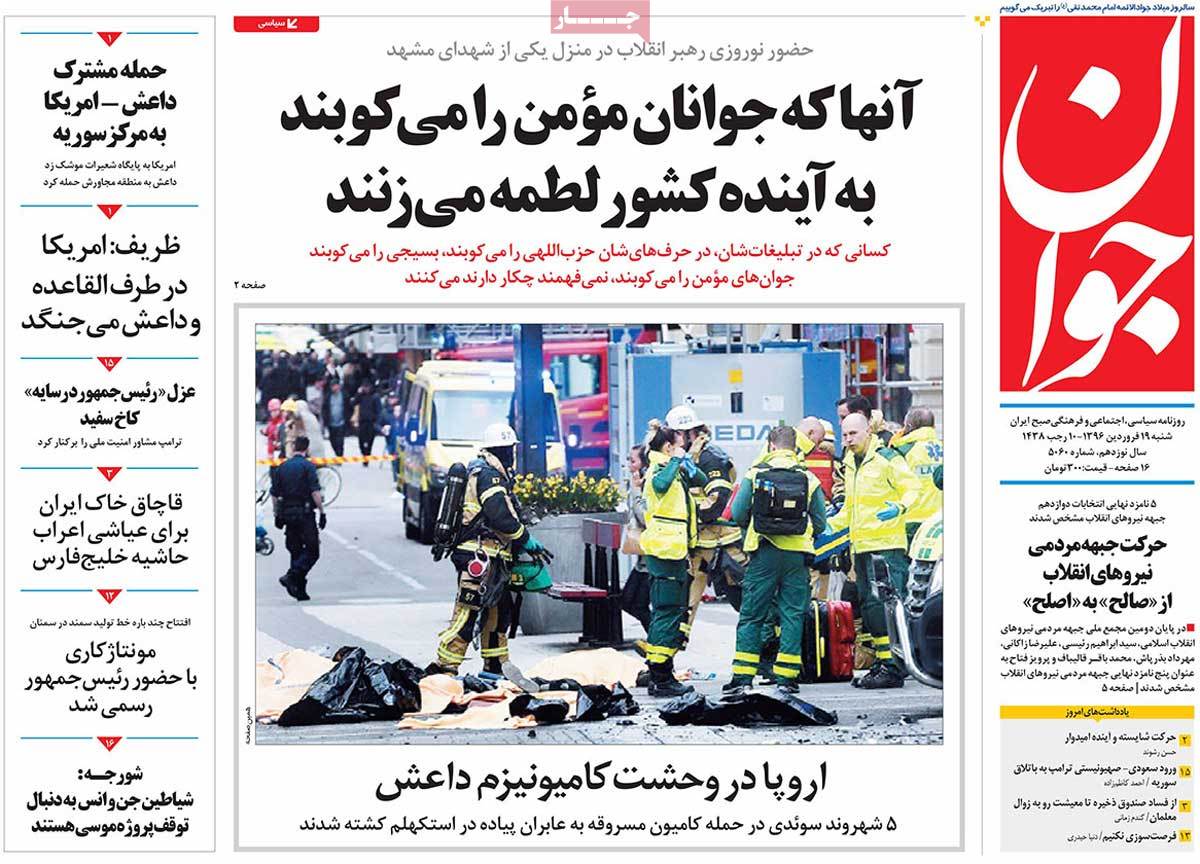 ---
Jomhouri Eslami:
1- Putin: US Missile Attack on Syria to Severely Harm Moscow-Washington Ties
2- Trump: Civilised Nations Should Join Us in Syria War
---
Kayhan:
1- US Officially Stands by ISIS by Attacking Syrian Airbase in Homs; Takfiris Applaud Trump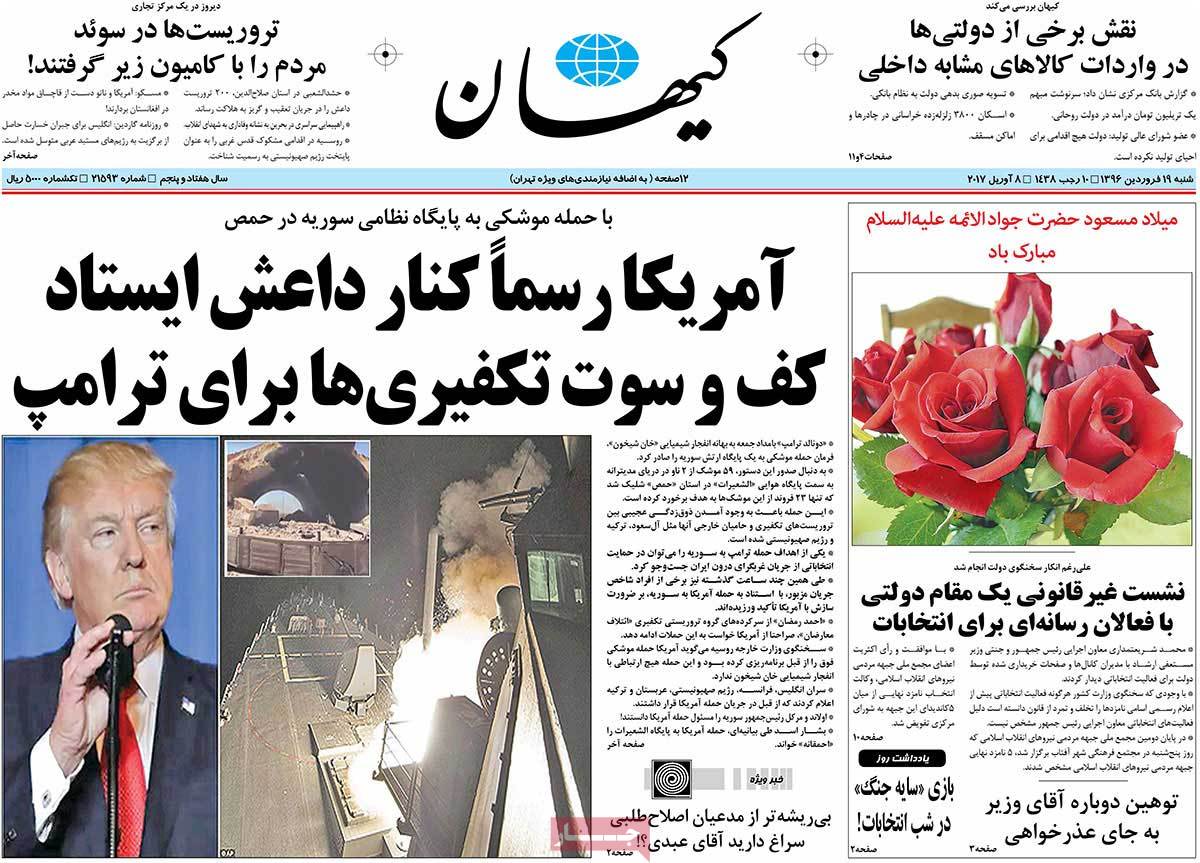 ---
Mardom Salari:
1- Trump's Thirst for World War
---
Rooyesh-e Mellat:
1- US Lying about Syria: Senior Iranian Cleric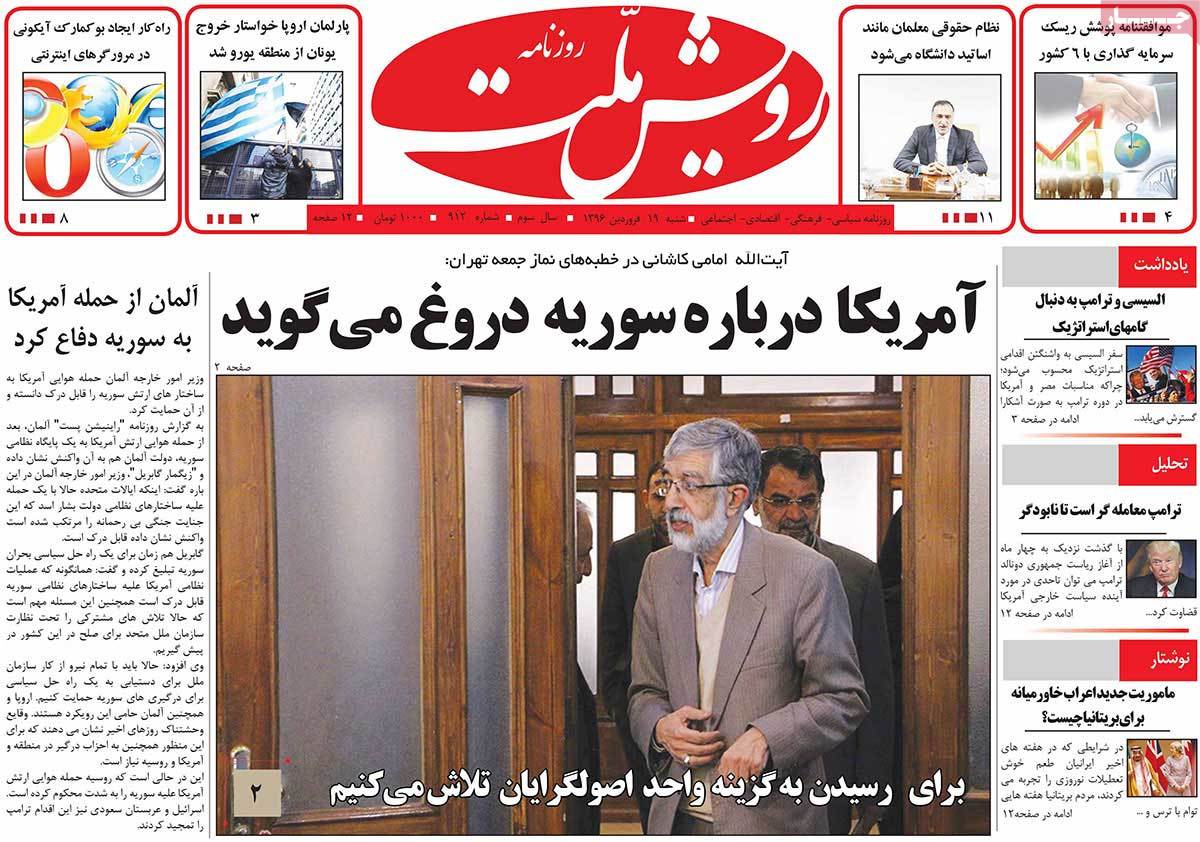 ---
Shahrvand:
1- Trump's Adventurism: EU Was Informed of US Attack on Syria
2- Chaotic Marathon: Persia Int'l Race Held in Tehran with Lots of Controversies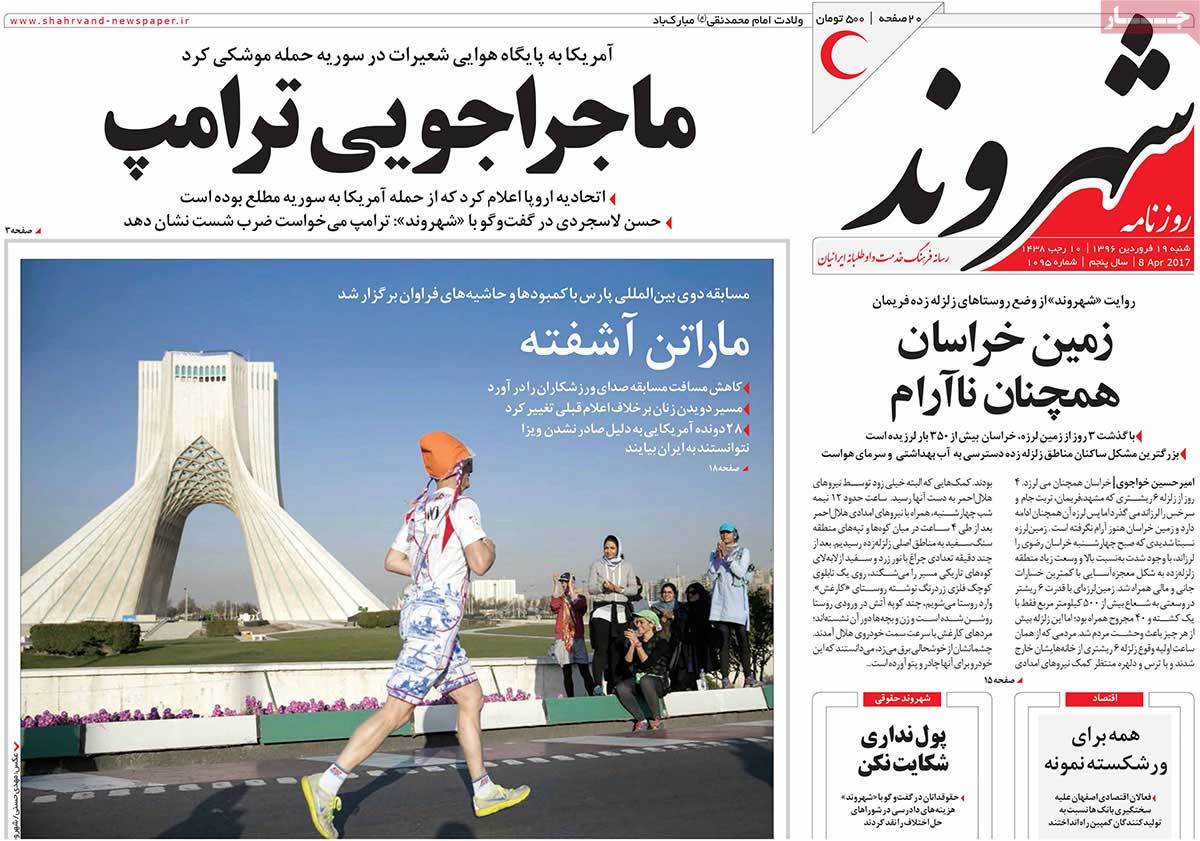 ---
 Shargh:
1- Raeesi's Shock to Iran Election: Conservatives Choose Him as Rouhani's Main Rival
2- Truck of Death in Stockholm
3- Iran Election Is Internationally Decisive: First VP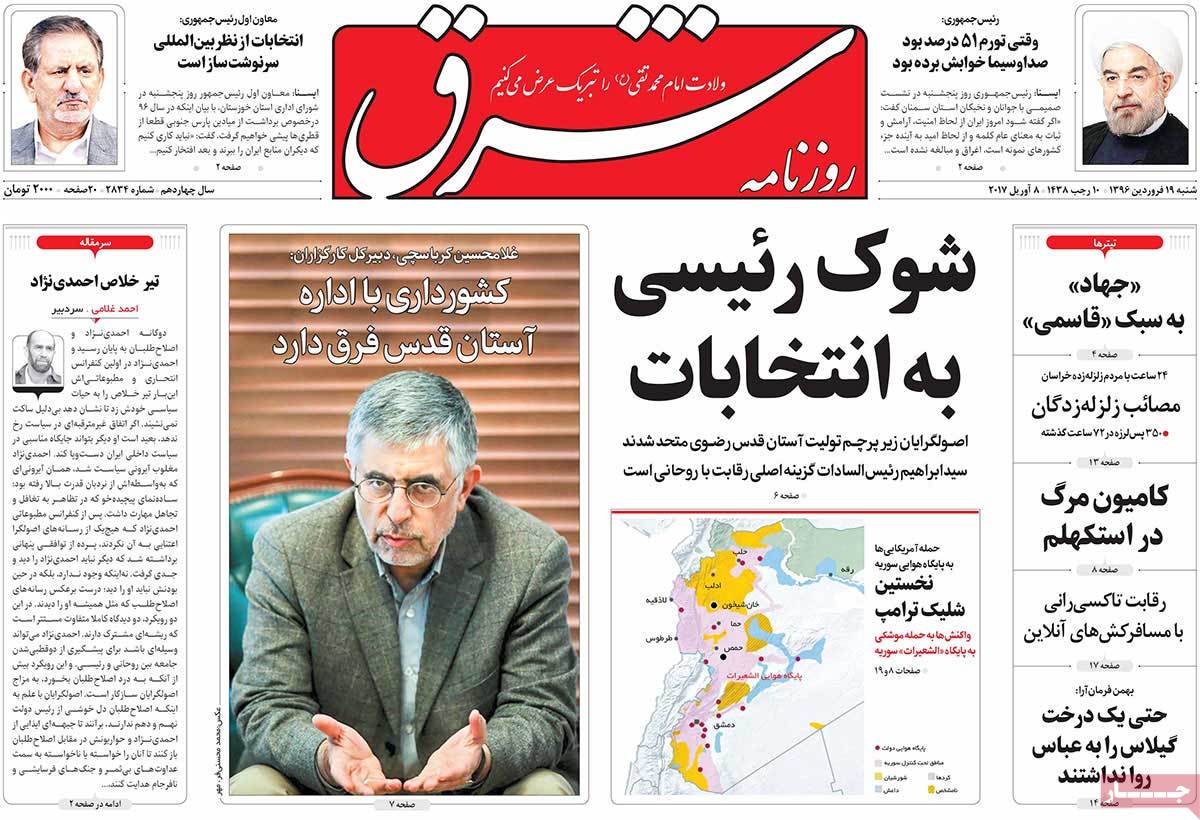 ---
Vaghaye Ettefaghieh:
1- Deputy FM: Iran-US Military Confrontation Is Unlikely
2- Attack on Shayrat Airfield and Trump's Chaotic Cabinet [Editorial]