All newspapers today covered the Arba'een pilgrimage, the world's largest religious gathering which includes a trek to the Iraqi city of Karbala, where Imam Hussein's shrine is located. Thursday, November 9, a holiday in Iran, is the day Shiite Muslims mourn the 40th day after Imam Hussein's martyrdom, known as Arba'een.
Several papers on Wednesday also covered the remarks made by the Leader of Iran's Islamic Revolution Ayatollah Seyyed Ali Khamenei in praise of Arba'een Walk and the blessings it has for Muslim people.
The ongoing war of words between Iran and Saudi Arabia as well as a meeting between IRGC Chief-Commander Major General Mohammad-Ali Jafari and Pakistani Army Chief in Tehran were among other top stories.
The above issues, as well as many more, are highlighted in the following headlines and top stories:
Abrar:
1- Iran Top General: Unity with IRGC Shows Army's Great Insight
2- Millions of Arba'een Pilgrims Trek from Baghdad to Karbala
3- Saudi Prosecutor: Princes, Officials Interrogated, Will Soon Be Tried
4- Amano: We Have Access to All Sites We Need to Inspect in Iran
---
Aftab-e Yazd:
1- Iran Leader: Arba'een Walk Splendid Symbol of Ahl-ul-Bayt
2- Rafsanjani's Daughter: Infrastructures Ready for Women's Presence in Stadiums
3- Reformist Figure: Rouhani's Gov't Has Highest Contact with General Soleimani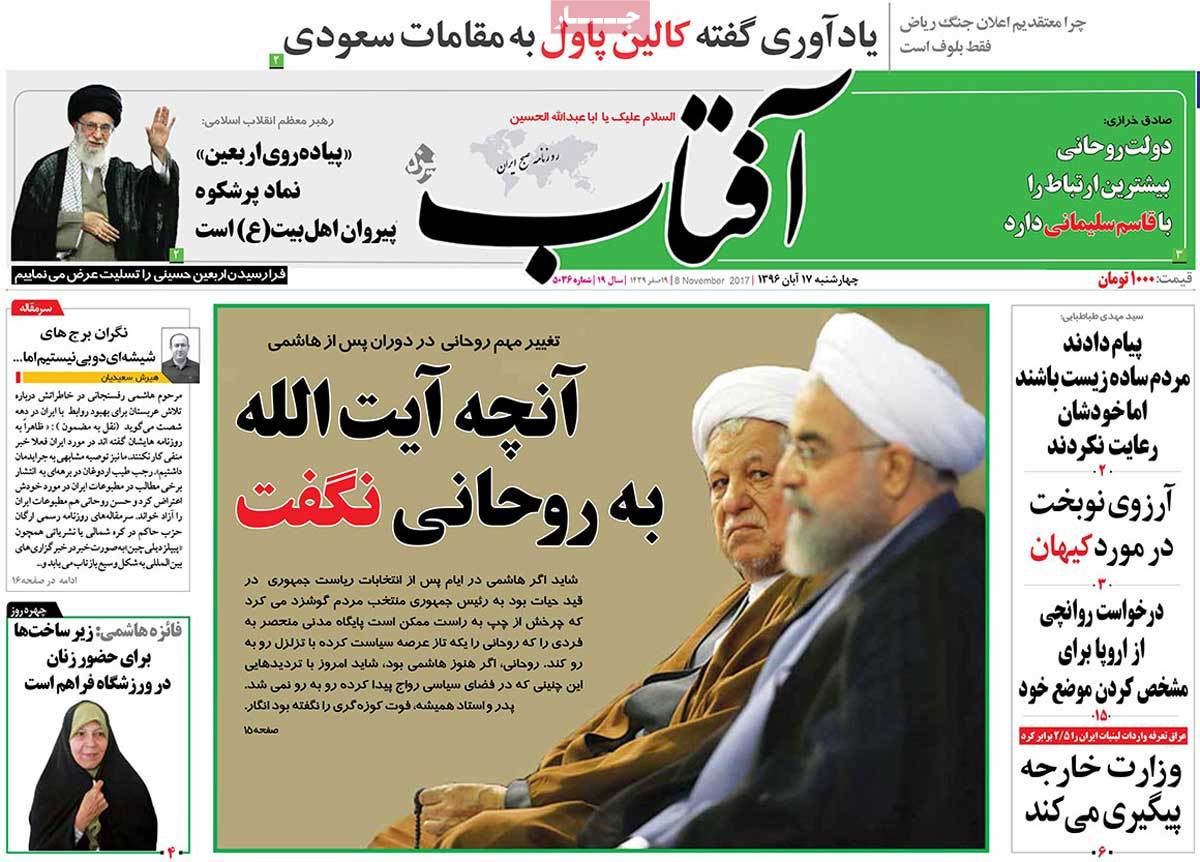 ---
Ebtekar:
1- Gov't Spokesman: Certain People [Kayhan Newspaper] Introduce Own Views as Establishment's Stance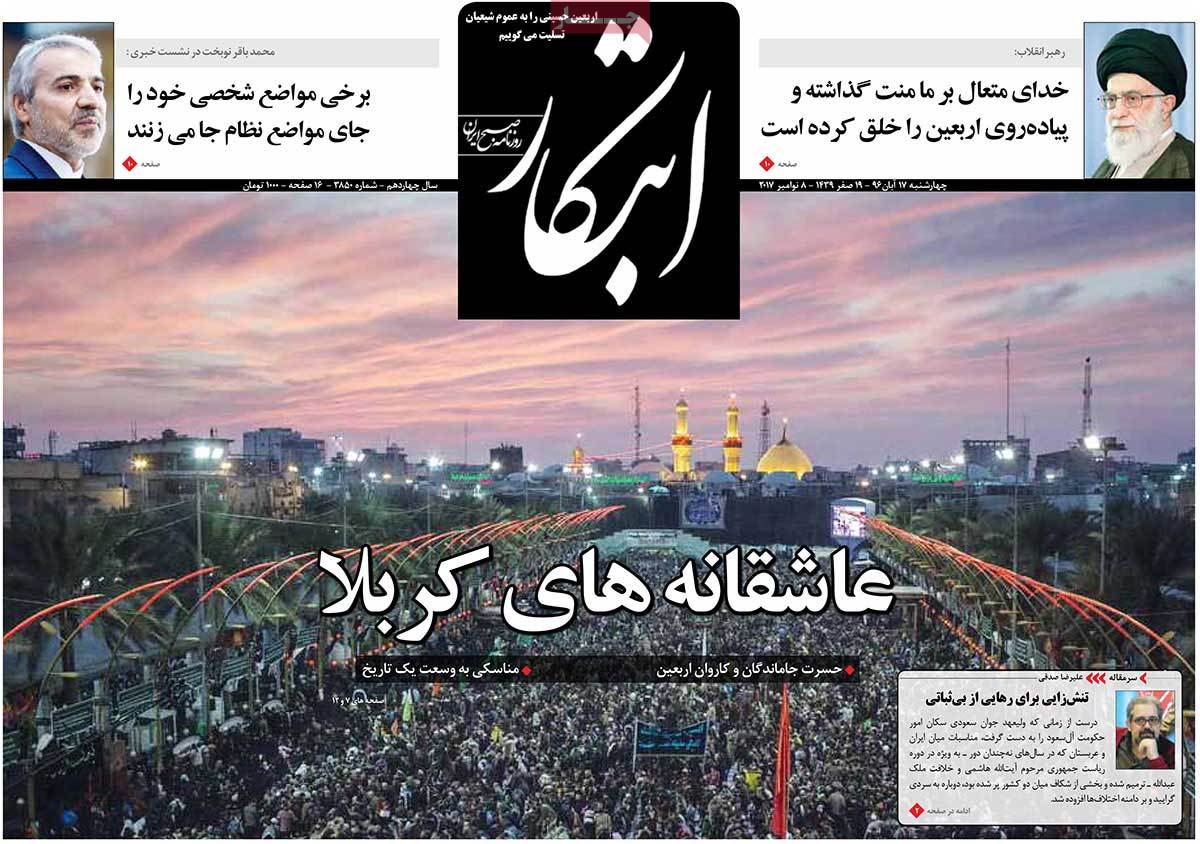 ---
Etemad:
1- Splendour of Arba'een; Iran Leader Hails the Pilgrimage Attended by Millions of People
---
Ettela'at:
1- Rouhani: We Won't Spare Any Effort to Reinforce Lebanon Stability
2- Zarif: Saudis' Wrong Claims against Int'l Laws
---
Iran:
1- Iran Leader: Good for Arba'een Pilgrims
2- Walking to Land of Imam Hussein: 2,320,000 Iranian Pilgrims Start Trek to Karbala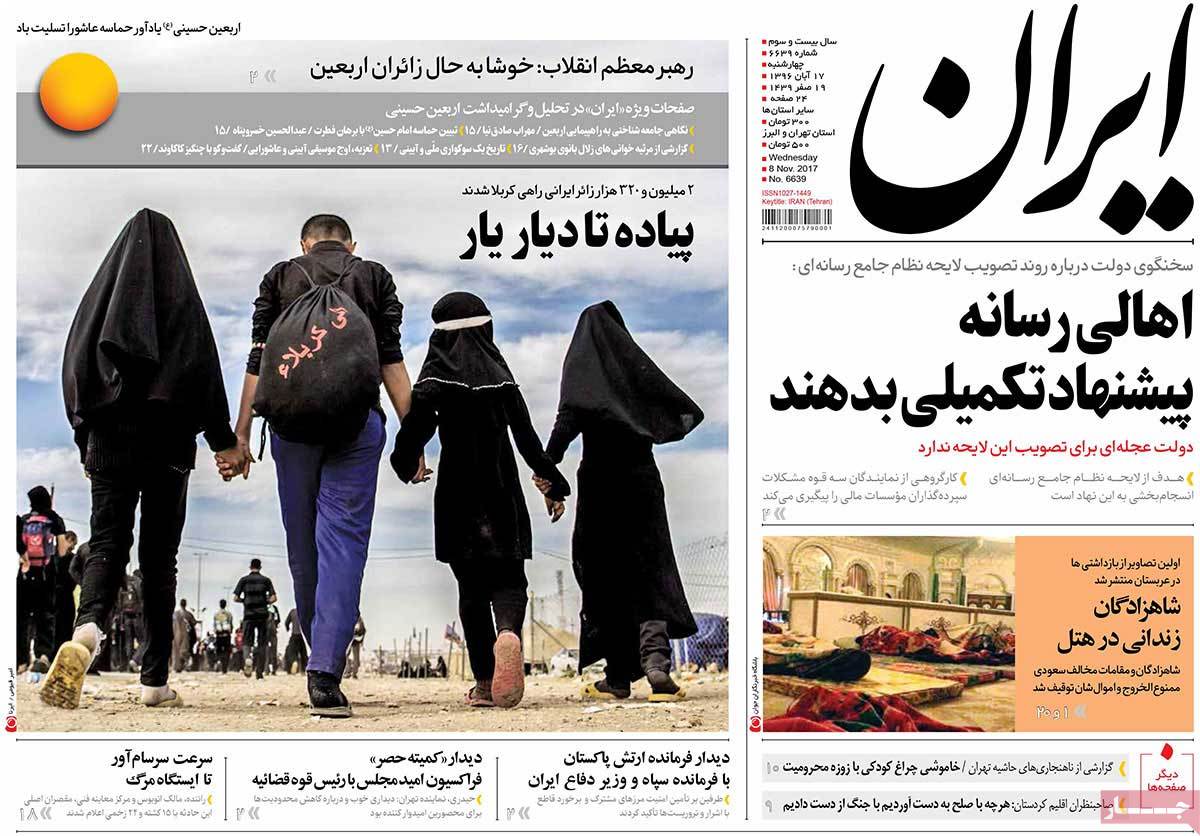 ---
Javan:
1- IRGC Chief-Commander: We're Ready to Share Experience of Using Popular Forces with Pakistan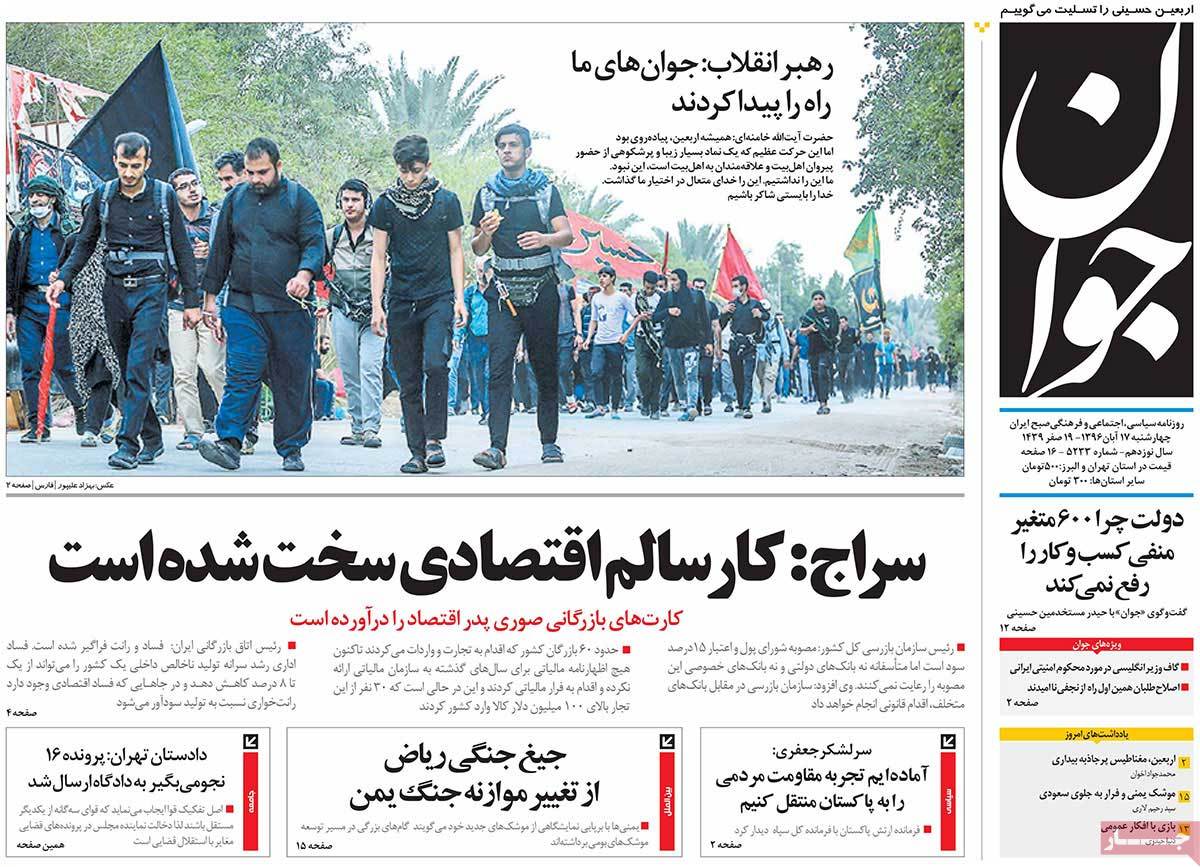 ---
Jomhouri Eslami:
1- Mogherini: Congress Wants to Keep US in JCPOA
2- Iran Has Had $52 Billion worth of Trade with World in Past 7 Months
3- Rouhani to Lebanese President: Iran to Continue Supporting Lebanon Stability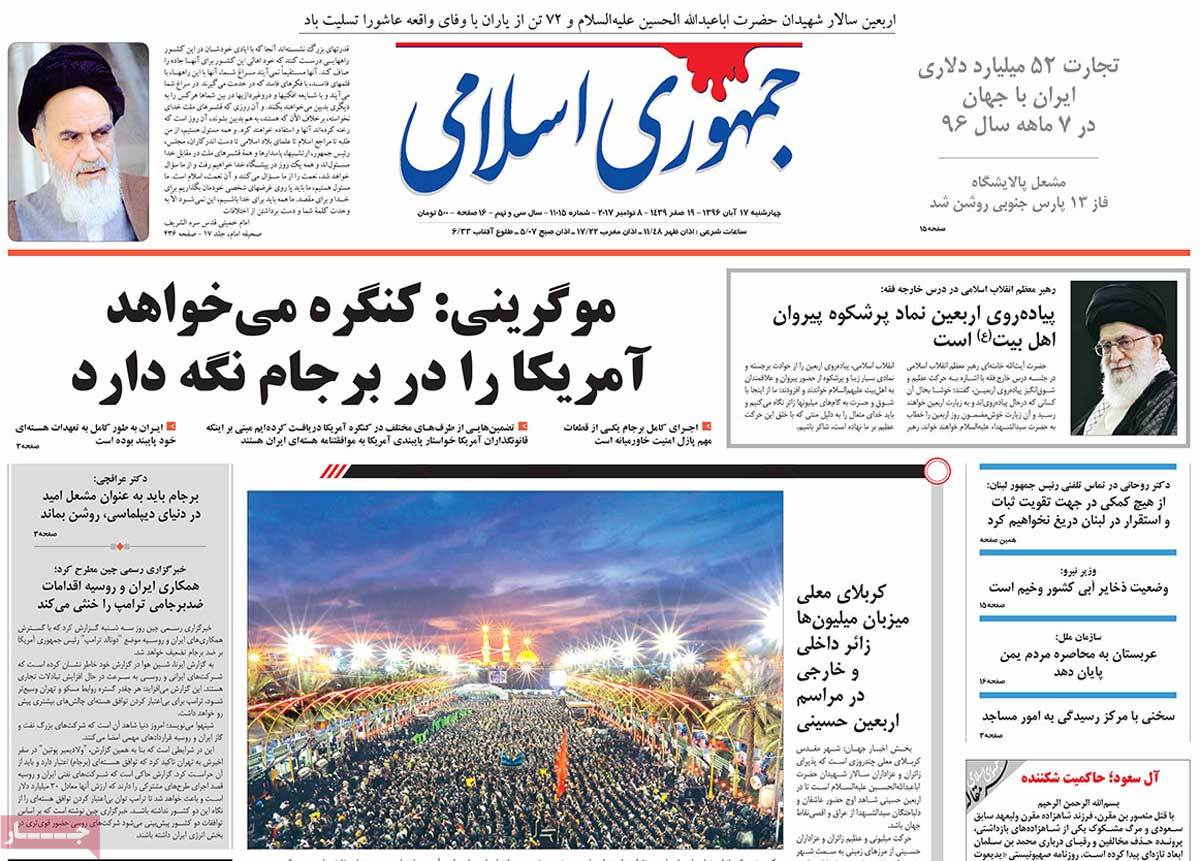 ---
Kar-o Kargar:
1- Zoroastrian Councillor to Attend City Council Meetings until Law Is Revised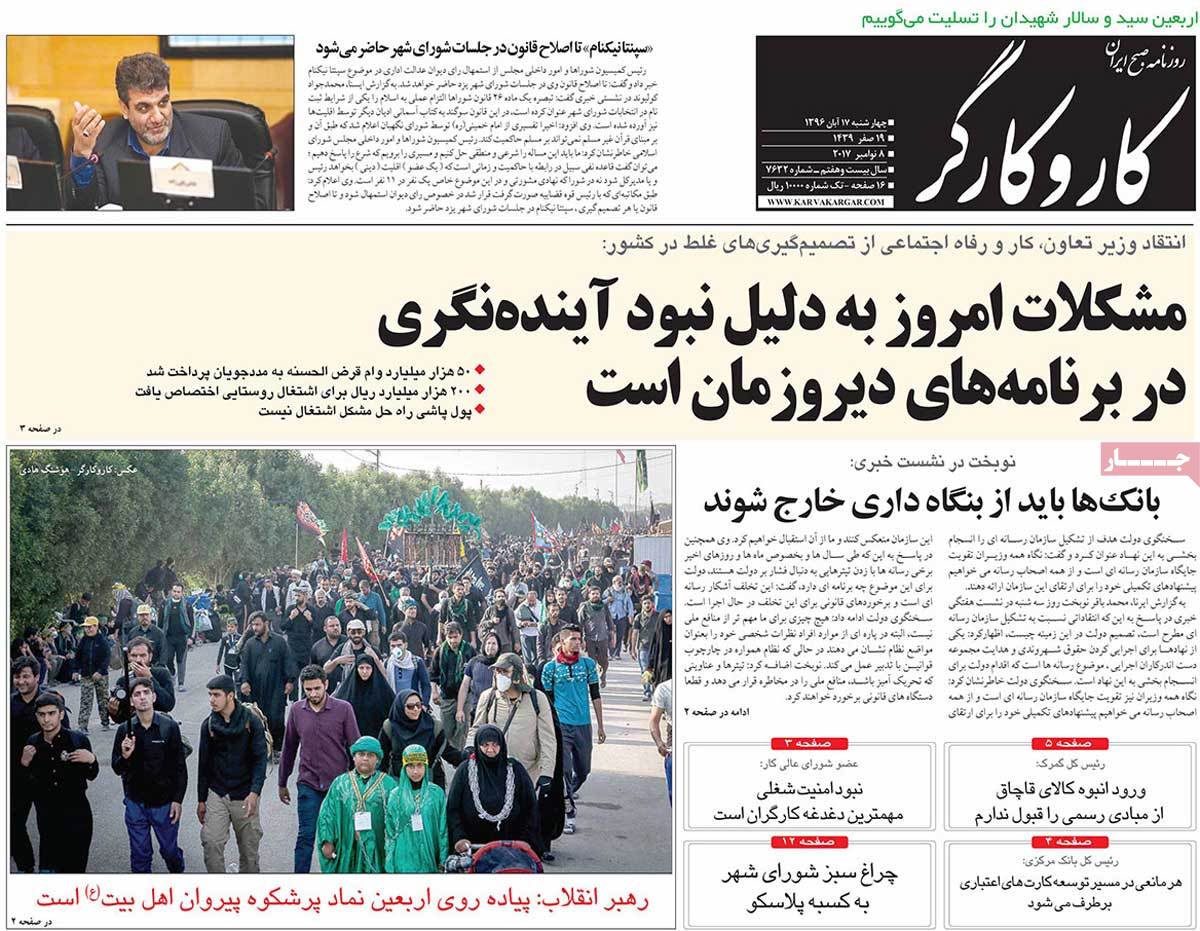 ---
Kayhan:
1- Arba'een, Global Uproar of Imam Hussein's Mourners
2- Yemen Army: Capitals of All Saudi Allies within Range of Our Missiles
3- Kerry: Maintain JCPOA, Bring Iran to Negotiating Table over Regional Issues
---
Khorasan:
1- Yemen Displays Indigenous Marine Missiles
Anti-Warship Missiles Unveiled by Ansarullah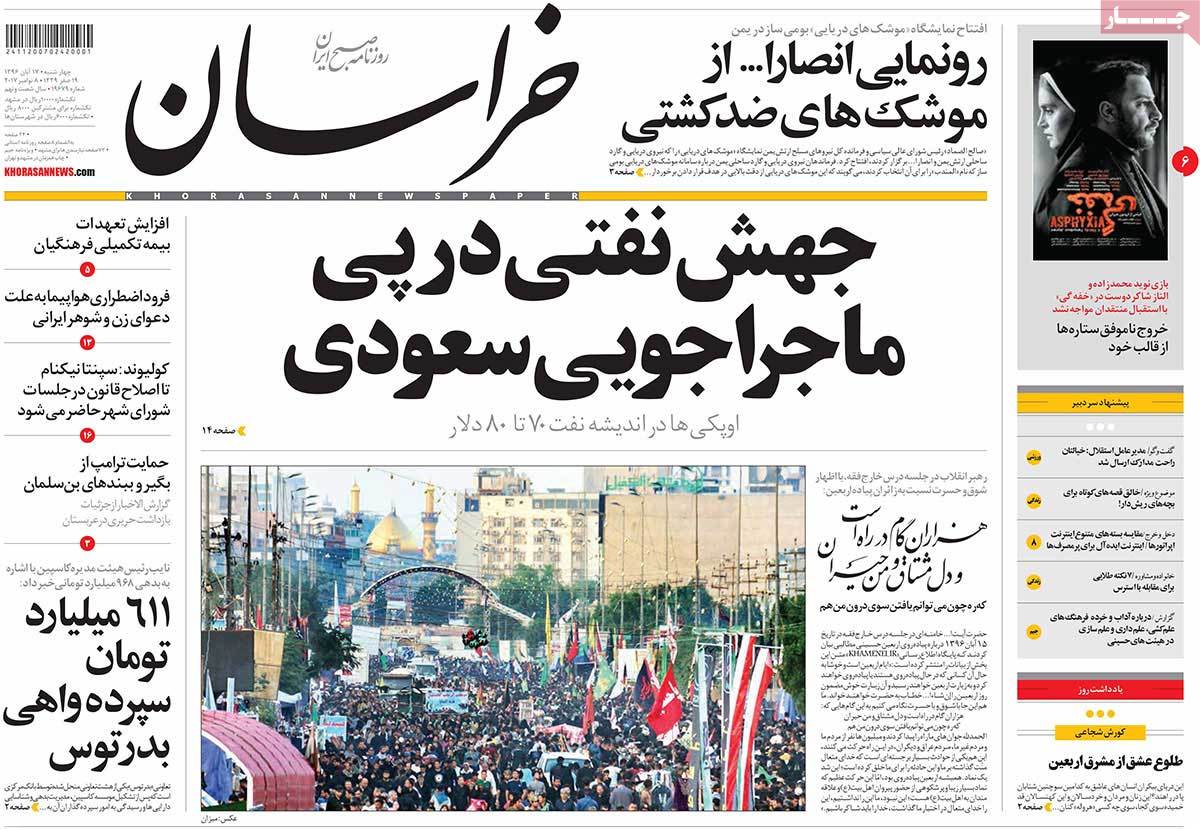 ---
Resalat:
1- Arba'een Walk Beginning of Global Evolution: Aleksandr Dugin
2- Health Minister: Iranian Doctors Ready to Treat Foreign Patients
3- Ayatollah Khamenei Bravely Defending Rights of World Muslims: Mahir Hamoud