The top story in all newspapers today was the remarks made by the Leader of Iran's Islamic Revolution Ayatollah Seyyed Ali Khamenei in a meeting with a group of seminary students in Tehran.
The demise of former Iranian foreign minister Ebrahim Yazdi also received great coverage. In particular, President Hassan Rouhani's message of condolences was widely covered in today's papers.
The ongoing crisis in the US, particularly the state of Texas which is grappling with the Harvey hurricane, was also a top story today.
The above issues, as well as many more, are highlighted in the following headlines and top stories:
Aftab-e Yazd:
1- Iran Leader: Stabilizing Revolutionary Norms, Creating Islamic Society Needs Struggle
2- Patient Politician, Former Iran FM, Ebrahim Yazdi Dies at 86
3- 80 Percent of Iran Won't Have Water in 20 Years: Environment Chief
---
Arman-e Emrooz:
1- Iran Leader: Long Way to Go until Formation of Islamic Management Organisation
2- Tehran Prosecutor General: Judiciary Ready to Try Sedition (Opposition) Leaders
3- Return of Mayor to Cabinet
Tehran City Councillor: We're Pursuing Tehran Mayor's Attendance in Cabinet Sessions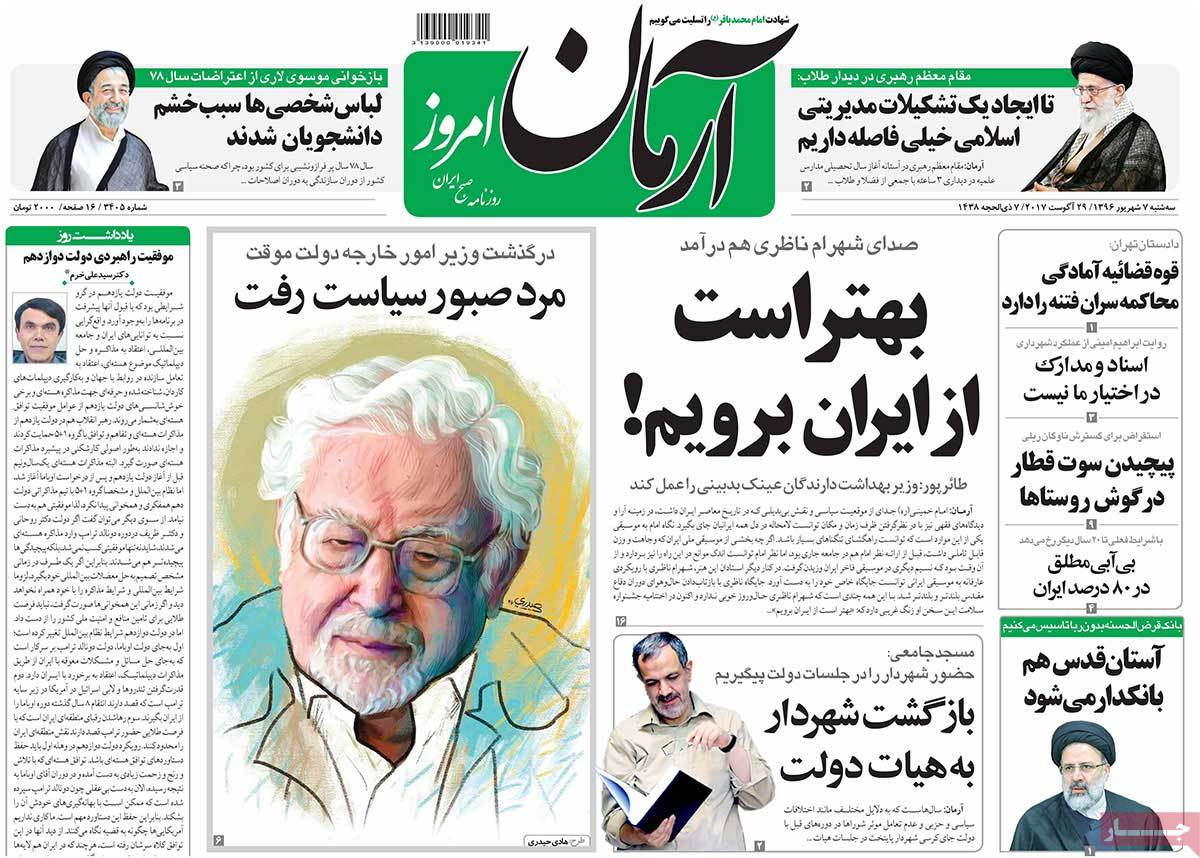 ---
Donya-ye Eqtesad:
1- Iranian Entrepreneur to Take Helm of Uber
2- Project to Build Dams against Nuclear Deal Kicked Off
White House Exerting Pressure
---
Ebtekar:
1- Harvey Hurricane, New Crisis in US
2- Which One Should Be Saved: Water or Agriculture?
---
Ettela'at:
1- Leader: Young Generation Strongly Needs New Words, Ideas
2- First VP: We Shouldn't Prevent Development of IT on Pretext of Social Ills
3- 800 ISIS Terrorists Killed in Russia's Heavy Attack on East Syria
4- We Should Use Term 'Gender Equality': VP for Women Affairs
---
Iran:
1- Wind of Boom in Housing Market: 23% Increase in Deals after 3 Years
2- Farewell to Well-Known Politician
Rouhani: History to Remember Dr Yazdi's Efforts
3- US Secretary of State Tillerson Renounces Trump
---
Javan:
1- Iran Leader: If Enemy Not Angry with Us, You Should Doubt Your Usefulness
2- Obama's Deputy: American Nation Should Stand against Trump
3- Ebrahim Yazdi Dies
---
Jomhouri Eslami:
1- Opponents, Supporters of Trump Clash with Each Other in Berkley
2- Tillerson: Trump Talking on Behalf of Himself
---
Kayhan:
1- Iran Leader: Struggle Needed to Protect Revolution
2- Iran Nuclear Chief: JCPOA Was God's Mercy; Trump's Words for Domestic Use!
3- Lebanese Analyst: Hezbollah, Syria's Victories in Defeating ISIS Thanks to Iran, Its Leader
---
Kelid:
1- Tehran Mayor's Decree Signed by Interior Minister Overnight
Najafi Starts Work in Tehran Municipality
---
Khorasan:
1- One-Month Deadline for Prohibition of 800 Goods
2- Texas under Water
3- Gov't Ready to Unblock All Social Media
---
Mardom Salari:
1- Rouhani: Iran's History Will Remember Dr Ebrahim Yazdi
2- UN Special Envoy in Iran
3- Harvey Catastrophe in Texas
---
Shahrvand:
1- Impact of Nuclear Deal on Global Humanitarian Relations
2- Long Way to Go until Formation of Islamic Society: Iran Leader
---
Shargh:
1- We Should Be Doubtful about Ourselves If Enemies Not Angry with US: Leader
2- We Won't Stop Fighting Corruption: First VP
---
Tejarat:
1- Central Bank Governor: Banks to Have Strong Presence in Supporting Production
2- Global Criticism of Nobel Peace Prize Laureates