Newspapers today continued to review the vote of confidence Rouhani's ministers received from the Parliament. Reformist papers particularly analysed the behaviour of leftist lawmakers during the recent months.
The Iraqi army's offensive to retake the city of Tal Afar from ISIS terrorists and the Russian airstrikes on ISIS positions in Syria were also highlighted in today's papers.
Another top story was Turkish President Recep Tayyip Erdogan's comments about the possibility of a joint operation by Iran and Turkey against Kurdish militants, particularly PKK in Turkey and PJAK in Iran.
The above issues, as well as many more, are highlighted in the following headlines and top stories:
19 Dey:
1- Aftershocks of Parliament's Vote of Confidence
2- Iranians Spend $11bn on Visiting Other Countries: Research Centre
---
Abrar:
1- Iraqi Forces Continue Their Progress around Tal Afar
12 Villages Liberated, 50 ISIS Elements Killed
2- Foreign Ministry: We Welcome Relations between Iraq, Saudi Arabia
3- Iranian Advisors Taking Part in Operation to Liberate Tal Afar on Baghdad's Request
4- Reformist Theorist: Who Says Rouhani Shouldn't Be Criticized?
---
Aftab-e Yazd:
1- Iran Leader: Dear Mohsen Hojaji Became God's Sign before Our Eyes
2- No Other Politician Left for Rouhani to Put in His Cabinet: Reformist Figure
---
Arman-e Emrooz:
1- First VP: Women's Share of Gov't to Be Increased to 30%
2- Erdogan Says Iran, Turkey May Launch Joint Operation against Kurdish Militia
3- 37 Million Iranians in Danger of Water Tension
Iran's Water Consumption per Capita More than Global Average
---
Ebtekar:
1- Disappointment with Hope [Faction]
A Review of Reformists' Performance in Parliament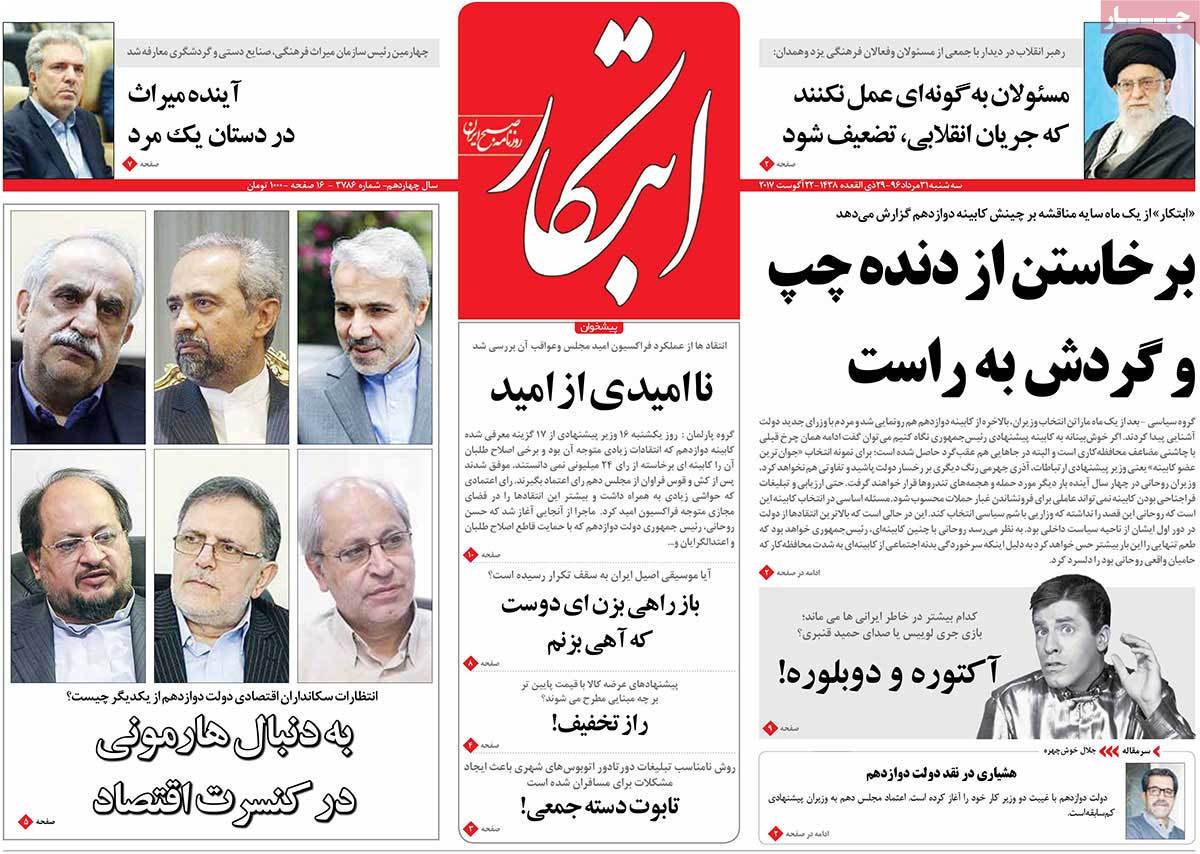 ---
Etemad:
1- New Alliance between Iran, Turkey
2- Interior Minister: I'll Choose Female Deputy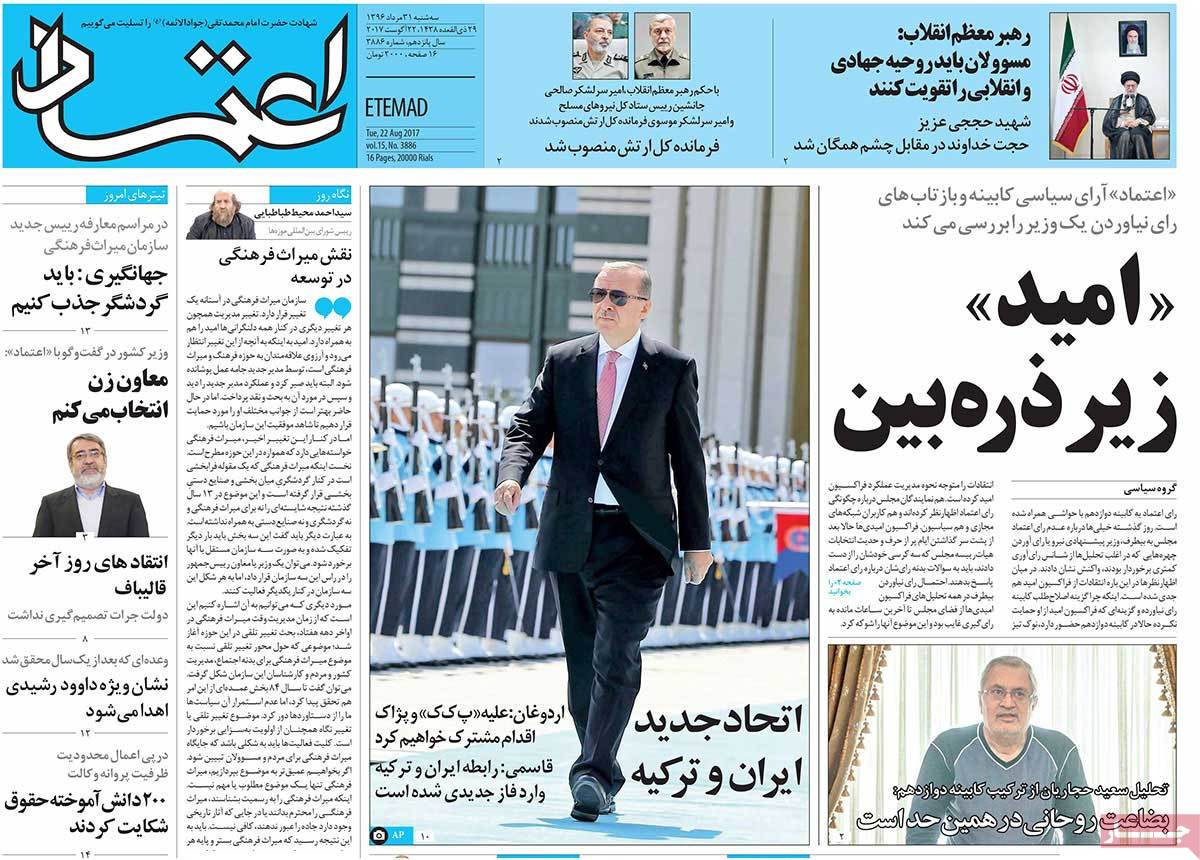 ---
Ettela'at:
1- Judiciary Chief: West Has No Resolve to Eradicate Terror
2- UN: Massacre of Shiites in Afghanistan's Mirza Olang Was War Crime
3- People in Eastern Iran Gradually Migrating to West
---
Javan:
1- Erdogan Talks of Important, Decisive Deals with Iran
Tel Aviv Concerned about Tehran-Ankara Enhanced Ties on Kurdistan
2- Iranian Economy's Bride Has Thousands of Grooms!
Several People in Rouhani's Gov't in Charge of Iran's Economy
3- IRGC Congratulates DM Hatami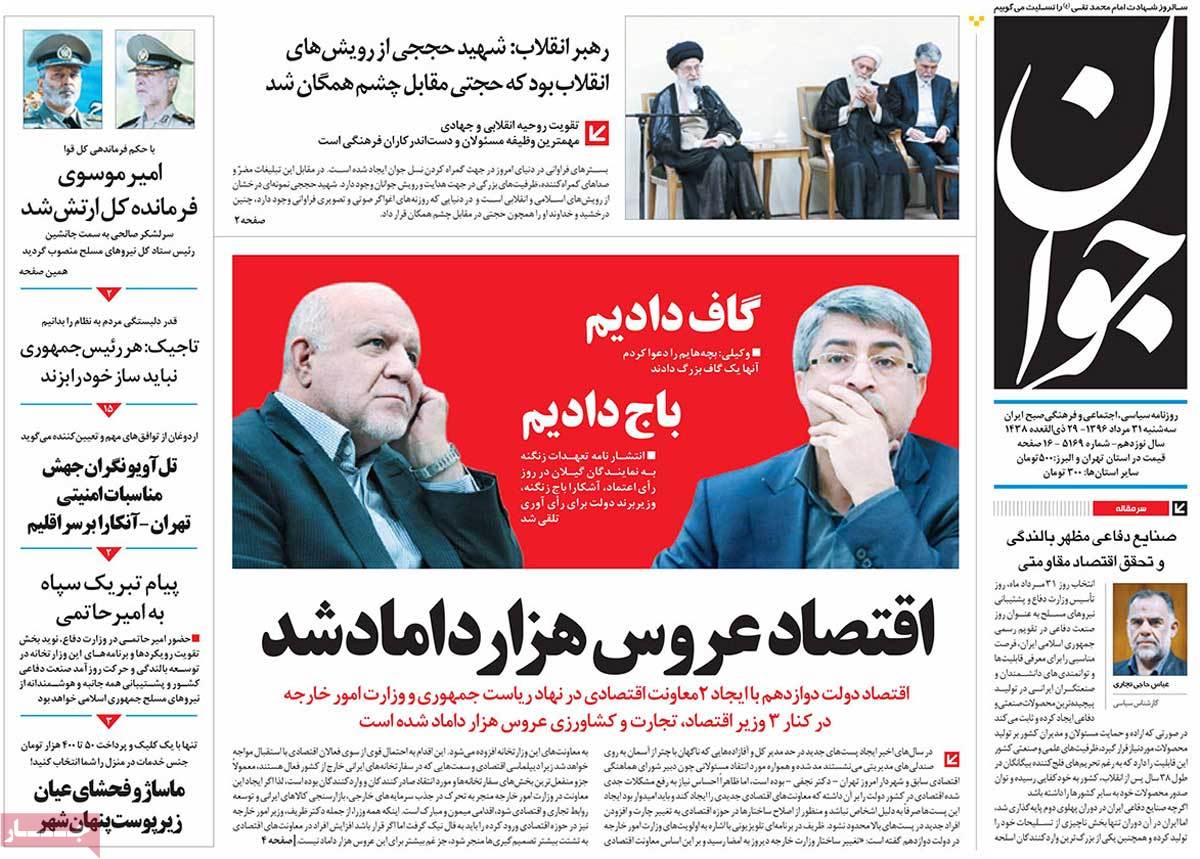 ---
Jomhouri Eslami:
1- Citizens of 3 Key US States: Trump Source of Shame
2- UN's Confidential Report on Saudi Arabia's Defeat in Yemen
---
Ka'enat:
1- Prosecutor-General against Cyberspace
Young People, Families Are Being Killed in Cyberspace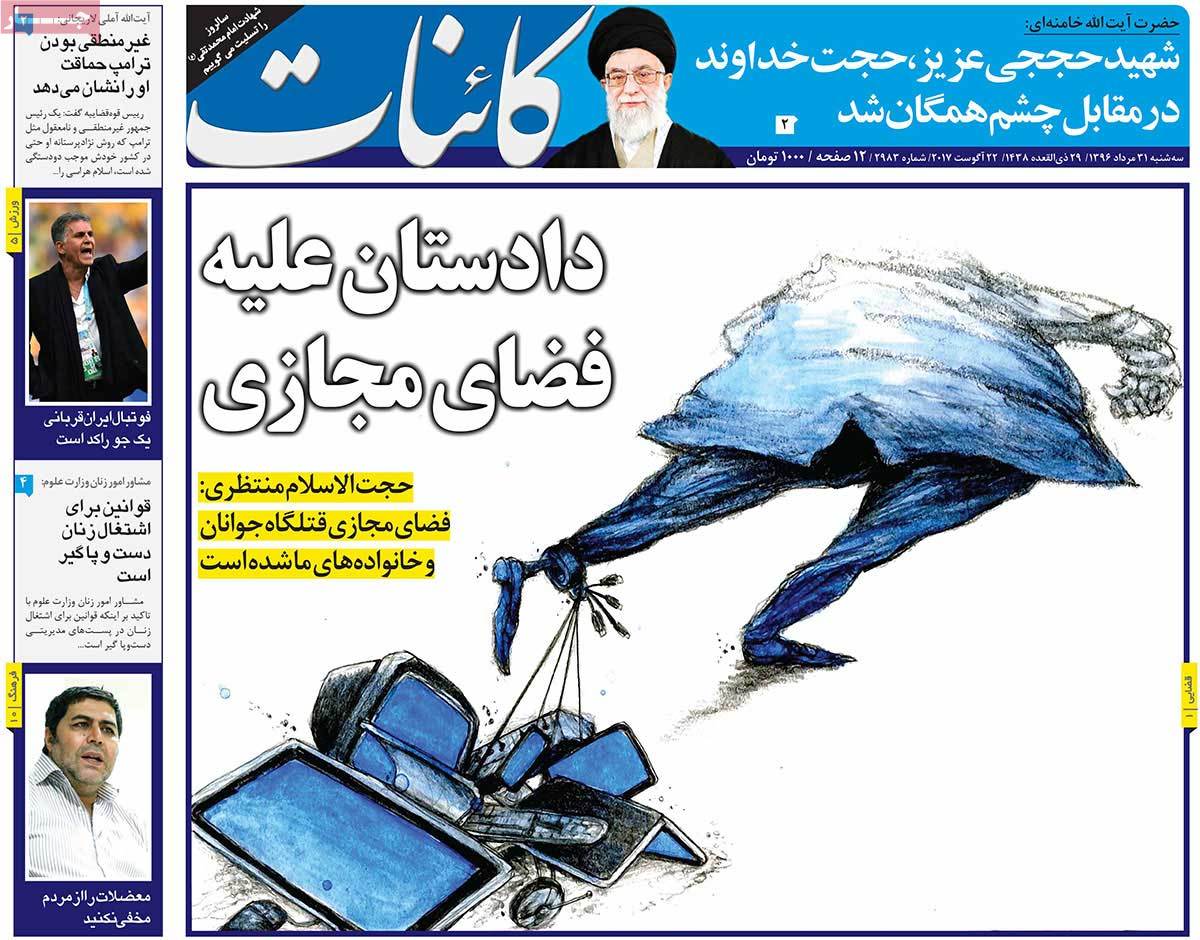 ---
Kayhan:
1- Russia Defence Ministry: ISIS Convoy Bombed in Deir ez-Zor
200 Takfiri Terrorists Killed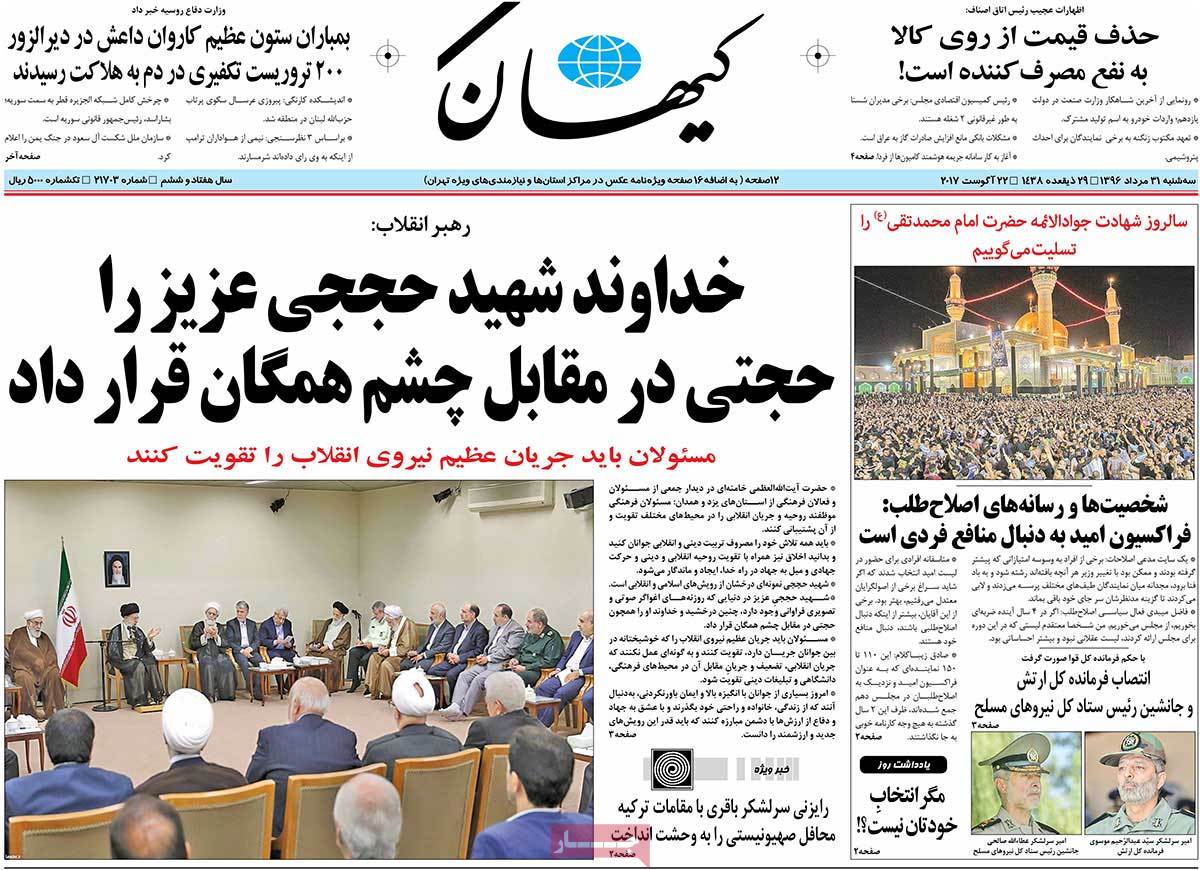 ---
Setareh Sobh:
1- Reformist MPs under Fire
2- Trump's Qualification under Scrutiny of Voters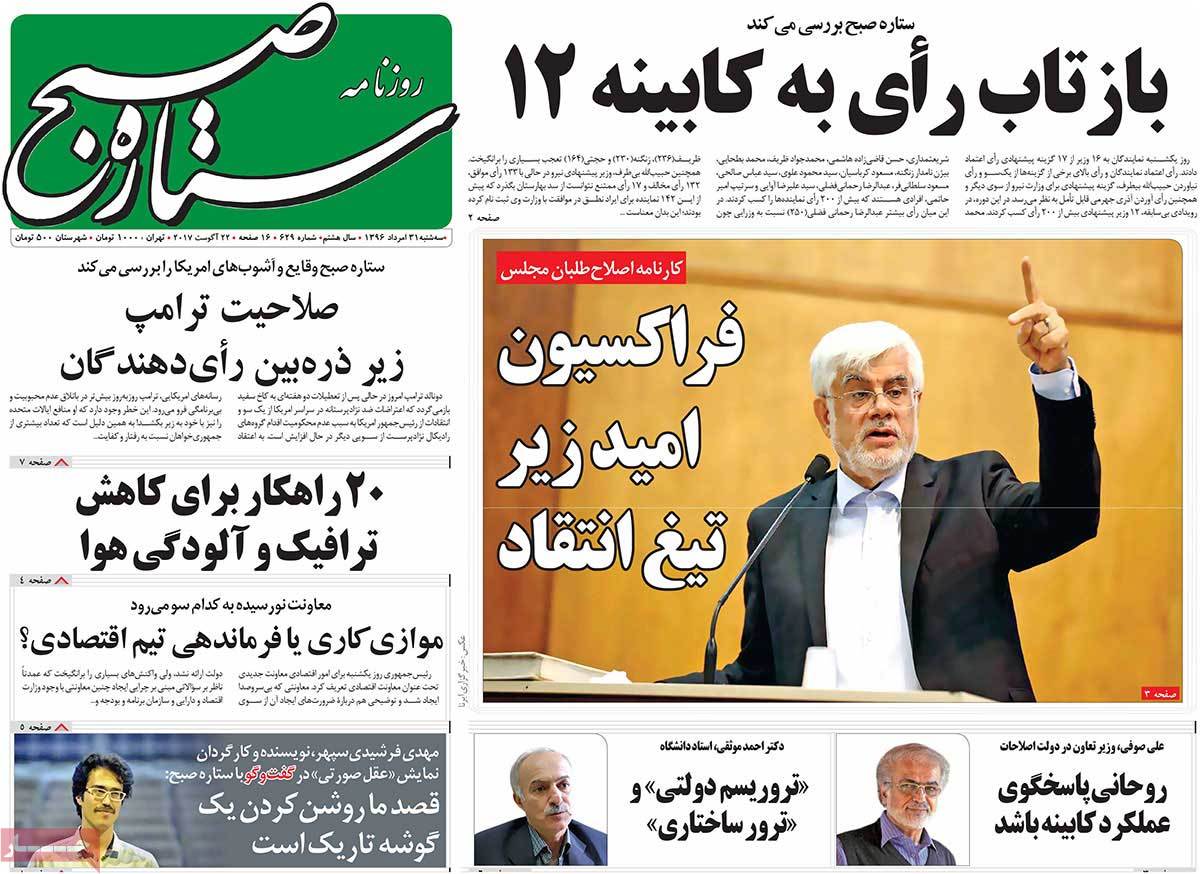 ---
Shahrvand:
1- Emotionless Men: Husbands Divorcing Wives with Hard to Treat Diseases, Cancer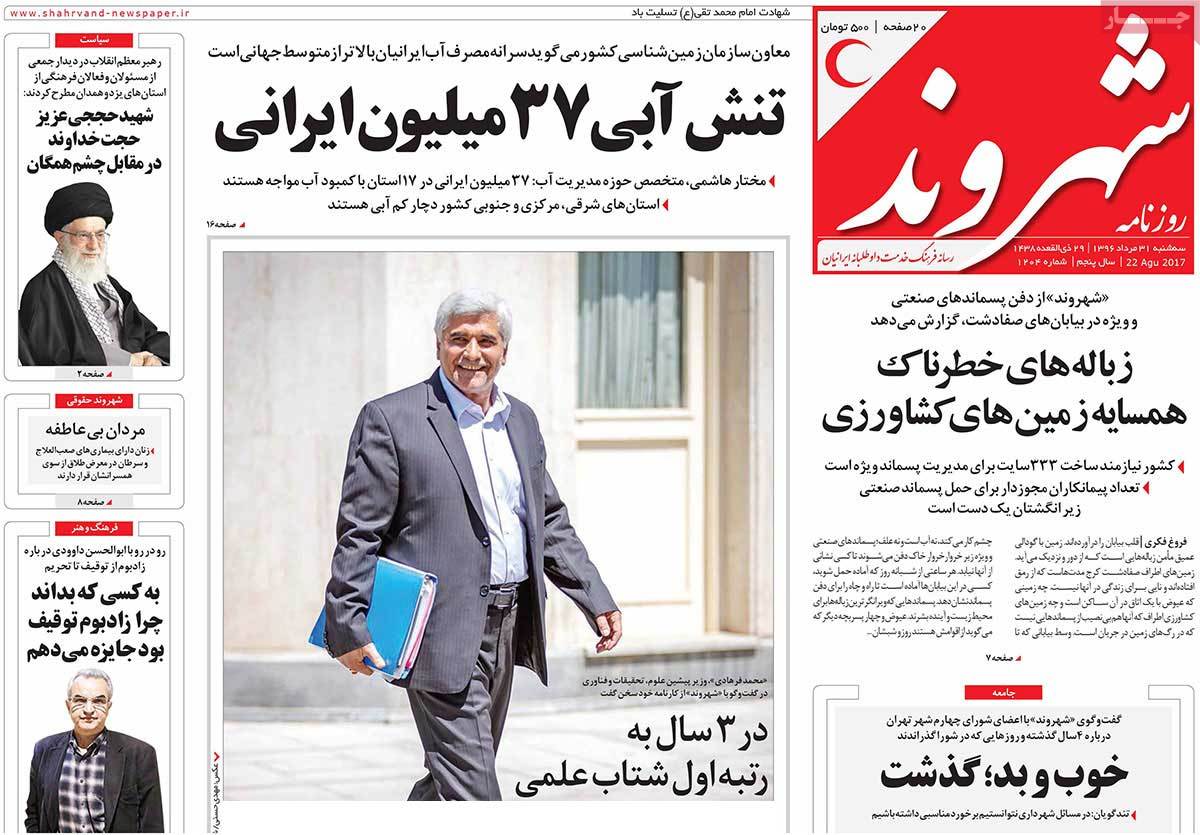 ---
Shargh:
1- Special Order 10 Hours after Vote of Confidence
Zarif Revives Foreign Ministry's Economic Department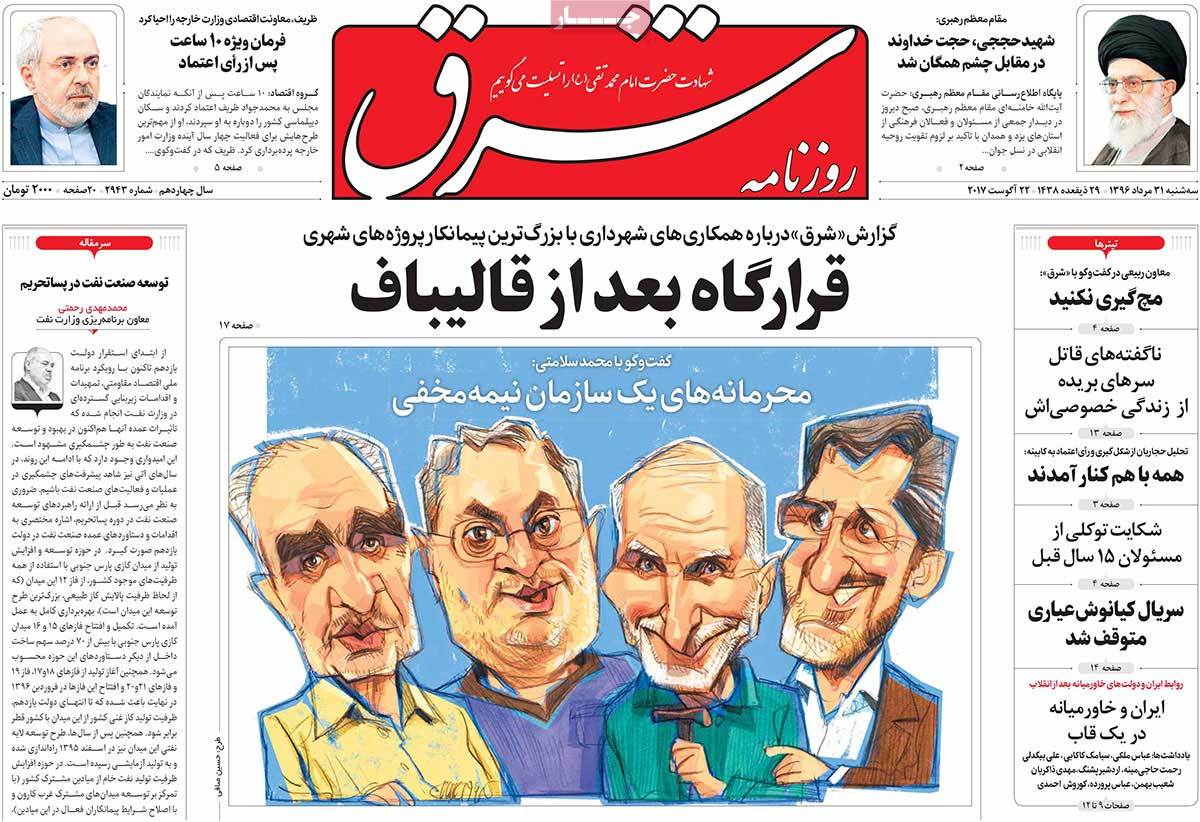 ---
Sobh-e Now:
1- Prosecutor-General: Judiciary Not after Shutting Down Cyberspace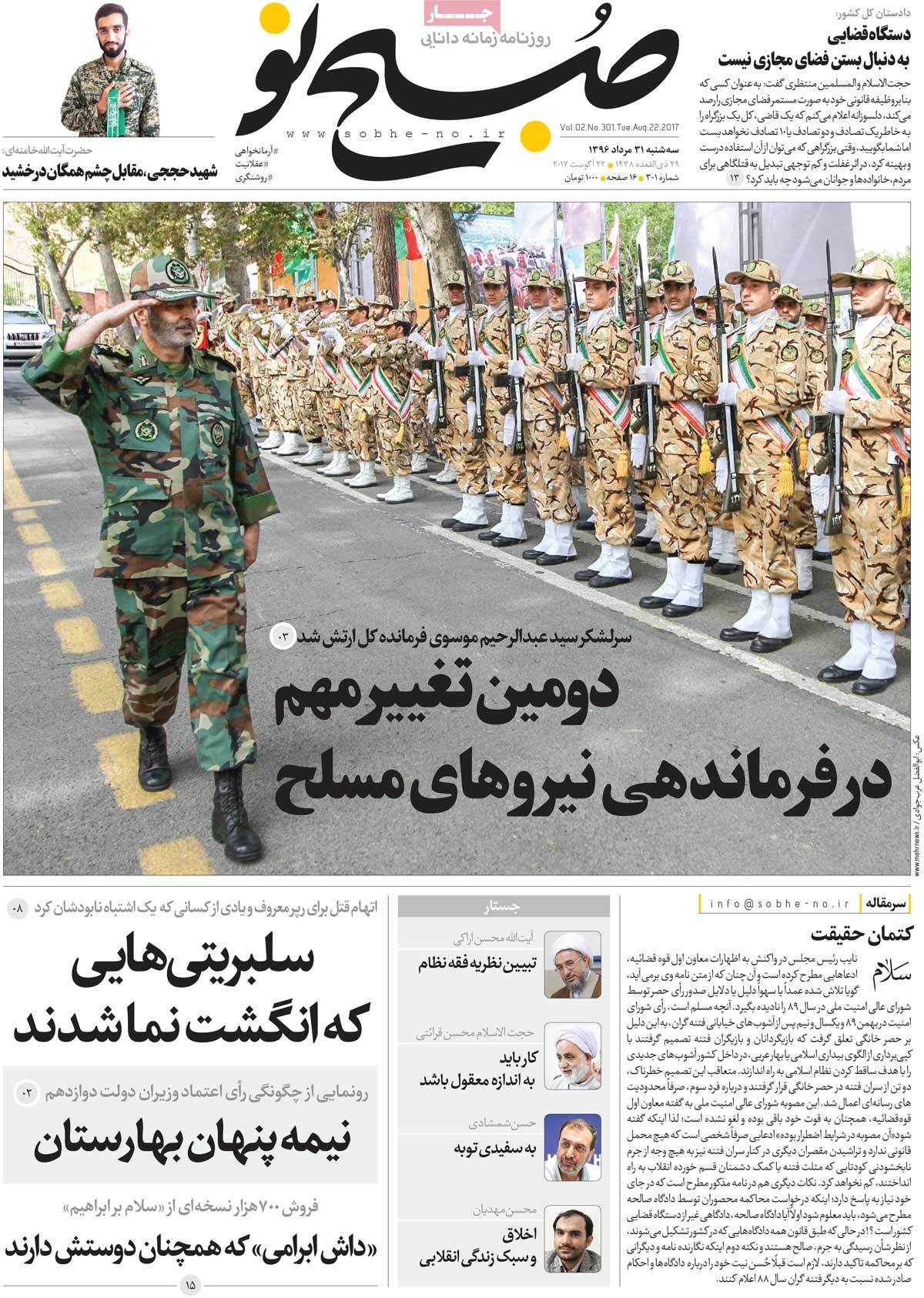 ---
Vaghaye Ettefaghieh:
1- Reformist Figure: Rouhani Has Power to Hold Dialogue with 16m Critics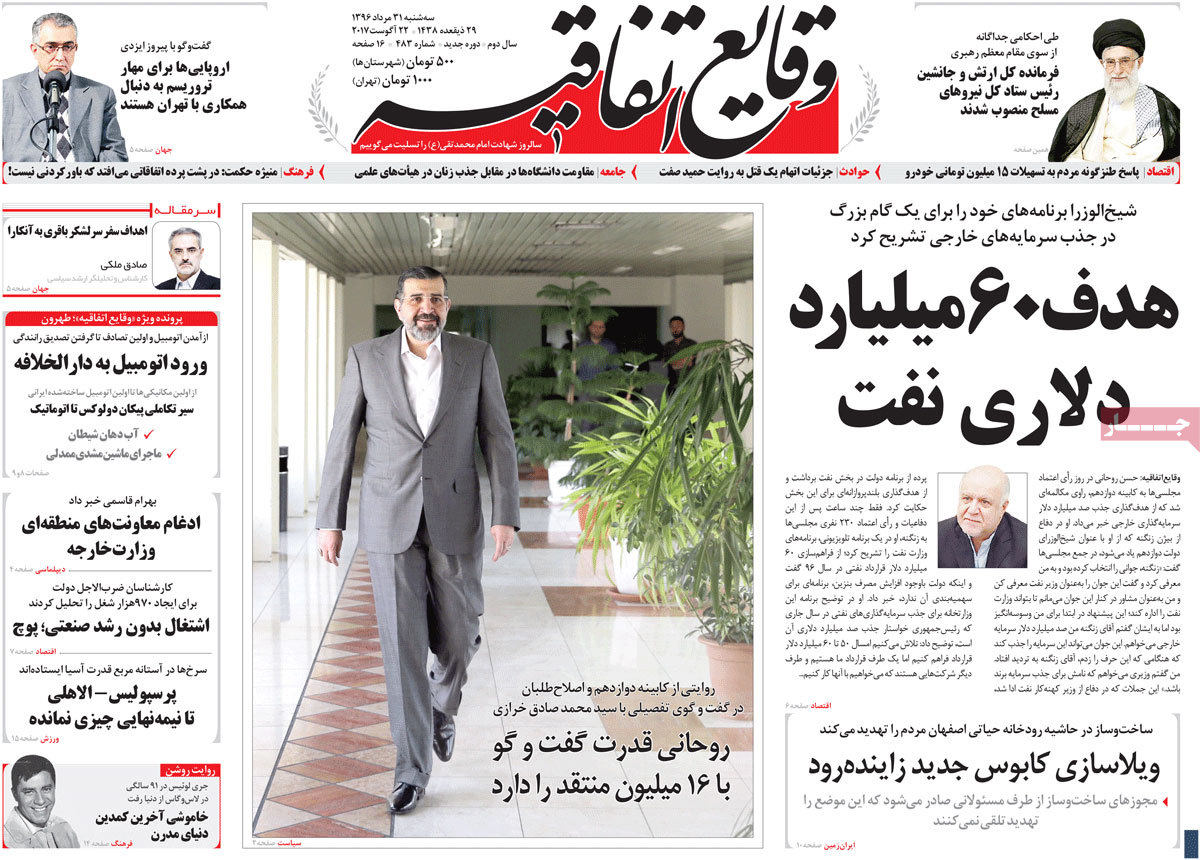 ---
Vatan-e Emrooz:
1- Would Trump Join Nixon? First Bill in Congress to Impeach Trump for Mental Instability