The top story today was the ISIS terrorist attack on Barcelona, Spain, which claimed at least 14 lives and wounded several others. The attack was strongly condemned by Iran's foreign ministry.
Another top story was the anniversary of the 1953 US-backed coup in Iran, which led to the overthrow of democratically-elected Prime Minister Mohammad Mosaddegh.
The hunger strike of Mahdi Karroubi, one of the two Iranian opposition leaders under house arrest, and President Hassan Rouhani's order for addressing his demands also received great coverage.
The above issues, as well as many more, are highlighted in the following headlines and top stories:
Abrar:
1- Those Who Will Receive Vote of Confidence from Parliament
2- American Shipping Line Agrees to Pay Compensation for Violating Iran Sanctions
3- Iran Foreign Ministry Condemns Barcelona Terror Attack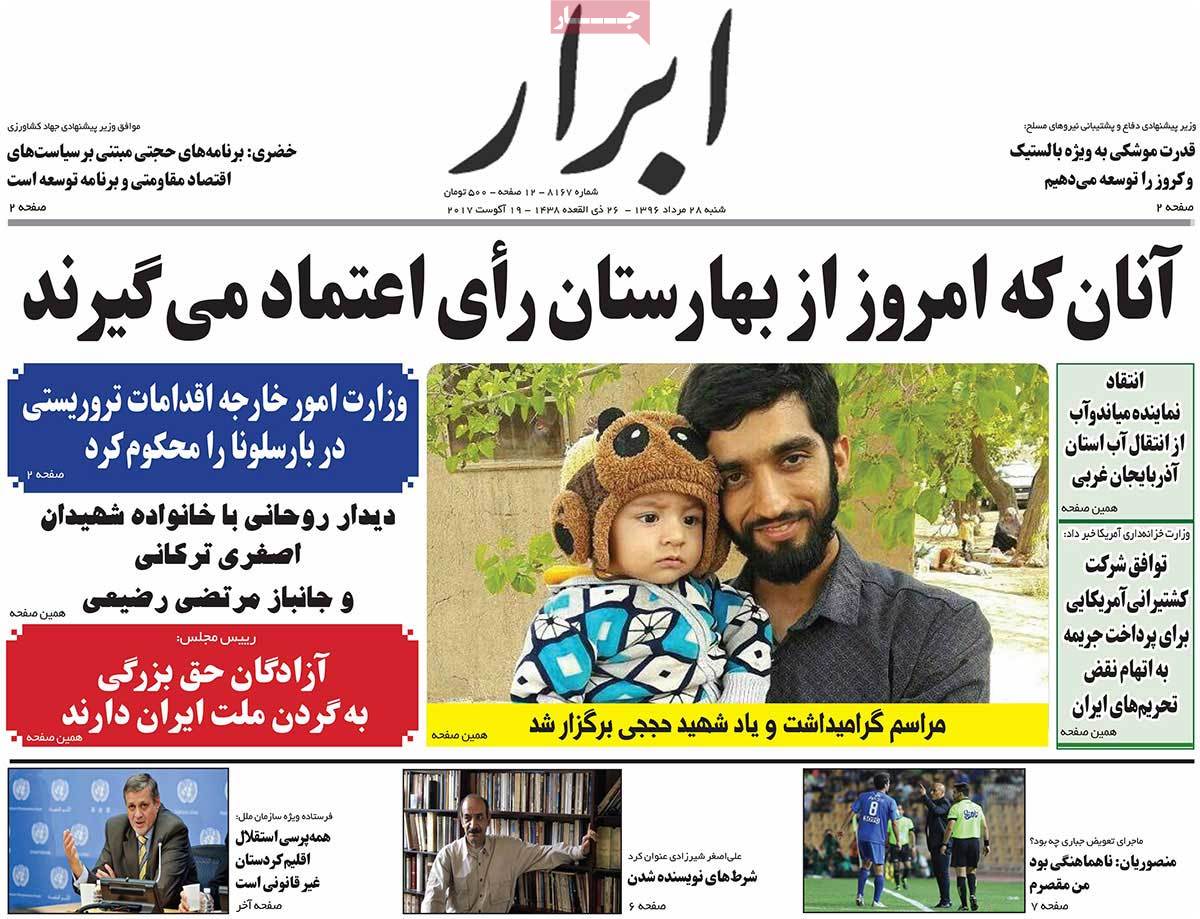 ---
Abrar-e Eqtesadi:
1- Labour Minister to Face 4 Super-Challenges: 12m People under Poverty Line
2- Iran Ready to Swap 500,000 Barrels of Oil Coming from Caspian Sea Littoral States
3- Rice Tops List of Iran's Imports, Replacing Petrol
---
Aftab-e Yazd:
1- Calm Parliament
How MPs Behave in Sessions to Give Ministers Vote of Confidence
2- Lebanese Basketball Spectators Insult Iran Flag in Beirut
3- Iranian People Fully Supported Democratically-Elected PM Mosaddegh (in 1953 Coup)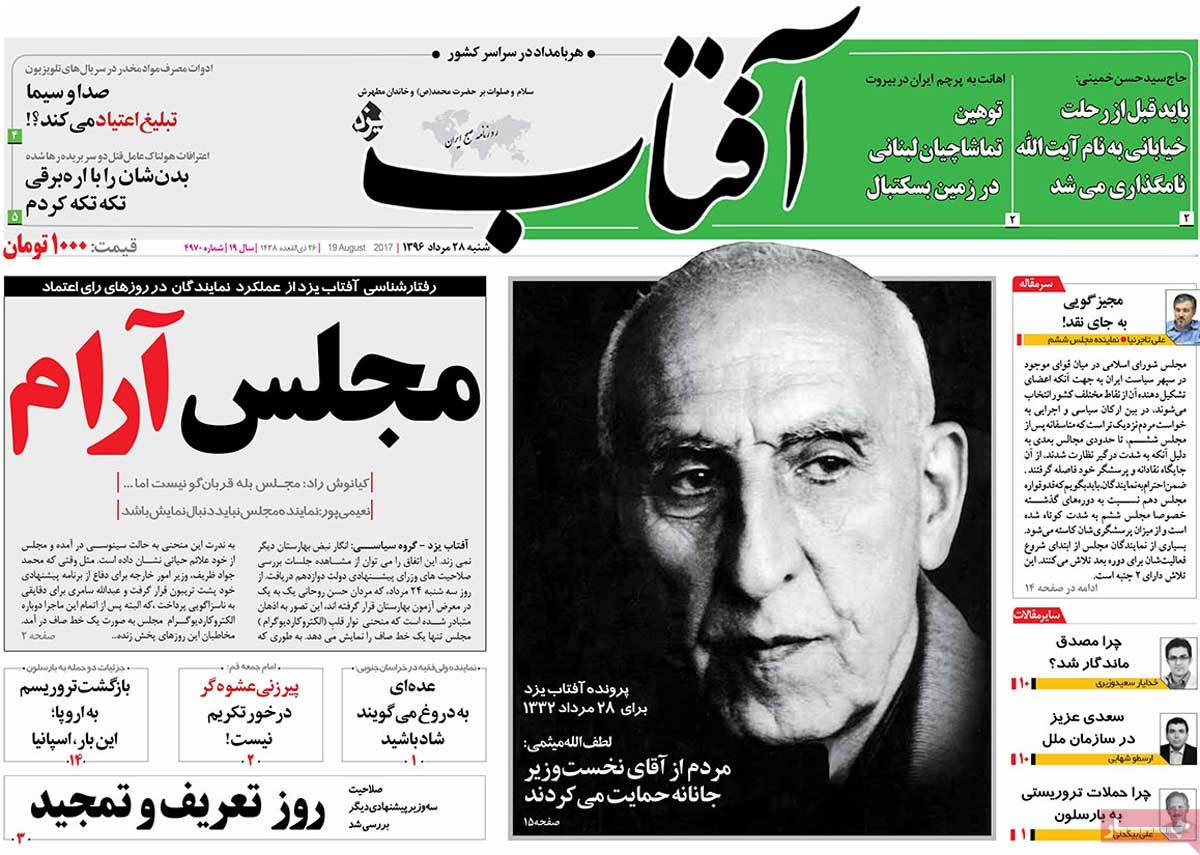 ---
Arman-e Emrooz:
1- Female MP: New Pretexts for Removing Women from Managerial Positions
2- Ahmadinejad's Remarks Spark Controversy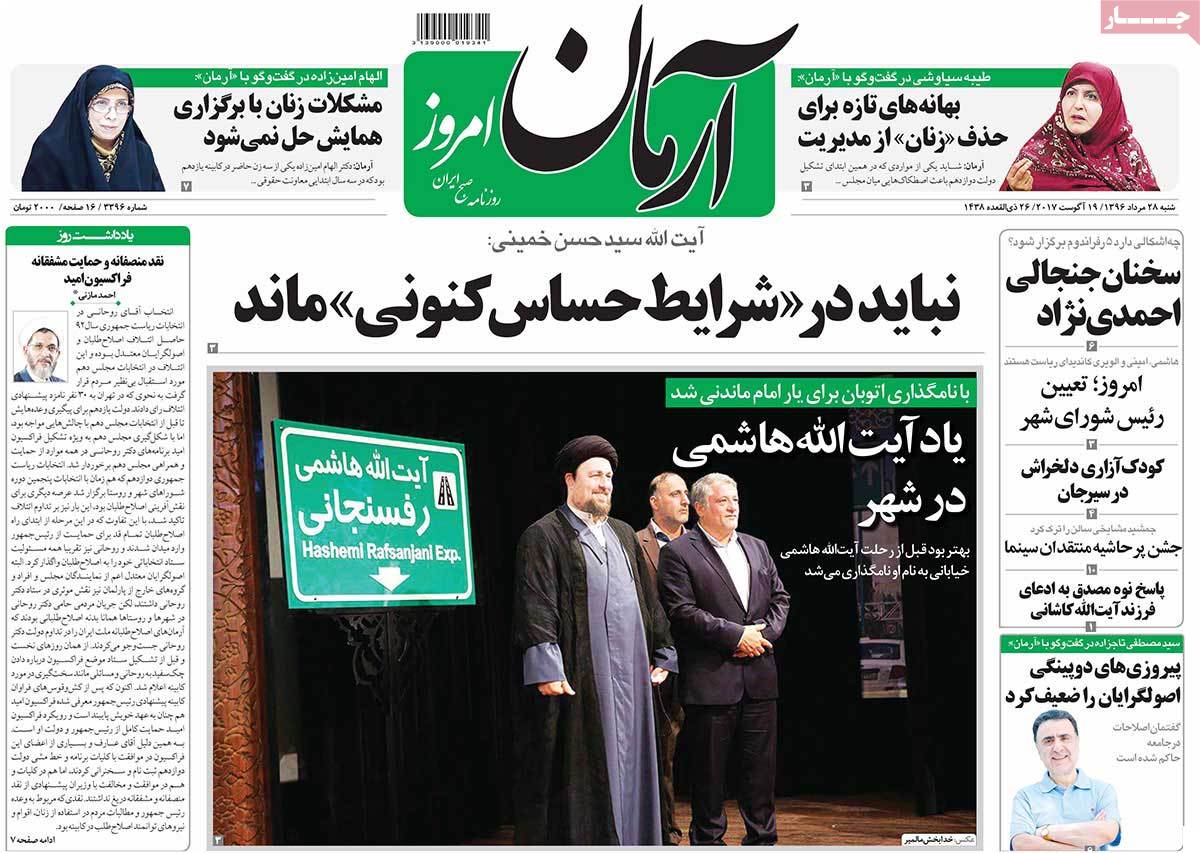 ---
Bahar:
1- Rouhani: ISIS Clear Example of Reactionary Attitude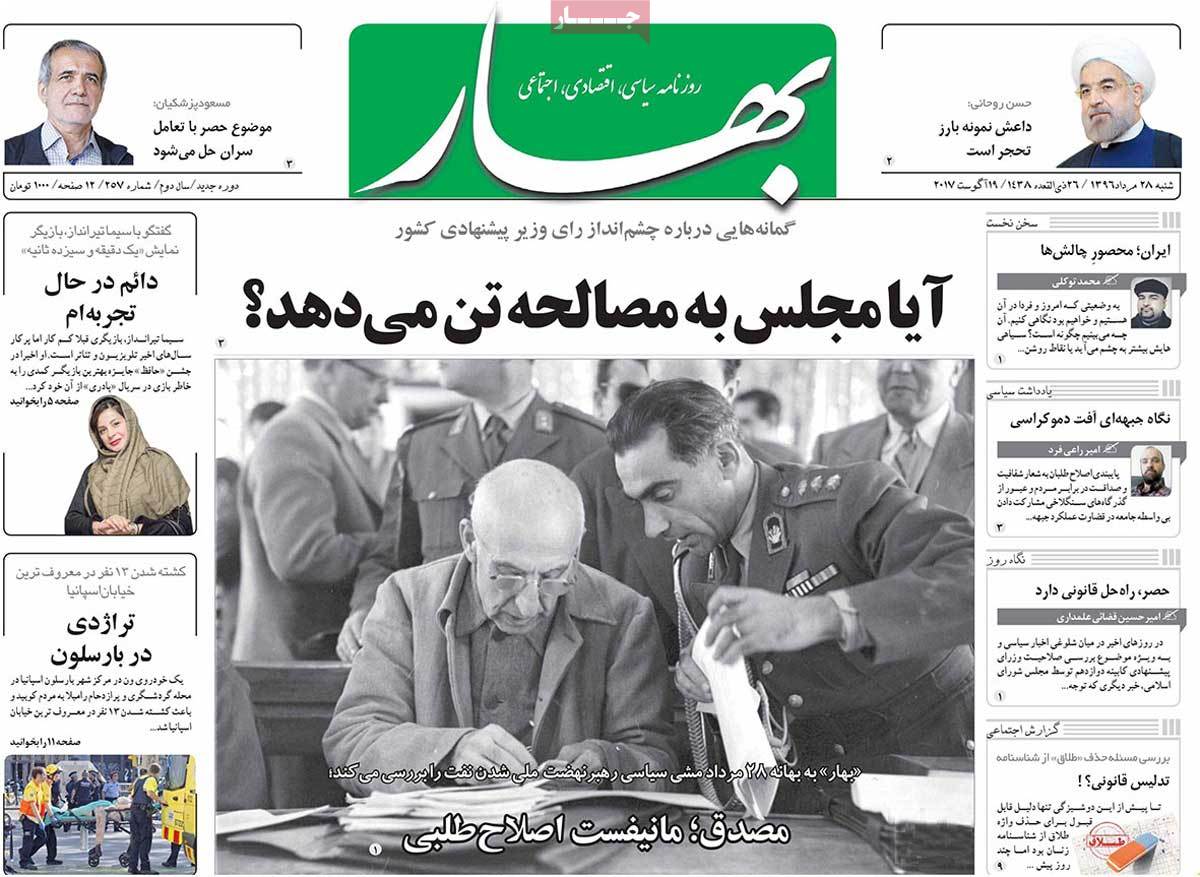 ---
Ebtekar:
1- How Iran Is Going to Save Poor People from Starvation Using Garbage
2- Some Workers Still Treated as Slaves in Iran
3- Reformism in Iran Not Yet Well Theorized
4- Was 1953 Coup a Real Coup d'état?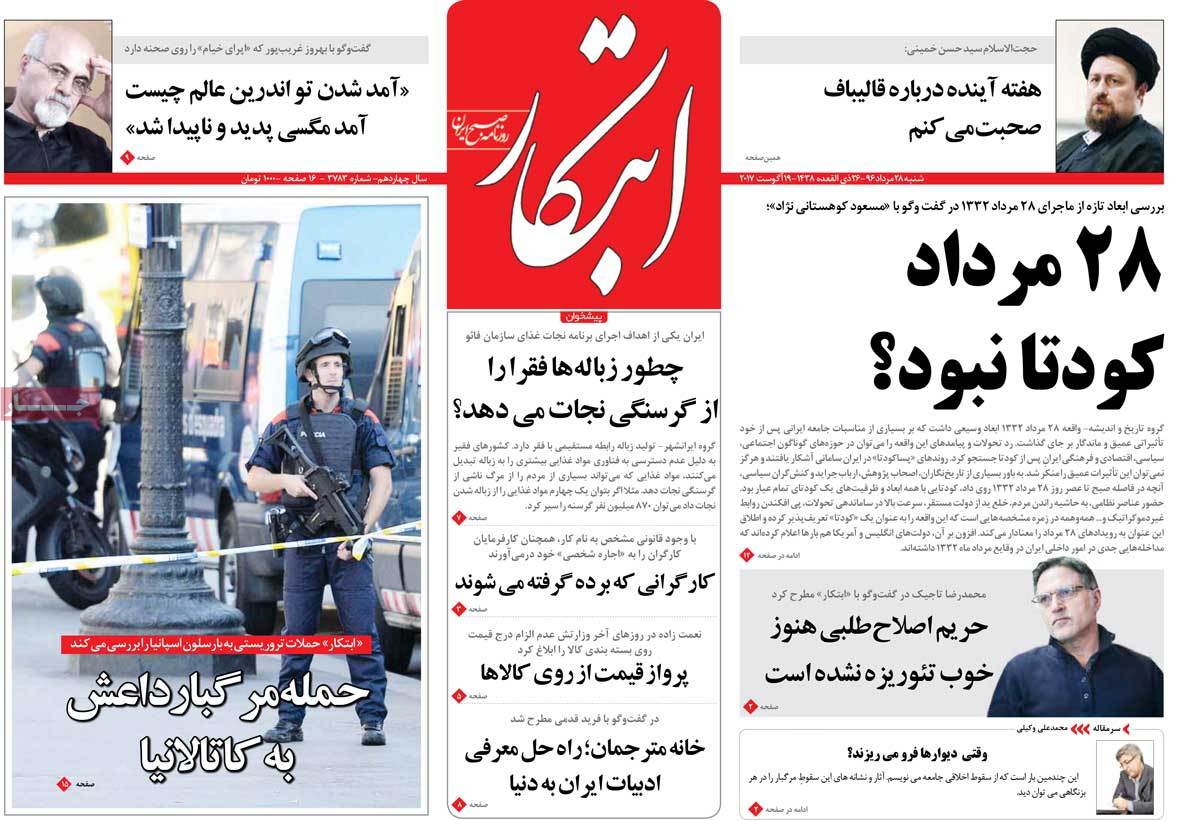 ---
Etemad:
1- Ahmadinejad: I Was Not Stopped, I'd Share Iran's Entire Wealth with People
2- Terrorists Hold Feast for Tourists [in Barcelona]
3- Mosaddegh Was Neither Mandela, nor Che Guevara
4- Rouhani Orders Health, Intelligence Ministries to Deal with Opposition Leader's Hunger Strike
---
Ettela'at:
1- Imam Khomeini's Grandson: Ayatollah Hashemi's Concern Was Better Tomorrow for Iran
2- 14 Killed, 130 Wounded in ISIS Attack on Barcelona
3- Widespread Opposition to Iraqi Kurdistan's Independence Referendum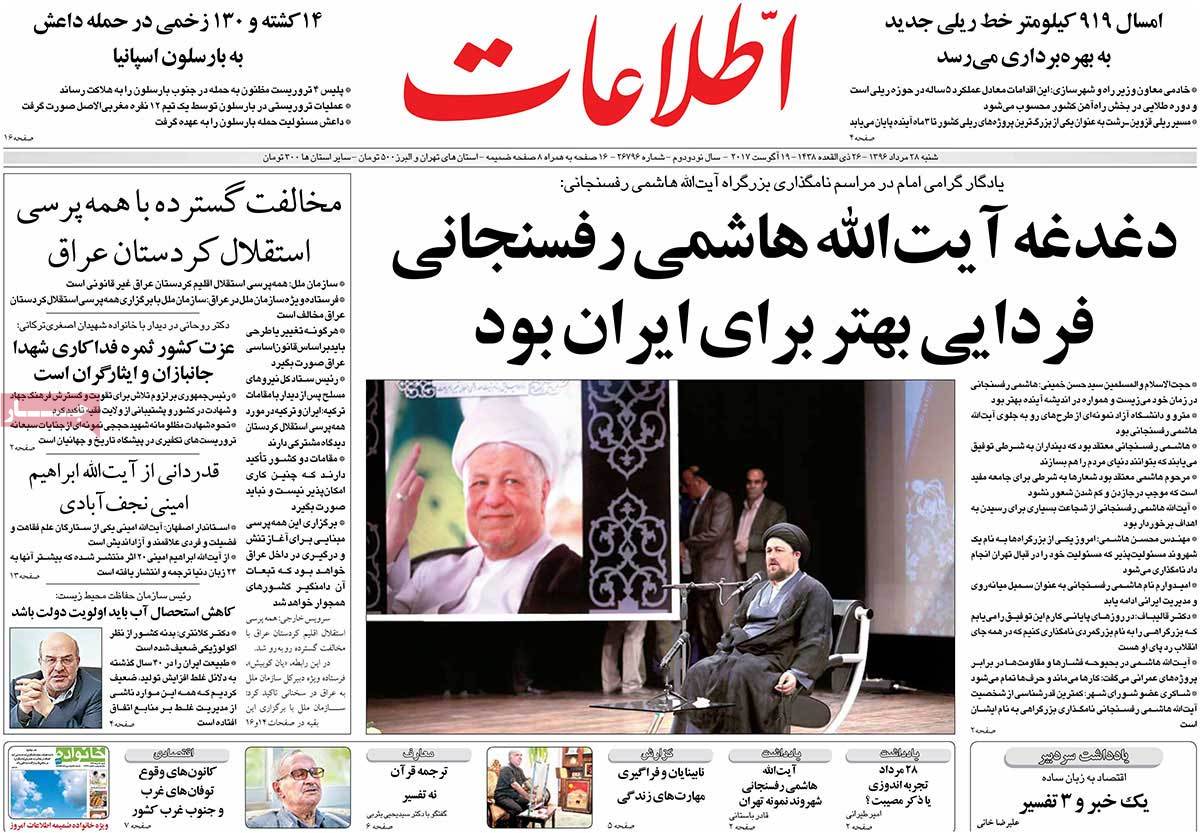 ---
Hamdeli:
1- Iranian Military, Security Officials Warn against Iraqi Kurdistan's Independence Referendum
2- 64 Years after Coup (Anniversary of 1953 Coup in Iran)
3- Political, Religious Figures Hopeful about Resolution of Opposition Leaders' House Arrest
---
Iran:
1- 'Van of Death': ISIS Terrorists Attack Barcelona; 3 Days of Mourning
2- Plot against Popular Government [Anniversary of 1953 Coup]
---
Javan:
1- Controlling People's Expectations by Increasing Inflation Rate!
Don't Use Domestic Production for Increasing Forex Rates
2- Warnings of Civil War in US
3- Machine of Terrorism Arrives in Spain
4- Who Did Receive the Money US Sent after 1953 Coup?
---
Jomhouri Eslami:
1- Iran, Turkey Voice Opposition to Iraqi Kurdistan's Independence Referendum
2- Rouhani's Gov't Attracts $11.8bn in Foreign Financial Facilities
---
Kayhan:
1- Western Governments Receive Saudi Petrodollars; Innocent People Receive Fear, Death [Spain terrorist attack]
2- UN's Report on Al Saud's Horrible Crimes in Yemen
3- Kissinger to Trump: ISIS Shouldn't Be Destroyed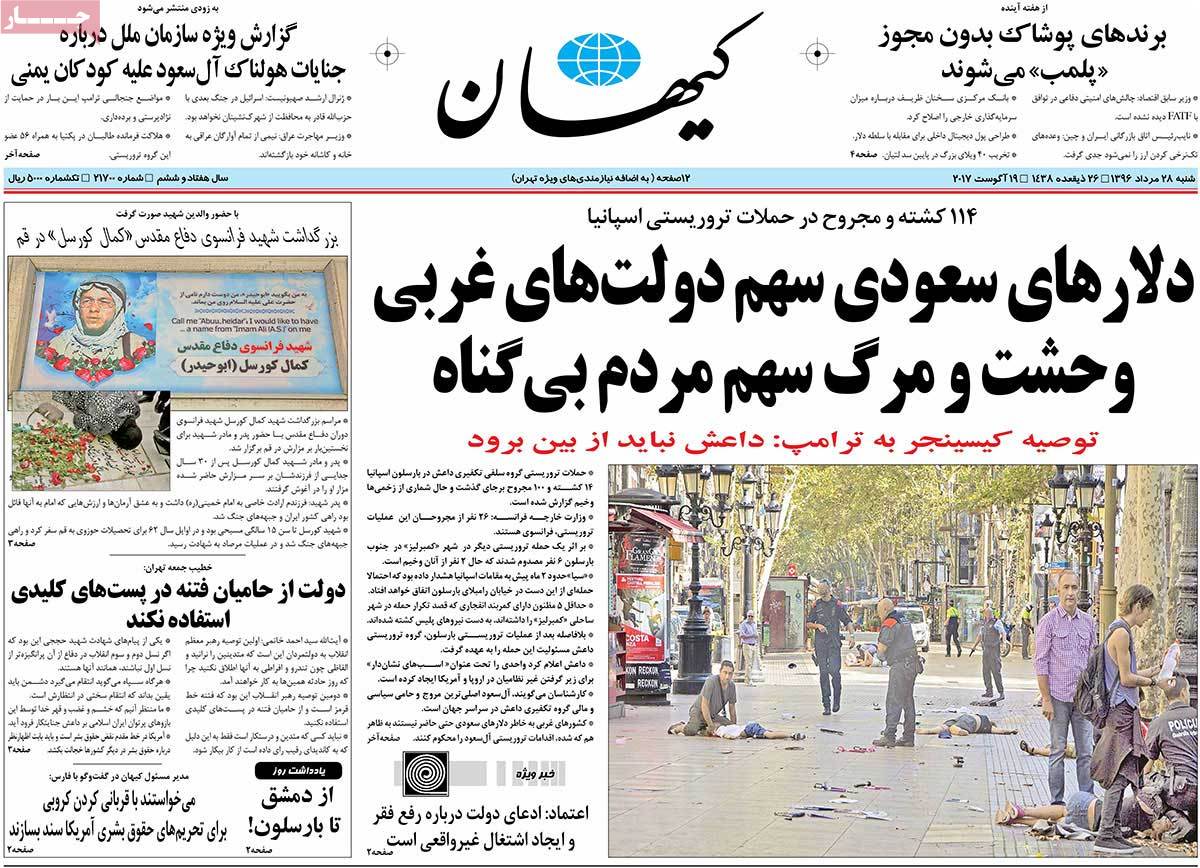 ---
Rooyesh-e Mellat:
1- Senior Cleric: ISIS Should Await Strong Revenge
2- Qassemi: World Problems Have Global Solutions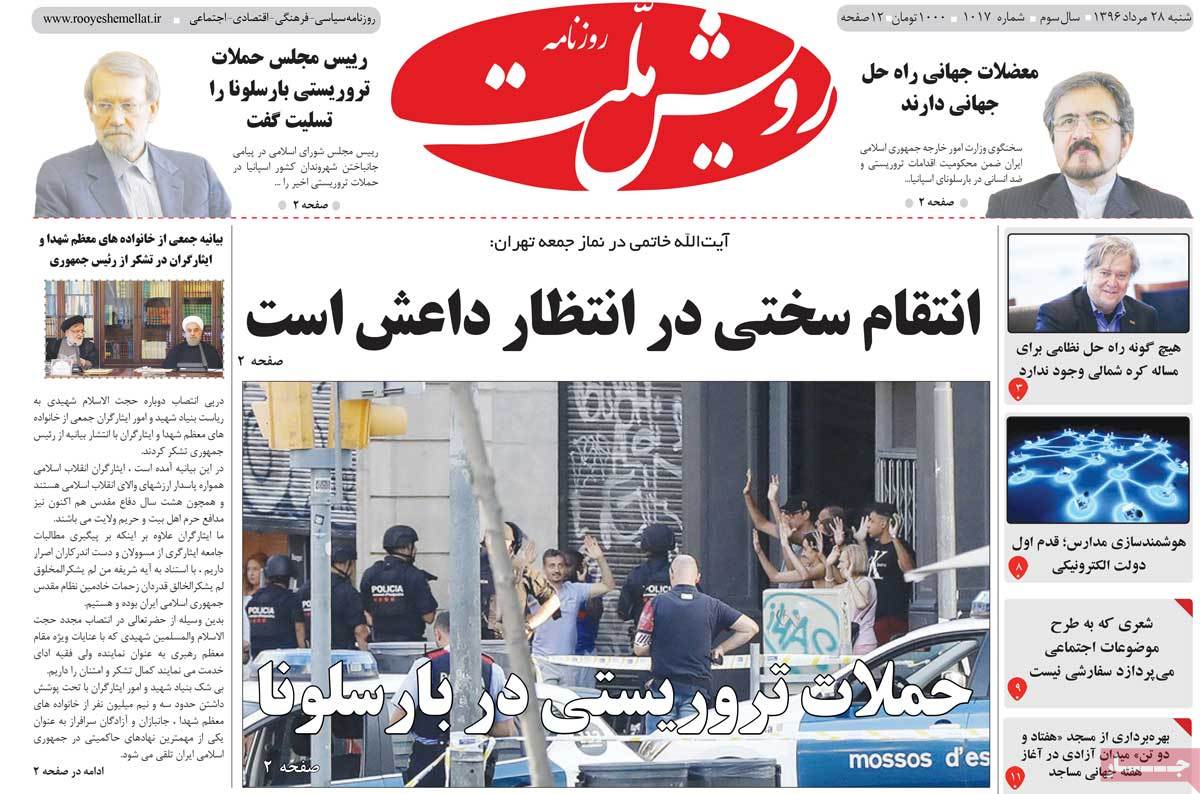 ---
Setareh Sobh:
1- Cabinet under Scrutiny
2- Continuation of Opposition Leaders' House Arrest Not in Iran's Interest: First Vice-Speaker
3- Officials Should Prepare Grounds for Trial of Karroubi: Second Vice-Speaker
---
Shahrvand:
1- ISIS Attack on Heart of Catalonia