Newspapers today covered the latest speeches and meetings at and on the sidelines of the UN General Assembly, which is underway in New York.
Several papers highlighted the justifications provided by the US for closing its consulate in the Iraqi city of Basra, and Iran's rejection of the accusations raised as a pretext by Washington.
The above issues, as well as many more, are highlighted in the following headlines and top stories:
Abrar:
1- Arab FMs Meet US Secretary of State to Form Anti-Iran Coalition
2- Lavrov: We're Ready to Mediate between Iran, Israel!
---
Aftab-e Yazd:
1- Those Who Long to Immigrate Being Blackmailed in Iran
2- Pregnant Women Queuing Up to Deliver Their Babies on 7/7/97
---
Etemad:
1- People in Iraqi Kurdistan Go to Ballot Boxes; Worried about Unpredicted Events
2- Over 290 People Killed, Brain Dead, Poisoned by Drinking Dodgy Booze
---
Ettela'at:
1- Zarif: US Policy on Iran Will Definitely Fail
2- Russia Delivers S-300 Missile Defence System to Syria
3- Iran Rejects US Justifications for Closing Its Consulate in Basra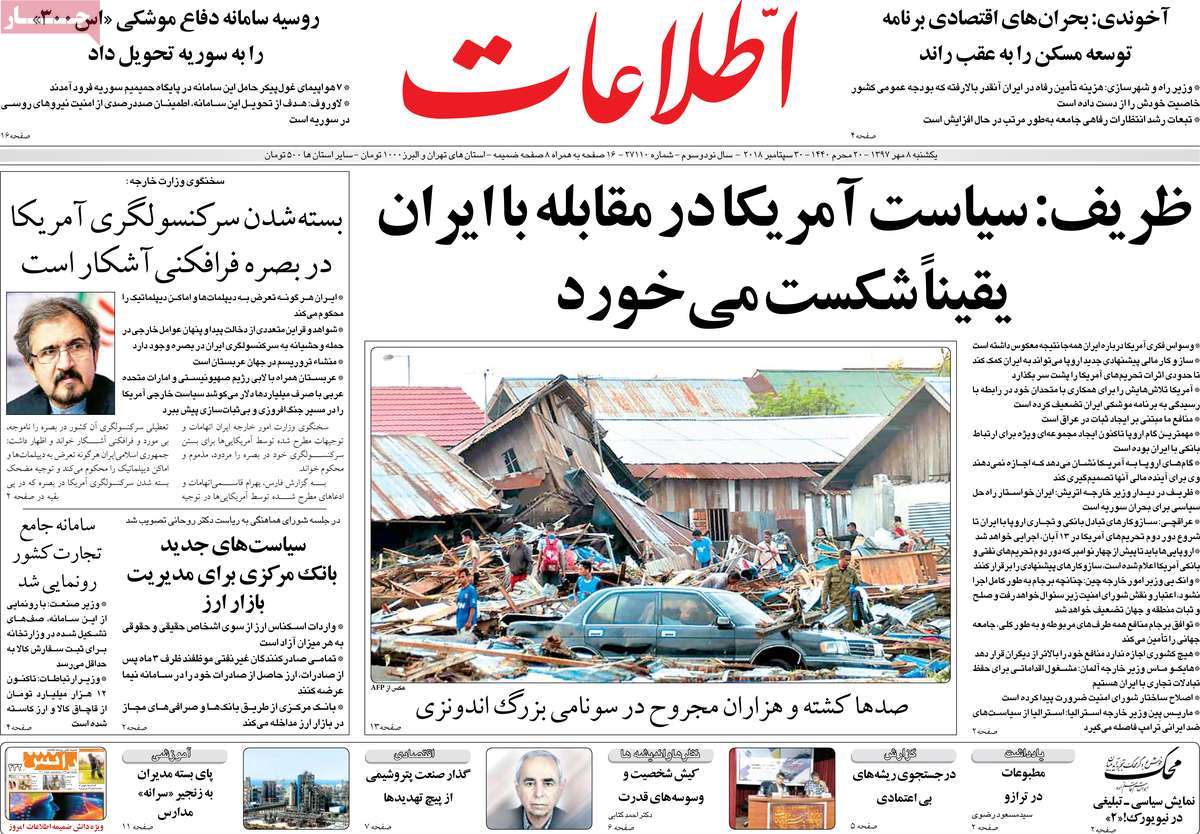 ---
Iran:
1- Saudi FM Jubeir Verbally Attacks Qatar, Neutralizes US Efforts
2- Araqchi: EU's Special Mechanisms to Keep Trade with Iran to Be Implemented by November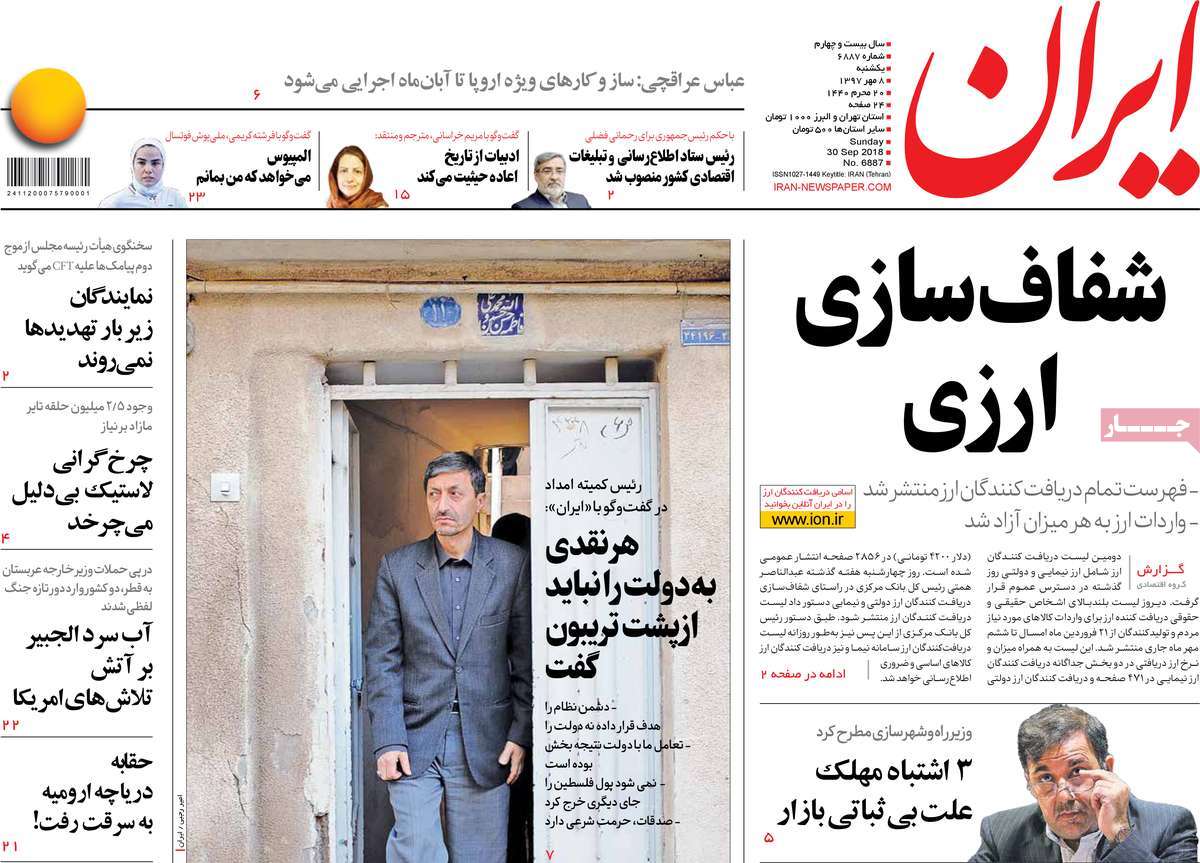 ---
Jame Jam:
1- You Isolated the US, Now What Will You Do with Economy?
Political Experts Discuss Results of Rouhani's New York Visit on People's Lives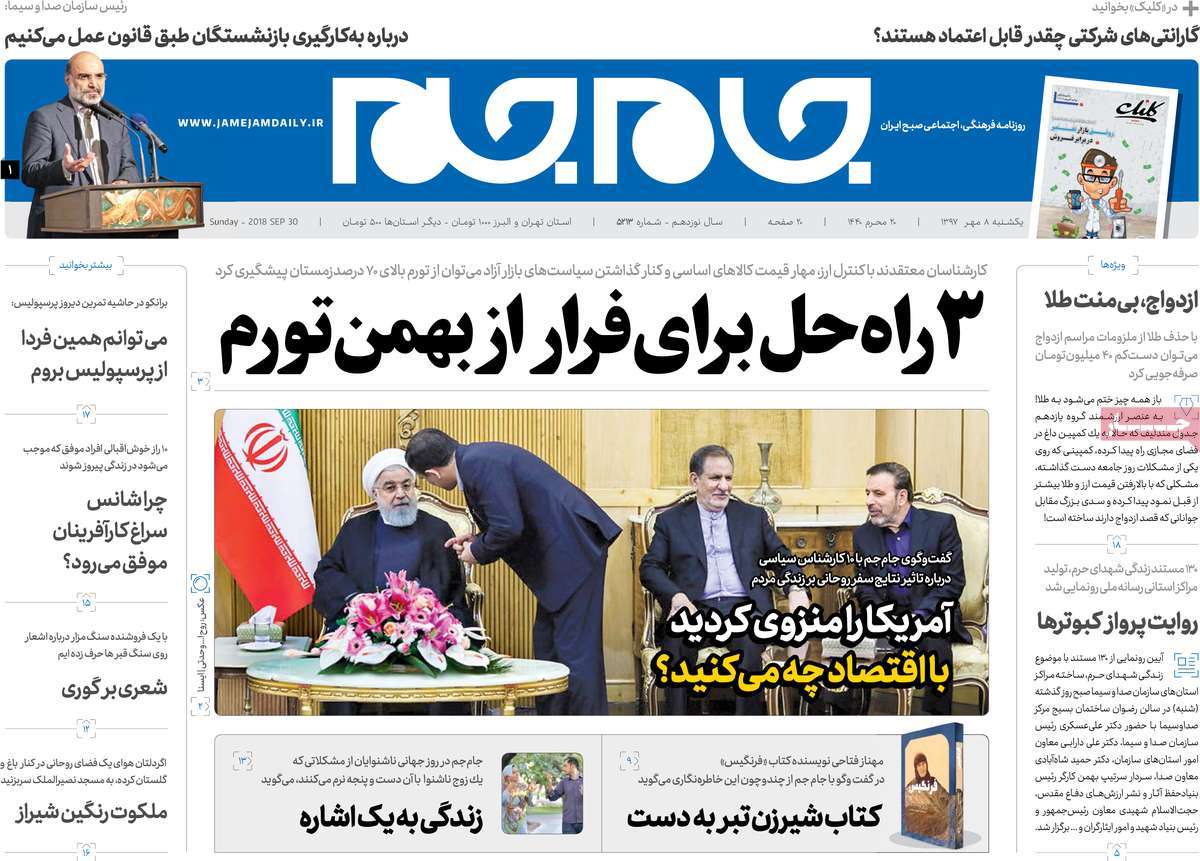 ---
Javan:
1- Iran's Global Share of Knowledge Production Increases by 18 Times
2- IRGC Chief: Iran to Give Crushing Response to Enemies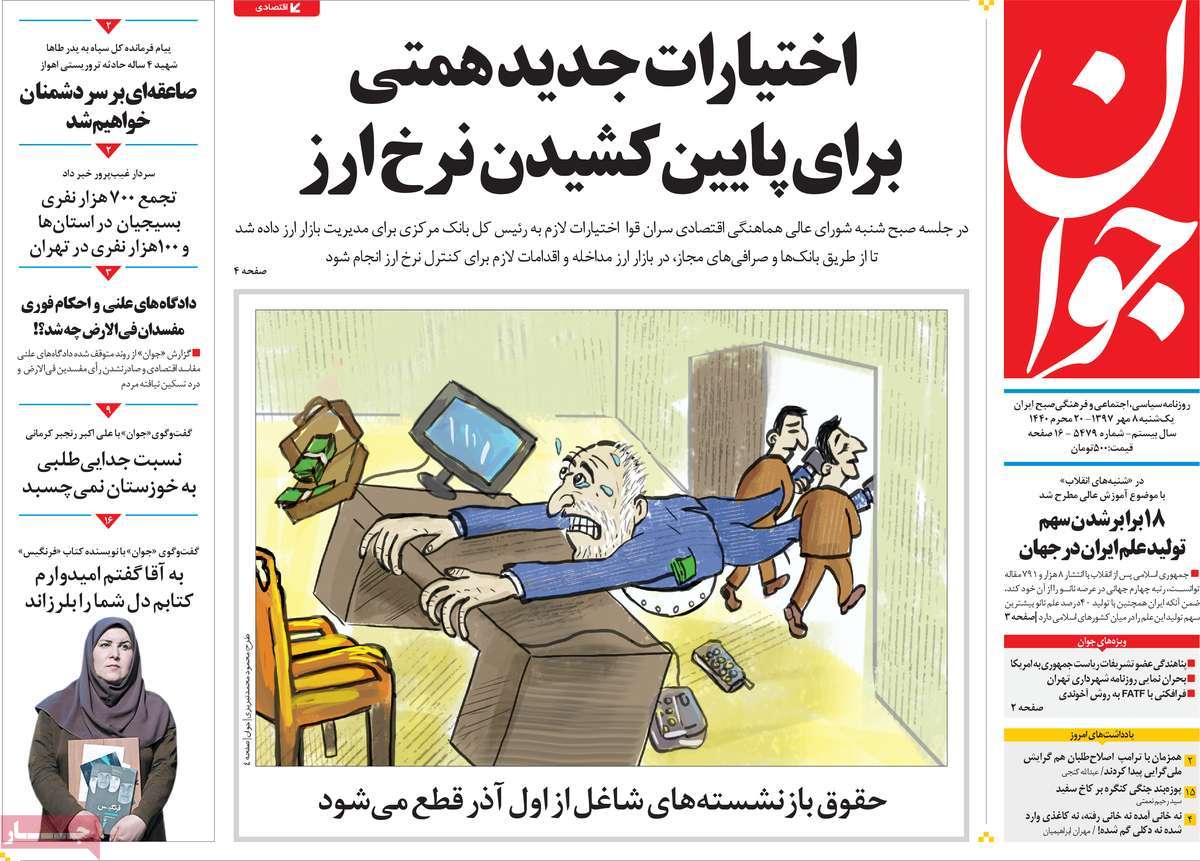 ---
Kayhan:
1- With JCPOA, Dollar Rate Stands at IRR 180,000; How Much with FATF?
2- Cambridge Professor: FATF an Instrument of US
Don't Increase Economic Pressure on Your Country by Approving It
3- 60% Increase in Gas Prices in US over Iran Oil Sanctions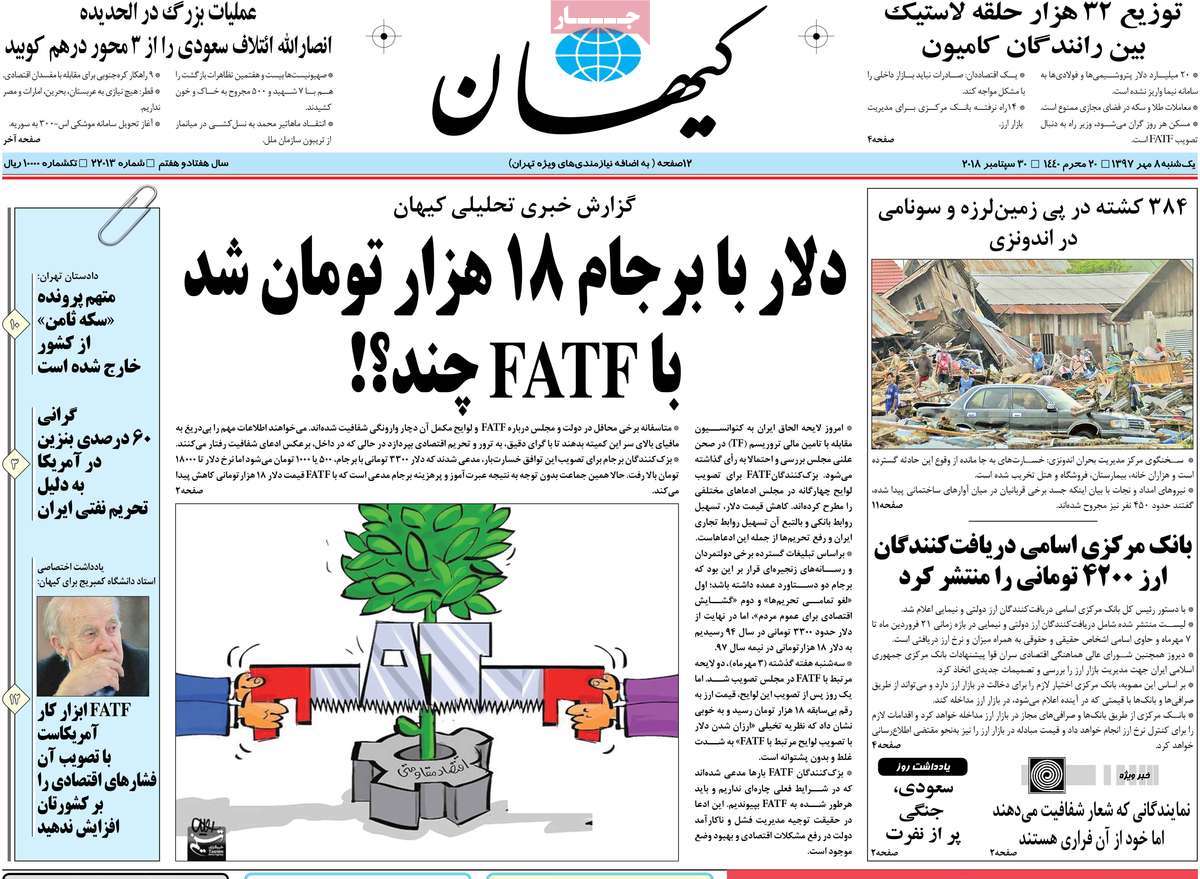 ---
Khorasan:
1- Government on Verge of Reshuffle
2- Suicide in Iran, Half of the World Average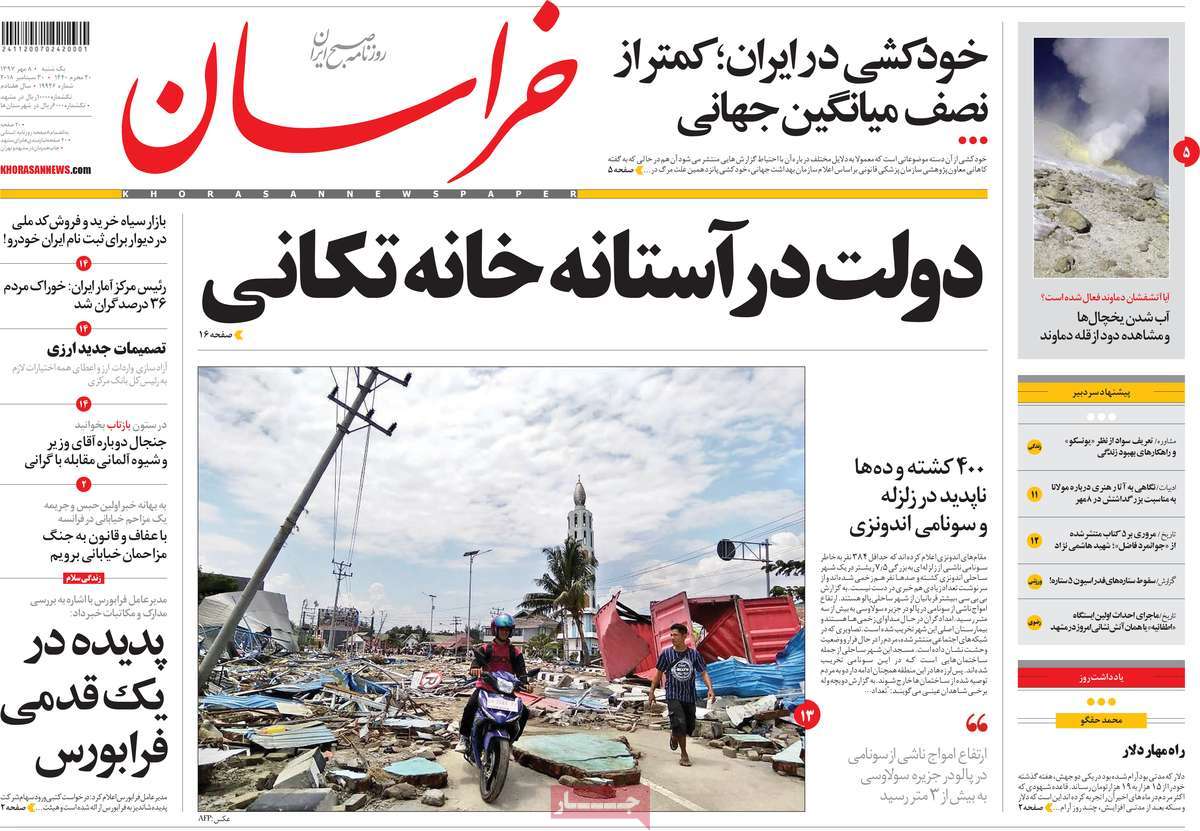 ---
Sazandegi:
1- Victory of Liberalism over Imperialism: How Rouhani Changes Iran, US Places at UN
2- Iran Parliament to Discuss Bill on Accession to CFT Convention
---
Shahrvand:
1- Luxurious Birth Date: A Report on 'Special Date' Which Made C-Sections Crowded
---
Shargh:
1- Issues of Iran, Oil on Negotiating Table in Bin Salman's Visit to Kuwait
2- US Cites Iran as Pretext for Shutting Down Its Basra Consulate
3- Conservatives Once Again Claim Ex-President Khatami Had Links with Saudi King
---
Tejarat:
1- Producing Oil Products Best Way to Counter Sanctions
2- Continued Chaos in Market: Iranian Economy on Path of Shock-Therapy
3- Iran at Centre of Global Attention [Editorial]
---
Vatan-e Emrooz:
1- IRGC Navy General on Decreased Iran-US Encounters: US Has Come to Its Senses, Behaved Itself
2- 400 Killed in Indonesia Quake, Tsunami