Several papers today covered the advent of Tasua and Ashura, the ninth and tenth days the holy month of Ramadan, when the Third Shiite Imam was martyred by the tyrant ruler of the time.
Also a top story was the historic win of Iran's Persepolis against Qatar's al-Duhail, which helped the former to advance to the semi-finals of the AFC Champions League.
The above issues, as well as many more, are highlighted in the following headlines and top stories:
Aftab-e Yazd:
1- Rouhani to Visit US to Attend UN General Assembly
2- Former FM Salehi Elaborates on the Way Iran-US Talks Started in 2011
3- UN: Iran's Position in Human Development Improved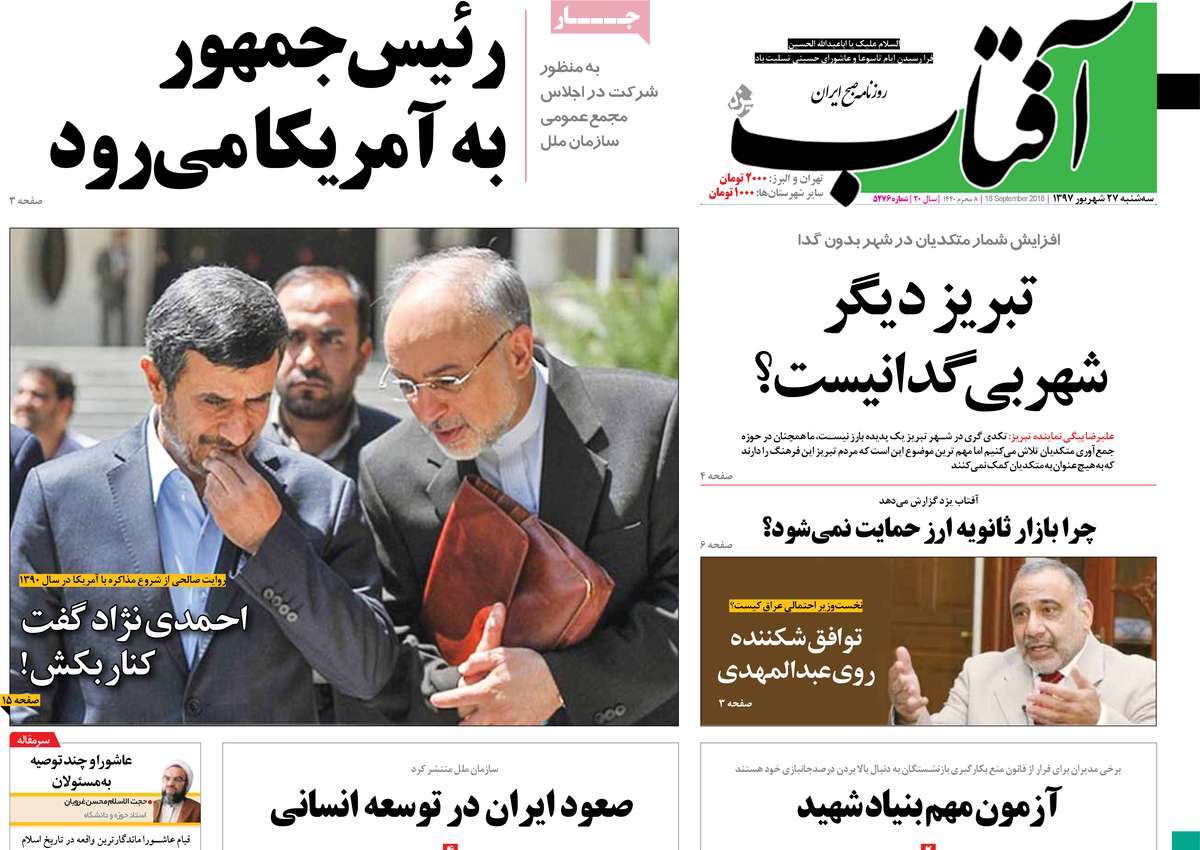 ---
Arman-e Emrooz:
1- Masterpiece of Persepolis in Azadi Stadium: Historic Comeback
2- Washington Gives Green Light to Tehran: US' New Game, This Time at IAEA Summit
3- Rouhani to Visit New York: Foreign Ministry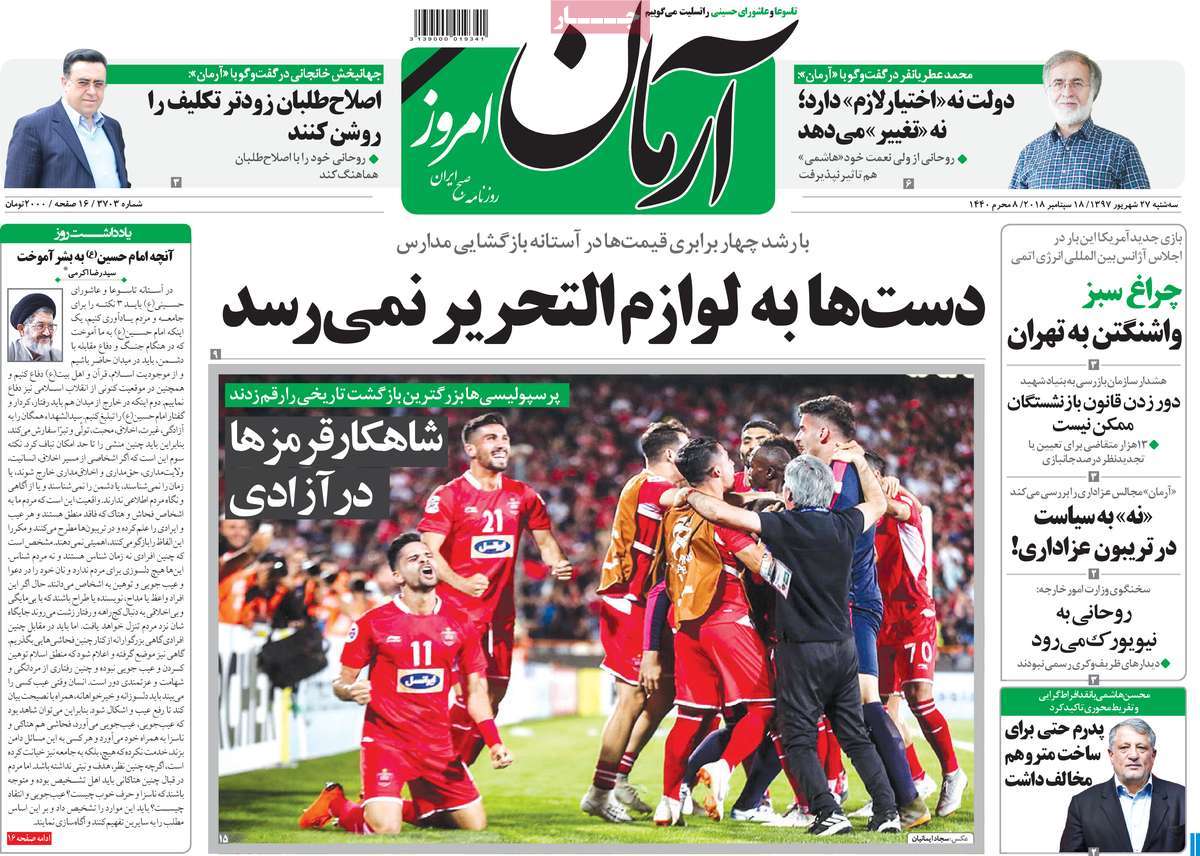 ---
Ebtekar:
1- Adil Abdul-Mahdi May Become Iraq's New Prime Minister
Political Factions in Iraq Start Process of Choosing New President, PM
---
Etemad:
1- Tehran, Symbol of Iran in Mourning Rituals for Imam Hussein
Iranians from All Walks of Life Mourning Martyrdom Anniversary of Prophet Muhammad's Son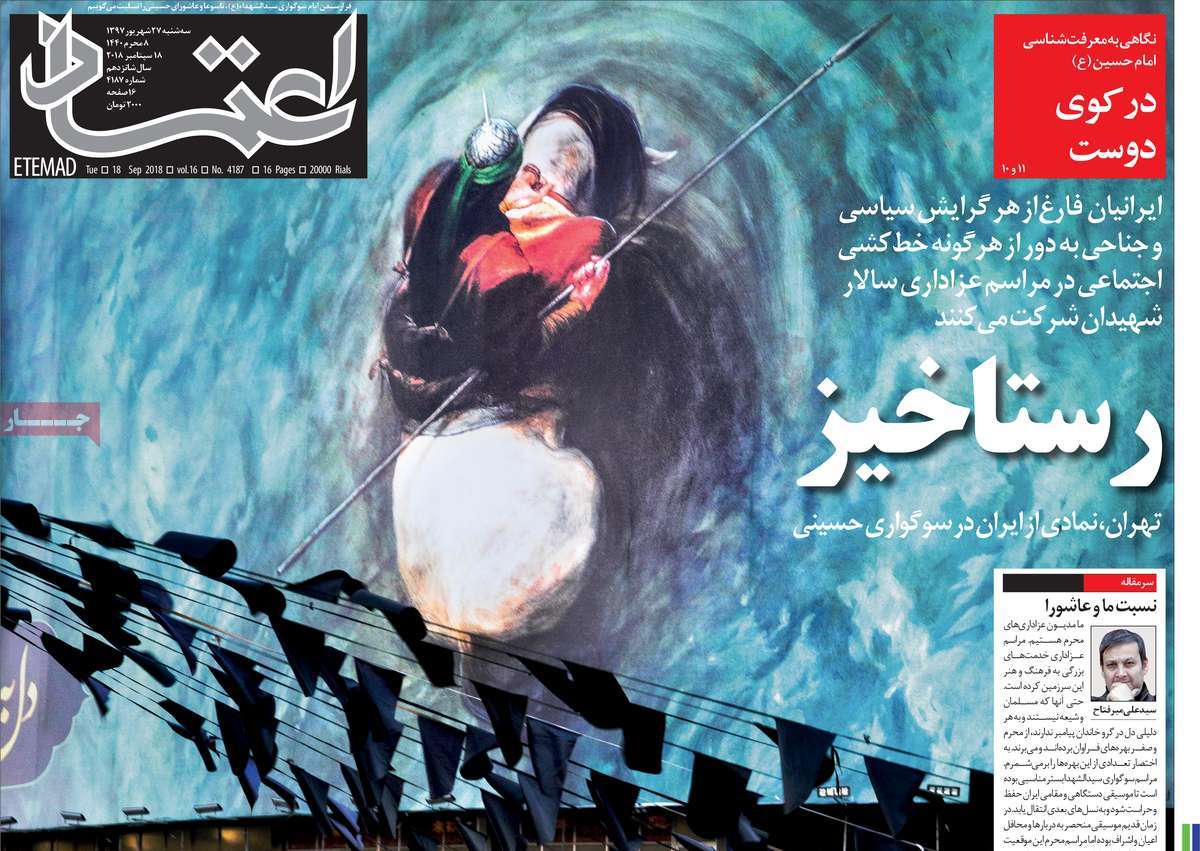 ---
Ettela'at:
1- Iran Nuclear Chief: Europe Must Take Practical Measures to Save JCPOA
2- Iraqi Parliament Speaker: We'll Never Implement US Sanctions on Iran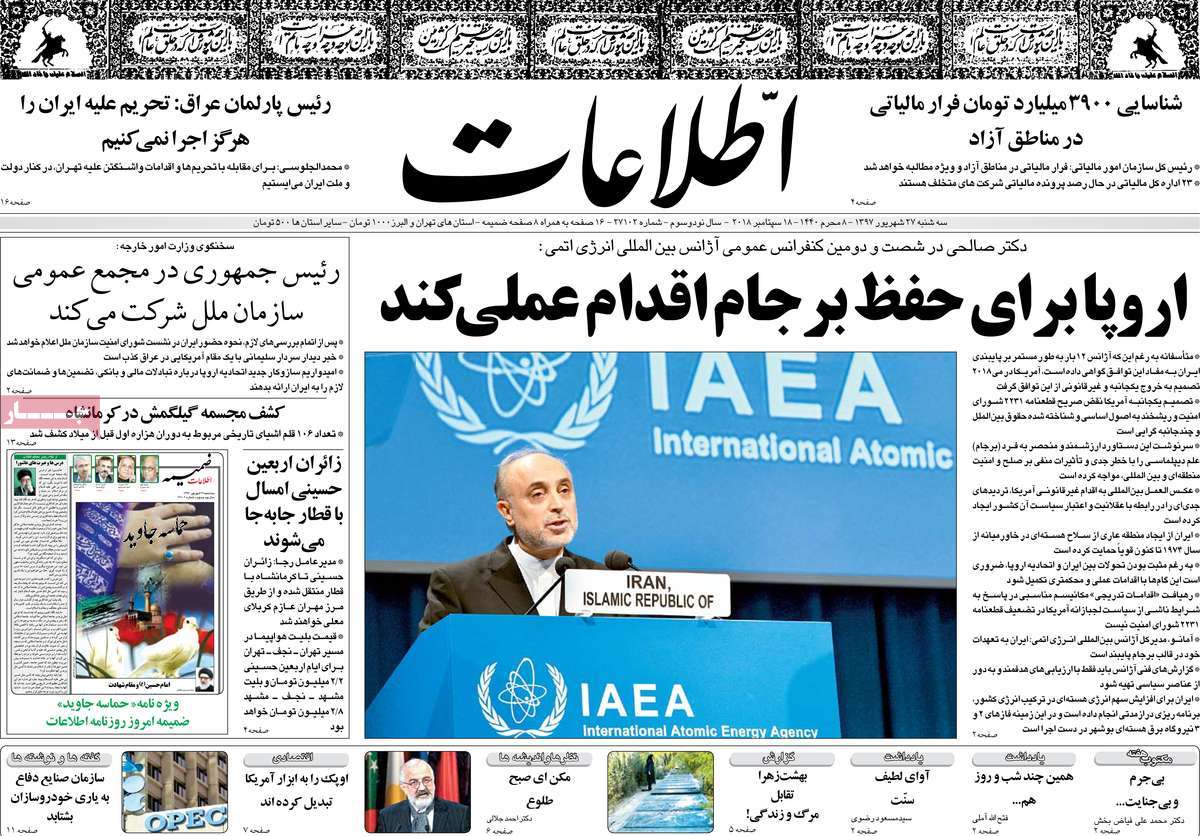 ---
Hamshahri:
1- Mourners of Karbala: People in Iran, World Preparing for Muharram Rituals ahead of Ashura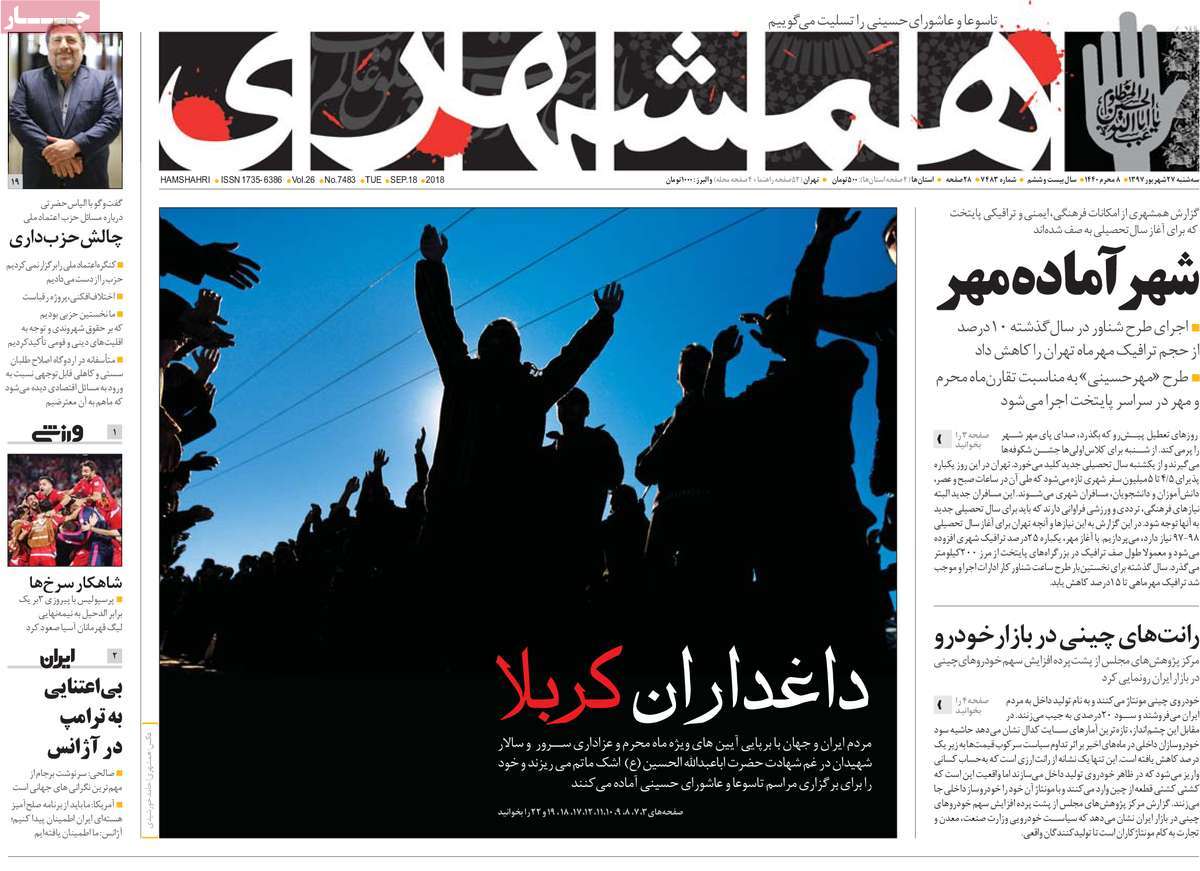 ---
Hemayat:
1- US' Making Mistake by Trying to Remove Iran's Oil
---
Iran:
1- Persepolis Advances to ACL Semi-Finals in Dreamy Match
Iranian Team Defeats Qatari Rival 3-1 to Book Place in Next Stage
2- Unlike Claims Raised by US, Saudi, Amano Once Again Confirms Iran's Compliance with JCPOA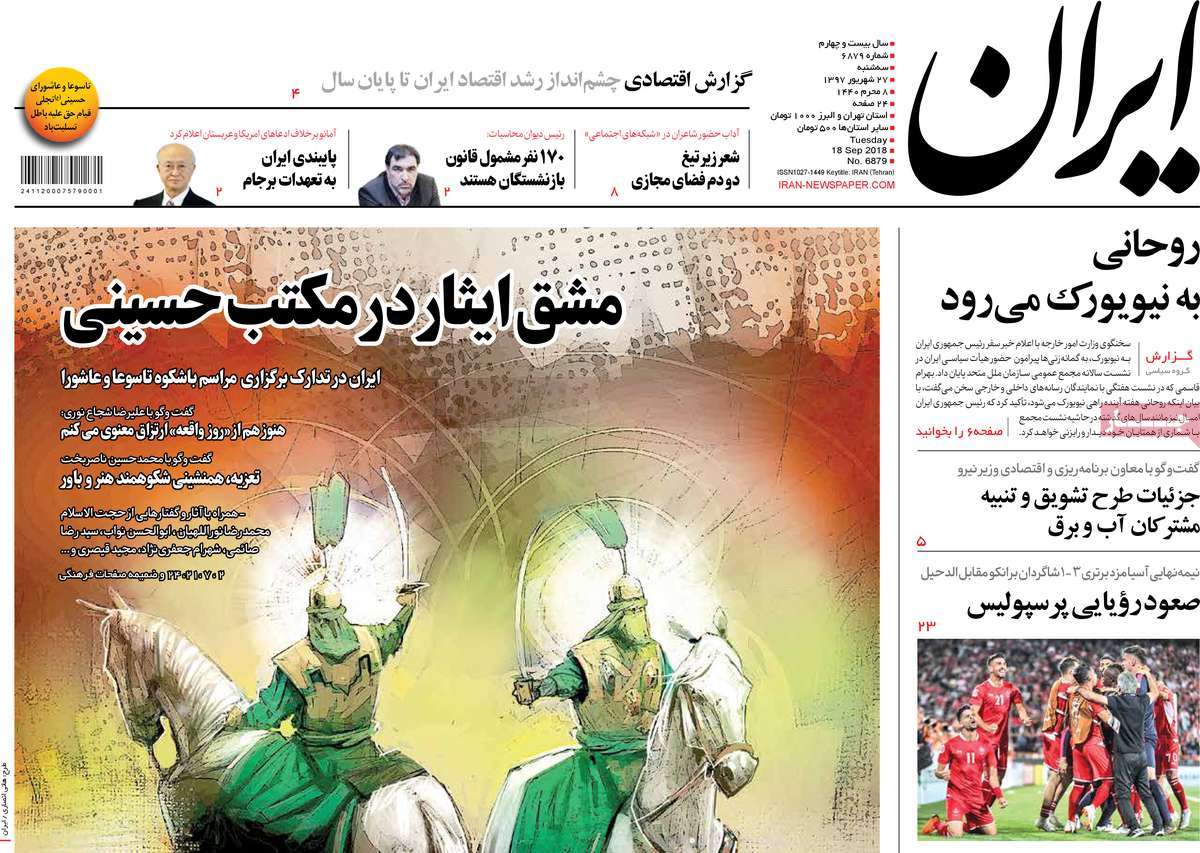 ---
Javan:
1- Government Can Use Potentialities of Basij Voluntary Forces to Bypass Sanctions
Basij Official: We're Ready to Complete All Unfinished State Projects
2- New Iraqi Parliament Speaker Praises Iran's Unwavering Support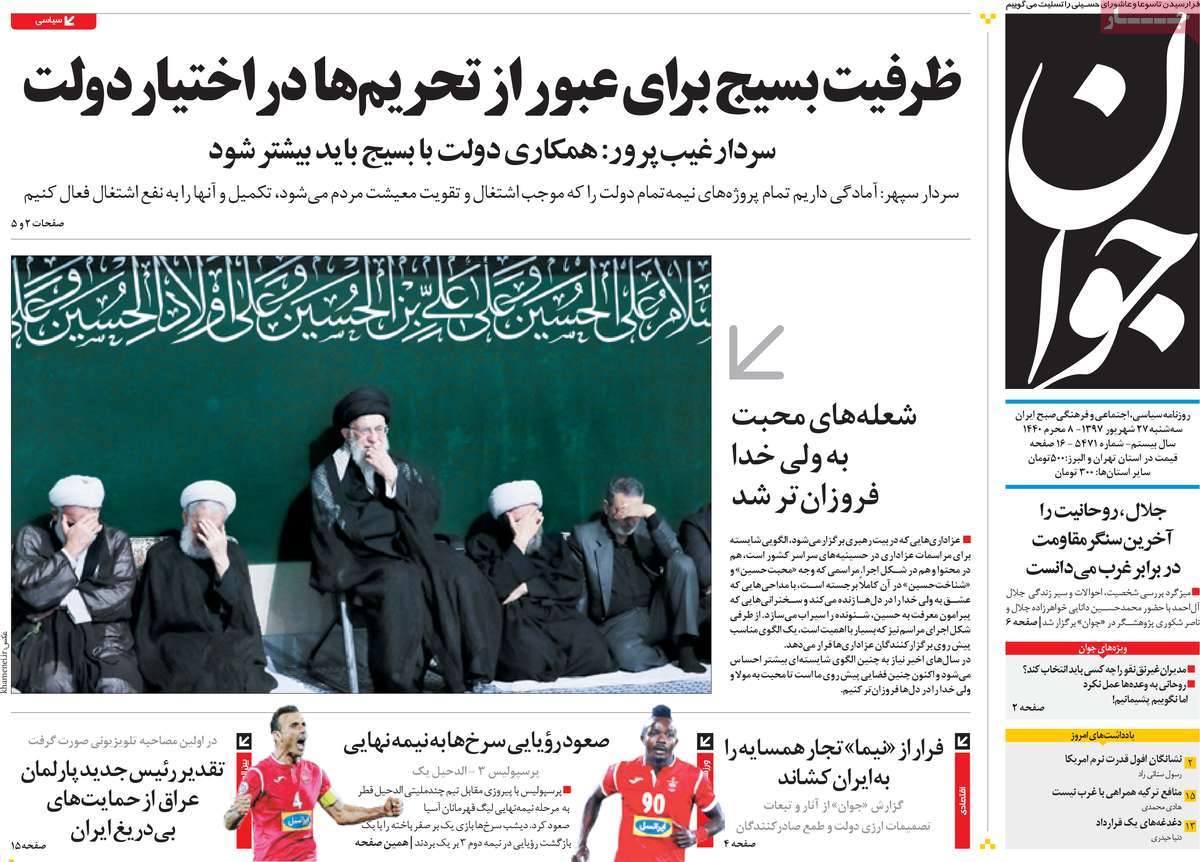 ---
Jomhouri Eslami:
1- Former US Official: World Waiting to Hear Iran's Stances from Rouhani in New York
2- Salehi: Fate of JCPOA Most Important Global Concern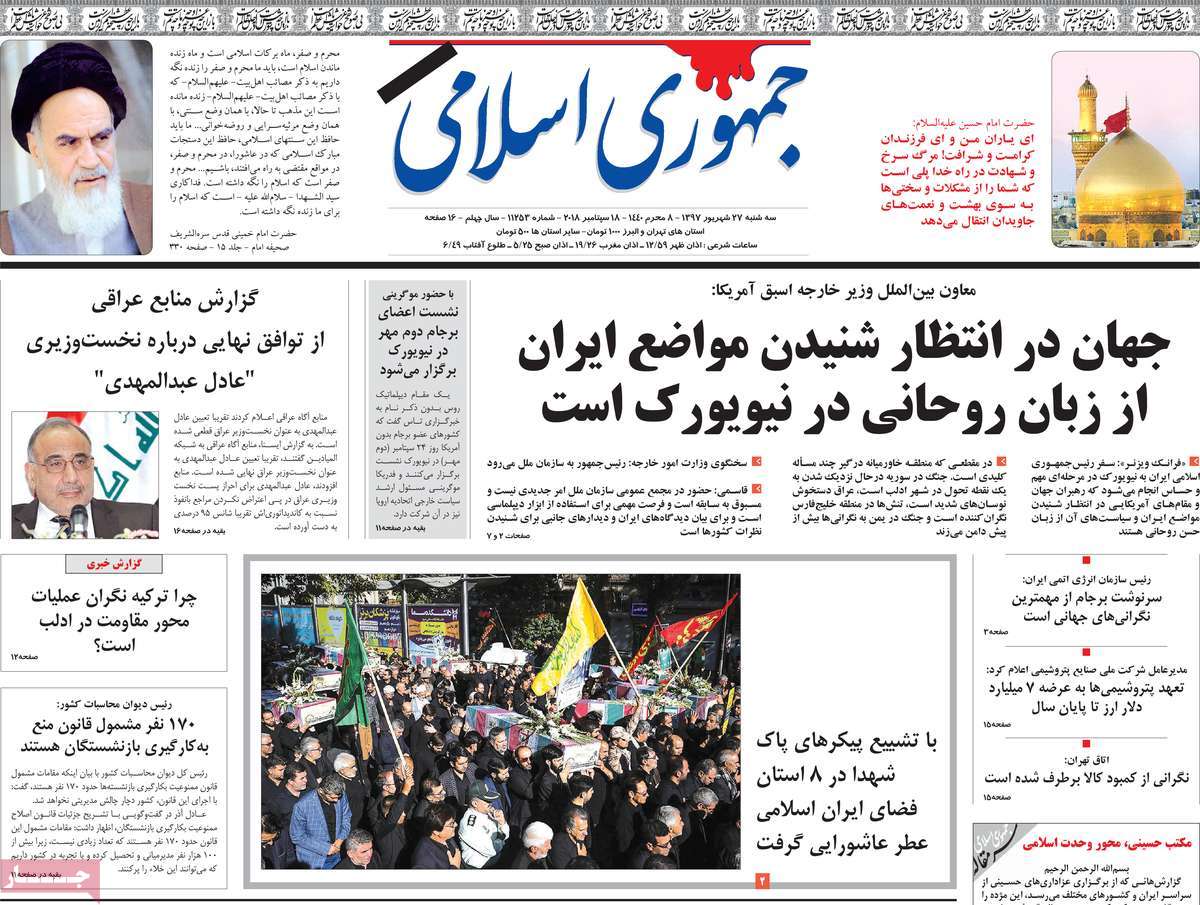 ---
Kayhan:
1- A Field Report of Iraqi People's Opinion about Iran
Our Blood Interwoven; Iran, Iraq Not Separable
2- Thousands of People to Lose Their Jobs If We Stop Exporting Arms to Saudi
---
Resalat:
1- Velayati: Neighbours Top Priority of Iran's East-Oriented Policy
2- Ministers of Roads, Industry to Be Impeached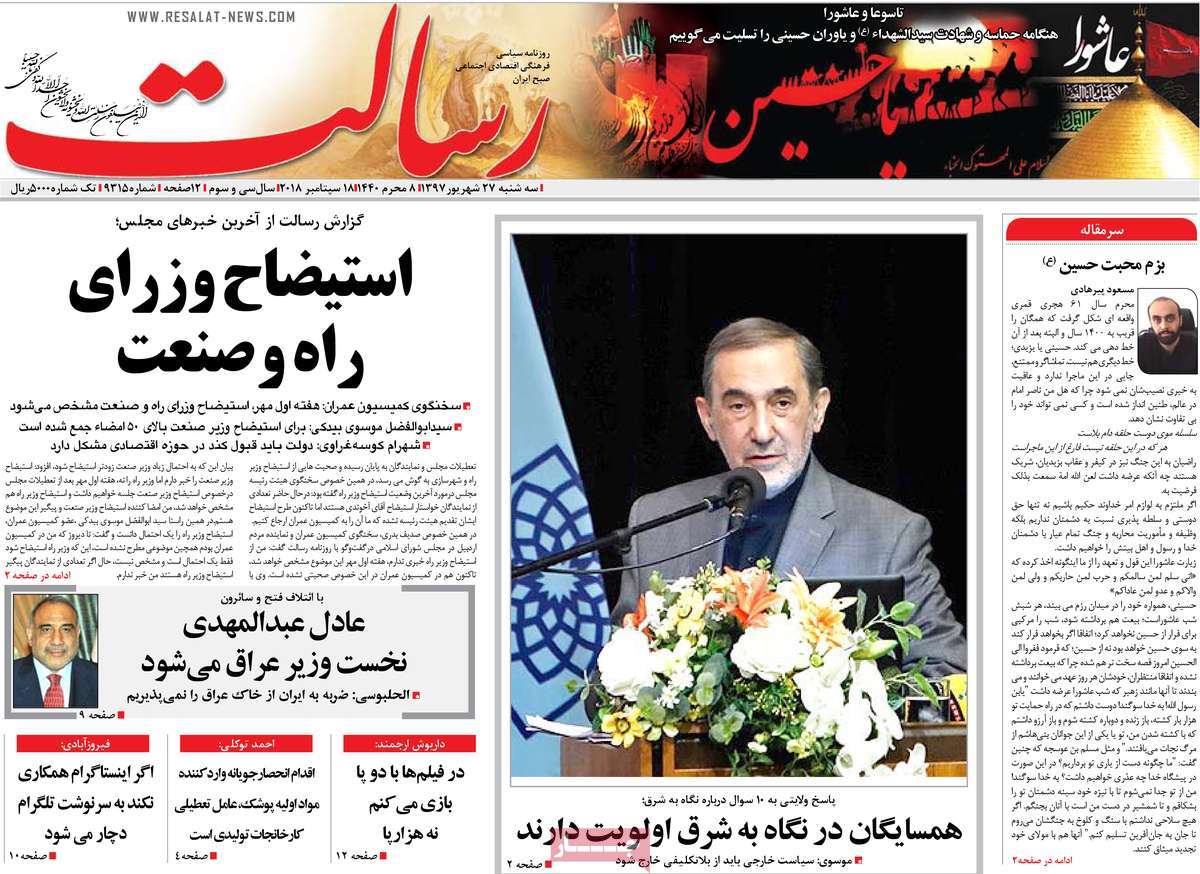 ---
Sazandegi:
1- Twitter Conflict
Zarif Officially Warns Twitter about Support of Arab Governments for Anti-Iran Accounts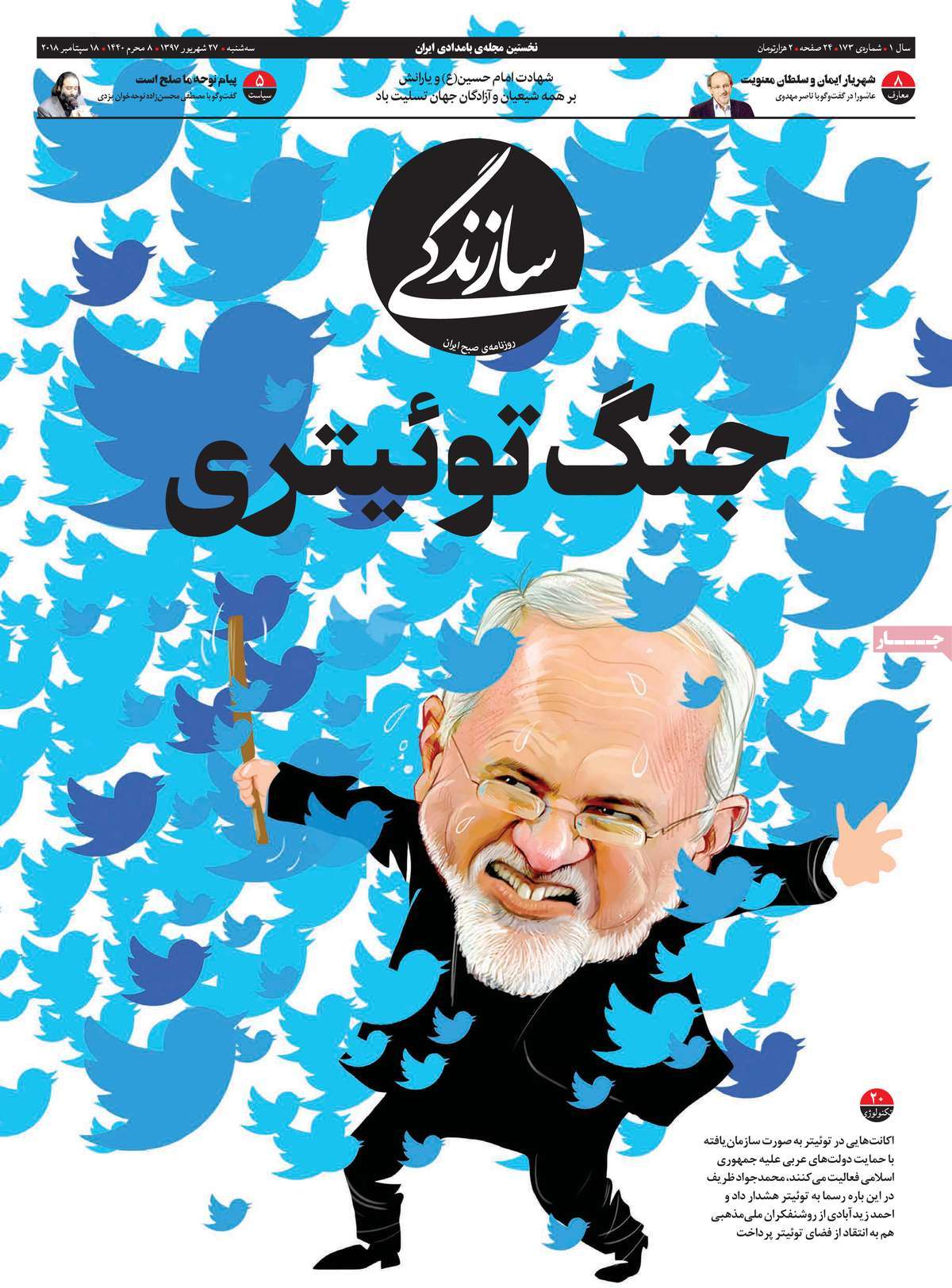 ---
Sepid:
1- Health Ministry Spokesman: Iranians' Life Expectancy Increased to 76.2
2- 6,000 Inspectors Overseeing Muharram Mourning Ceremonies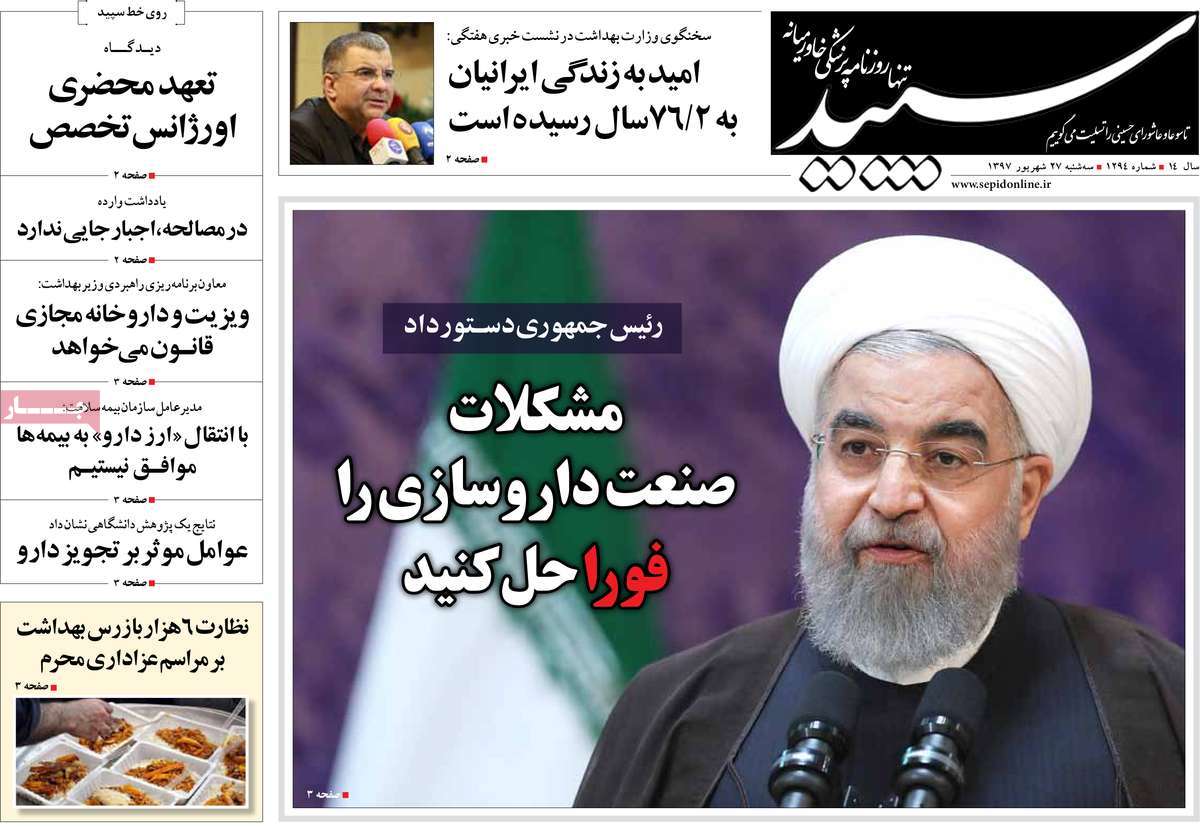 ---
Setareh Sobh:
1- Rouhani Absent from Sochi Summit! Putin, Erdogan Discuss Syria
2- Trump Once Again Calls for Comprehensive Deal with Iran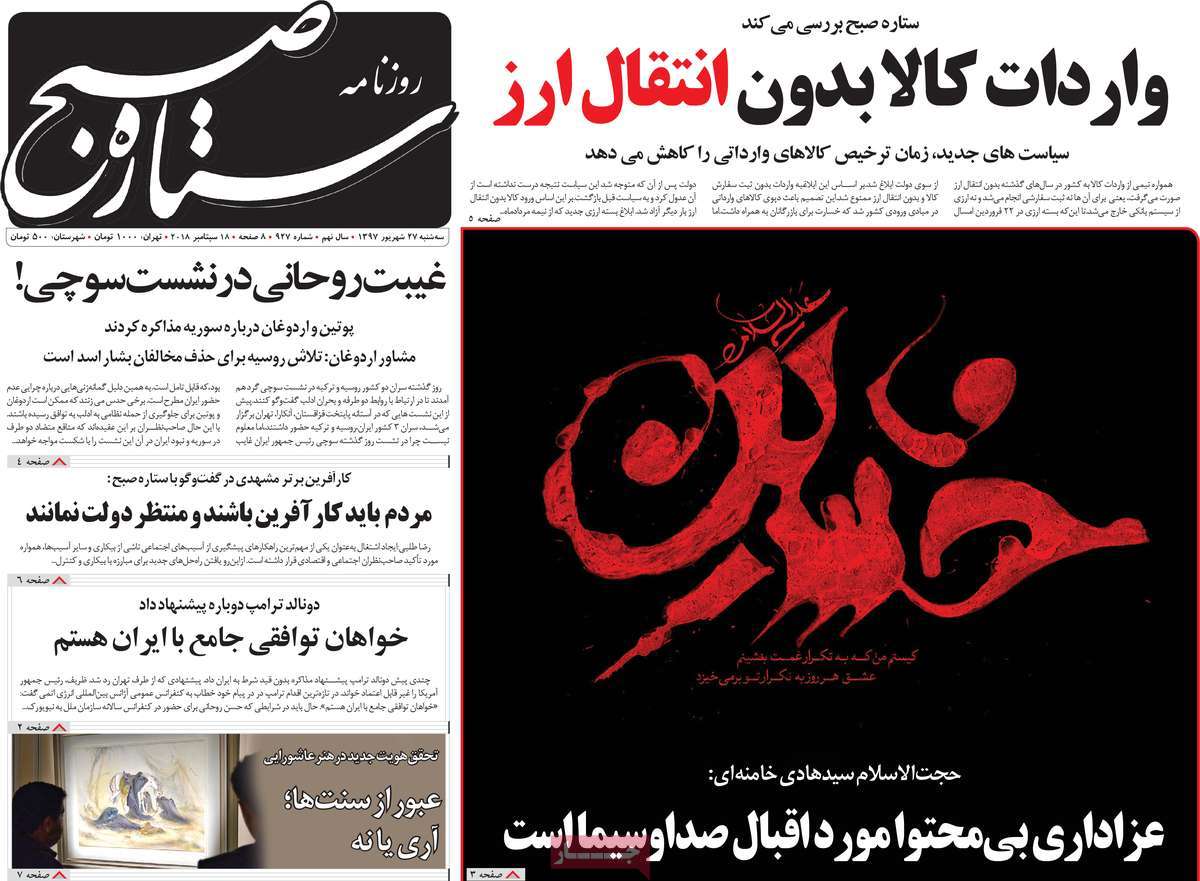 ---
Shahrvand:
1- Strategic Trip to New York: Plans for Rouhani's Participation in 73rd UNGA Meeting
2- Why Does Second Rank of Nationwide University Entrance Exam Want to Become a Teacher?
3- From Bloody Murder at Age of 18 to Medical Engineering at Top University
Young Man Sentenced to Death Admitted to Top Master's Program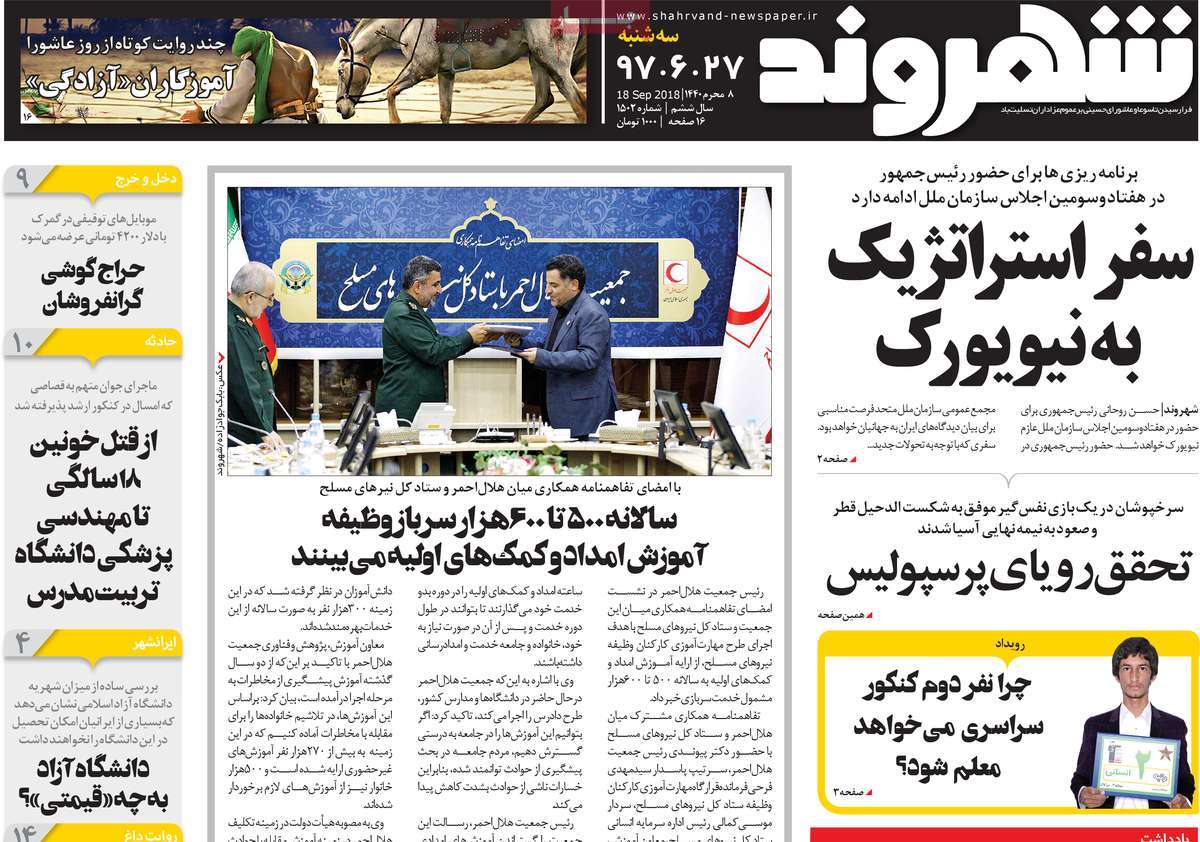 ---
Shargh:
1- Zarif-Kerry Meetings Not Official: Spokesman
2- Failed Policy of Delivering Speech to Empty Seats
Why Iran President Rouhani Needs to Attend UNGA
3- Why Rouhani Must Go to New York [Editorial