Almost all papers today covered the remarks made by Iranian President Hassan Rouhani about the upcoming US sanctions, which are to be implemented on November 4.
Also a top story was Iran's reaction to the accusations raised by Denmark regarding a plot to assassinate an Iranian opposition figure, and generally the anti-Iran charges being raised by European countries these days.
Several papers also covered the visit of Iranian Foreign Minister Mohammad Javad Zarif to Pakistan and his talks with the country's officials to secure the release of 12 Iranian border guards abducted and transferred to Pakistan by Jaish al-Adl terrorist group.
Reports by Reuters and Bloomberg which showed Iran is exporting over 1.8 million barrels of crude oil despite the US sanctions also received great coverage.
The above issues, as well as many more, are highlighted in the following headlines and top stories:
Aftab-e Yazd:
1- Salas-e Babajani, One Year after Kermanshah Quake
2- Milk Price Still Soaring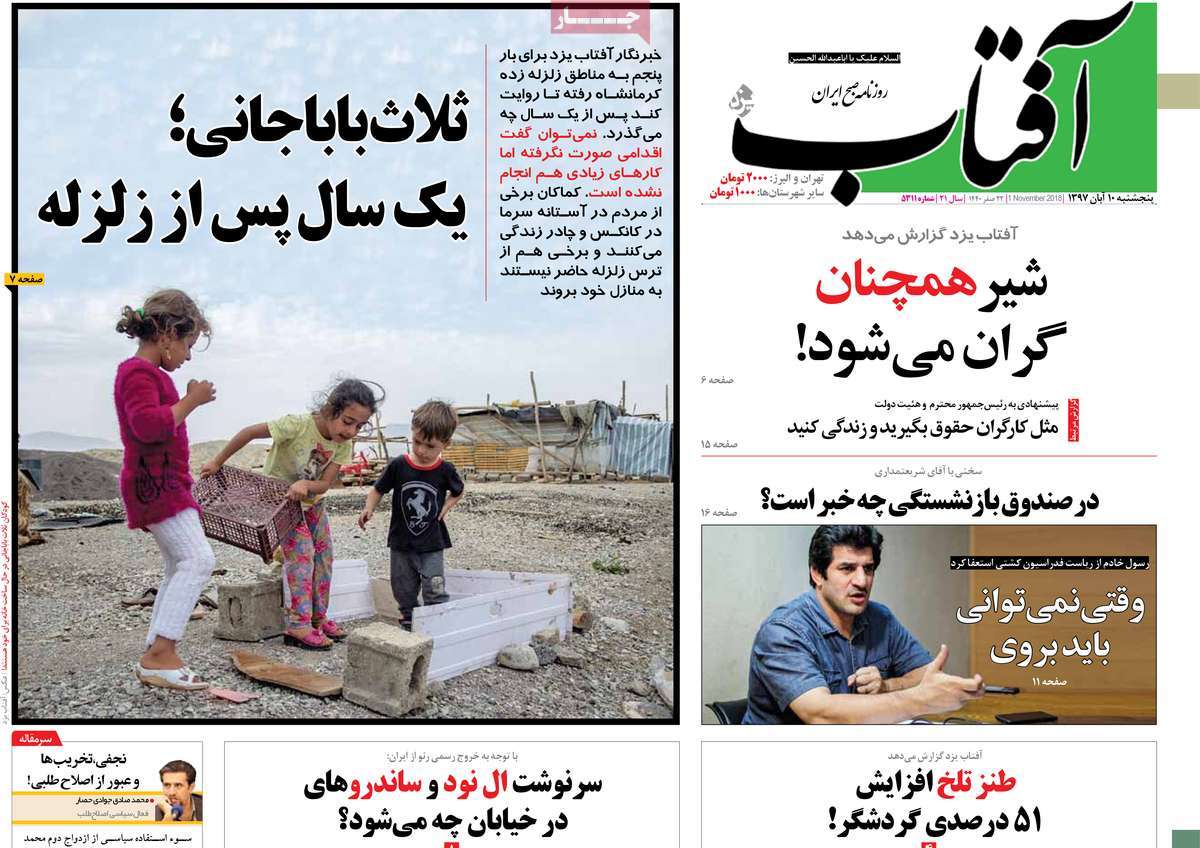 ---
Ebtekar:
1- West Calls for Cessation of War in Yemen: Saudi Arabia in Quagmire
2- US Not to Achieve Its Goals: Rouhani
---
Etemad:
1- Sweet Taste of Sustainable Development
A Report on Construction of Different School in Remote Village SE Iran
2- Guardian Council Will Probably Make Its Decision about CFT by Next Week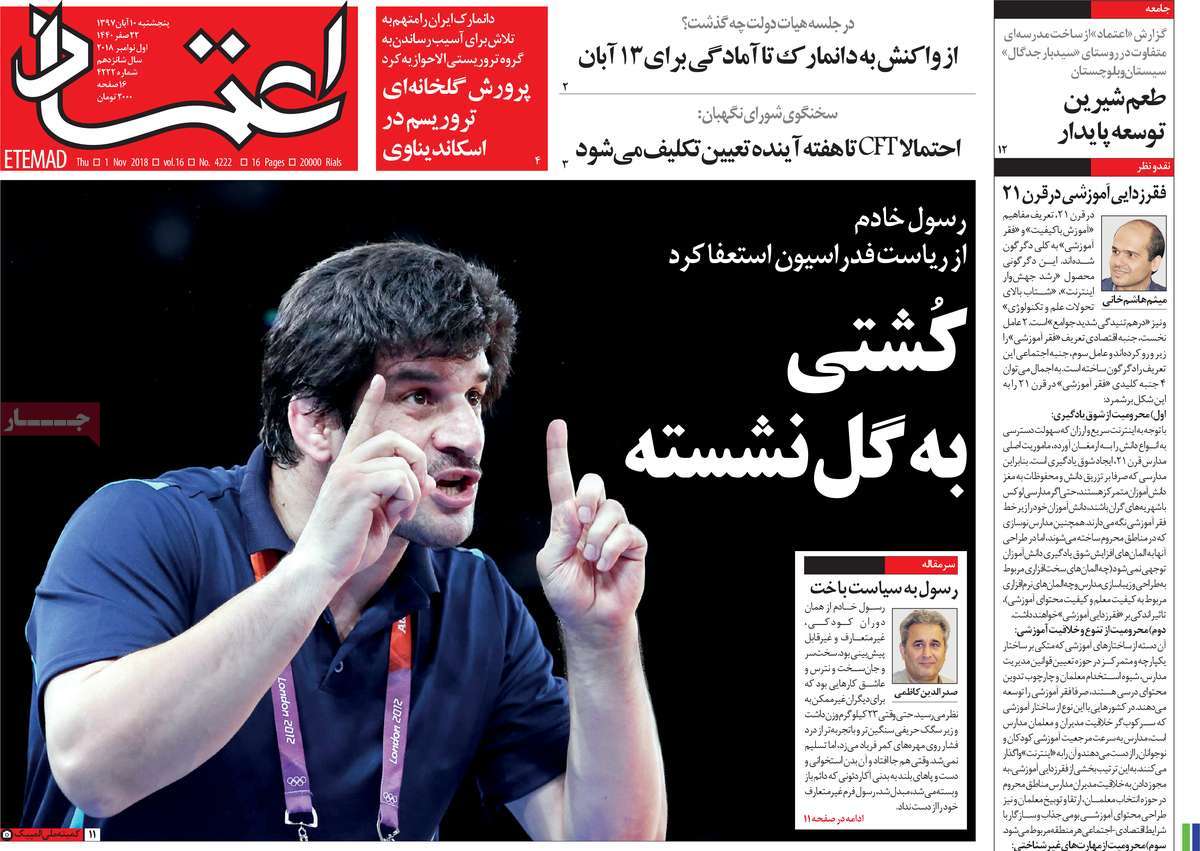 ---
Ettela'at:
1- Bloomberg: Many Countries Won't Implement US Sanctions on Iran
2- Zarif Holds Talks with Pakistani Officials for Release of Iranian Abductees
3- World's Big Countries to Stand by Iran: Rouhani
4- Iranian Diplomat Exonerated by German Court
---
Haft-e Sobh:
1- Who's Adel Abdulkarim? Guardian Continues Its Fight against Iran International
2- Four Gunmen Release Prisoner by Attacking Hospital in Tehran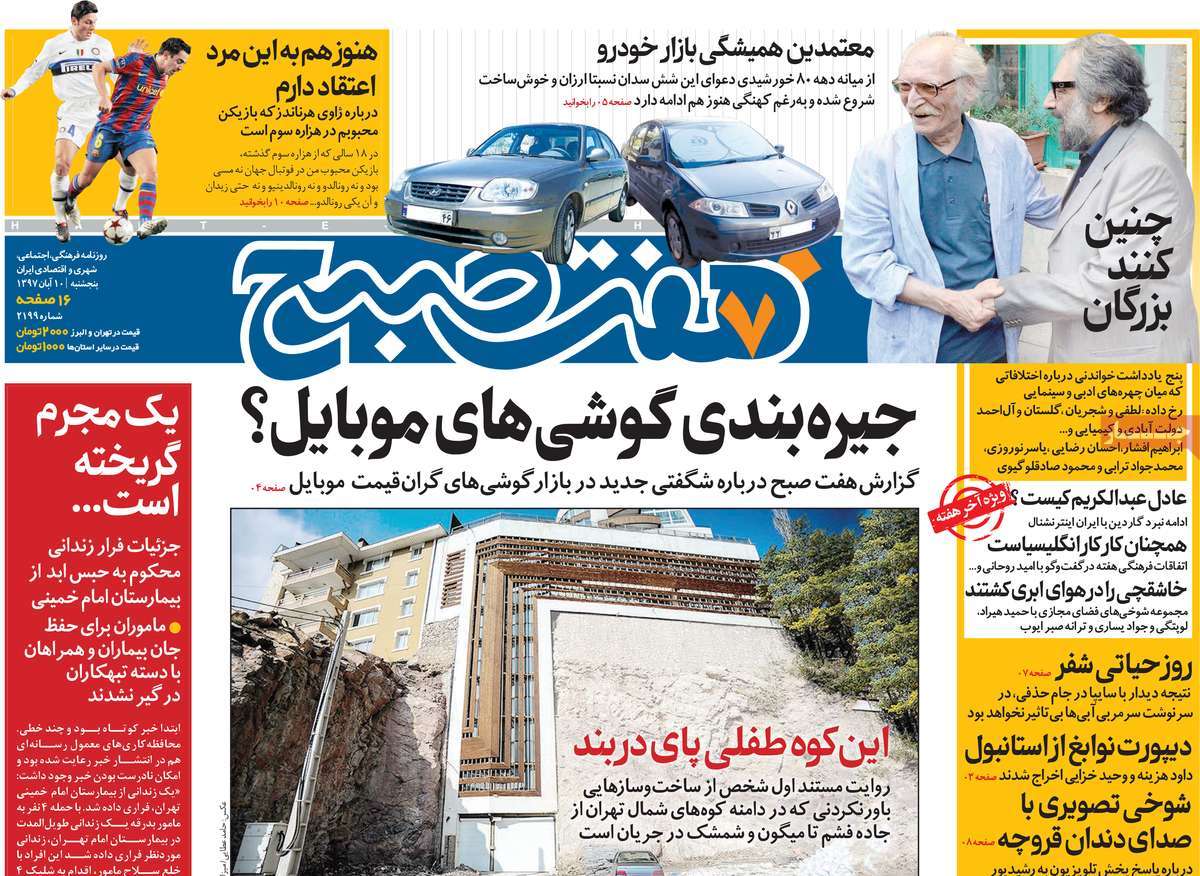 ---
Iran:
1- Call for Ending a Bloody War: Saudi Arabia in Yemen Deadlock
2- Pakistan Gives Solemn Promise to Secure Release of Iranian Abductees
3- Conspiracy against Iran-EU Ties: Tehran Summons Danish Ambassador
---
Jame Jam:
1- Secrets behind European Accusations against Iran
2- Iran's Culture Ministry Sentences Offending Singer to Holding Free Concert
3- Red Arba'een in Black Continent: Nigerian Army Slaughters Arba'een Mourners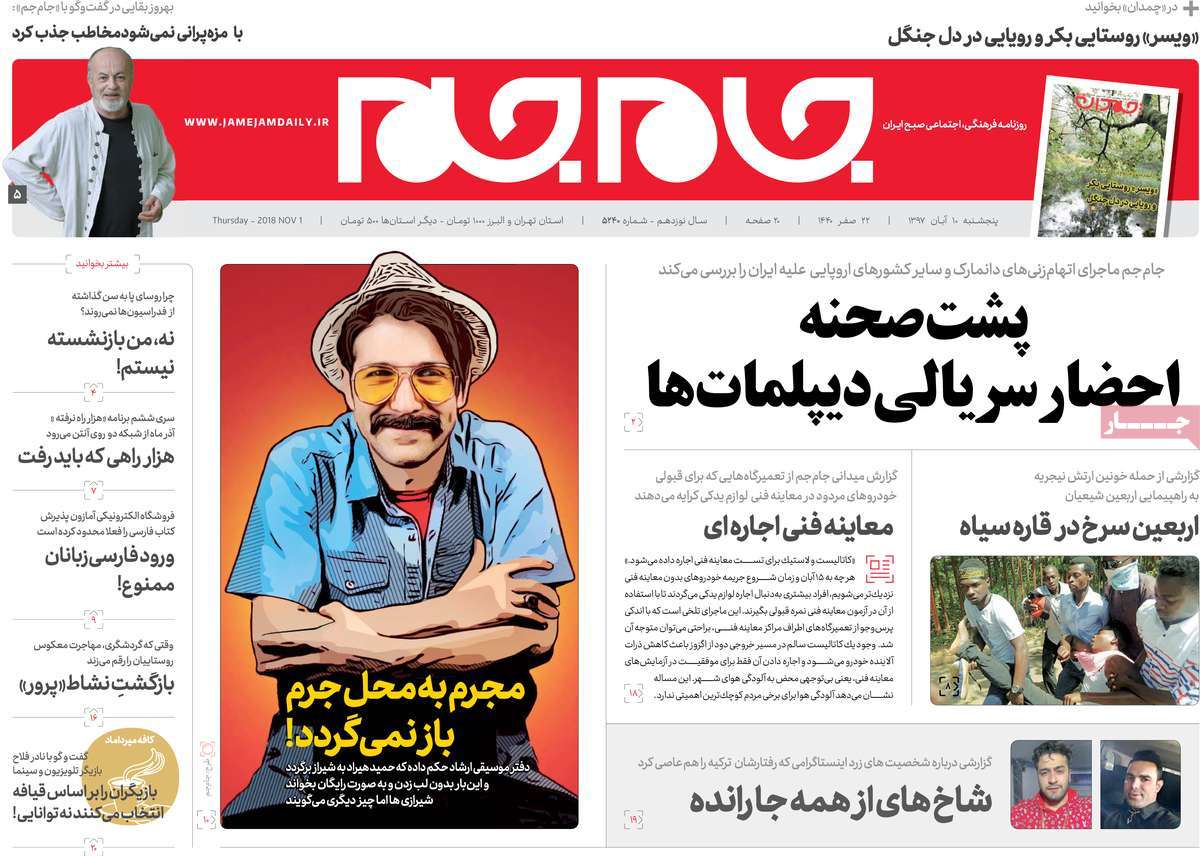 ---
Javan:
1- Rouhani: Iranian Nation Forced US to Back Down
2- Iran Exporting 2m Barrels of Oil per Day: US Plan Officially Failed
3- 50 Shiite Nigerians Killed in Brutal Army Attacks
4- IRGC to Build 1,130 Houses for Deprived People of Kurdistan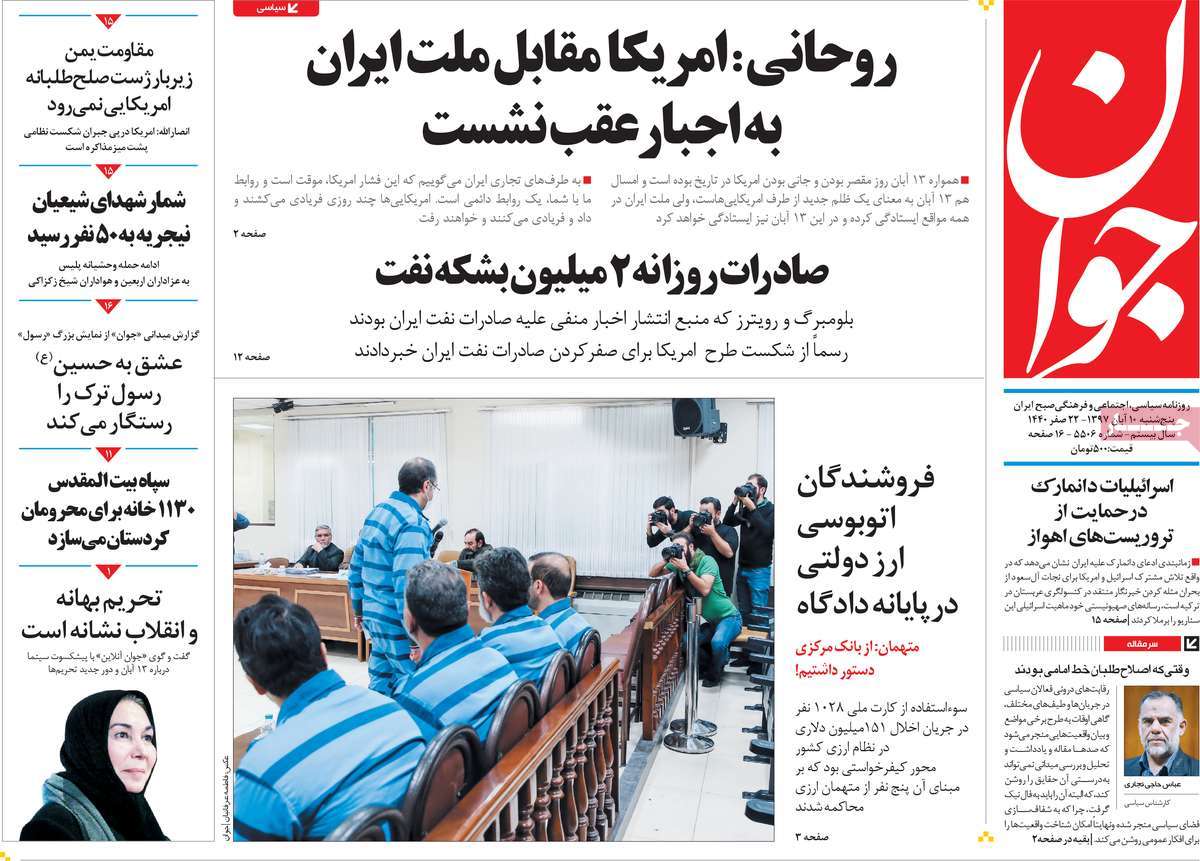 ---
Jomhouri Eslami:
1- Nov. 4 Day of US Crime in Iran's History: President
2- Yemeni People's Resistance Force US, France to Back Off
3- Khashoggi Strangled, Dismembered Right after Entering Saudi Consulate in Istanbul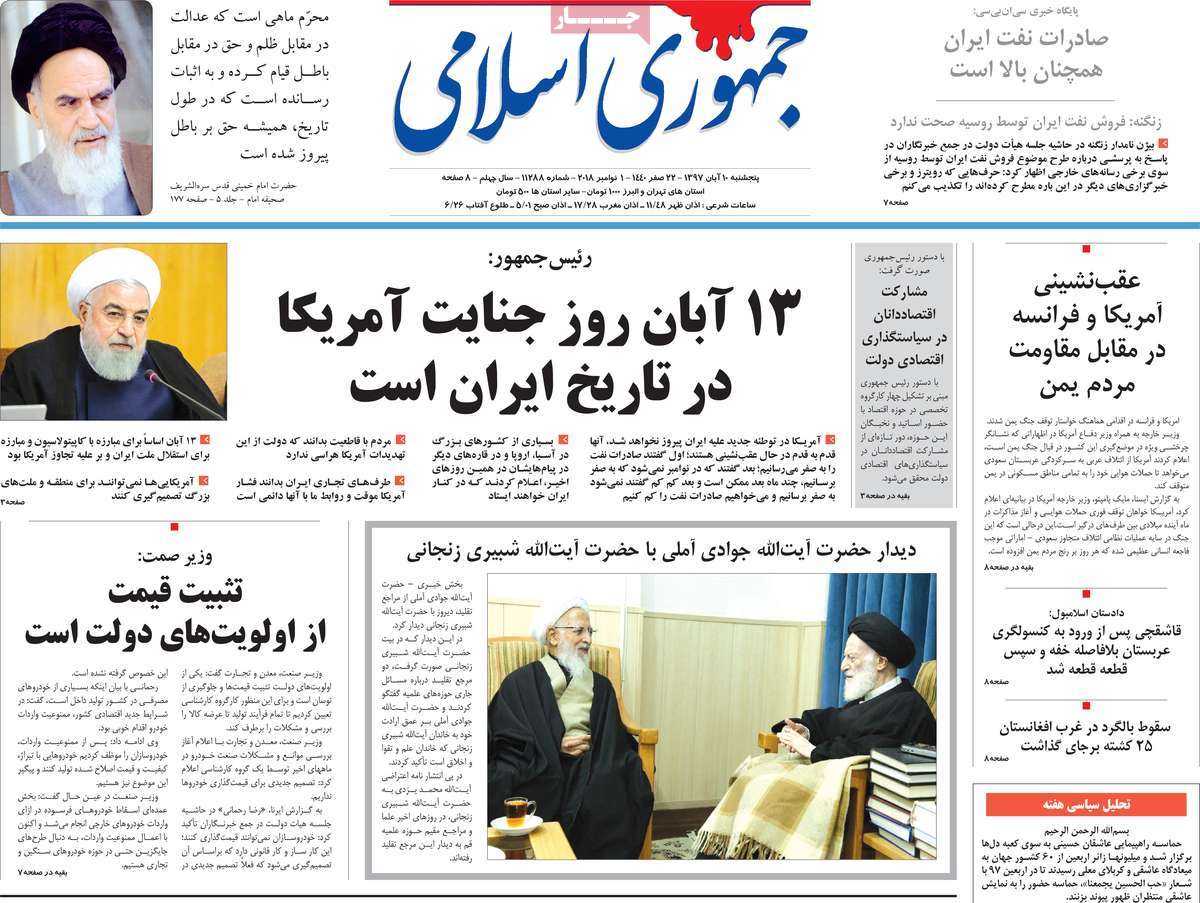 ---
Kayhan:
1- Terror Accusations Are Part of Europe's Plan to Evade Doing Its Commitments
2- Failure of US Sanctions: Iran Exporting 1.8m Barrels of Oil per Day
3- US Officials Concerned about Growing Instability of Saudi Regime
---
Khorasan:
1- Iran, India to Create Financial Mechanism in Near Future
2- Turnabout in US' Policies: Washington Calls for End of Yemen War
3- Khashoggi's Murderer Funds Anti-Iran London-Based TV Channel Iran International\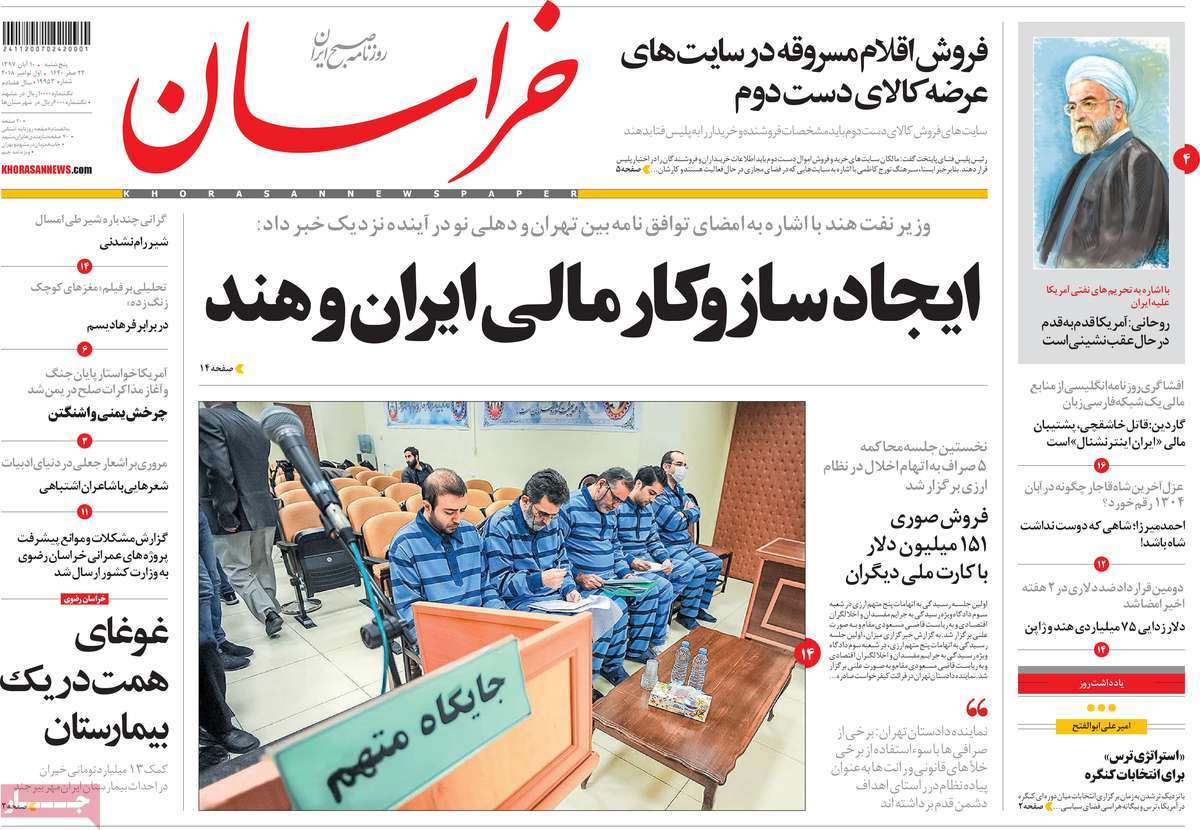 ---
Shargh:
1- Government Not Afraid of US Threats: Rouhani
2- VP for Legal Affairs Calls for Meeting with Judiciary Chief on Detained Environmentalists
3- Young Muslim of Iranian Origin to Compete with Boris Johnson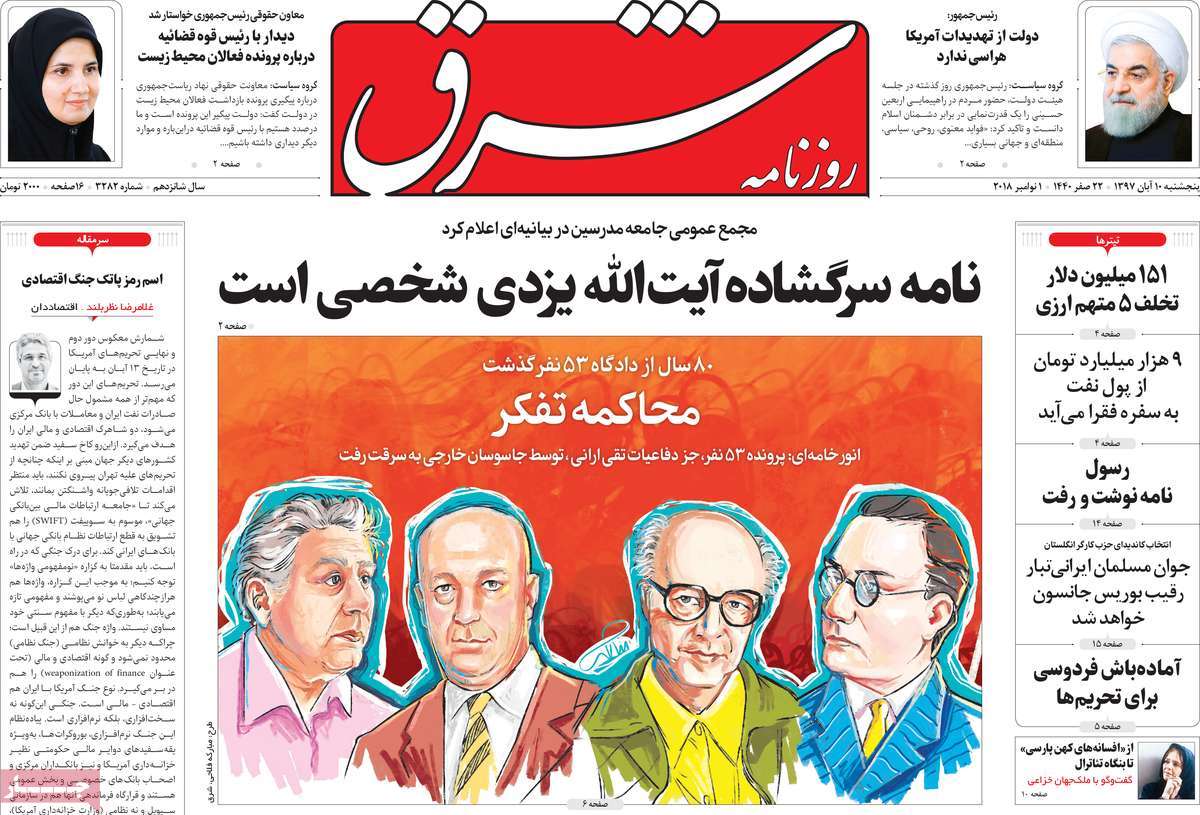 ---
Vatan-e Emrooz:
1- Iran Foreign Ministry's Passivity Turns the Defendant Europe into the Plaintiff!
2- Khashoggi's Murderer Owns Iran International TV Channel
3- Europe Has One Hundred Faces [Editorial]