The comments of President Rouhani that his administration does not want a particular faction to emerge triumphant in the upcoming elections dominated the front pages of Iranian newspapers on Thursday.
Ettela'at: President Rouhani has said that he hopes judicious, capable and experienced individuals win parliamentary seats in the upcoming elections.
He further said that his administration does not want a particular faction to emerge victorious in the vote.
In another development, the Cabinet confirmed Fereydoon Hemmati and Mohammad Reza Khabbaz as new governors general of Qazvin and Semnan provinces.
Ettela'at: Between 4,000 and 5,000 individuals are predicted to field their candidacy for the early 2016 elections.
A deputy interior minister said that in one third of all constituencies, elections will be electronic.
Ettela'at: The director of the Environment Protection Organization has thanked the Supreme Leader for releasing the macro-policies of the environment sector.
In a letter, Masoumeh Ebtekar hailed those policies as instrumental in securing sustainable development and establishing convergence to protect nature and the environment.
Ettela'at: Three terrorists were killed when French police raided an IS hideout in France.
One of the terrorists blew herself up as police swept the house they were holed up in.
In another development, American media said the US and France are likely to launch joint naval operations against the IS terrorist group.
Ettela'at: Tehran has called for termination of all anti-Iran resolutions of the International Atomic Energy Agency.
Iran's UN Ambassador Gholamali Khoshroo said that Iran has implemented all voluntary measures agreed to in a roadmap deal the Islamic Republic signed with the IAEA in July.
Ettela'at: UNICEF has said that as many as 1,600 Yemeni children have been killed or disabled in strikes by the Saudi-led coalition against Yemen.
It said attacking Yemen's water reservoirs, infrastructure and children is not justifiable.
Ettela'at: Intelligence Ministry agents have busted a dangerous gang in Kerman.
Five members of a dreadful abduction and murder ring were arrested in the operation.
In another development, the Islamic Revolution Guard Corps arrested members of a terrorist cell in Kermanshah.
Ettela'at: A ceremony has been held to mark the 1,000,000th book title published since the victory of the Islamic Revolution in early 1979.
---
Abrar: Each day residents of Tehran produce so much garbage that fills Azadi Sports Stadium three times.
Abrar: Following an order by Corruption Prosecutors Office, the son of Ataollah Mohajerani [a former culture minister] was arrested.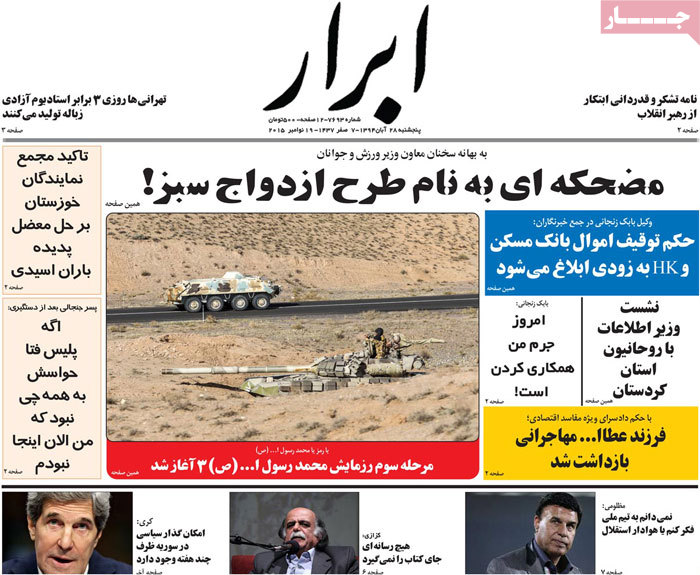 ---
Afarinesh: "The 11th government is based on interaction and good relations with other countries," said President Rouhani.
---
Aftab-e Yazd: The cousins turned out to be step cousins!
The young man, who recently made a lot of noise on popular messaging app Telegram by allegedly releasing photos in which he poses with a dozen girls, has been arrested.
[He claims all those girls are his cousins and that the photos were released after his cell phone was stolen.]
---
Arman-e Emrooz: "Some are mistaking independence for sanctions," said Chairman of the Expediency Council Ayatollah Akbar Hashemi Rafsanjani.
Arman-e Emrooz: The national soccer team is in shock. Is the squad's Portuguese head coach Carlos Queiroz suffering from a serious stomach condition?
---
Etemad: Telegram [a messaging app very popular in Iran] won't be blocked for now.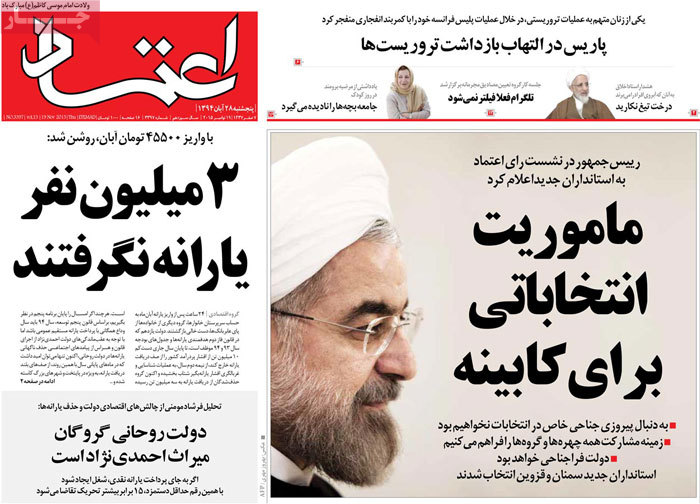 ---
Ghanoon: IS is after European leaders.
A major terrorist operation was foiled in Hanover.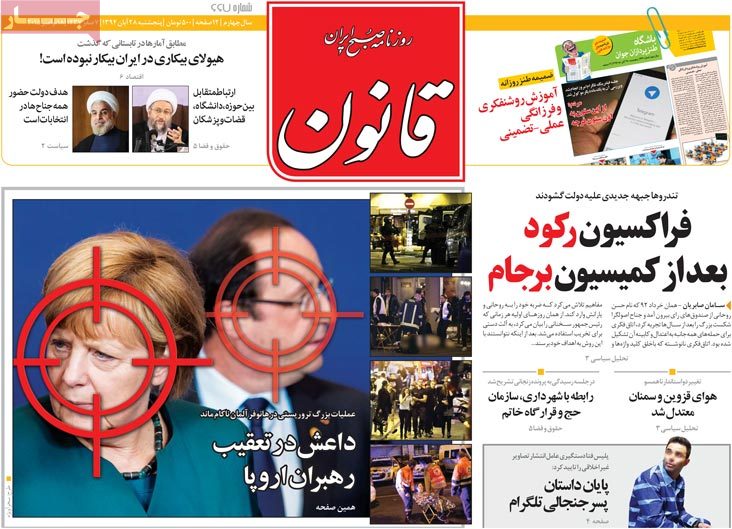 ---
Hamshahri: Migratory birds have flocked to Persian Gulf Martyrs Lake in northwestern Tehran.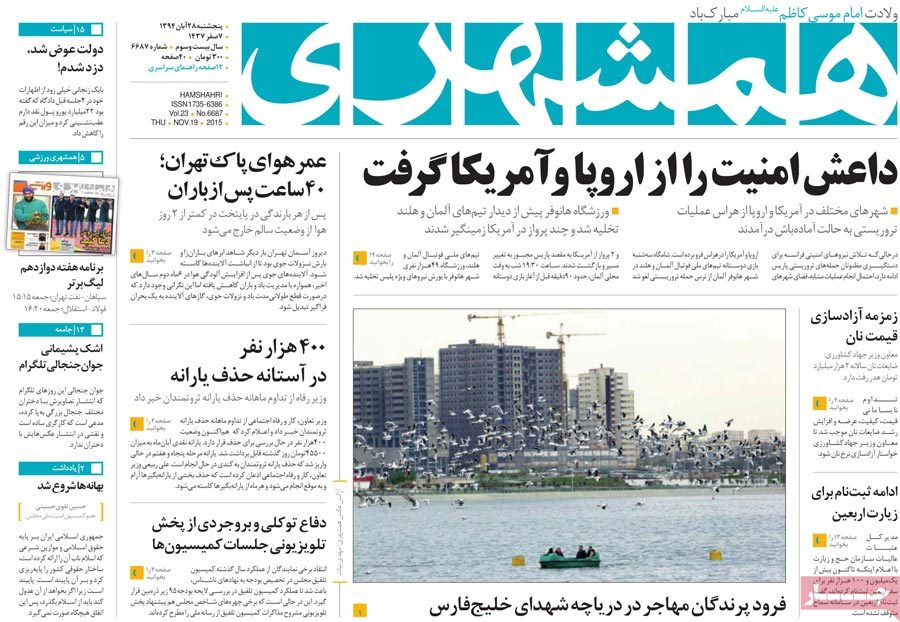 ---
Hemayat: The judiciary chief has stressed the need for constant interaction between judges and physicians over scientific and legal issues.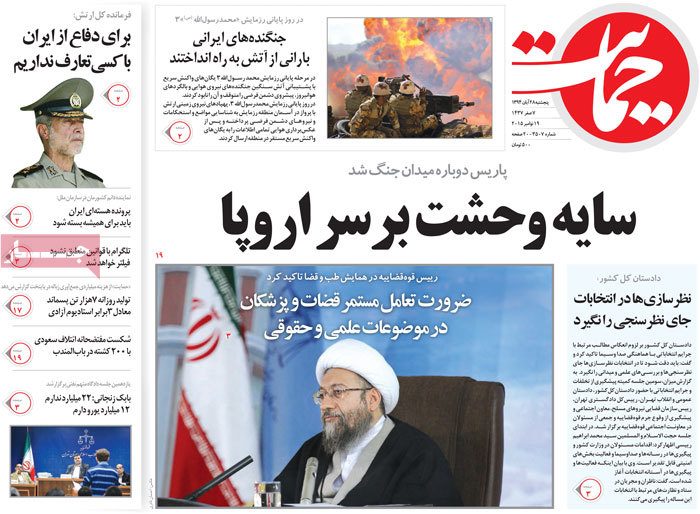 ---
Iran: The director of the Iranian Mines and Mining Industries Development and Renovation Organization (IMIDRO)has said that his organization has signed deals worth € 6.5b with four European firms.
Iran: The oil billionaire has recanted his claim: I have €12b and not € 22 billion.
[Babak Zanjani is on trial for massive corruption.]
Iran: All Iranians have been invited to a book party in bookstores across the country today.
---
Javan: Paris was a war theater [on Wednesday].
Terrorists and police were involved in a 7-hour shootout in the French capital.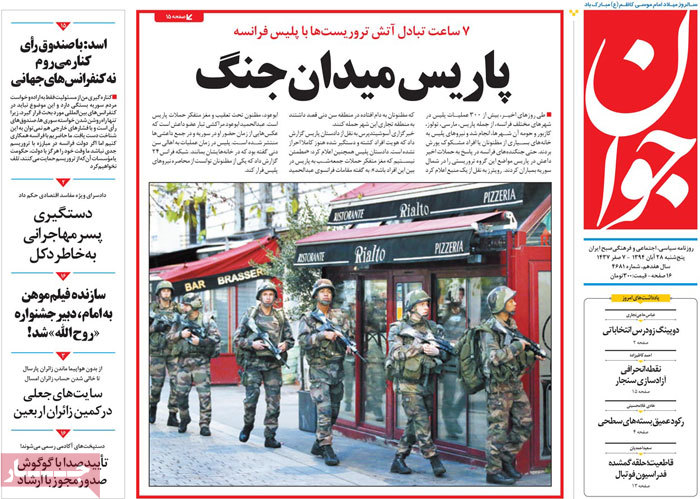 ---
Jomhouri Islami: President Rouhani has said that his government wants all factions to take part in the upcoming elections.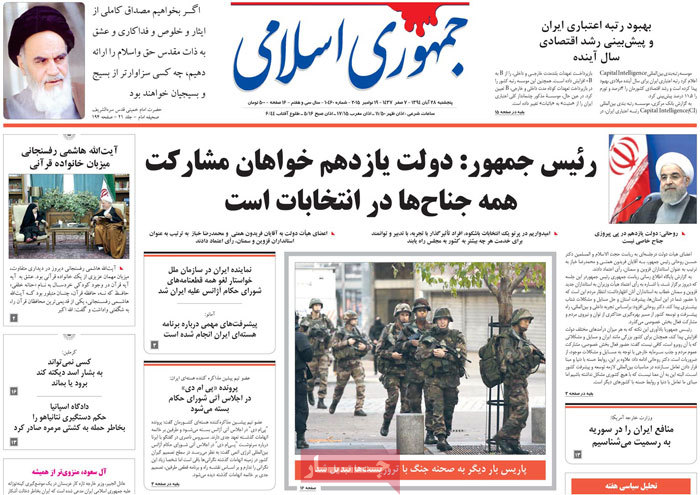 ---
Kayhan: The fight against terrorism does not go through forming alliances with those who secretly support IS, said a number of MPs in interviews with Kayhan.
---
Mardomsalari: "As soon as the new government took office I was labeled a thief," said Babak Zanjani who is on trial for corruption.
---
Resalat: Redesigning the Arak site should be preceded by the closing of the possible military dimension (PMD) case, said Alireza Zakani, an MP who led parliament's JCPOA Review Committee.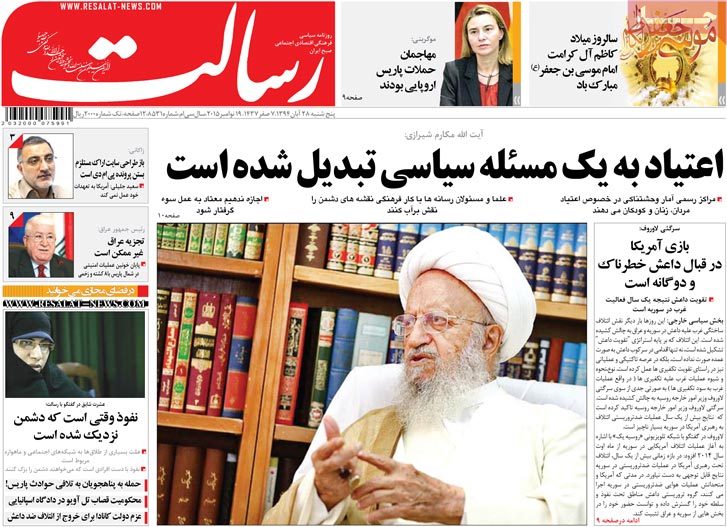 ---
Setareh Sobh: The poet of memories, Rahim Moini Kermanshahi, passed away.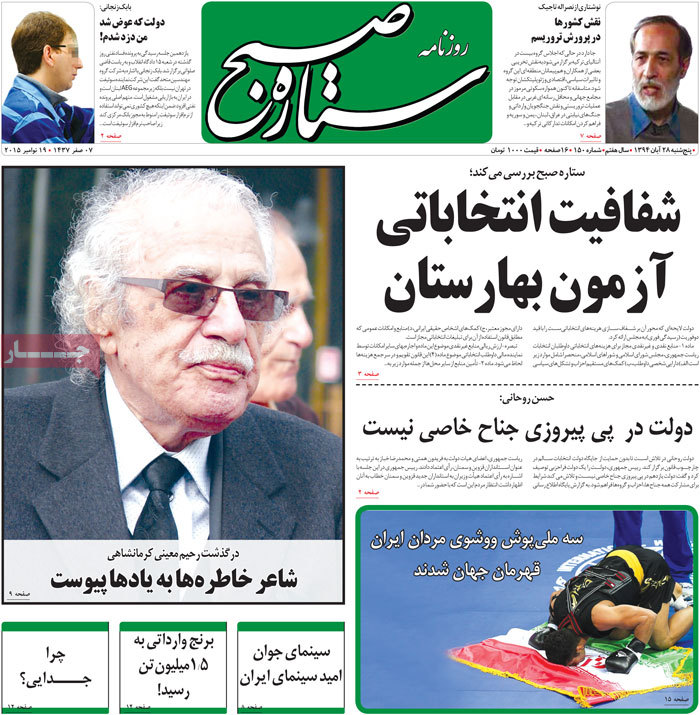 ---
Shorou: The governor of the Central Bank of Iran has left for Germany.
---
SMT: Car imports have been cut in half.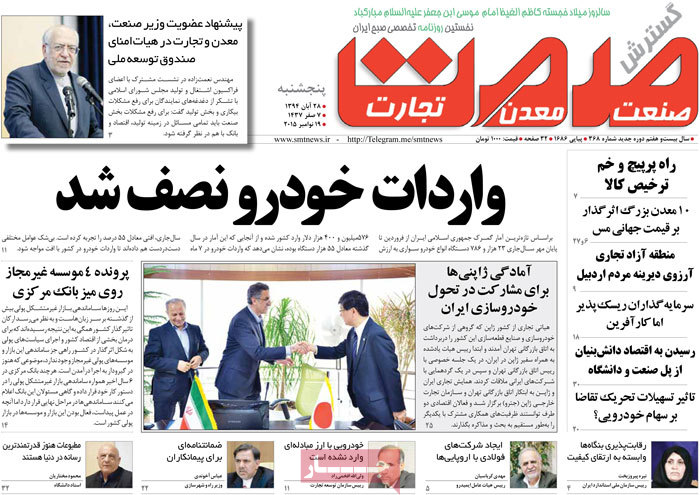 ---
Sobh-e Eghtesad: Even termination of sanctions won't work as long as corruption is not eliminated, said Tehran MP Ahmad Tavakoli.