The election of a senior conservative figure, the 89-year-old Ayatollah Ahmad Jannati, as the new chairman of Assembly of Experts, a body in charge of monitoring and choosing Iran's Leader, was the top story in all Iranian newspapers. Conservative media mostly covered it as a huge success for their camp, and even boasted about their victory.
A motion passed by the Iranian Parliament in the last day of its previous term also received great attention. The bill urges employers to inquire about applicants for "sensitive jobs" by referring to the country's judiciary, the Intelligence Ministry, and also the Intelligence Organization of the Islamic Revolution Guards Corps (IRGC), which was newly added to the list.
The ongoing campaigns against ISIS terrorists in Iraq and Syria, and also a vow made by the Iranian Economy Minister Ali Tayyebnia and Governor of Central Bank Valiollah Seif to reduce the inflation rate to less than 10% by summer were also covered by many newspapers.
Abrar:
1- Head of Iran's Hajj and Pilgrimage Organization Heads for Saudi Arabia for 2nd Round of Talks
2- UN Concerned about Civilians of Fallujah
3- Leader: Assembly of Experts Is Responsible for Safeguarding the Establishment's Islamic and Revolutionary Identity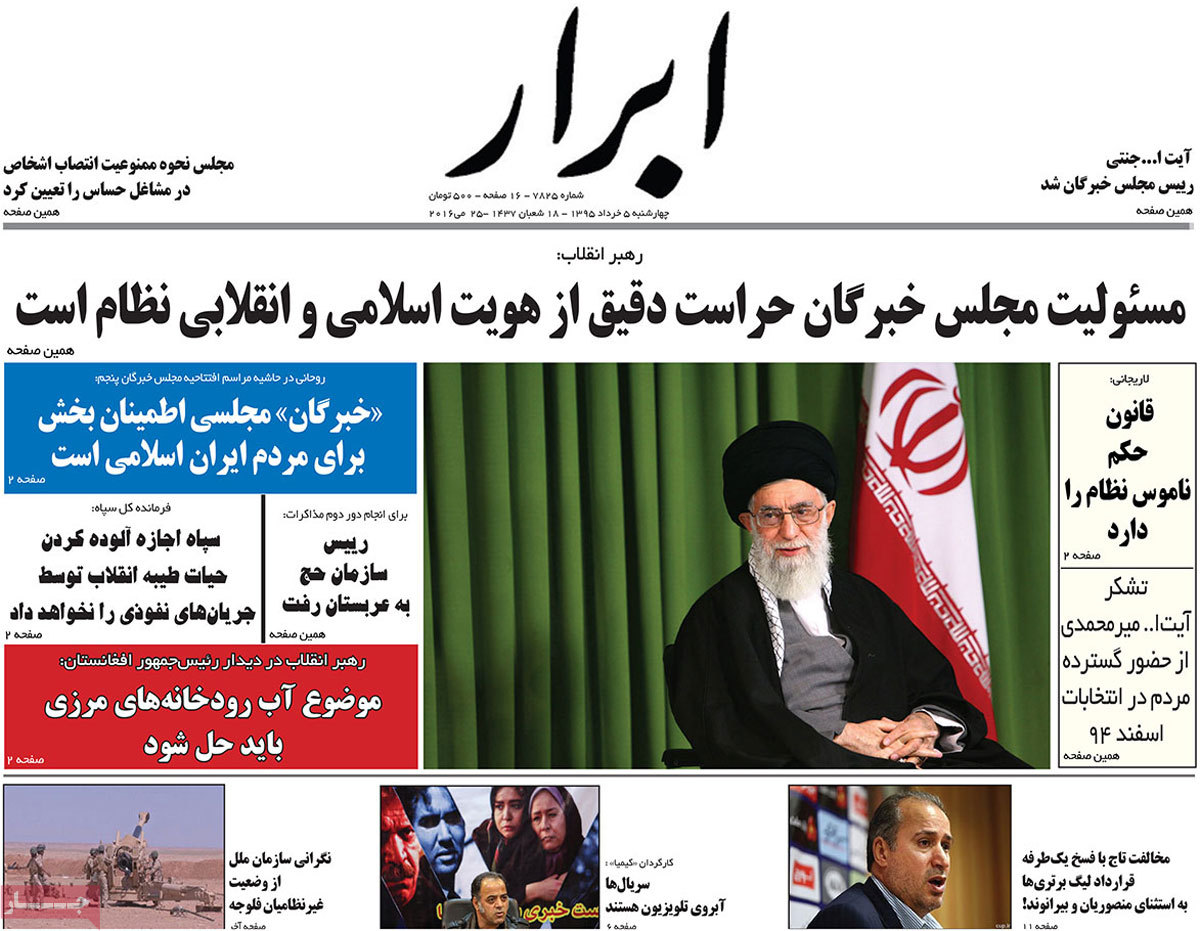 ---
Abrar-e Eqtesadi:
1- India Focuses on Developing Iran's Chabahar Port to Compete with China
2- 3 Conditions for China's Lasting Position in Iranian Market
3- 113% Increase in South Korea Oil Imports from Iran
4- Iran and Turkey to Launch Joint Industrial Town
5- New Transit Corridor to Be Launched between Persian Gulf and Europe
---
Aftab-e Yazd:
1- Young Khomeini Didn't Show Up, Jannati Elected as Chairman
2- Street Diplomacy: Sisterhood of Iranian Cities with Foreign Ones
3- Popular Welfare Is Rouhani's Achilles Heel in Next Year's Presidential Elections
4- Is It True That President's Brother and Special Aide Has Left Him? Where Are You Hossein Fereydoun?
5- Kayhan Newspaper Angry at Farhadi's Cannes Success: Those Disappointed by Salesman's Awards
---
Arman-e Emrooz:
1- Police Arrests 4 Female Make-Up Artists; Male Artists in Female-Only Salons
2- 1 Person Executed Last Year for Infiltration: VP
3- Jannati Elected as New Chair of Assembly of Experts
4- Rafsanjani: Formation of Board Members "Very Good" in This Term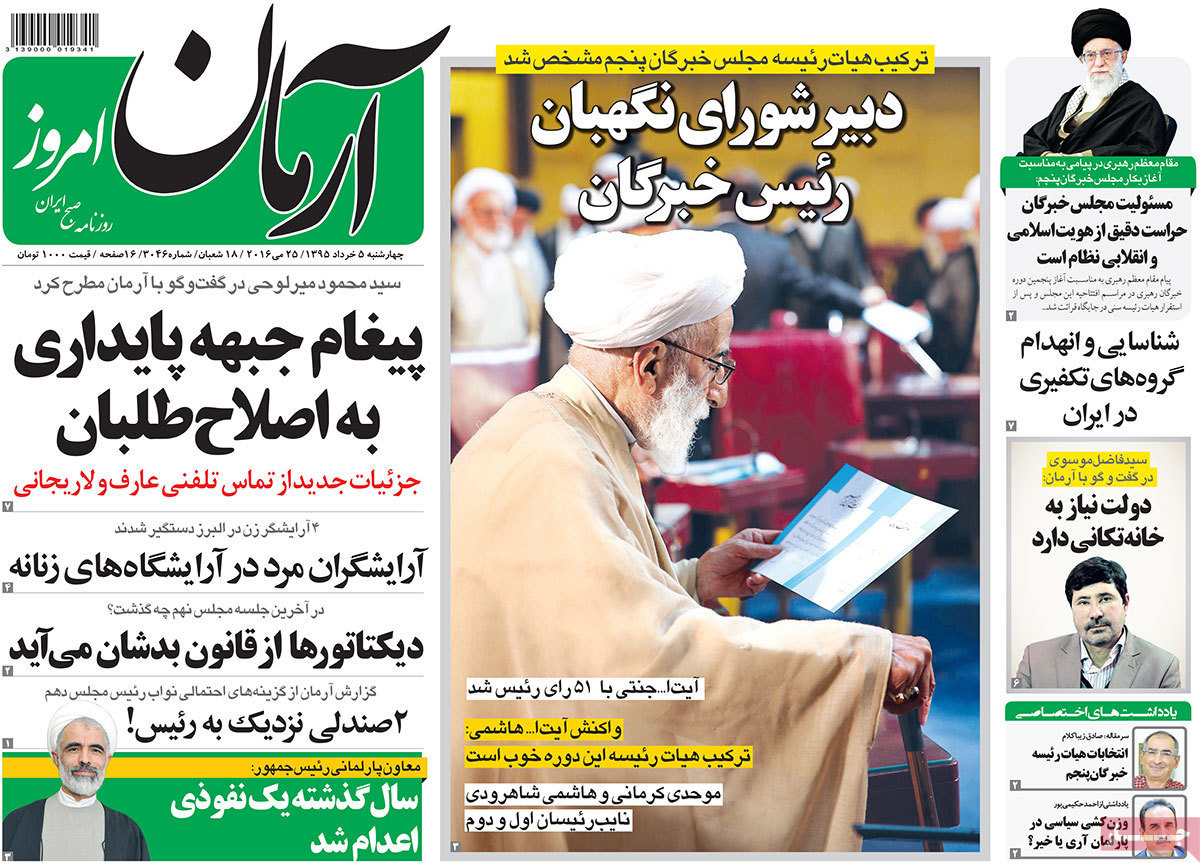 ---
Asia:
1- World Bank to Give $2bn Loan to Iranian SMEs
2- Greeks Invest in Iran's Exhibitions and Free Zones
3- 5%Economic Growth to Be Realized This Year: Minister
4- Importing Cars from Intermediary Countries Illegal
---
Asrar:
1- Last Efforts for Major Pilgrimage
2- Interior Ministry Pursues the Issue of "White Marriage" [couples cohabiting without getting married]
3- Takfiri [Extremist] Groups Disbanded in Iran's Kordestan
4- IRGC's Intelligence Organization Becomes a Source of Inquiry [In the last day of its 9th term, Iran's parliament passed a motion to add the IRGC intelligence body to the list of authorities to be referred to by different official bodies for inquiring about certain employees.]
5- Cannes Success a Source of Pride for Iranian Nation: Gov't Spokesman
---
Asr-e Rasaneh:
1- Iran on Turning Point of Return to Economic Boom: Minister
2- 3500-Year-Old Antiquities Discovered in Andimeshk
---
Bani Film:
1- Details of Kiarostami's New Film in China: Afsaneh Pakroo Only Iranian Actor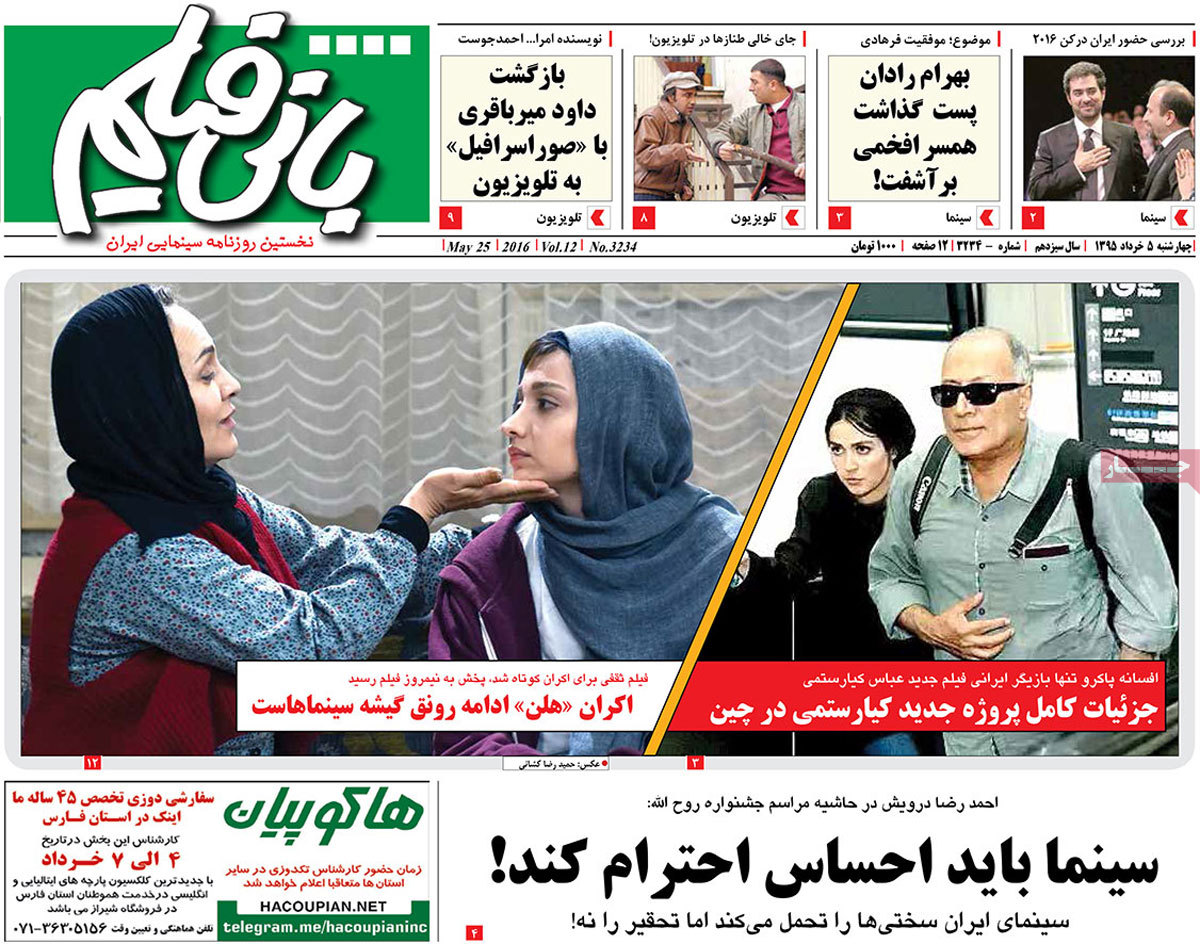 ---
Ebtekar:
1- End of the 9th [Parliament], Beginning of the 5th [Assembly of Experts]
2- Any Cabinet Reshuffle Mere Speculation: Spokesman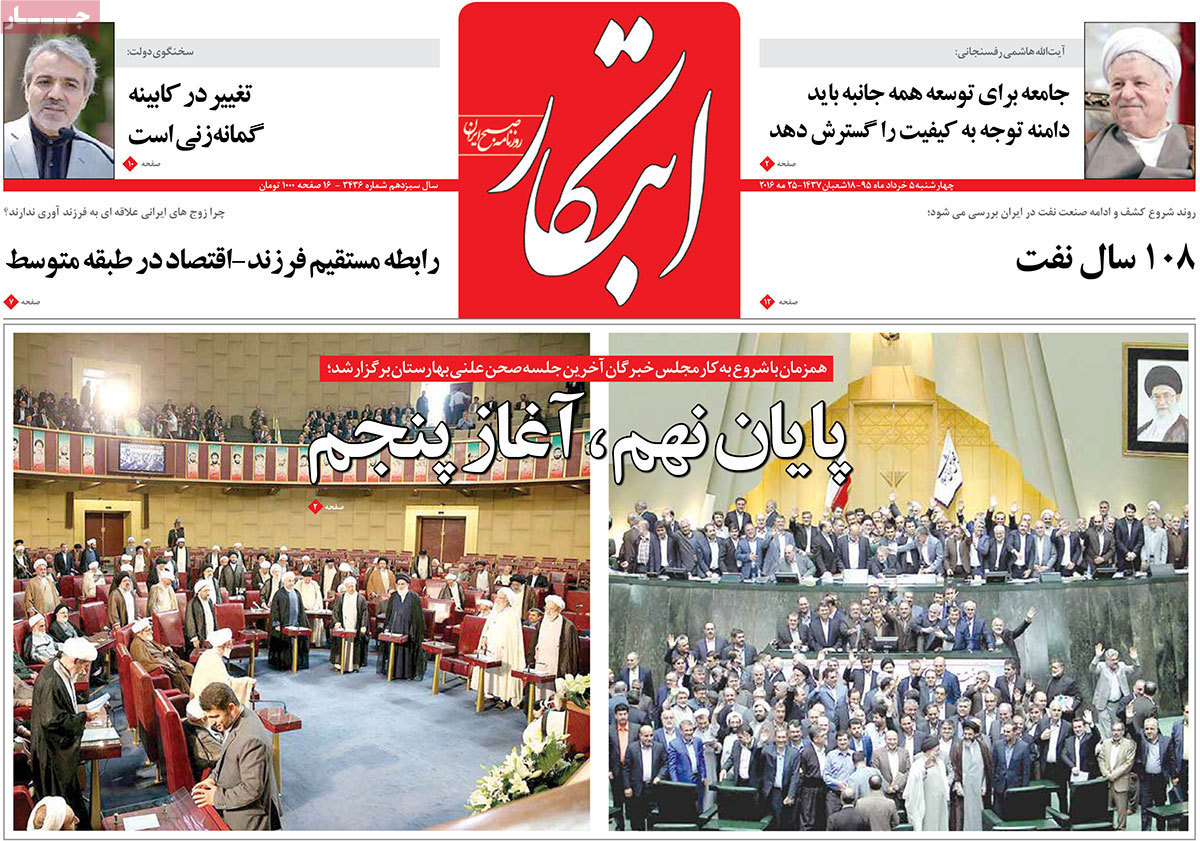 ---
Emtiaz:
1- JCPOA Opens World Markets to Iranian Oil Tankers
2- There Are 1.4m Drug Addicts in Iran: Official
---
Etemad:
1- End of Conservative Parliament
2- Ahmadinejad Trying to Return: Senior Conservative Bahonar
3- Divorces Outnumber Marriages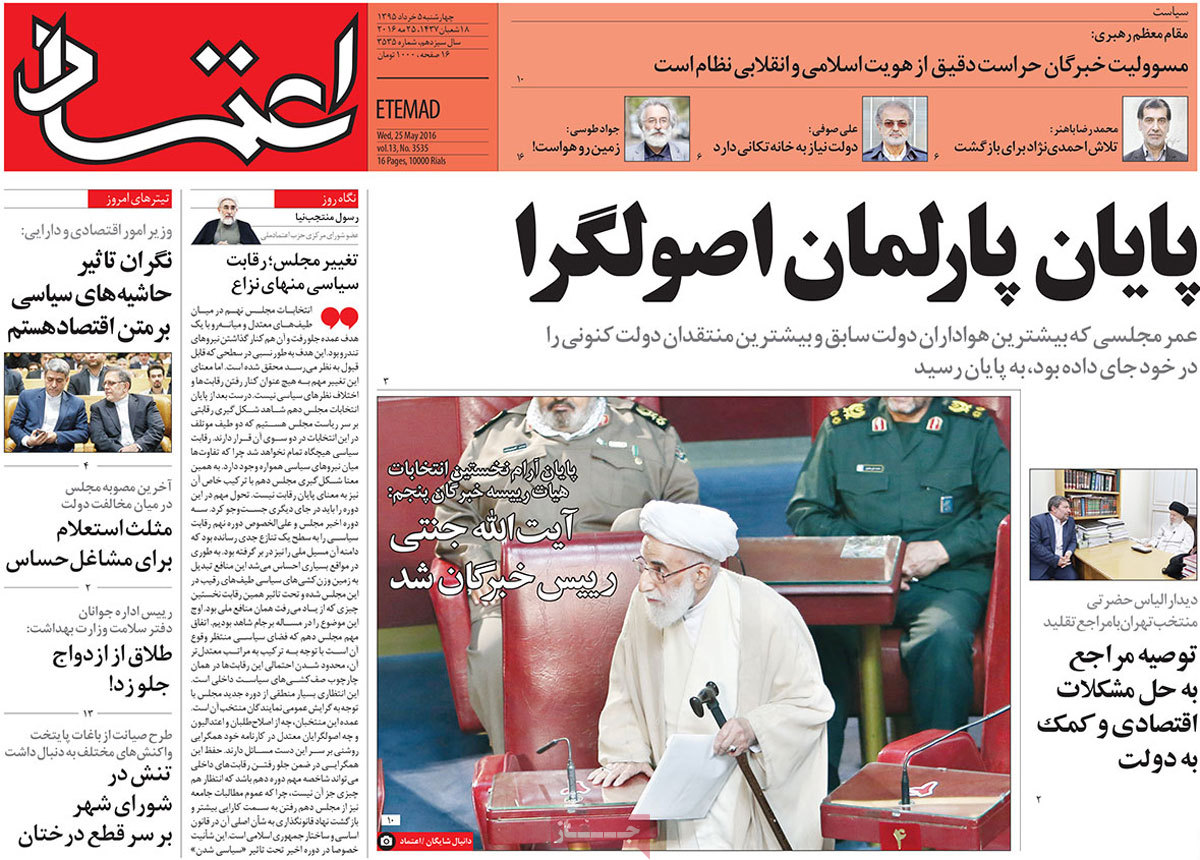 ---
Ettela'at:
1- This Year Will Be Turning Point for Iran's Economy: Minister
2- Employment in Sensitive Jobs Requires Inquiries from 3 Separate Bodies
3- Takfiris' Crimes Have Their Roots in Incorrect Religious Interpretation: Cleric
---
Ghanoon:
1- Latest Bill: Intelligence Ministry Number 2 [on the addition of IRGC's Intelligence Organization to the list of authorities to be inquired of by employers for sensitive jobs]
2- The Last Who Became the First [Jannati was the final member-elect in the Assembly of Experts elections in Tehran, with the least number of votes, but managed to win a majority in the AoE chairman's election]
3- Moving Forward from Low-Quality Chinese Products to Investment: Iran to Secure Investment of Chinese Businesspeople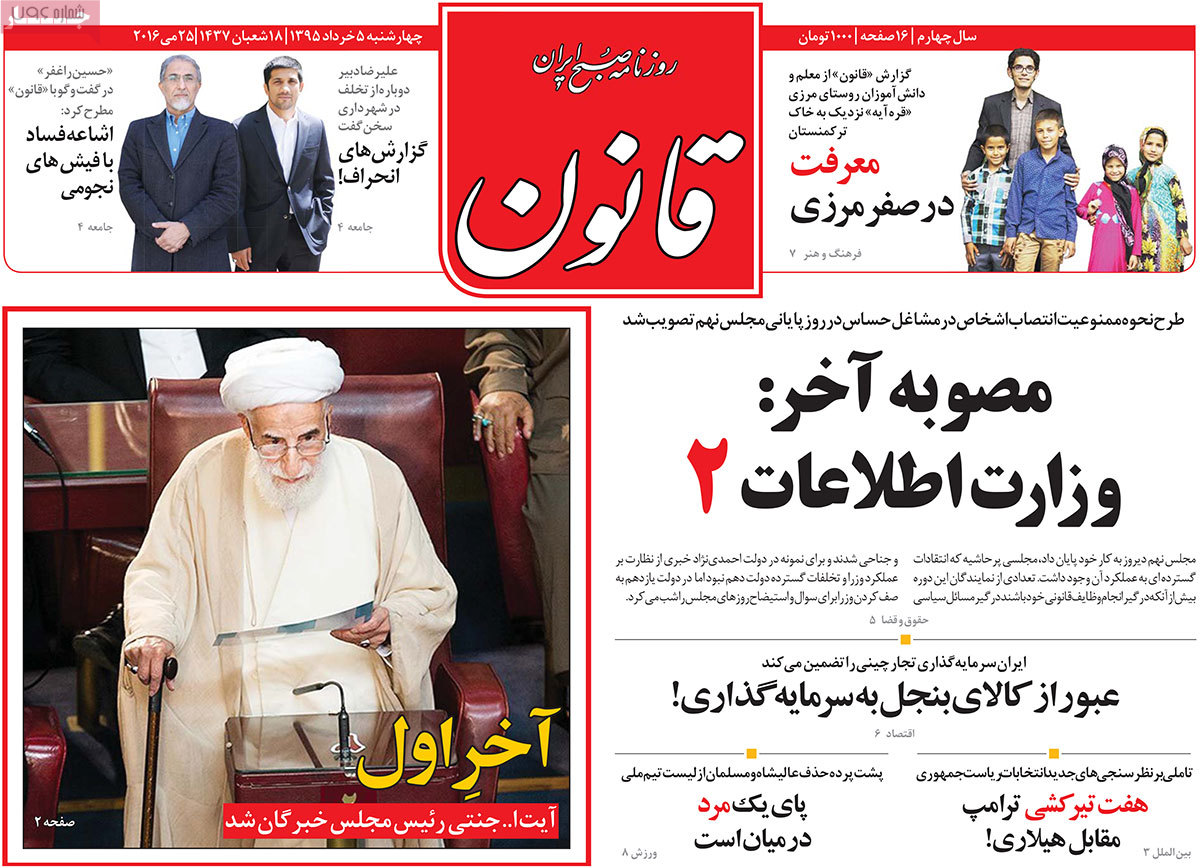 ---
Haft-e Sobh:
1- Ayatollah Jannati, Still: High-Ranking Cleric Still Considered Most Influential Figure among Conservatives
---
Hemayat:
1- Revolutionary Choice: Ayatollah Jannati Wins Majority in AoE
2- IRGC Not to Allow Western-Oriented Groups to Make Inroads: Commander
---
Iran:
1- Hajj and Pilgrimage Chief Visits Riyadh on Saudi Invitation
2- CBI Chief: For First Time in 25 Years, Inflation Rate Will Go Under 10% This Summer
3- Attack on the Heart of ISIS Begins: Campaign against Takfiri Capital in Syria
---
Jame Jam:
1- Revolutionary Experts [Election of Jannati as new head of Assembly of Experts]
2- Shahab Hosseini: From Jame Jam [acting in IRIB TV series] to Cannes
3- Divorce Because of Clash of Clans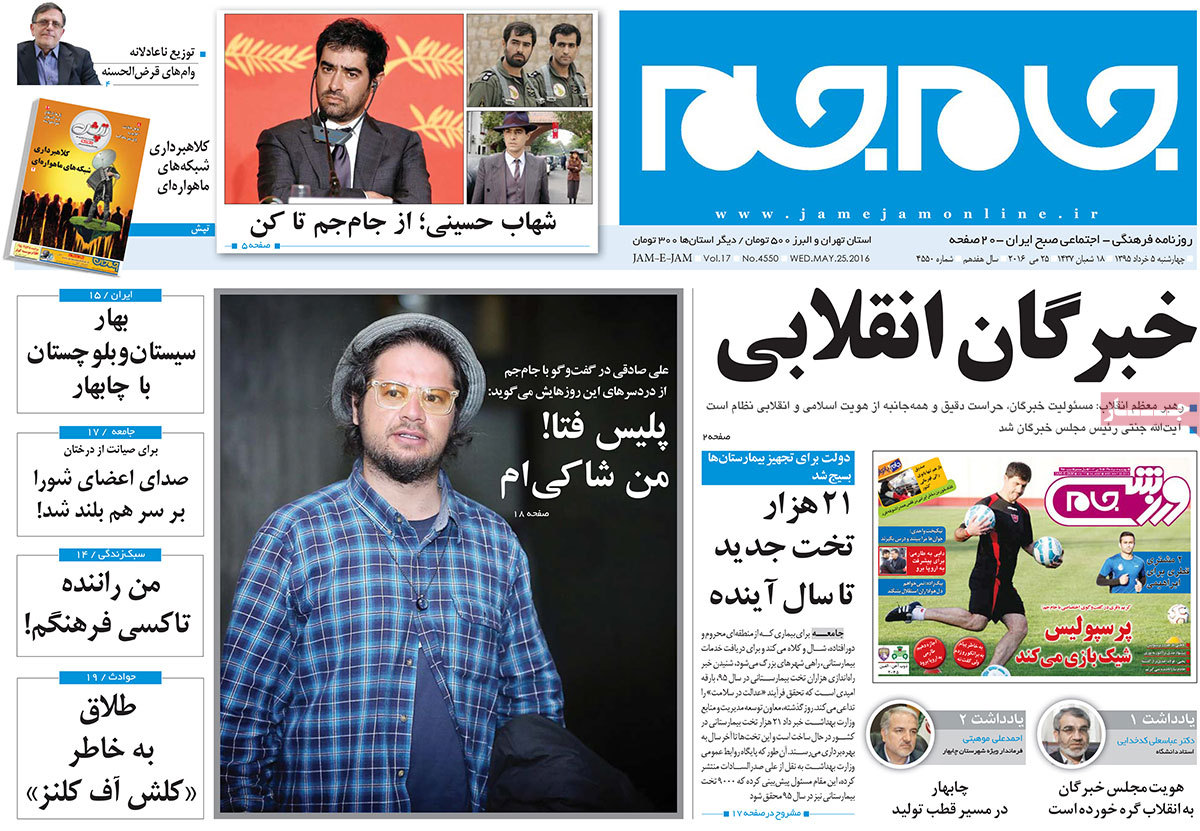 ---
Javan:
1- Elected by People, Trusted by [Assembly of] Experts: Ayatollah Jannati Chosen as AoE Chief with 51 Votes
2- Humiliation of Female Iranian Martial Artist Beaten Up in Armenia
3- Health Ministry: Only 20 People Receive Salaries More than $30,000!
4- What Has [Asghar Farhadi's] The Salesman Sold?!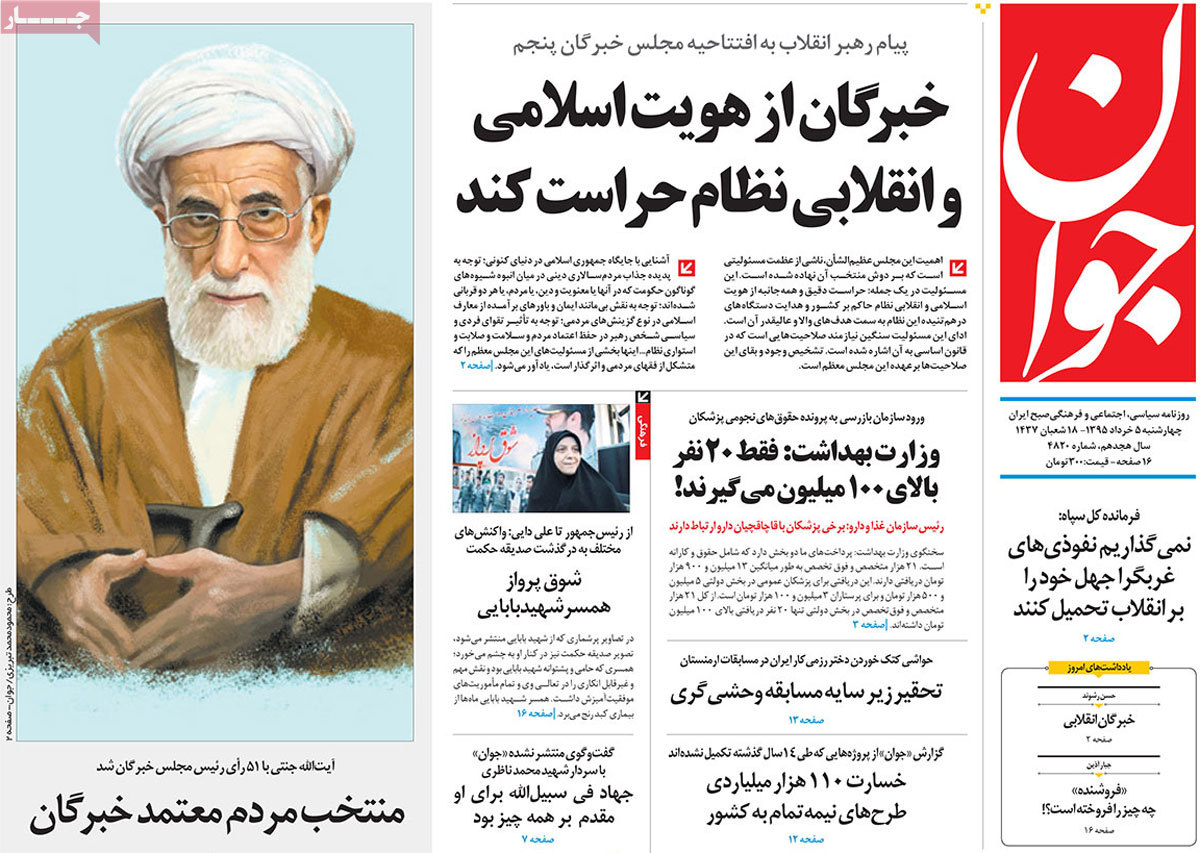 ---
Jomhouri Eslami:
1- Saudi Arabia May Change Its Position on Iranian Hajj Pilgrims
2- Al Khalifa Regime [of Bahrain] Opposes Release of Political Activist's 17-Month-Old Baby
3- Second Phase of Operation to Free Iraq's Fallujah Begins
4- Iran and China Sign 7 MoUs to Expand Economic Relations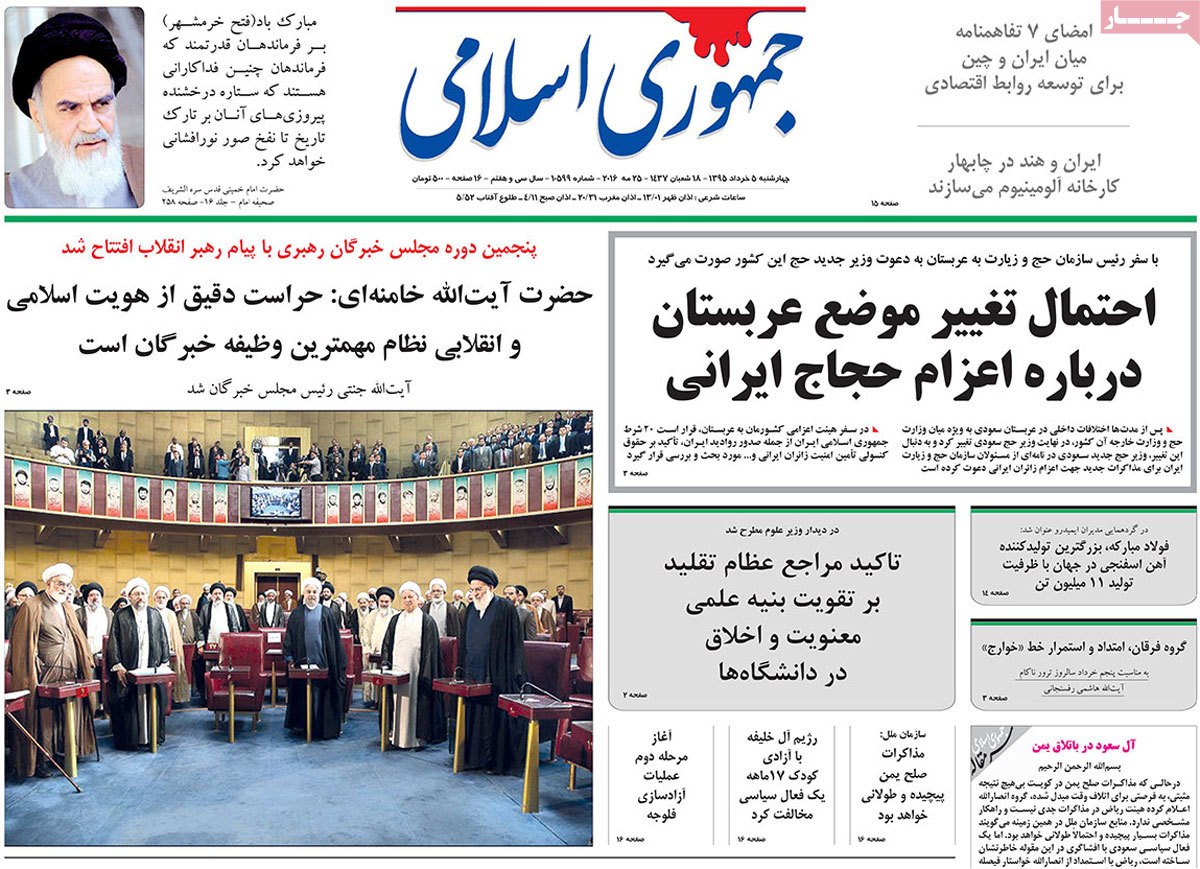 ---
Kayhan:
1- The Thorn in the Side of Britain Becomes Chairman of Assembly of Experts
2- All French Refineries Go on Strike
3- US Fighter Jets Bombard Popular Forces in Fallujah
4- George Soros' Investment: From Colour Revolutions to Selling JCPOA
5- Why Ayatollah Jannati [Was Elected as Chief of Experts Assembly]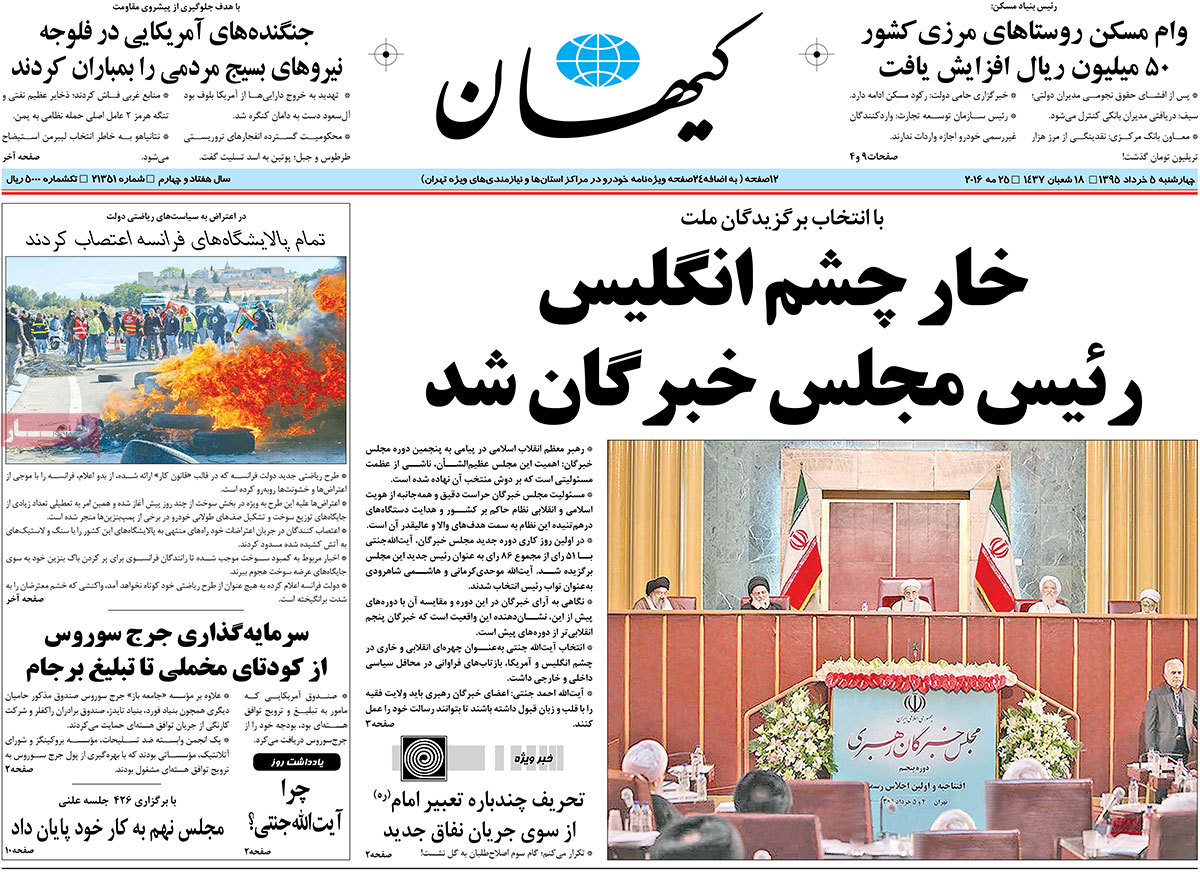 ---
Khorasan:
1- Americans' Claims on Reluctance of European Banks to Do Business with Iran Is an Excuse: CBI Chief
2- Clinton's Edge over Trump Down from 11% to 3%: Wall Street Journal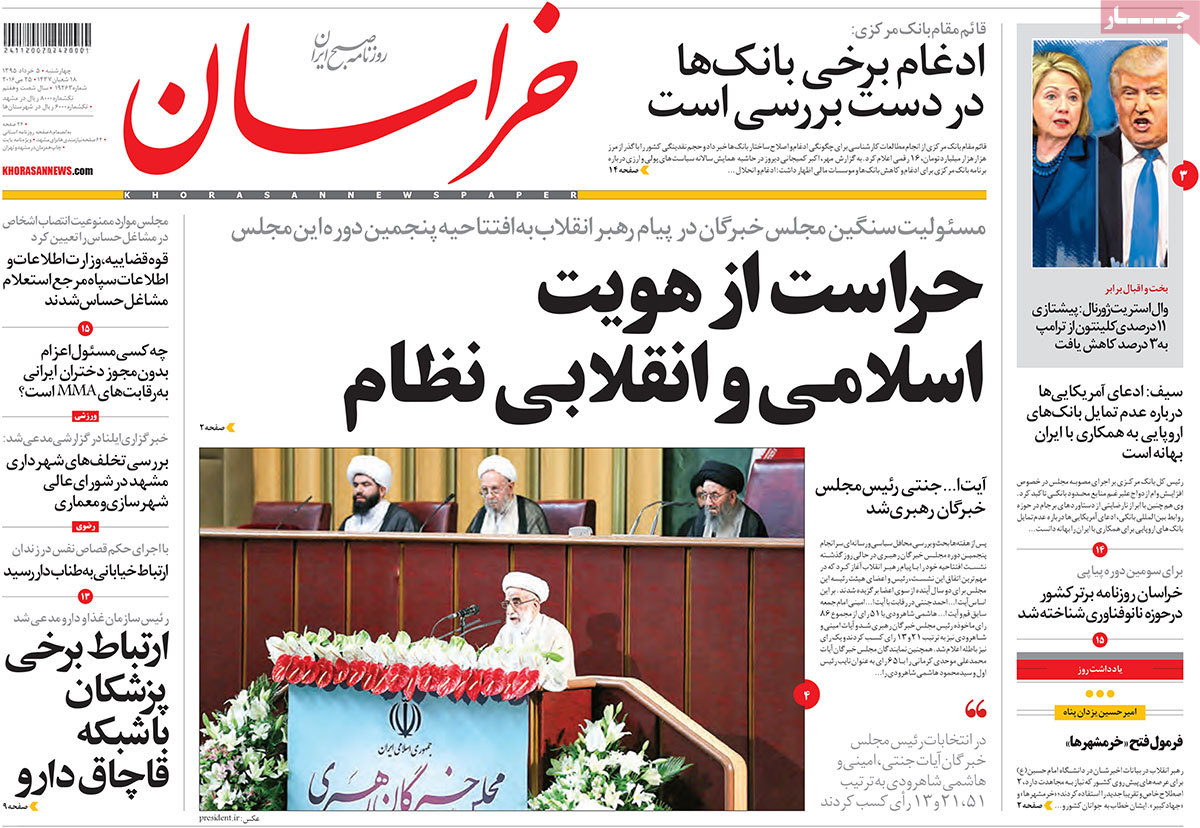 ---
Resalat:
1- IRGC Ready to Change Global Balance of Power: Commander
2- Grand Ayatollah Urges Science Ministry to Prevent Brain Drain
3- ISIS under Fire: Most Villages in Fallujah Liberated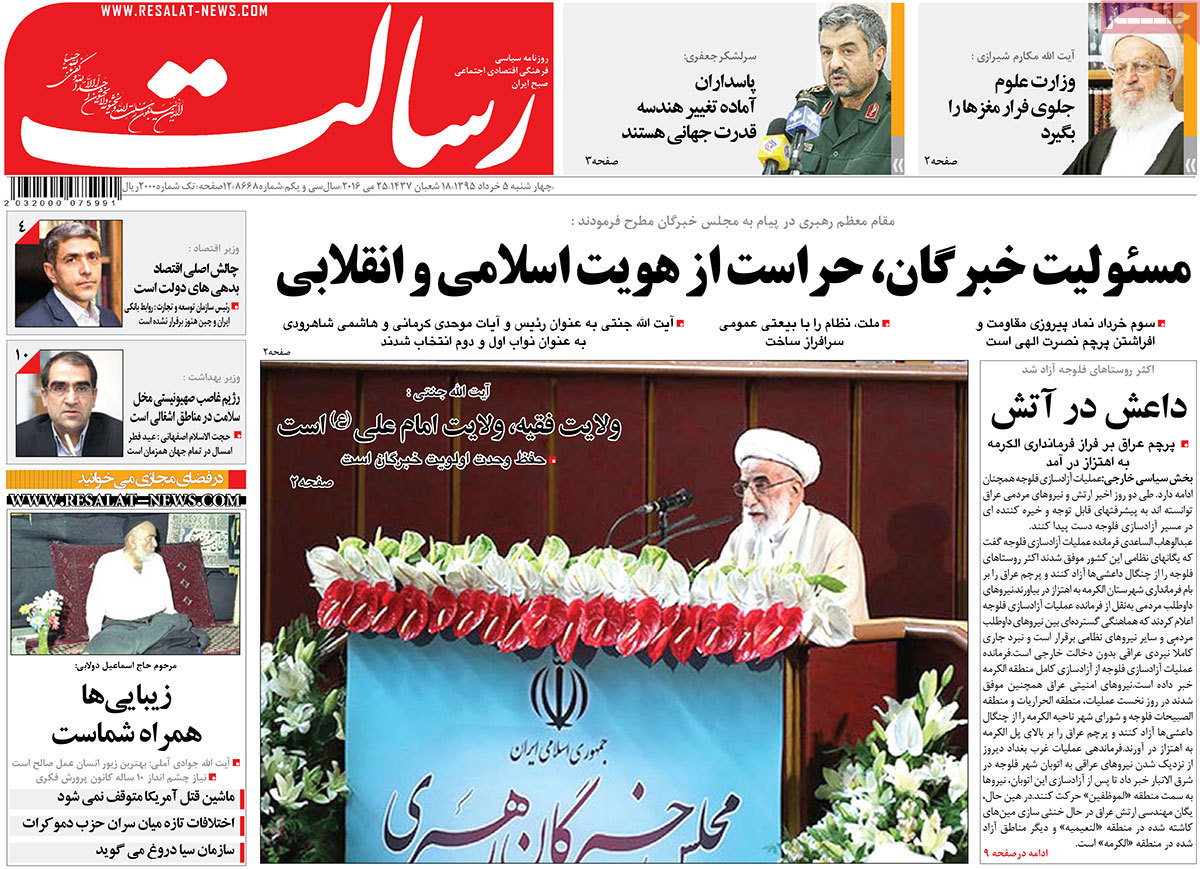 ---
Roozan:
1- Ahmadinejad: Unreliable Player or Winning Card?
2- Conservatives Will Fail Even with Ahmadinejad: Analyst
3- Last Member-Elect in Tehran Chosen as Head of Assembly of Experts
---
Shahrvand:
1- Story of Iranian Sisters Beaten Up in Cage: 8 Boys and 3 Girls from Iran Take Part in Violent MMA Competition [in Armenia]
2- Victim's Mother Forgives Murderer Only If He Gives up Drugs
3- Final Selfies of MPs
---
Shargh:
1- It's Finally Over: Review of 9th Parliament's Performance
2- Ayatollah Jannati Ranked First
3- Political Death of Economic OPEC: Interview with Iran's Ex-Envoy
4- Dispute over A Gallery as Big as a City: Conservatives' Attack, Reformists' Defence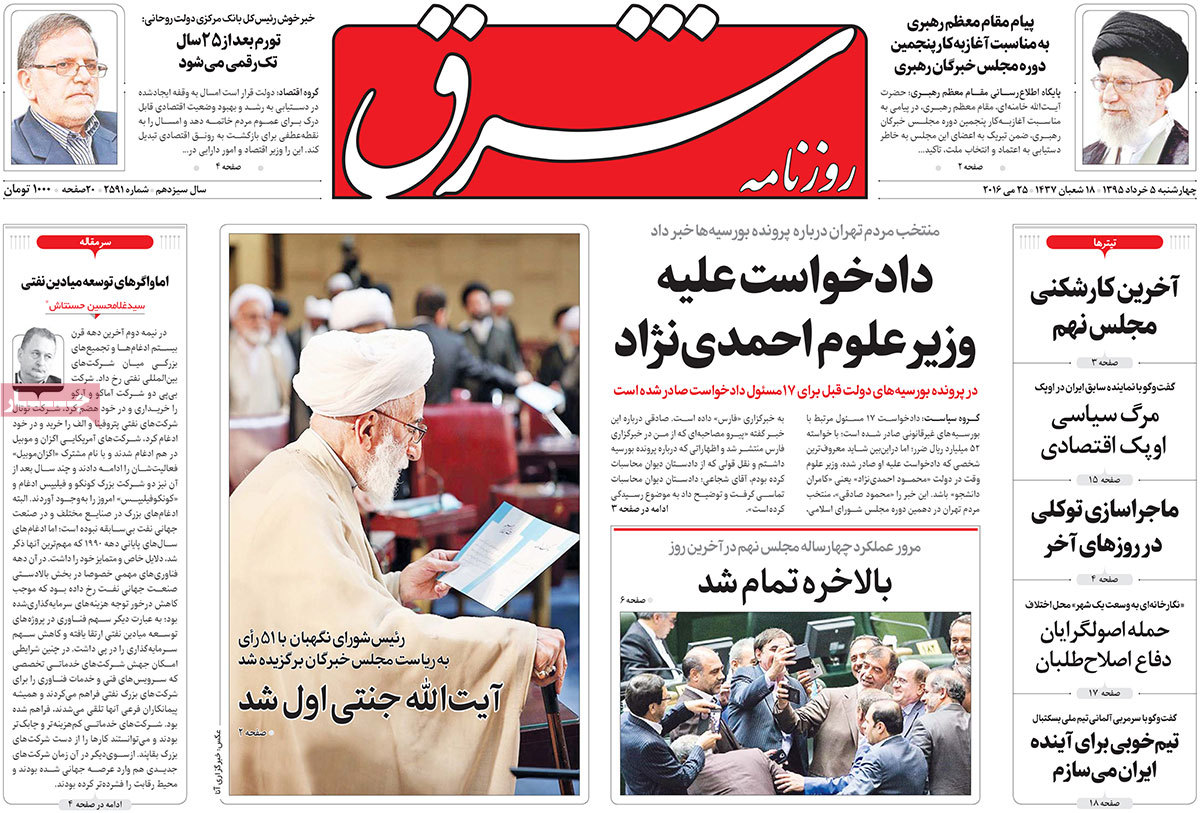 ---
Shorou:
1- 75% of MPs Bid Farewell to Parliament
2- Cabinet Needs Major Changes Given Poor Performance of Some Ministers
3- The Dangers of Finding Spouses Online
4- Dark Shadow of White Marriage!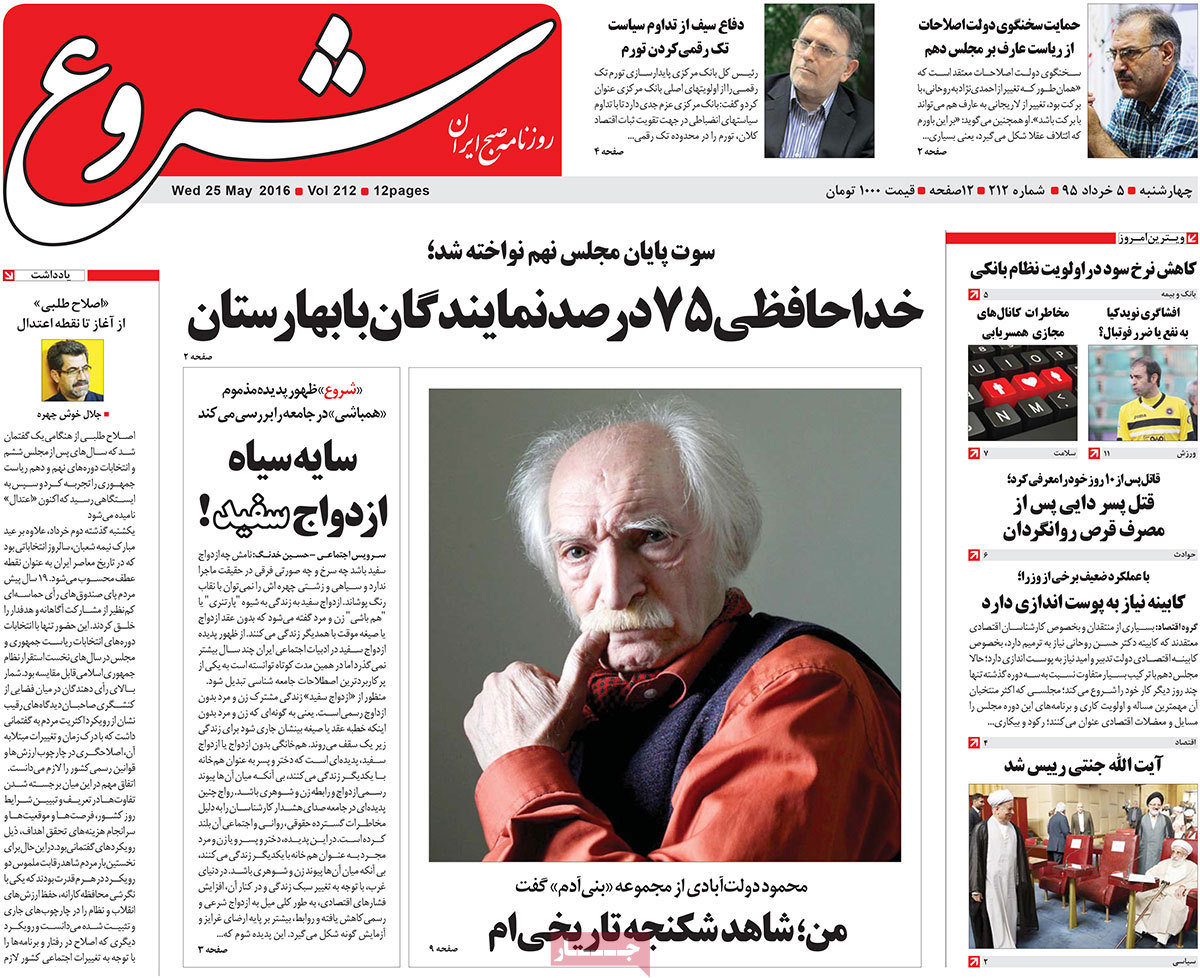 ---
Sobh-e Now:
1- General Soleimani, Mastermind behind Fallujah Liberation
2- Shahrzad TV Series, A Representation of Modern Love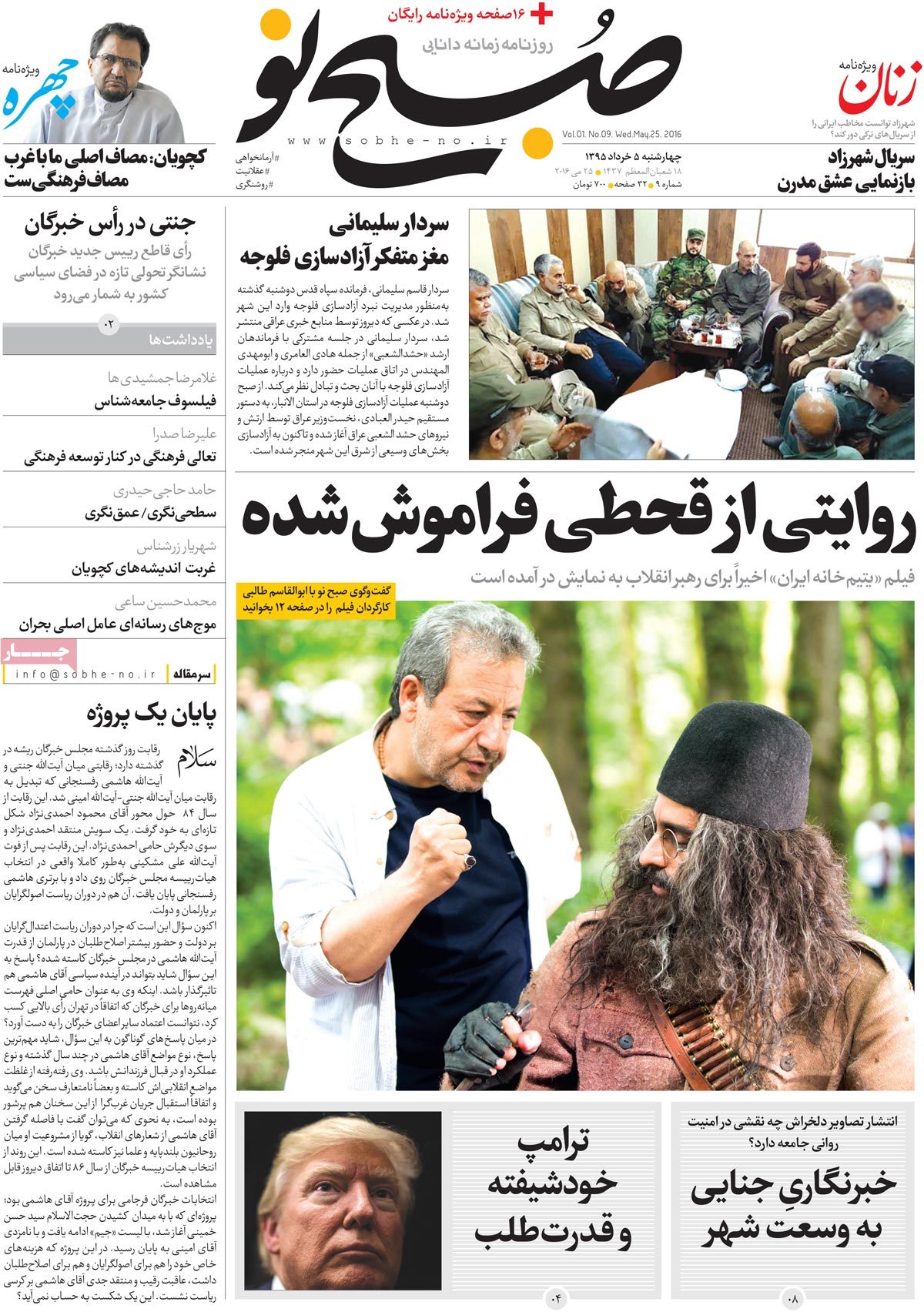 ---
Vatan-e Emrooz:
1- Say It Again: Jannati [The headline mocks the reformist leader's famous expression, I say it again, vote for all members of the List of Hope, which was believed to be a major driving force behind the reformist performance in recent elections]
2- Majority Vote of Experts Assembly for Ayatollah Jannati's Presidency Reveals Truth about February 26 Elections Results
3- Holocaust Exhibition Manager: They Talk about It without Visiting
4- Progress in Fallujah: A Few Days until Mission Accomplished