The Supreme Leader's comments underlining efforts to accelerate the country's scientific drive and an order by the president to revamp the country's banking system and capital market dominated the front pages of Iranian newspapers on Sunday. Also in the news were the comments of Major General Firuzabadi in support of the nuclear negotiating team.
Ettela'at: "Under no circumstances should the country's scientific drive lose its momentum," the Supreme Leader said at a meeting with university professors.
Ayatollah Khamenei further said universities should serve as a forum for political understanding and awareness and that politicking deals a blow to the main mission of universities which is to strive toward scientific progress.
---
Abrar: Iranian Foreign Ministry Spokeswoman Marzieh Afkham has condemned the crimes Boko Haram has committed in Nigeria.
Abrar: A senior US nuclear negotiator who took part in talks with Iran when Ahmadinejad was in office has said that when Jalili was Iran's top negotiator, he mostly focused on the history of Islam and Iran in nuclear meetings with foreign diplomats.
Abrar:An MP has said that more than one oil derrick went missing [when Ahmadinejad was in office].
---
Afarinesh: Oman's Sultan Qaboos has signed a maritime border demarcation deal with Iran.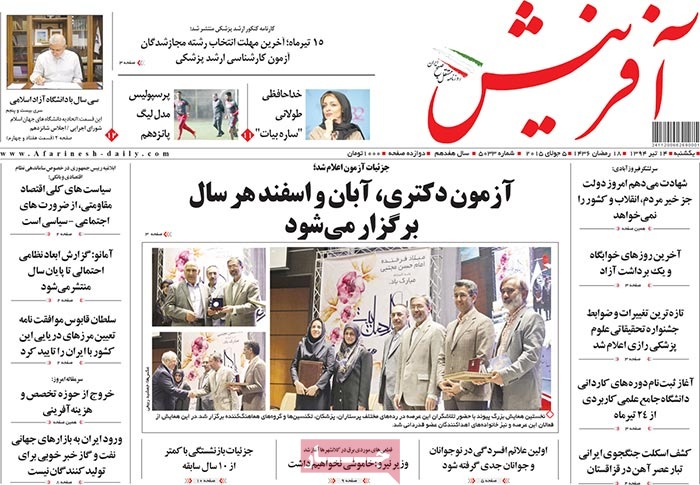 ---
Afkar: "Terrorism has grown in the region on the back of American and Israeli support," said Ali Akbar Velayati, a former foreign minister.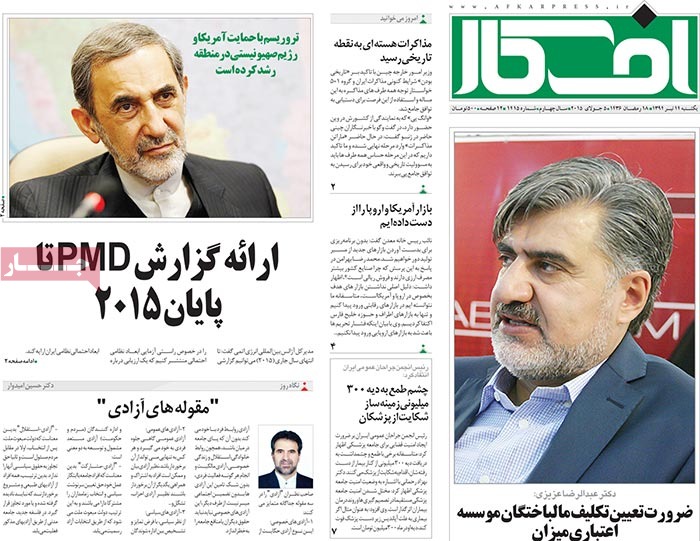 ---
Aftab-e Yazd: "Some simpletons are contributing to the 'Shiite Crescent' plot," said Mohammad Sadr, a senior advisor to the foreign minister.
Those who say after Yemen the Saudi-led coalition will train its guns on three Iranian islands in the Persian Gulf do not appreciate foreign policy.
---
Arman-e Emrooz: A final step toward a final deal
The green-light of the International Atomic Energy Agency at the crossroads of a deal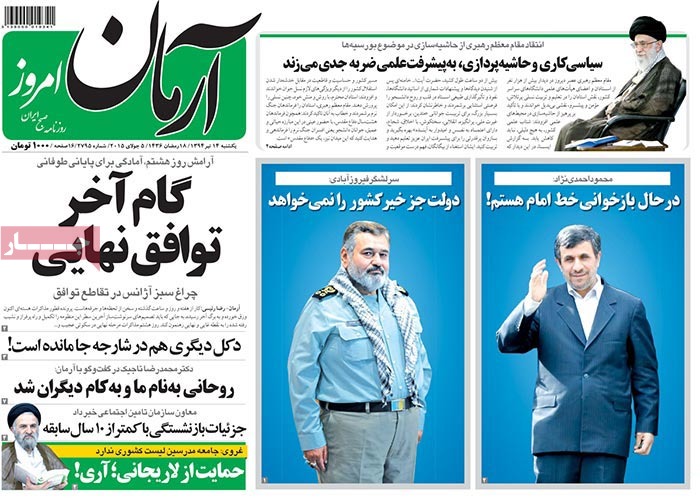 ---
Asr-e Iranian: The Iranian MPs have called on the negotiating team not to bring home an unsigned deal.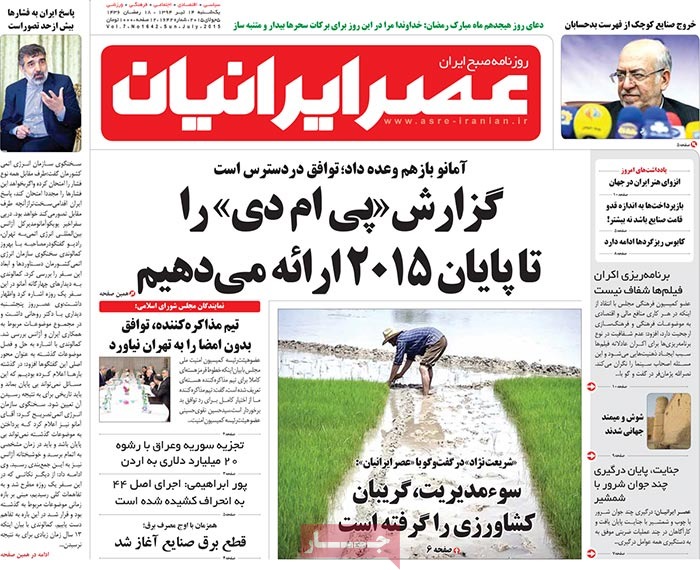 ---
Asrar: Chairman of parliament's Research Center Kazem Jalali said he was terrified when he heard a report on the country's water resources.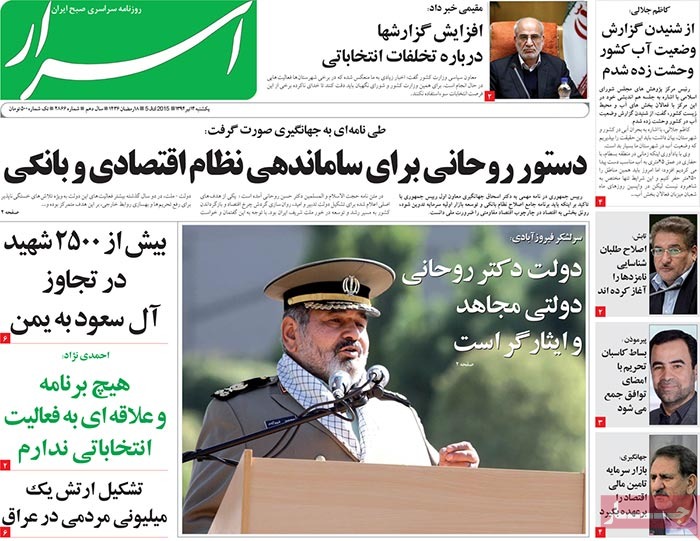 ---
Ebtekar: "Up to 95 percent of the comprehensive nuclear deal has been finalized," said Hossein Mousavian, a former Iranian nuclear negotiator.
---
Jomhouri Islami: "All radio pharmaceuticals needed in the country are produced inside the country," said a senior Health Ministry official.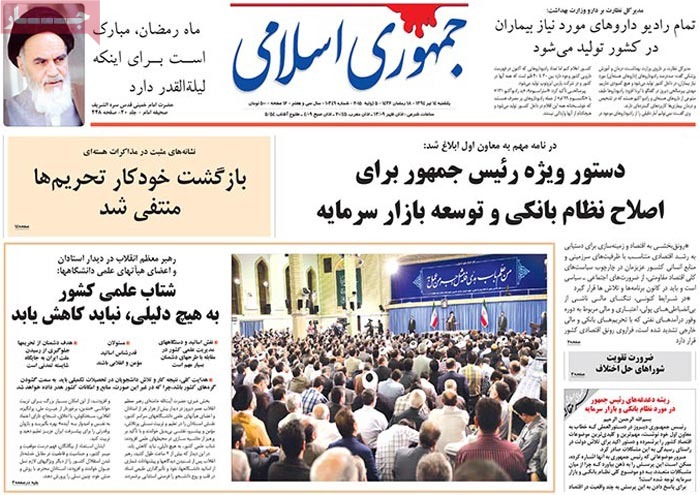 ---
Kayhan: Nuclear talks in Vienna, final days or endless extensions?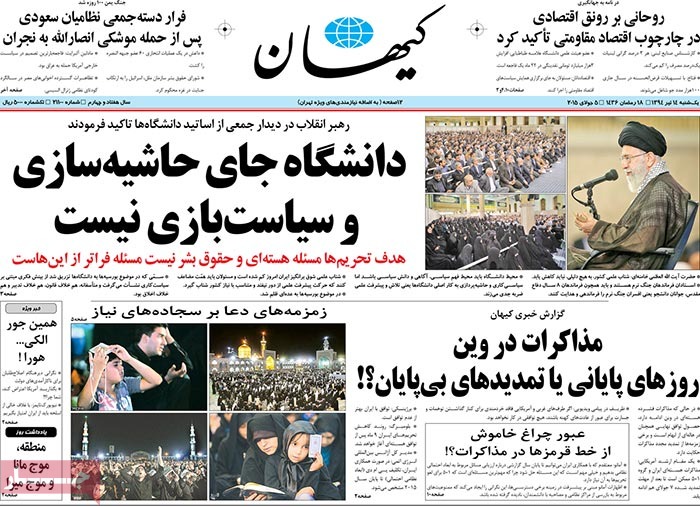 ---
Khorasan: According to a report released by The Guardian, Britain seems to have had advance knowledge about Saddam Hussein's decision to use chemical weapons against Iran.
Khorasan: A buyer has stepped forward to purchase the telecommunications company.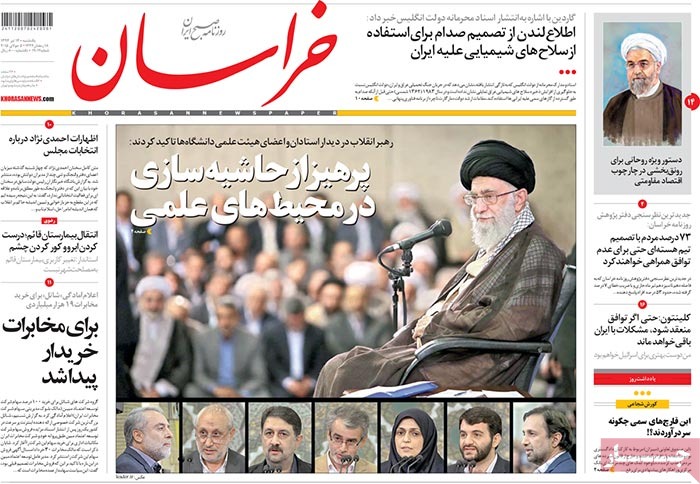 ---
Rooyesh-e Mellat: "The Constitution recognizes the citizens' right to protest," said Tehran MP Ali Motahari.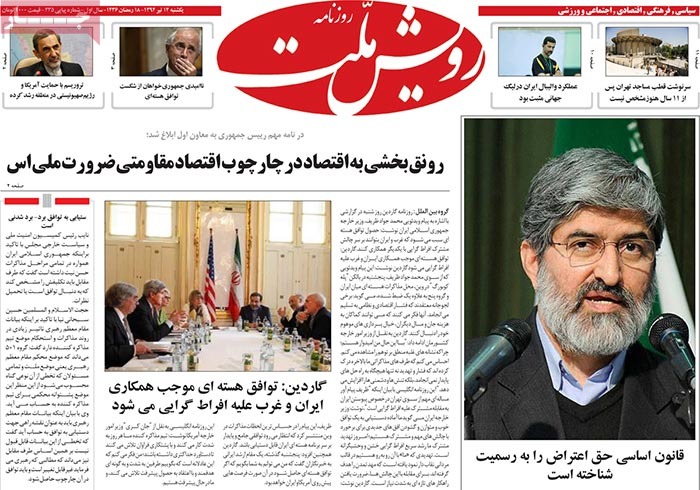 ---
Sharq: "We will break the hand that signs a bad deal," said [hardline MP] Hamid Reza Rasaei.
The Worriers [staunch supporters of Ahmadinejad who are opposed to anything President Rouhani and his administration do on the local and international fronts] are working out a new post-deal scenario.