The ongoing war of words between the Iranian administration and Judiciary, particularly the comments made by President Hassan Rouhani and Judiciary Chief Ayatollah Sadeq Amoli Larijani against each other, was a top story today.
The speculations about Rouhani's possible disqualification from running for upcoming presidential votes and the reformist camp's preparations for introduction of an alternative also received great coverage.
Another top story today was the letter written by 37 American scientists to President-elect Donald Trump to urge him not to scrap Iran nuclear deal.
The above issues, as well as many more, are highlighted in the following headlines:
19 Dey:
1- $4.3 Billion Decrease in Iran's Foreign Debts under Rouhani's Administration
2- Health Minister: Some Want to Politicize Issue of Homeless Junkies Who Lived inside Graves
---
Abrar:
1- Ayatollah Mesbah Yazdi: We Have No Hadith that Says It Is Obligatory to Obey a Person Elected by People's Vote
2- Government Spokesman: Administration Is Ready to Cooperate with Judiciary in Babak Zanjani's Case
3- US: ISIS' Capacity and Maneuverability in Mosul Coming to an End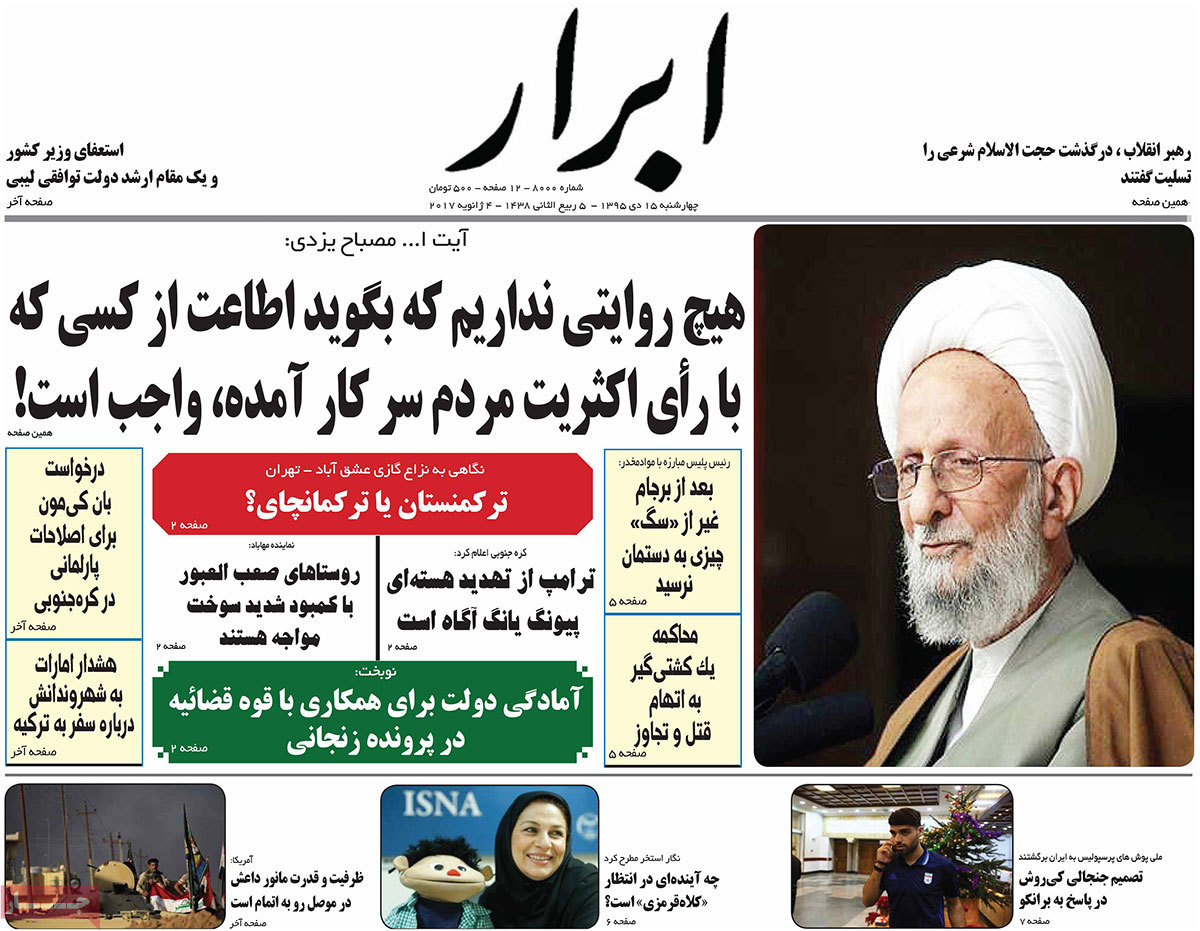 ---
Afarinesh:
1- Iran's Scientific Products in the World: 6 Iranian Scientists among World's Top 3,000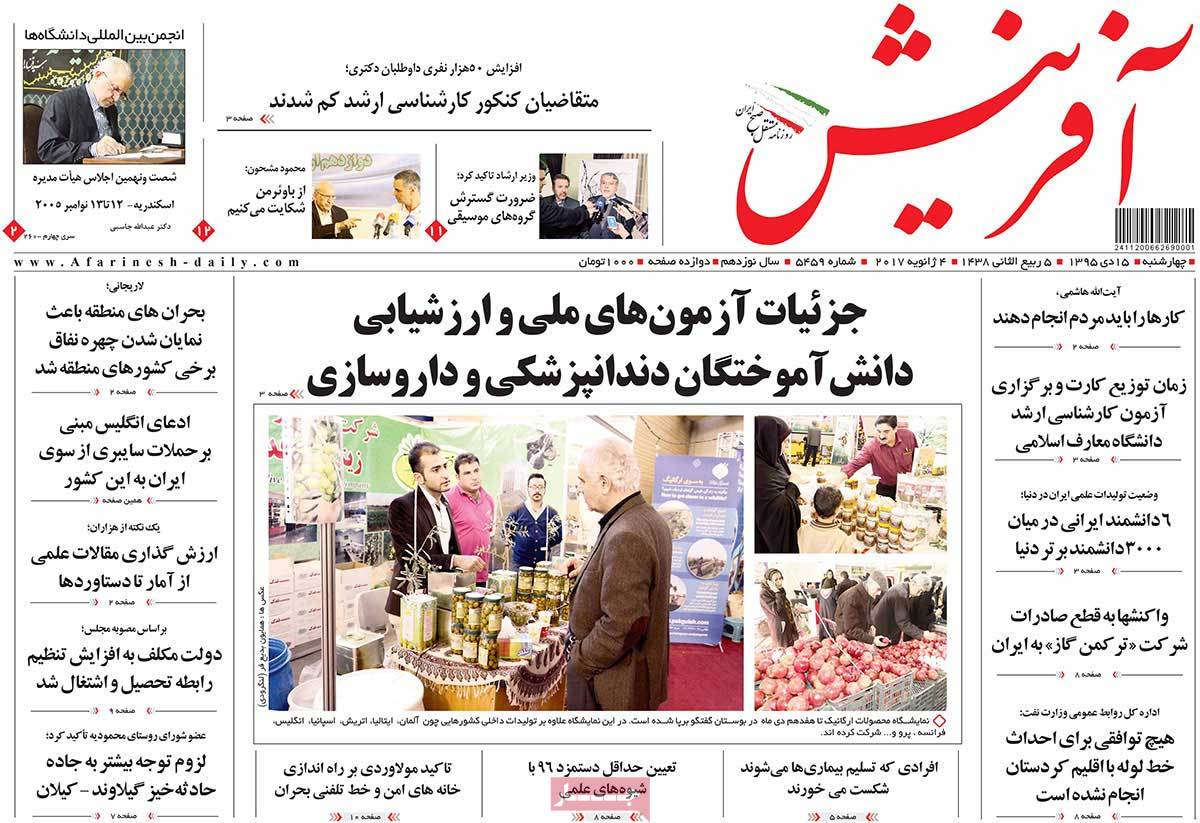 ---
Afkar:
1- Mogherini: Maintaining Historic Nuclear Deal Is to Everyone's Benefit
2- Hashd al-Shaabi Organization [Popular Mobilisation Units] Is a Strategic Potential to Secure Future of Iraq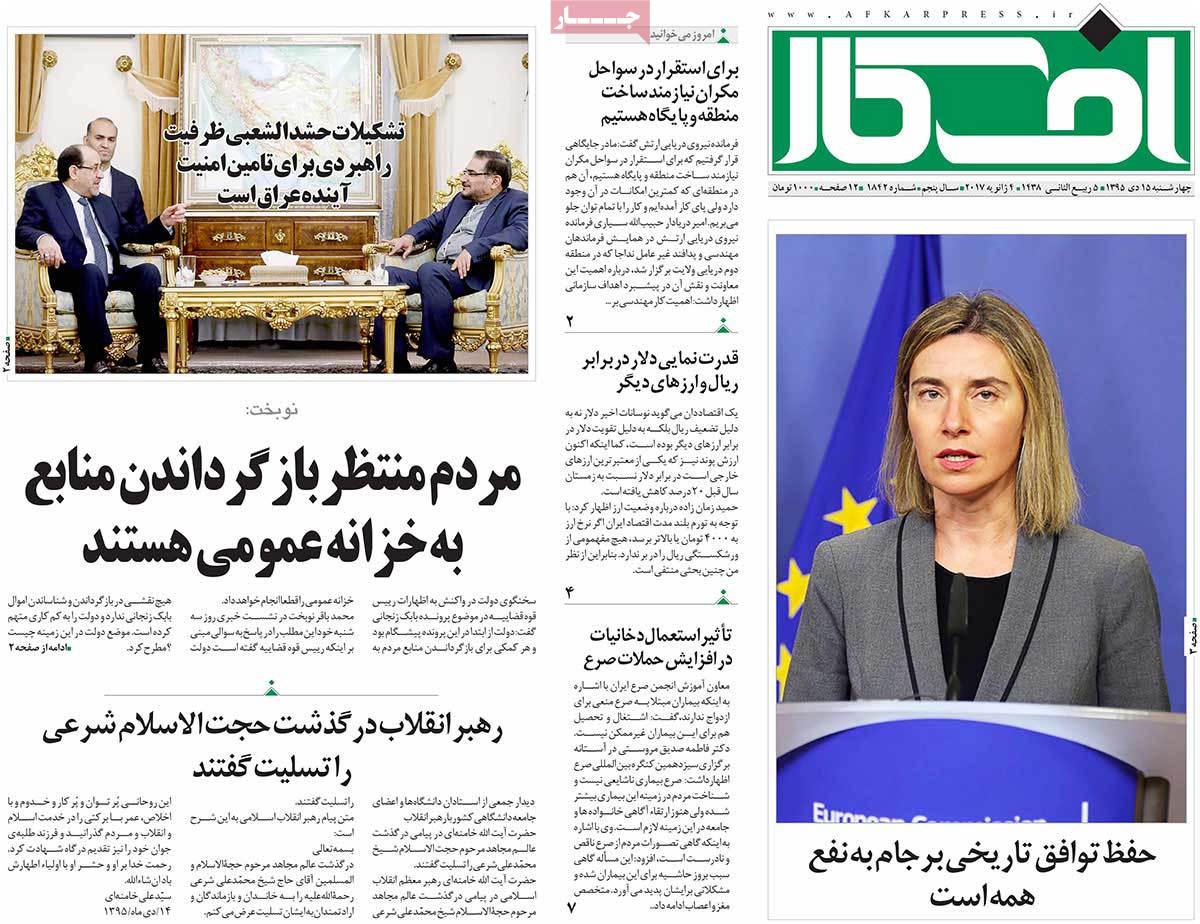 ---
Aftab-e Yazd:
1- Reformists on Standby: Following Speculations about Possible Disqualification of President Hassan Rouhani from Running for Elections Once Again, Reformists Are More Seriously Considering an Alternative to Rouhani
2- Female Bodyguards Will Come: Iran's Police Training Female Bodyguards to Protect Female Politicians
3- Parliament's Proposal for Commemoration of Master Shajarian in Fajr Music Festival
---
Amin:
1- Larijani in a Meeting with Iraqi Ex-PM Maliki: Regional Crises Showed Hypocritical Faces of Some Regional Countries
2- Interrogation of Netanyahu on Financial Charges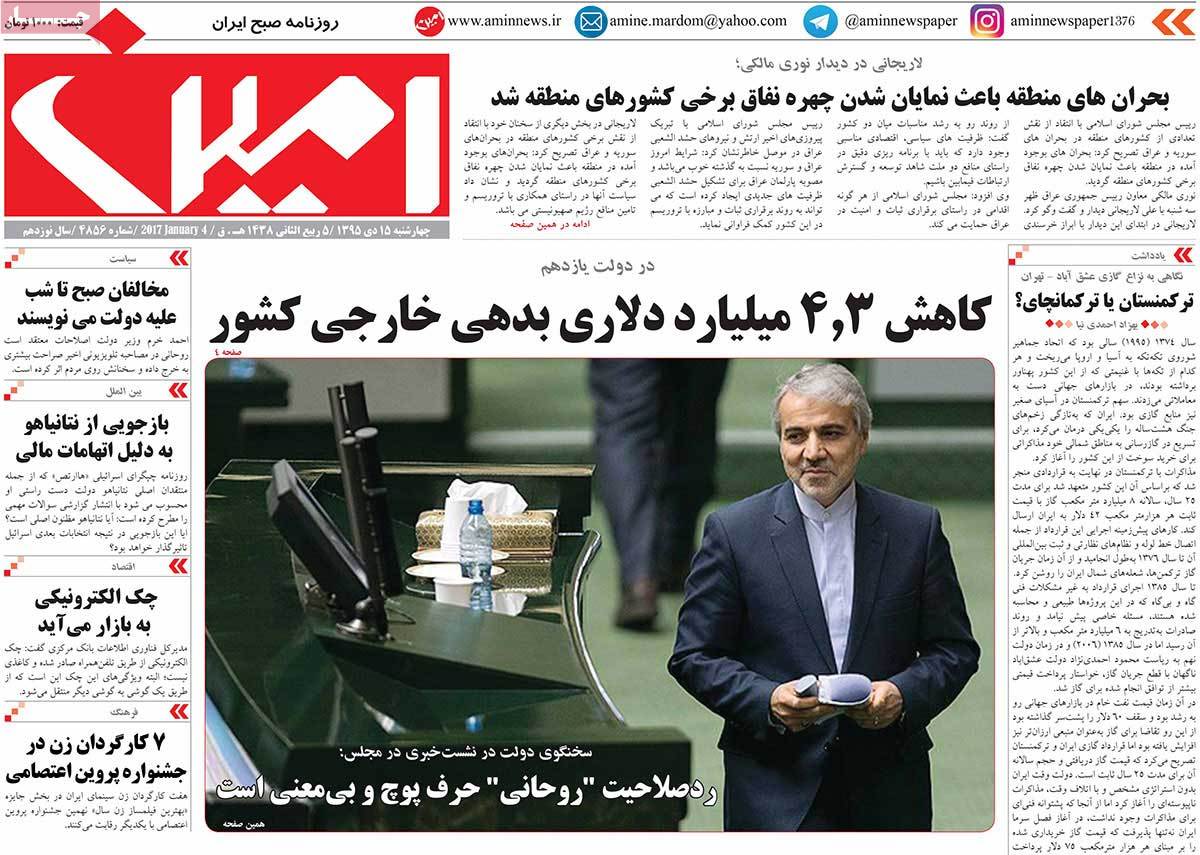 ---
Arman-e Emrooz:
1- President: $2.7 Billion Has Been Plundered; People Has the Right to Know How Their Money Has Been Given to Babak Zanjani; People's Interests Cannot Be Protected through Imprudence and Pinning the Blame on Others
2- Government Spokesman: Rouhani's Disqualification Is Nonsense
3- 37 American Scientists Write a Letter to Trump Asking Him to Abide by JCPOA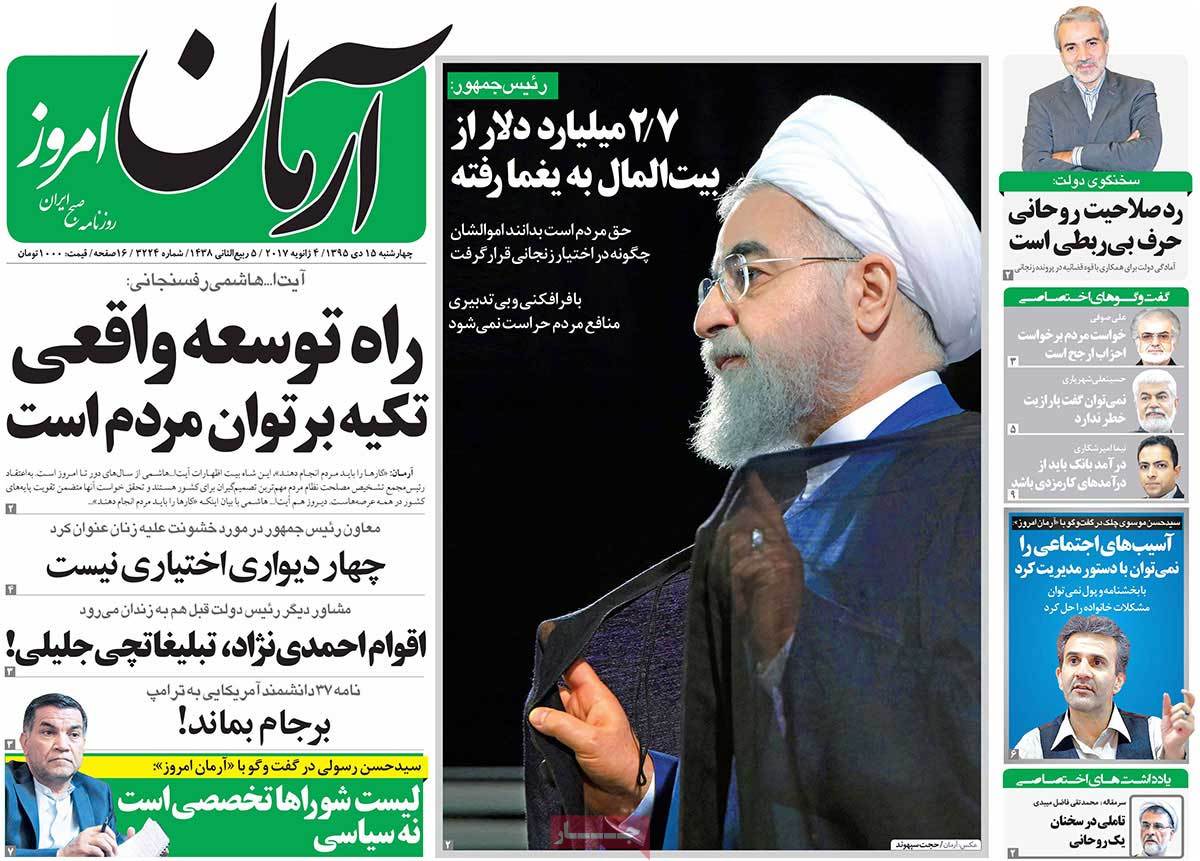 ---
Asr-e Rasaneh:
1- World Bank: 64% Decrease in Iran's Foreign Debts
2- Iran's Non-Oil Exports in Past Iranian Calendar Year Amounted to $42.5 Billion
3- 40% of Houses in Iranian Villages Are Quake-Resistant
---
Etemad:
1- Tehran Prosecutor General after Releasing Golrokh Iraee on Leave and Sending Arash Sadeqi to Hospital after Hunger Strike: Prisoners' Rights, Even Those of Dissidents, Are Observed
2- Ayatollah Rafsanjani: People Should Take Charge of Affairs
3- President's Advisor: Babak Zanjani's Aid to Rouhani's Presidential Campaign Is a Lie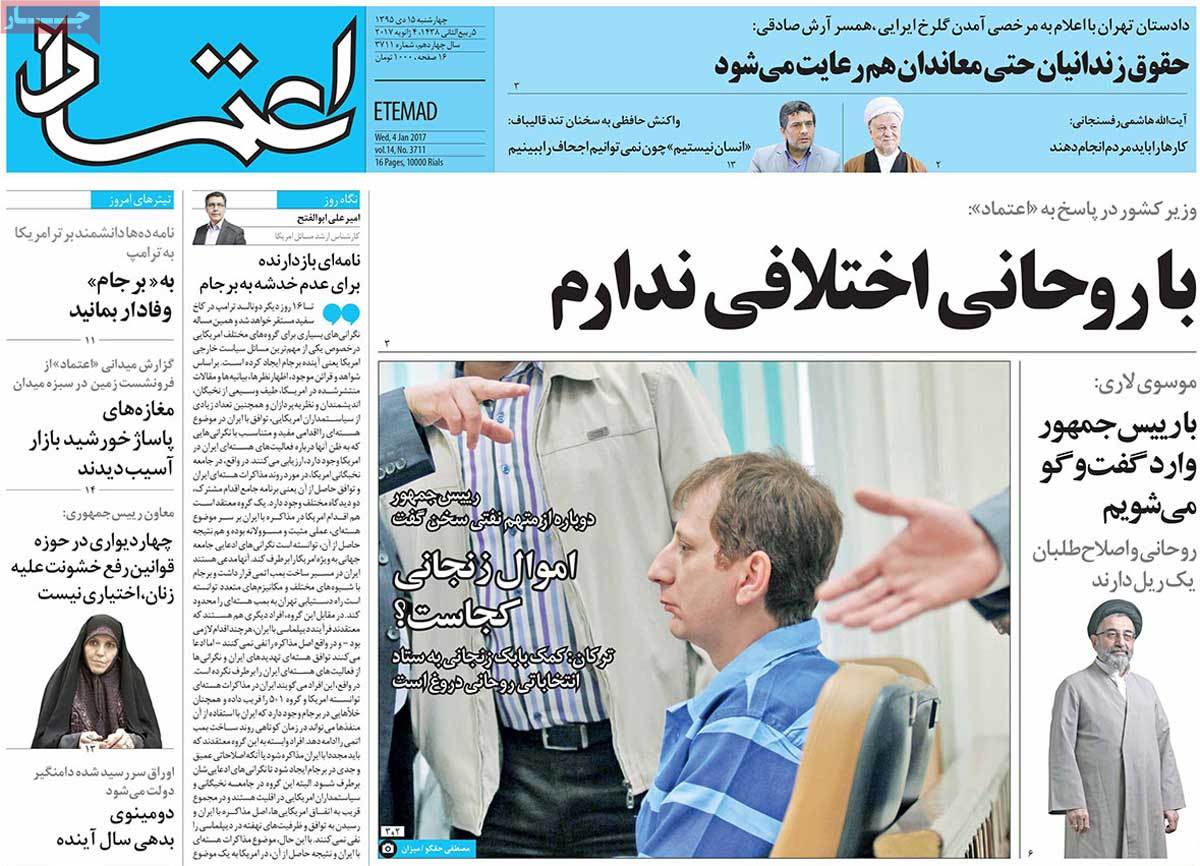 ---
Ettela'at:
1- President Rouhani: Deepening Political and Social Gaps Is Harmful
2- UN: 19,000 Civilians Killed and Wounded in Iraq in 2016
---
Haft-e Sobh:
1- Photo Gallery of All ISIS Terrorists: Istanbul Attacker Is a Kyrgyz Man, but Moroccans Have Highest Share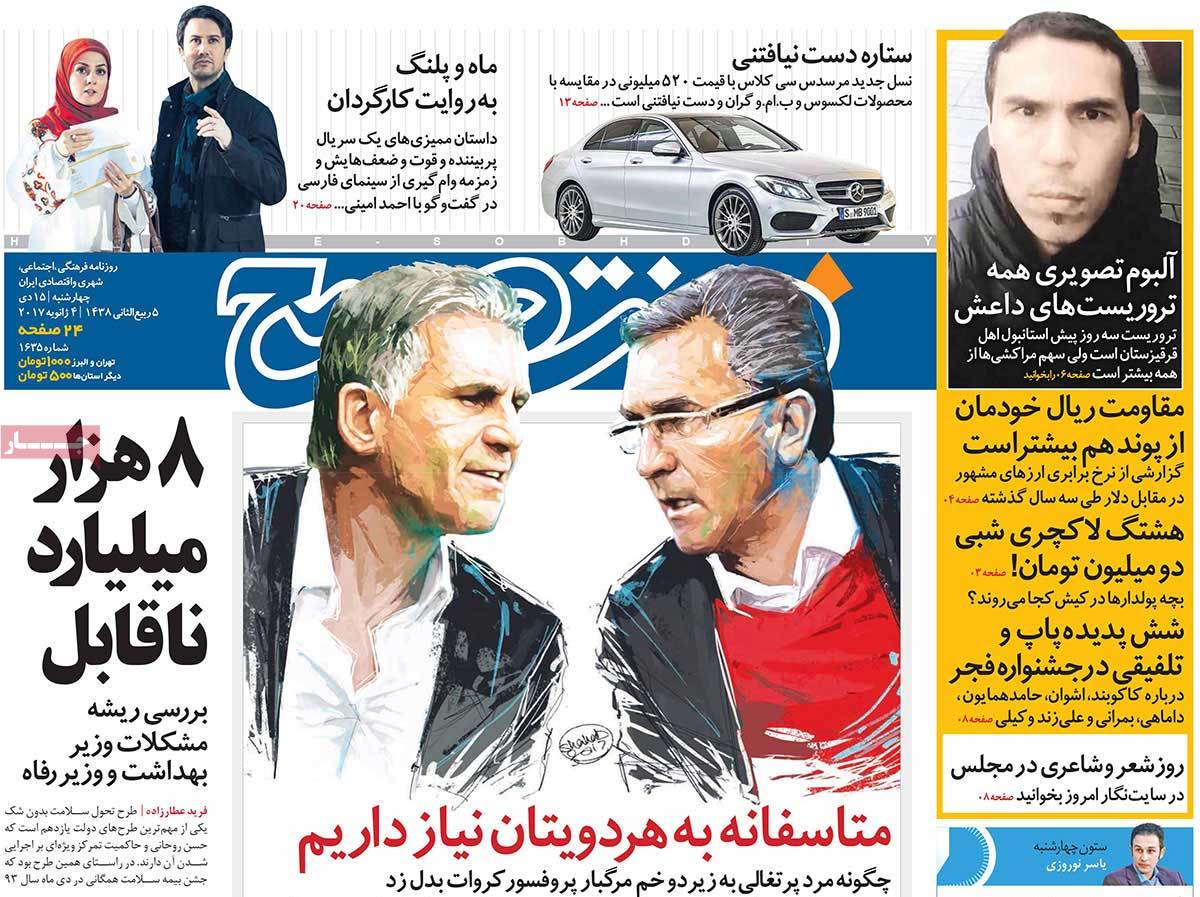 ---
Hemayat:
1- Tehran Prosecutor General Warns of Formation of Secret Corruption: Children of Some Officials Abusing Their Position for Committing Financial Crimes
2- Former Iraqi PM: Iran Has Always Supported Resistance Front
3- 191 MPs Issue Statement on Death Anniversary of Sheikh Nimr: Human Rights Bodies Should Take Action against Saudi Arabia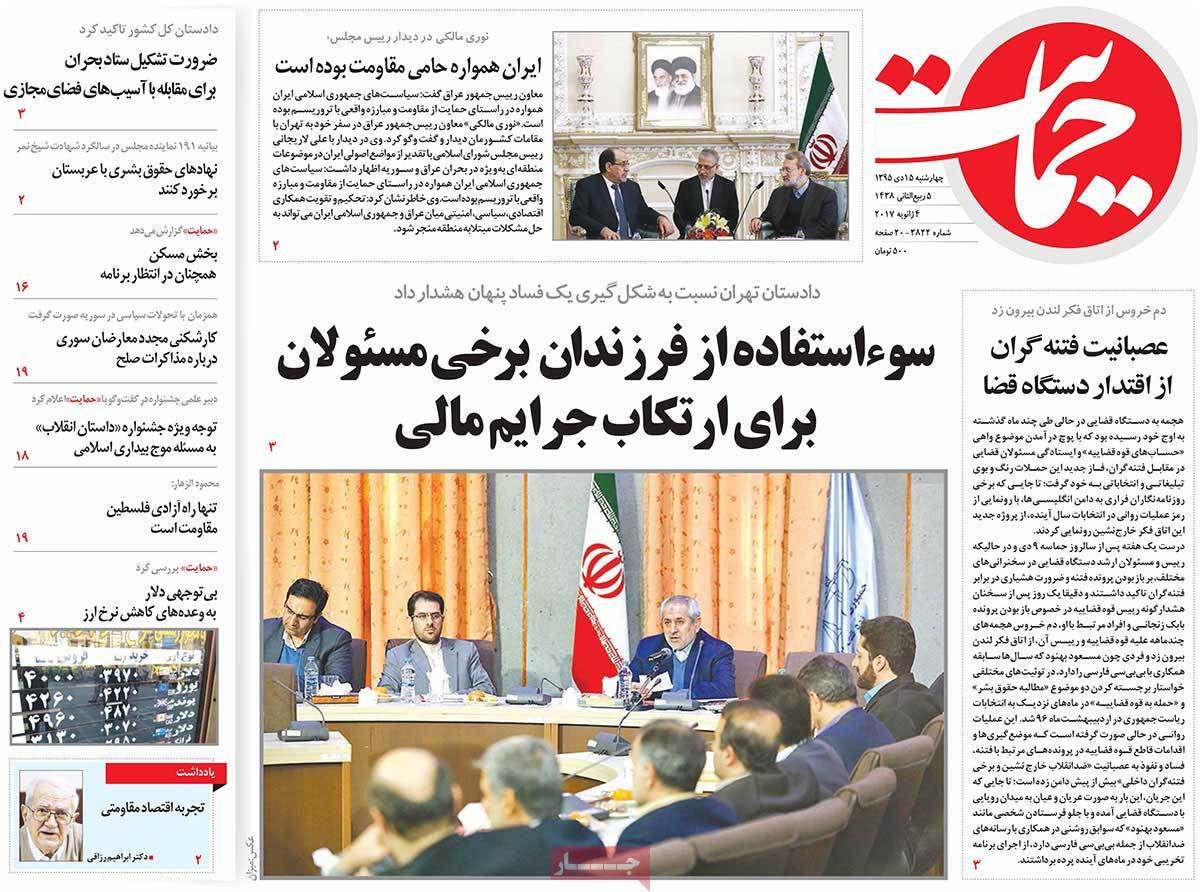 ---
Iran:
1- French Ambassador to Tehran: Huge Amounts of Foreign Investment Have Been Made in Iran in Post-JCPOA Era
2- National Achievements Ignored by Media Outlets Belonging to Government Opponents: $50 Billion of Deals Signed with the World in Post-JCPOA Era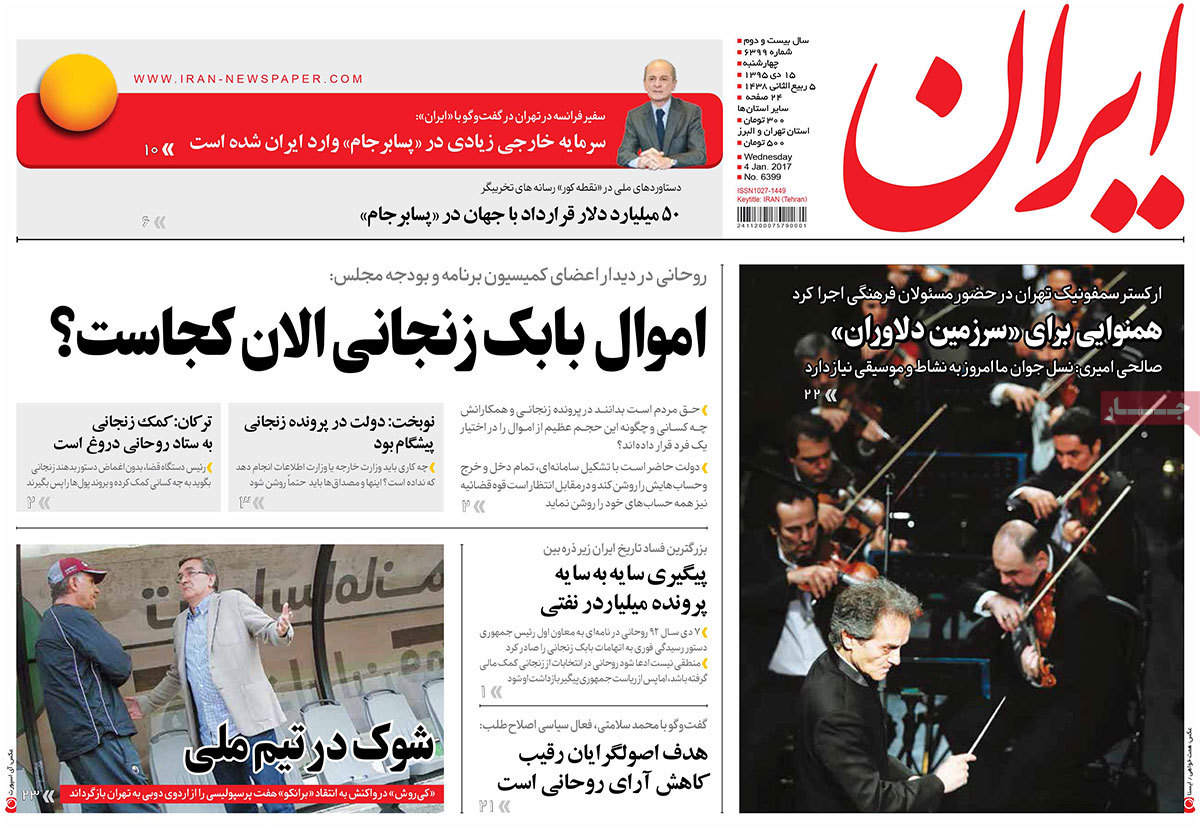 ---
Javan:
1- Sixth Development Plan in Deadlock: President Says Government Can Just Supply Iran's Annual Budget with Current Incomes; We Won't Be Able to Realize Sixth Development Plan Goals
2- JCPOA Pears Imported from US: Pears Smuggled from US Sold in Tehran for $6.5 per Kilogram
3- US Congress Mulling over 3 Sanction Plans against Iran
4- Former Chief of Israeli Spy Agency: Syria War Empowered Iran and Hezbollah
---
Jomhouri Eslami:
1- President: Government's Main Approach Is to Establish Peace and Economic Stability in Society
2- Bahraini Clerics' Request from Vigilant Consciences in the World
3- Young Egyptians Continue Their Protests at Giving Away Two Islands to Saudi Arabia
---
Ka'enat:
1- Trump Leaning towards Iran, Europe Moving Closer to Putin: Chomsky Says If Trump Keeps His Promise to Scrap Nuclear Deal, US Will Become More Isolated in the World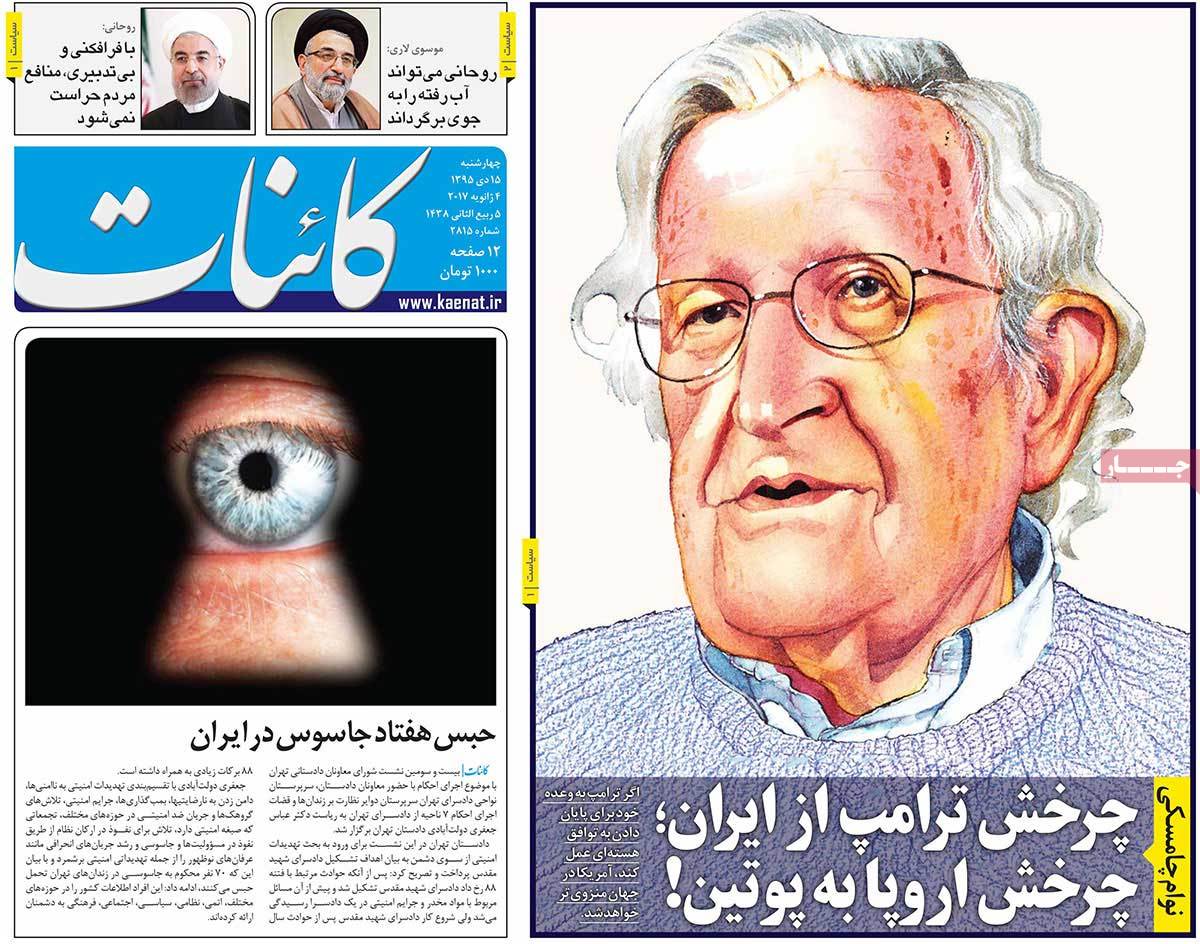 ---
Kayhan:
1- Government's Economic Report Even Failed to Please Its Supporters
2- Guardian: Saudi Arabia to Face Most Severe Arab Spring
---
Payam-e Zaman:
1- Government Spokesman: People Expect Cooperation and Coordination between Heads of Trio Branches of Iran's Establishment [Judiciary Chief, President, Parliament Speaker]
2- Oilfields to Be Put Out to Tender in Late January
---
Resalat:
1- Guterres: American People Tired of Their Current Conditions
2- Ayatollah Javadi Amoli: We're Obliged Not to Let Anyone Be Poor in the Society
3- Security Official: Two Tons of Illicit Drugs Discovered in Iran Every Day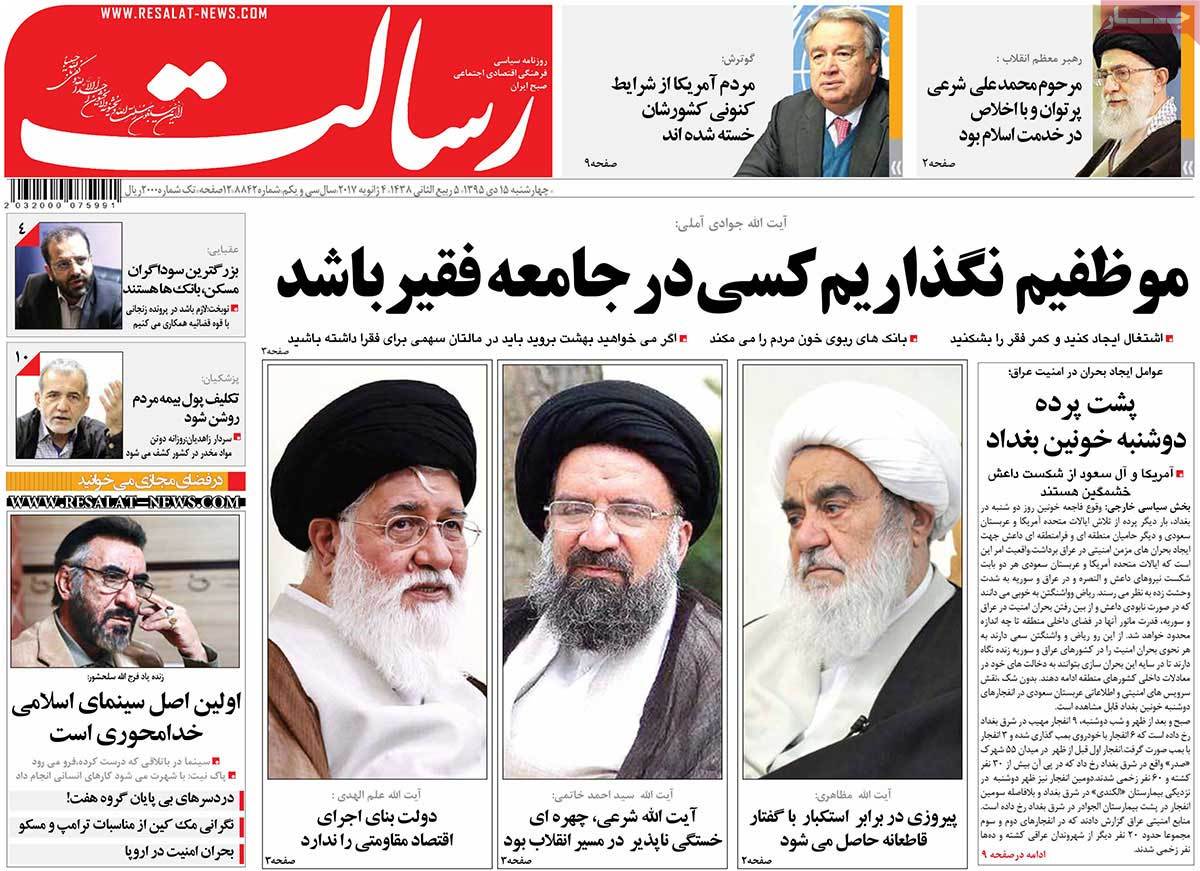 ---
Shahrvand:
1- Rouhani's Response to Judiciary in Twitter: Government Will Clarify All of Its Expenses and Sources of Income [during election campaigns] If Judiciary Clarifies about Its Own Bank Accounts
2- Surrounded by Traditional Cafes: A Report about a District in Tehran with 300 Traditional Cafes; 15 Cafes in Only One Street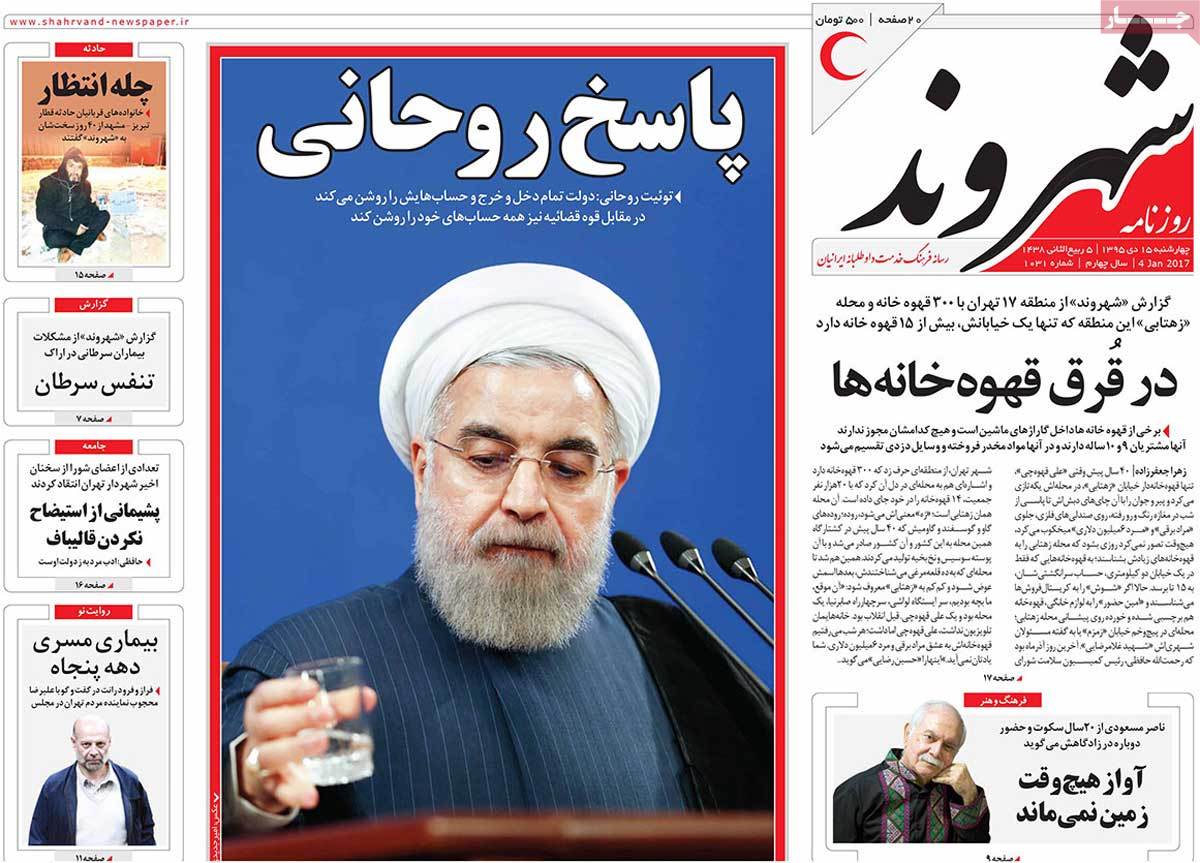 ---
Shargh:
1- Government Shows Reaction in Response to Accusations: Spokesman Asks Judiciary to Investigate All Claims Raised by Zanjani
2- Iran's Response to Turkmenistan's Gas Claims: Oil Minister Issues Statement
---
Sobh-e Now:
1- President's Report about Implementation of Iran's JCPOA Commitments: 2,000 Centrifuges in Fordow Dismantled
2- Mohammad Kazem Kazemi [Afghan Poet], the Secretary of Fajr Poetry Festival Underlines Presence of World's Persian-Speaking People in This Year's Festival