Newspapers today covered the memorial service held by the Leader of the Islamic Revolution Ayatollah Seyyed Ali Khamenei for the late former president Ayatollah Akbar Hashemi Rafsanjani.
They also covered US President-elect Donald Trump's first press conference and his clash with an American reporter.
The Vienna talks between members of JCPOA Joint Commission also received great coverage today.
The above issues, as well as many more, are highlighted in the following headlines:
Abrar:
1- Ayatollah Hashemi's Will: After 1979 Revolution, Nothing Was Added to My Properties
2- One Minute of Silence Observed in G77 Summit in Geneva to Commemorate Ayatollah Rafsanjani's Death
3- Turkish Forces Must Withdraw from Bashiqa: Iraqi PM
---
Aftab-e Yazd:
1- Missing the Friend
2- Obama's Farewell Speech with Tears
3- End of Vienna Talks amid Rumours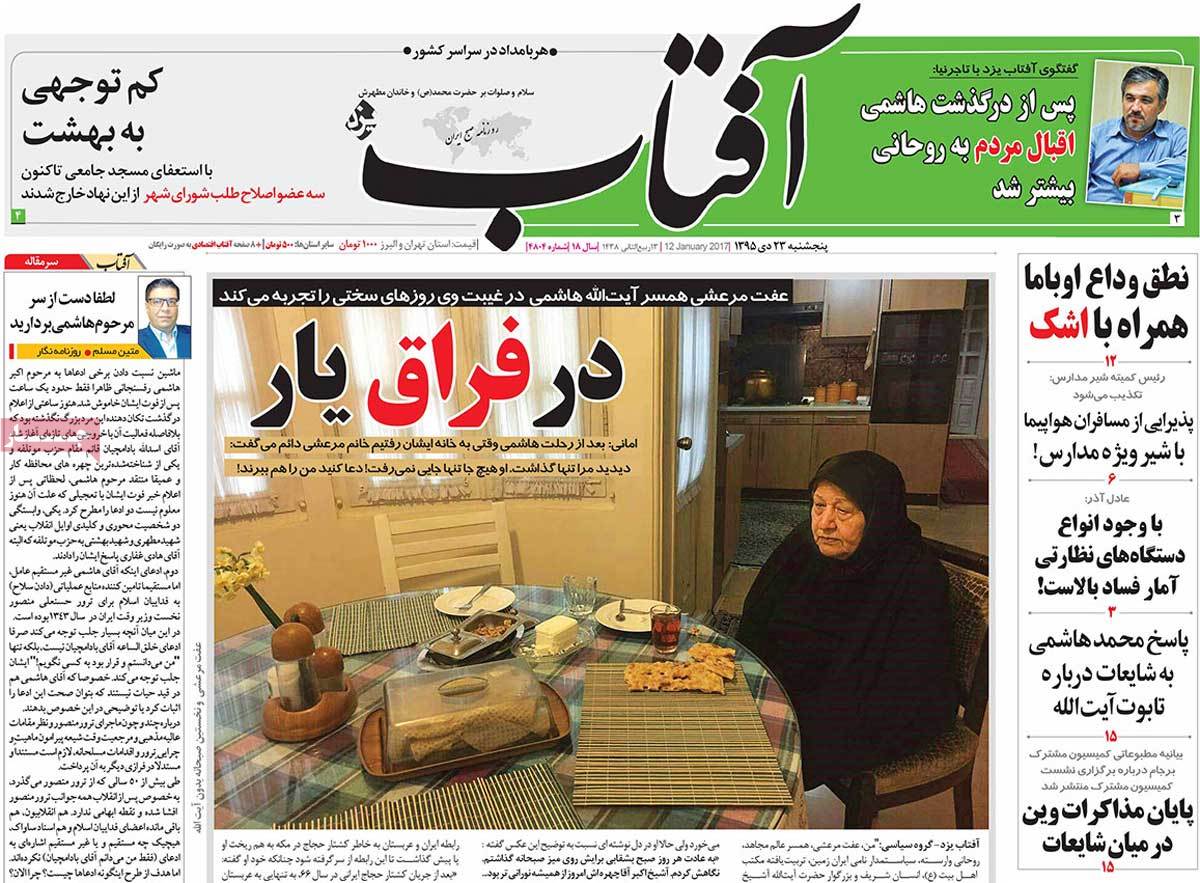 ---
Arman-e Emrooz:
1- Ayatollah Hashemi's Memorial Service Attended by Iran's Leader Ayatollah Khamenei
2- Ayatollah Hashemi's Will: Son Says Hashemi's House Was a Rented One
3- Hashemi's Ring of Prudence in Rouhani's Finger
4- MKO Terrorist Group's Ringleader Arrested in Isfahan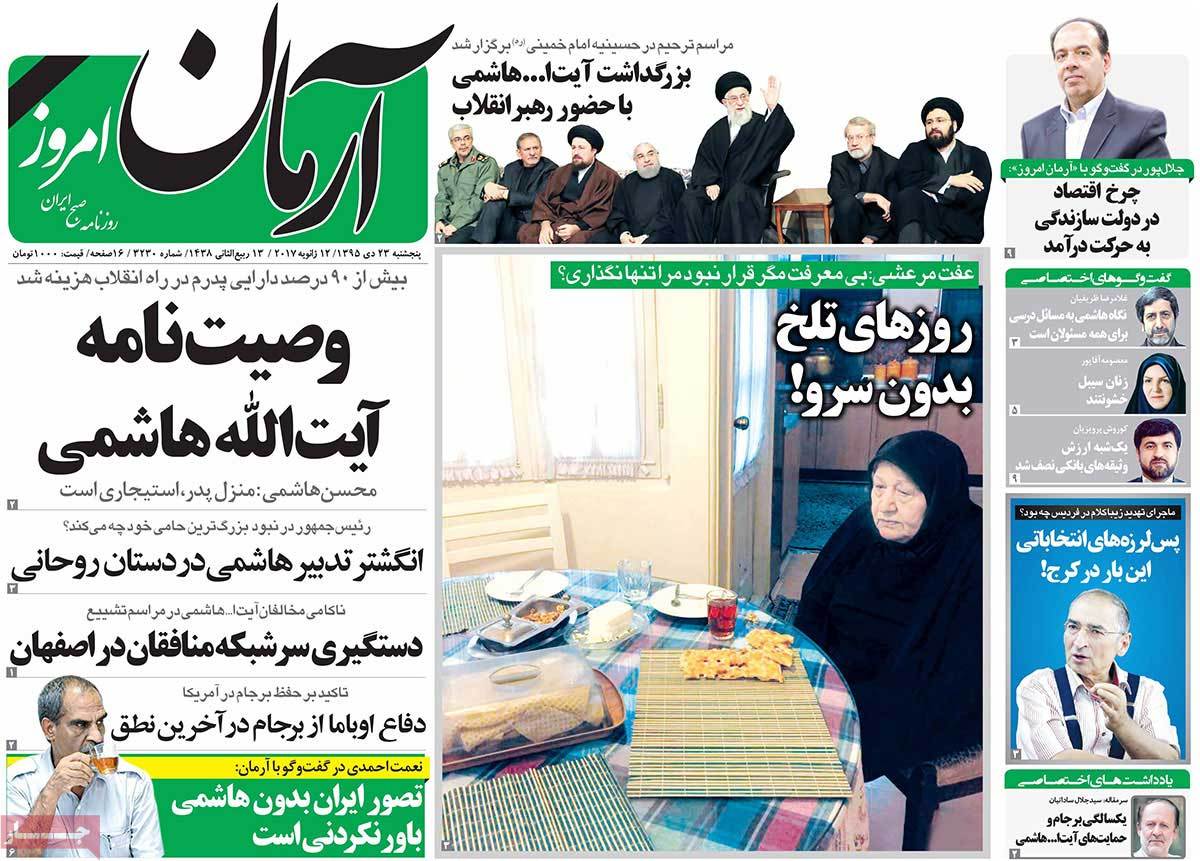 ---
Ebtekar:
1- Remember the Flight: Impact of Iran's Air Fleet Renovation on Foreign Flights' Profit-Making
2- Village Tourism Hinges on Originality
3- Empty Seat of Ayatollah: How Are His Replacements Appointed?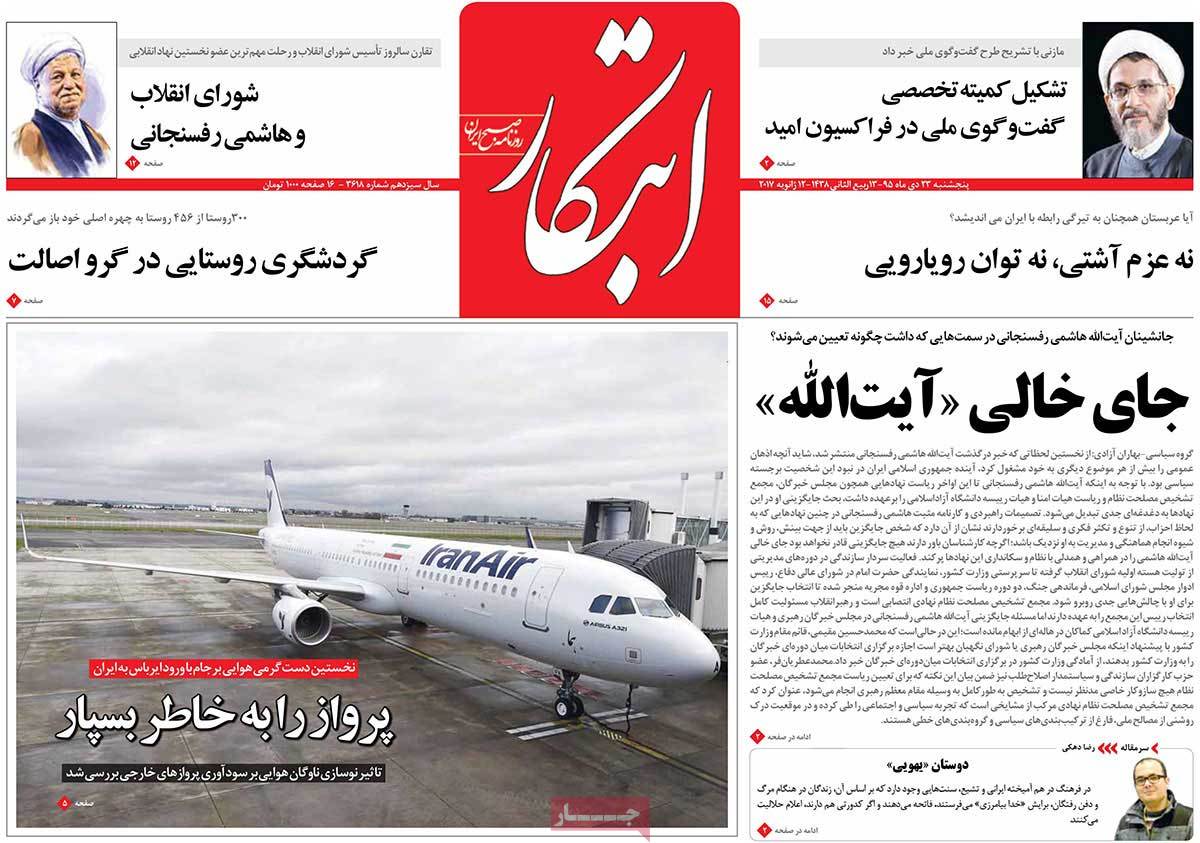 ---
Etemad:
1- Obama's Farewell Speech: US President Called on American People to Defend Democracy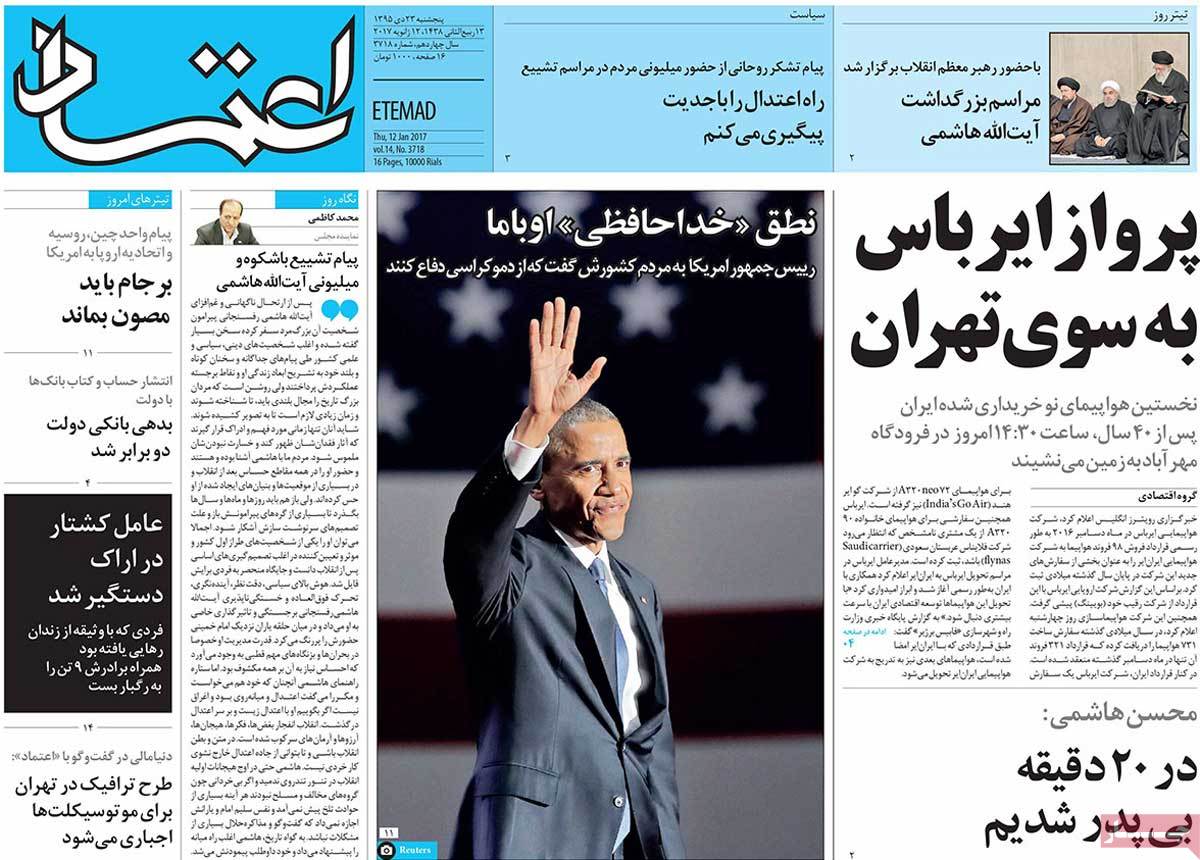 ---
Ettela'at:
1- Practical Step in Aviation Industry after JCPOA: First Plane Purchased from Airbus Is an A321 with a Capacity of 190 Passengers
2- Ayatollah Khamenei Attends Memorial Service for Ayatollah Rafsanjani
3- Iran to Have a 5.2% Economic Growth in 2017
4- Lebanese President Defends Its Ties with Iran in a Visit to Saudi Arabia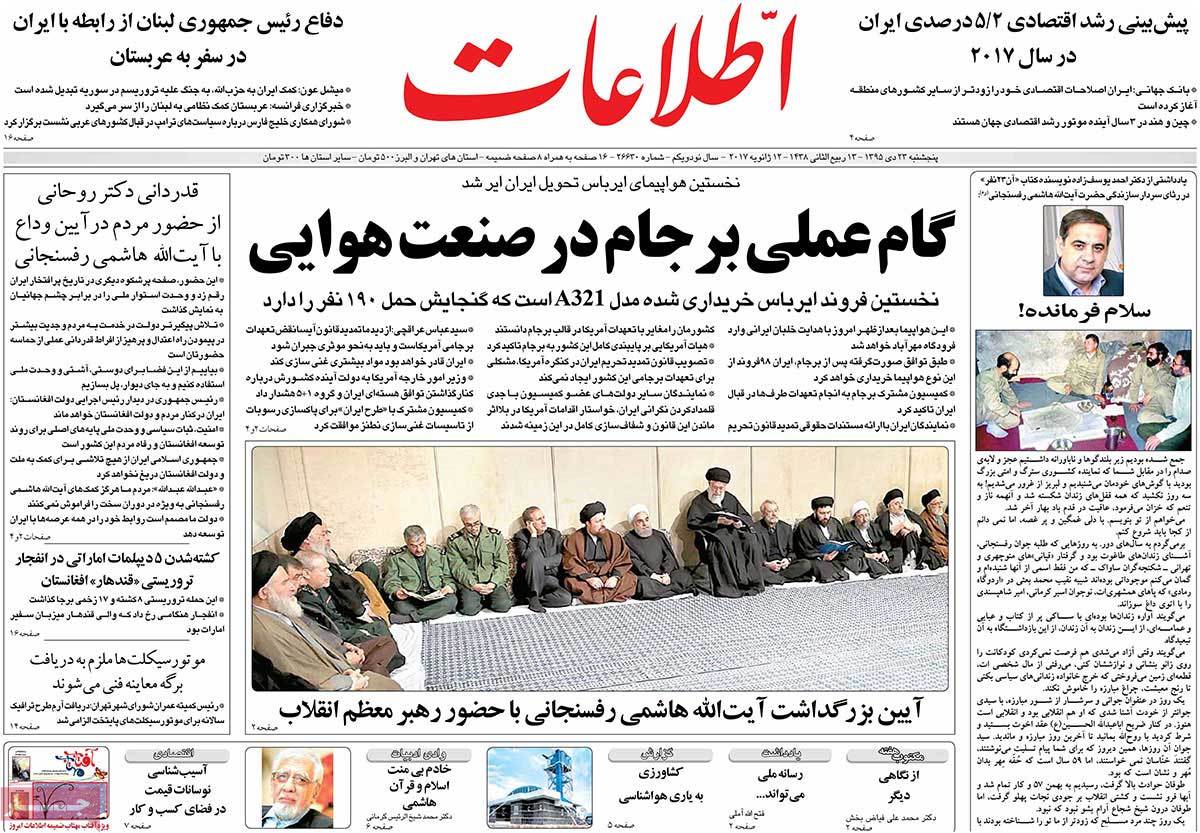 ---
Haft-e Sobh:
1- Black Day of Arak [Central Iranian City]: Murderer and His Accomplice Killed Six Citizens in Revenge Attacks
2- World Lessons for Resistance Economy: A Look at Iran Leader's Views about US Use of Resistance Economy
3- First Airbus Lands in Iran's Sky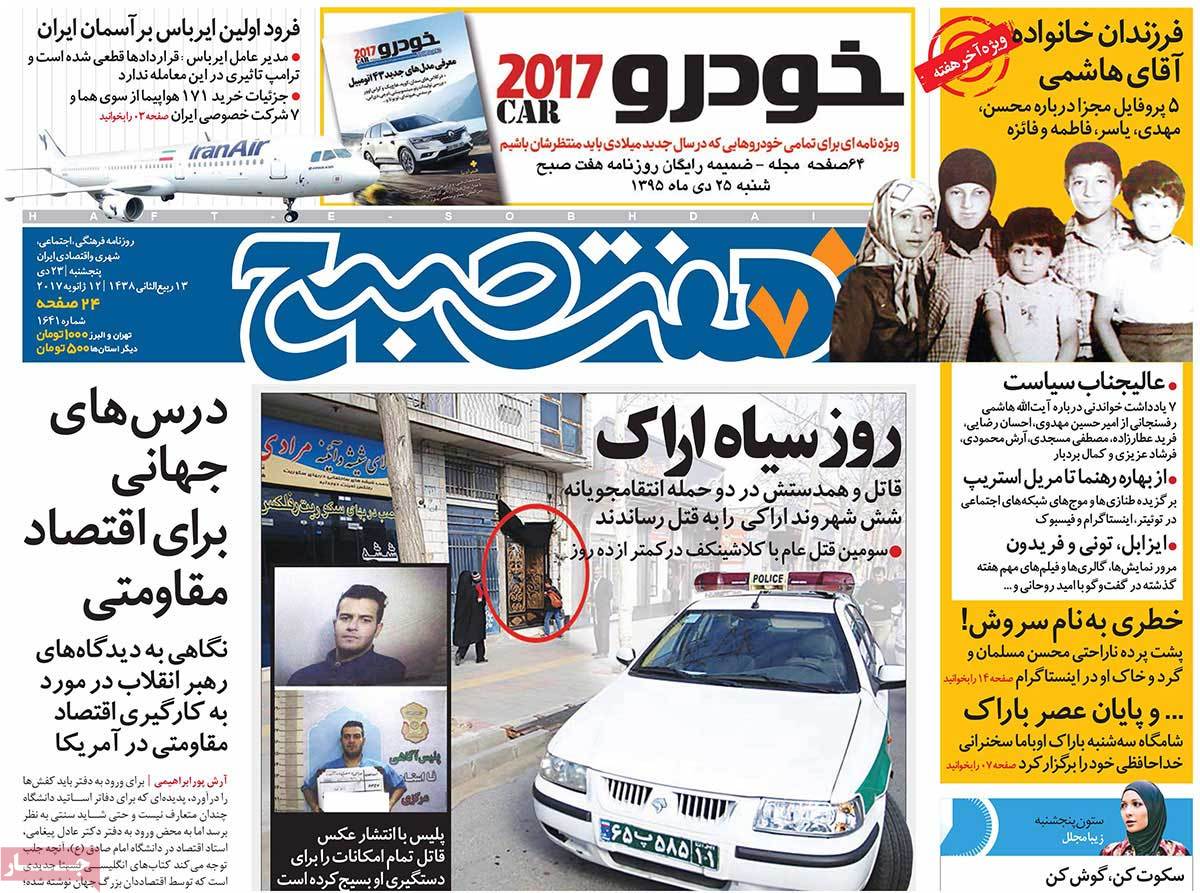 ---
Hemayat:
1- Russia's Influence on New US President; Kremlin Says the Claims Are Part of Efforts to Damage Moscow-Washington Ties
2- Britain Admits to Selling 500 Cluster Bombs to Saudi Arabia
---
Iran:
1- ISA Should Remain Ineffective: JCPOA Joint Commission Says in Final Statement
2- Hashemi Rafsanjani's Family Allowed to Appear on State TV after 7 Years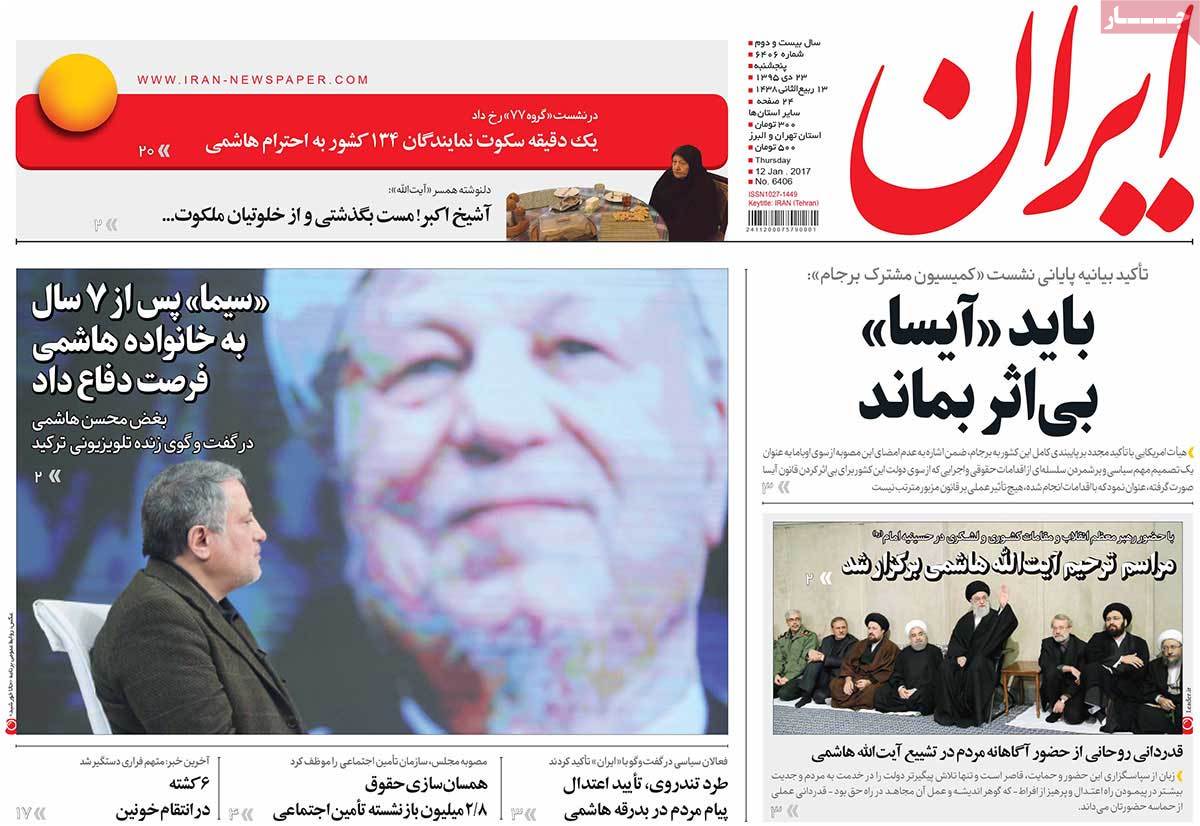 ---
Jame Jam:
1- Selling Oxygen in Polluted Air: A Report on Pseudo-Jobs Created after Increase in Air Pollution
2- Women of Fire
3- Trump: Obama's Administration Created ISIS
4- Growth of Marijuana Use among Young Iranians
---
Javan:
1- Bad Cop Grabbed All JCPOA Benefits: Airbus and Peugeot's Profit from JCPOA Gained for France Sooner than Other P5+1 Member States
2- JCPOA Violation Taken for Granted; Iran's Deputy FM Said No in Response to a Reporter Who Asked 'Will You Pursue Violation of Nuclear Deal'
3- West Is Starting a Psychological War by Claiming that Russians Are Bypassing Iran: Analyst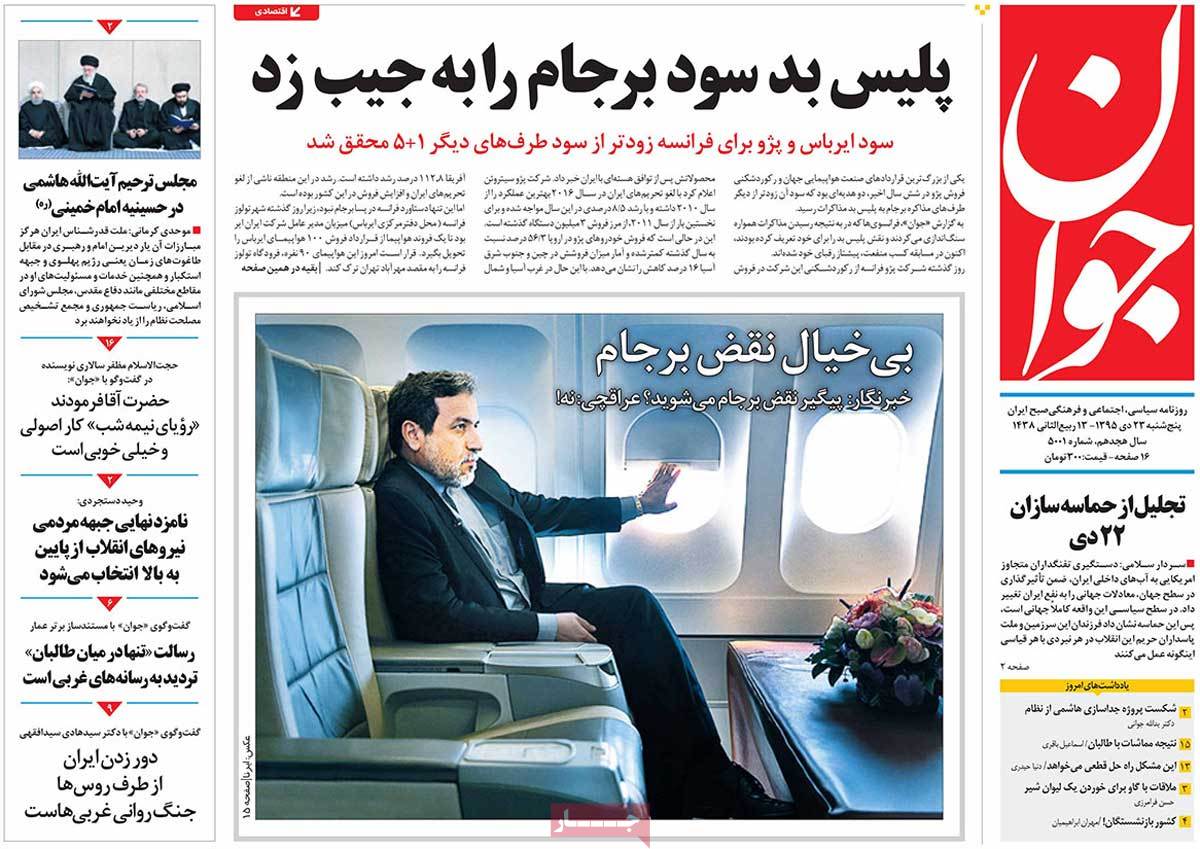 ---
Kayhan:
1- Obama Proudly Announced: Iran's Nuclear Program Stopped without Firing a Single Bullet!
2- Saudi Jet Fighters in Yemen Attack a School
3- 5 Emirati Diplomats Killed in Afghanistan; Taliban: We Didn't Do It
4- Peugeot: We Broke Our Six-Year Record by Selling Our Cars to Iran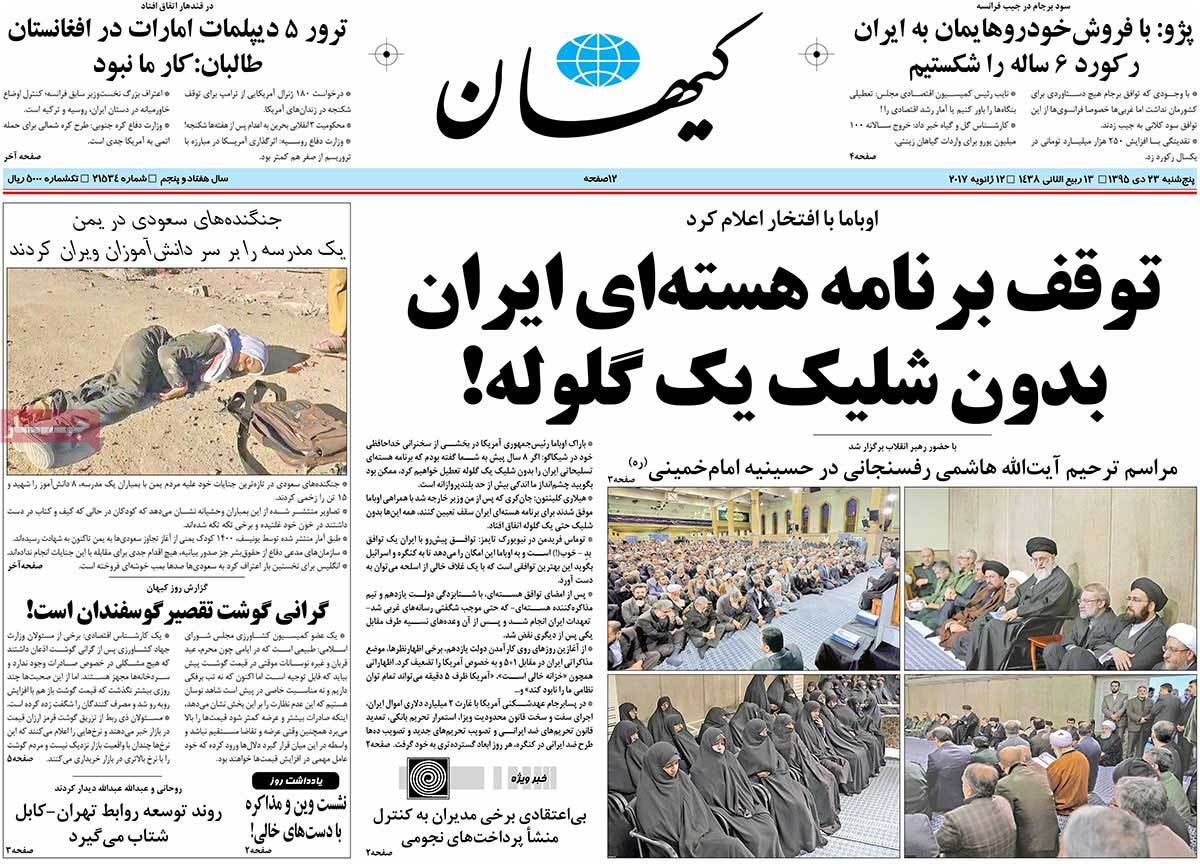 ---
Quds:
1- Sanctions to Be Suspended until Iran's May Presidential Votes! This Is Achievement of Iranian Negotiators after Bargaining with US in JCPOA Joint Commission Meeting
2- Warning against an Iran without Villages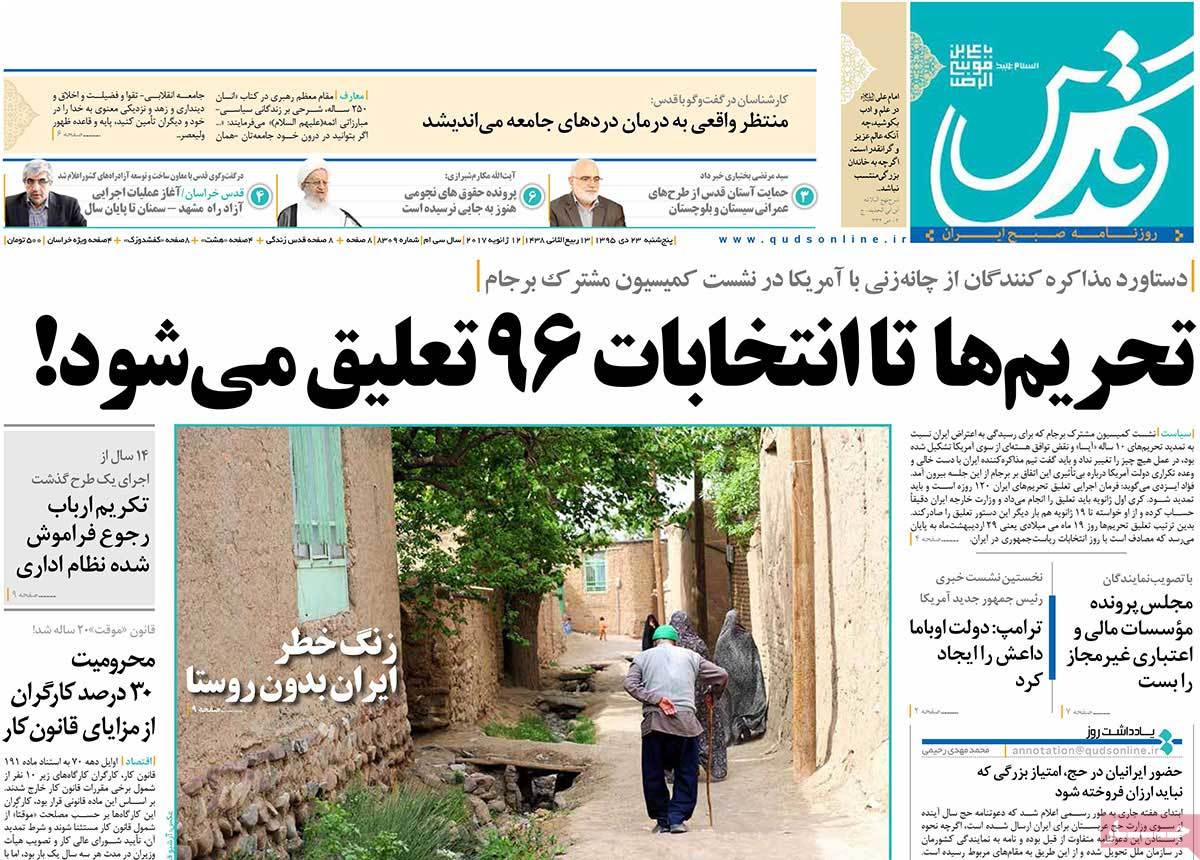 ---
Resalat:
1- Ayatollah Makarem Shirazi: Nothing Is Heard about Case of Astronomical Salaries Given to Certain Executives
2- Obama: JCPOA Is One of Biggest Achievements of My Administration
3- Iranian Team to Visit Saudi Arabia on February 23 to Attend Hajj Talks: Official
4- Washington's New Plot in Latin America: Democrats and Republicans Seek to Topple Caracas Government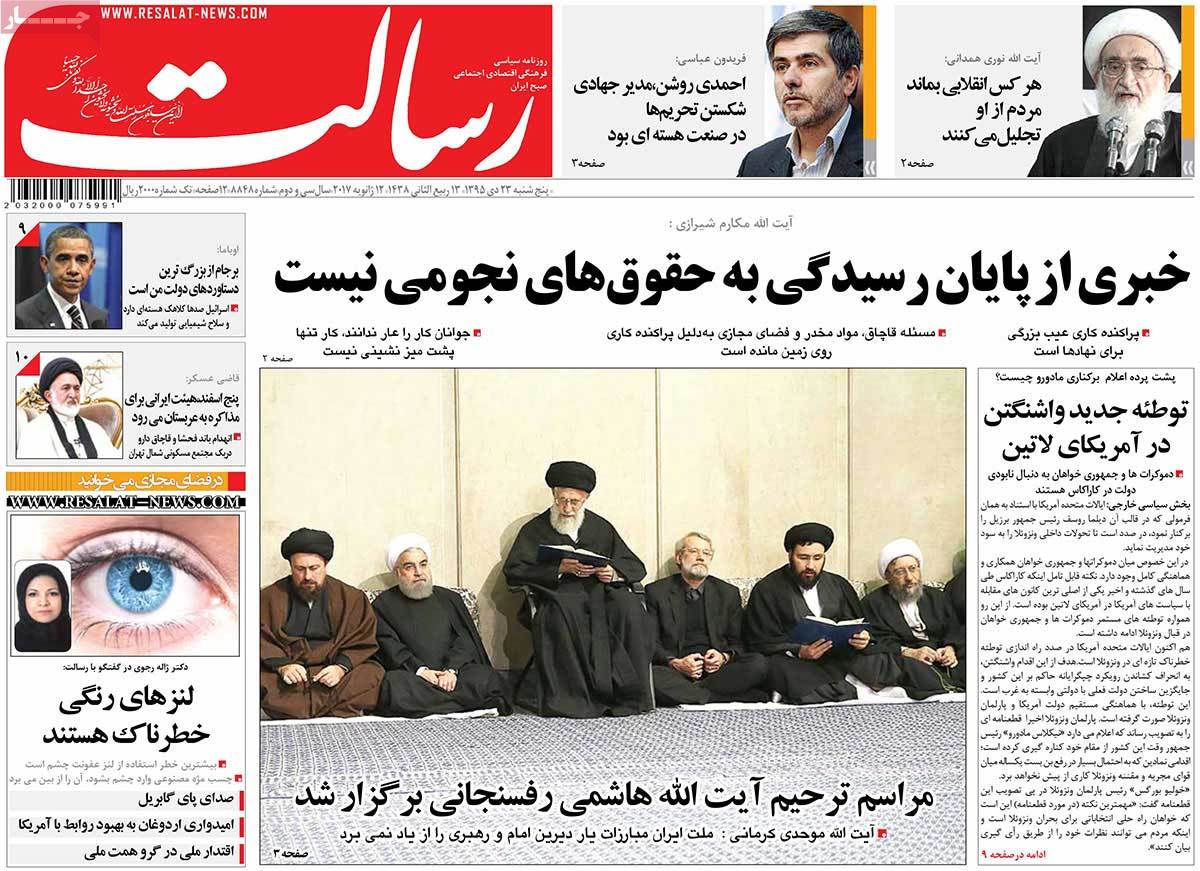 ---
Rooyesh-e Mellat:
1- Gas Production Record Broken in Two Phases of Iran's South Pars Giant Gas Field
---
Shahrvand:
1- Great Men Mourning for Hashemi
2- Six Iranians among World's Most-Cited Researchers Based on Thompson Reuters 2016 List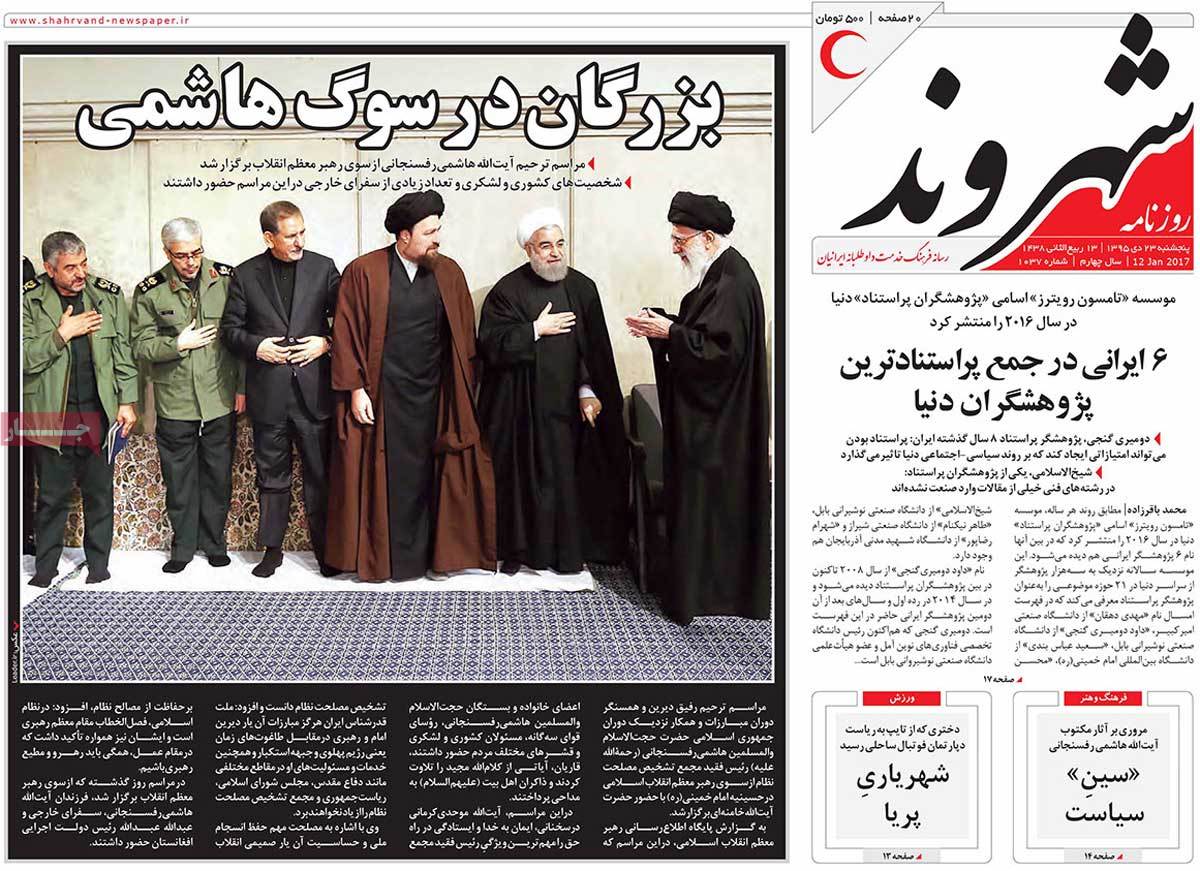 ---
Shargh:
1- Keep Quiet, I Won't Answer You: Trump in First Presser to American Journalist
2- Trump: There's No Deal with Moscow; If Putin Praises Me, This Is Our Winning Card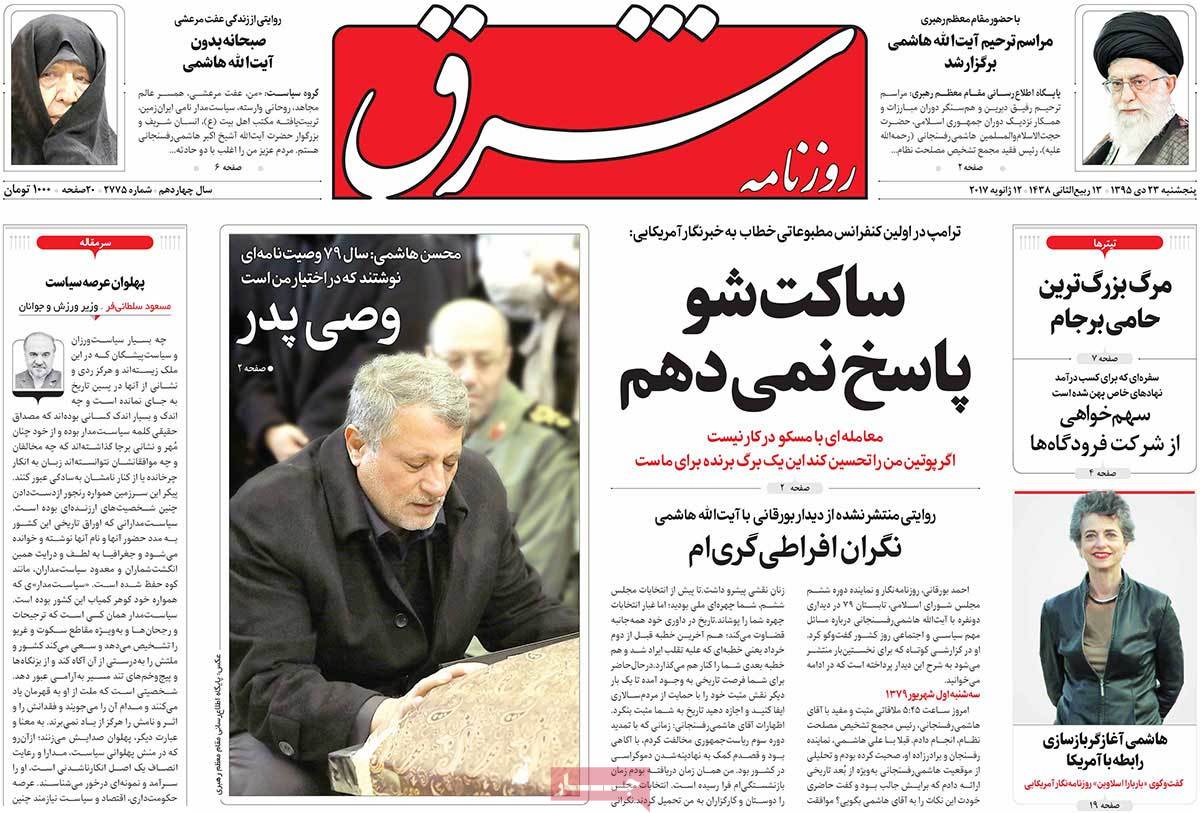 http://www.jaaar.com/assets/images/pishkhan/1395/10/23/352fe25d.jpg