Many newspapers highlighted Iranian President Hassan Rouhani's remarks about the need for interaction with the world and his criticism of those who are opposed to such relations.
Former Iranian president Mahmoud Ahmadinejad's lengthy letter to US President Donald Trump was a top story in many Iranian papers today.
Saudi Foreign Minister's surprise visit to Iraq and the speculations about Riyadh's plots to influence Mosul liberation operation also received great coverage.
The above issues, as well as many more, are highlighted in the following headlines and top stories:
Afkar:
1- Iraq's Political Elites Urge Riyadh to Prove Its Goodwill
2- One-Fourth of Iranians Suffer from Anxiety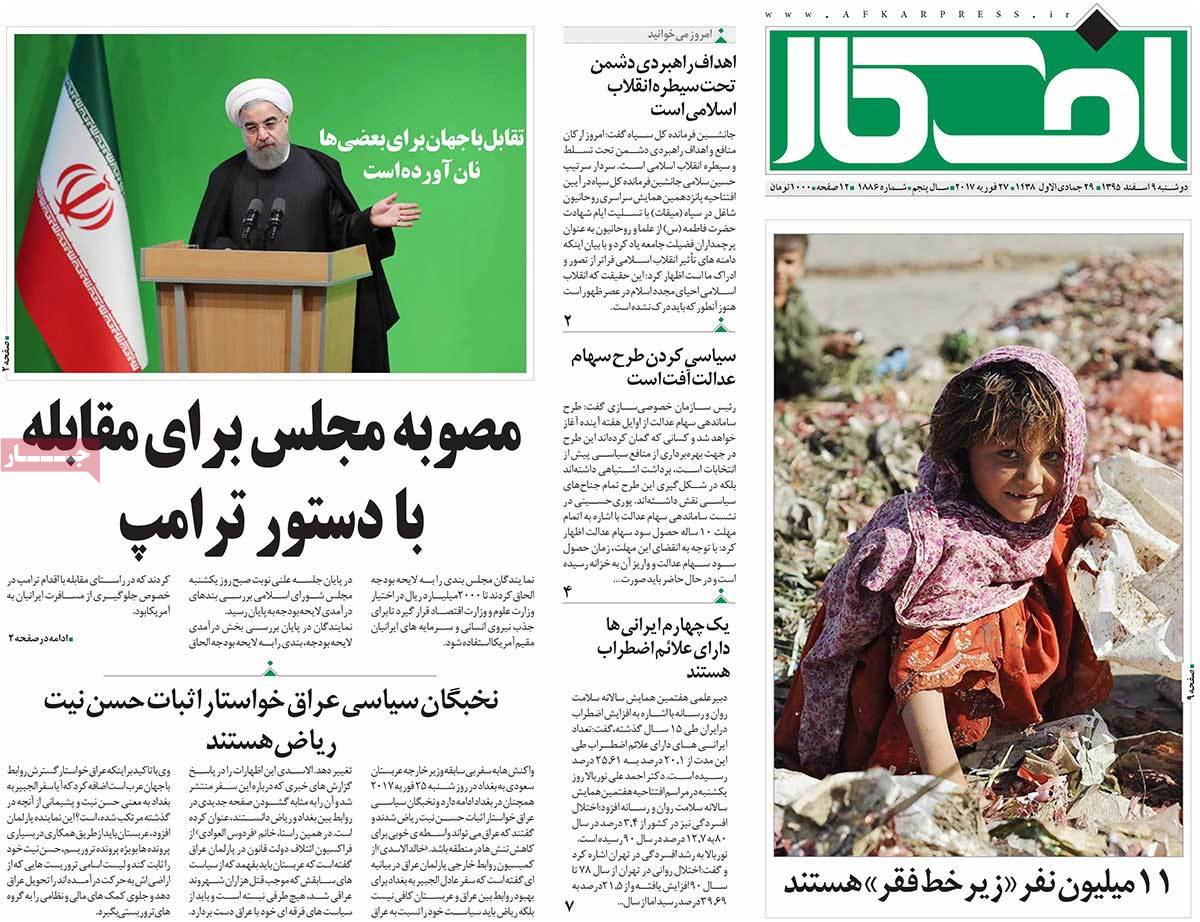 ---
Arman-e Emrooz:
1- Ahmadinejad's Letter to Trump
2- Parliament Supports Iranians Living in US in Reaction to Trump's Ban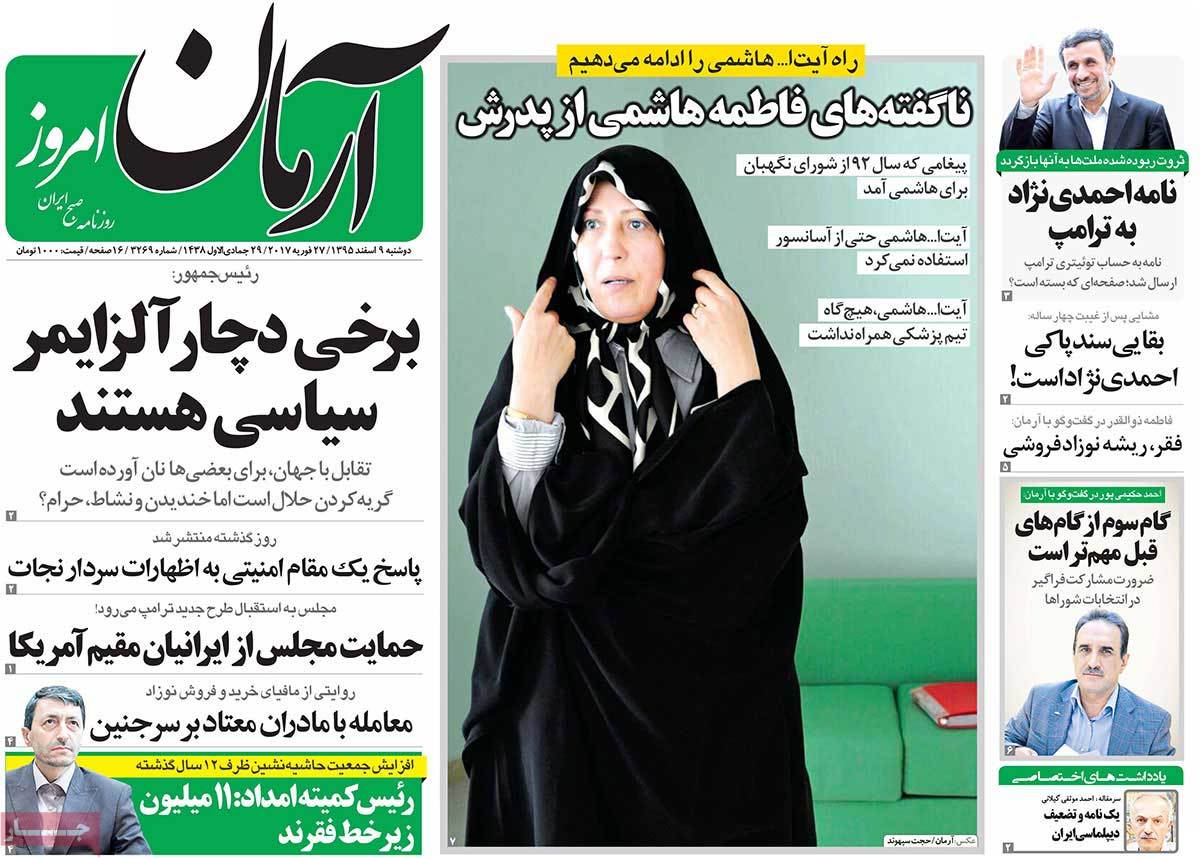 ---
Ebtekar:
1- Law of Gravity: Ahmadinejad Pens Letter to Trump
2- Saudi Arabia's Greed to Take Advantage of Iraq
Saudi FM pays surprise visit to Baghdad amid operation to liberate Mosul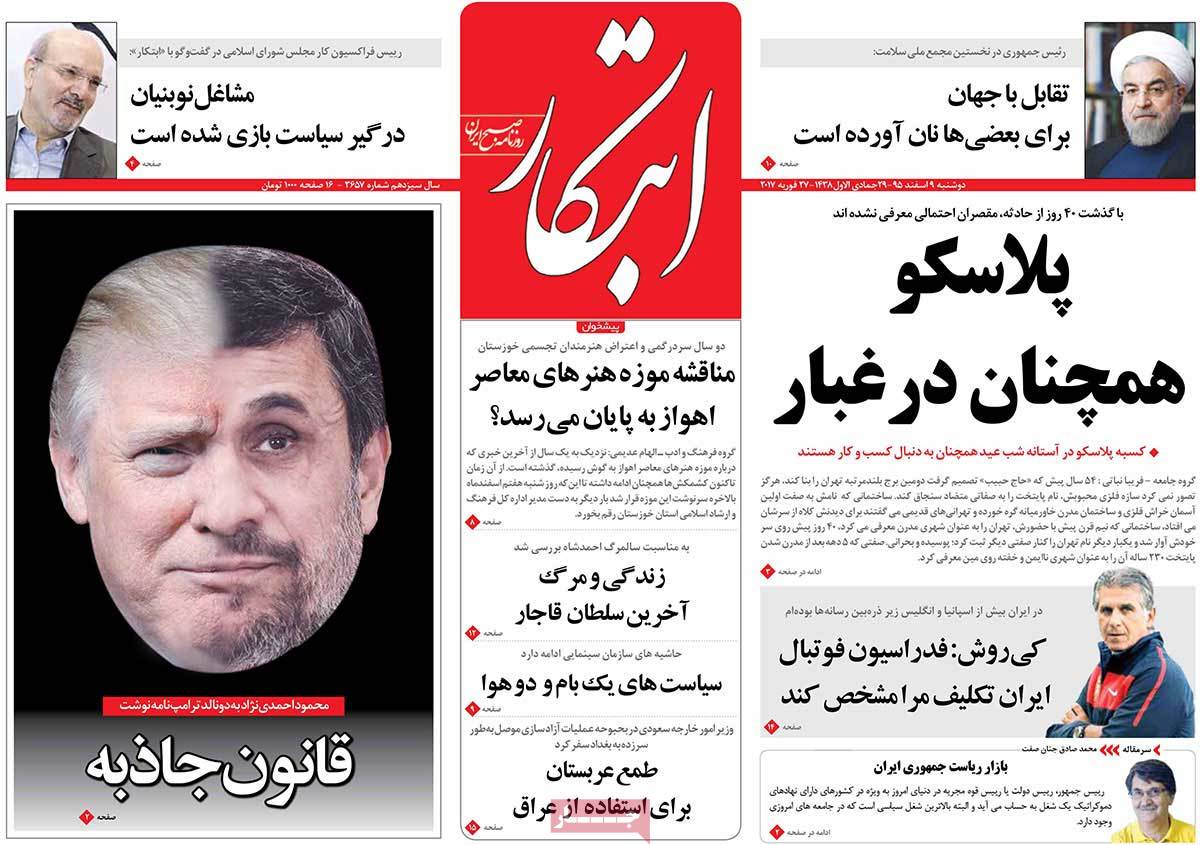 ---
Ettela'at:
1- President: To Resolve People's Problems, We Need Interaction with World
2- Syrian Army's Rapid Progress in Aleppo Cripples ISIS
3- UN Ready to Support Iran in Resolving Environmental Problems
4- Israel: We'll Soon Use Robots to Assassinate Hezbollah, Hamas Leaders
Israel is going to use technology for terrorism!
---
Hemayat:
1- US Congress Unveils New Version of Anti-Iran Pressure: From accusing revolutionary bodies of corruption to spread of British version of Shiism
---
Iran:
1- Clash with World Was Profitable for Some: President Rouhani
2- Zarif: Farhadi's Words Are Ours [Iranian FM's piece about The Salesman and the Oscars]
3- Centre of Khuzestan's Dust Pollution Is Areas Controlled by ISIS: UN Official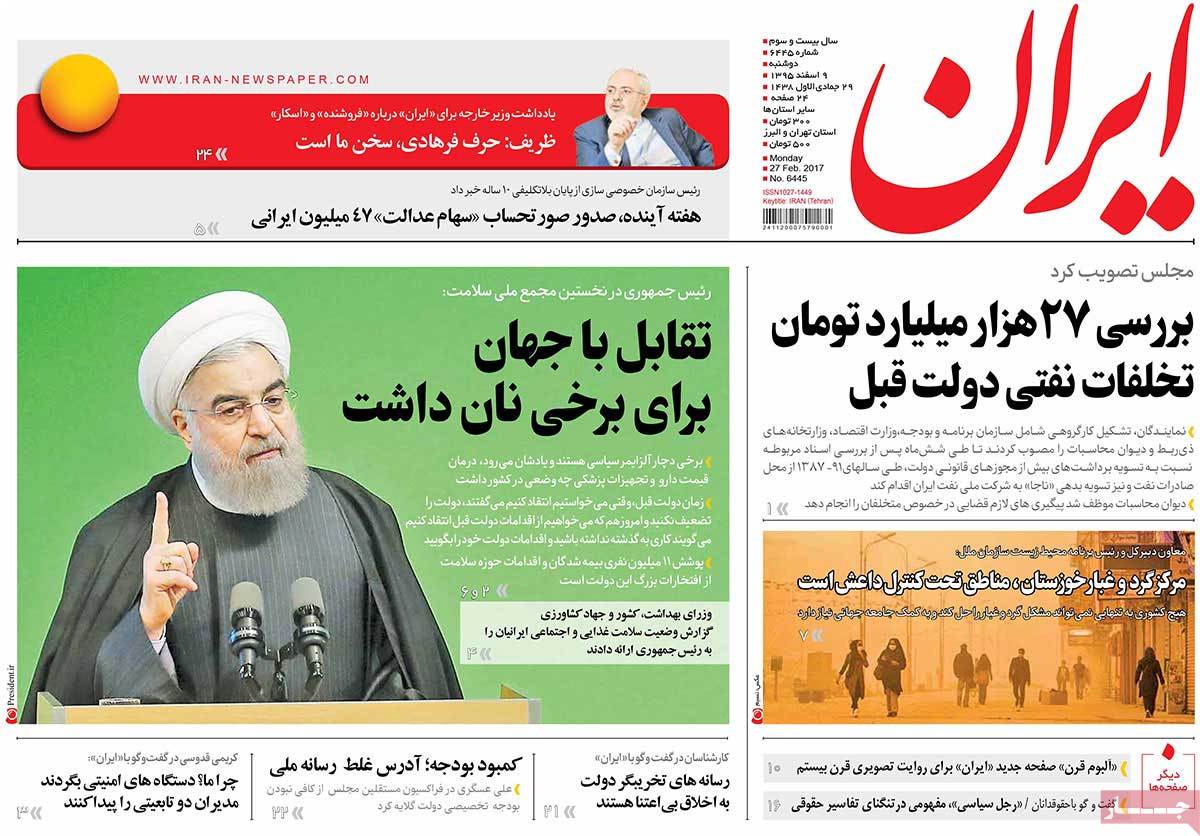 ---
Jame Jam:
1- Parliament's Reaction to Trump's Travel Ban
2- Iran Shows Its Naval Power in Velayat 95 Drills
---
Javan:
1- Informed Political Sources: Rouhani's Gov't Trying to Polarise Atmosphere
2- White ISIS Diplomacy in Baghdad: Saudi Arabia finally consents to change controversial ambassador to Iraq
3- Geneva Shakes after Terror Attacks in Homs; Syria Peace Talks Influenced by Terrorist Attacks
4- Muslims Censored in United States
---
Jomhouri Eslami:
1- Don't Disappoint People's Hope in Iran's Future: Rouhani
2- Gov't Proud that 11 Million People Gained Insurance: Iran President
3- Final Stage of Iran's Major Naval Drill Begins
4- Bahraini People Renew Allegiance with Sheikh Qassim
5- 224 Martyrs Killed in Iraqi Imposed War to Be Buried in 31 Provinces
---
Ka'enat:
1- Letter from One Human to Another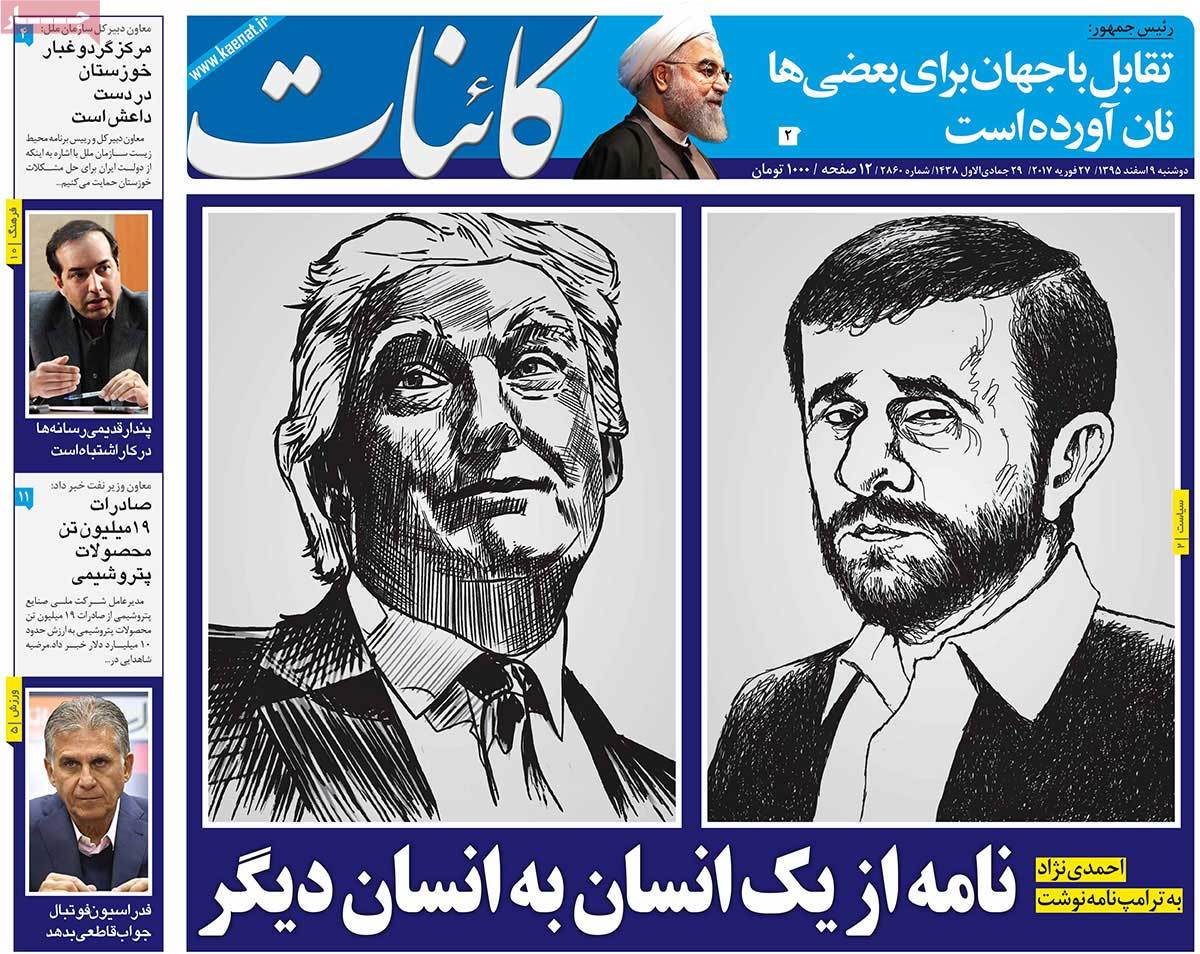 ---
Kayhan:
1- Unilateral Tribunes and Government's Response to Questions It Posed
2- Security Gap in Europe: Fascists' Brutal Attacks on Britons; French Police's Clash with Protesters
3- CIA's 7 Ways to Counter Iran Presented in US Congress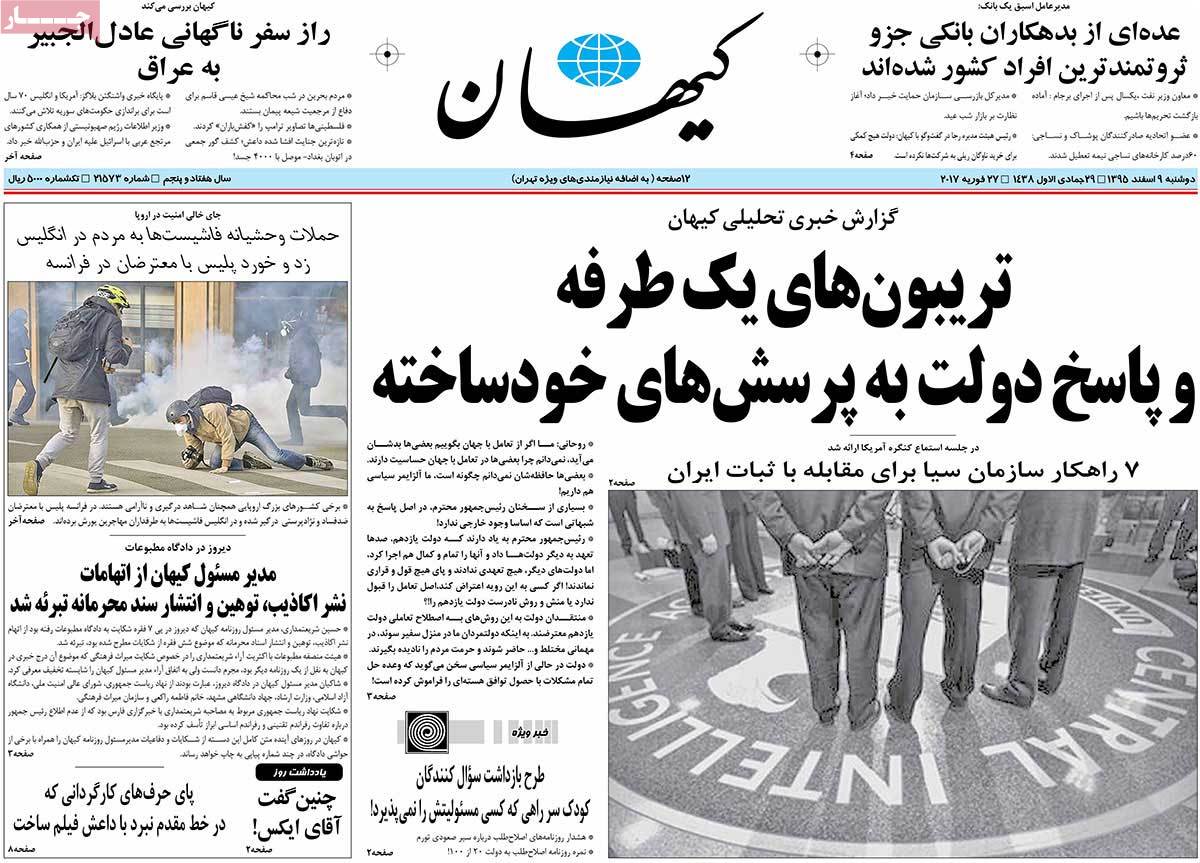 ---
Khorasan:
1- Jazmourian Wetland Revives after 20 Years
2- First VP's Account of Leader's Support for Reformists' Activity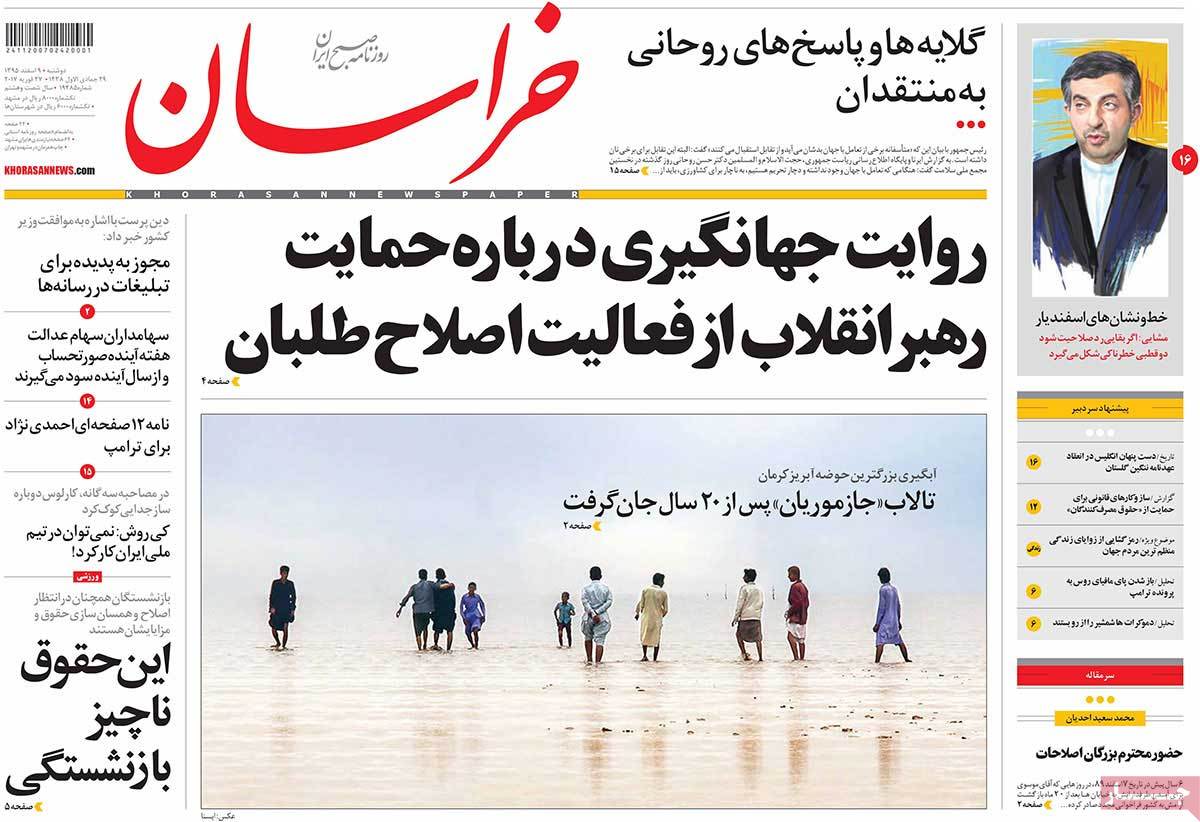 ---
Resalat:
1- Spread of Trumpism and Racism in Europe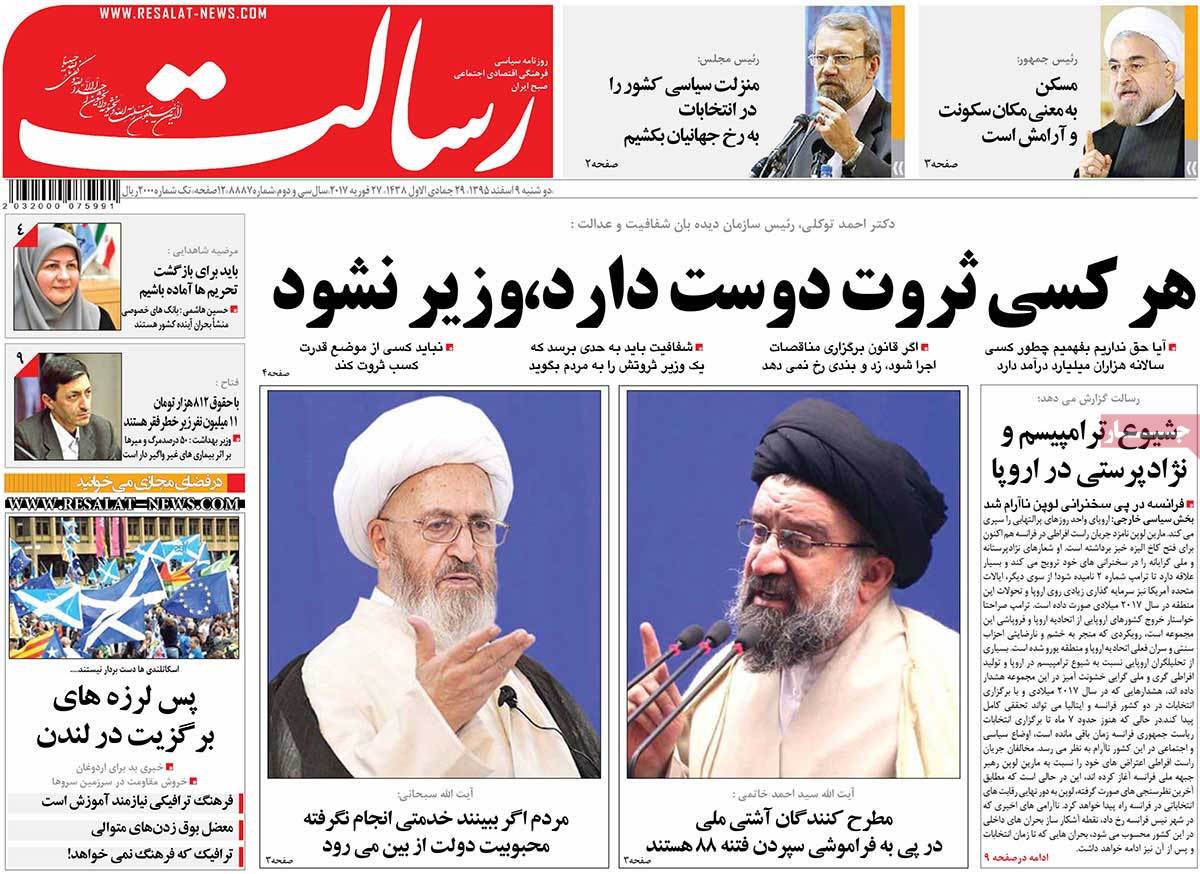 ---
Rooyesh-e Mellat:
1- Iran Will Soon Launch Most Advanced Homegrown Destroyer
2- Deceitful Ads of Slimming Pills in Satellite Channels
---
Saheb Qalam:
1- 8 Standards Become Obligatory for Domestic Cars
2- China Is Both Biggest Importer of Iranian Goods and Exporter of Goods to Iran
3- Foreign Messaging Apps Obliged to Obtain Licence
---
Shargh:
1- Ahmadinejad's Advice for Trump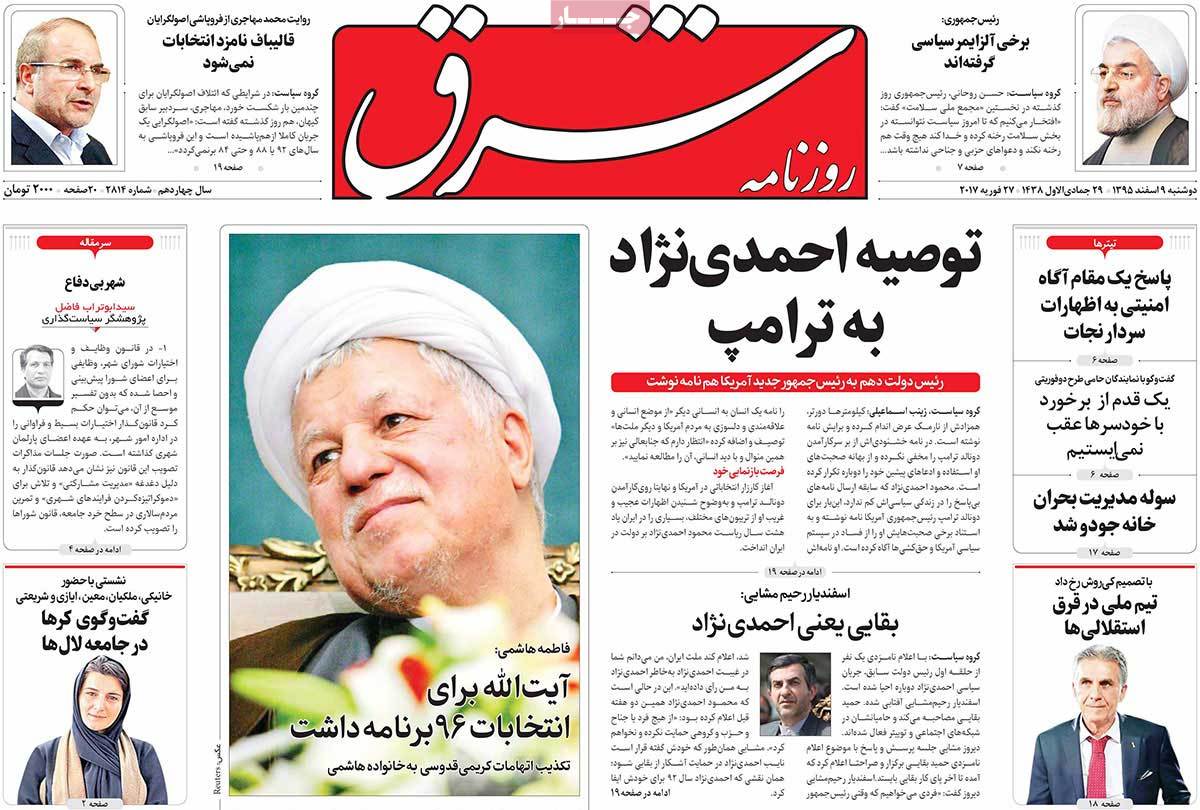 ---
Siasat-e Rooz:
1- Giving Discount to West in Order to Realise Promises
Rouhani: Some Dislike Having Interaction with the West
2- US Is an Atomic Bomb; Trump Seeks to Promote Nuclear Weapons