All newspapers today covered the remarks made by the Leader of the Islamic Revolution Ayatollah Seyyed Ali Khamenei in a meeting with the visiting Swedish Prime Minister Stefan Löfven in Tehran.
Löfven's meeting with Iran's President Hassan Rouhani and the agreements and MoUs signed by Iranian and Swedish officials also received great coverage.
Another top story was the crisis in Iran's Khuzestan province where people spent several hours without any access to water, electricity, and phone because of extreme humidity that led to temporary shutting off of power plants and water refineries.
The above issues, as well as many more, are highlighted in the following headlines:
19 Dey:
1- Iranian People Are Amazing: Iran's Leader in Meeting with Swedish PM
2- First VP: Unemployment and Creating Jobs Are Most Important Issues in Iran Today
---
Abrar:
1- Saudi Arabia's Condition for Better Ties with Iran; Saudi FM Says Iran Has a Great Nation and Civilisation
2- Iran, the Topic of Trump's Phone Conversations with Kuwait's Emir and Iraqi PM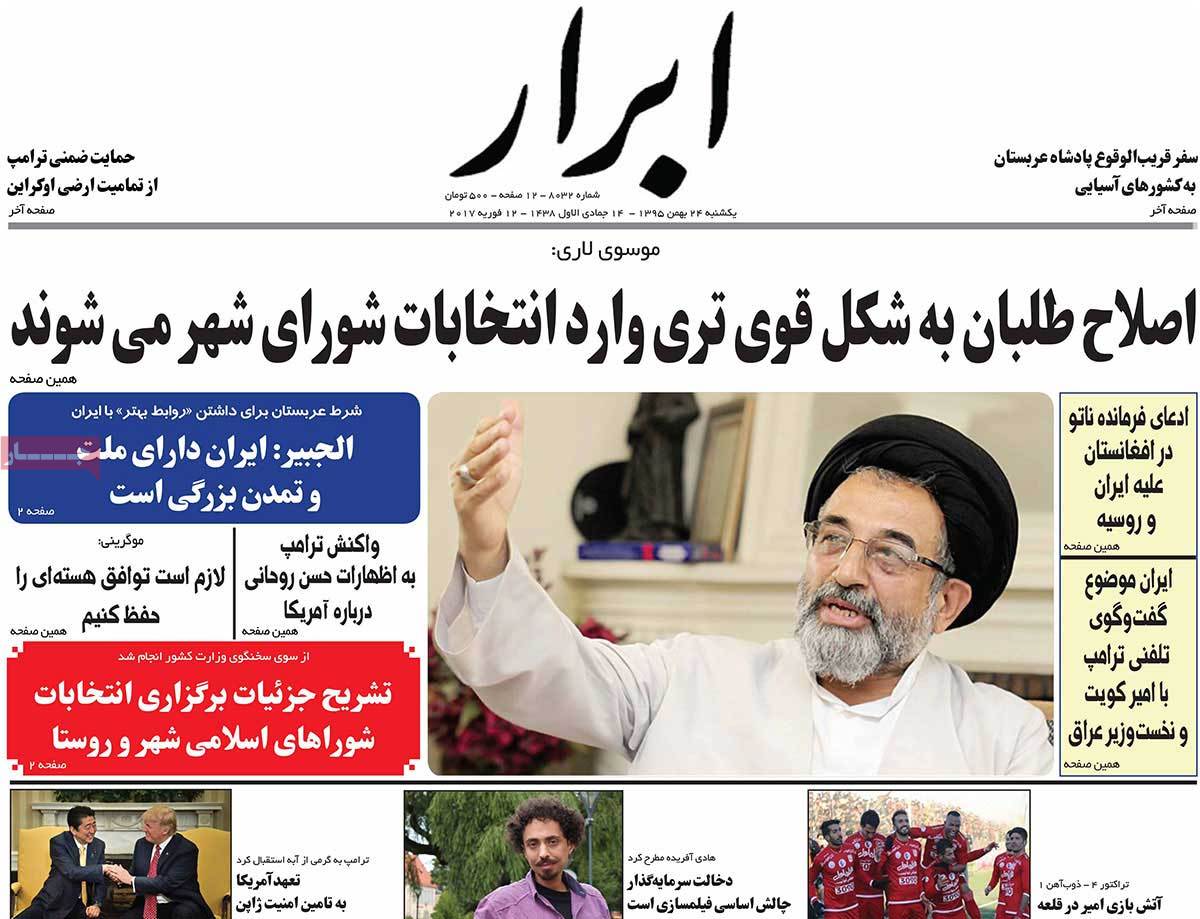 ---
Abrar-e Eqtesadi:
1- Special Audit of Ahmadinejad Government's Oil Documents
2- Iran and Malaysia to Resume Direct Trade Ties
3- Trump's Policies, a Threat to World Economy: Fitch Ratings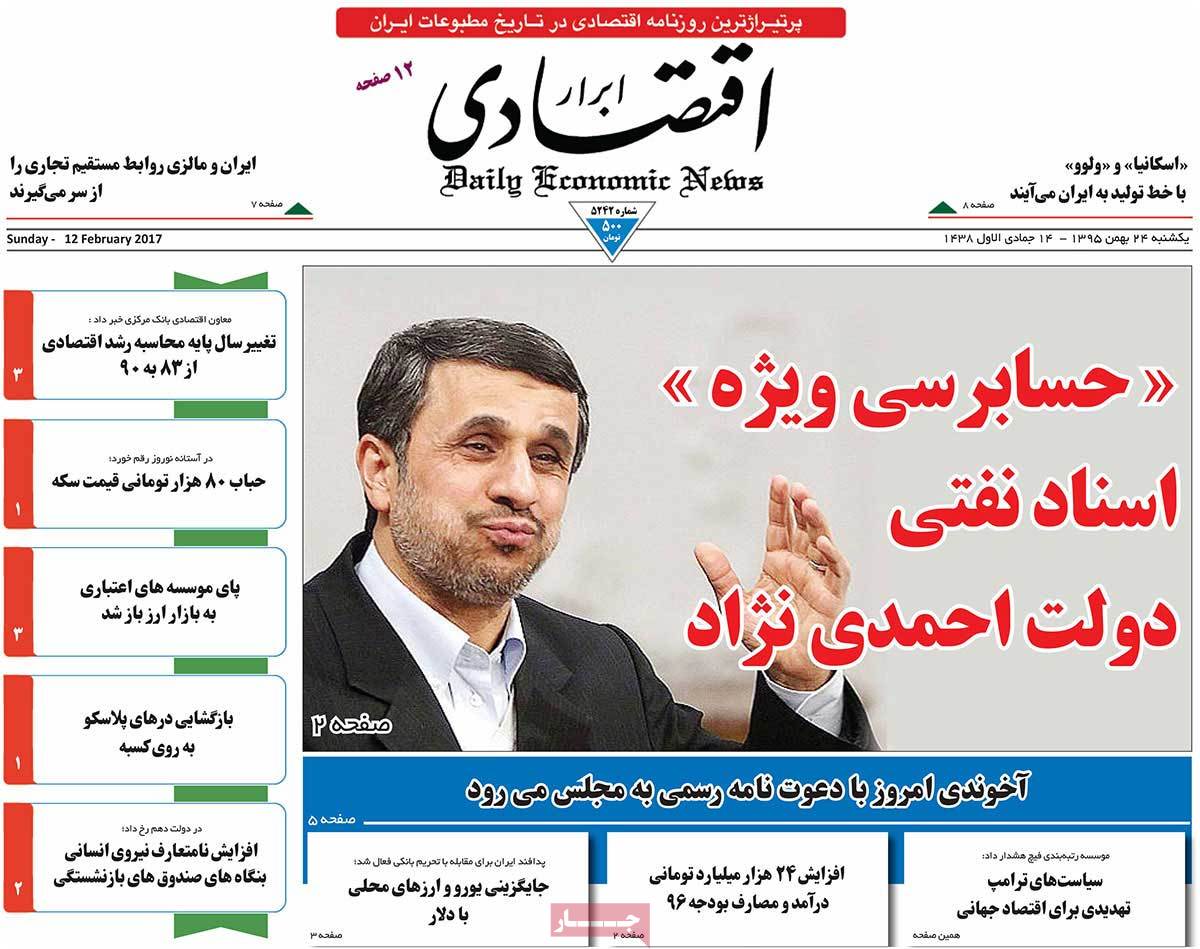 ---
Aftab-e Yazd:
1- People's Turnout in 22 Bahman Rallies Shows Nation's Preparedness: Iran's Leader
2- Price of Trump-Putin Friendship: US and Russian Presidents to Visit in Slovenia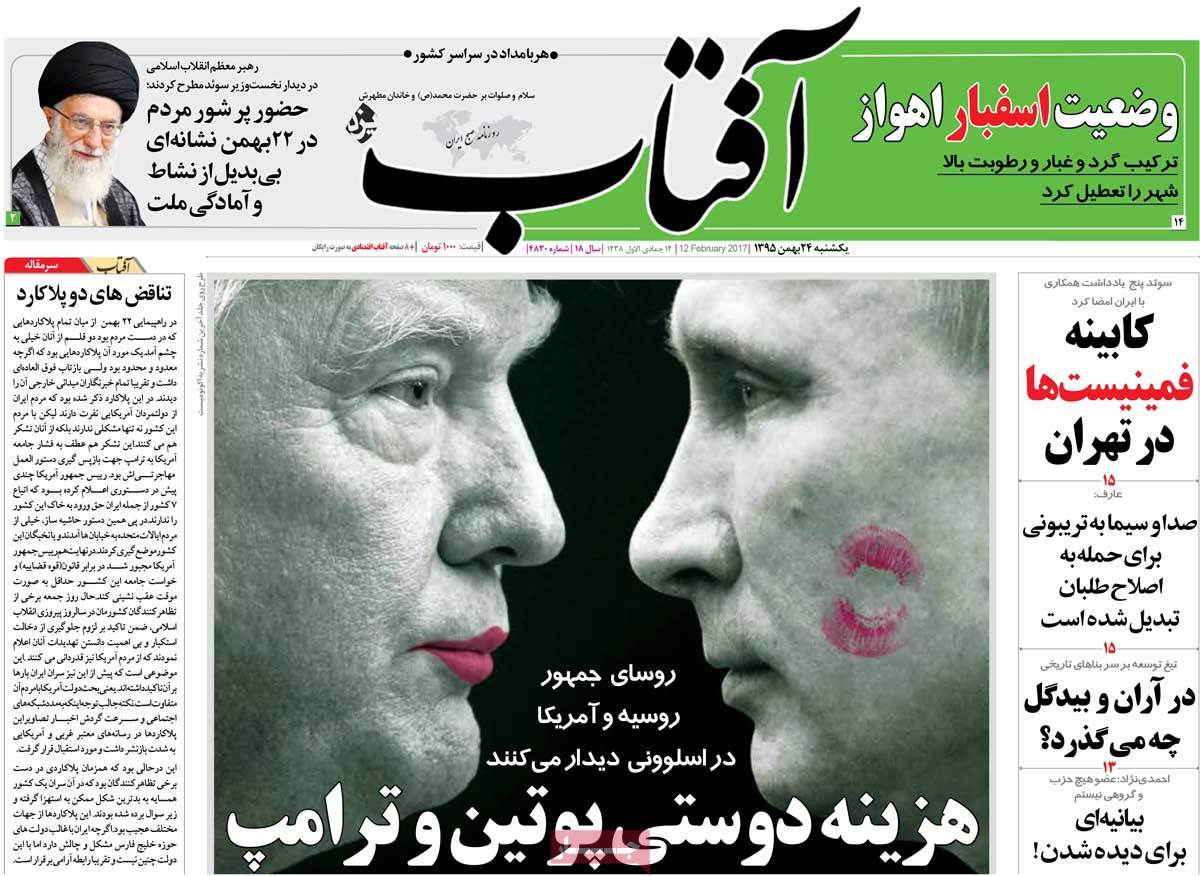 ---
Amin:
1- Rouhani: Iran and Sweden Resolved to Restore Ties to Pre-Sanctions Level
2- Industry Minister: $8.5 Billion in Foreign Investment Approved Since JCPOA Implementation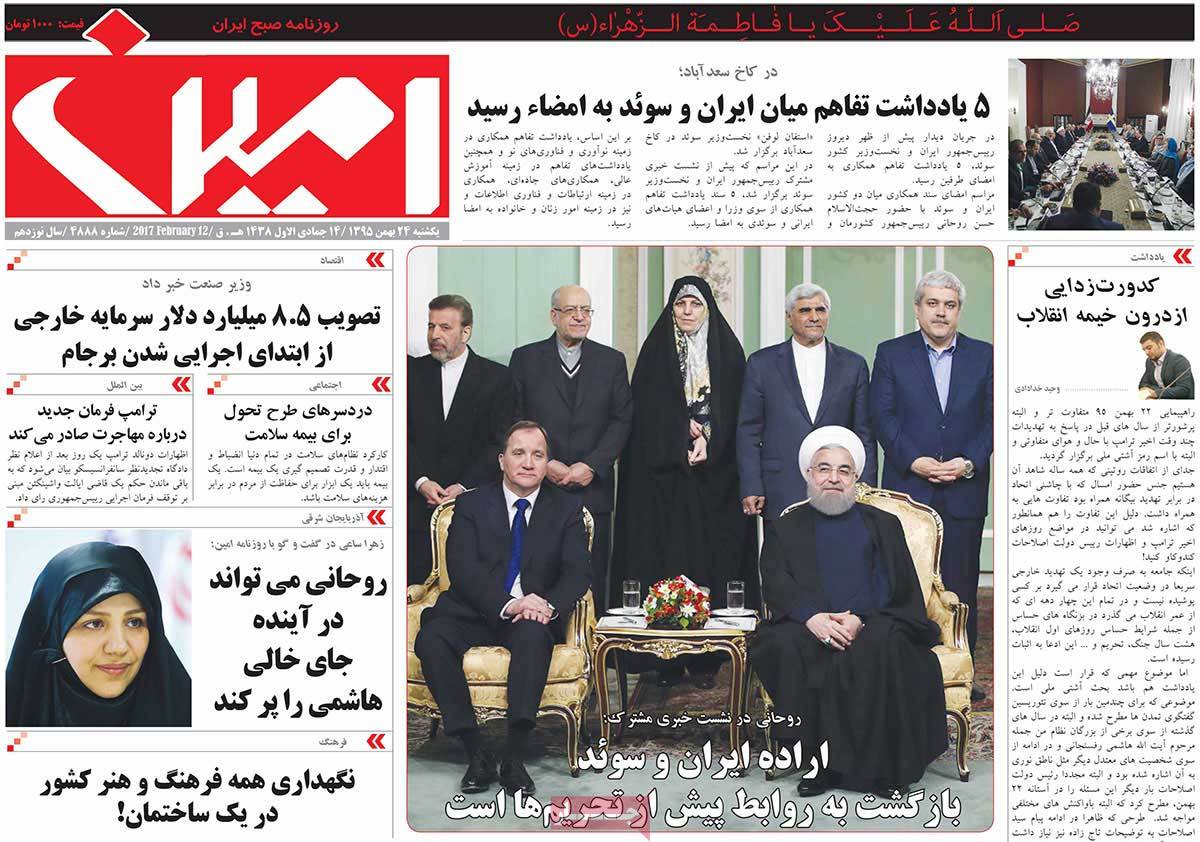 ---
Arman-e Emrooz:
1- UNSC Has Been Taken Hostage by Big Powers: Iran's Leader to Swedish PM
2- Senior Conservative Bahonar: It'd Be Harmful to Iran If Reformists Decide to Ignore Rouhani and Introduce another Candidate; There's No Doubt that Rouhani Is a Conservative
3- Ahmadinejad Said in a Statement: I Won't Support Any of Presidential Candidates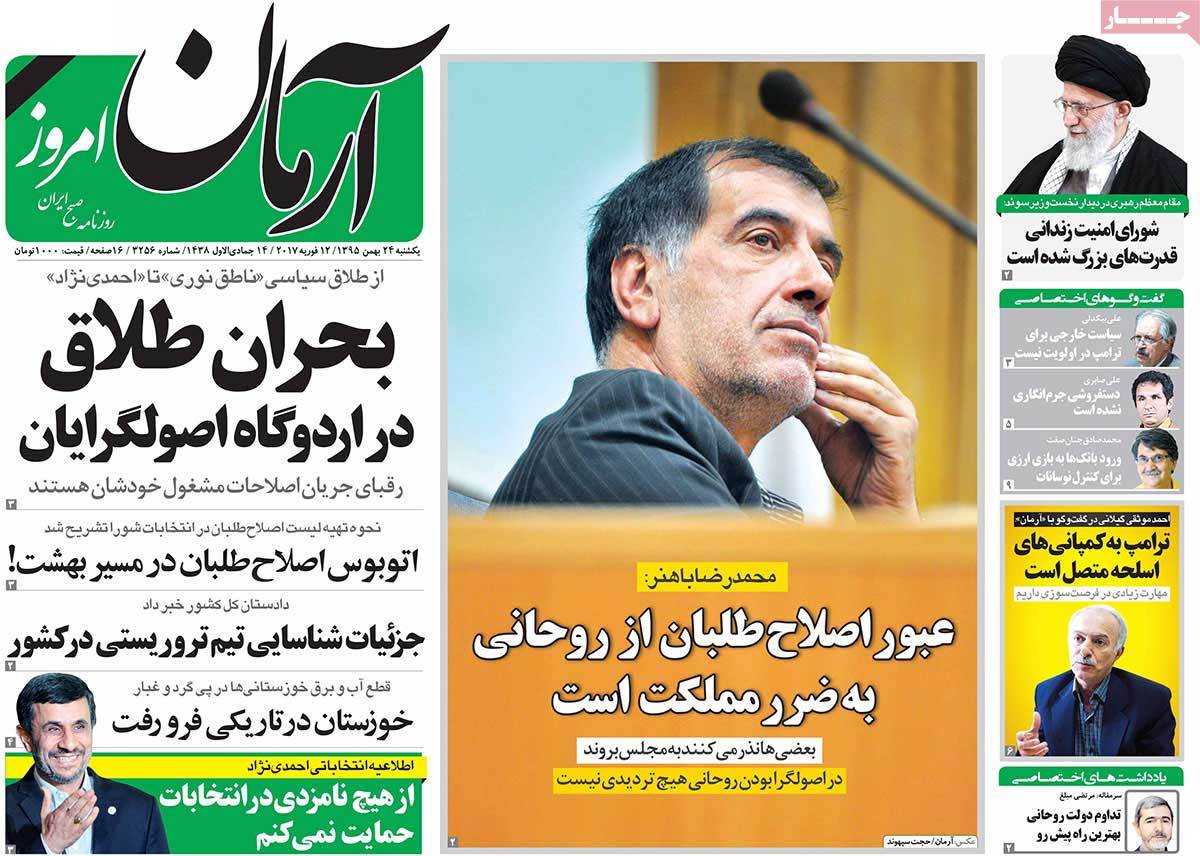 ---
Asrar:
1- Rouhani: Zionist Regime's Measures Are Provocative
2- Mogherini: US Government Committed to Full Implementation of Iran Nuclear Deal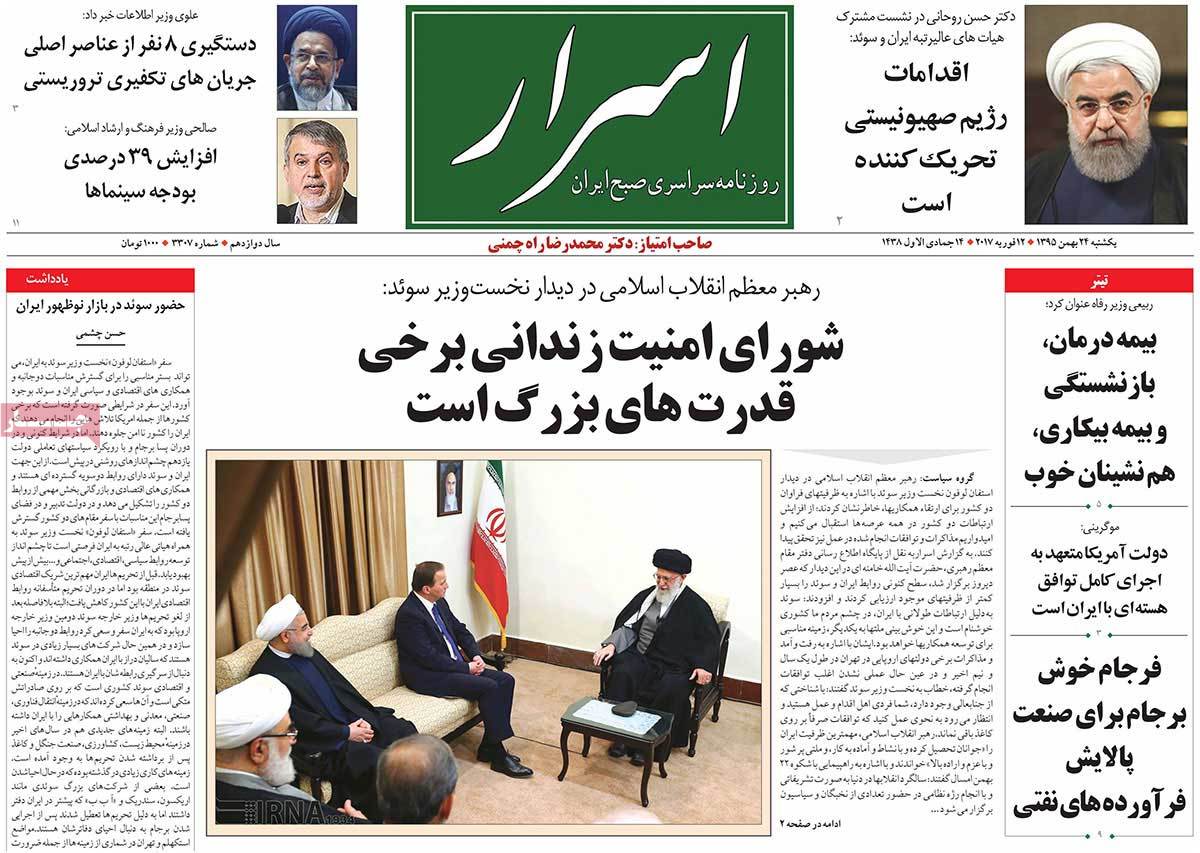 ---
Donya-ye Eqtesad:
1- Volvo and Scania to Transfer Production Lines to Iran: Car Deal with Sweden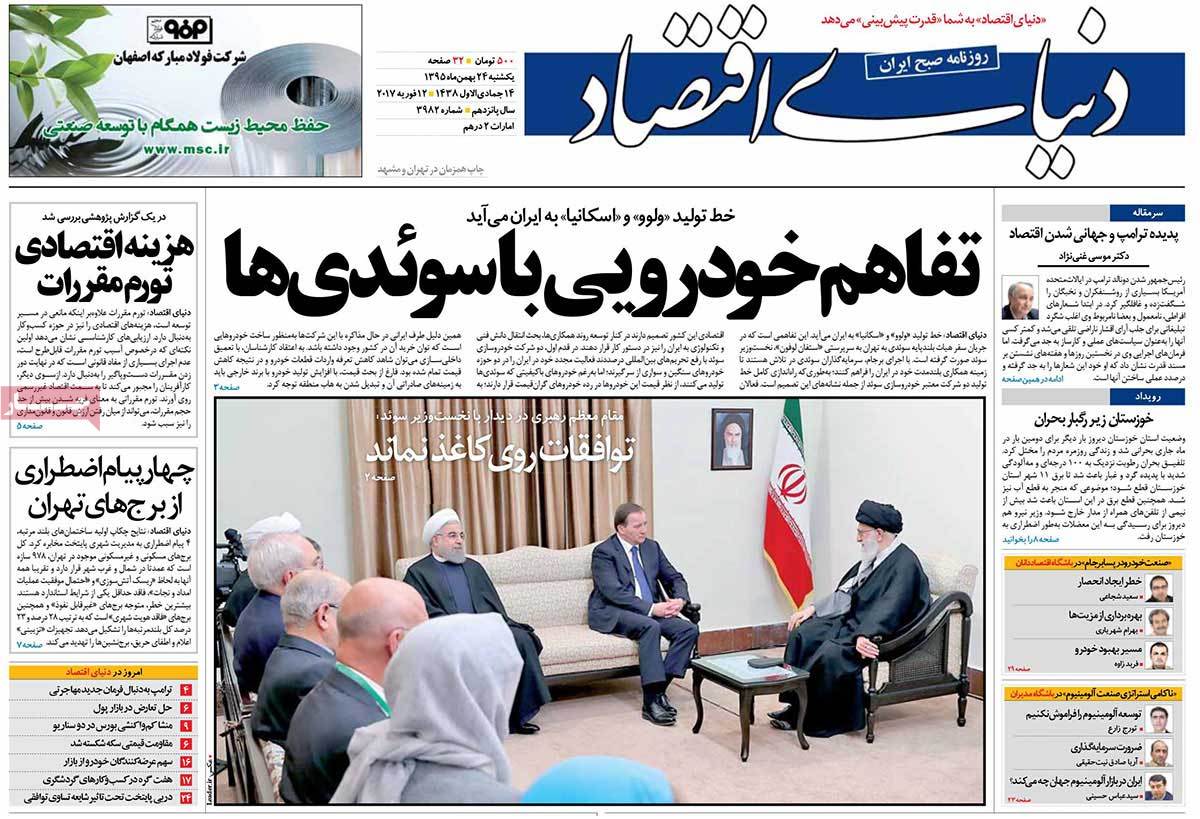 ---
Ebtekar:
1- Two Sides of the Coin: Pollution in South, Snow and Cold in West: Dust Pollution Disrupting People's Lives in Southern Iranian for Years
2- Tehran and Stockholm Sign 5 Memoranda of Understanding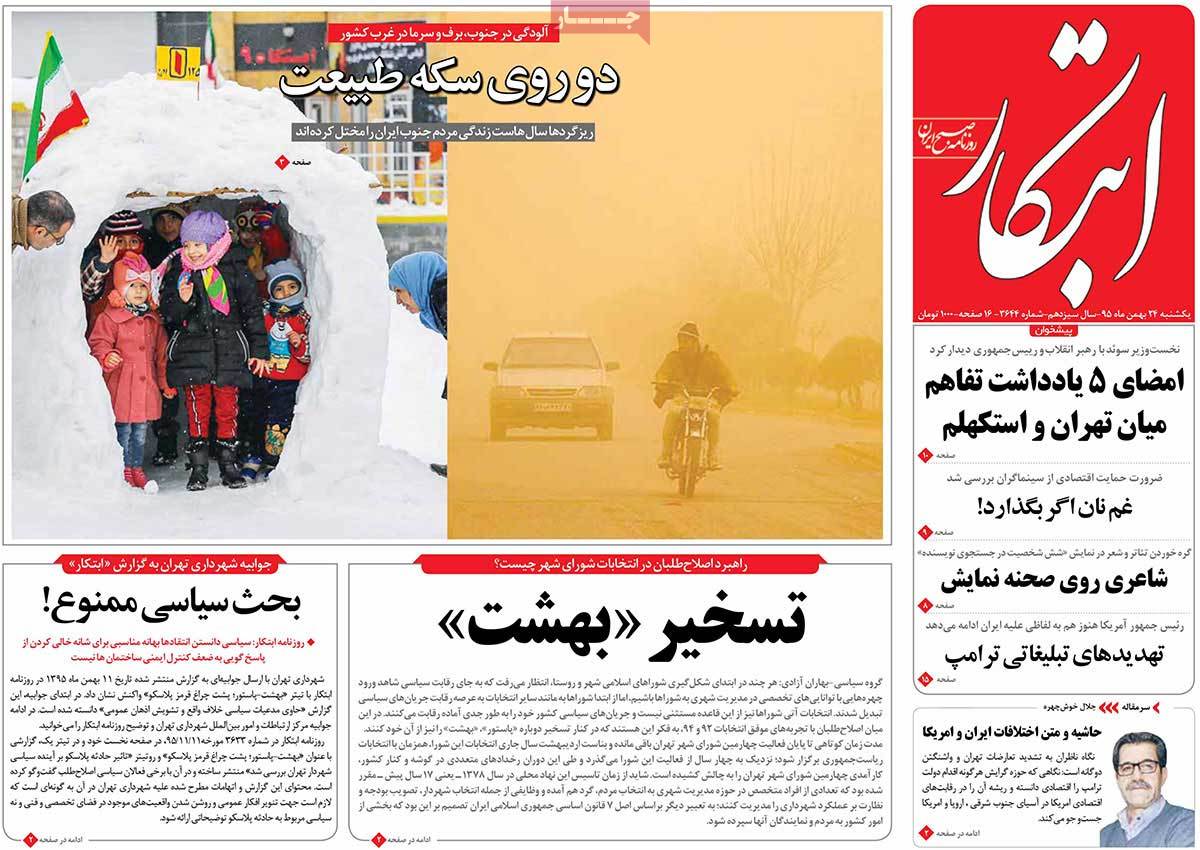 ---
Etemad:
1- Leader: Sweden Has a Good Reputation among Iranian People
2- Rouhani: Iran and Sweden to Cooperate in Security of Nuclear Power Plants
3- Top Security Official: Iran May Permit Russian Jet Fighters to Use Iran's Airspace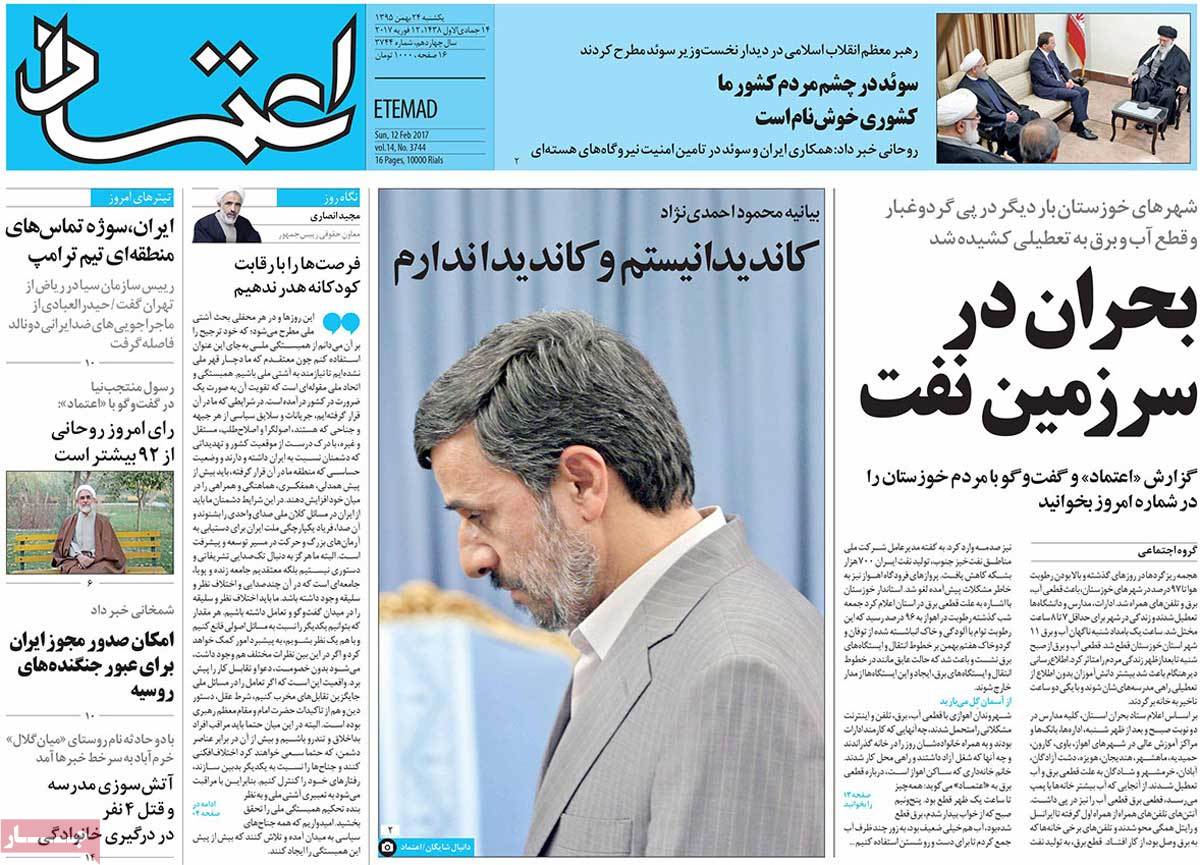 ---
Ettela'at:
1- Iran's Leader: Resolution of Syria Crisis Hinges on Stopping Support for Terrorism and Warmongering
2- Russia: We're Not in Line with US Anti-JCPOA Stances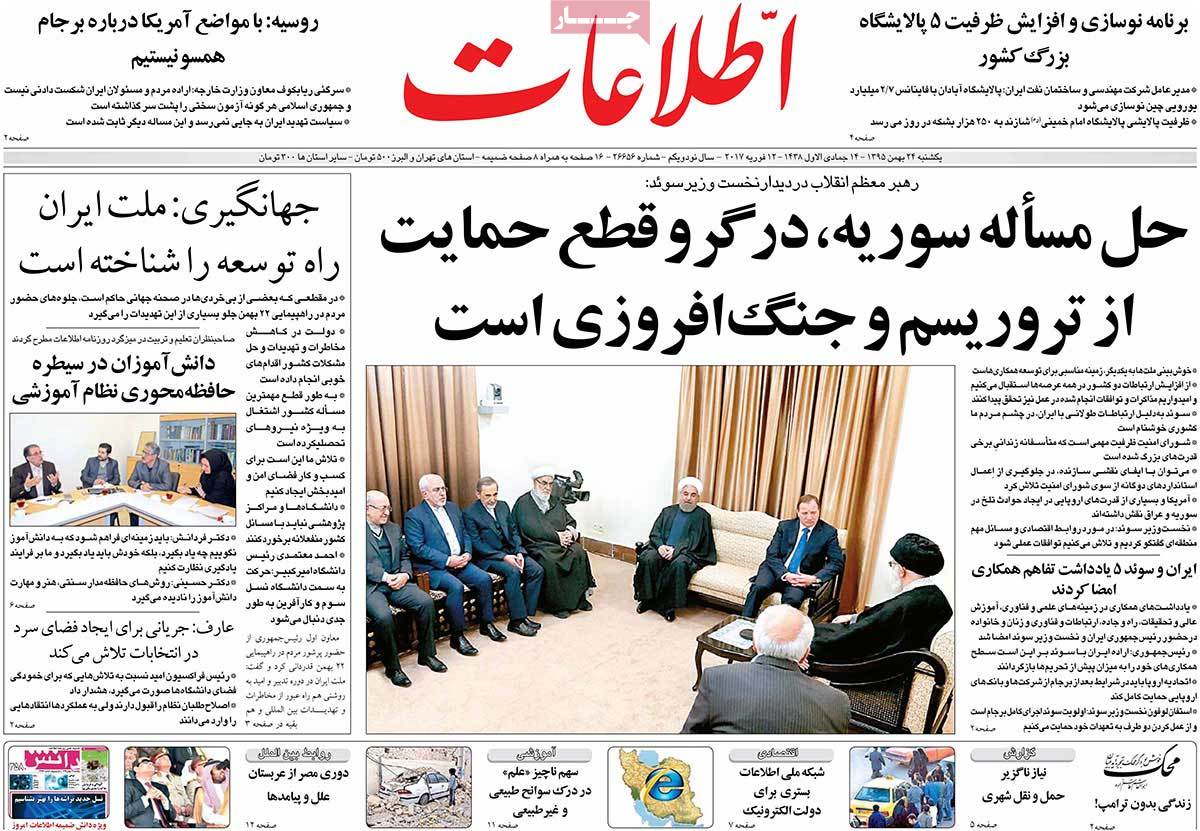 ---
Haft-e Sobh:
1- 12 Hours in War Conditions: People in Khuzestan Spent Several Hours without Access to Power, Water, and Phone; Can Dust Pollution Lead to Power and Water Cut?
---
Iran:
1- Leader: Tehran Welcomes Increase of Bilateral Trade with Sweden in All Areas
2- Power Minister Apologizes to People of Khuzestan: 12-Hour Disruption in Power and Water Network Resolved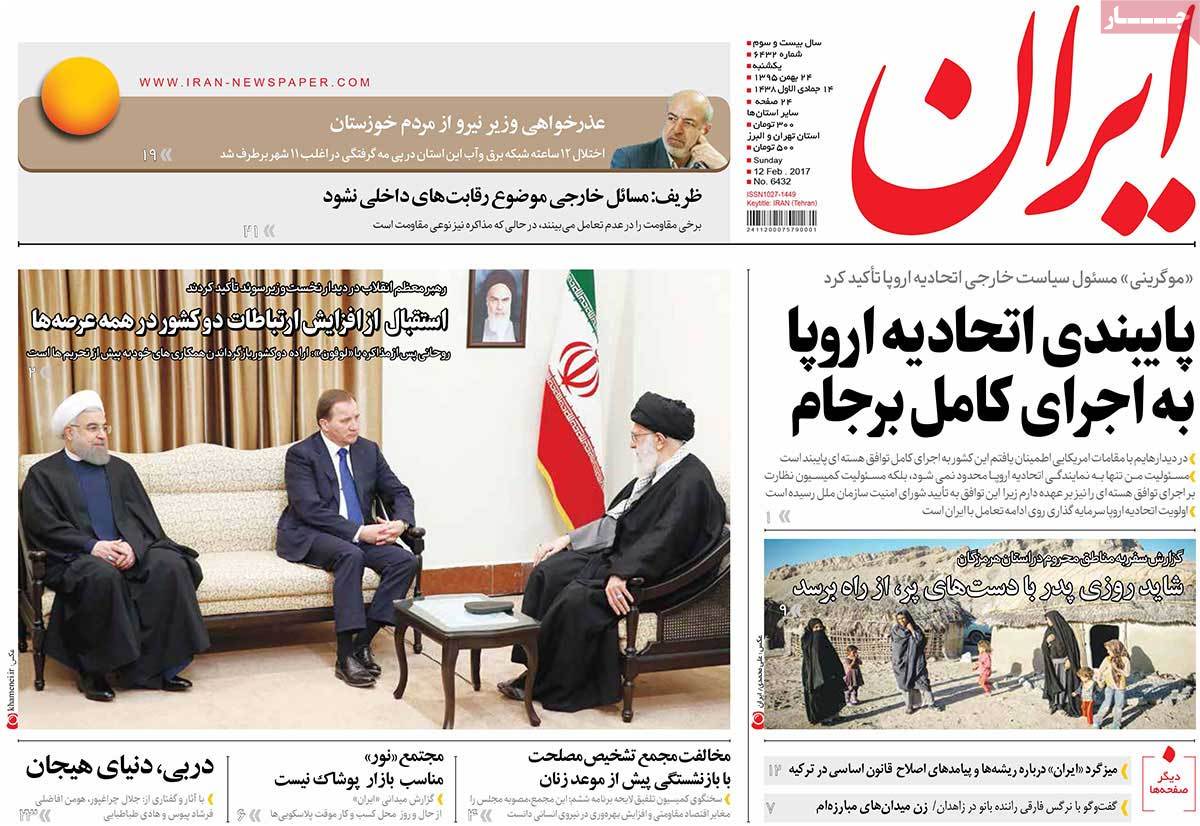 ---
Jame Jam:
1- Iran's Leader: Majority of Deals with Europe Not Implemented
2- Cyber Espionage: Prosecutor General Warns of Information Theft in Social Media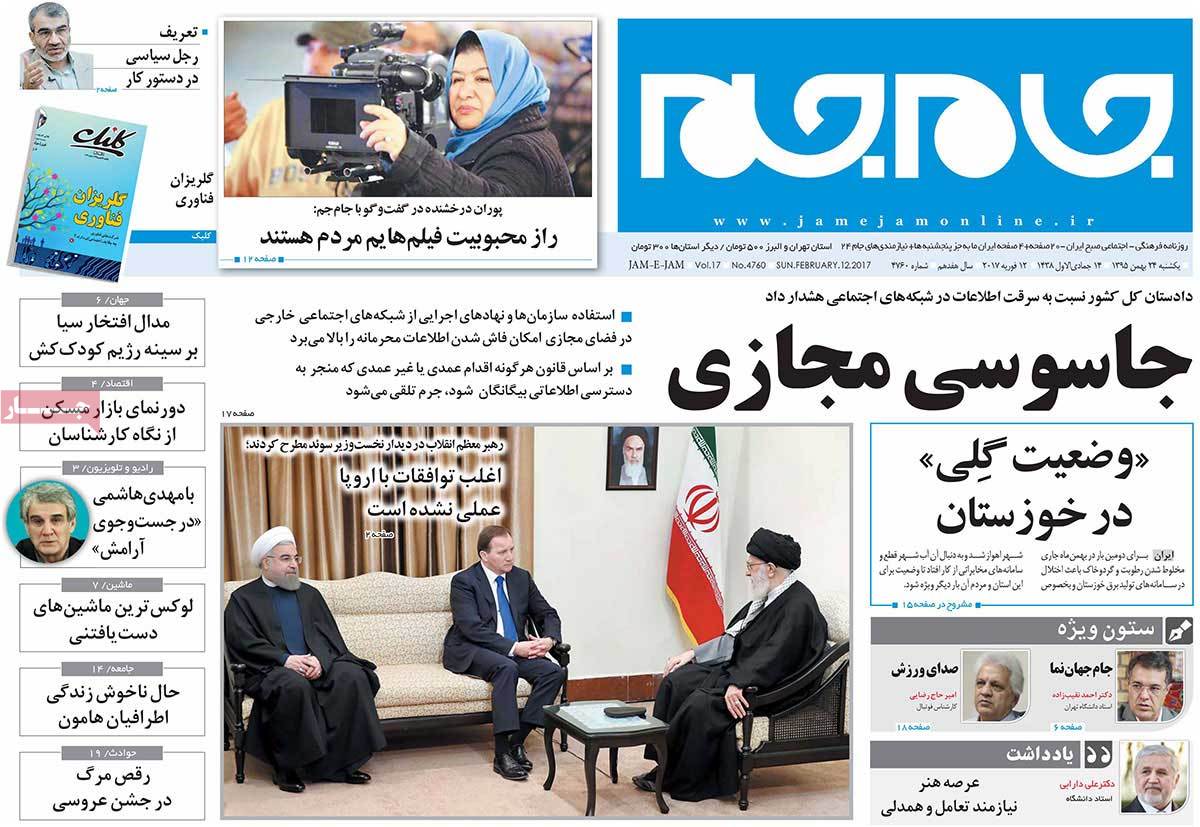 ---
Javan:
1- Leader to Swedish PM: Most of the Deals between Iran and Europe Not Operationalised; You're a Man of Action and Are Expected Not to Let Deals Remain on Paper
---
Jomhouri Eslami:
1- UNSC's Double-Standard Policies Should Be Prevented: Iran's Leader
2- UN Rescue Organisations Warn of Disaster in Yemen
3- Organised Plot by Takfiri [extremist] Terrorists Foiled before Celebrations of Iran's Islamic Revolution: Intelligence Minister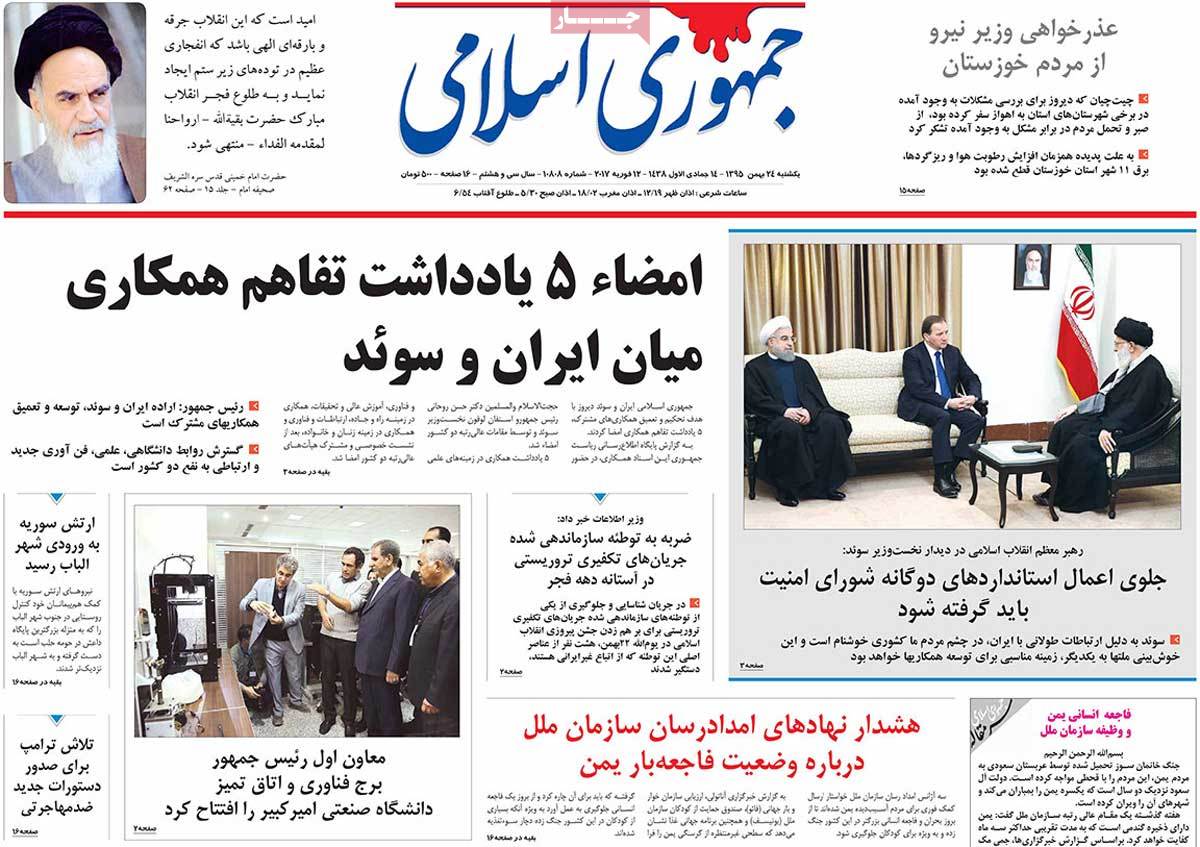 ---
Kayhan:
1- Leader: Western Analysts Unable to Understand Greatness of Iranian Nation's Epic Presence; Deals with Sweden Expected Not to Remain on Paper Like Contracts with Most European States
2- Revolutionary Nation Created an Epic: US Hirelings Should Avoid Giving Wrong Hints
3- Ray al-Youm: Erdogan Trapped in Syria's Well and King Salman in Yemen's
---
Resalat:
1- Europe and US Had Role in Syria and Iraq Bitter Events: Iran's Leader
2- Iran Leader's Advisor: We're Prepared to Counter US
3- Fukoyama: EU on Verge of Collapse
4- Prosecutor General: ISIS Elements Arrested in Tehran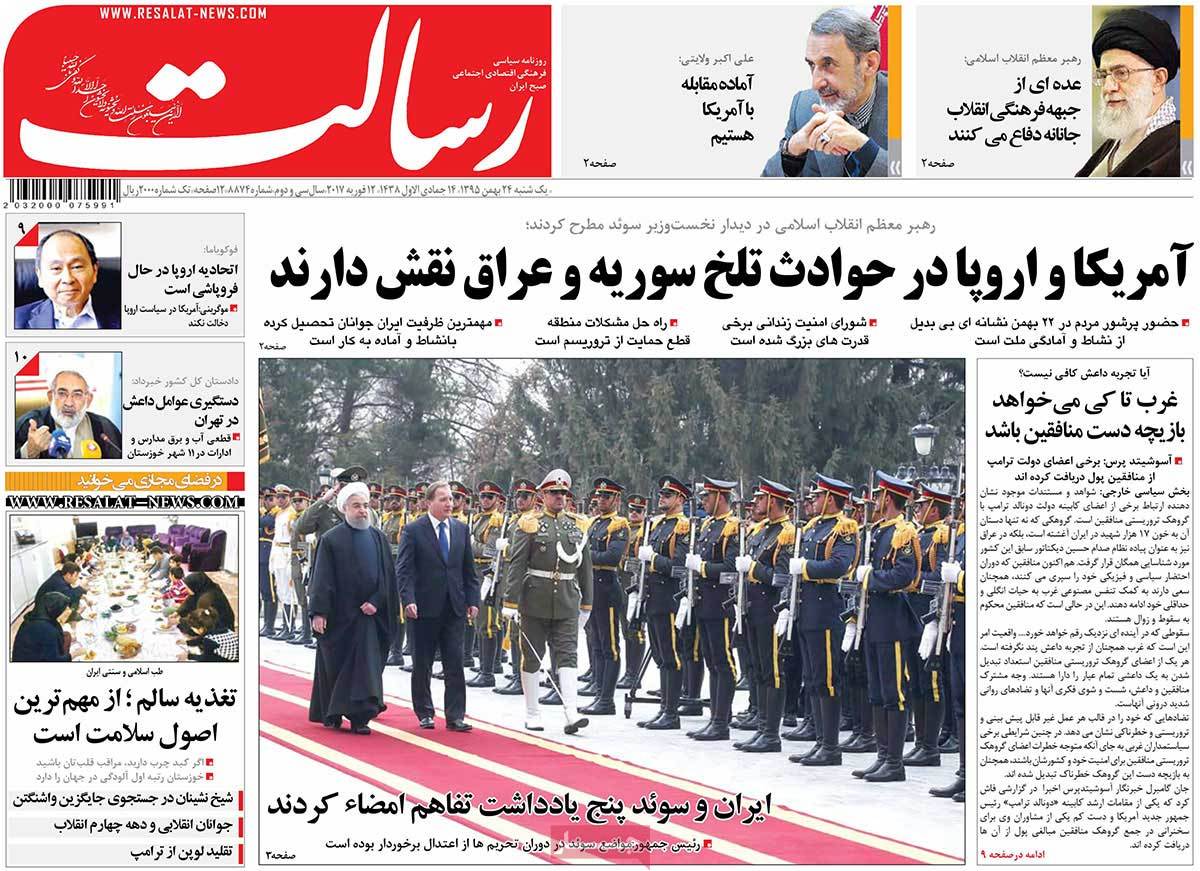 ---
Shahrvand:
1- Fake Witnesses: Professional Teams Outside Iranian Courts Are in Witness Business; If False Testimony Is Proved, Witnesses Can Be Fined and Sentenced to Prison Terms from 3 Months to 2 Years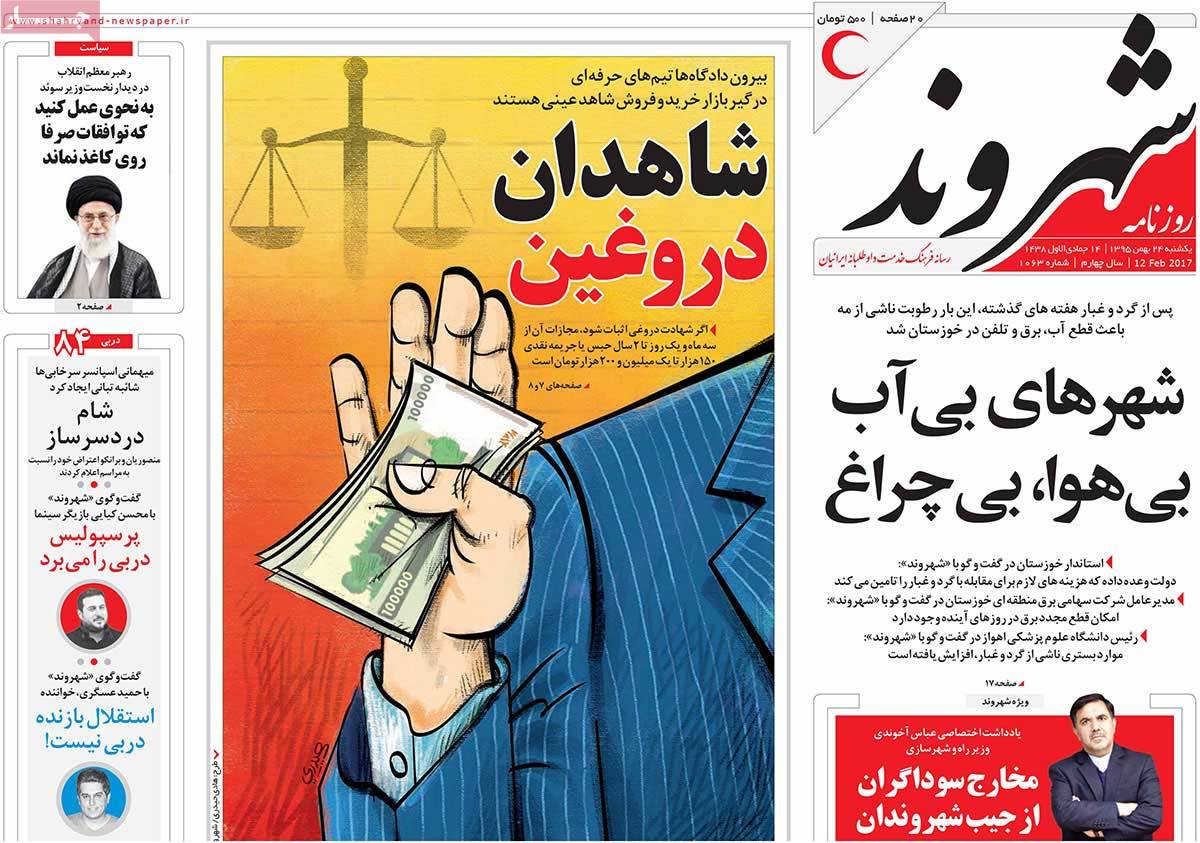 ---
Shargh:
1- Sweden's Priority Is Full Implementation of Nuclear Deal: PM in Meeting with Rouhani
2- Reformist MP Aref: IRIB Has Turned to a Tribune to Attack Reformists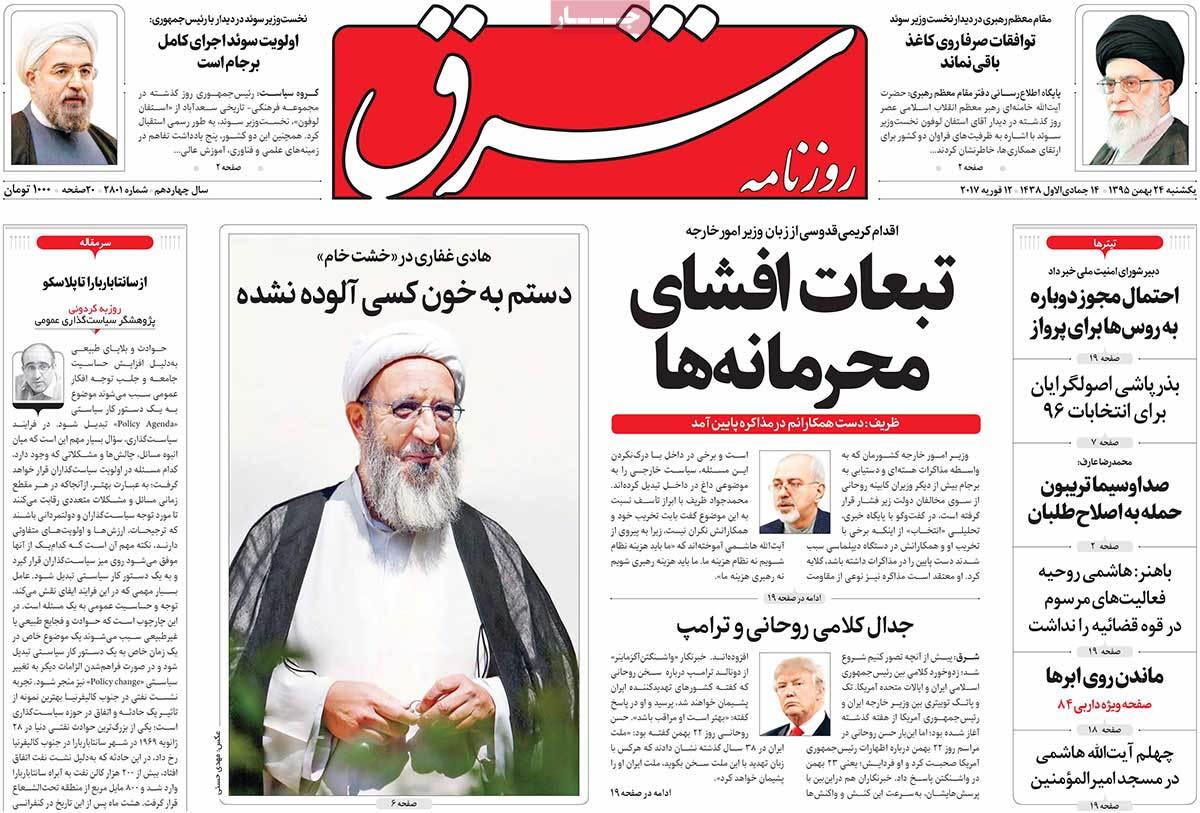 ---
Vatan-e Emrooz:
1- Second Civil War: Gaurdian's Report of Repercussions of Political Deadlock in Washington; Washington Post Discusses Ways to Get Rid of New US President
2- EU's Anti-Iran Sanctions Stricter than Those of US: Mogherini