Abrar:
Threadbare poses against doctors
Parliament Speaker: No whips needed in politics
Clinton supports Palestinians' right to have own country
President stresses continuation of administration's healthcare plan
Chinese banks freeze North Korean accounts: Report
US dismisses N. Korea's call for peace
Italian premier to visit Tehran in spring
UN Warns of Nuclear Material Falling into Terrorist Hands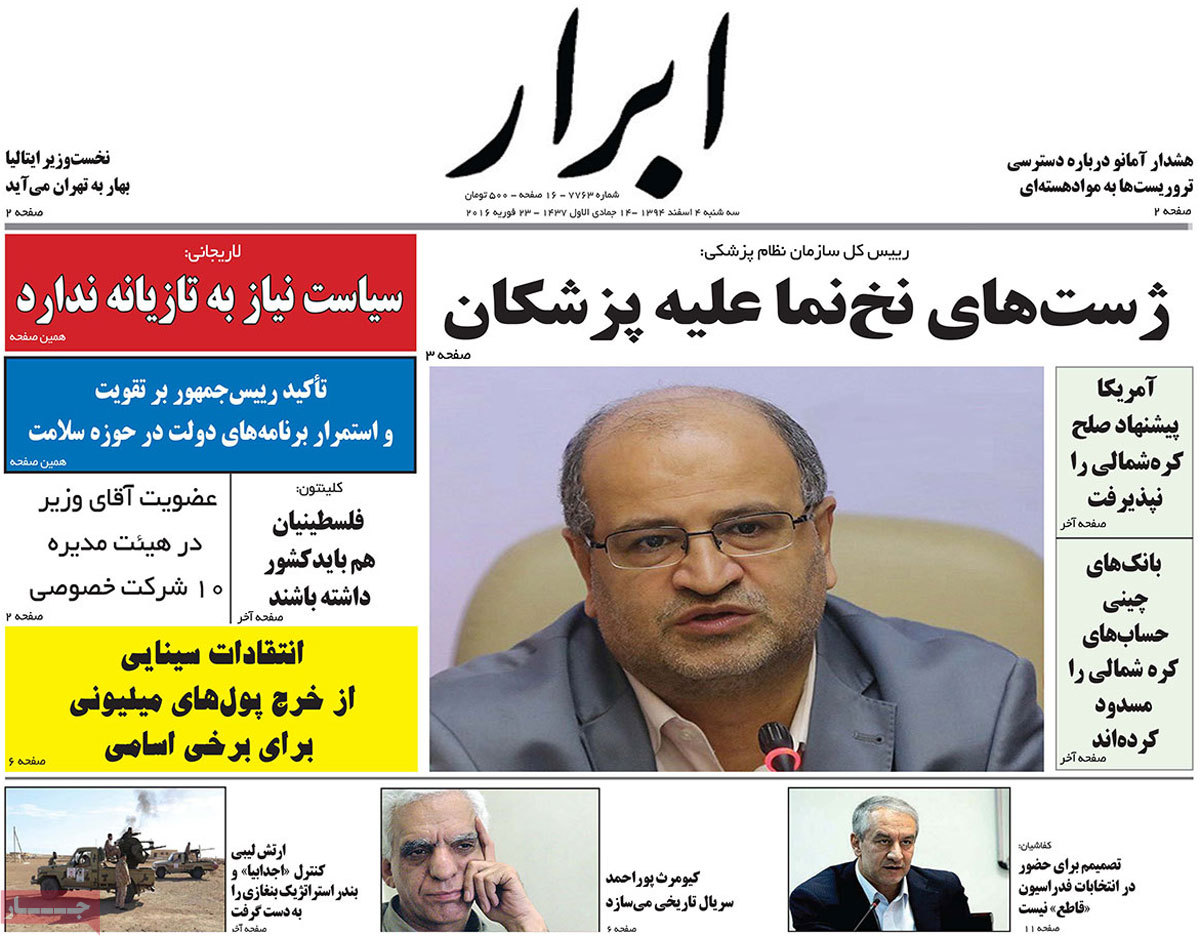 ---
Abrar Eqtesadi:
Spain's first post-sanctions petrochemical finance deal in Iran
200 foreign investors enter Iran's capital market
Iran proposes commencement of German joint oil parts production
---
Afkar:
US dismisses Pyongyang's call for peace
Iran endorses Syrian ceasefire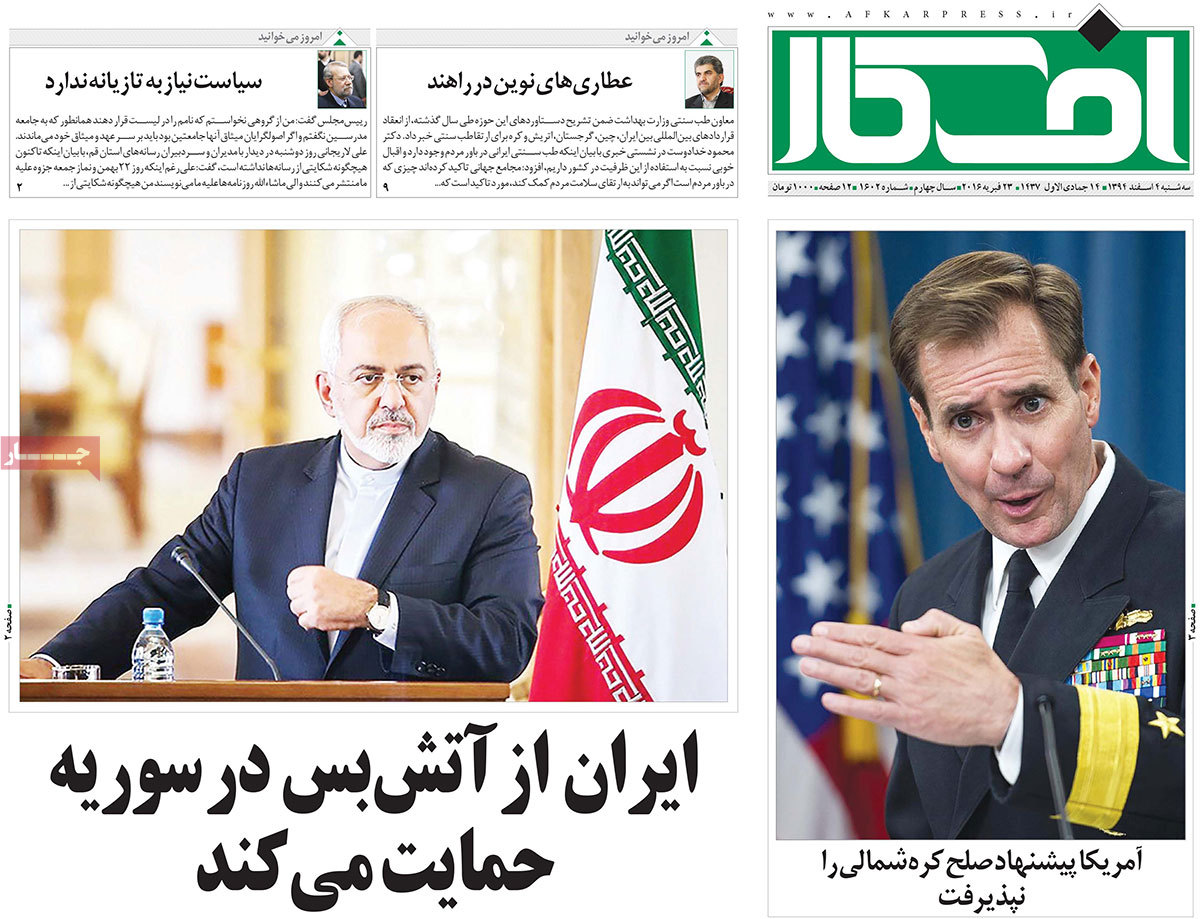 ---
Arman-e Emrouz:
Rafsanjani: Calling lists British is an insult to nation's intelligence
Intelligence Minister: Stop calling others British [agents]
Friday's election is life and death for moderates: Activist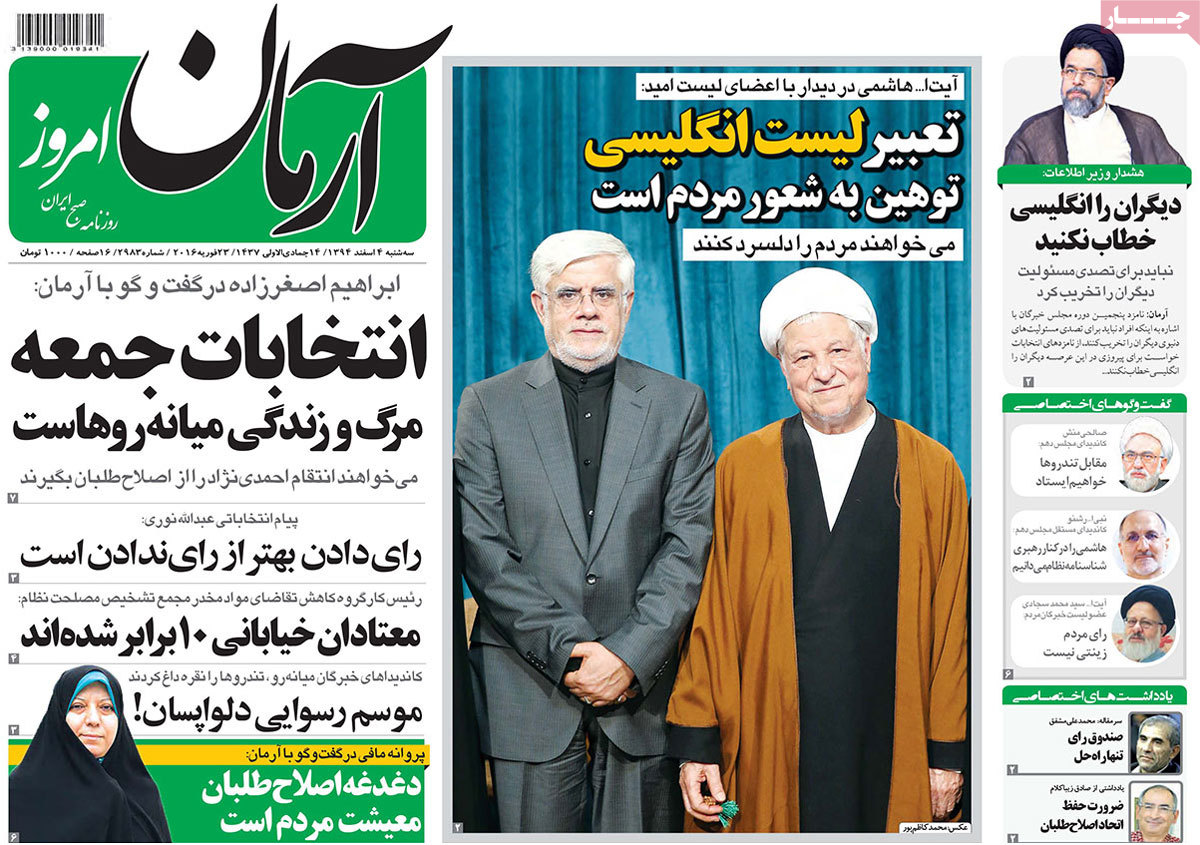 ---
Asrar:
FM voices Iranian support for Syrian truce
UK invites Iran's youth football team
Siemens to unblock equipment for Iran
Spokesman: Adel al-Jubeir's remarks are a joke
---
Asia:
US, UK investors in Tehran stock market
Iranian firms offer stocks in Istanbul market
121 foreign, 311 Iranian expatriate experts heading to Tehran car conference
---
Ebtekar:
Ayatollah praises electoral "List of Hope"
Real and virtual election campaigns
Zarif skewers Saudis in EU parliament
---
Ettela'at:
Turkey says that Riyadh sending ground troops to Syria is unlikely
World's major automotive executives heading to Tehran
Tehran is to host the biggest international car-manufacturing meeting next week.
Clerics urge people to have the highest turnout
FM Zarif: Iran supports any measure to save Syria
BBC: Saudi Coalition, Al-Qaeda fighting Ansarollah in Yemen
Remains of 68 Sacred Defense martyrs return to Iran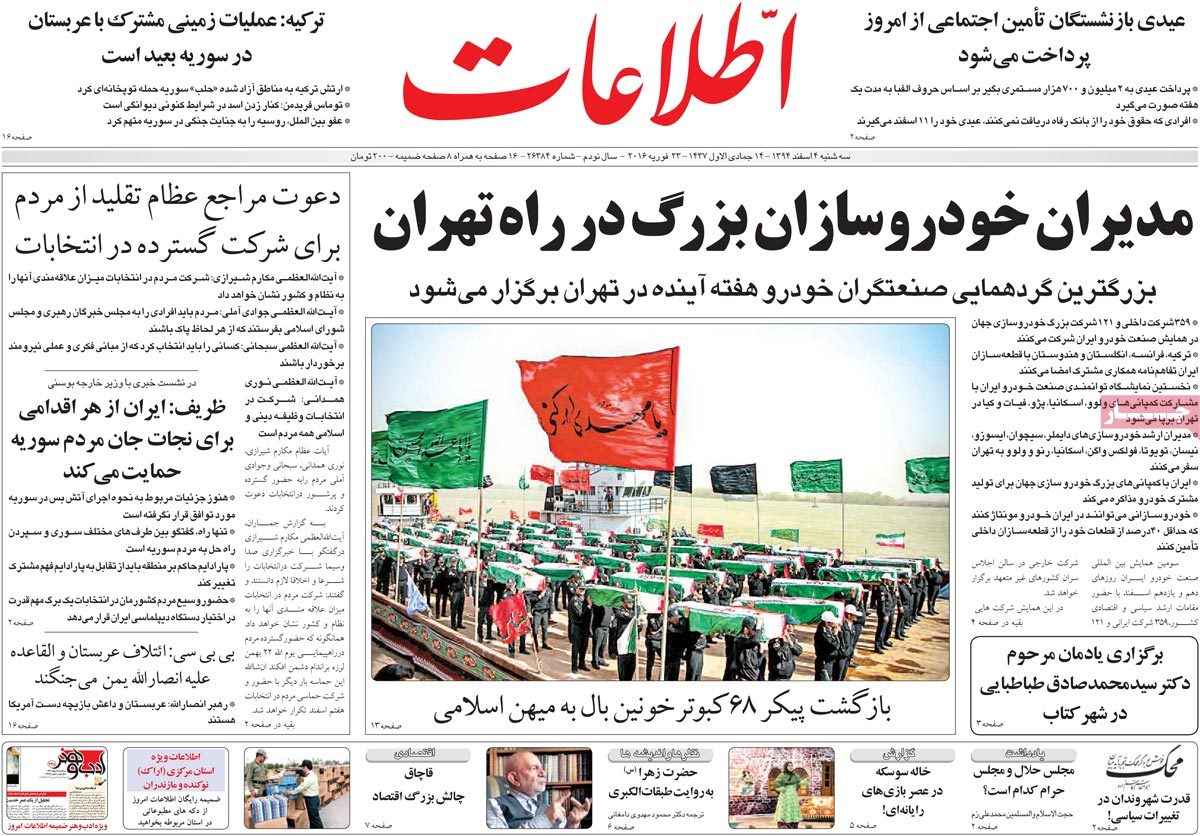 ---
Etemad:
Hashemi endorses "List of hope"
Aref asks nation to vote for 30+16 list
The electoral list is comprised of moderate and reformist candidates for the February 26 elections.
Reformists call on nation for maximum election turnout
"Everybody to the ballot boxes"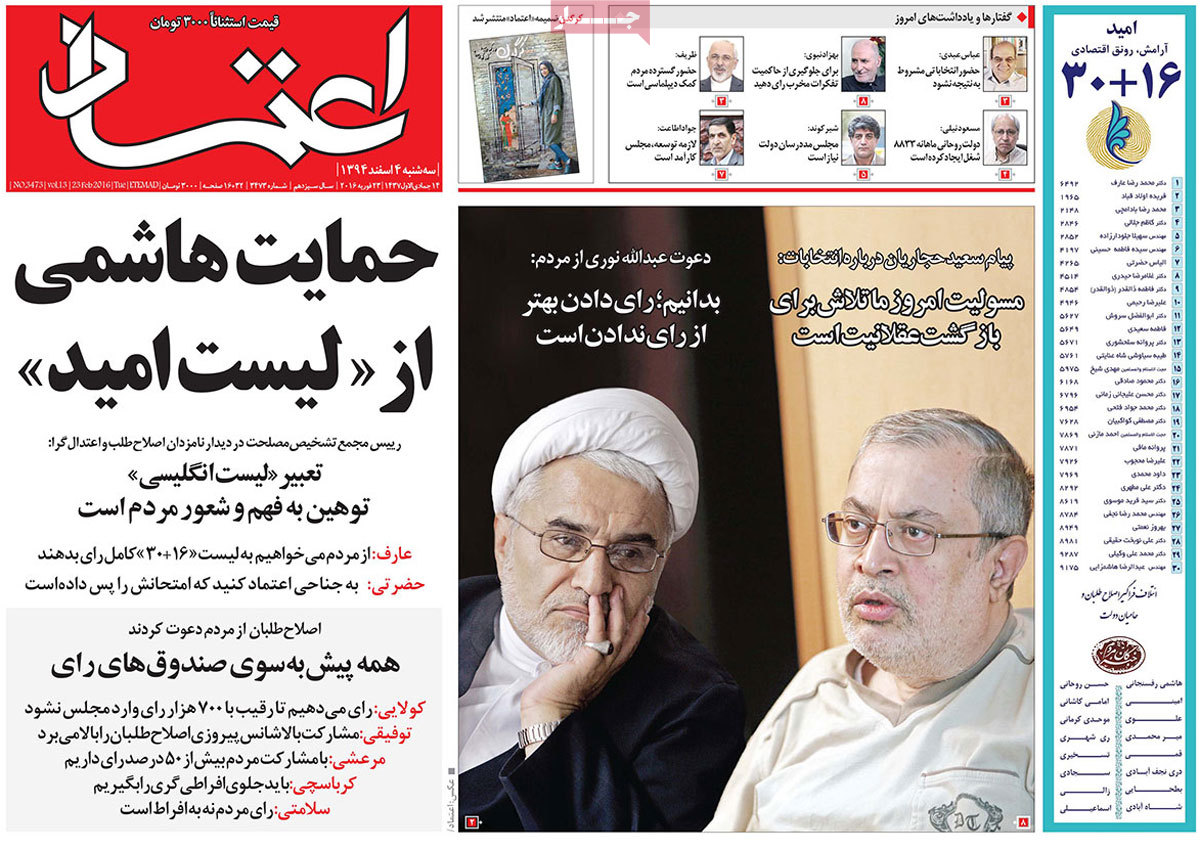 ---
Emtiaz:
Tehran air still polluted; dust keeps blanketing Tehran
36,000 kids back to school
EU, US firms line up to partner with Iran petrochemical projects
Iran railway transit up 123%
---
Iran:
Presidential Advisor forbids candidates from distorting economic facts in election campaigns
Iranian artists sign off on elections
Iran, Siemens restore oil ties
FM: High election turnout safeguards diplomatic victories
---
Payam Zaman:
Swift and LCs yet to open for Iranian banks
German car-makers heading to Iran
Iran crude oil refinery in Romania
Iran shows strength in Asian Champions League
Chief of Staff calls on candidates to adopt strategic approaches
---
Jomhouri Islami:
Sheikh Al-Azhar: Shiites, Sunnis wings of Islam
Turkey retreats from sending ground troops to Syria
Iran's internal issues no business of foreigners: Spokesman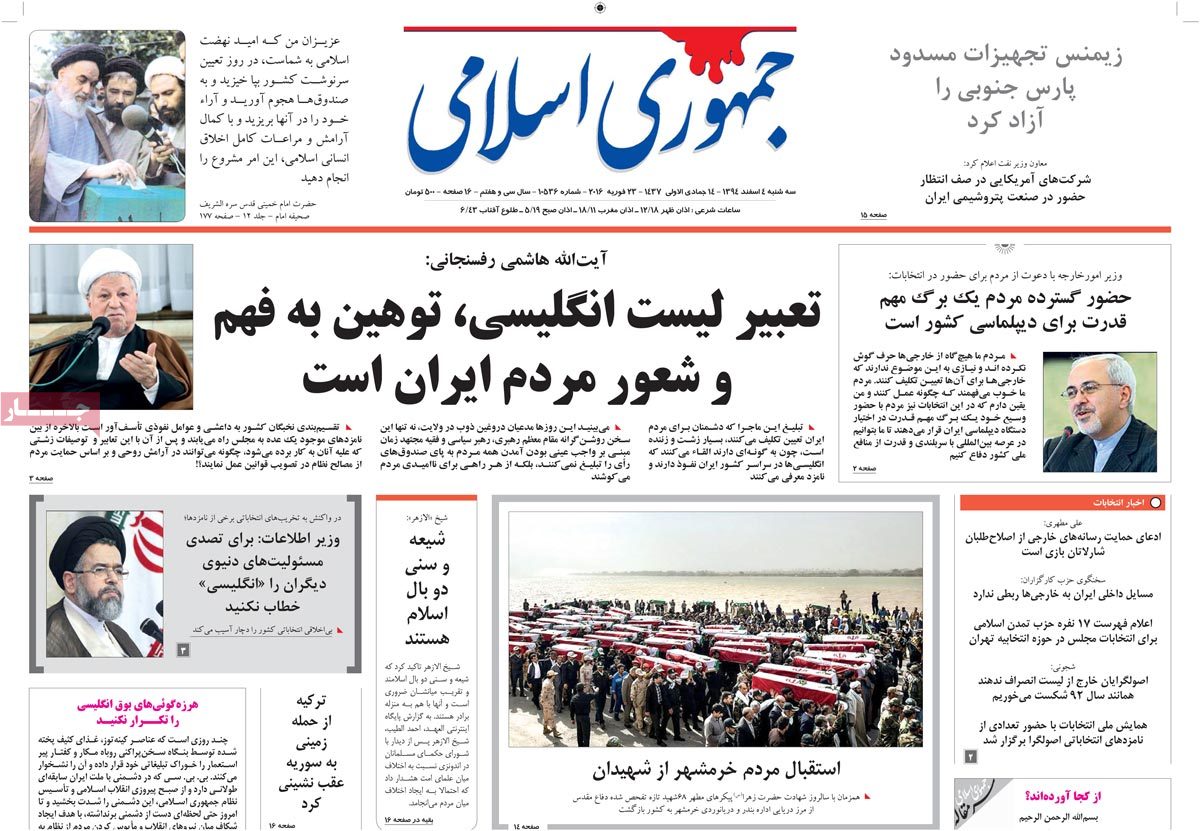 ---
Javan:
US, Russia truce initiative on the table for Iran
Campaigns become 3D
Principalists, reformists and Ali Motahhari's lists make the election campaigns three-dimensional in Iran.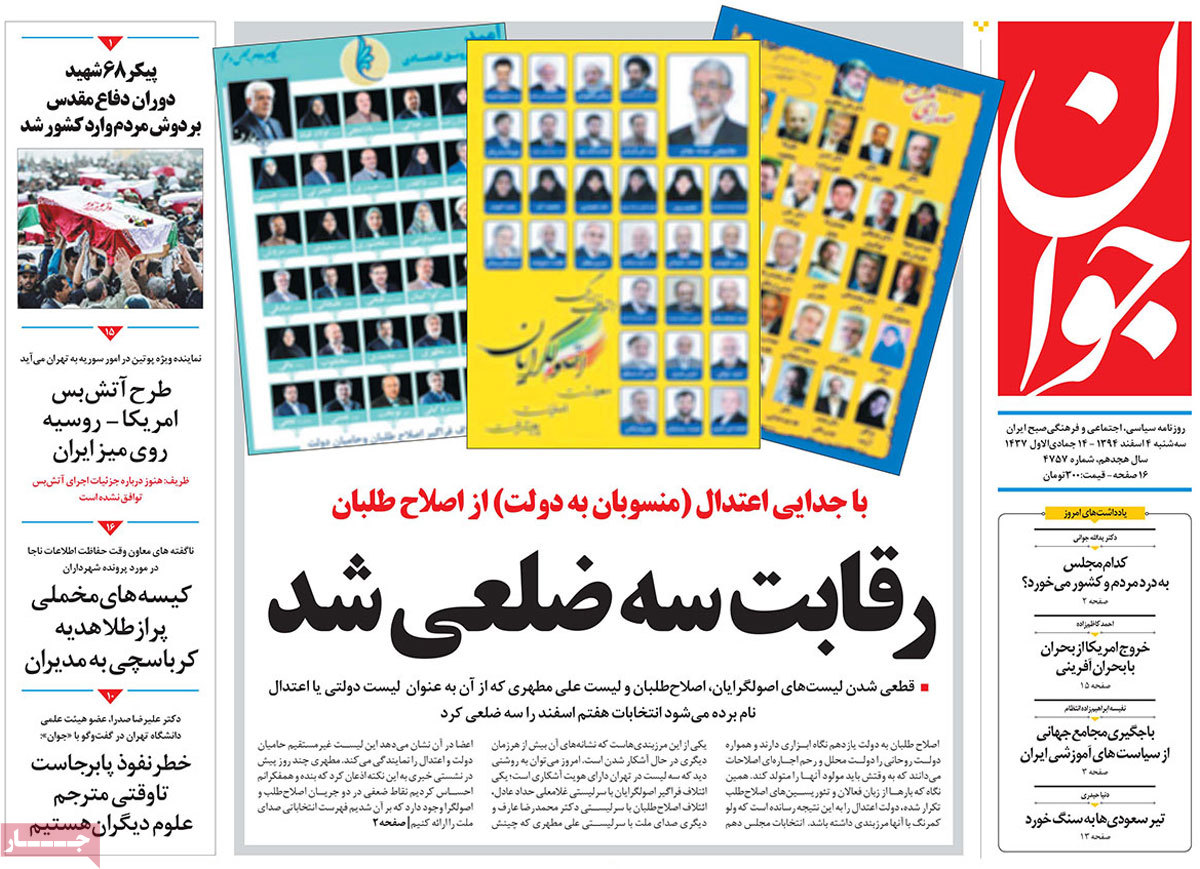 ---
Rah-e Mardom:
Remembering the capture of Abdolmalek Rigi
Leader's view about the top candidates
IRR200m virtual casinos [in Iran]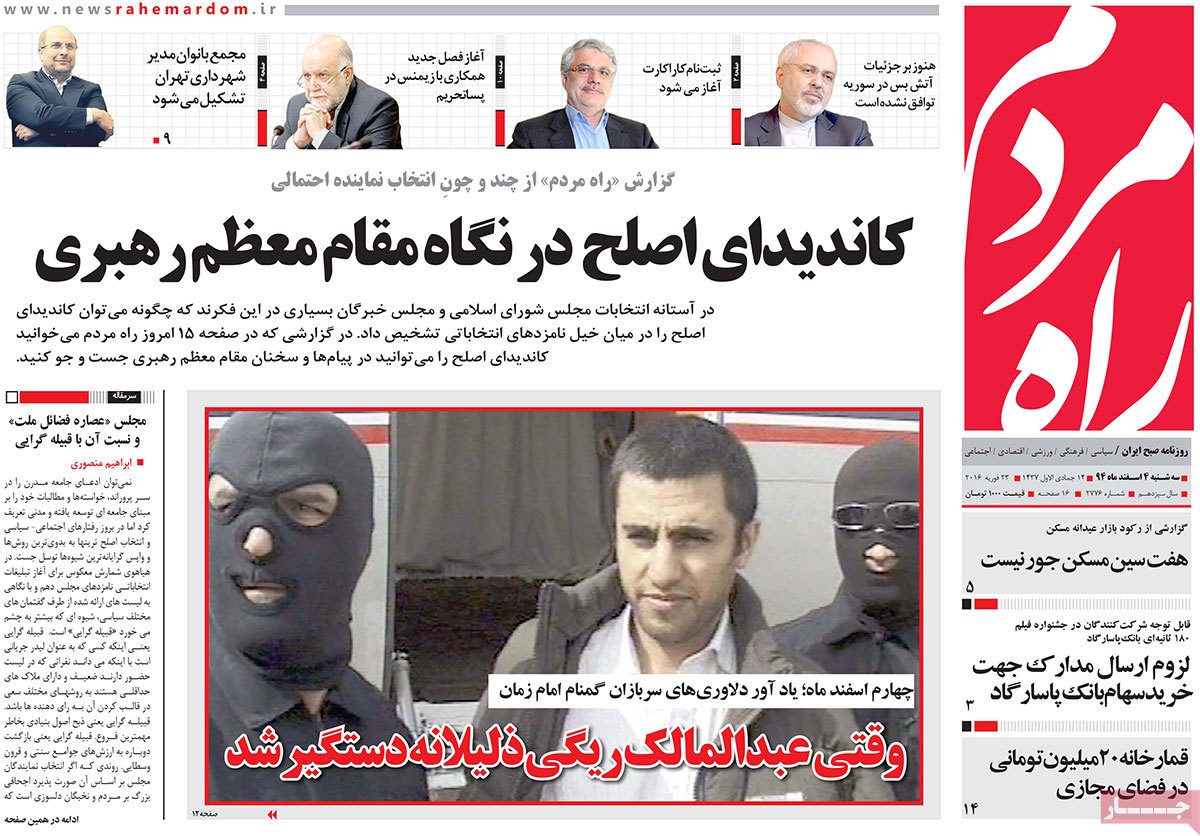 ---
Resalat:
Views of 8 candidates about major principalist coalition
UN silence regarding Zeynabiyeh, Homs blasts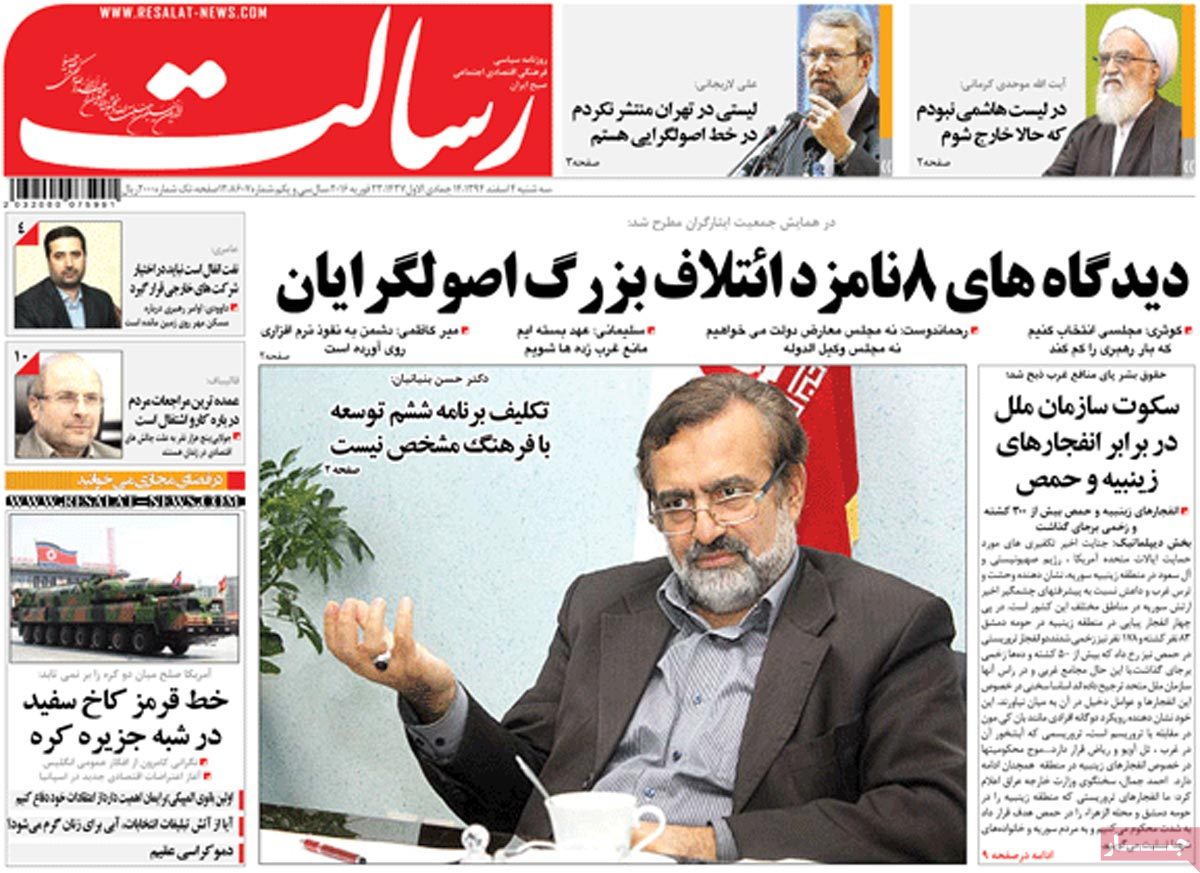 ---
Rooyesh Mellat:
Spokesman calls on Riyadh to stop meddling with general consensus
---
Keyhan:
Syrian army frees 31 villages in eastern Aleppo
11 million workers still waiting for realization of promises after 2½ years
Traces of dirty money in reformists' election campaigns
The life of the people missing from government supporters' electoral lists
New York Post: Obama hopes Hashemi, Rouhani lists win in elections