The United Nations Security Council Resolution against the Zionist regime of Israel and the reactions to the historic Resolution remained a top story today.
Newspapers also continued covering the reactions to Iranian Foreign Minister Mohammad Javad Zarif's remarks in a closed session in Parliament, which were disclosed by a conservative MP.
The crash of a Russian plane carrying 92 passengers, as well as the Christmas and the advent of new Christian year, also received great coverage today.
The above issues, as well as many more, are highlighted in the following headlines:
Abrar:
1- Philippines President: I'll Burn Down the UN
2- Head of Iranian Judiciary's Human Rights Office: Death Penalty Will Remain in Place for Drug Smugglers
3- Russian Plane Crashes en Route to Syria with 91 on Board
4- We'll Never Let a New Government Be Formed in Northern Syria: Erdogan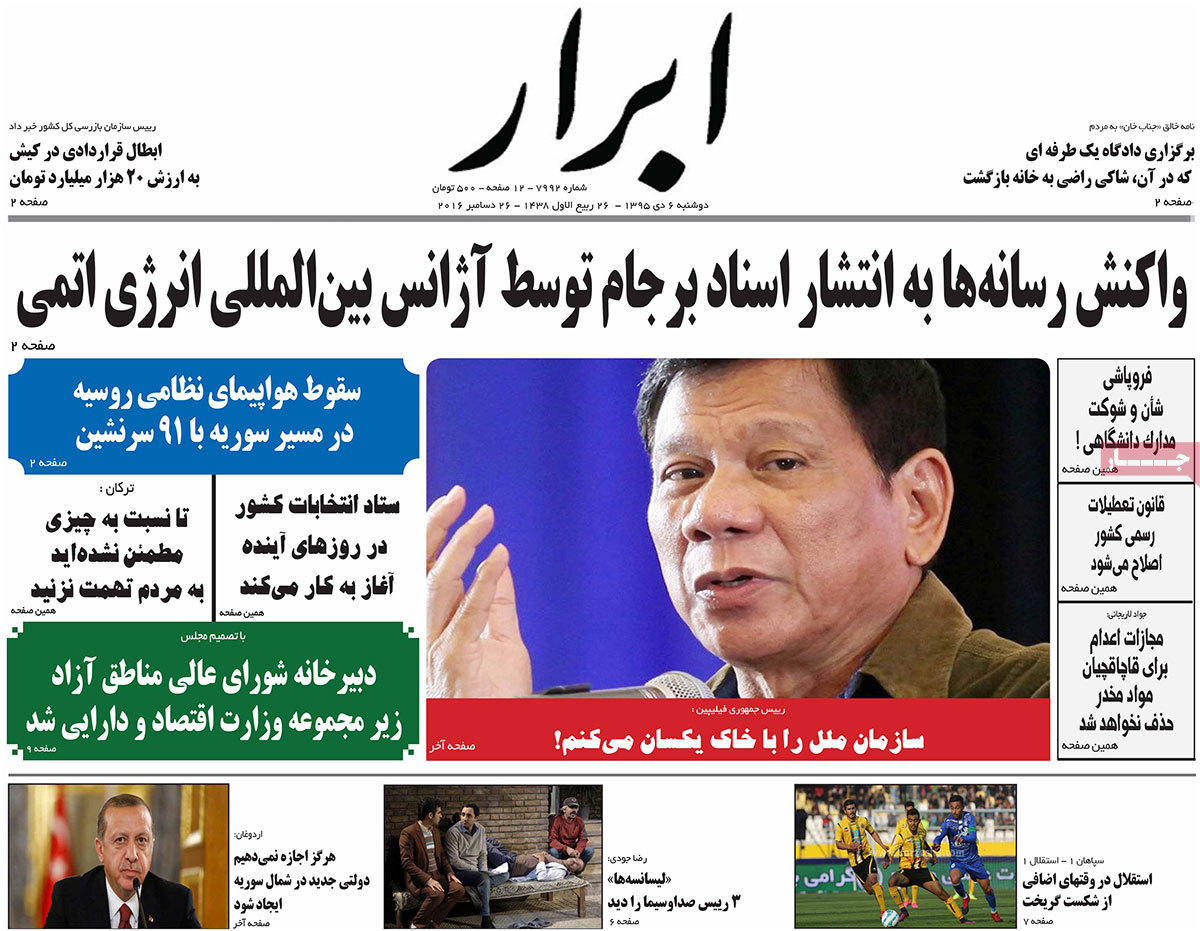 ---
Abrar-e Eqtesadi:
1- China Trying to Accompany Shell and Total in Iran's Energy Market
2- Iran's 0.3% Share of World Trade
---
Aftab-e Yazd:
1- Larijani Defends Foreign Minister Zarif: Conflict in Parliament over Disclosure of FM's Classified Remarks
2- Chinese People Renting Luxury Houses in Tehran!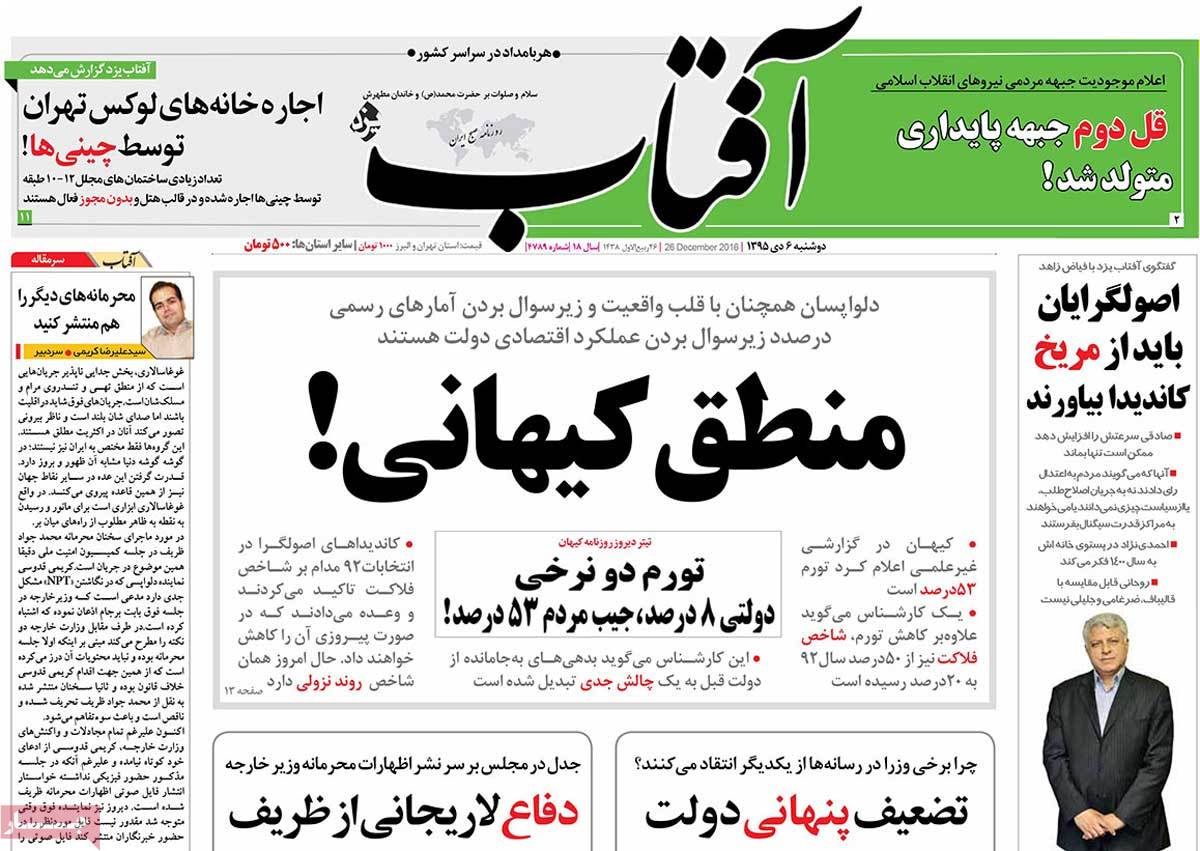 ---
Arman-e Emrooz:
1- Politician Says Why Rouhani Became Reluctant to Run for Presidential Elections
2- Trump Is an Opportunity for Iran: Analyst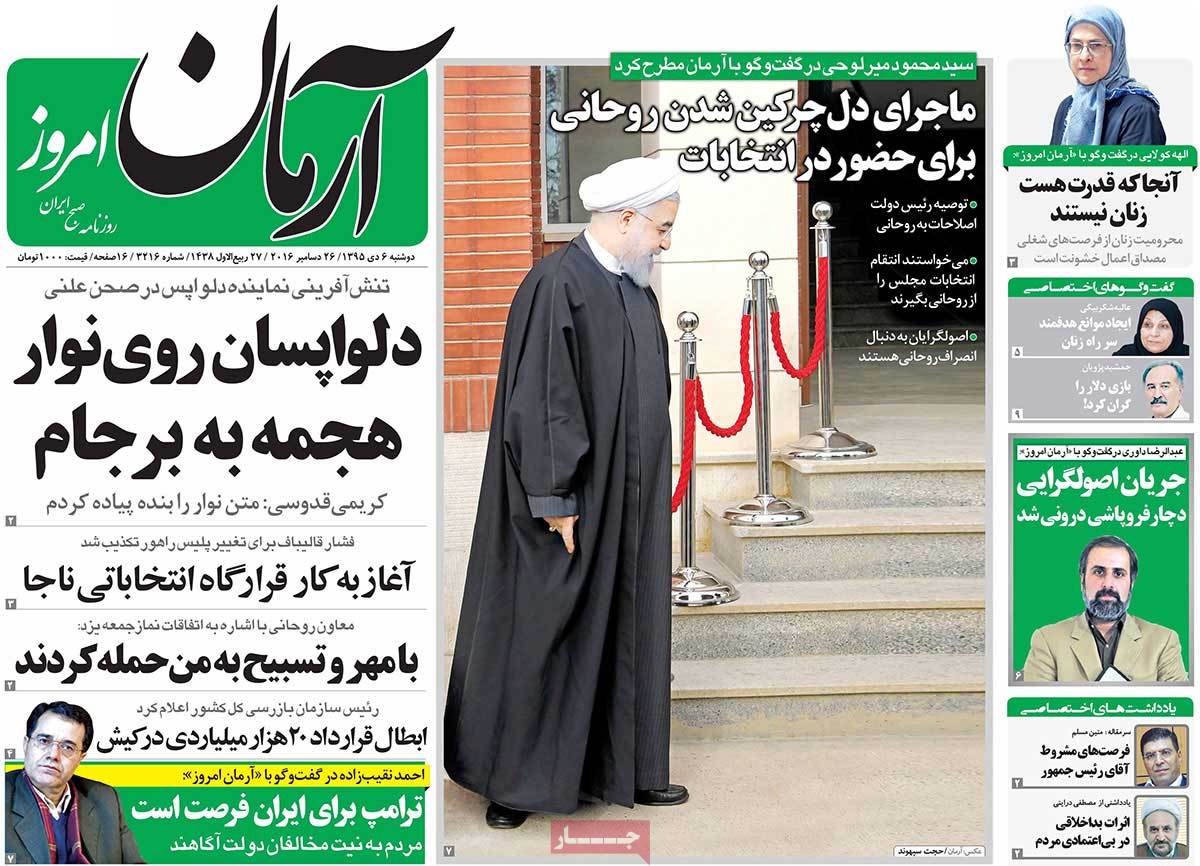 ---
Asrar:
1- MP: Zarif's Remarks Have Been Distorted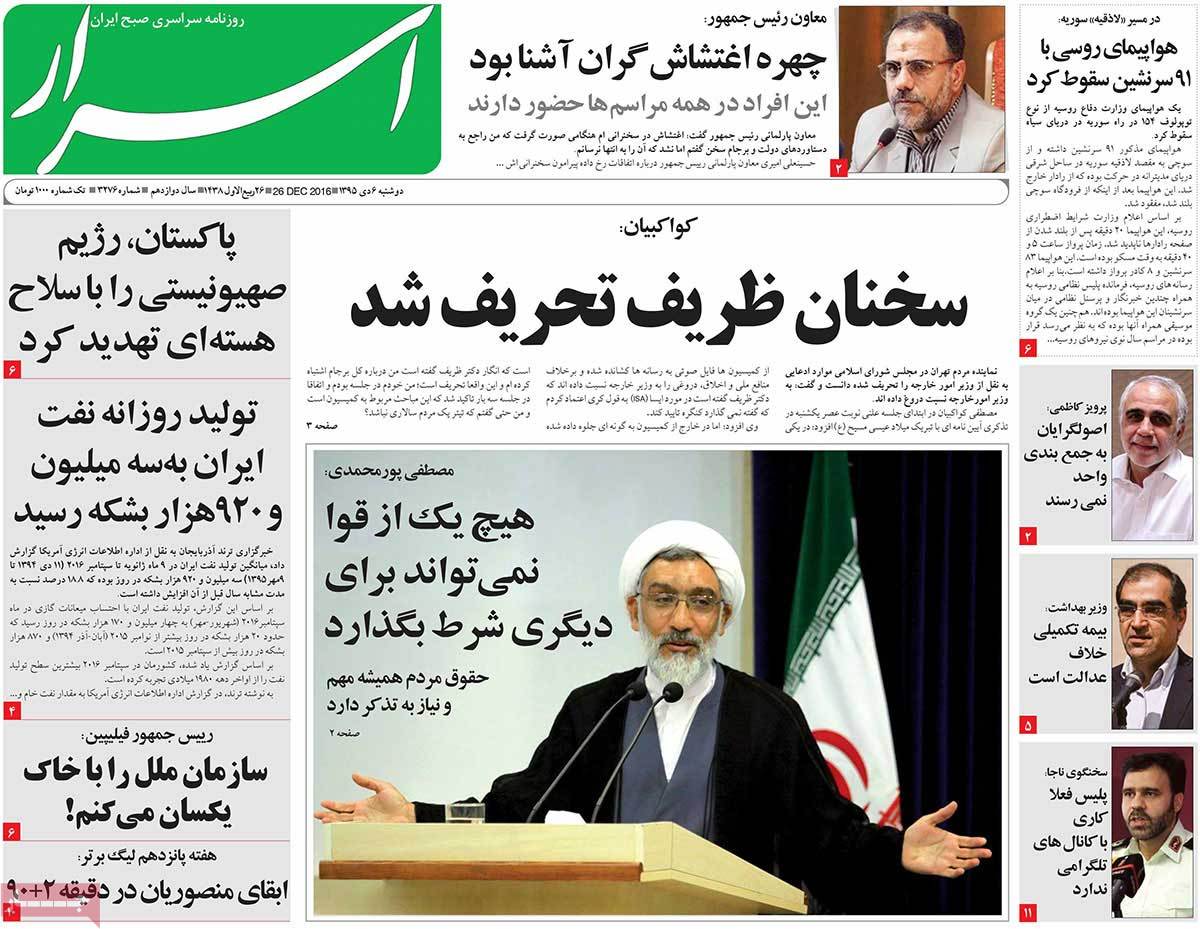 ---
Besharat-e Now:
1- Christmas in Iran Is Not Just for Armenians: Increased Purchase of Christmas Trees in Iran Shows Some Kind of Imitation or an Interest in Diversity?
2- Zarif's Silence Unfairly Raise Questions about Impacts of JCPOA: Academic
---
Ebtekar:
1- Health Minister: Kiarostami's Death Could Have Been Prevented
2- Why Car Makers Did Not Come to Iran's Market? Monopolistic Policies Scaring Away Foreign Car Manufacturers from Iran's Car Market
---
Etemad:
1- Economist: 4 Immediate Crises in Iran's Economy
2- Red Army's Chorus Didn't Make It to Latakia: Russian Plane Crashes
3- Former Iranian Official: Next US Administration Is an Opportunity for Iran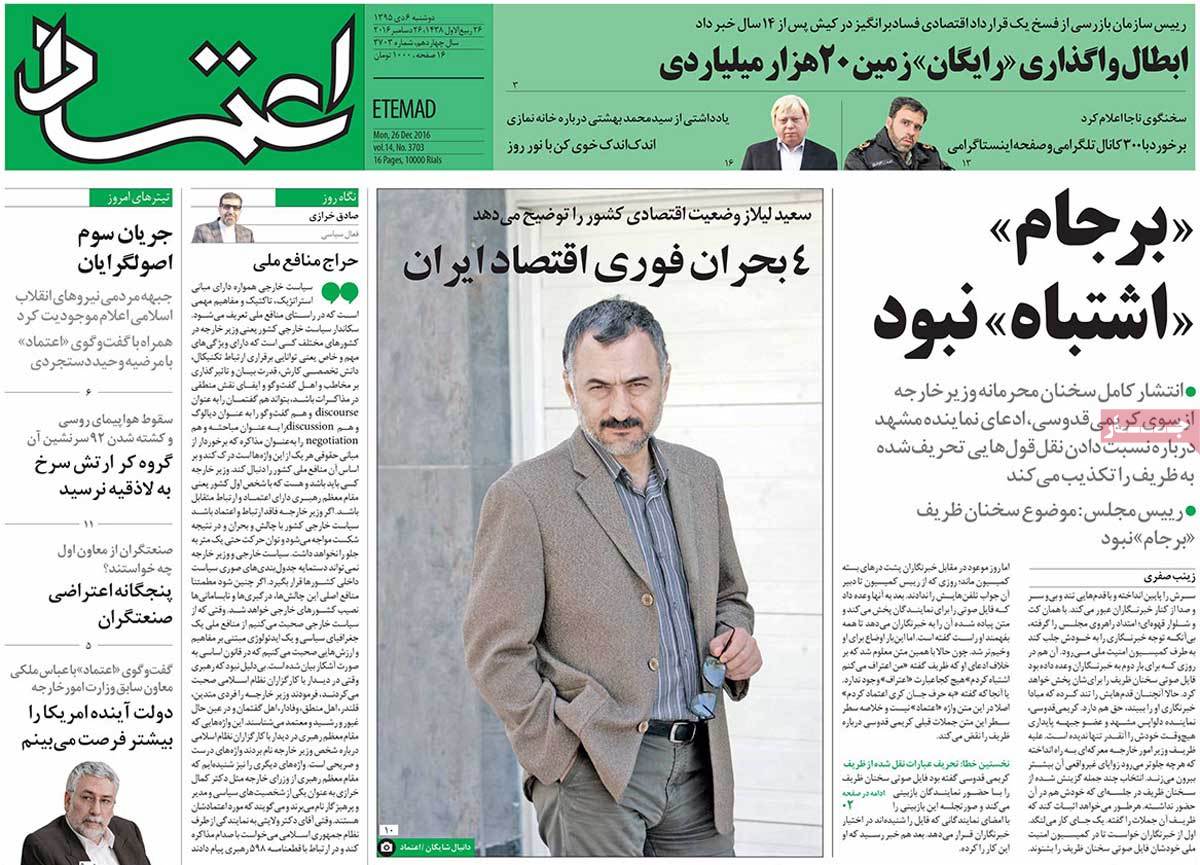 ---
Ettela'at:
1- Parliament Appreciates Rouhani for Developing Charter on Citizens' Rights
2- Rouhani and Putin Call for Continued Political Negotiations to End Syrian Crisis
3- Europe Preparing for New Year While Afraid of Terrorist Attacks
4- Black Day of ISIS in Iraq: Popular Forces Kill 300 Terrorists
5- 90 Saudi Hirelings Killed in Yemeni Forces' Attack on East of Sana'a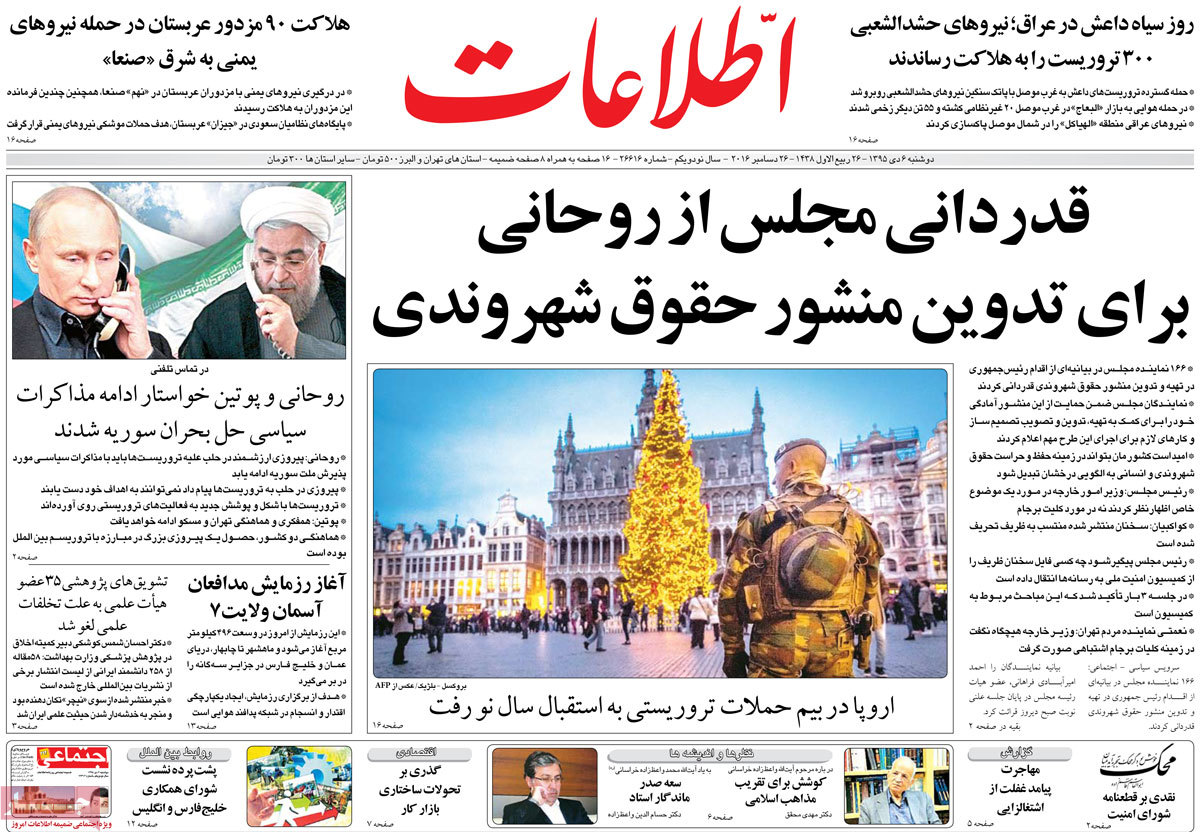 ---
Hemayat:
1- Lieutenant Commander of IRGC: Iran's Missile Power Is Now Global
2- Netanyahu's Hasty Reaction to UNSC Resolution
---
Iran:
1- Parliament Ready to Pass into Law the Charter on Citizens' Rights
2- Fog and Rain in Tehran: Citizens Experienced a Different Day
3- Parliament Speaker: Zarif's Remarks in Parliament's National Security and Foreign Policy Commission Were Not about JCPOA
4- Symphony of Death in the Red Army: 91 Passengers of Russian Plane Lose Their Lives
---
Javan:
1- Proof of Zarif's Mistake: Text of FM's Remarks in Parliament's NSFP Commission Released
2- Tel Aviv Ignores UNSC by Declaring Construction of 5,600 New Settlements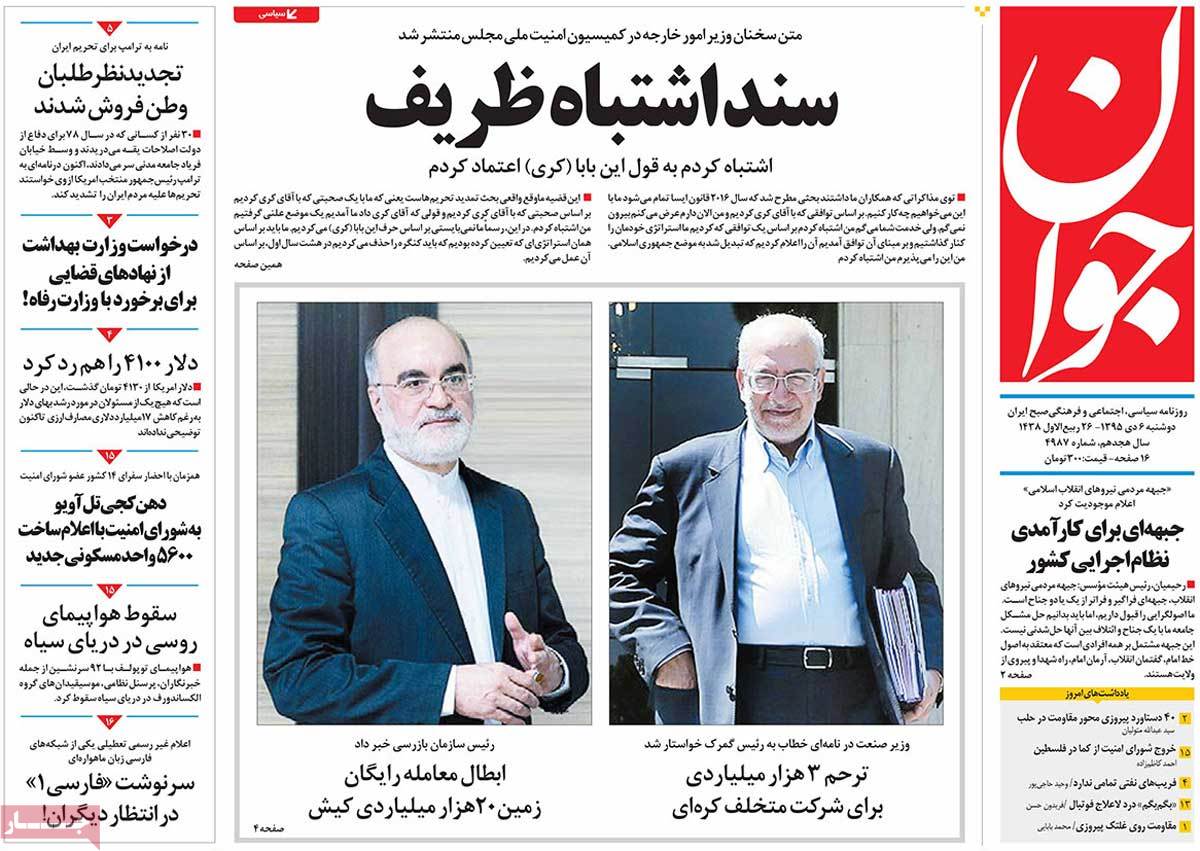 ---
Jomhouri Eslami:
1- Increased Domestic Conflicts in Israel after Ratification of UNSC Resolution
2- Rouhani in Phone Conversation with Russian President: Valuable Victory in Aleppo in Fight against Terrorists Should Continue with Political Talks Accepted by Syrian Nation
3- Pakistani Defence Minister: Israelis Should Know that Pakistan Has Nuclear Weapons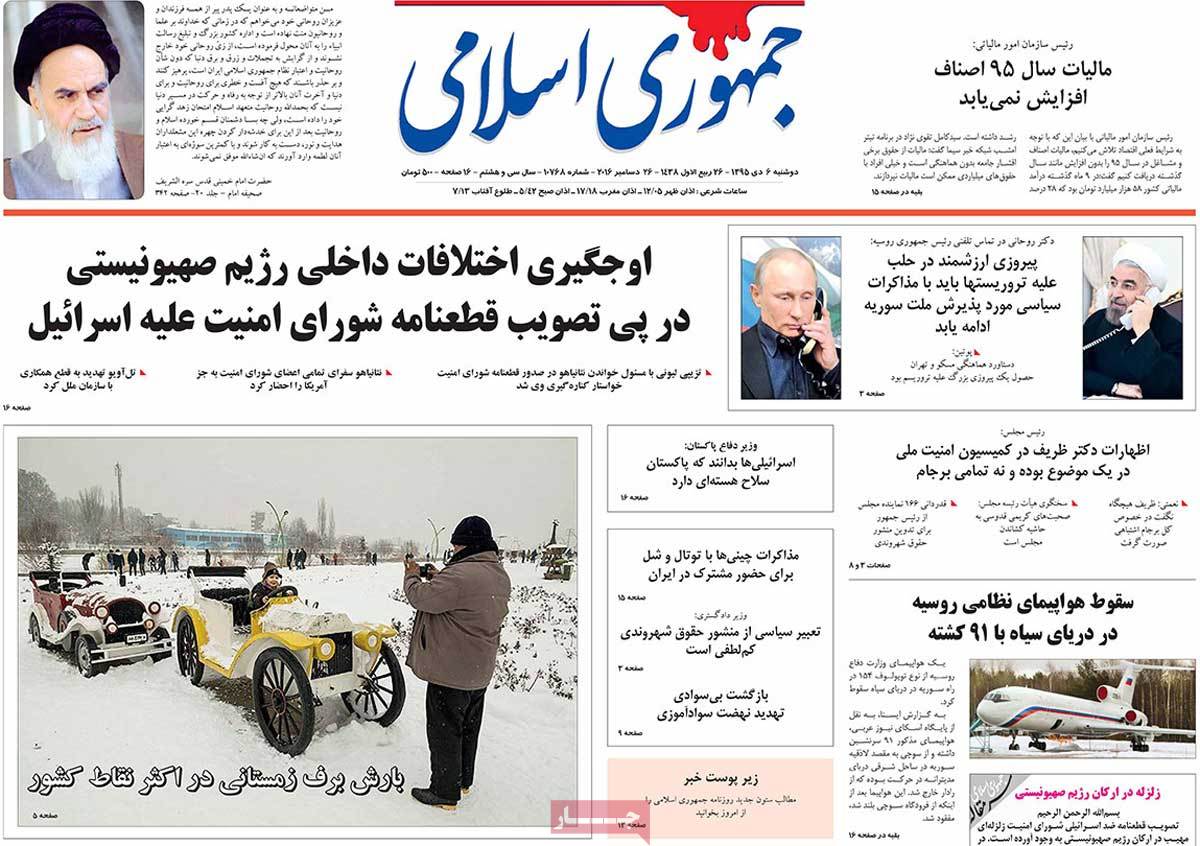 ---
Kayhan:
1- Minister of Trade Shows Generosity with People's Money: Nematzadeh Calls for Annulment of Korean Company's $750 Million Fine
2- Yemeni Ansarullah's Heavy Blow to Al Saud in Sana'a
3- Israel's Largest Refinery Burned in Fire
---
Khorasan:
1- Record High Dollar Rate in Iran; Deputy Economy Minister: Rise of Dollar Rate Doesn't Mean Iran's Money Has Lost Its Value
---
Mardom Salari:
1- Iran, Safest Place in Middle East for Christians: Christmas, a Season for Kindness instead of Hatred
2- Tel Aviv Gets Emotional Divorce from West: Netanyahu Summons Ambassadors of UNSC Members States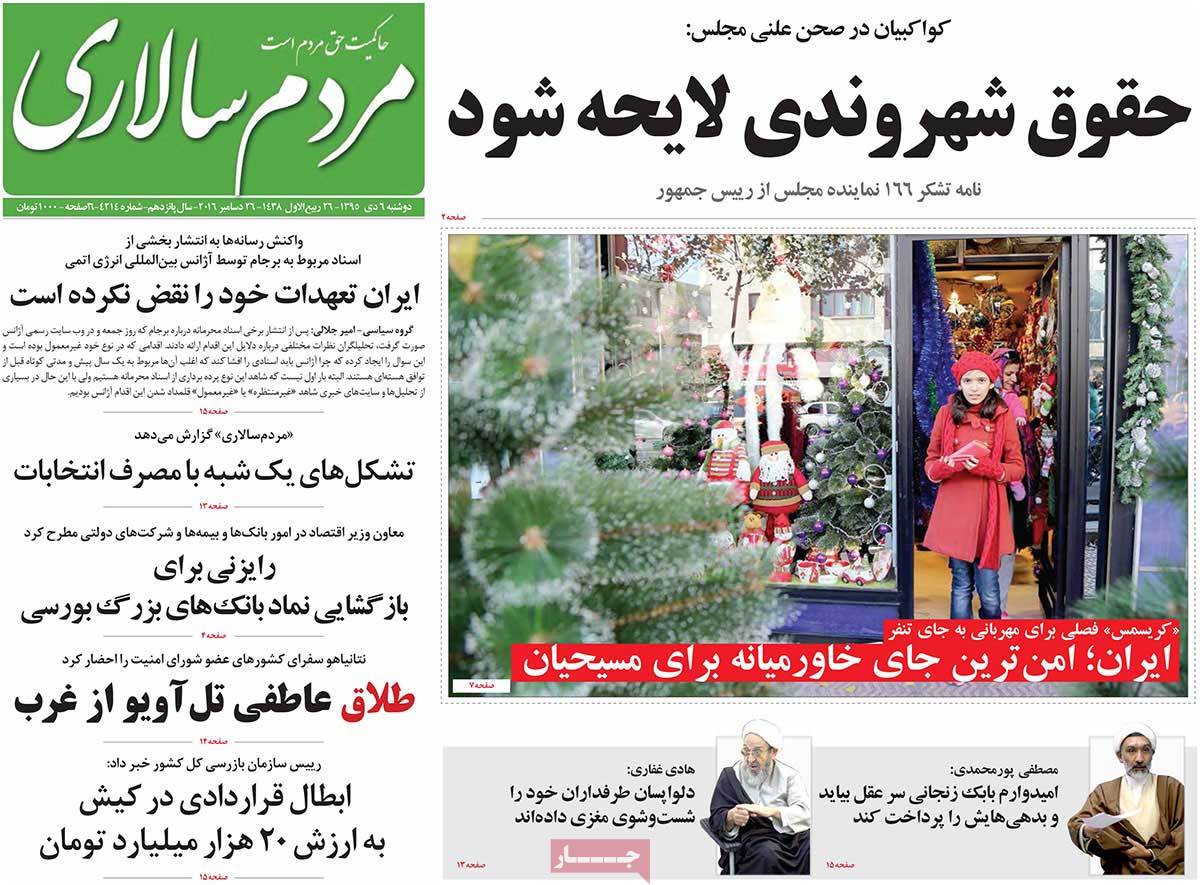 ---
Payam-e Zaman:
1- IRGC General Salami: JCPOA Was Formed in Path of Iranian Nation's Fight against US
2- Iran's Foreign Trade Exceeds $63 Billion
3- Warning against Spread of Laryngeal and Tongue Cancers in Iran
---
Rooyesh-e Mellat:
1- Huge Explosion in Saudi Arms Depot
2- Iran Ranks Fourth in World Kidney Transplant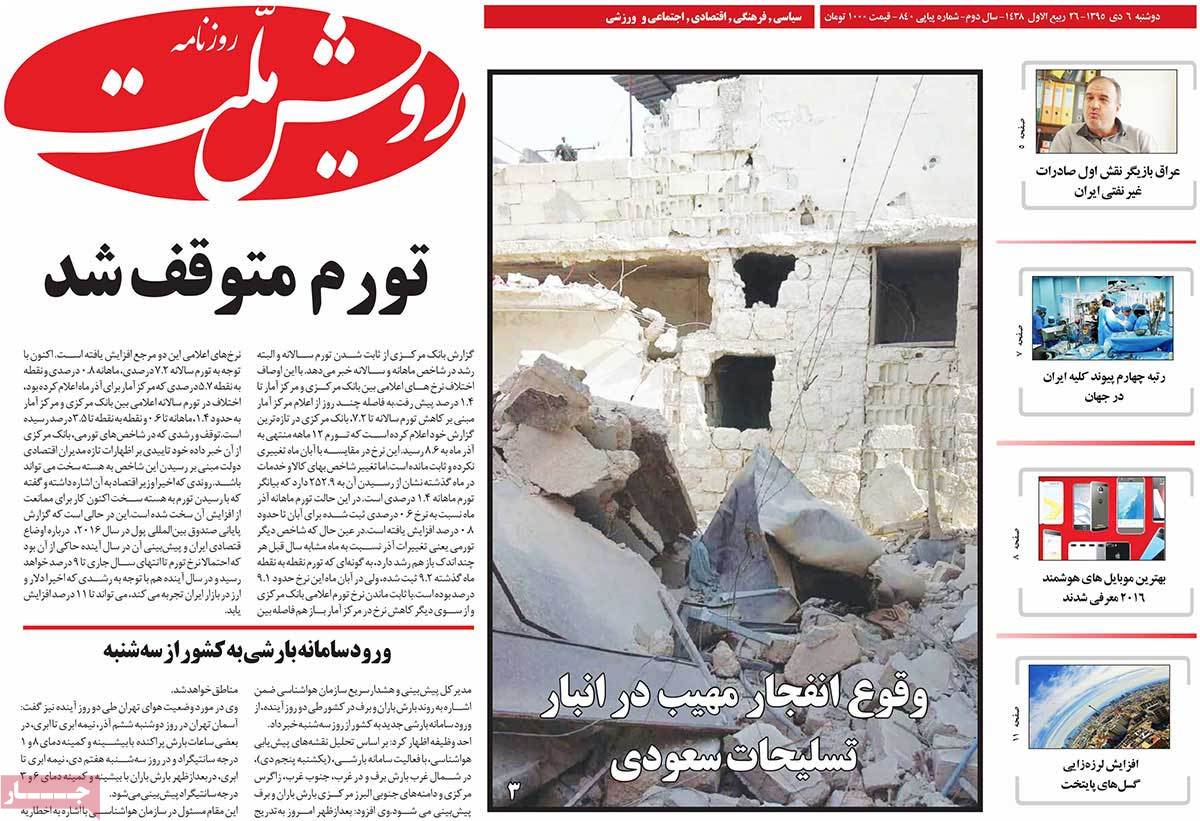 ---
Shargh:
1- Taking Zarif as Hostage: Public Pressure on FM over His Remarks in a Closed Session
2- Reformists against Sanctions: Letter to Trump for Violation of JCPOA Receives Negative Reactions by Political Activists
---
Ta'adol:
1- Free Zones to Be Given to Economy Minister
2- Decreasing Trend of Inflation Stopped
3- Trade Minister Calls for Annulment of $750m Fine on Import of Home Appliances Parts: Industry and Customs Organization against Each Other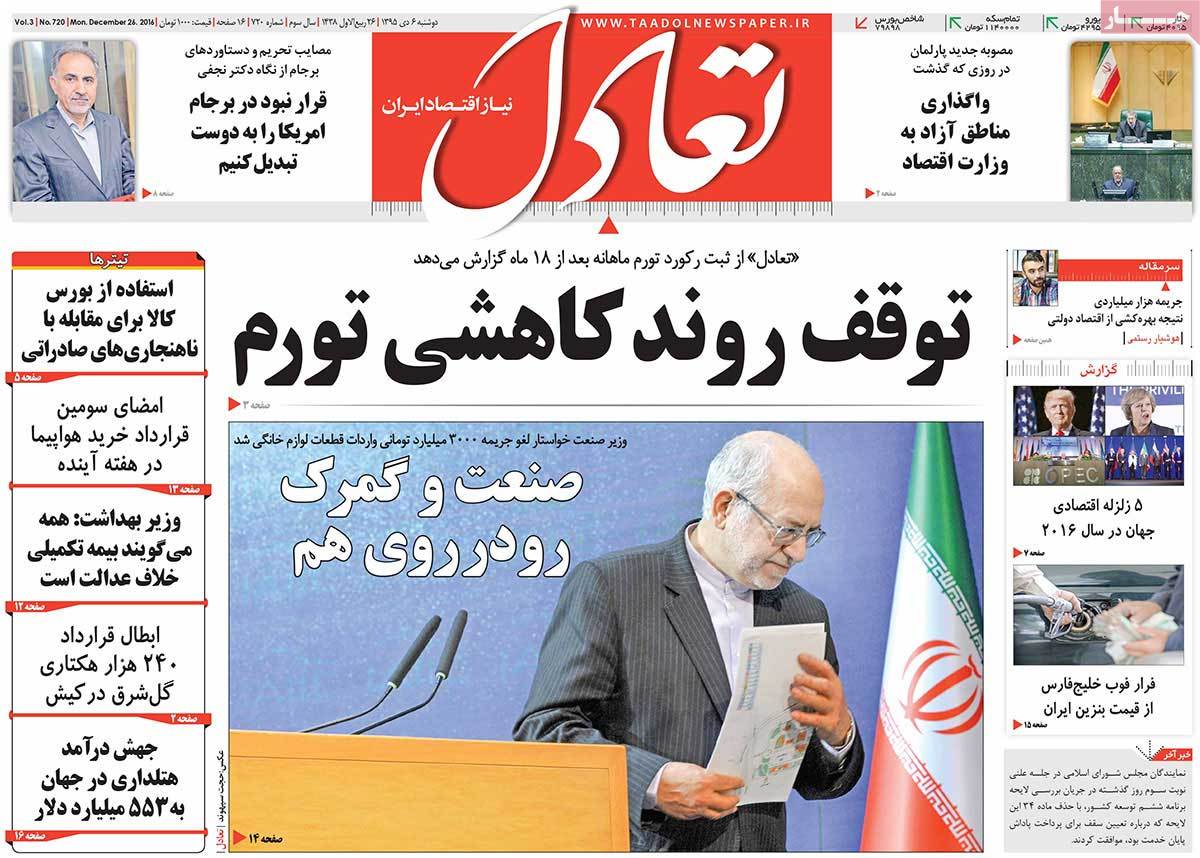 ---
Vaghaye Ettefaghieh:
1- Fear of Trump or Agreement for Transparency? Iran and P5+1 Release Secret JCPOA Documents
2- Fluctuations of Dollar Rate
3- A Resolution that Angered Israel: Confessing to Half a Century of Lying
4- Tribal Girl Who Became Champion of Iran's Kickboxing