The top story in all papers today was President Hassan Rouhani's speech at the Parliament, during which he responded to five questions raised by the lawmakers about the country's economic woes.
The parliamentarians, however, were not convinced by his answers to four of their five questions, which focused on increased unemployment rate, the growing foreign currency rates, the smuggling of goods into the country, and the ongoing economic downturn. They were just relatively convinced on the banking sanctions on the Islamic Republic.
Reformist papers criticized Rouhani for not speaking out against what they call elements disrupting the government's performance. Conservative papers, for their part, welcomed the Parliament's nay vote to Rouhani's responses, and urged him to improve his administration's performance.
Several papers also covered the military deployment of Russia and Syria ahead of an alleged plan by the US and its allies to attack Damascus.
The above issues, as well as many more, are highlighted in the following headlines and top stories:
Aftab-e Yazd:
1- Victim of Expediency
Rouhani's Conservative Stance Failed to Convince Either Parliament or People
2- Court Session Held for 19 People Involved in Disrupting Forex Market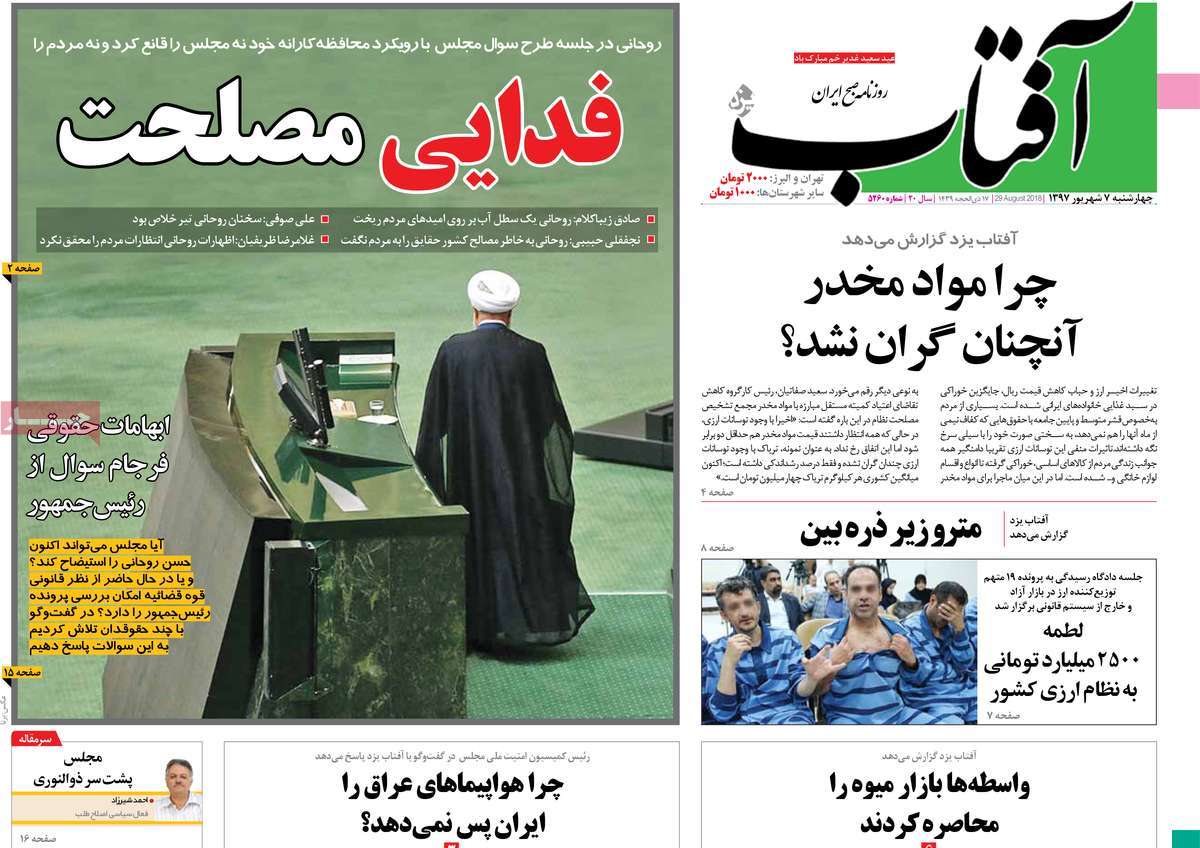 ---
Ebtekar:
1- Hassan Didn't Speak Out
Rouhani: I Hope I'll Be Able to Heed All Advice Given by Leader on This Session
2- Trump Emboldened after Late December 2017 Events in Iran: Rouhani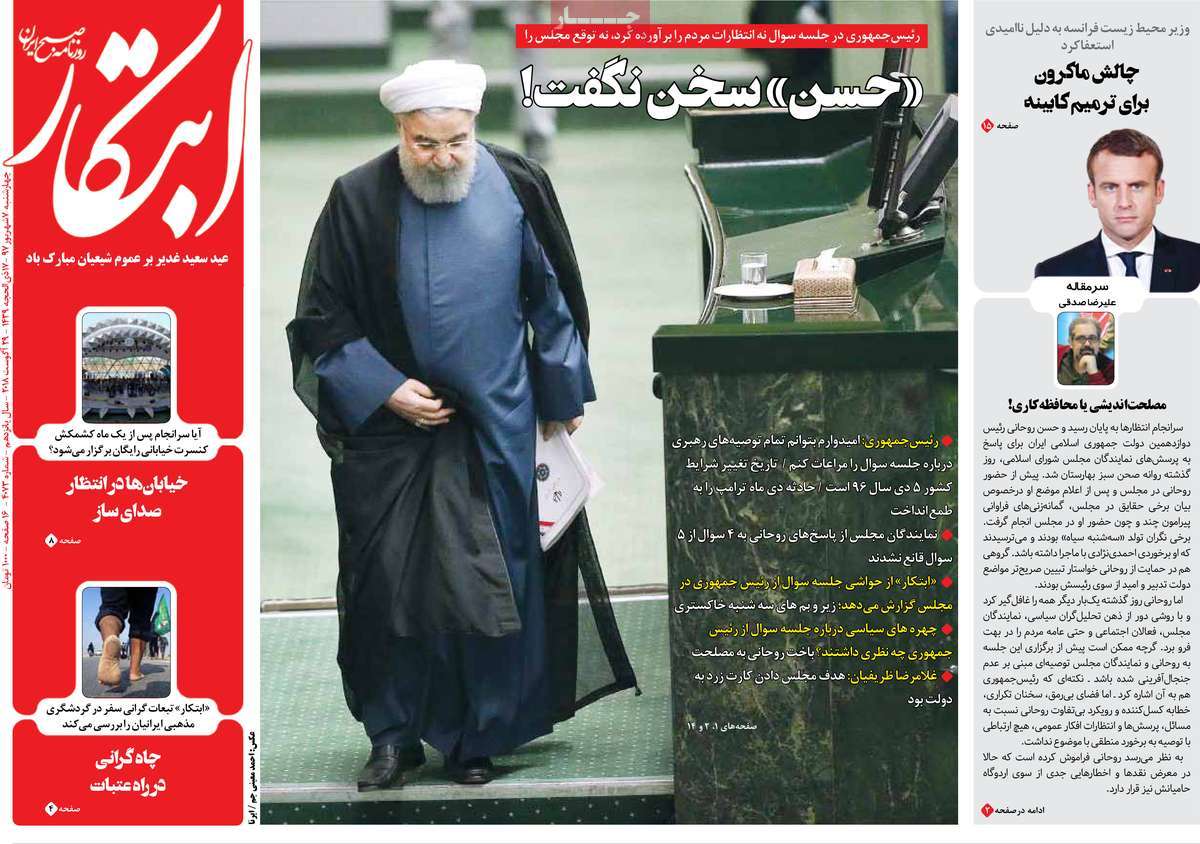 ---
Etemad:
1- Rouhani Did Not Speak Out
MPs Not Convinced by President's Responses to Four Questions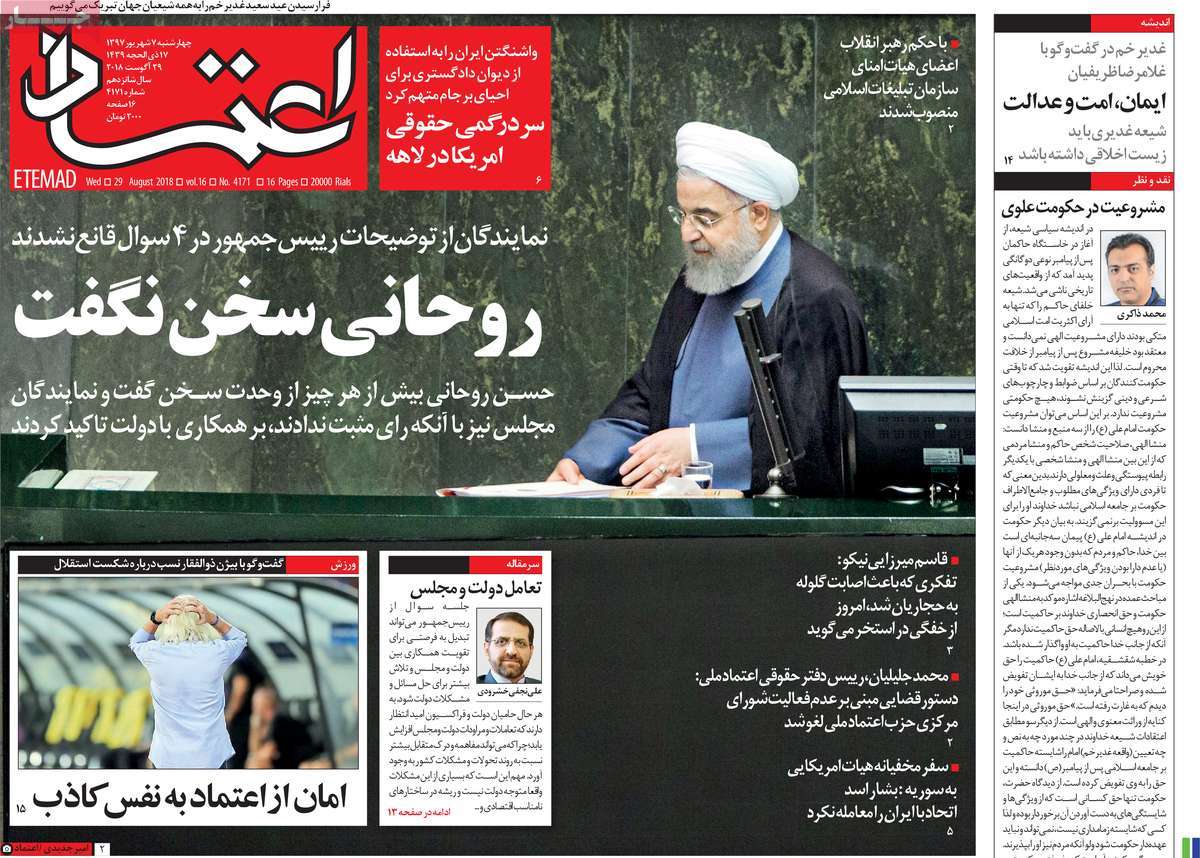 ---
Ettela'at:
1- All Authorities Must Be Accountable: Rouhani to MPs
2- Russia Deploys 13 Warships to Defend Syria
3- Bike-Riding Traffic Police Start Operation in Tehran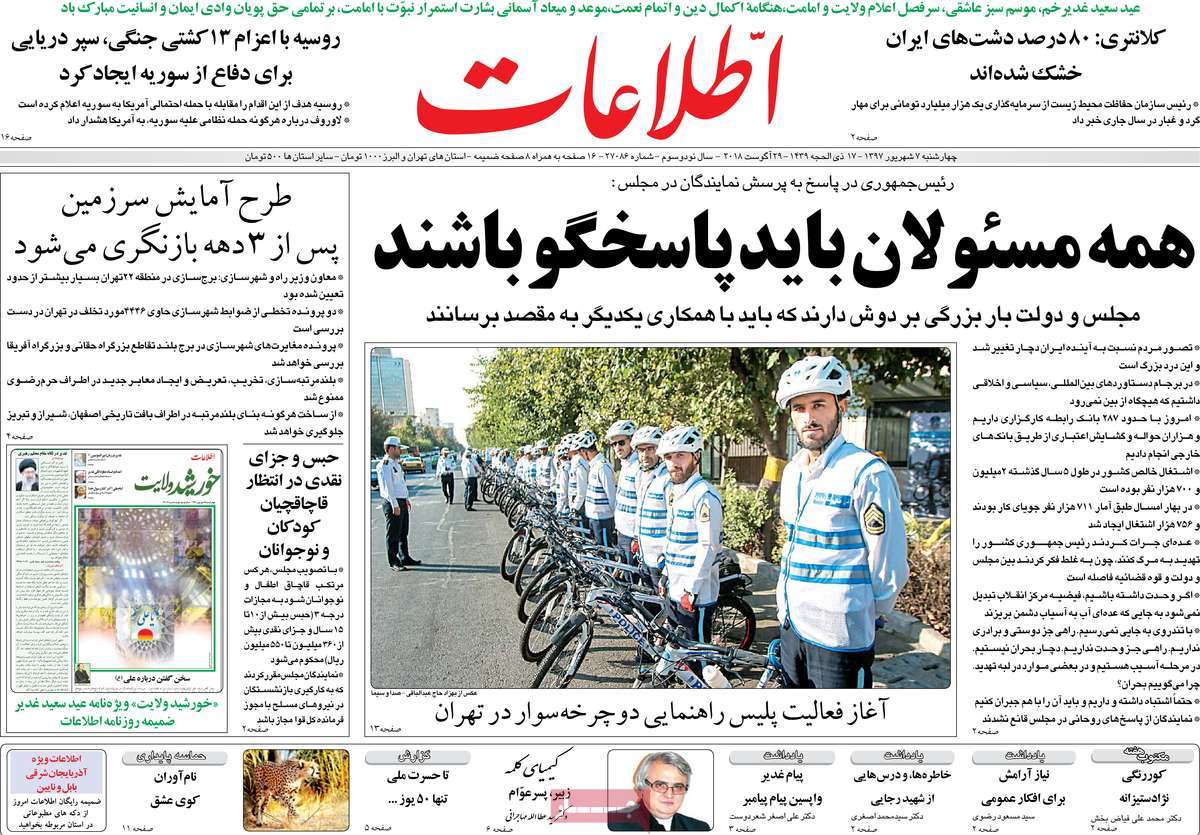 ---
Hemayat:
1- Public Prosecution of 19 People Involved in Forex Corruption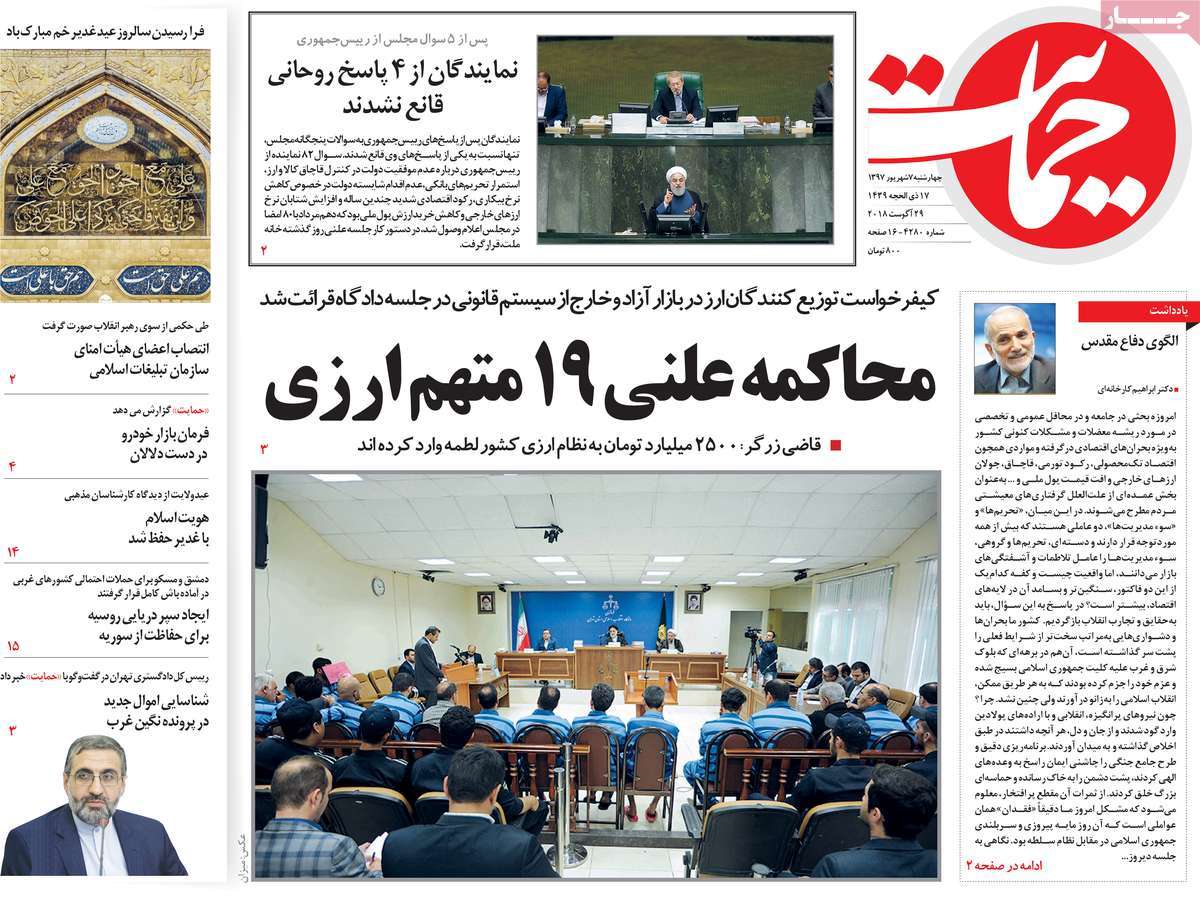 ---
Iran:
1- Rouhani: Everything Started in Late December 2017; Iran Was Calm, What Happened?
2- Rouhani's Appearance in Parliament Show of Democracy: Intelligence Minister
---
Javan:
1- We Were Not Convinced
2- Courts Start Prosecuting Those Who Disrupted Iran's Economy
---
Kayhan:
1- People's Representatives Not Convinced
If Government Is Popular, It Must Change Its Path
2- Russia, Syria's Unprecedented Military Deployment Discourages Trump from Attacking Damascus
3- Aftershocks of Ansarullah's Attack: Dubai No Longer Safe
---
Khorasan:
1- Red Card Given to Rouhani's Management of Economy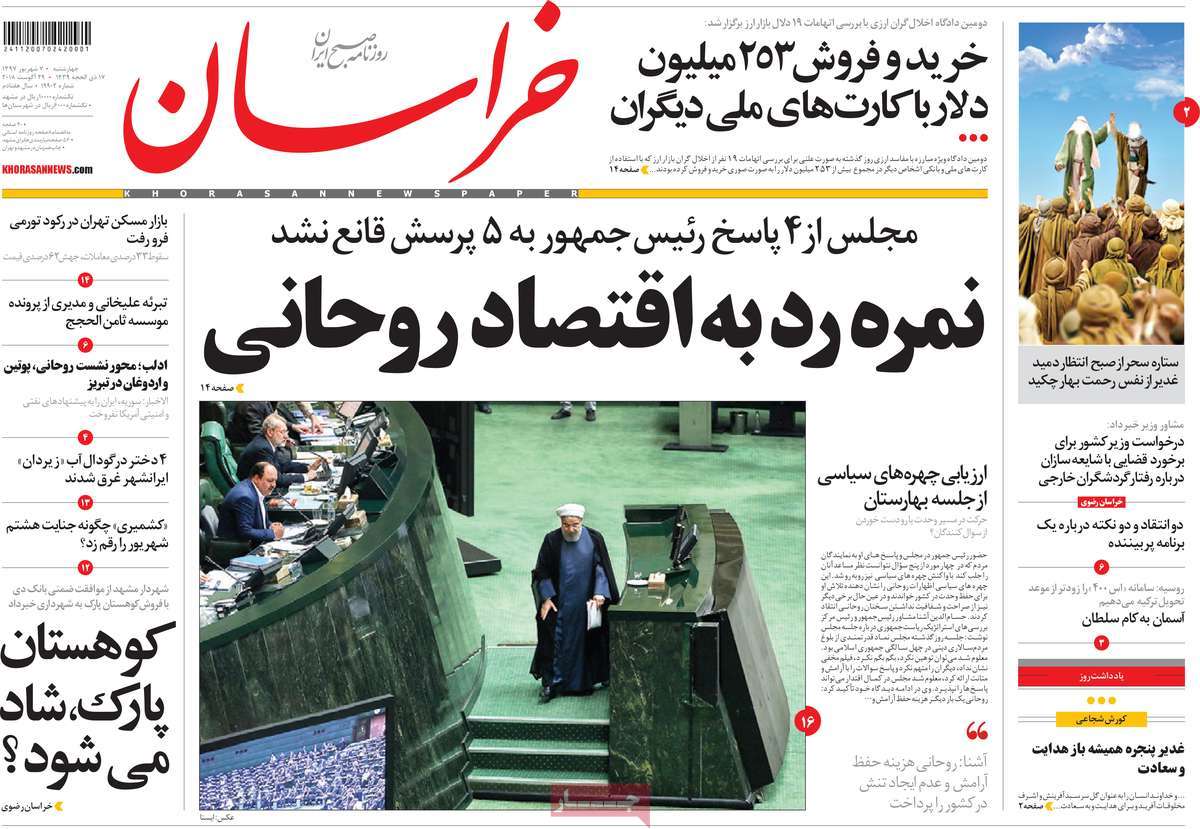 ---
Sazandegi:
1- Government Needs Fresh Blood
2- Third Path; Rouhani Talks of New Initiative against US
We'll Neither Leave JCPOA nor Remain in It under Any Circumstances
We'll Declare a Third Option in Future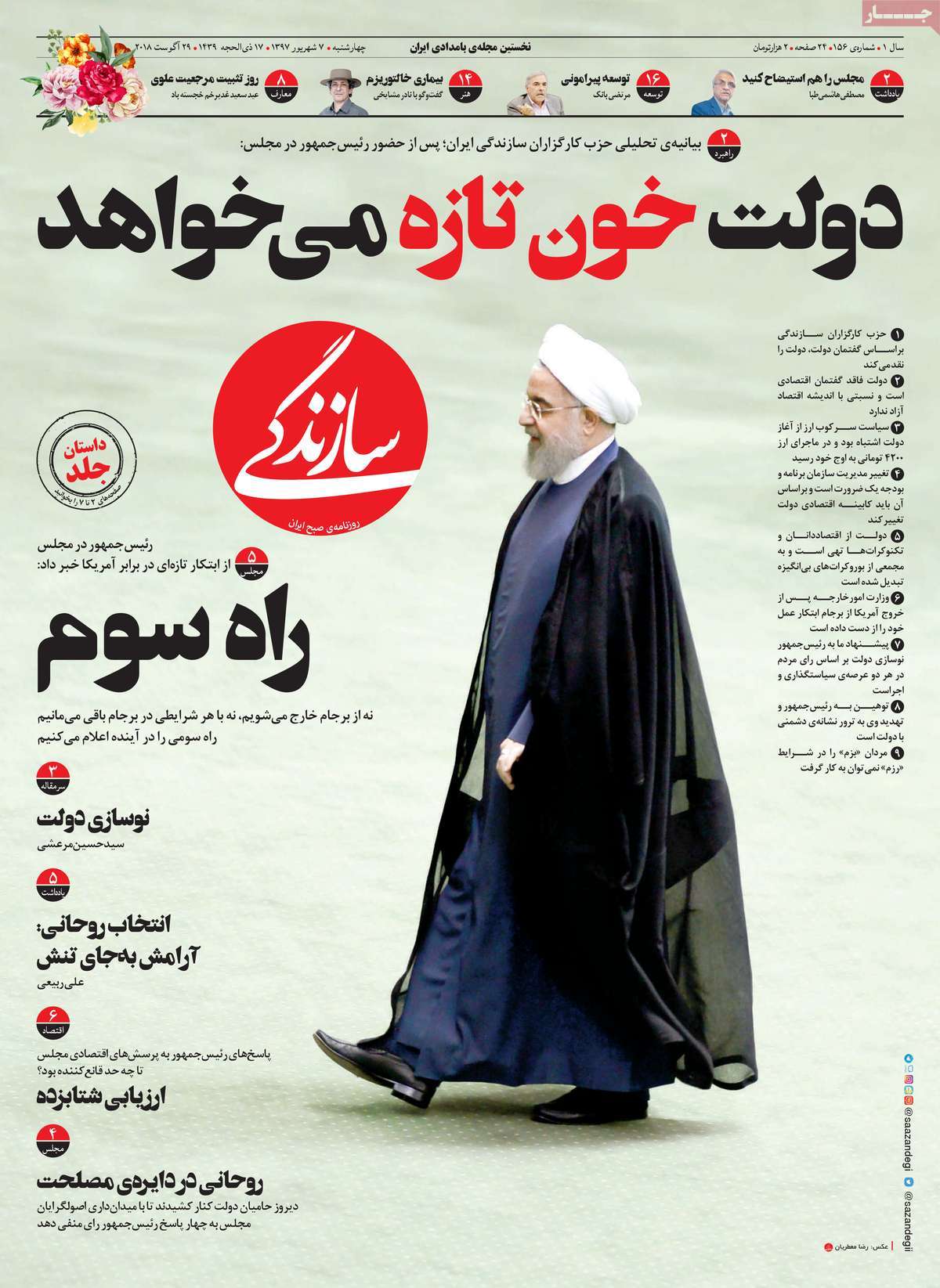 ---
Shargh:
1- We Were Not Convinced: MPs Tell Rouhani
2- Rouhani: Why Did They Dare to Threaten Iranian President with Death?