Almost all papers today covered the remarks made by Iranian President Hassan Rouhani in criticism of certain members of his own cabinet who, according to him, are disappointed about resolving the country's problems.
Also a top story was the imminent opening of the branches of three Iranian banks in Germany, and the talks between Tehran and Ankara over integration of bank cards.
Several papers also highlighted Europe's commitment to the Iran nuclear deal, as expressed by a number of European leaders following their meetings with US President Donald Trump.
The above issues, as well as many more, are highlighted in the following headlines and top stories:
Abrar:
Iran Army, IRGC Hold Joint Parade, Display Air Defence Equipment
Trump: I'm Not John Kerry to Sign Bad Deal with Iran
---
Afkar:
Velayati: Colonialists Will Never See Their Dream of Renaming Persian Gulf Realized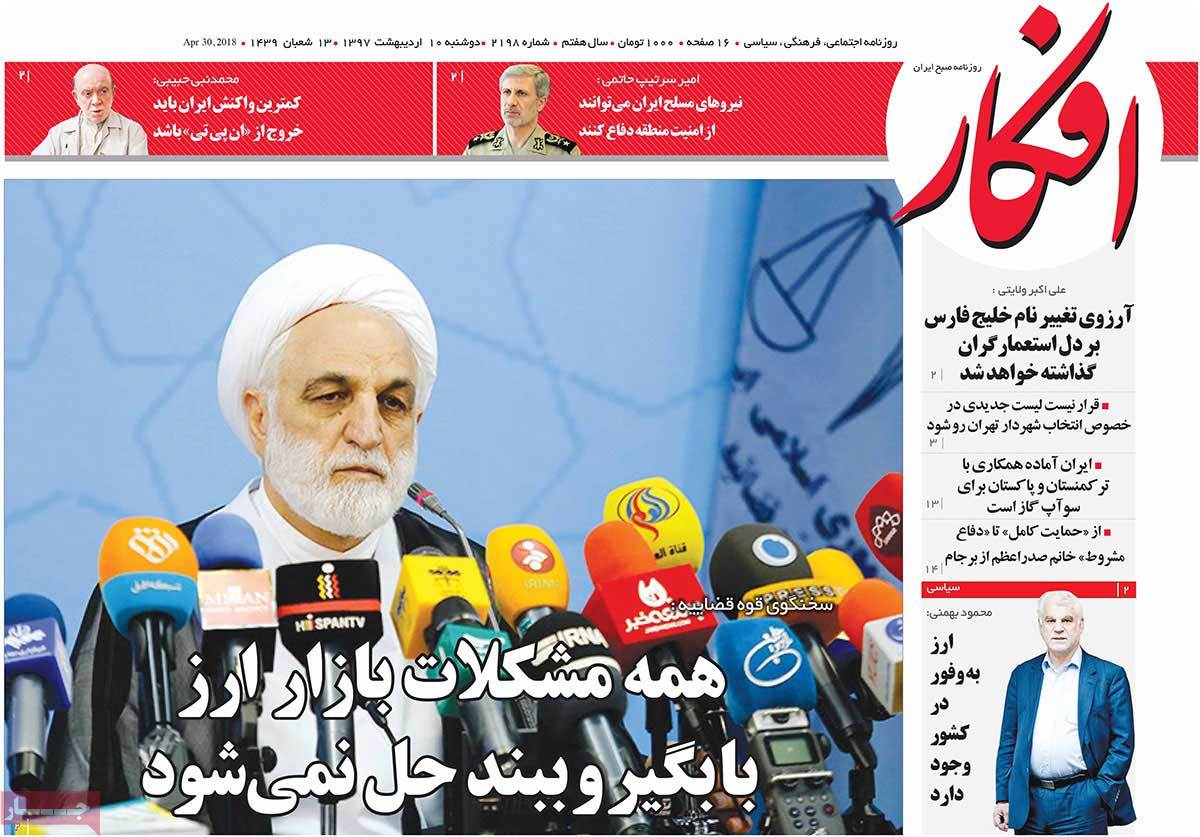 ---
Aftab-e Yazd:
Analyst: China and India to Blame for Iran's Forex Problems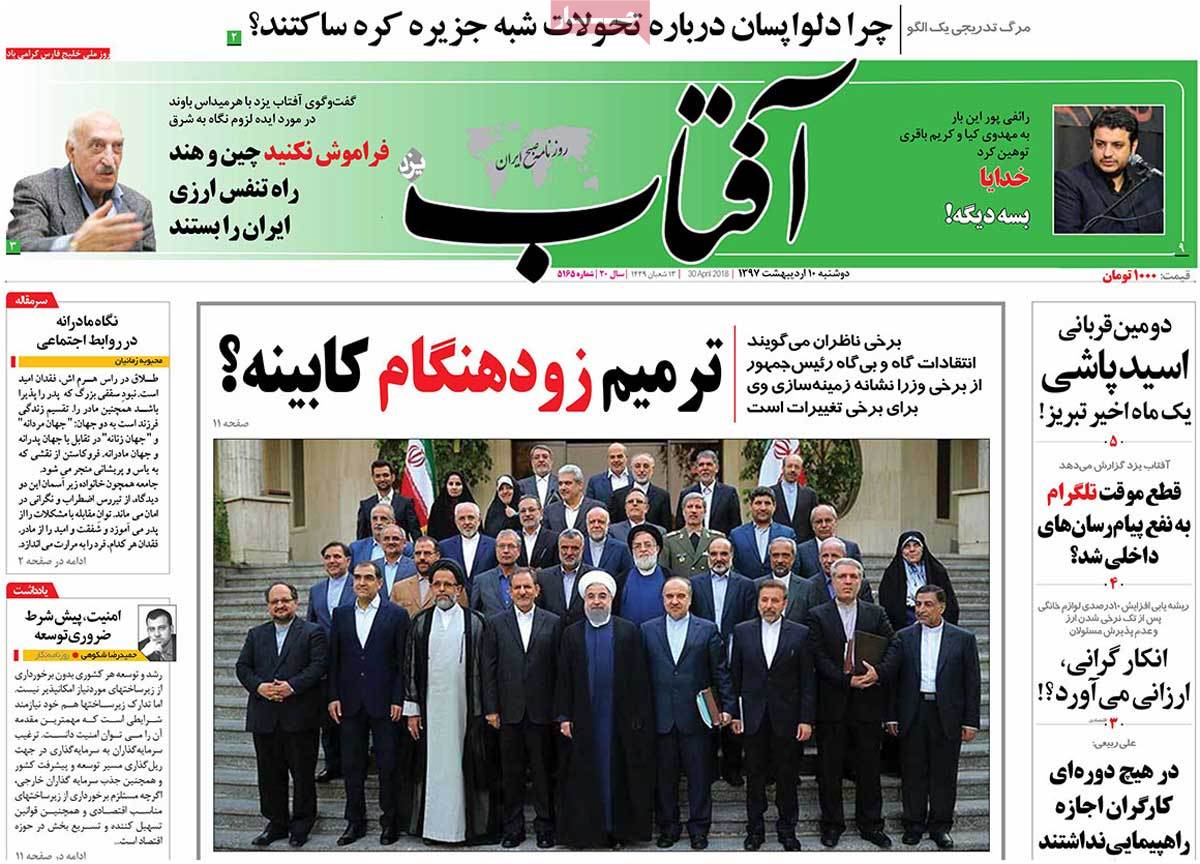 ---
Arman-e Emrooz:
Israelis Attacked Oliver Stone's Email: Fajr Festival's Secretary
---
Asrar:
Rouhani: We Cannot Force Women to Stay Home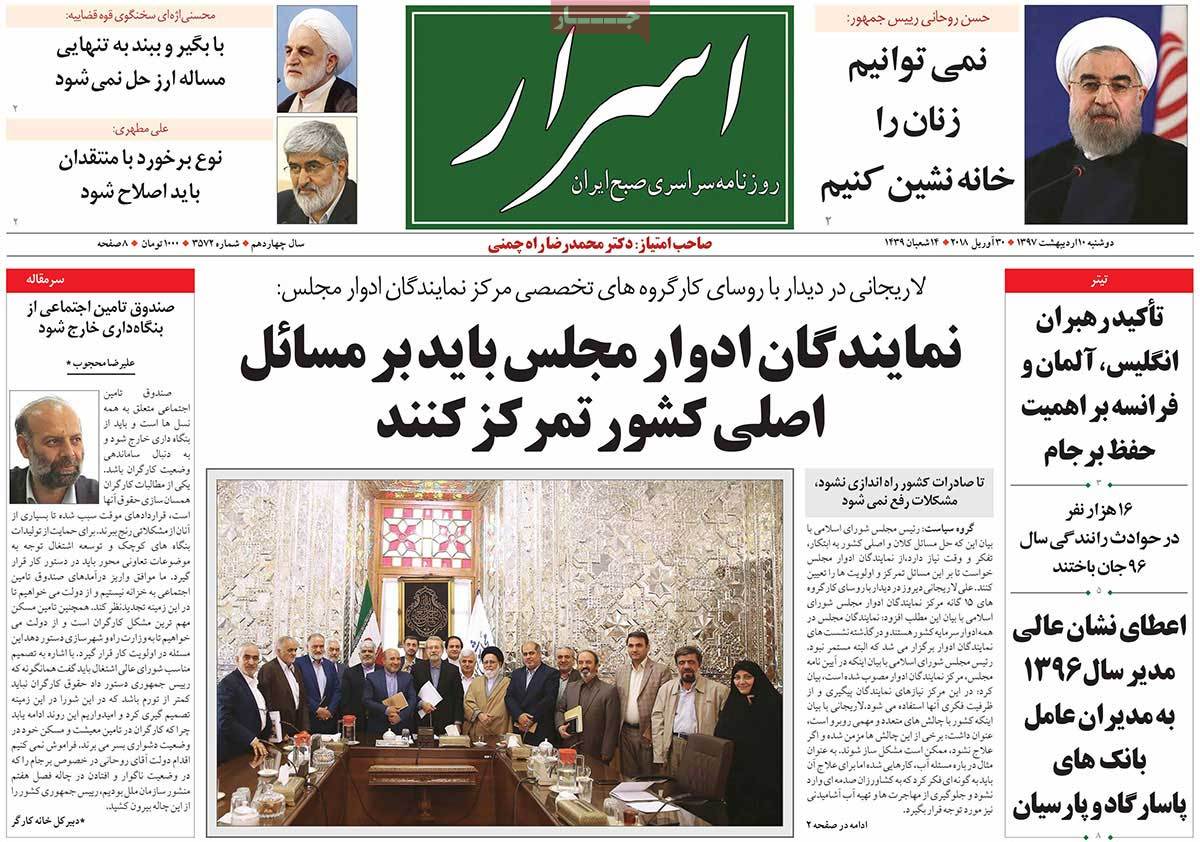 ---
Ebtekar:
President of "Hope" Government Slams "Disappointed" Gov't!
Rouhani: Making People Frustrated with Their Future among Enemy's Plots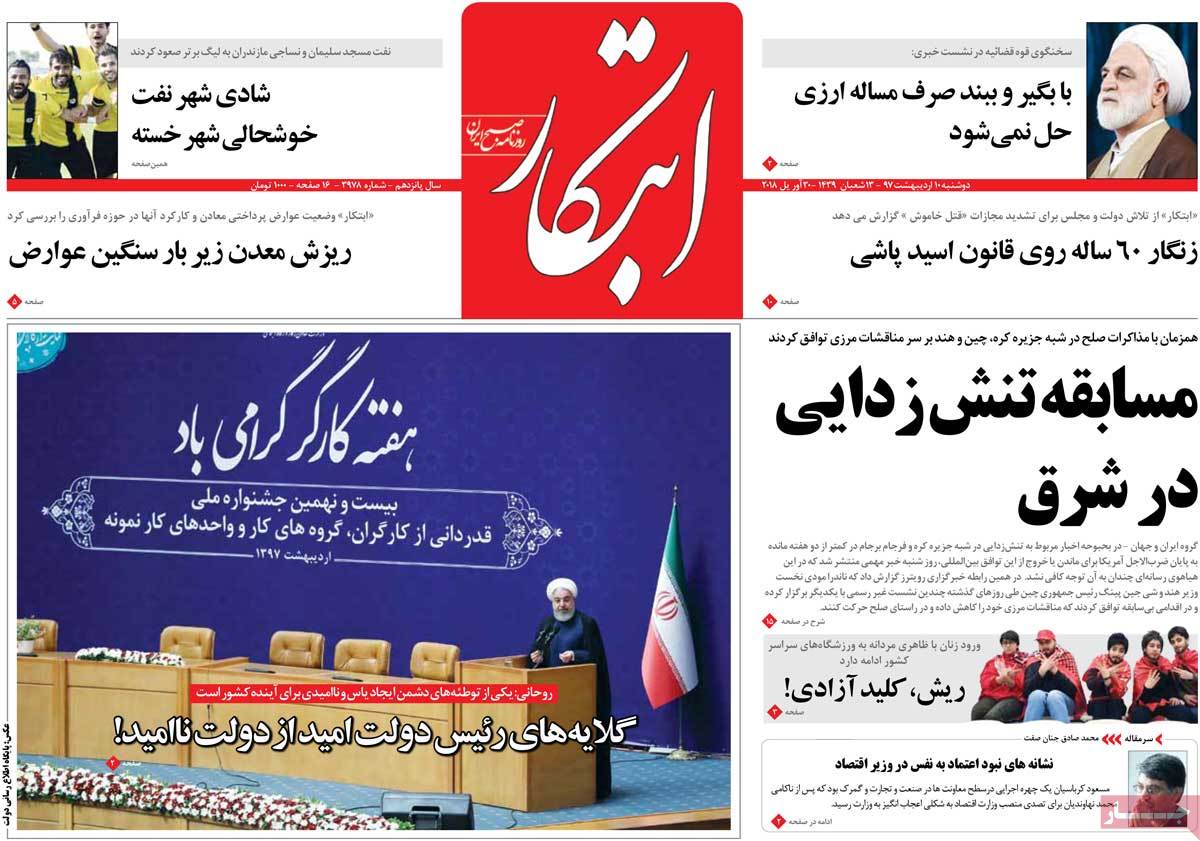 ---
Etemad:
New Make-up Artists for Saudi Arabia's New Face
Bin Salman to Use New Generations to Revive Saudi Lobby Groups in Washington
---
Ettela'at:
Iran First VP: We'll Give Foreign Currencies to All Students Living Abroad
Rouhani: We Won't Accept Any Commitment beyond Iran Nuclear Deal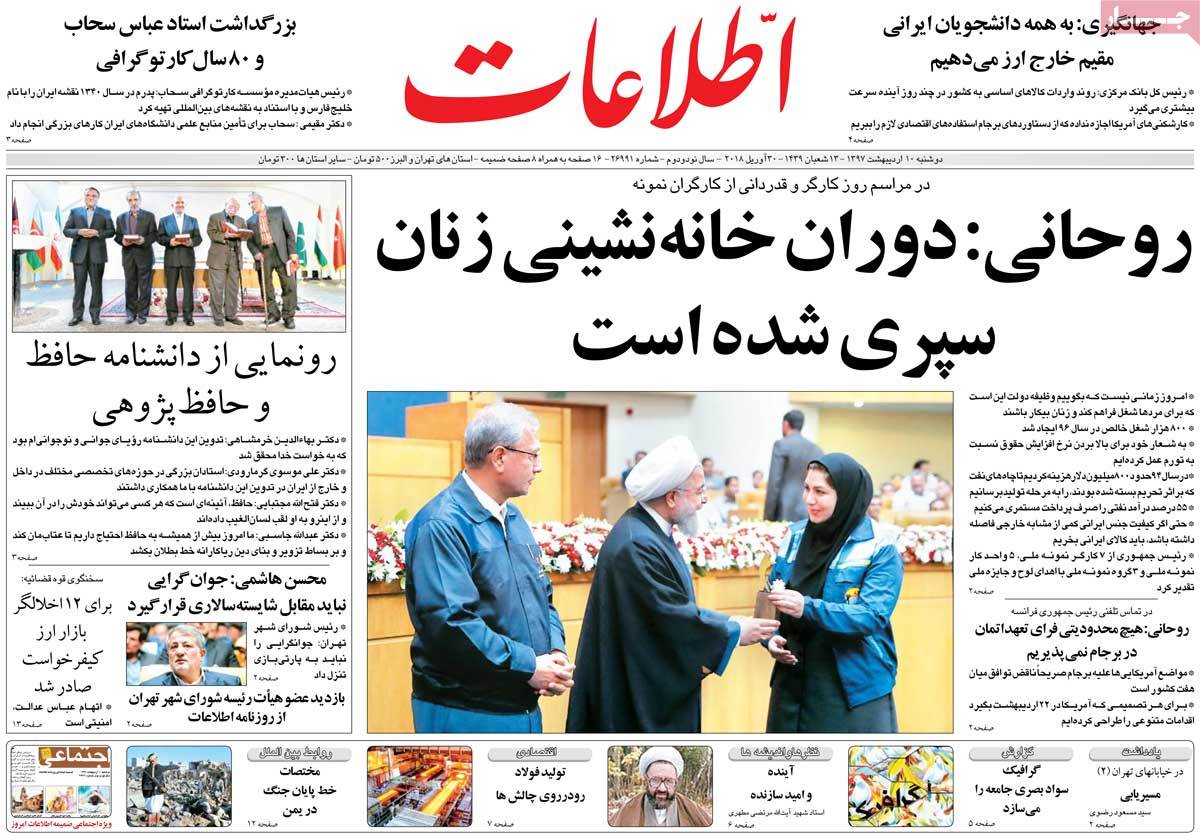 ---
Haft-e Sobh:
Iranian Banks' Initiative against Trump
Iranian Banks to Open Branches in Germany, Integrate Bank Cards with Turkey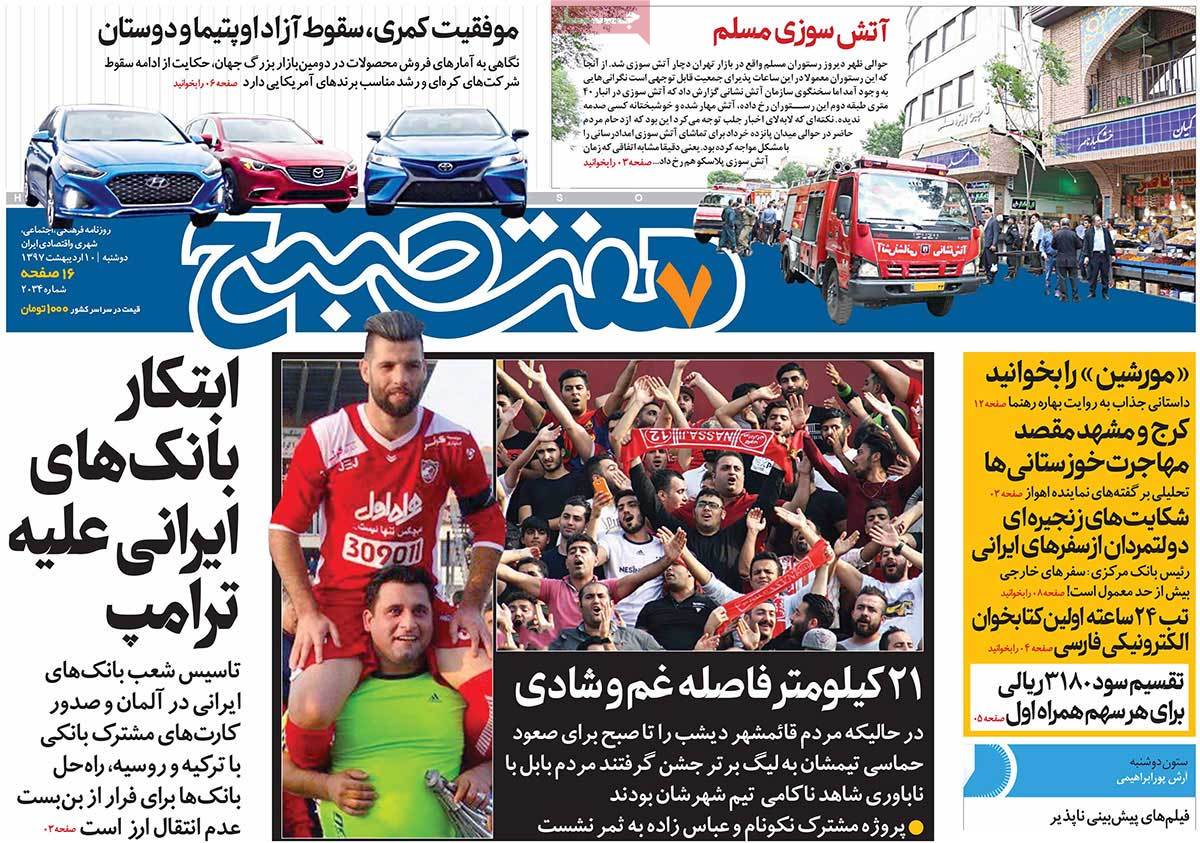 ---
Hemayat:
Washington, Europe Dividing Labour to Achieve New Deal on Iran Missiles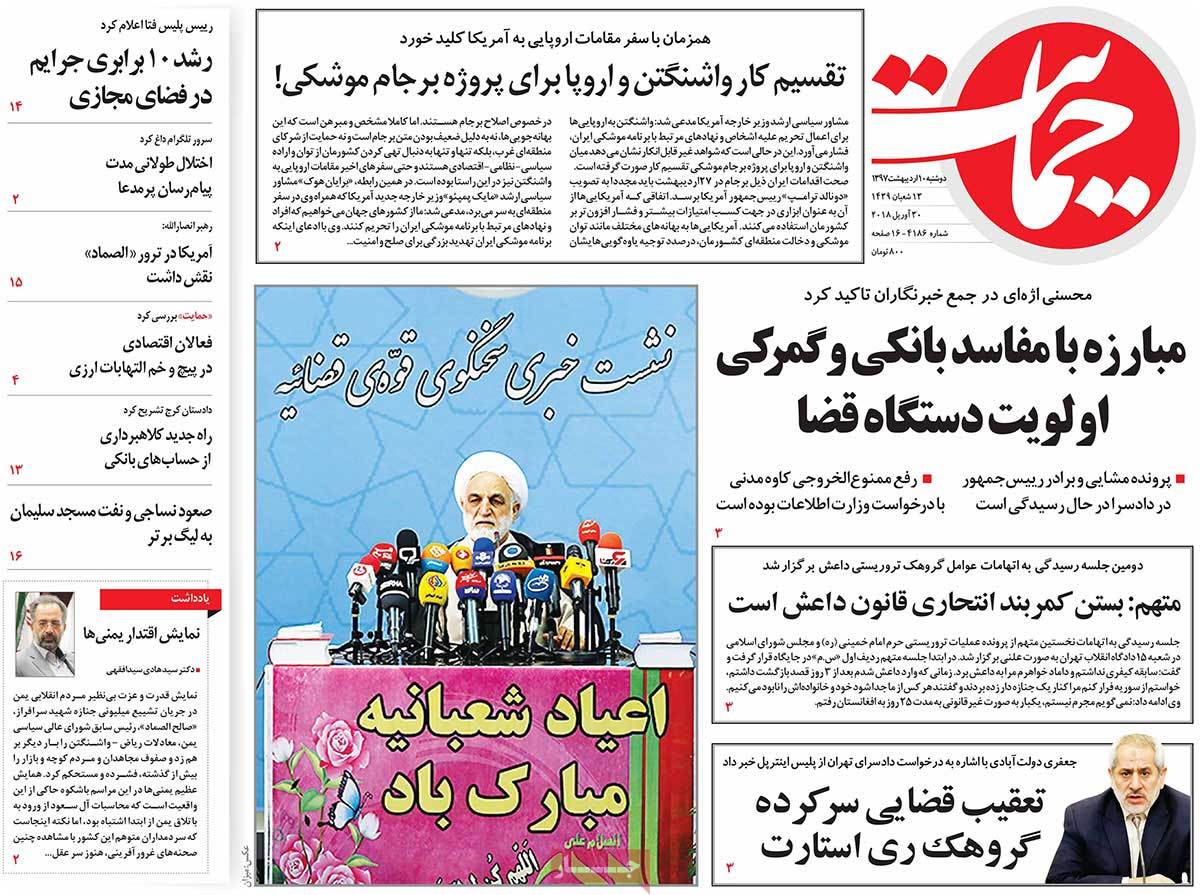 ---
Iran:
10 Hours without Telegram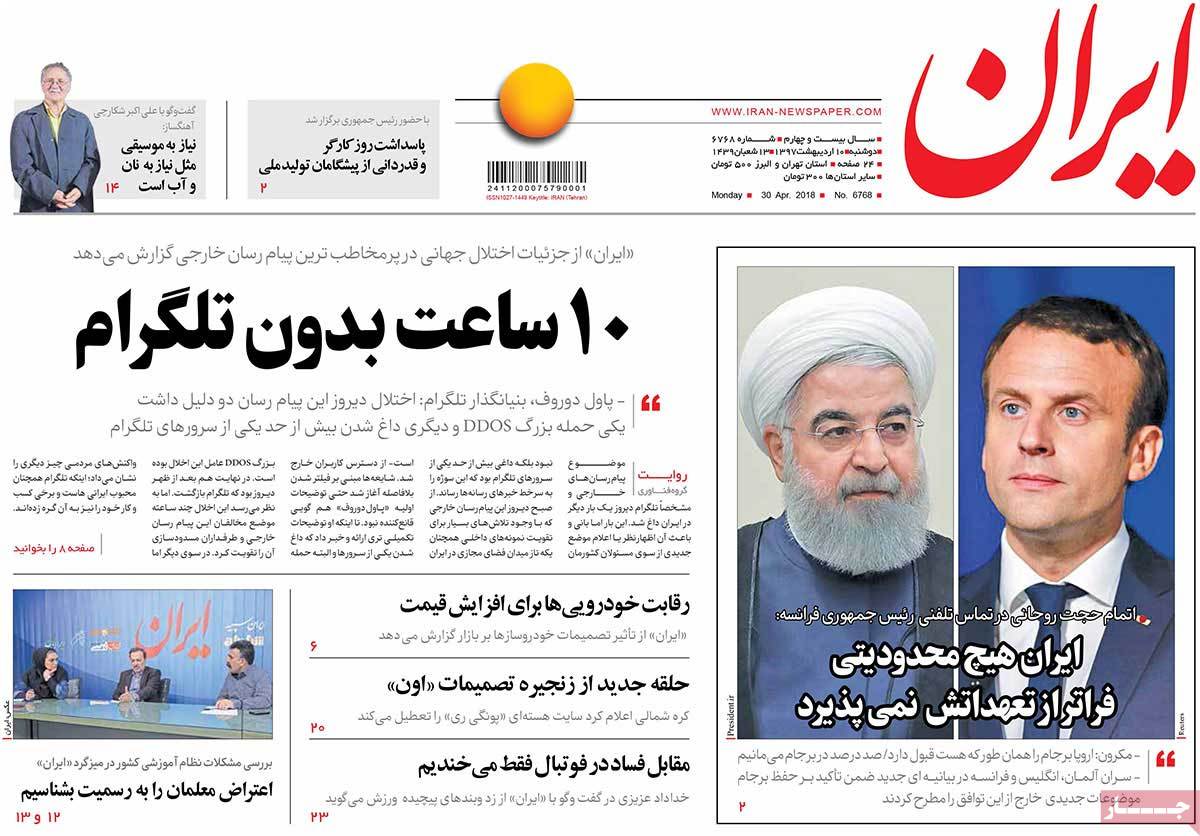 ---
Javan:
Disappointment of Rouhani's Ministers
Rouhani, for Second Time in Past Few Days, Complains to People about His Cabinet!
Kaveh Madani Allowed to Leave Iran Upon Intelligence Ministry's Request: Judiciary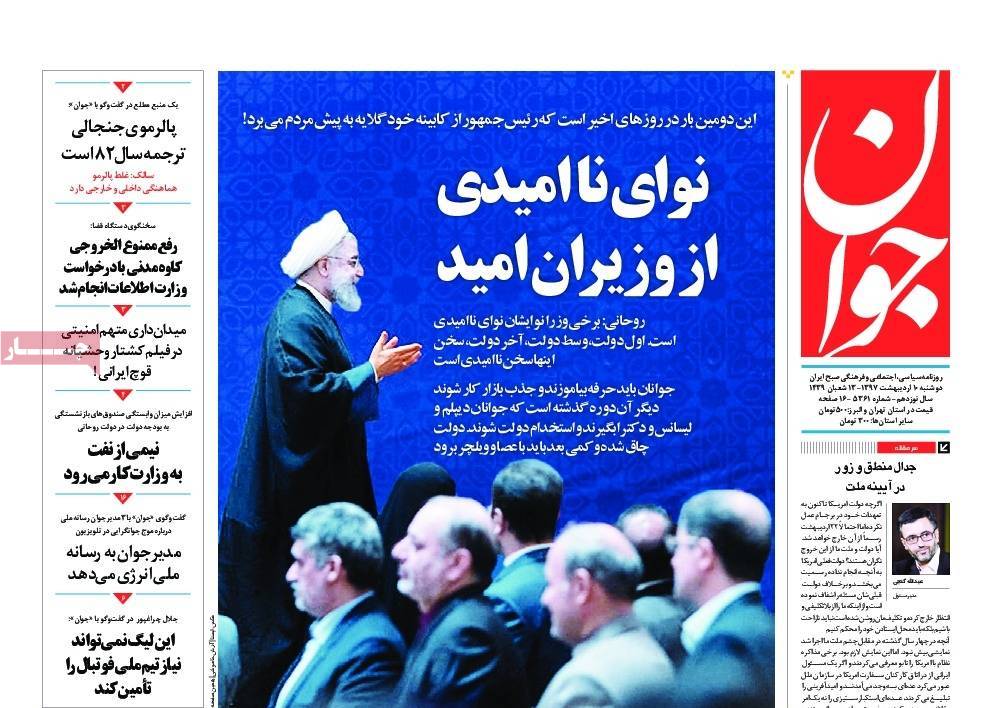 ---
Jomhouri Eslami:
French President: EU Will Definitely Stay in Iran Nuclear Deal
After JCPOA: Iran's Exports to Europe Increased Tenfold, Imports Rises by 1.2 Times
---
Kayhan:
They Once Claim Transfer US Dollars Using Sacks, Now Say Working with 250 European Banks!
Two Electromagnetic Nuclear Bombs Built by N. Korea Can Kill 90% of Americans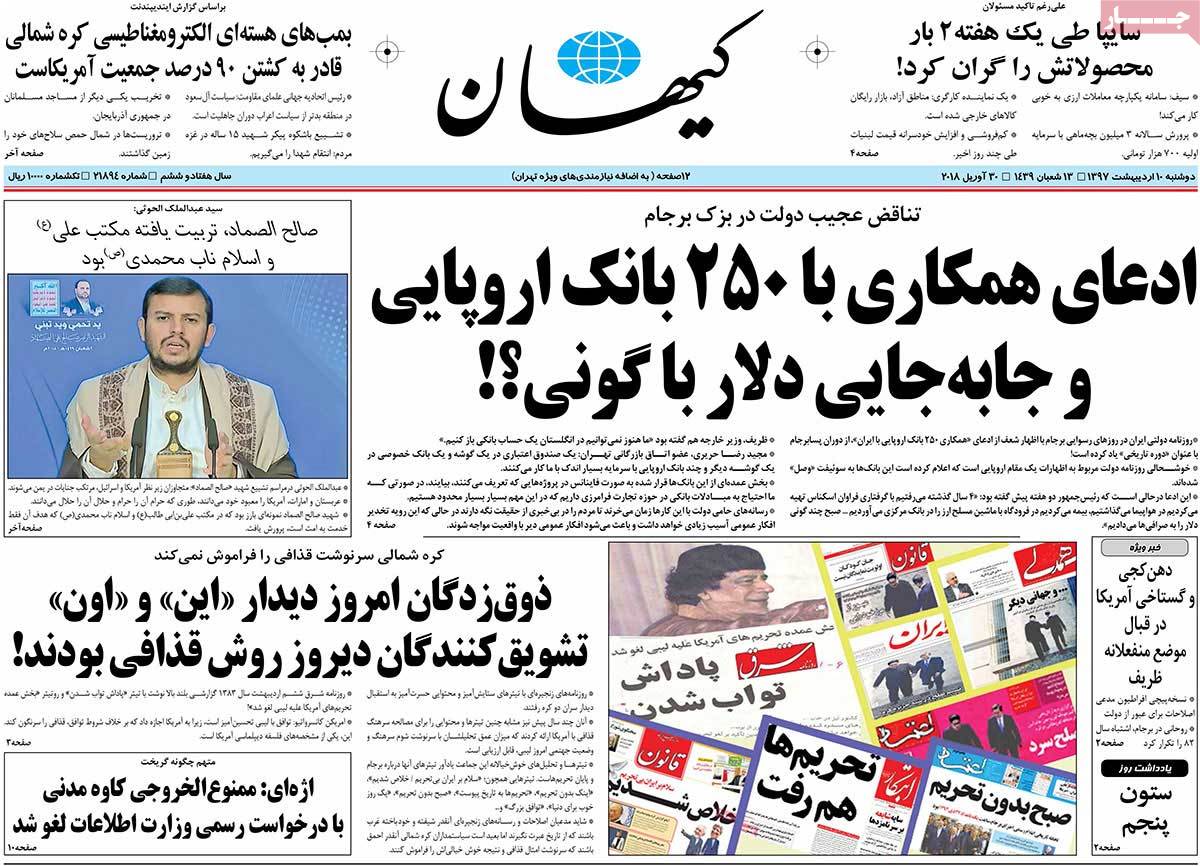 ---
Mardom Salari:
Al Saud's Circus against Iran
WWE Contest in Saudi Arabia Sparks Controversy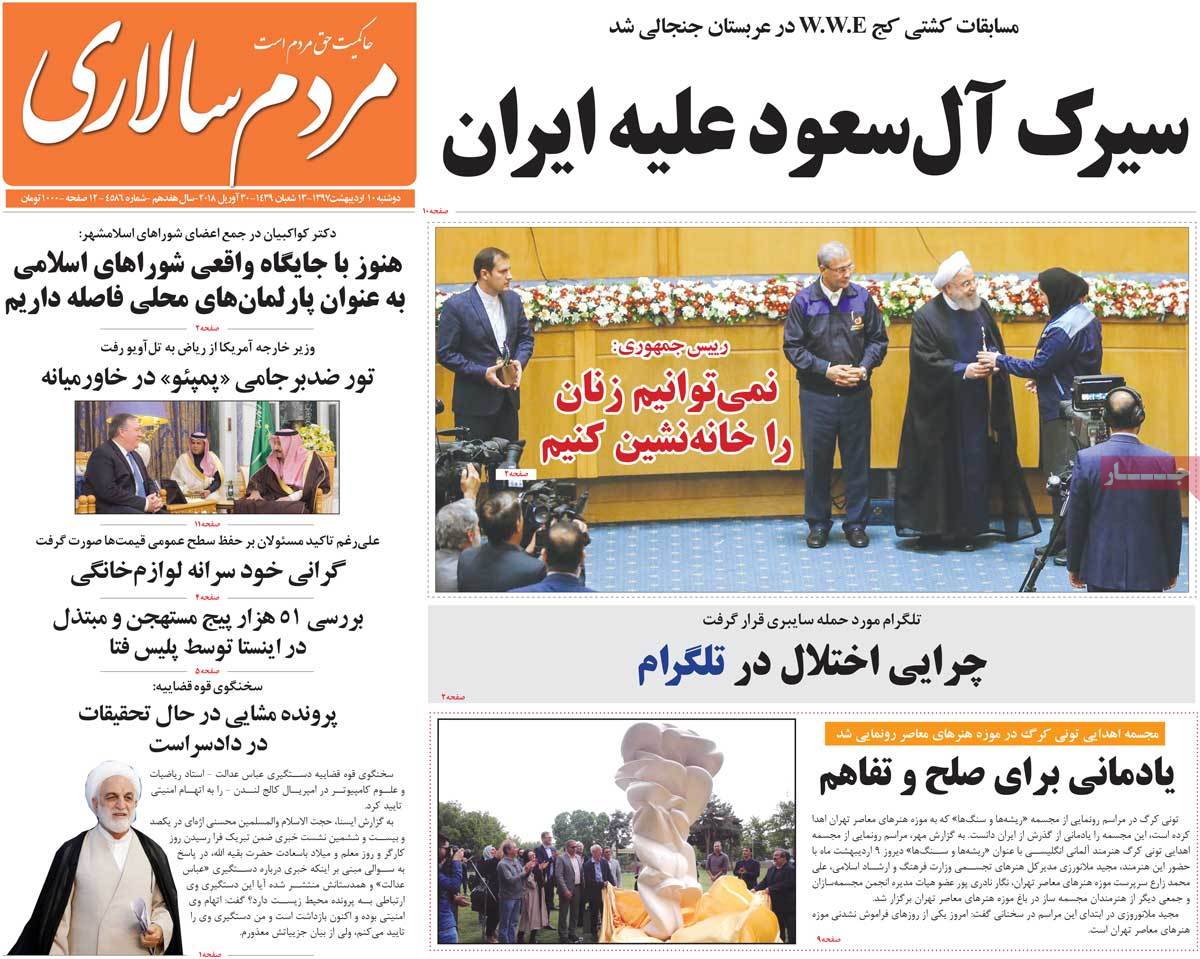 ---
Sazandegi:
Rouhani: Why Disappointed?
President Divides His Ministers into Two Categories: Hopeful, Hopeless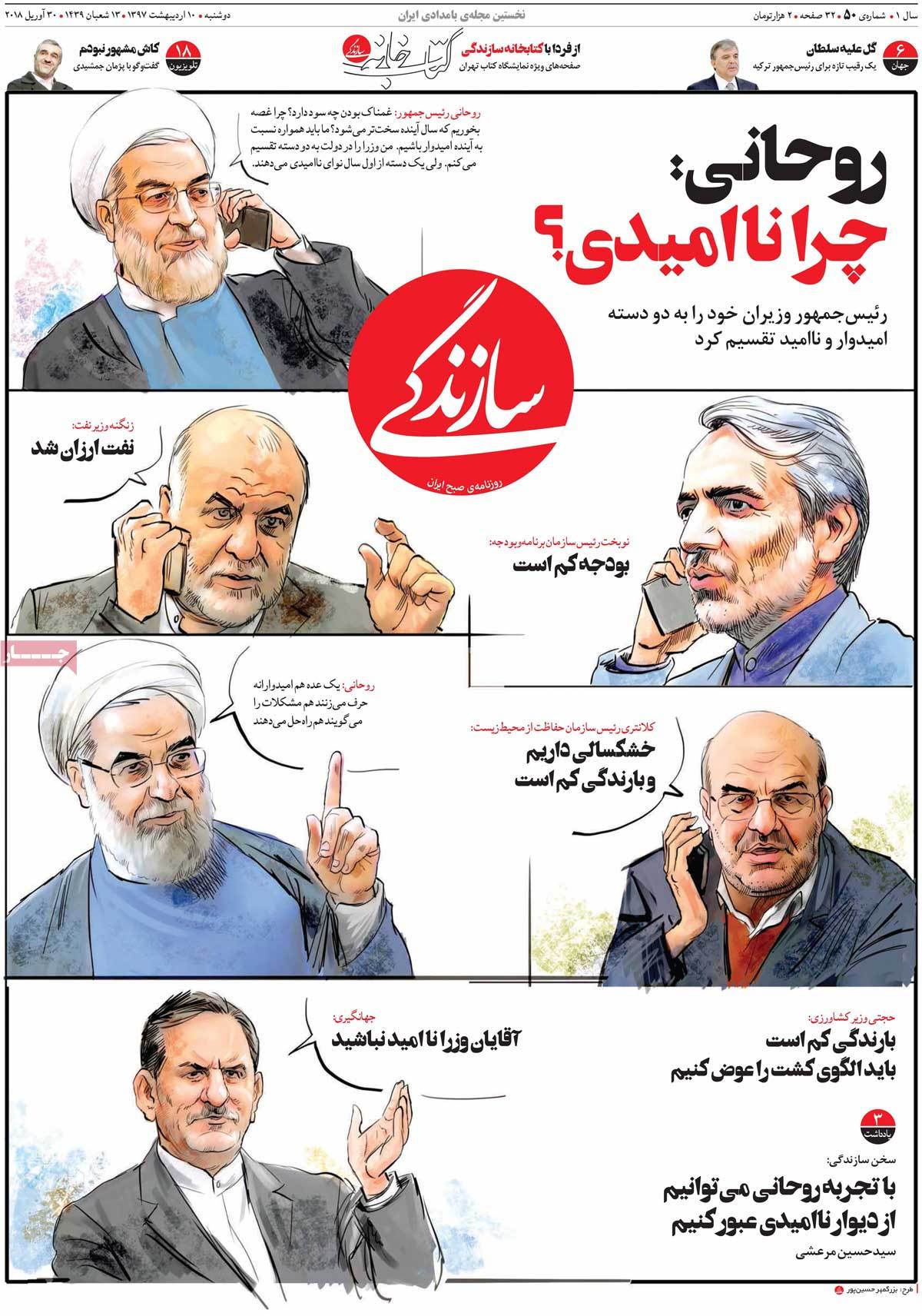 ---
Sepid:
Health Minister: Khuzestan Must Be Turned into Medical Hub of Mideast
---
Setareh Sobh:
New Era of Hostility against Iran
New US Secretary of State Visits Middle East
---
Shahrvand:
Oliver Stone an Opportunist: Iranian Critic
---
Shargh:
European Leaders: JCPOA Must Be Preserved