Newspapers on Thursday covered the remarks made by the Leader of the Islamic Revolution Ayatollah Seyyed Ali Khamenei in a meeting with the families of 2015 Mina crush.
They also focused on President Hassan Rouhani's comments about the prosecution of those behind the deadly stampede in Saudi Arabia, which killed 464 Iranians last year.
The controversies over the country's accession to Financial Action Task Force (FATF) and different reactions to the move also remained a top story today.
The above issues as well as many more are highlighted in the following headlines:
Abrar:
1- Leader in Meeting with Mina Tragedy Victims: Int'l Islamic Fact-Finding Committee to Investigate into Mina Stampede
2- AEOI Spokesman: Iran's Nuclear Chief Salehi to Visit Brussels
3- For 1st Time, Obama Nominates a Muslim as Federal Judge
4- Rouhani: Government and Establishment Will Never Forgive Slaughter of Mina Victims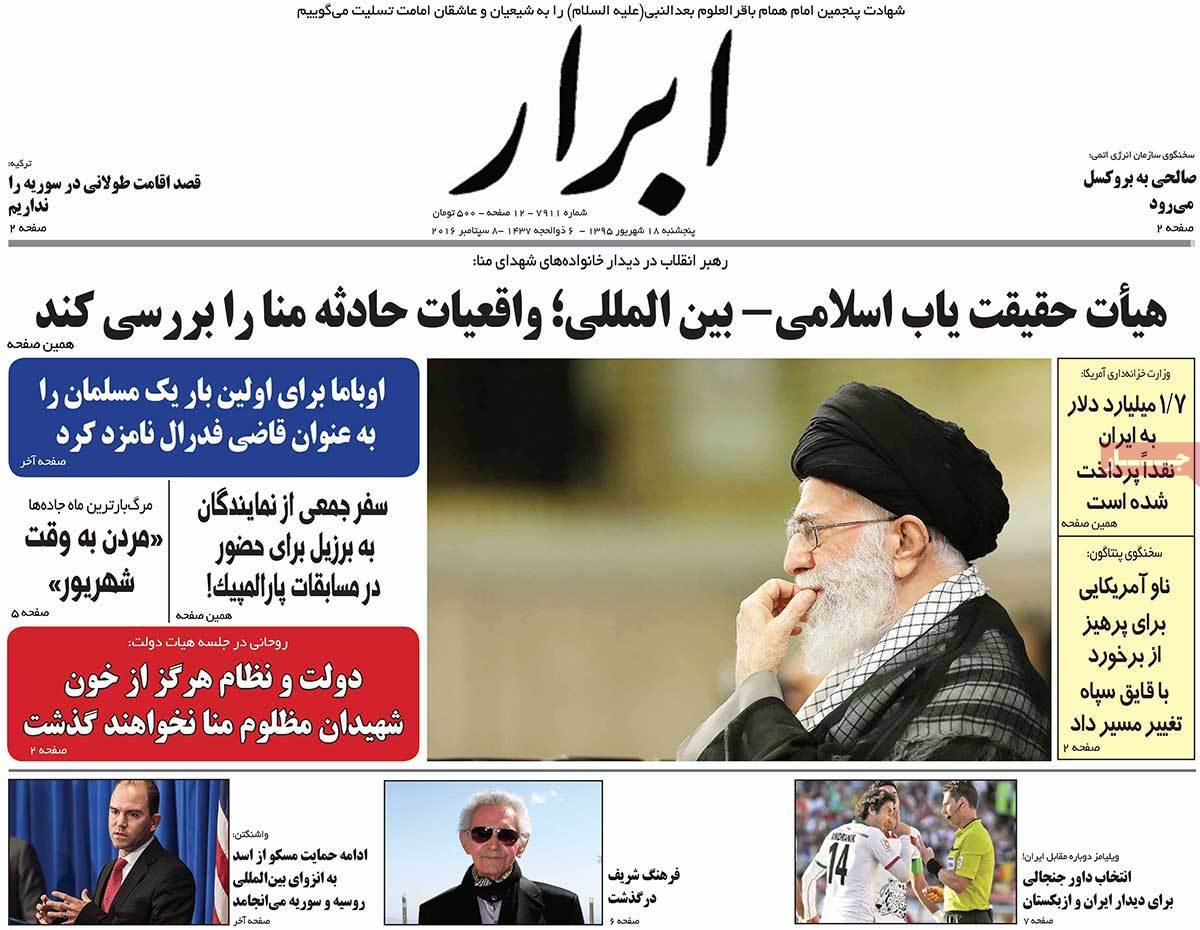 ---
Abrar-e Eqtesadi:
1- If Ahmadinejad Was in Office, Iranians Would Have to Buy $1 by Paying 100,000 rials (Now it is 35,500 rials)
2- 7 Contracts Signed with China, Japan, and South Korea for Construction of Refineries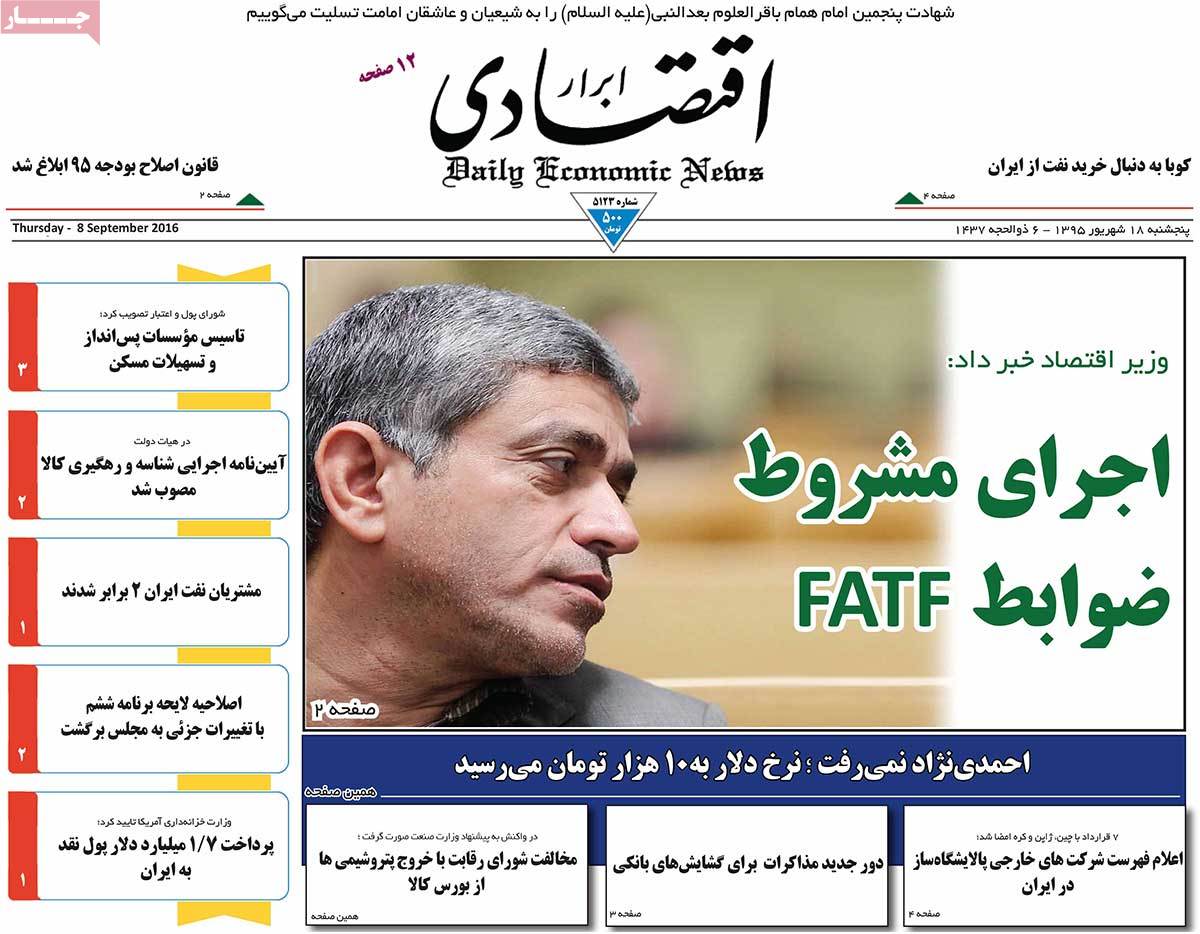 ---
Aftab-e Yazd:
1- Moscow Claims Iran Has Withdrawn Its Lawsuit against Iran: Serial Game of Russians
2- Vice-Speaker of Parliament: Oppositions to FATF Are Politically-Motivated
3- Prosperity of Shipping in Post-JCPOA Era: End of the Time When Iran Had to Ask for Renting Flags from Persian Gulf Littoral States
---
Arman-e Emrooz:
1- Rafsanjani: Islam Is Religion of Thinking Freely, Not Thinking Dogmatically
2- Sanctions Relief by Joining FATF
3- Saudi Arabia Incurs $1.3bn Damage Because of Iran's Ban on Hajj Pilgrimage
4- Zibakalam: We're Whole-Heartedly behind Rouhani
---
Asrar:
1- Customers of Iran's Oil Are Doubled
2- Rouhani: Problems with Saudi Arabia Are beyond Issue of Hajj Pilgrimage
3- 70,000 Iranians Are Suffering from AIDS, But They're Not Identified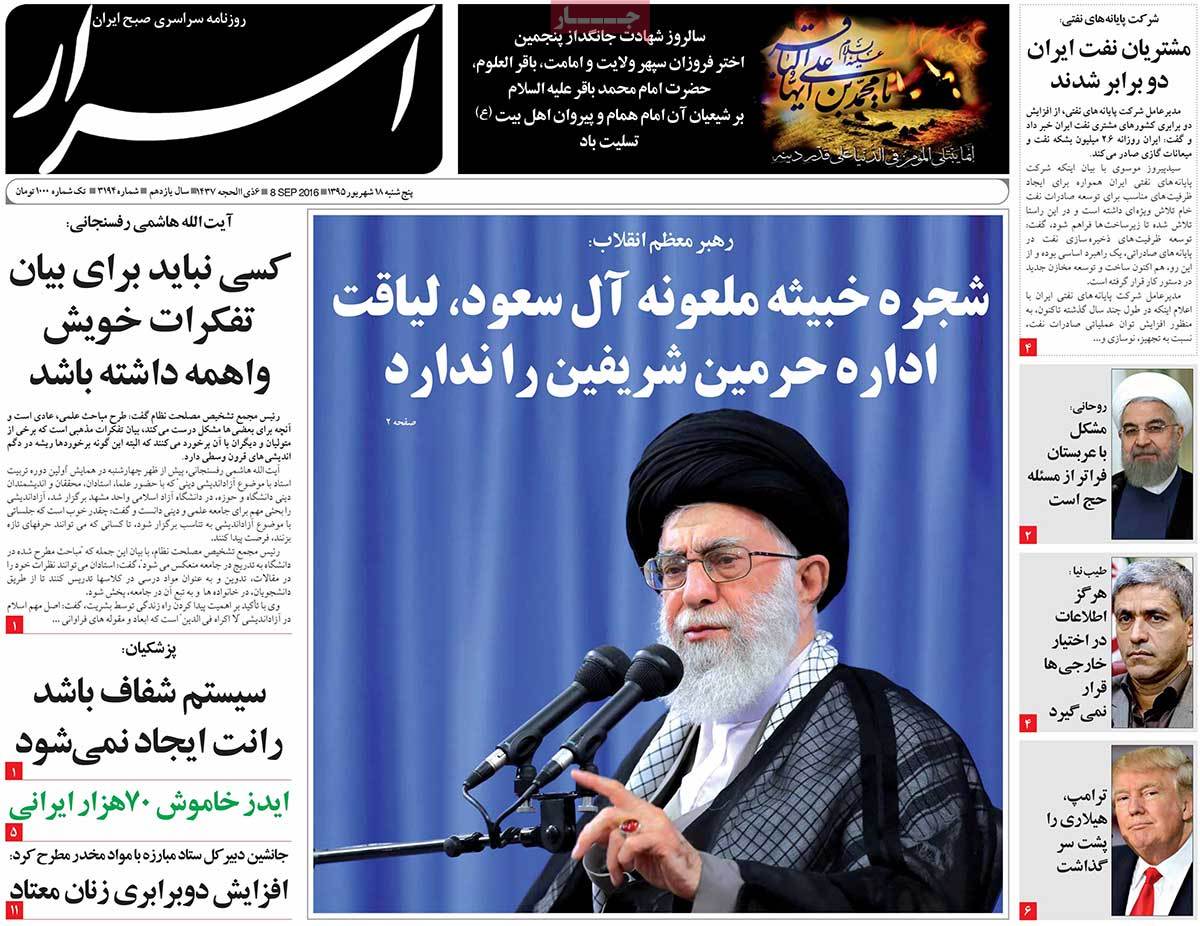 ---
Ebtekar:
1- Iranian Master of Tar [Musical instrument] Farhang Sharif Dies
2- Russia Used US Weakness in Middle East: Expert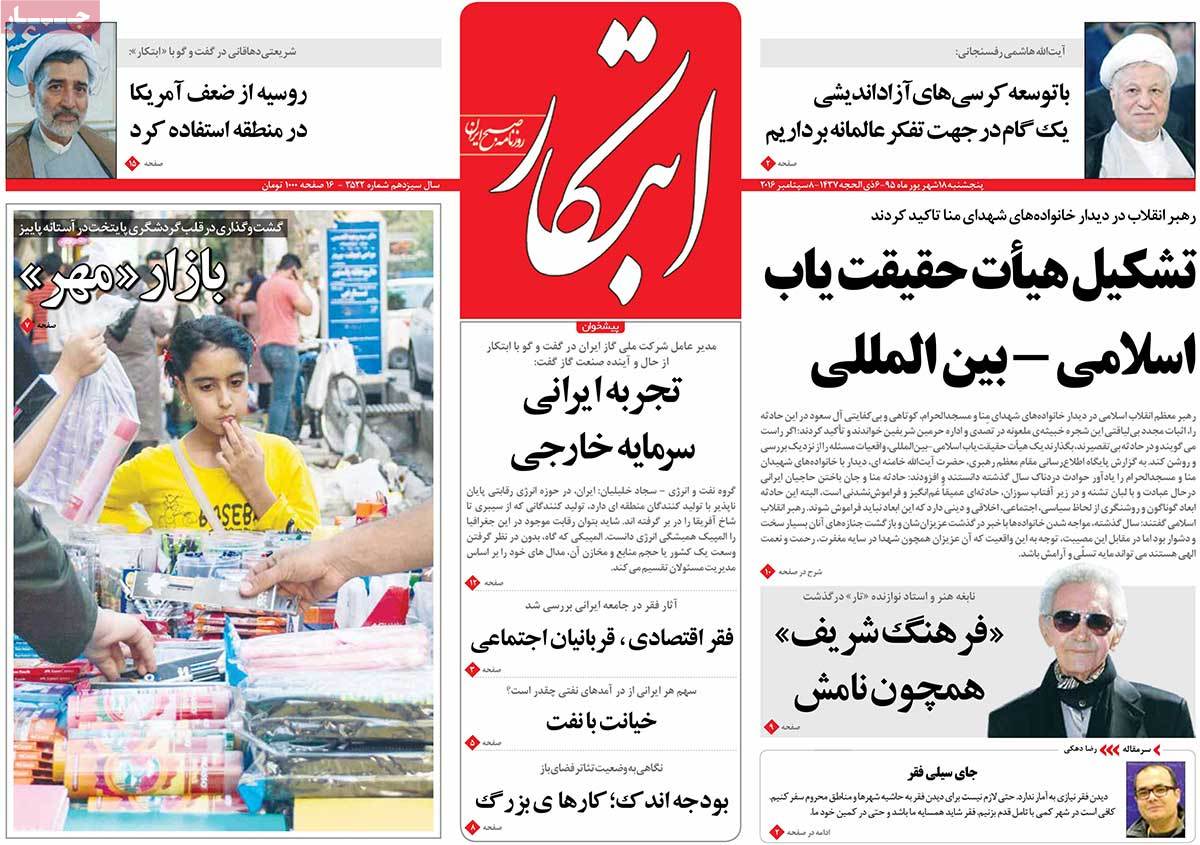 ---
Emtiaz:
1- 15 Killed and Wounded in Subway Tunnel Collapse in Tehran
2- 7m-Year-Old Fossils Unveiled in Lorestan, West of Iran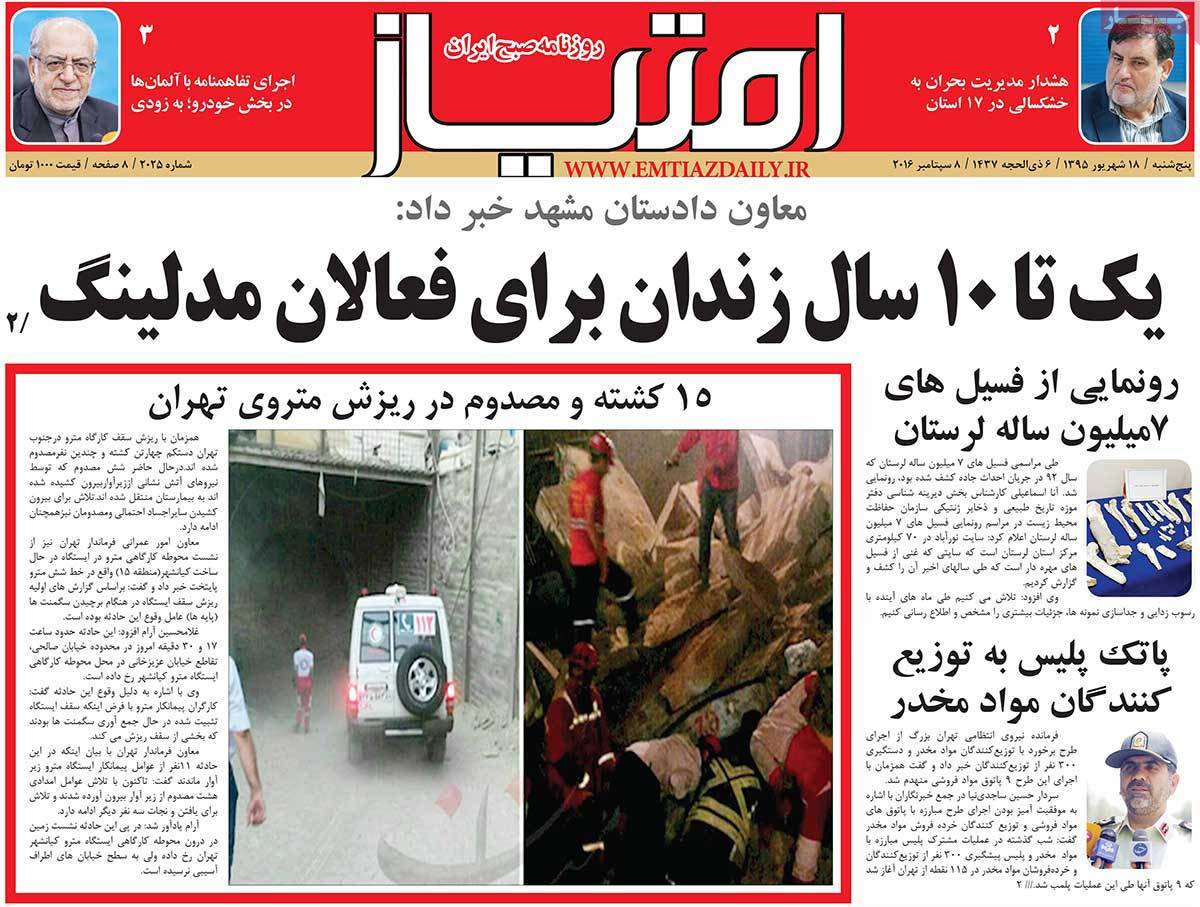 ---
Etemad:
1- Economy Minister: We'll Continue Fighting Money Laundry by Joining FATF
2- Iran's Former Ambassador to Saudi Arabia: Riyadh Not Strong Enough to Block Iran's Way
3- Transport Minister: Railway Connecting Iran's Khaaf to Afghanistan's Herat First Step to Revive Silk Road
---
Ettela'at:
1- Leader: Iranian Nation Bravely Standing against Ignorance of Al Saud Regime
2- Economy Minister: Iran's Accession to FATF Made Zionists and Al Saud Angry
3- British House of Commons Urges Cessation of Selling Weapons to Saudi Arabia after Slaughter of Yemeni People
---
Hamshahri:
1- Leader: Shameless Saudi Regime Standing against Muslims with US Backing
2- There Are 50m Displaced Children in the World
3- Special Committee Established in Judiciary to Investigate Astronomical Salaries; Deputy Judiciary Chief: Those Who Received Astronomical Salaries Will Be Punished, and Should Return What They Received
---
Iran:
1- Leader: Is There Any Guarantee that Mina Incident Doesn't Happen in Similar Times?
2- Iran's Railway Connected to Herat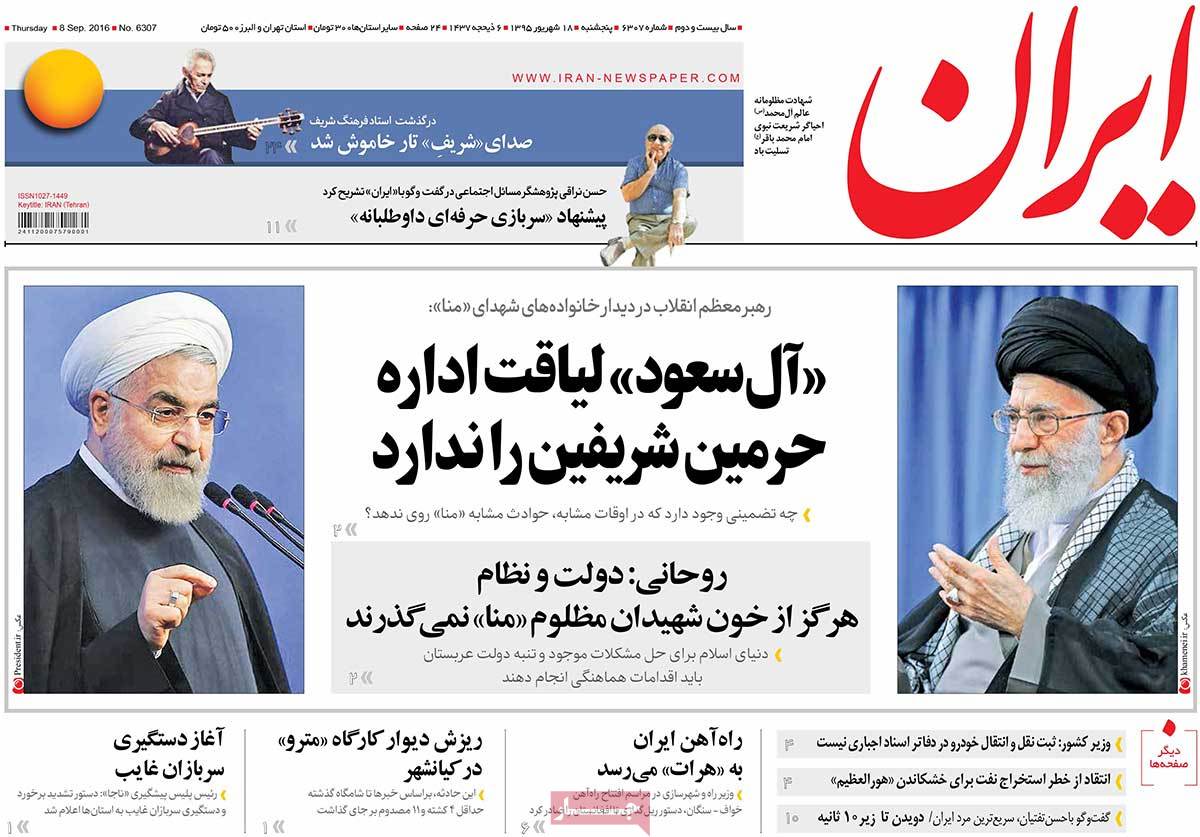 ---
Jame Jam:
1- Leader: Evil Progeny of Al Saudi Doesn't Deserve to Be Custodian of Holy Sites
2- IRIB's Battle with 217 Opposition Channels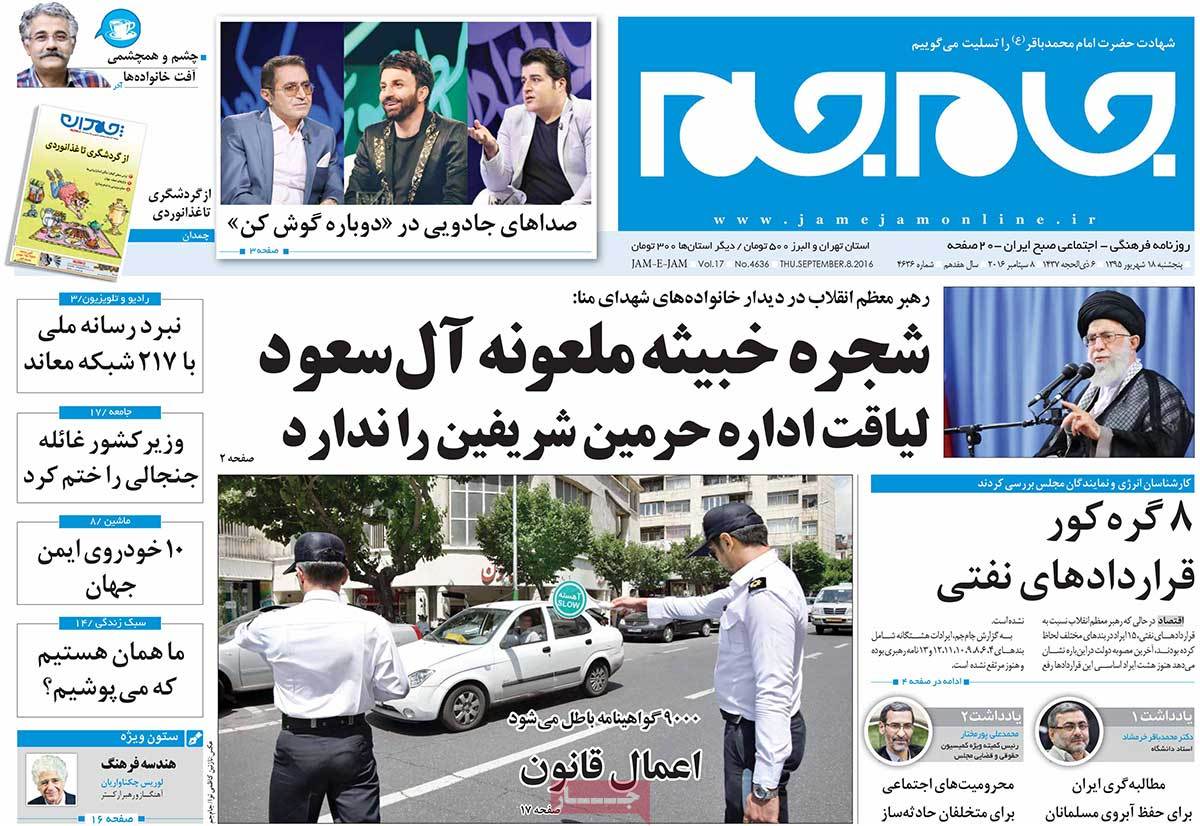 ---
Javan:
1- President: Muslim World Should Unite to Punish Saudi Arabia
2- Campaign against 'Evil Network', from Baghdad to Manama: 1 Day after Leader's Message, a Political Campaign Has Begun from Iraq to Bahrain
---
Jomhouri Eslami:
1- Muslim World's Silence over Martyrdom of 7,000 Pilgrims in Mina Is Great Scourge for Islamic Ummah [Society]: Leader
2- Economy Minister: We'll Implement FATF within Framework of Constitution
3- Zarif in Response to Saudi Grand Mufti: There's No Similarity between Iran's Islam and the Terrorist-Nurturing Islam of Wahhabis
4- Foreign Ministry Spokesman: Saudi Crown Prince Should Be Accountable to Bereaved Families of Mina Victims
---
Kayhan:
1- Leader: Shameless Saudi Regime Shedding Blood and Committing Crime in Region with US Backing
2- JCPOA Didn't Lift Sanctions; Now They Promise to Have Them Terminated with FATF
3- Iraqi People Promote Leader's Hajj Message [Billboards indicate Iraqi people's hatred towards the Saudi regime]
---
Khorasan:
1- New Environmental Disaster: New Dam Being Built by Turkey Will Expose Entire Iran to Dust Pollution
---
Resalat:
1- Economy Minister: We'll Impose No Sanction against Domestic Bodies
2- US Is Main Cause of Tension in Korean Peninsula
3- Ayatollah Makarem Shirazi: Al Saud Wants to Take Revenge of Its Failures in Hajj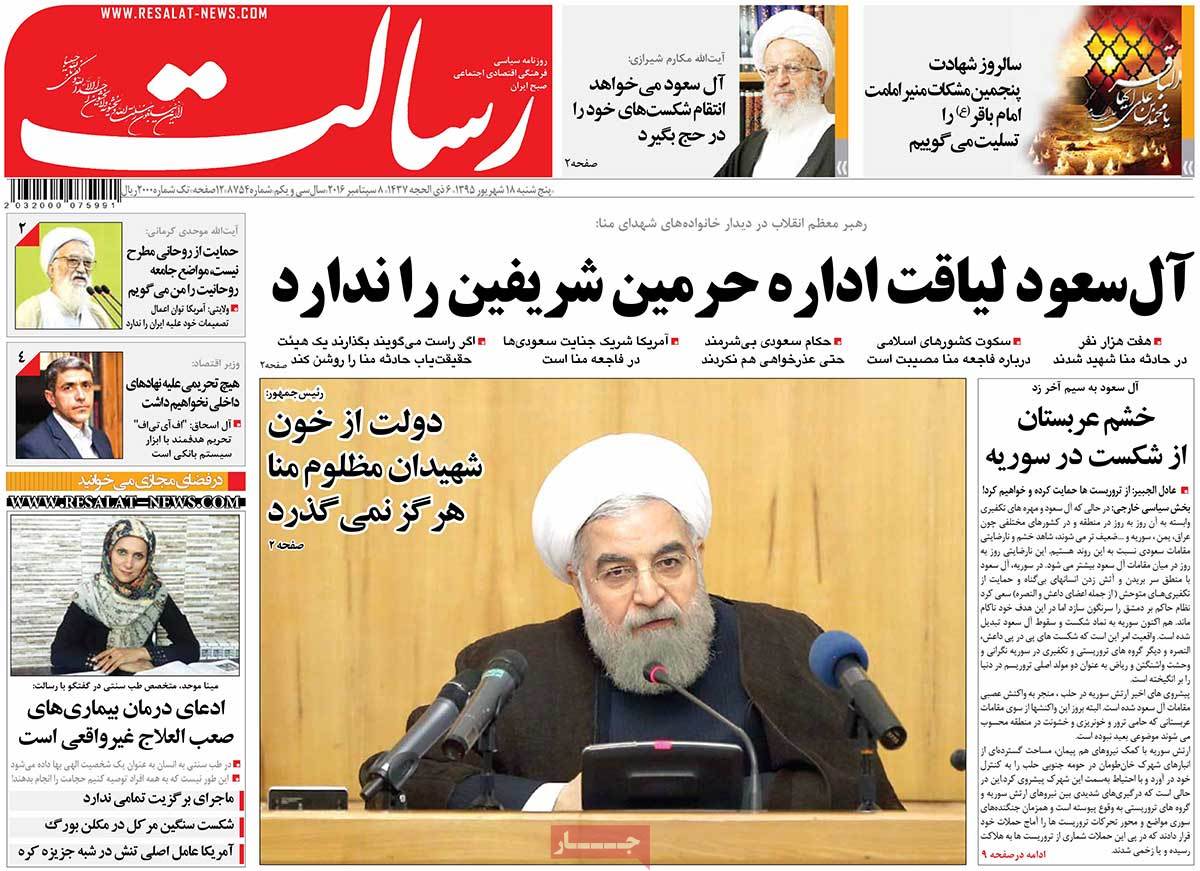 ---
Rooyesh-e Mellat:
1- Leader: US Is Saudi Arabia's Accomplice in Mina Tragedy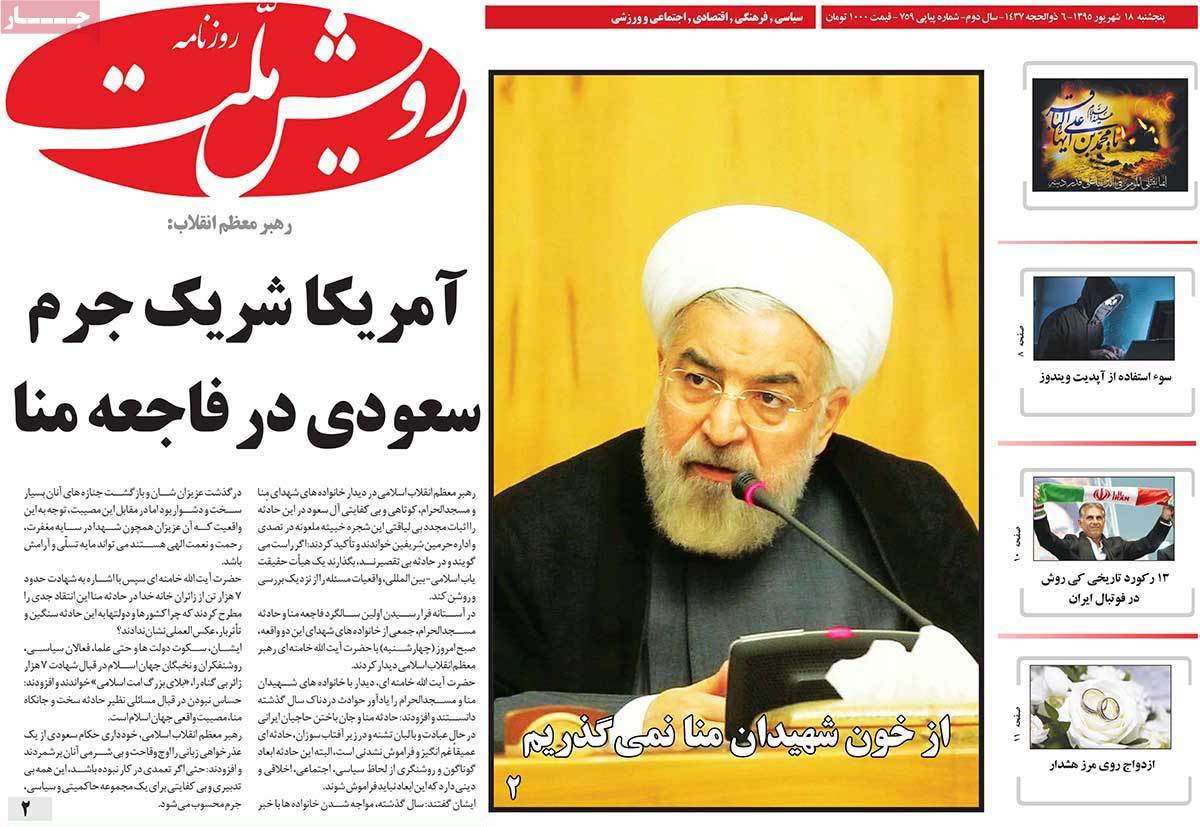 ---
Saheb Qalam:
1- Increase in Iran's Gas Exports to Turkey
2- Russia's Deputy FM: Some G5+1 Members Refuse to Remove Barriers Based on JCPOA
---
Shargh:
1- Economy Minister Rejects Intelligence Ties with FATF: We Have No Self-Imposition of Sanctions
2- Interior Minister on Municipality's House Sales: If Anyone Has Violated the Law, Judiciary Should Prosecute Them
3- US Pays $1.7bn in Cash to Iran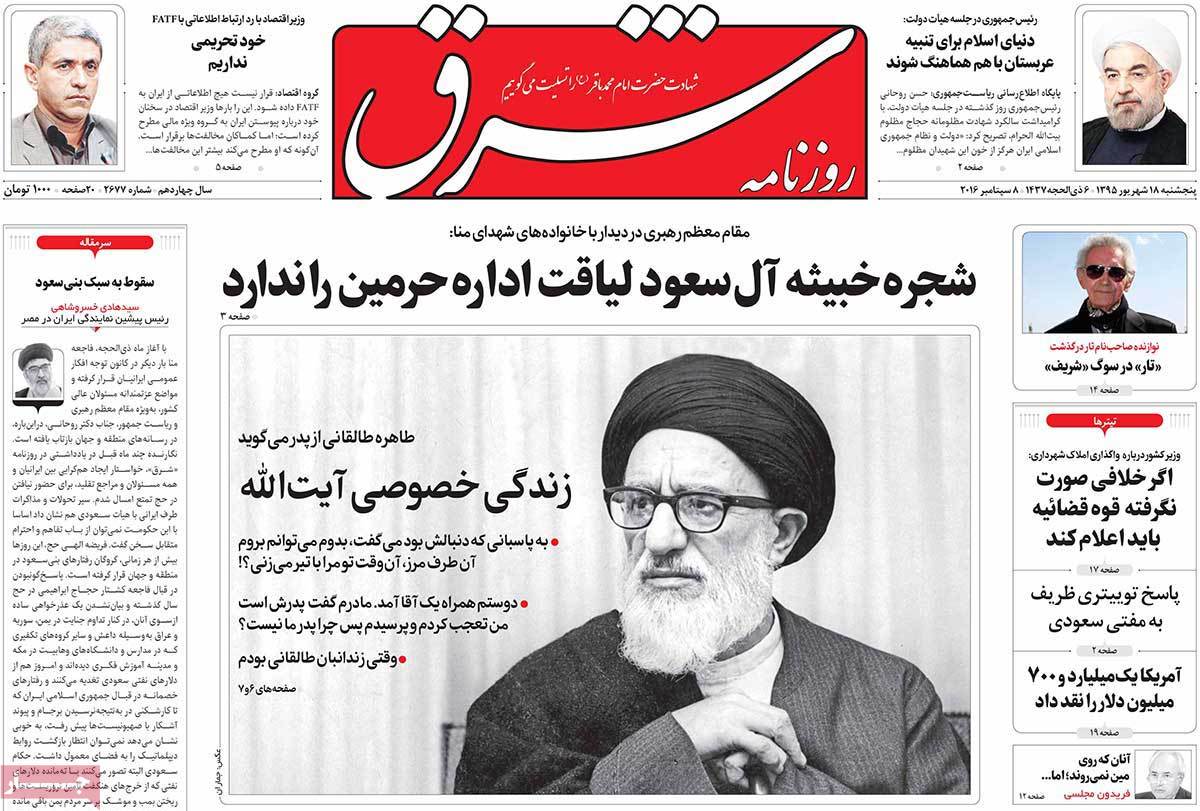 ---
Setareh Sobh:
1- Rouhani in Cabinet Meeting: We'll Not Ignore Blood of Mina Victims; Some Ignorant and Emotional People Gave Excuses to Saudis