Almost all newspapers on Tuesday covered the ongoing operation by the Iraqi army and the US-led coalition to liberate the ISIS-held city of Mosul.
They also reported the remarks about the Judiciary Chief Ayatollah Sadeq Amoli Larijani's remarks, particularly those regarding the upcoming presidential election in Iran. Many other papers have also reported comments and reviews about the 2017 polls.
Another top story today was the statements by Oil Minister Bijan Namdar Zanganeh who promised Iran's self-sufficiency in petrol supply within the coming months.
The above issues, as well as many more, are highlighted in the following headlines:
Abrar:
1- We Have Yet to Give People the Welfare They Had in 2011: First VP
2- Iranian Army's Timely Presence Foils Pirate Attack in Gulf of Aden
3- Seoul: North Korean Missile Exploded Immediately after Launch
4- Mosul Liberation to Take Several Weeks: ISIS Commanders Escape to Syria's Raqqa
5- Ukraine and Turkey to Expand Mutual Military Cooperation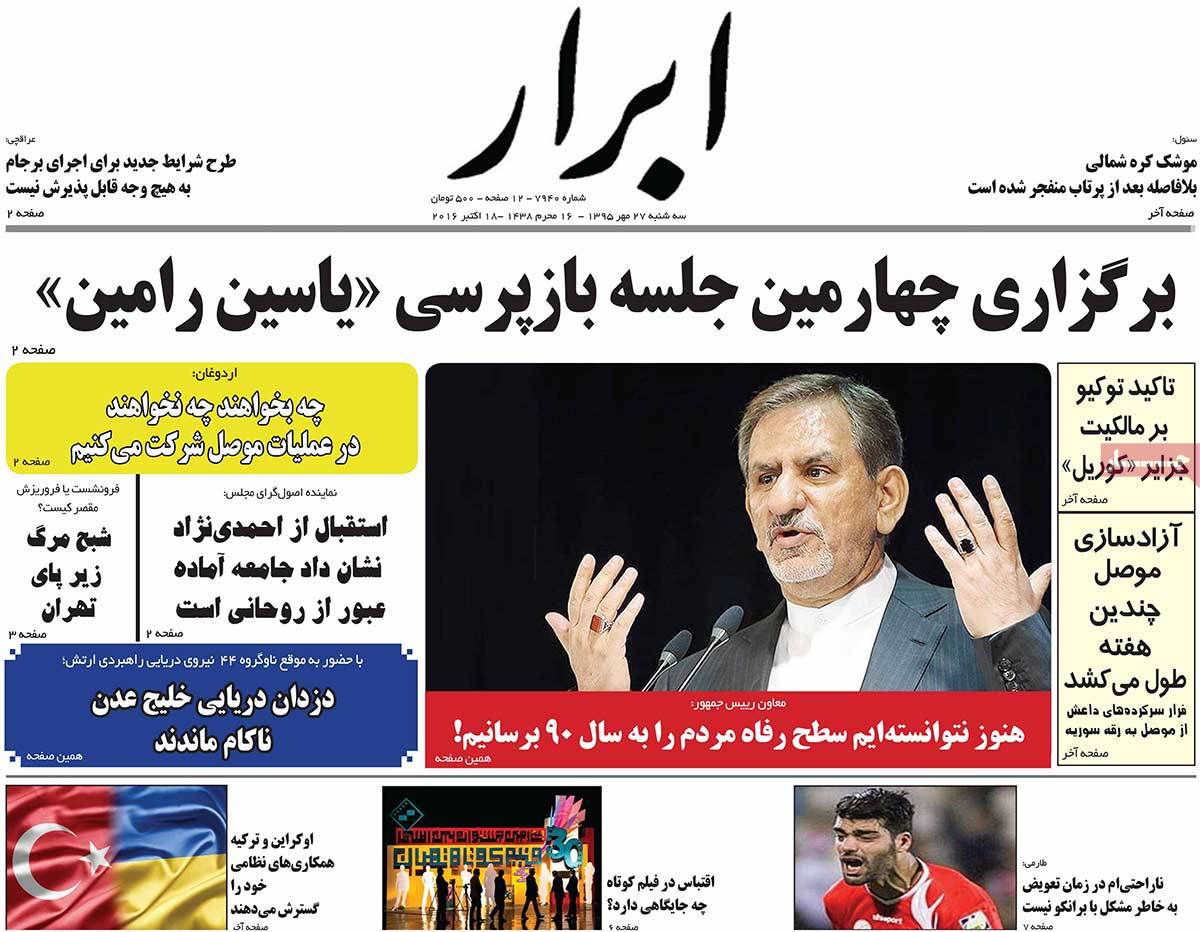 ---
Abrar-e Eqtesadi:
1- Deal between Iran and Luxemburg for Supporting Mutual Investments
2- Imminent Increase in Iran's Oil Output to 4.5 bpd
3- Foreigners Can Have 100-Percent Partnership in LNG: New Oil Tenders to Be Offered in 1 Month
4- Britain Eager to Invest in South Part Gas Field
---
Afarinesh:
1- Rouhani in Meeting with Ivory Coast's FM: Development of Ties with African Countries Is an Integral Part of Iran's Foreign Policy Principles
2- Oil Minister: We'll No Longer Import Petrol
3- Larijani in Meeting with Czech Vice-Speaker: Serious Fight against Terrorism Requires Paying Attention to Its Cultural Roots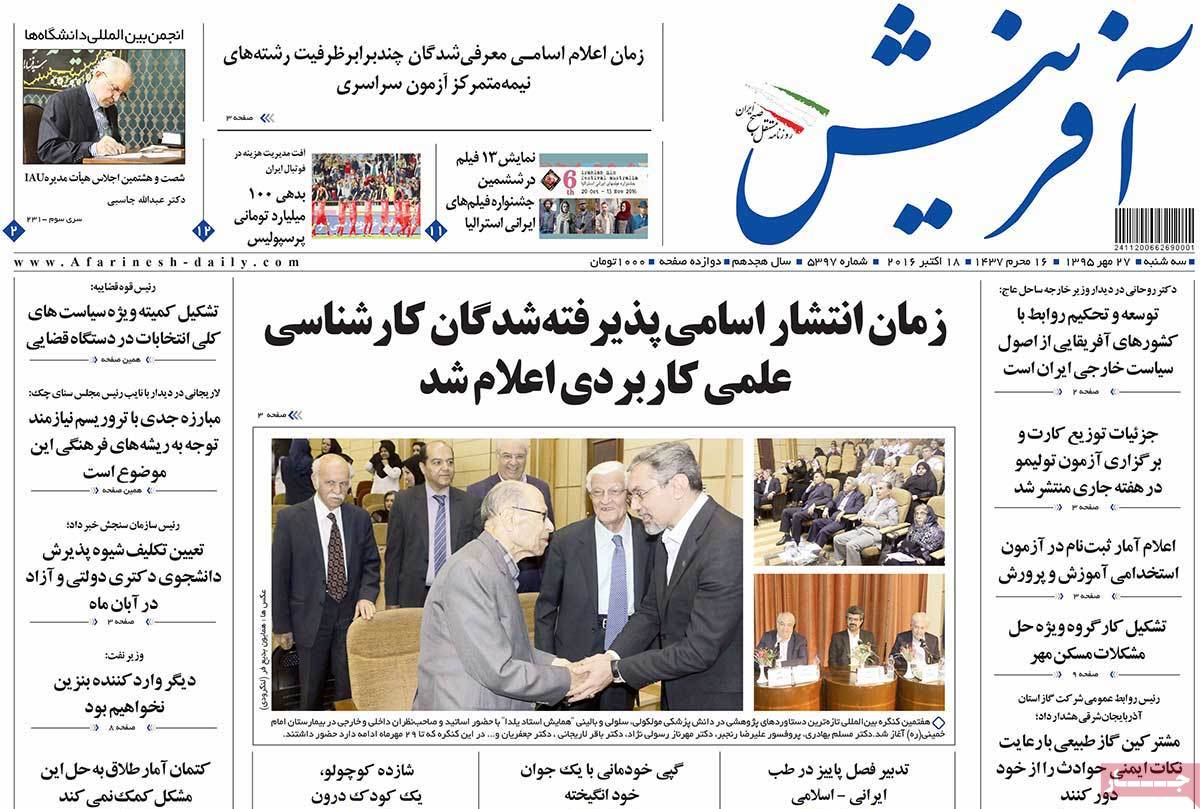 ---
Afkar:
1- Iran to Become Self-Sufficient in Petrol Supply as of March 2017
2- First Victories in Operation to Liberate Mosul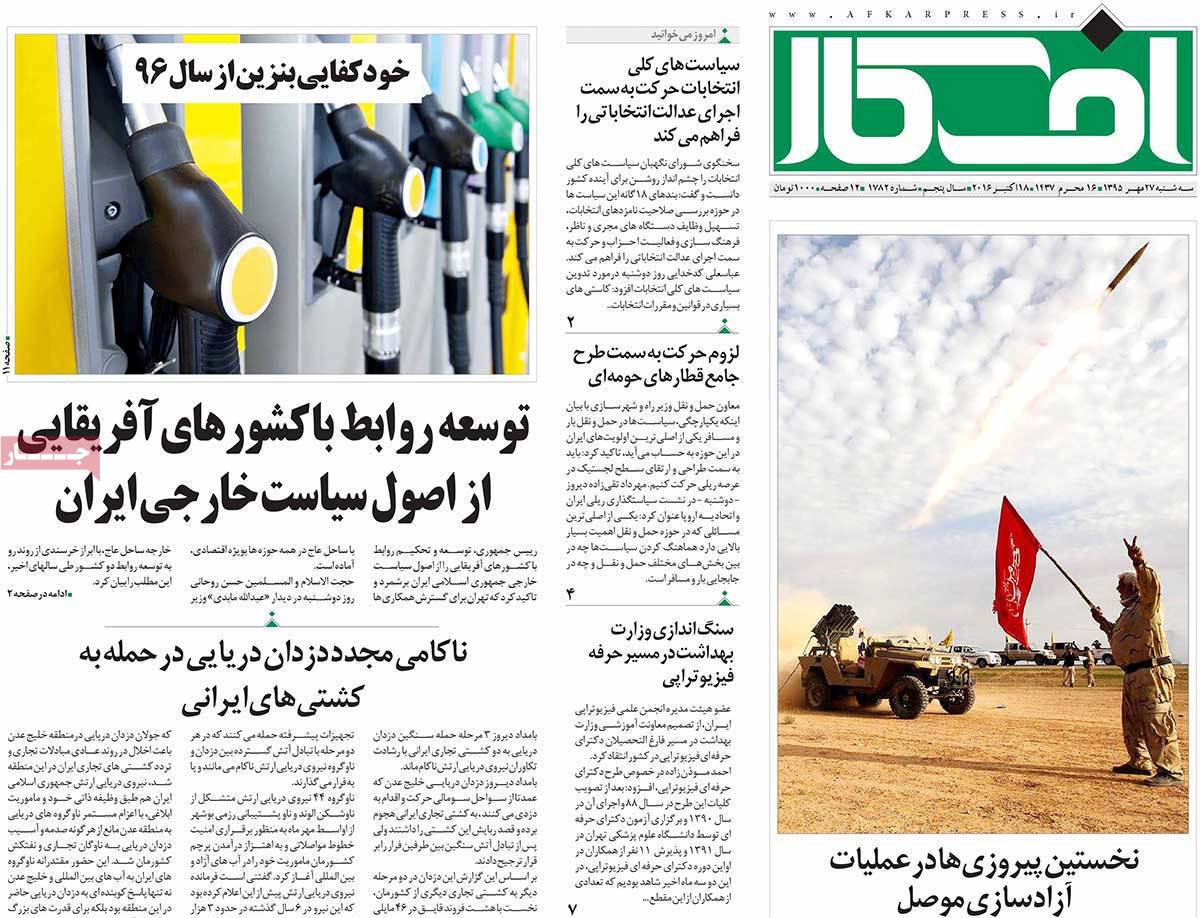 ---
Aftab-e Yazd:
1- Italians' Offer for Architecture of the Highway Connecting Tehran to Northern Iran
2- First VP: What Previous Government Did to Iran's Economy Cannot Be Easily Compensated
3- Judiciary Chief: Moral Collapse of Western Statesmen Is a Researchable Phenomenon
4- Luxury Foods Served for Ahmadinejad!
5- Direct Train to Be Launched between Iran and Germany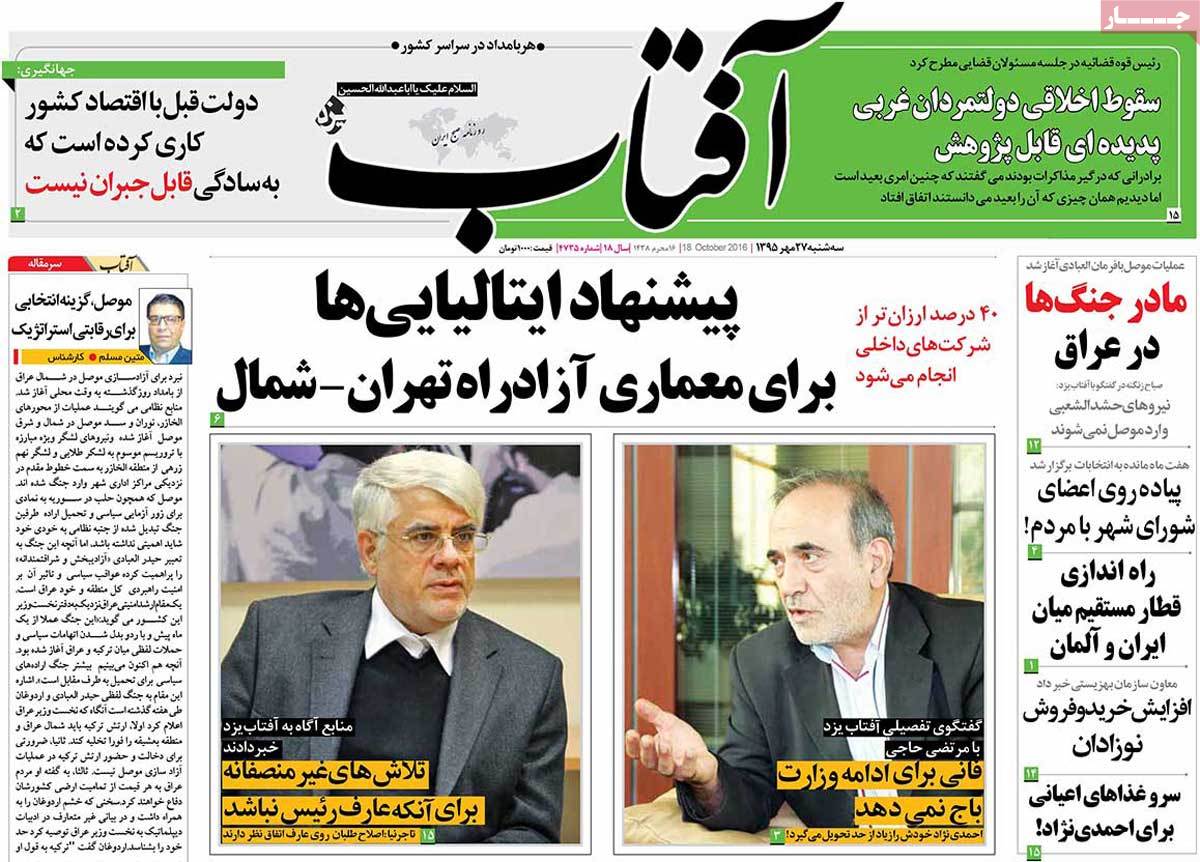 ---
Amin:
1- Zibakalam: Conservatives Will Be Defeated without Ahmadinejad
2- Awards Watch: Asghar Farhadi's The Salesman Predicted to Have Second Highest Chance for Winning Best Foreign Language Film in Academy Awards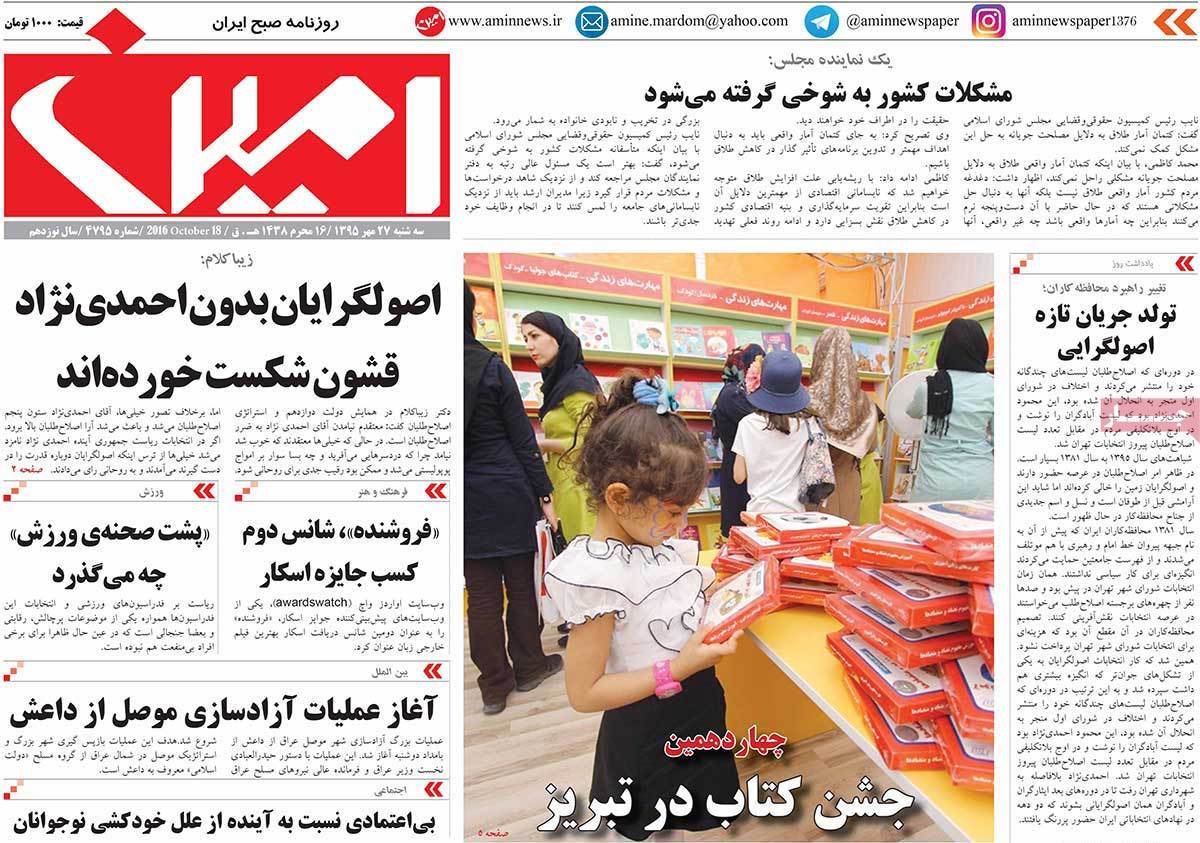 ---
Arman-e Emrooz:
1- Zibakalam Calls for Ethical Support of Rouhani in 2017 Elections: Ahmadinejad's Decision Not to Run for Presidency Was to Rouhani's Disadvantage
2- Mayor of Canada's Montreal Visits Tehran without Media Attention: Secret Meeting with Mayor of Tehran?
---
Asrar:
1- Mosul Operation, a Beginning to the End of ISIS
2- Former Iranian Diplomat: Saudis Have Become Crazier!
3- 11% Difference between Trump and Clinton
---
Donya-ye Eqtesad:
1- New Opponents of Iran's Accession to WTO Are Identified: Arabic Barrier to WTO Accession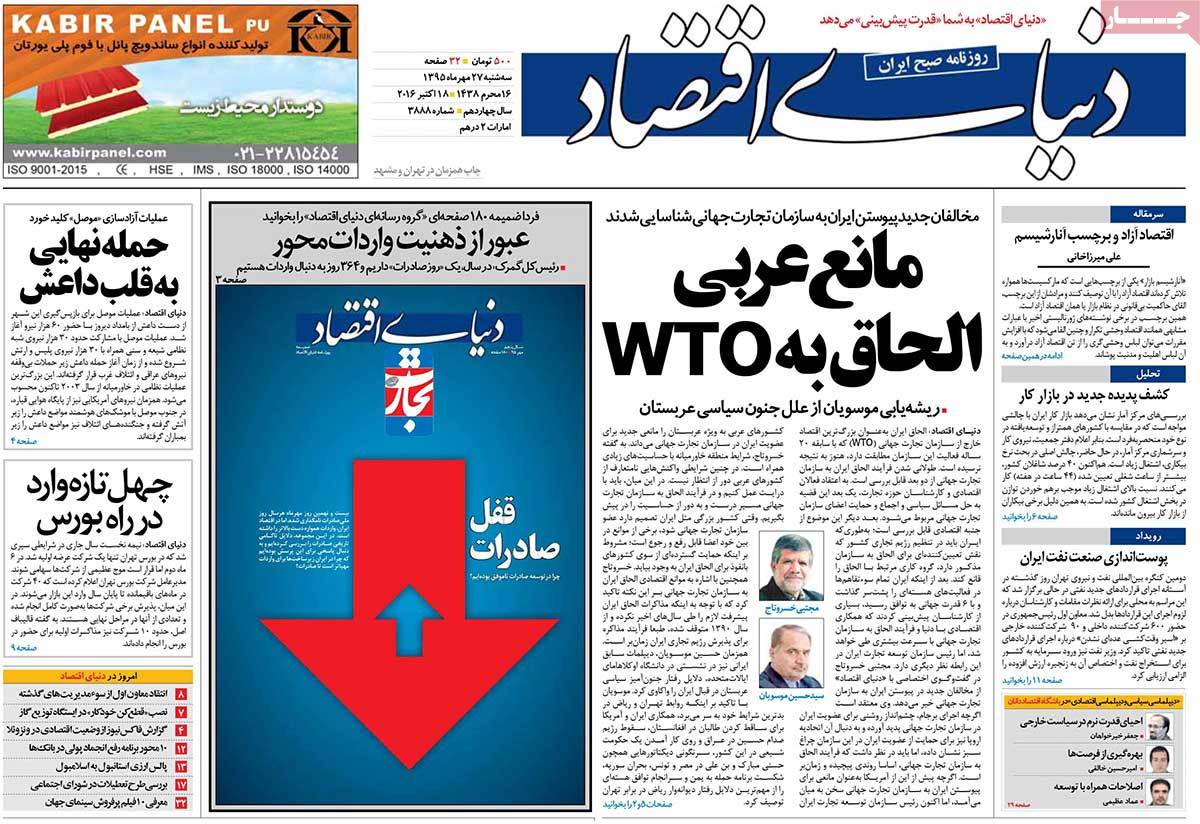 ---
Ebtekar:
1- Weaknesses of Bank-Oriented Economy: 90% of the Burden of Iranian Economy's Financial Supply Is on Banking System's Shoulders
---
Emtiaz:
1- Worrying Statistics Indicate 30% of Female University Students in Iran Smoke Hookah
---
Etemad:
1- Europe and US Dreaming about Third Option: Analysis of London and Luxemburg Talks on Syria
2- Vice-Speaker Motahari: We Shouldn't Let the Dichotomy of 2009 [Presidential Elections] Be Repeated Again
3- Senior Reformist MP Aref Calls for Closure of the Case Regarding House Arrest of Iranian Opposition Leaders Mousavi and Karroubi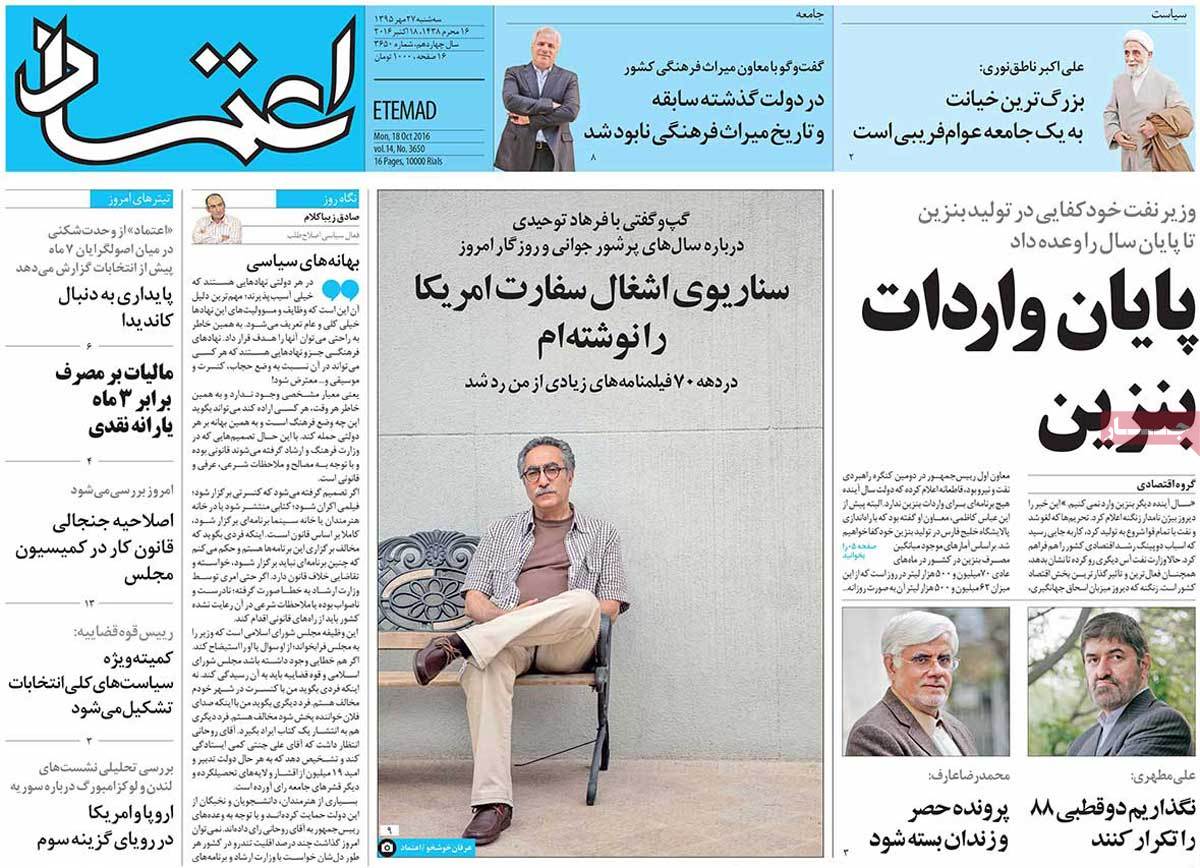 ---
Ettela'at:
1- Deputy FM: Setting New Conditions for JCPOA Is Unacceptable
2- Intelligence Minister: Current Security in Iran Is Unique in the World
3- Saudi Arabia Has Taken the Issue of Lebanese President's Election to a Deadlock: Nabih Berri
---
Hamshahri:
1- Iran's Foreign Ministry Spokesman: We Consider the Country's Defensive Might as a Support for Our Diplomacy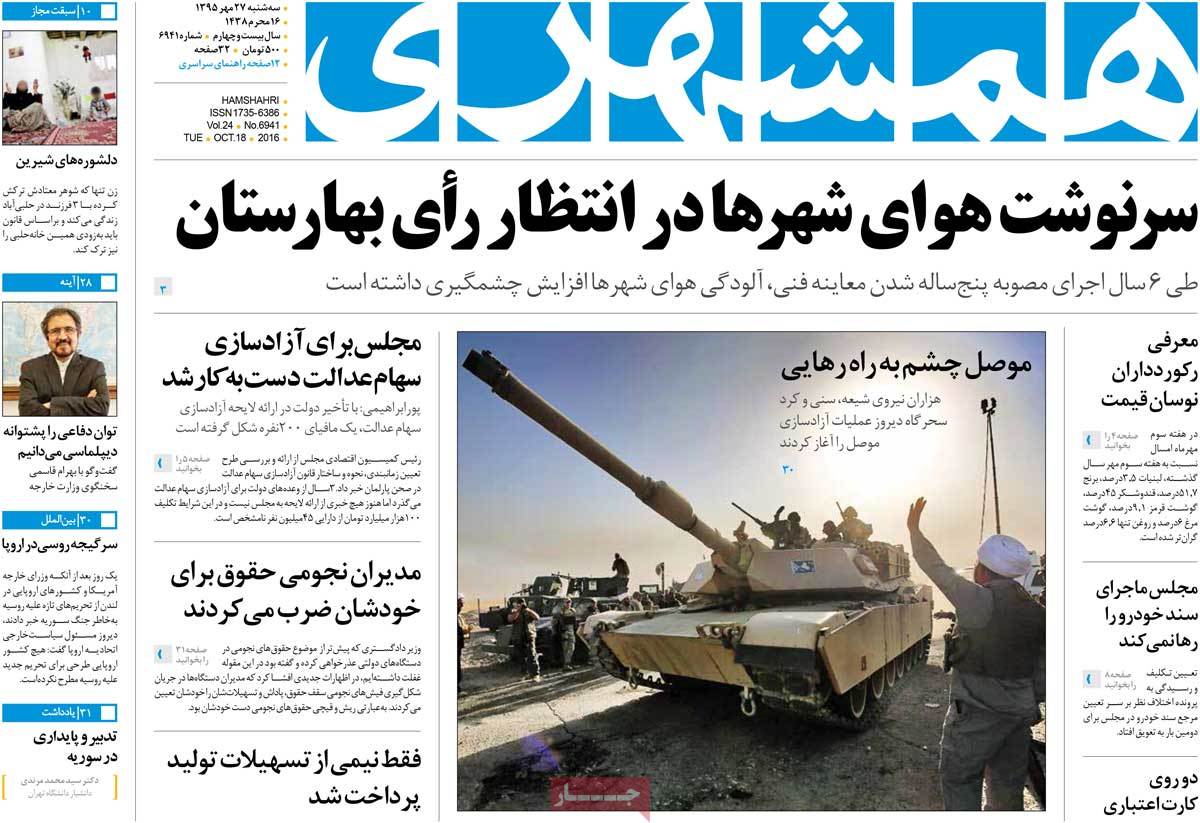 ---
Hemayat:
1- Abubakr al-Baghdadi Escapes Death; Speedy Progress of Iraqi Forces towards Mosul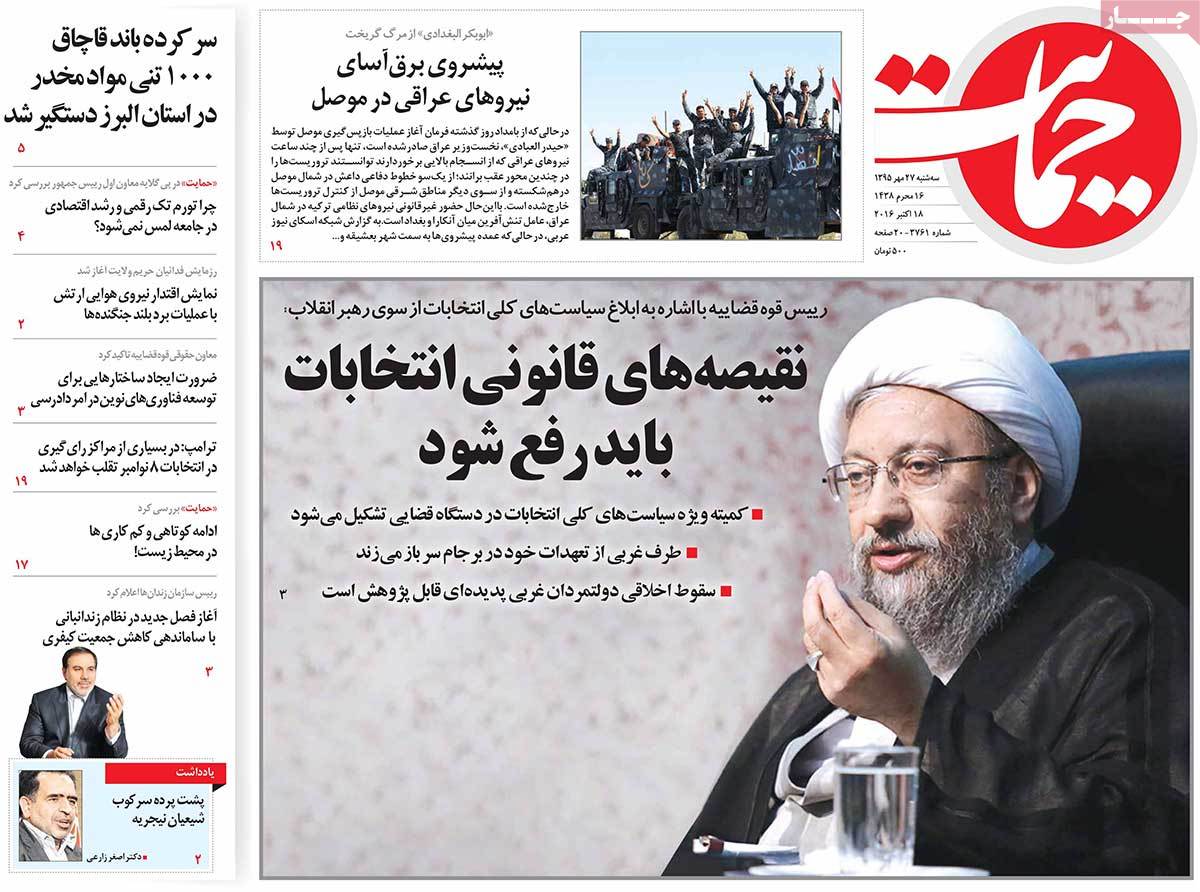 ---
Iran:
1- Onslaught on Heart of ISIS
2- Iranian Music Once Again Heard in Venice after 86 Years of Absence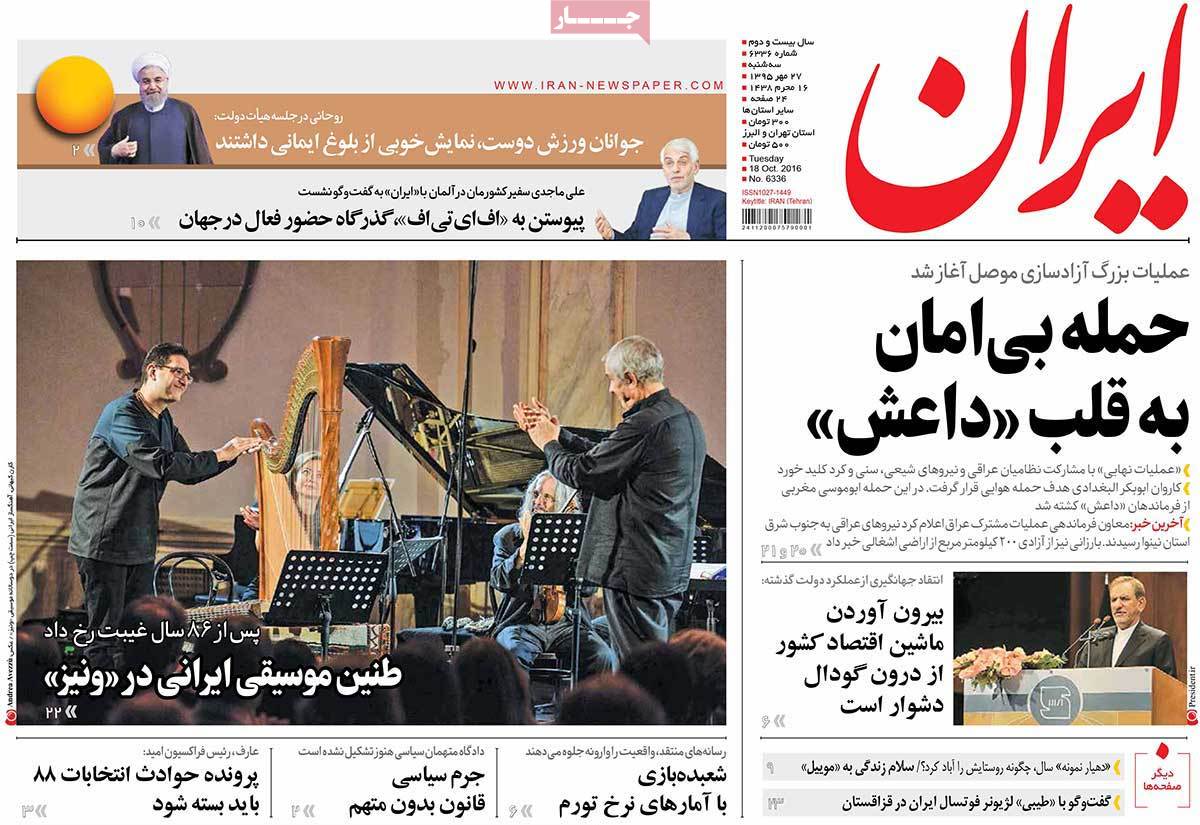 ---
Jame Jam:
1- New Trap to Hunt Iranian Youth: Increasing Growth of Underground Modelling
2- 4,200 Bank Accounts Hacked by Phishing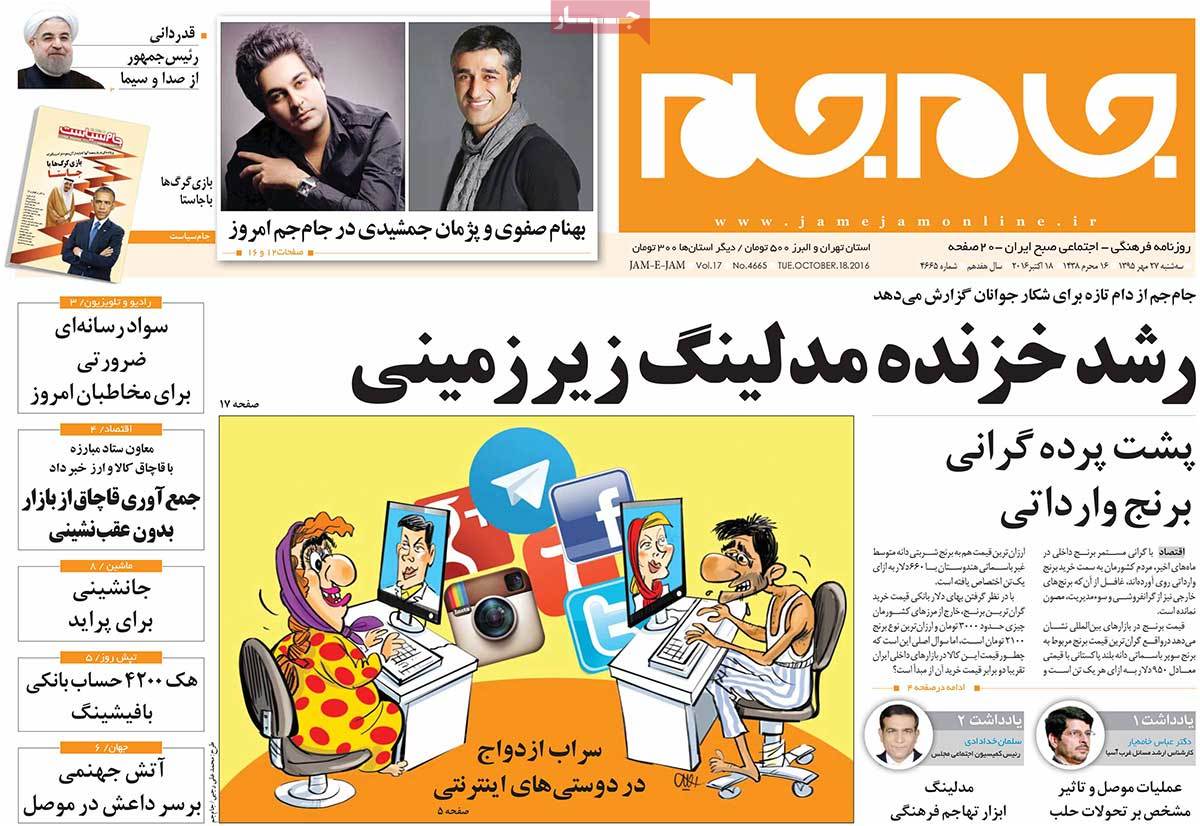 ---
Javan:
1- Judiciary Chief: What Iranian Negotiators Said Is Unlikely to Happen Is Actually Happening
2- 81% of Trump Supporters: There Will Be Cheating on November 8
3- 30,000 Iraqi Forces Launch Attack on ISIS in Mosul: Iraqi Army's Operation Starts with Liberation of 20 Villages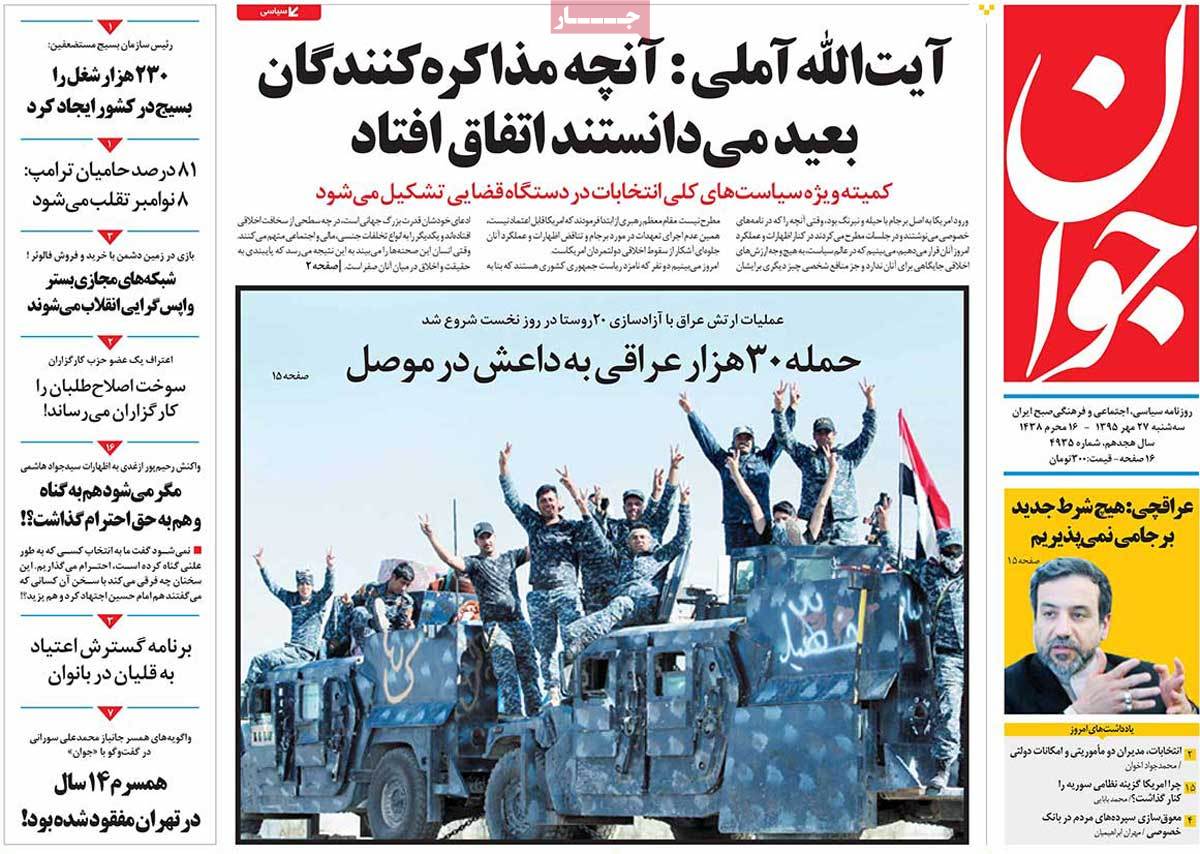 ---
Jomhouri Eslami:
1- Oil Minister: Iran's Gas Extraction from Joint Field to Be on Par with Qatar by mid-March
2- Intelligence Minister: Iranian Security Forces Have Outstanding Sympathy with Each Other
3- ISIS' Defensive Lines Broken around Mosul
4- Former Palestinian Captive Reveals Reactionary Arab Leaders' Repetition of Zionist Regime's Stances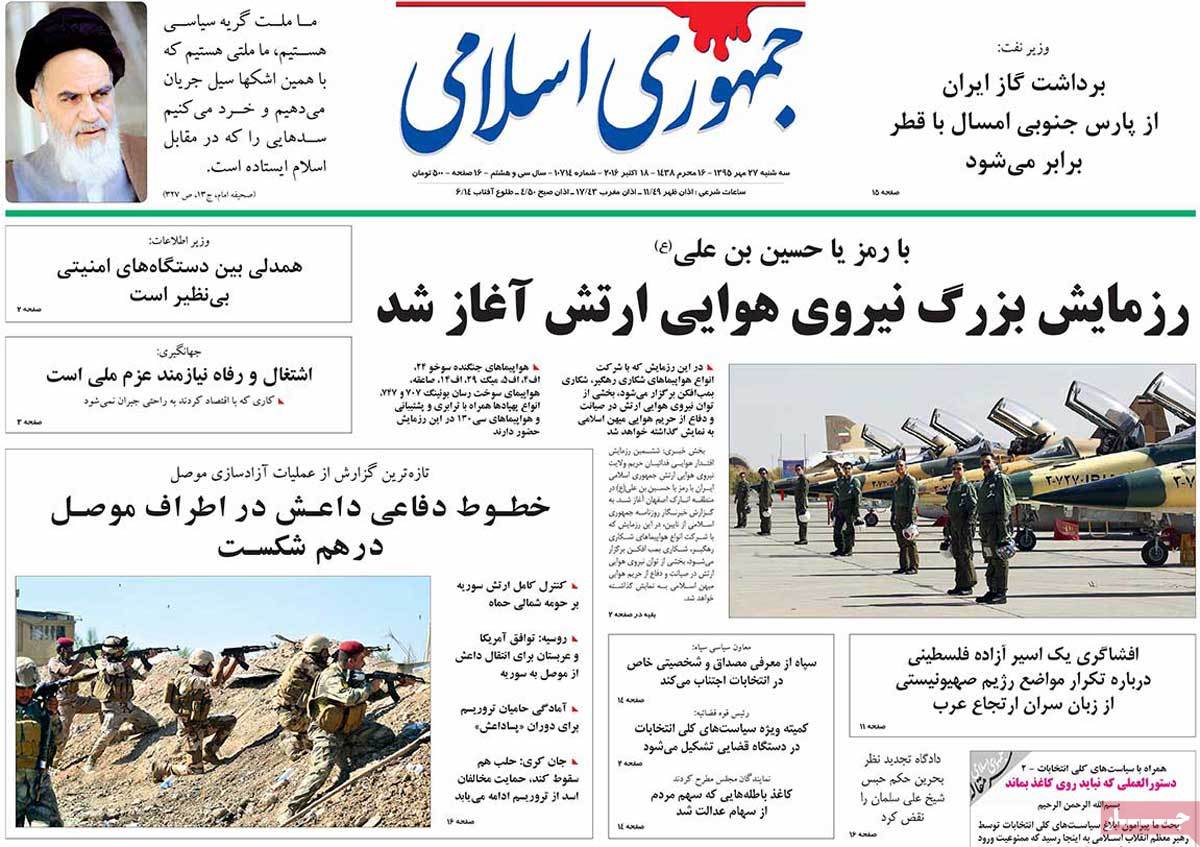 ---
Kayhan:
1- First VP: 9% Inflation Rate Not Consistent with People's Purchasing Power
2- Japan's $1bn Plan for Promotion of Its Missile Power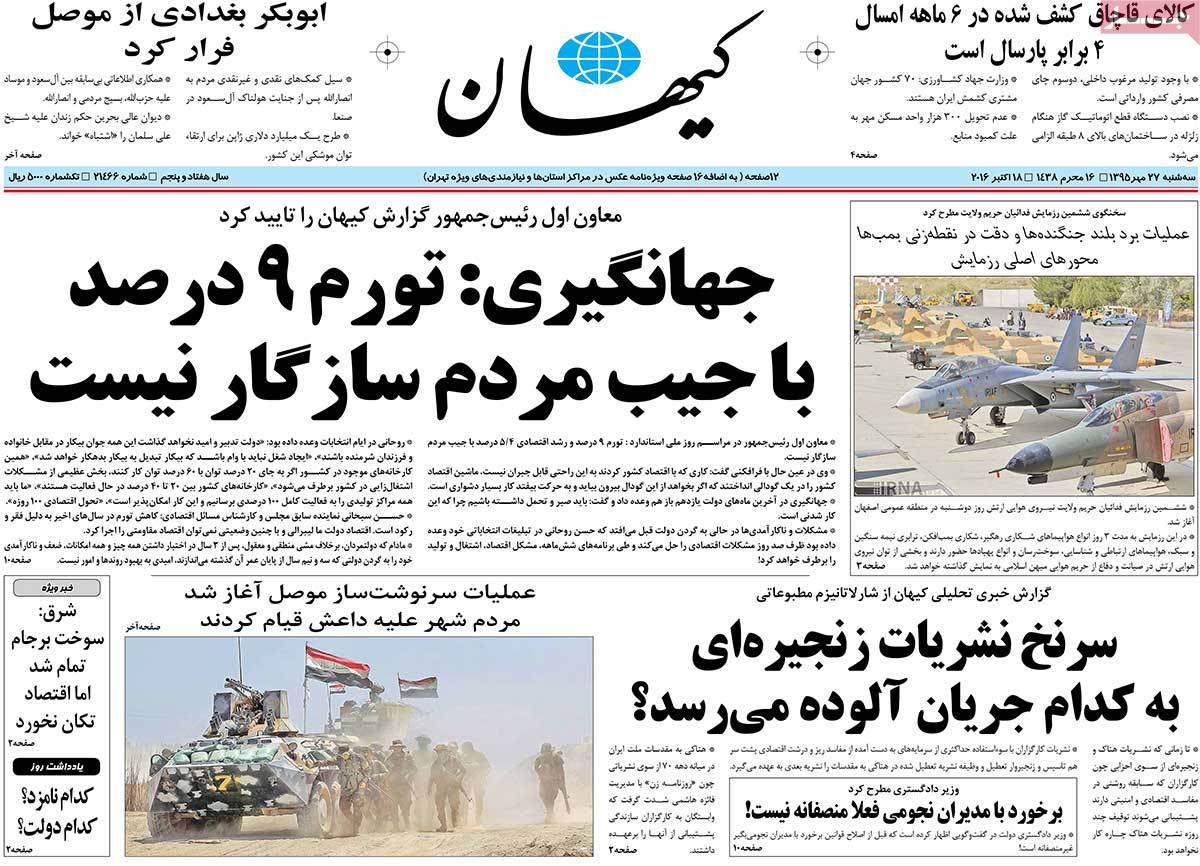 ---
Khorasan:
1- Europol Reports How 10,000 Asylum-Seeking Children Are Missing in Europe
2- Mousavian's Straight Debate in Oklahoma University: Why the Argument that Assad's Gov't Represents the Minority Isn't Raised in Case of Bahrain
---
Resalat:
1- Analyst: West's Media Dictatorship Is of One of the Most Complicated Types
2- Judiciary Chief: Special Committee to Be Formed in Judiciary System for General Policies of Elections
---
Setareh Sobh:
1- Everyone Worried about Trump's Possible Victory: What Would Happen to People of the World and the US?
2- IRGC's Political Deputy: IRGC Will Follow Leader's General Strategies in 2017 Elections
---
Shahrvand:
1- TB Disease Once Again: New WHO Report Shows TB Is Definitely Not a Disease of the Past
---
Vaghaye Ettefaghieh:
1- IRGC General Safavi: Afghanistan and Iraq Invasion Turned Out to Be in Iran's Favour Politically
2- Human Chain for Saving the Life of Saravan: People of Iran's Rasht Stand against Landfill Trucks to Save the Forest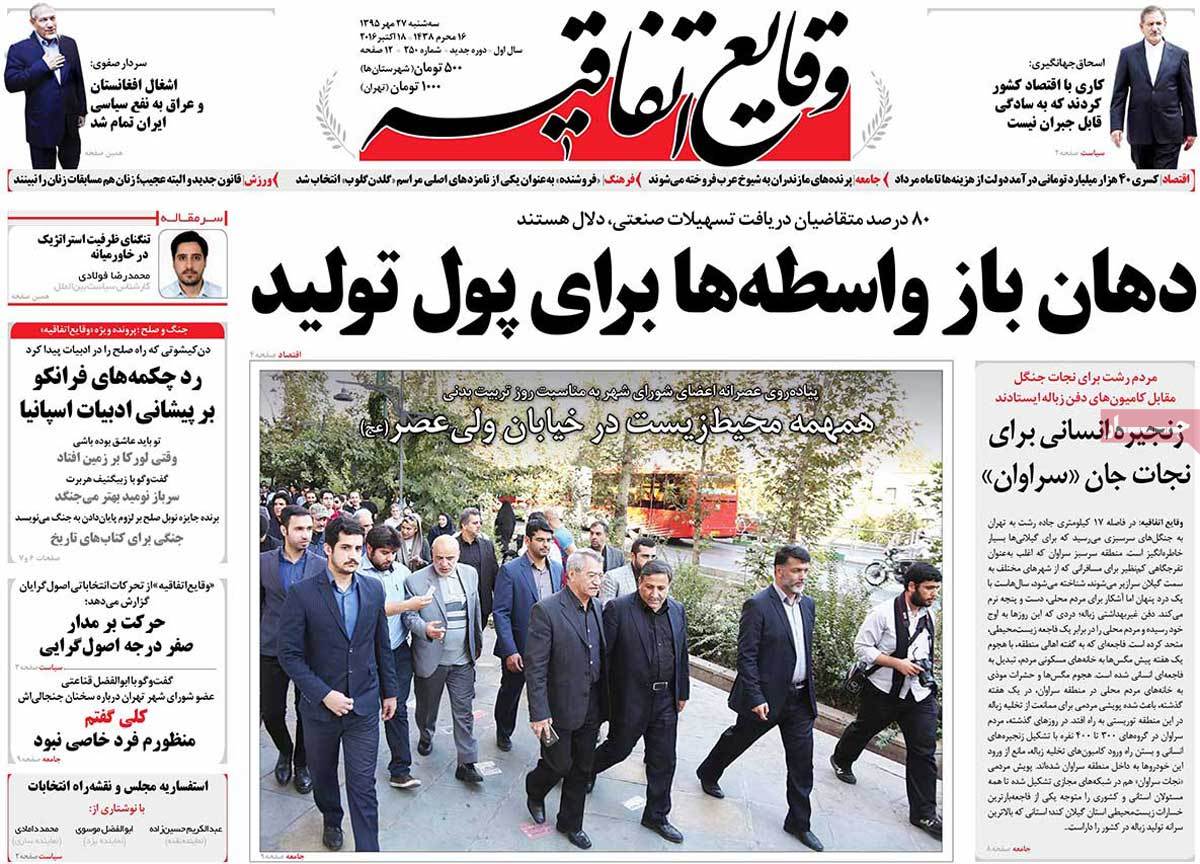 ---
Vatan-e Emrooz:
1- Deputy FM Araqchi: Kerry's Remarks Surprised Me!
2- Cutting the Viper's Head: Operation to Cleanse Mosul of ISIS Terrorists Kicked Off