Newspapers today covered the Bahraini regime's raid on the house of top Shiite cleric Sheikh Isa Qassim, and the conflicting reports about his arrest.
The deadly attack on Manchester Arena also received great coverage. Several papers linked the attack to the Saudi sponsors of terrorism.
Iranian Parliament Speaker Ali Larijani remarks against Saudi Arabia's support for terrorism and extremism were also a top story today.
The above issues, as well as many more, are highlighted in the following headlines and top stories:
19 Dey:
1- National Dialogue Needed in Post-Election Iran
2- Larijani: Iran Showed Strong Presence in Region with Its election
3- Larijani Surprised by US, Saudi Claim to Be Frontrunners of Fight against Terror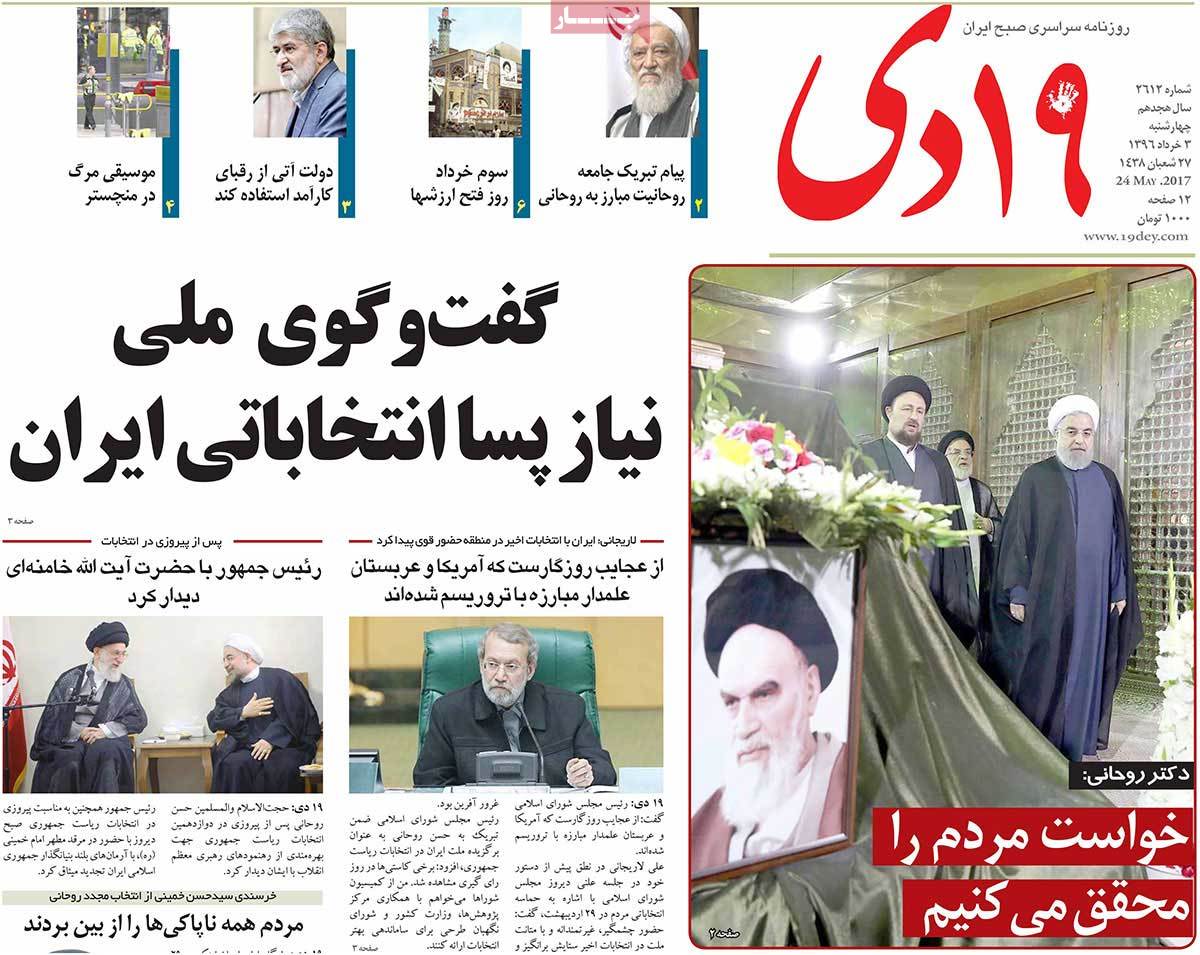 ---
Abrar:
1- Rouhani: We'll Do Our Best to Fulfil Promises We Gave
2- French President Congratulates Rouhani on Re-Election
3- Iran's Missile Program among Islamic Republic's Unchangeable Policies: Official
---
Abrar-e Eqtesadi:
1- Trump's Shock to Oil Market: US to Sell Half of Its Strategic Oil Reserves
2- Import of 364 Types of Foreign Goods Prohibited
---
Afkar:
1- Bahrain's Revolution Heart Seized after US, Saudi Arabia's Green Light
2- Pop Singer to Rouhani: Improve People's Financial Problems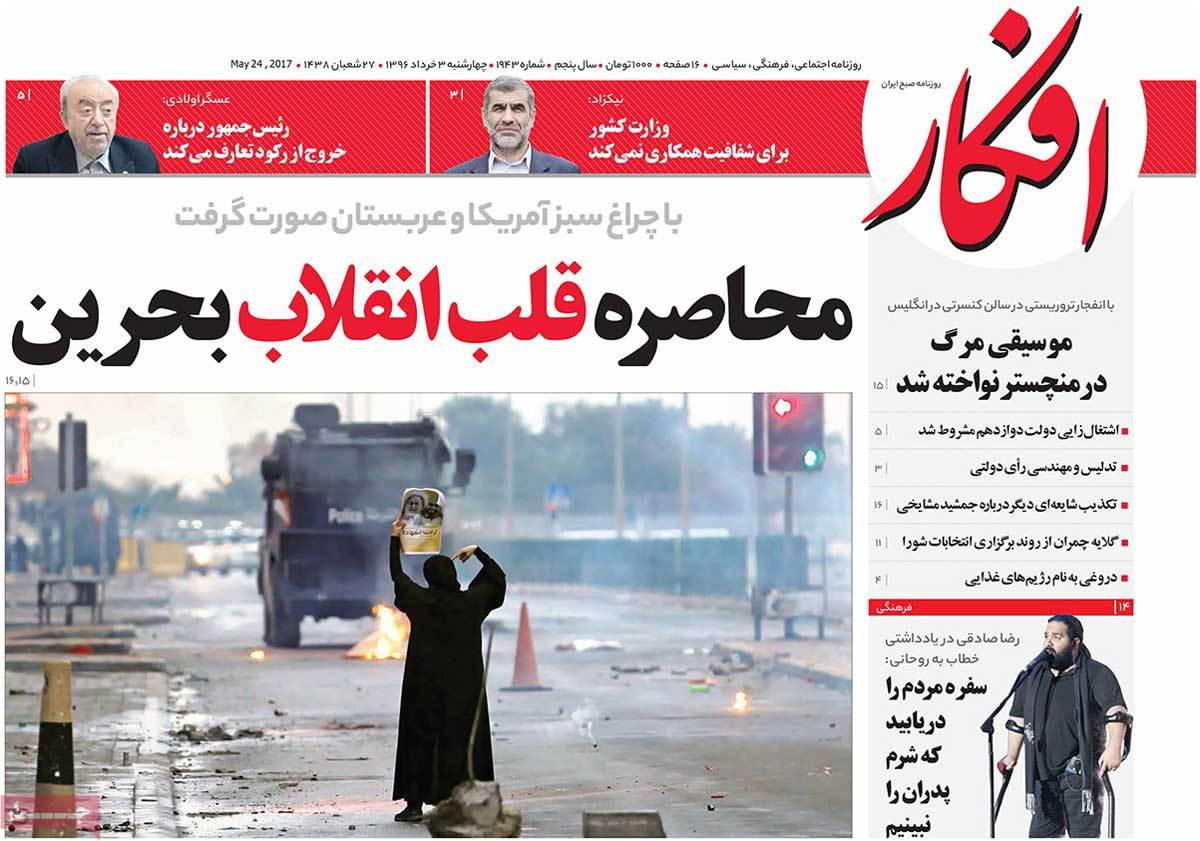 ---
Aftab-e Yazd:
1- Why Didn't You Congratulate Rouhani?
Rouhani's rivals and certain officials didn't mention Rouhani's victory in their messages
2- Rap Singer Asks Friday Prayers Imam of Mashhad's Permission for Concert
---
Asrar:
1- Larijani: Saudi Arabia is Centre of Exporting Terrorism
2- Culture Minister: Culture Can Replace Oil
---
Emtiaz:
1- Iran's First Post-JCPOA Oil Contract is worth $500m
2- Iran's National Oil Tanker Company Signs 70 Rent Deals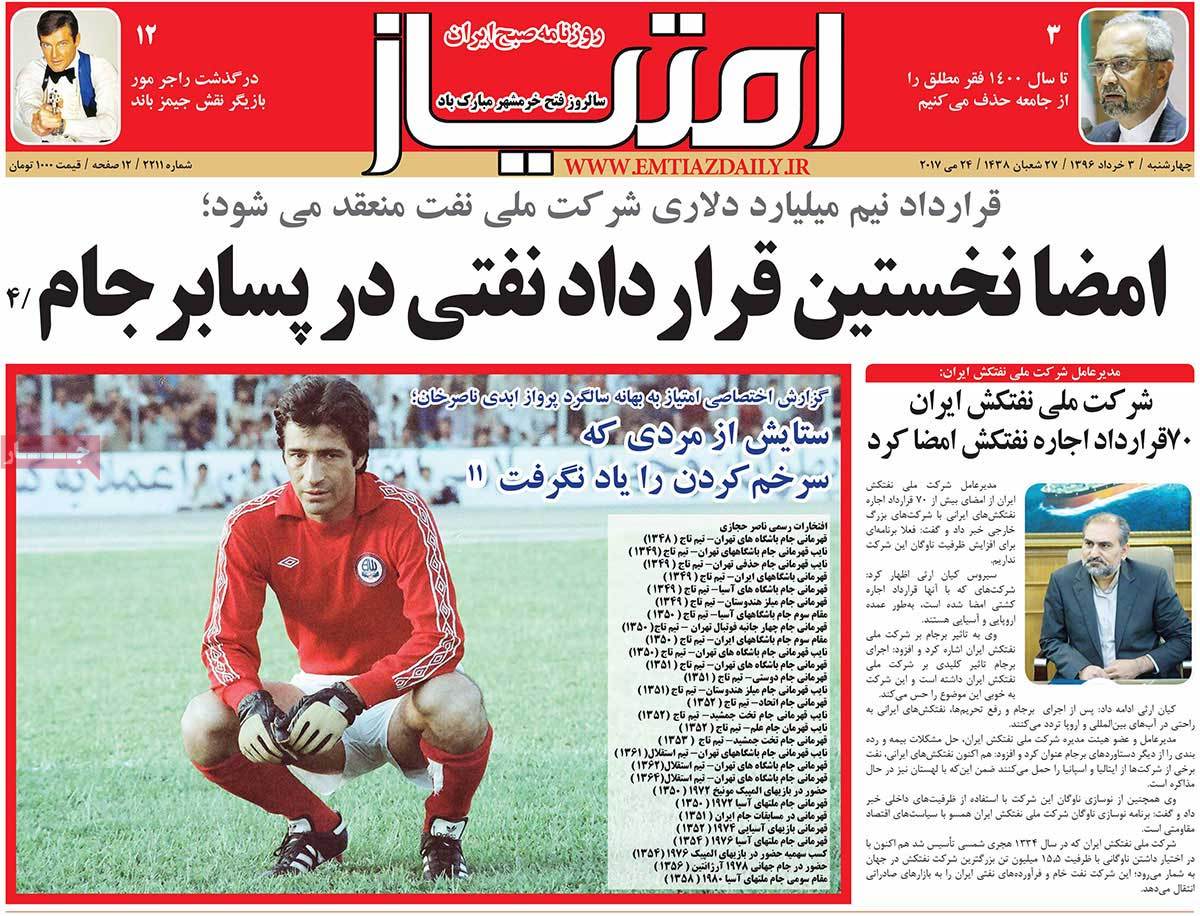 Ettela'at:
1- Rouhani: People Decided that Everyone Gets Back to Train of Revolution
2- Portal Launched for People's Free Access to Information
3- Gov't Resolved to End Absolute Poverty in 4 Years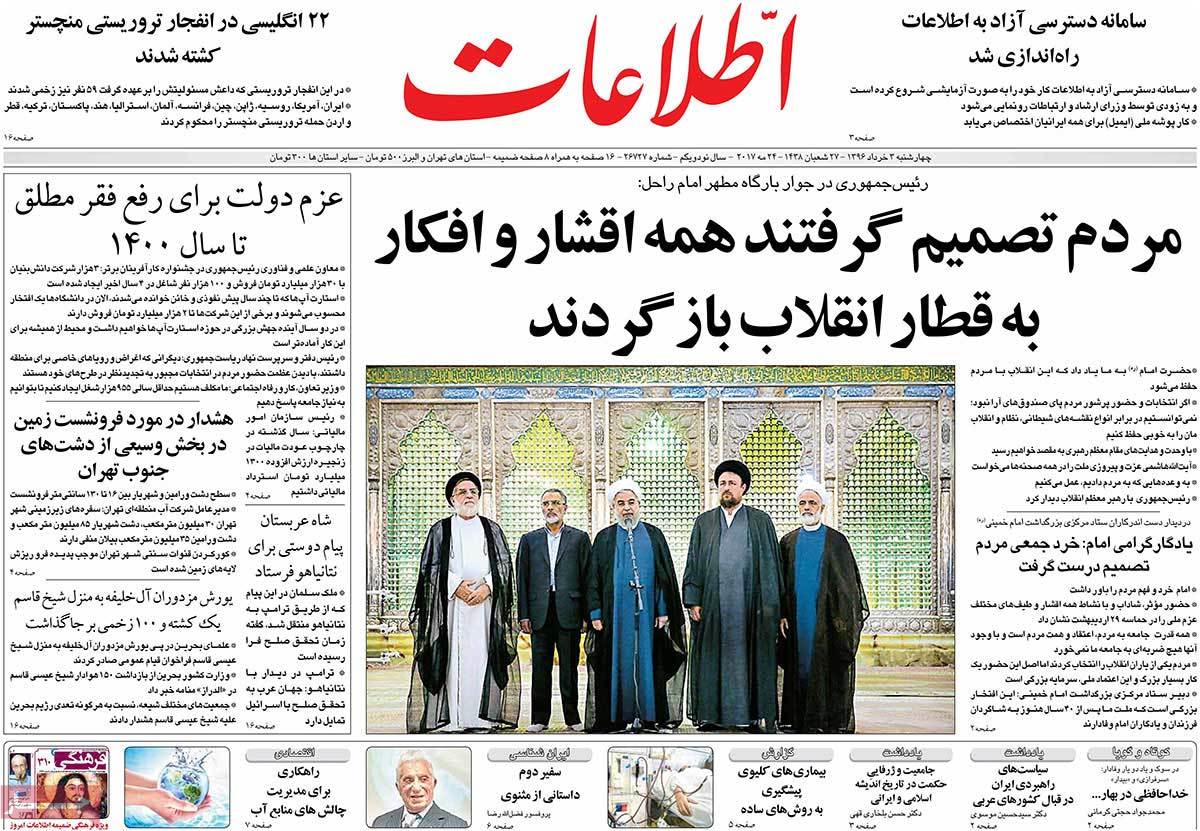 ---
Javan:
1- Bahrain Outraged by Raid on Top Shiite Cleric's House
2- Dance in Riyadh, Concert of Death in Manchester
Bloody Terrorist Attack in England's Manchester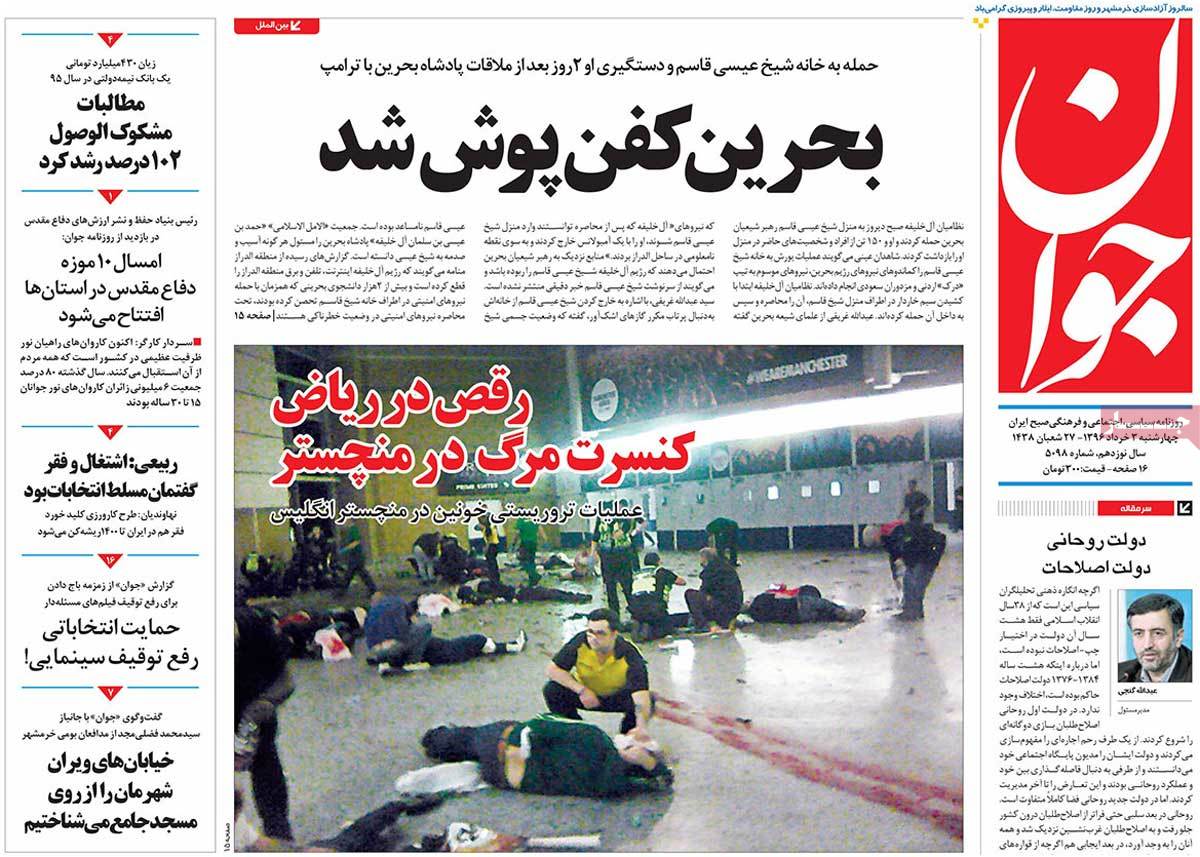 ---
Jomhouri Eslami:
1- OIC Calls for World Intervention to Save Yemeni People's Lives
2- 47% Growth of Investment in Iran's Industrial Towns in Past 2 Months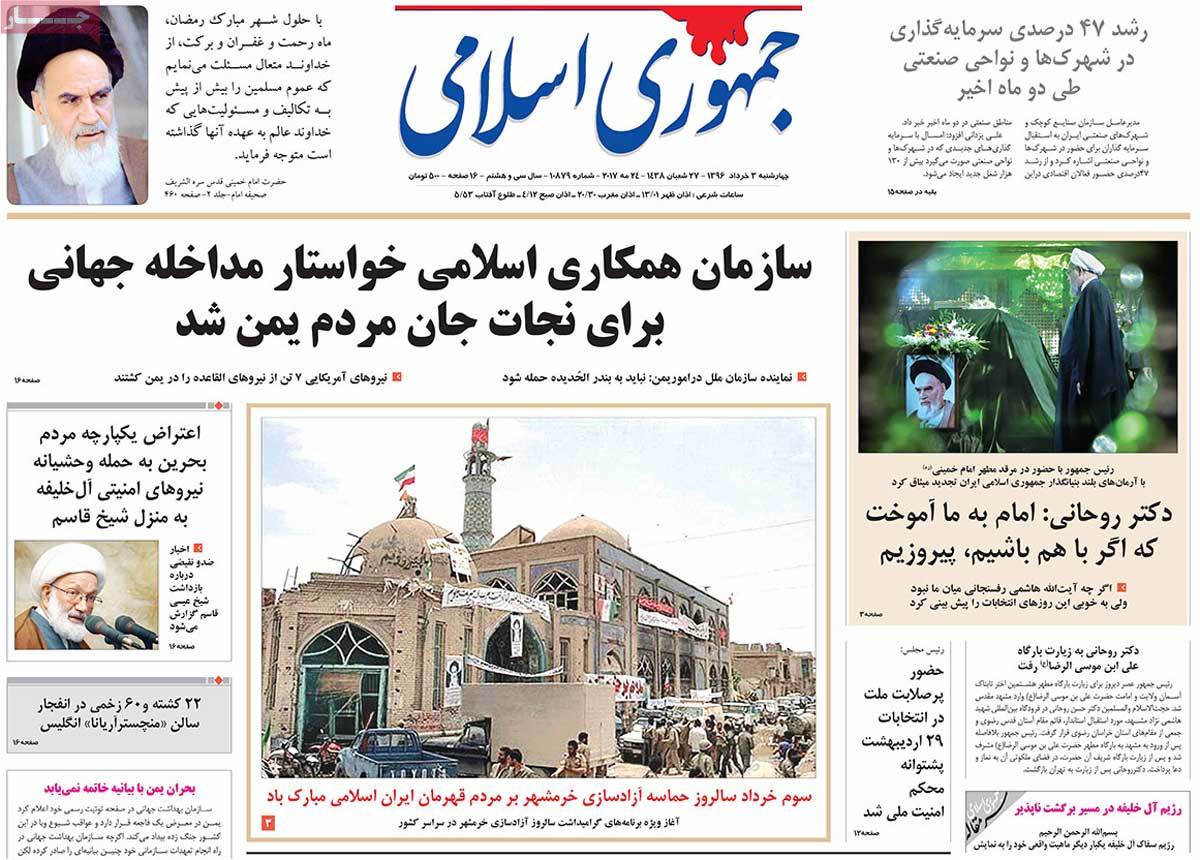 ---
Kayhan:
1- Humiliating Document 2030, from Statesmen's Claims to Reality
2- Radicals Start Conflict on Tehran New City Council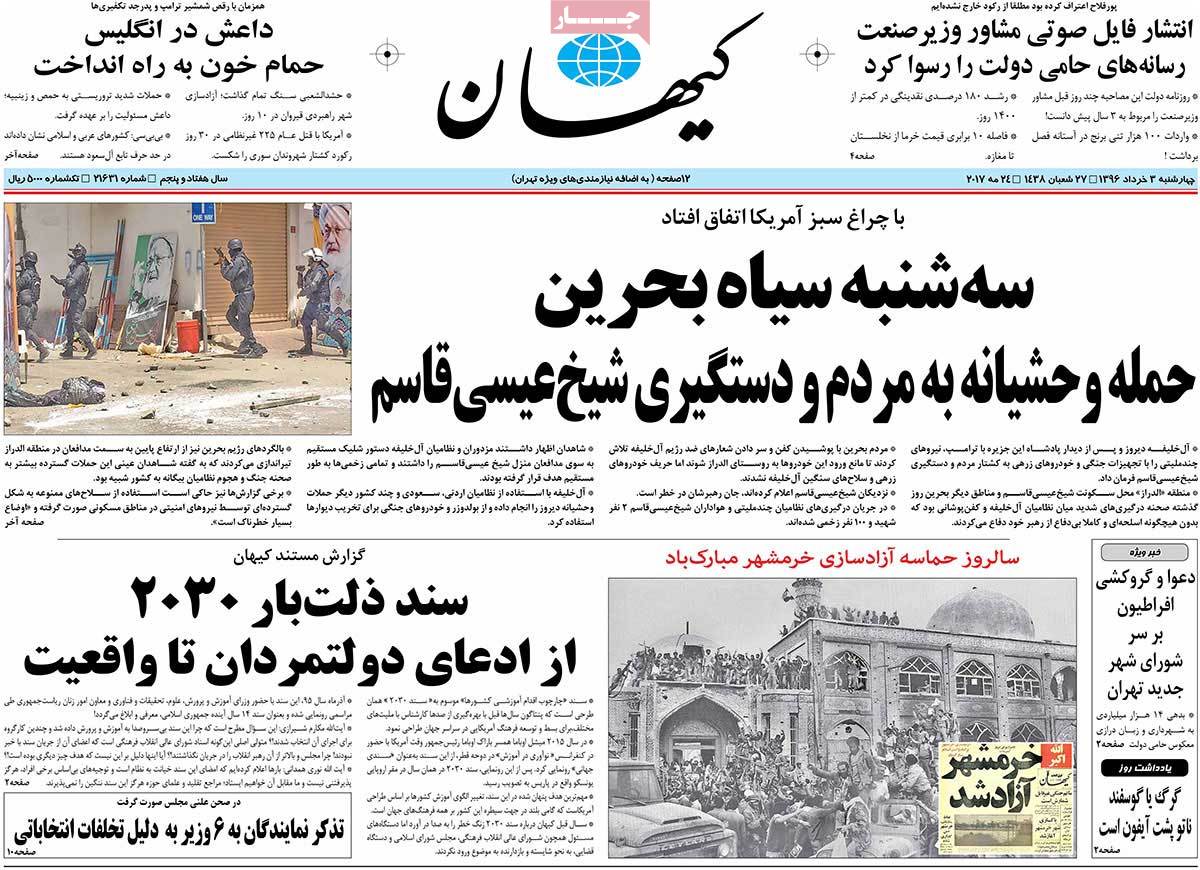 ---
Resalat:
1- Speaker: Saudis Always Involved in Wars against Muslim Nations
2- Nuclear Chief: Iran Has Surprising Plan in Case of JCPOA Annulment
3- Iraqi Hostages in Iran Have Authored 65 Books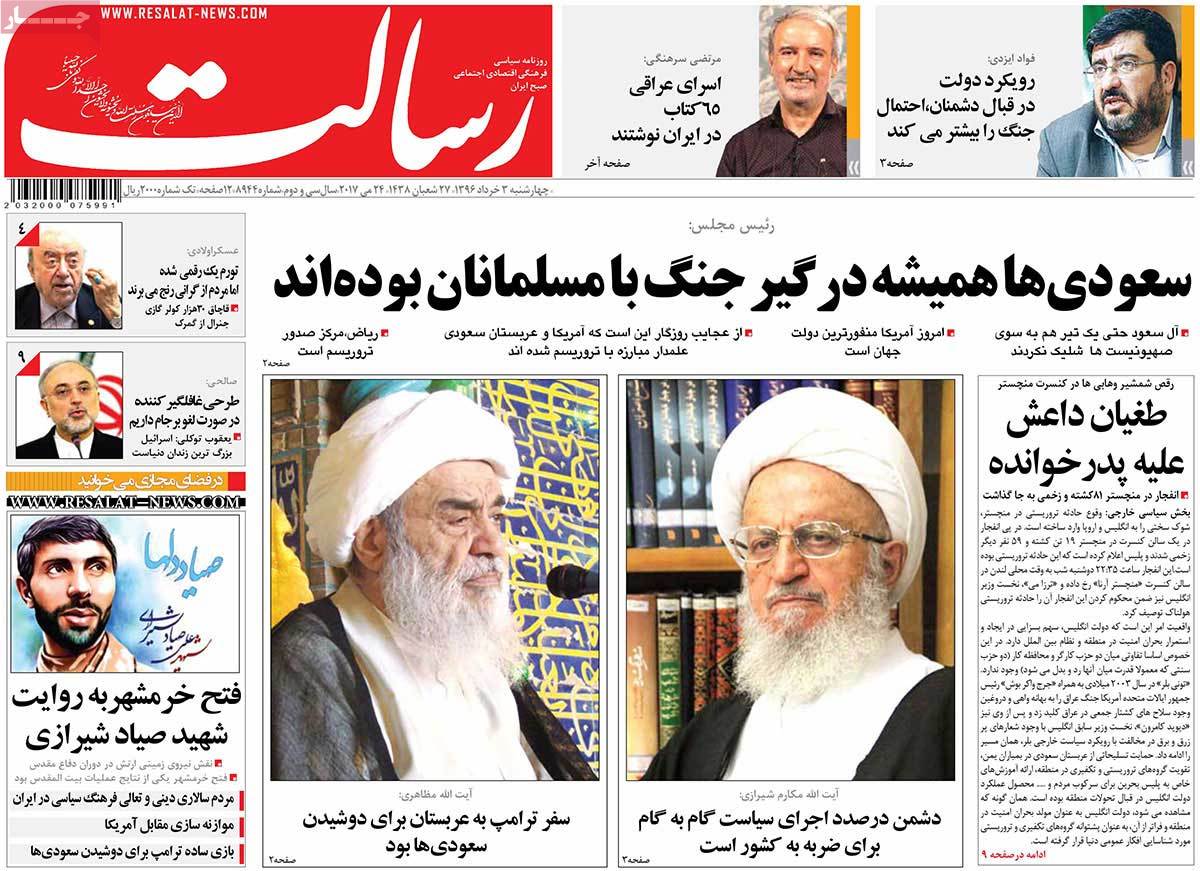 ---
Vaghaye Ettefaghieh:
1- Rouhani Meets with Iran's Leader
2- Larijani: Iran Respected by the World Thanks to Elections