The top story in all Iranian newspapers was the Leader of the Islamic Revolution Ayatollah Seyyed Ali Khamenei's meeting with the country's judiciary officials. During the meeting, the Leader called on the Judiciary to design alternatives for prison term.
The terrorist attacks in Turkey as well as the calls for people's participation in Friday's Int'l Quds Day rallies also received wide coverage by Iranian newspapers.
These headlines, along with many more issues, are presented as follows:
Abrar:
1- In Soldiers' Bus Crash, We Are Responsible and Guilty as Well: Army Ground Force Commander
2- Kerry Praises Iran's Role in Fight against ISIS
3- No Change in Iran's Behaviour after JCPOA: McGurk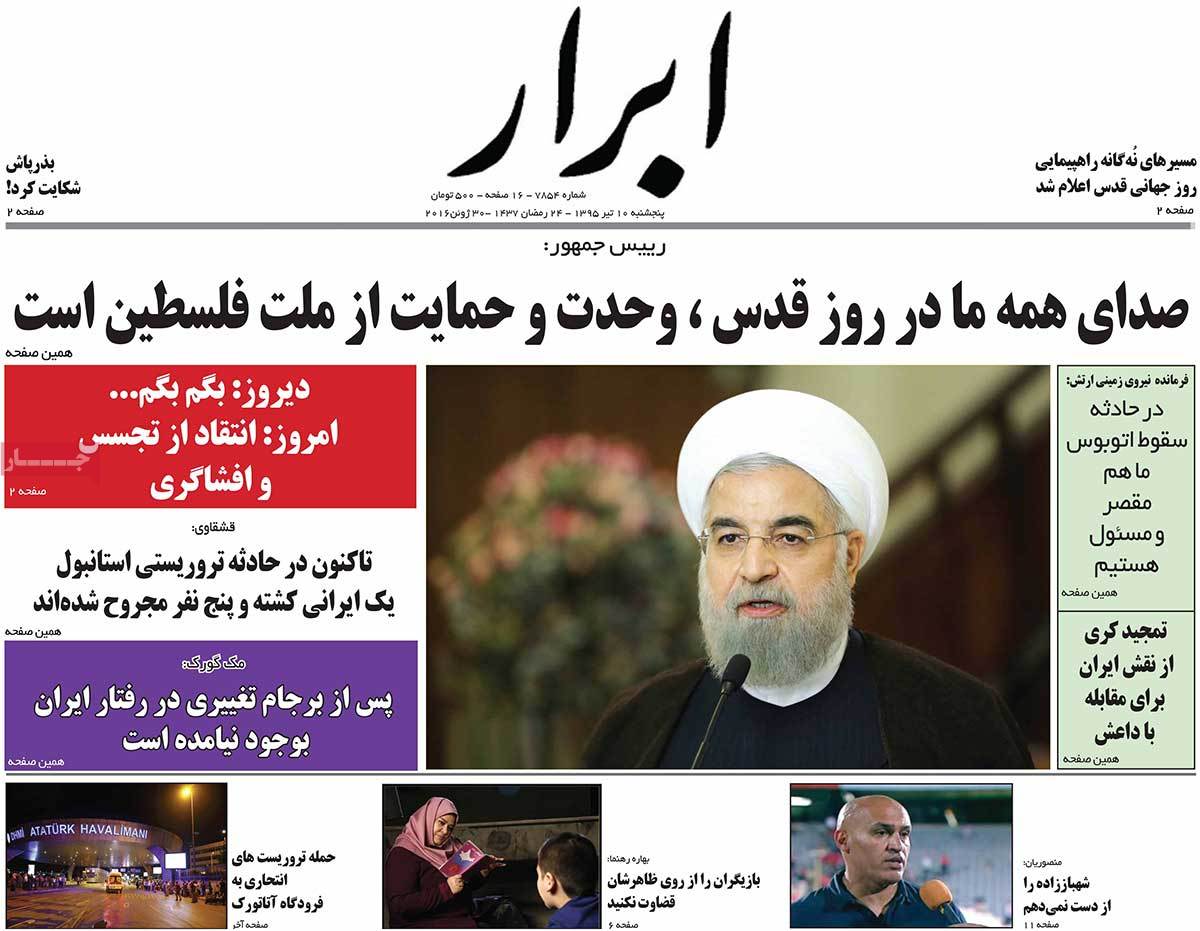 ---
Abrar-e Eqtesadi:
1- Iran Resumes Flights to Istanbul
2- Iranian Exporters Starting Serious Competition in Russian Market
3- Export of Gold and Silver Permitted on 2 Conditions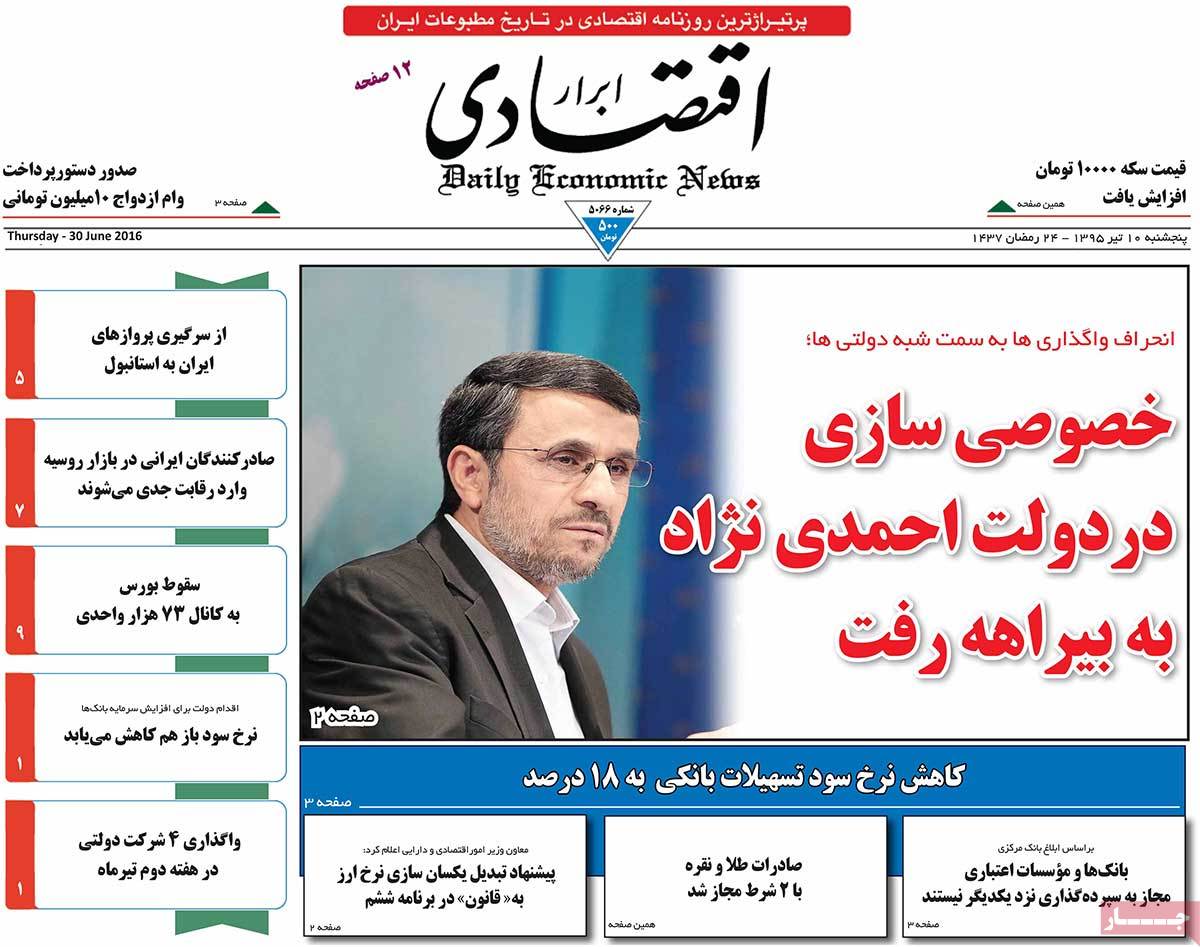 ---
Aftab-e Yazd:
1- Boeing Made No One Worried! Why Opponents of Governments Have Kept Silent on Purchase of Plane from US?
2- End of Secret Friendships: Why ISIS Is Attacking Turkey?
3- Plan for Girls to Graduate [from High School] in Earlier Ages So as to Get Married Sooner!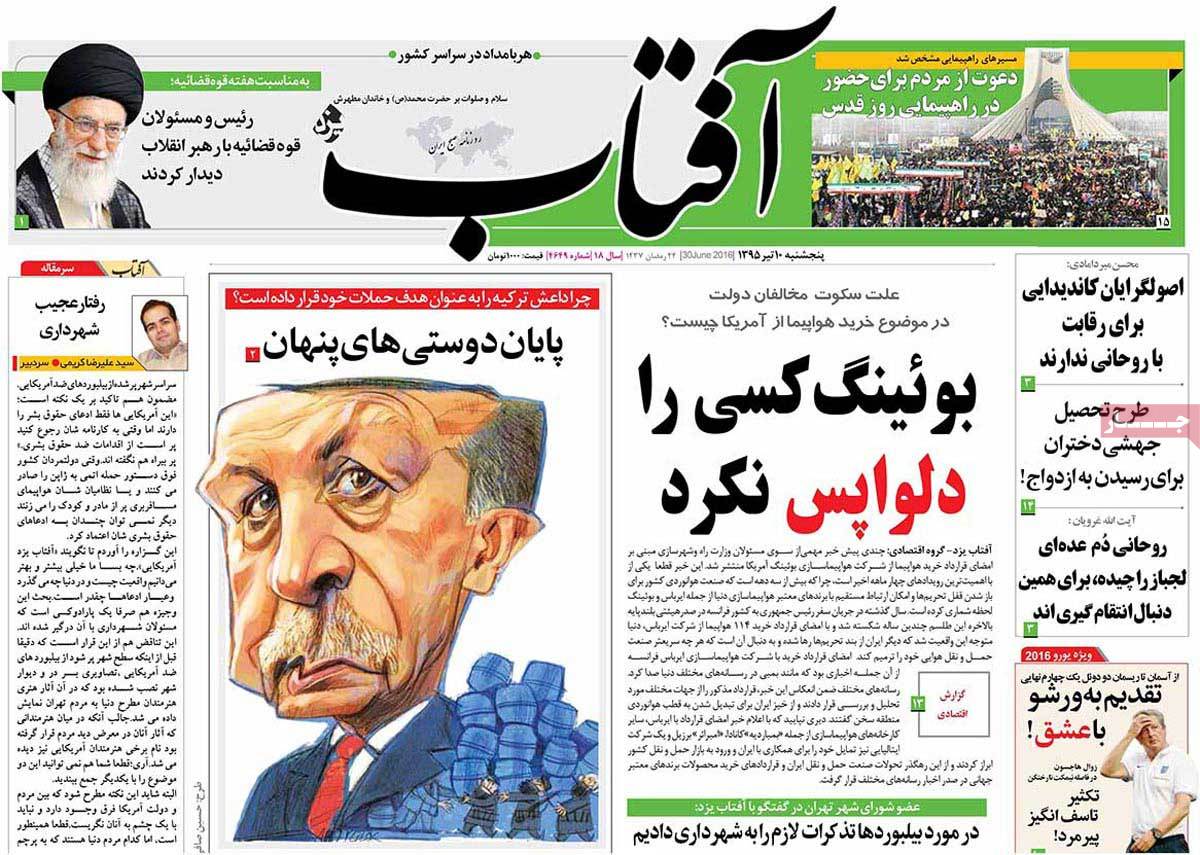 ---
Arman-e Emrooz:
1- Fire of ISIS in Turkey: 1 Iranian Killed and 3 Wounded
2- Rouhani to Iranian Youth: You Shouldn't Be Afraid and Back Off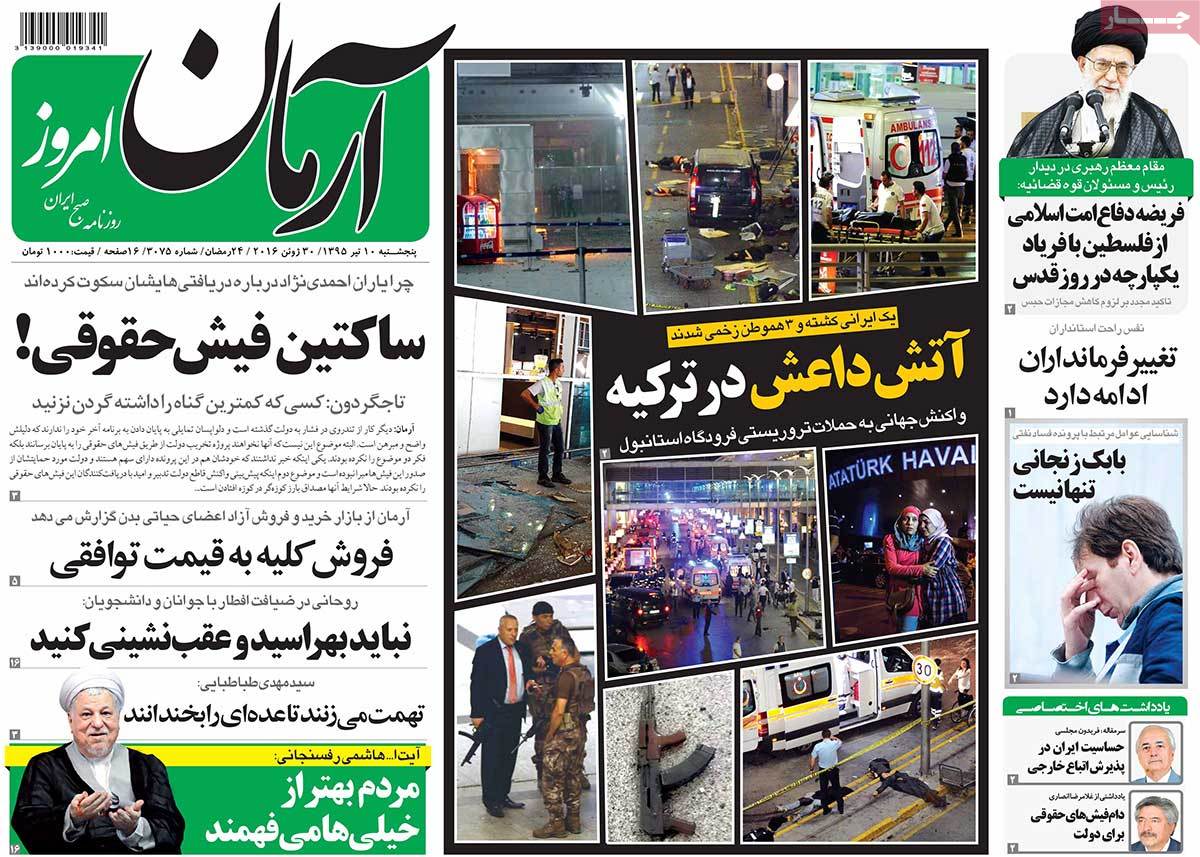 ---
Asia:
1- CIA Publishes Report on Iran's Gold and Foreign Exchange Reserves
2- Protest: I'm European, Not British
3- Europe's Financial Centre to Be Transferred from London to Frankfurt: 300,000 People May Get Out of Britain's Stock Exchange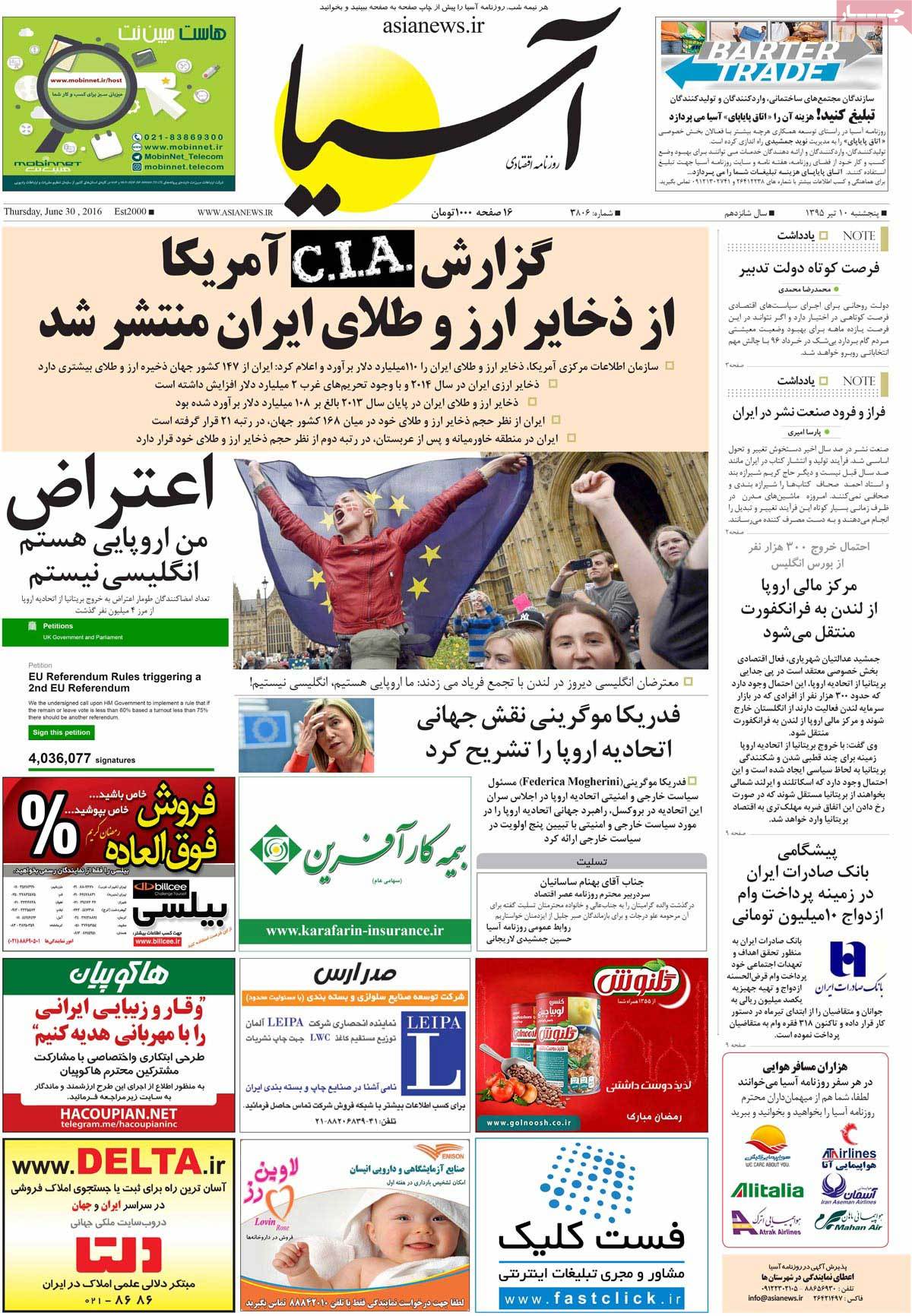 ---
Asrar:
1- We Don't Want Tension with Any of Neighbouring Countries: Rouhani
2- 72% of Iranian Population Suffering from Long-Term Drought
3- 2.5m People on Verge of Unemployment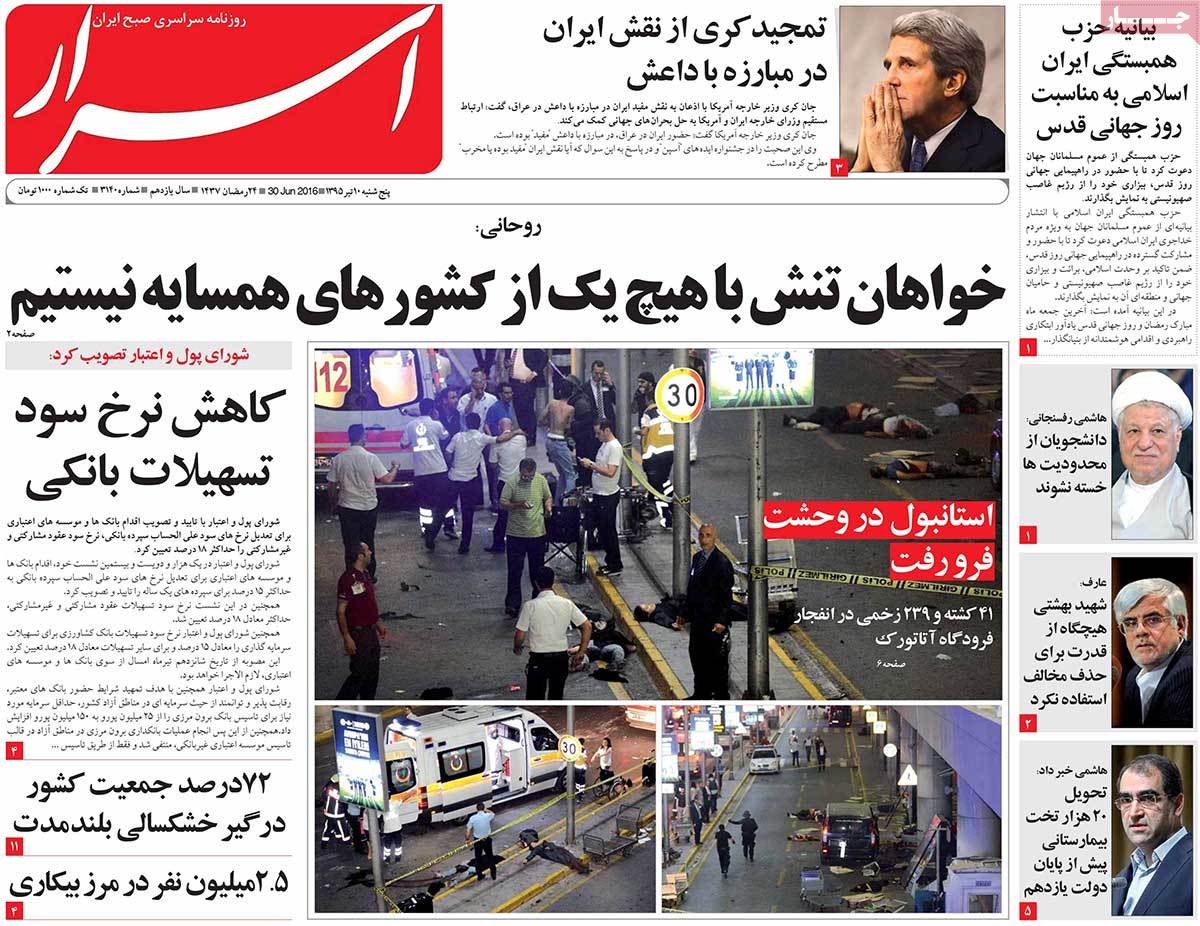 ---
Ebtekar:
1- Iran's Development Depends on All-Out Cooperation between All Three Branches of Iranian Government [Judiciary, Parliament, Gov't]
2- We Don't Think about Aggression, But We're Firm in Powerful Defence: Rouhani
3- Defending Palestinian Causes Not to Be Forgotten: Rafsanjani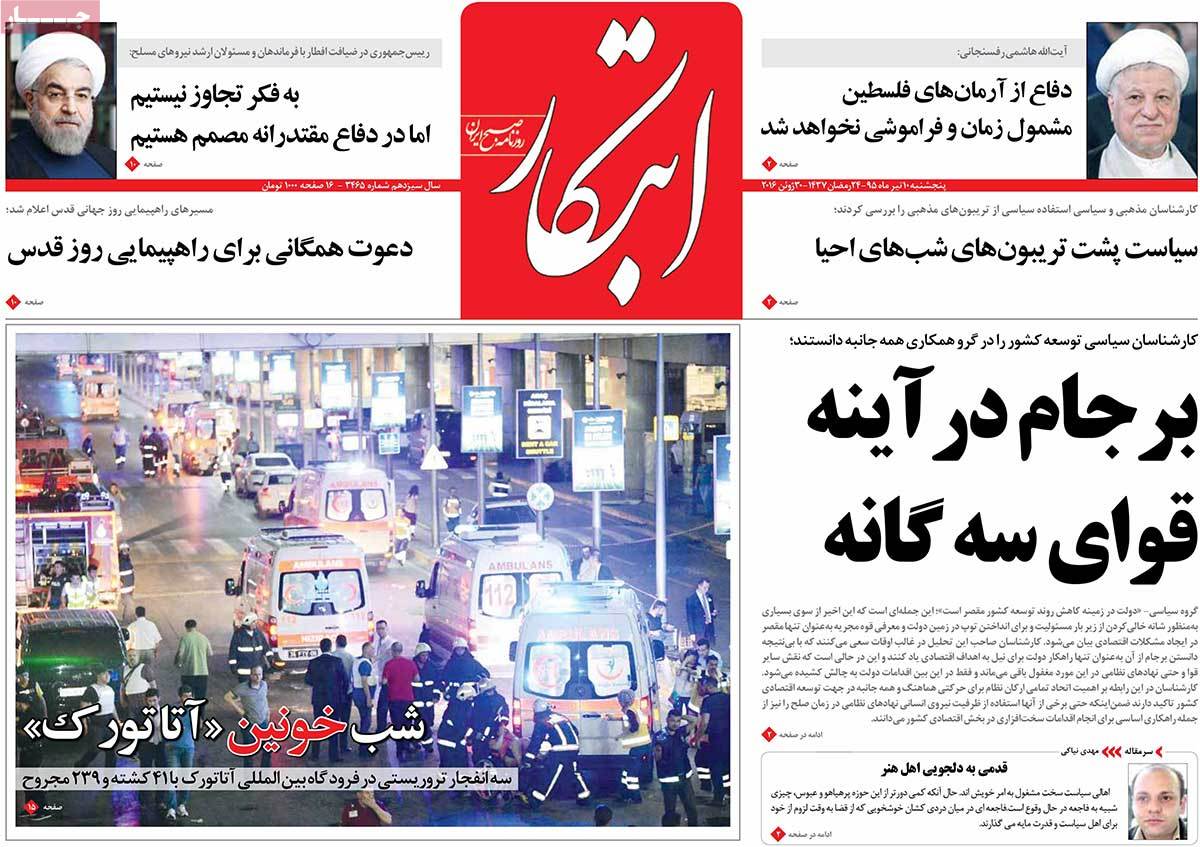 ---
Etemad:
1- Rouhani's Double Mission: (A) Smart Confrontation with Plots to Denigrate Gov't, (B) All-Out Movement towards Economic Growth
2- Iranians Trapped by Terror: Night of Blood and Fire in Istanbul; Turkey Gets Cheaper and Cheaper
3- Defending Palestine Means Defending Iran's National Interests [Editorial]
4- India Cancels Ban on Trade with Iran
5- Only $27bn of Oil Income Earned in 2015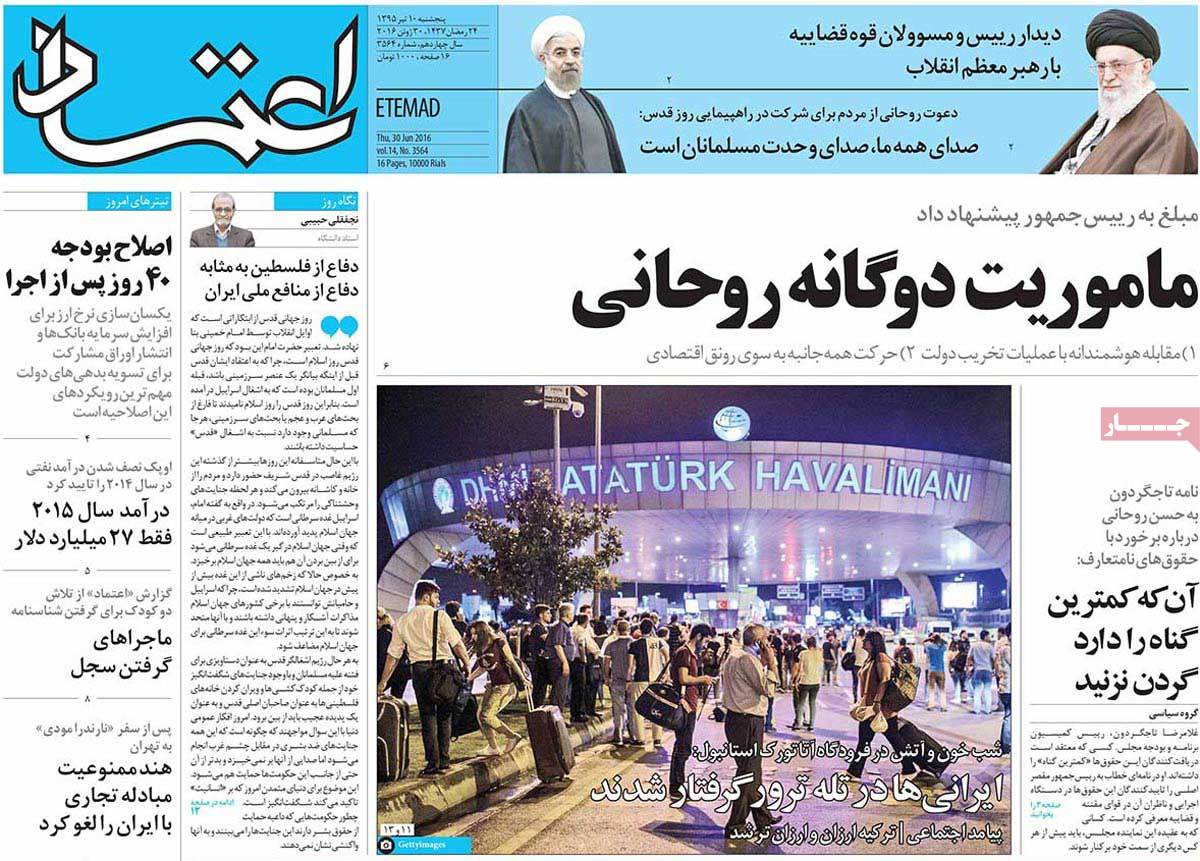 ---
Ettela'at:
1- Leader Urges Judiciary to Strongly Confront the Offending and Corrupt People inside the Judicial System
2- The Country's Conditions Are Improving: Larijani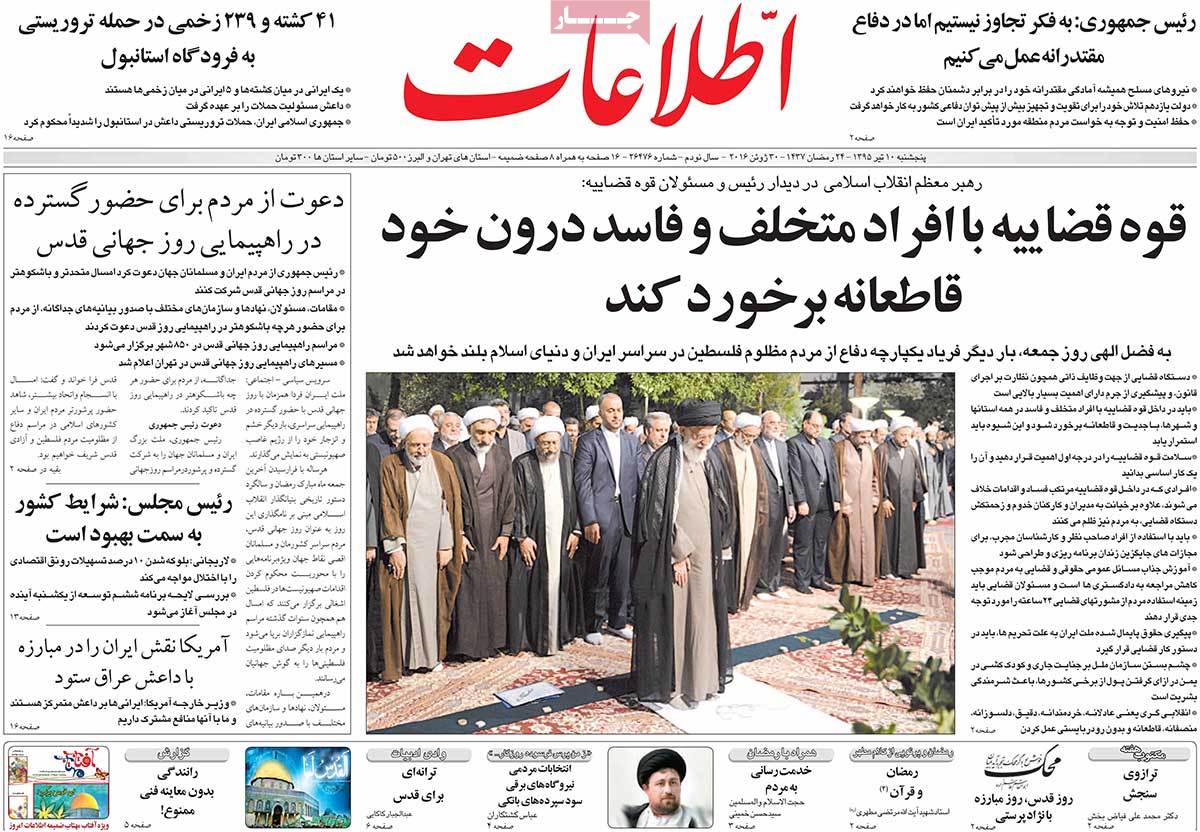 ---
Farhikhtegan:
1- Bioterrorism: Truth or Illusion? Were Ali Dadman [an ex-minister's son], Farajollah Salahshoor [Iranian filmmaker, director of Prophet Joseph TV series], Nader Talebzadeh [Iranian filmmaker, director of The Messiah], and [former MP and IRIB correspondent to US] Bijan Nobaveh Vatan victims of bioterrorism?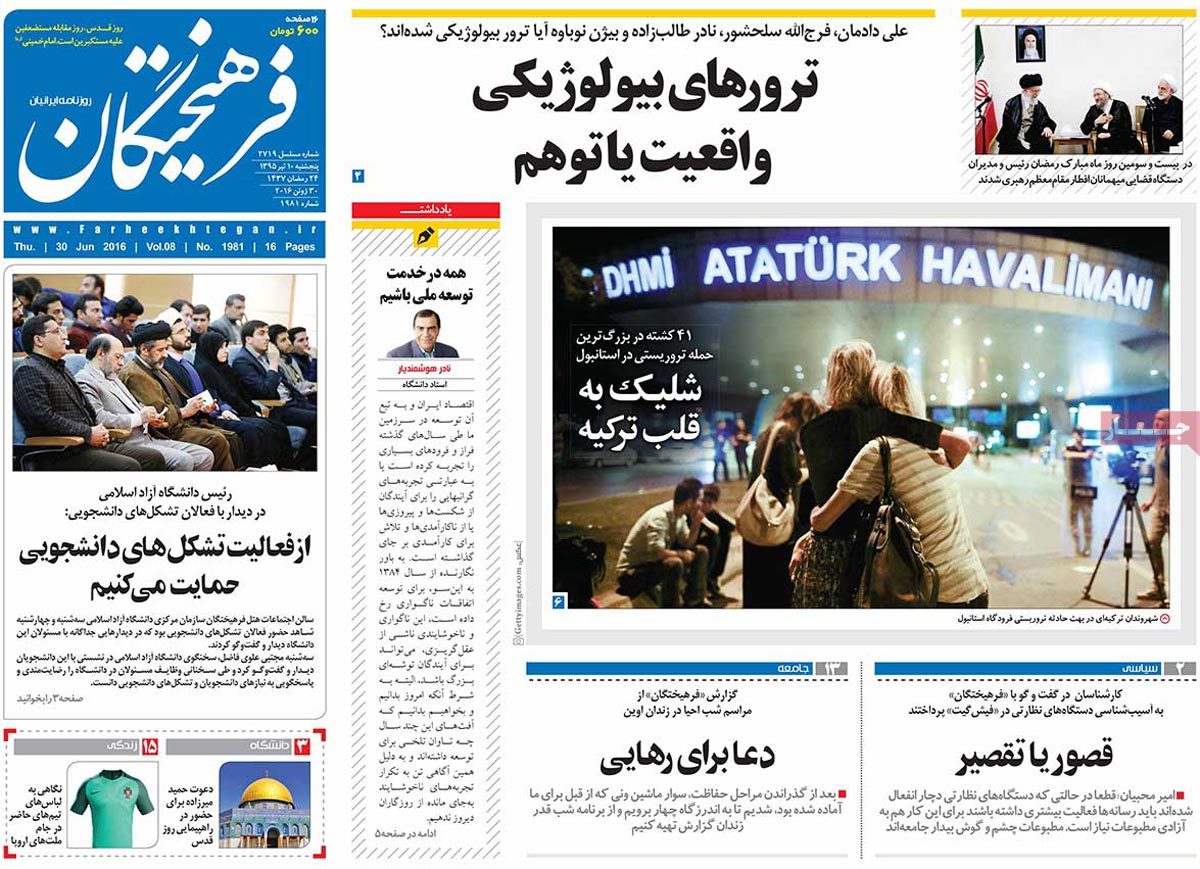 ---
Hamshahri:
1- Competition of Boeing and Airbus on Iran's Market
2- Palestine, Still the First Priority of Muslim World
3- [Afghan] Rapists of Young French Tourist Sentenced to Death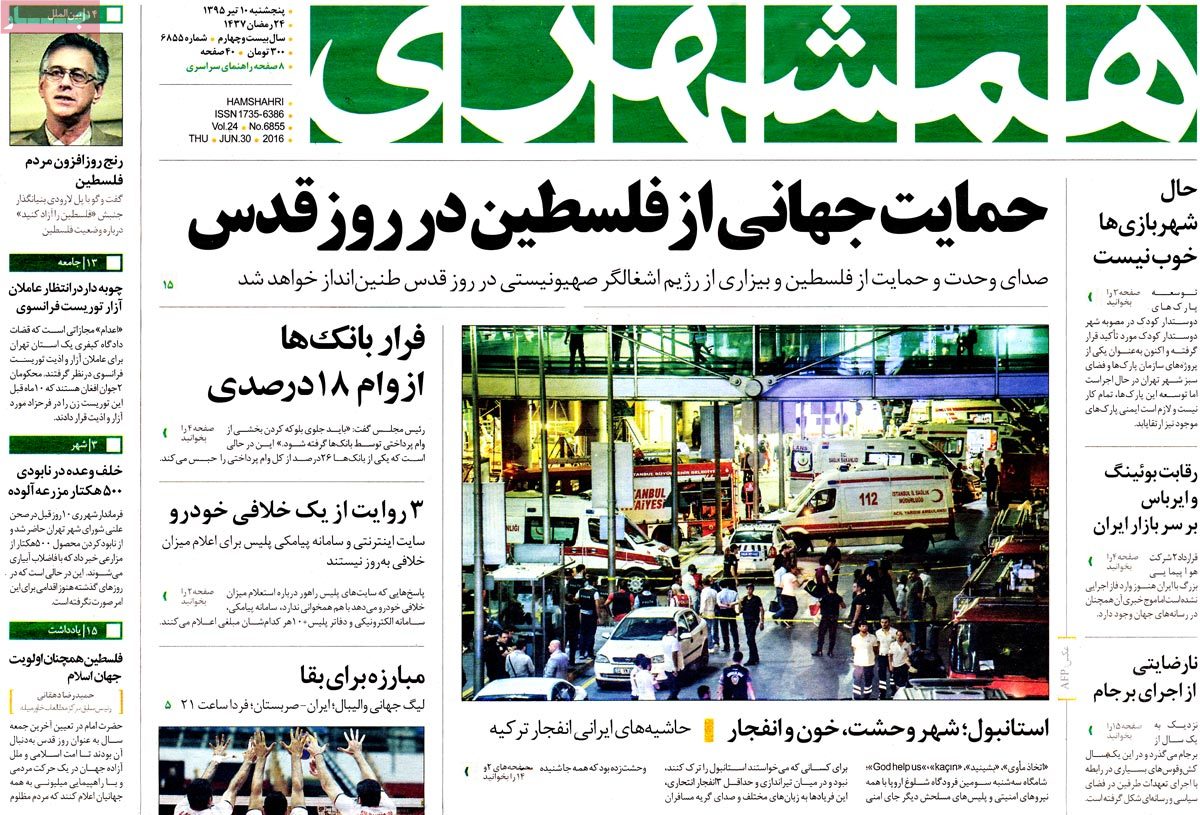 ---
Jame Jam:
1- Cry of Rage: Muslim People Will Show Their Solidarity with Palestinians in Friday's Quds Day Rallies
2- Turkey under Shadow of Fear and Insecurity: 300 Killed and Wounded in Atatürk Airport Attacks
3- Quds Day, Symbol of Confrontation with American and Takfiri Islam [Editorial]
4- Turkey Paying the Price for Supporting Terrorists [Op-Ed]
---
Javan:
1- Design Alternatives for Incarceration Sentence: Leader to Judiciary Officials
2- Fire of Terrorism on Gate of Tourism: After Erdoğan's Apology Letter to Putin, Terrorists Attacked Istanbul Airport
3- Kerry's Hypocritical Praise of Iran: Iran Has Been Helpful to US Interests in Iraq in Certain Ways
4- American Woman Who Has Recently Converted to Islam: I Feel Amazed by Seeing People Attending in Quds Day Rallies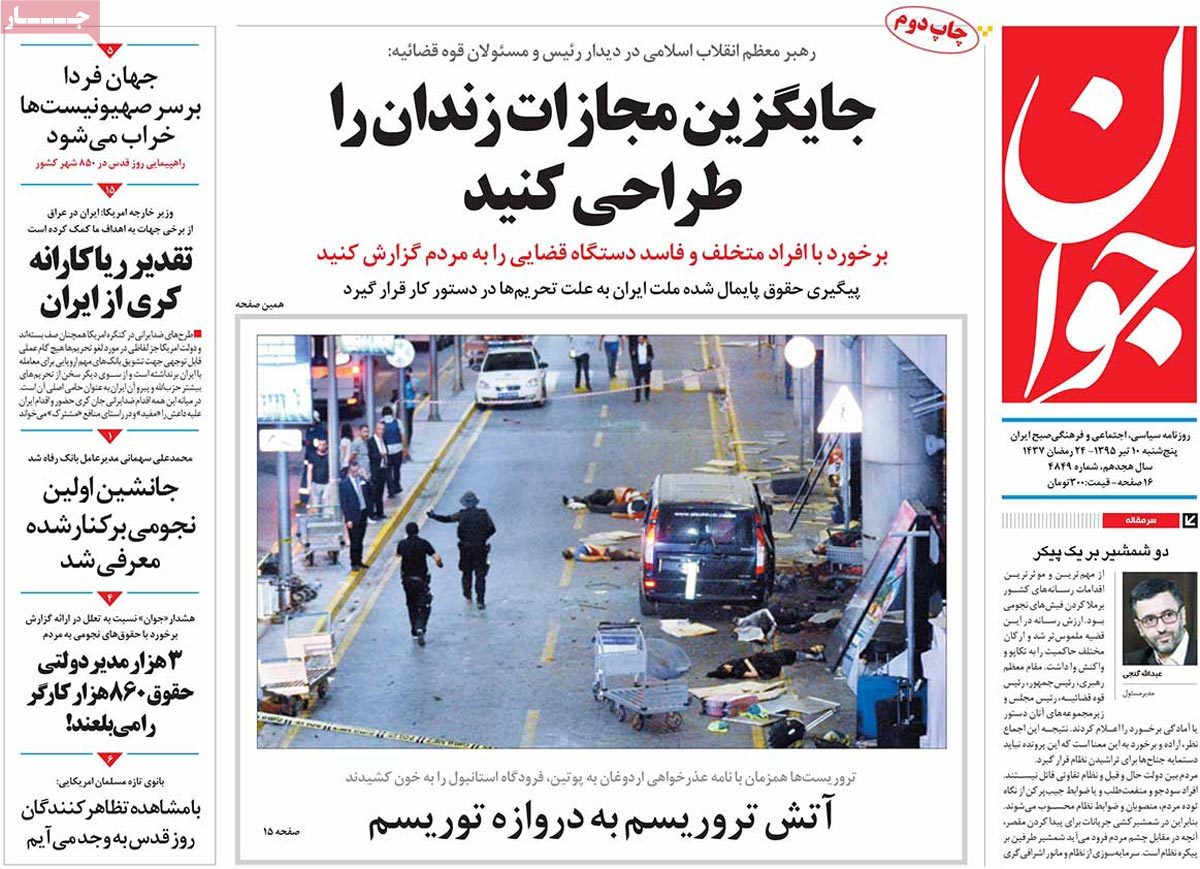 ---
Jomhouri Eslami:
1- Iranian People's Bank Accounts Not to Be Disclosed to FATF
2- Erdoğan's Conflicting Policies Spoiled Turkey's Stability and Peace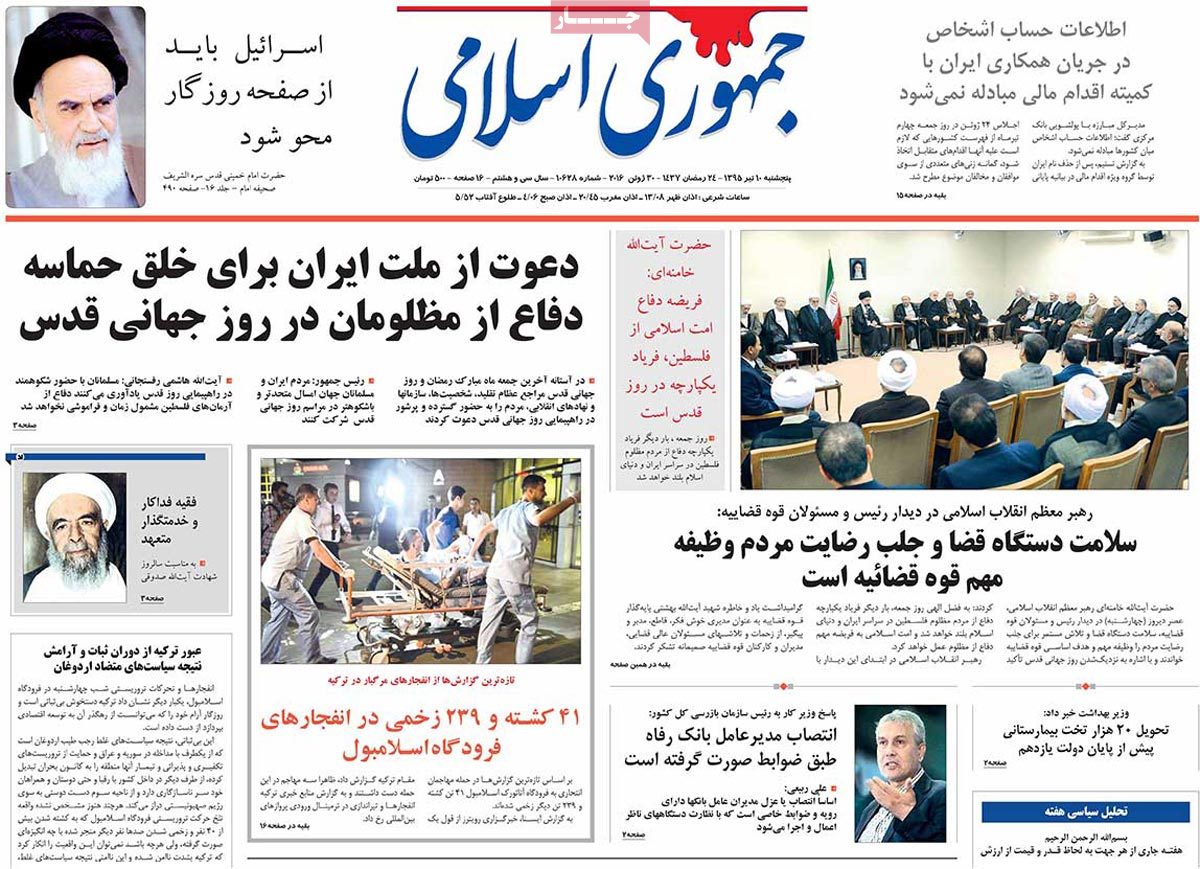 ---
Kayhan:
1- We Have No Perspective for Cooperation with Iran: World Bank
2- Quds Day, the Compass of Muslim World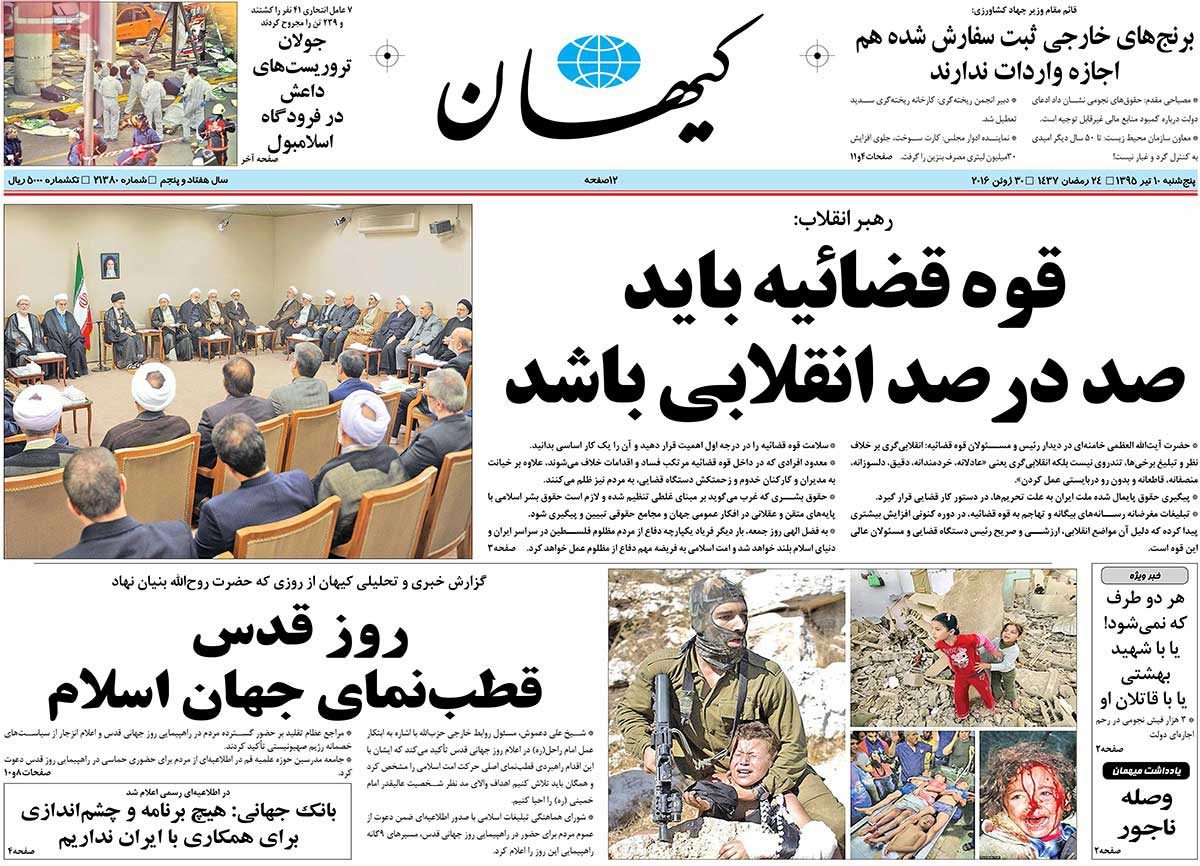 ---
Khorasan:
1- Leader Underlined Duty of Defending the Oppressed on Quds Day
2- Quds! We Won't Leave You Alone: 38th Quds Day to Be Marked in 850 Cities and 80 Countries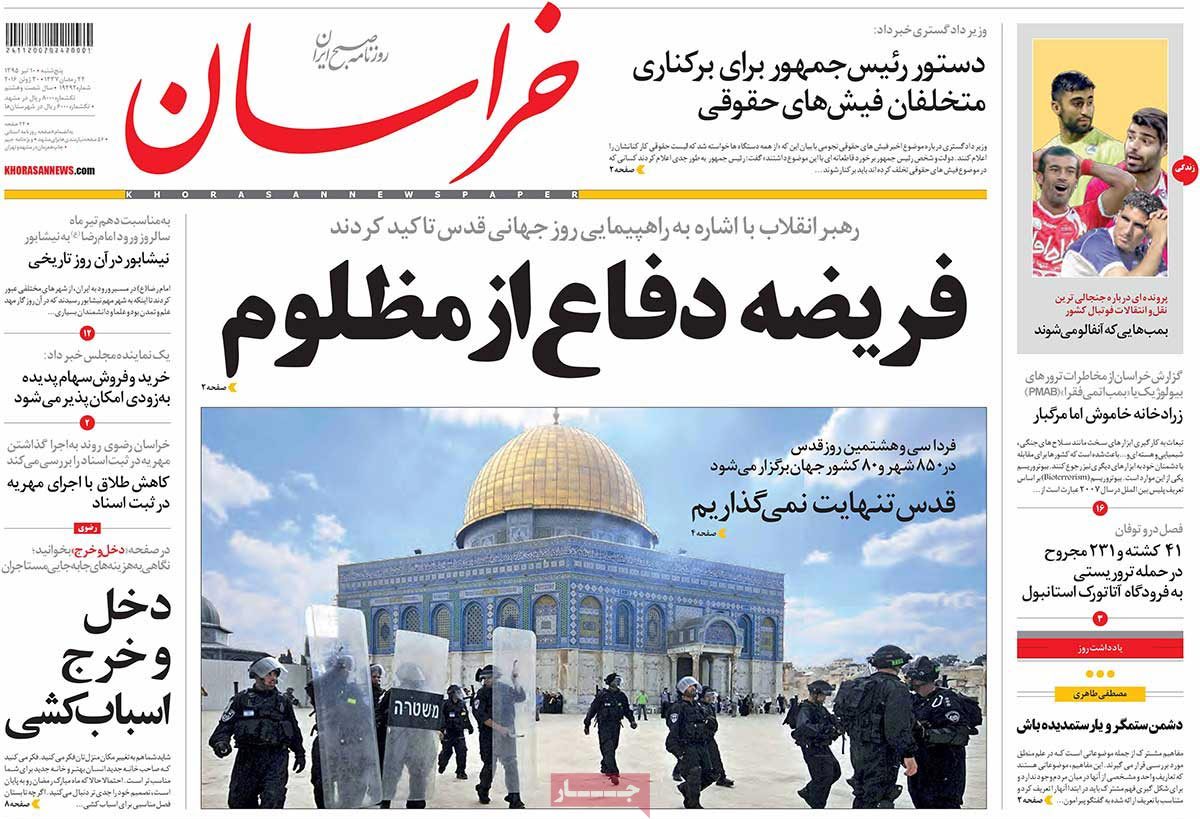 ---
Quds:
1- Quds, We'll Come!
2- No One Thinks about Palestine's Freedom, Except Iran
3- Resistance Is Alive, from Yemen to Bahrain, and from Syria to Lebanon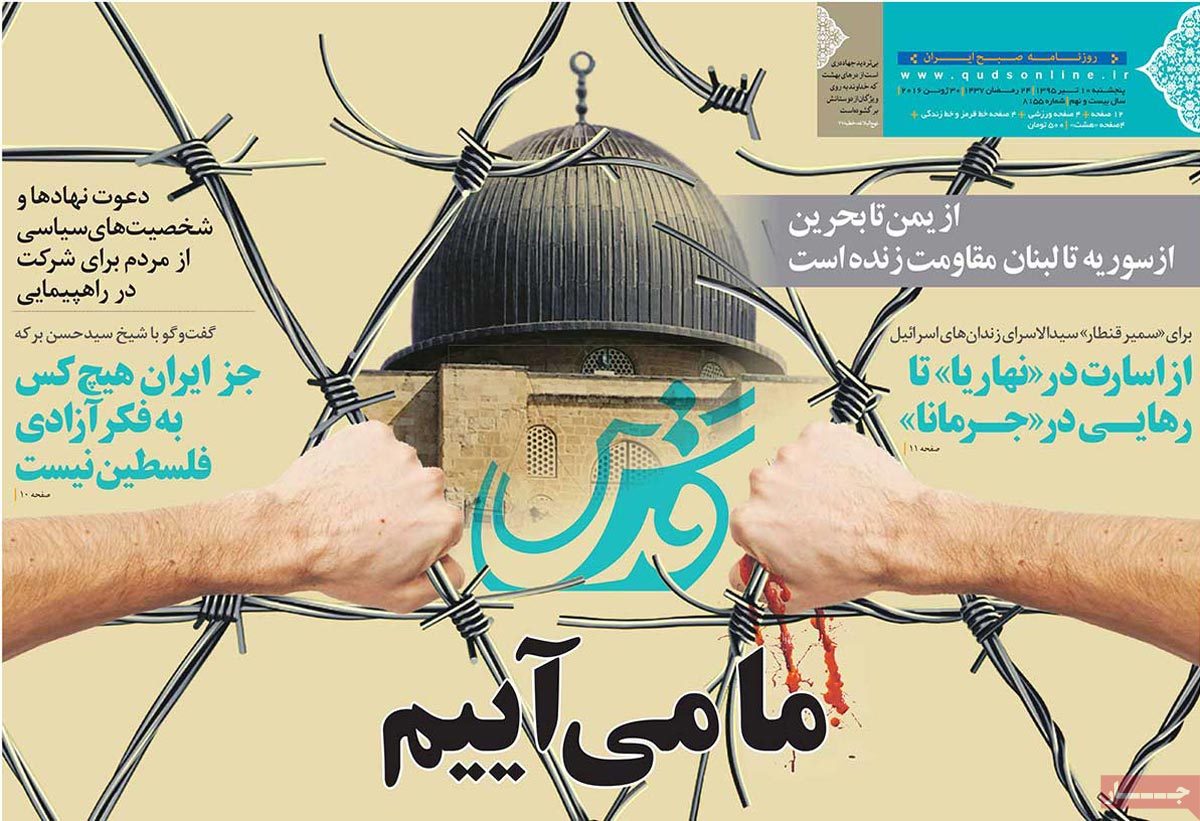 ---
Rah-e Mardom:
1- Crisis of Driving Culture in Iran
2- Message of One-Digit Inflation Rate in Time of Economic Recession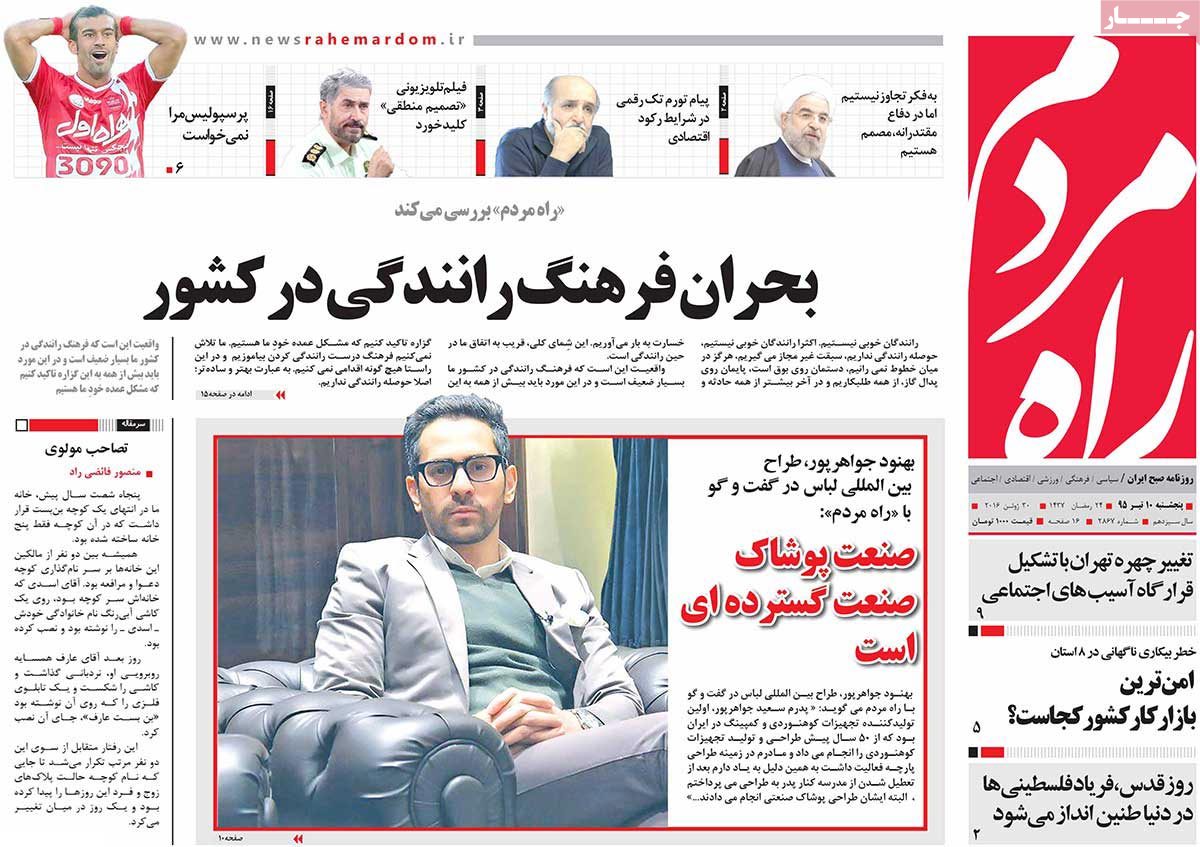 ---
Resalat:
1- Judiciary Should Have a Revolutionary Performance: Leader
2- Arabs Sold Quds in a Very Cheap Price: Sheikh Qassim
3- Car Prices in Iran 2.5 Times More than Those in Global Market
4- We Shouldn't Let Israel's Crimes Be Forgotten: Rouhani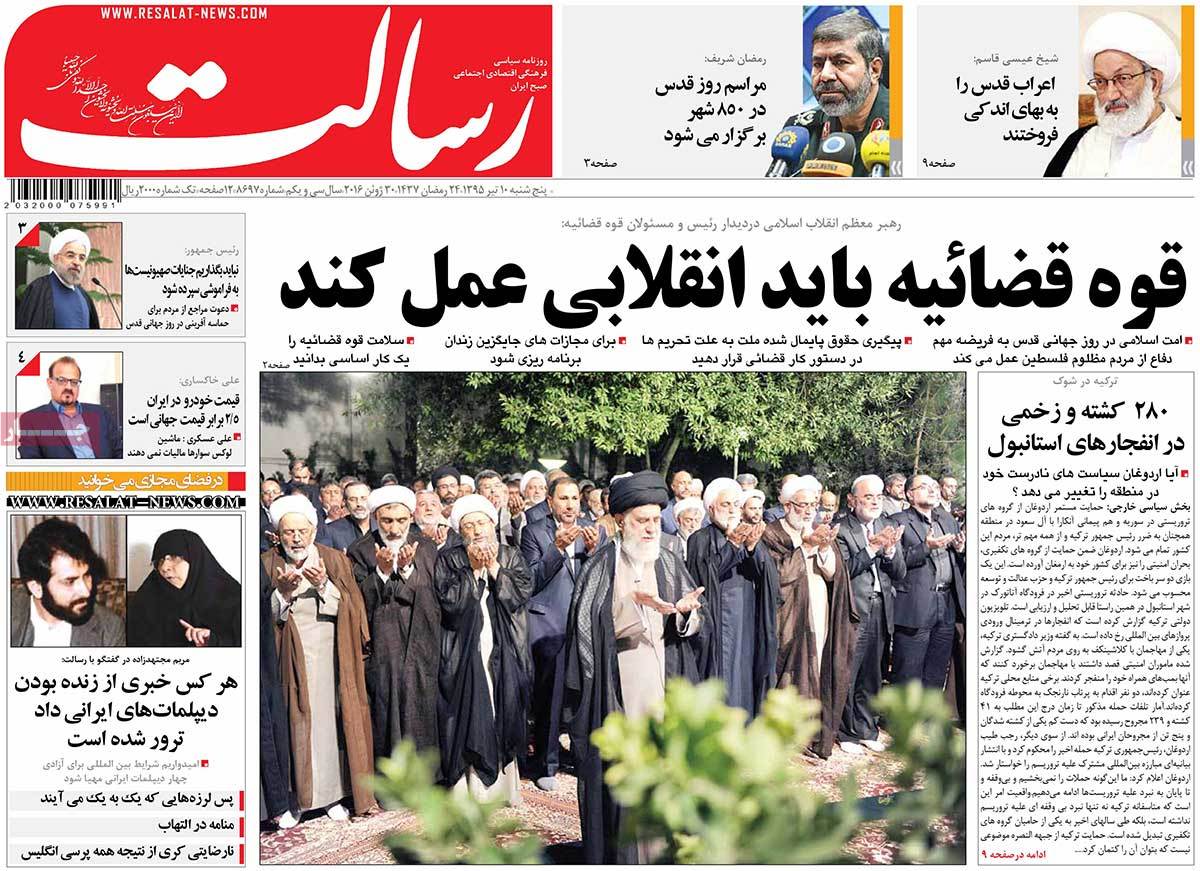 ---
Roozan:
1- Turkey's Role in Dust Pollution Crisis
2- Rouhani's Gov't Is a Modern Coalition Gov't: Analysis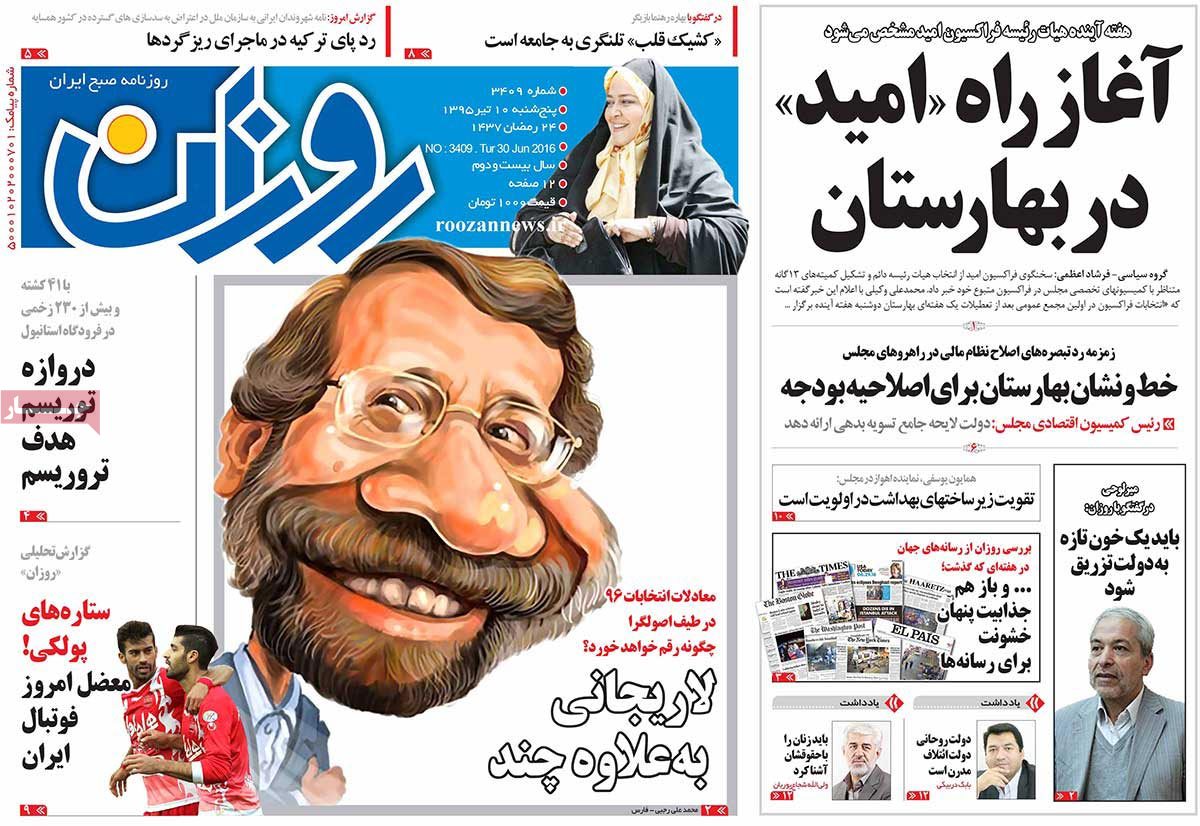 ---
Shahrvand:
1- Iran's Red Crescent to Become Middle East's Centre for Rescue Operations: Red Cross Chief in Tehran
2- Attack on Turkey's Heart: 41 Killed in Suicide Attack in Airport
3- Top Iranian Officials Call for People's Attendance in Int'l Quds Day Rallies
4- Iranians Buy More Jeans that Europeans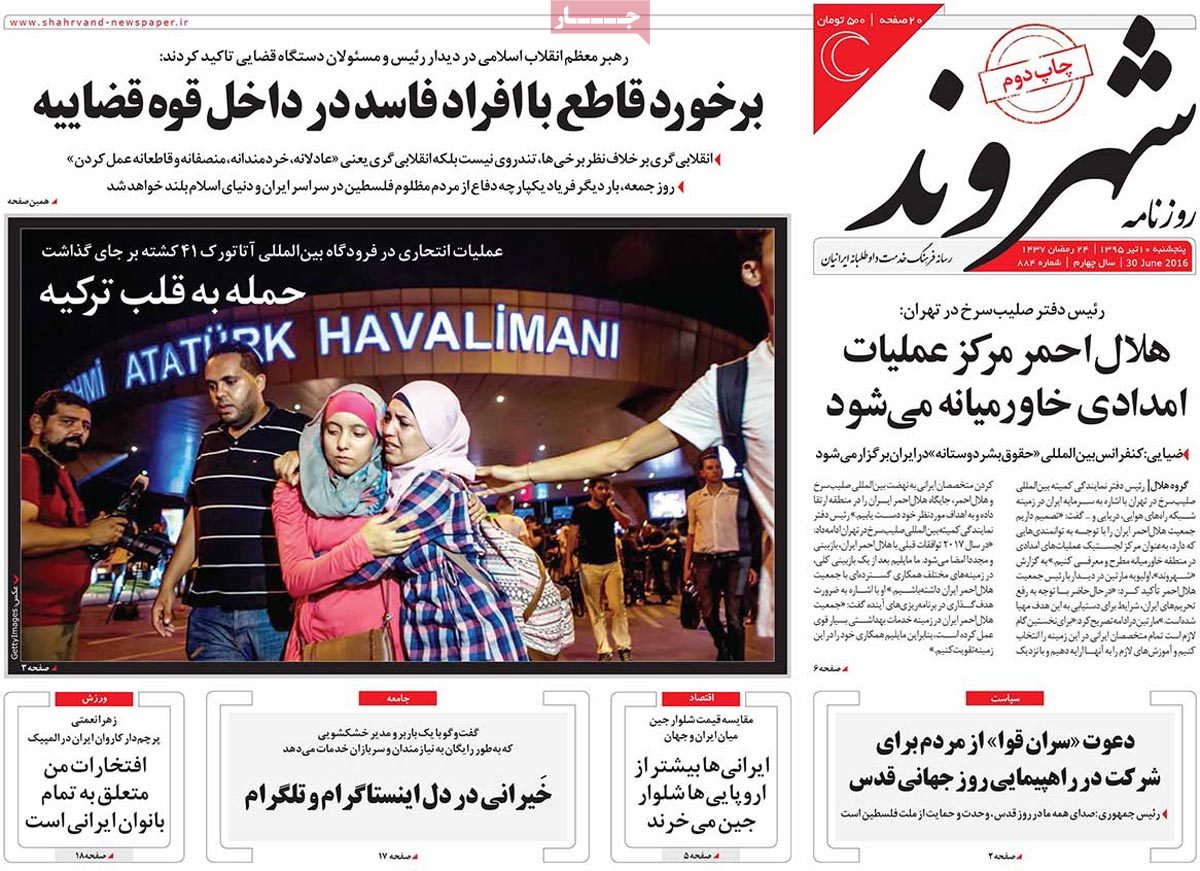 ---
Shargh:
1- All Iranian Major Generals: A Report on Highest-Ranking Iranian Officers after 1979 Revolution
2- Bitter Revenge on Erdoğan: Interview with Family of Iranian National Killed in Istanbul Airport Attacks
3- Referendum in Britain and the Issue of Democracy [Editorial by Zibakalam]
---
Vaghaye Ettefaghieh:
1- Being a Revolutionary Doesn't Mean Going to Extremes: Leader
2- No One Wants Bibi: Netanyahu Is Abandoned in His Own Country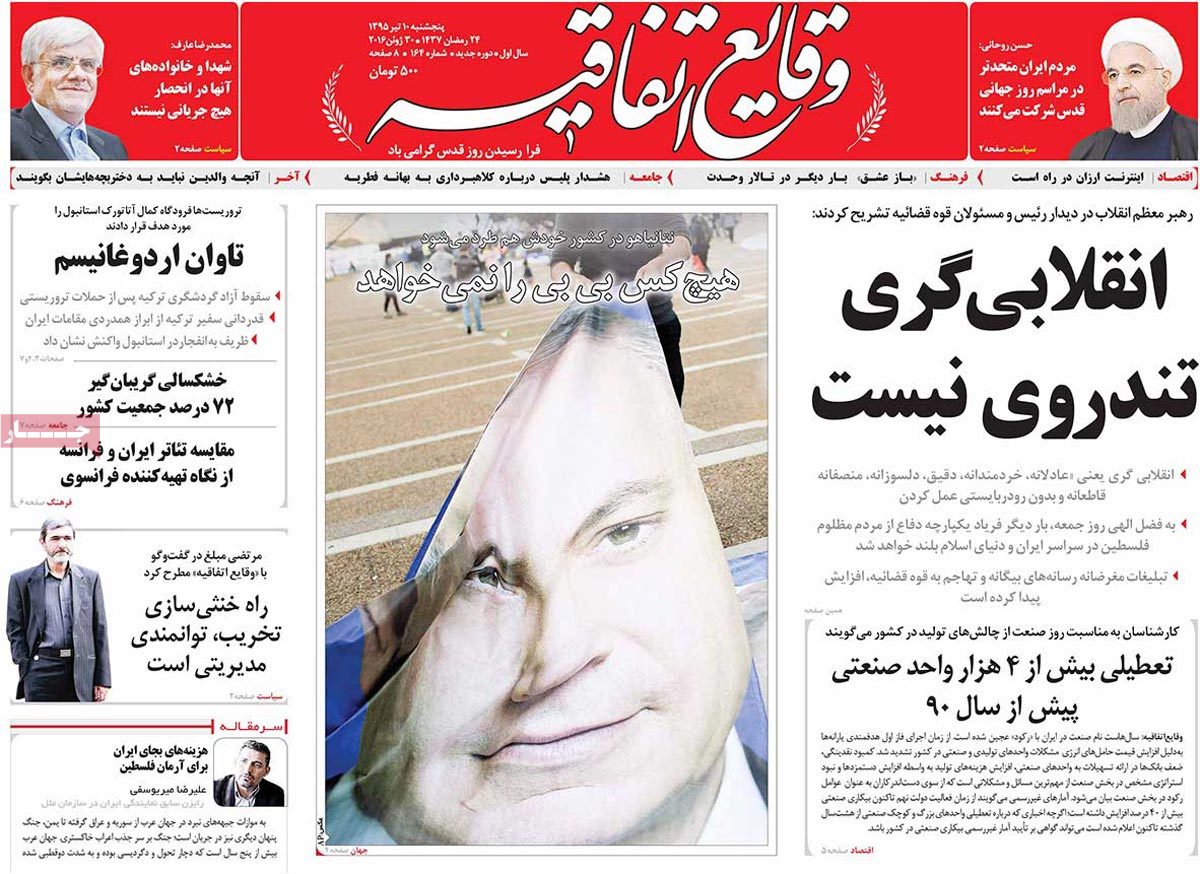 ---
Vatan-e Emrooz:
1- Leader Call for Pursuit of Int'l Legal Cases
2- US Secretary of State: We'll Continue [Imposing] Anti-Iran Sanctions
3- I'm Sorry for People on Dust Pollution Case: Deputy Head of Environment Dept.