Newspapers on Saturday covered the remarks by the Leader of the Islamic Revolution, Ayatollah Seyyed Ali Khamenei, in two separate speeches. The Leader addressed a large group of Iranian people in Eid al-Fitr prayers on Wednesday, and also met Iranian officials and people as well as ambassadors of Islamic countries after the prayers. In his first speech, the Leader underlined the need for confronting the issue of huge salaries and prosecution of those who received such illegitimate payments, and in the second speech, Ayatollah Khamenei highlighted the issue of Palestine.
The death of acclaimed filmmaker Abbas Kiarostami and the possible medical errors that might have caused his death was also covered by newspapers, which were closed for three days on Eid al-Fitr holidays.
The US Congress' ban on sale of planes to Iran and President Barack Obama's vow to veto the plan was also a top story today. The reactions in Iran were also covered.
The abovementioned issues as well as many more are highlighted in the following headlines:
Abrar:
1- Iran's Missile Tests Are Not Consistent with Spirit of JCPOA: UN's Ban
2- Iran Is Trying to Achieve Sensitive Nuclear Equipment: German Intelligence Office
3- Trump Won't Tear Apart Nuclear Deal with Iran: Advisor
---
Abrar-e Eqtesadi:
1- The Netherlands Becomes Iran's Oil Customer
2- US Imports from Iran Amounts to $27m
3- Iran and Indonesia to Sign Oil MoU
4- Iran Reaches Power Plant Agreements with Spain and Germany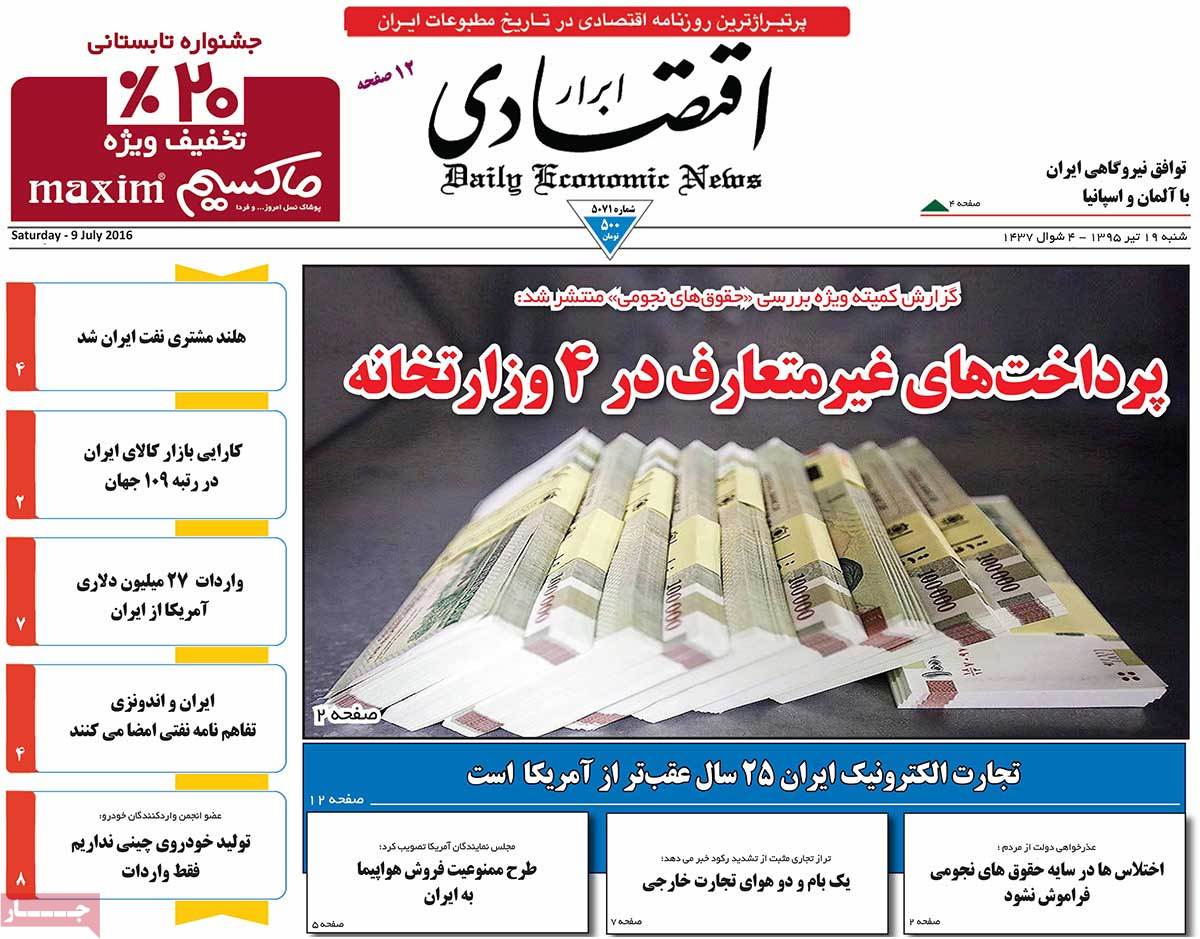 ---
Aftab-e Yazd:
1- Astronomical Salaries Not Limited to Government: First VP
2- Fire in Iran's Petchem Heart: Rumours of Sabotage Dismissed
3- Delay in Flight of New Boeing Planes to Iran
4- Reactions to Corruption: From Ahmadinejad's Threats to Rouhani's Apology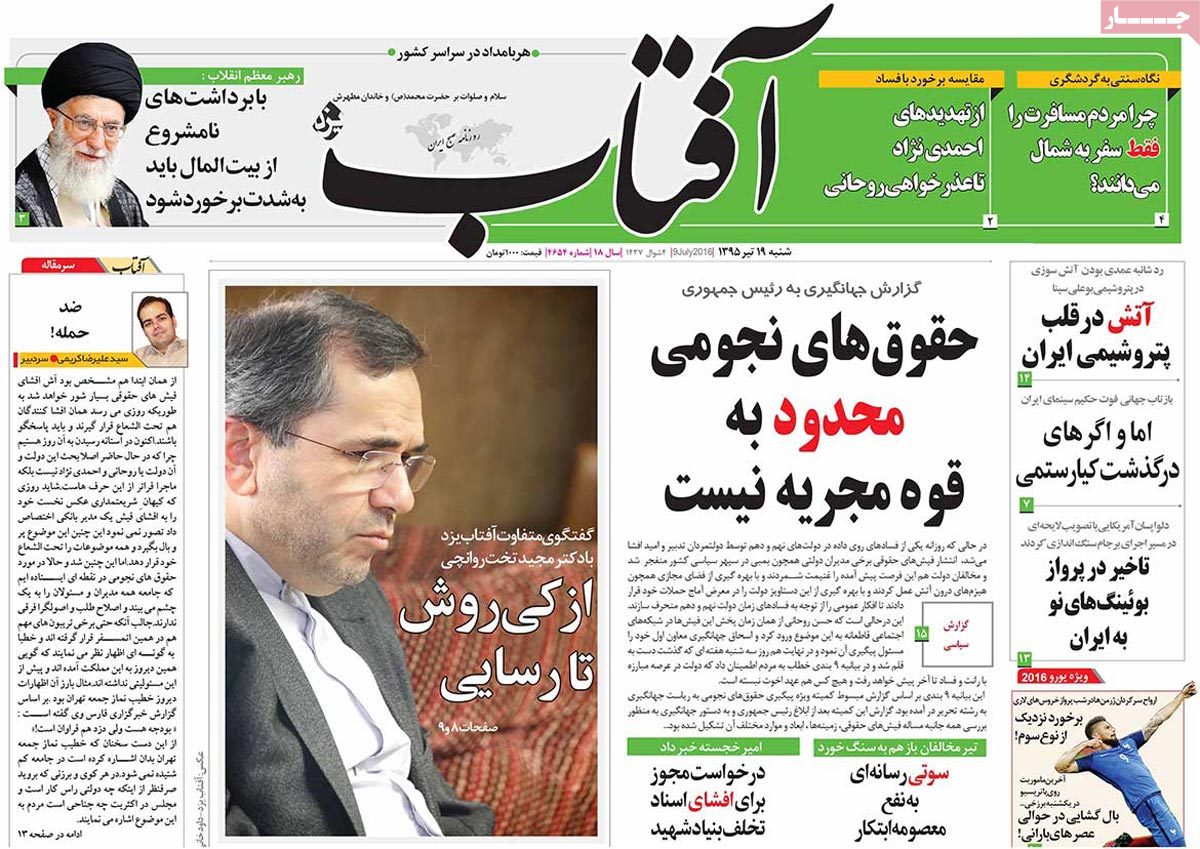 ---
Arman-e Emrooz:
1- A Report on Visits of Imam Khomeini's Grandson to Pakistan and Sri Lanka: Seyyed Hassan's Opinion about Ties with US
2- Last Red Carpet for Kiarostami: Body of Globally-Acclaimed Filmmaker Arrives in Tehran
3- Obama Vows to Veto US Congress' Ban on Boeing Deal with Iran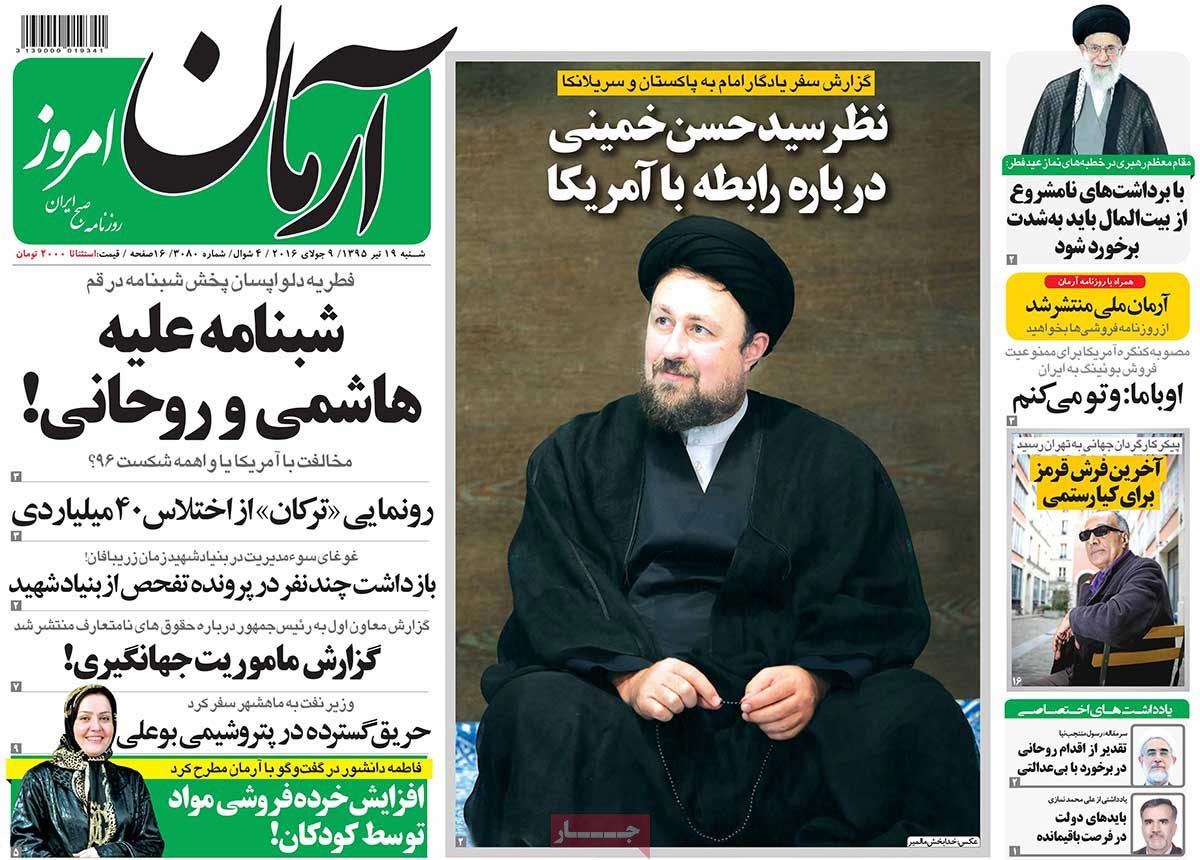 ---
Ebtekar:
1- Passengers of Traffic Jam: 3-Day Holidays Bring Horrible Traffic to Iranian Roads
2- West Dominated by Women's Power: A Woman to Become Next British PM
3- Our View of Americans Depends on Their Behaviour: Imam Khomeini's Grandson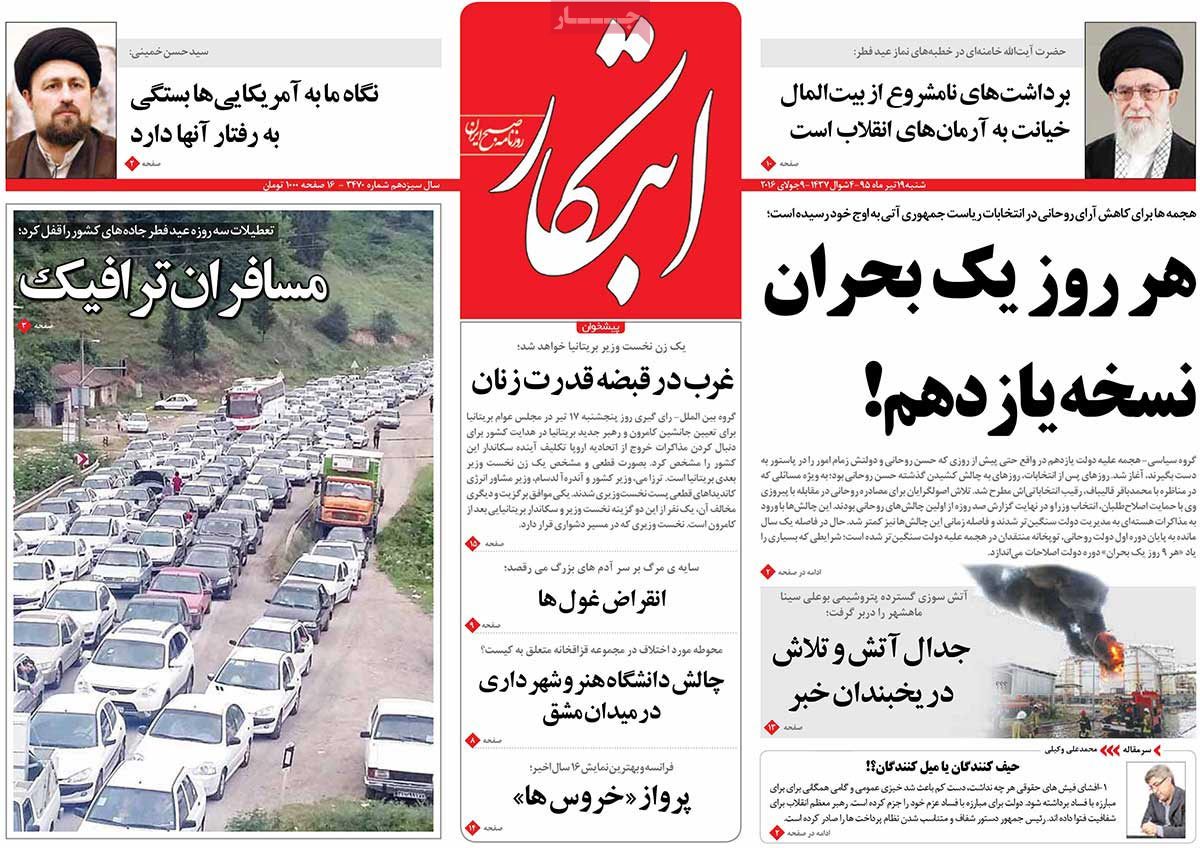 ---
Etemad:
1- Everyone, without Any Exceptions! Etemad's Report on Letters by President Rouhani and First VP Jahangiri on Unconventional Salaries
2- How Did You Spend Your Holidays? In Traffic Jam!
3- Battle with Fire Mountain: Iran's Biggest Wildfire in Recent Years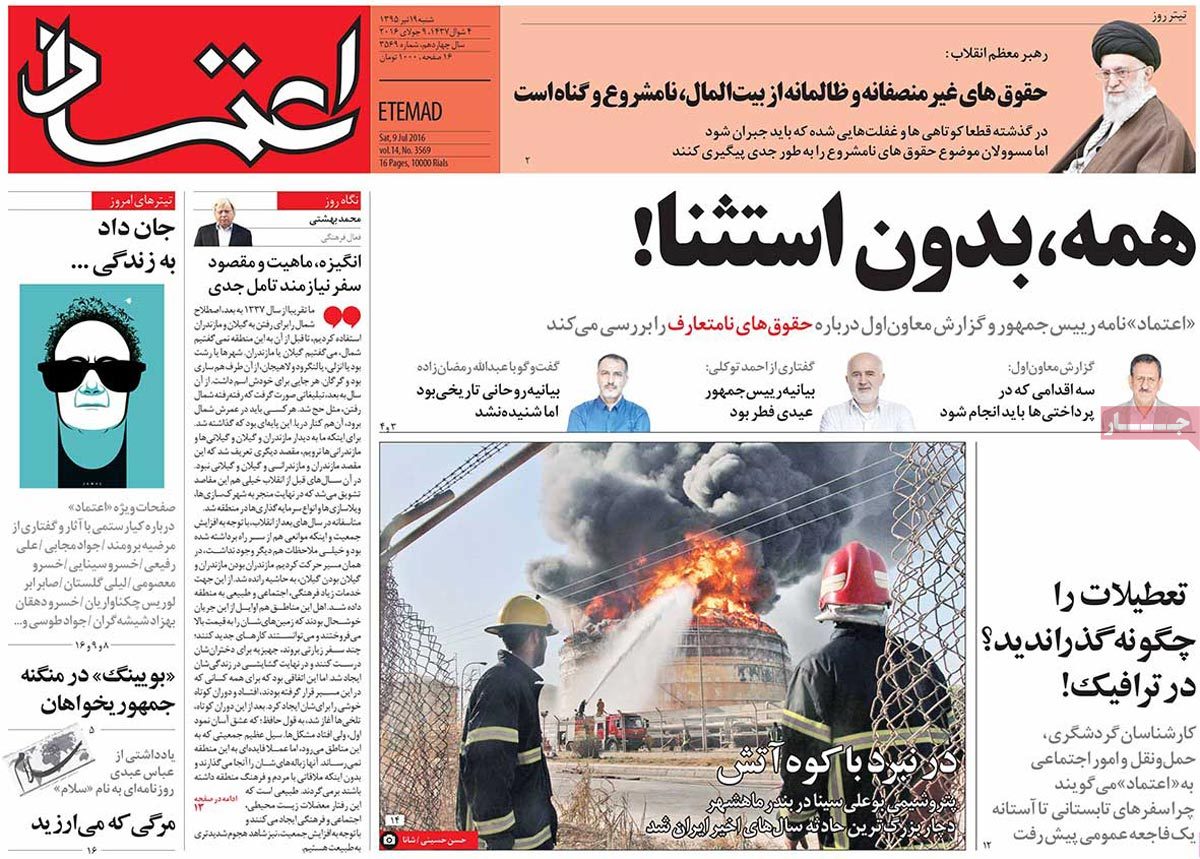 ---
Ettela'at:
1- Global Hegemony Wants to Open Up Space for Zionist Regime [Israel] by Fanning Flames of War in Middle East: Leader
2- Imam Khomeini's Grandson Regrets Decrease of Attention to Issue of Zionist Regime in Muslim World
3- $10bn Increase in Iran's Non-Oil Exports Expected for This Year: First VP
---
Haft-e Sobh:
1- 3 Days of Fire and Accident: Wildfire in Mahshahr Petchem Complex, Rumours of Bombing in Chitgar [park in Tehran], Death of 6 American Officers in Texas, Deadly Bombings in Baghdad and Samarra
2- World's Biggest Marketing Company in Iran
3- Deal with Boeing Pending Obama's Decision: Republicans Ban Plane Deal with Iran
4- Iran's Health Minister Urges Investigations into Possible Medical Error on Kiarostami's Case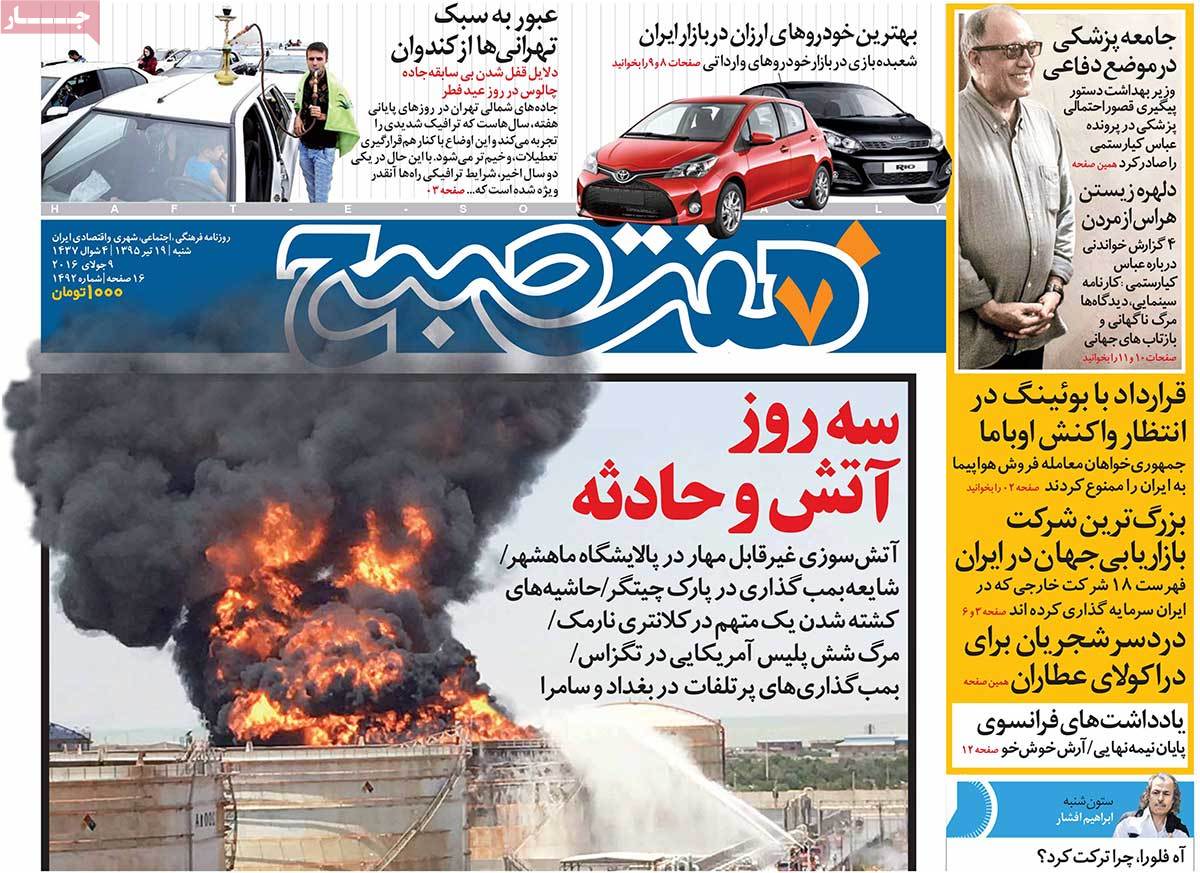 ---
Iran:
1- First VP Briefs President on Measures of "Special Committee" against Unconventional Salaries
2- Strange Case of Traffic Jam in Roads Connecting Tehran to Northern Iran: 2.8m Trips in 2 Days Caused Troubles for Tourists
3- Tony Blair's Late Confession: I Take Full Responsibility for Iraq War
4- $500m of Industrial Investment Registered after JCPOA: Minister
5- Iranian and World Cinema in Grief of Kiarostami
---
Jame Jam:
1- Leader Underlines Need for Returning People's Properties [the astronomical salaries paid to certain executives] to National Treasury: People's Trust in the Establishment Would Decrease If the Issue Isn't Pursued Enough
2- Iranians Throw Away $8bn of Food Each Year
---
Javan:
1- Palestine Is Muslim World's Main Issue: Leader
2- Iran's Foreign Ministry Admits USA's Insufficient Efforts for JCPOA Implementation
3- Poet of Iranian Cinema Experiences Taste of Death
4- US Police's Clash with Black People in Dallas
---
Jomhouri Eslami:
1- Leader Calls for Punishment of Those Who Broke the Law [on huge salary payments]
2- Issue of Unconventional Salaries Is a National One and Shouldn't Be Used for [Partisan] Political Fights
3- Necessity for Formation of United Front against Takfiri [extremist] Terrorists [Editorial]
---
Kayhan:
1- Those Who Received Astronomical Salaries Don't Deserve to Serve as Officials: Leader
2- Al Saud Asks for Ansarullah's Help to Get Out of Yemen's Deadlock
3- Lack of Enough Monitoring Was Main Reason behind Illegitimate Salaries: Experts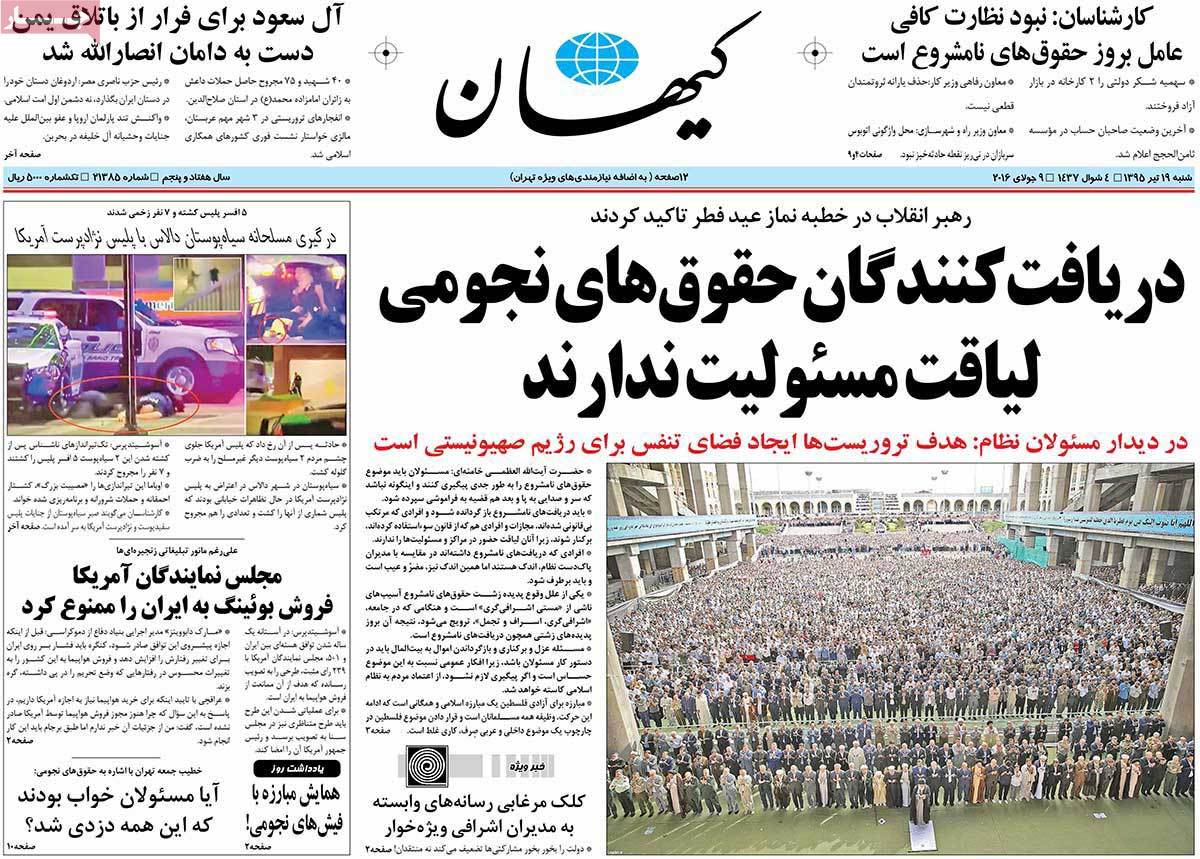 ---
Khorasan:
1- Dismissal of Executives Will Continue: Government
2- We Had a Role in Creation of ISIS: Blair
3- ISIS Fails to Destroy Shrine of Shiite Imam's Son in Iraq
---
Resalat:
1- US Main Source of War and Terrorism in Middle East: Leader
2- Illegitimate Salaries Result of Aristocracy: Ayatollah Khamenei
3- USA's New Violation of JCPOA Commitments in First Anniversary of Nuclear Deal
4- Rangers Permitted to Use Gun to Defend Themselves: Ebtekar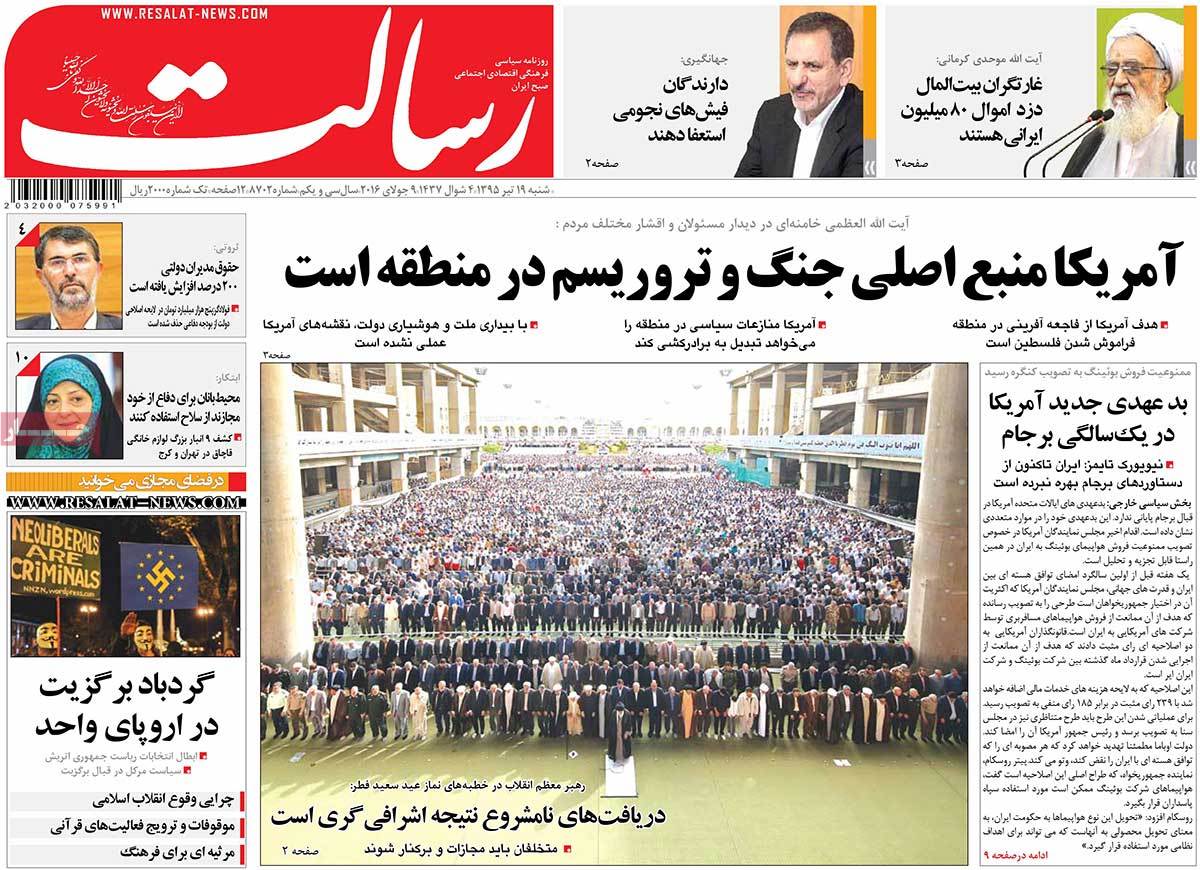 ---
Shahrvand:
1- Secret behind Death of Renowned Iranian Director: Did Medical Error Kill Kiarostami?
2- Civil War in the US: Snipers Kill 5 Police Officers after 2 Black Americans Were Killed by the Police
3- Iran Has Not Meddled in Issue of Bahrain and Won't Do So: Leader
---
Shargh:
1- Enemies Trying to Abuse Issue of [huge] Salaries as Leverage to Attack the Establishment: Leader
2- Issue of Medical Errors after Kiarostami's Death: Wall of Mistrust Grows Up between Doctors and Patients
3- Change of 3 Senior Military Commanders
---
Sobh-e Now:
1- Fire of Mismanagement in Bandar Mahshahr
2- Defending National Interests in North of Indian Ocean: Major General Bagheri
3- Homeland Can't Be Ignored: Kiarostami in Unpublished Interview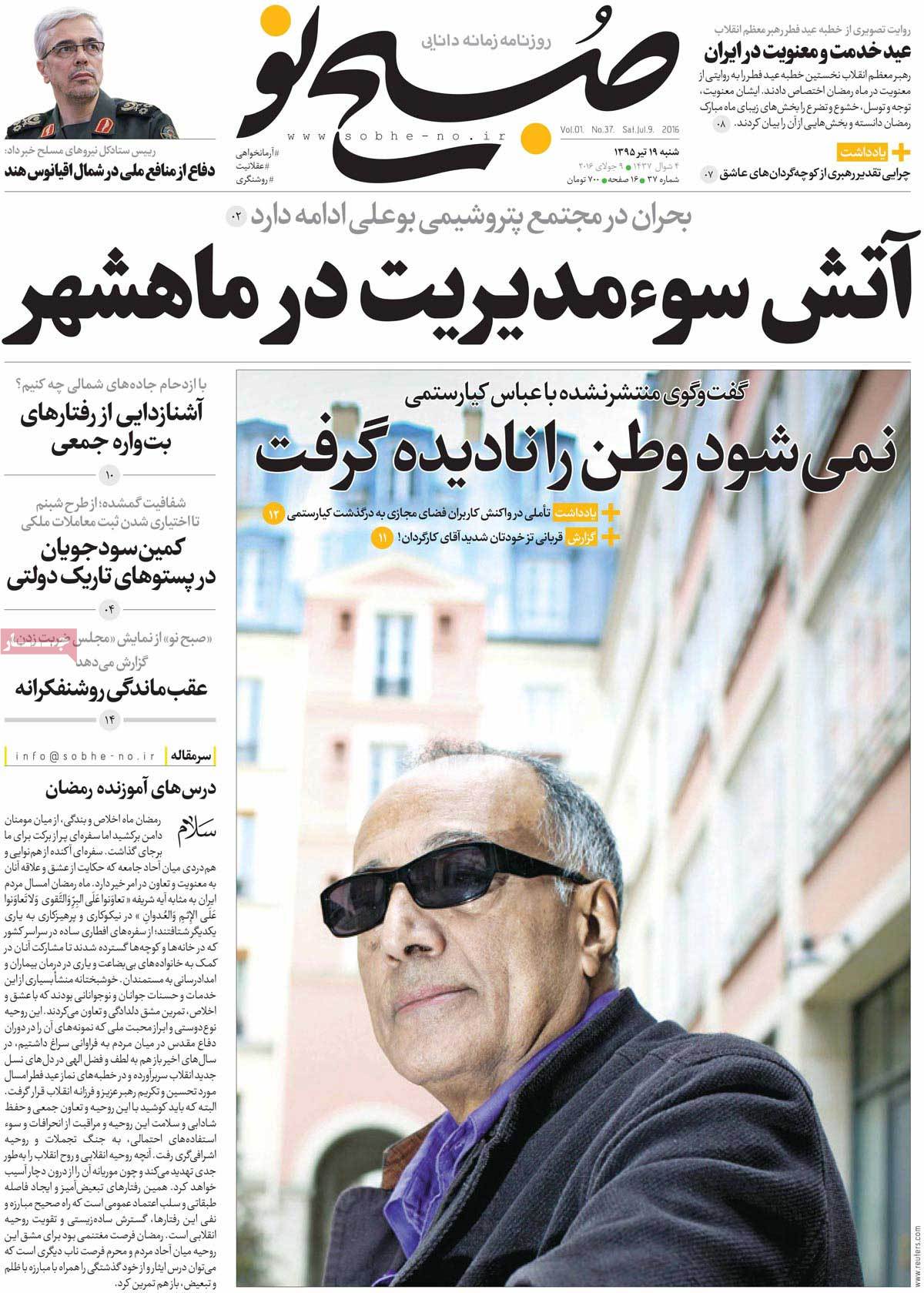 ---
Vatan-e Emrooz:
1- UN's Ban, the Globally Disgraced Official, Talks against Iran's Missiles
2- Armed Protests of the Black in Texas: Dallas Becomes the US Capital of Fear
3- Triple Blasts in Saudi Arabia: Will Hajj Become Unsafe?