Leader of the Islamic Revolution Ayatollah Seyyed Ali Khamenei met a group of Iranian university students on Sunday, July 3. In the friendly atmosphere of the meeting, many students delivered their speeches and asked their questions. Some of them even criticized the Leader while they thought it would have consequences for them, but Ayatollah Khamenei welcomed such criticisms and said that it is not a crime. Almost all newspapers covered the Leader's remarks in the meeting on their front pages.
The leakage of 20 million Iranian mobile phone users and official reactions to the issue also received great coverage today.
The issue of astronomical salaries and the prosecution and resignation of offending executives who received such huge payments also remained a top story in many papers.
Iranian director Asghar Farhadi's latest film, The Salesman, received the Best International Film at Munich Film Festival. The film's victory, especially after its previous success in Cannes Film Festival, was widely covered by top newspapers.
The abovementioned topics, as well as several other issues, are highlighted in the following headlines:
Abrar:
1- Don't Accuse Others of Being Non-Revolutionary: Leader
2- UNSC to Discuss Secretary-General's Report on JCPOA Implementation on July 18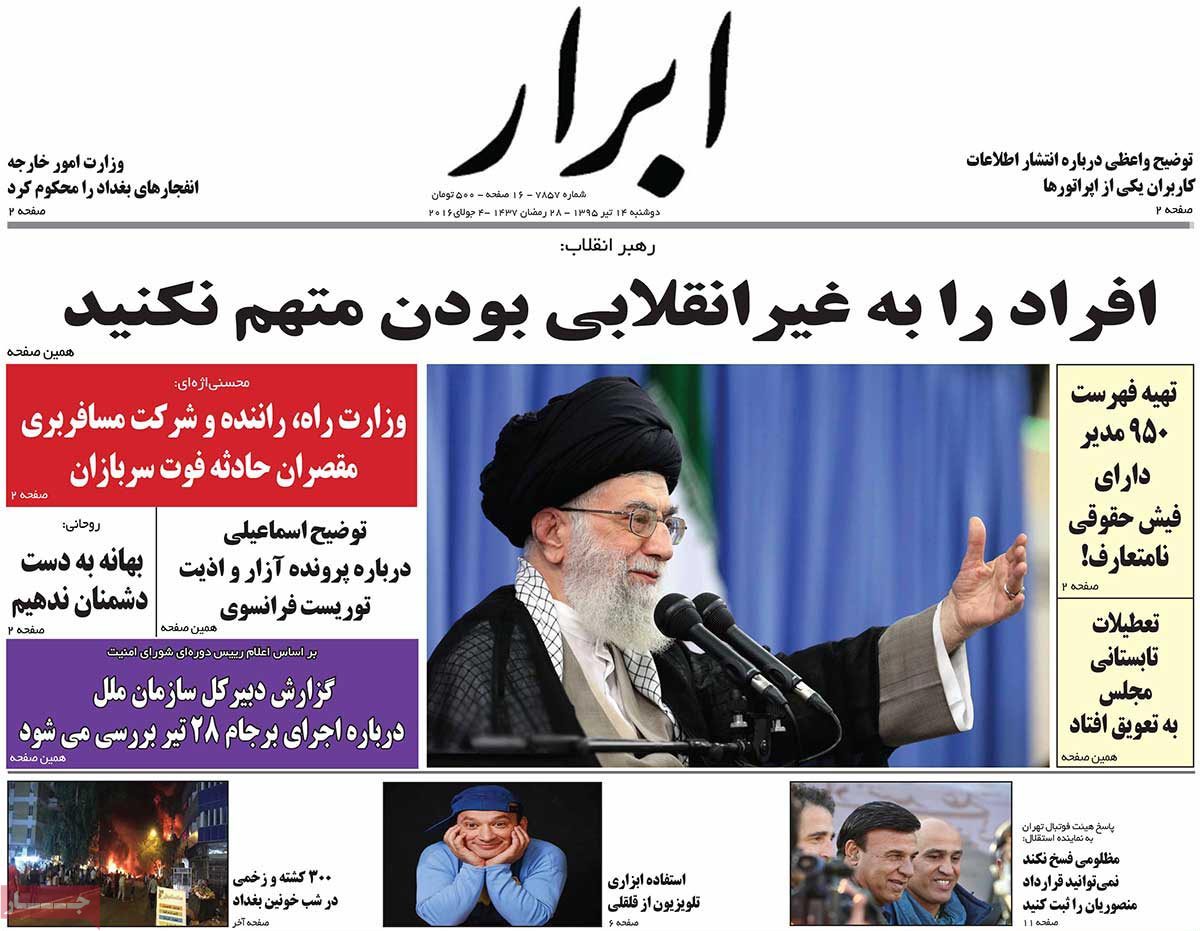 ---
Abrar-e Eqtesadi:
1- Iran's Presence in African and Central American Markets
2- Implementation of Iran's Preferential Trade Deal with D-8
3- Russia to Co-Fund Azerbaijan's Railway to Iran
4- Iran Once Again Loses the Russian Market: Return of Iran's Veteran Rival to Russia's Market
---
Aftab-e Yazd:
1- It's Not a Crime to Talk against the Leader: Ayatollah Khamenei
2- Those Who Were Corrupt Yesterday Have Become Today's Critics! Criminals and Embezzlers Join Critics of Rouhani's Administration
3- Salary of Iran's National Development Fund Chief Was Equal to That of Janet Yellen [Chair of the Board of Governors of the Federal Reserve System]!
4- Judiciary Spokesman: Ahmadinejad's Case Hasn't Been Forgotten and Is Being Pursued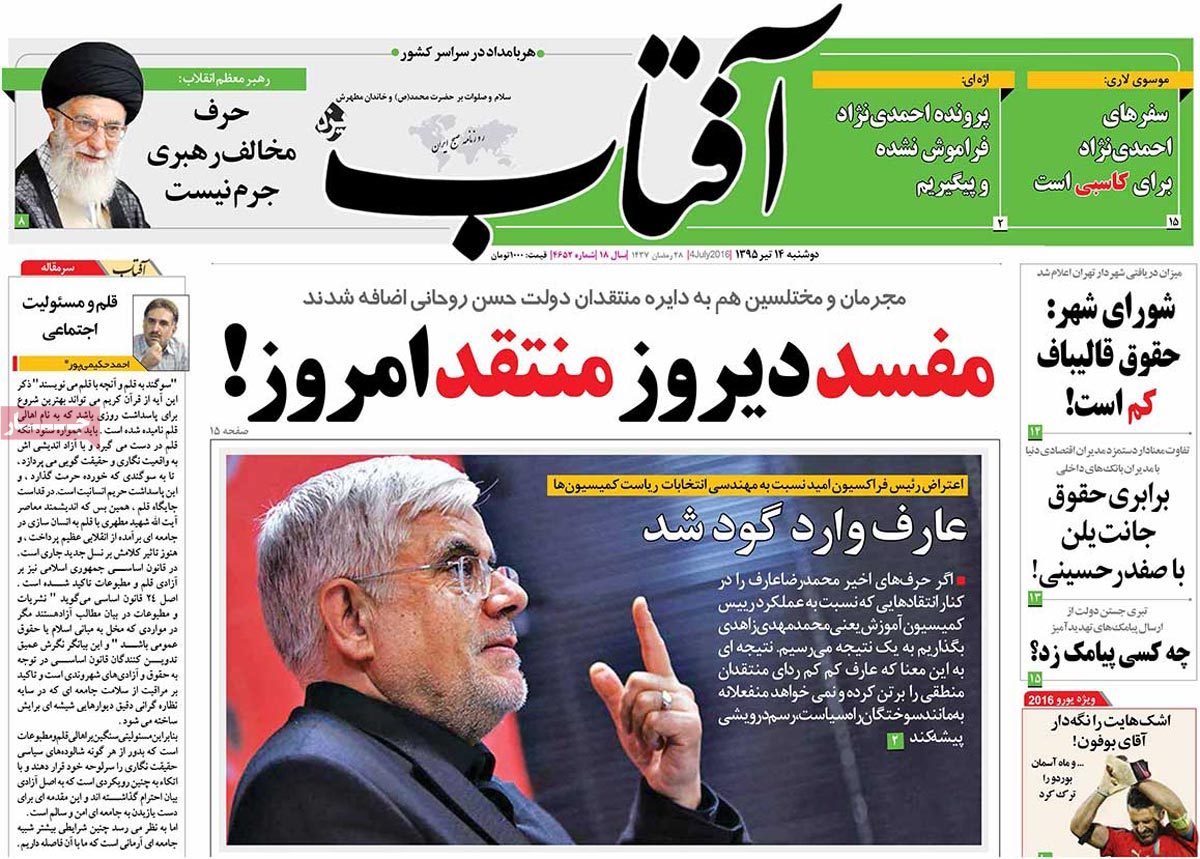 ---
Arman-e Emrooz:
1- 80% of Iran Influenced by Dust Pollution: Ebtekar
2- In an Address to Parliament, MP Calls for Removal of Presidency Post and Return to Premiership!
3- Reformists Renew Their Allegiance with Rouhani
4- Why It Is Important to Try Those Who Attacked Saudi Embassy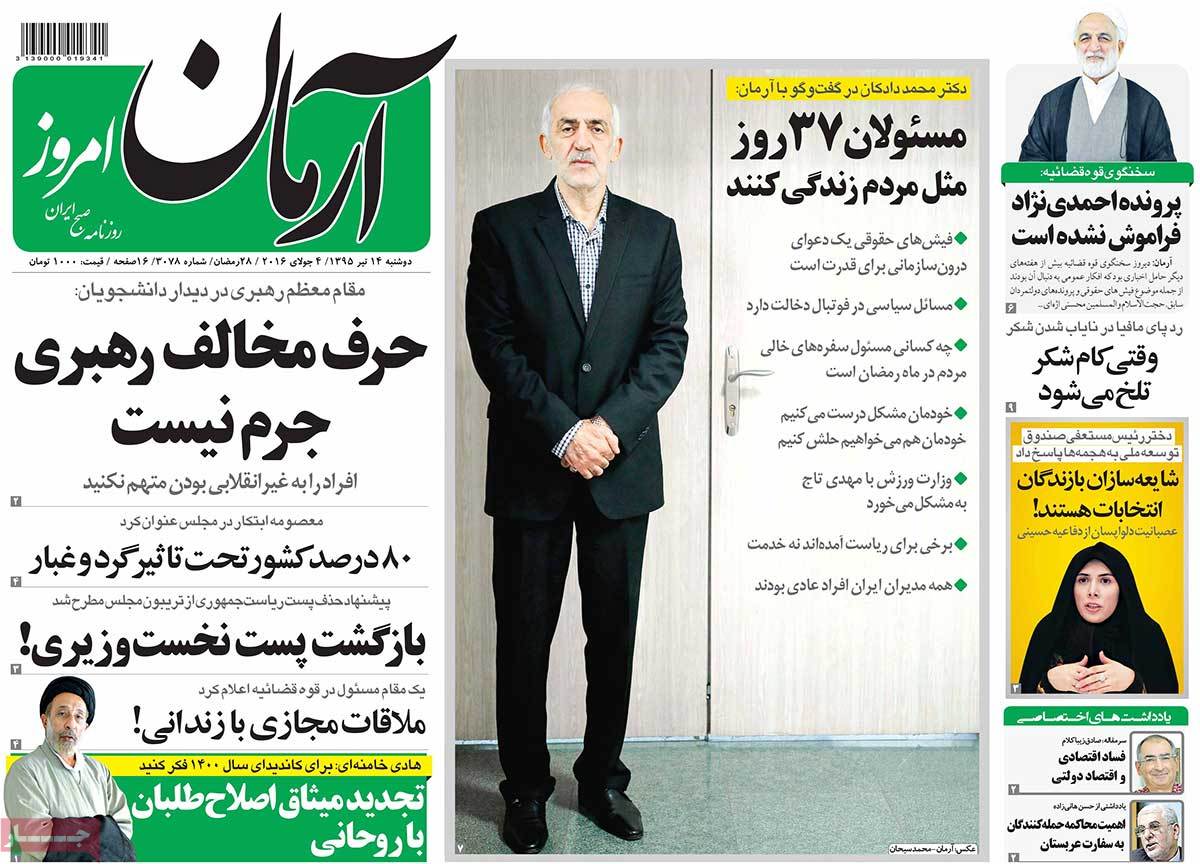 ---
Asrar:
1- France Ready for Nuclear Cooperation with Iran: Spokesman
2- Rouhani Doesn't Consider Ahmadinejad His Rival: Ex-Minister
3- Farhadi's The Salesman Wins Best Film Award at Munich Film Fest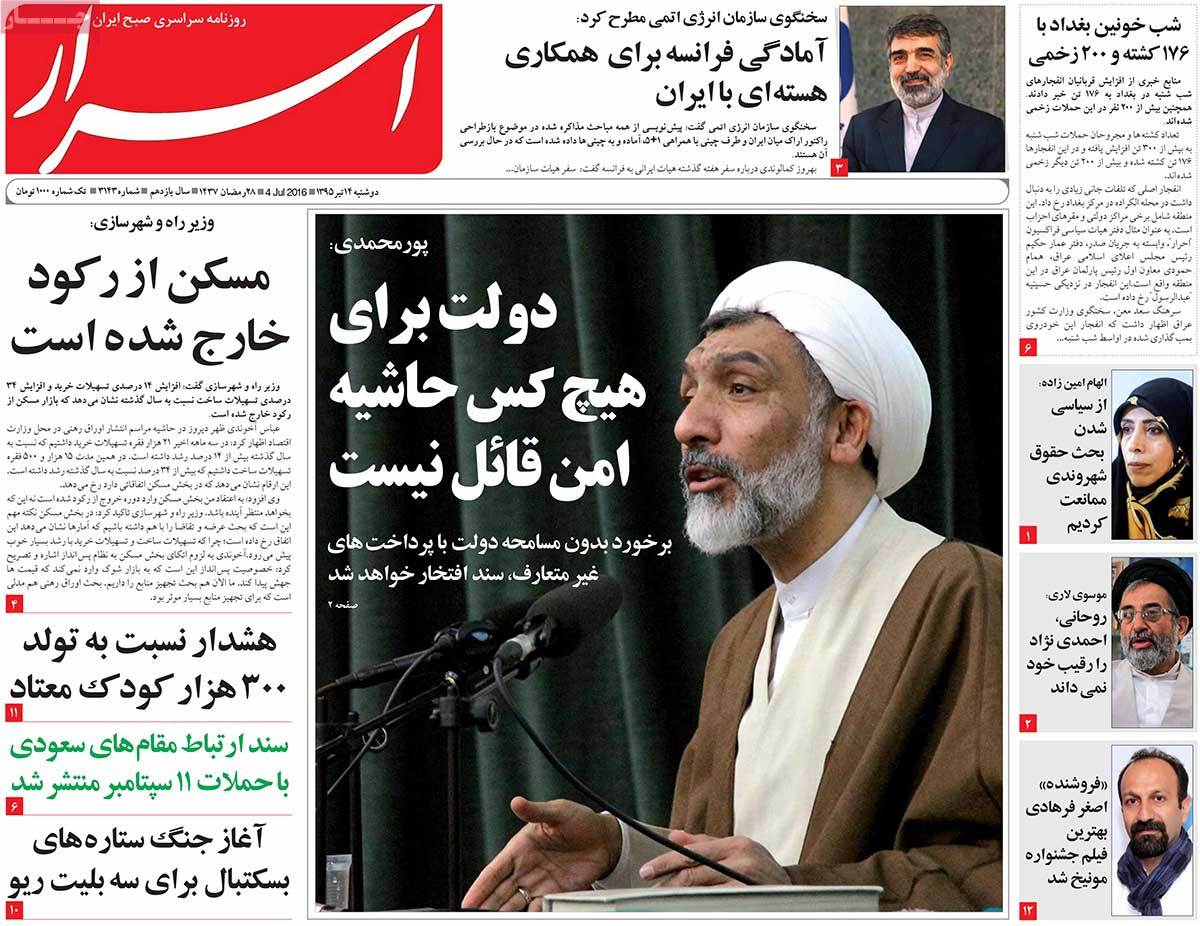 ---
Ebtekar:
1- Clues of "File 17" and Riyadh's Fate: Partial Release of 9/11 Secret Documents Puts Saudi Embassy on Standby
---
Emtiaz:
1- It Will Take 30 Years to Fight Dust Pollution: Ebtekar
2- Iran to Suffer from Water Shortage during Summer
3- Warnings about Birth of 300,000 Children Addicted to Drugs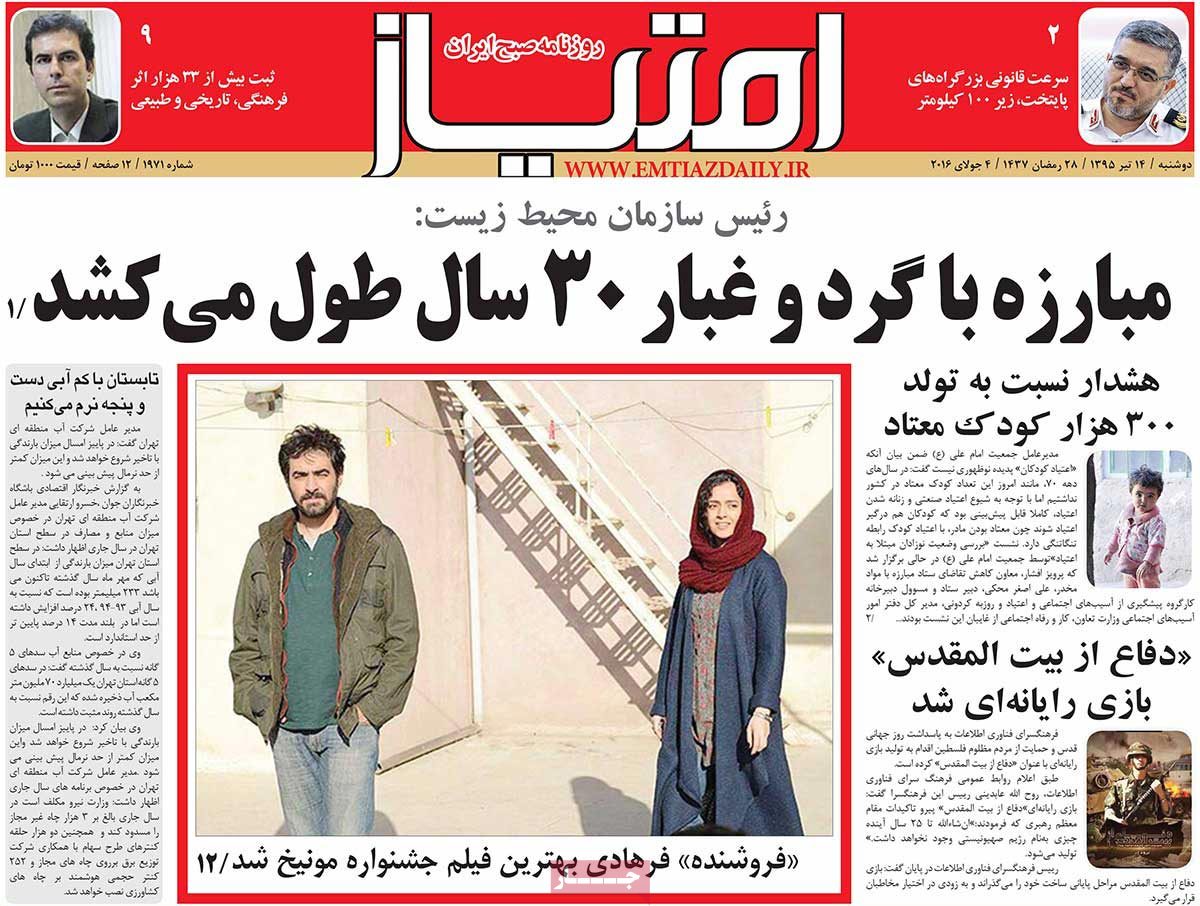 ---
Etemad:
1- Baghdad Pays the Price for Liberation of Fallujah: 2 Major Blasts by ISIS Kill 120 People
2- Minister Gives Details on Leakage of Irancell Users' Information
3- Death Penalty of 7 Rangers [who had killed hunters during their missions] Cancelled: Environment Department Chief
---
Ettela'at:
1- Leader Gives 12 Pieces of Advice on Responsibilities of Student Associations
2- Documents on Saudi Arabia's Role in 9/11 Released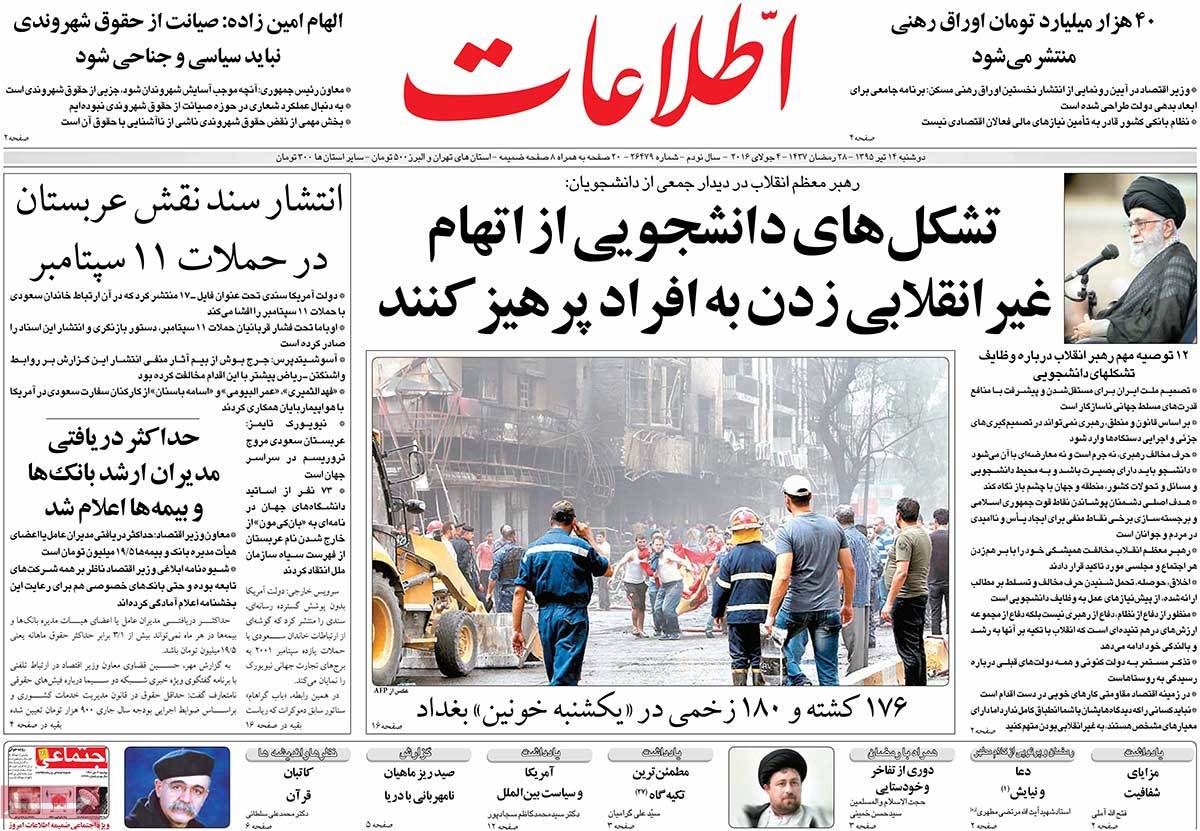 ---
Jame Jam:
1- Enemies Have Launched Complicated Media Movement against Islamic Republic: Leader
2- Iranian Surgeons' Success in Curing Breast Cancer
3- Bloody Morning in Baghdad
---
Javan:
1- I'll Stand against the US As Long As I'm Alive: Leader
2- I Believe in Outcome of Resistance, Which is Victory: Ayatollah Khamenei
3- Bahraini King Upholds Revocation of Sheikh Qassim's Nationality: Approving the Fall of Al Khalifa
4- Saudi Diplomats Had Kinks with 9/11 Terrorists
5- 52% of Bank Resources Are Frozen: CBI Chief
---
Jomhouri Eslami:
1- Leader Urges University Students to Explicitly Defend the Islamic Establishment
2- 7 Steel Projects Activated Using European-Chinese Equipment
3- Outlook for the End of War in Region [Editorial]
4- Saudi Arabia Cultivates Terrorism in the World: New York Times
---
Kayhan:
1- Resignation of a Number of Executives Won't Close the Case of 950 Managers with Astronomical Salaries
2- Ebtekar Says Fighting Dust Pollution Will Take 30 Years While Rouhani Had Criticized the Inaction on the Issue in His Presidential Campaigns
3- Academics from World's Top Universities Urge UN's Ban to Counter Al Saud Crimes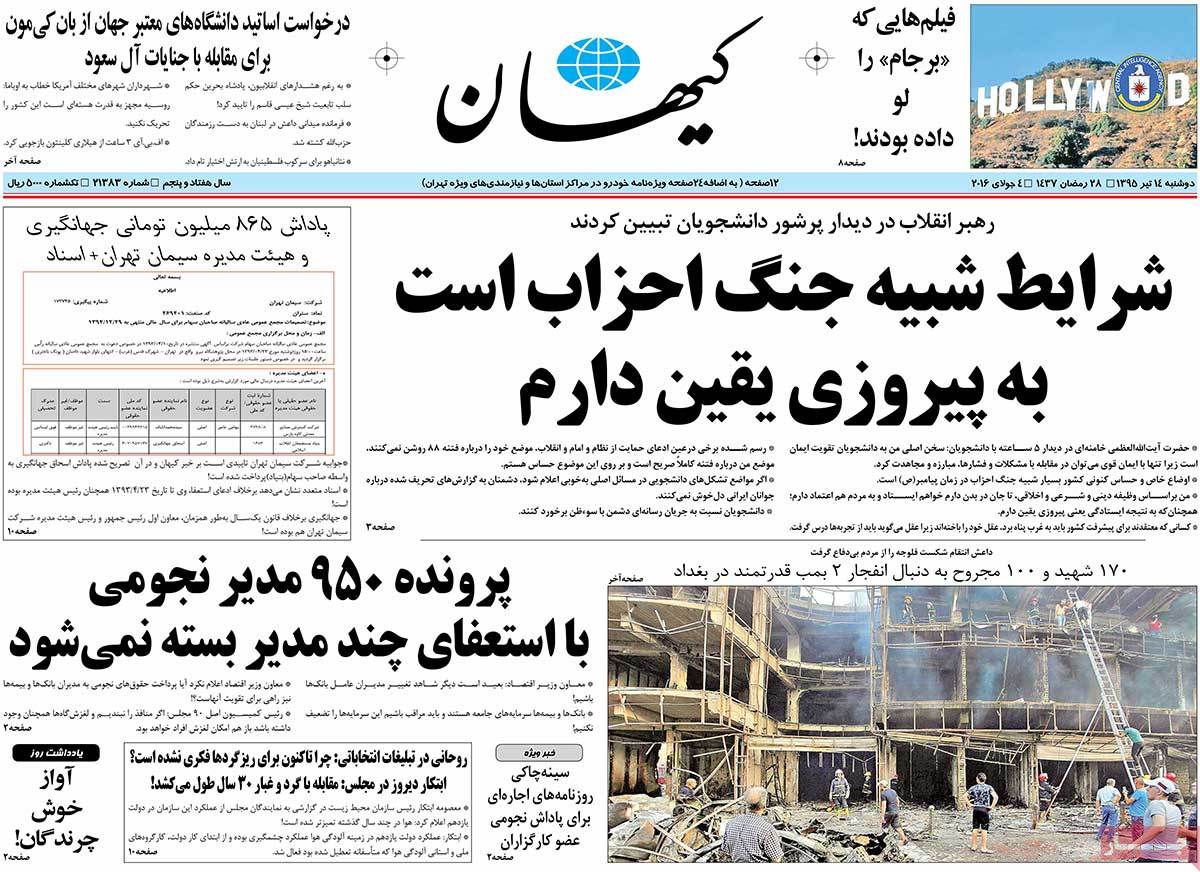 ---
Khorasan:
1- Returning Astronomical Salaries to Treasury Kicks Off
2- Man behind Leakage of Irancell Users' Information Arrested: Police
---
Resalat:
1- Americans Are Pre-Occupied with Enmity towards Iranian Nation: Leader
2- What's Happening in the United Europe? Germany and France Welcome Brexit
3- Sarkozy Poised to Become French President Once Again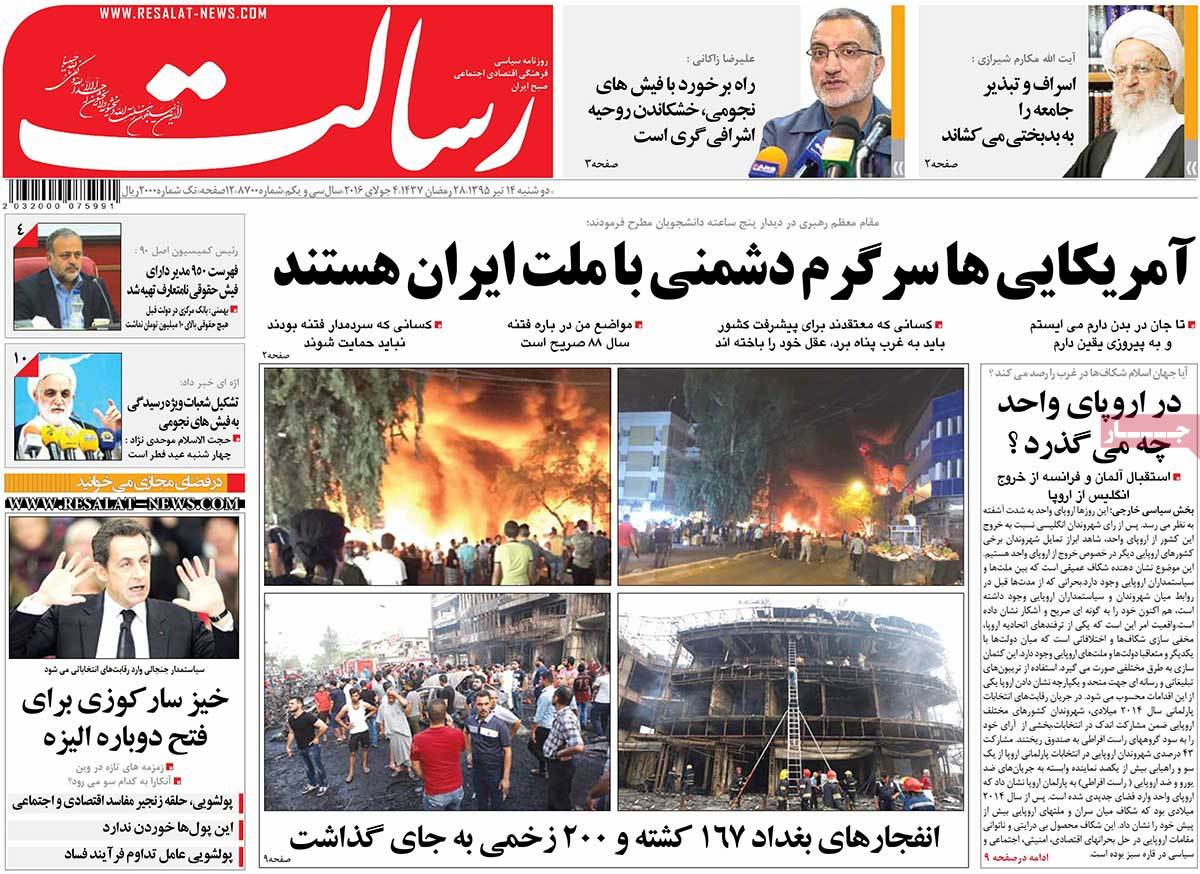 ---
Setareh Sobh:
1- Intelligence Ministry Denies Sending Any Threatening Message to Media Professionals
2- Controversies Surrounding the Release of a Secret Document: Saudi Arabia's Role in 9/11 Bolder than Ever
3- Possibility of Link between Cancer and Mobile Phone Is Not Ruled Out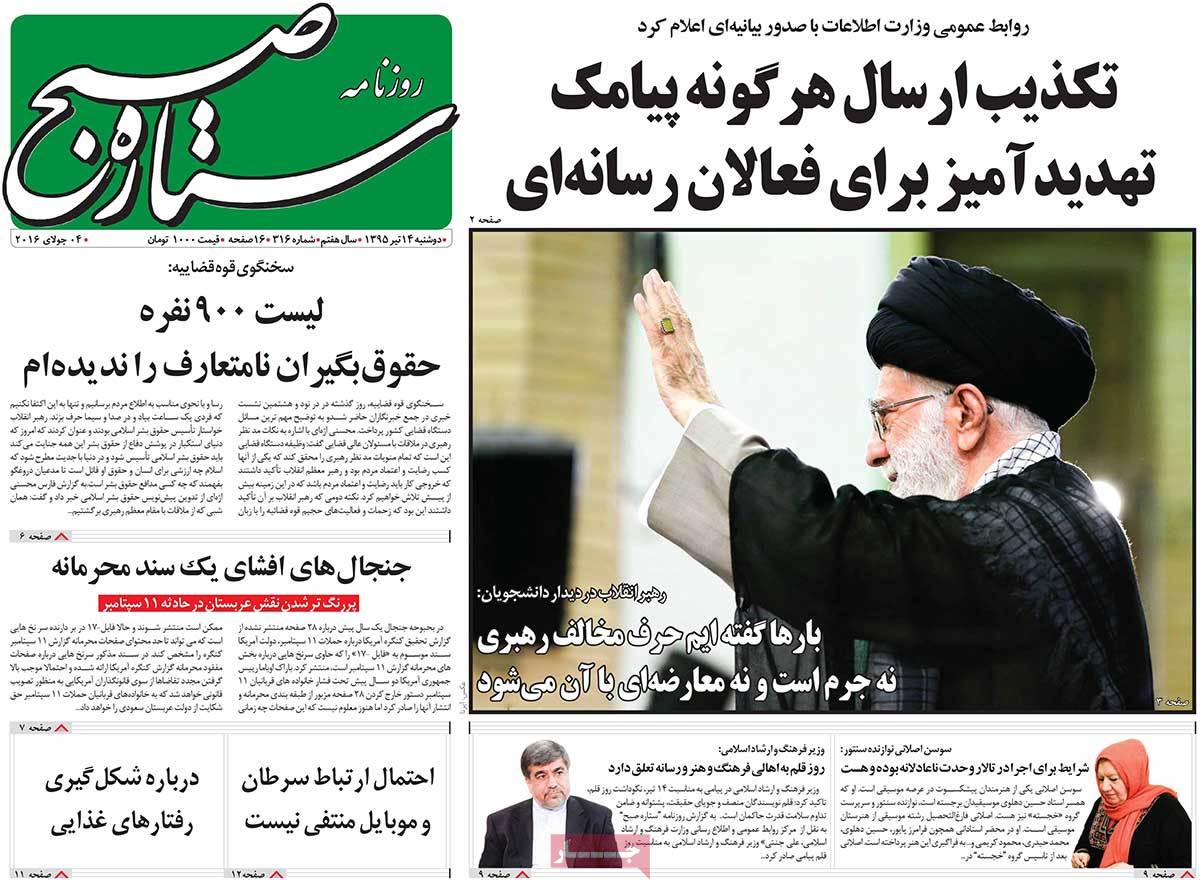 ---
Shargh:
1- Personal Information of 20m Mobile Users Leaked by One of the Country's Bodies: Minister
2- Clinton Interrogated for 3.5 Hours
3- Relationship between Foreign Ministry and Military Forces [Editorial]
---
Vatan-e Emrooz:
1- Only Those Who Have Lost Their Minds Would Resort to West: Leader