Newspapers on Monday covered the remarks made by President Hassan Rouhani in a visit to Western Iranian city of Kermanshah. The headlines highlighted Rouhani's statements about the issue of economic corruptions as well as the country's economic problems.
The remarks made by Deputy Foreign Minister Seyyed Abbas Araqchi about the nuclear deal with world powers were also a top story.
The issue of Turkish coup attempt and the reactions to President Recep Tayyip Erdogan's crackdown after the coup also received great coverage today.
The above issues as well as many more are highlighted in the following headlines:
Abrar-e Eqtesadi:
1- Iran's Winning Card from Turkey Coup: Iran's Rival in Russia Goes One Step Back
2- Britain's UKAS Breaks Iran Sanctions
3- End of Chinese Cars' Golden Age in Iran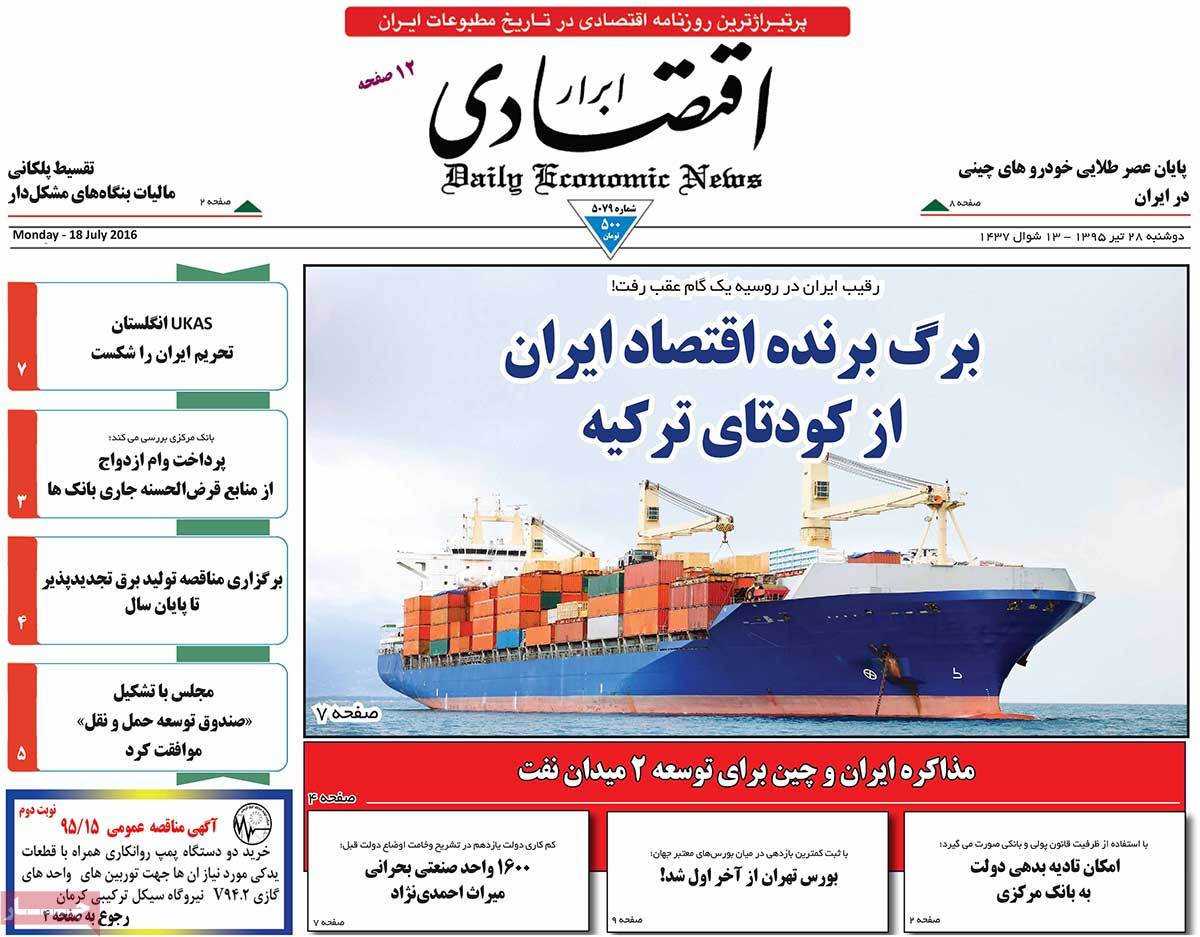 ---
Arman-e Emrooz:
1- Government Will Take Back People's Money from Thieves: Rouhani
2- Rouhani Is the Only Chance Iranian People Have: Expert
3- In 2017 Elections, Rouhani Will Have More Votes than 2013: People Not Hopeful about Conservatives Anymore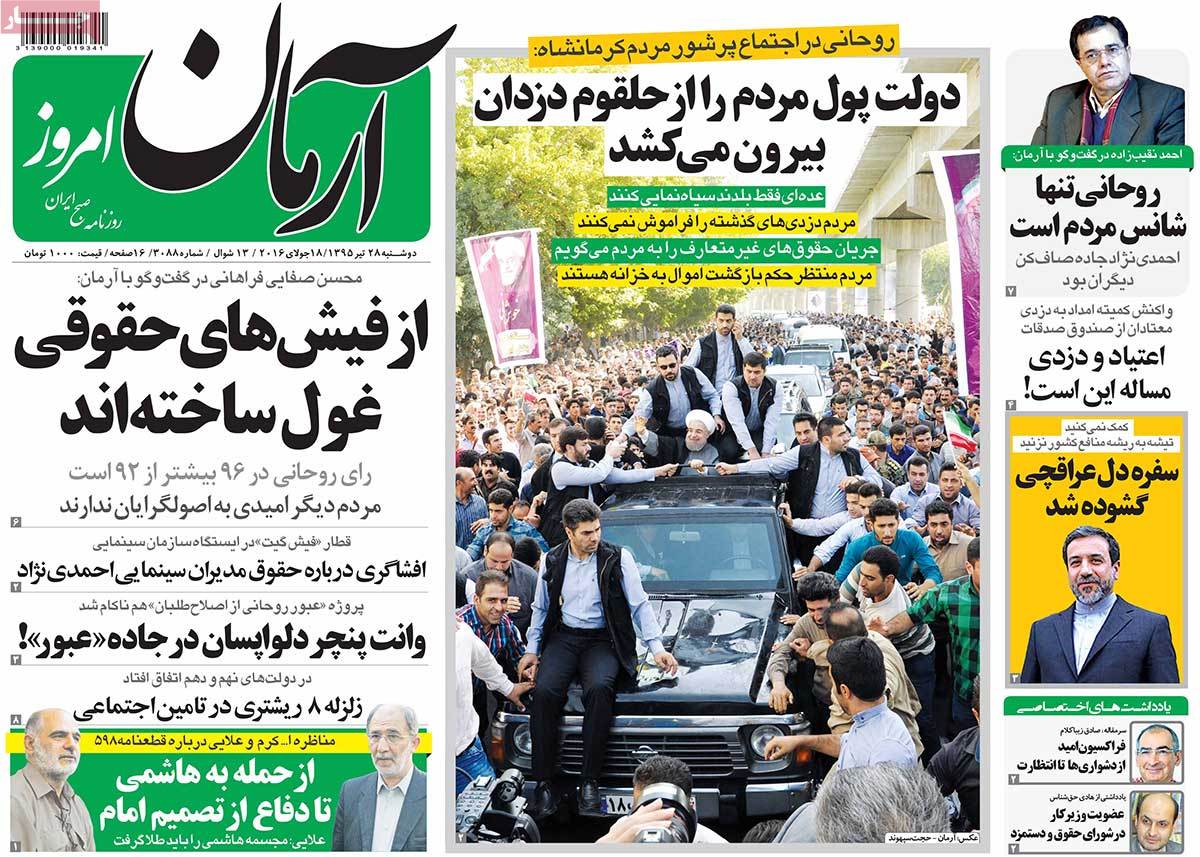 ---
Ebtekar:
1- Addition of a Penalty Article to Iran-Airbus Deal
2- Transparency without Fear: Experts Discuss Different Aspects of Iran's Agreement with FATF
3- Leader Had Endorsed Changes in Red Lines: Nuclear Negotiator
4- Those Who Attacked Saudi Embassy in Tehran to Appear in Court Today
5- Zarif Briefs MPs on JCPOA and Regional Developments
6- We Won't Forget Previous Robberies: Rouhani, Referring to Former Gov't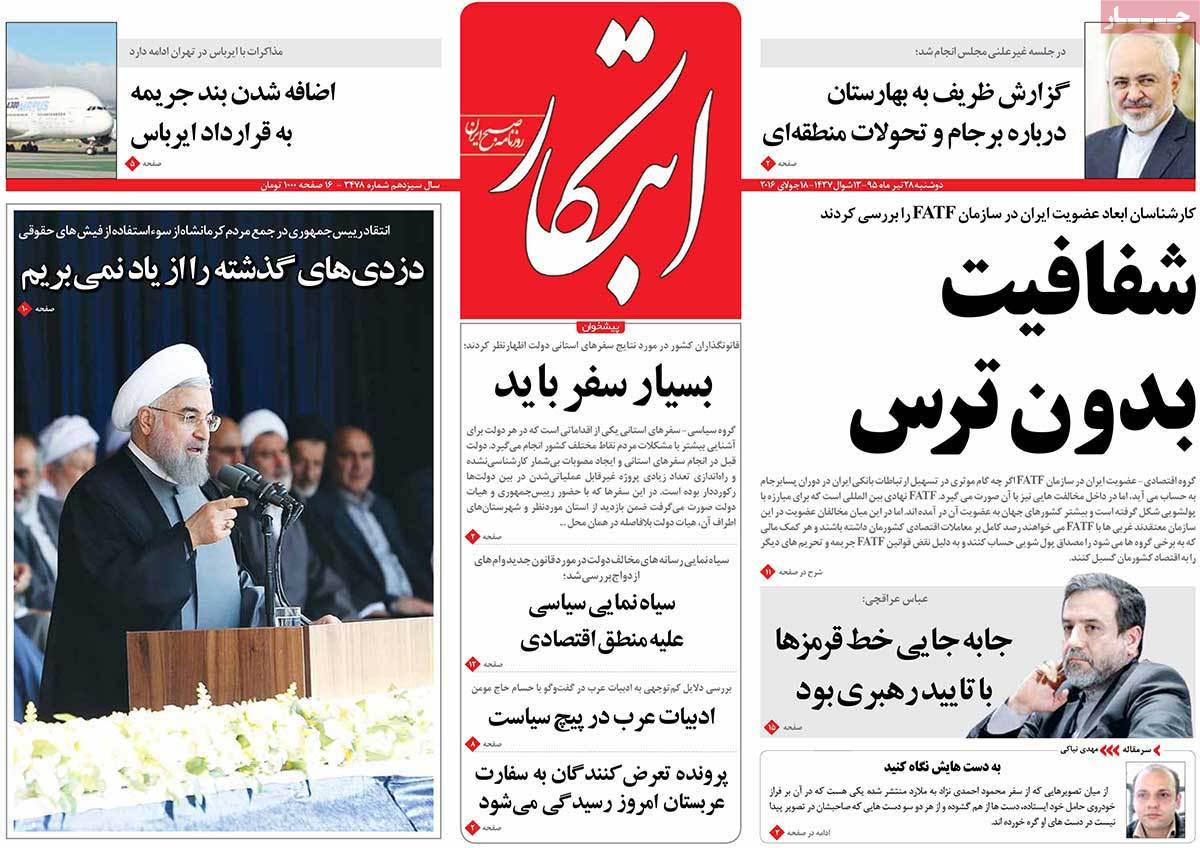 ---
Etemad:
1- Secrets of "Chalice of Poison": 2 War Commanders Discuss Acceptance of 598 Resolution that Ended Iraqi Imposed War
2- And Now Erdogan's Coup
3- Guerrilla Battle in Armenia
4- Lut Desert, Iran's First Natural Site in UNESCO's World Heritage List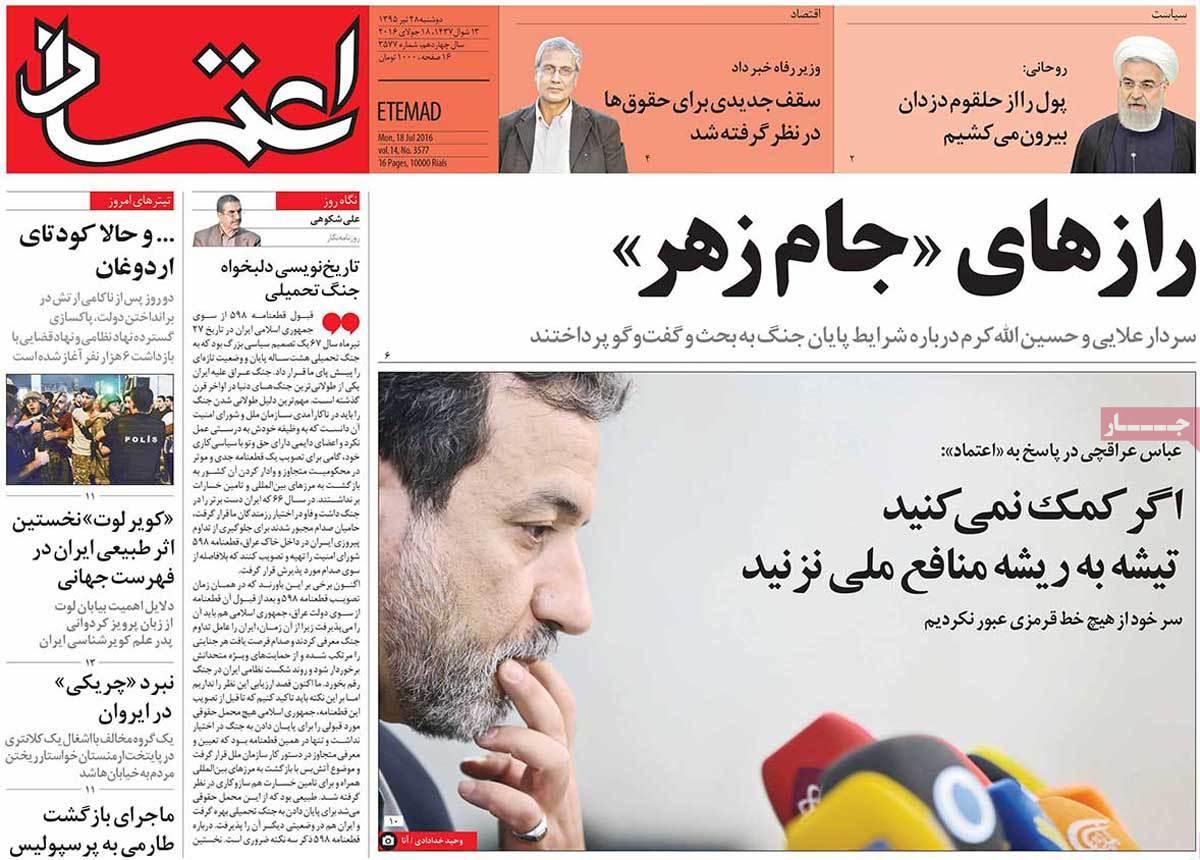 ---
Ettela'at:
1- Transparency Is the Solution to Problems: Rouhani
2- Ankara Accuses Washington of Playing a Role in Coup Attempt
3- If We Don't Serve National Interests, Let's Avoid Damaging Them: Deputy FM [on JCPOA]
4- 179 Saudi Hirelings Killed in Yemeni Forces' Missile Attack on Ta'iz
---
Haft-e Sobh:
1- Iran's Ultimatum to Apple: If Apple Inc. Fails to Open Representative Agency in Iran, Sale of Its Products Will Be Stopped in Iran
2- Iran's Lut Desert Inscribed on UNESCO World Heritage List amid Chaos in Istanbul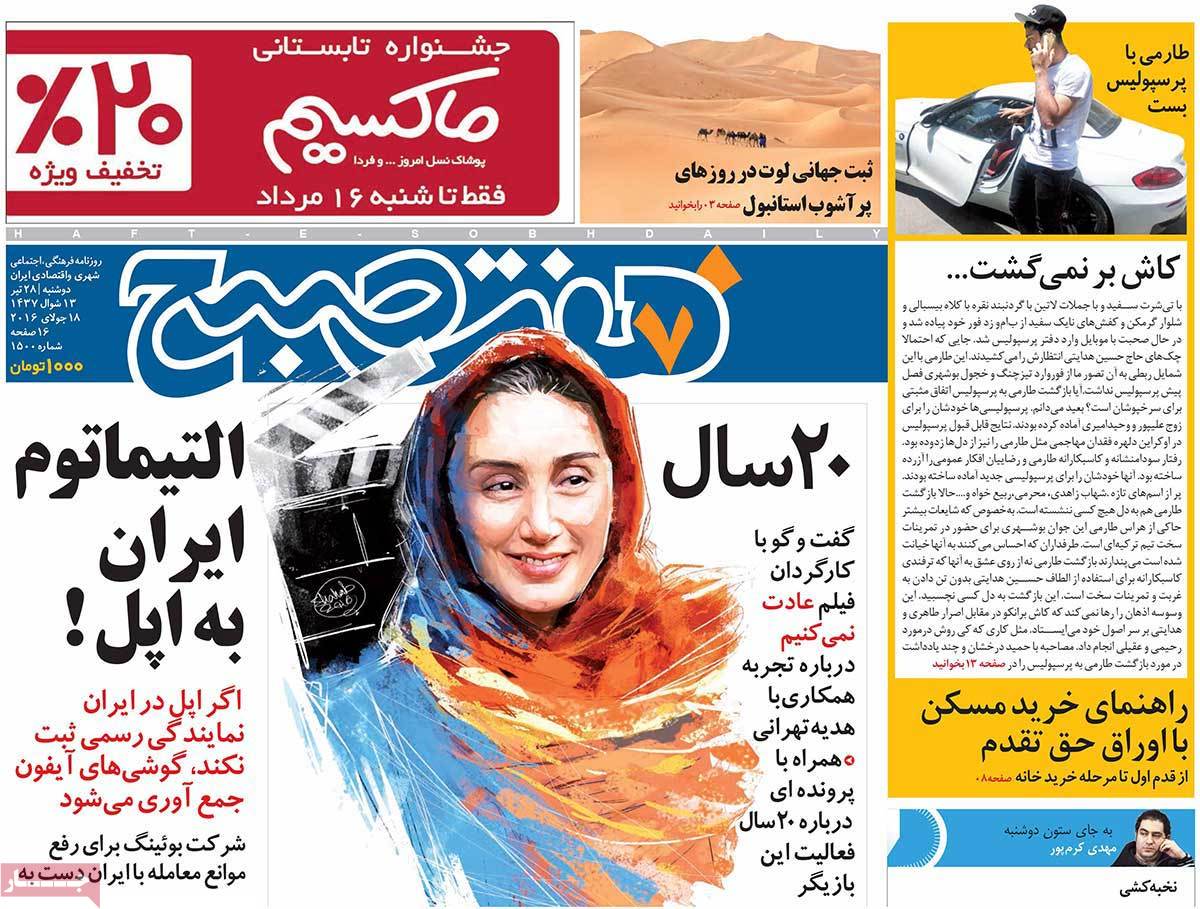 ---
Iran:
1- JCPOA Opponents Benefit from Anti-Iran Sanctions: Deputy FM
2- Protecting the Environment Isn't Possible without Peace: Ebtekar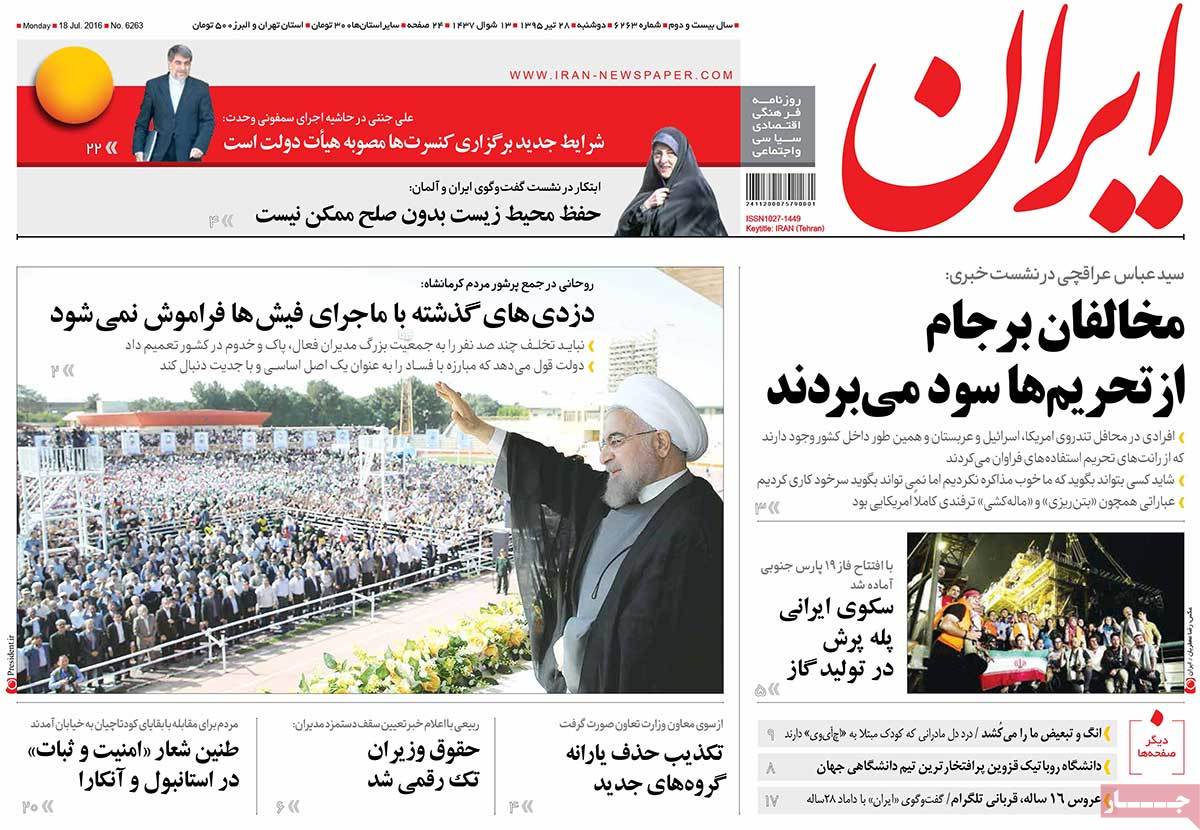 ---
Javan:
1- Rouhani's Political Response to Trade Union Demands
2- 10th Day of Curfew against Kashmir's Muslims
3- Zarif: Saudi Arabia's Happiness with Turkey Coup Is Thought-Provoking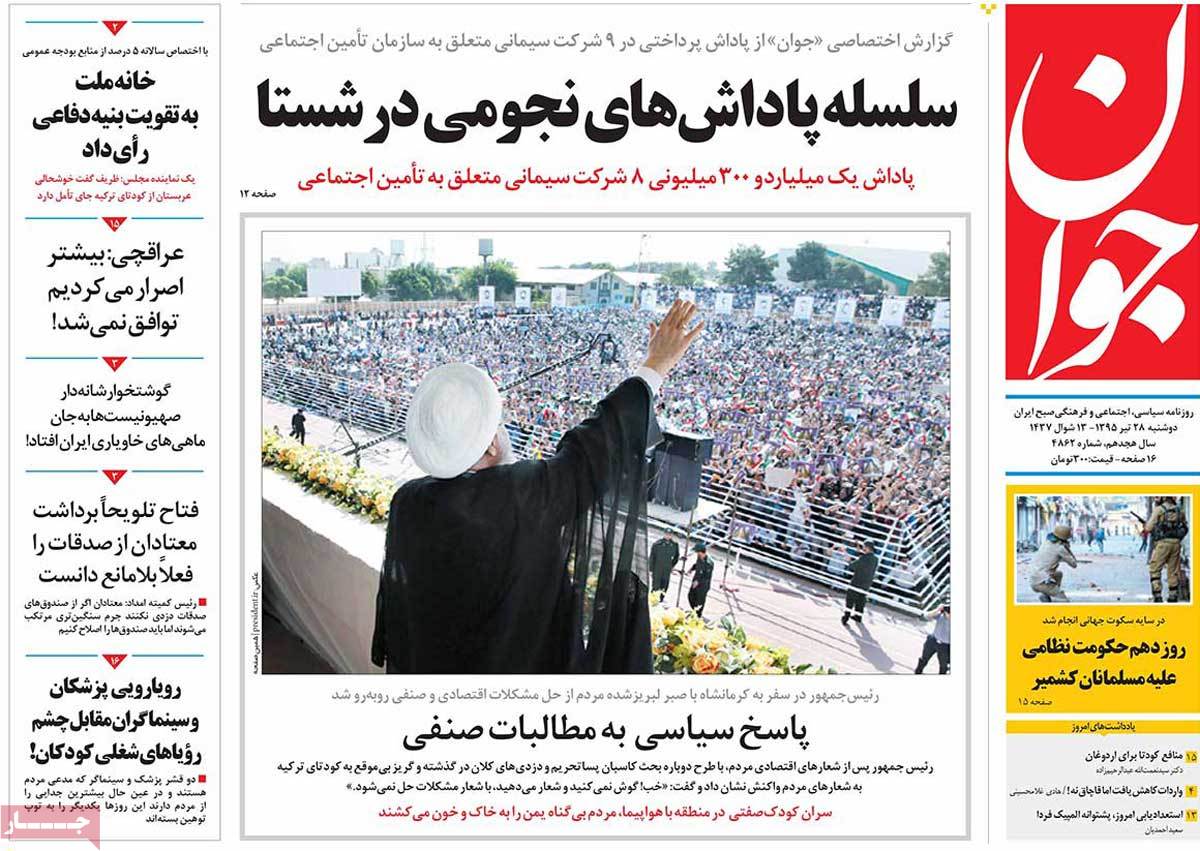 ---
Jomhouri Eslami:
1- Gulen: Turkey Coup Was a Fake One Fabricated by Erdogan
2- Some Are Worried about End of Sanctions: Iran's President
3- Iran in Talks with 4 Plane Makers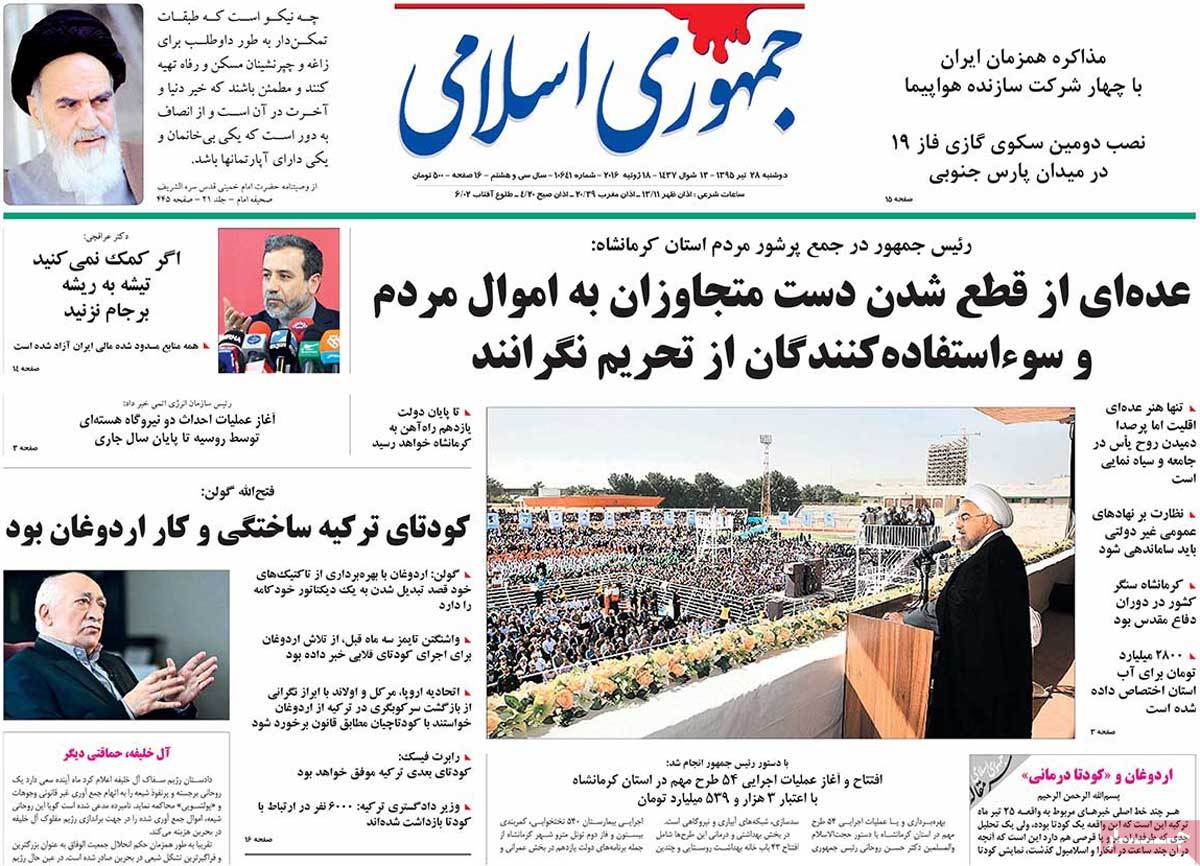 ---
Kayhan:
1- Rouhani Says All Sanctions Are Removed, Araqchi Says It's on Paper!
2- Glorious Funeral Held for Selfless Firefighter
3- No One Hears Voice of Kashmir's Shiites
4- Erdogan Starts Unprecedented Purge of Army and Judiciary
5- Central Bank Not Qualified to Make a Deal with FATF: Former Official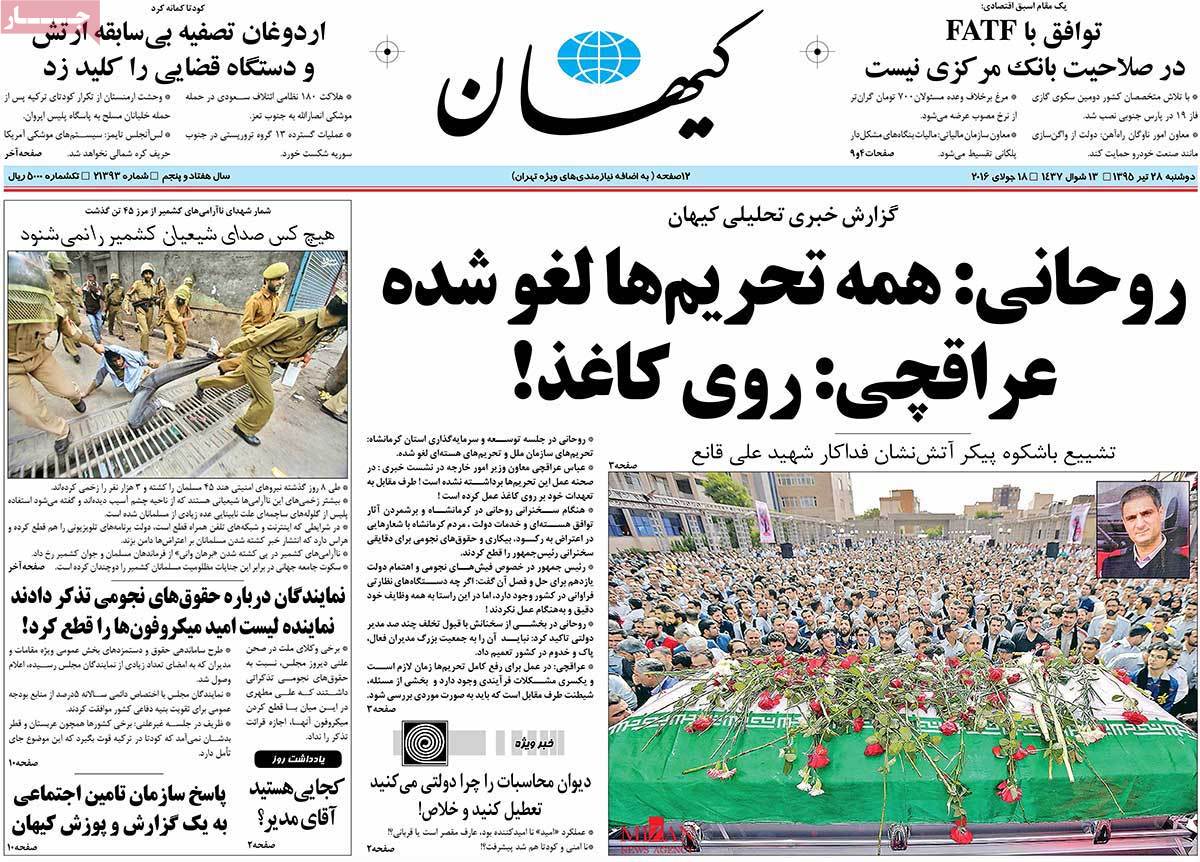 ---
Khorasan:
1- We Still Have Childish Leaders Who Are Slaughtering Yemeni People: Rouhani
2- 42 Killed and 1,400 Wounded in Kashmir Clashes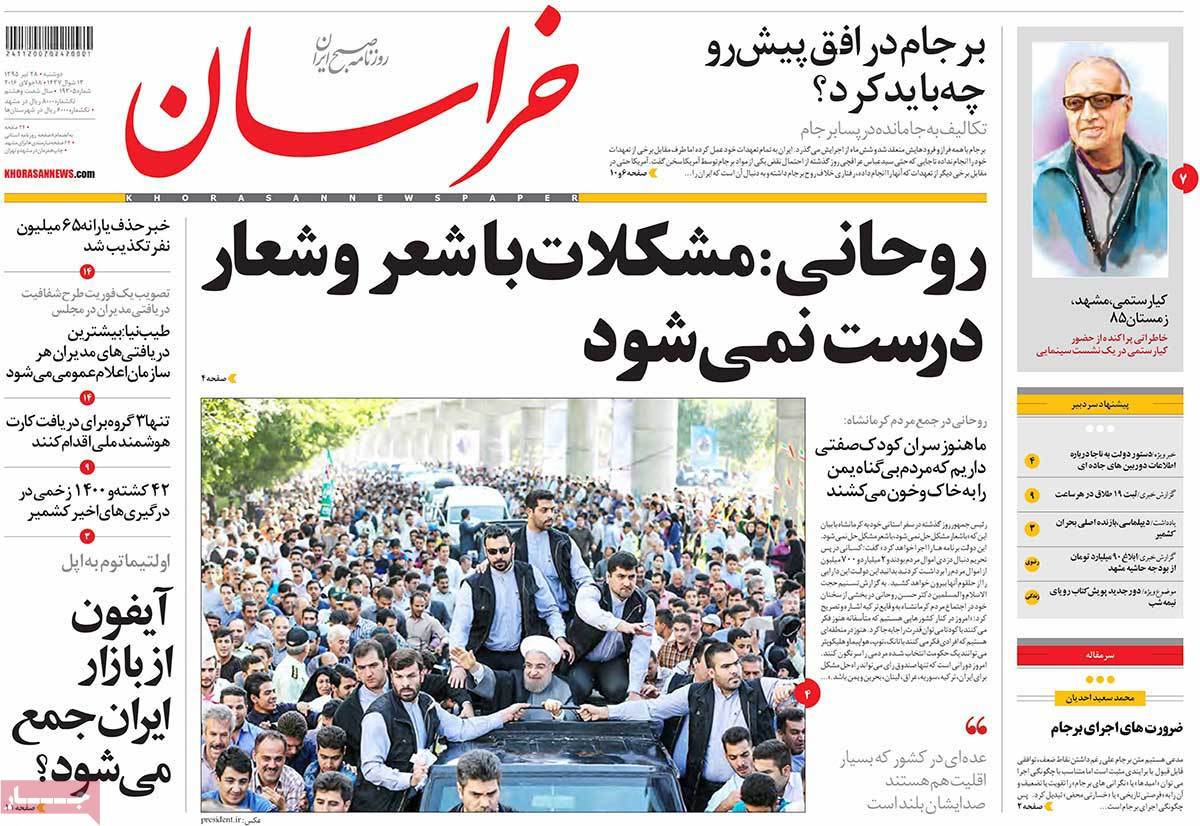 ---
Resalat:
1- We Have Problems of Unemployment and Downturn in Iran: President
2- Removal of Sanctions Still on Paper: Araqchi
3- Americans Have Failed to Comply with Their JCPOA Commitments: Leader's Aide
4- US Should Extradite Gulen If It's Turkey's Strategic Partner: Erdogan
5- Where's Turkey's Position in Muslim World? Where Will Turkey Head to After Coup?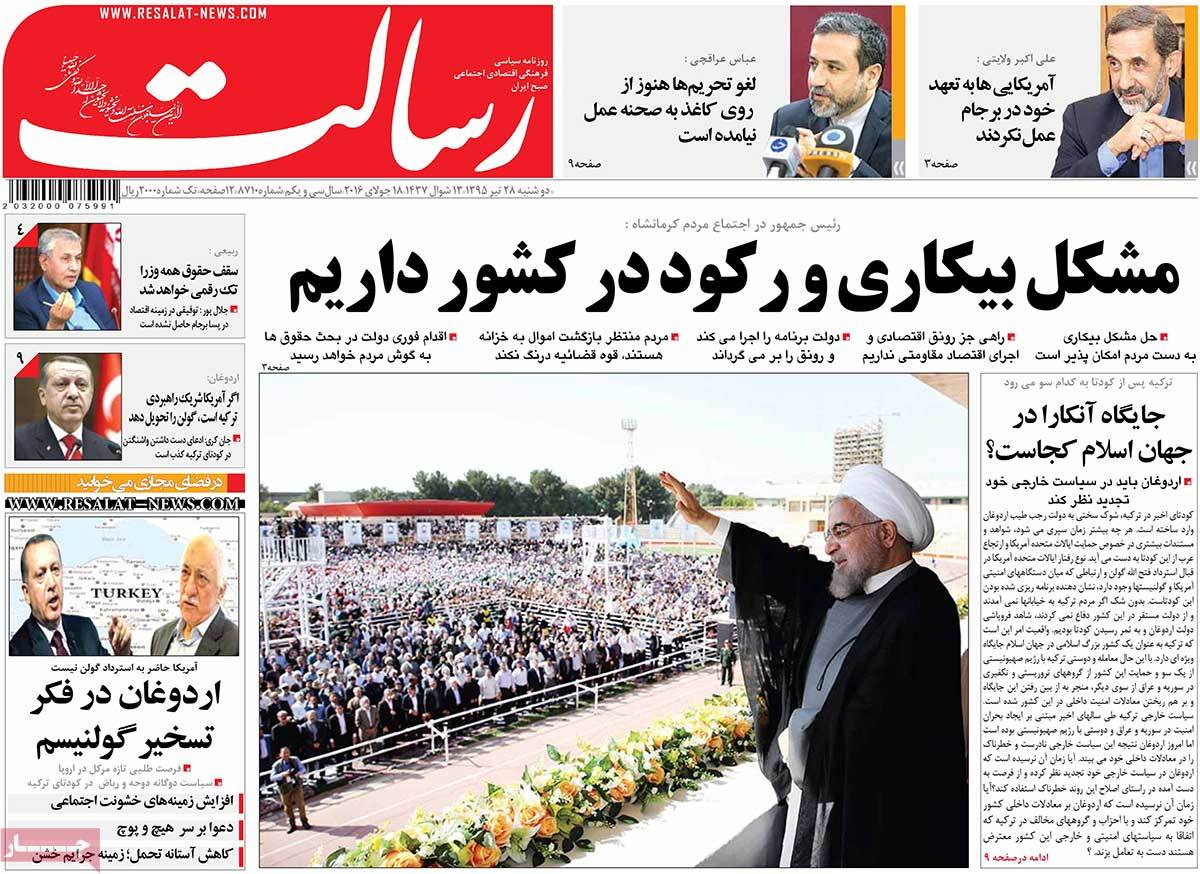 ---
Sayeh:
1- Ballot Boxes Only Solution to Regional Problems: Rouhani
2- Remedy for Butterfly Wounds: Bandage to Be Provided for EB Patients for Free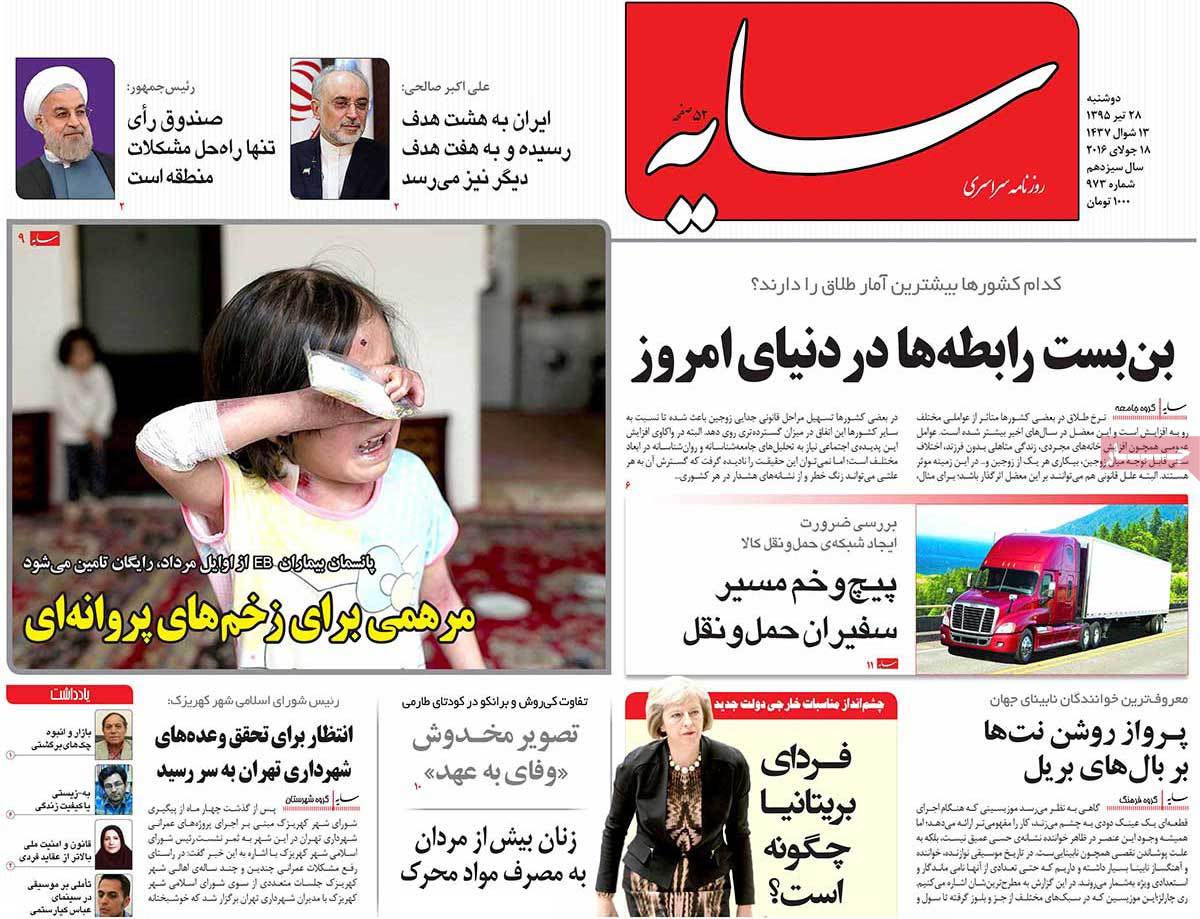 ---
Shahrvand:
1- Iranian People Stayed Awake All the Night: How Turkey Coup Attempt Turned to Interesting Topic for Iranians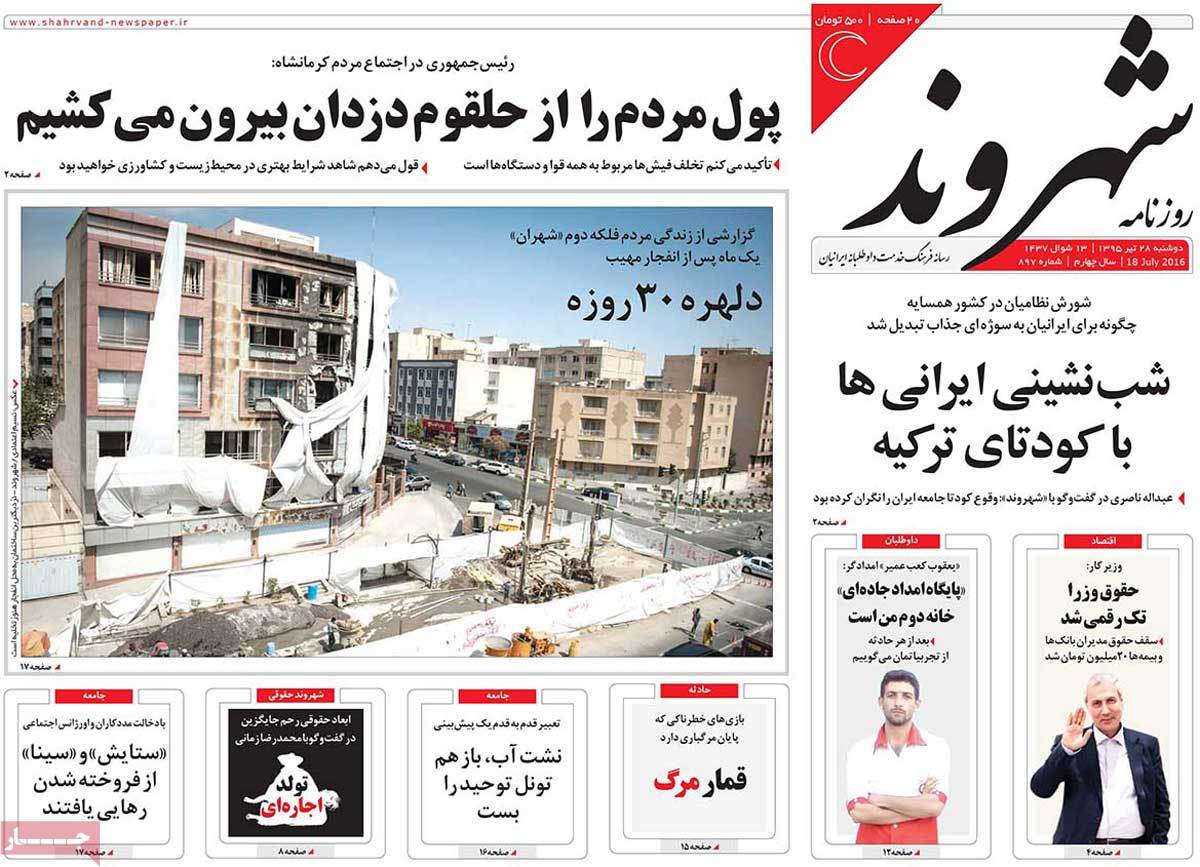 ---
Shargh:
1- Based on Latest Order, Iranian Ministers to Receive Monthly Salaries Less than $2,900
2- Zarif, Shamkhani, and General Soleimani Were Monitoring Turkey Coup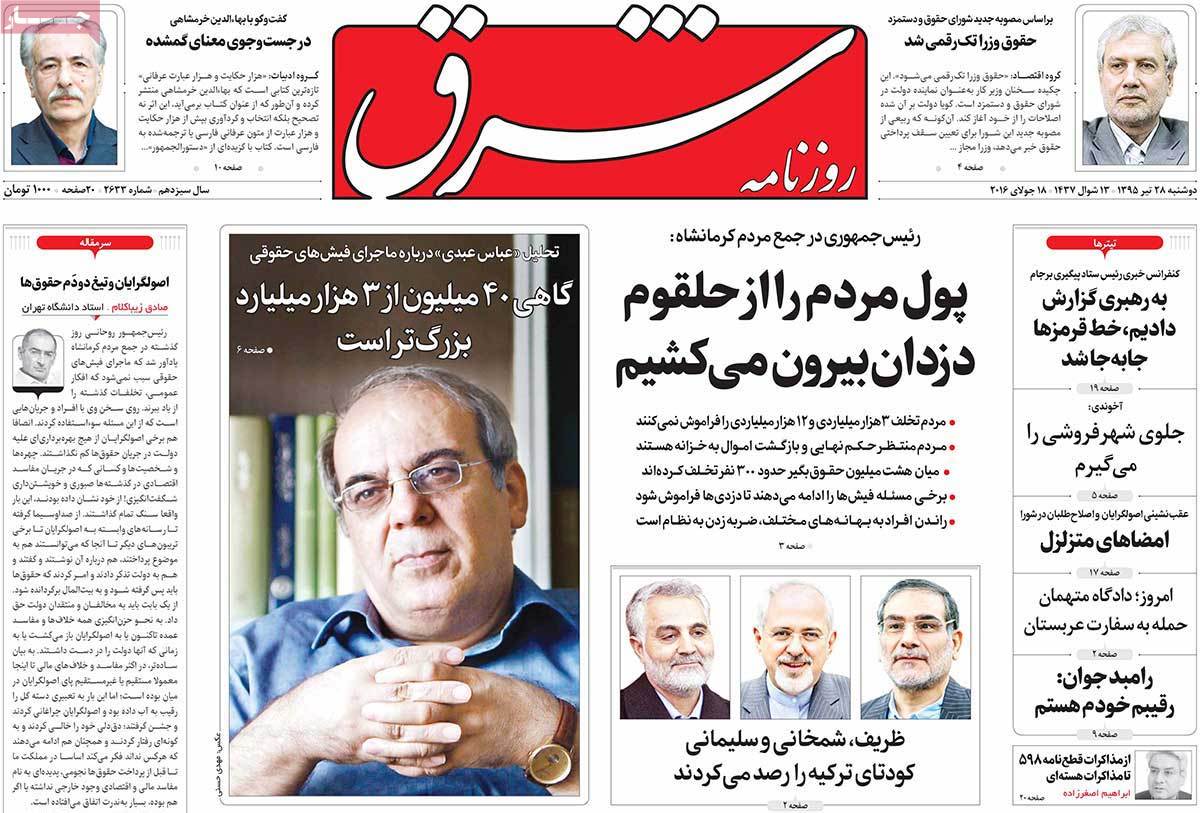 ---
Sobh-e Now:
1- Zombies in the City: Where Pokémon Go Came from
2- Zionist Media against Turkish President Erdogan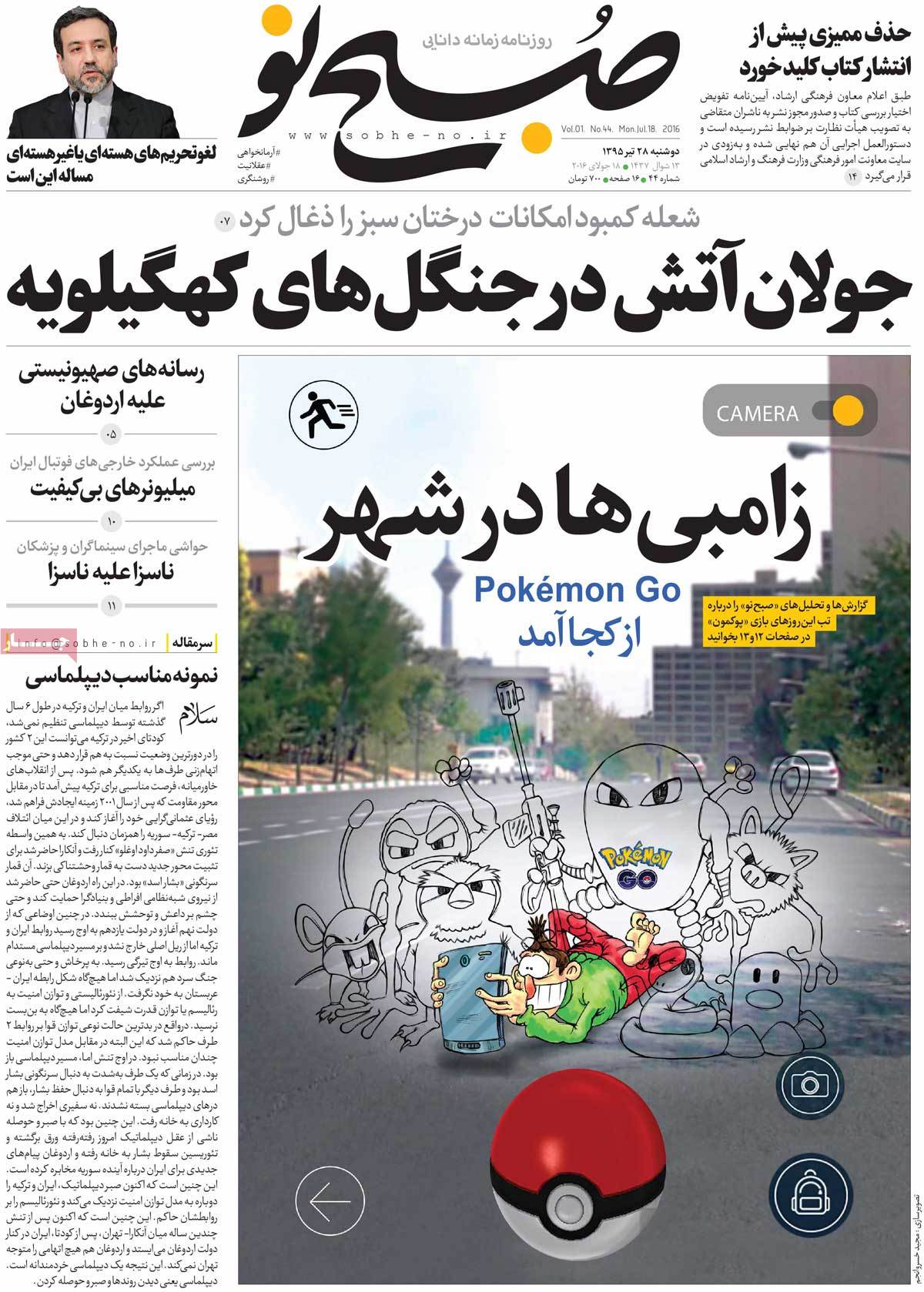 ---
Vaghaye Ettefaghieh:
1- Female Politicians on Ruins Left of Male Politicians: Will Policies Change in West?
2- New British Gov't Isn't a Friend of Iran That Much [Editorial]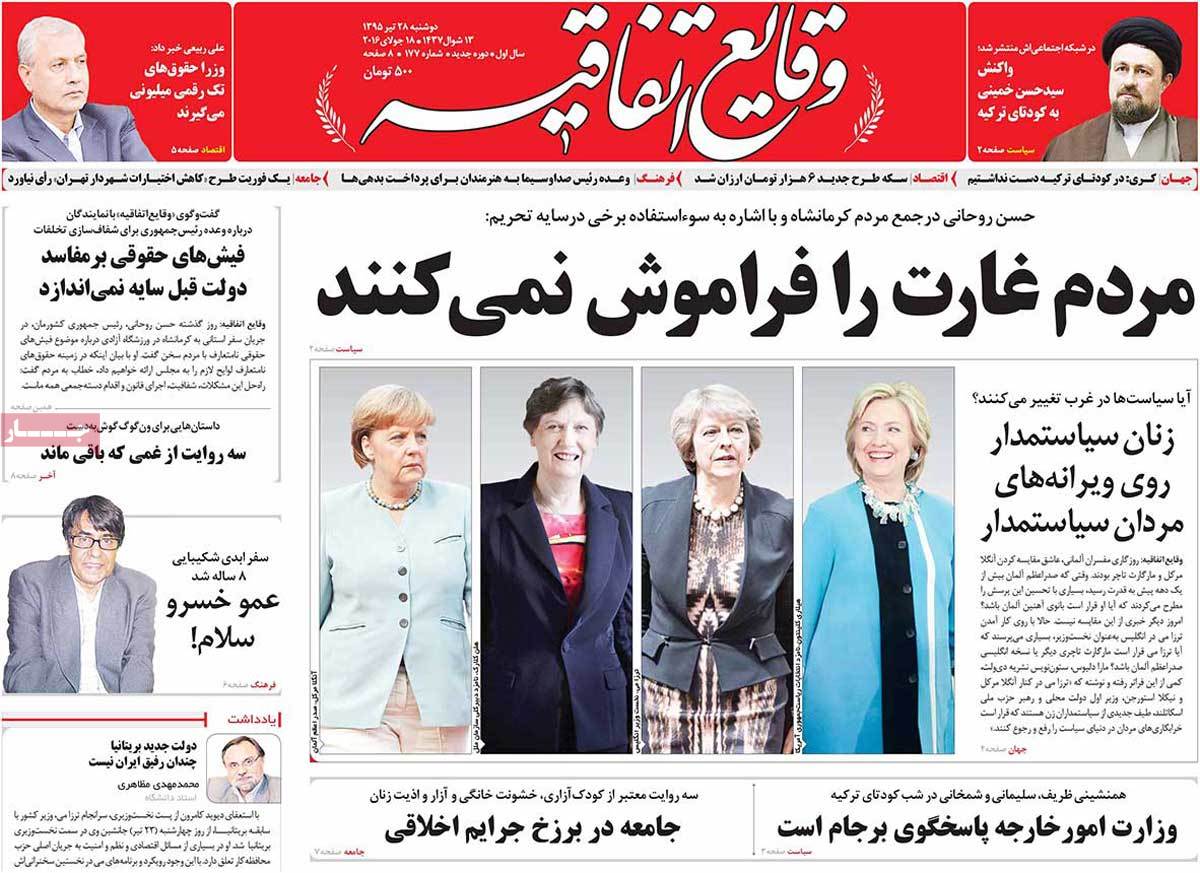 ---
Vatan-e Emrooz:
1- Rouhani's Reaction to People's Protests: You Don't Listen to What I Say!
2- Signs of West's Support for Coup in Turkey; 6,000 Arrested in Post-Coup Purge
3- Repeated Violations of JCPOA; General Rezaei: Economic Issues Not Considered in JCPOA
4- Armenia: Hostage Taking or Coup?