Newspapers on Sunday widely covered the death of renowned Iranian filmmaker Abbas Kiarostami and the possible medical errors that led to his demise. Kiarostami is laid to rest today while the medical error issue is being seriously pursued by the Health Ministry.
The remarks by Atomic Energy Organization of Iran [AEOI] Chief Ali Akbar Salehi about a plot being hatched by the West against Iran's nuclear program also received huge coverage. He had earlier talked about the US violation of its JCPOA commitments, but his remarks were criticized by President Hassan Rouhani, who said Salehi is neither the foreign ministry nor the Central Bank chief to raise such claims. This time, Salehi said he has been a university professor for 40 years, and even if some 'dear guys' may get angry over his remarks, he should talk about the plot being hatched against Iran and the US violation of its commitments as per the nuclear deal.
Newspapers also focused on the ongoing unrest in the US and the protest rallies held by the Black people there, and mostly used the headline 'civil war' to refer to the developments.
These issues, as well as several more, are covered in following headlines.
Abrar:
1- President Should Start Confronting Huge Salaries from His Own Companions
2- Terrorist Attacks in Iraq Aimed at Creating Civil Riot and Security Problems: PM
3- MP: Why Did Gov't Omit Budget for Fighting Dust Pollution from Current Year's Budget?
4- We'll Put on Vote Imposition of Fresh Sanctions against Iran: US Congressman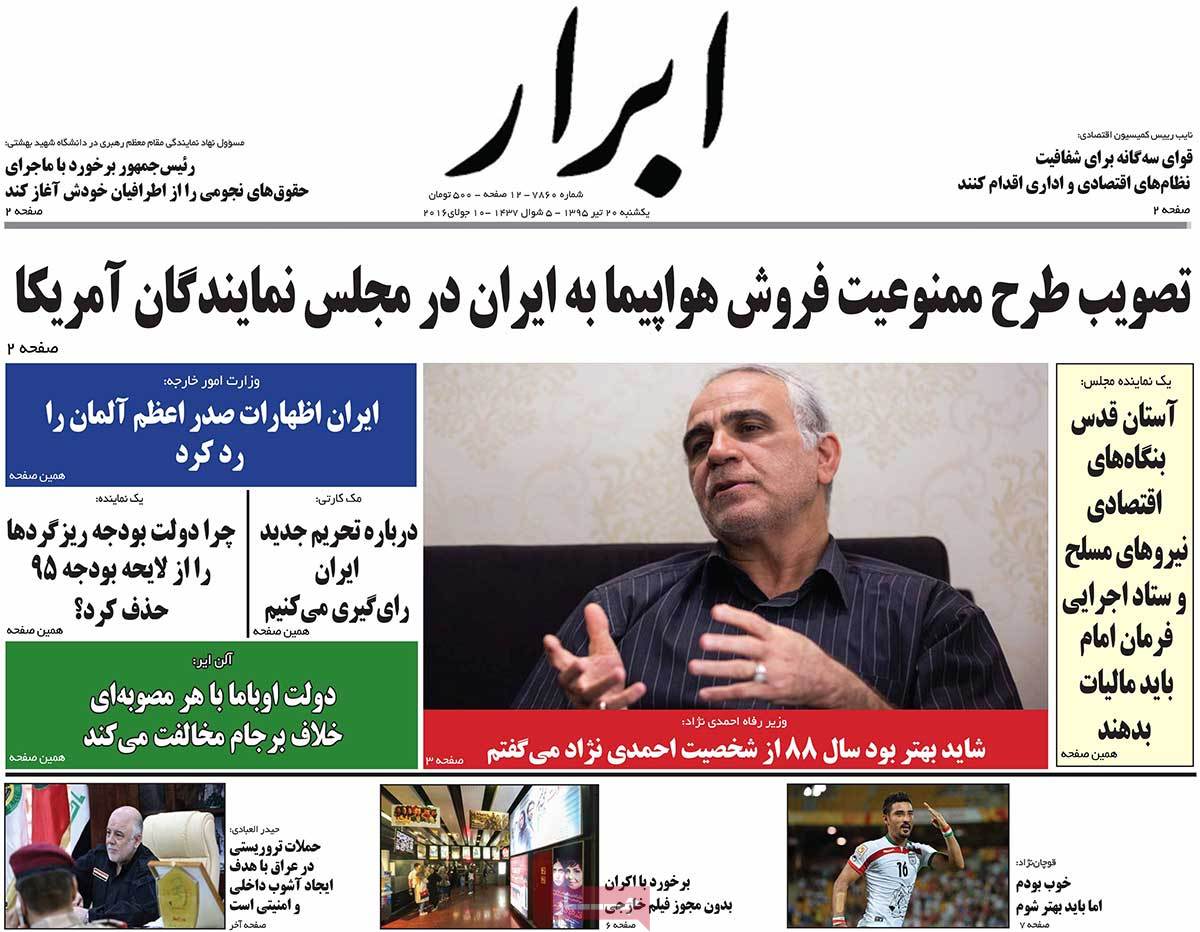 ---
Abrar-e Eqtesadi:
1- Trend of Iran's Economic Security Stopped in Ahmadinejad's Tenure
2- CBI Chief to Brief Parliament on Deal with FATF
3- Talks between Iranian Car-Makers with Italian, Korean, and German Counterparts
4- US and Europe Show the Green Light for Iran's WTO Accession
5- Unprecedented Decrease in Oil Price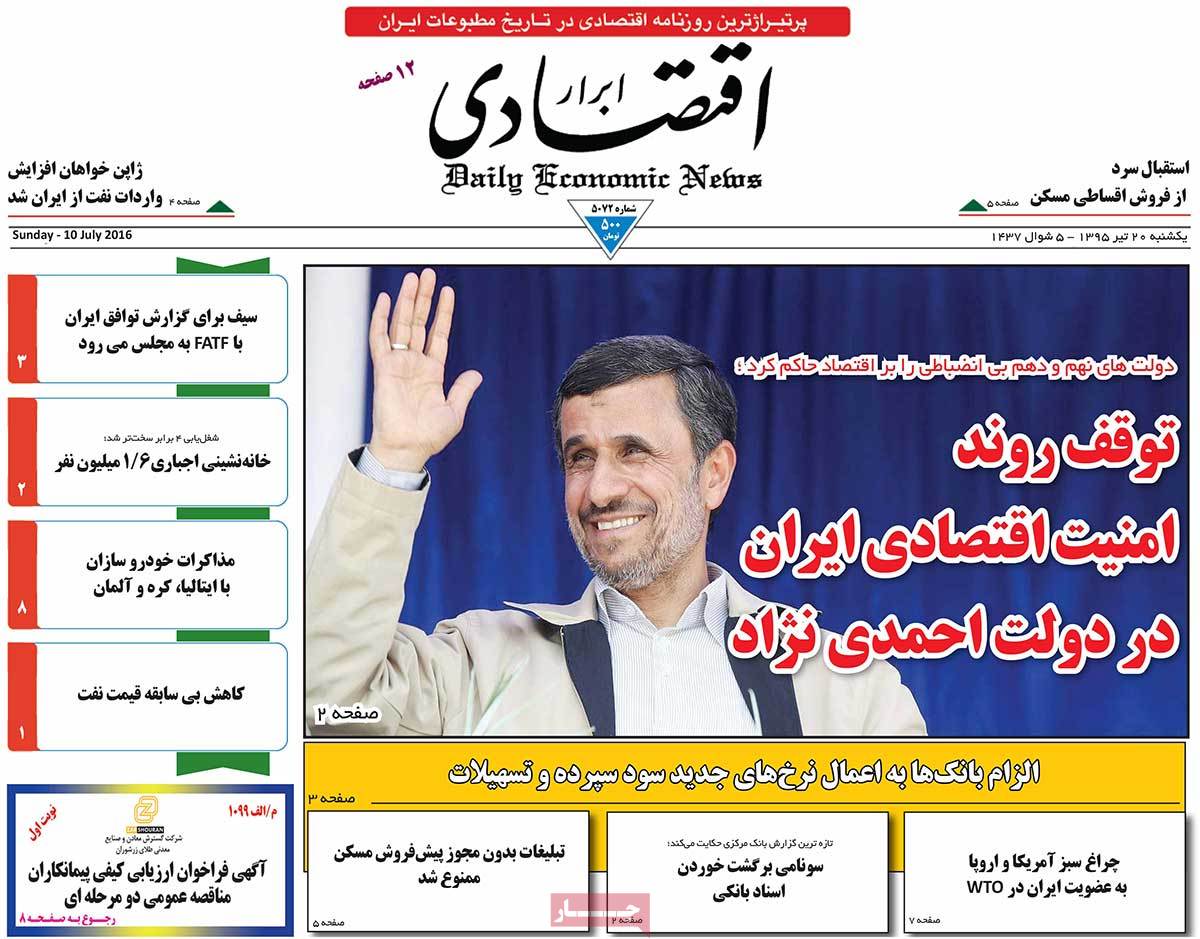 ---
Aftab-e Yazd:
1- Tehran Ready for Kiarostami's Funeral
2- Fugitive Iranian Banker Khavari Has Bought at Least $12.1m of Properties in Canada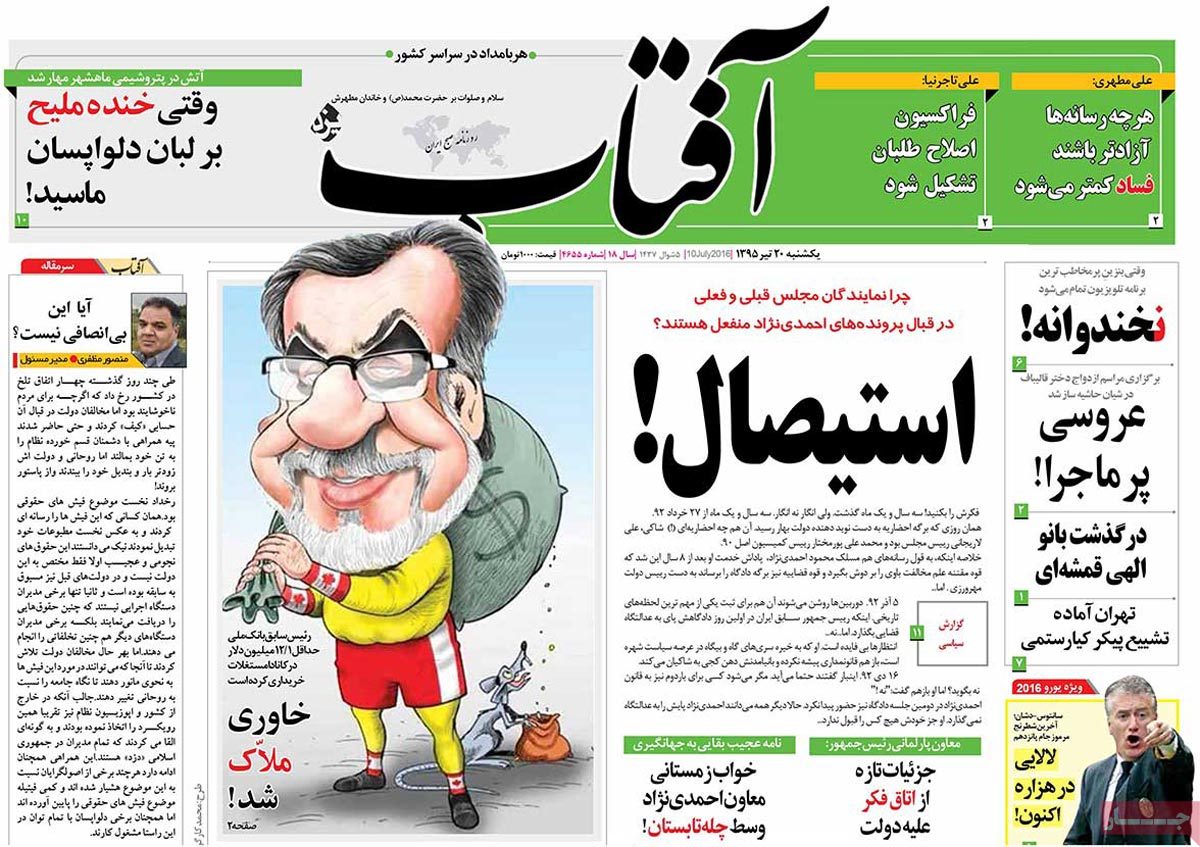 ---
Arman-e Emrooz:
1- Today Is the Day for Coming! 2 Ex-Ministers of Interior Ready to Help Rouhani in Fight against Astronomical Salaries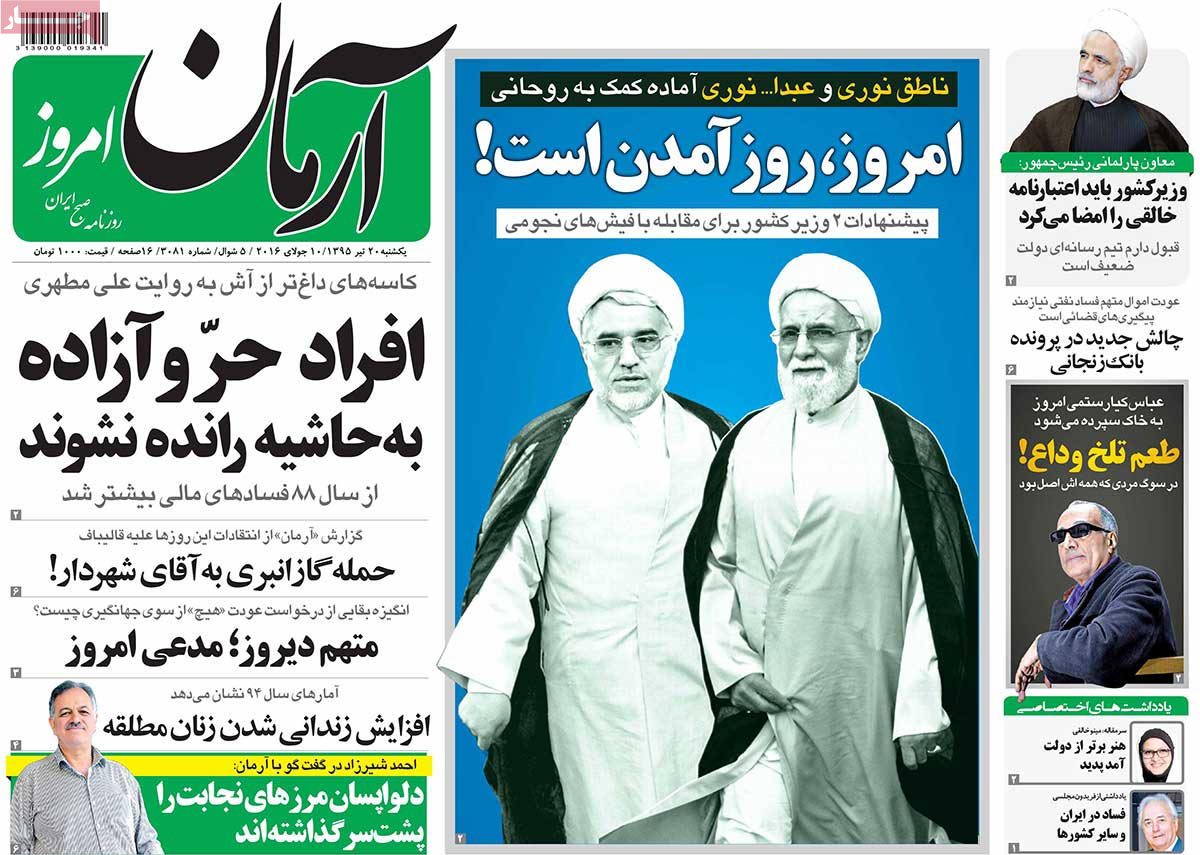 ---
Asia:
1- US Takes Iran's Side: Washington Rejects German Spy Office's Claim
2- Weapon Lobbies Main Culprit behind Dallas Disaster
---
Ebtekar:
1- Obama Will Veto the Plan to Ban Boeing's Plane Sale to Iran: State Dept. Spokesman
2- When Medical Errors Are Part of Medicine! Cases Where Role of Medical Error Is Forgotten
3- VP for Parliamentary Affairs Admits: Rouhani's Gov't Is Weak in Disseminating Information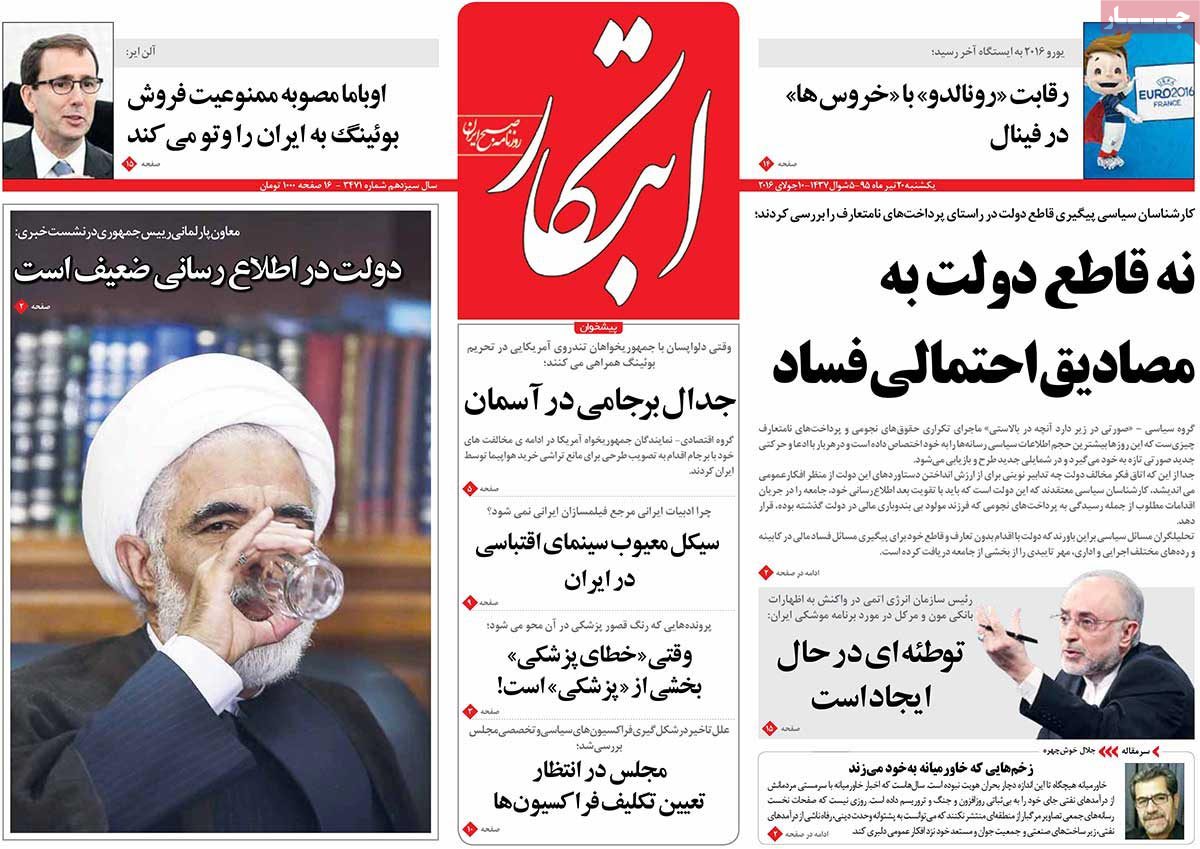 ---
Emtiaz:
1- Activities in Social Media to Become Safe
2- 8% Increase in Number of Cars and 1% Growth in Petrol Use
3- Farmers on Verge of Bankruptcy Because of Extreme Heat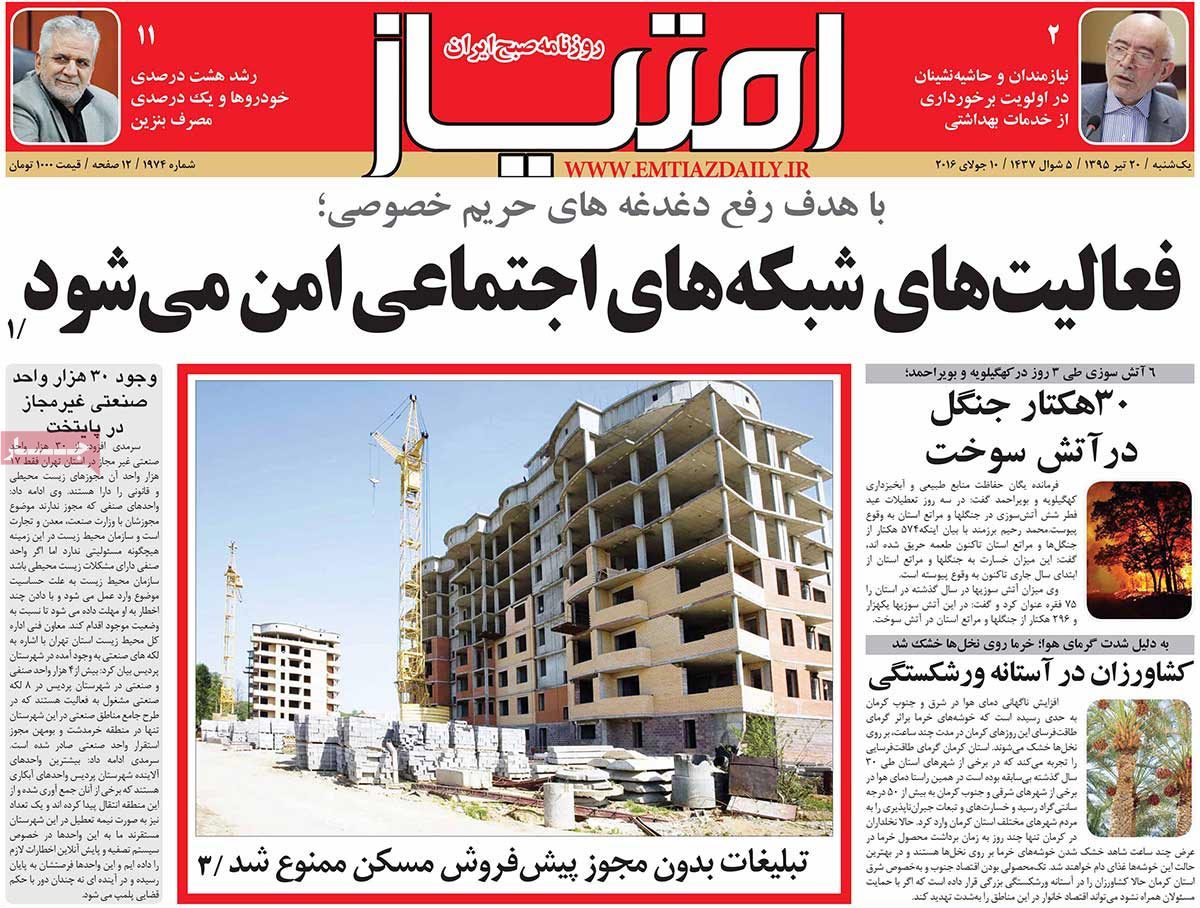 ---
Etemad:
1- Rouhani Has a Correct Economic Model: Expert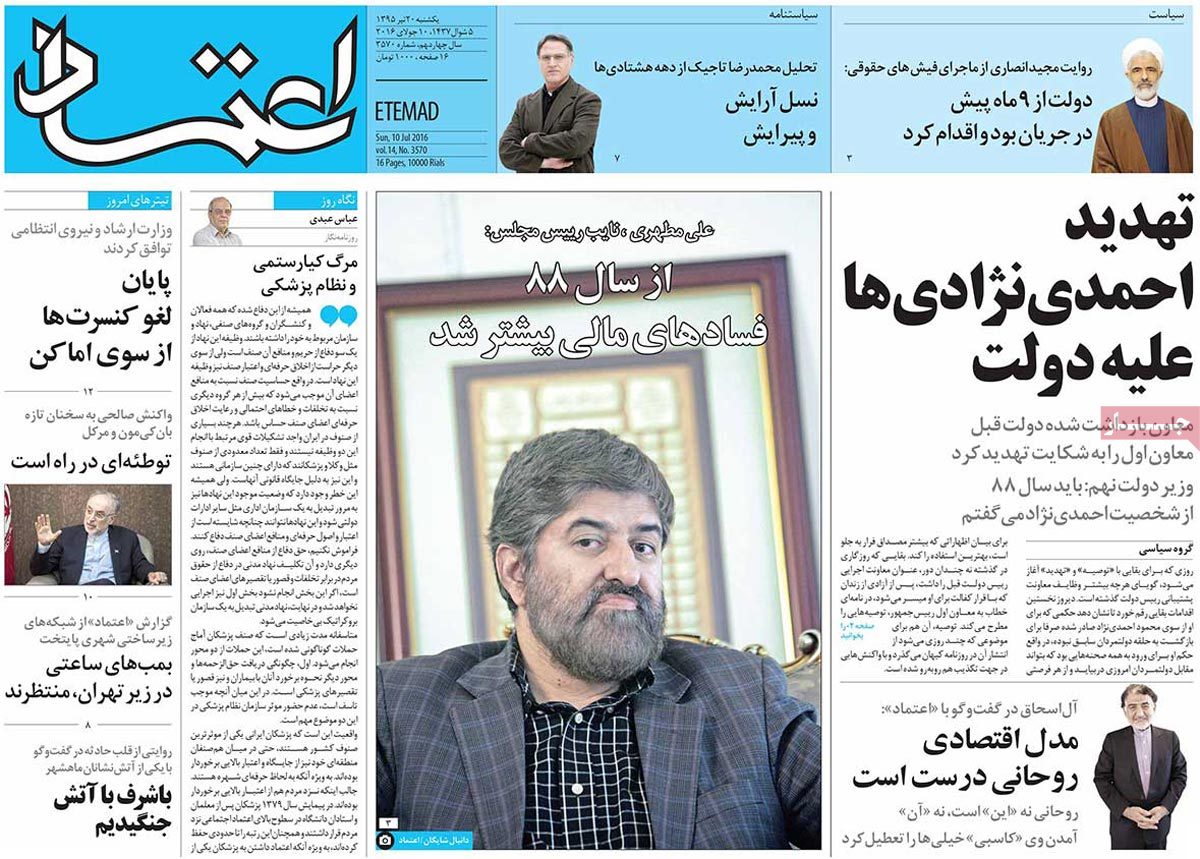 ---
Ettela'at:
1- Thousands of Bahrainis Call for Overthrow of Al Khalifa Regime
2- Unconventional Salaries Have Their Roots in the Past: VP
3- Islam and Christianity Should Cooperate to Help Establish the Rule of Religion: Imam Khomeini's Grandson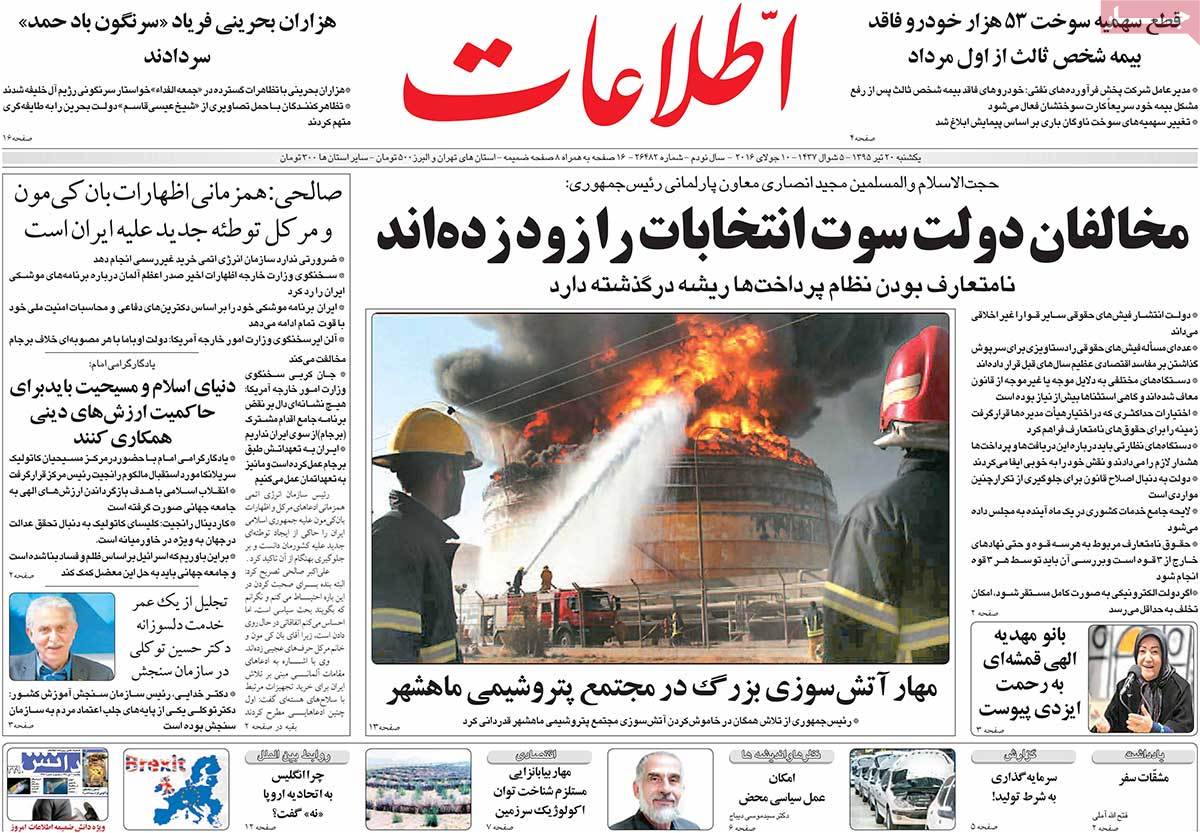 ---
Haft-e Sobh:
1- Daughter of Which Assad? Is the Girl Who Claimed Title in Tehran Horse-Riding Race the Daughter of Bashar al-Assad?
2- All Obstacles to Development of Business in Iran
3- German Conspiracy for Nuclear Case: Salehi Warns against Complicity of Merkel and Ban
4- Troubles of a Wedding Ceremony: Mayor of Tehran Dismisses Reports about His Daughter's Fancy Wedding in a Park in Tehran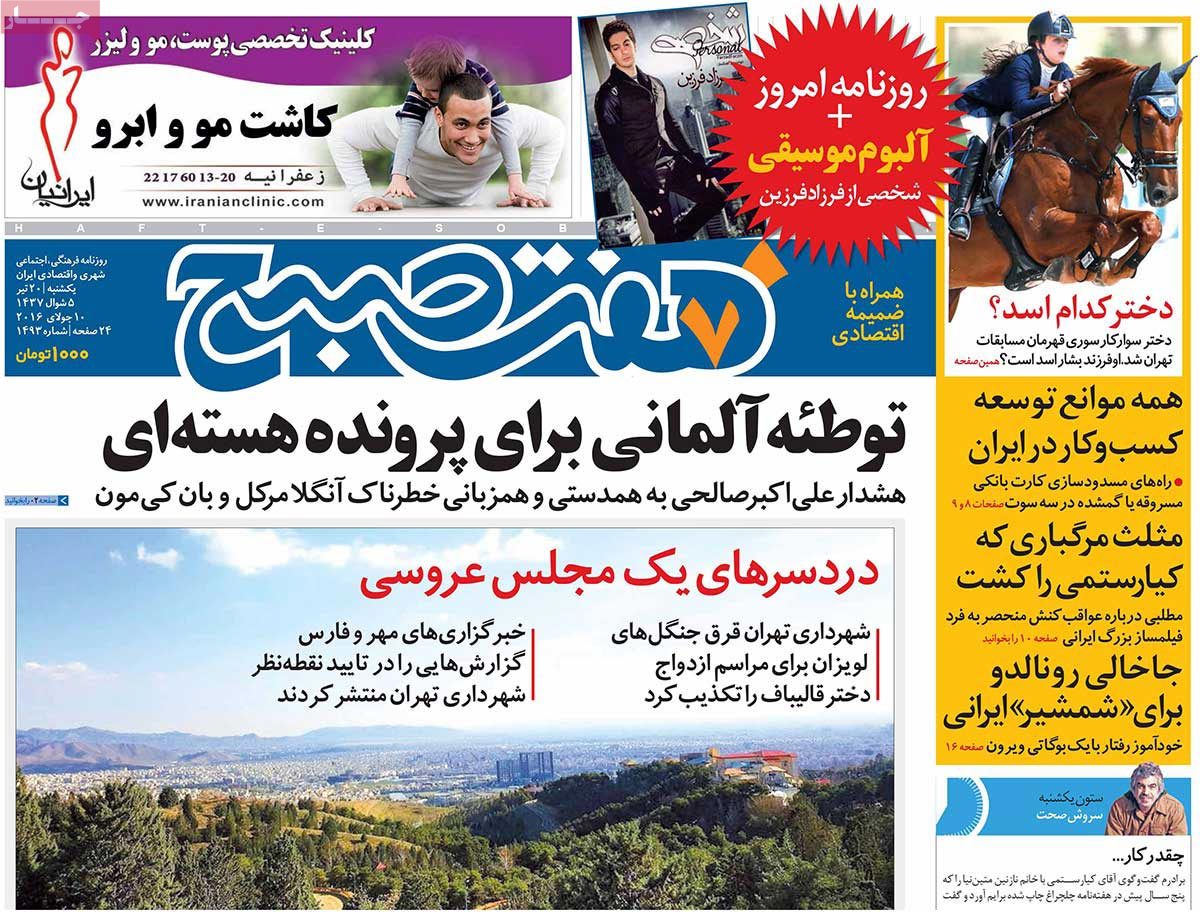 ---
Hamshahri:
1- Medical Error in 'Close-Up'
2- Salehi Harshly Criticizes US Violation of Its Promises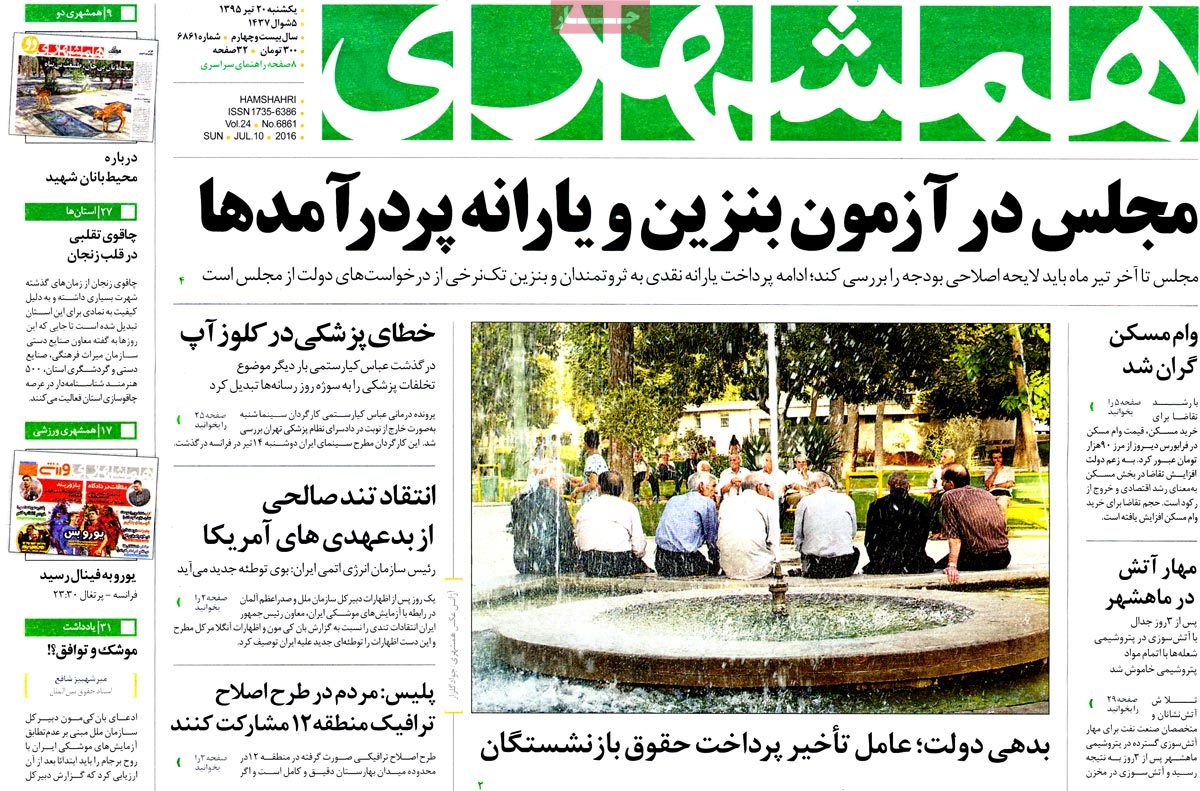 ---
Iran:
1- Iran Has Not Violated JCPOA: US in Reaction to Claims Made by Germany and UN
2- Freer Media Lead to Decreased Corruption: MP
3- End of 56-Hour Operation to Extinguish Fire in Mahshahr Petchem Complex
4- Welfare Minister of Ahmadinejad: He Himself Was the Root Cause of 2009 Sedition [protests after presidential elections]
5- Angry Black People Hold Protest Rallies in 18 US Cities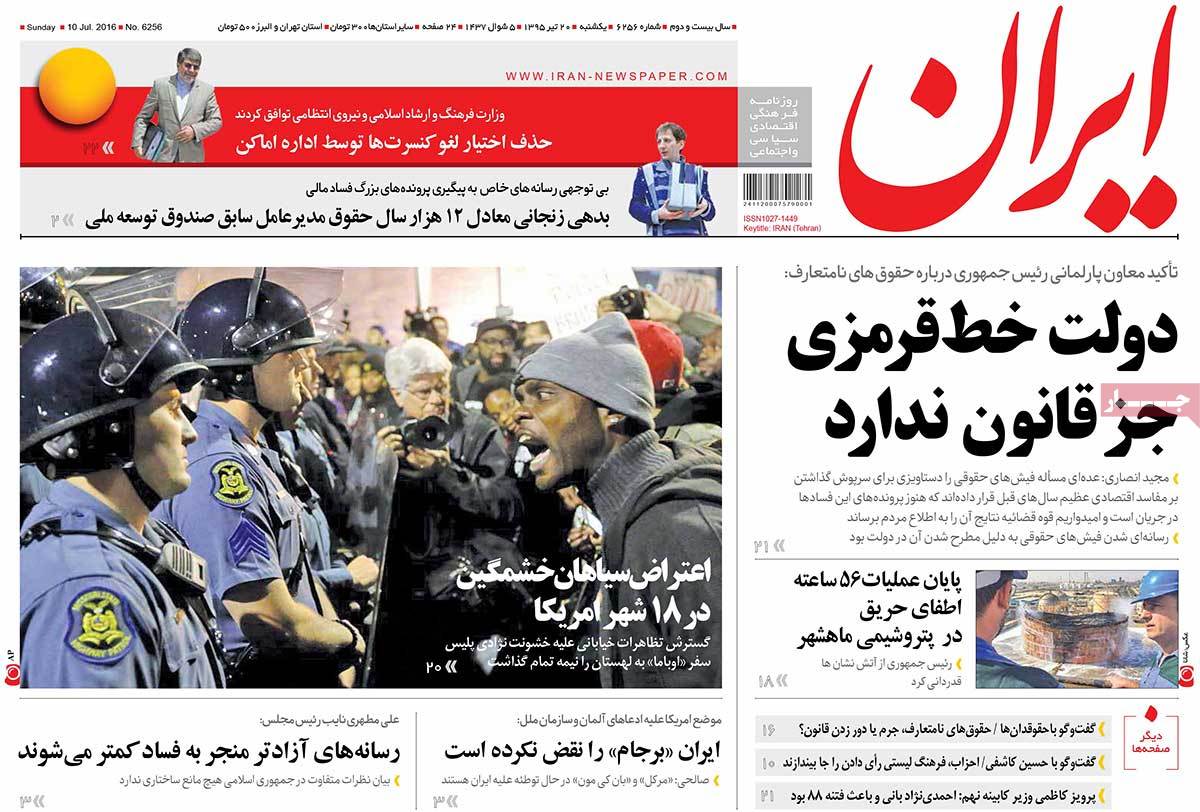 ---
Jame Jam:
1- Nonstop from Persian Gulf to Gulf of Finland: Ambassador Talks about a Plan for Tehran-Helsinki Railway
2- Smell of Conspiracy [Iranian nuclear chief's remarks about a plot being hatched by world powers against Iran]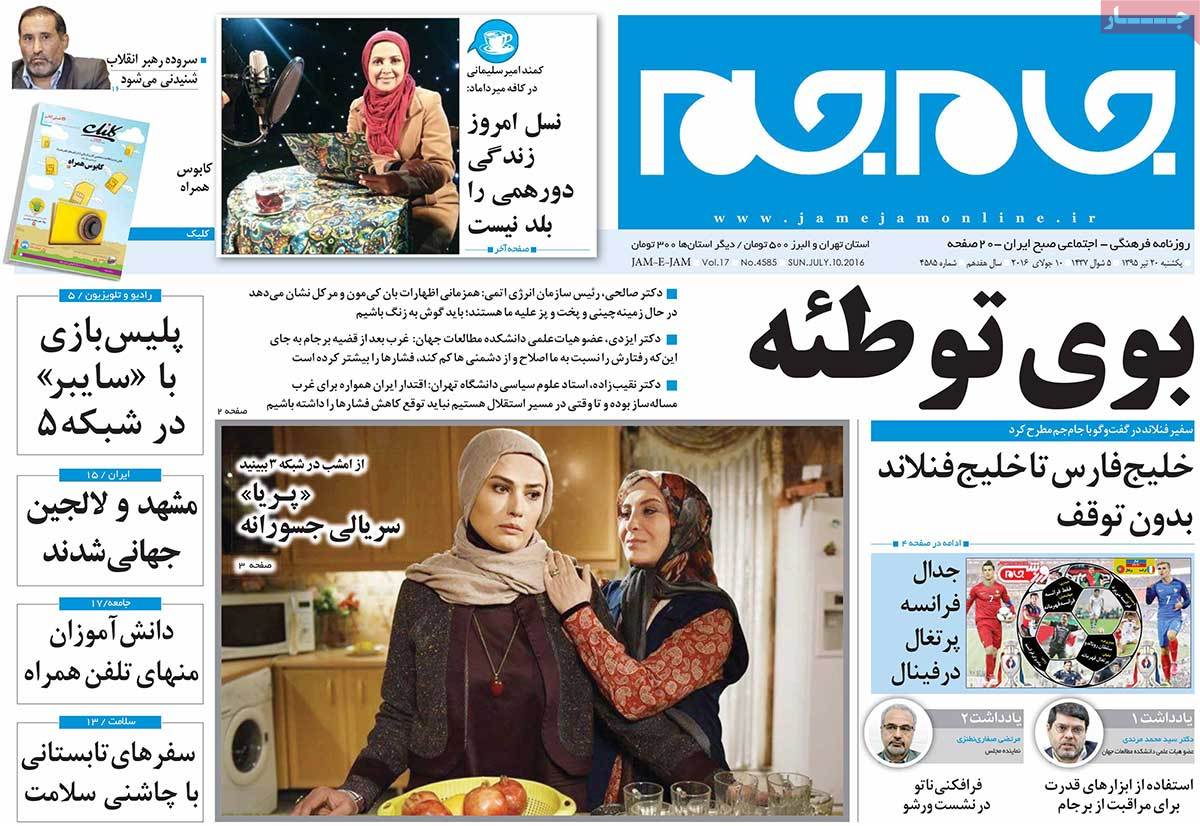 ---
Javan:
1- Turkey to Approve Assad's Stay in Power
2- North Korea's Ballistic Reaction to US
3- Ceasefire in Bou Ali Petchem Complex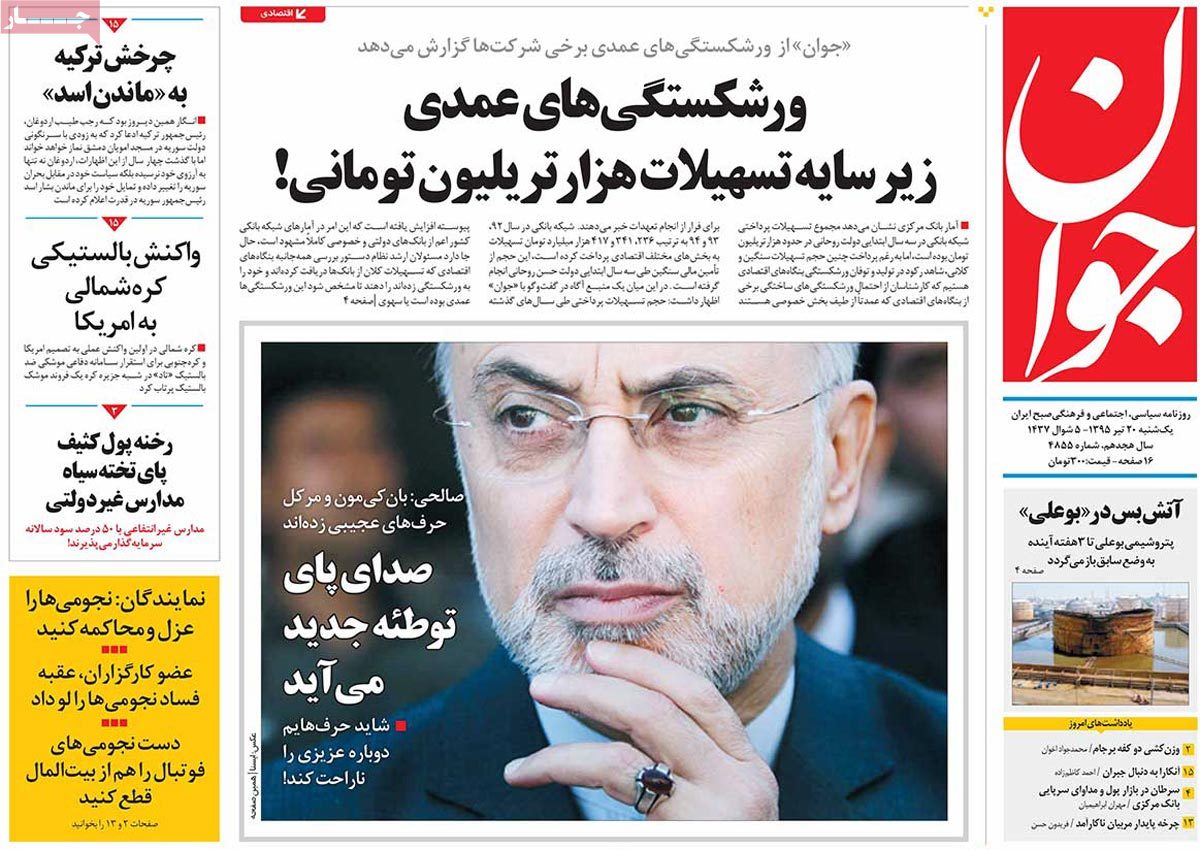 ---
Jomhouri Eslami:
1- President Rouhani Thanks Those Who Extinguished Wildfire in Bou Ali Petrochemical Complex
2- US Admits Israel's Defeat in 33-Day War
3- Chilcot Report and Scandal for British Gov't
4- Latest Reports about Changes in Syrian Crisis in Favour of Assad's Gov't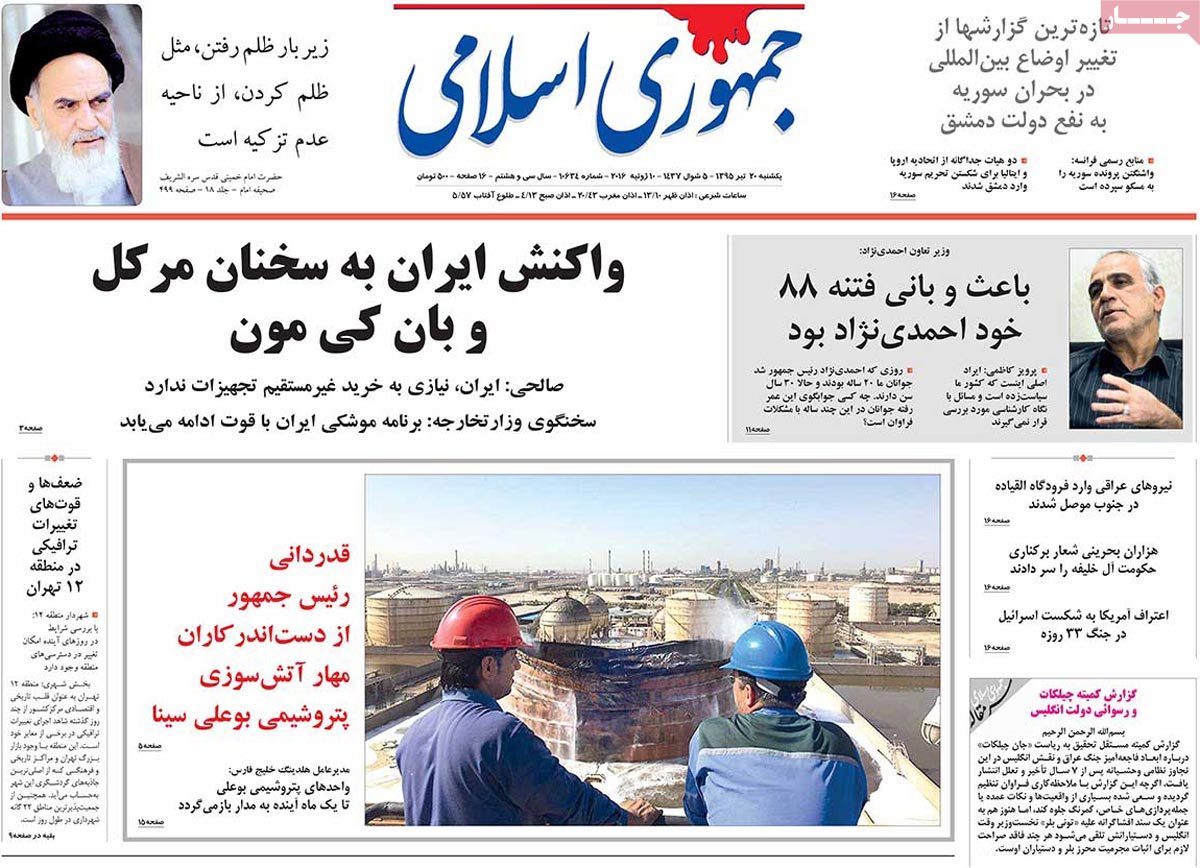 ---
Kayhan:
1- Finding a Job Has Become Four Times Harder during Rouhani's Term
2- Introduce the 3% Offending Executives in a Bid to Defend the 97% Decent Ones
3- New Scandal for Those Who Receive Illegitimate Salaries: Forgery of an Astronomical Paycheque for Kayhan's Chief Shariatmadari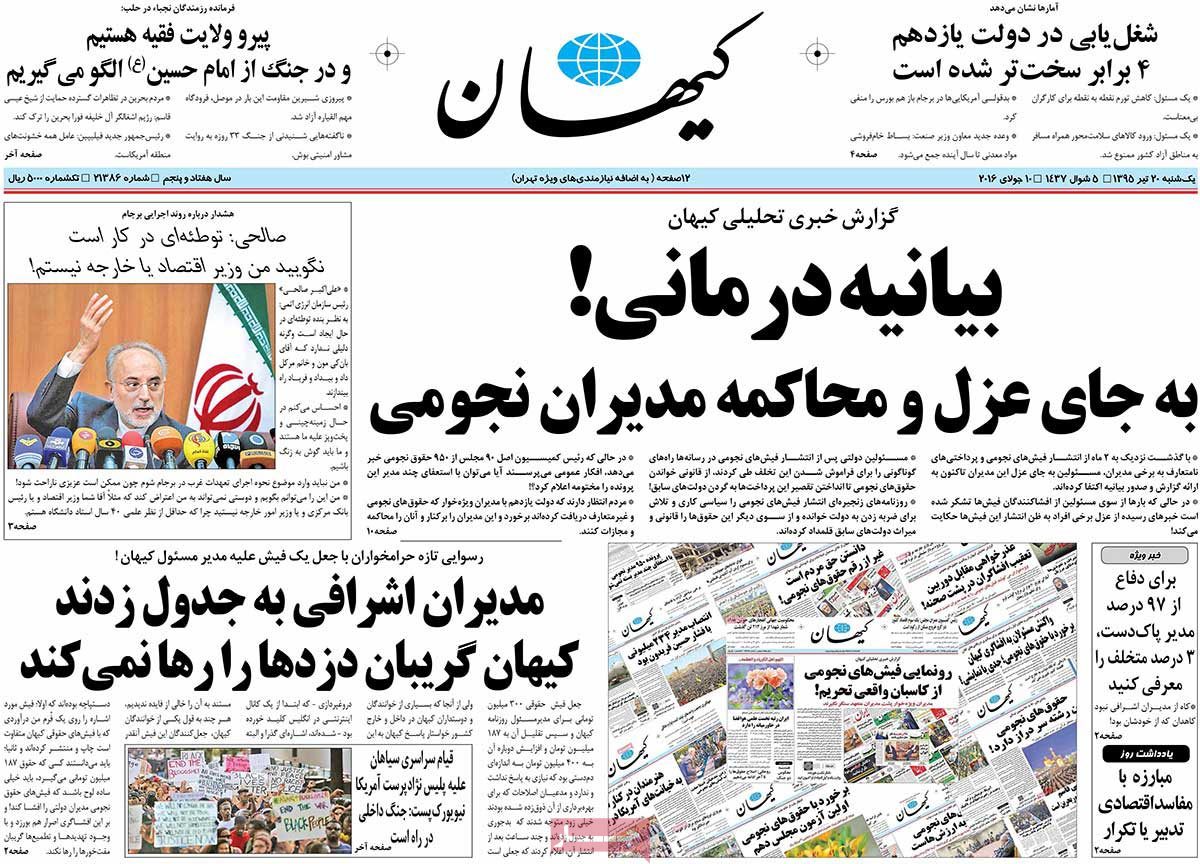 ---
Khorasan:
1- US Shocked by Police Racial Discrimination
2- Turki al-Faisal Says MKO Leader Massoud Rajavi Is Dead
3- Mashhad Becomes World City of Precious Stones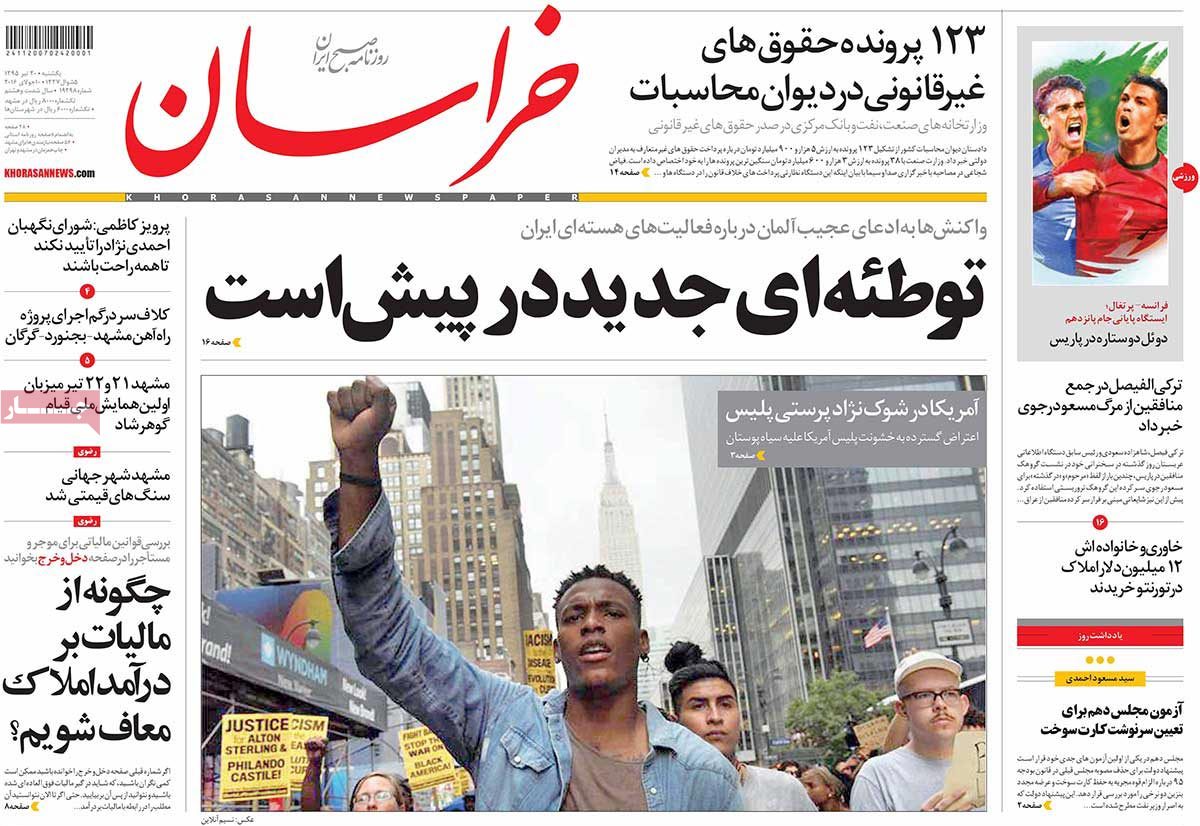 ---
Resalat:
1- We Should Be on Alert, a New Plot Is Looming: Salehi
2- Iran to Strongly Continue Its Missile Program: Foreign Ministry Spokesman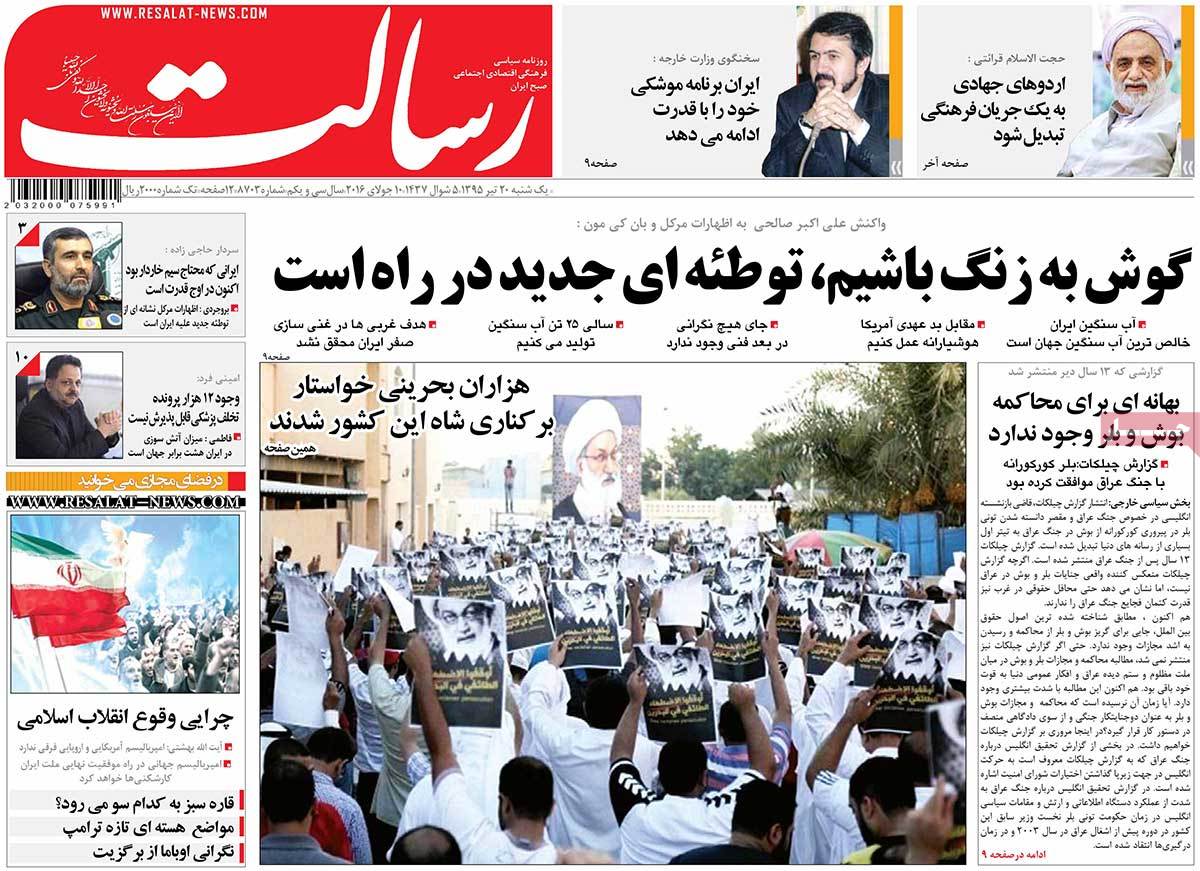 ---
Sepid:
1- Possibility of Medical Error's Role in Death of Kiarostami in Interviews with His Doctors
2- Formation of One of the World's Medical Poles in Iran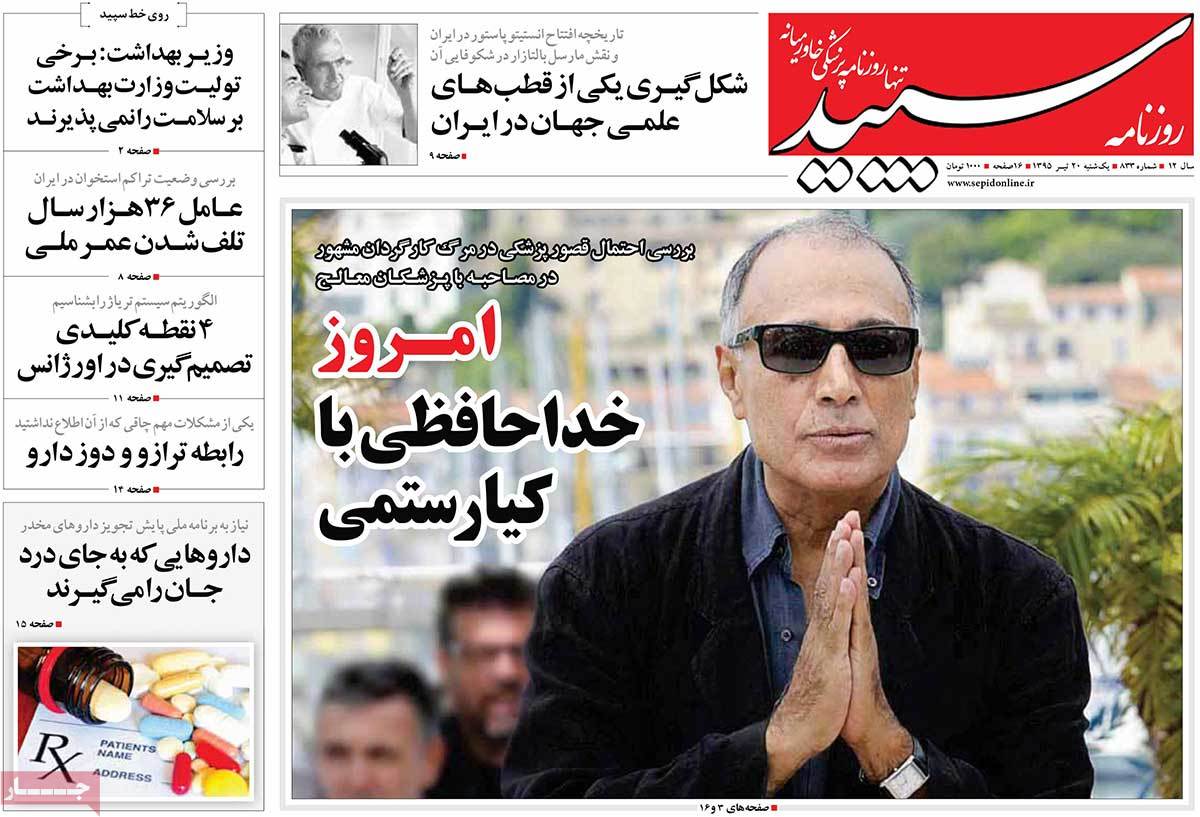 ---
Shargh:
1- MPs' Warning to Government: Astan-e Quds [guardian of Imam Reza Shrine], Setad, and Armed Forces' Businesses Should Pay Taxes
2- 3 Days of Fire, €60m of Damage in Bou Ali Petchem Complex
3- Ayatollah Khamenei Has Written a New Poem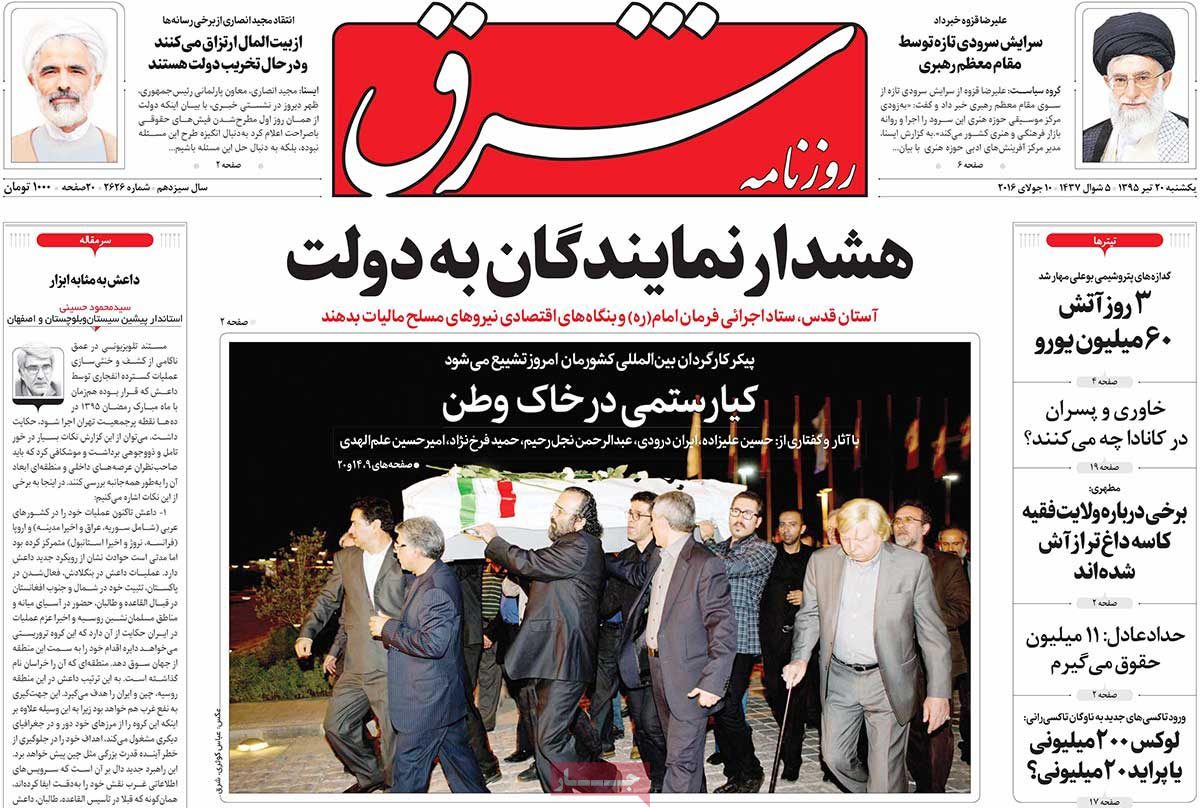 ---
Sobh-e Now:
1- Ahmadinejad Preparing the Grounds for His Return
2- End of Euro 2016, Continuation of Racial Discrimination
3- All the Fuss about Presence of a Girl in Tehran, Which Was a Lie [on participation of Syrian President's daughter in Tehran horse-riding competition]
4- US Civil War under Shadow of a Director's Death [The Editorial criticizes the IRIB for its wide coverage of Kiarostami's death and funeral, and little coverage of protest rallies in the US]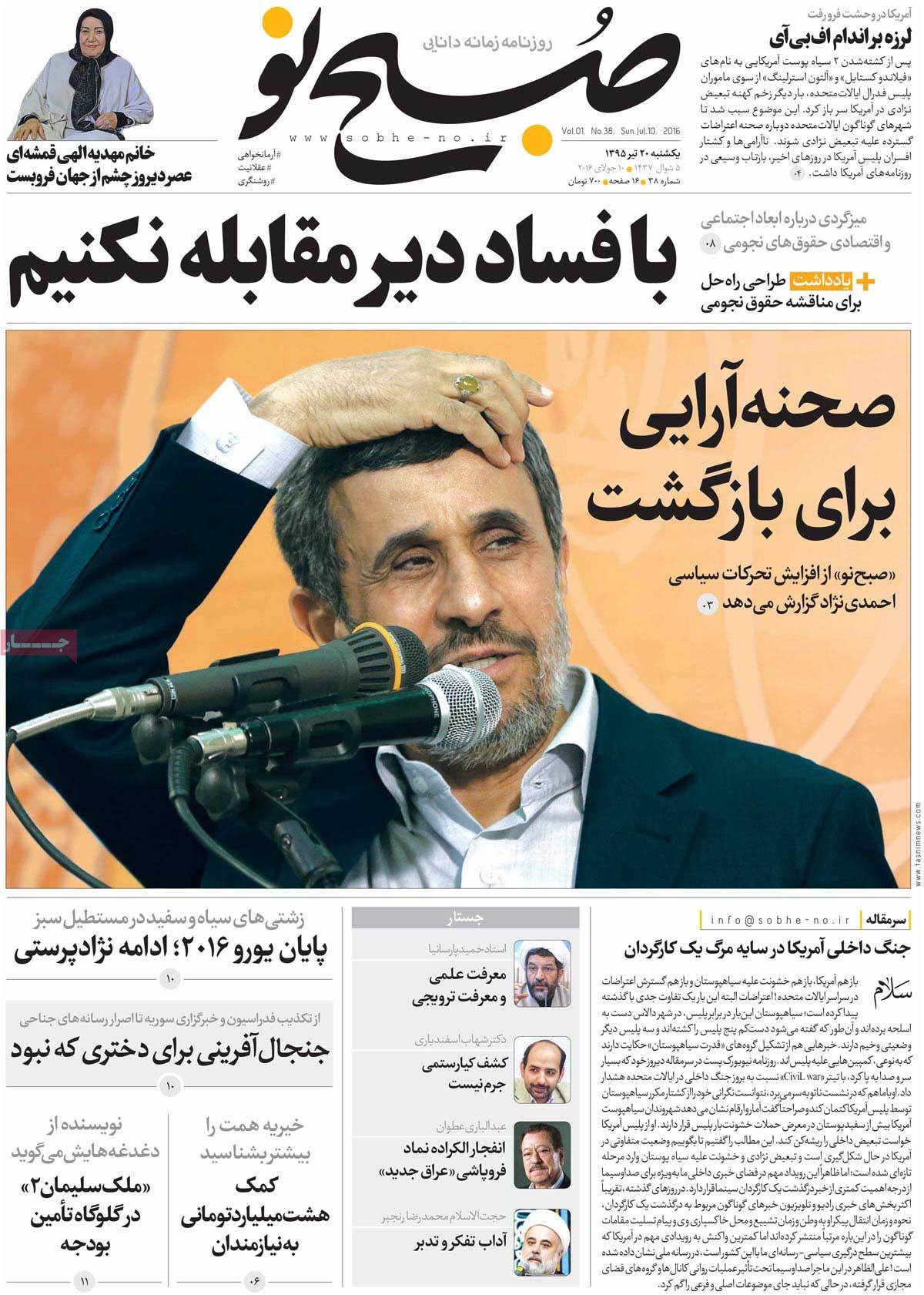 ---
Vatan-e Emrooz:
1- Oil Ministry's Wonderful Prudence (!) in Containing Mahshahr Wildfire: Fire Was Extinguished When the Complex Ran out of Fuel!
2- Salehi's Sarcastic Remarks against Rouhani
3- Black Terminator: Attacks on US Police Continue