Newspapers on Saturday covered the death of renowned Iranian cinema and theatre actress Davoud Rashidi who recently died at 83.
They also highlighted the remarks made by Intelligence Minister Mahmoud Alavi, who said Saudi Arabia has been creating terrorist rings in Iran in a bid to cause insecurity in the country.
Other top stories included the Iranian Foreign Minister Mohammad Javad Zarif's visit to Latin America as well as the Vice-President for Women Affairs Shahindokht Mowlaverdi's call for finding a way to let women go to stadiums.
The above issues as well as many more are covered in the following headlines:
Abrar:
1- Iraqi Parliament Removes Defence Minister
2- Iran's Reaction to Turkish Army's Military Operation in Syrian Territory
3- American Officials Claim: US Warship Fires Warning Shots to Iranian Ships
4- Iran and Iraq to Lift Visa Requirements Soon
---
Afkar:
1- Export of Iranian Radars to Other Countries
2- American Warship Fires 3 Warning Shots to Iranian Patrol Boat
---
Aftab-e Yazd:
1- Gardener of Cinema Dies: Art Community in Black after Death of Rashidi
2- The Harms Incurred by Asiatic Cheetah Because of Anti-Iran Sanctions
3- China's Interest in Selling Goods to Iran by Instalment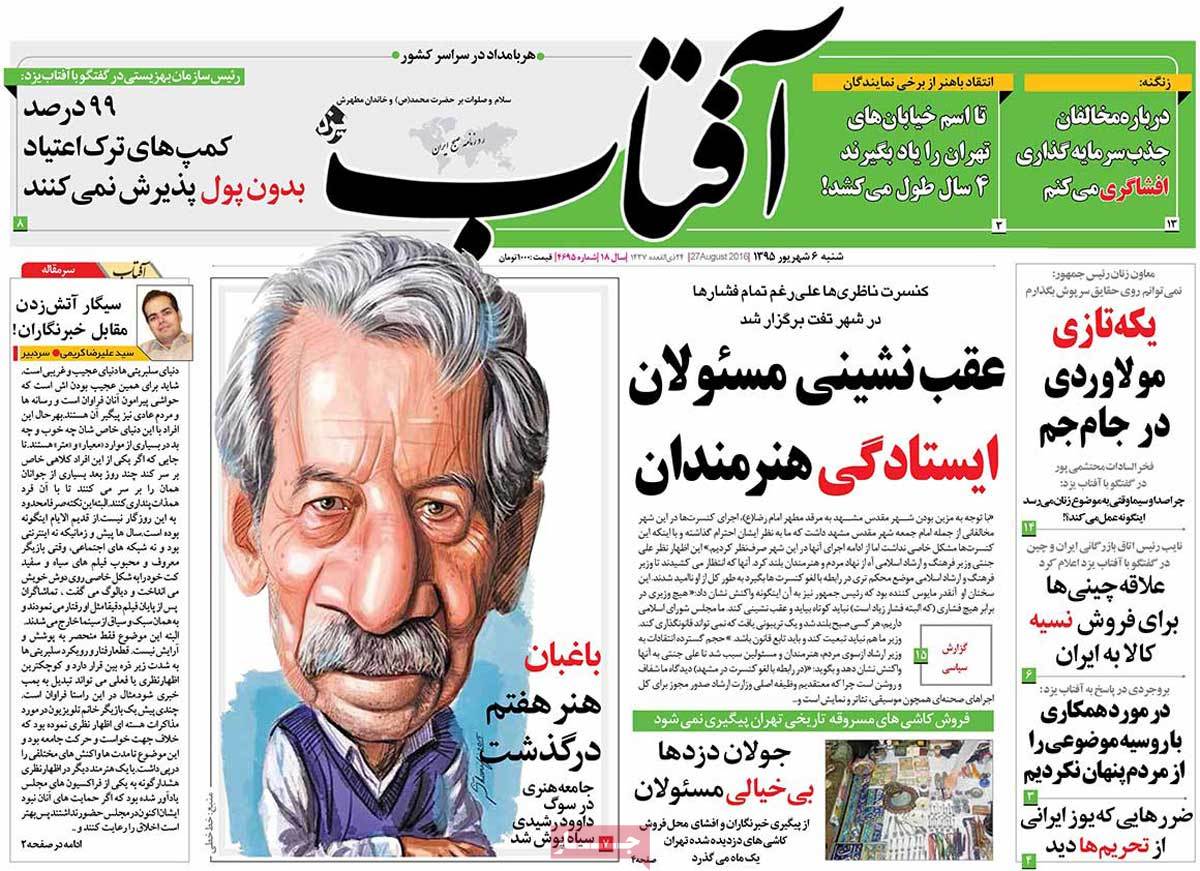 ---
Arman-e Emrooz:
1- Rouhani's Gov't Target of Those Who Have Tribunes: Critics Continue Attacking Rouhani on Government Week
2- Intelligence Minister: We Prevented 1,500 Iranians from Joining ISIS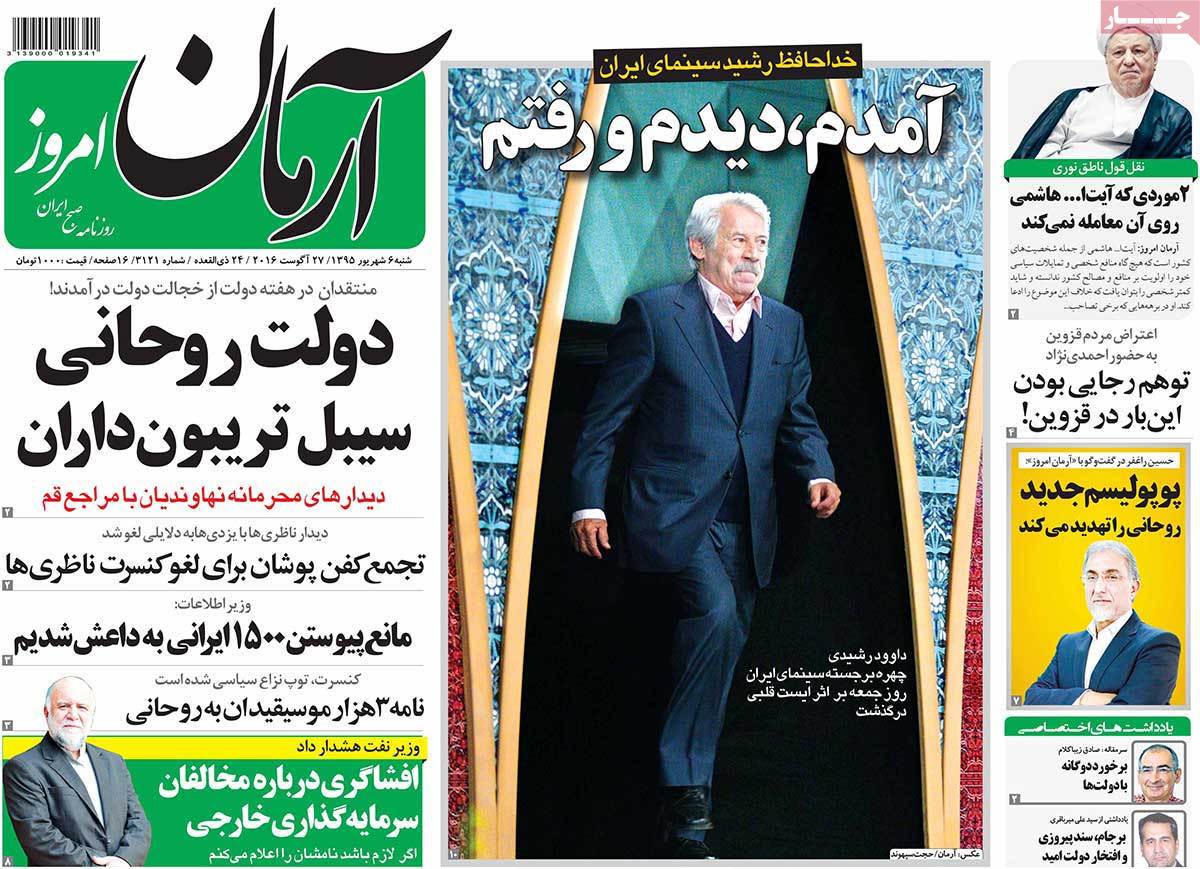 ---
Asr-e Iran:
1- US Spokesman: We've Given Commitments to Everyone for Iran's Banking Sanctions: US Confesses to Reasons for Iran's Banking Limitations
---
Asrar:
1- Zarif's Reaction to Kerry: US Should Learn from Its Grave Mistakes
2- Transport Minister: New Planes to Be Delivered to Iran by Year-End
3- Shamkhani: Path to Dialogue between Iran and Saudi Arabia Is Not Blocked
---
Emtiaz:
1- Homegrown Electronic Shackles to Be Used for Iranian Prisoners: Prison Organization Chief
2- Carrying Pharmaceuticals with Codeine, Main Reason for Arrest of Iranians Abroad
---
Etemad:
1- Goodbye Master of Theatre
2- VP for Women Affairs: We Should Find a Mechanism to Let Women Go to Stadiums
3- Bolivia's High Medal Given to Zarif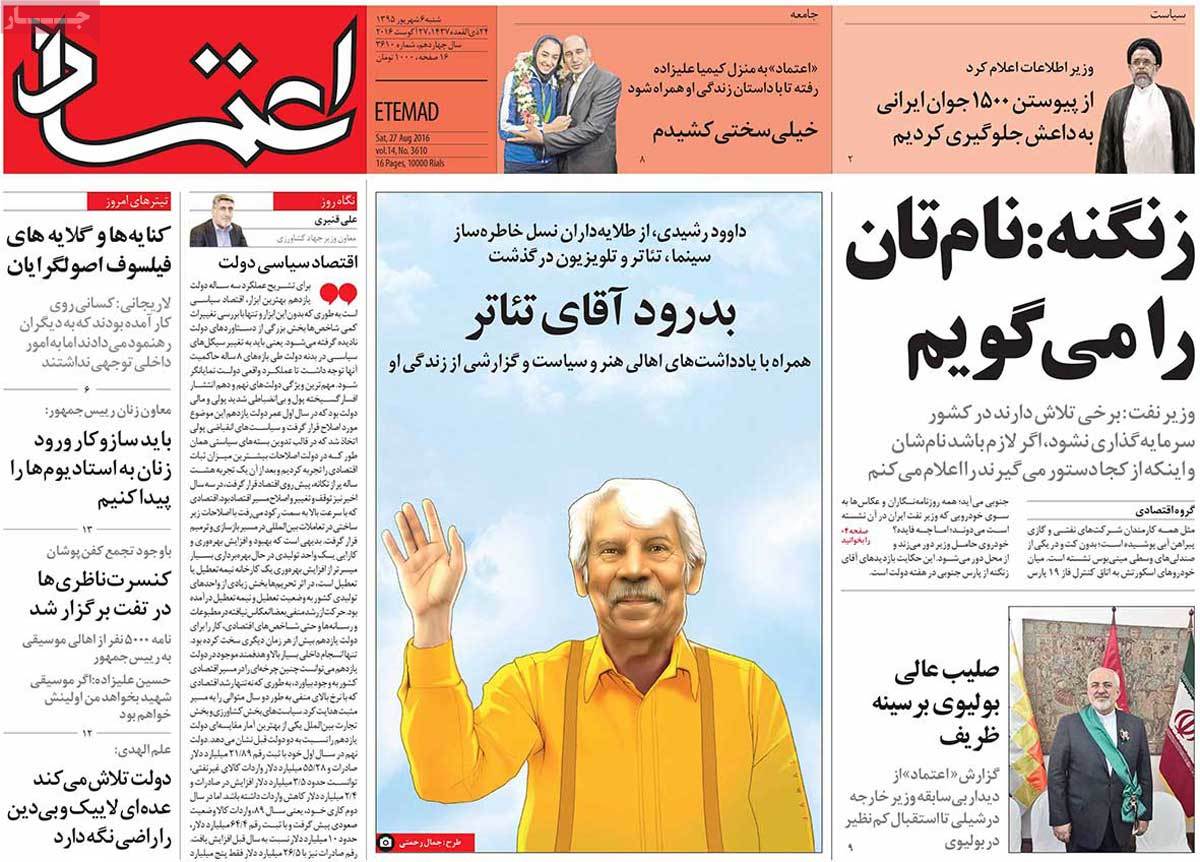 ---
Ettela'at:
1- Government's Report to Nation: VP Says Hard Days Are Gone
2- Yemen's Flag Raised over Military Bases in Saudi Arabia's Najran
3- Russia: We'll Show Harsh Reaction to Turkish Military Intervention in Northern Syria
---
Iran:
1- Everlasting Star Stops Shining
2- Last Survivor of Iranian Soldiers' Bus Crash Saves Lives of 3 People: Kidney and Liver of the Soldier Given to 3 Needy People after He Went on a Coma
---
Jame Jam:
1- Peace and Spirituality: IRIB Chief Underlines the Organization's Global Mission in AIBD Conference
2- Art's Silence in Honour of Theatre Legend: Officials and Artists Send Messages after Demise of Davoud Rashidi
---
Javan:
1- Zarif: Leave the US to Me! 'I'm Prepared to Receive Letter of Comfort from US Treasury Department in a Bid to Convince Foreign Banks into Working with Iran'!
2- American Rope to Save Riyadh from Yemen Deadlock; Kerry to Saudi FM: There's No Military Solution to Yemen Crisis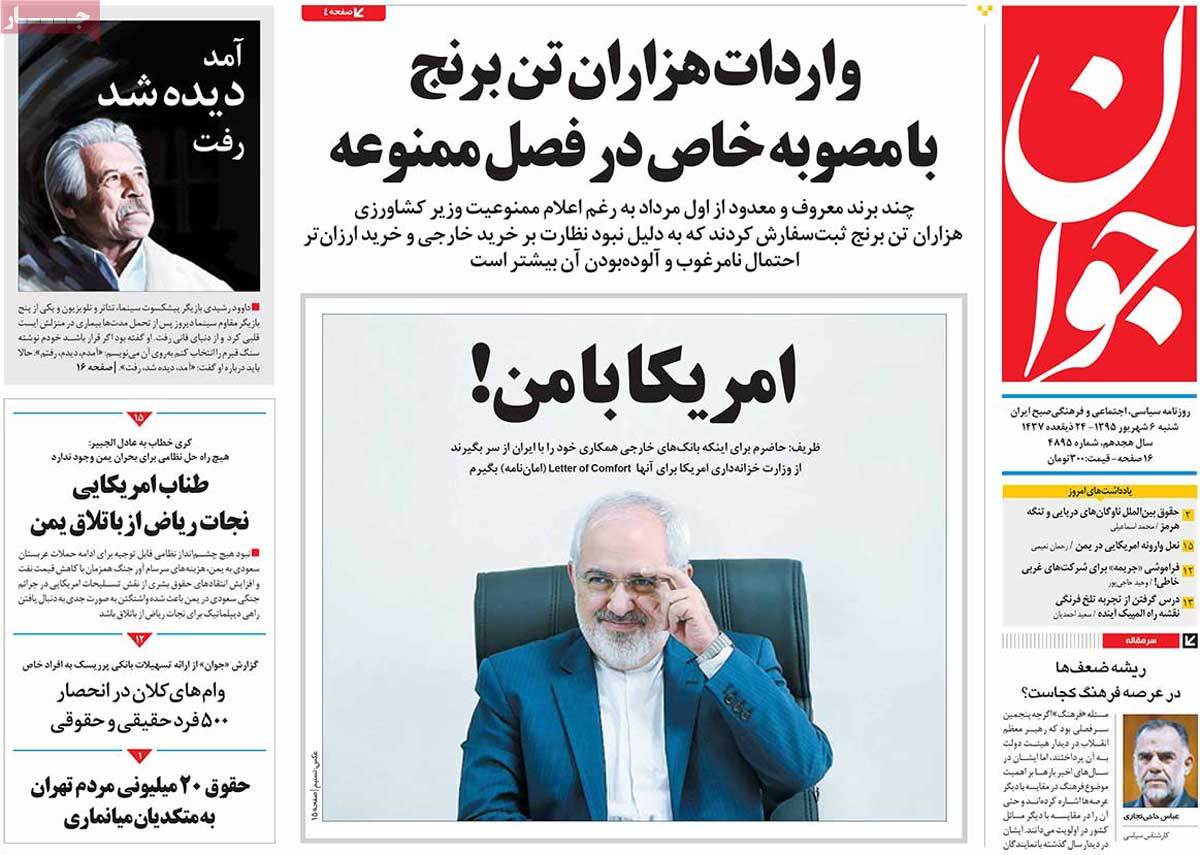 ---
Jomhouri Eslami:
1- US Is Accomplice of Al Saud's Crimes in Yemen: Zarif in Reaction to Kerry's Baseless Claim
2- Hundreds of Projects Inaugurated across Iran on Government Week
3- Turkish Army Moves Terrorists by Occupying Syria's Jarablus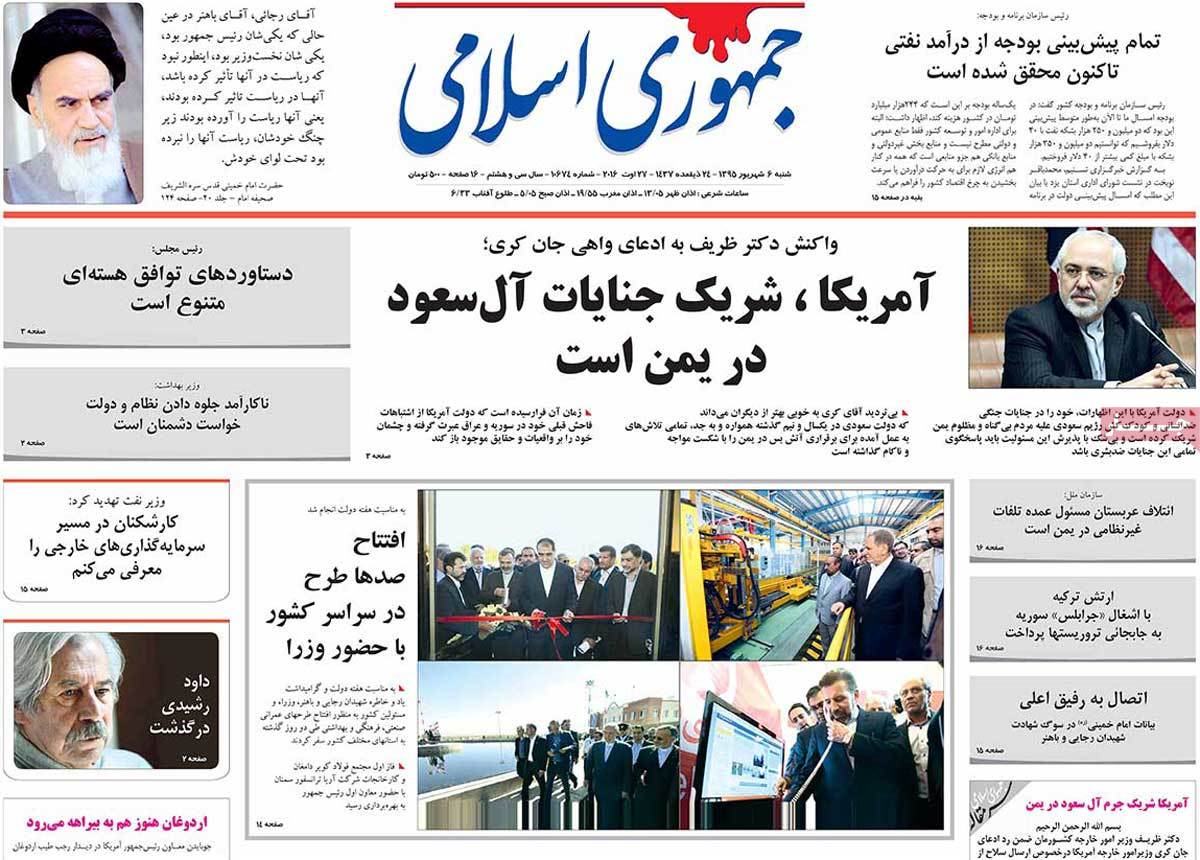 ---
Ka'enat:
1- Iran's Support for Any Move that Stabilizes Oil Market: Minister
2- Iran's Port City of Bandar Abbas to Become a Serious Rival for Southern Neighbours of Iran: Minister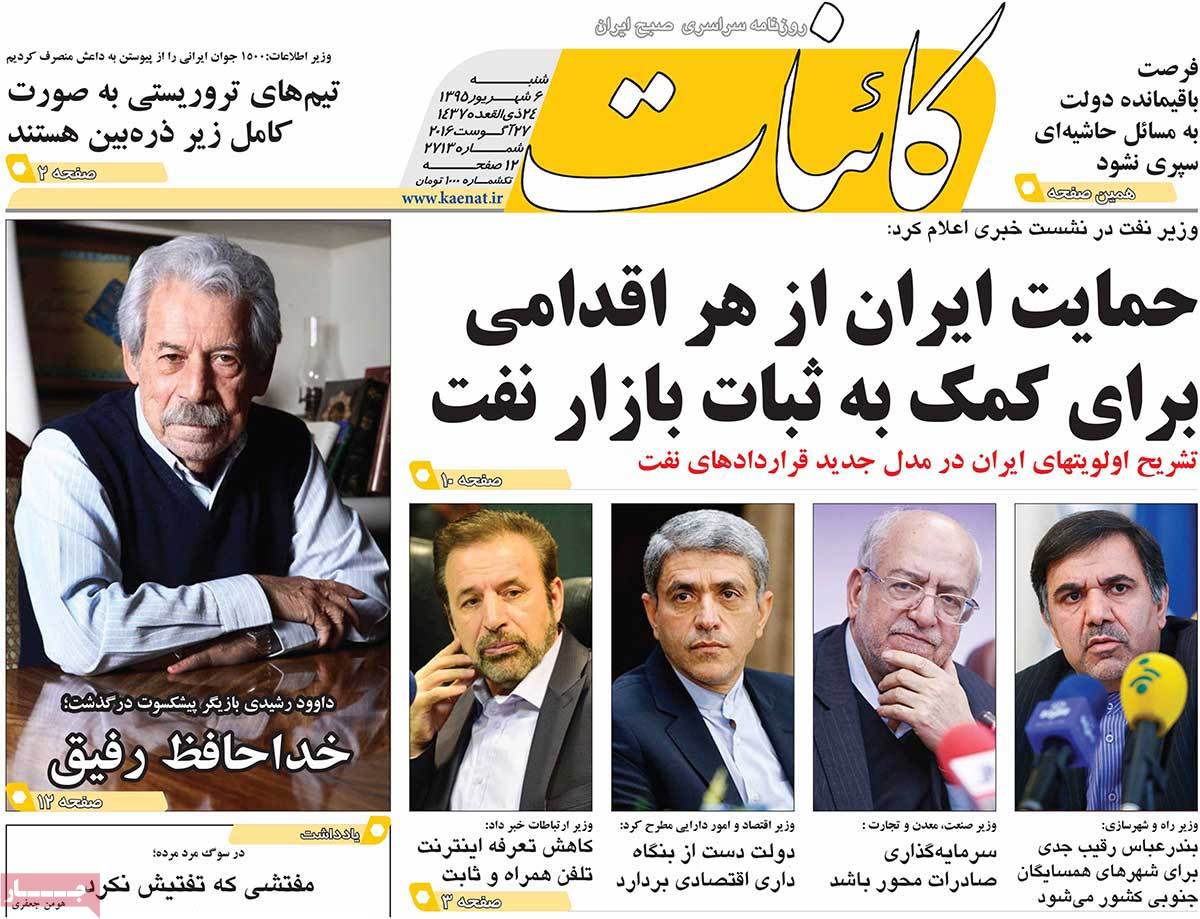 ---
Kayhan:
1- Pentagon Analyst: US Is Just a Paper-Made Tiger; They Considered Imam Khomeini a Weak Lion Who Is Scared but Roars
2- Terrorists Receive Letter of Safe-Conduct for Exiting Darayya
3- SNSC Secretary: Iran Not Afraid of Tearing Up JCPOA; Shamkhani: US Measures Show It's Not Committed to Nuclear Deal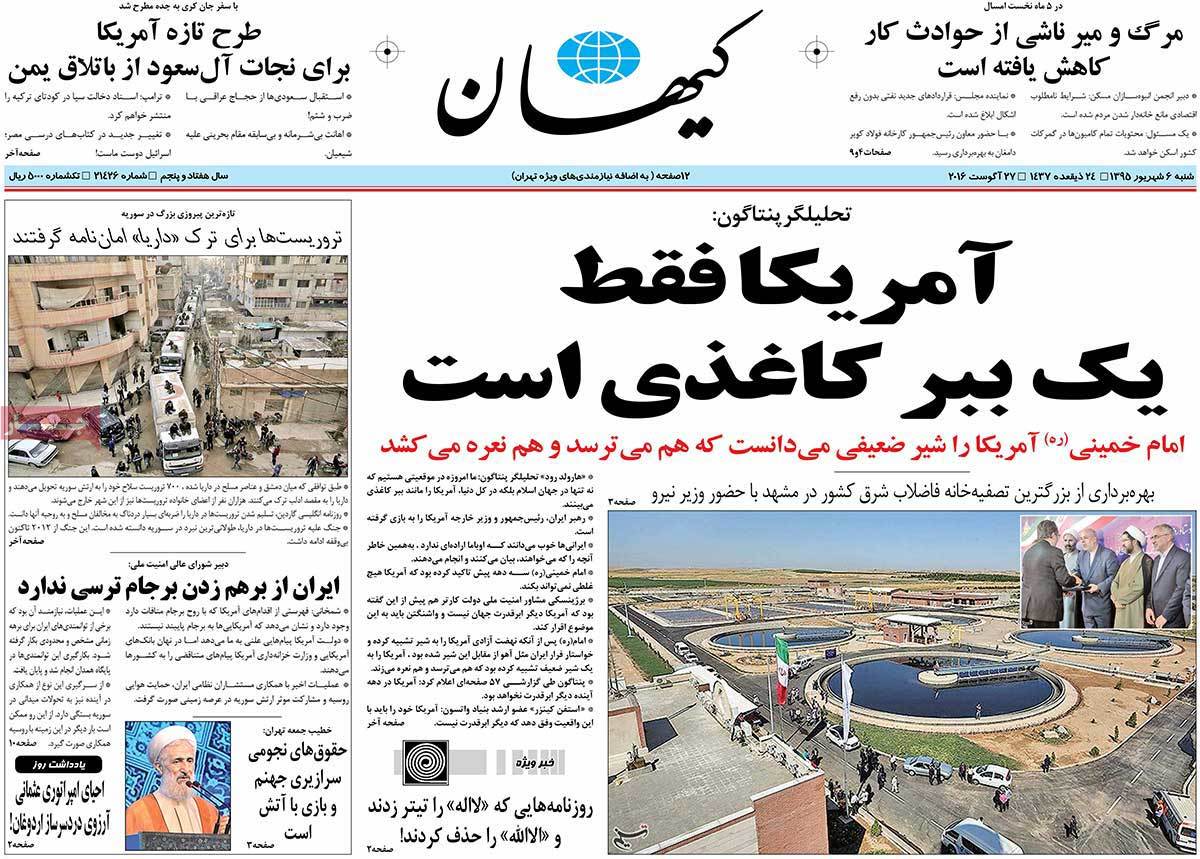 ---
Khorasan:
1- Zarif's Straightforward Response to Kerry: You've Become Partners in Crimes Committed by Child-Killing Saudis
2- Nigerians Hold Protest Rallies for Freedom of Sheikh Zakzaky
3- Iran among 5 Producers of Gallium Nuclear Medicine
4- Saudi Arabia Has Launched 12 Teams of 10 People to Spread Insecurity in Iran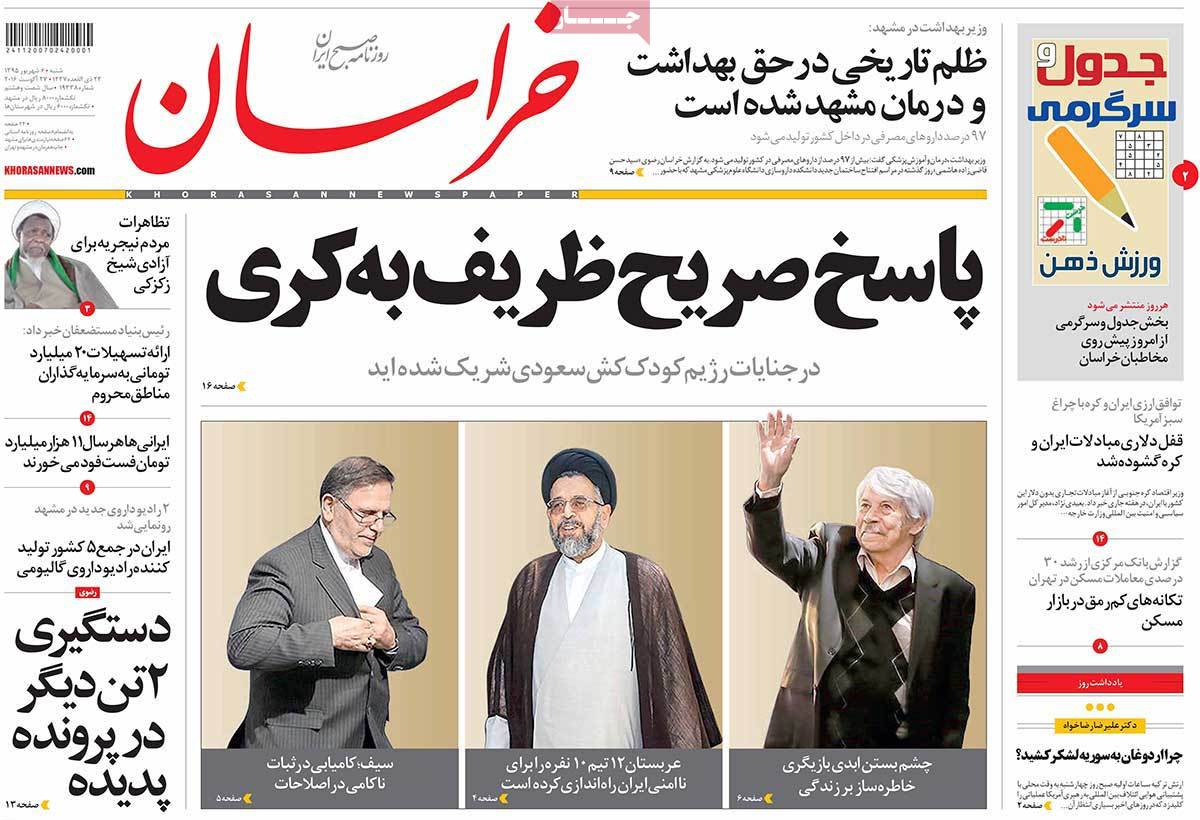 ---
Quds:
1- 10-Fold Increase in Release of Nuclear Medicals
2- Iran-India Cooperation to Remove Grounds for Infiltration of Takfiris [Extremists]: Shamkhani in Meeting with Modi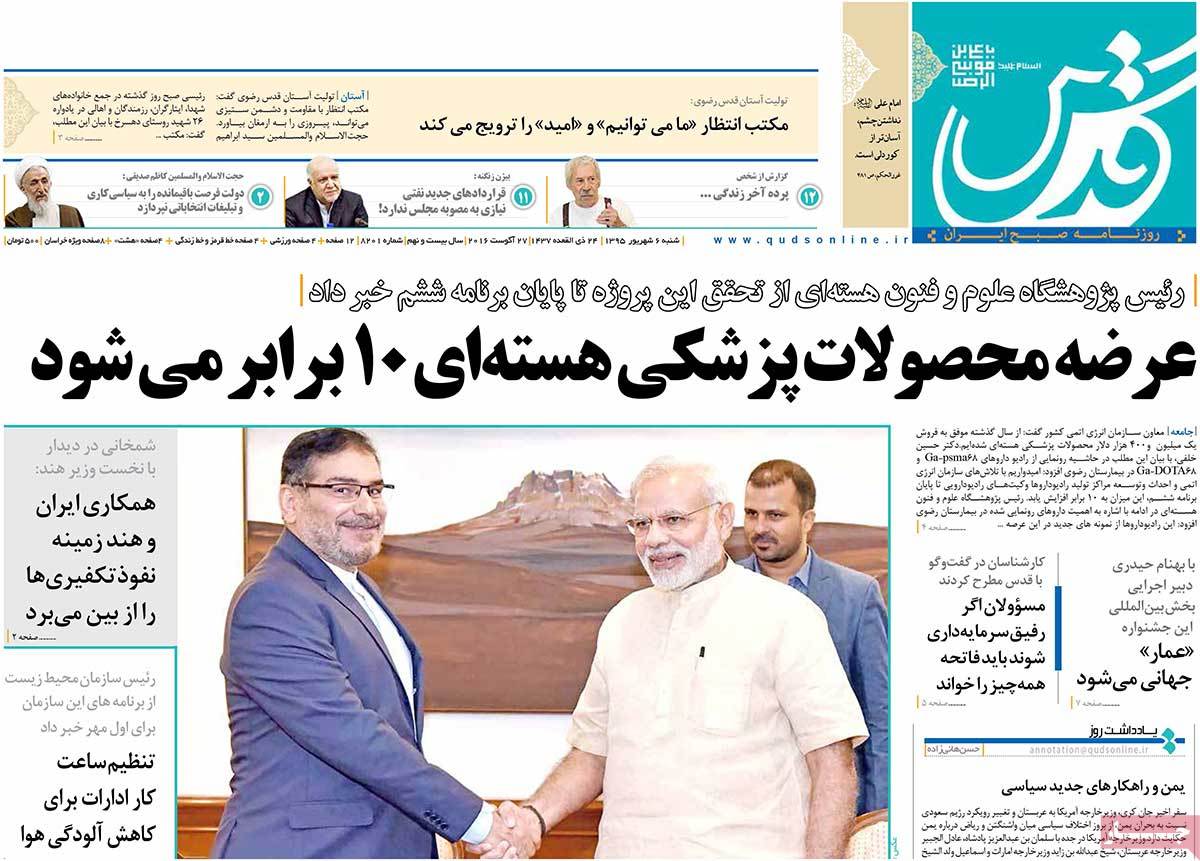 ---
Resalat:
1- Chairman of Assembly of Experts Urges Government to Take Explicit and Decisive Stances against US
2- Parliament Speaker: Country Cannot Be Governed by Telling Stories
3- DM: We'll Counter Any Ship that Enters Iranian Waters
4- Defence Industry Can Respond to Any Type of Threat
5- Democracy Is Endangered Because of a Lack of Strong Parties: Bahonar
---
Sayeh:
1- Economy Minister: The Blessing of Oil Has Become a Suffering for Iran
2- President's Chief of Staff: Iran Has an Integrated Government and Nation
3- Third Parties Have No Effect on Iran-India Ties
---
Sobh-e Now:
1- Terrorists' Workshop in Iran for Producing Bombs: Al Saud's Investment for Creating Security Challenge in Iran
2- Chinese Transformer, a Scourge for Iranian Workers
---
Vatan-e Emrooz:
1- Criminals: Intelligence Minister Says Saudis Have Made Huge Investment for Forming 12 Terrorist Groups in Iran