IFP has taken a look at the front pages of Iranian newspapers on Wednesday, August 16, and picked headlines from 14 of them. IFP has simply translated the headlines and does not vouch for their accuracy.
All newspapers today covered the parliamentary sessions held to review the qualifications of ministers nominated by President Hassan Rouhani for his new cabinet.
The remarks made by Rouhani in his defence of the ministerial nominees as well as the comments by their opponents and proponents were particularly highlighted.
The visit of Major General Mohammad-Hossein Baqeri, the Chief of Staff of Iranian Armed Forces, to the Turkish capital of Ankara also received good coverage today.
The above issues, as well as many more, are highlighted in the following headlines and top stories:
19 Dey:
1- Rouhani: I Wasn't under Pressure in Choosing Cabinet Members
2- President Vows to Change the Way Iran's Economy Managed
3- First VP: We Haven't Yet Told People How They [Ahmadinejad] Spent Iran's Forex Reserves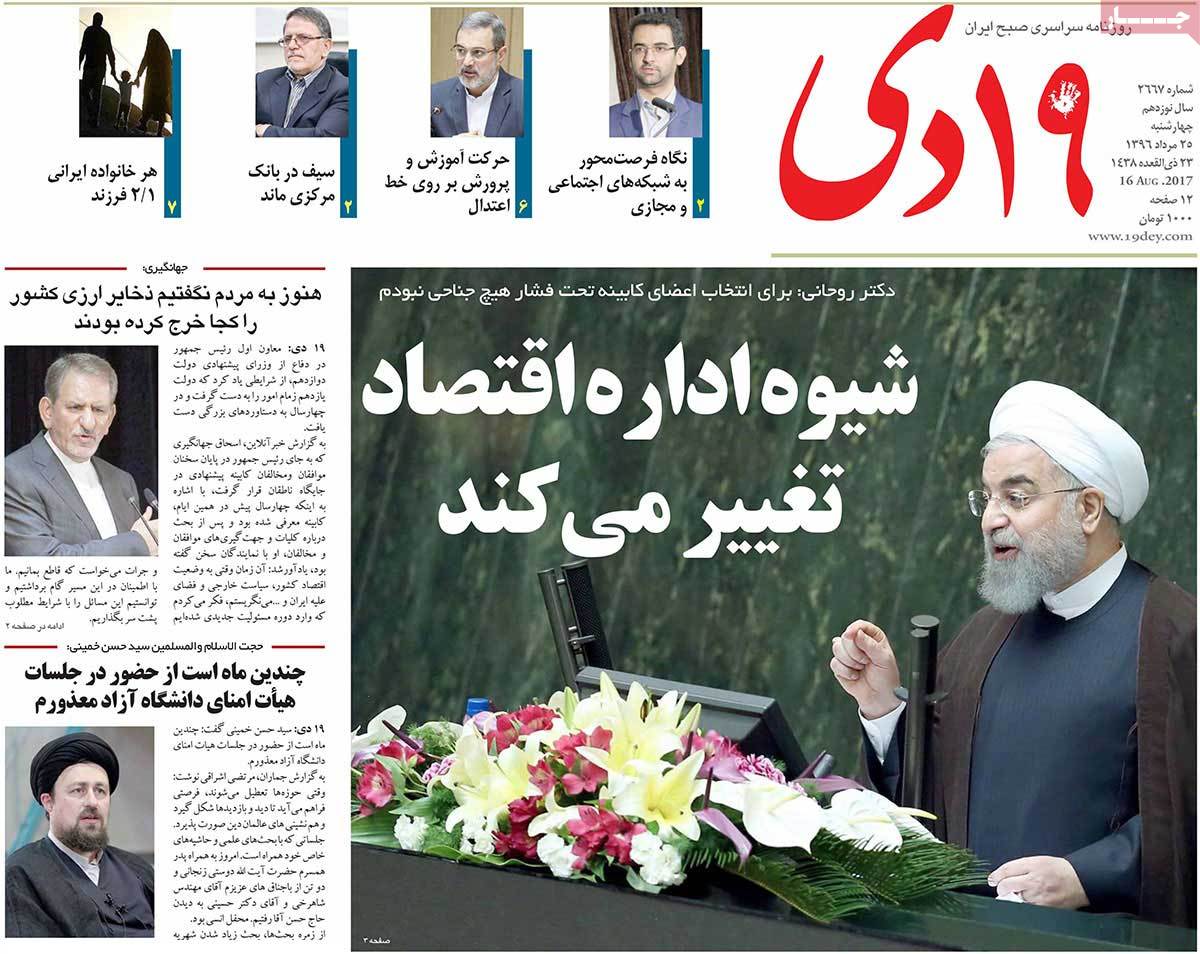 ---
Abrar:
1- Rouhani: We Can't Put a Lock on Cyberspace
2- New York Times Advises Trump to Interact with Iran
3- Parliament Vice-Speaker: 90% of Rouhani's Cabinet Will Likely Receive Vote of Confidence
---
Aftab-e Yazd:
1- Grey Day of Parliament: First Session Held to Review Ministers' Qualifications
2- Unethical Behaviours in Politics Caused by Lack of Dialogue: Imam Khomeini's Grandson
---
Arman-e Emrooz:
1- Rouhani: I Wanted to Introduce Female Minister, but That Wasn't Possible
2- If You Want Us to Remove All Anti-Iran Sanctions, OK We're Ready: Rouhani
3- Expressway in Tehran Named after Ayatollah Hashemi Rafsanjani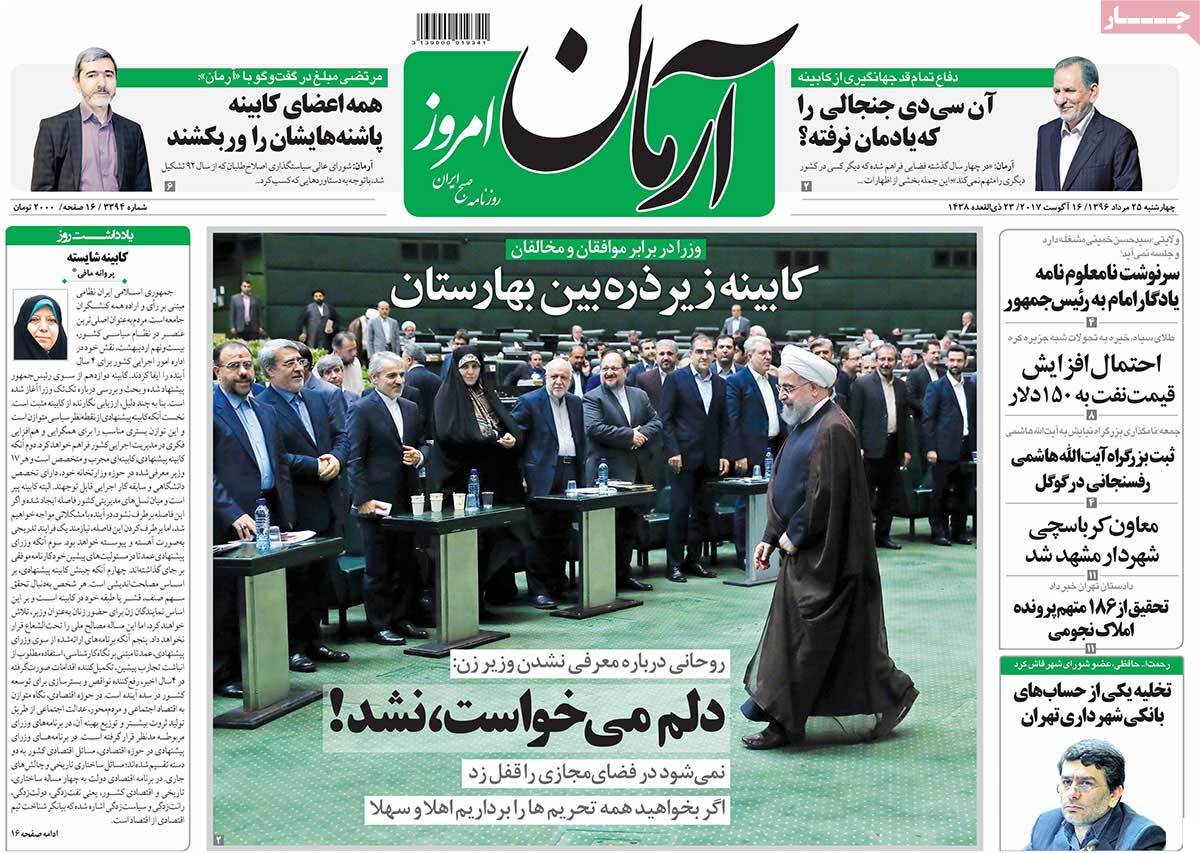 ---
Asrar:
1- Rouhani: Freedom, Peace, Security, Progress among Priorities of Next Gov't
2- First VP: We Decreased 40% Inflation Rate to Less than 10% in 4 Years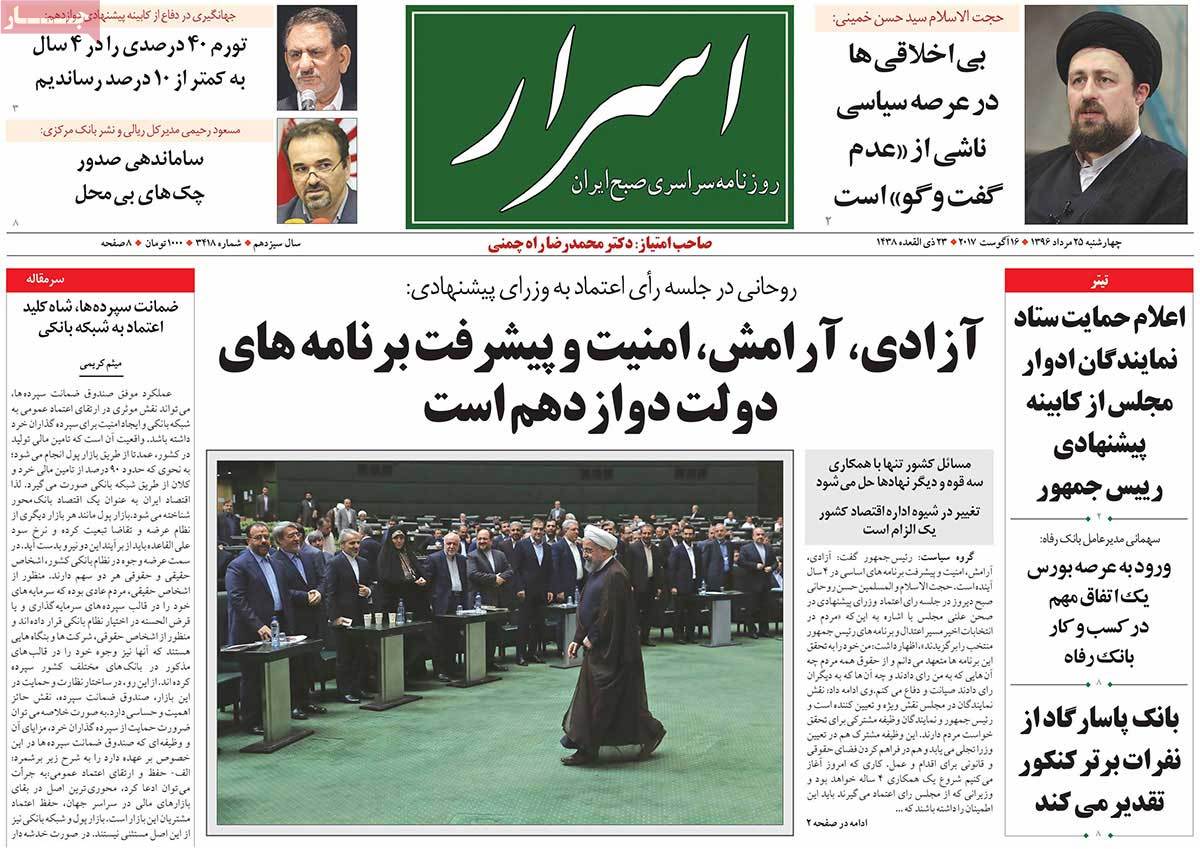 ---
Emtiaz:
1- Power Minister: Over 55 Power Plants Transferred to Private Sector
---
Etemad:
1- Rouhani Responds to Critics, Defends Ministers
2- Youngest Ministerial Nominee: I'm Not Fan of Obscenity in Cyberspace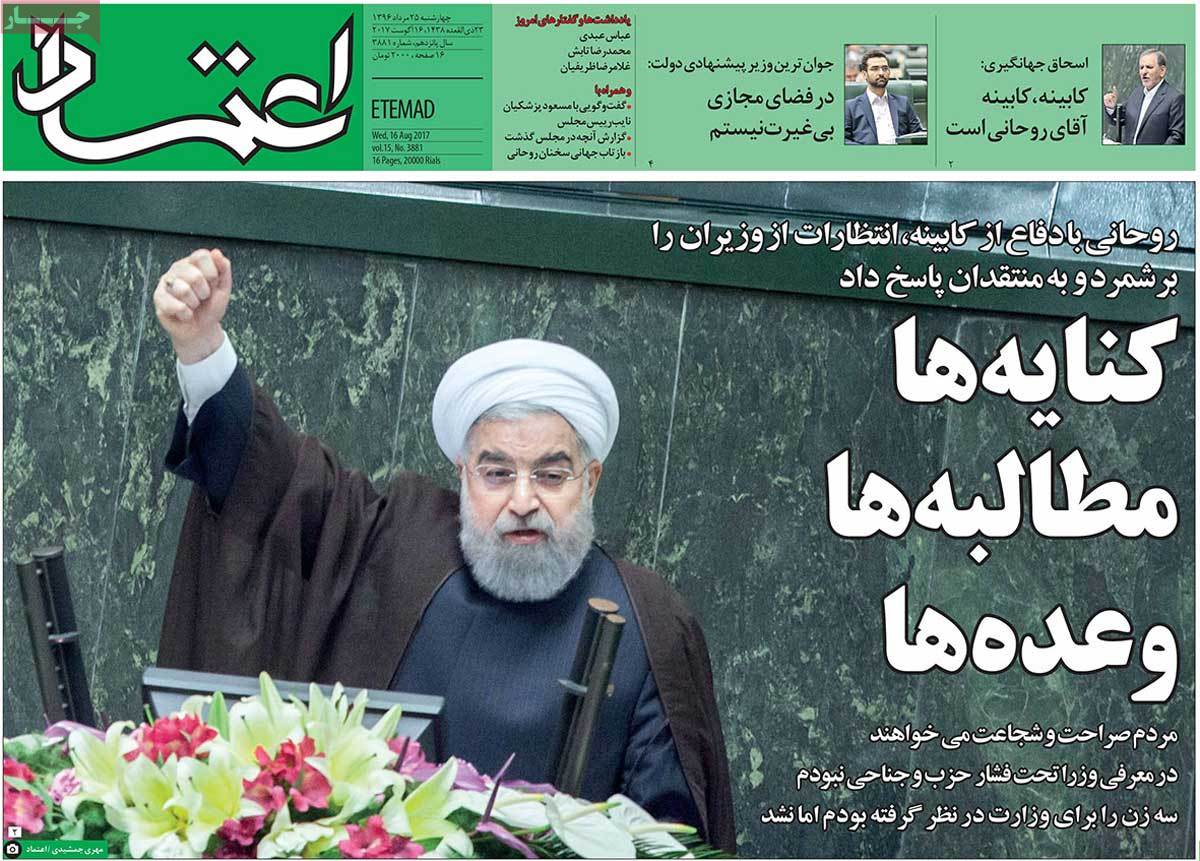 ---
Ettela'at:
1- Rouhani Defends Proposed Cabinet
2- World's Biggest Carpet Exhibition to Be Held in Tehran Next Week
3- UN Praises Iran's Efforts to Resolve Yemen Crisis
4- 208 Iranian Scientists among World's Top Scientists
5- New York Times: US Shouldn't Miss Opportunity of Cooperating with Powerful Iran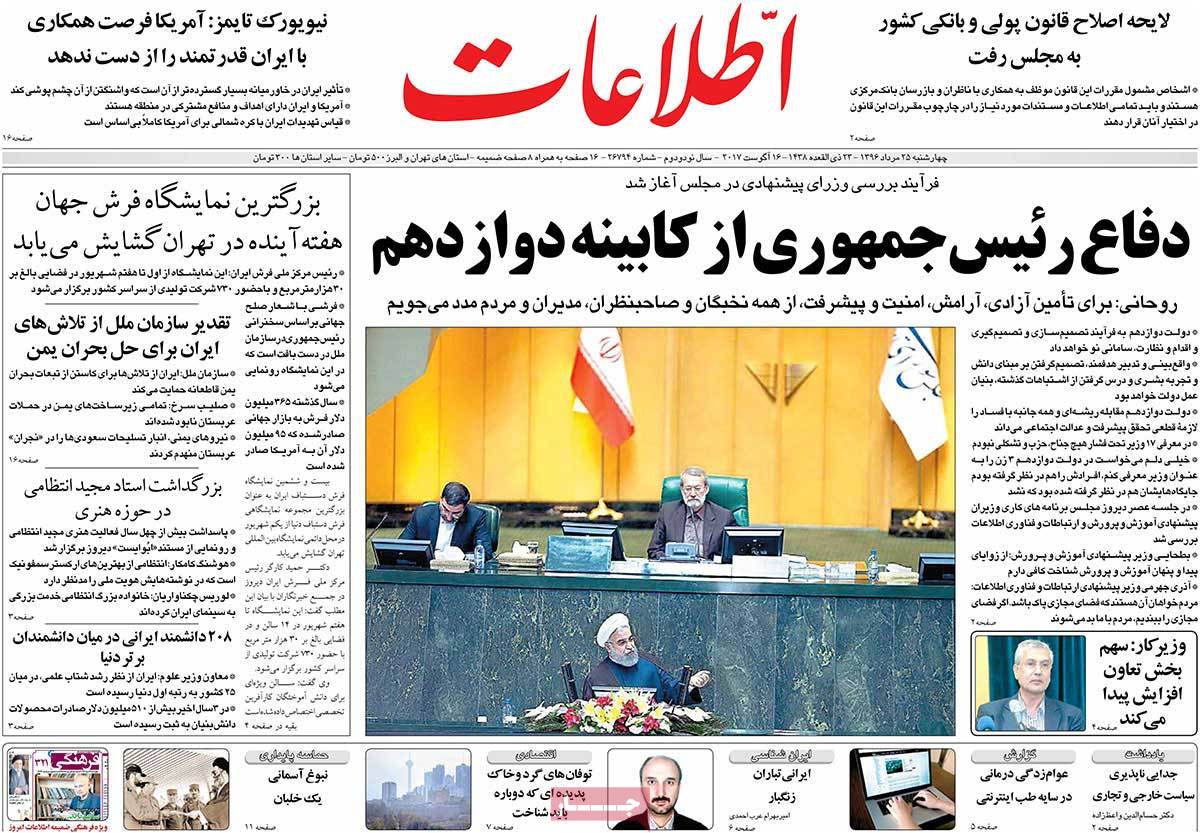 ---
Iran:
1- Rouhani Strongly Defends 17 Ministers
2- President Urges Governor-Generals to Use Women, Sunnis as Managers
3- First VP: Next Cabinet Ready to Fulfil Promises
4- Judge to Oil Prisoners: Return Iran's Money as Long as You're Alive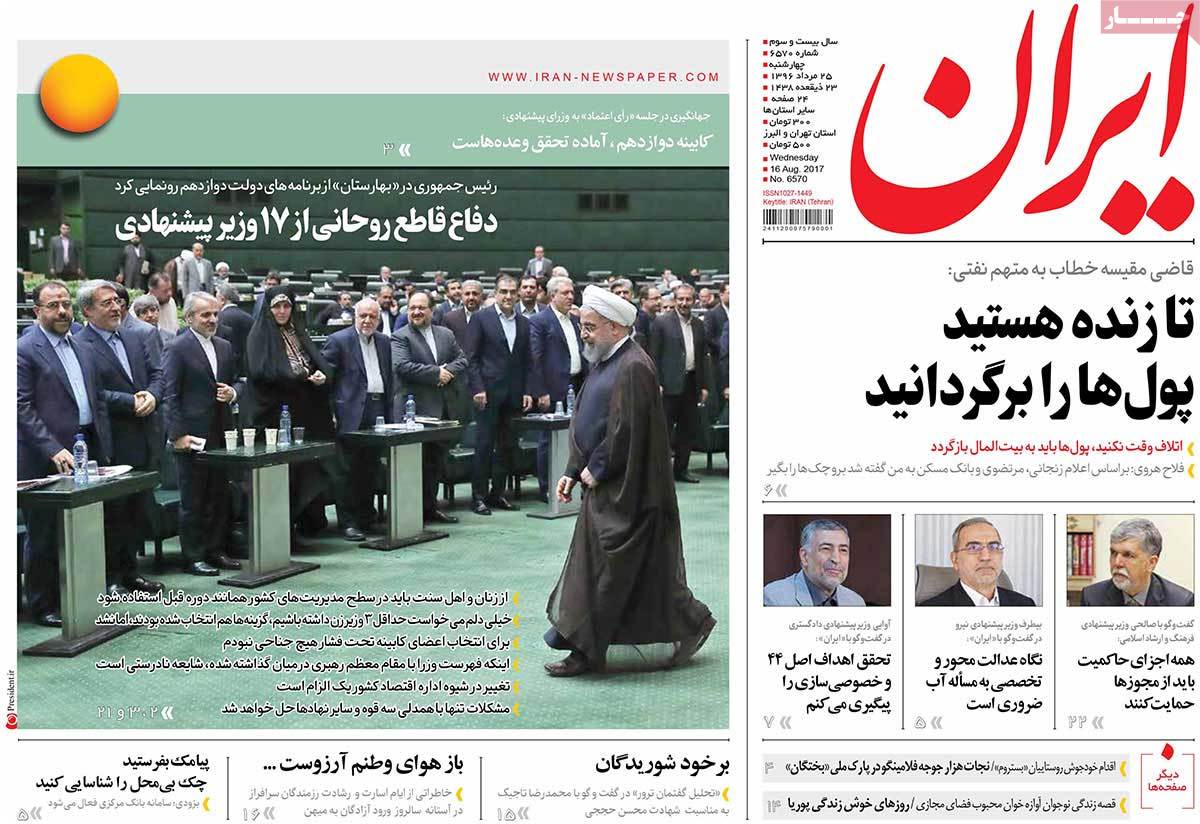 ---
Javan:
1- Saudi Arabia's Diplomatic Aggression to Ease Tensions with Iraq
2- IRGC Rejects US Claims on Iran Drone's 'Unsafe Approach' in Persian Gulf
3- Chief of Staff of Iran's Armed Forces Visits Ankara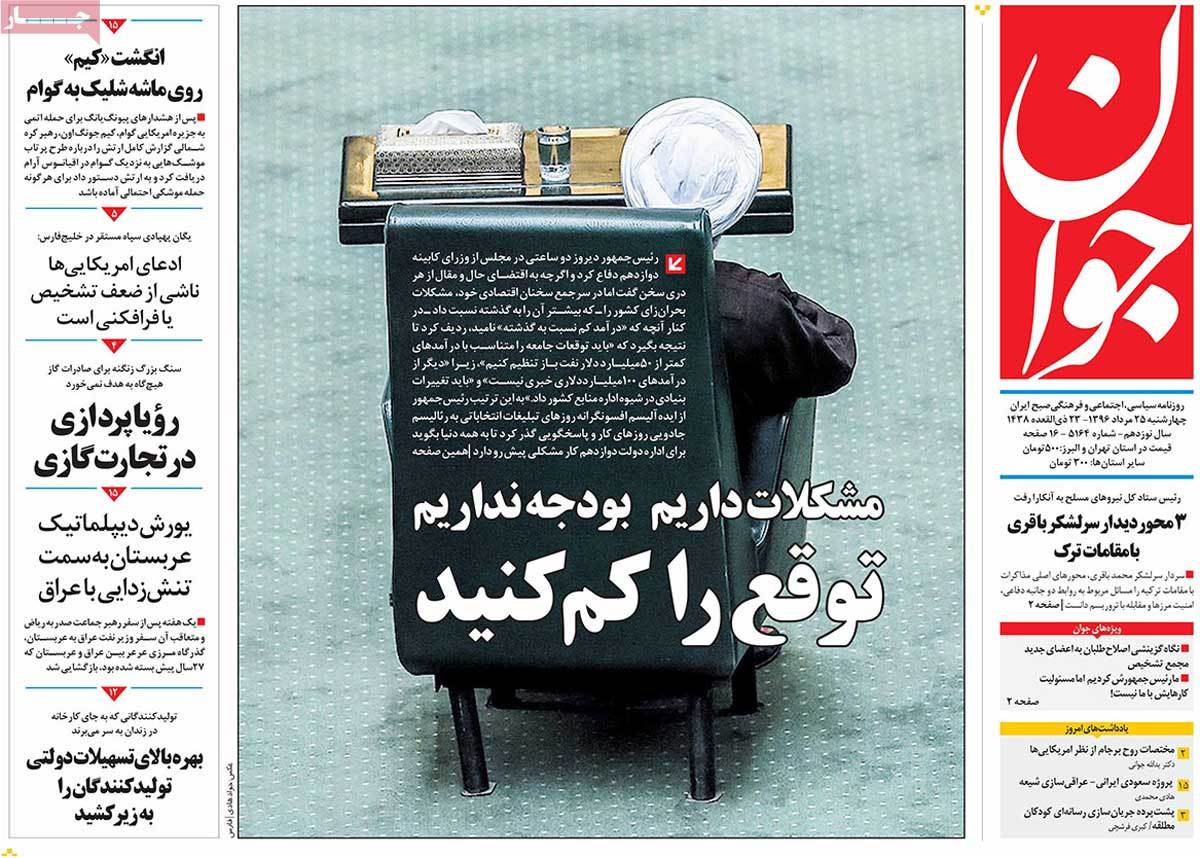 ---
Jomhouri Eslami:
1- Russia: US Should Withdraw Forces from Afghanistan
2- Volkswagen to Sign Contract in Iran
3- Number of Those Suffering from Cholera Exceeds 500,000
4- Tehran to Host First Int'l Exhibition of Glassware, Related Industries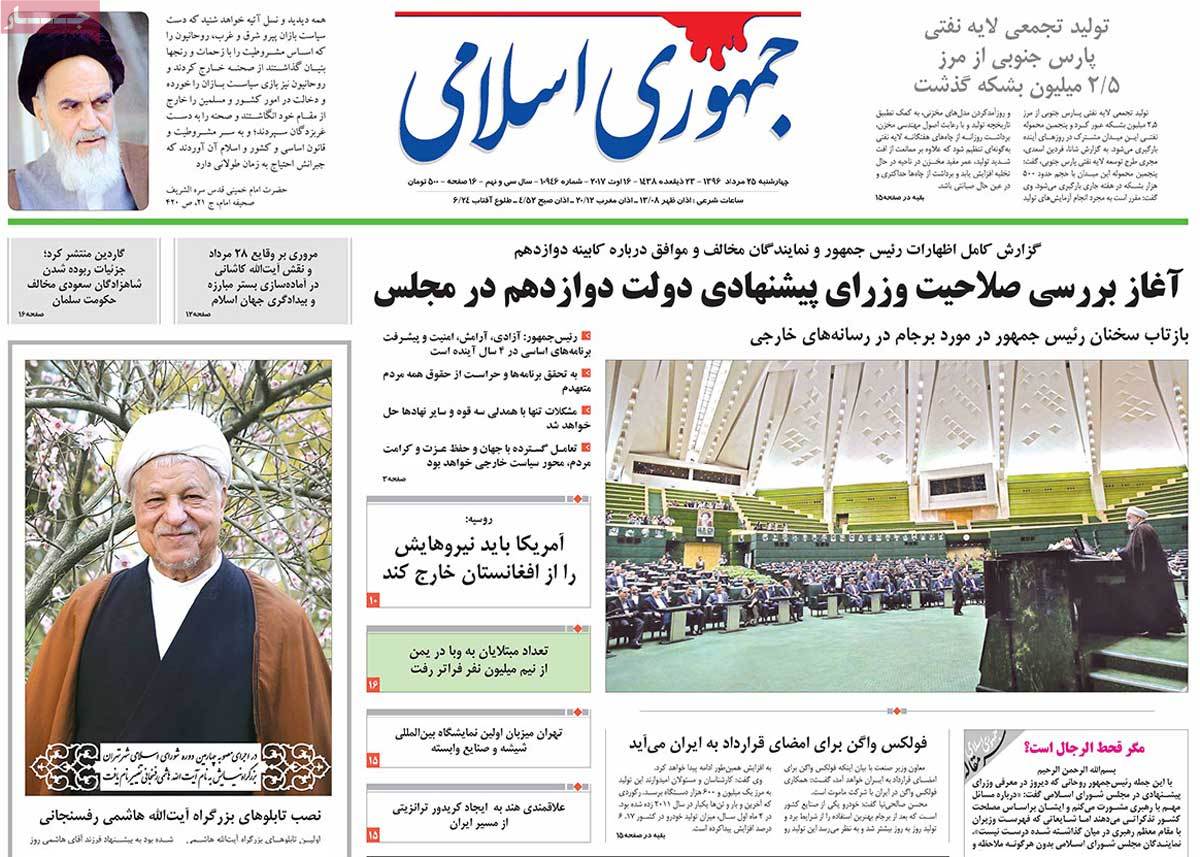 ---
Kayhan:
1- Rouhani Denies His Earlier Stances on Optimism towards Negotiation
US Shows It Cannot Be Trusted in Negotiations
2- Iranian MPs Challenge Efficiency of Rouhani's Ministers
3- Al-Monitor: Martyrdom of Mohsen Hojaji United Iranians
4- Iraqi Jet Fighters Start Bombing ISIS Positions in Tal Afar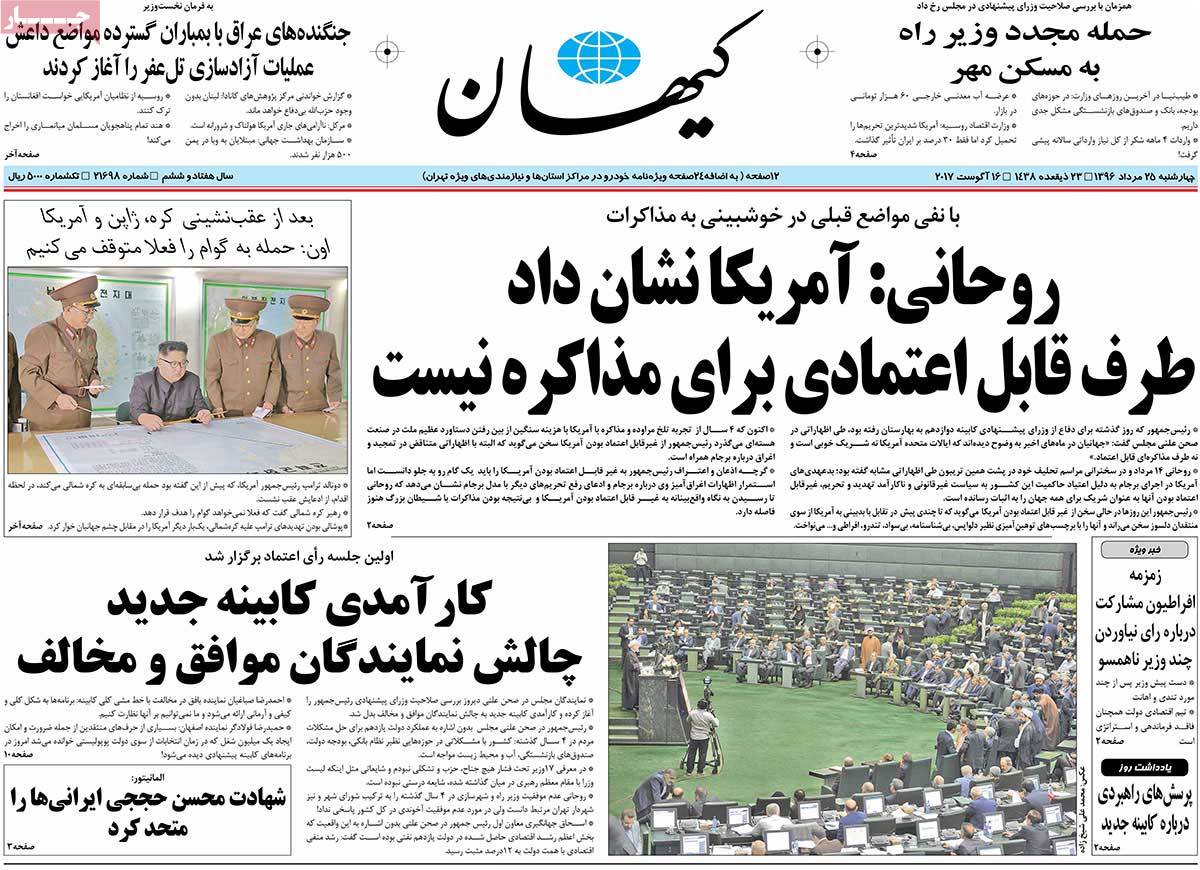 ---
Resalat:
1- Rouhani: Iran to Return to Pre-Negotiations Conditions If US Breaks Promises
2- Interior Minister: 31 Governor-General, 430 Governors Changed in Past Gov't
3- Ayatollah Makarem Shirazi: Those Writing Exegesis of Quran Should Respect Other Muslim Sects
---
Shargh:
1- Test of Winning Confidence: What Opponents, Proponents of Cabinet Say
2- 20 Years Needed to Resolve Infrastructural Problems of Ahmadinejad's Legacy in Housing