The top story in Iranian newspapers today was the remarks made by the Leader of Iran's Islamic Revolution Ayatollah Seyyed Ali Khamenei in a meeting with high-ranking officials.
Newspapers also widely covered the Iranian national football team's qualification for 2018 FIFA World Cup Russia following a 2-0 victory over Uzbekistan in Tehran.
Iranian Foreign Minister Mohammad Javad Zarif's visit to Oslo and his remarks against the new US sanctions also received great coverage.
The above issues, as well as many more, are highlighted in the following headlines and top stories:
Abrar:
1- Shiite, Sunni Muslims Not Different to ISIS: IRGC General
2- Rouhani Calls for Young People's Greater Role in Building Future
3- Amano: IAEA to Continue Verification in Iran
---
Aftab-e Yazd:
1- Unhappy Days of Britain
Brexit in Deadlock after UK Election Results
2- In Nuclear Talks, Obama Worried about Iranians Getting Upset by US
---
Arman-e Emrooz:
1- Leader: We Shouldn't Spoil People's High Turnout
2- Once Again Iran, Once Again World Cup
3- Street Celebrations after Victory
4- I've Sent Two Written Messages to Mogherini on US Lack of Commitment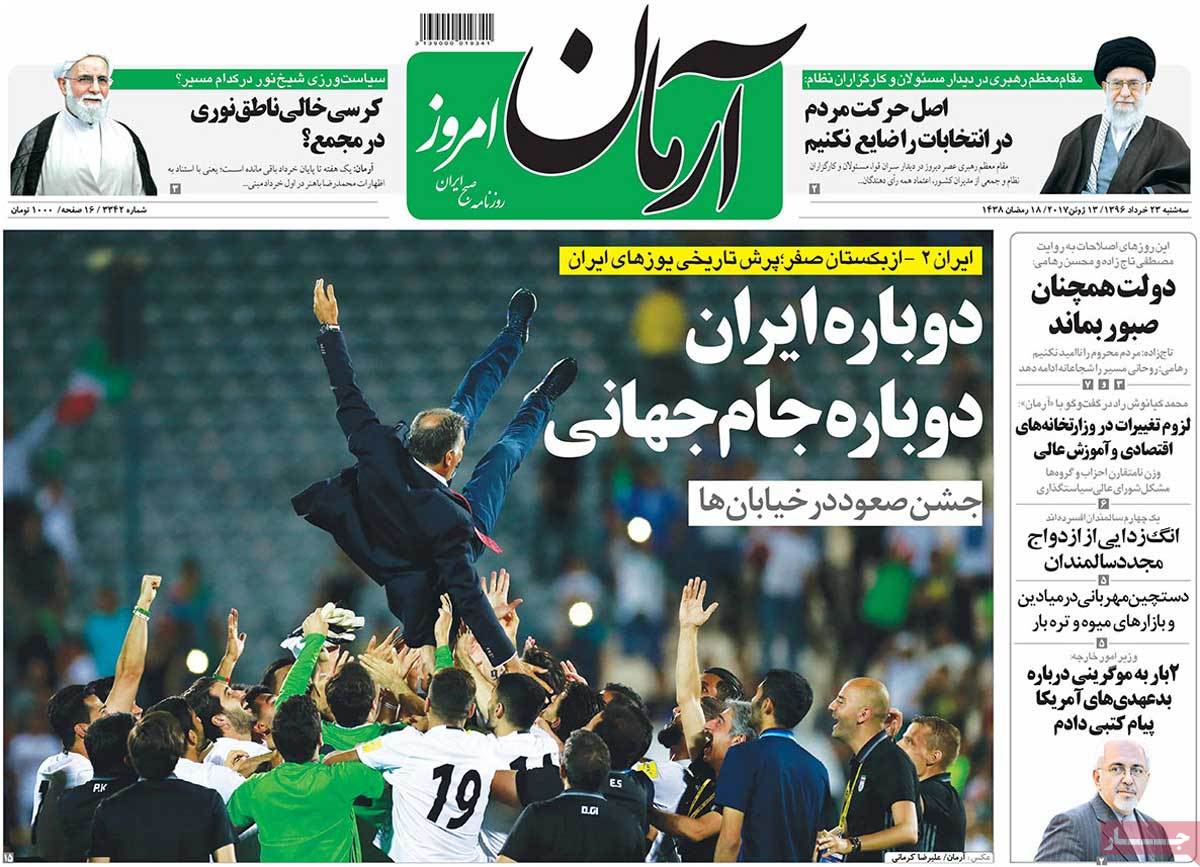 ---
Asrar:
1- Zarif: New Senate Decision Shows Americans Are Narrow-Minded
2- ISIS Elements to Cause Disasters across Iran without Iranian Fighters in Syria: MP
2- Iran's Foreign Ministry Spokesman Warns Americans against Repeating Mistake
---
Ebtekar:
1- Dividing People Would Spoil Their Great Turnout in Elections: Iran Leader
2- Iran's Football Repeats World Cup Qualification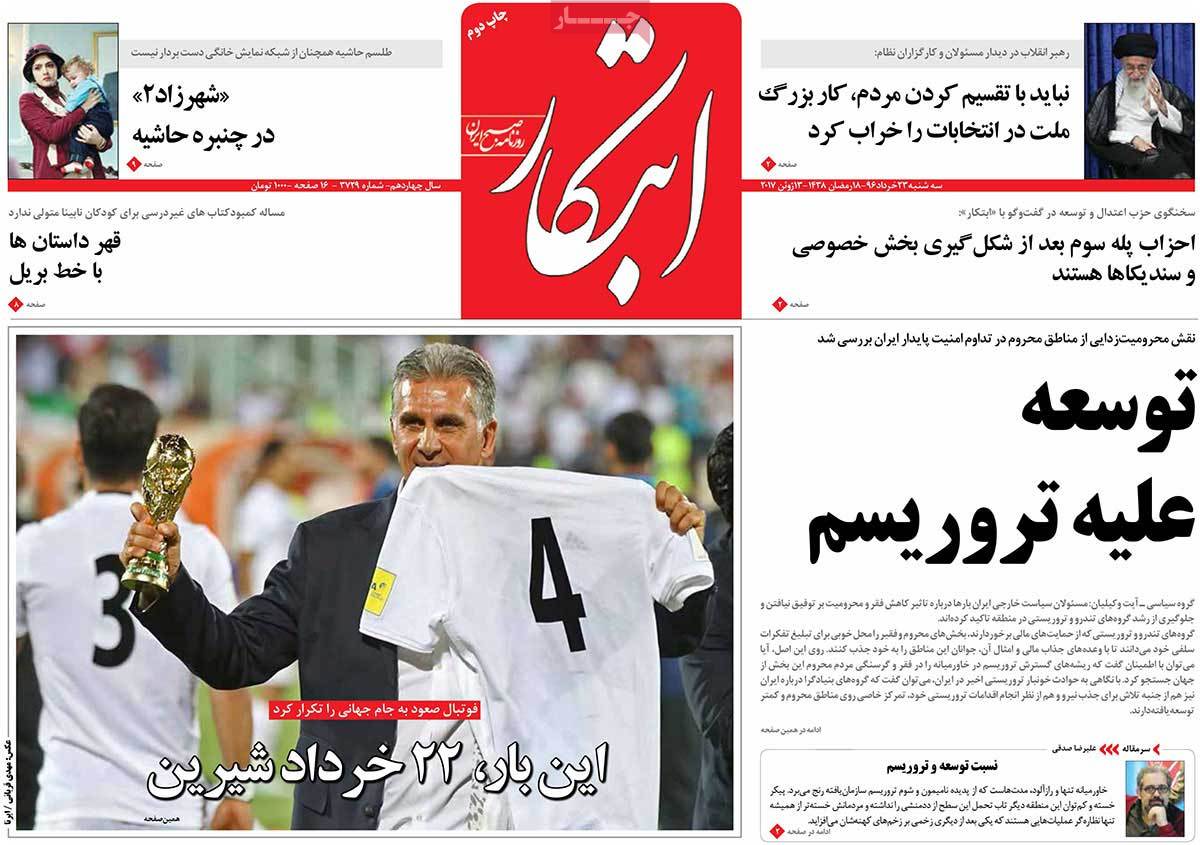 ---
Etemad:
1- People Trust Islamic Republic's Ballot Box: Leader
2- Iran in Land of Tsars: People's Late Night Celebration after World Cup Qualification
3- Iran to Respond to Any US Move: Zarif
4- Mogherini Underlines EU's Commitment to JCPOA Implementation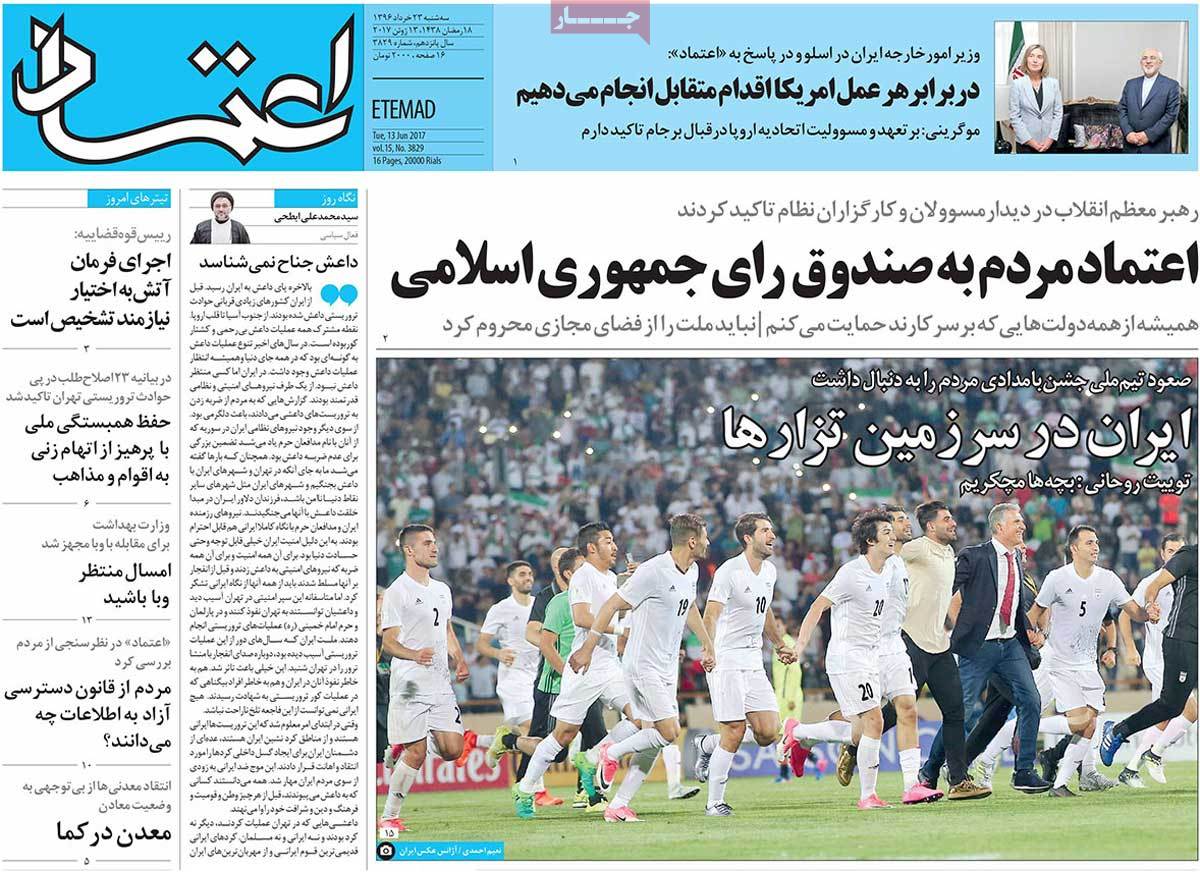 ---
Ettela'at:
1- National Interests Main Criteria for Making Decisions: Leader
2- Qatari Ex-PM: We Regret Cooperating with Saudis against Iran
3- Fatemiyoun Brigade, General Soleimani on Syria-Iraq Border
---
Haft-e Sobh:
1- Easiest, Most Powerful Qualification for FIFA World Cup
2- Spaghetti, Yoghurt or Engineer: Which Iranian Products Are Offered in Qatar Market?
---
Iran:
1- Hello World Cup: Iran Qualifies for World Cup without Receiving Any Goal
2- Iran Starts Exporting Wheat: 30,000 Tonnes Exported to Oman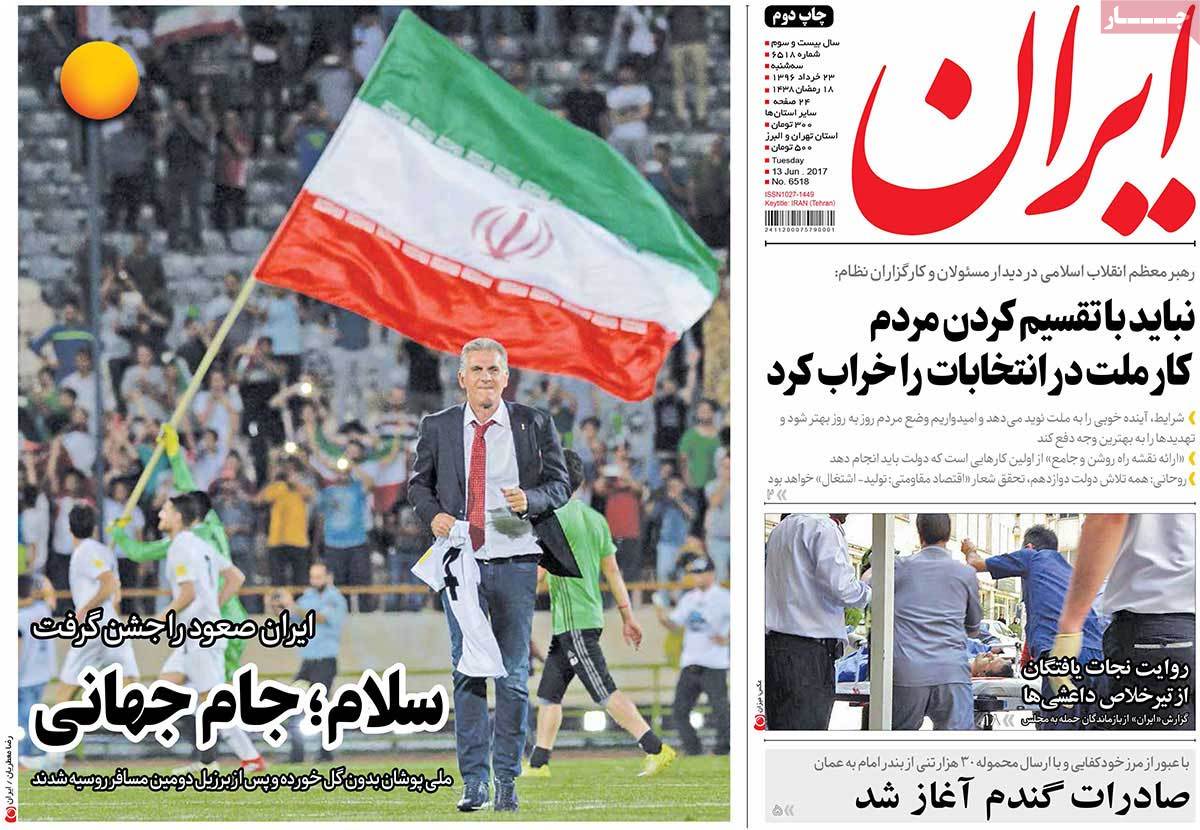 ---
Jame Jam:
1- Historic Qualification for FIFA World Cup
2- Value of Annual Food Waste Equal to Loans Given to 380,000 Newlyweds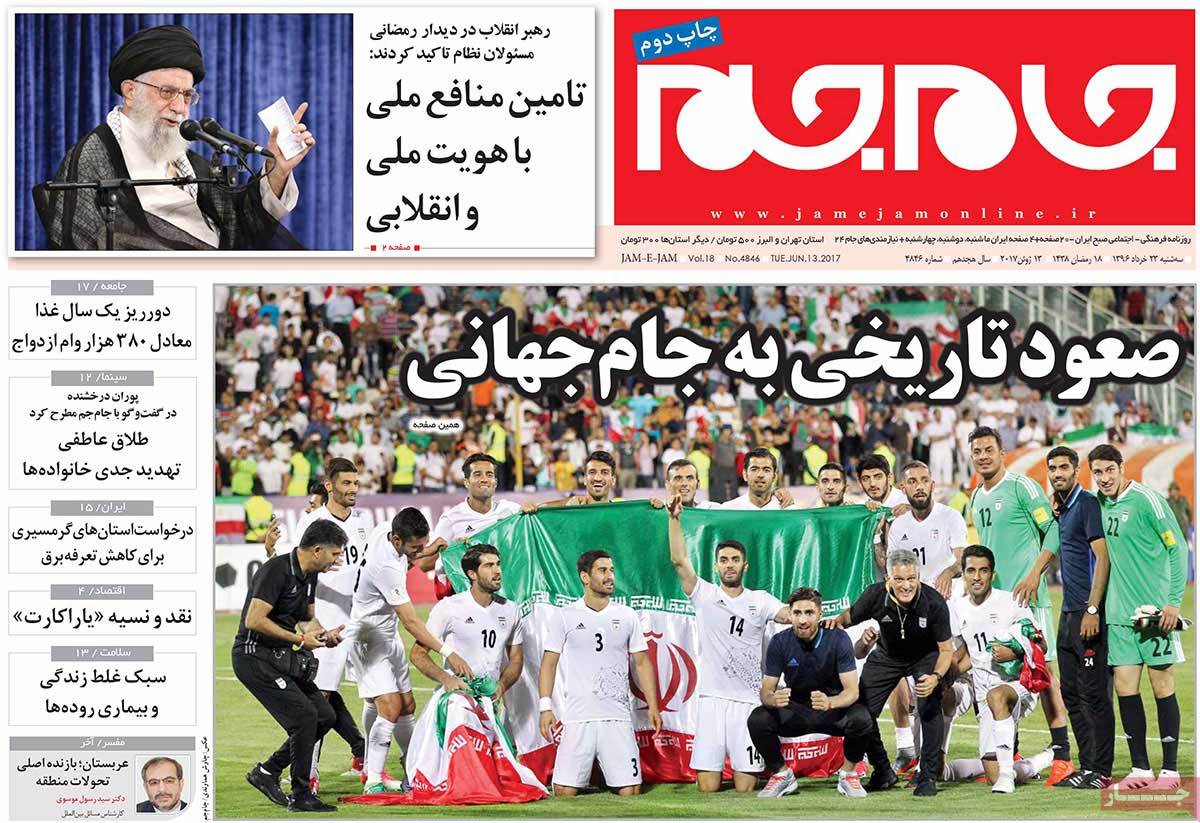 ---
Javan:
1- Leader: Iran's Society Shouldn't Be Divided like What We Saw in 1980
2- All Officials Should Empower IRGC, Basij, Revolutionary Elements: Leader
3- Here We Are at 2018 World Cup without Receiving Any Goal
4- Saudi Petrodollars Funding [Anti-Iran Satellite Channel] 'Manoto'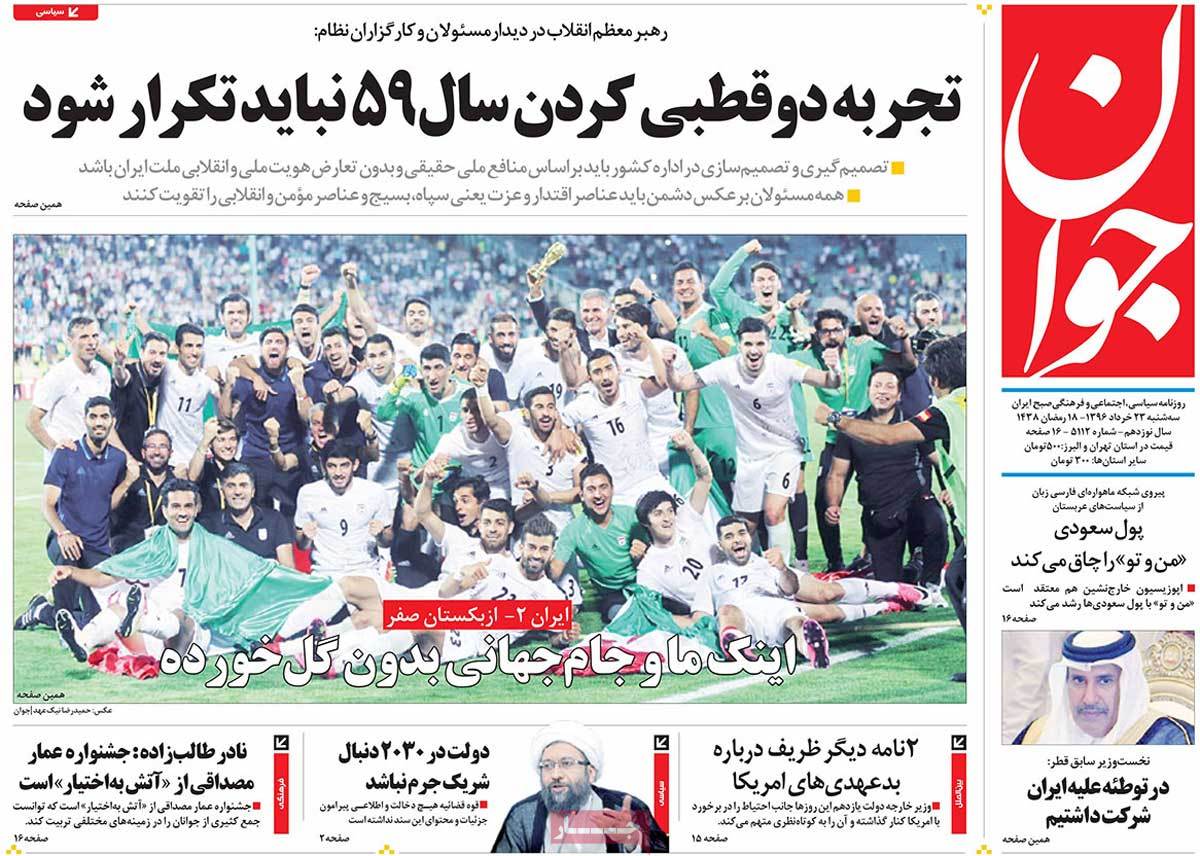 ---
Jomhouri Eslami:
1- Caliphate in Iraq Has Collapsed: British Envoy to Baghdad
2- Official: $15 Billions of New Oil Contracts to Be Signed This Year
3- IAEA Confirms Iran's Compliance with Nuclear Deal
---
Kayhan:
1- Iran Leader: Enemy Shouldn't Be Trusted
2- General Soleimani Says Prayers to Thank God in Syria-Iraq Border
3- Yemen Plagued by Cholera and Saudi Arabia