IFP has taken a look at the front pages of Iranian newspapers on Wednesday and picked headlines from 46 them. The selected headlines show how Iranian newspapers covered the deadly collapse of Plasco shopping centre in downtown Tehran.
Several people, including at least 16 firefighters, are feared dead after the Thursday collapse of Plasco building in central Tehran. Newspapers on Saturday dedicated their front pages to the victims of this tragic incident.
Here are the selected papers that highlighted the collapse of Plasco building:
19 Dey:
1- Tehran's Heart Collapses
---
Abrar:
1- Is It How the "Municipality" Works?!
2- Great Men Who Melted in Fire of People's Love
3- People Have Not Yet Forgotten Train Disaster
4- Tehran Lost One of Its Symbols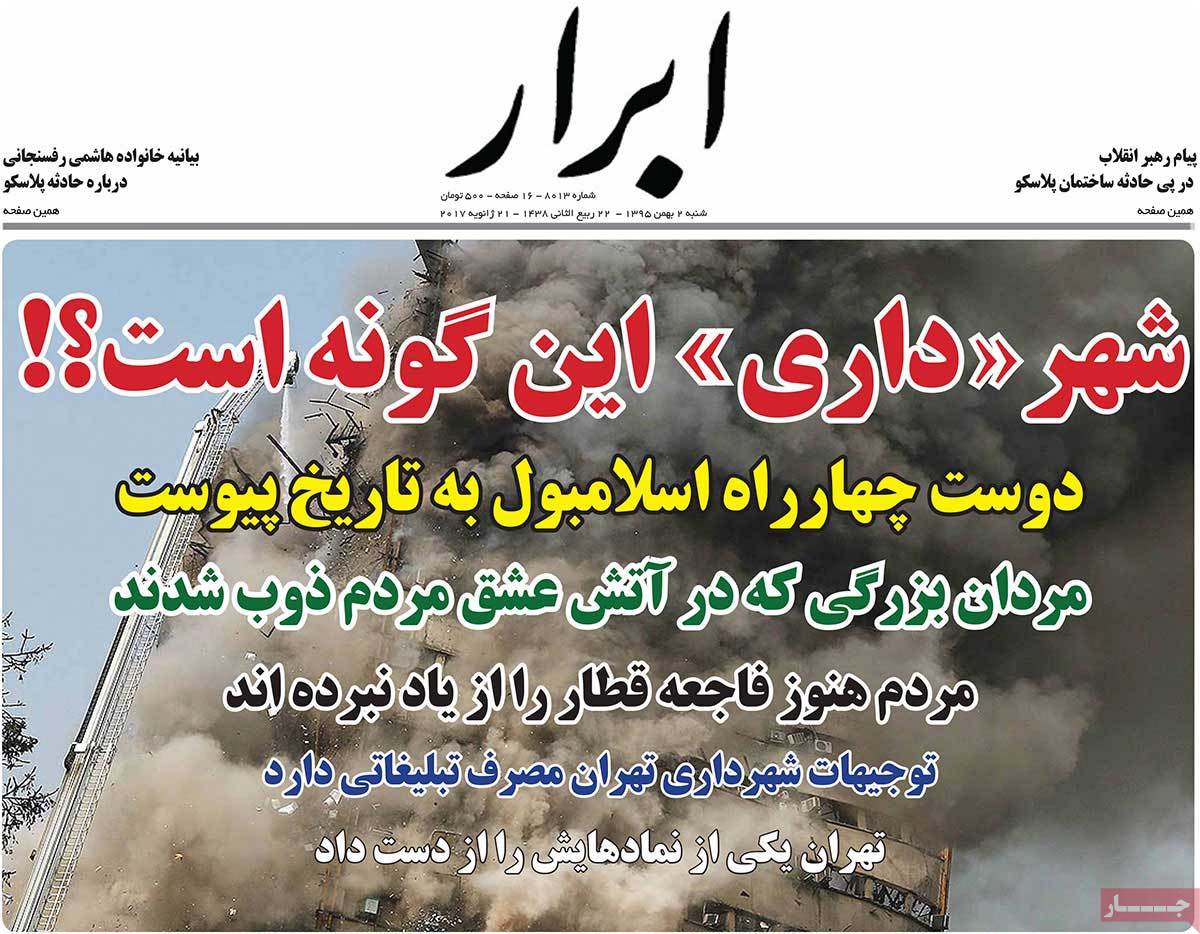 ---
Abrar-e Eqtesadi:
1- Iran's Clothing Industry in Coma: Plasco Collapse Leads to Unemployment of at Least 4,000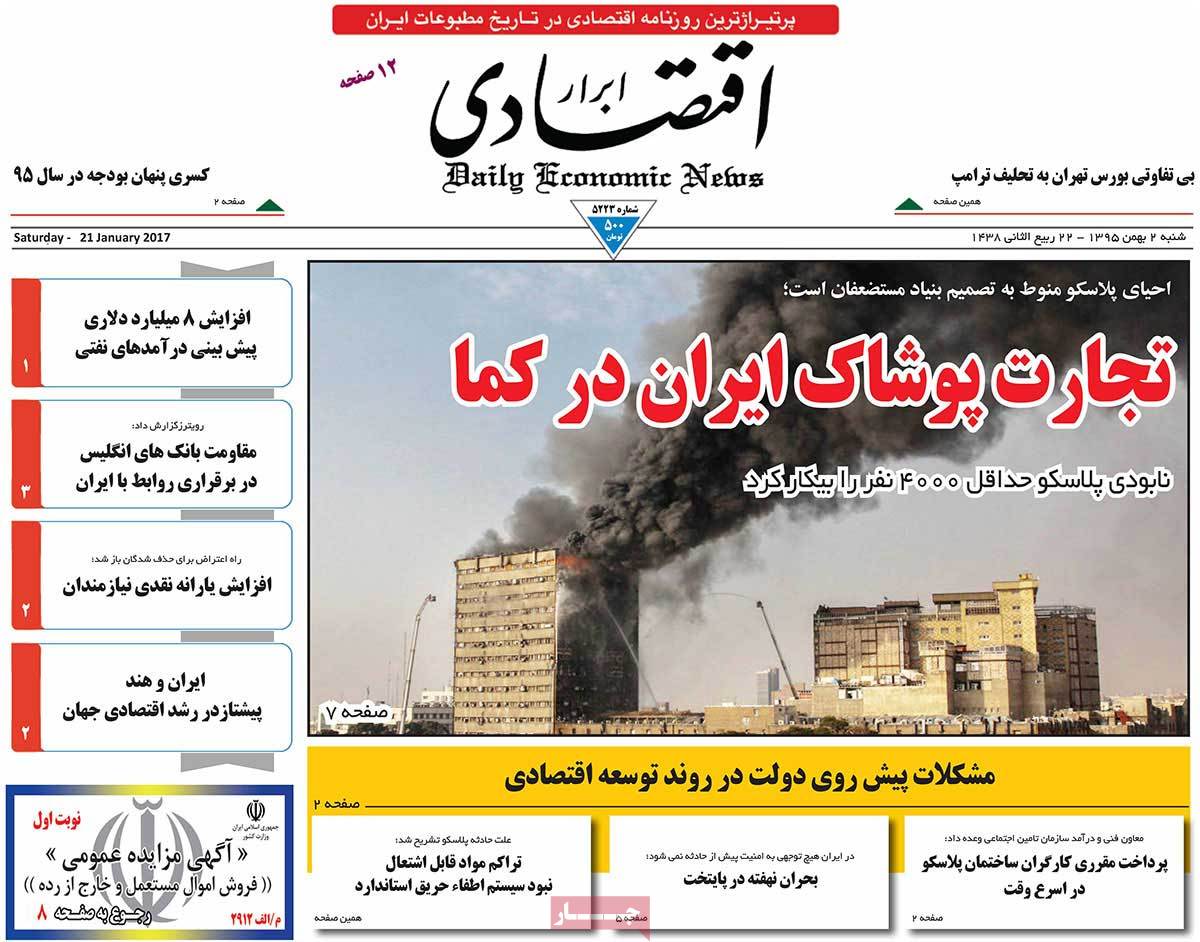 ---
Afkar:
1- Plasco: A Lump in Tehran's Throat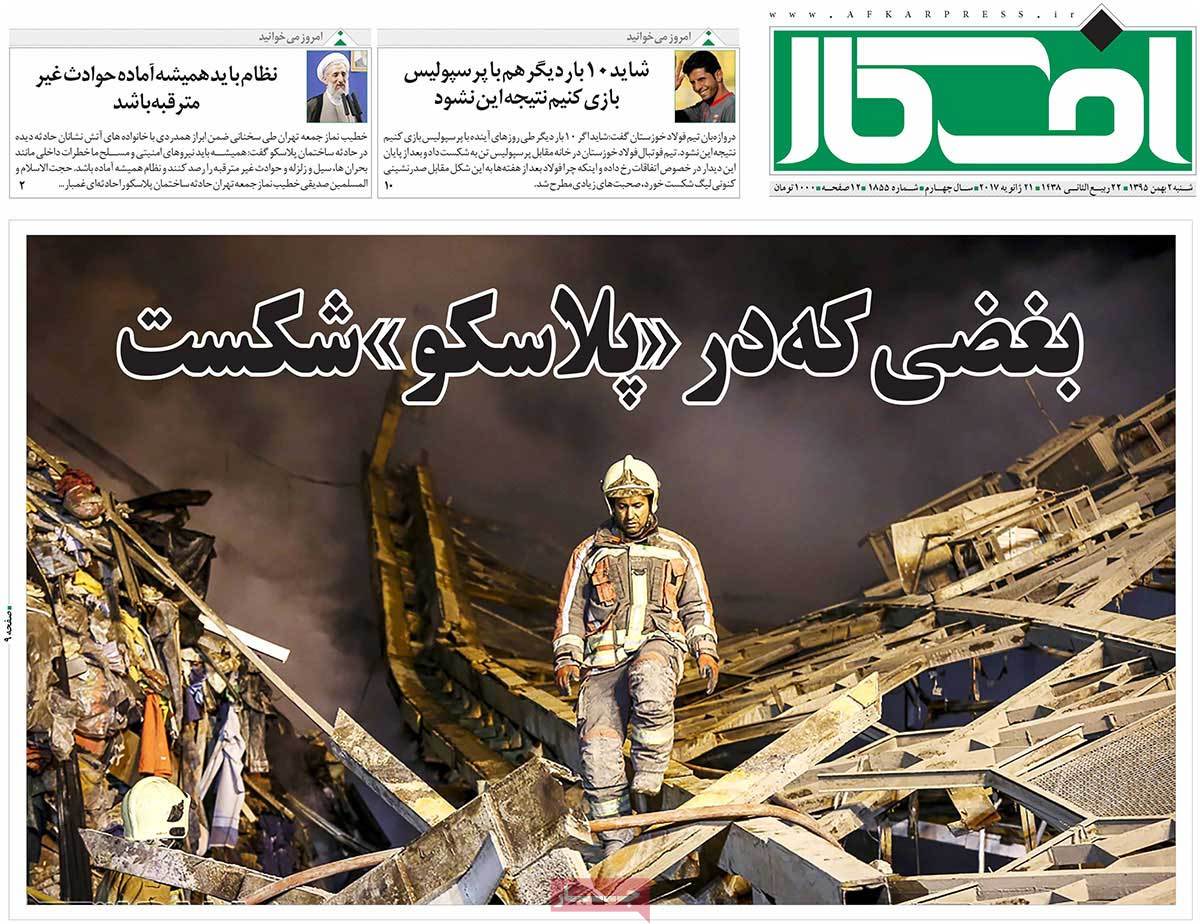 ---
Aftab-e Yazd:
1- This Endless Sadness and Distress
2- Government Declares Today a National Day of Mourning
3- Debris Removal Operation Will Go on for 3 or 5 Days
4- The Main Pain [Editorial]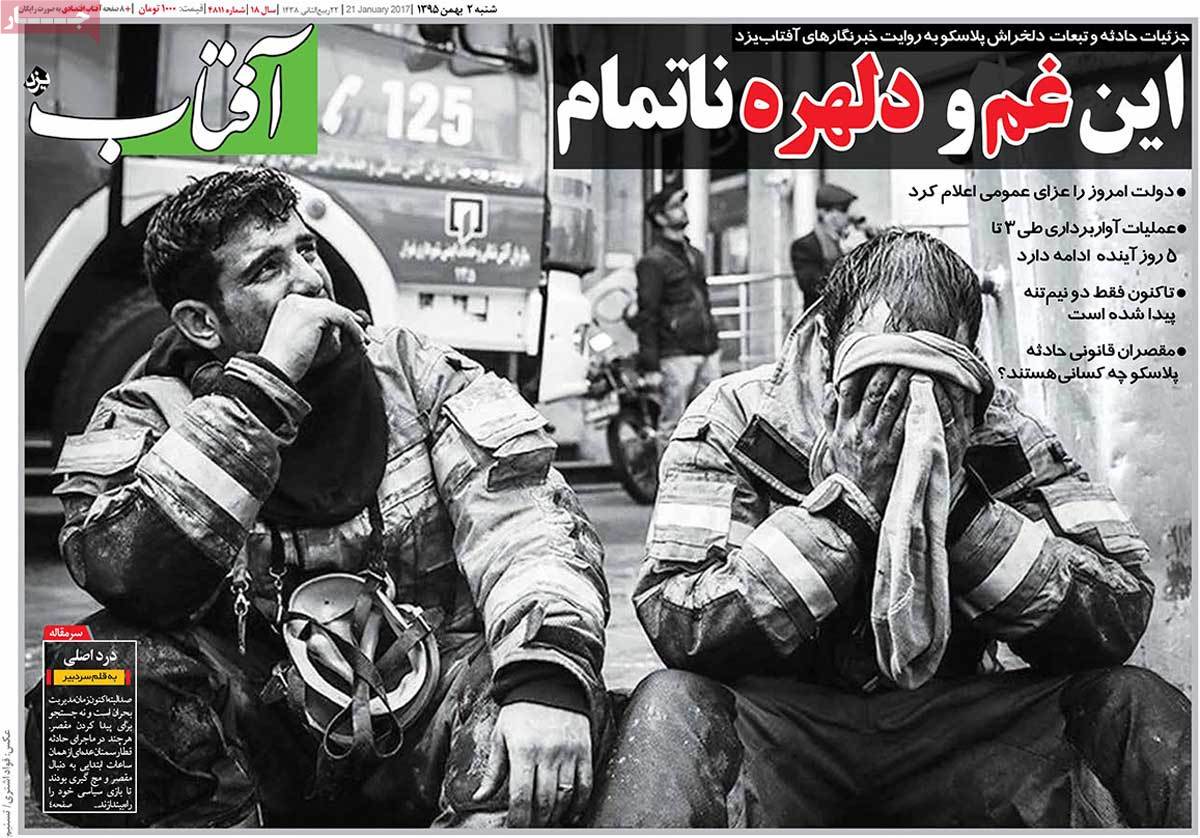 ---
Amin:
1- Nostalgia Turned into Tragedy: Plasco Collapses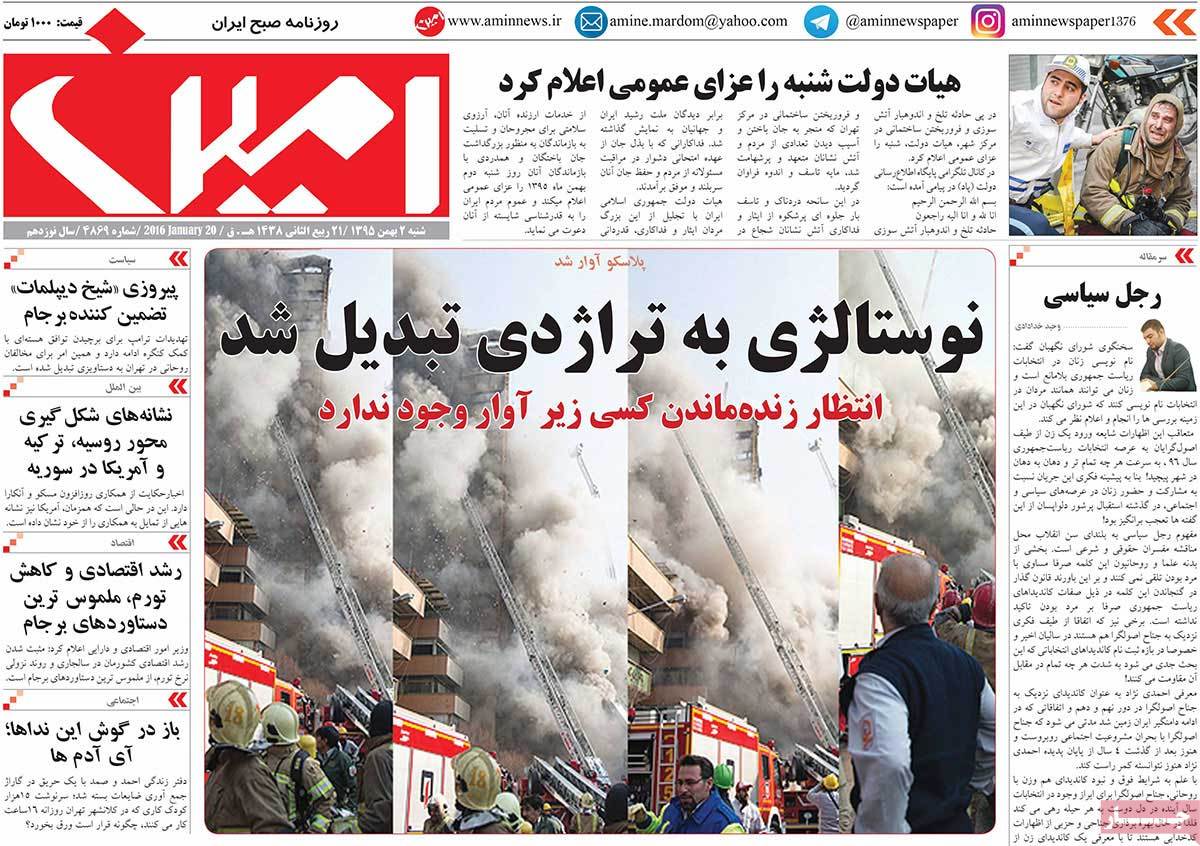 ---
Arman-e Emrooz:
1- Tehran's Ambiguous Future
2- Ayatollah Rafsanjani's Family: Our Sorrow Was Doubled
---
Asr-e Iranian:
1- Plasco Collapses, Tehran Wears Black
---
Bahar:
1- Rubble of Imprudence: Tehran in Grief, Firefighters Burn
---
Besharat-e Now:
1- Tehran Crying over Rubble of Sorrow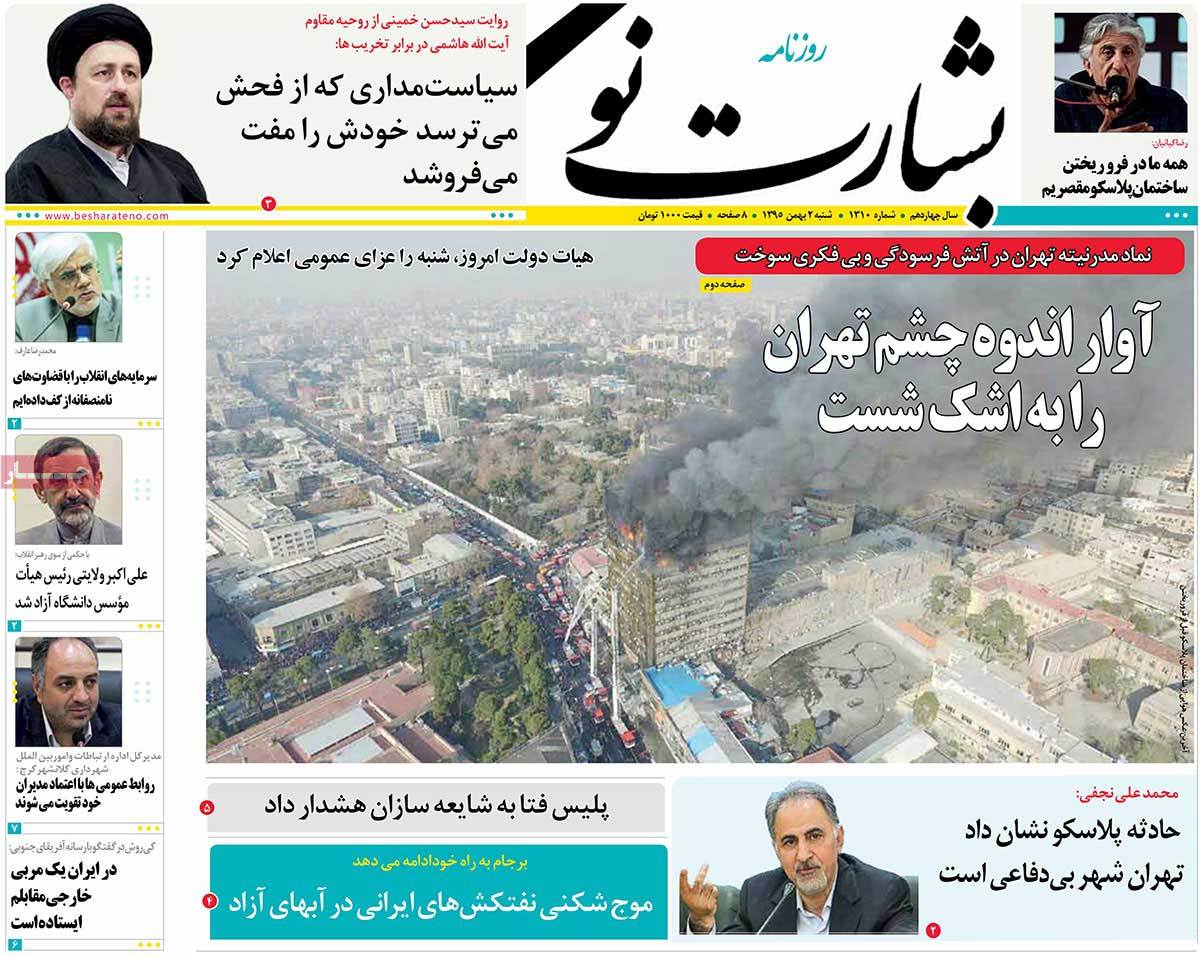 ---
Donya-ye Eqtesad:
1- Lessons to Be Taken from Plasco: 5,000 Similar Threats in Tehran
---
Emtiaz:
1- For Plasco Heroes: Heroes Who Fought Fire with Inadequate Equipment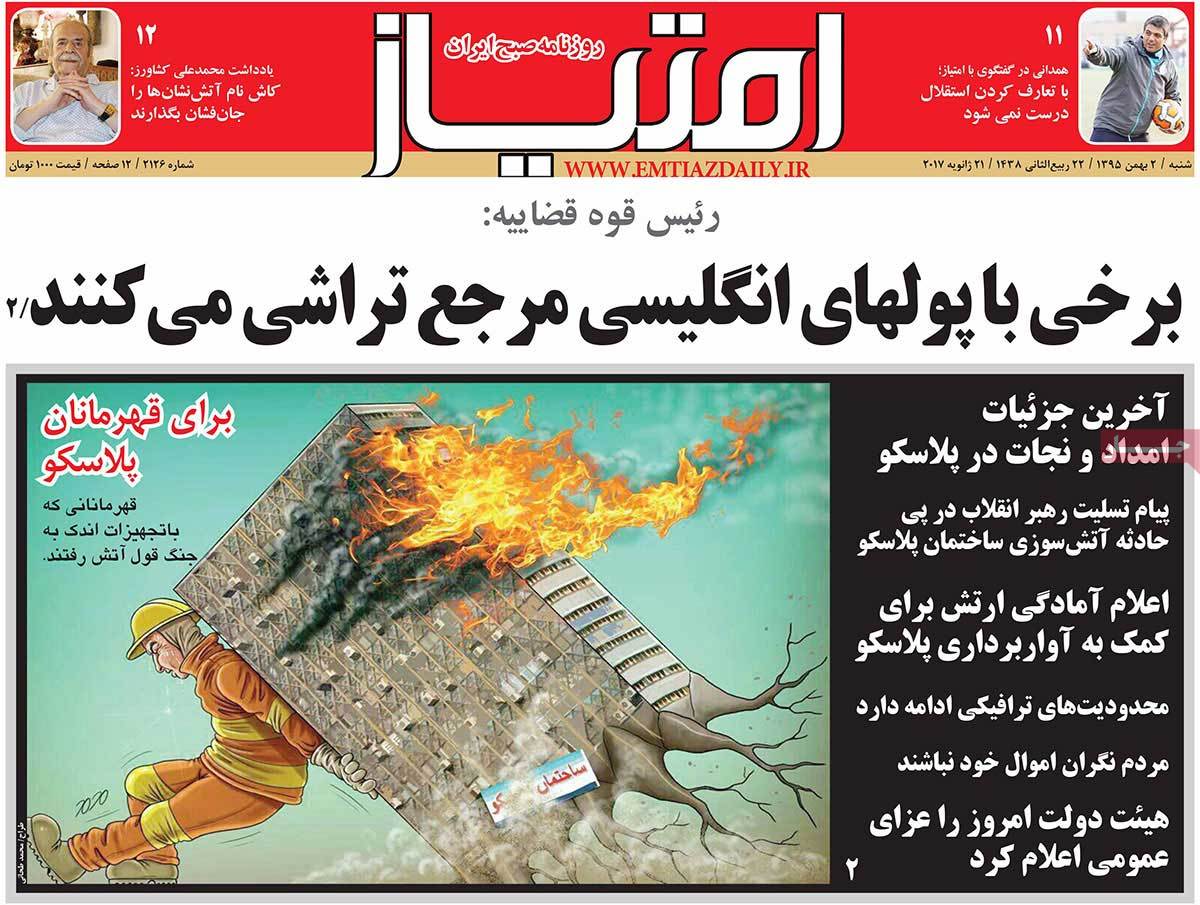 ---
Etemad:
1- Tehran on Fire: Blaze and Collapse of Plasco Building, and Firefighters' Sacrifice Lead to a Tragedy
2- Tears and Shock in Fire Stations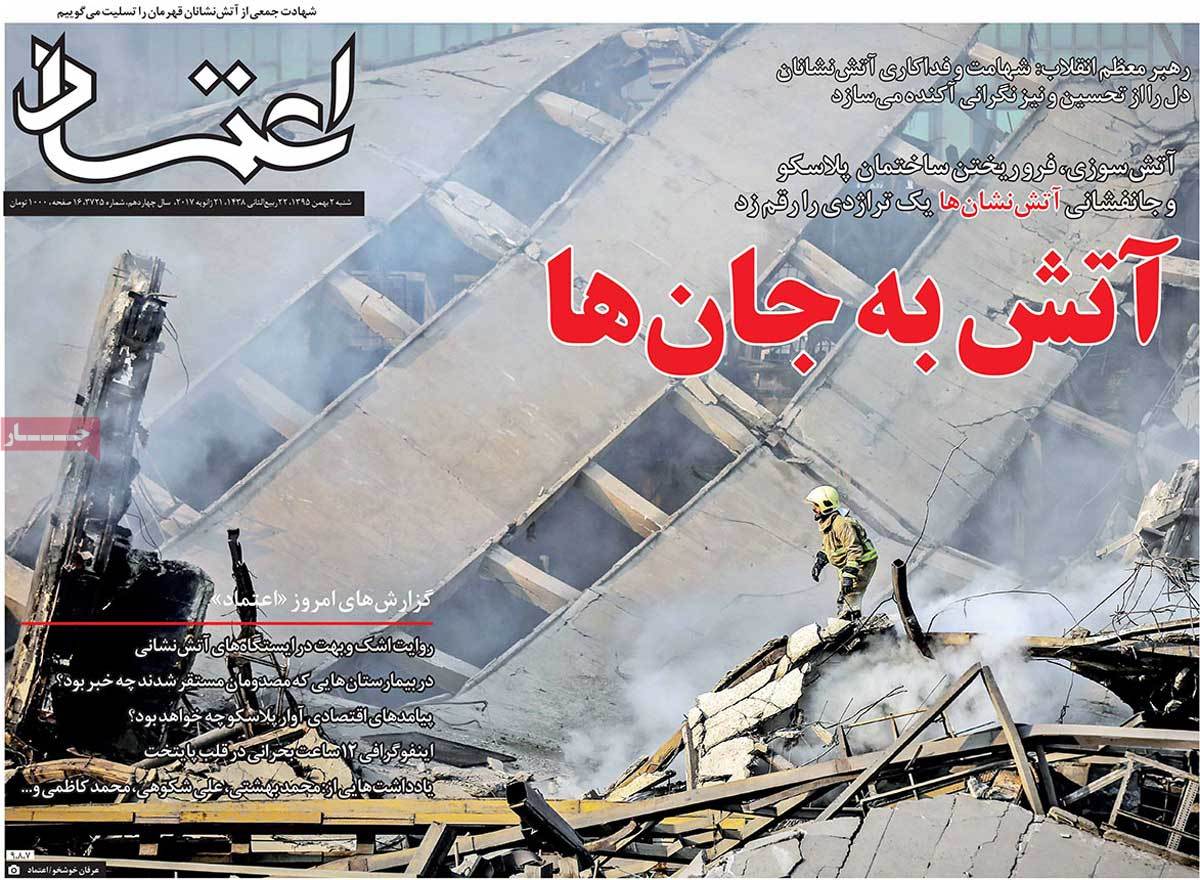 ---
Ettela'at:
1- Iranian Nation in Grief for National Heroes: Unknown Number of Selfless Firefighters Trapped under Rubble
---
Ghanoon:
1- The Butterfly Flies into Flames for Your Sake, You Candle, Have Some Respect for the Butterfly [a poem by Iranian poet Vahshi Bafghi]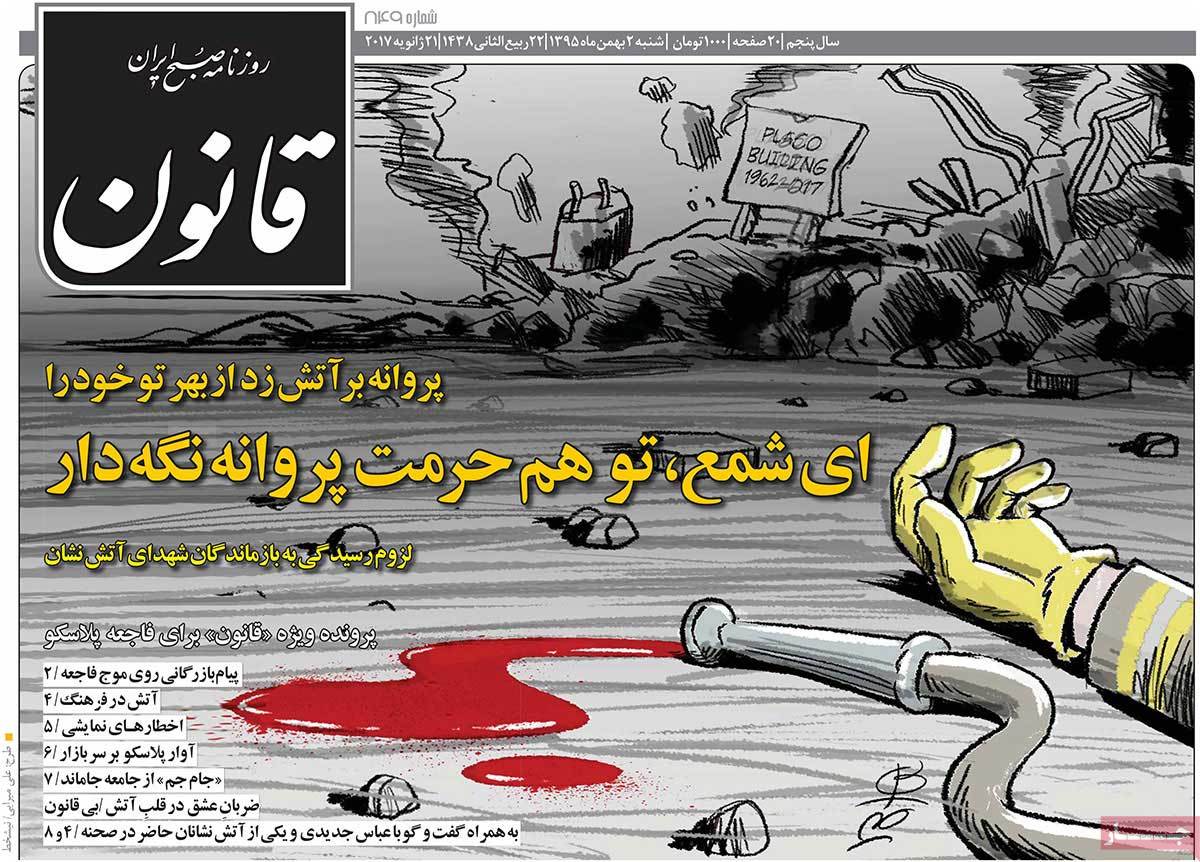 ---
Haft-e Sobh:
1- Tehran, January 19, 2017: Day of Suffering
2- Good for a Nation that Has Heroes
---
Hamdeli:
1- Fire of Heaven: World Praises Iranian Firefighters
---
Hamshahri:
1- City's Heart Burns: 21 Firefighters Entrapped after Blaze and Total Collapse of Plasco Building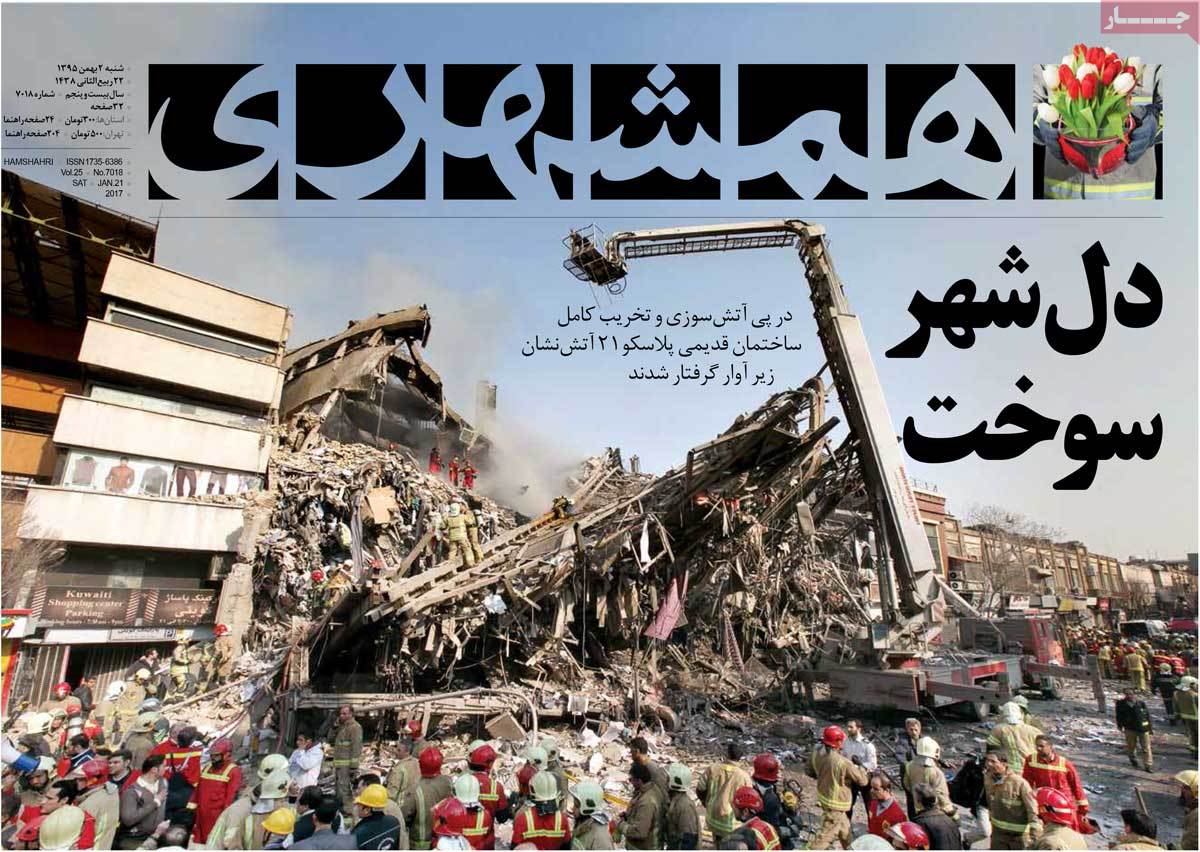 ---
Hemayat:
1- Iran Mourning for Selfless Firefighters: 54-Year-Old Plasco High-Rise Turned to a Bunch of Ash and Steel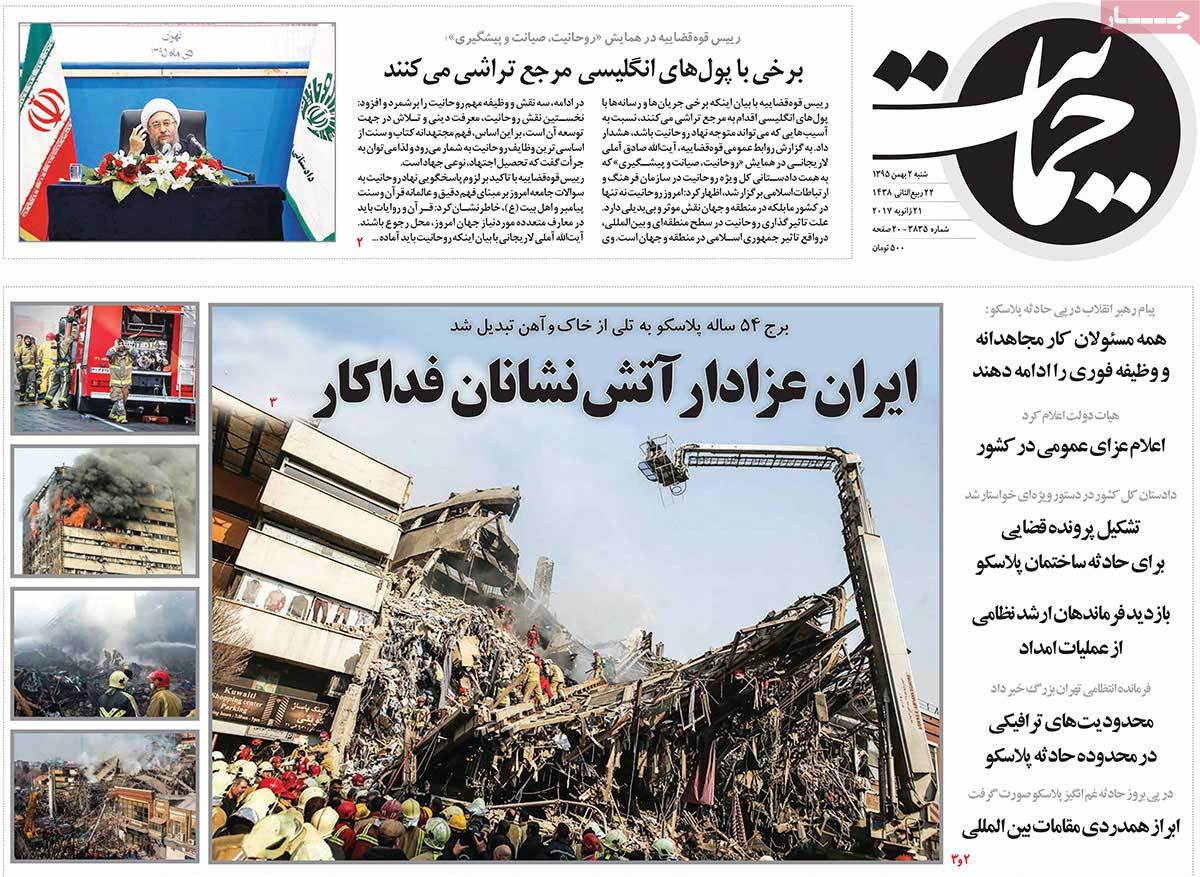 ---
Iran:
1- Painful Incident Is a Source of Sorrow, Regret, and Deep Concern for Me: Iran's Leader
2- Battle of Honour and Fire: Firefighters' Sacrifice in Plasco Disaster Surprises Iran and the World
3- President Rouhani Calls for Immediate Action to Recover the Injured and Compensate for Damages
4- Parliament Speaker Calls on Parliamentary Commissions to Probe into the Incident
---
Jame Jam:
1- Iran's Leader: Courage and Sacrifice of Our Firefighters Fills Our Hearts with Admiration and also Concern and Sorrow; All Efforts Should Be Focused on Rescuing the Entrapped People
2- Iran in Grief for Men of Fire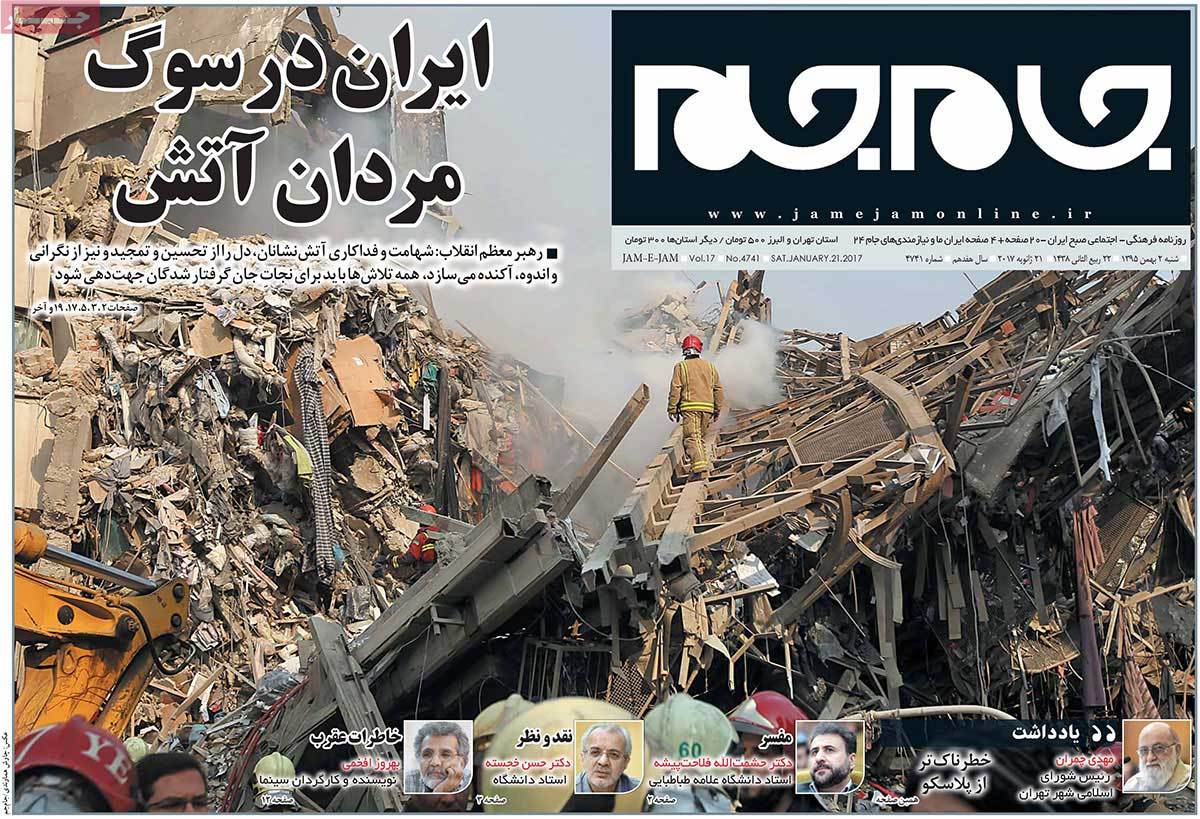 ---
Javan:
1- Pain of Plasco: Iran's Rescue History to Remember Firefighters' Efforts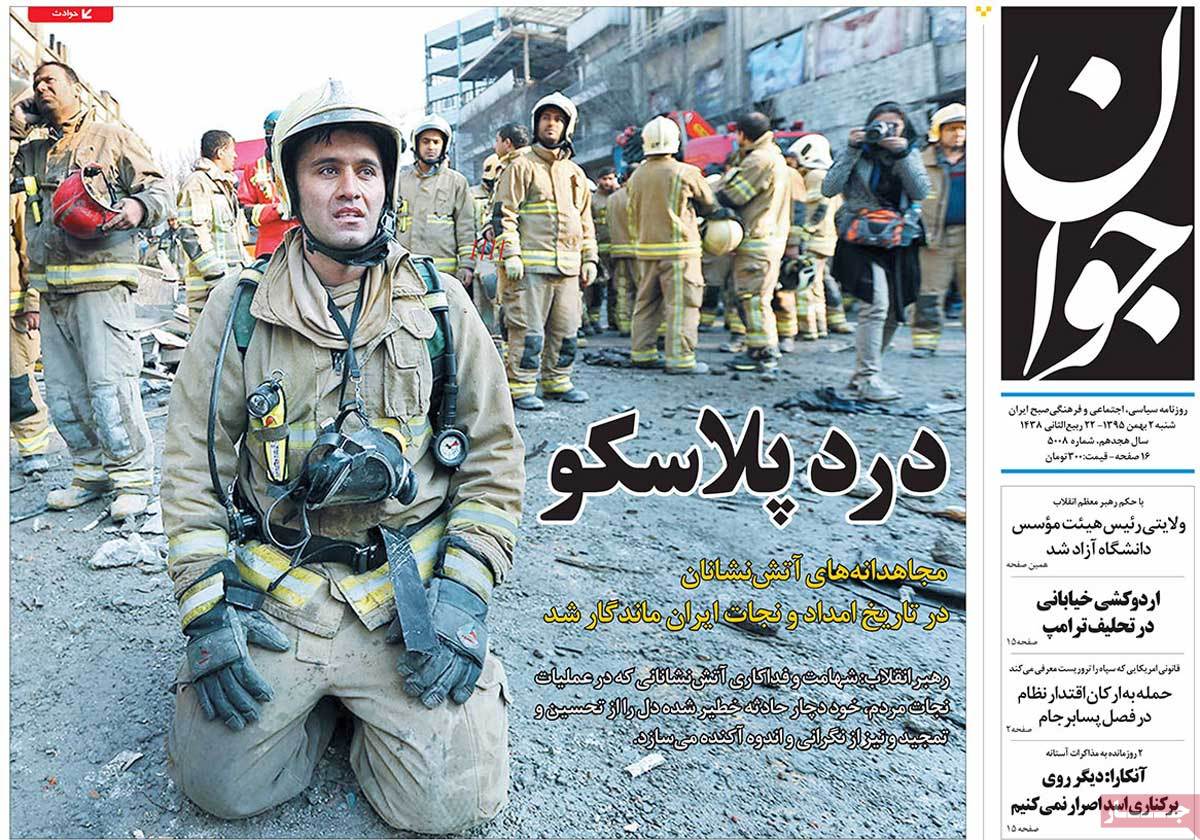 ---
Jomhouri Eslami:
1- Disaster in Tehran's Oldest Commercial Building
2- Nonstop Debris Removal and Inspection Continues in the Site
---
Ka'enat:
1- Sequence of Sorrow: Plasco Building Incident Saddens Iran's Society
---
Kar-o Kargar:
1- Hell Day of Plasco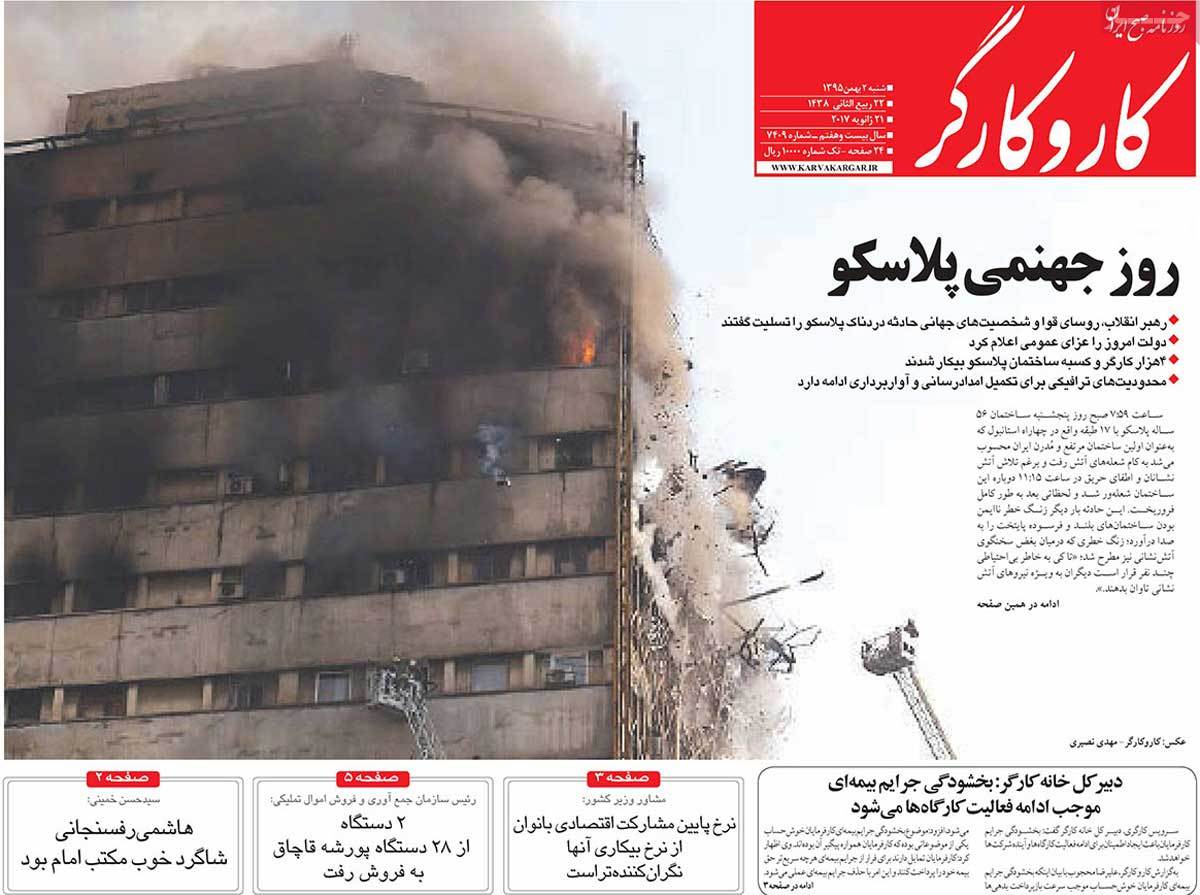 ---
Kayhan:
1- Selfless Firefighters Did Their Best: 17-Storey Plasco Building Collapses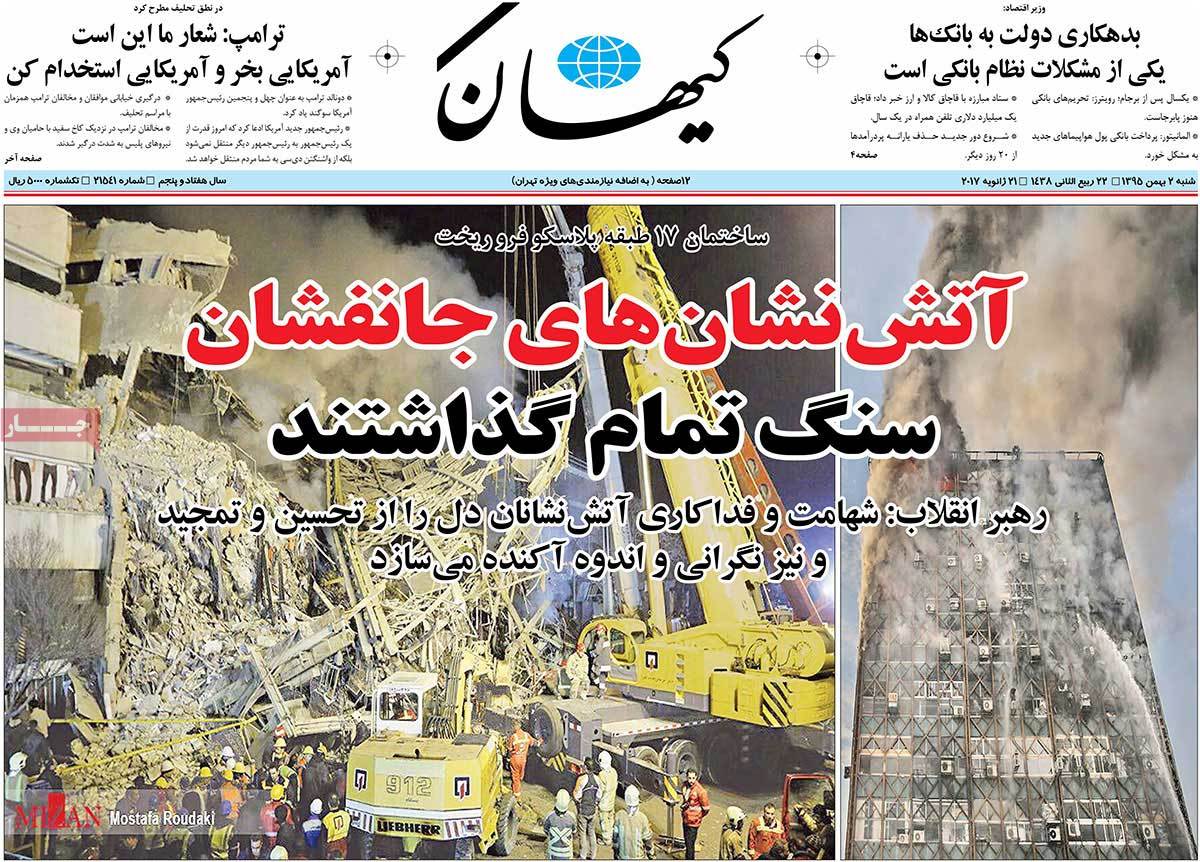 ---
Khorasan:
1- Feeling of Grief over Deaths of Selfless People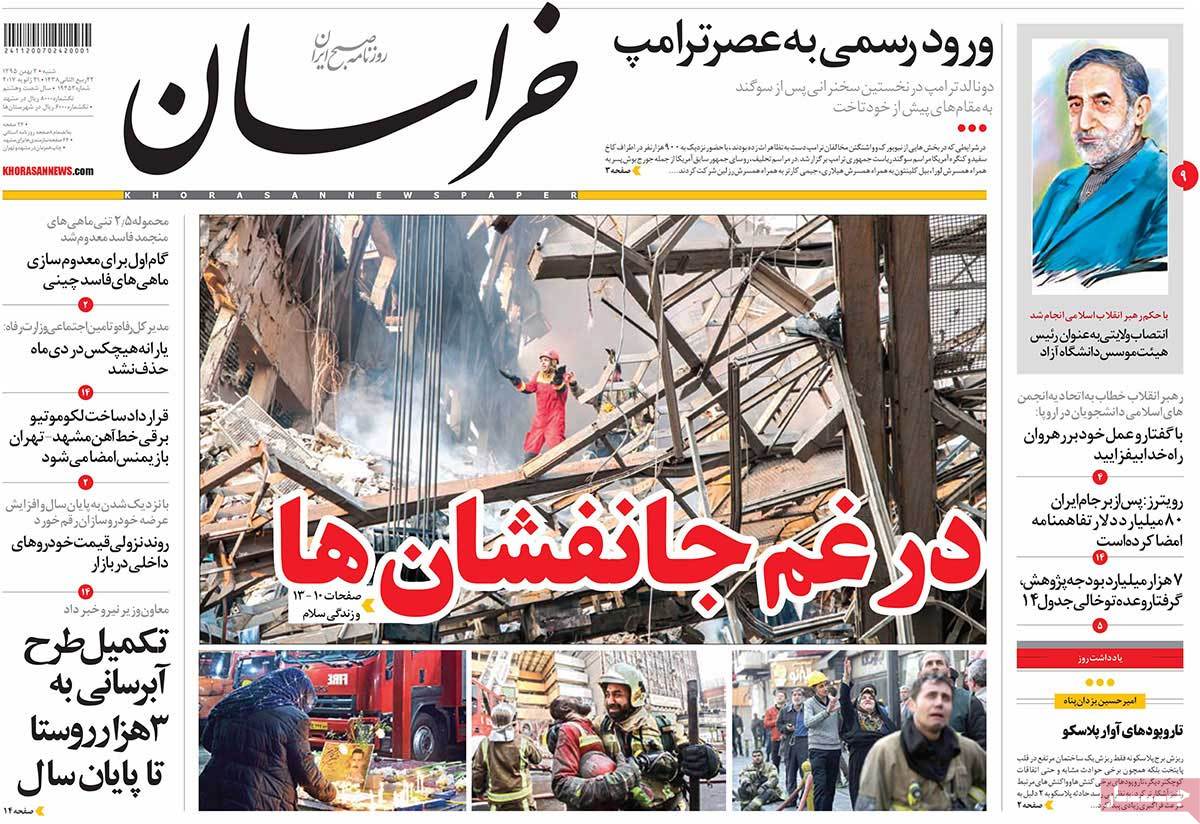 ---
Mardom Salari:
1- Tehran's Heart Collapsed: Plasco Rubble, a Warning for Capital City
---
Nasl-e Farda:
1- Saddest Day of Tehran
2- Bitter End of Plasco Building
3- Society's Mental Health under Fire of Plasco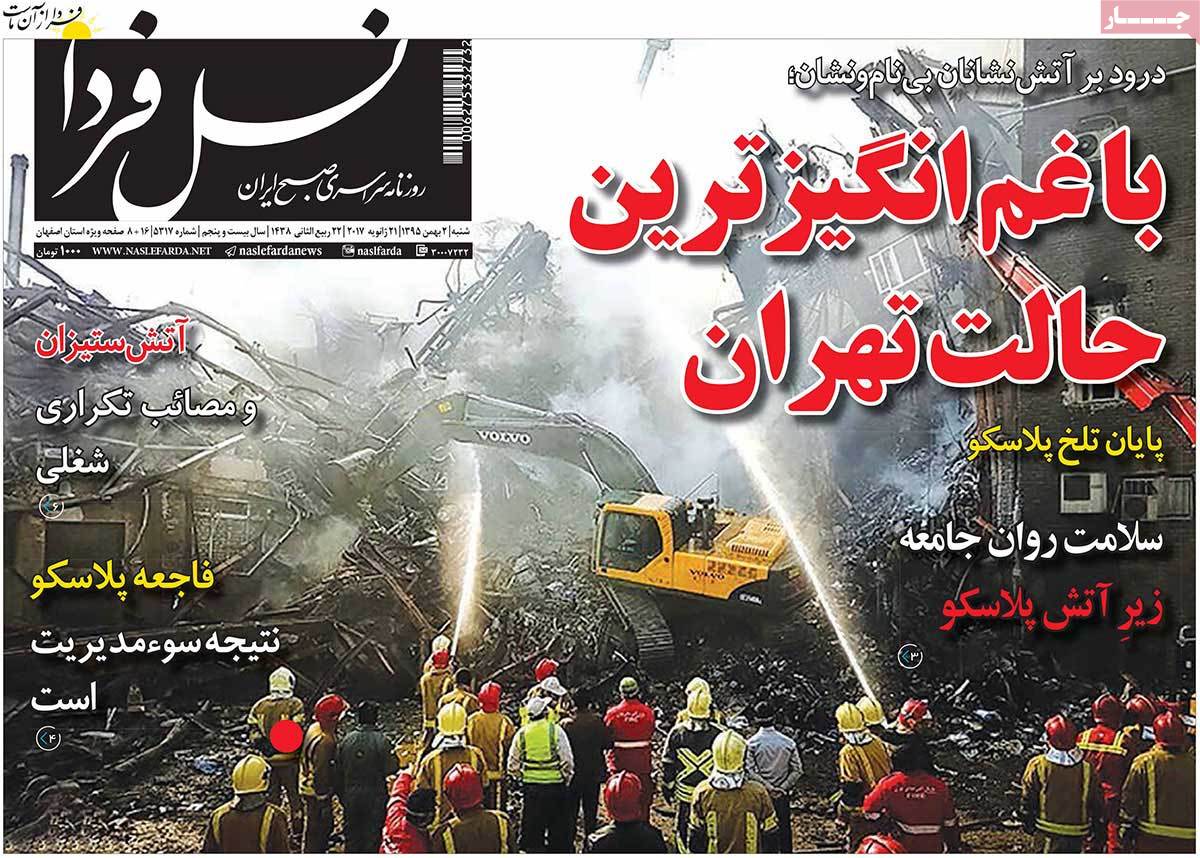 ---
Payam-e Zaman:
1- Firefighters Always on Frontline of Sacrifice
---
Quds:
1- I'm Standing Like a Candle, Don't Try to Make Me Afraid of Fire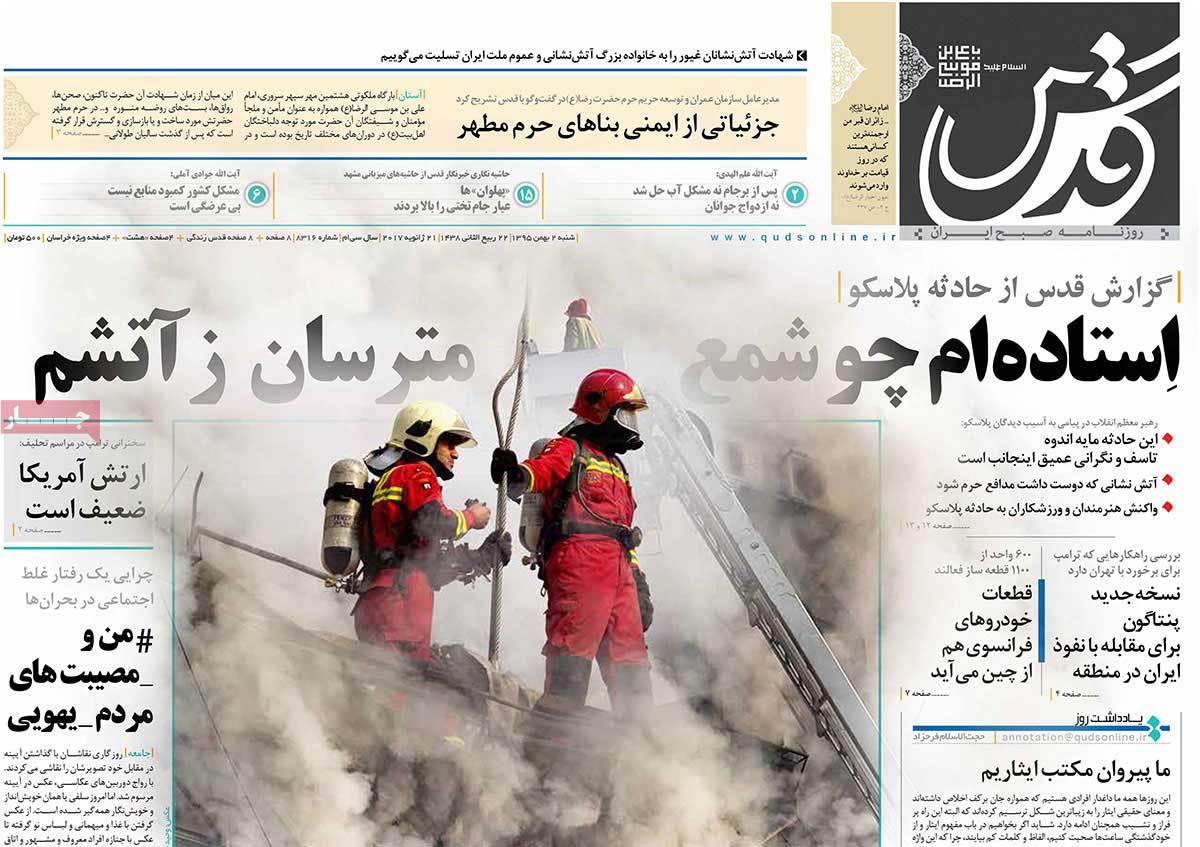 ---
Rah-e Mardom:
1- Plasco Fire Burns 80 Million Iranians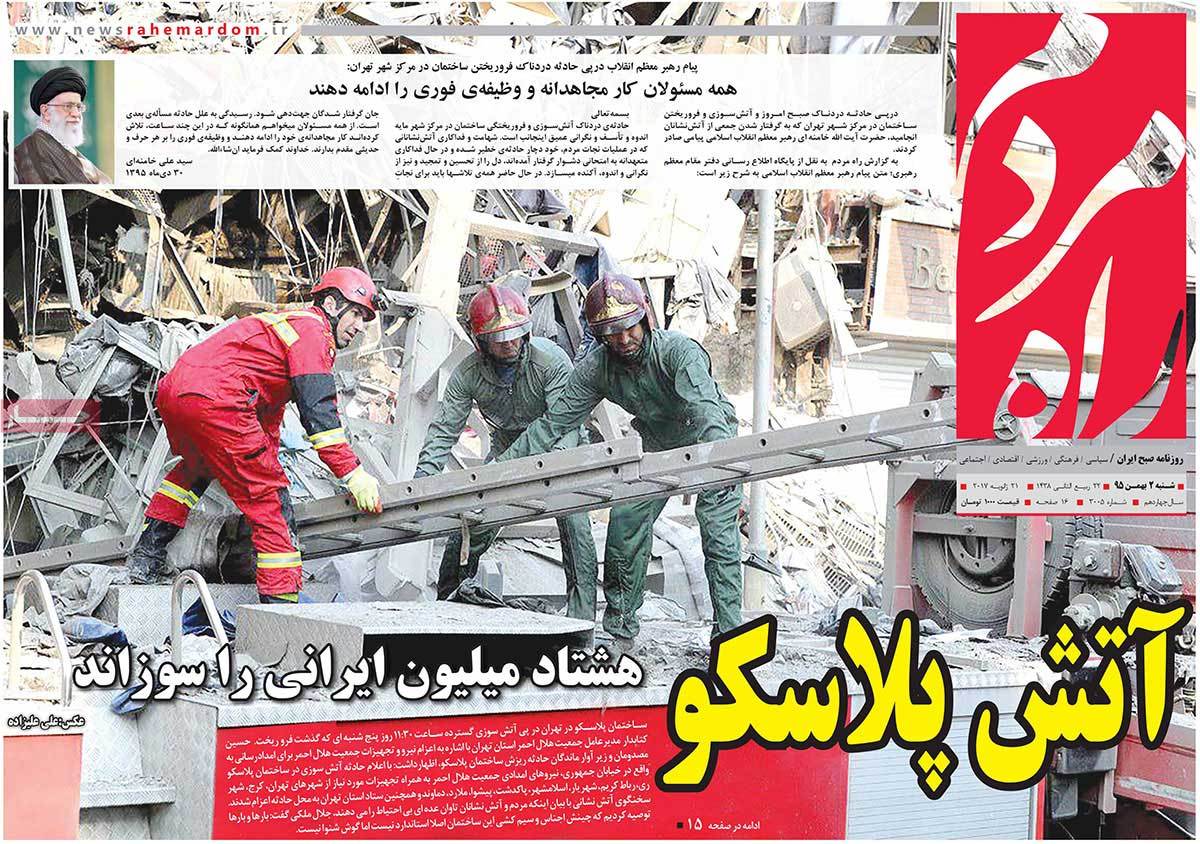 ---
Rooyesh-e Mellat:
1- Condolences: Iran's Cabinet Declares Saturday as National Day of Mourning
2- Friday Prayers Leader: Iran's Establishment Should Always Be Prepared for Unexpected Incidents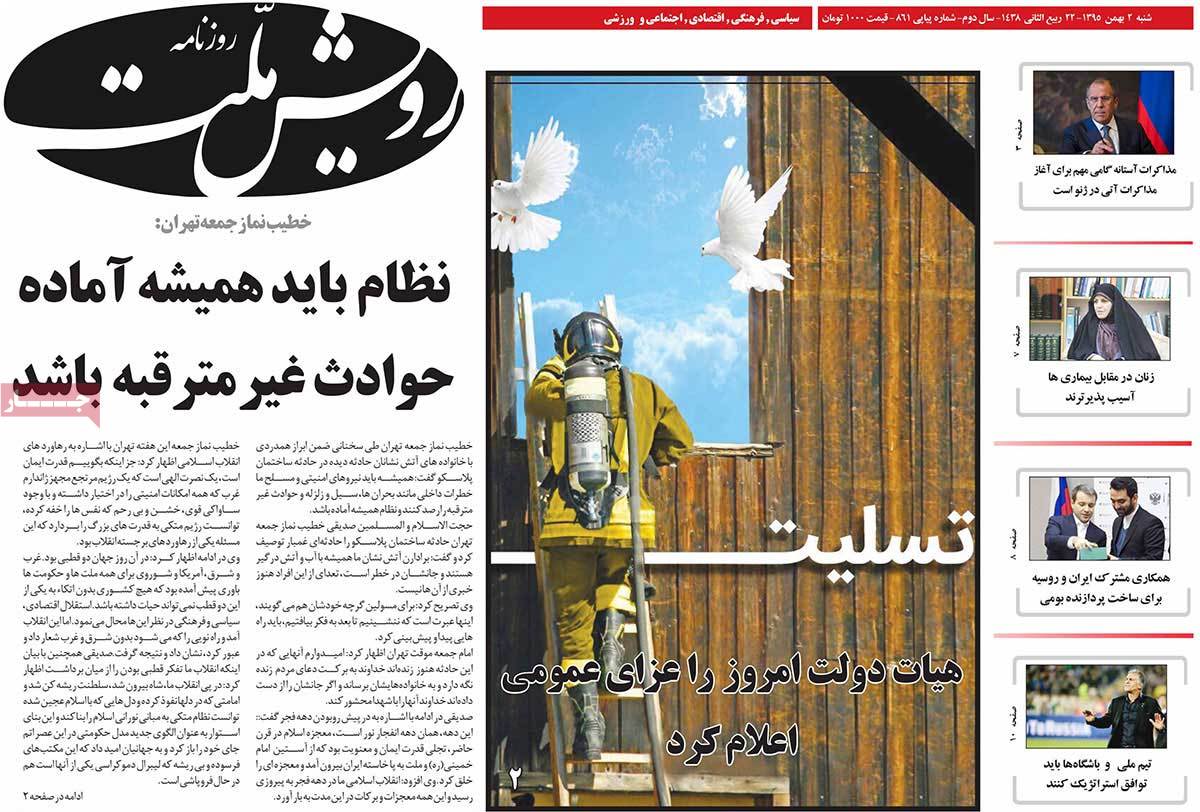 ---
Roozegar-e Ma:
1- The Fire that Was Not Extinguished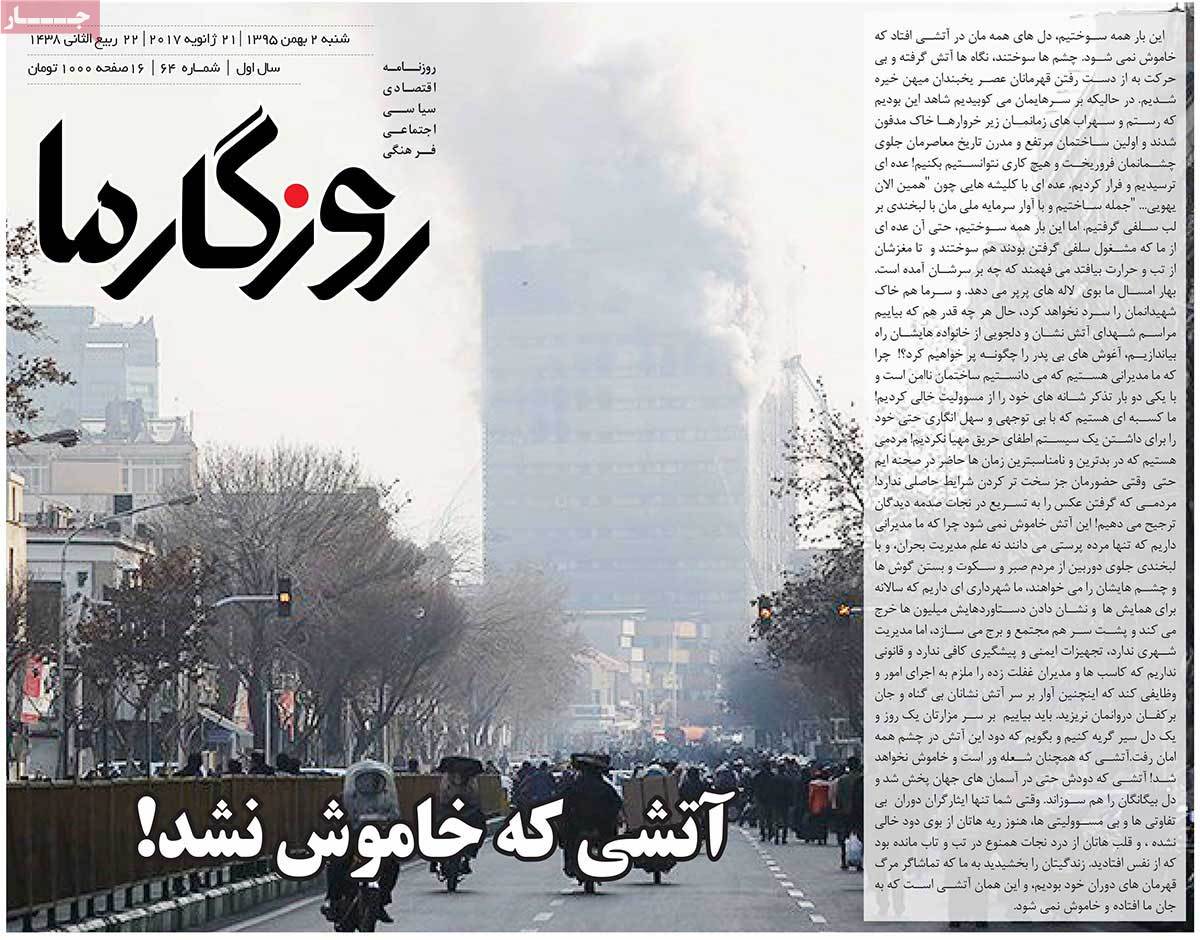 ---
Saheb Qalam:
1- Firefighter Eagles Die on Their Feet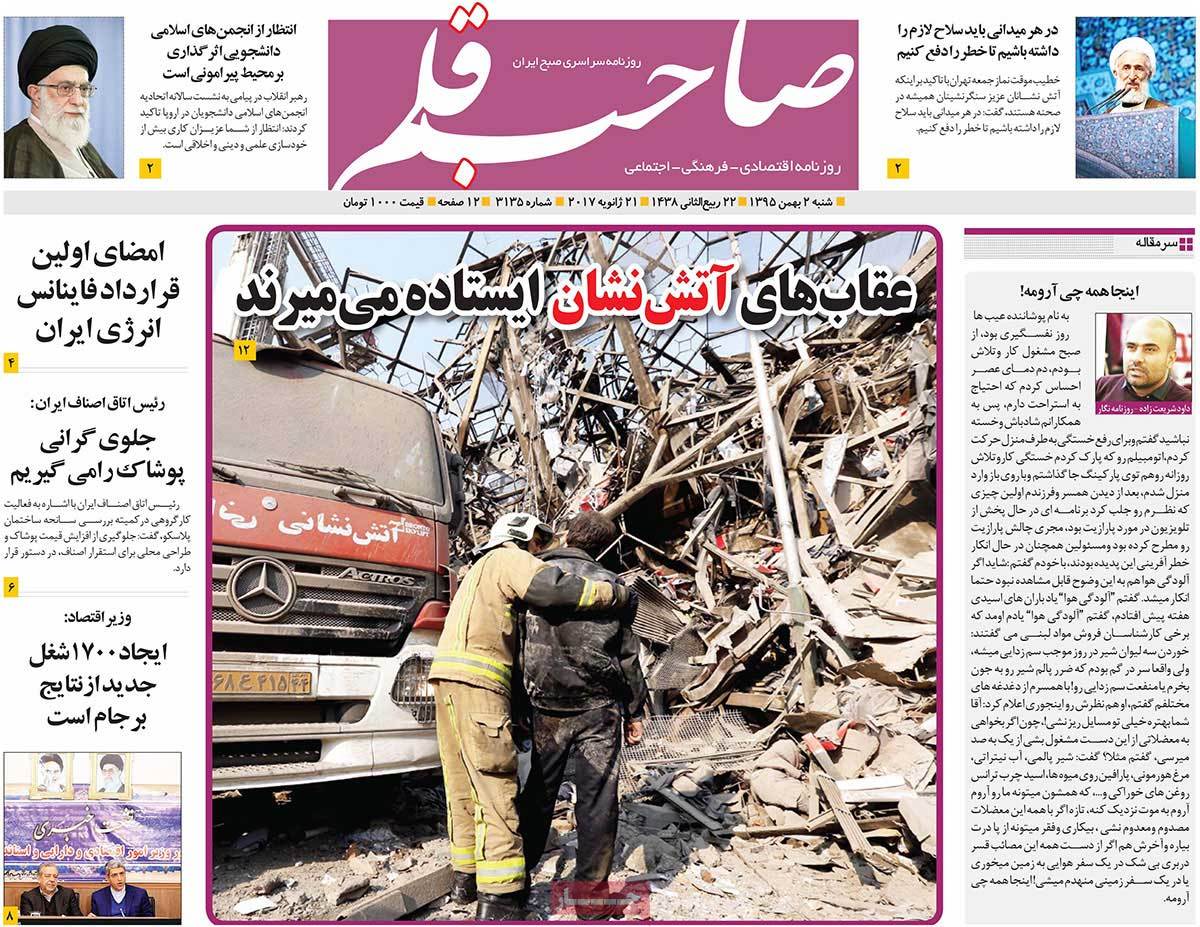 ---
San'at:
1- Iran in Shock
2- Beating Heart of Tehran's Clothing Industry Turns to Ashes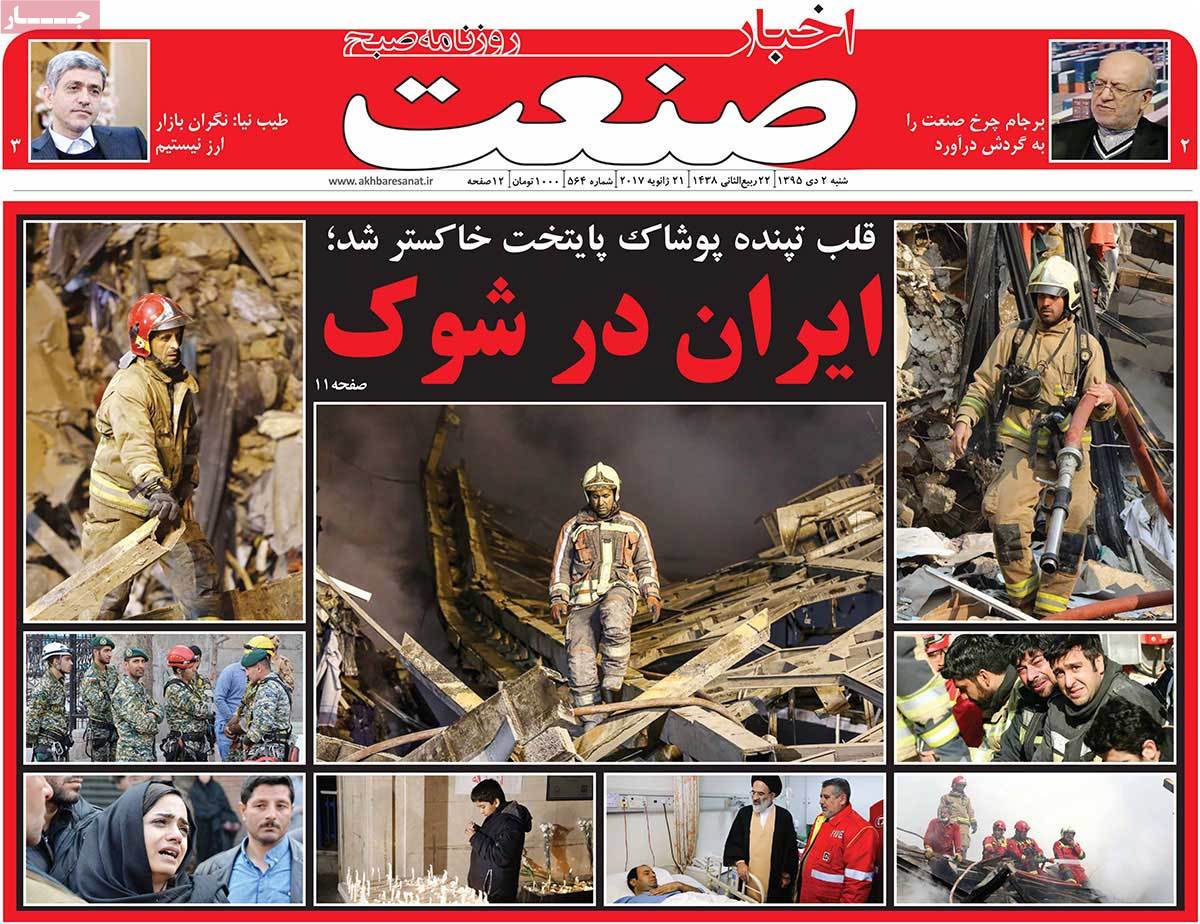 ---
Sepid:
1- Tehran's Heart under the Rubble: Plasco, the Tragic Fate of Tehran's Nostalgia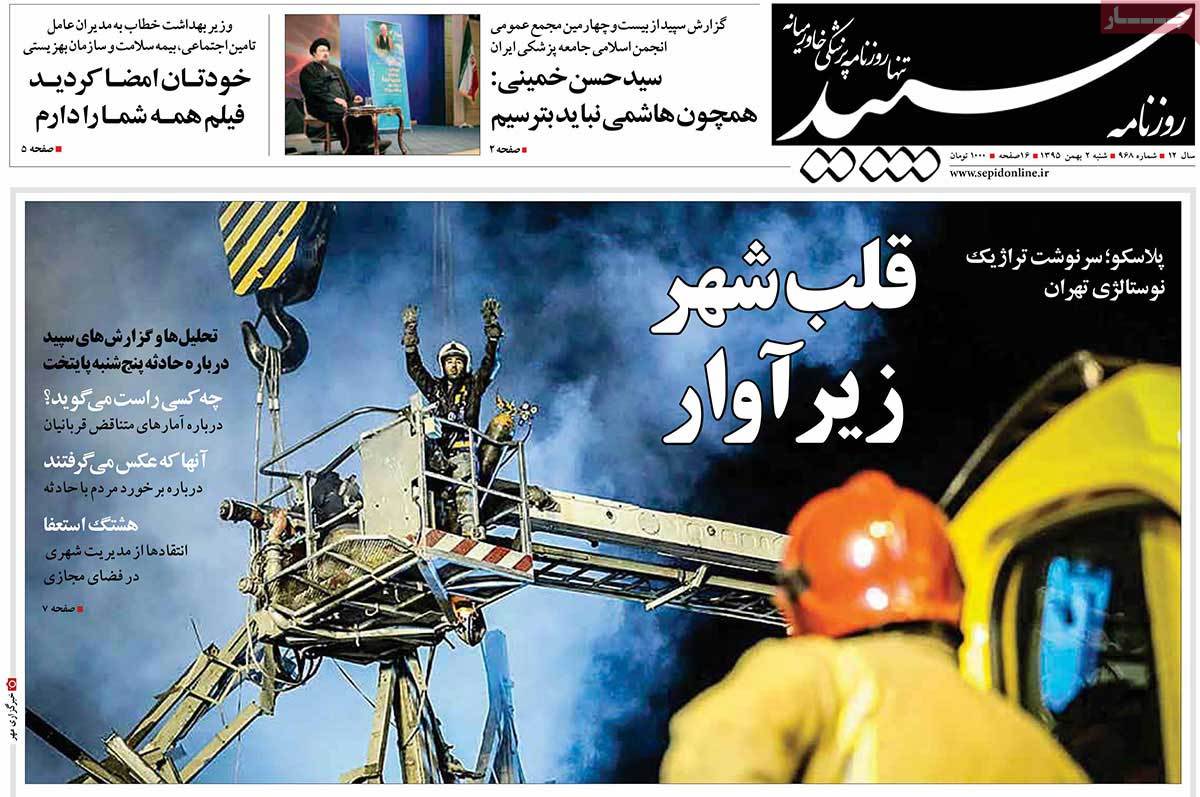 ---
Setareh Sobh:
1- Tehran's 54-Year-Old Highest Building Collapses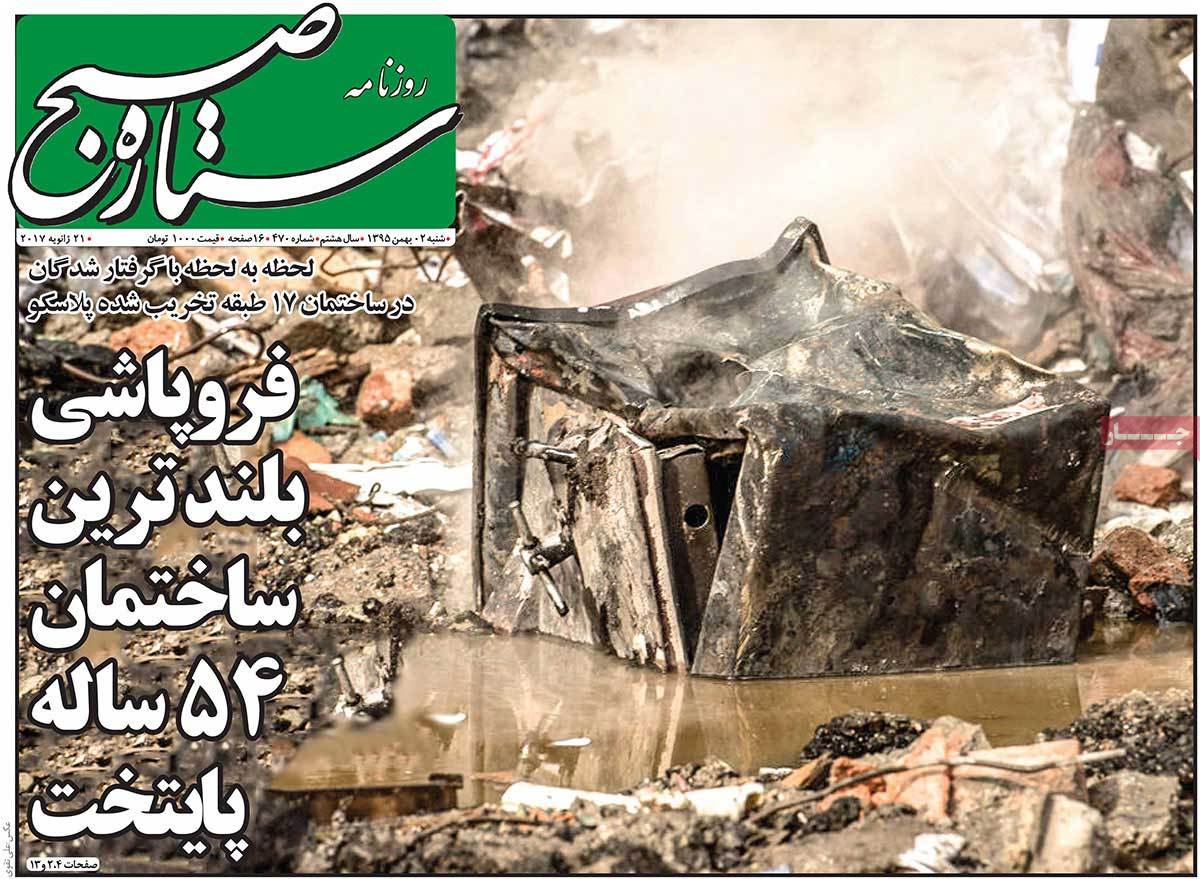 ---
Shahrvand:
1- Debris Removal Goes on, People Are Worried about Entrapped Firefighters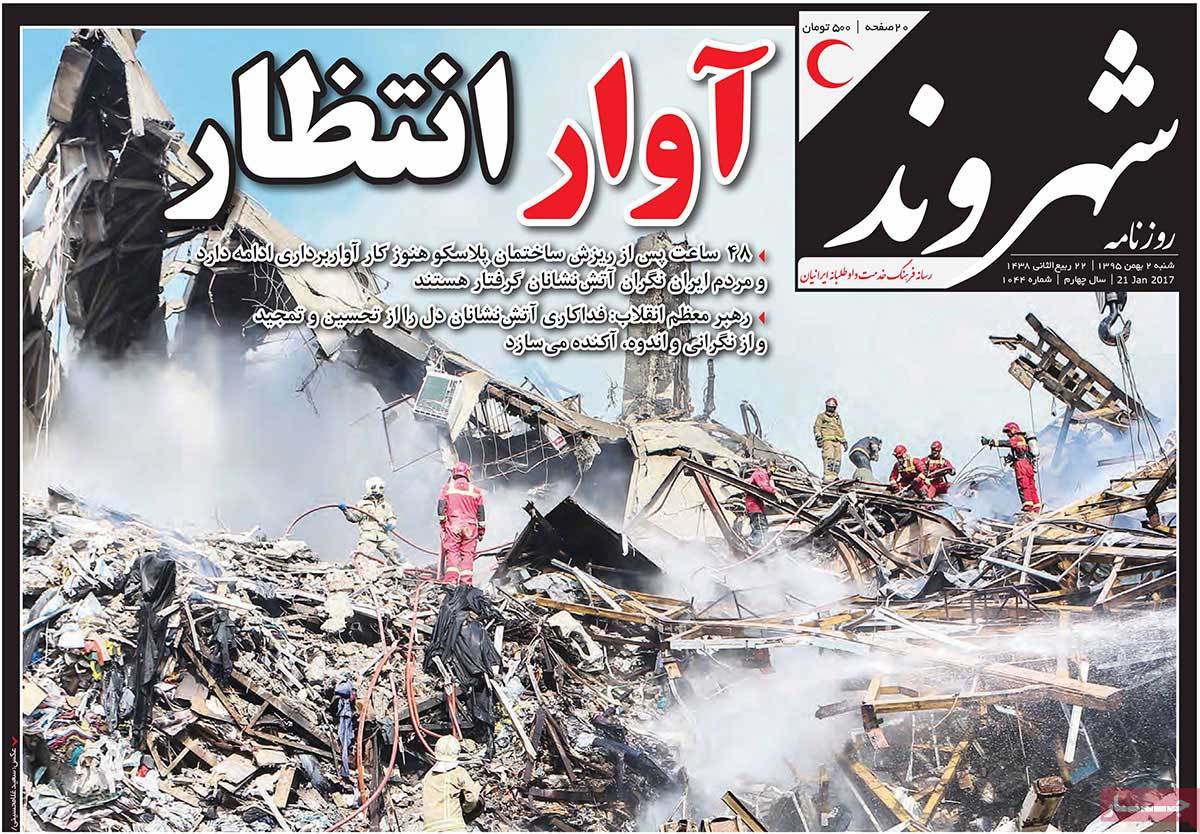 ---
Shargh:
1- Iran's Leader Urges Officials to Continue Their Hard Work and Fulfil Their Duties
---
Siasat-e Rooz:
1- Disaster in Capital City's Heart
2- Stand Up Brave Man [Editorial]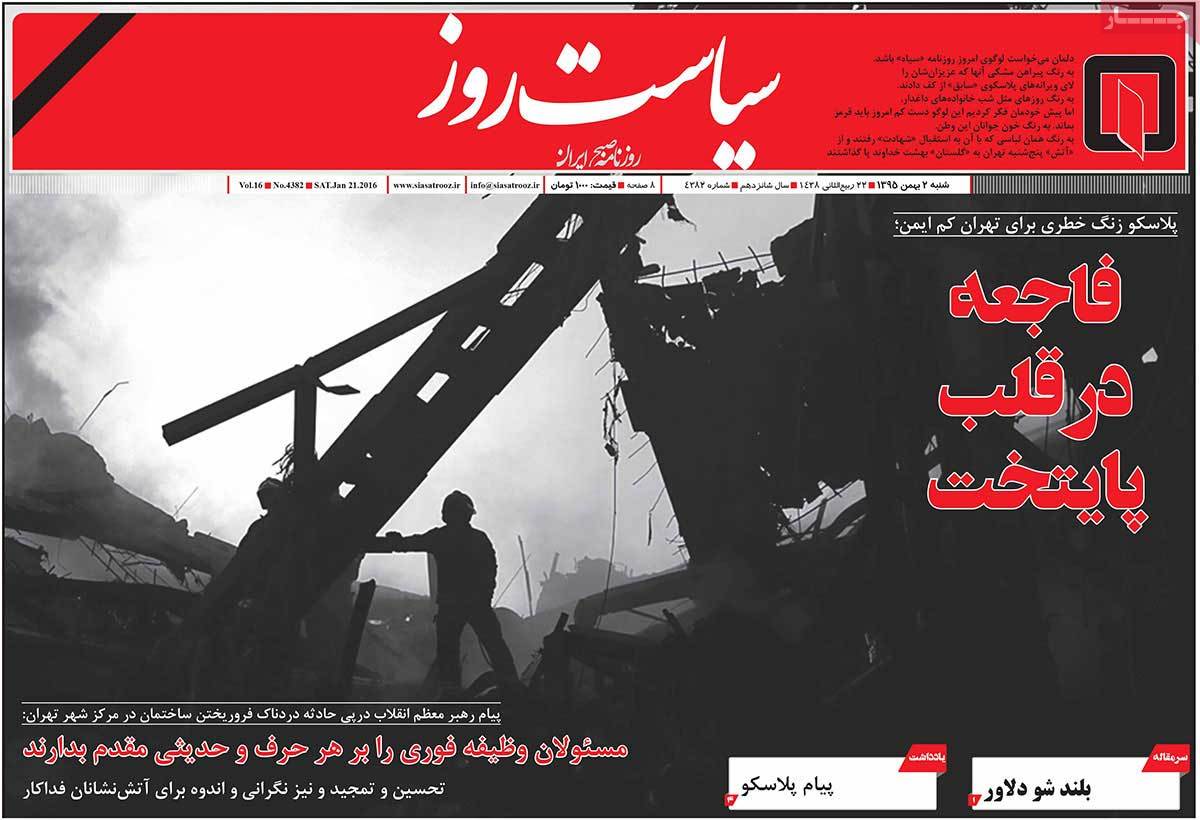 ---
Sobh-e Now:
1- City's Heroes: Firefighters Did All They Could in Plasco
---
Ta'adol:
1- Disaster in Capital City
---
Tafahom:
1- Crisis HQ Spokesman: Conditions Are Critical under the Rubble
2- Firefighters Extinguish Fire of Some People's Careless Behaviour
---
Tamashagaran:
1- Death of Urban Management
2- From Online Cries to Shouts under Rubble: Plasco Ruins and Angry People's Reaction in Social Media
---
Tejarat:
1- Rubble of Grief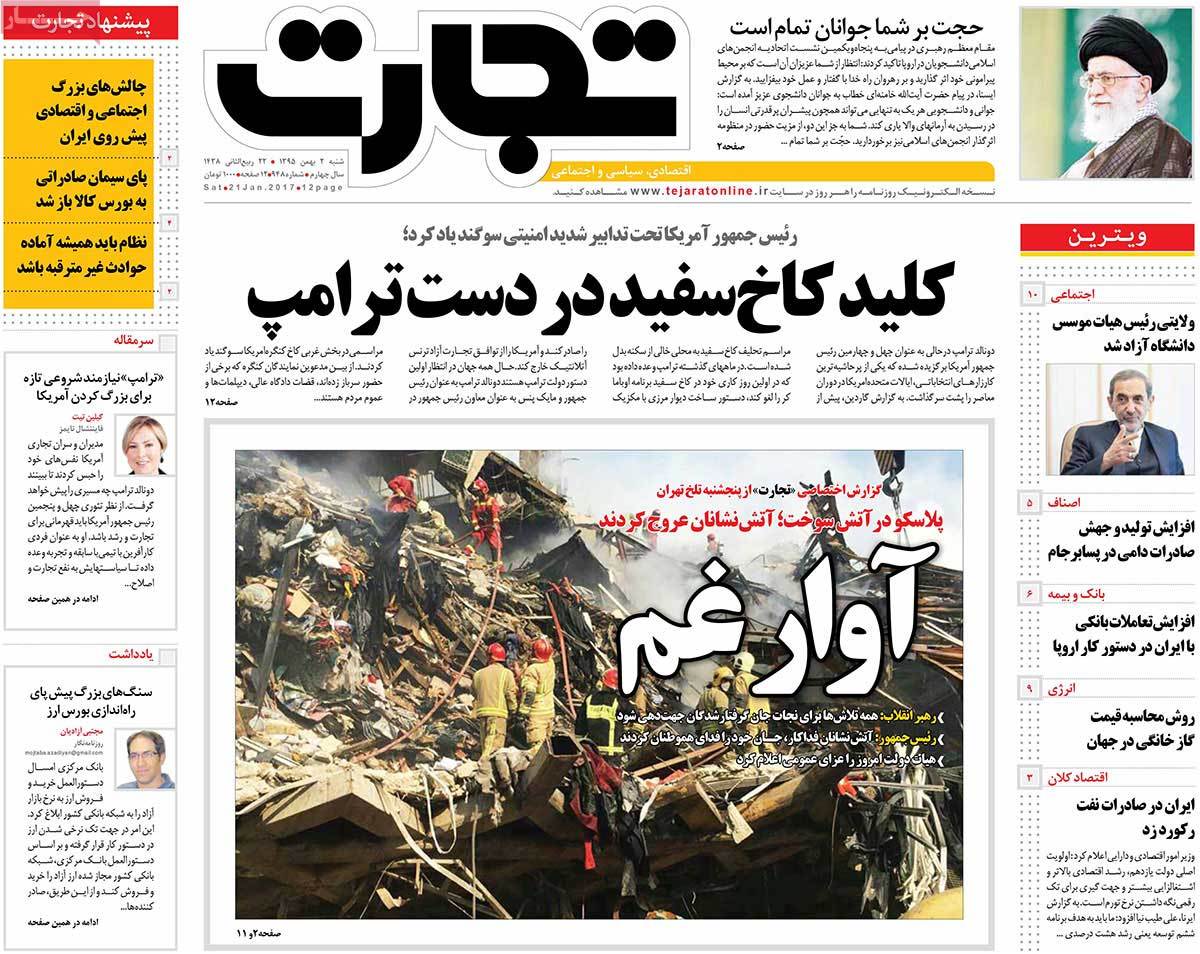 ---
Vaghaye Ettefaghieh:
1- Old Tehran's Heart Broken
2- We Are Embarrassed, that's All [Editorial by Iranian MP]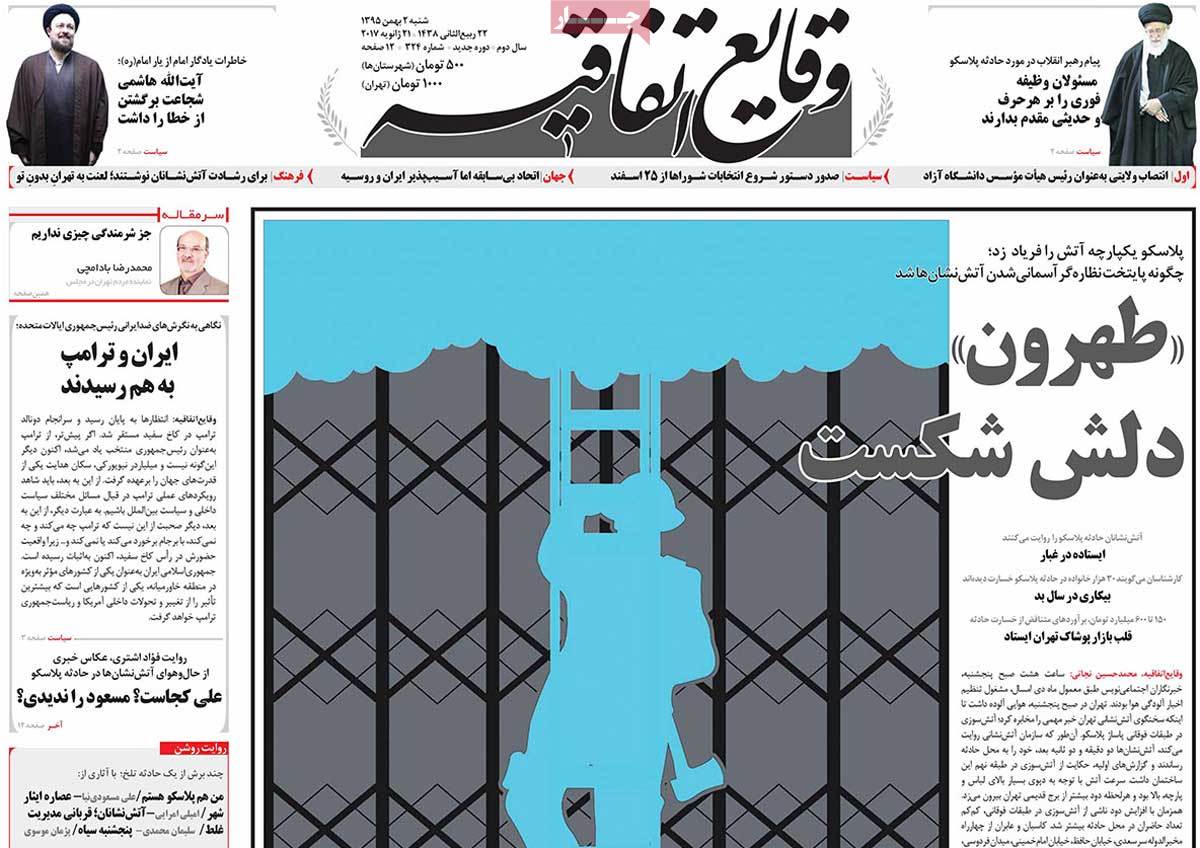 ---
Vatan-e Emrooz:
1- Flight of Phoenix: 20 Firefighters Lose Their Lives in Blaze and Collapse of Plasco Building