Iranian newspapers, most of which had not managed to cover the recent coup in Turkey in their Saturday issues as it had occurred in early hours of the day in Iran time, dedicated their front pages to the issue and covered the coup attempt in large scale. The way they covered the developments in Turkey will be reported in a separate story.
The Turkish coup as well as many other issues are highlighted in the following headlines:
Abrar:
1- Government Is in Control of Turkey's Affairs: Failure of Coup Attempt
2- Democrats in Conflict with Republicans over Iran Sanctions Document
3- Political Pressure on European Countries That Use Russia's Nuclear Fuel
4- All Iranian Flights to Turkey Are Cancelled
5- Iran's SNSC Holds Meeting on Turkey
---
Abrar-e Eqtesadi:
1- Iran's Economic Growth Isn't Acceptable: Economy Minister
2- Iran-Turkey Borders Re-Opened
3- Airbus Representatives to Come to Iran Today
4- Norway Trying to Make Investment in Iran's Renewable Energies
5- Iranian Private Sector's Banking Protest at European Union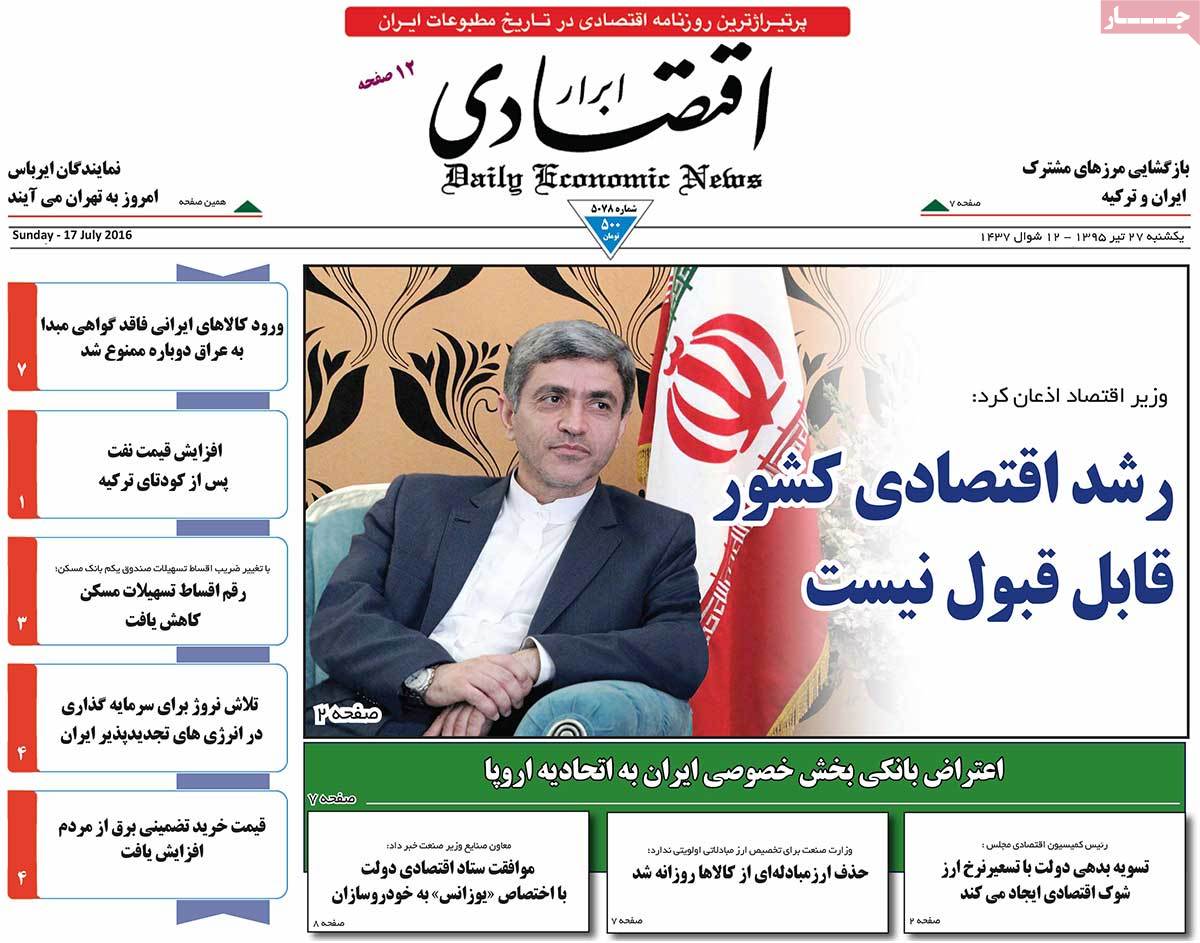 ---
Aftab-e Yazd:
1- People against Coup d'état: Iran Satisfied with Failure of Coup in Turkey
2- Iranian Tourists Insist on Visiting Turkey in Spite of Tensions!
3- Boeing Chief: In Plane Sale to Iran, We Obey US Administration, Not the Congress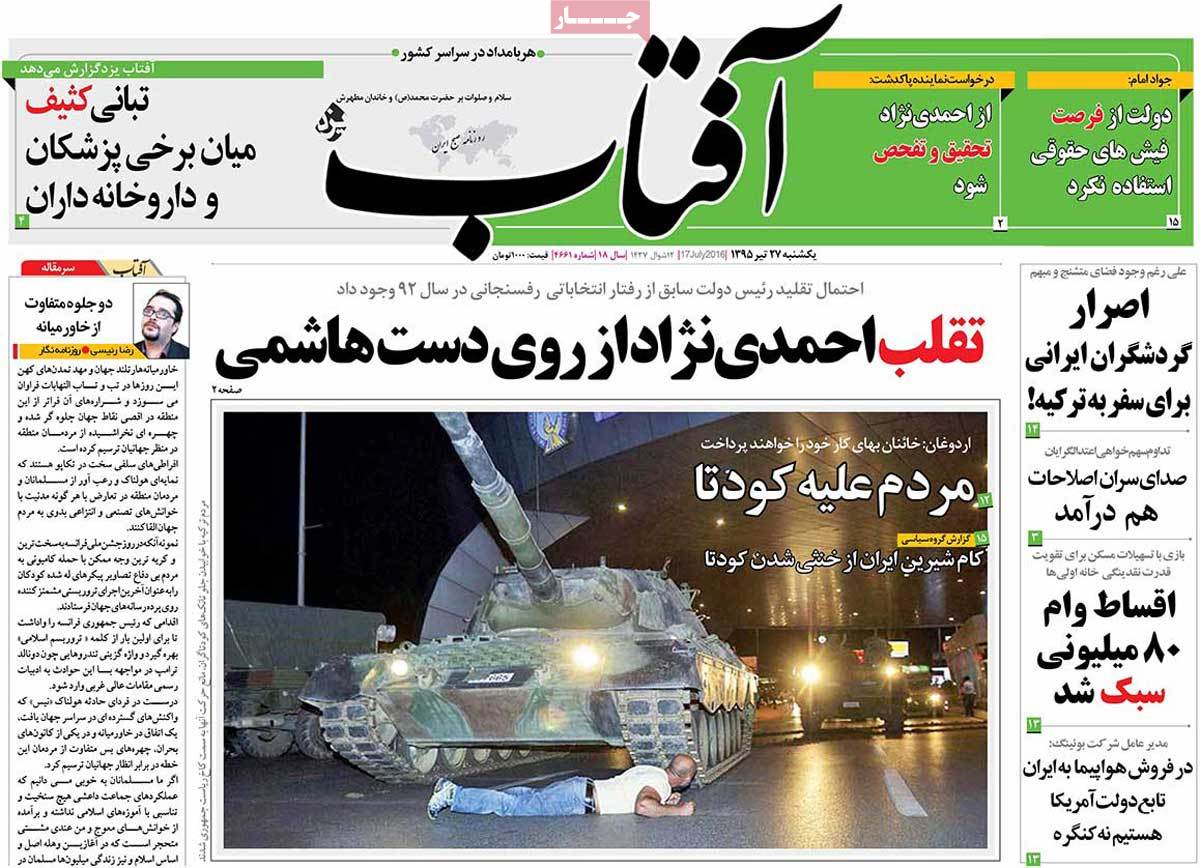 ---
Arman-e Emrooz:
1- Turkey Coup Didn't Last until Morning: 250 Killed, 1440 Wounded, over 3000 Arrested, 2745 Judges Dismissed
2- Addiction Commission to Be Formed in Iran's Parliament
3- Rouhani Has Isolated the US in Int'l Community: Former MP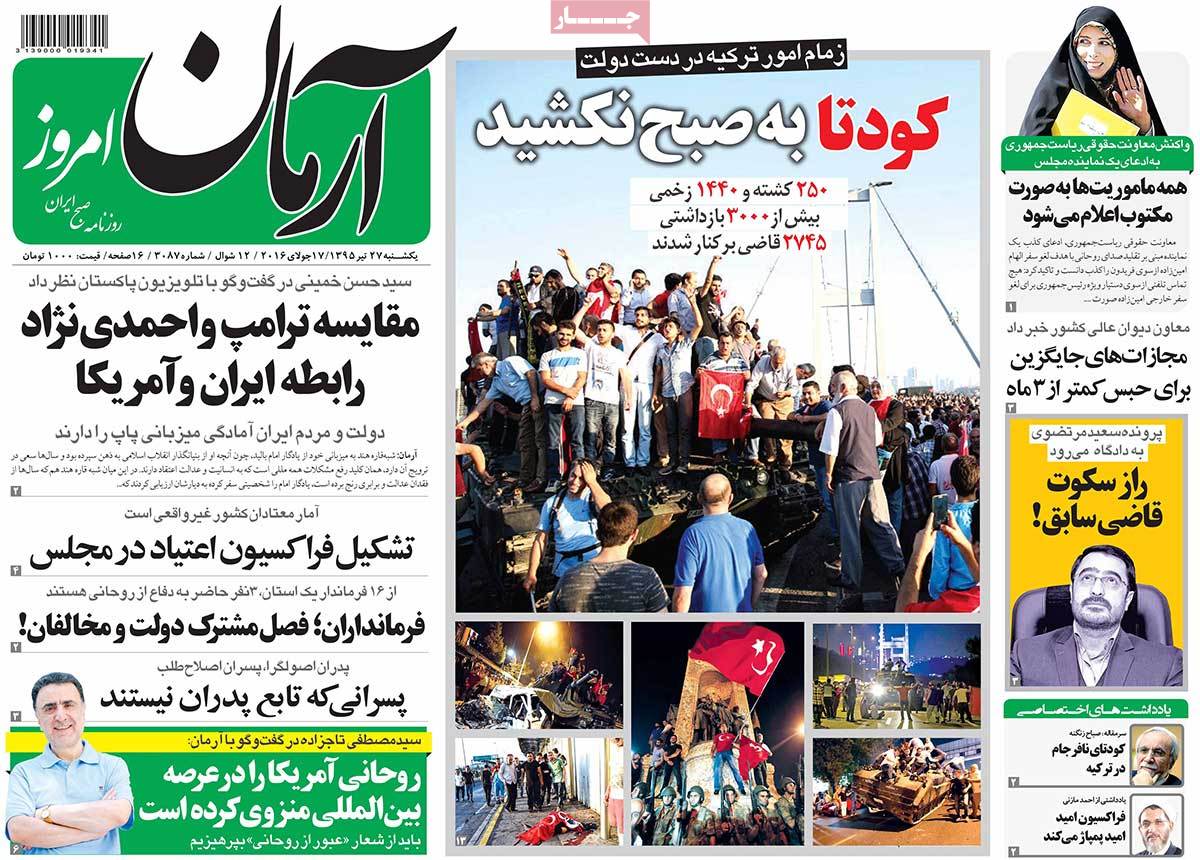 ---
Ebtekar:
1- Coup in Politics, Fire on Business: Turkey Is Iran's Most Important Route to Europe
2- Defeat of Coup Using 'Skype'
3- Issues of Muslim World Are beyond Iran-Saudi Arabia Dispute: Imam Khomeini's Grandson
4- Criminal Act in Nice, France, Is a New Dangerous Method of Terror: Rafsanjani
---
Emtiaz:
1- Promotion of Peace with Expansion of Cultural Ties between Tehran and Brussels
2- 10,000 Iranian Tourists Stranded in Turkey
3- Number of Cinemas in Iran Not Enough
---
Etemad:
1- Return of Erdogan: Will the Coup Change the Sultan's Path?
2- Imam Khomeini's Grandson: I Don't Like to See Trump's Election as US President
3- Trips to Turkey Banned for Now
---
Ettela'at:
1- Coup in Turkey Failed Because of Government's Reliance on People
2- Iraqi Army Tightens Siege on ISIS-Held Mosul
3- Concerns over 25% Increase in Migrations to Tehran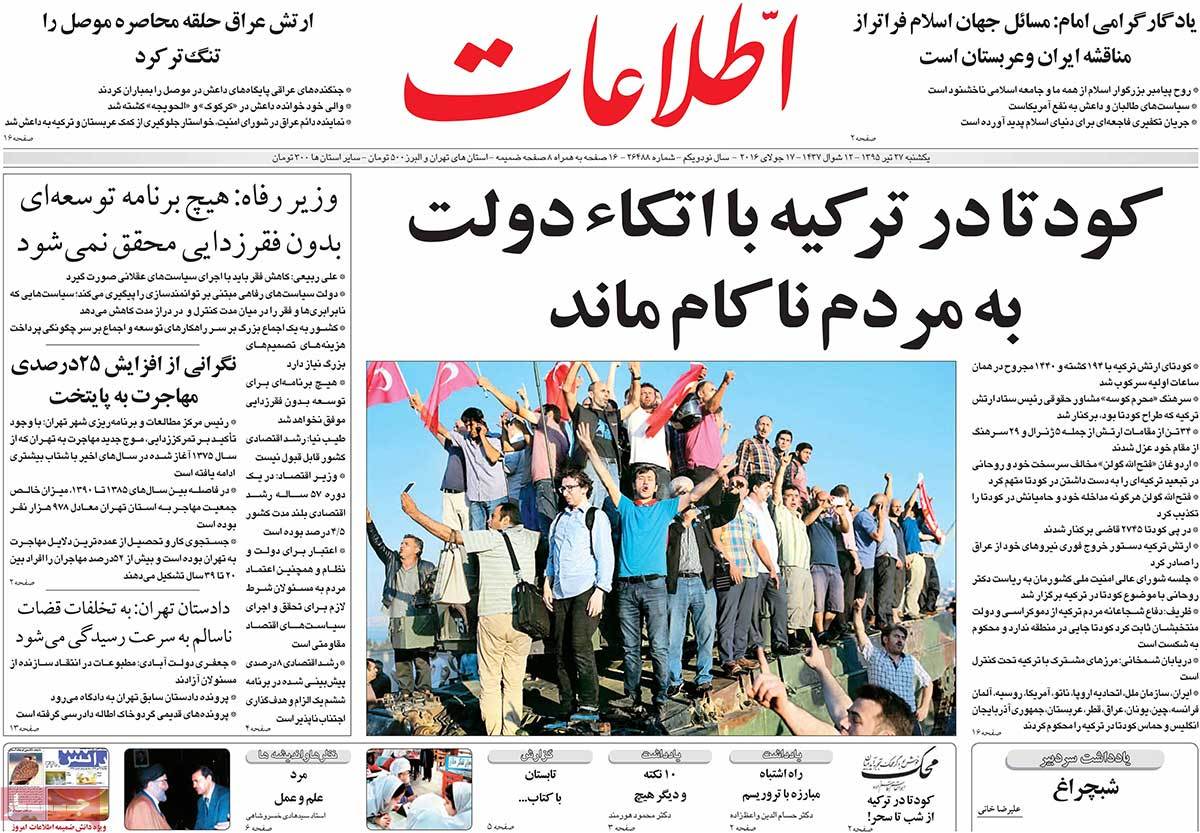 ---
Haft-e Sobh:
1- Joy of Outpacing BBC and Al Jazeera: Interview with IRIB Correspondent Who Reported Turkey Coup from Front Lines
2- May the Sultan Be Healthy! Erdogan Can Now Get Rid of His Opponents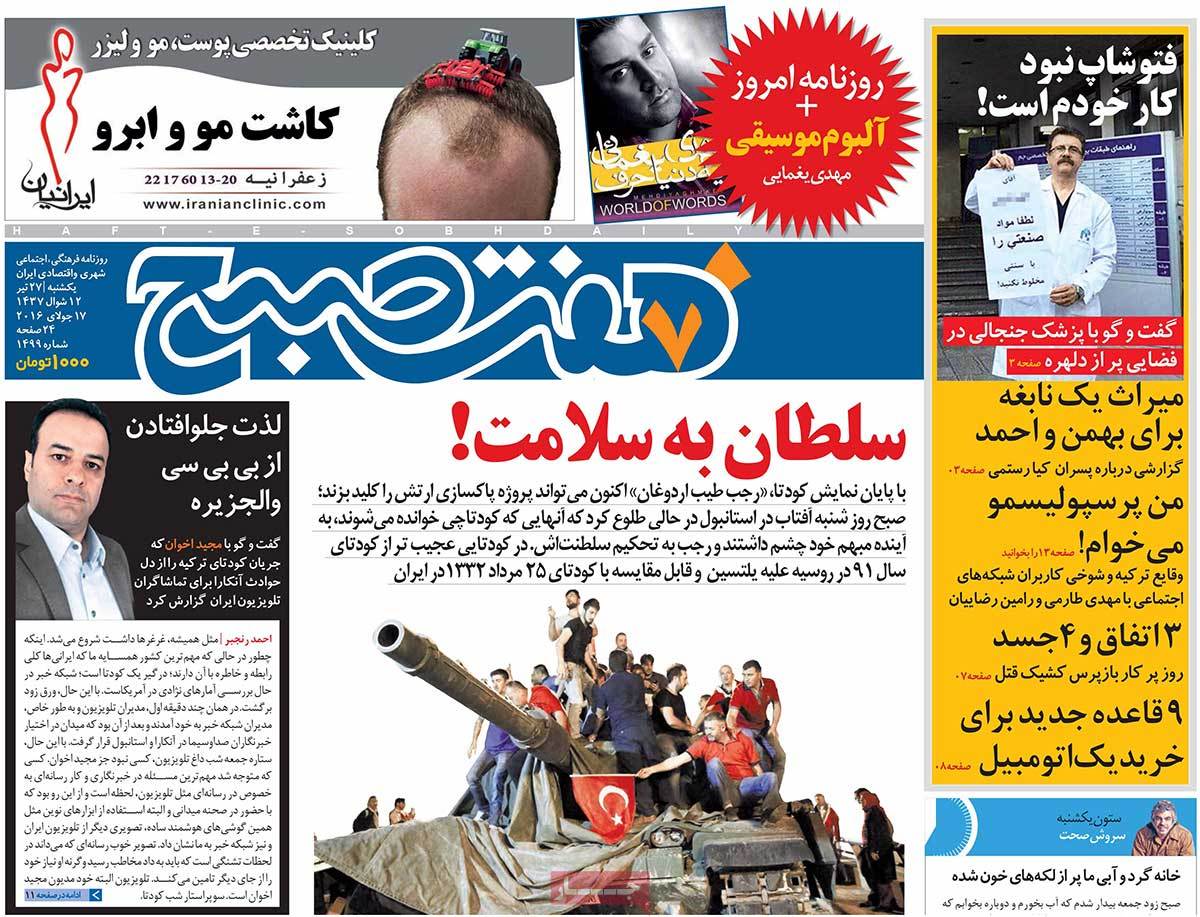 ---
Hamshahri:
1- Erdogan, the Winner of 10-Hour Coup: Why the Coup Failed in Turkey?
2- All Iranian Tours to Turkey Are Cancelled
3- Iran-Turkey Trade Ties Disrupted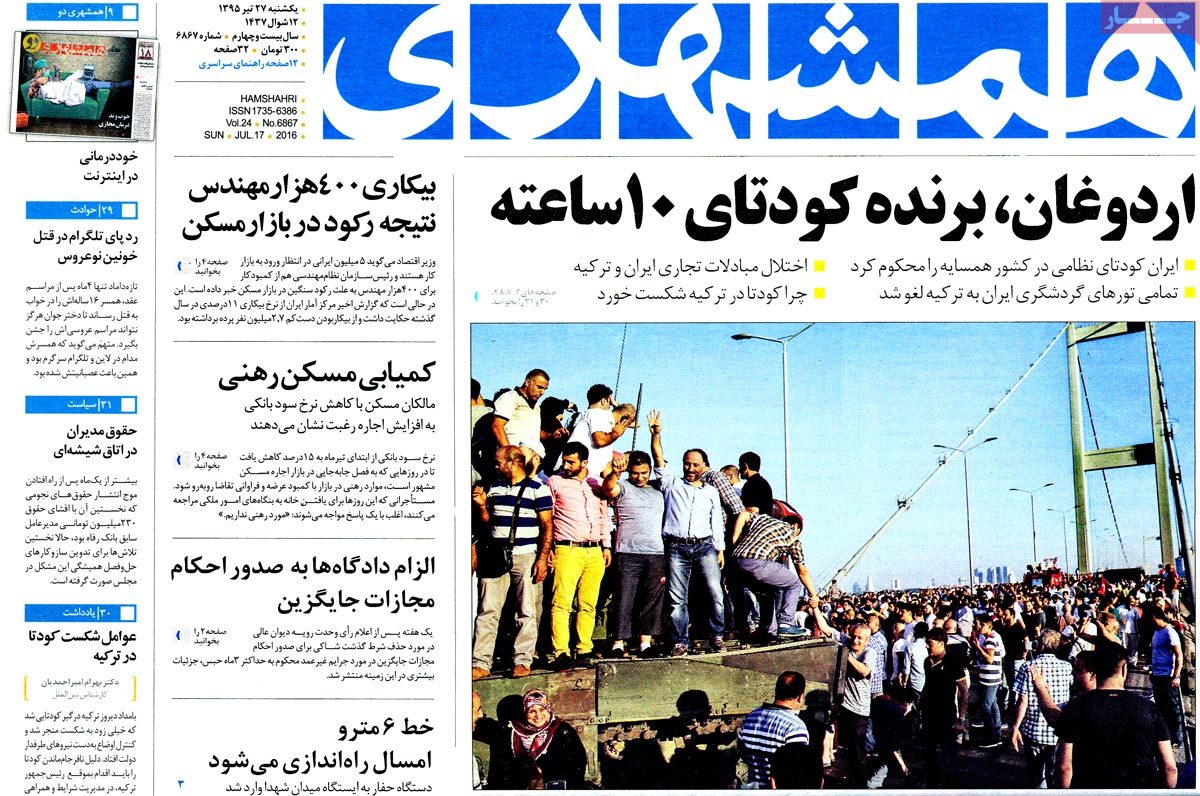 ---
Iran:
1- Coup under People's Feet: Rebel Troopers' Latest Moves Were Foiled
2- Coups Have No Place in the Region: Zarif
3- Coup Plotters Targeted Turkey's Unity: Erdogan
---
Jame Jam:
1- The Post-Coup Turkey: People Poured into Streets and Prevented Coup's Success
2- Media, West's Weapon in Identity War against Iran: IRIB Chief
3- Norm-Breaking Manteaux
4- Turkey's Coup against Lut Desert!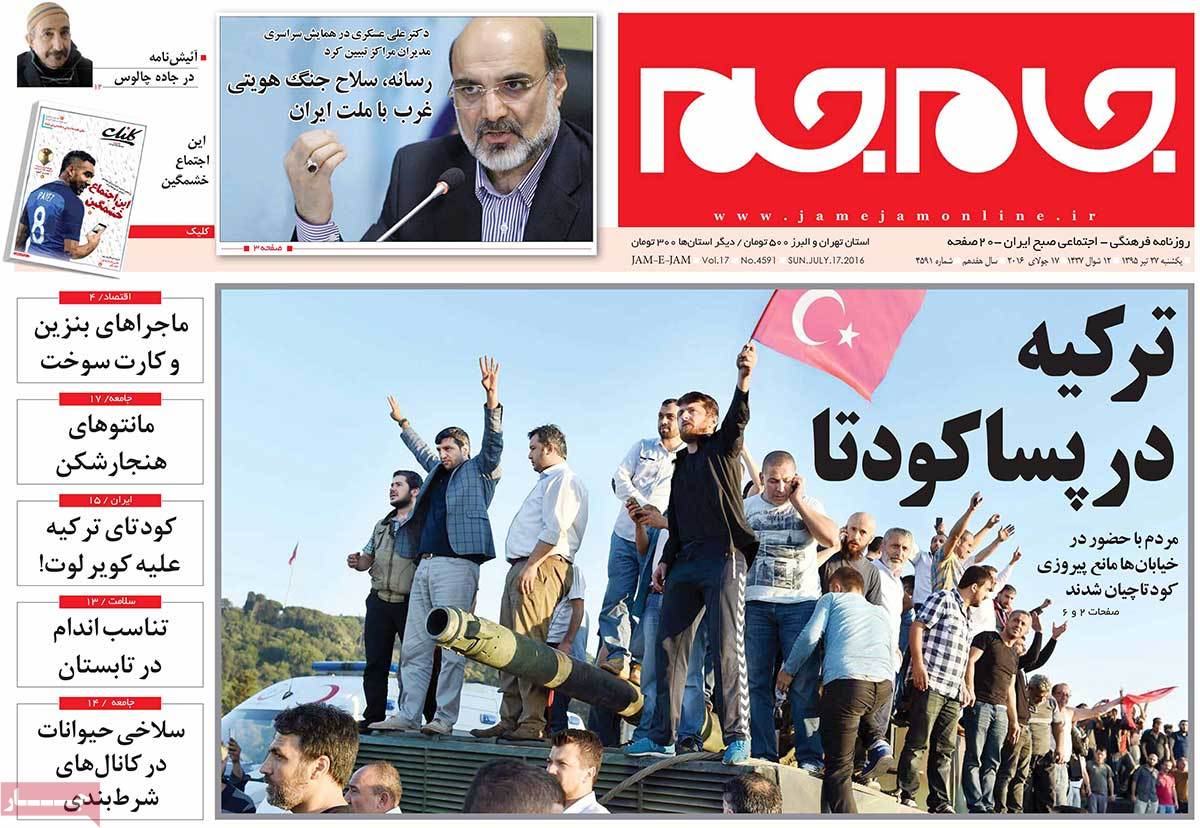 ---
Javan:
1- Failed Coup against "Turkey's Turnaround": Online Media Make Erdogan Indebted to Themselves
2- Iran Supports Turkey's Legal Government
3- Turkish Coup Distract Attentions from Saudi Arabia 9/11 Papers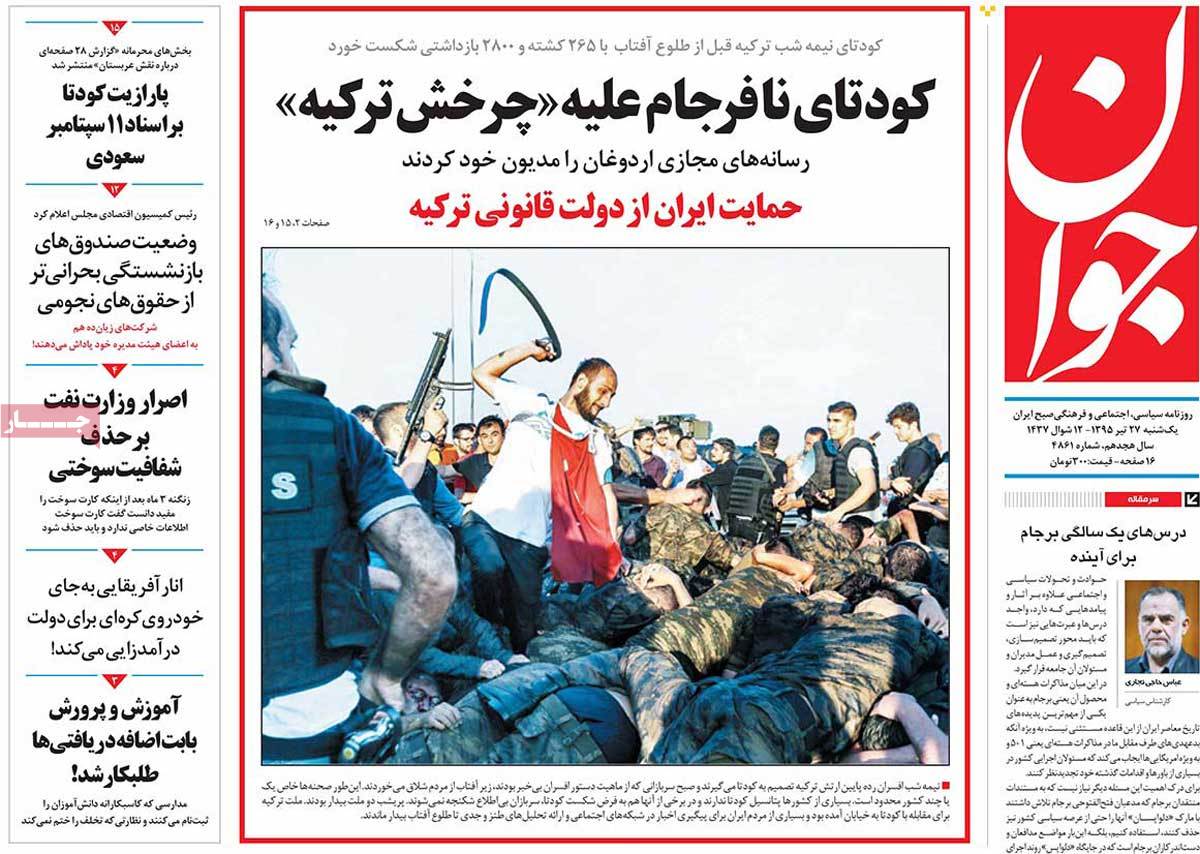 ---
Jomhouri Eslami:
1- Role of Saudi Officials in 9/11 Terrorist Attack Revealed
2- Erdogan Purges Many of His Opponents on Pretext of Turkish Army's Coup Attempt
3- Turkey: Coup or a Fake Show? [Editorial]
4- Bibi: Major Arab States Have Found that Israel Isn't an Enemy!
---
Kayhan:
1- One Coup and Several Speculations: How Turkey Sank in the Swamp?
2- Hollande's Blatant Lie about Nice Attacker: He Was a Muslim!
3- Post-JCPOA Promises Broken 6 Months after Nuclear Deal Implementation
4- US Increases Sanctions against Cuba after Normalization of Ties
---
Khorasan:
1- Short Coup: 'Refinement' of Army and Judiciary by Dismissing Many Judges and Military Officers
2- Those Who Receive Unconventional Salaries to Be Imprisoned for 2-5 Years
3- $16bn Benefit of Oil Debts [for Iran] and 5 Barriers to Full Removal of Sanctions
4- Messages and Repercussions of a Coup [Editorial]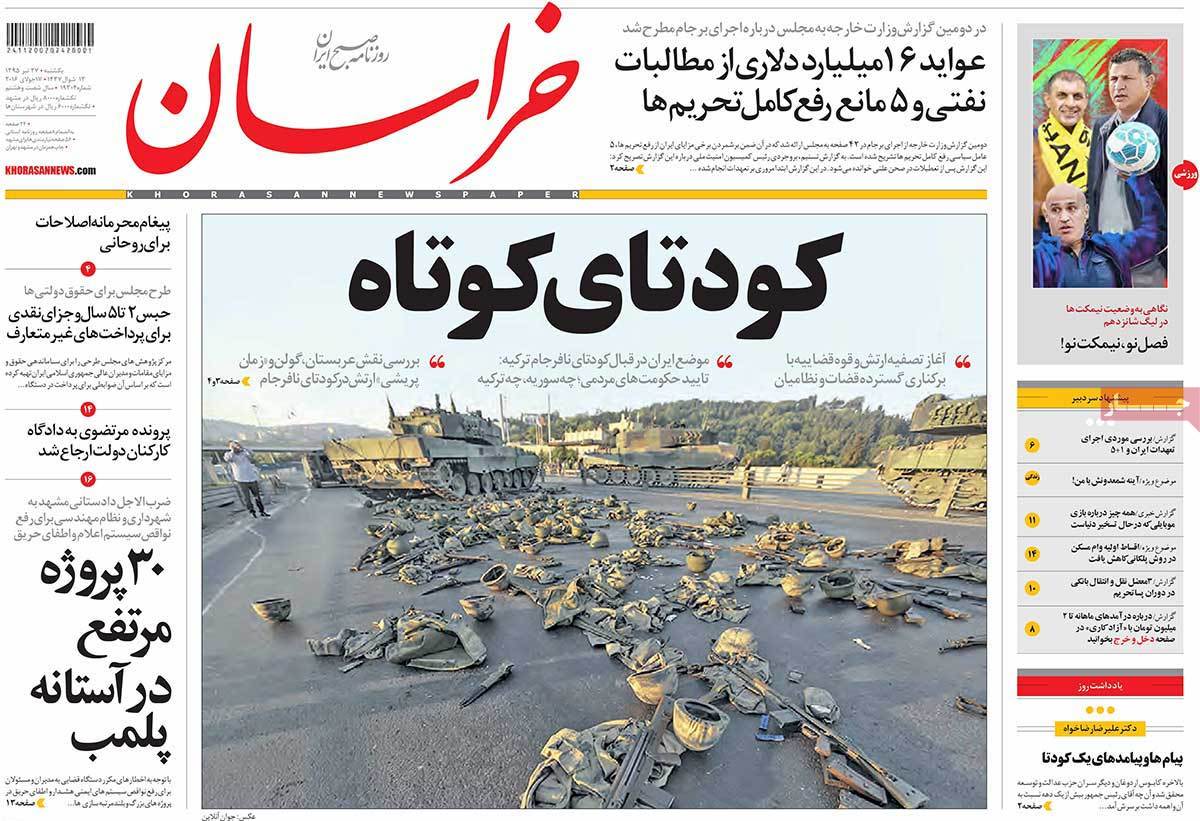 ---
Resalat:
1- People Foil the Coup in Turkey: Turkish PM Urges US to Extradite Opposition Figure Gulen
2- Amid the Fire in Middle East, the Islamic Iran Is a Garden: Cleric
3- Countries without Any History Are Creating Histories for Themselves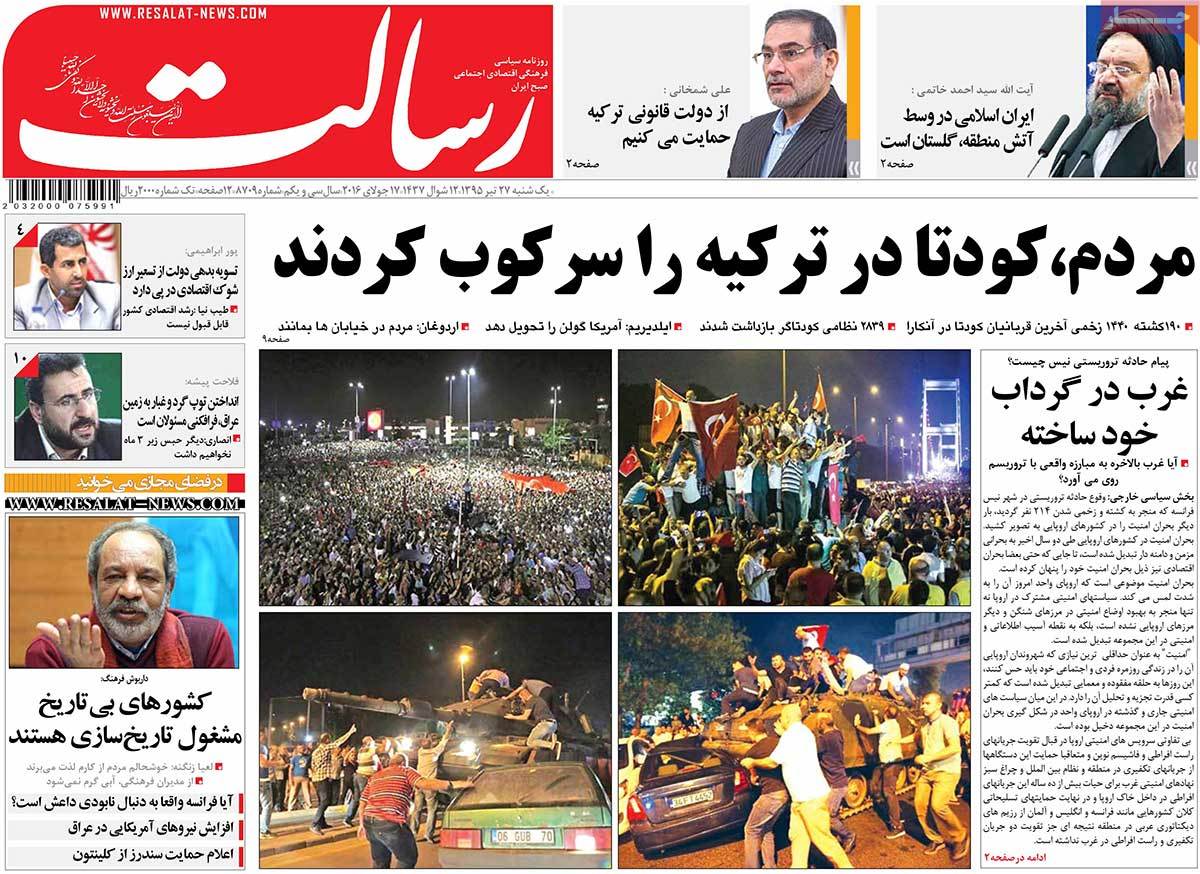 ---

Roozan:
1- Shaky Empire of Erdogan
2- Turkey Foils the Coup, But Is This the End?
3- Moving forward on Waves of Violence, from France to Turkey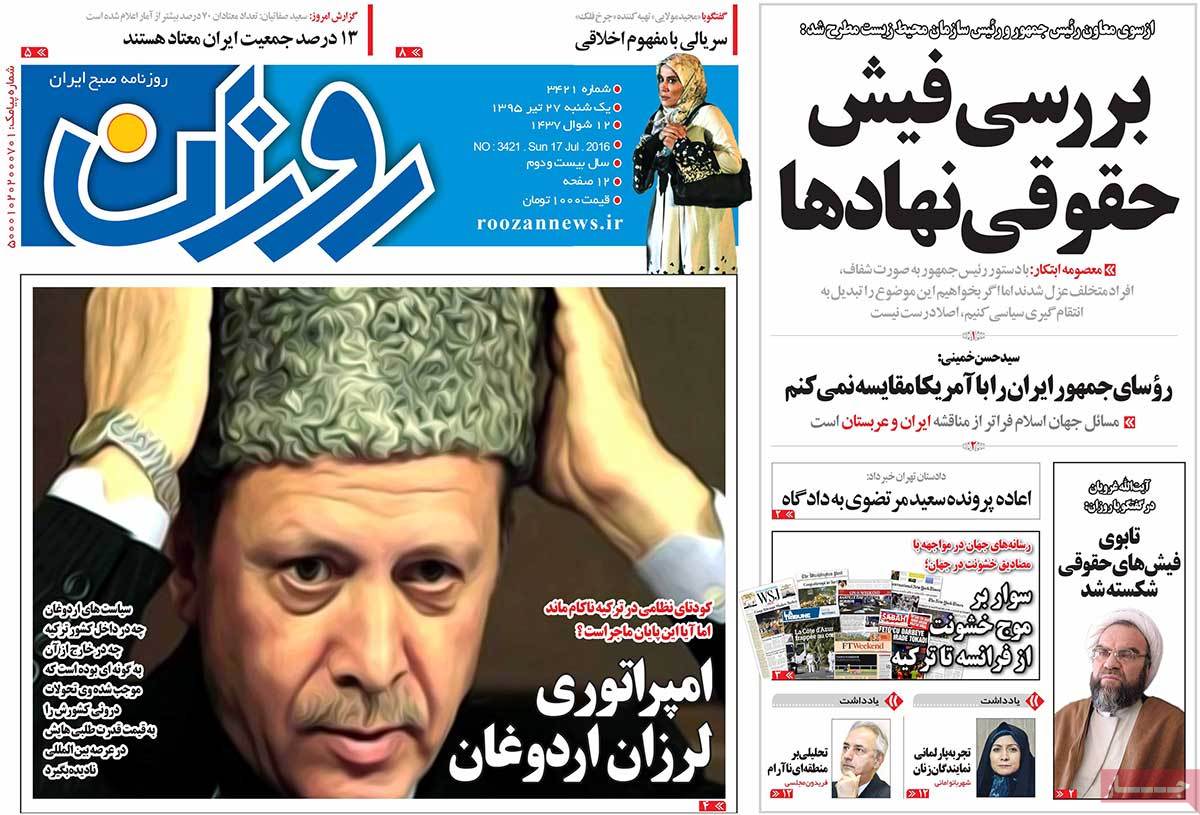 ---
Setareh Sobh:
1- Democracy Remains in Place after Turkey Coup
2- The Press Are Free to Criticize the Gov't: Prosecutor-General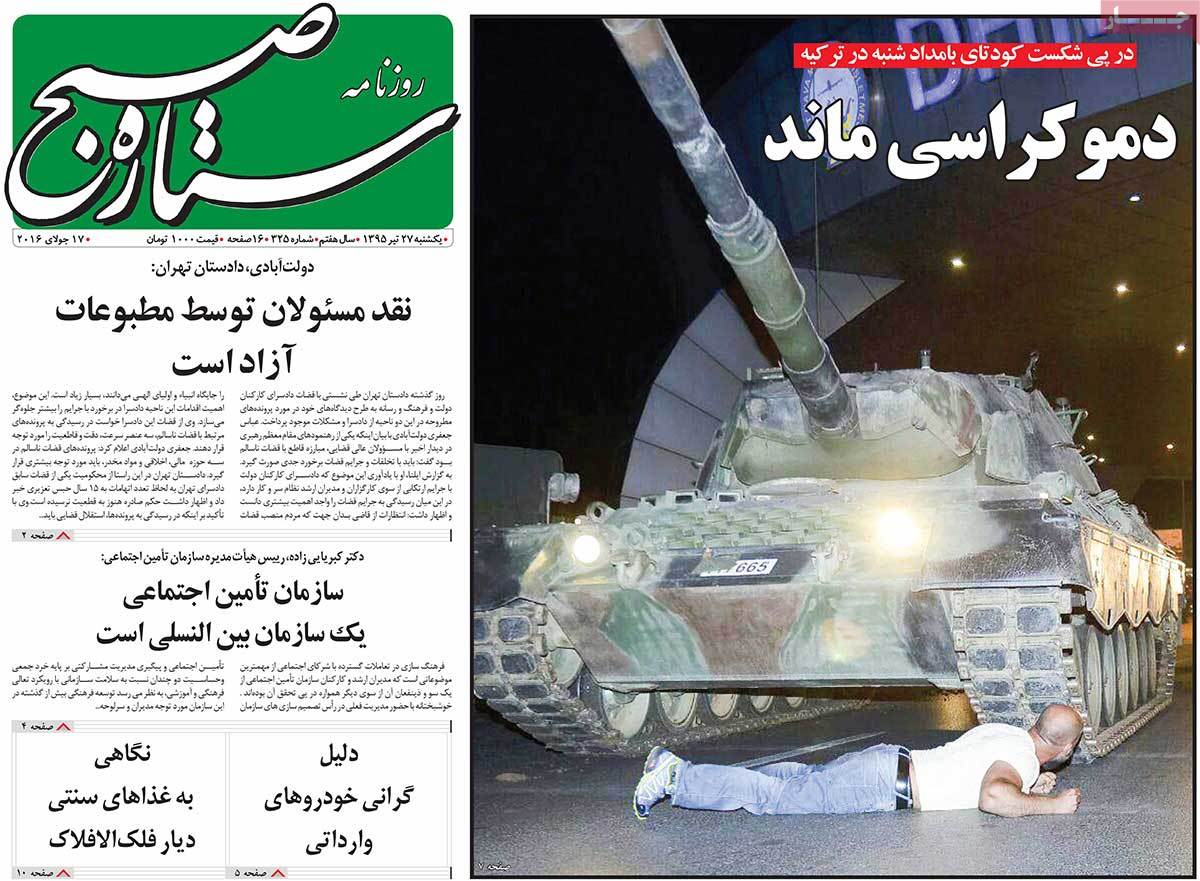 ---
Shahrvand:
1- Defeat of Military Approach
2- 4 Killed by Crimean-Congo Hemorrhagic Fever (CCHF) in Iran's Mazandaran
---
Shargh:
1- Counter-Attack on Coup: A Few Hours of Military Efforts to Oust Erdogan's Gov't Thwarted
2- Erdogan's Throne Trembled, But Wasn't Overthrown
3- People Said No to Plunder; Twitter, Facebook, and YouTube Restricted in Turkey
---
Shorou:
1- Sultan Erdogan: Winner of Coup in the Midnight! Hundreds Killed and Wounded in 45-Minute Coup
2- Caricature of Coup d'état in Turkey [Editorial]
3- No One in Iran Will Be Imprisoned Less than 3 Months
4- 15% of Illicit Drugs Smuggled into Iran Are Seized
---
Sobh-e Now:
1- Short Doping of Coup: Defeat of Turkish Style of Islam
2- What Iranian Media Did in Coverage of Turkey Developments: IRINN's Great Performance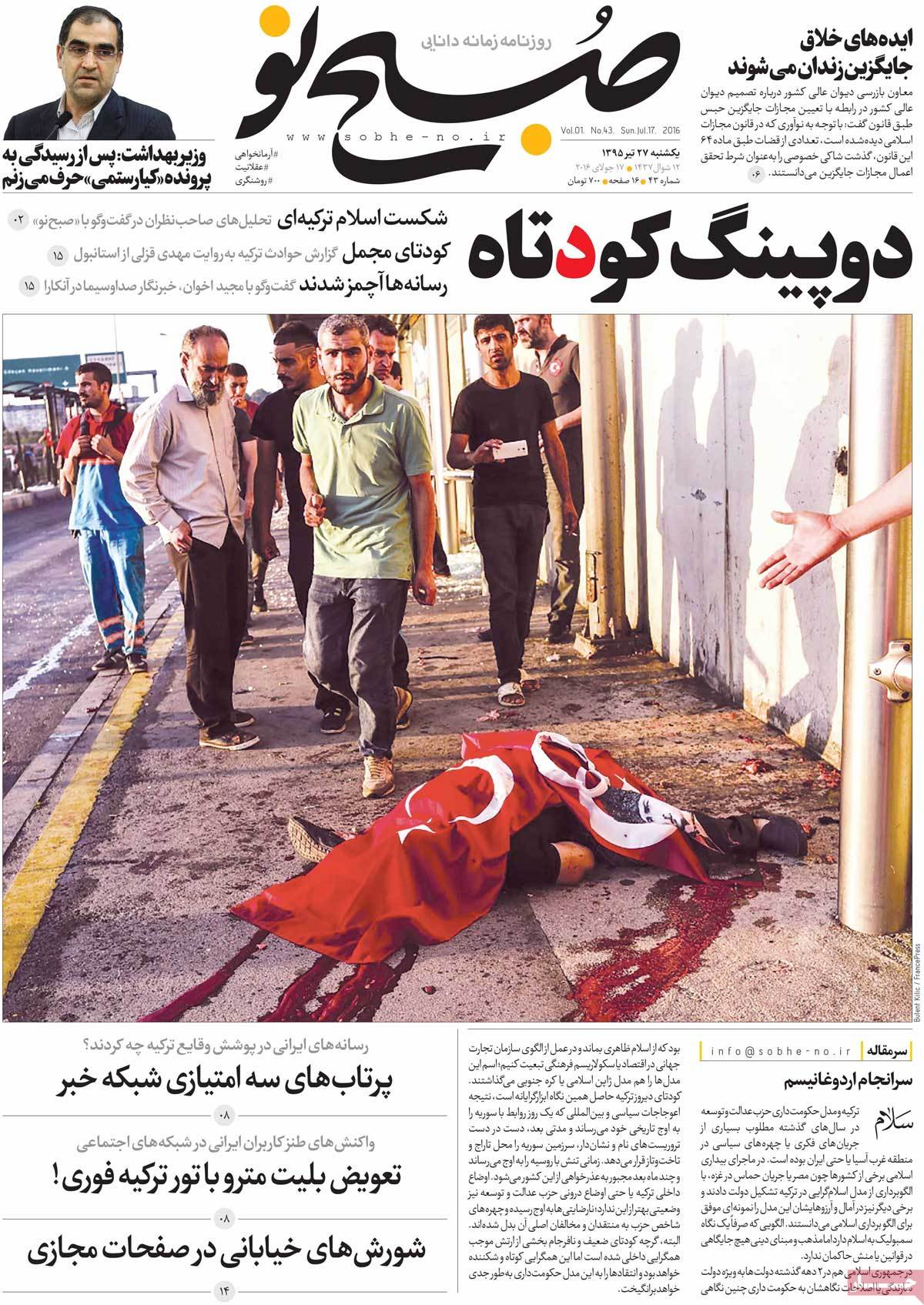 ---
Vaghaye Ettefaghieh:
1- Turkey: Gone and Returned; Was It Really a Coup that Happened in Turkey?
2- Ayatollah Rafsanjani Underlines the Need for Paying Serious Attention to Global Fight against Terrorism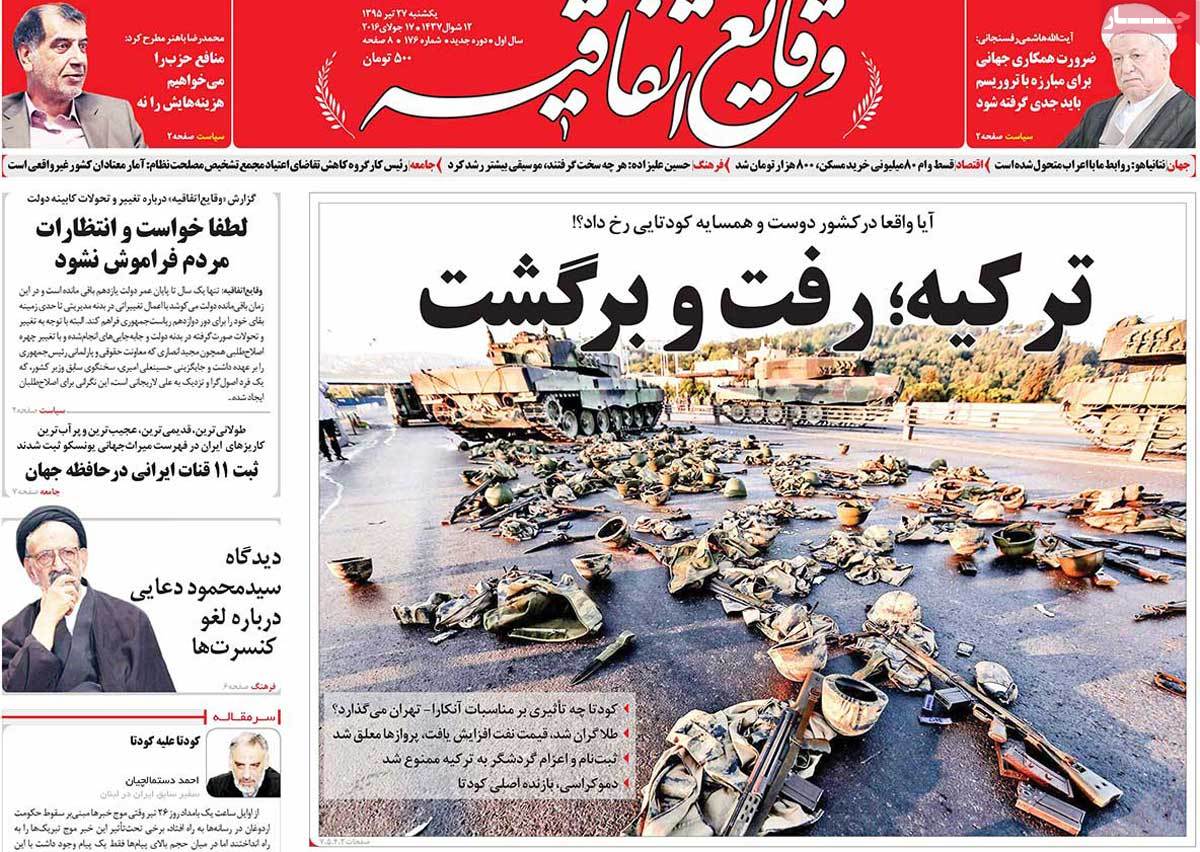 ---
Vatan-e Emrooz:
1- "T u r k e y": Short Coup Attempt Destabilized Turkey's Future More than Ever
2- The Show is Over Recep! It's Time for a Rebellion [Editorial]
3- We'll Cause Irreparable Harms to Saudi Arabia: IRGC Navy Commander
4- The "Almost Nothing" Deal Becomes 6 Months Old: What Happened to Promises for Openings in Banking Ties?
5- I Wanna Breath: Black People Talk about Their Problems in US