Almost all newspapers covered the full liberation of the Iraqi city of Mosul and the fall of ISIS' caliphate in the Arab country.
Another top story was the move by several member states of the United Nations Security Council, including the EU states, to confirm Iran's commitment to the nuclear deal. This came as the US and its allies were doing their best to persuade the others to take action against Iran.
Iranian Foreign Minister Mohammad Javad Zarif's tour of European countries also received great coverage. Zarif left Paris for Tehran on Friday after holding talks with top European officials in Germany, Italy, and France.
The above issues, as well as many more, are highlighted in the following headlines and top stories:
Abrar:
1- IRGC Missiles Fired with High Precision from Any Point: General
2- US Treasury Secretary: Sanctions Took Iran to Negotiating Table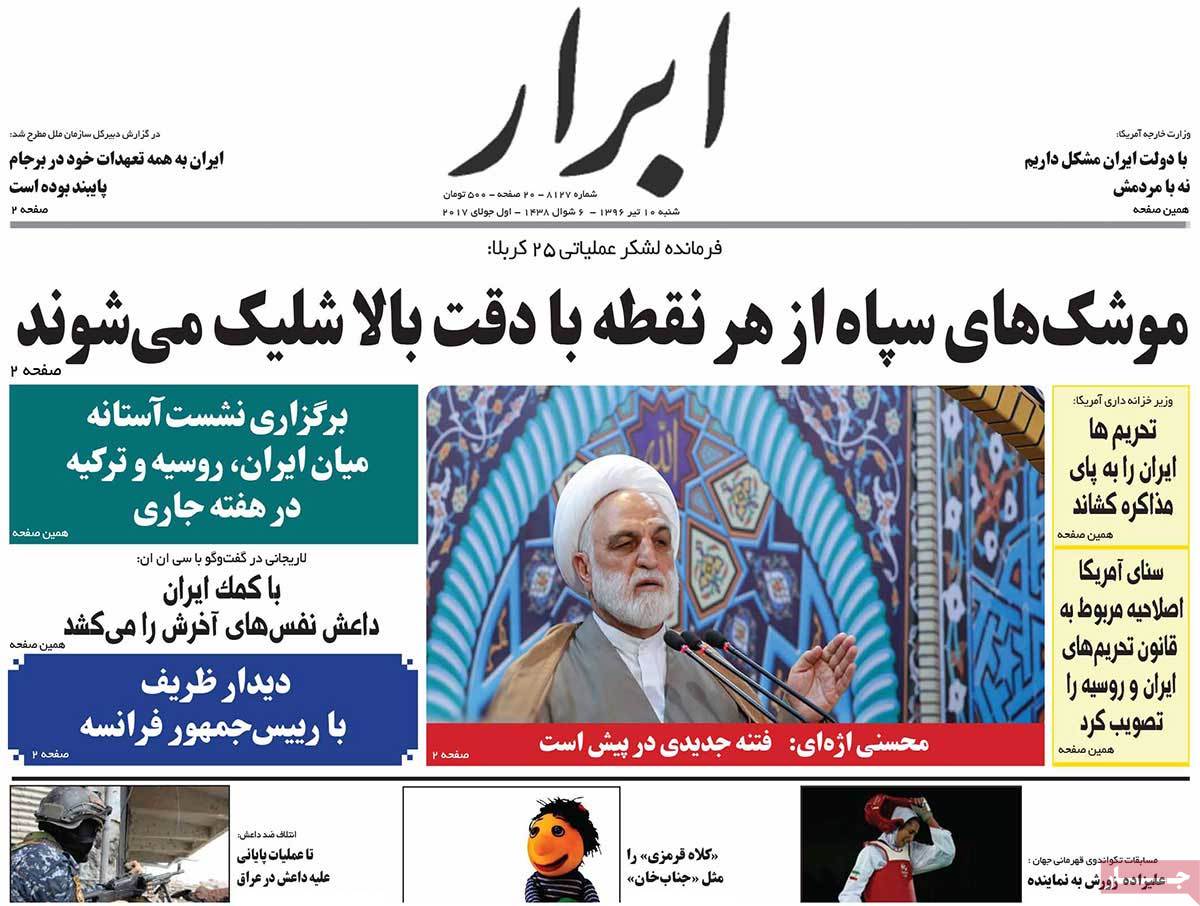 ---
Aftab-e Yazd:
1- Zarif's Successful Recruitment in Europe
UNSC Atmosphere More Positive after Zarif's European Tour
2- Why Iran Does Not Have Strong Businesspeople in Global Markets
3- Consequences of Mosul Liberation
4- House Arrest of Sacked Saudi Prince Still Not Clear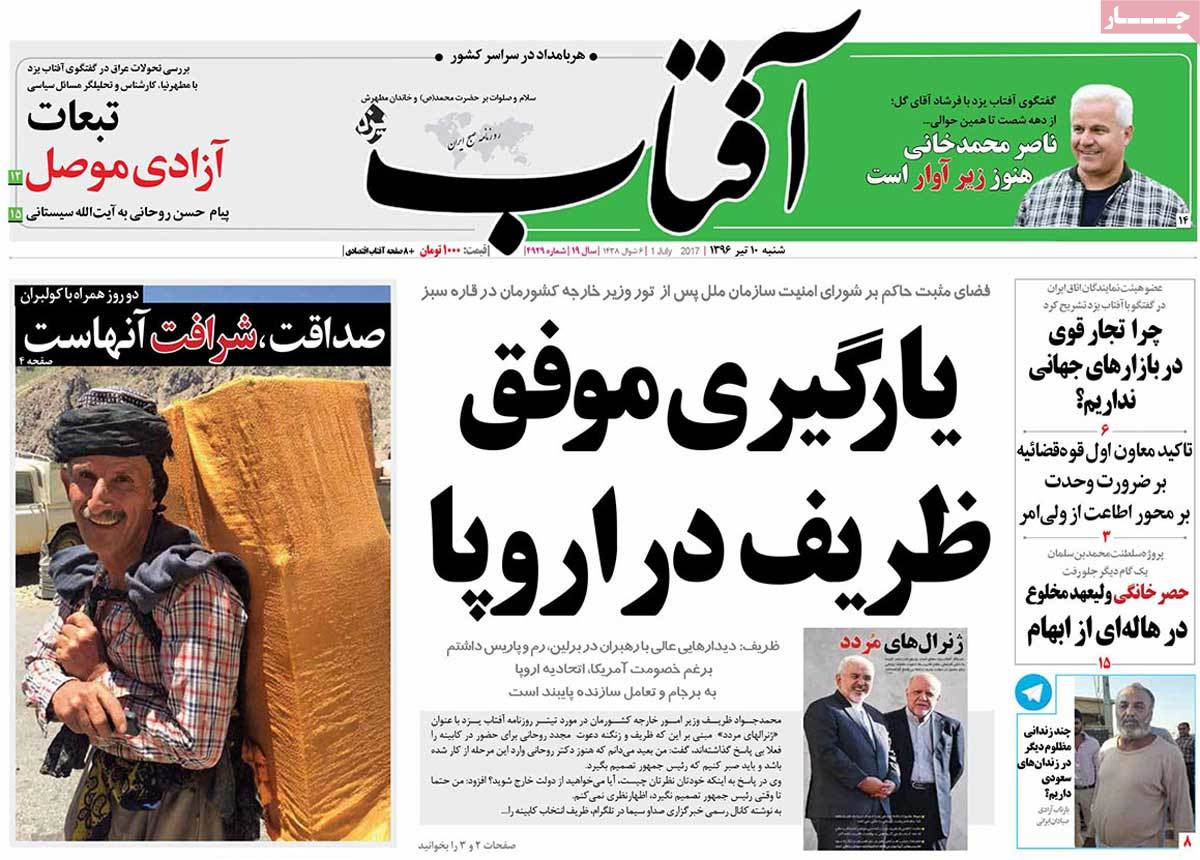 ---
Arman-e Emrooz:
1- No Conflict! MP Motahari Advises Top Officials to Hold Face-to-Face Talks
2- ISIS in Quagmire of Death: Mosul Liberated
3- JCPOA's Dominance over Europe Ties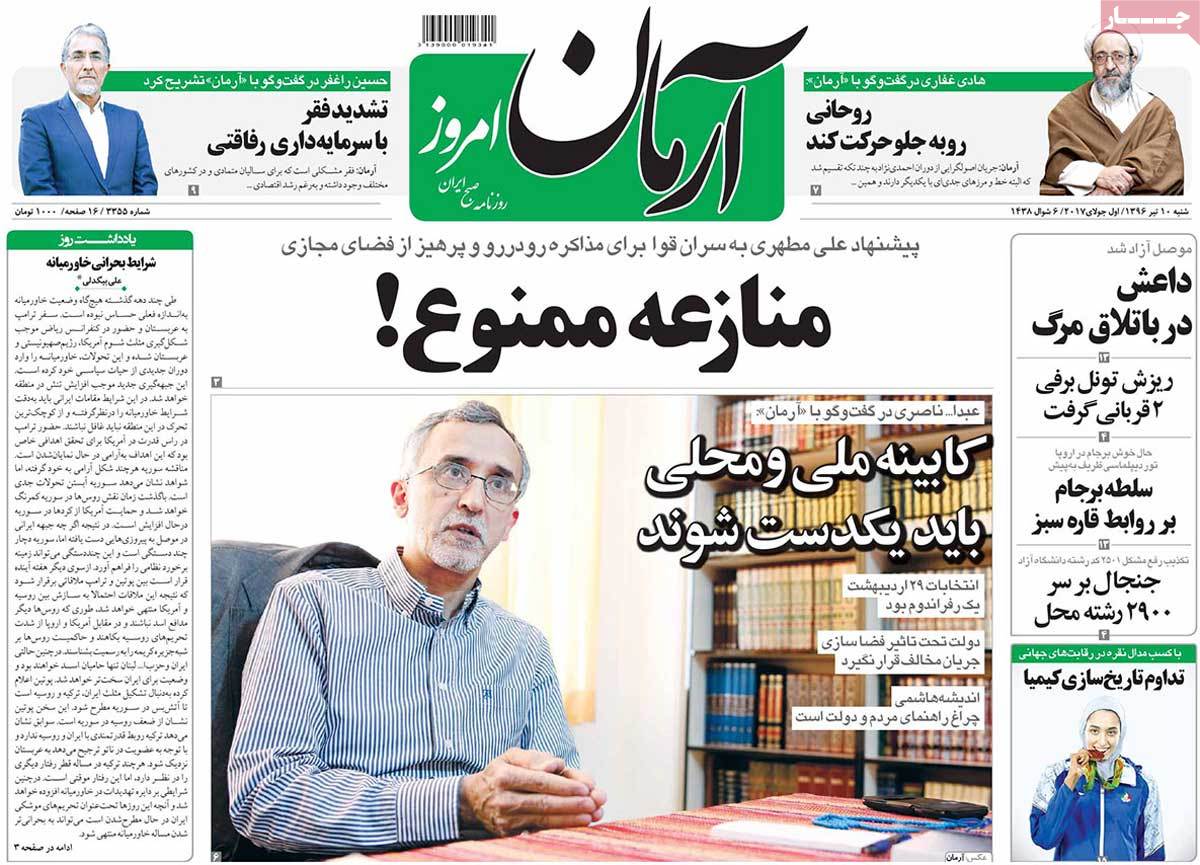 ---
Ebtekar:
1- Zarif and Macron at Élysée
2- Kimia Alizadeh Wins Iran's First-Ever World Taekwondo Medal
3- Air of Freedom in Mosul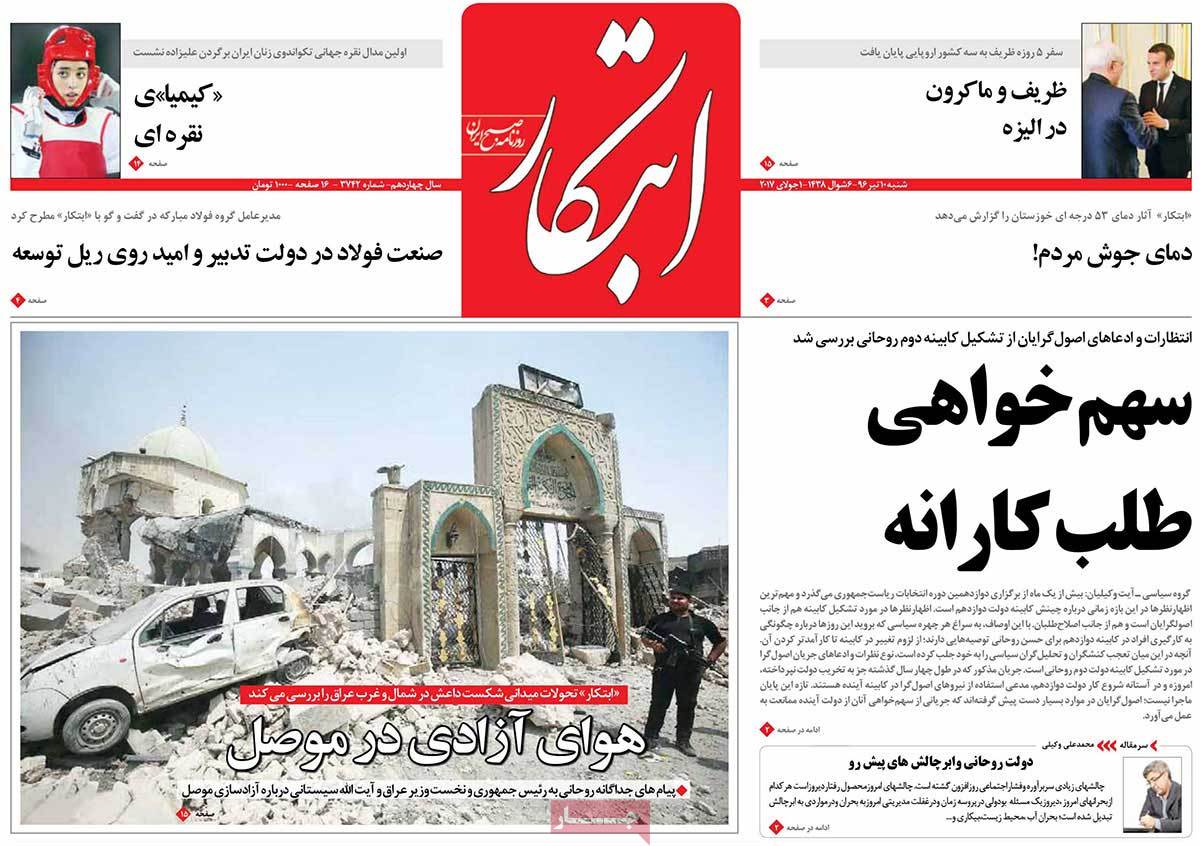 ---
Etemad:
1- US Isolation in UNSC
EU, Other UNSC Members Strongly Support Iran Nuclear Deal
2- Ahvaz Becomes World's Hottest City
Temperature Soars to 53 Degrees Celsius
3- Caliphate of Violence Falls in Mosul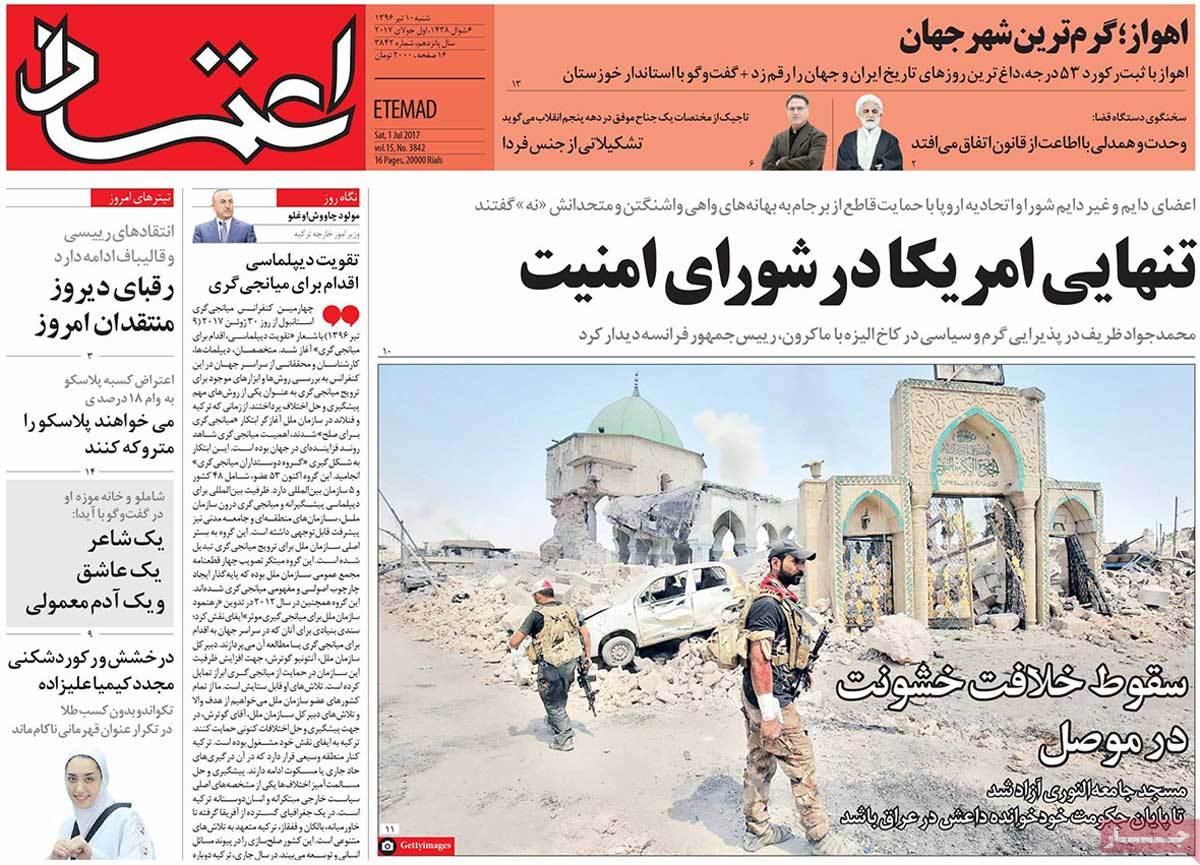 ---
Ettela'at:
1- Rouhani Congratulates Top Iraqi Shiite Cleric on Mosul Liberation
Iraqi People's Victory Shows High Position of Religious Decrees to World
2- First VP: Next Gov't to Use Combination of Young, Experienced Staff
3- US Army on Standby to Attack Syria
Syria Vows Appropriate Response
4- UNSC: Iran Has Complied with All Its JCPOA Commitments
5- Larijani: Without Iran's Help, ISIS Would Have Occupied Baghdad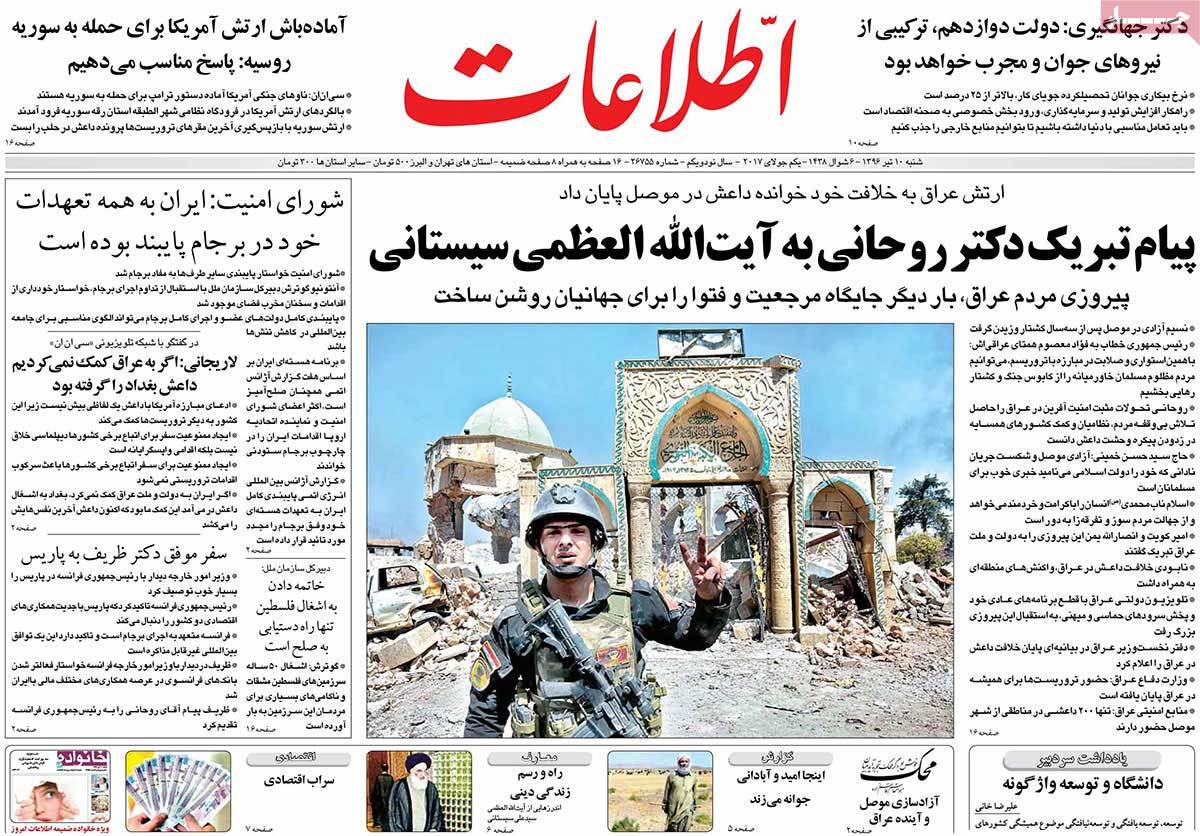 ---
Ghanoon:
1- Moderate Figures around One Table: Zarif Submits Rouhani's Message to Macron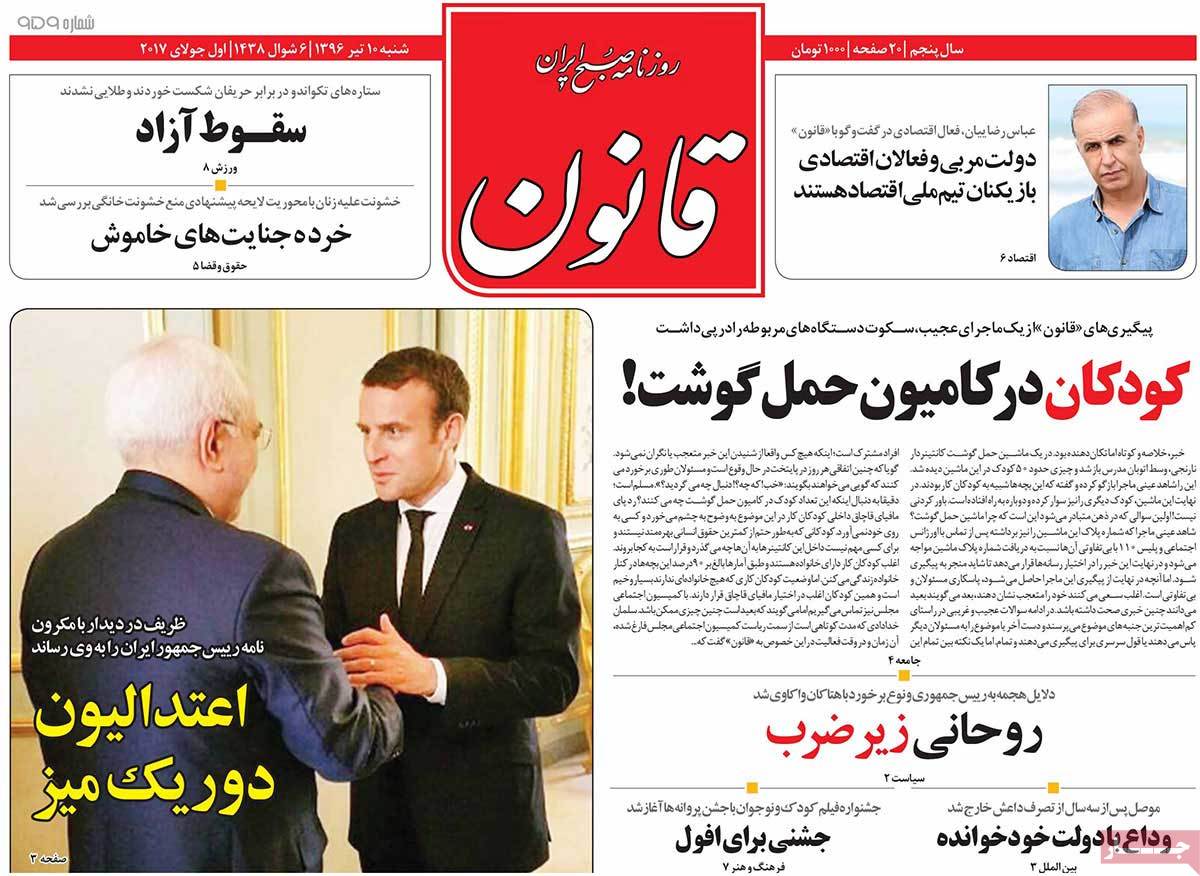 ---
Hamdeli:
1- Qatar Ready to Discuss Legitimate Issues Only: FM
Doha Rejects Saudi Arabia's Preconditions
---
Iran:
1- UNSC: Iran, P5+1 Are Committed to Nuclear Deal
2- End of ISIS in Mosul
3- French President Hosts Zarif
Élysée Officials Underline Expansion of Ties with Iran
---
Javan:
1- Baghdad Overcomes al-Baghdadi
2- Thriving Business of Sewing Foreign Brands on Iranian Apparel
3- US-Europe Tension in UNSC over Iran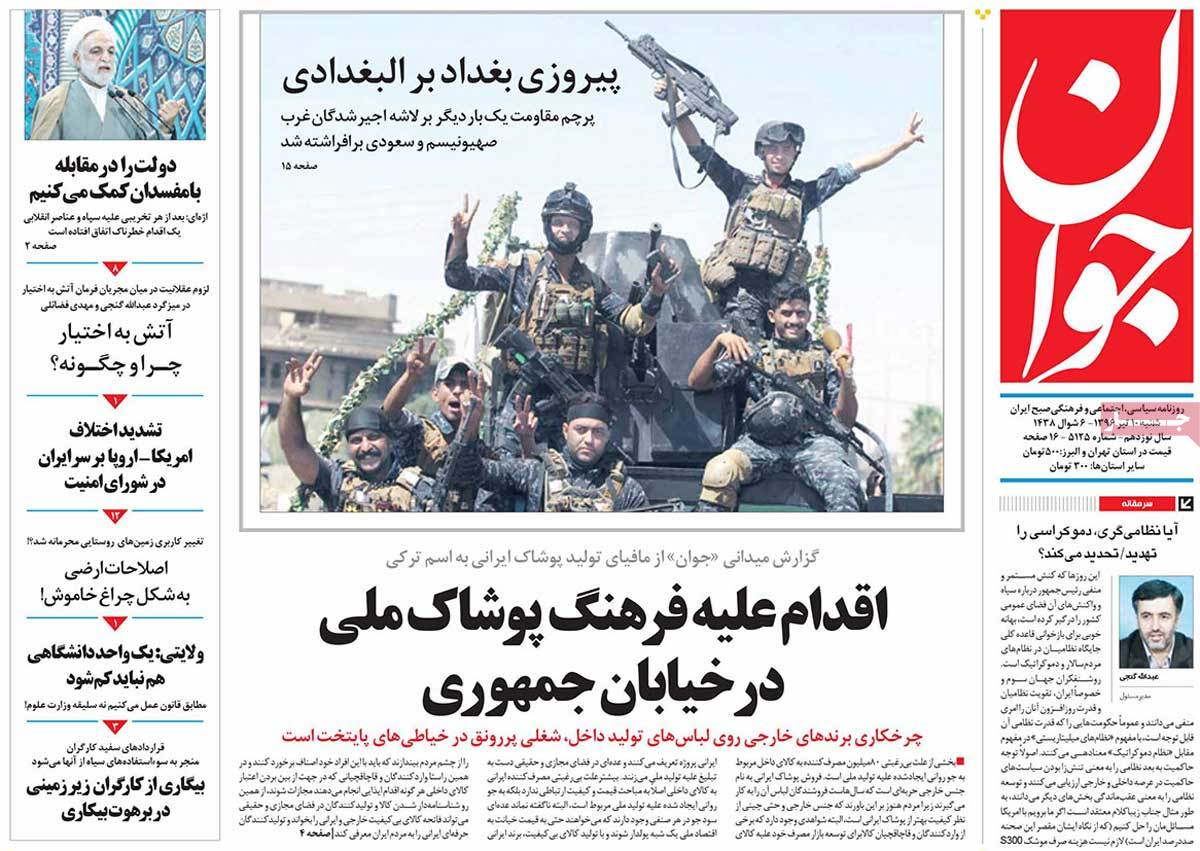 ---
Jomhouri Eslami:
1- ISIS' Shallow Caliphate in Iraq Destroyed after Full Liberation of Mosul
2- Egypt, Zionist Regime, UAE to Form New Gov't in Gaza
---
Kayhan:
1- Mosul Liberated: Resistance Works, Not Compromise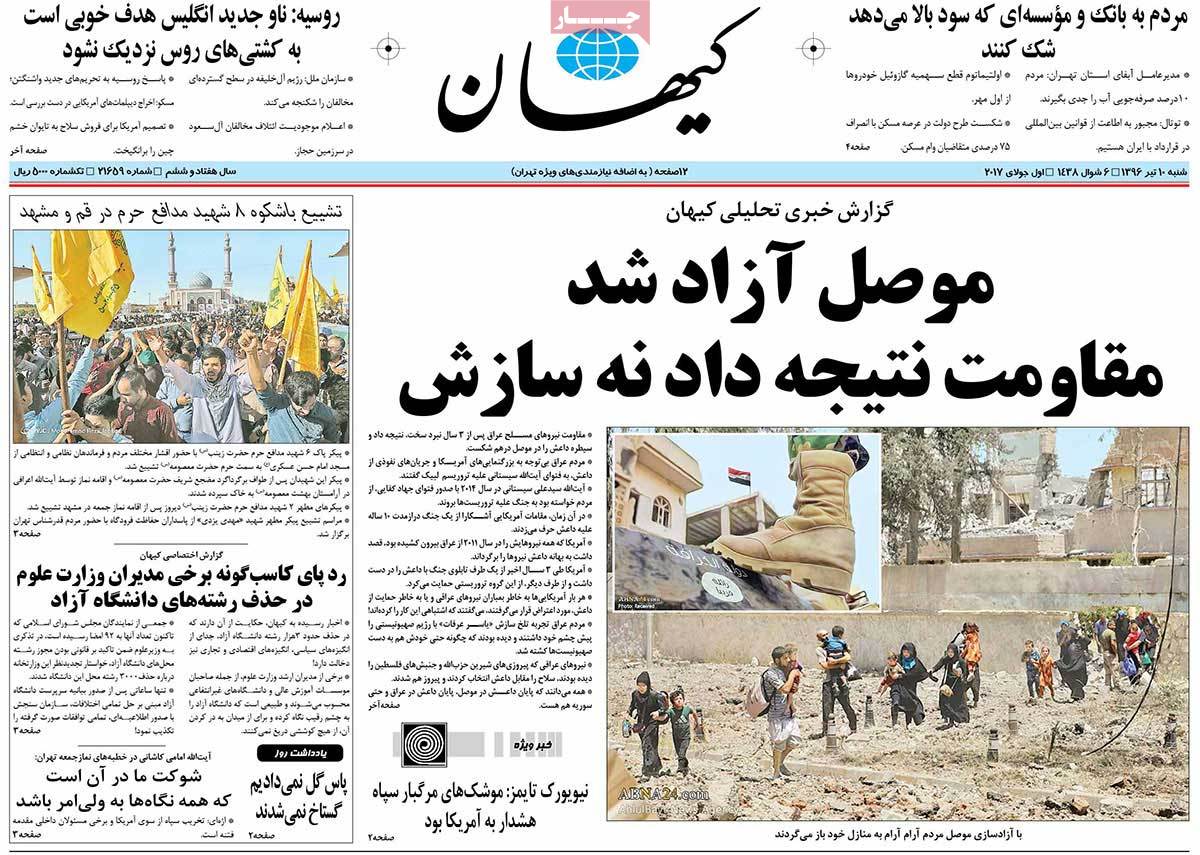 ---
Khorasan:
1- Yellow Condition in Sistan: Dust Pollution Sends 904 to Hospital in SE Iran
2- Destroyer Expelled from Mosul
3- 54-Degree Temperature in Ahvaz Widely Covered in World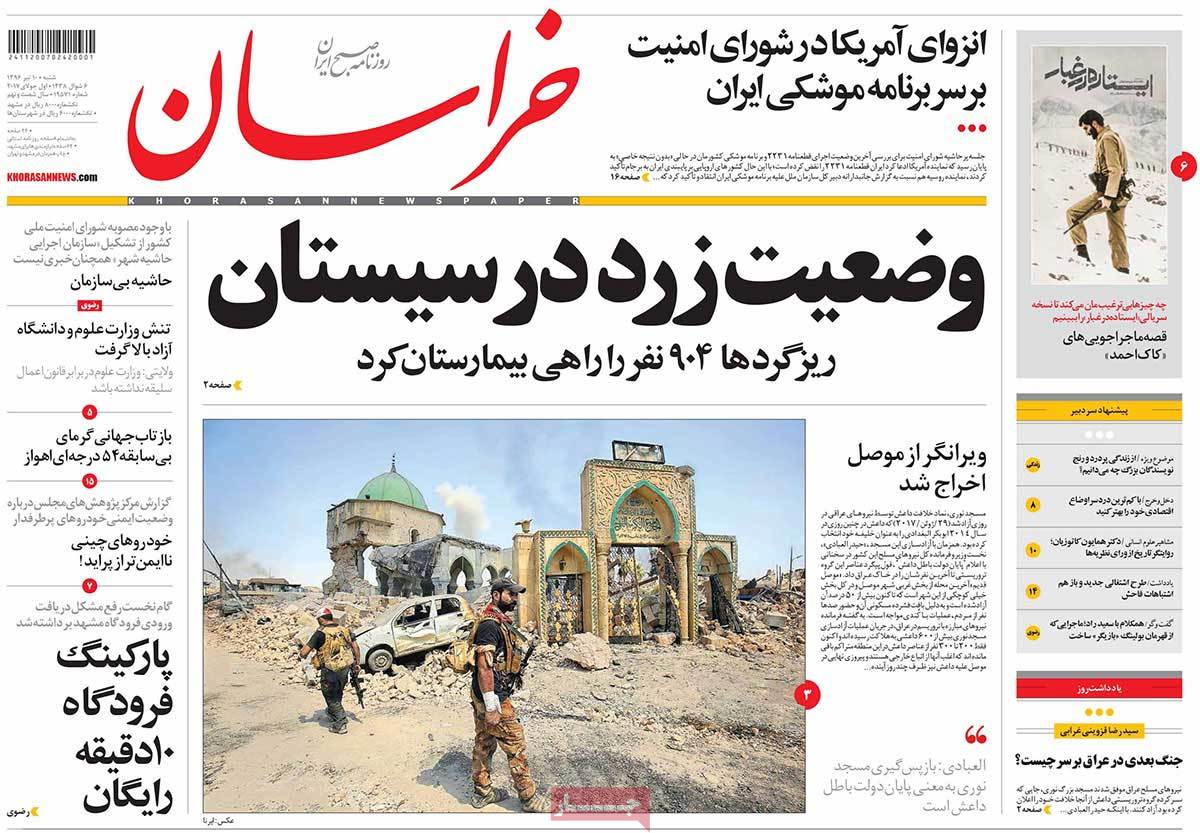 ---
Rooyesh-e Mellat:
1- Larijani to CNN: ISIS Breathing Its Last Breaths
2- Senior MP: JCPOA Not to Undergo Any Changes
3- French President: No Alternative to Assad Right Now
---
Setareh Sobh:
1- Alavi Foundation's Tower in New York Seized by US after Court Ruling
---
Shahrvand:
1- Khuzestan on Boiling Point
2- Iranian Fishermen Finally Released from Saudi Prisons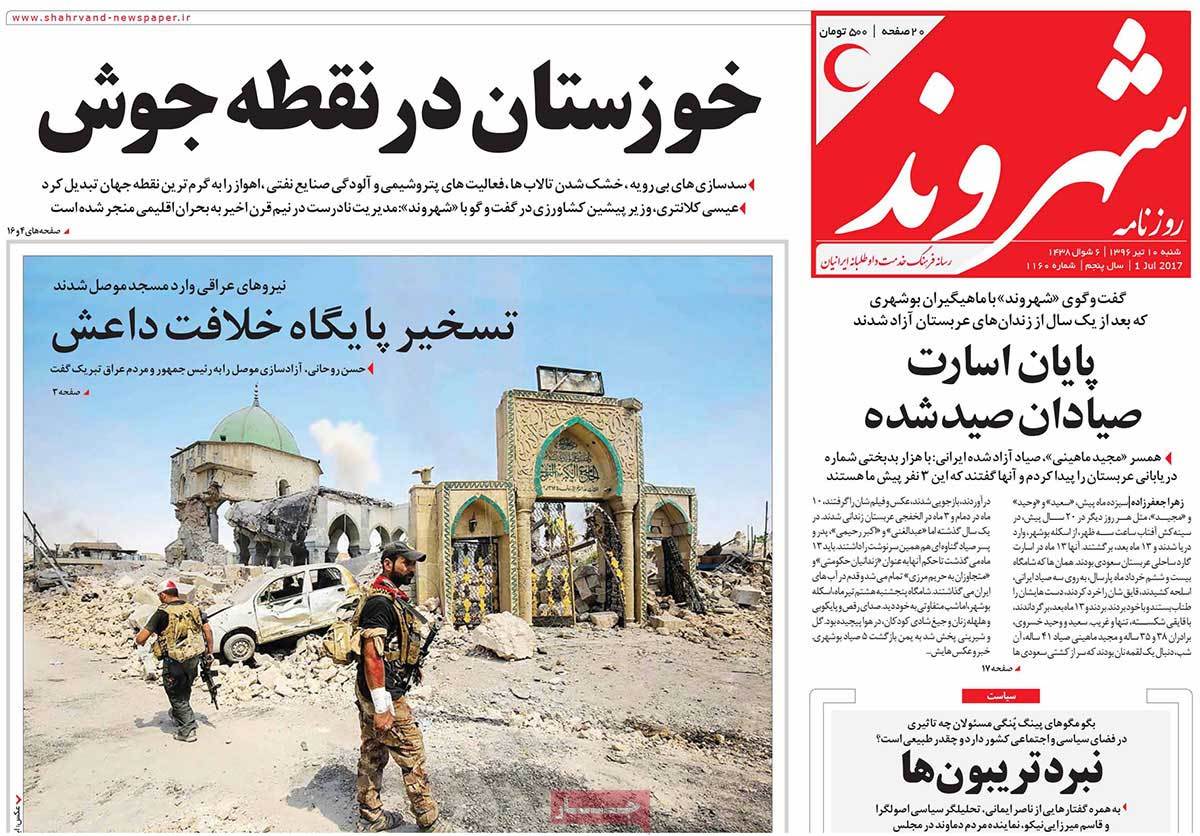 ---
Shargh:
1- Waiting for Oath: Rouhani's Second Term to Officially Begin on August 5
2- Iran after ISIS [Editorial]
3- ISIS' Broken Banner: Mosul Liberated
---
Tejarat:
1- Flourishing Market of +300-Metre Luxury Houses in Tehran
2- ISIS Close to Its End after Aleppo, Mosul Liberation